September Fashion Ideas for Women: September is creeping up on us and the month of transition is here. With the start of September, we are looking for outfits that are just not eye-catching but will also help us smoothly transition towards the long winter spell that awaits us in the following months. Before you drain yourself in deciding upon your wardrobe options for September, we have put together a list of the most famous and popular trends and outfits that will get you going in no time.
You can choose any styling option and enjoy September without any hassles.
What Outfits to Wear in September
Here are a few tips for styling your outfits in September:
The start of September is ideal for Beach parties and trips, so keep a few great bikini options available.
In the first half of September, you can wear your slippers and open toe shoes but as the month will progress, you will need footwear that is covered like sneakers and slip-on so that your feet won't feel the chill.
Since it is the month of transition, keep the long sleeves shirts, kimonos, dusters, and even lightweight sweaters ready because the weather is unpredictable.
It is time to rely more on slacks, jeans, and pants and keep the shorts inside.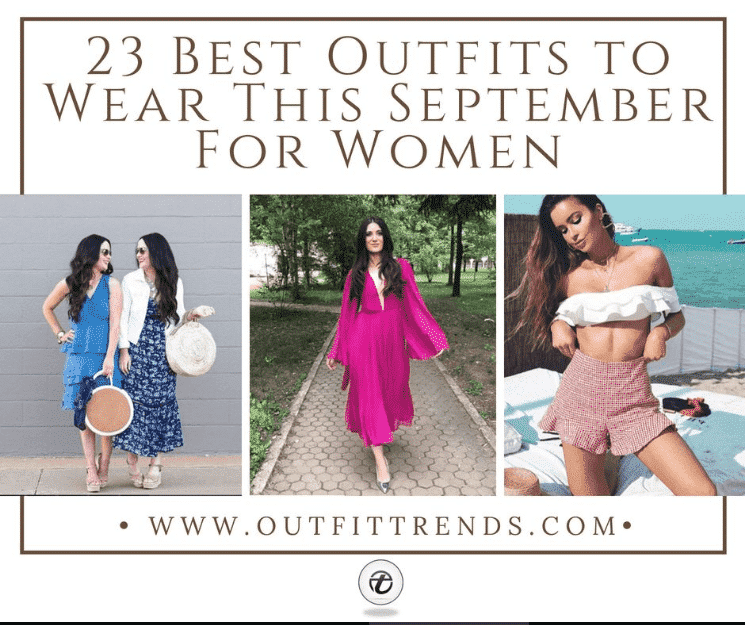 ↓ 23. Hot Weekend Outfit for September
September calls for bringing your sexy in full force before the winters arrive. Prepare for a great weekend with a hot outfit. Wear a side snap button detailing skirt that hugs your curve and brings out your best side. You can wear a cute statement tube top with it in pastels or white to enhance the drama of the skirt. Wear blue high heels to give you the slim long legs look. You can buy the tube top here from Nordstrom and the skirt here from Revolve. You should also have a look at these Top 20 Weekend Outfits for Women.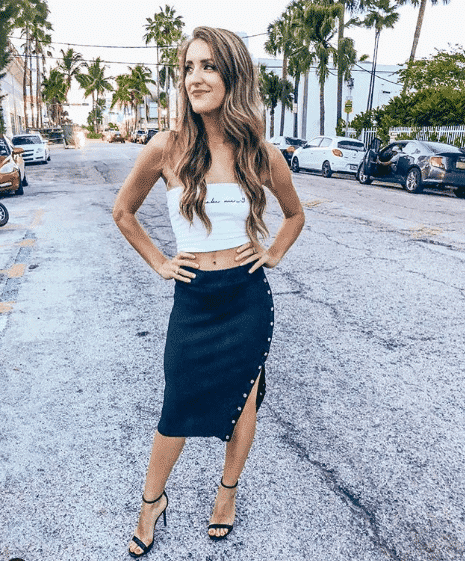 ↓ 22. Cut-Out Maxi Dress for September
Cut out dresses and tops have made it huge this year around so if you haven't tried a cut off piece yet, what are you waiting for? Wear a cute cut-out maxi dress which is perfect for the warm weather and show off those perfect abs you have hidden there! Even without the abs, you can always flaunt a little skin because Hey! it is that time of the year! You can find this beautiful ruffle maxi cut-off dress with a classic slit to show off those legs here and pair this dress with these awesome brown wedges which you can get here.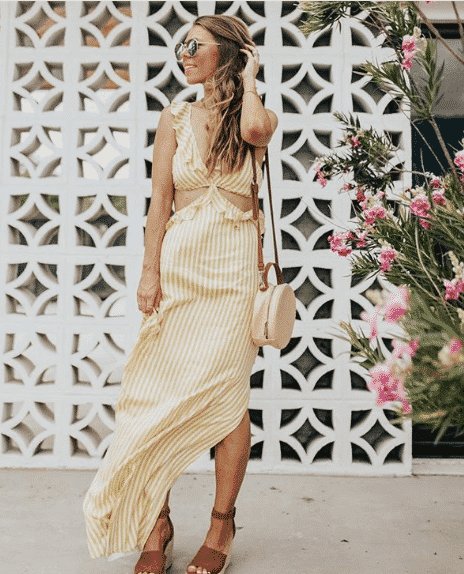 ↓ 21. Crop Tops For September
Crop tops have been instant favorites since they were introduced and new and more modern variations of crop tops are constantly being introduced. In September, try on this cutesy eyelet crop top with ruffle detailing because ruffles bring out your feminine side with much power and accompany this top with a comfy pair of wide leg chambray pants which have a fitted elastic waistline. The lightweight chambray material of the pants keep you airy in case of hot weather and works in your interest if it gets chilly. You can find this cute white top here and the pants here.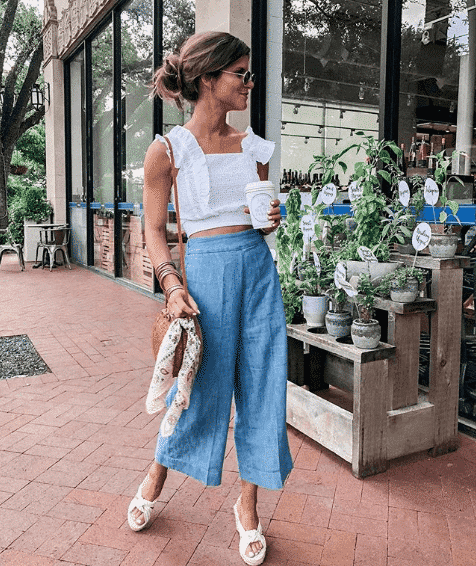 ↓ 20. Trendy Jumpsuit for September
One of the most versatile pieces of clothing, Jumpsuits are all the rage this year so it is a must to keep the love for jumpsuit going in September. It is ideal to wear a jumpsuit in September and you can always dress it up by wearing a jacket or a blazer for a more formal look. You can find this chic green jumpsuit here with military-style buttons detailing and wide leg fit for a comfortable day out.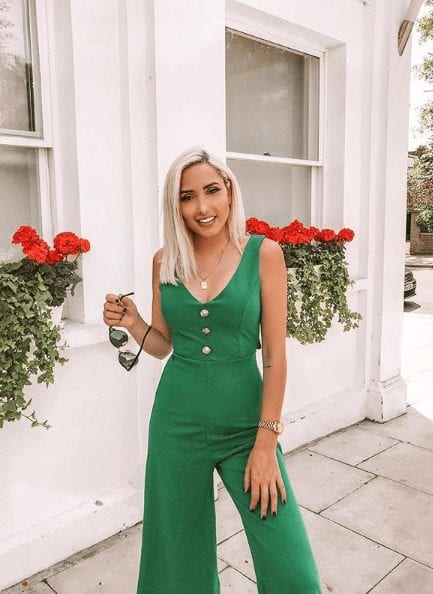 ↓ 19. Must-Have Summer Dresses
Ideal for the first half of September, summer dresses can never go out of style and can be layered with denim jackets if the weather gets towards the chilly side. Blue is the color that sings in September with the transition of weather and blue summer dresses will look trendy and pretty and will be easy to accessorize with. You can pair up these summer dresses with white cross body purse which you can find here or a circular tote which is available here. Brown wedges or espadrilles will go beautifully with your summer dress. You can find these summer dresses on Nordstrom here and here.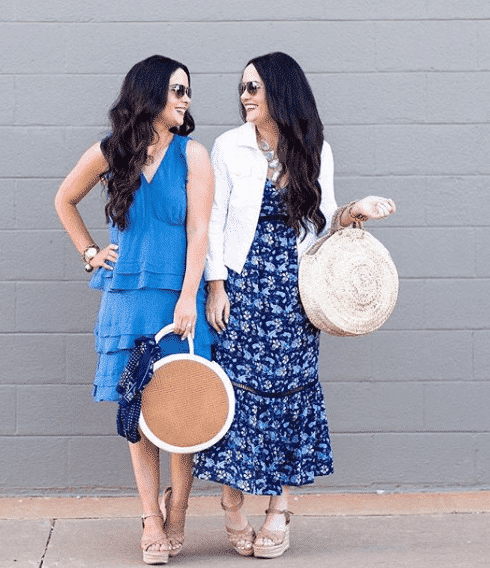 ↓ 18. Men Style Blazers for Work
You can borrow it from your boyfriend or your brother, or buy it, but men style blazer have hit the home run in the fashion world again this year. With its formal look, you can wear it for work and it can also be worn with graphic shirts and jeans combo or with the mini skirt and black tights combo. It is ideal for layering and adding texture to your outfit on any given day. Various styles and patterns are available and you can find it here.
Do check out these 20 Best Menswear Inspired Outfits Ideas for Women.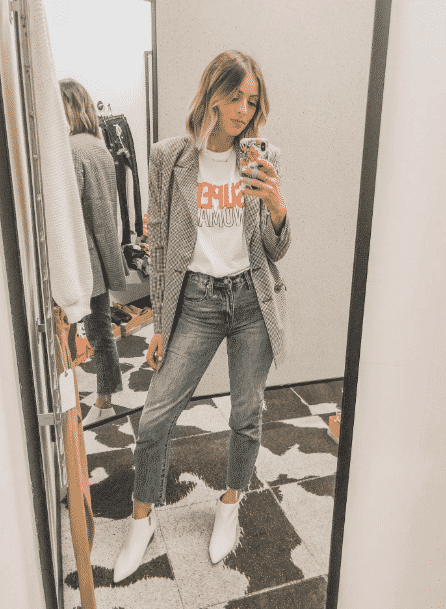 ↓ 17. Magenta from Runway
If you are searching for a colorful and trendy wardrobe change, go for a magenta dress! Magenta has hit the runway for fall catwalks and this hue is the game changer! It is the perfect pop of color and adds that perfect drama to a simple ensemble and can be mixed and matched with various other pieces to create the perfect look. Whether you are opting for a simple brunch date or going for a formal dinner date, this is the perfect statement color for September!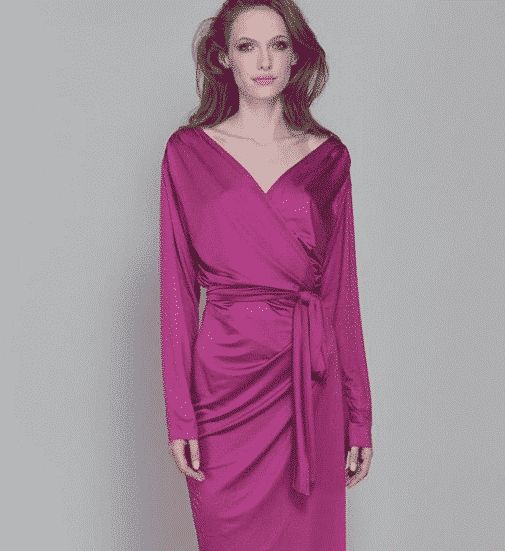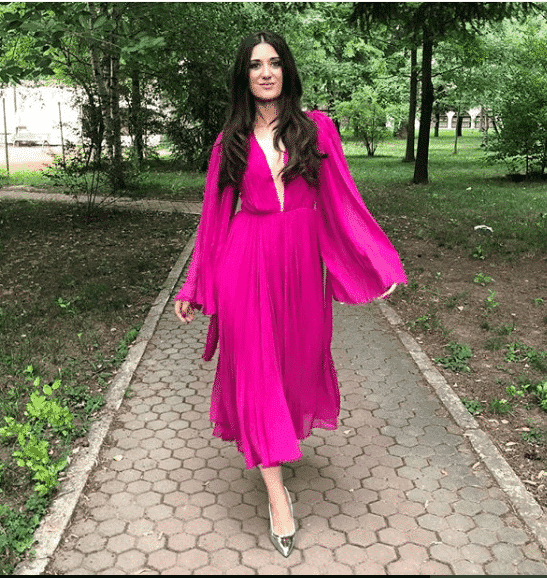 ↓ 16. Funky Animal Print Dresses
The trend for animal print dresses is going strong and whether you opt for a wrap dress or go for more bulky options like blazers and coats, these animal print pieces are a must-have this September. Opt for colorful animal print dresses instead of the typical neutral shades that have been going on for decades.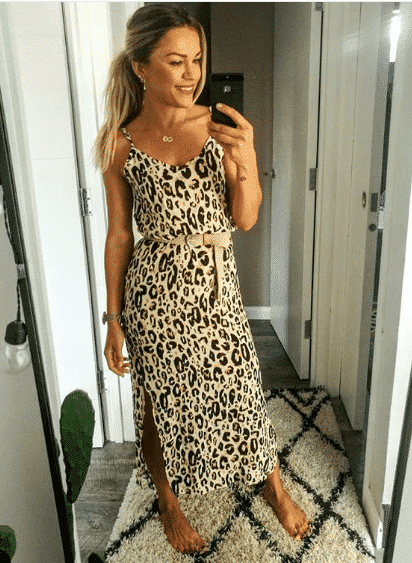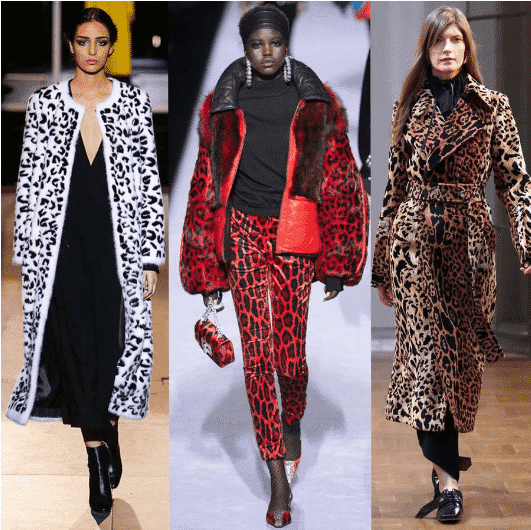 ↓ 15. Perfect Date Outfits
Bows have been a huge part of the fashion world this year and bigger the better! Bows are great embellishments on a plain dress and make you appear effortlessly feminine and chic. Being a perfect option for a date dress, it is time to bring out the dresses with bows. You can match any cute silky top with the bow at the waist with either your favorite white jeans or with a short skirt for a great date outfit. You can find this cute guava pink top here.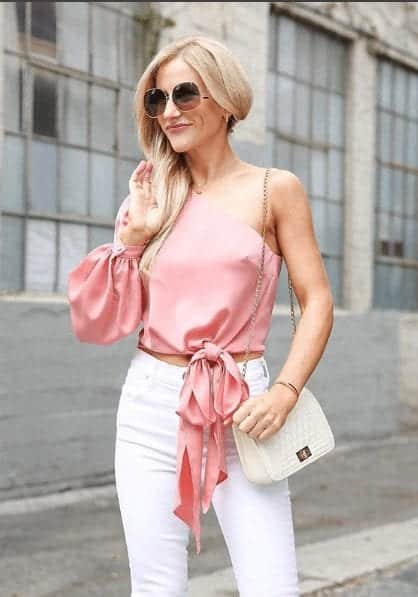 ↓ 14. Bringing in the Polka Dots
Polka dot is one very lovable and classic print and the trend has been a hit on the runway for fall as well. To celebrate the vivacity of polka dots, this September you can opt for a nice monochromatic polka dot dress. You can find this cute two patterned polka dot Midi Wrap dress here. You can style it with a cutesy crossbody black tote or circular purse which you can find here.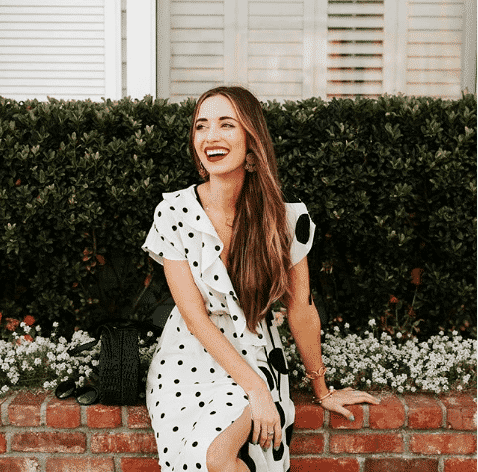 ↓ 13. Wedding Outfit
Flaunt your legs with this awesome asymmetrical pink medallion lace mini dress! It is perfect for the season and is off-shoulder for great styling options. You can buy this dress here. Match it with a pink purse and nude or blush heels for a charming look.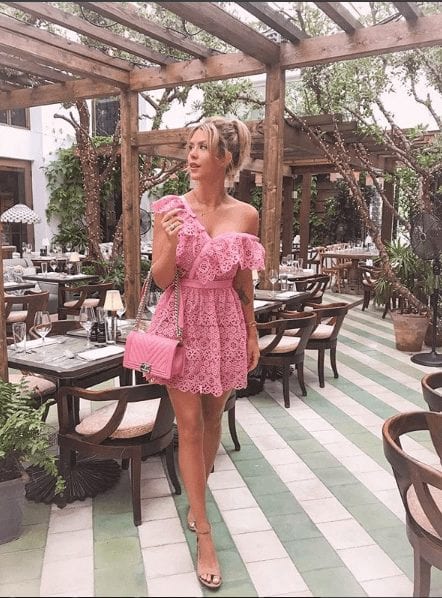 ↓ 12. Matching Patterns
You don't necessarily have to always just go with one pattern when choosing various pieces and sometimes you can create cool outfits by choosing various patterns and using them in the best possible manner. You can wear a striped shirt with leopard print pumps and a camel color purse which will be perfect for September. You can find these pumps here and this purse here.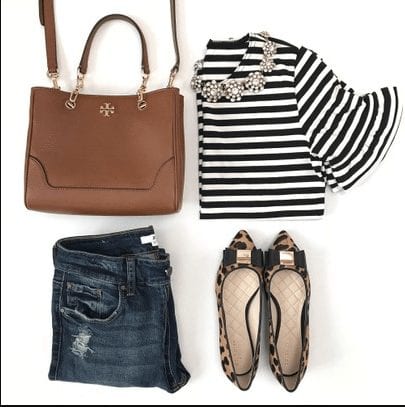 ↓ 11. What to Wear in New York in September
It is nice to keep your options open for layering with different pieces of clothing in New York in late September because the weather can take a turn for the chilly side. In case you are traveling, ideally, keep versatile pieces like kimonos or dusters that are lightweight so great to carry for traveling and can be used for dressing up and keeping you warm if need be. You can find this cute striped duster jacket in camel color which is perfect when the fall starts here.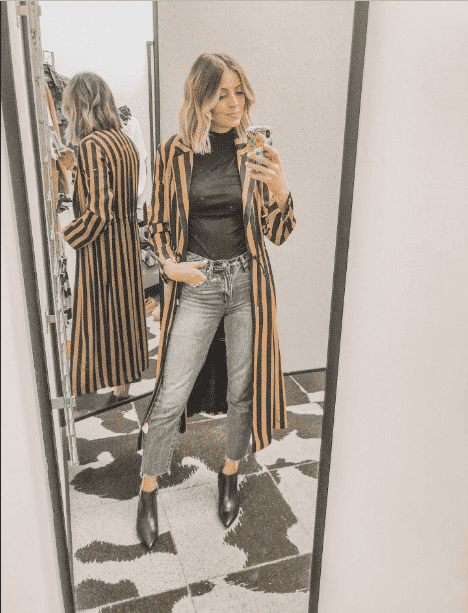 ↓ 10. Shopping Outfit
If you are planning to go out with friends for casual lunch dates or for shopping, we provide you with the perfect and comfy outfit idea. Wear this plain white top with a pastel ribbed shawl cocoon sweater which is perfect for the last few chilly or rainy days and pair it with these Olive colored cargo paper bag shorts with a frilly waist detailing. You can find these shorts here and the sweater here.
Also, have a look at these 40 Ways to Style Floral Shorts.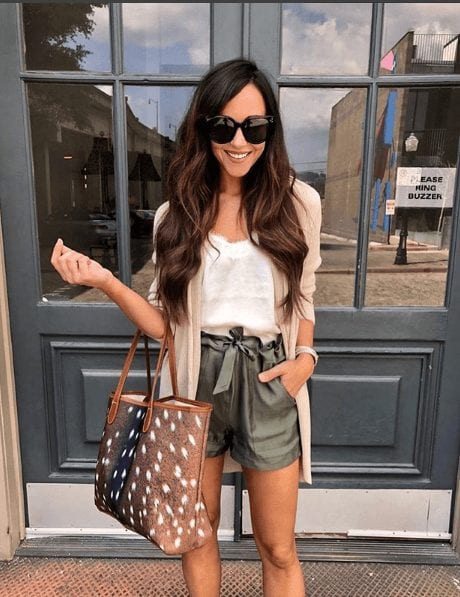 ↓ 9. Best Beach Outfits for September
September is the time to hit the beach and is it perfect or is it perfect? With this cute palm print ruffle bikini set, you will be ready for the beach in no time! You can find this bikini set here.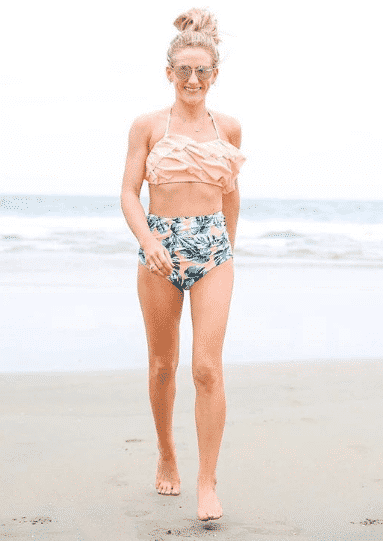 Another more fancy option if you are attending a beach party, is to go for this chic white Bardot bikini top with these ruffle hem shorts. You can find the top here and the shorts here.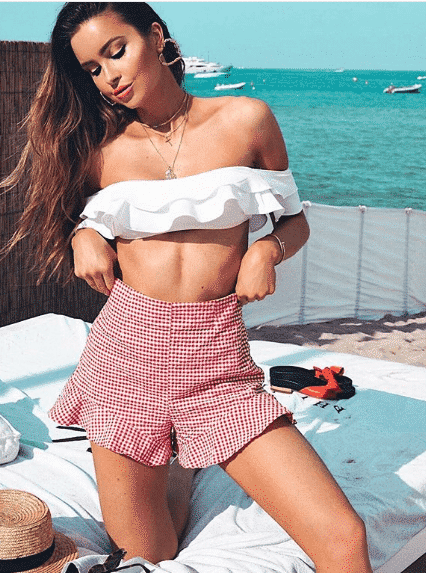 ↓ 8. Sheer Tops with Jeans
Sheer and skin-revealing tops are surprisingly been embraced by the fashion world at a very quick pace. Sheer tops don't only keep things very hot and sexy but add a touch of sophistication without being too bold. Wear this cheerful semi-sheer swiss dot fabric top with pockets on the chest with these low-rise Boyfriend jeans with rip detailing. You can find this nude-colored shirt here and the jeans here.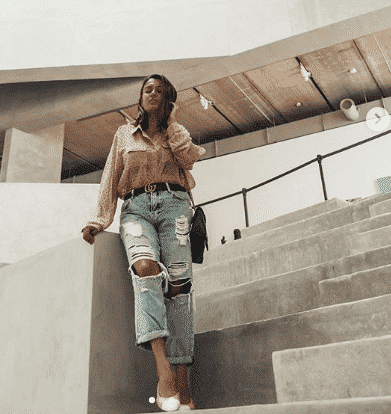 ↓ 7. Accessories for September
Matching accessories and choosing the right one is a very important and slightly tricky thing to do. We have picked some of the most important and cool accessories that you can easily carry in September. Hats add style to your look and you can find these beautiful hats here and here. These circular totes are very pretty and will be perfect for September. The purse with tassels gives you the freedom to match it with any dress and adds something to your complete look. You can find these purses here and here.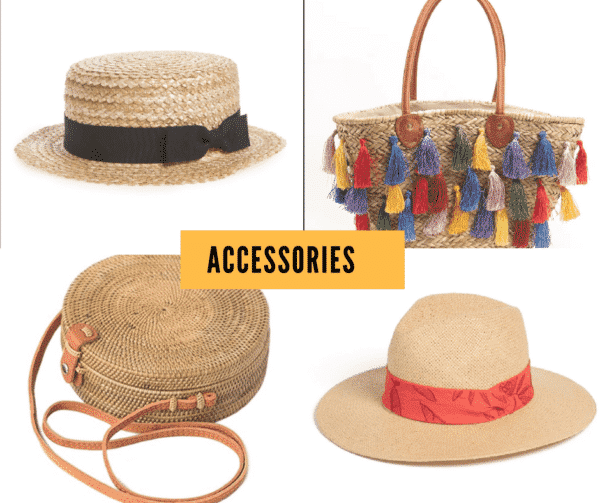 ↓ 6. How to Select the Perfect Footwear for September
It is only apt to adopt the fall colors when September steps in. We have multiple options for footwear throughout the month of September. Initially, it is better to opt for classy slippers. These are available here and here. However, in the last days of September, you will need to opt for close footwear with more coverage. These awesome Ankle Strap Espadrilles are not only very chic but also the perfect color for fall. Another option is these blush colored shoes which will beautifully complement any dress you might decide to wear.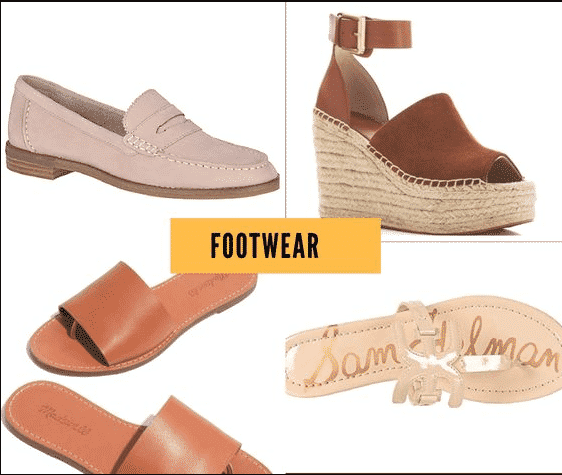 ↓ 5. Alluring Jewelry
Jewelry plays a very important role in creating a lovely effect and every girl needs to have some classic pieces that she can pull out at a moments notice without any fuss. Here we present some great options for earrings that will go with any dress you opt for. You can find the earrings with black tassels here. These beautiful chunky red and orange earrings are the perfect options for pairing up with any dress in fall and are available here. Classic dull gold earrings can be used for more formal events and are available here.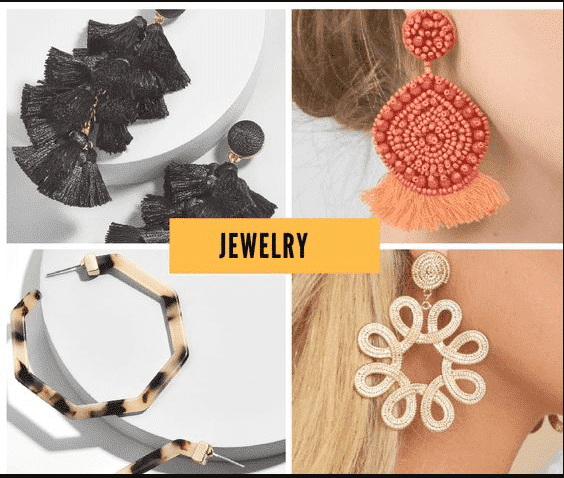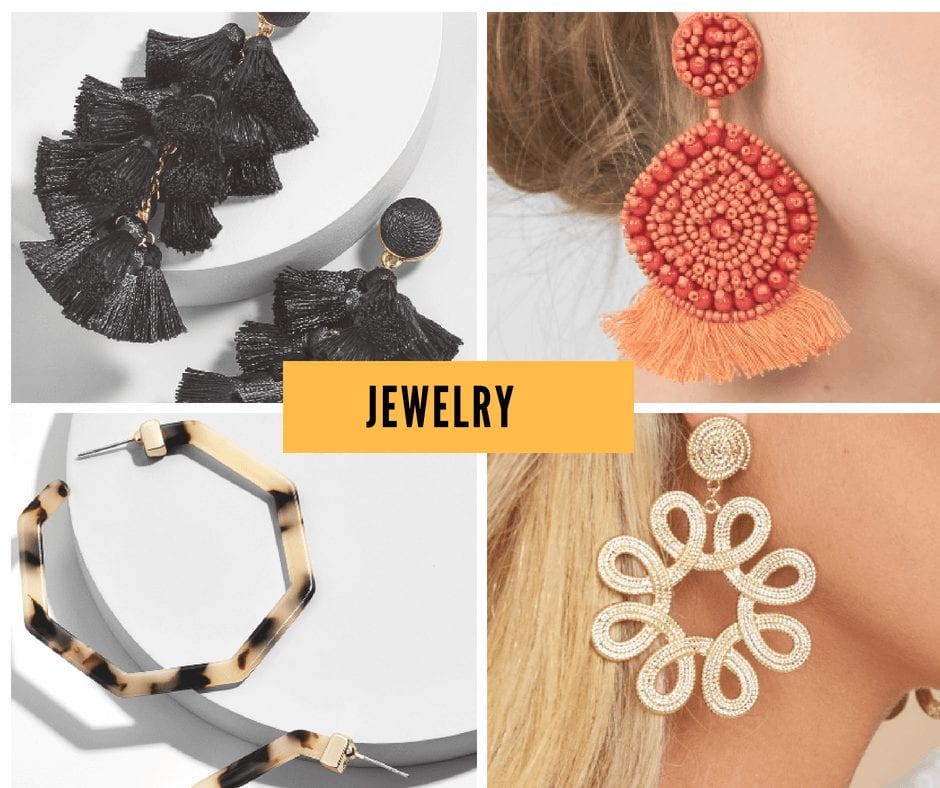 ↓ 4. Micro Floral Prints
It is now time to move on to micro floral prints and say goodbye to our bright and bold floral print dresses. A classic micro floral shirt is the way to move forward and it can be paired with both pants or skirts depending upon your choice. Check out these 25 Ways To Style a Floral Blouse.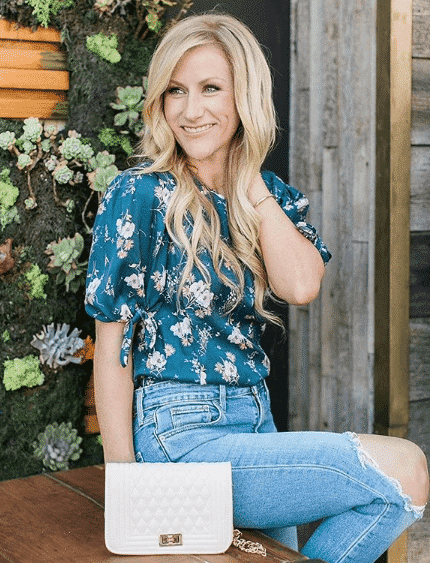 ↓ 3. Styling the Sweat Pants
Another major fashion trend to take up in September is taking the sweatpants out in the public and styling them for casual wear to lunch dates and daytime use.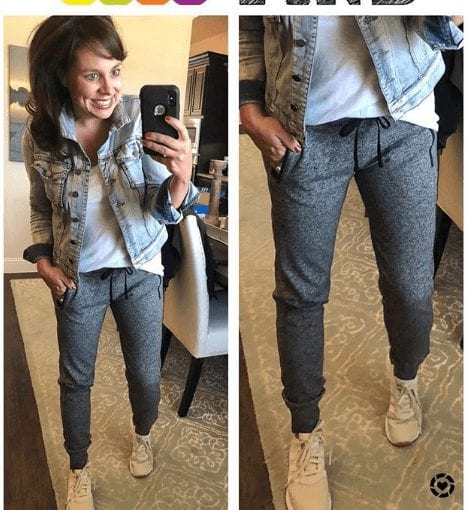 ↓ 2. Long Colorful Skirts
It is that time of the year when you should play with bright and vibrant colors and what can be a better option than a cute colorful maxi skirt with a white top.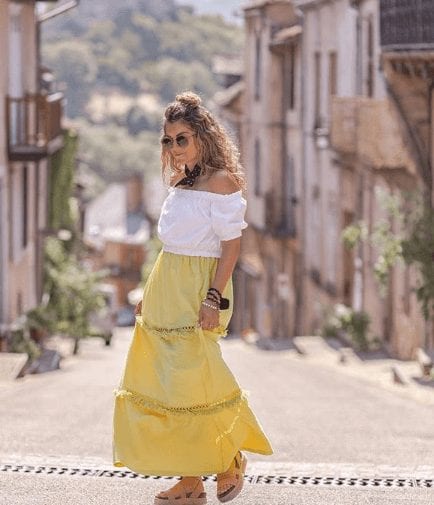 ↓ 1. Flaunting Scarves
With the chilly breeze in the air, it is time to pull on the scarves and flaunt them.