How To Wear Mesh Top Outfits: Fashion outfits are gradually paving the way for some funky and snappy apparel in 2022, one of them being the most stylish are mesh tops that have taken the fashion game by storm since the 1990s. Mesh tops can be in your closet all year long, because of the versatile and transparent fabric usually made up of polyester or nylon. Moreover, they can bring your entire look to the fore, if styled in the right way.
In addition, mesh tops can be a considerable option for the upcoming summer season and can accentuate your look to effortlessly pull off any event, may it be a quick errand run, a jamming session with peers, or a lunch date with girlies. The versatility of designs ranges from floral or cheetah prints, polka dot, or ruffle sleeves to checks and crochet patterns, etc. So, this is a call-out to all the fashionistas out there, who are in pursuit of some classy mesh outfit ideas.
How To Layer A Mesh Shirt?
If you are a person who slavishly follows fashion, you must be clued up on the fact that pairing your tops with the right outfit is very important, deciding on the contrasting colors, whether it should be a pant or a skirt to wear below, and the most fun part is playing with some funky jewelry pieces. If that's what you are cheesed off about, we've got you! Let's draw your attention towards some trendy outfits that your can pair with mesh tops.
These sheer tops require a piece of clothing underneath or above like you could wear a black bra underneath a black mesh top with crochet patterns, or you can layer the top with a black blazer. Moreover, if you are going for a casual streetwear look, pair a half-sleeve, bright-colored choker top with bootcut or mom jeans. Whereas, a formal party look can be achieved by pairing a nude color top, with matching leather pants and some chic accessories. This list will never end, so hold your horses as we serve your mood with more intriguing mesh tops for this summer.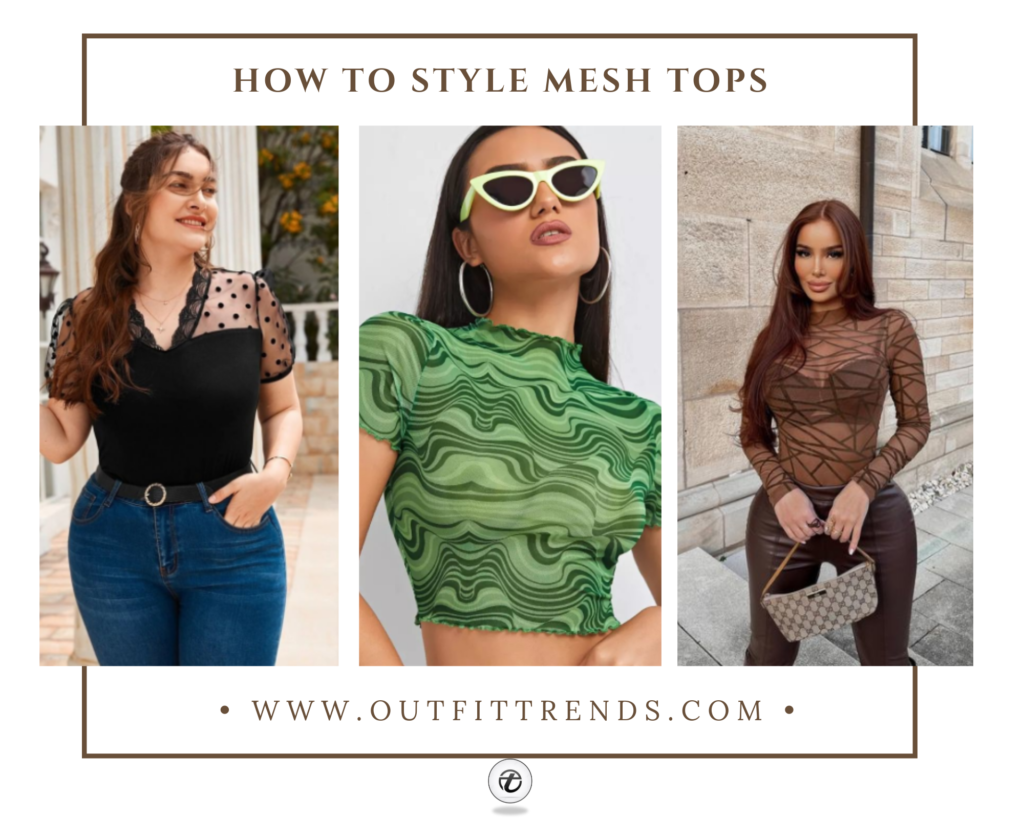 Dos And Donts For Mesh Outfits
• For a cleaner look, style a mesh trim tee with high-waisted pants, paired with a small shoulder bag. Complete the look with a sleek bun and sneakers.
• Always try to wear a matching bra underneath mesh tops so that it's not too revealing.
• For a professional and feminine look, style a dark-colored mesh crop top outfit with a long blazer, paired with matching pants and open-toe short heels.
• If you are going for a formal look, a perfect combo of a top with mesh sleeves and high waisted-leather pants is enough for someone to drool over you. Some minimal make-up and wavy hair can be considered a plus one.
18 – Printed Mesh Top With Brown Slit Leather Pants
Leather pants are one of the must-have wardrobe staples as they can give an instant upgrade to your basic outfit and elevate your look. So, if you want to pull that unparalleled glamour on your date, pair a printed mesh top with high-waisted leather pants. Complete the look with a small Gucci bag, a loose bun, and don't go overboard with jewelry, less is always more. In addition, try to go in contrast with the color of the top, like wear white or beige one-toe heels if wearing a neutral-colored top. Whereas, if you are going for a dark-colored top, pick out the footwear accordingly.
17 – Black Top With A Mini Skirt And Nike Sneakers
Going out on a coffee date with girls? Here's the outfit inspiration for you. Wear a sheer black button-down top with a black jersey mini skirt. Moreover, you can also pair the top with black shorts or wide-leg pants. Conclude the look with some funky accessories, like a shoulder bag, a wristwatch, and cool headwear. Be minimal with make-up and for the footwear, sneakers can be the ultimate choice.
16 – Green Sleeveless Top With High Waisted Leggings
Sleeveless tops are a handy piece of clothing, especially in summers and spring. Picking out a sleeveless top for a smart and casual look can be a great option, and can turn your intrinsic look into a bold one. Simply pair a cute printed sleeveless top tucked in tights or jeans. If perfectly playing with colors is your thing, go for it! You can also throw a half-zip jacket on top and put on some funky jewelry. Paint your nails and own your look.
15 – Top With Matching Lavender Bottoms For Plus Sized Women
Adding a touch of pastel colors to your outfit can take it to a whole new level. Moreover, if you are plus-sized and in pursuit of some stylish and cute mesh top ideas, we've got you. Wear a pastel-colored printed mesh top with matching high-waisted pants or mom jeans. The pastel color scheme consists of shades of light pink, blue, violet, and if you are addicted to these colors, you must know the aesthetic appeal that revolves around them. In addition to that, making a high bun or just a simple hairstyle will work too. Pair the outfit with white sneakers or low heels and you are good to go.
14 – Wear A Mock Neck Printed Top With Ripped Jeans
Ripped jeans are one of the go-to bottom pieces and can intensify your entire look, whether you pair them with a button-down shirt, a trim tee, or a mesh top. Moreover, this denim piece can also be categorized as oversized pants, wide-leg pants, or mom jeans. Here, a beautiful pink mesh top with a snake print has been paired with oversized ripped pants and white shoes. You can also throw a faux fur jacket over the outfit, or a simple long blazer for that extra professional look. In addition to that, make a sleek bun or a ponytail, with statement jewelry, and to ace the look, a small matching bag will be perfect.
13 – Half Sleeves Top And Skinny Jeans
As we gear up for the summer season, short sleeve tops should make their way into everyone's wardrobe, but if you are stodgy about the basic outfit styles, we've got your back. For a casual event, like a meet-up with peers, wear a black dobby top with a short mesh sleeve shirt tucked into dark-colored jeans and secured with a beautiful, simple belt. If you have a meeting at your office, simply wear black high-waisted pants with closed-toe short heels. For the touch-up, pull your hair into a half ponytail, put on some minimal jewelry, and glowy make-up, and you are good to go.
12 – Crochet Mesh With Oversized Trousers
Summer is the perfect season to plunge into different outfit styles and add playful pieces to your basic wardrobe. Crochet tops are finally making a comeback this year, with unique styles and designs. But, if you want to stick to your classic wardrobe staples, we've got you covered. Wear a crochet mesh top with oversized trousers if you want to stay comfortable all day. However, you can try adding a colorful accent to your outfit by wearing a neon-colored crochet top with high-waisted pants. For the footwear, picking out a pair of sporty joggers or simple sneakers can do wonders too.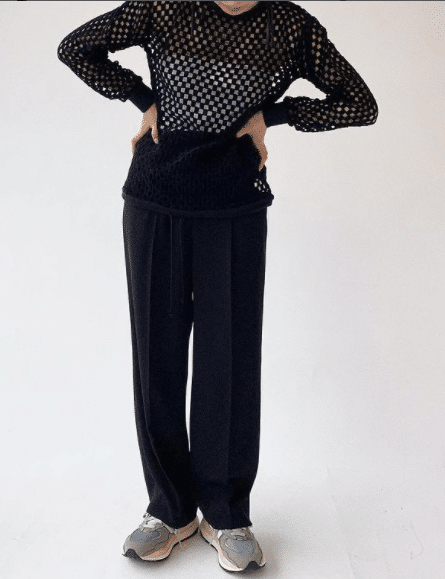 11 – Hailey Bieber's Mesh Outfit With Mini Skirt And Knee High Boots
Our favorite celebrity star, Hailey Bieber stuns in a head-turner semi-sheer black top, styled with a suede button-front mini skirt. We love the classy high knee boots she has paired her outfit with. This look is ideal for events like a musical night or dinner with friends. You can also jack it up by wearing black leggings or pair the outfit with skinny jeans for that sophisticated look. Be minimal with your makeup and hair and get ready to jump off the page.
10 – Blue Leopard Print Corset Over A Black Mesh Top
Considering the versatility of mesh tops, you can effortlessly wear anything over to add a little depth to your ensemble. For instance, wear a dark-colored corset over a button-down mesh shirt, tucked in a mini skirt. Add a touch of bright colors, specifically, blue, red, or violet. You can also wear high-waisted pants or a long skirt as well. Conclude the look with a half ponytail and a small leather purse.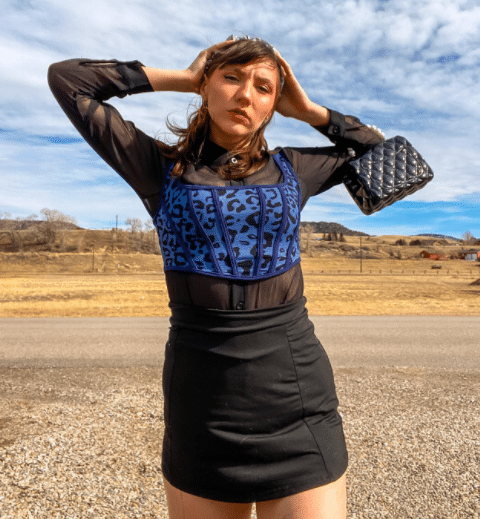 9 – Wear A Fishnet Top With A Black Bralette And Pleated Skirt
Keep your look simple and classy and go for a pleated mini skirt paired with a fishnet top. Wear a matching bralette underneath or a camisole. Complete this combination with a pair of low heels and a mini shoulder bag.
8 – Mesh Sleeve Lace Up Top With Floral Skirt
For a date night look, wear a lace-up front black top with mesh sleeves paired with a medium-length printed satin skirt. Complete the look with nude makeup, a sleek hairstyle, and open-toe heels.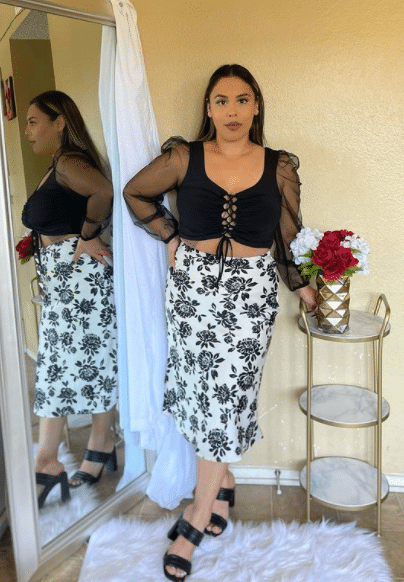 7 – Wear An OverSized Varsity Jacket Over A Top
If you want to achieve a stand-out bold look, wear an oversized jacket over a printed mesh top, paired with tucked-in leather pants, or skinny jeans. This nude combo is going to take your outfit look to a whole new level. Conclude the look with a pair of joggers and chic accessories.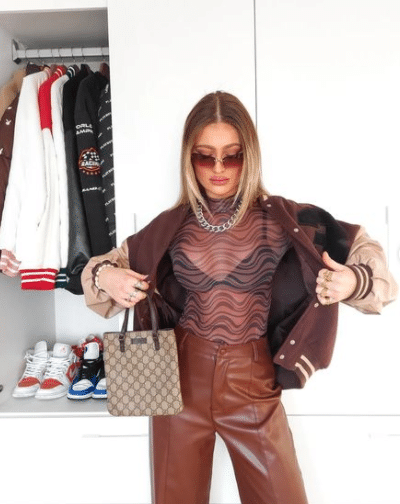 6 – Wear A Blazer Over A Sleeveless Crop Top
Oversized blazers have always made a striking appearance no matter what season it is. If you want to achieve a casual, streetwear look, wear an oversized blazer over a sleeveless mesh crop top, paired with skinny jeans. Complete the combo with open-toe heels or sneakers.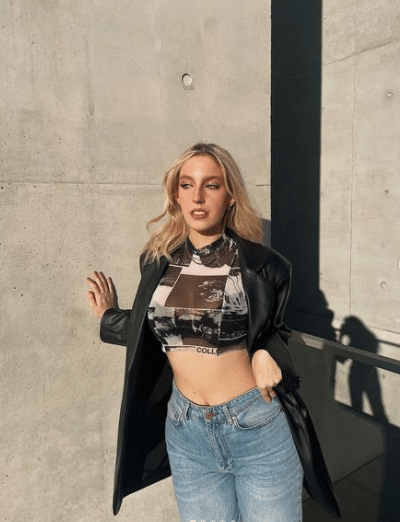 5 – Oversized Shirt Over A Crochet Top With Platform Boots
When it comes to layering a basic outfit, oversized shirts are the go-to clothing pieces. So, steal a light-colored shirt from your dad's wardrobe and wear it over a white crochet top, paired with high-waisted trousers. Wear a black camisole underneath and conclude the look with black army boots.
4 – Turquoise High Neck Mesh Top With Buttoned Skirt
Off to a brunch with friends? Wear a turquoise high-neck mesh top with floral embellishment on the sleeves. Pair the outfit with a long button-front black skirt and ankle boots. Put on a pearl necklace, curl your hair and you are good to go.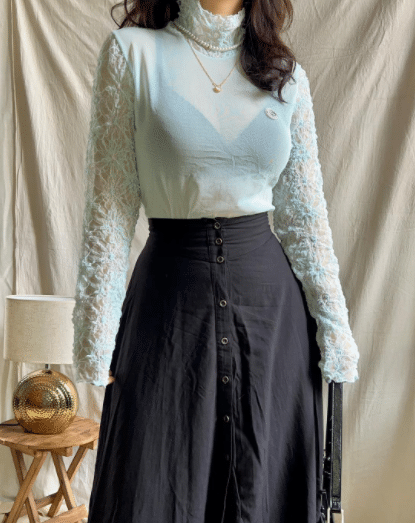 3 – Lace Up Mesh Shirt With White Pants
White pants can pull off an exceedingly classy look, even if it's paired with a basic top. If you are going for an everyday casual look, wear a printed blue mesh top with a lace-up front, paired with white pants and joggers. Complete the look with a black shoulder bag and put on some chic shades.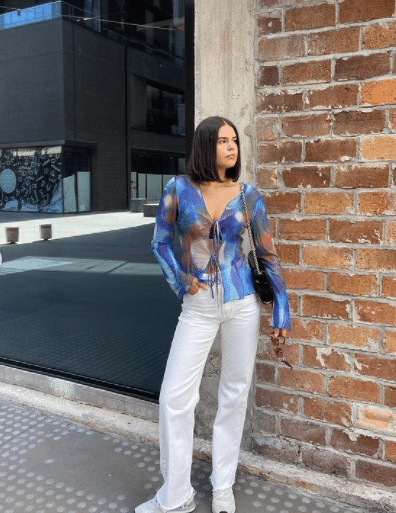 2 – Printed Trim Tee With Nude Fitted Pants
Some laidback trendy outfits include trim tees, which are free and easy to wear. If you want to pull off a put-together look, wear a snake print mesh top with beige pants. You can also wear black leather pants for a classy look or keep it simple with a mini skirt. Put on a few rings, a cow print mini bag, and some glowy makeup.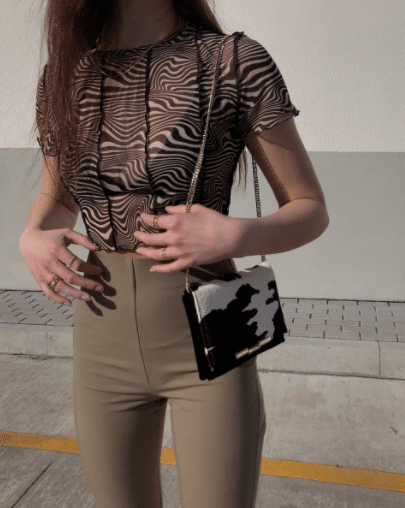 1 – Brown Mesh Button Up Shirt With Black Leather Pants
A simple date night look can be achieved by wearing a brown button-up shirt paired with black wide-leg leather pants. Wind up the look with white shoes or open-toe heels, a sleek hairstyle, and put on some cool earrings.
Frequently Asked Questions
Q. What to wear under a mesh top?
Ans. Mesh tops are usually transparent so a piece of clothing is required underneath so that it's not too revealing, which depends on the type of look you are going for. If you want to achieve a formal look, wear a matching bralette or a lace bra under a sheer top. Whereas, a casual look can be achieved by wearing a sports bra or a simple camisole under a crochet top or a crop top.
Q. Are mesh tops good for hot weather?
Ans. Mesh is a lightweight and breathable material that makes it expedient to layer and style meaning you can wear a blazer, shirt, or a jacket over a mesh sleeveless, crop or tube top, even if the weather is hot or moderate.
Q. What shoes to wear with a mesh top?
Ans. Picking out the right footwear for your outfit is important as it can totally transpose your fashion game. If you are pairing your mesh top with a skirt, leather pants, or shorts, wear open-toe heels, or sneakers for a simple look. Whereas, if you are pairing it with jeans or oversized trousers, ankle boots or joggers will be a perfect fit.