How To Wear Lace Vest Outfits – By mixing and matching different clothing pieces together, you can make a simple outfit stand out. Layering a vest or jacket over the dress changes the appearance of your attire and makes it more trendy. To do so, you must know how to utilize and fashionably wear such outfits. Vests, jackets, coats, and blazers are used to dress up any look and transform a simple look into a fashionable one. Such outerwears are available in various fabrics, designs, and styles.
Lace vests are one of them, and you may wear them over your outfit to make it appear more attractive and stylish. Lace vests are the most popular and fashionable outerwear that you can wear with almost every dress and in any event. You may style a formal look with a lace blazer or a festive one with a long beautiful lace vest. You can also use these vests in the winter by layering them over sweatshirts and jeans and combining them with leather boots. Also, you may get them in different lengths and sizes, such as a long lace coat for a midi dress or a lace jacket with denim and a top.
Outfits To Wear With Lace Vests
There are several methods to style lace vest outfits with your eastern and western, casual, and fancy clothes. You can pair these vests with shirt dresses, crop tops, lace pants, matching two pieces, and printed shirts. this article contains various stylish outfit ideas to try on with lace vests and look super trendy in them. But, before we get into outfit ideas for lace vests, here are some tips and do's and don'ts you should be aware of while buying or wearing an outfit with lace coats.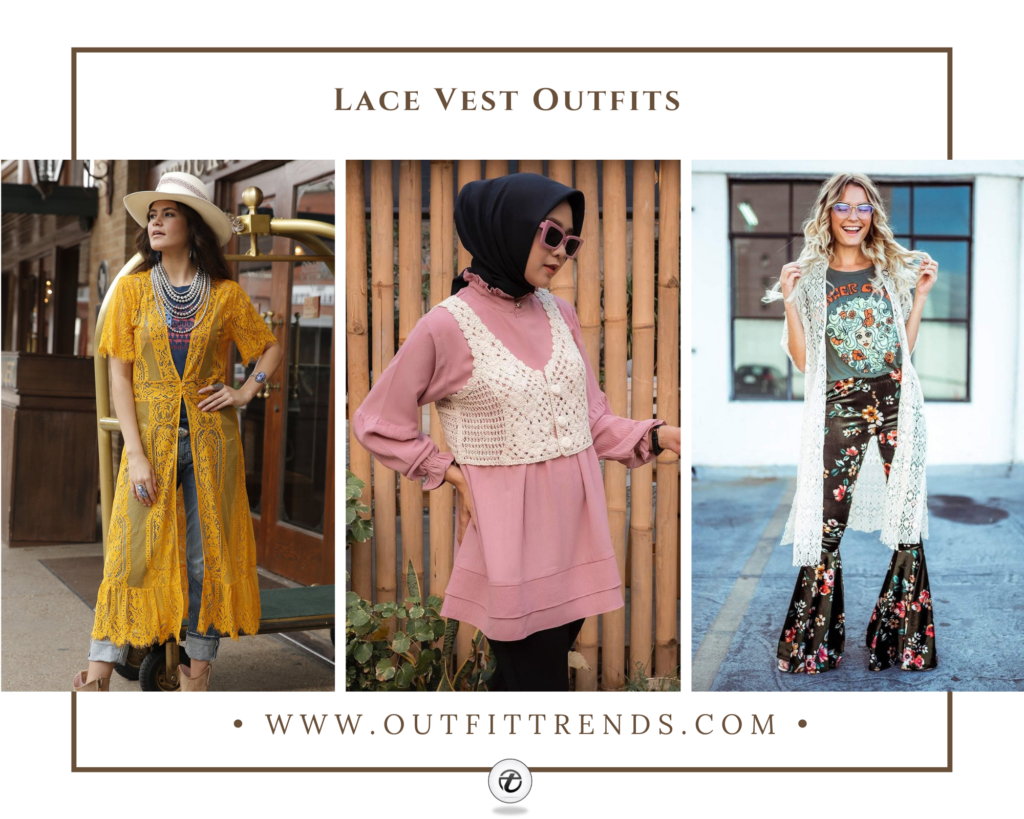 Tips For Styling Lace Vest Outfits
Instead of wearing lace from head to toe, combine your lace vest with another material top or lace dress.
Pair your white or black lace jackets with bright colored shirts and dresses to experiment with different color combinations.
If your vest is too big, try tightening it up by wearing it with a waist belt and making it appear beautiful and elegant.
Pair your lace vest outfits with long beaded necklaces to brighten them up and make them more attractive.
Always choose the correct size lace vest for yourself; extra-large and extra-long vests may seem unattractive or unsuitable.
23 – Pair It With Denim Shorts, A Tank Top And Heels
A long lace vest coat is an excellent choice for summer outfits. Wear a simple spaghetti strap blouse with denim shorts and a long lace coat over the whole. Add a beautiful purse and wedge sandals to complete your look. You can wear such clothes in the summertime since they keep you cool in hot weather, and this lace coat will make your plain outfit look more attractive.
22 – Denim Blue Jeans With A Tshirt And A Yellow Lace Vest
Colorful outfits usually make you feel good and fresh, and they make you appear attractive when you wear them. Add a long bright color lace coat to your collection since you may use it to create stunning outfit looks. The yellow lace coat has paired up with a blue tee and denim pants. Add a beautiful neckpiece, a waist belt, and a matching bracelet to complete the ensemble. Put on a round hat to add extra attractiveness to your ensemble. The vest may be worn open as well as with the button closed.
21 – Lace Top With Flared Pants And A Crochet Vest
Wear a white cropped shirt with bell-bottom trousers and a long-sleeved crochet vest over it. Wear red sandals to add a pop of color to your outfit. These red shoes will brighten up your look.
20 – Lace Ruffle Vest With A Black Formal Shirt
Lace vests, as previously said, come in a variety of designs and materials. A lace ruffle vest is one of them; these are lightweight and beautiful and can use by anyone. But what should you wear with them? So, I've got an idea for you. You may wear these coats with a basic top and trousers since they are fashionable and will look great with a plain shirt. You can choose white or black sneakers or black high heel sandals for footwear.
19 – Cropped Vest With A Ruffled Sleeve Top
You may also wear these lace vests with a hijab, but make sure to style them in a stylish way to make the whole dress seem classy. Wear a full-sleeved shirt in a gorgeous red hue with black trousers and a short white sleeveless lace vest over it. Wear a plain black scarf that matches the jeans and chic sunglasses to complete the look. You may wear the shirt in any color and create the same look.
18 – Pair These Vests With Bikinis For The Beach
If you're wondering what to wear to the beach, look no further because lace vests are an excellent choice. These lace kimono vests are available in different colors, but white and black are more attractive. Just pair your bikini with a lace vest over it. You may wear your vest in various sizes, according to your choice. You may easily remove your vest while in the water and pull it back once you return. Enjoy the day at the beach with your friends.
17 – Festive Eastern Look With Lehnga And Lace Coat
We mentioned casual outfit ideas with lace vests above, but did you know that you can also create a festive look with these lace vest coats? Wear your lovely fancy dress, including a fancy blouse and matching Gharara trousers or sharara. Over an outfit, layer a long lace coat in a contrasting hue. Wear minimal jewelry, and don't forget to wear sunglasses if you're attending a daylight wedding. This outfit is the simple and most elegant attire you can wear to a wedding.
16 – Lace Zip Up With Skinny Jeans
You've probably seen and worn leather jackets and denim jackets, but have you ever tried on a lace jacket? If you haven't already, you should try now. Get a zip-up for yourself and put together an outfit with it. Wear a simple black tank top with denim pants and a lace vest jacket over it. Wear a lovely beaded necklace and matching earrings to complete the look, and you're ready to go.
15 – Pair Floral Flared Pants With A Graphic Tee And A White Vest
This year is all about putting together stylish looks by mixing and matching clothing pieces. Wear your favorite short-sleeved tee with any lovely floral pattern pants you have in your wardrobe. To look gorgeous and elegant, layer a white lace vest over the fit and wear sunglasses.
14 – Wear A Black Tube Top With A Matching Skirt And Vest
Another lovely festive look to try on with a lace vest is this stunning black attire. Wear a black cropped shirt with a long black skirt with lace detailing. Pair it with a long-sleeved black lace coat. Wear beautiful black heel sandals with trendy earrings to complete the appearance.
Via
13 – Corduroy Skirt With Tank Top And Black Boots
This vest is the most fashionable sort of outerwear to pair with your favorite dresses. Here's another outfit option for you to consider. If you enjoy wearing skirts, you should try this look. Put on a basic black tank top and a brown leather skirt. Wear a matching black lace vest over the outfit and complete the look with leather boots and a round brown hat.
12 – White Laceup Lace Vest With Grey Skirt For Work
Working women love to dress in beautiful and comfy outfits that they can wear all day in the office. A lace vest may be worn to the office. Wear a black top over a white lace jacket. Combine the top with a grey button mini skirt. Add a waist belt over your lace vest to get a more professional office look. To compliment your look, carry a black purse and white heel sandals.
11 – Lace Blazer With High Waisted Jeans For Plus Size Women
You can wear a white shirt or a black tank top. Combine it with your favorite jeans and a white lace pocket vest to complete the look. Since your top is already sleeveless, choose a full-sleeved lace blazer. You can choose trendy sneakers or lovely white sandals for footwear.
10 – Pair A Tshirt With Skinny Jeans For A Casual Look
Here's a simple attire you may wear if you're heading out with friends and want to wear something simple and elegant. Wear a yellow t-shirt with high-waisted button pants and a white lovely white lace vest. Pair your clothing with white flat slippers to complete a casual look.
Via
9 – Birthday Skirt With Pink Top And Matching Vest
If it's your birthday today and you're confused about what to wear? Then you don't have to worry since there is a perfect outfit for you to wear on your birthday. Wear a pink spaghetti strap blouse with a basic black midi skirt and layer on a matching pink lace jacket. Wear matching black heels with your midi skirt, and you're ready for your birthday.
8 – With Leather Boots, Skinny Jeans And A Bralette
Leather boots are the most attractive boots that can match any casual outfit and look amazing when paired with a cropped shirt, fitted jeans, and a long lace vest over them. This floral lace vest will complement the top, making the outfit seem elegant and attractive. You may easily pull off this look if you need to go to a last minute meetup.
7 – Wear It With White Shorts And A Pink Tank Top
The lace vest has been paired up with jeans or a skirt in all of the above looks. However, a long or short lace vest can also be worn with shorts. Wear a pink cropped top with high-waisted white button shorts. Keep your cropped top tucked into your skirt to make the outfit look perfect. Wear a white lace short jacket over the dress; alternatively, a long lace kimono can also be paired with this outfit. You can wear white wedges or even heels with this look according to your choice. Finally, put on some stunning earrings in a similar pink tone, as well as some decent neckpieces.
6 – Pair A Peach Vest With A Burgundy Dress
If you have a peach vest in your wardrobe and aren't sure how to wear it elegantly and beautifully, here's an outfit suggestion for you. Pick out your pink or another colored vest from your closet and look for a frock dress that will match it. The dark maroon frock dress has combined with a peach lace vest in this look. You may also create a similar outfit in whatever color you choose.
5 – Black Maxi Dress With A White Lace Coat
A long black maxi dress may be worn in a variety of ways. It may be used to create a festive, office, or casual look. Here's how you pair a maxi dress with a long lace coat. Put on a long maxi dress with a long lace kimono vest. Carry a shoulder purse and a long, elegant necklace with your outfit. You can wear black shoes to complement the outfit. This attire is also suitable for pregnant women. They can surely wear it and rock the look.
4 – Half Denim Half Lace Jacket With White Pants
Here is the most fashionable jacket you can add to your wardrobe. You've worn denim jackets and lace jackets, but have you ever worn a denim lace jacket? I'm sure you haven't, but now is the time to get one and pair it with your favorite shirt. Wear a simple white shirt with a lovely denim lace jacket over it. Put on white pants and white sneakers to complement the look. Take a black little strap bag with you and, you're good to go.
3 – Green Lace Shirt With Denim Shorts
Via
2 – Peach Dress Paired With A Long Lace Vest For Women Over 50
1 – White Paants And Tank Top With A Black Vest
Frequently Asked Questions
Q. How do you style a women's lace vest?
Ans. Lace vest jackets and coats may wear in a variety of fashionable ways. It can go with a maxi dress or a tank top, and you may also wear it in the winter with a turtleneck shirt. You may also add a waist belt over your lace vest to make your outfit more attractive and fashionable.
Q. What bottom do you wear with lace vests?
Ans. Lace vests may wear with a variety of bottoms. They can pair up with fitting jeans for a go-to style look or with palazzo pants for a more stylish look. You may pair it with a skirt for a festive appearance and combine it with lace shorts for a fun look. In brief, you may wear lace vests with any bottom, but remember to select the best-fitting lace jackets and pants for you.
Q. Are lace vests trendy in 2022?
Ans. Lace vests were popular in the 1990s and are back in style in 2022, just like fringe vests. They go with every outfit and can be used to create various looks. You may also accessorize your look with trendy hair and jewelry pieces, as well as chic bags.