Latest Pakistani Fashion Outfits for Women Over 30. A myriad of colors, styles, designs, and affordable brands is what stitches the fabric of our culture when it comes to fashion for women. Our ladies do not compromise on excellent, top-notch ensemble, and there's no stopping them.
In the past few years, several designer brands have surfaced, and many of them are affordable, as well. The competition is severe. Every few days, there is a new trend that is followed with utmost dedication. From the past year, we have been noticing an onslaught of trends that gives the women loads of style options to choose from. They say age is just a number, but we women know pretty well that its more than that. We also understand that with age we have to dress more decently. 30 is when we start admitting that we have entered that mid-life crisis phase of life, and regardless of that, some change needs to make even in our wardrobe. For all the Pakistani women who are above 30 years of age, here is some attire inspiration for you.
How To Dress In Your 30s For Pakistani Women
Pakistani women ardently love classy traditional attires. There is no end to the Pakistani women who ardently love chic conventional attires. When they come across someone who has an entirely messed up sense of style, there is no end to the criticism thrown that person's way. No one wants to be that person. So here are some basics that you must keep in mind while dressing in your thirties.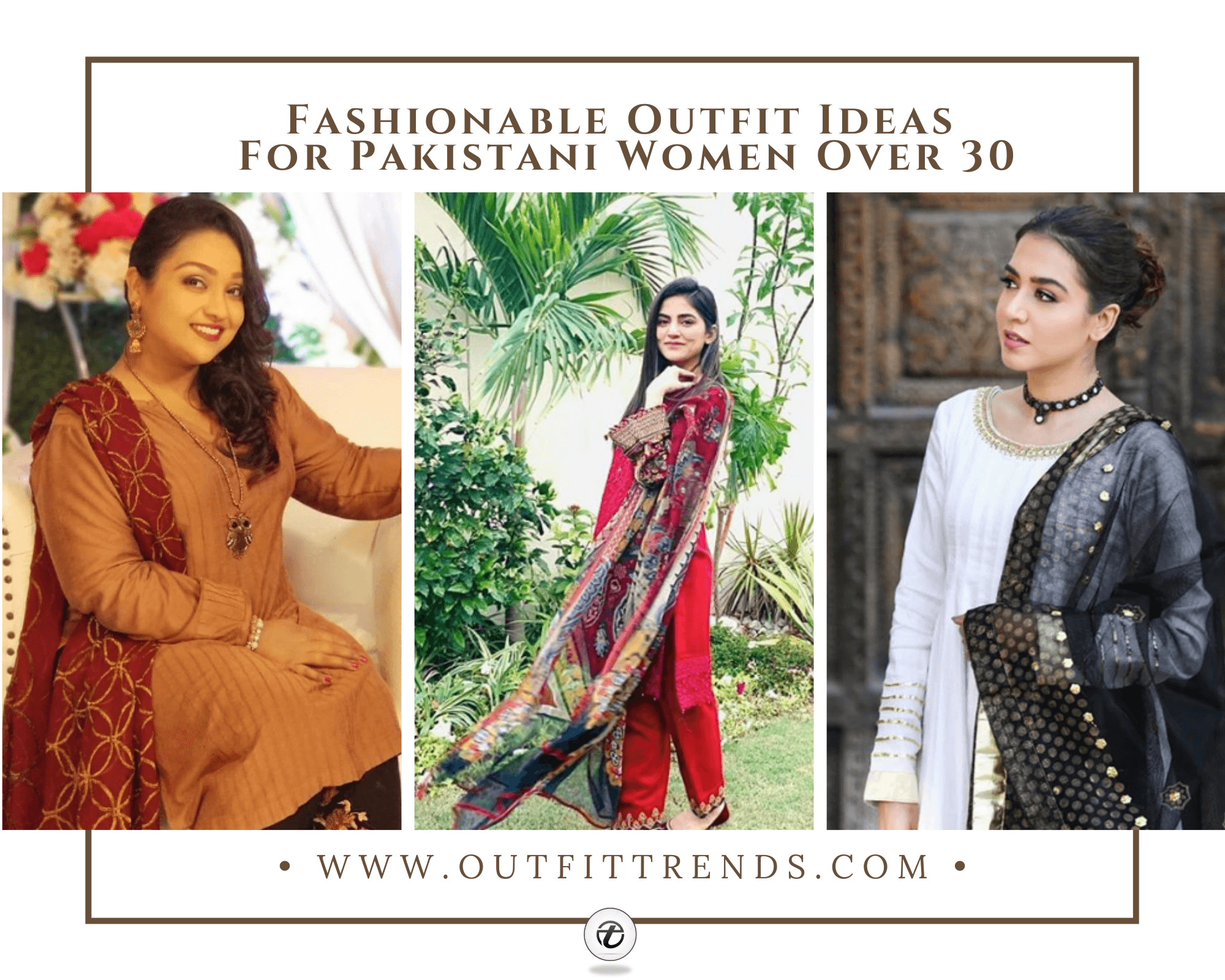 No more tights for you. Let girls in their teens and twenties wear them. You need to grow out of this trend and explore more designs and styles.
Avoid thin and small dupattas, as well.
Try buying a three-piece outfit as it will save you from the trouble of getting a matching trouser and dupatta. Save your time and energy and invest in outfits that will suit you.
Wear well-fitted outfits and try incorporating unique styles in your outfit.
A shalwar with kameez may sound a little old fashioned, so trouser or straight pants will work well for you when it comes to formal wear.
There are a lot of styles in vogue at a time. Wear one that suits your age. When you enter your thirties, it's time to leave behind those short shirts and go for more elegant long shirts.
At this age and onwards, you must avoid colors that are too loud or funky. After all, you aren't a "girl" anymore. You're a woman, it might sound a little harsh, but it is the truth.
Your body has changed too, so it's better to let go of low rise jeans or cropped pants. Go for high-waisted straight leg jeans instead with a medium length, sober shirt, or Kurti.
Keep away from high-low cuts and any clothing item that is too fitted.
In your thirties, you might be married and mother to a few adorable babies. You might have to carry your children and their stuff, so wear comfortable outfits.
Don't be afraid of putting on makeup and accessorizing. It is the best age to wear makeup in and wear gold jewelry. Give off mature lady vibes and appear elegant and graceful.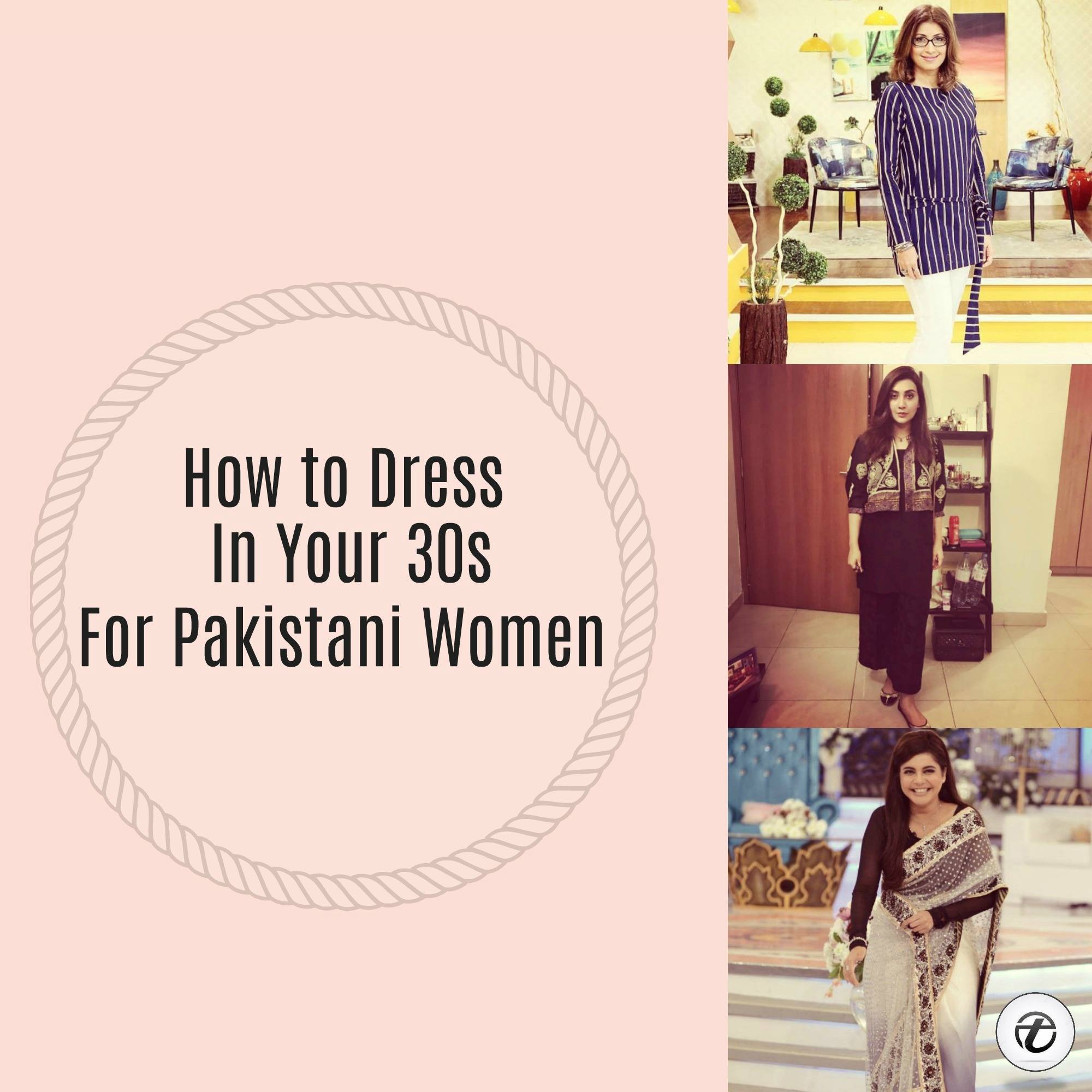 ↓ 25 – Gold Color For Special Occasions
Ladies, you are growing old, we know. But we also know that you are still young at your heart. If you are planning to attend a wedding ceremony or engagement of someone dear, then it's obvious that you are going to wear something unique. So, you can wear a vibrant gold outfit in silk. Have a look at this embroidered golden open slit shirt with matching palazzo. Wear this outfit with heels and put on some makeup. If the function is at night, go for smokey eyes and bold lips. Get your hair blow-dried and grab a small clutch. We guarantee you that you will steal the hearts of many in this outfit. You should also have a look at these different ways of wearing Kurtis With Palazzo Pants.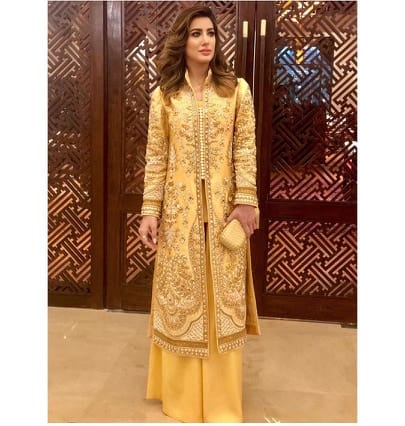 ↓ 24 – Unique Styles To Try In Your 30's
They say wear modest outfits in your thirties. But modest doesn't mean you can't try unique cuts and designs. Saba Qamar, the heartthrob actress of Pakistan, is in her thirties, but the way she dresses up and carries herself makes her look way too young. Here she is wearing an adorable purple silk lehenga choli. Her blouse is plain, but the back cut with golden detailing is eye-catching. We adore the way she is wearing purple net dupatta with this outfit. Saba Qamar is a wise lady; we can see the reflection of this in her dressing sense. Doesn't she look elegant in sleek center partitioned hair bun and Kundan jhumkas? Also, the amount of makeup she has applied is just perfect.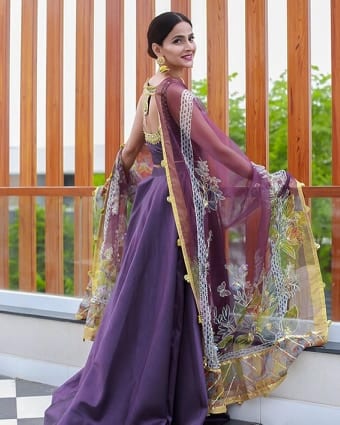 ↓ 23 – Outfits For Weddings In Your Thirties
What to wear to a wedding in your thirties? This is the age where you are neither too young nor too old. So, be very careful while dressing up. A slight mistake, and you are doomed. If you are a lady with a short height and balanced figure, then you can wear a lehenga and shawl at a wedding. You can even wear your wedding outfit if it's the wedding of someone close like your brother or sister. Mostly Pakistani people do this. But while wearing your wedding attire, go easy on makeup and jewllery. If you have a little bulky figure in your thirties, go for gowns or embroidered kurta and pants.
Have a look at Ayesha Omer looking extravagant in silver-golden lehenga and red dupatta. The way she had tied her hair in a bun and accessorized her outfit with tikka, earrings and glass bangles is mind-blowing.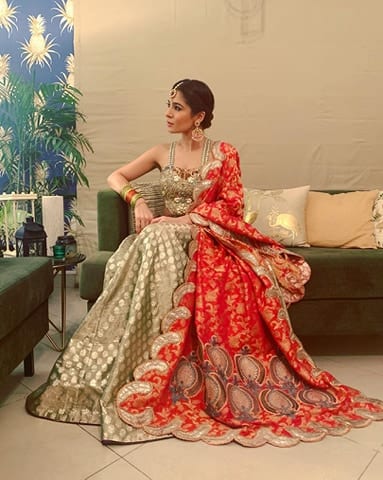 ↓ 22 – How to Wear Black In Your 30's
For attending events at night that too in winters, you should try incorporating velvet attires to your wardrobe. You can wear velvet shirts and trousers with Jamawar dupattas and create a luxurious look. Put on pumps, your favorite piece of jewelry, and a light blush and lipstick. Perfect for your age!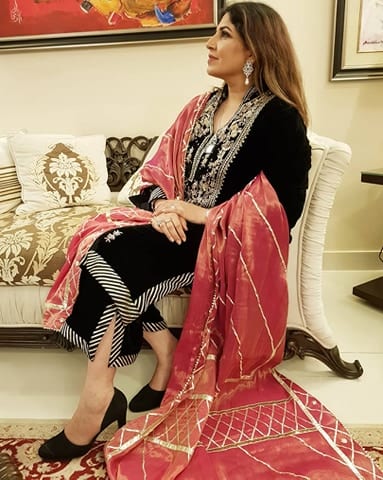 ↓ 21 – Plain And Decent Outfits
Plain outfits never go out of fashion. Add some plain light-colored and pastel-colored outfits to your wardrobe and stun on any occasion. Also, add khussas of almost every color to your closet.
Absolutely loving how Saba Qamar is carrying herself with delicacy in a white palazzo, skin-colored Kurti, and net embroidered dupatta. Her brown khussas, straight hair, and minimal makeup completed her look.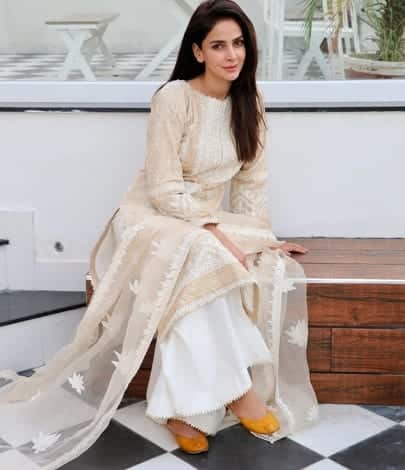 ↓ 20 – Semi-Casual Look
When you do not have any ideas, follow Pakistani style icons on social media and television, and you will get a good idea. Ayesha Khan is currently in her early 30s, and her style for sure is impressive. Here we see her wearing a black kurta and wide-legged pants. The minimal embroidery on the jacket helps keep the outfit semi-formal so you can wear it to parties as well as for casual wear. She has perfectly matched the khussas with the embroidered jacket, which completes the look. If you're a curvy woman, then do check these 25 Plus Size Outfits For Pakistani Girls.
↓ 19 – Travel Outfit
When traveling, some women cannot decide if they should go for eastern wear or western. The answer is simple, when traveling in Pakistan, you may wear any trendy desi outfit, or you may wear modest western clothes. Abroad, though, calls for a pair of jeans with a tee, button-up shirt, or other such fab shirt style.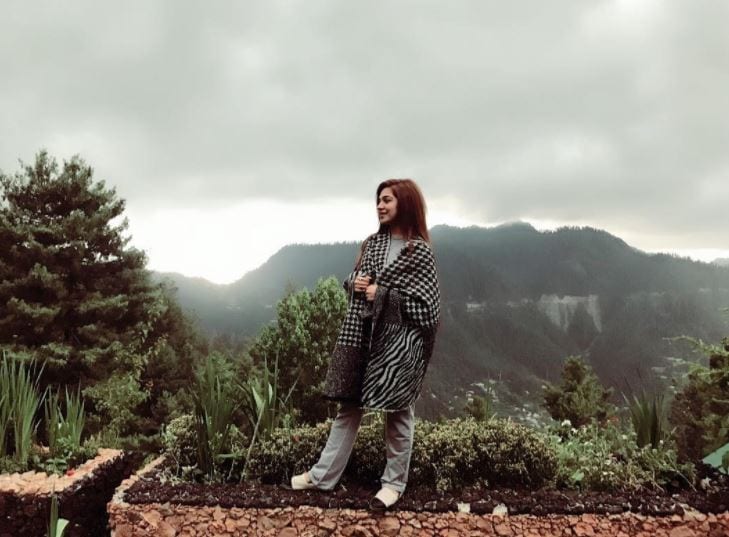 ↓ 18 – Wedding Guest Outfit
Weddings in Pakistan are no less than fashion shows. And the attractive dressing is a significant part of all the events. Chiffon, silk, and other expensive fabrics with sparkly adornments are sported in classy designs by women. Here are 25 Easy and Gorgeous Hairstyles For Walima Function This Season.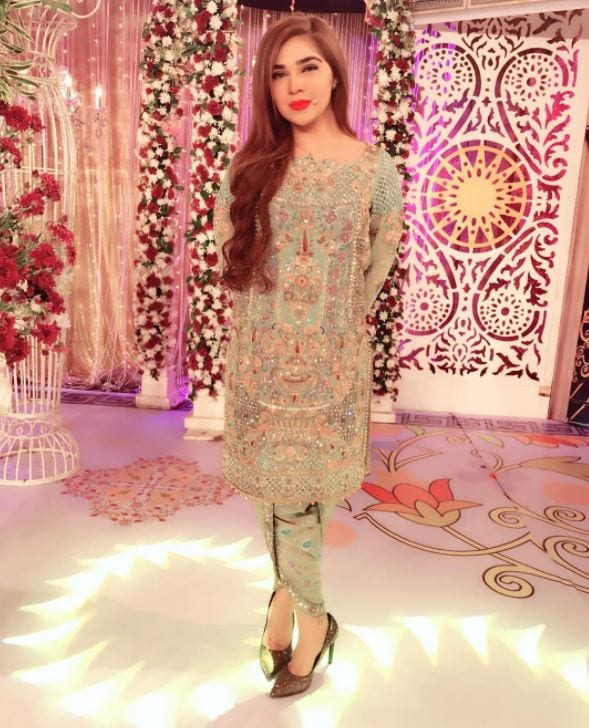 ↓ 17 – Work Outfit
What you wear to work depends on your workplace guidelines. You can choose to wear any simple, sober, and classy outfit to your office that adheres to the rules. Keep your hair tied with minimal makeup on your face and look flawlessly elegant.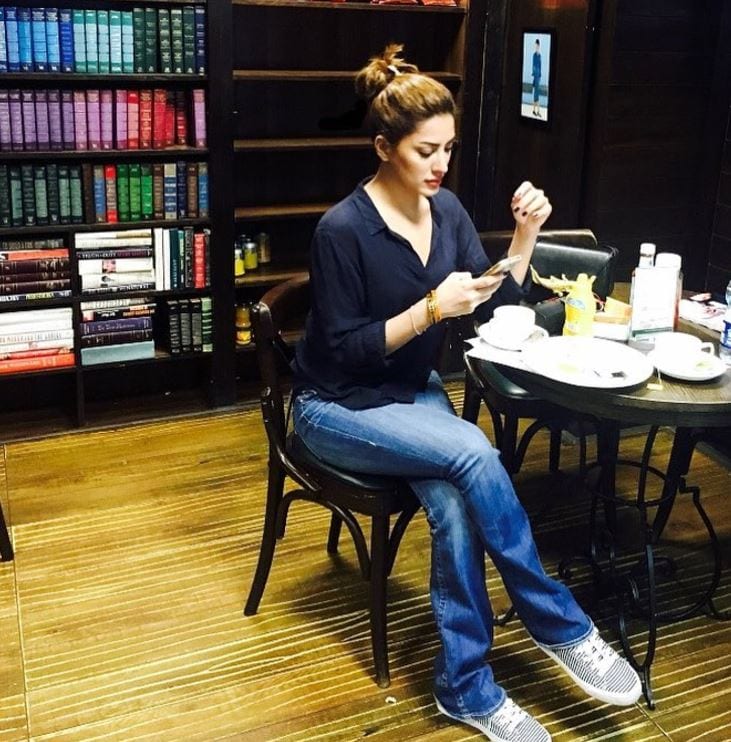 ↓ 16 – Plus Size Outfit
30 is an entranceway to old age. If you want to go for a decent look, wear a muted tone. This off-white Saari that Bushra Ansari is sporting is perfect with a bright blouse. Here are 14 Most Elegant Saree Designs with Saree Wearing Tips and Ideas.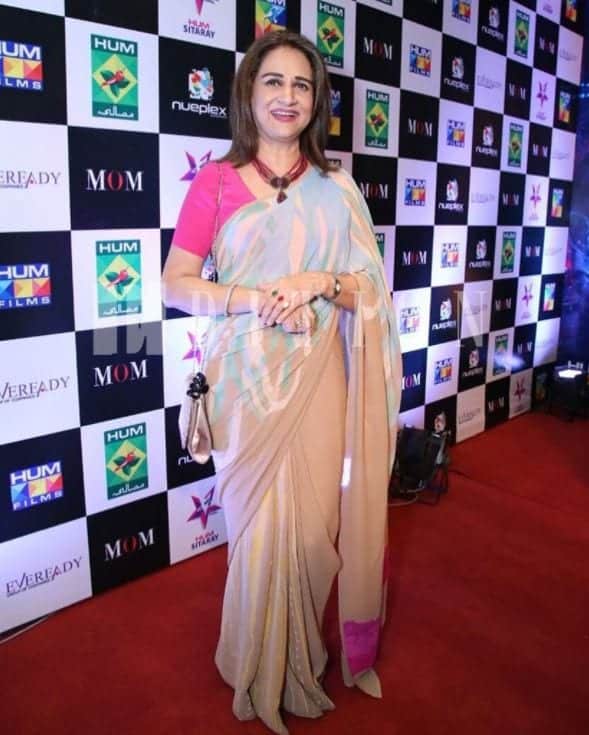 ↓ 15 – Jeans Outfit
If you're conscious about your look and think that a short top would look a bit too much, wear a Kurti with jeans. Here are 20 Ways To Wear Jeans With Heels.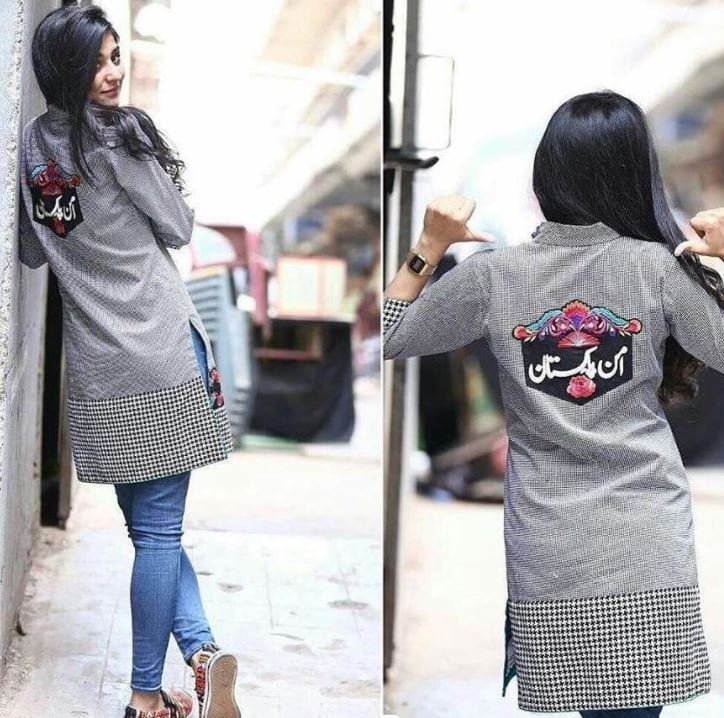 ↓ 14 – Party Wear
Party at a friend's house? Or attending your farewell ceremony? There are several reasons for partying, and there is no missing the best part; getting ready! Have a look at this wow party outfit sported by Sanam Saeed. She's wearing Sania Maskatiya, and there is no doubt she is slaying!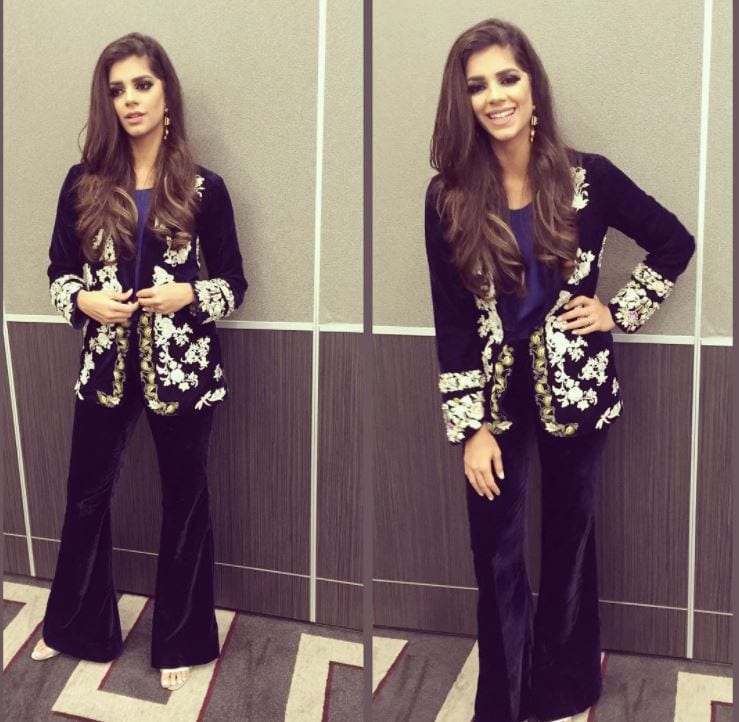 ↓ 13 – Eid Outfits
Eid is that time of the year when we don't care how we would spend our day, all we care about is how we would look. It's all about shopping and preparations, racing from one shop to another in search of the best attire! Nail the perfect Eid look by sporting the latest and most stunning ensemble. Check out Maria Wasti for some inspiration. Her dress in this picture is by Nomi Ansari. Don't miss out on these 15 Ways to Accessorize Eid Dress with Jewellery.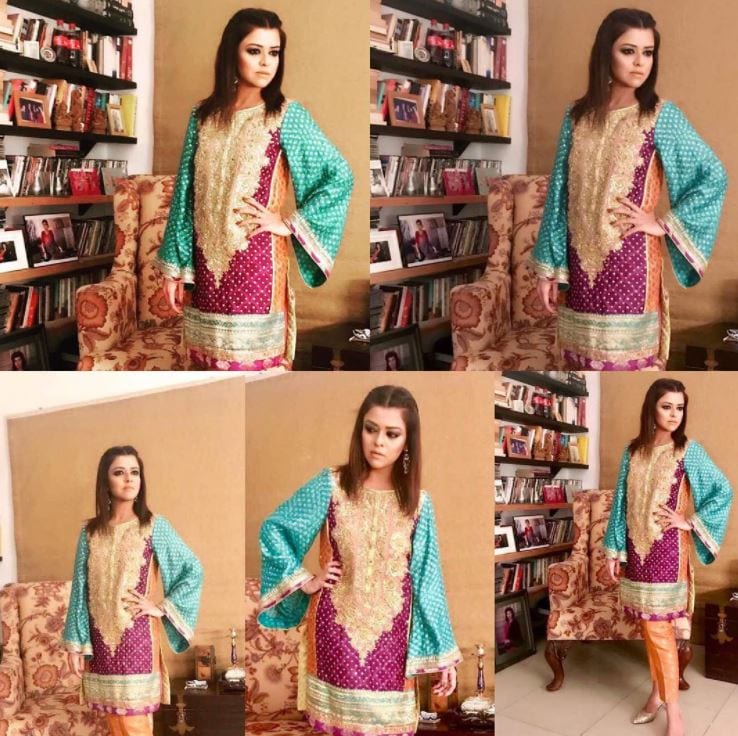 ↓ 12 – Casual Wear
Khaadi, AlKaram, Nishat, GA, and so many others, when it comes to brands, Pakistan doesn't lack in the fashion department. You can always rush to the nearest store and find something incredible there that also in your price range. Recently, the beautiful Armeena Rana Khan launched her lawn with the name "Armeena Rana Khan Lawn."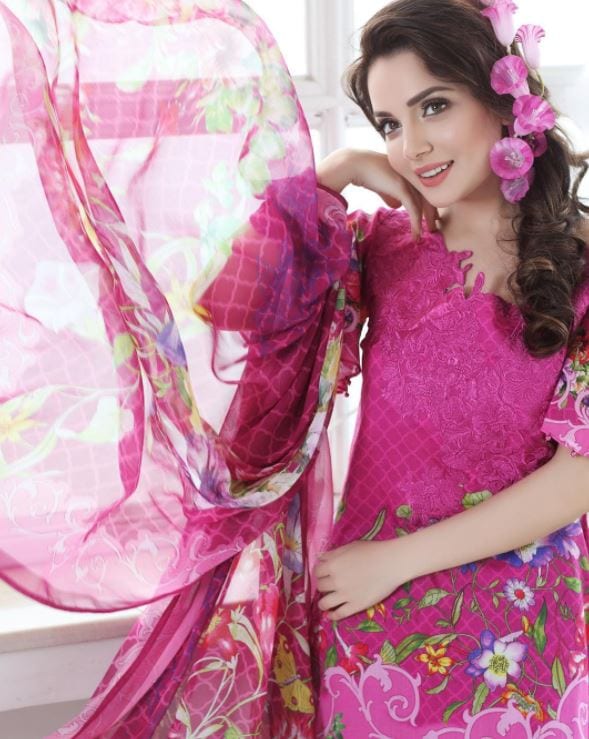 ↓ 11 – Summer Outfits
In the warmer season, wear lawn. You can wear a loose Kurti with a tulip shalwar and look stunning, just like Saira Habib does in this picture sporting a lovely dress that belongs to her clothing line. Do have a look at these beautiful 18 Ways to Wear Palazzo Pants with Kurtis.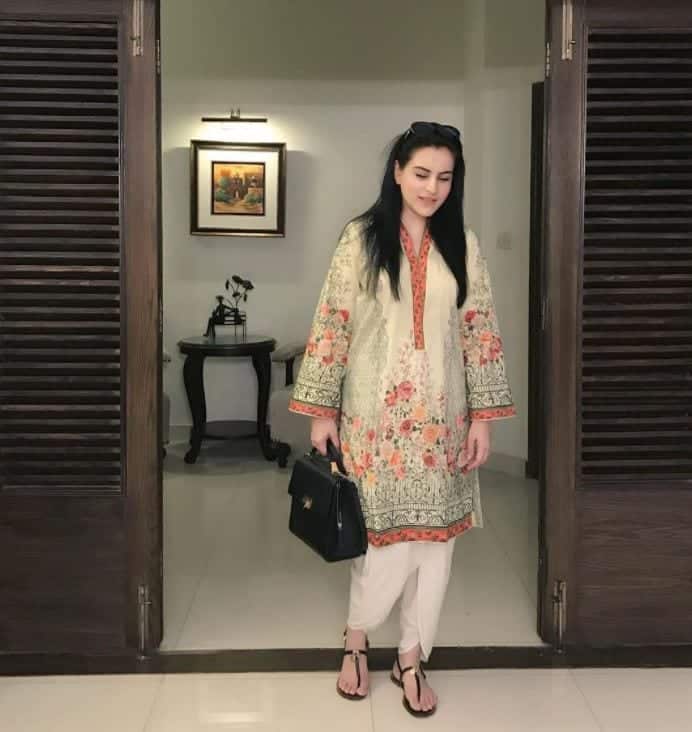 ↓ 10 – Elegant Outfit
Atiqa Odho, with her sisters looking gracefully stunning. You can steal some styling tips from these ladies! Here's a list of the 15 Top Pakistani Designers for women.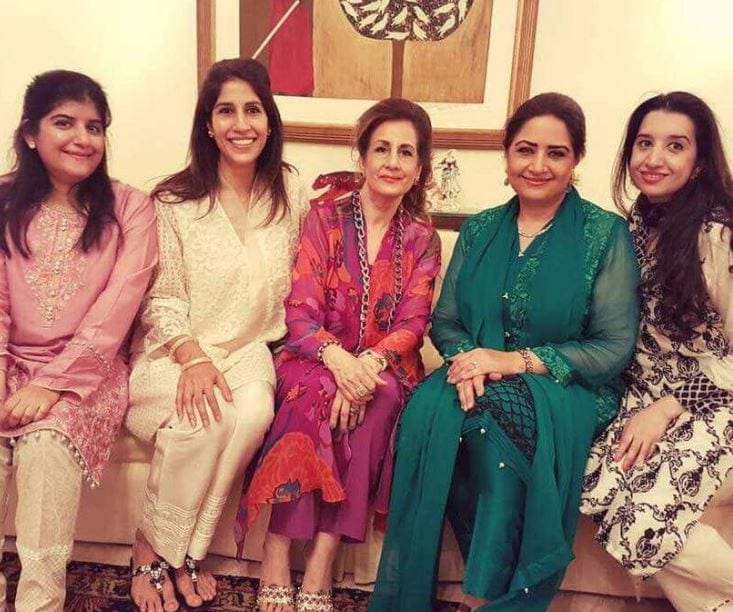 ↓ 9 – Designer Outfit
No feeling more amazing than sporting designer wear and looking your best. Here's Sanam Baloch sporting a Layla Chatoor outfit.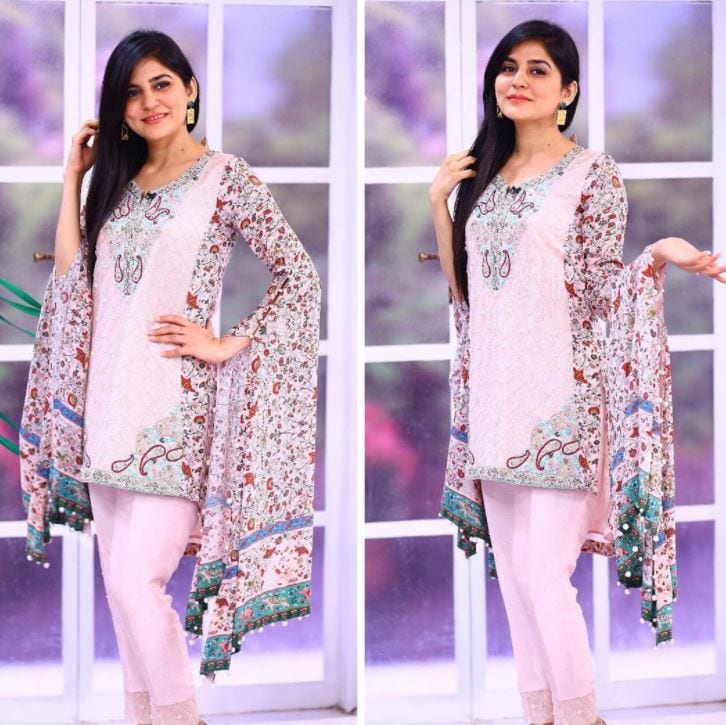 ↓ 8 – Trendy Outfit
Thirty might not be too young, but it is by no means old. You can still follow all the latest trends with sass. Here's Mahira Khan looking gorgeous in an AlKaram outfit. Current trend: medium length shirts with a straight leg, cigarette pants, or bell-bottom ones with an intricately embellished dupatta.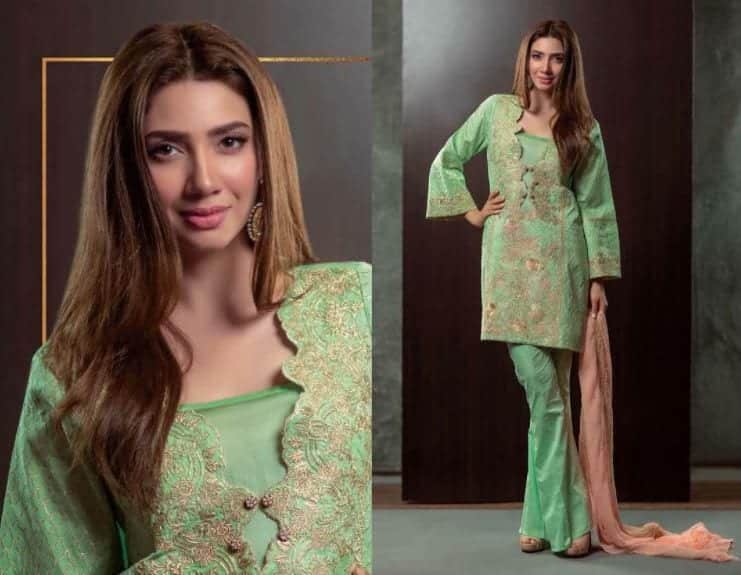 ↓ 7 – Modish Outfit
Want to look modern and chic? Learn some tricks from Areeba Habib; loose baggie shirt with tights, the striking look pulled off with confidence and completed with a pair of fabulous heels.
↓ 6 – Embroidered Outfit
Threadwork lives in the mold of our culture. It's no surprise that embroidered clothes are so prevalent in Pakistan. For all the women above 30, a dress embroidered in detail would make for a perfect outfit. Here's Vaneeza wearing an embroidered dress by Naveed Nawaz. Also, have a look at these 14 Cute Mehndi Makeup Tips and Mehndi Makeup Tutorial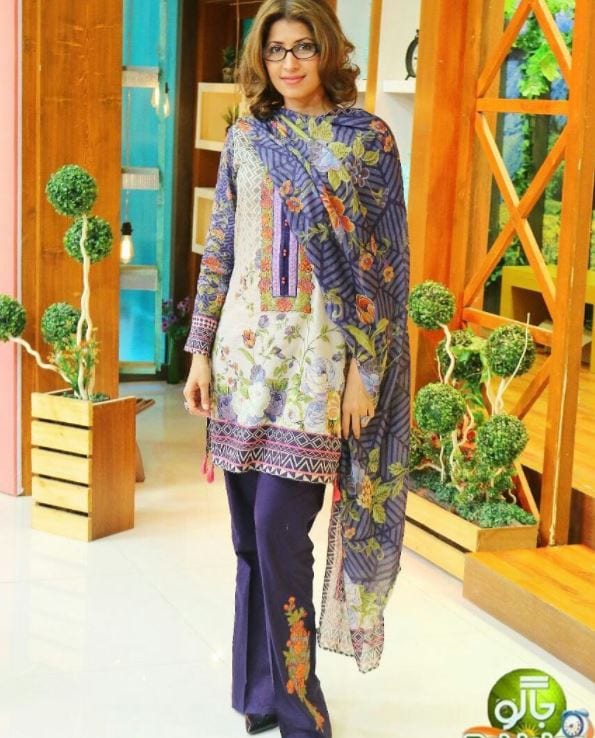 ↓ 5 – Semi-formal Wear
Heading to some posh event where you want to look your best? Take some notes from Reema Khan, who is supporting the Umer Sohail outfit in this picture. Muted hues, minimalist design, high heels, and high-end accessories would make you glow!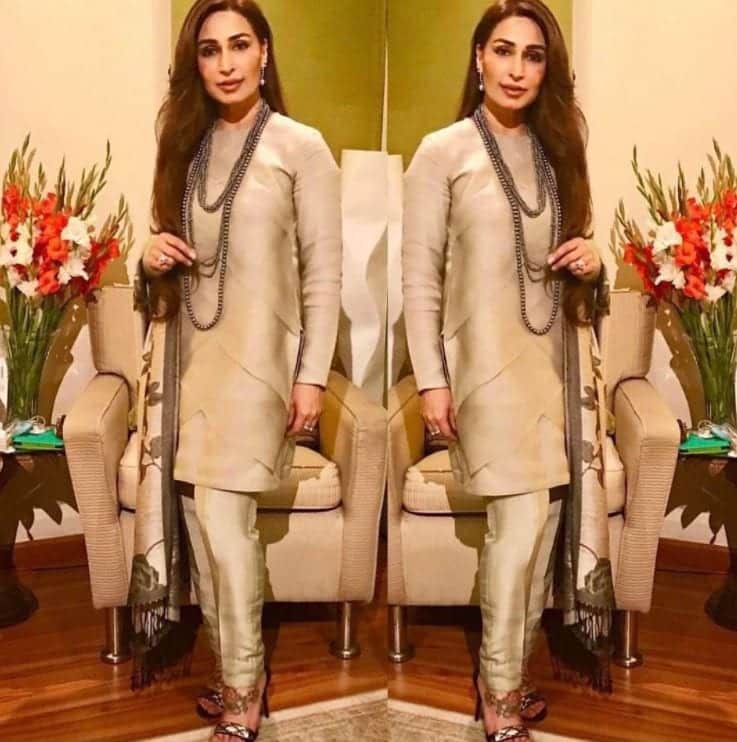 ↓ 4 – Stylish Look In Stripes
Vaneeza always dresses according to her age. She's ever seen encouraging women to wear simple outfits, and she follows this rule herself. Here too, we see her wearing a simple striped shirt and minimal makeup but still making a style statement with the way she carries herself. This is a great look for day time wear.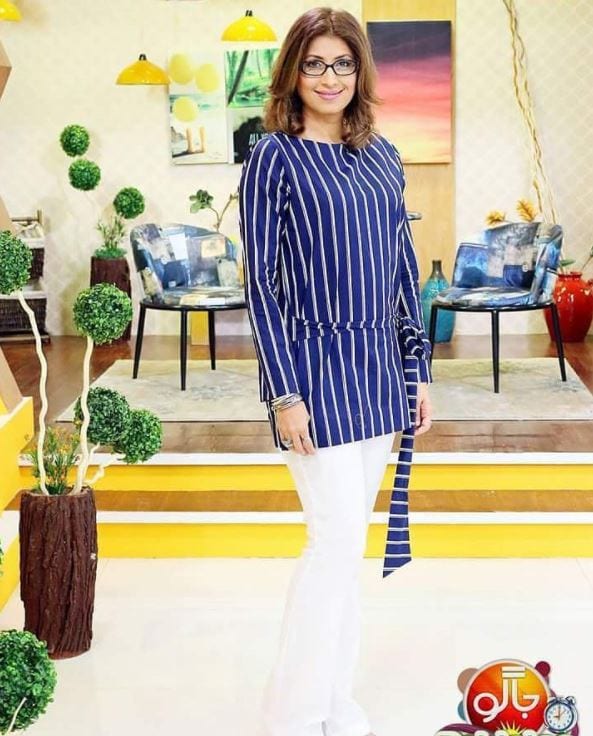 ↓ 3 – Saree Outfit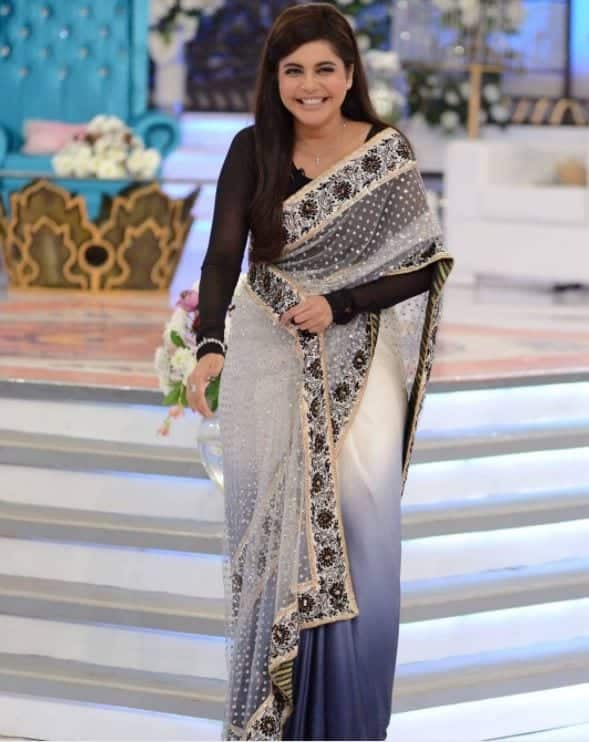 ↓ 2 – Decent Look For Family Gatherings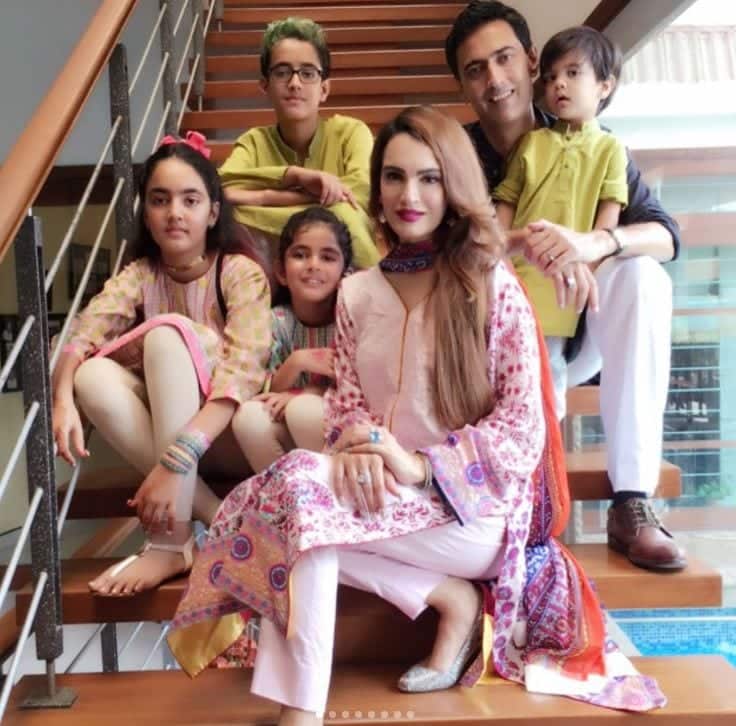 ↓ 1 – Traditional Look
Because this year has been all about a number a style instead of just one, go for whichever you think would suit your physique more. For the typical yet chic look, wear a cowl shalwar with a short shirt and dupatta. You are bound to attract the limelight toward yourself.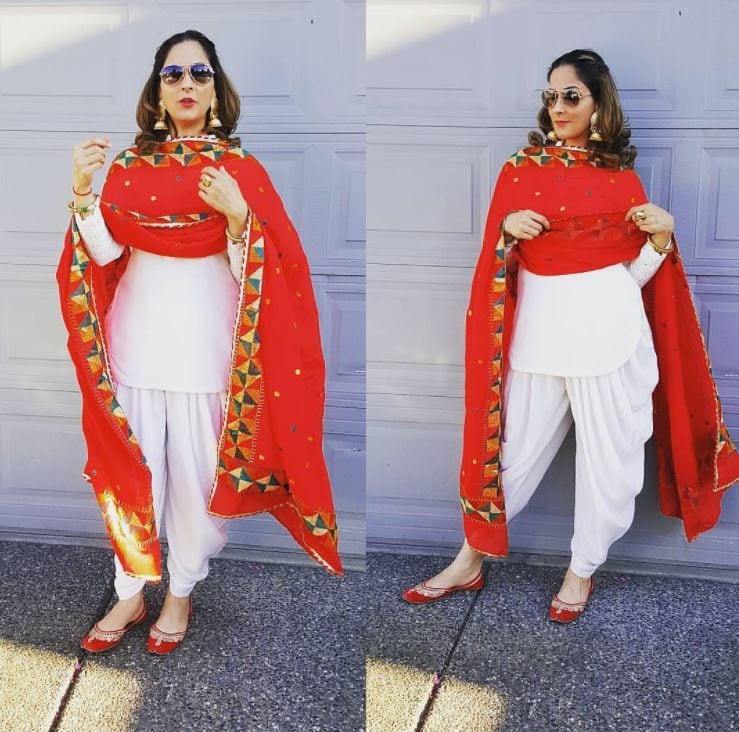 ↓ Where To Shop From In Your Thirties
The following are a few tremendous Pakistani stores that can be your favourite go-to place in your thirties. They offer stitched collection as well as unstitched collection. The best thing about these brands is that they are pocket-friendly and provide you with the best quality and prints. Check them out if you haven't tried them before.
Price Range:
PKR 1200 to 12,000 for unstitched suits and PKR 1450 to 18,000 for ready to wear outfits
Price Range:
PKR 2500 to 15,000 for unstitched and PKR 2690 to 8,000 for ready to wear outfits
Price Range:
PKR 1300 to PKR 48,000 for unstitched suits and PKR 2000 to PKR 21,000 for ready to wear outfits
Price Range:
PKR 3500 to 70,000 for unstitched suits