Jewelry For Eid 2020– In this woke era celebrating Eid is not the same as it used to be a decade ago. For many people, it is just all about sleeping and having rest. Many of us don't get a chance to meet our loved ones, but there's still something that prevails. It is the little spark of tradition and custom.
The constant urge to buy matching bangles and other jewelry on Chaand Raat and of course, dolling up on Eid day, asking for Eidi and then posting Eid selfies everywhere. Make your eid beautiful for yourself by wearing a vibrant dress and jewelry that will suits your attire the best. It's the time of joy, festivity, and celebration.
What Jewellery To Wear This Eid?
Are you looking for ideas about what jewelry to wear on Eid day? Wondering how to accessorize you Eid outfit with different jewelry? Then this post is for you. We have 30 Stylish ideas on how you can match your eid day jewelry with your dress.
Before picking up your jewelry keep your face cut and outfit's neck design in consideration.
The trick to remember is that never overdo the jewelry.
With heavy makeup and dress keep the jewelry as simple as possible.
With a simple attire carry heavy or blingy jewelry to add life to your appearance.
If you are wearing a necklace, then don't wear oversized earrings to maintain a balance.
Don't wear too many rings at the same time and if you still want to then give mid rings a try.
For Eid functions especially dinners, wear bold jewelry as night time is best for glamour.
Be yourself and don't wear jewelry that you can not carry.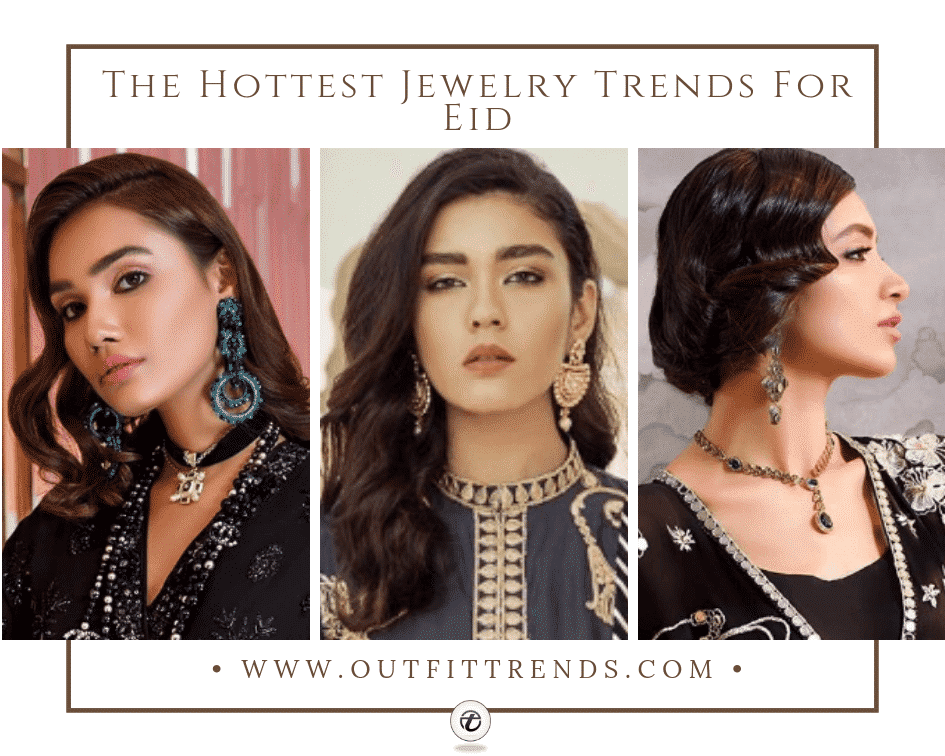 ↓ 30 – Choose The Right Jewelry According To Your Face Shape
We all have a different face symmetry and it's apparent that you can not take every type of jewelry as some might suit you and some might not. Have a look at the tips we've gathered for you to pick up the perfect jewelry for your face type.
Triangle Face: You people need jewelry that add width along the cheekbone. You should wear short necklaces with curves. Wearing dangle earrings are going to enhance your whole appearance.
Round face: People with a round face are blessed because their face is ideal for long hanging earrings. You people can easily carry dangles, drops, and narrow chandeliers. You should give longer looping necklaces preference.
Square face: You people have the jaw-dropping jawline. you should try wearing necklaces with curves to soften your jaws. For earrings, hoops and long drops are your lucky things.
Oval Face:  People with oval faces can usually wear all types of earrings, but it's good to avoid overly long earrings as it will make your face appear even more oval. However, you can wear any necklace.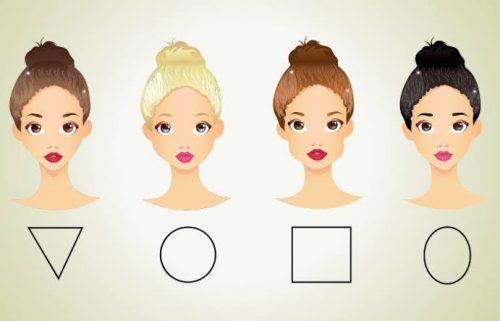 ↓ 29 – Right Jewelry According To Your Neck
Short Neck: If you have a short neck then wear low hanging ornaments, looping necklaces or plain chains with pendants.
Long neck: If you have a long neck then you can wear chokers. Circular neck wires are good options for you.
↓ 28 – Balancing Makeup And Jewelry
Keeping a balance between makeup and jewelry is crucial. While wearing heavy jewelry keep your lip shade or eyes a little dull. Bold lips and eyes are much suited with minimal makeup.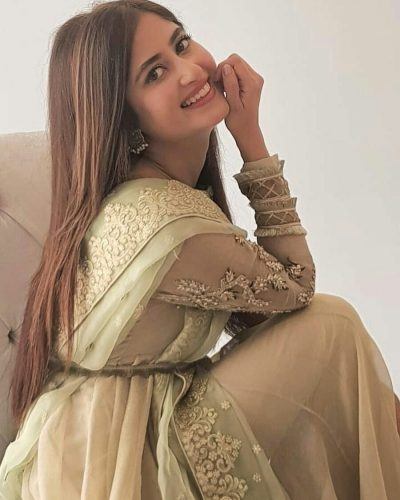 ↓ 27 –  Rings
They say women never get bored with rings. If you are a ring person, then choose wisely!
Let your beautiful hands look more beautiful with rings. If you have henna applied to your hands, then try to keep your rings as simple as possible. These rings can suit anyone but look best on people with short fingers.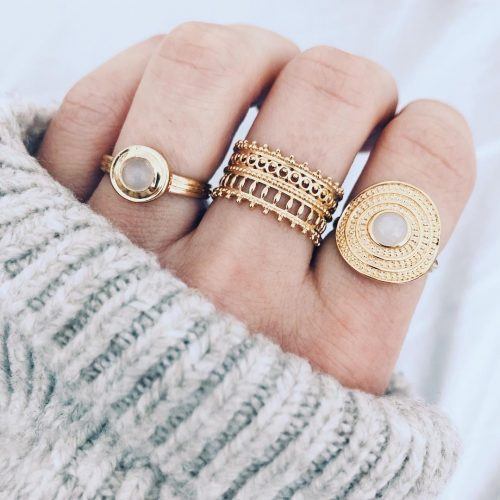 Embellished rings are so in fashion these days, and you might want to try them out this Eid. You can wear gemstone rings as well. Moreover, it's effortless to get a matching ring of this type. These rings are perfect for people with long fingers.
↓ 26 – Necklaces
Chains are your thing if you don't want fancy necklaces for Eid.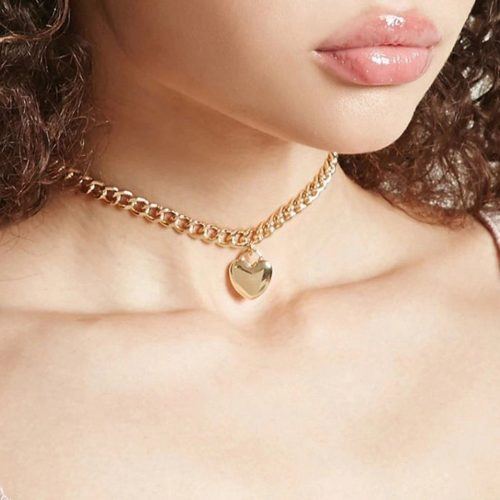 Let your Eid be colorful and joyful with a multi-colored stone necklace.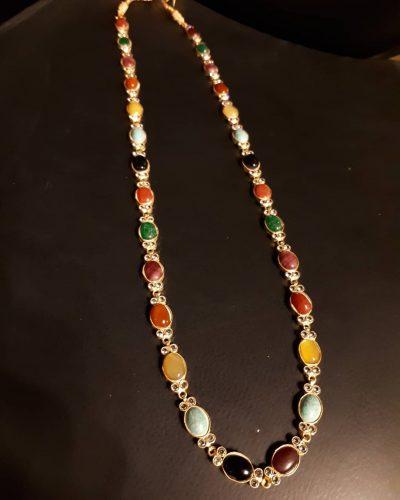 Make your long neck appear beautiful with a silver choker, Afterall Eid is all about styling up.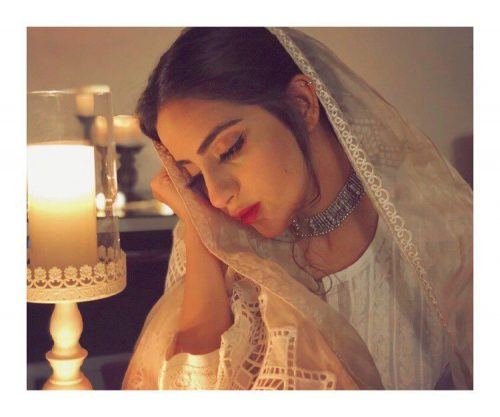 ↓ 25 – Earrings
Studs can suit everyone without appearing too loud.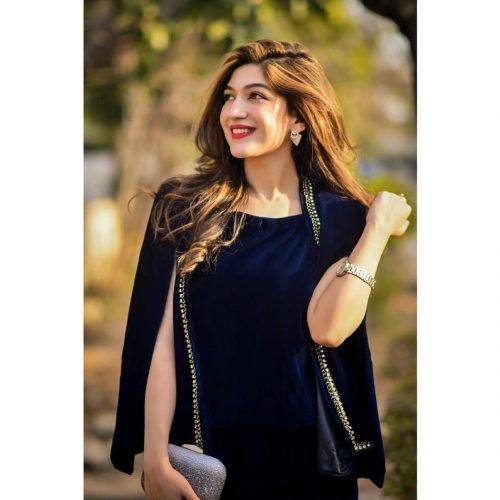 You can ace hoop earring this Eid like Urwa Hoccane.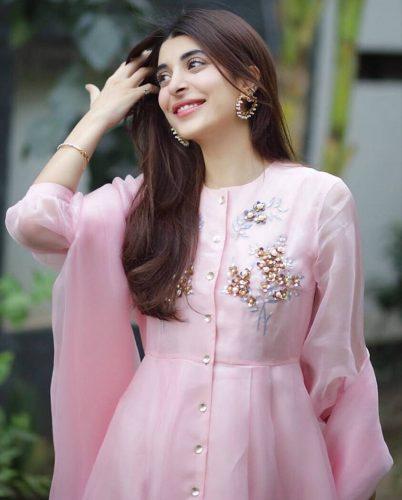 Do you want to wear fancy earrings on Eid? Chandler wants to be your friend.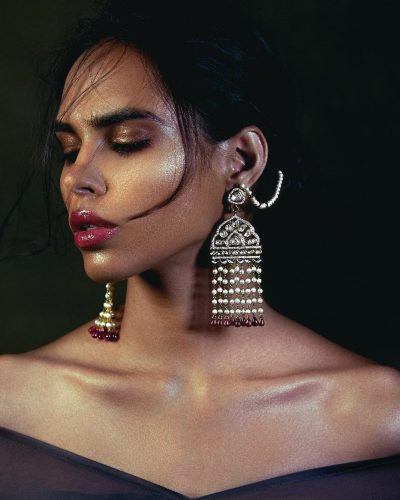 ↓ 24 – Jhumkas
One of the most trending pieces of jewelry when it comes to earrings is Jhumkas this year.
We can never forget traditional Jhumkas on Eid because everyone falls in love with them in first sight. However, you can try mirror style classic Jhumka this Eid.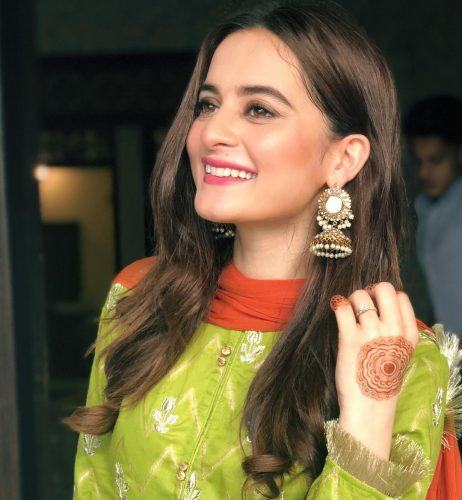 Jhumkis are smaller in size than Jhumkas and have a sphere or bell-shaped design. Jhumkis come in a vast range of colors and sizes so you can always find one that goes with your face shape and also matches your Eid dress.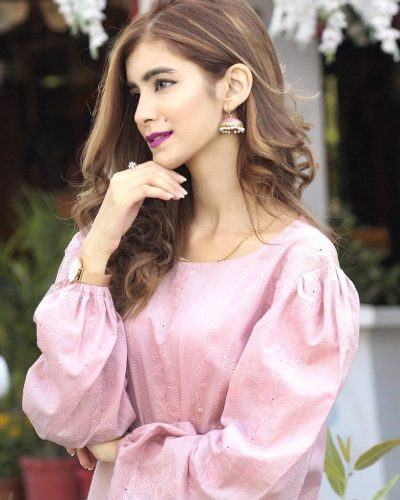 Long hanging Jhumkas can look stunning with a simple dress.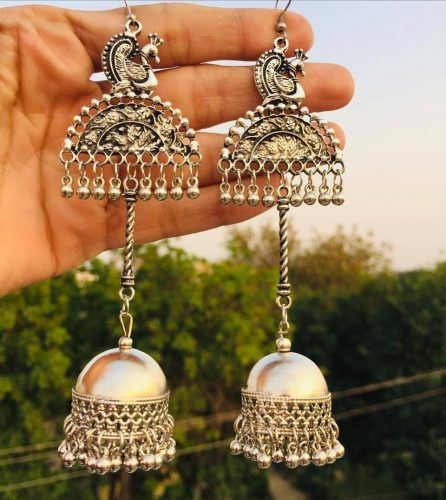 ↓ 23 – Bangles
No Eid is ever complete without the bangle shopping, and girls cannot deny this fact. Well, you've been wearing glass bangles with two sides Karras matching with your dress since childhood and we do know that you love them! But on this Eid give metal bangles in silver or gold shade a chance. The best thing about these bangles is that they can go with any outfit and they won't break or hurt you like glass ones.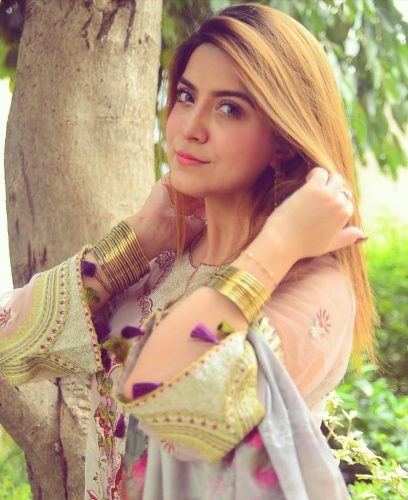 ↓ 22 – Tikka
Get yourself glamourous makeup this eid and wear golden tikka with some pearls.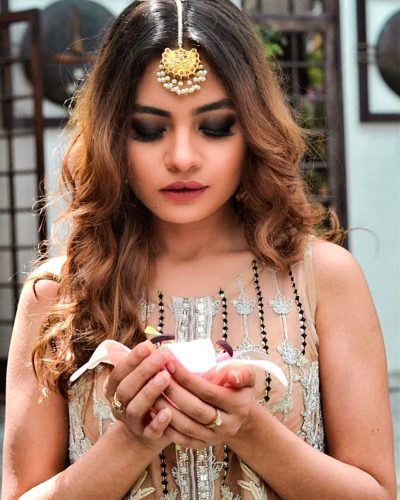 ↓ 21 – Oxidized Jewelry
You can get some inspiration from Hira and wear oxidized jewelry. It will amuse you the best if you want to wear a light dress or probably a lawn Jora on eid and not look boring.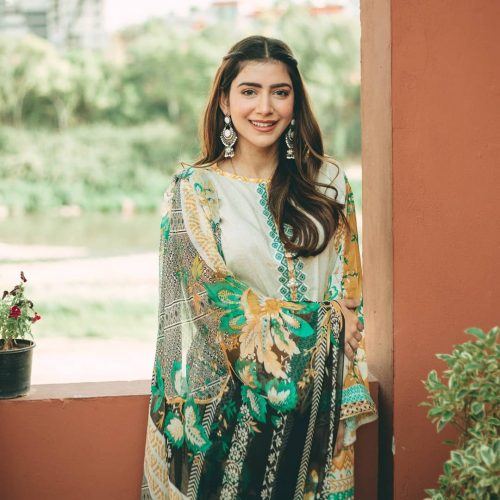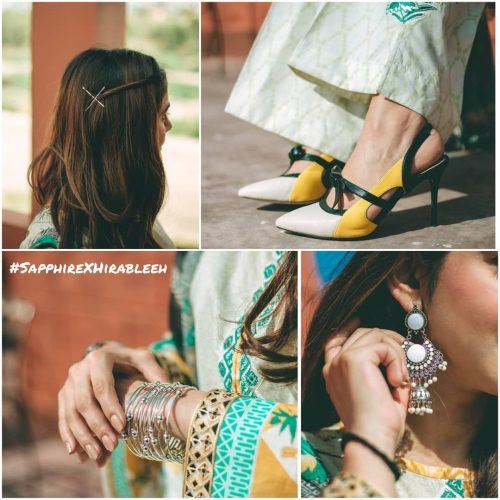 ↓ 20 – Hair Attachment Jhumka Matching With Dress
Fancy accessories are every girl's dream. Let us add a little class to your fancy thing. Wear hair attachment Jhumka this year. It is two in one! You can create a lovely hairstyle or a bun with the help of attachment.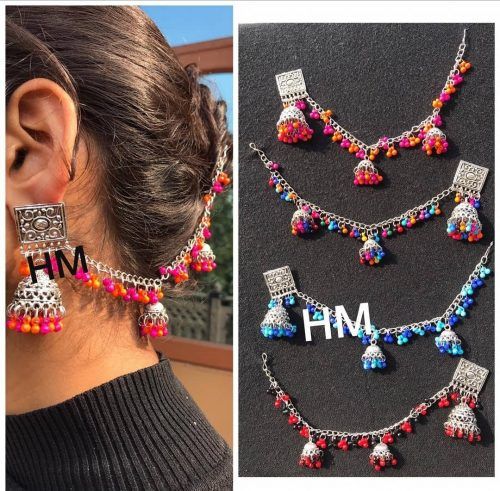 Buy your matching Jhumkas here
↓ 19 – Cultural Jewelry
If you are in search of something new this Eid then it is for you! CULTURAL JEWELRY. It is a super freakish idea. Wear a cultural choker, earrings or Matha Patti like Hina Altaf and let the world know how beautiful you are. Afghani or Pathani jewelry has its own place when we talk about culture. It makes you look so vibrant.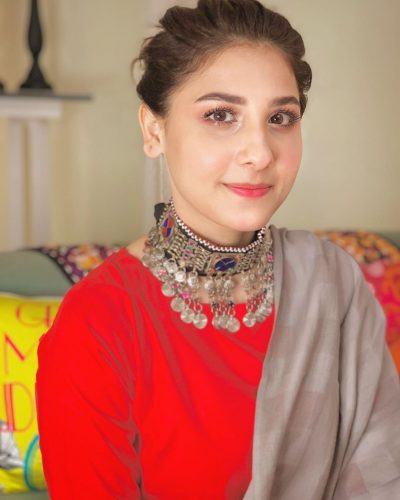 ↓ 18 – Kundan Jewelry
Jewelry is a part of women's life since ages, and it is pretty clear that they can not celebrate or enjoy any event until they are all dressed up. Not just dressed up but done with makeup and jewelry too. On Eid this year give Kundan jewelry a try. It is something traditional and stylish. If you don't want to go with plain Kundan, then you can add pearls and beads to it matching with your Eid outfit.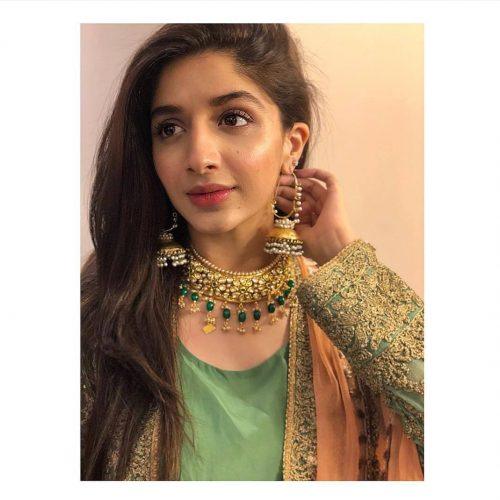 Mawra Hoccane can be seen rocking Kundan jewelry with a tint of green matching with her dress.
↓ 17 – Ruffle And Tussle Jewelry
Ruffles and tussles are new! You can easily find them these days. This is your thing if you want to get everything matching in every way.
Via

↓ 16 – Traditional Jewelry
Anarkali dresses have been very in lately, and many popular brands have launched their designs for the Eid collections. In case you are wearing an article of traditional clothing such as the Anarkali dress then go for conventional jewelry as well. For instance, big Jhumkas look great with such dresses. Now they are often available in a range of colors. But still, if you can't find a matching one then even white, silver or gold Jhumkas look astounding with almost every dress.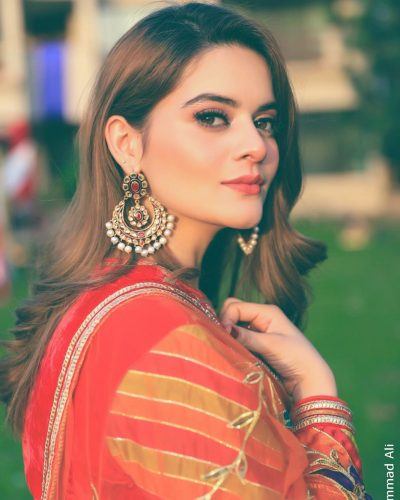 Minal Khan looks enchanting in colorful dress with colored Baali Jhumkas and balanced makeup. So ethereal!!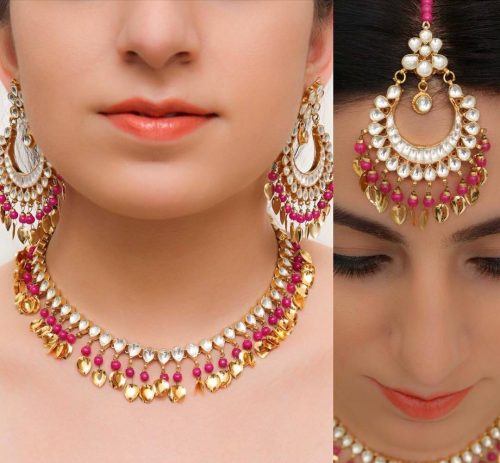 ↓ 15 – Statement Jewelry
In case you are wearing a gown or maxi then these would be a perfect choice. You can either choose jewelry of the same shade or darker. Just remember that if you are wearing big earrings then avoid a necklace. If you are tempted to wear one, then go for a plain one. But the best choice would still be to wear statement earrings and rings. Don't overdo the accessories in one place.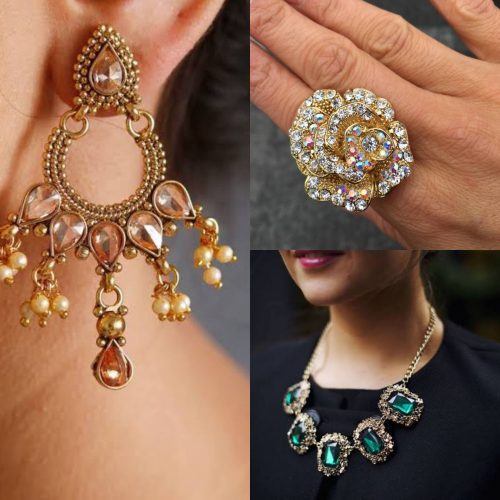 ↓ 14 – Necklace As Matha Patti
Try wearing the necklace as a Matha Patti, leaving your neck empty. Though it appears like a difficult task. It can quickly be done by using a few bobby pins. This gives such a cute and different touch and works best if you have decided to keep your hair open.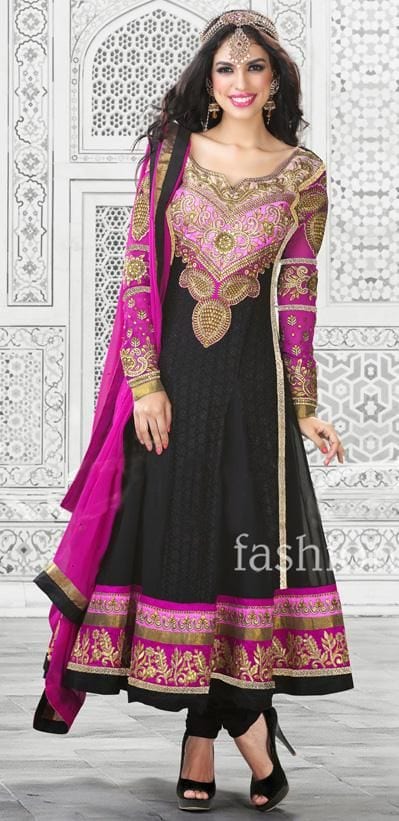 In case you are tying your hair in a bun along with a Matha Patti, then try to avoid earrings. Of course, none of us can have Matha Pattis of all colors and might find it hard to choose a matching one. Again the tip is to wear one with matches the embroidery or work done on your dress. The Matha Pattis are usually available in silver and gold colors so if your dress has shades of copper or gold, like in the picture shown below, then go for a golden matha, Patti. Even if you are buying a new Matha Patti, then it is a safer course to purchase silver or golden ones, instead of red, blue, orange, purple or some other color. The reason? You can later wear it with a range of dresses instead of being restricted to the ones of the same color.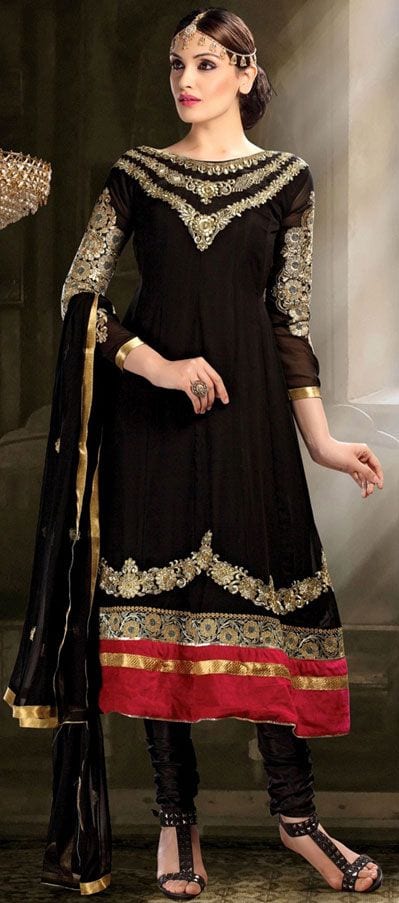 So now that we have shared the basics of matching your jewelry with your dress, here are a few more images for you to get inspiration from
↓ 13 – Turquoise Jewelry
Eid this year is going to be scorching so why not wear something reminding us of sea and sky; all the freshness? Turquoise jewelry has been treasured for many years and seems to never go out of fashion. Pairing turquoise jewelry with black and white dresses is a relatively new concept, but it does look breathtaking. All you need is the confidence to carry the look.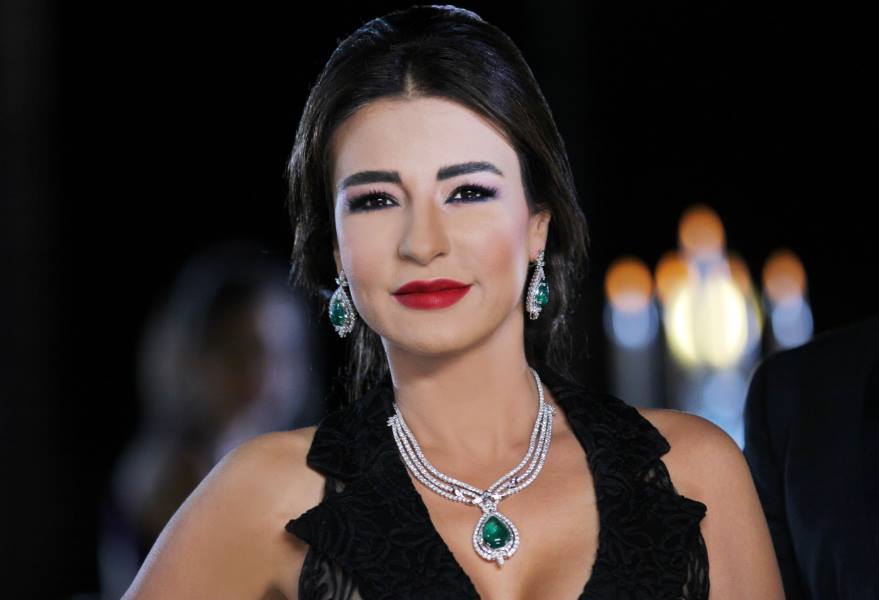 Another great way to wear turquoise color is to merge them with pearls. Doesn't it look super enchanting and thrilling? Not just this but it can alleviate any attire that you are wearing irrespective of its color or shade.

↓ 12 – Gold Jewelry
Gold jewelry is one of the most influential jewelry that will never go out of fashion. It's in fashion since centuries and expected to stay here for another ten centuries. Women are often thought to have at least a few pieces of this jewelry. Hence why not take them out and flaunt them on the auspicious occasion. It looks impressive with any colored dress.
↓ 11 – Emerald Jewelry
It is said that Emeralds provide wisdom and inner peace. Hence for Eid day pick up emeralds. This jewelry can go with almost any shade of green and even yellow that you are wearing and makes you stand out from the crowd.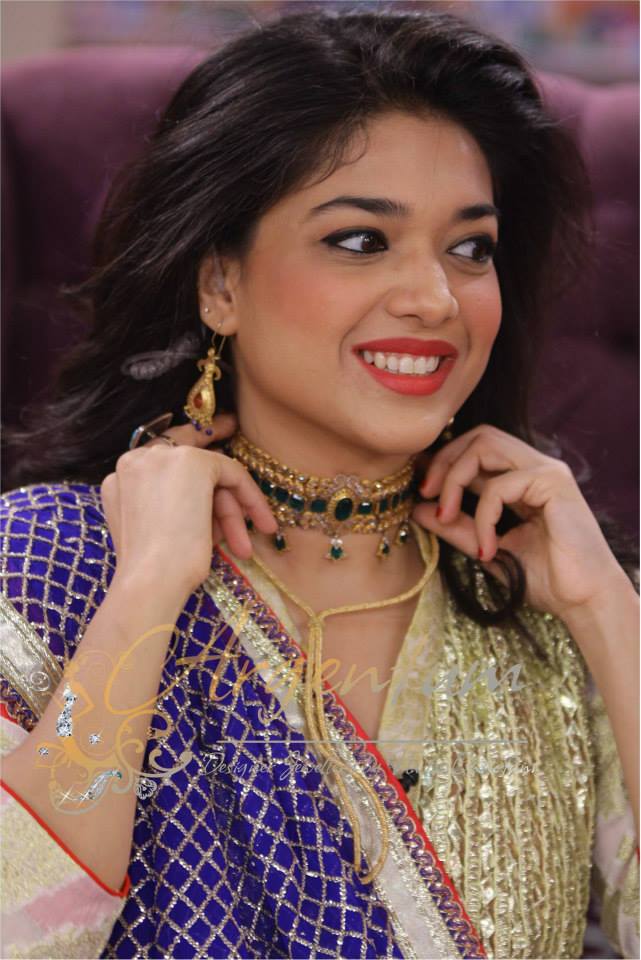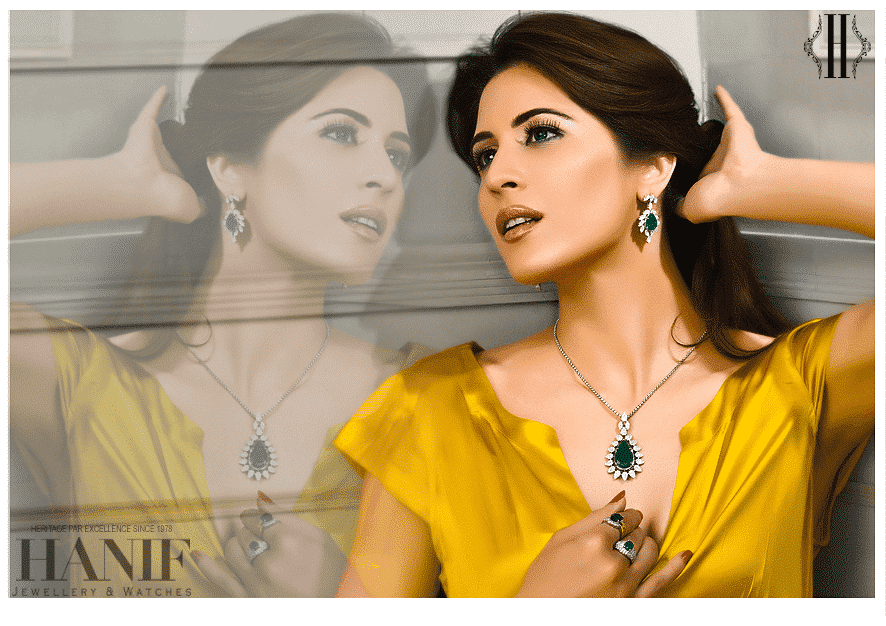 ↓ 10 – Pearls
Looking out for someone explicitly decent? Little but that speaks out loud? Pearls are the best option for any dress. You can wear pearls with an effortless dress as well as fancy dresses. You can wear pearl jewelry in various ways. You can either wear a pearl set or just a pearl necklace or earrings.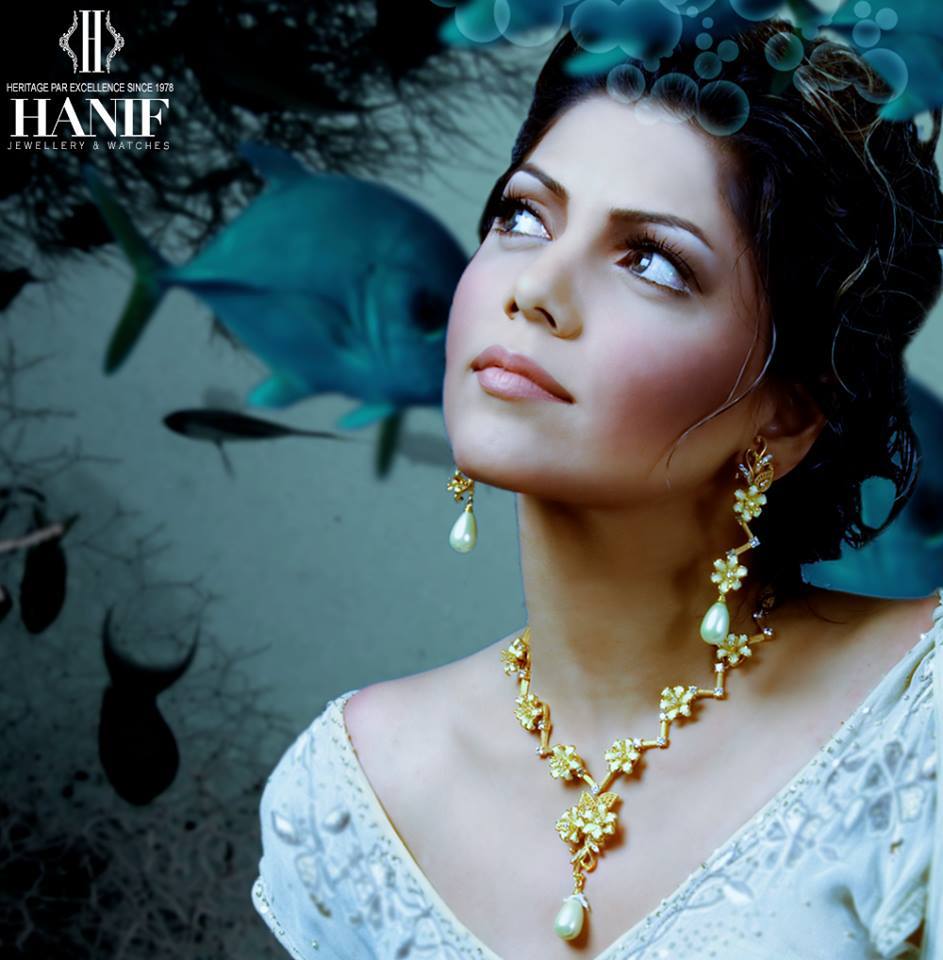 ↓ 9 – Jewellery In A Darker Shade Than The Dress Color
Even if you can't find the perfect match, you can go for a darker shade of jewelry than the dress. For instance, if you are wearing a baby pink dress, you might choose shocking pink jewelry. This strategy always works well but never go for a shade of jewelry that is lighter than your clothing as your dress will hide the jewelry, and it will not be prominent enough.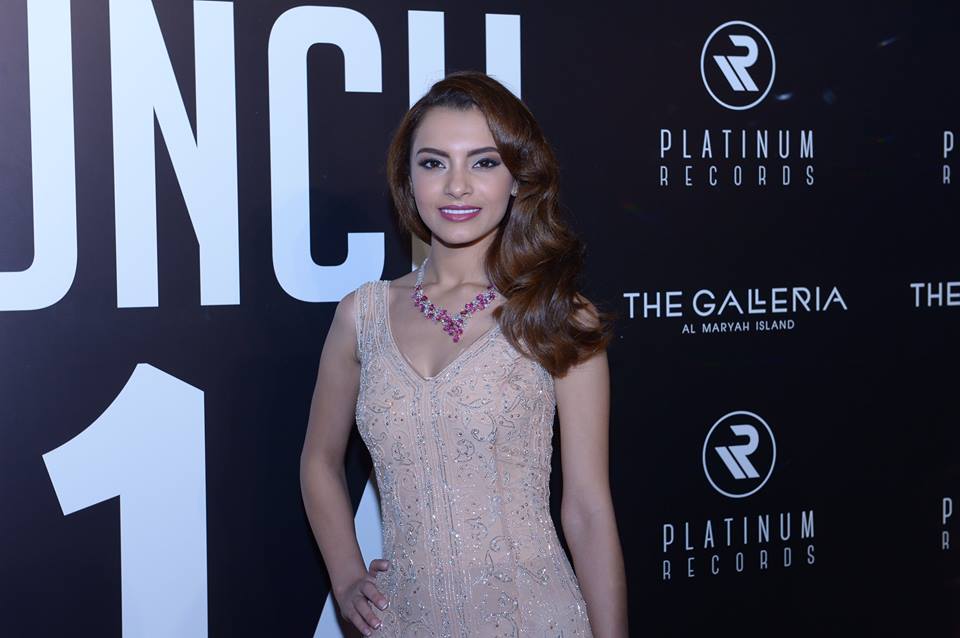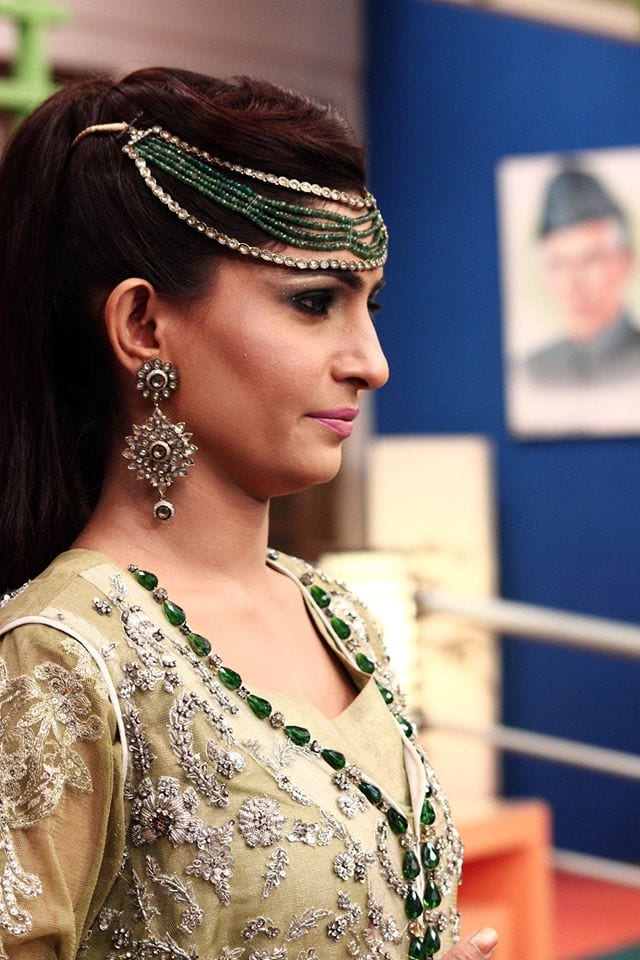 ↓ 8 – Jewellery Matching The Motif Of Your Dress
GIRLS LOVES MATCHING. Isn't it so? Don't we all cry for matching jewelry and matching shoes? But is it always possible to find everything in the same shade? It isn't. But don't worry. In case you can not find any jewelry of matching color, then why not matching jewelry with motif? Like if your dress has plenty of round motifs, then how about round jewelry with it? No matter what the color.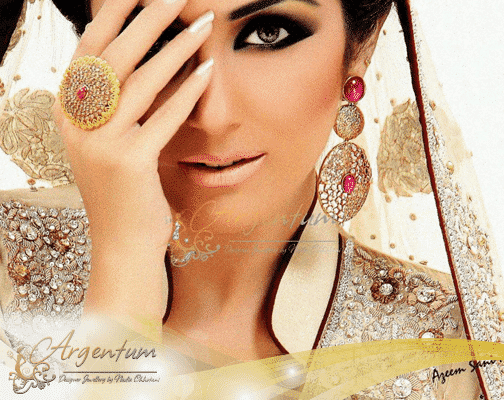 ↓ 7 – Gota Jewellery
Gota jewelry is a unique, creative and trending jewelry fashion which is something that you must try for Eid. These are handmade pieces of jewelry made using the traditional Gota. You can have them customized to match the colors of your dress.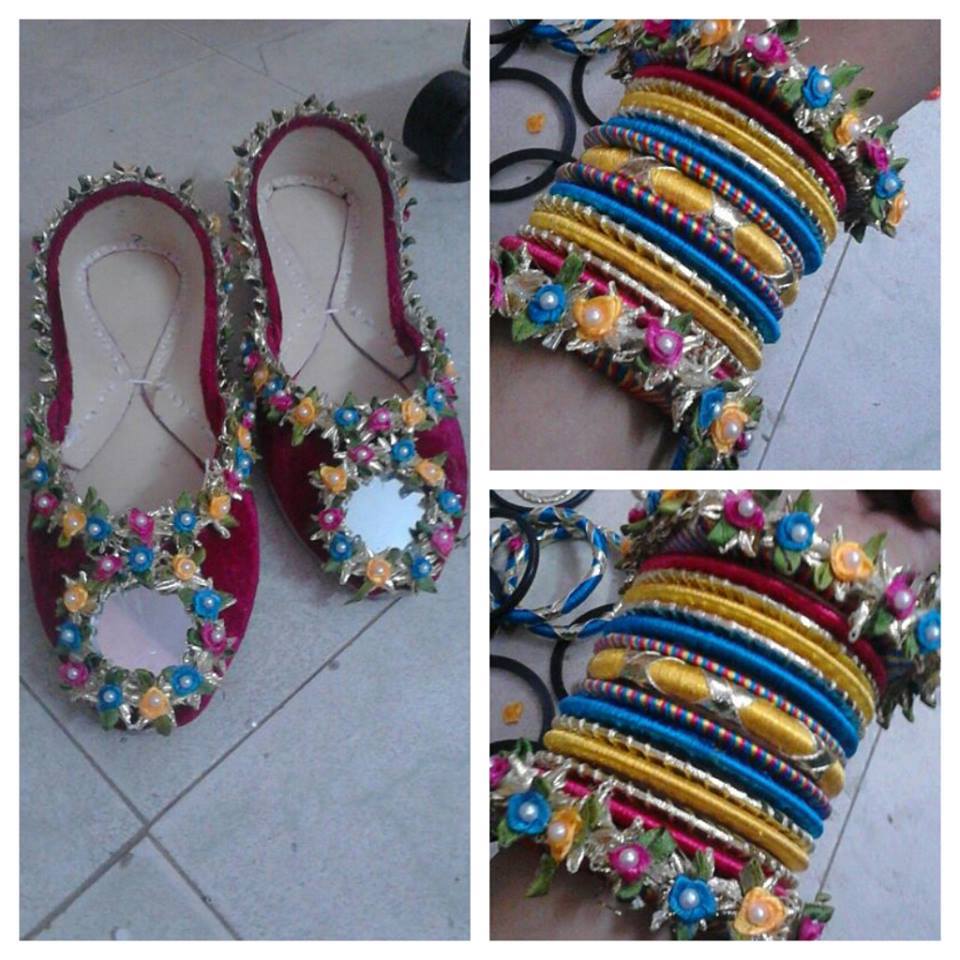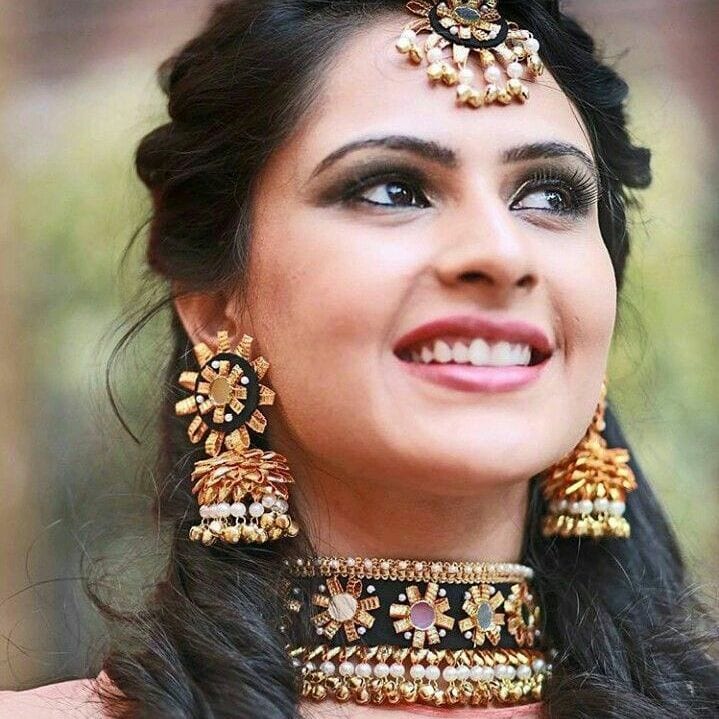 If you're wearing a gotta outfit on Eid, then this jewelry is all you need for sure!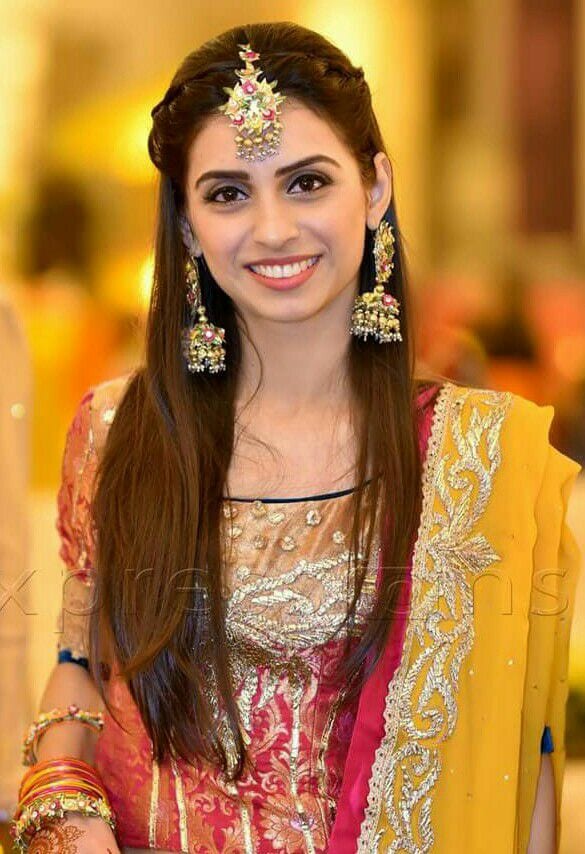 ↓ 6 – Turkish Jewellery
Another great idea for jewelry is the Turkish jewelry which looks great on any girl. They are readily available these days at many shops and also online at pretty reasonable prices in a wide range of colors and designs. If you want the jewelry to last long then invest in real silver and stones.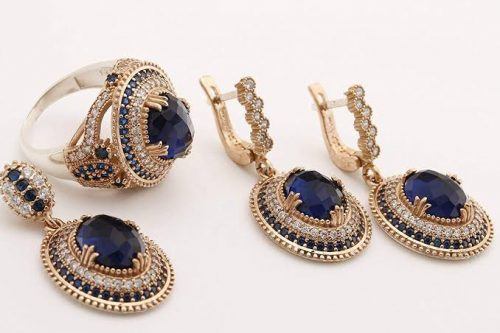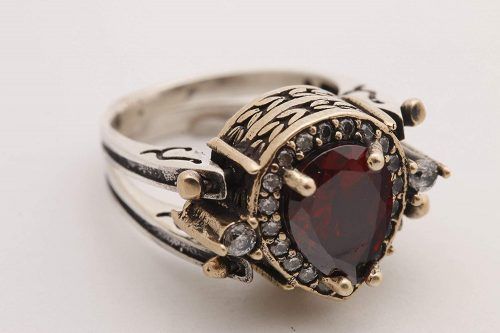 ↓ 5 – Swarovski Jewellery
For those who like to keep things classy and elegant for Eid, this is the brand to go for. You can find a wide range of accessories. Pick it up according to your taste and dress.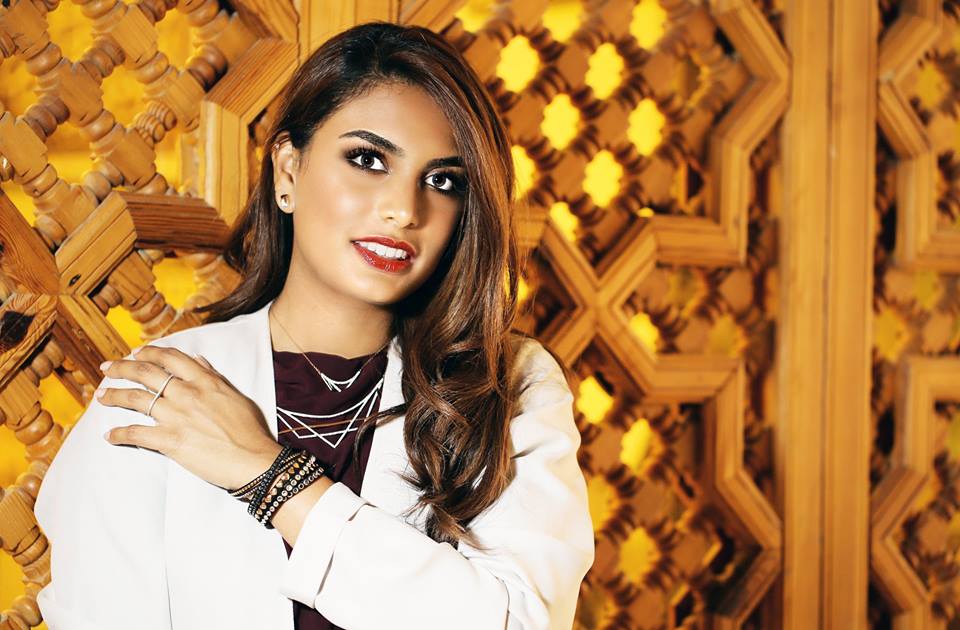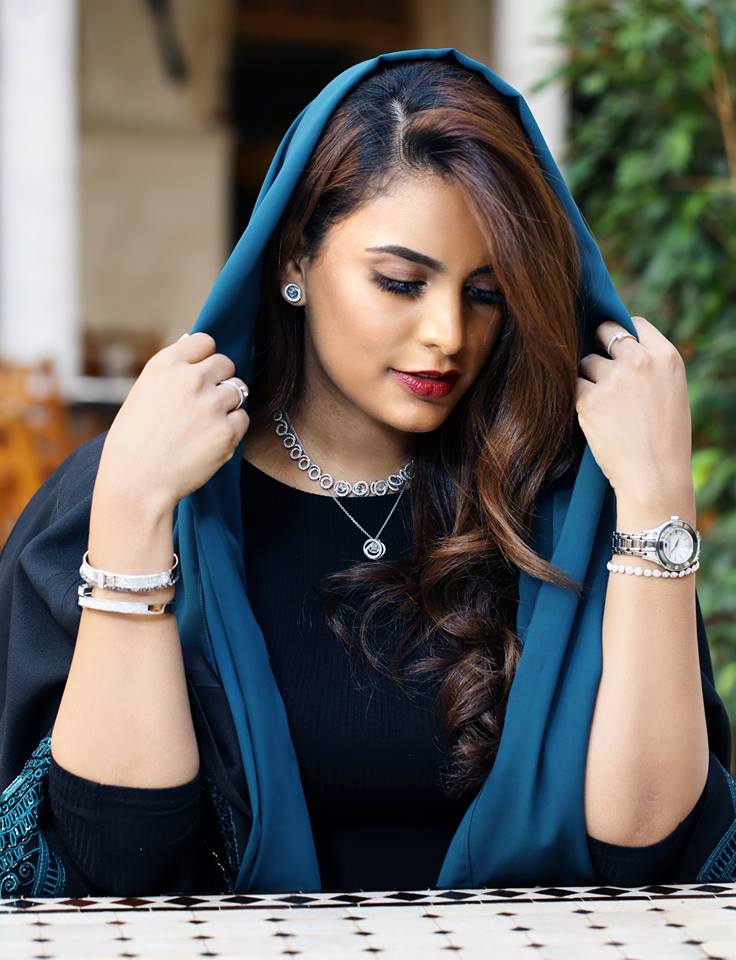 Via
↓ 4 – Dior
How beautiful is Mahira Khan looking wearing these Dior earrings? You can take inspiration from her and doll up for your eid.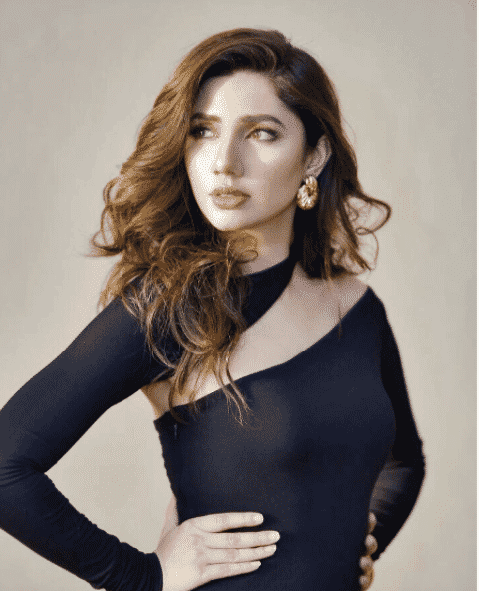 ↓ 3-  Jewelry With Fancy Eid Dresses
In case you are wearing a heavily embroidered or embellished dress deciding the jewelry that will compliment your dress it pretty hard. A little mistake can ruin your entire Eid look. Hence with heavy dresses opt for minimal accessories. You can wear Jhumkas or Chandler earrings in gold or silver color. If your dress has a boat neck, then a light chain will work out fine as well. Avoid wearing too much jewelry or fancy jewelry with such types of dresses. Pakistani blogger Hirah is giving us some major hints on how to balance jewelry and apparel on Eid.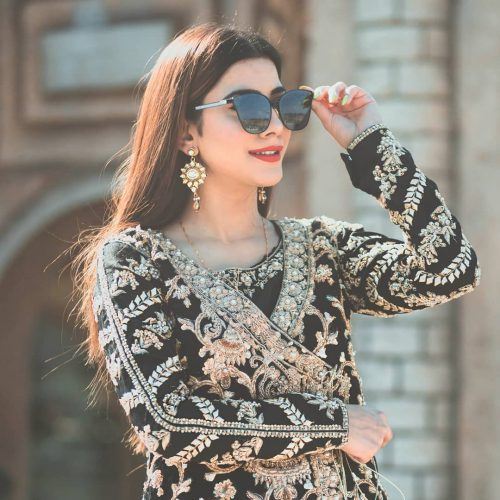 ↓ 2 – Saphire Accessories
We all love clothes by Saphire. But for this Eid, if you are planning on raiding Saphire, do check out their accessories collection. You will surely find out something enthralling.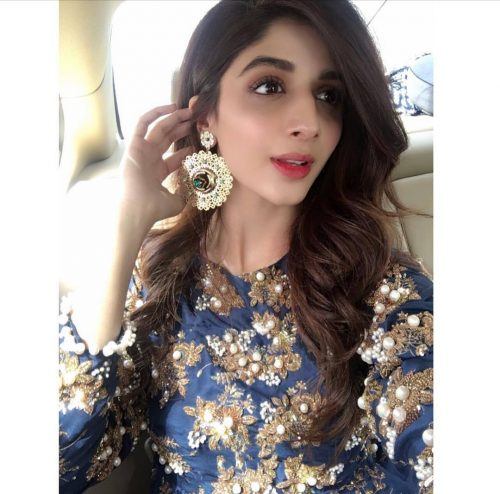 The beautiful earrings worn by Mawra Hoccane are from Saphire.
↓ 1 – Bukhari Accessories
Bukhari accessories have a versatile range of accessories. They have simple, traditional, cultural and even wedding jewelry. You need to hush and check out their Instagram page and chose your favorite jewelry for this Eid. Moreover the delivery internationally as well. We cannot ignore the fact that their prices are very reasonable starting from as low as 5$.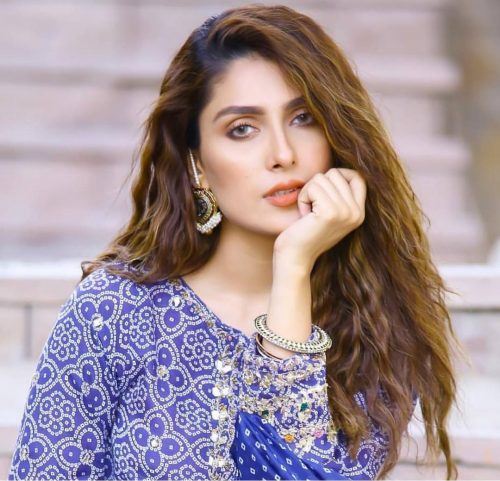 Here we can see Aiza khan looking stunning in Bukhari accessories.
Add the zest of shades to your Eid this year with colorful and vibrant jewelry of your choice.
Eid Mubarak in advance!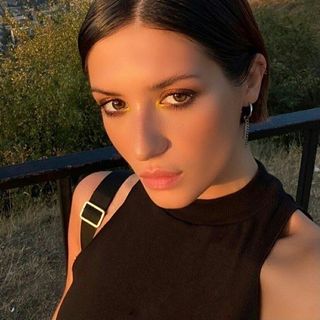 Avid reader and Fashionista. London Based freelance lifestyle editor