Surface Piercings- Wanting to do something thrilling to your body is definitely not something you should be shy about. Well, when you get bored of getting a different haircut or hair color every month, try doing something exciting for yourself.
Surface piercing will always help you add some drama to your life. It is usually done on a flat part of the body where the skin is soft, and no bone or cartilage is involved. It's a complicated style to opt for because, unlike ear piercing, it involves sensitive tissues of your body. You can get the piercings done in any pattern and any place of your choice. Get yourself a lot of cute and dramatic studs in different colors and designs, so you don't fall short of them ever.
Everything That You Need To Know About Surface Piercing
If you are in full mood of getting surface piercing, then first figure out the type of outfits you usually wear. In case you are a crop top person, you might like getting belly piercings and clavicle one if you have some affinity for off shoulders. After all, you want to show them to the world as well and flaunt, isn't it so?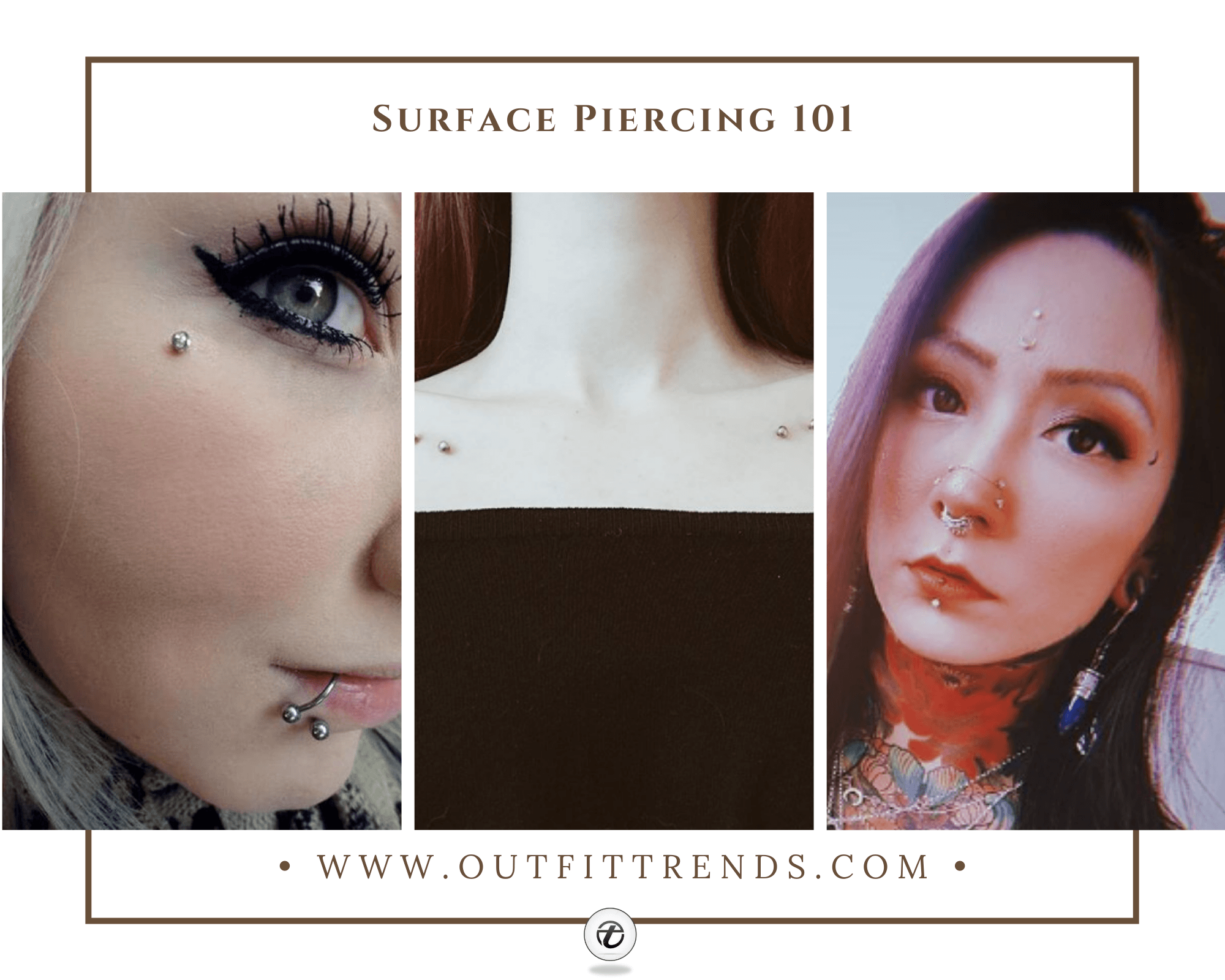 Here are a few things and ideas that will help and guide you while you go on this thrilling journey.
Eyebrow piercing can help you enhance your face structure as it will give it a sharp and edgy look.
Avoid getting piercing in areas where there is a high risk of getting stuck in clothes or hair. As it will irritate you forever, and you don't want that happening.
Don't change your jewels the day you get your piercing done, give it some time, almost two weeks to heal before you switch.
If you are not up for a simple look, then get a tattoo along with it and create a signature style for yourself.
Avoid getting the piercing done in areas that are extremely sensitive like near the eyes.
In case you feel like your skin is irritated after piercing and is showing some signs of infection like redness, pus, or fever, immediately take the studs out or ask your doctor for some anti-bacterial medication.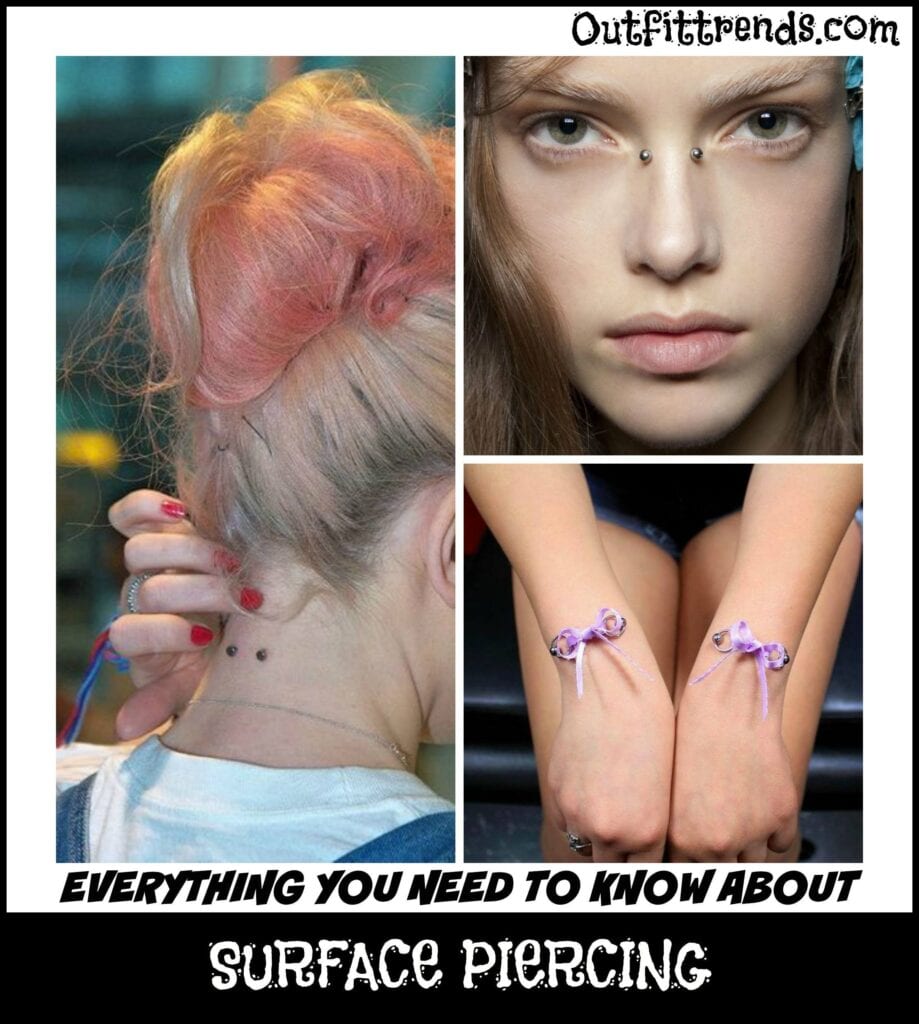 ↓ 22 – Forehead Piercing
The forehead is a sensitive place with very little skin, but grunge lovers might love this idea. Go for areas like above eyebrow, the center of the forehead, or between eyebrows. It can take up to 6 months to heal properly.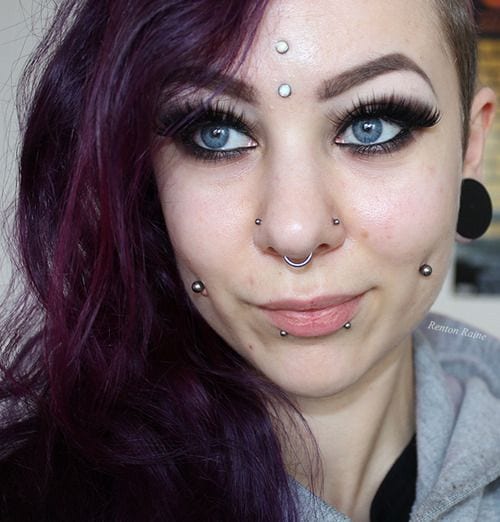 ↓ 21 – Monore Piercing
It is a type of lip piercing which mostly goth or grunge-inspired teenagers love to have. People with thin lips might get this style with more ease as they have less flesh around their lips. One should opt for the jewel that has soft edges or metal balls around the corners. It usually takes about 8-12 weeks to heal.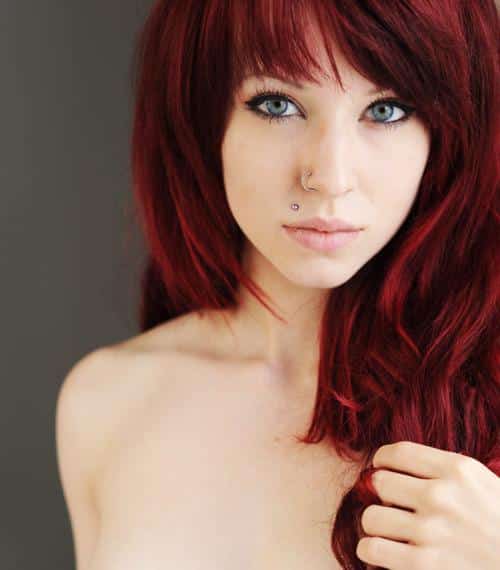 ↓ 20 – Navel
Looking forward to some piercings that can make your midriffs look more attractive? If yes, then navel style is for you. You can either get it on in the inner or the upper corner. Moreover, you have a variety of jewels to choose from with this style. Go for studs when you want nothing fancy and long drop-down jewels when you are in the mood of going fancy. Crop crops will be the best possible thing for them. Also, keep in mind that they can take a little longer, even up to 6 months to heal properly.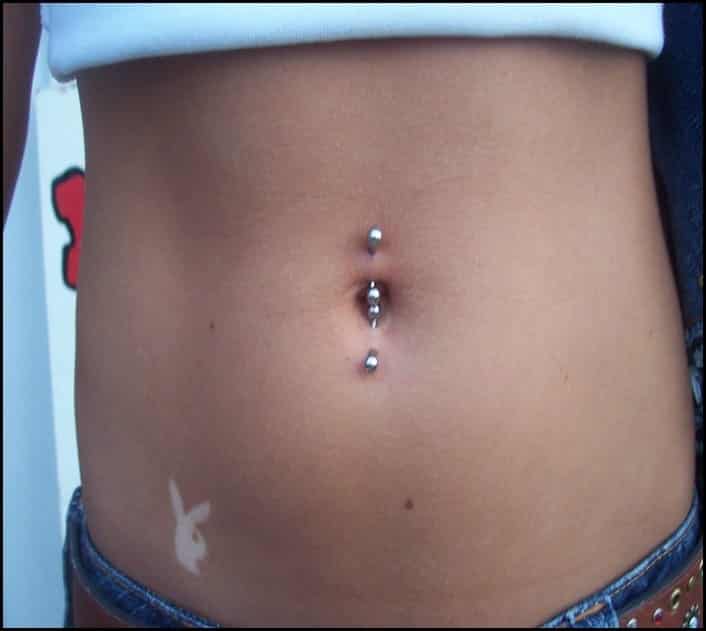 ↓ 19 – Cheek Piercing
Want to highlight those cheekbones without contouring? Get your cheeks pierced, no joke! They can enhance your entire facial structure, but they can take up to a year to heal properly. However, they may leave a scar if you decide you no longer want it.
via
↓ 18 – Ankle Piercing
This piercing can either be done on one side of the ankle or both. Moreover, it is not essential to get it done exactly on the ankle. You can have it a little above or below your ankles. Double ankle piercing will look even better as compared to a single one. It looks charismatic and can give the appearance of anklets at times. Before getting it done, note that it is not a very safe option to go with and can take up to a year or more to heal.
↓ 17 – Behind The Ear
Everyone gets ear piercing, why not move behind the ear? It is a sensitive place, but wearing small jewels that are all shiny and sparkly can enhance your entire look. Go with cute hair updos and flaunt your new style.
↓ 16 – For Belly Button
Belly button piercings are the common most surface piercings. They hurt the least as no bone and cartilage are involved. Wear low rise jeans and crop tops with them!
↓ 15- Hand Piercing
This type of piercing is usually done between two digits- two fingers. You can also get palm pieced. Although hand web piercing is the best and most ravishing style to opt for. Fill it up with sparkling jewels. Hands are sensitive and never get enough time to rest, so the healing can take between 6 months to a year.
↓ 14 – Facial Piercing For Girls
Facial piercings are for those people who want to do something truly thrilling. You can either get your cheeks pierced or the chin. Apart from that, forehead piercings are very common too. It will give you a hard time while healing, though, as face continuously comes in contact with water and sweat.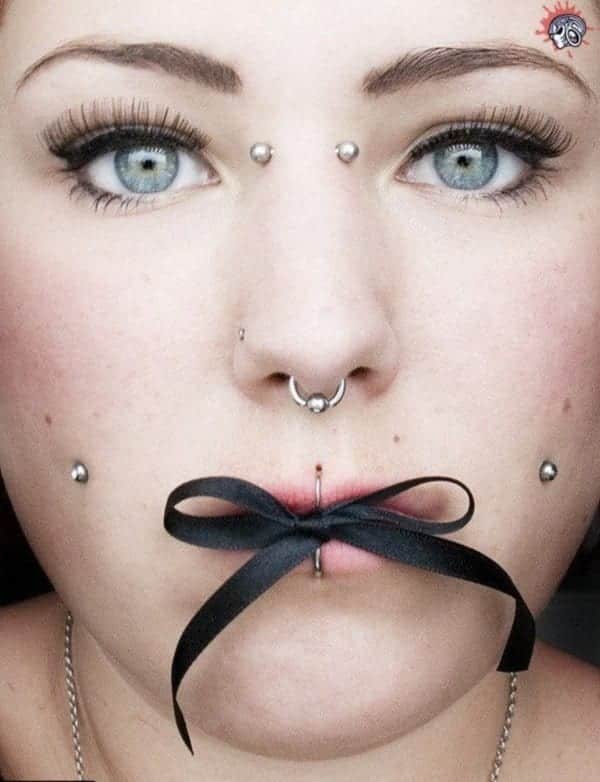 ↓ 13 – Chest Piercing
Are you are a fan of a deep neckline that shows off your chest? If yes, then you might like to get your chest pierced. Sternum piercing- that's done around the breast bone is a great option to go with. You can get it done vertically as well as horizontally. Its healing time depends on how good you take care of it. It can be a minimum of 3 months and a maximum of 1 year.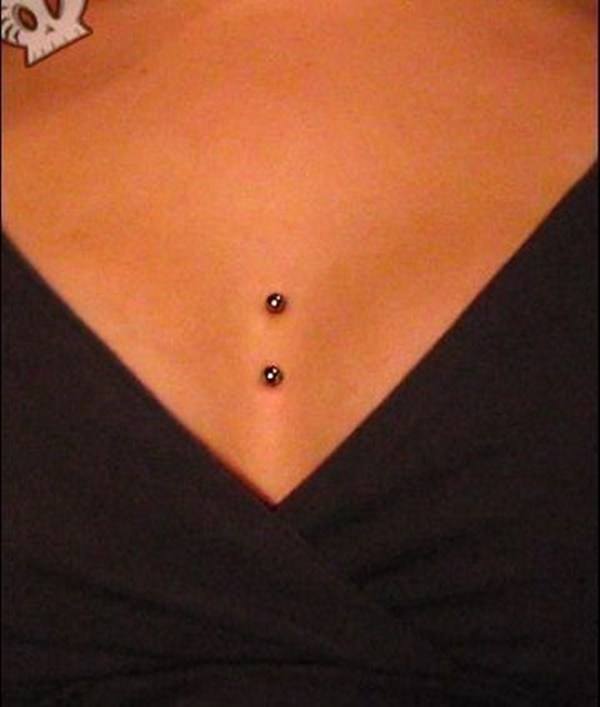 ↓ 12 – Single Eyebrow Piercing
Singe eyebrow piercings look amazing, and they hurt very less. It looks great when done by the outer edge of the eyebrow. Hoop type of jewels looks more enthralling as compared to studs in this area.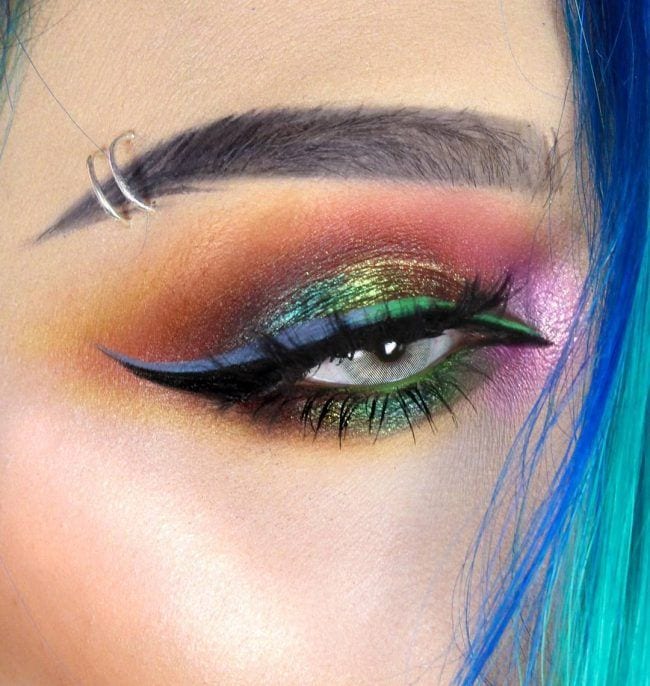 ↓ 11 – Multiple Eyebrow Piercing
Want an excessive style? Fill all your eyebrows with jewels!
↓ 10 – Gothic Style
Up for gothic style? Get as many surface piercings as possible and fill all the holes with bold, dark jewels.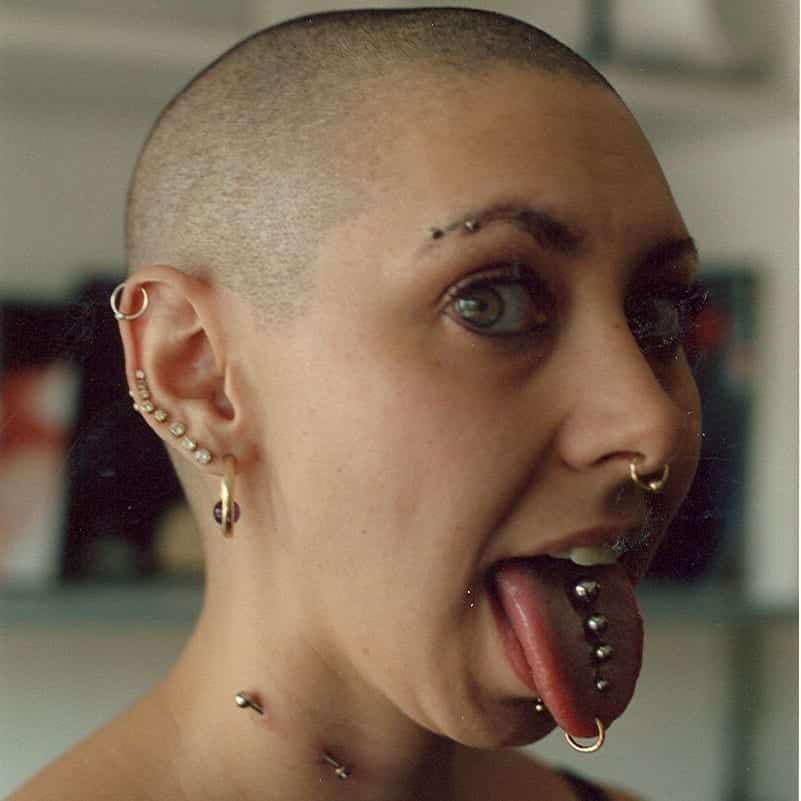 ↓ 9 – Leg Piercing
Leg piercings are easy to get, as the area is very soft. It is better to get multiple ones there and create some patterns. Such piercings hurt less and take around six months to heal completely. They will look perfect with mini dresses.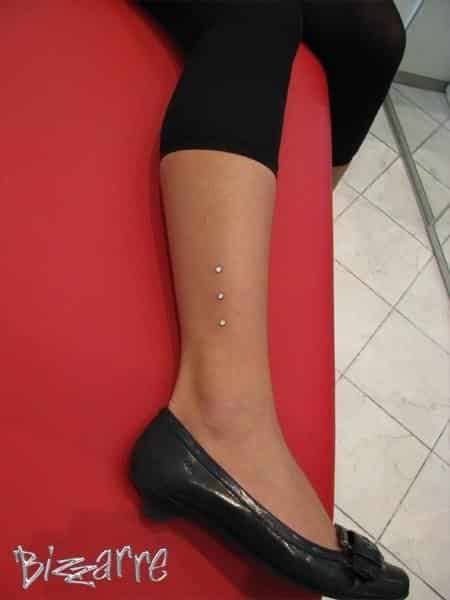 ↓ 8 – Arm Piercing
Not a fan of full sleeves? Then spice up your arms with piercings and tattoos.
↓ 7 – Tattoos and Piercings
Simple piercings may get very dull, why not add some drama to them? Choose your favorite character or any other thing you love and get its tattoo made. Accessorize the tattoo with the help of piercings. It sure will look great.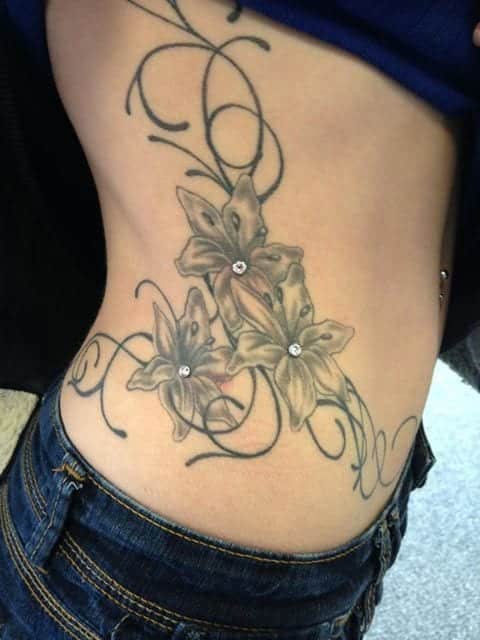 ↓ 6 –  Cute Nape Piercing
Simple black jeweled bar through the back of the neck, although it will only be seen if the hair is up.
↓ 5 –  Facial Bridge 
Titanium bar through the top of the nose and between the eyes. Simple, yet practical and definitely an eye-catcher.
↓ 4 –  Gorgeous Corset Piercing
I love this surface piercing. Multiple surface piercings linked together with ribbon to create a corset effect. However, it you can only show it off when wearing an open back.

↓ 3 –  Wrist Ring Piercings
Double ring surface piercings linked with ribbon and creating cute bow detail on the wrist. These create a stunning focal point.
For some more amazing ideas, don't forget to check out our cartilage piercing guide.
↓ 2 –  Clavicle Surface Piercing
Although not as common as a surface piercing, they still look cute. This type of piercing may potentially be rejected, however, and would be better done as a dermal. However, if done with a 90-degree bar, they should hold nicely.

↓ 1 –  Ladder Surface Piercings
Multiple surface piercings in the form of a ladder. Including triple navel piercings. A beautiful collection of piercings.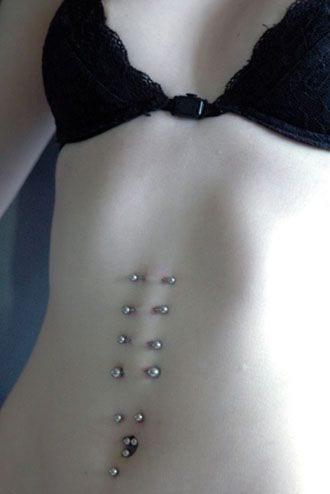 Frequently Asked Questions About Surface Piercings
Q.
What is a surface piercing?
A. Surface piercing is a piercing 'sewn' through flat skin. It is essential to know your type of skin before going for a surface piercing. The more elasticity you have in your skin, the better it is for surface piercings. I remember going to get a corset piercing down my right-hand side. I was going for twenty piercings that day and was told I could not have them done because my skin is not stretchy enough to hold them in. If your skin has no elastic quality, your skin will reject the piercing and effectively just push them out through your skin, and you will be left with piercing scars. Other parts of the body will hold surface piercings such as the nape, and this is due to the amount of skin in one area. Other surface piercings include nipples and bridge and are not to be confused with dermal piercings which go 'into' the skin through one hole.
Q.

What are the pros and cons of surface piercings?
A. Well, the first obvious pro to these piercings is how unique they are and how stunning they can look if cared for properly. Surface piercings have the 'wow' factor behind them and will definitely get heads turning. Another pro to surface piercings (especially over dermal piercings) is that they can be easily removed if needed, as most bars have a screw end.
The cons to surface piercings include the possibility of rejection, which is more common than not. New skin will grow under the bar as a healing process and will eventually force the bar out of the skin. This is why it is better to have 90-degree bars than curved bars. Nape piercings have a strong potential to become infected. This is due to long hair full of chemicals or shampoo being in close proximity. Hairbrushes will also catch on nape piercings (as I found out multiple times), so you have to be extra careful when brushing hair.
Q. How painful is a surface piercing?
A. This question can only be answered by the person having the piercing done as everybody's pain threshold is different. My piercings, I did not find that painful, but then my pain threshold is quite high. Surface piercings can be a bit more painful than your standard lobe piercings, and this is because they take a little longer to do and will be going through thicker tissue.
Q. What is the healing time of a surface piercing?
A. Healing times always come down to the person's own metabolism and how quickly their skin heals. However, typical healing time for a surface piercing can be from four months to a year; this is also dependant on the location of the piercing and the person having a strict cleansing routine. Keeping your piercings clean is paramount to the healing process.
Q. How do you care for your surface piercing?
A. Surface piercings have the same care routine as most other piercings. Every morning and every night, you should clean your piercings with a cleanser (usually given to you by your piercer) or even saltwater. Apply a small amount to a cotton bud and gently clean around each end of the bar and around the area. Do not rotate bars, but gently move them just to stop the skin fusing to the bar. It is best to keep your piercings covered for the first 24 hours if possible to reduce debris, sweat, or chemicals such as perfumes affecting the area.
Q. Where to get your surface piercing?
A. Surface piercings can be done by any professional qualified to perform piercings. DO NOT get piercings done by an amateur or round your friend's house. There is a risk of dirty equipment, and this will lead to infection. Having your piercings done by a professional will limit the risk of infection. Be sure that all equipment is sterile before use. Professional piercers will open sterile equipment in front of you.
This following video shows how a professional surface piercing is performed in a sterile environment by a professional piercer.