Best Maang Tikka Designs and Styles. The breathtaking traditional jewelry is one of the most desired accessories for a girl on her wedding day. Be she the bride or bridesmaid, the gorgeous maang tikka or Maatha Patti, along with complimentary necklace and bangles, is a must-have to complete a stunning look.
Maang Tikka has long been our traditional wedding staple, elegantly placed amidst centrally parted hair. However, the younger generations have brought their own spin to the classic – resulting in a wide range of styles and methods of wearing a Maang tikka. Have a look at these 25extremely glamorous Maang tikka designs and styles we have compiled just for you so you can find the one that suits your personality the best.
Latest Maatha Patti Styles for Different Face Types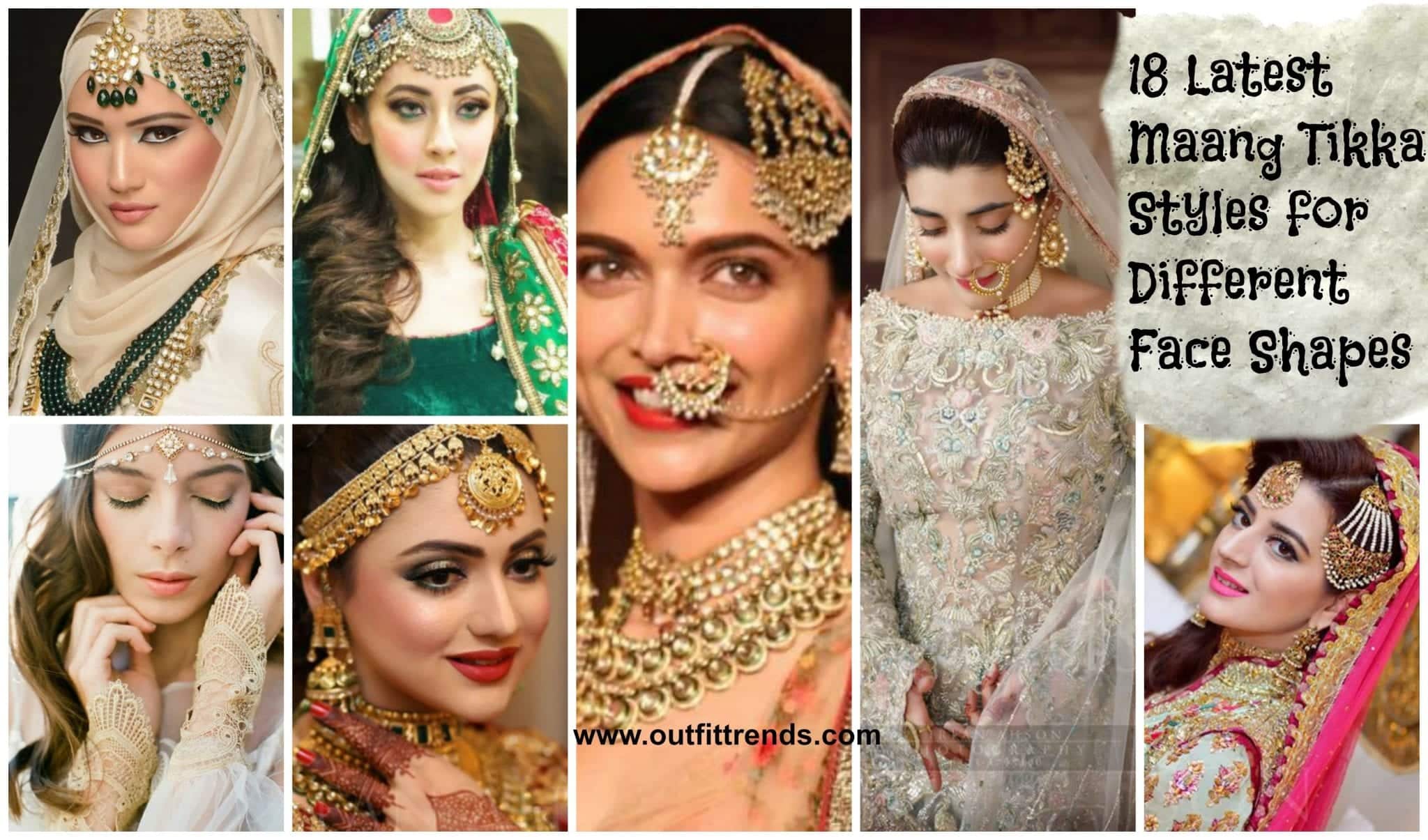 RECOMMENDED: How to Wear Maang Tikka in 15 Different Styles
In 2020, we've seen a rise in trends that aim at reviving old traditions be they in bridal wear, jewelry or customs. The regal maang tikka, Maatha Patti and jhoomer remind one of the grandeur of Mughal queens and princesses but they are no more a thing of the past. You will be amazed to know that this gorgeous piece of jewelry is in vogue for the weddings of 2020. The good news! it's not for the brides only … girls of every age can choose to wear a mesmerizing maang tikka according to their personality and face structure.
Remember, choosing a suitable maang tikka for your face shape is as important as selecting a dress best suited for your body. Wearing a Maang tikka means you are going to be adorning a little statement piece right on your forehead. So before stepping into the spotlight, make sure it's a statement you agree with.
Here we will share the latest trending matha tikka styles for different face types.
↓25: Classic Floral Maang Tikka
Fashion is temporary, but style is forever, and these floral maang tikkas don't like they're going out of style any time soon. This look is a favorite for brides for their Mehendi/Rasm-e-Hina event due to its natural and festive appeal. Traditionally, Mehendi brides go for an au natural look and what says natural than the classic floral jewelry. Another huge advantage is that these gorgeous 'jewels' are as easy on the pocket as they are on the eyes. This jewelry is typically handcrafted with marigold, rose, jasmine, and more.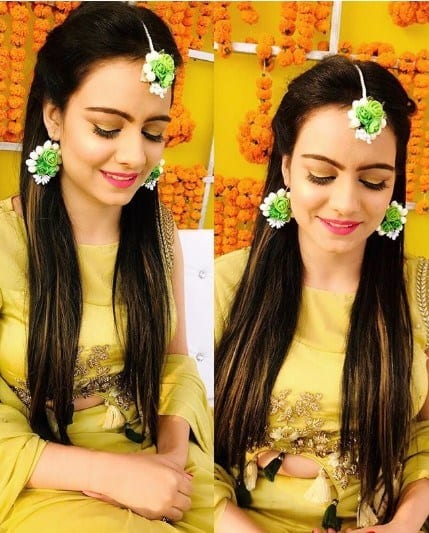 ↓24: One-Sided Maatha Patti
Many girls tend to shy away from maang tikkas to avoid the centrally parted hairstyle. Here's some good news for them: one-sided maatha Patti. This contemporary reworking of the classic maatha patti helps us gals style our hair whatever way we want. It goes especially well with side-swept hairstyles, overall creating a great look for girls with slim faces.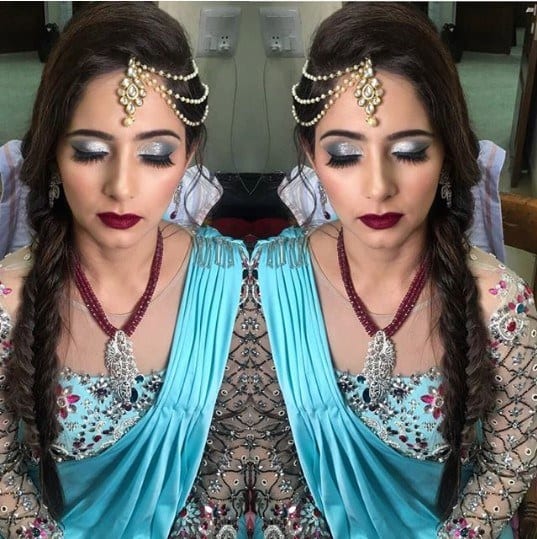 ↓23: Jhumka Style Maang Tikka
The cute little jhumka is a must-have for every South Asian girl's jewelry collection, but have you ever seen it hanging on someone's forehead? Somehow it looks just as exquisite – if not more so. This style of maang tikka will suit those girls who have smaller foreheads and wish to keep their tikka within the hairline. Because of its a small size, the style is often preferred by bridesmaids and young girls.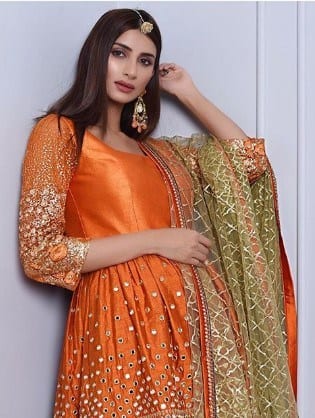 ↓22: Angular Maang Tikka
Maang Tikkas are often considered synonymous with round, pendant shaped jewelry. But with new times come new designs, like this square-shaped maang tikka. Due to the wider spread of design, the style will look great on plus-sized girls, and women with broad faces. It helps make the face look slimmer and instantly elegant.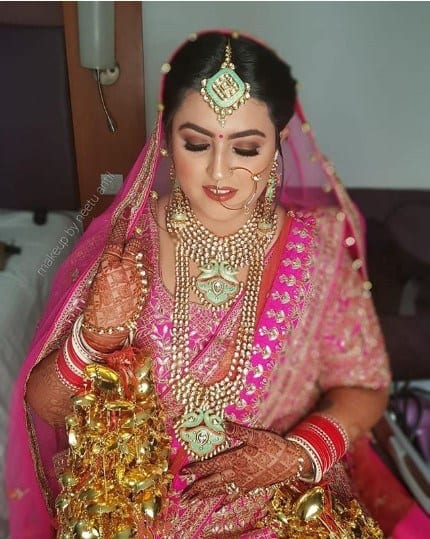 ↓21: Diamond Maang Tikka
Diamond jewelry may be a tad expensive but is worth every penny when you look at the final results. Diamond maang tikkas have an elegant design – a cross between Eastern and Western jewelry trends. They are a great look for women with darker, or tanned skin color – the specialty of South Asian women.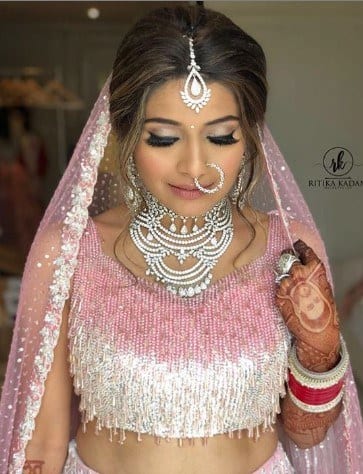 ↓20: Hand-crafted Floral Tikka
We've already discussed the classic floral maang tikka, but in recent years we've seen the classic style get reformed by young designers. Famous jewelry designers work with their clients to create pieces that look too beautiful to be real. Yet they are in fact crafted with real flowers, pearls, and beads to create a look that is fresh and luxurious. Such maang tikka styles are perfect for functions that require a little more formality than the usual floral jewelry, but when you still want to stick to tradition.
↓ 19: Pendant style with One Tier (Maatha Patti)
 One of the hottest trends of the year is the pendant style maang tikka with single-tier or one chain maatha patti. This delicate style gives an ethereal princess look to a bride with any face structure. It also suits teenage girls with a small forehead. The pendant is a great style if you're a little unsure about wearing a maatha patti for the first time because of its subtle grace. However, be conscious about placing the delicate ornament at the right place. Hanging the pendant too low or too high can distort your forehead's look. Also, have a peek at 16 Cute Hairstyles with Maang tikka/Maatha Patti This Season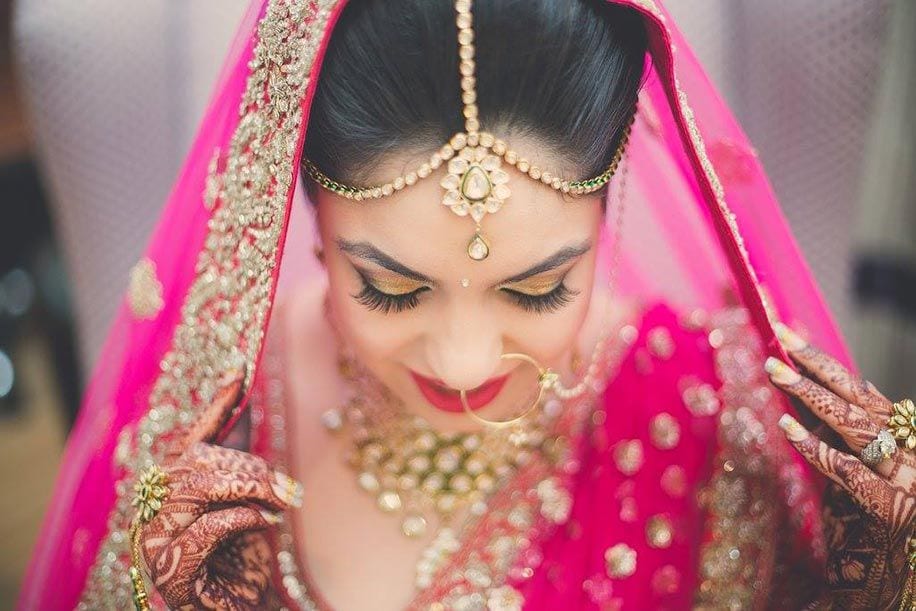 Via
↓ 18: Multi-layered simple maang tikka
This stunningly beautiful style of maang tikka is trending this year with a variety of designs. The addition of layers of maatha patti attached to maang tikka adds to its elegance, which is great if you're going for a fancier look. No wonder this style is a favourite for brides on their Nikkah functions. This style complements a round face and broad forehead especially because of the added strings. Its simplicity and delicacy will enhance the inborn beauty of any girl.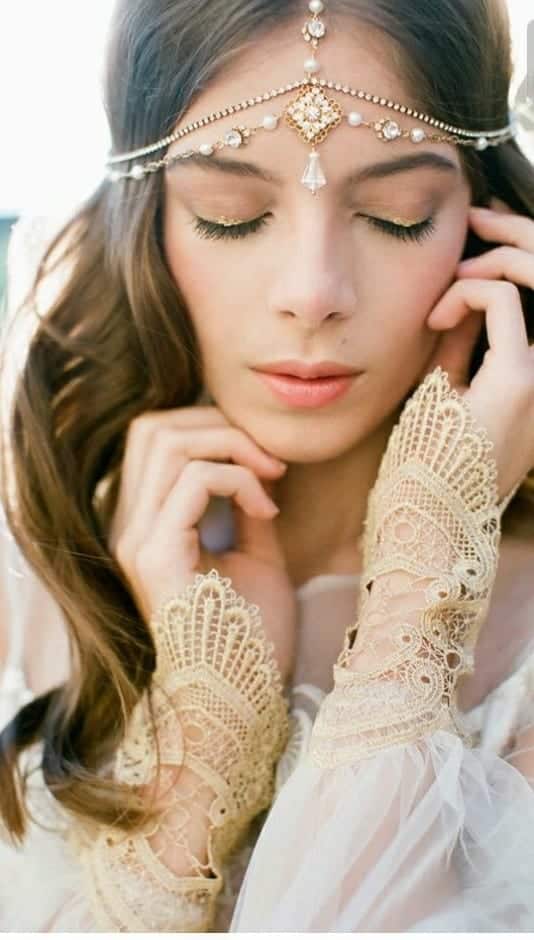 ↓ 17: Pendant style 
This all-time favorite is still trending in the new year with a wide range of designs. This style may be the oldest but its versatile nature has kept its charm fresh as ever. The beauty of this style is that it goes wonderfully with any facial structure and hairstyle. Contemporary jewelry designers are constantly reinventing this style and today you can pick from a range of styles: from Kundan to pearls to gems. No matter what style you choose, you are sure to look like a princess on your special day.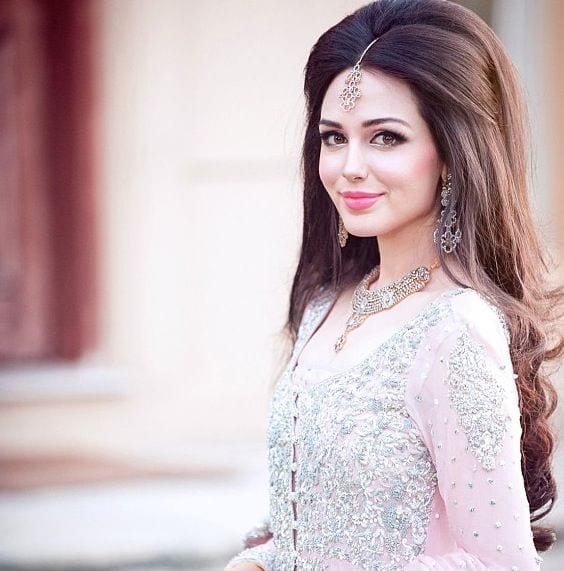 ↓ 16: Chandelier style
The classic style of maang tikka is trending this year for the girls who would wear them boldly. The extravaganza of pearl and rubies over it creates a stunningly celestial appearance. However, this piece of ornament would suit a large forehead and round face. A maang tikka looks even more fabulous when worn with Patiala shalwars so do check out this latest collection of Patiala Shalwar Outfits.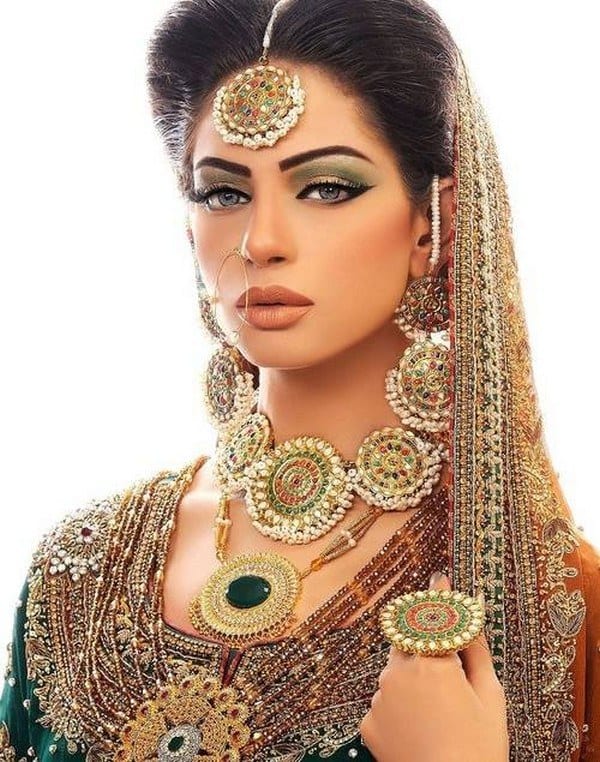 Step by Step Video Tutorial – 3 Trendy Ways to Wear Maang Tikka
↓ 15: Side Maang tikka with One Tier
This spectacularly unique style will rock the wedding this year. Breaking out all the traditions, gutsy girls would love to carry this style. It would look even more beautiful on an oval face shaped girl.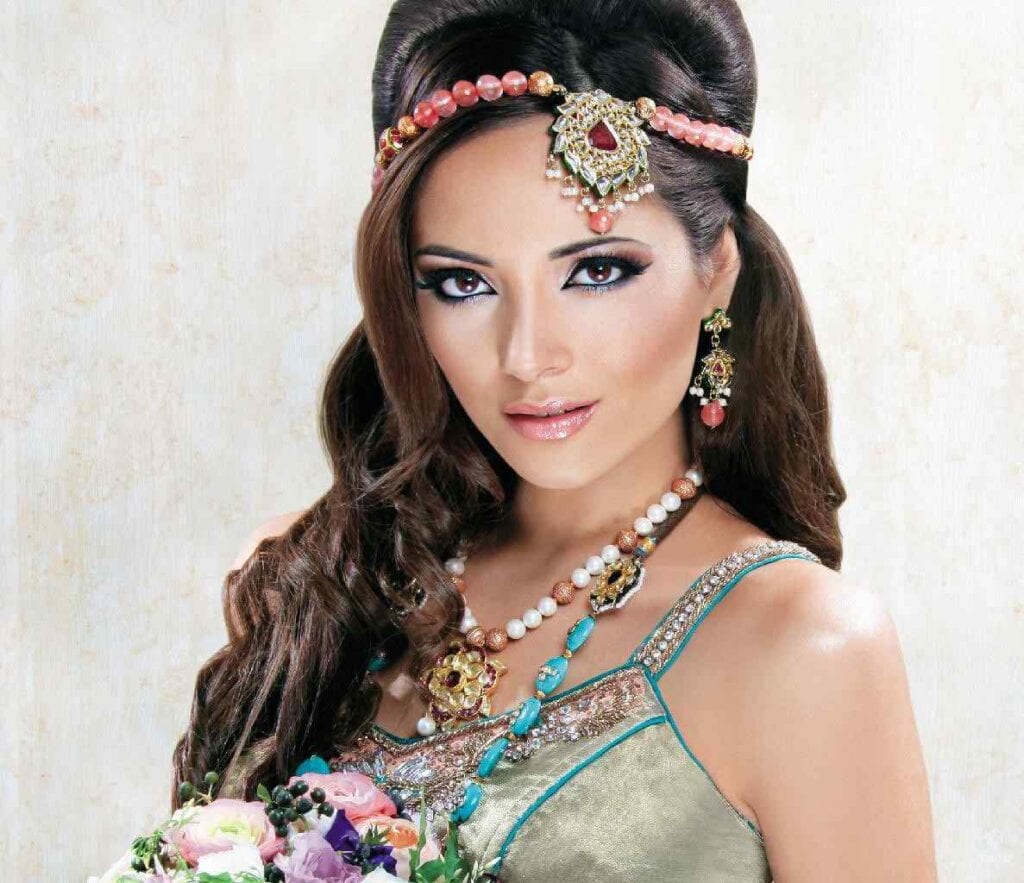 ↓ 14: Princess Tiara style Maang Tikka
What little girl doesn't dream of wearing a tiara one day? While wearing an actual tiara to a wedding might feel too obnoxious, you can always opt for this tiara style maang tikka. It's a fusion of Western and South Asian jewelry styles and we're in love with it. The style is suitable for girls of all ages and is great for those with a medium to short forehead.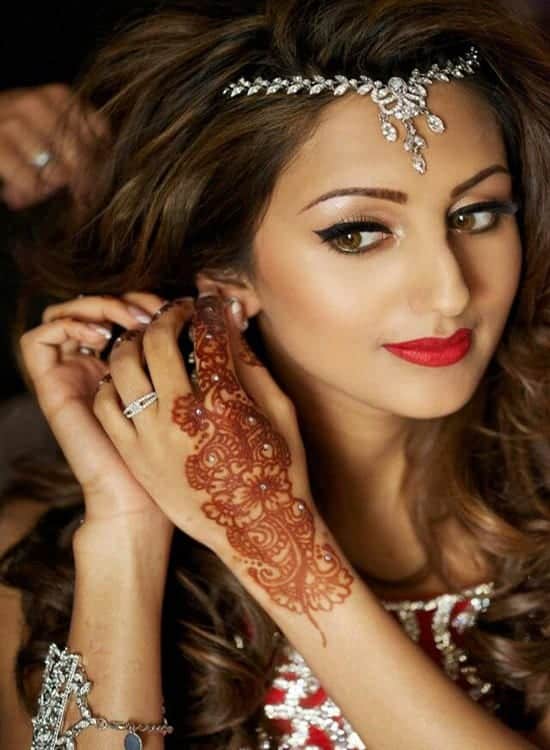 ↓ 13: Maang Tikka with Hijab
Many Hijabi beauties shy away from wear tikkas for fear of looking strange or awkward. With this style, you can easily overcome your worries and bling out for the next big event. RECOMMENDED Hijab Accessories-25 ways to Accessorize Hijab With Jewelry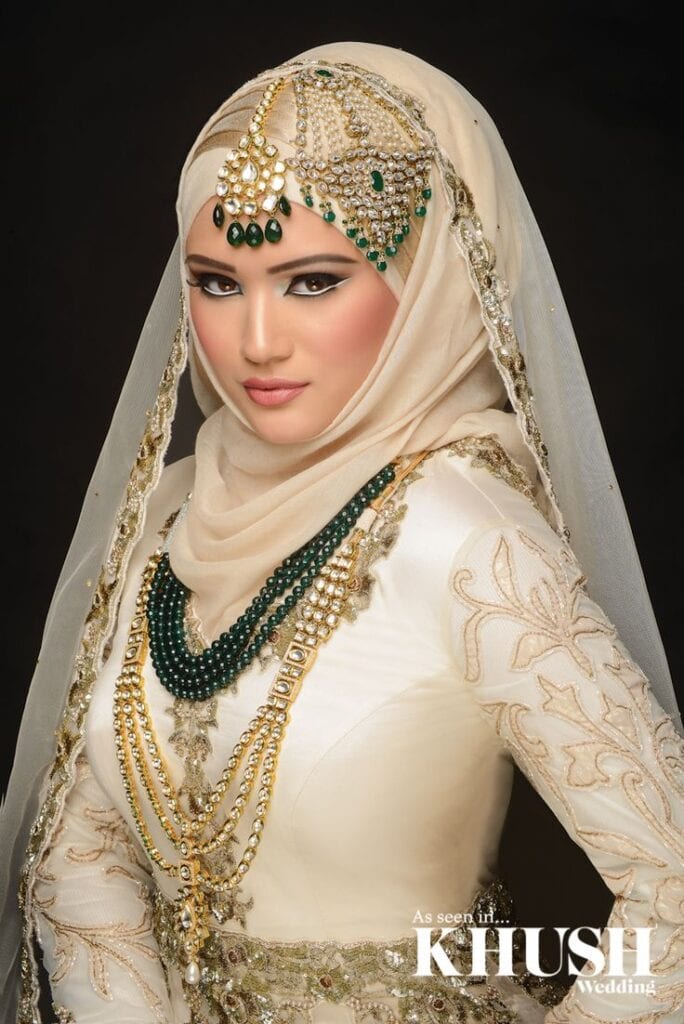 ↓ 12: Borla (Rajasthani -Bali style)
The glamorous and dazzling style of Maang tikka, called Borla, was typically worn by Rajasthani brides. This tradition is revived in the rising trends of bridal couture.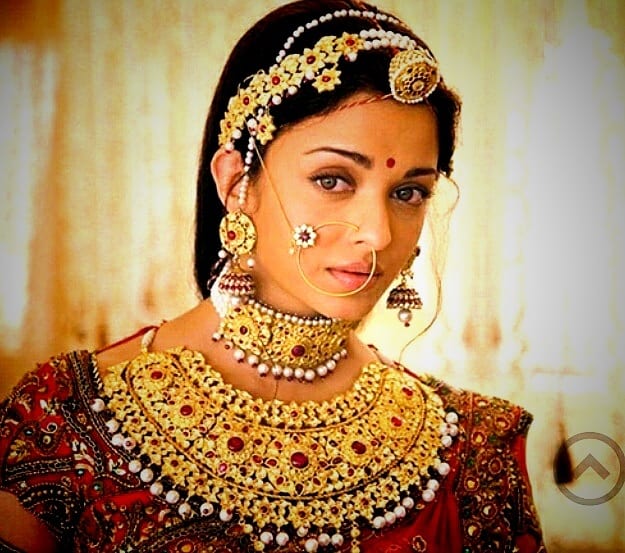 ↓ 11: Jhoomer style Maang Tikka
The typical Jhoomer or Passa is more than just happening trend of the year. You may find many celebrities wearing this traditional ornament as their own style statement. Every gal not comfortable with a centrally placed tikka can fashionably flaunt their style with this side hanging maang tikka. It's a great option for those girls who think a tikka does not sit well on their forehead. Have a look at some more amazing pics of this amazing wedding here: Urwa Hocane Farhan Wedding Pics| Nikah Walima Dholki Barat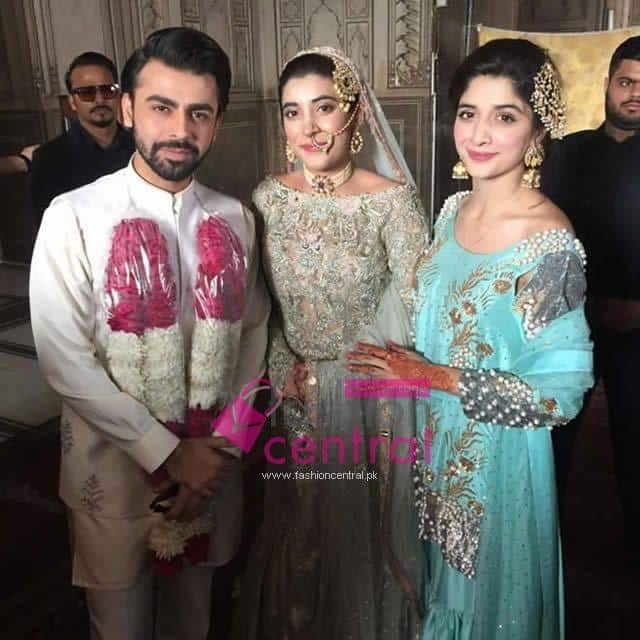 ↓ 10: Large Central Maang Tikka for Big Foreheads
Girls with Round or oval face can beautifully carry this latest trend of heavy Maang tikka with a light, single chained Maatha Patti. This style is especially suited for girls who have a larger forehead that they want to cover. There's a maang tikka to suit every face shape out there.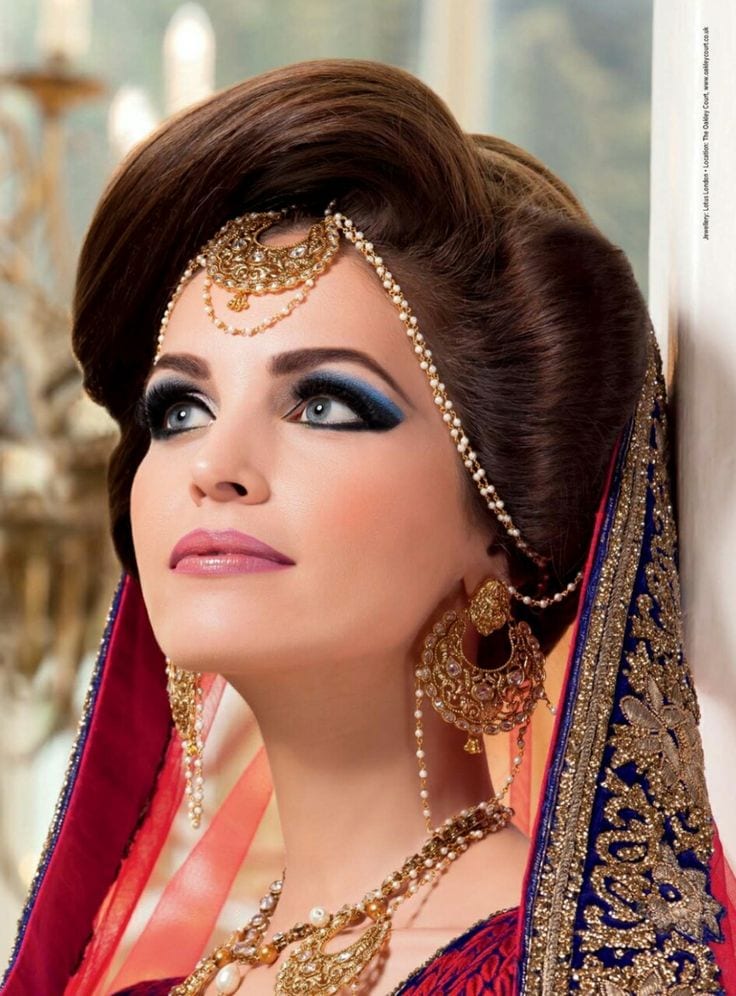 ↓ 9: Side-Swept  Maang Tikka
This  Matha Patti attached to Manag tikka is a splendid 'Nawabi' style to adore the small or cute looking heart-shaped face. The style will suit those who wish to change things up a little and break the norm for their look.
↓ 8: Sindhi Traditional Maatha Patti
Sindhi traditional jewelry has unbound charms. As I said before reviving traditions is the new trend. Sindhi Maang tikka along with the elaborate matha patti is simply irresistible! The style is unique to its cultural heritage and is great for a bride who's not afraid to go for it.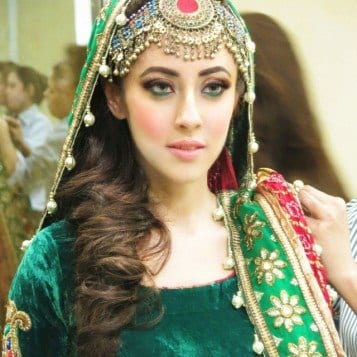 ↓ 7: Kundan Maang Tikka
Who doesn't enjoy a beautiful piece of Kundan jewelry? Kundan is effortlessly beautiful and not as expensive as gold jewelry either. Kundan used to be limited to villages and people used to travel far and wide for these unique jewelry pieces. In 2020, they have hit the mainstream and are thankfully available at every major label. Kundan Tikkas are a great way to enhance your look and come in different styles to suit almost any facial structure.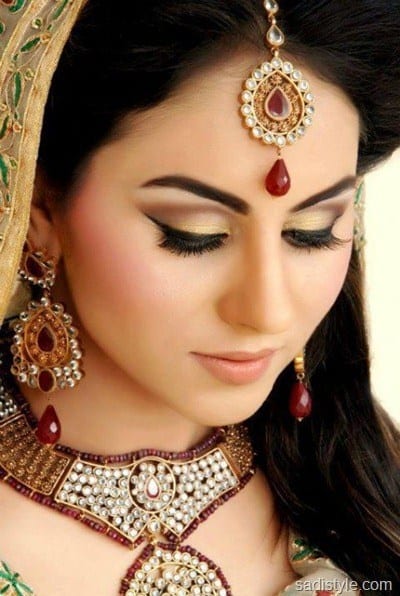 ↓ 6: South-Indian Style Maang tikka for Weddings
This ethnic South- Indian Maang tikka will ensure that you look resplendent and absolutely divine. The colorful piece of jewelry will brighten up any outfit and is often favored by the bride's sisters and cousins.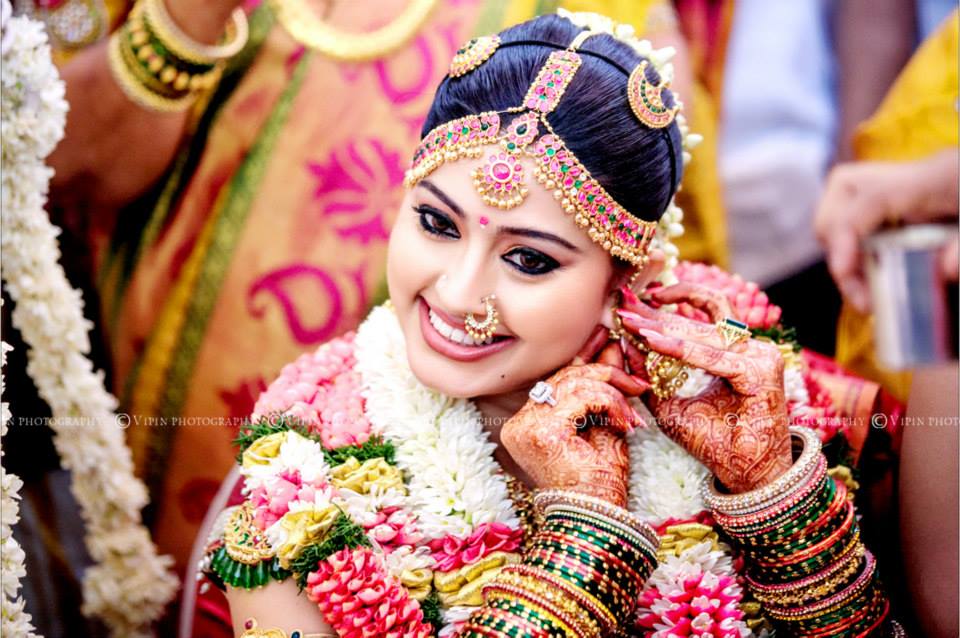 ↓ 5: Pearl string attached to Maang tikka for Oval Face Shape
These pearl strings attached to an eye-catching maang tikka, are stunningly beautiful and trendy for all brides-to-be to consider for their wedding. The strings of pearls take one right back to the Mughal era and are a great addition if you have pearl embellishments in your clothes as well.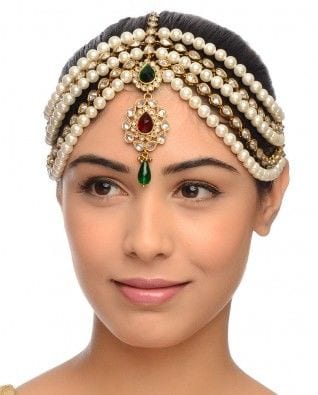 ↓ 4: Maang Tikka with Crown Braid for Heart Shaped Face
This is a rising trend among teenage girls to wear this comparatively very small-sized maang tikka with light chains of multi-layered matha Patti. Its simplicity and elegance can enhance the beauty of small forehead or heart-shaped face structure.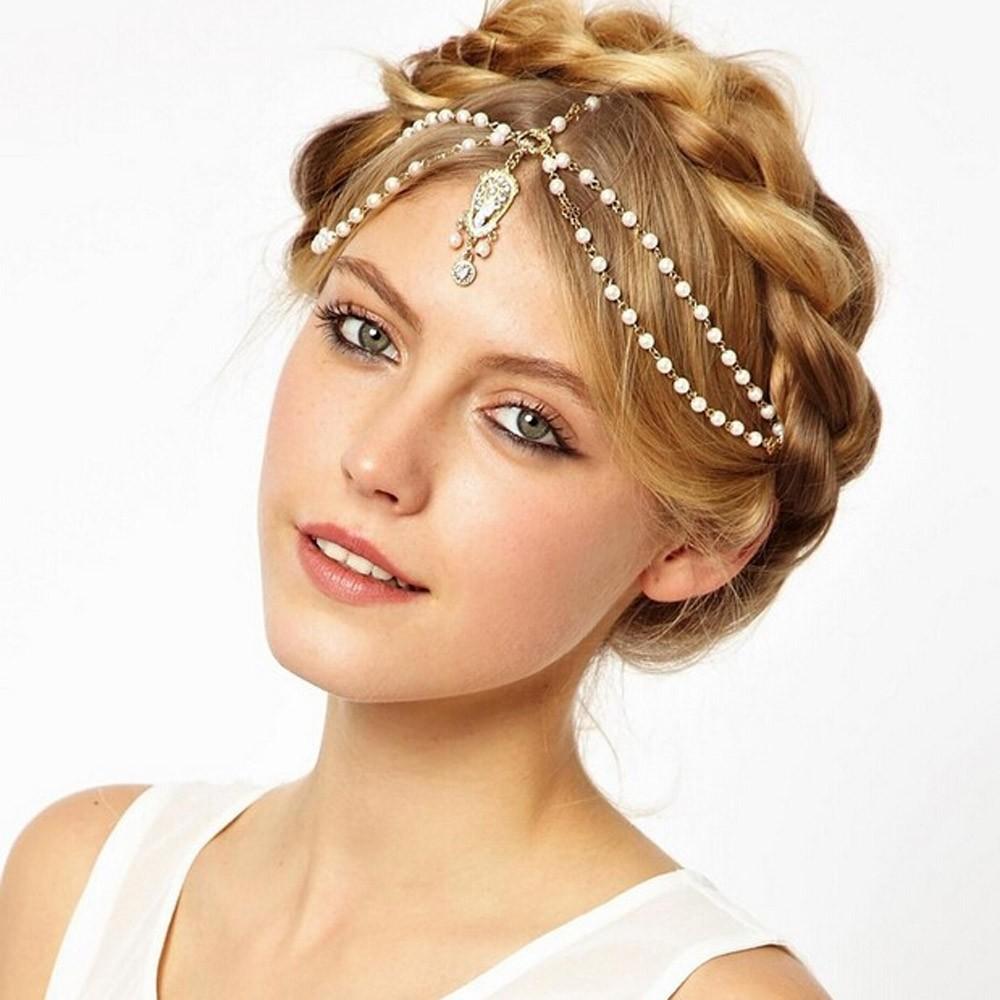 ↓ 3: Multiple Maang Tikka with Multi-tiered Maatha Patti
If you are bold enough to carry a heavily done bridal look and stand out of the crowd, this multiple maang tikka with multi-tiered maatha patti will suit you the best. It will look absolutely stunning with a back-combed 'Joora' hairstyle and will add volume to the personality of the bride.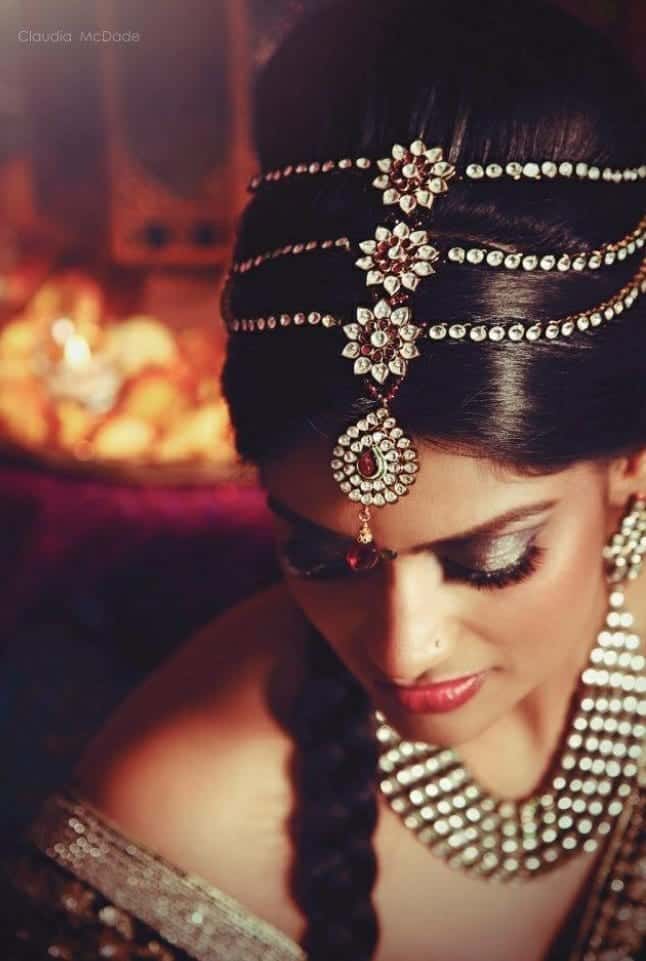 ↓ 2: The Hidden Maang Tikka with Puff for Round Faces
The chain will be hidden into the perfectly styled hair and a flattering yet subtle Maang tikka will be securely placed at its exact place. All those girls who feel uncomfortable with having a parting in their hair can enjoy this latest variation of the style without changing the place of tikka.
It is a great style for round faces since it elongates the face, making it look more symmetrical and beautiful.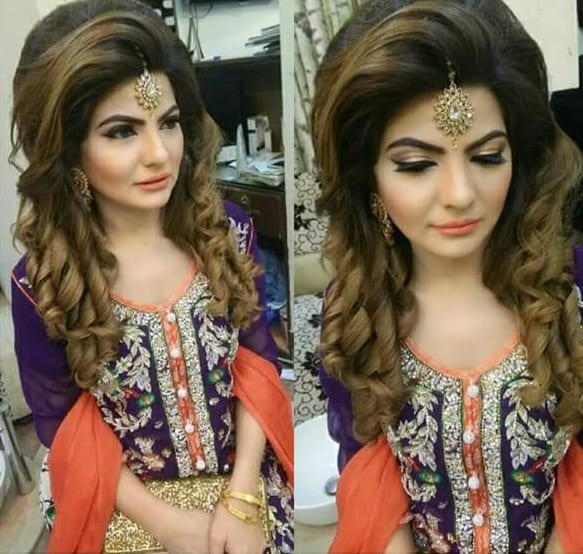 ↓ 1: The Tiara Kundan Maang Tikka with Centre Parting
This super-majestic style of Maang tikka is trending wild this year. A Tiara or Crown shaped chain is attached to the hair and the heavily adorned Maang tikka with Kundan pearls hangs below this crown. This magnificent piece of ornament definitely creates an aura of royalty. It goes great with oval face shapes. It's an ideal option for brides because of its unique style.