Here is to bring you world 30 most creative and unique shoes in the world. These unique shoes have been made over a period of time by creativity and unusual art.Footwear varies in style , colors and cost from casual shoes to high fashion shoes but this time we are bringing you these unique and unusual shoes.
1. MUSIC PLAYER SHOES
2.THE CLAW SHOES
3. UNIQUE HEEL LESS SHOES
4.  CREATIVE GUN SHOES
5.  LAMBORGHINI SHOES
6.  UNIQUE CAR SHOES
7. CREATIVE HORSE STUD SHOES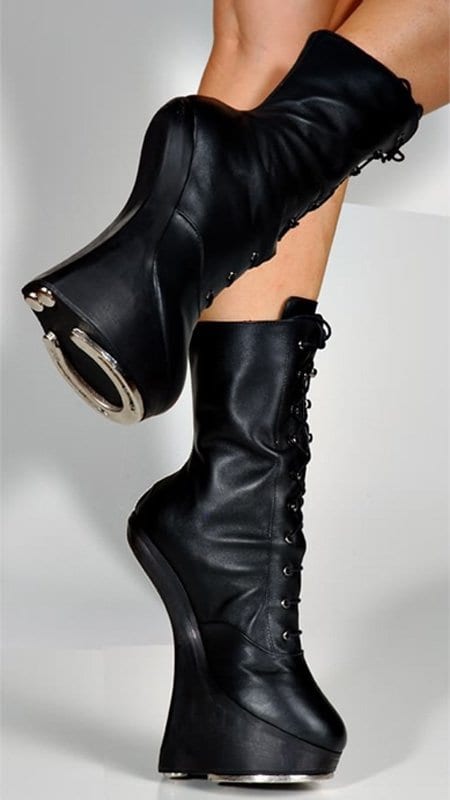 8.  UNIQUE 5 FINGER FEET SHOES
9.  FUNKY ZIPPER SANDALS
10.   CRAZY FINGER BOOTS
11.  UNIQUE COVERSE EXTENSION SHOES
12.  CREATIVE BARE FOOT SHOES
13.   UNIQUE FLOWER SHOES
14.  MUSIC PLAYER LADIES SHOES
15.  CREATIVE FISH SANDALS
16.  CRAZY WOLF SHOES
17. UNIQUE CD PLAYER SHOES
18.  INTERESTING FLAT LADIES HEEL SHOES
19.  UNIQUE GIRAFFE SHOES
20.  CREATIVE SNAKE SHOES
21.  CREATIVE SHOE ART
22. CREATIVE LEOPARD SHOES
23. UNIQUE GRASS SANDALS
24. FUNNY CROCODILE FACE SHOES
25. UNIQUE RAT SHOES
Via
26. CREATIVE BANANA SHOES
27. CRAZY DOG SHOES
28. CREATIVE WOOD MADE LADIES SANDAL
29.  UNIQUE LADIES SHOES
30. CREATIVE AND UNIQUE TONGUE SHOES

Via
Caz, aka Vixen, has been freelance creative writing for several years. She has a lot of experience in different fields including high street fashion, tattooing art, and even the gothic and historical costumes. Caz has a Diploma in Fashion and Textiles and also a Bachelors Degree in Historical Costume and Corsetry. Her passion lies with gothic design, corsetry and any other styles considered to be taboo or unusual. Style-wise Caz has a love for Vivienne Westwood and her take on the punk era. Although Caz loves the weird and wonderful, she has a deep love for all fashion and allows this to show through her work.