The human's urge to create something unique sometimes gooes beyond anyone's expectation. When I searched for world's creative, unique, and weird shoes, I saw some of the strangest footwear ever that was anything but what I expected to see.
Since we have shown you a ton of casual high fashion shoes, this time we are bringing you the strangest footwear. From shoes inspired by human tongue, animals, to vegetables and fruits. Here are 30 most oddly creative, unique, and shoes in the world. These unique shoes have been made over a period of time by creativity and unusual art. Footwear varies in style, colors, and cost of course. And, the list below contains crazy shoes that will make your soul quiver because of their wierdness.
What Are The Weirdest Shoes in The World?
This world is a strange place and some really strange people created these wierd pair of shoes that can not be utilized. They can only be looked at because if you wear them, you will not only recieve hilarious reactions but also find it uneasy to walk. So get ready as you are about to see many oodly creative, funny, and even disturbing pair of shoes.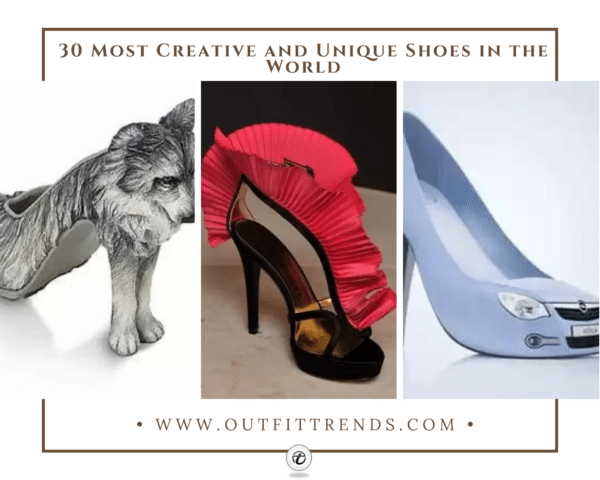 It is important to note that we mean no disrespect to the creators of the shoe. The aim of this article is to showcase some of the strangly creative shoes and enjoy their wierdness.
Dos And Don'ts Of Wearing the Strangest Shoes
Most of the shoes in the list are just meant to be looked upon but if you want to try wearing them for fun then go ahead.
You can use some of these shoes for a holloween or gothic party or when you are recreating a strange movie character.
Before wearing any one of the shoes, ensure you do a walk test. Since the shoes are designed unusually, you will feel uncomfortable wearing them.
If you would like to see more of strange stuff on the internet then have a look at the 10 most creative and strange handbags or purses collection. 
30 – Music Player Shoes
Are you the one who listens to music all the time? This may be the right pair of shoes for you. A shoe that will play your favorite song but I wonder how is a person supposed to wear them outside or in wet grounds?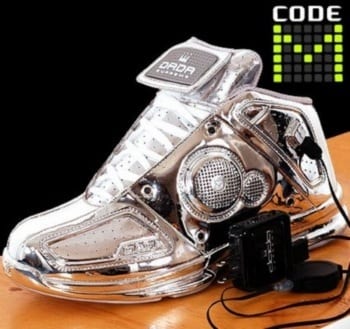 29 – The Claw Shoes
The uniquely designed claw shoes are for people who love gothic fashion. Creator of shoe designed heels to make them look like a talon. If you wish to wear this pair of shoe, you will have to adjust to the odd feeling of walking with a shoe and barefoot. The design is all good but I don't like the idea of walking barefoot even when I am wearing the shoe.
28 – Unique Heel Less Shoes
Ever wondered if high heels are possible without heels? No, right? But there you go, someone created these shoes that will proably make us fall hard and break our bones.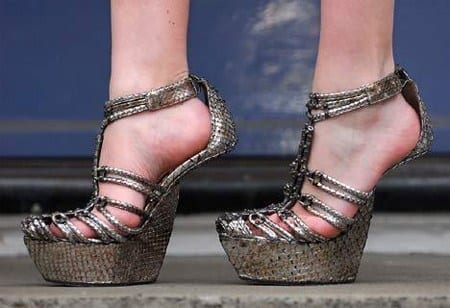 27 – Gun Heels

26 –  Lamborghini Shoes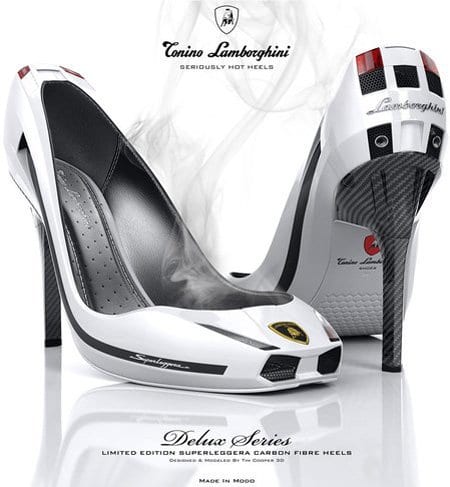 25 – How About Shoes Inspired by A Car?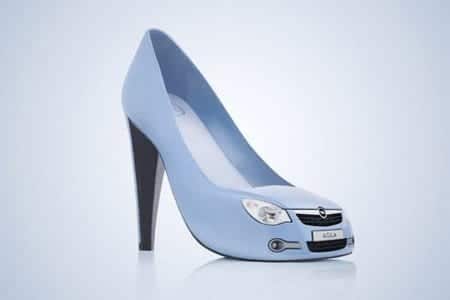 24 – Creative Horse Stud Shoes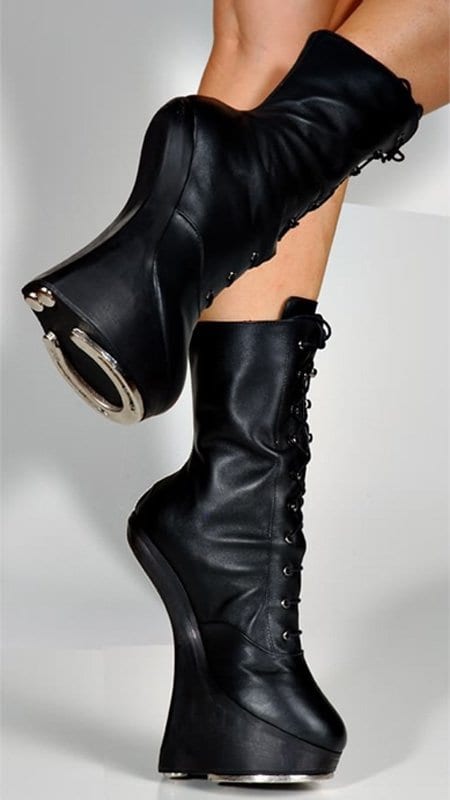 23 – Wierd Five Finger Feet Shoes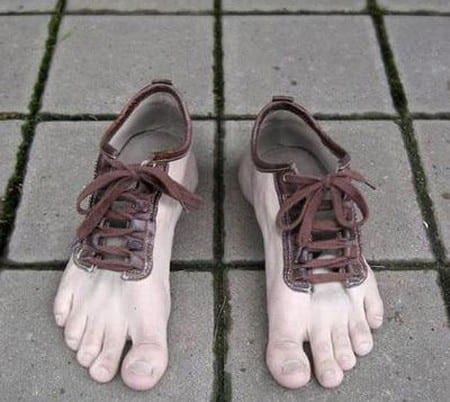 22 – Funky Zipper Sandals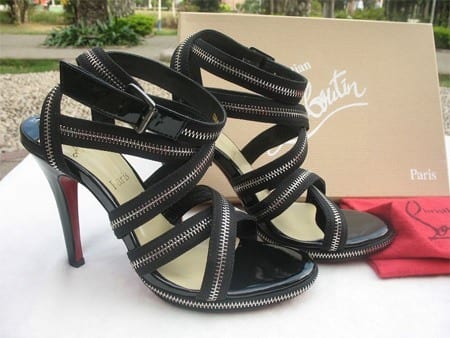 21 – Finger Boots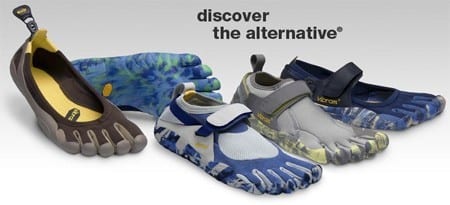 20 – Coverse Extension Shoes
It is hard to figure out whether these are pants or shoes. It might be both but I certainly do not recommend wearing these unless you are into trying unusal stuff.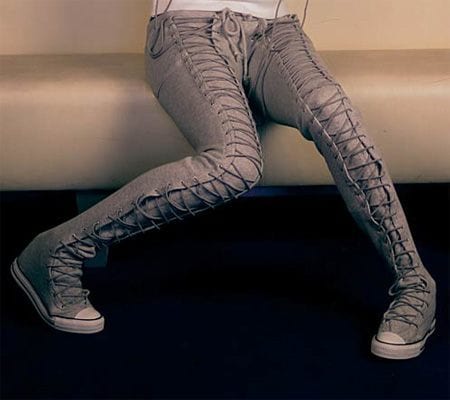 19 – A Barefoot Shoe?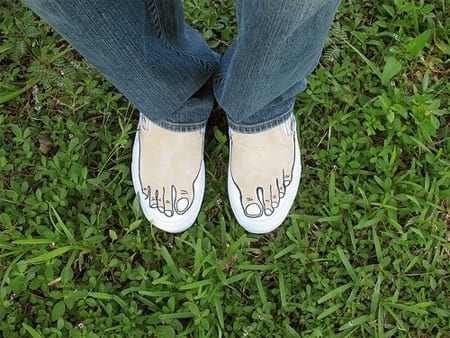 18 – Unique Flower Heels
Finally we have a normal looking shoe with a big flower on top of it.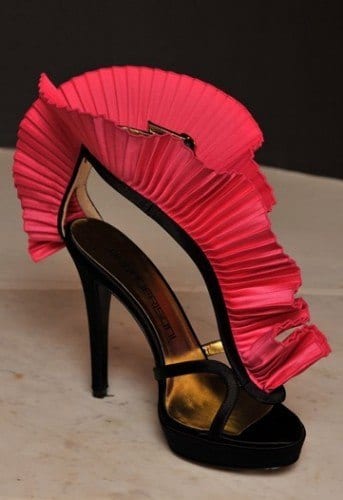 17 – Music Player Wedge Heels 
Do you feel like partying hard ladies? Why not try these music player heels? With music in your heels, I am sure the dance will come naturally. Just be careful and not dance too hard, the music player might crack.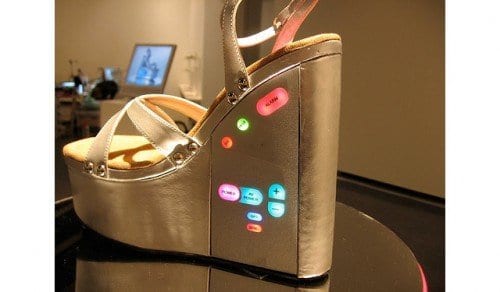 16 – Fish Flip Flops
These fish flip flops look so realistic. Surely, it will take a lot of courage for a weak-hearted person to wear them. Wear these to the beach and make everyone turn around and look at the marine life you are carrying as your flip flops.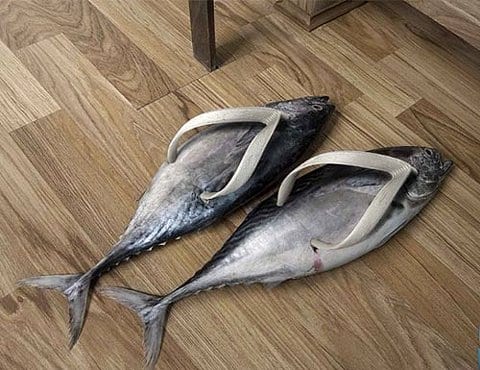 15 – Crazy Wolf Heels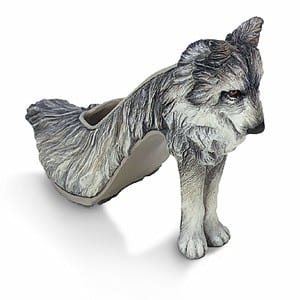 14 – Unique CD Player Shoes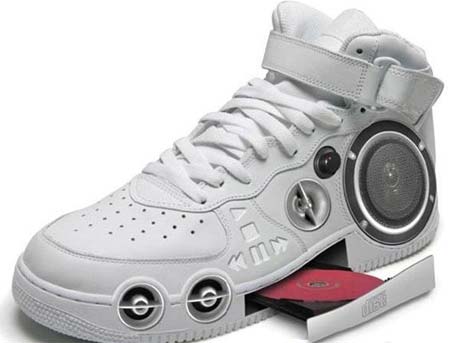 13 – Flipper Heels
Who would have thought that you will get to wear flats and heels in one pair of shoes? Well, a genius person designed these unique flipper heels. Try these flipper heels when you are confused about whether to wear heels or or not. 

12 – Unique Giraffe Shoes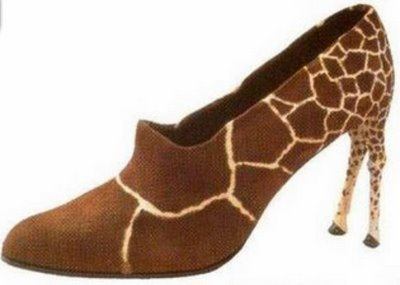 11 – Disco Goldfish Platforms High Heels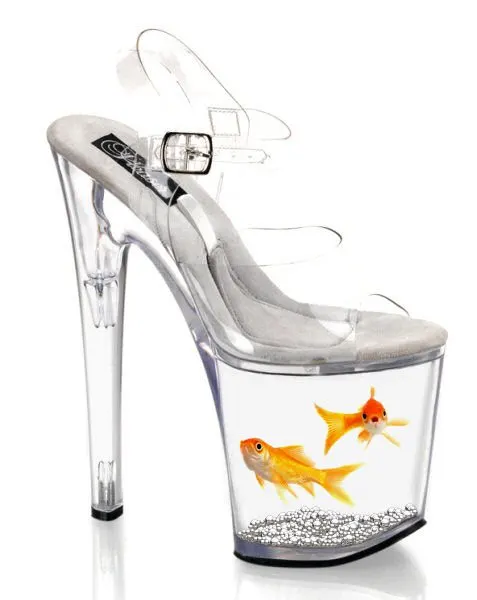 10 – Shoe Art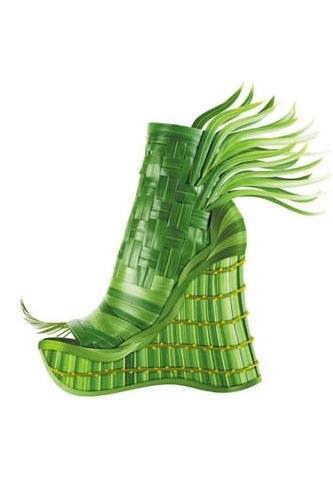 9 – Leopard Shoes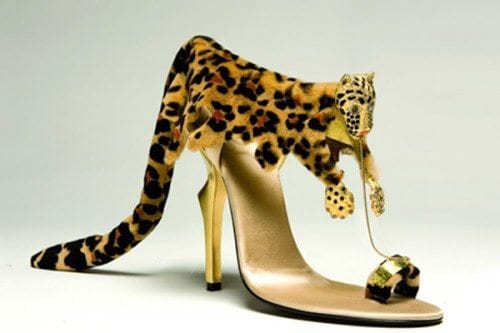 8 – Uniquely Designed Grass Flip Flop
For people who want to stay close to nature. With these grass flip flops, you can now get the same feeling as being in a garden barefoot.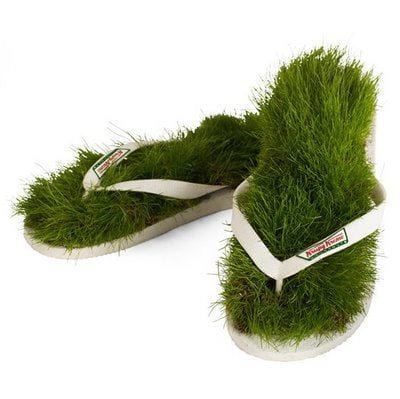 7 – Dirty Crocodile Face Shoes
What a great way to recycle dirty torn shoes! Just add crocodile teeth and you will have a new pair of shoes.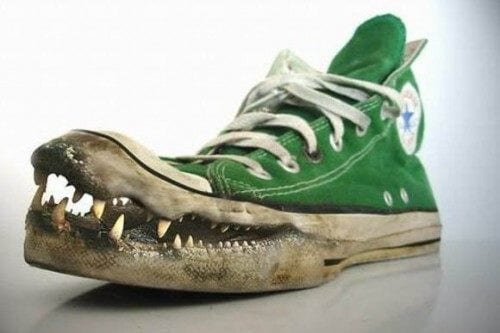 6 – Odd Rat Shoes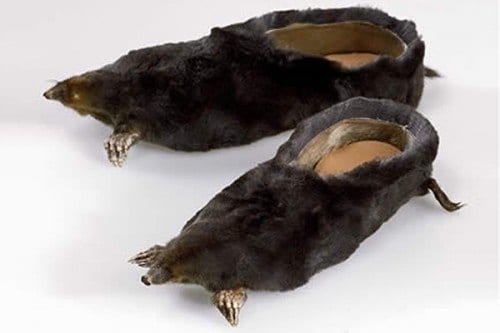 5 – The Ultimate Food Shoes
I have to say the artist did a pretty good job at creating shoes that literally look like a banana peel. We suggest you wearing these shoes when you wish to look like a clown because wearing fake fruits is rather embarrassing. 

4 – Crazy Dog Shoes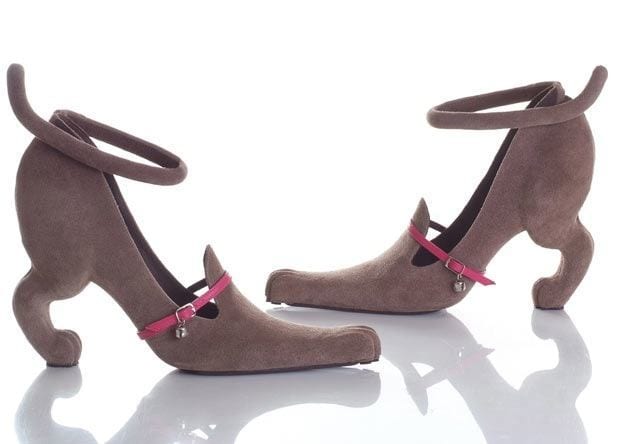 3 – Creative Wood Made Sandals For Ladies
2 – The Craziest Ladies Shoes
These shoes look really unusual and I am not sure how one is supposed to wear them, let alone walk in them. I think they are created to only be looked upon since this pair doesn't look a proper shoe, slipper, heels, or whatsoever. 

1 – The Tongue Shoes
The creator depicts these shoes as to "let your feel do the talking." But, I would rather keep them aside and never want to feel anything these shoes have to offer. This is definitely the weirdest shoe I have ever seen!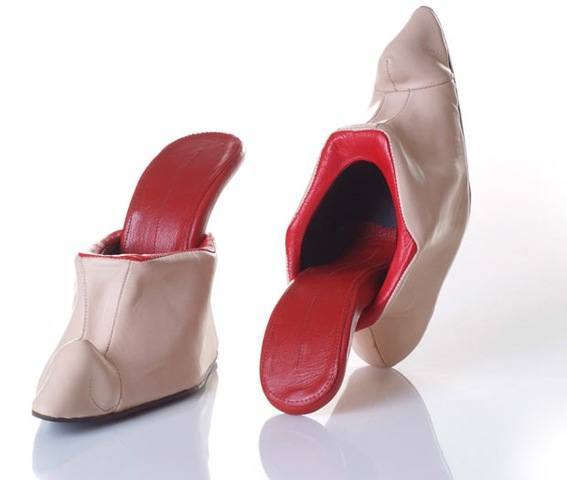 Frequently Asked Questions
Q: What are the weirdest shoes in the world?
Ans: Although our list ends here, the list of strange footwear is endless. Apart from what I showed you, there are many bizarre shoes that exist such as leg shoes, stool shoes, dragon shoes, gaming shoes, spider shoes, and many more.