Outfits with Cowboy Boots might seem like a risky fashion choice for the average gal. After all, they were the original riding boot, and the subconscious association we make with horses and farms when thinking of them is no surprise.
So how do you pull off these bad boys without looking like you just stepped off the set of Bonanza? First, understand that there are two basic styles of cowboy boots: the western (or classic) and the roper. The classic style has a tall boot shaft and an angled heel. It has a narrow pointed toe. The roper style has a shorter boot shaft, stopping just over the ankle, with a low, square heel, and a rounded or square toe. Keep this in mind as you scroll through our outfit roundup so you can figure out just what style most appeals to you and the look you are trying to create! Let's get started.
How to Style Cowboy Boots
Fashion is constantly evolving, and thus, using all your coolest wearable items in use is great. Just give a look at how you can pull off the cowboy shoe trend in a chic way and look stunning as always.
Styling Tips
Determine if you need fashionable cowboy boots or work boots. These boots for working are durable, and made to withstand different types of weather, including snow. These are also usually weatherproof.
Consider the shape, size, and fit of the boots. A poorly fitting boot will make for a miserable wannabe cowgirl. (We kid. Unless you really do love the cowgirl look!)
Choose a boot that reflects your personal style. Are you a bold fashionista, not afraid of wacky trends? Maybe you want to try a colorful boot or a super detailed, embroidered one. Do you love sweet, understated styles? Go for simple and plain  boots. And for more tips and ideas, don't forget to check out these Ideas on How to Dress Like A Cowgirl.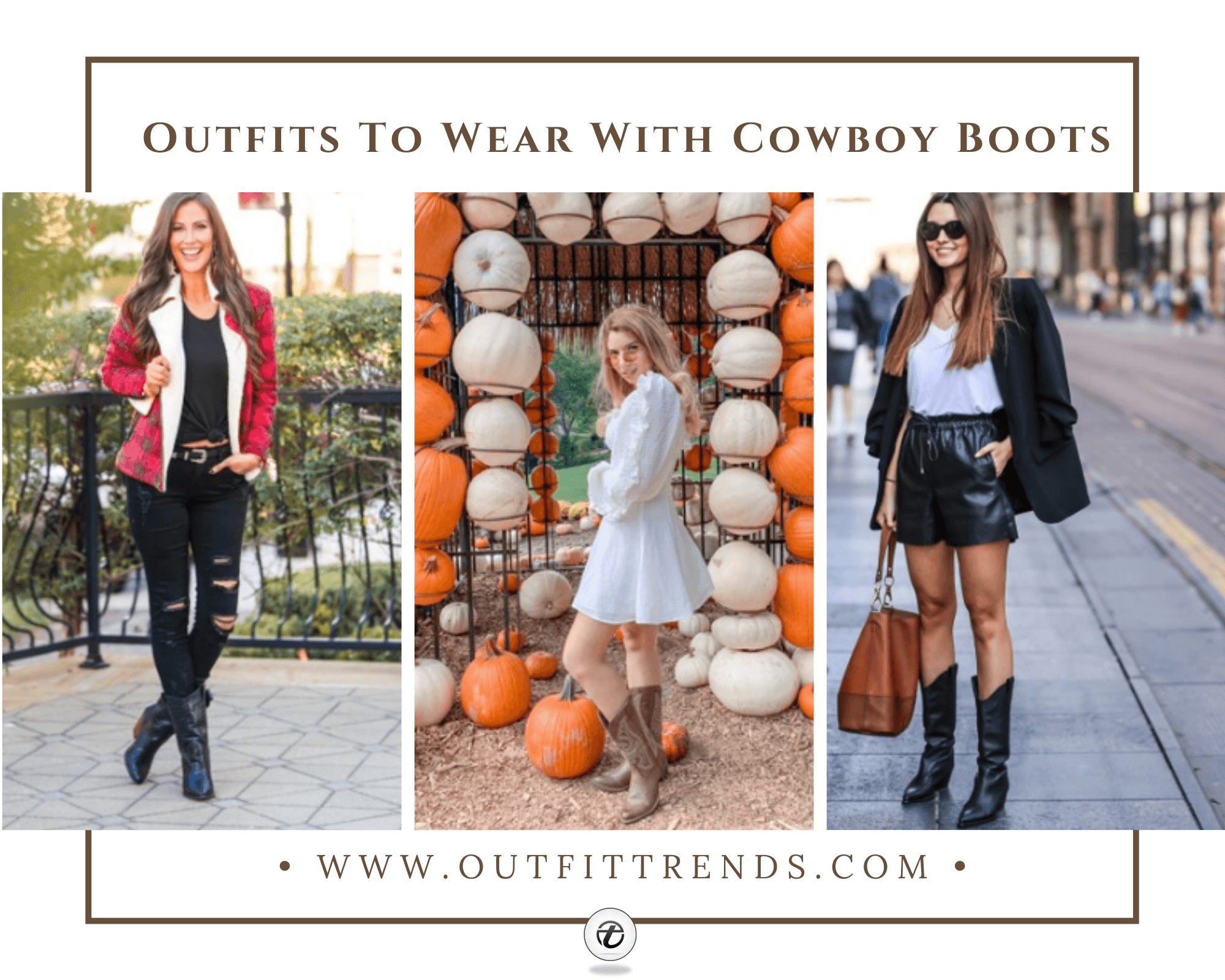 ↓ 19. With  Skirts
Cowboy boots can be a little tricky when it comes down to styling them. That is why we love these outfit boards. Here you can see the various pieces you can combine to make a cute, stylish outfit. For this look, pair an embroidered lace top with a ruffled mini skirt and black roper-style boots. Accessorize with a golden cuff bracelet or rings. This is a great party look!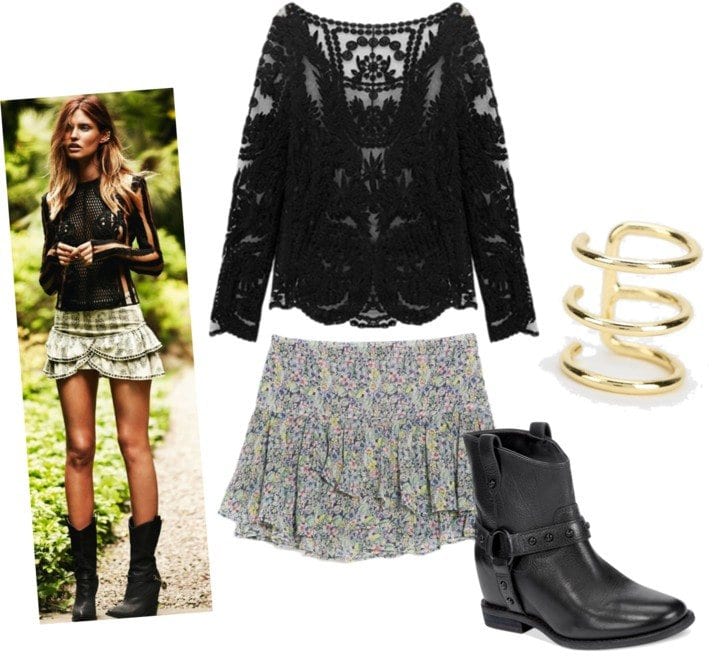 ↓ 18. Western Vibes: Chic Country Girl Outfit
We love a chic country outfit! Here we see the best example of boots worn for fashion. These classic style boots are knee-high and feature incredible detailing. They nearly steal the show here but are perfectly complemented by skinny jeans, a white button-down, and a deep brown tasseled top. Accessorize with stacked necklaces and statement earrings. There's nothing wrong with leaning into the Western spirit and drawing some inspiration from it!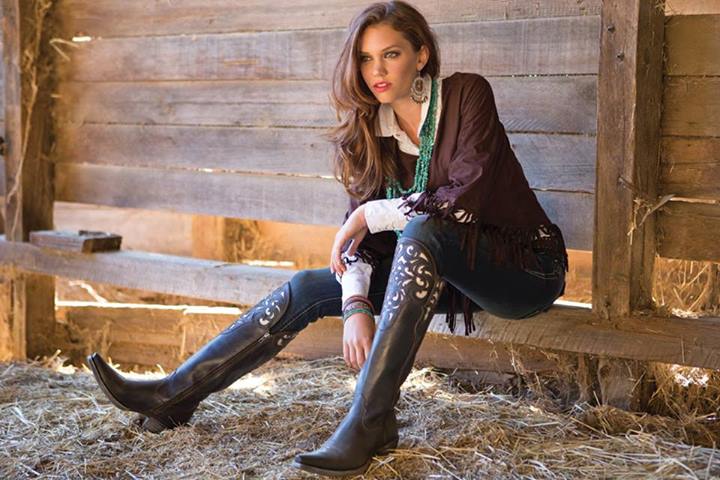 ↓ 17. With a Dress
Here is how you wear them with a dress without looking like you're Hannah Montana taking a trip down to her family's country home. A pin-striped "boyfriend shirt" style dress looks chic when paired with a black felt hat and shiny black boots. These boots borrow from both basic styles of boots with a classic heel and a roper shaft. They are sleek and edgy and super fashionable. Accentuate your waist with a belt and accessorize with some sunglasses. Don't forget a bold red lip to tie the look together!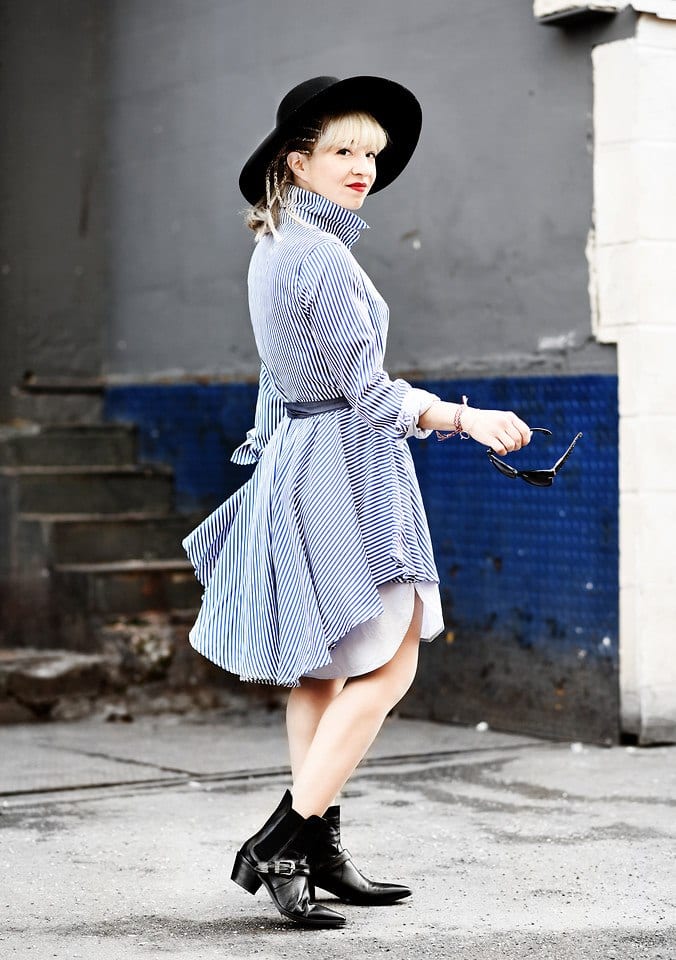 ↓ 17. Boho Chic Mini Dress & Boots
Chic white dresses look fabulous with these classic, detailed boots. Keep in mind that these boots are most usually made of leather which can be quite hot in summer. However, when paired with a mini dress and short jean jacket, you can still pull them off! (Plus, you can always ditch the jacket if it's too warm.) Be sure to check out these Boho Chic Outfit Ideas!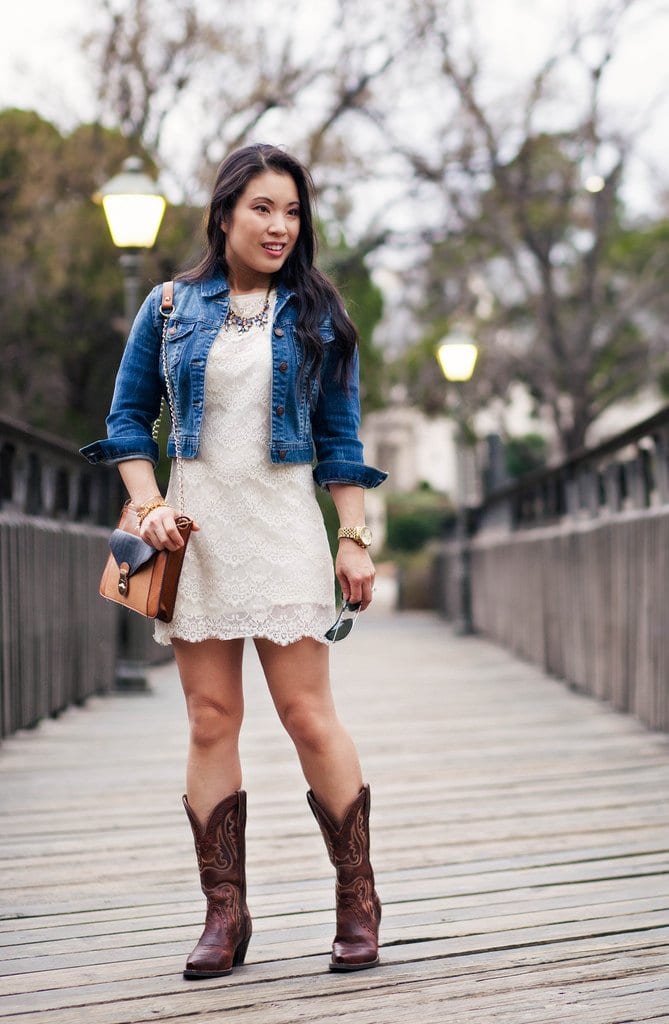 ↓ 16. Women Over 40
Simple, understated boots work well for this outfit, as well as for ladies over 40. While you can totally rock a bold and daring cowboy boot choice, this plain boot is usually preferred. Pair yours with a solid indigo dress and a cute, fitted jean jacket. Accessorize with big statement earrings. This is a great church outfit, lunch look, or date night outfit!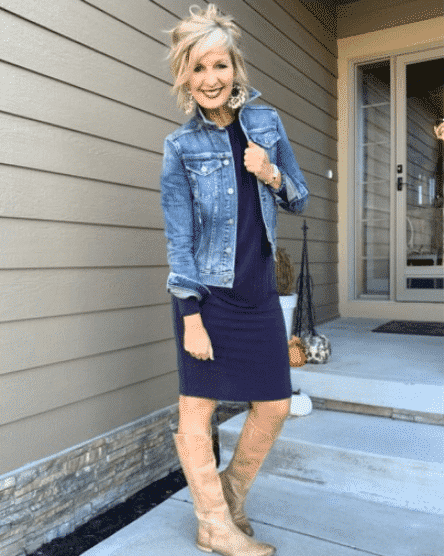 Love these gorgeous boots? Get yours at the link below!
DSW Windy Cowboy Boot $69.99
↓ 15. For Fall
Keep your outfit matching with a simple belt cinching the waist and an oversized tote purse. Accessorize with tassel earrings. Add a cardigan or light jacket if you need more layers, especially for chilly days!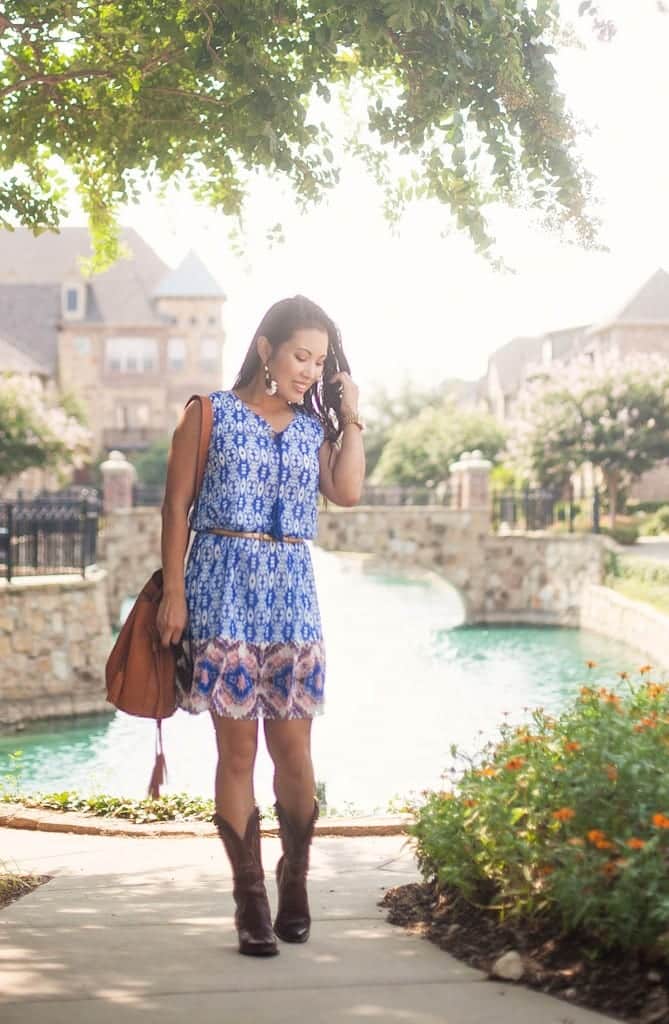 ↓ 14. Pool Party
Yep, it's totally possible! This outfit is all about edgy hipster vibes, so get yourself some rocking black  boots with fun detailing and match them up with an ankle-length black lace cover-up. To tie the look together, accessorize with a black choker. A white swimsuit with denim shorts brings the whole thing home.
↓ 13. Bold & Beautiful Winter Look
 These heeled bad boys only give a whisper of traditional cowgirl vibes and they look sleek and stylish when paired with leggings, a dress, and a colorful scarf. If the day is especially cold, switch out the denim jacket for a warm coat. Accessorize with matching earrings and a black purse. This is a great outfit for dinner with friends, a date night, or a family get-together.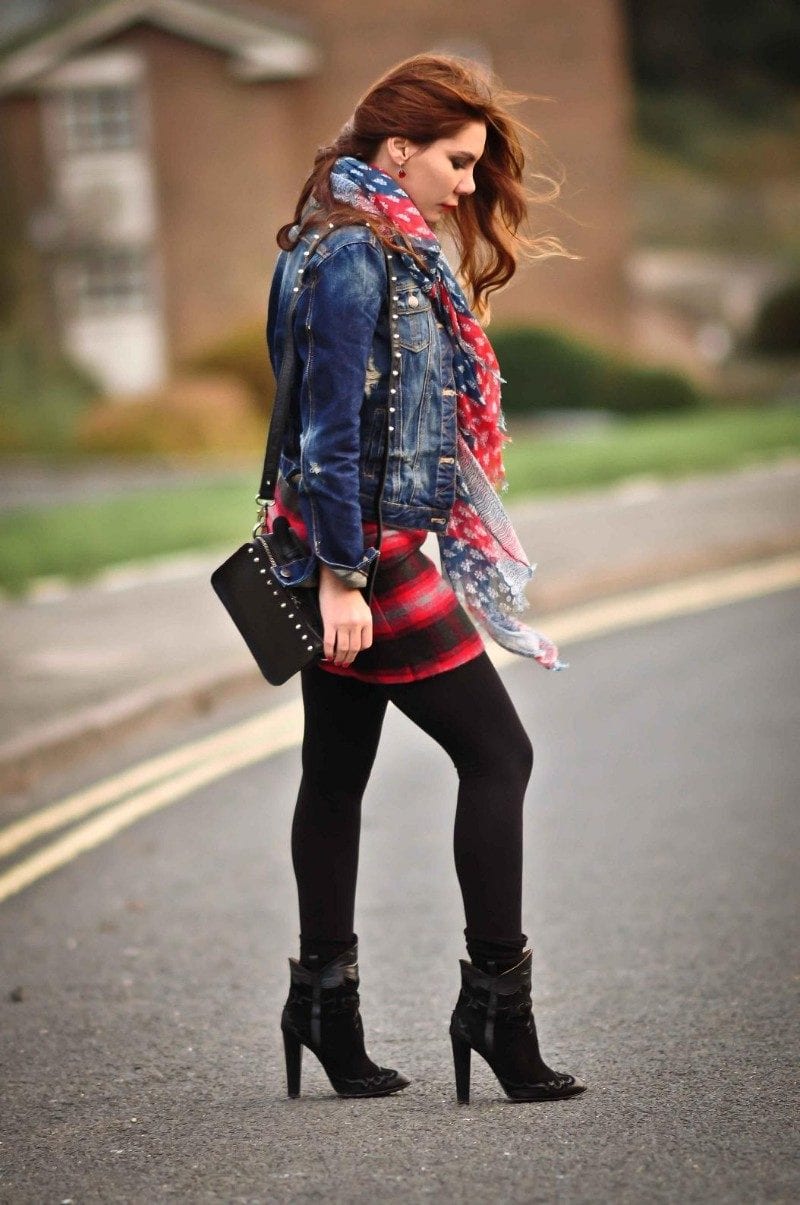 ↓ 12. Street Style
Va-va-voom! This is one street-style look you are definitely going to want to try today! Sleek black leather leggings look phenomenal when paired with warm brown fringed boots. Pair yours with a plaid top and matching red lips. This outfit works for any season; just add layers as needed!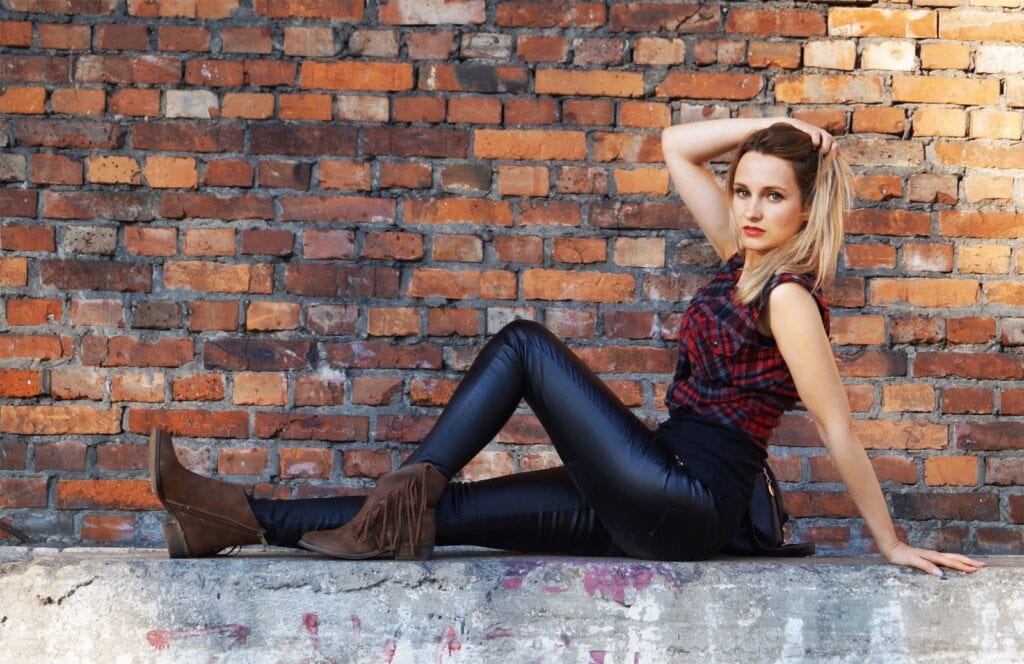 ↓ 11.  Celebrities Wearing Cowboy Boots
Take note of these celebrity looks, and check out how you can style a look revolving around bold boot choices! Here are three very different but very awesome outfits as worn by top celebrities such as Rosie Huntington-Whiteley.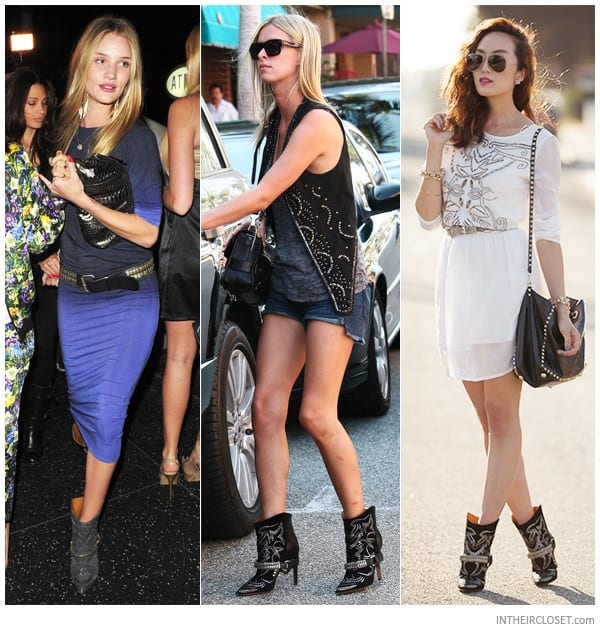 ↓ 10.  For PLus size Women
Here is a beautiful way to show off your legs as well as cute boots! A flirty, floral dress looks so good with a white jacket and roper-style brown boots. Accessorize with a matching purse and red lips!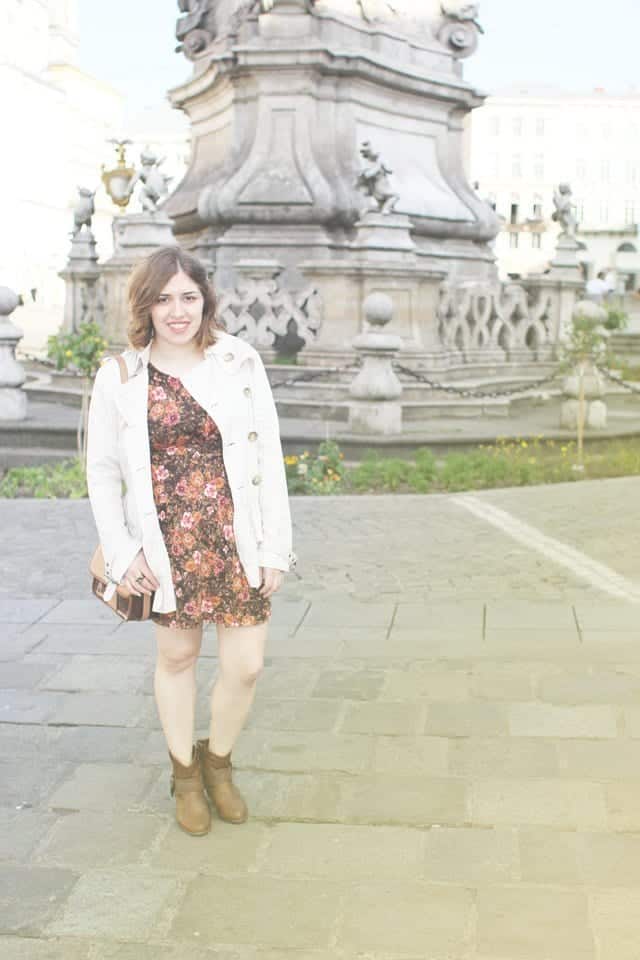 ↓ 9. Cowboy Boots for Fashionistas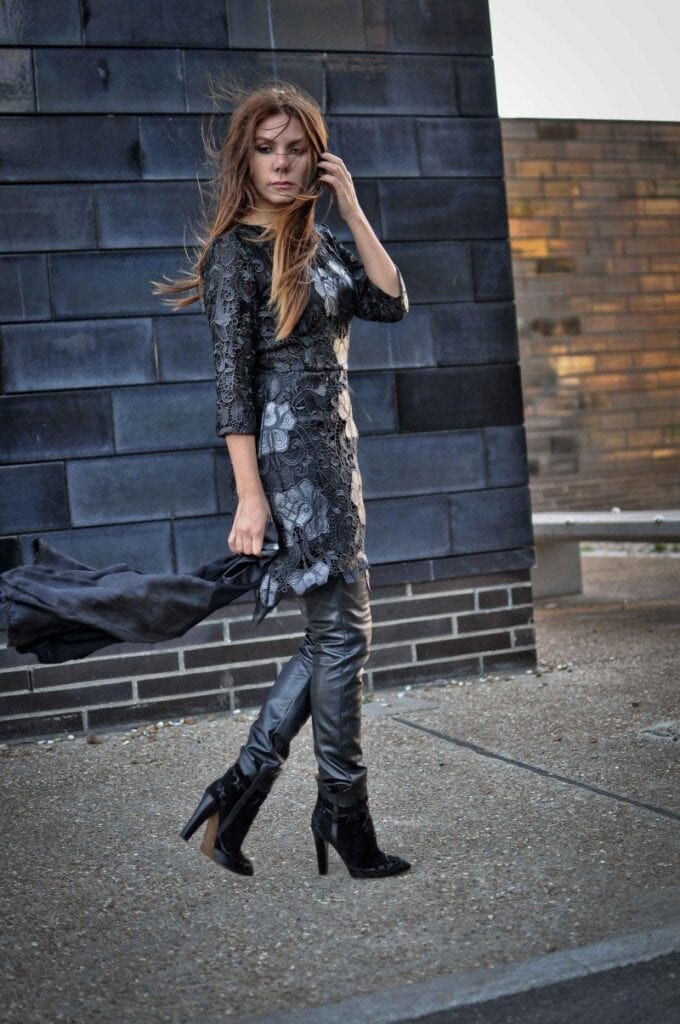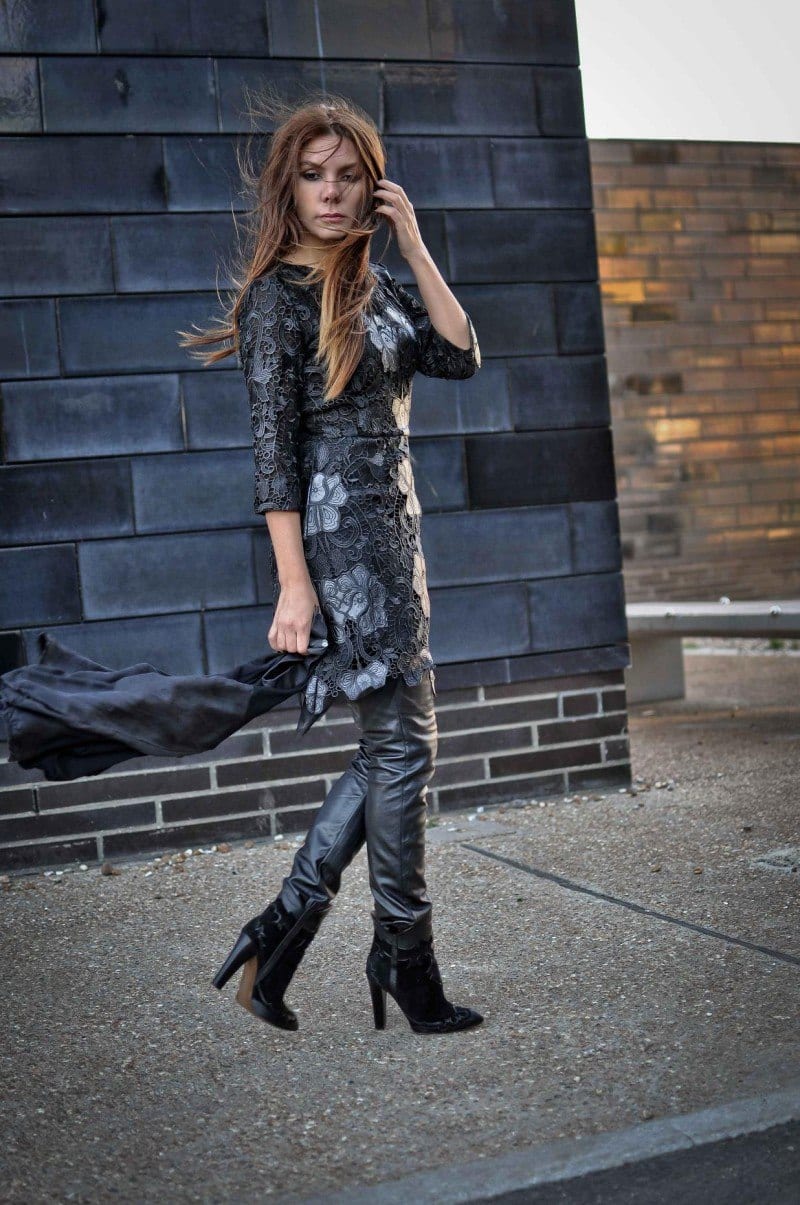 ↓ 8. Cowboy Boots for the Free Spirit
We love the juxtaposition of soft, feminine features, especially this stunning hairstyle, and bold cowboy boots. This look is all about playing up your best features, whether it be a graceful neck or a pair of curvy stems, with beautiful accessories and colors. Soft browns are combined with blacks and turquoise blues to create an unusual but eye-catching combination. Stacking necklaces is a great way to draw attention to your neck and face, along with face-framing tendrils of hair. A belt cinches the waist, accentuating the figure, and a loose cardigan is a soft, inviting layer. Let your natural beauty shine and be sure to choose cowboy boots that play up your outfit.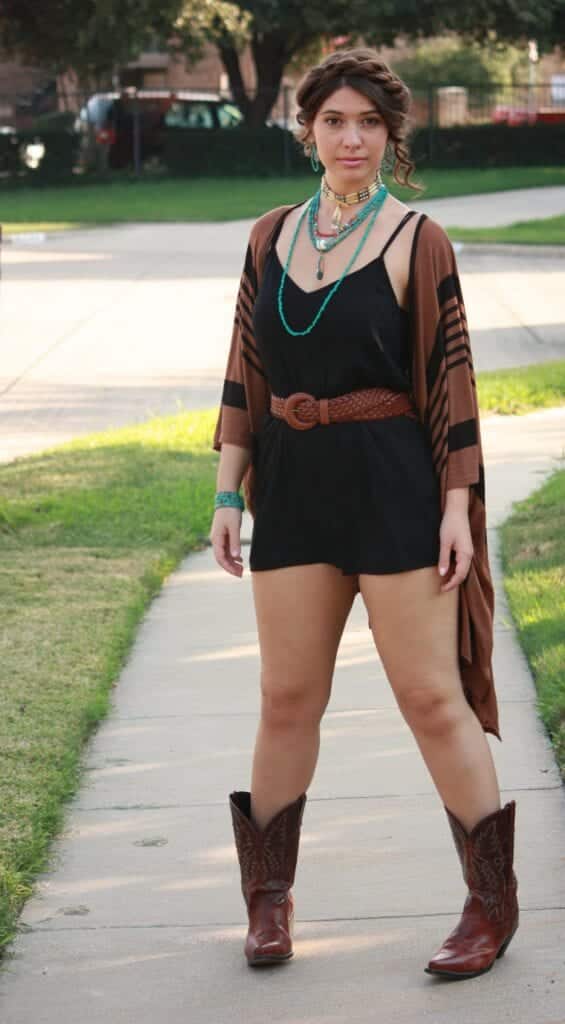 ↓ 7.  Summer Outfit
An off-the-shoulder dress or top is a great option for warmer months, especially with boots. Go for a bright-colored dress but keep your boots understated with a taupe or pale brown color. Accessorize with matching jewelry and a purse!
↓ 6. With Shorts
A fun and popular way to style cowboys is by wearing them with shorts. Here is a great example of what that looks like.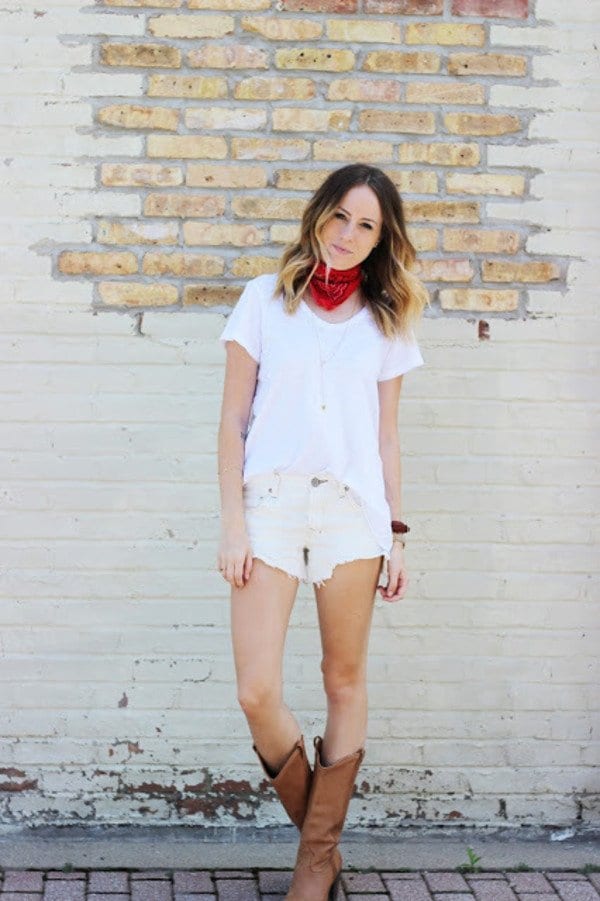 ↓ 5. For Moms
Picking up kids from school or running errands never looked so good! This cute and totally doable look is perfect for the busy mom who just wants to look nice without spending six hours on an outfit! Enter cowboy boots. They're a great way to spice up a simple outfit, plus they're comfortable and will keep your toes nice and protected from a toddler's stray kicks! (Hey, we've all been there.) Pair yours with your favorite top (we love this comfy but flattering long-sleeved one!) and denim shorts. Grab an oversized tote and you are ready to wrangle! (Toddlers, that is, not cattle.)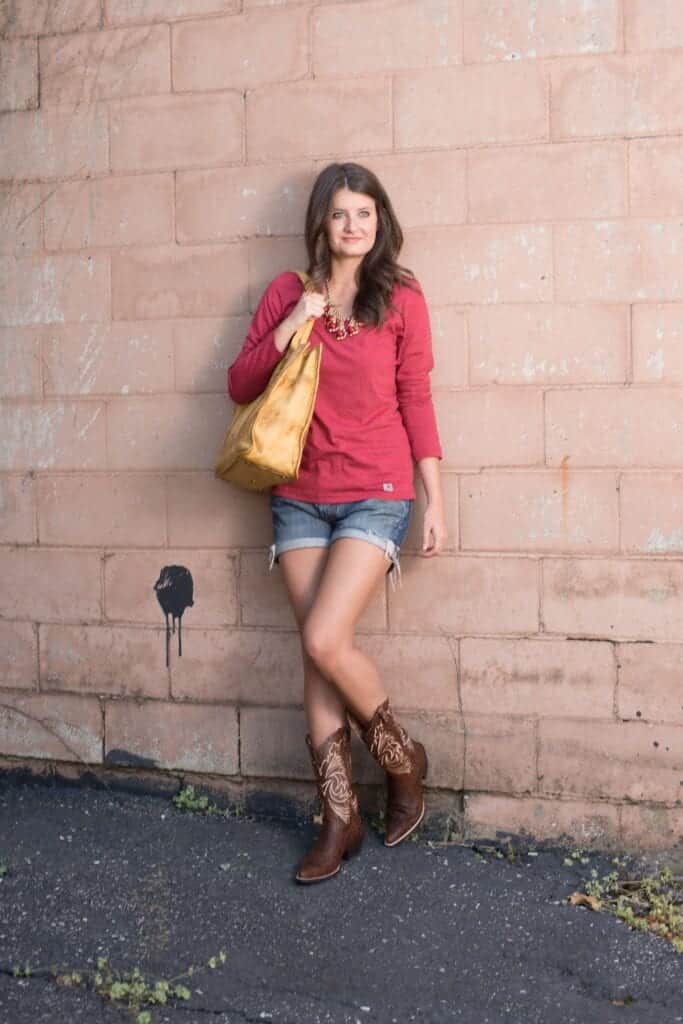 ↓ 3. With Tunic Dress
A country girl who?! For the gal who wants to rock a pair of boots without looking like she just stepped on the 'midnight train going anywhere'… This is the look for you! Chic and stylish, this makes for a great fall outfit, especially for you college girls! Dress up a tunic dress with a waist-cinching belt (this one perfectly matches the boots and backpack purse) and a sleeveless denim jacket. Tie up your hair in a messy top-knot, and voila.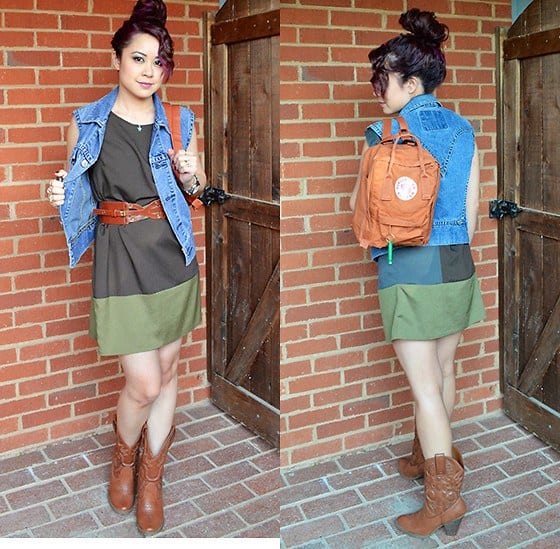 Need some more ideas for school outfits? We have got you covered. Check out our Monday Outfit Ideas For School for more inspiration!
↓ 2. Runway Model Inspired Fashion
Everyday gals might not always be looking to the runway for inspiration. But this just might be the exception.
This grouping of outfits all follows a similar theme: light, neutral colors paired with chic and sleek black boots. Our first look is perfect for the girl who loves to bring an edgy quality to her whimsical appearance. For this look, pair a floaty white dress with loose hair and shiny black roper style boots.
Our second look is a little more unique. This one features a filmy white romper suit with a floral over-dress and the same boots. This one may take a little more boldness to pull off and would be only for very unique occasions.
Last but not least is a sheer long-sleeved dress… while we don't recommend marching down the street like this, avoiding the sheer element or wearing a slip underneath would easily remedy the issue! This outfit seems to veer more into the negligee territory but if that is what you are looking for, have at it!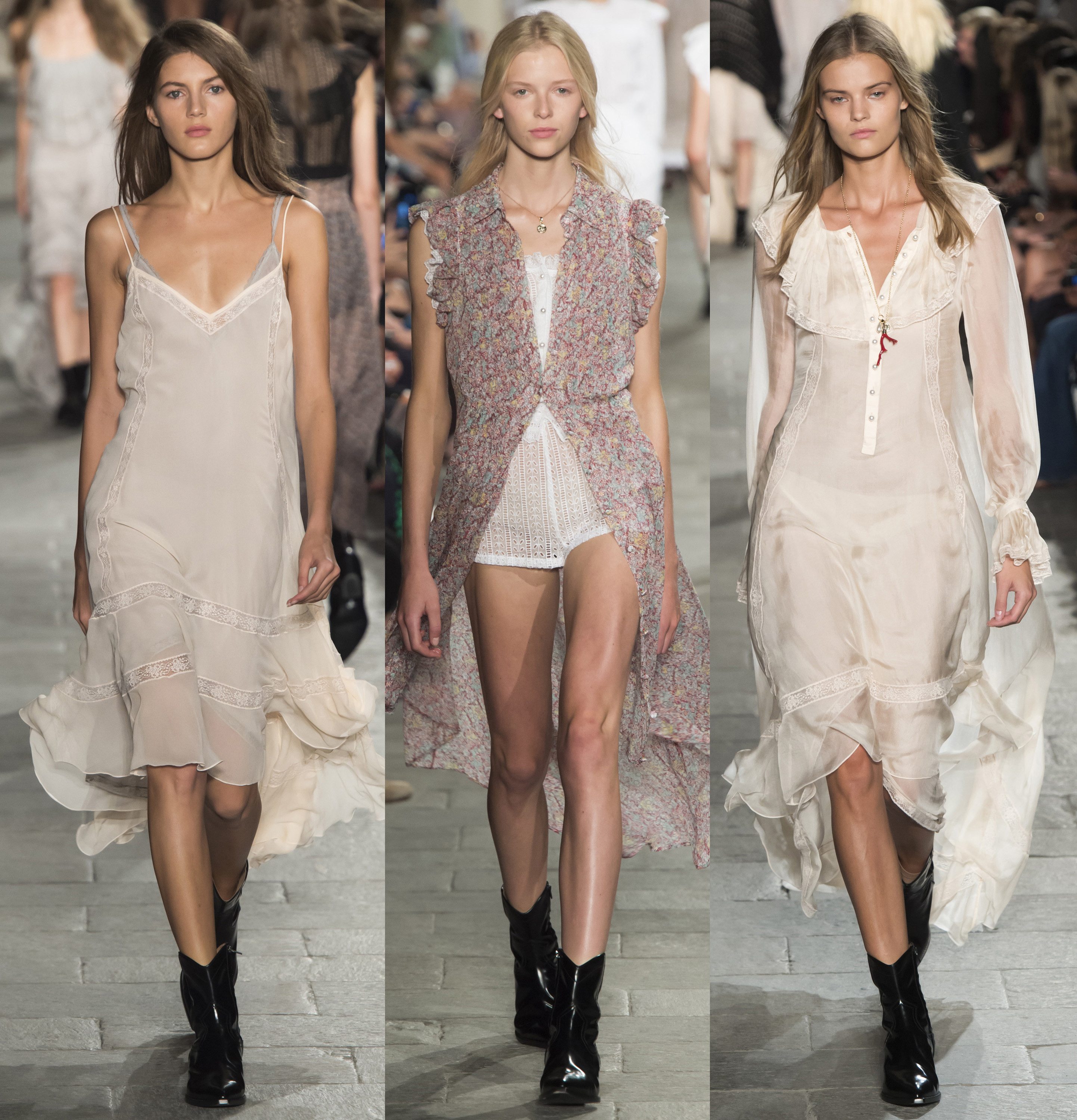 ↓ 1. Floral Print Dress for Spring Outfit
Our final look is a stunning spring-inspired outfit, great for dinner dates, lunches with friends, or an outing at the theater.
A beautiful calf-length dress is worn with chic black roper-style boots and accessorized with sunnies and a silver crossbody purse. You could add a coat to this to make it appropriate for winter weather or choose a shorter dress if for summer. Feel free to play with your options until you come up with the best one for you!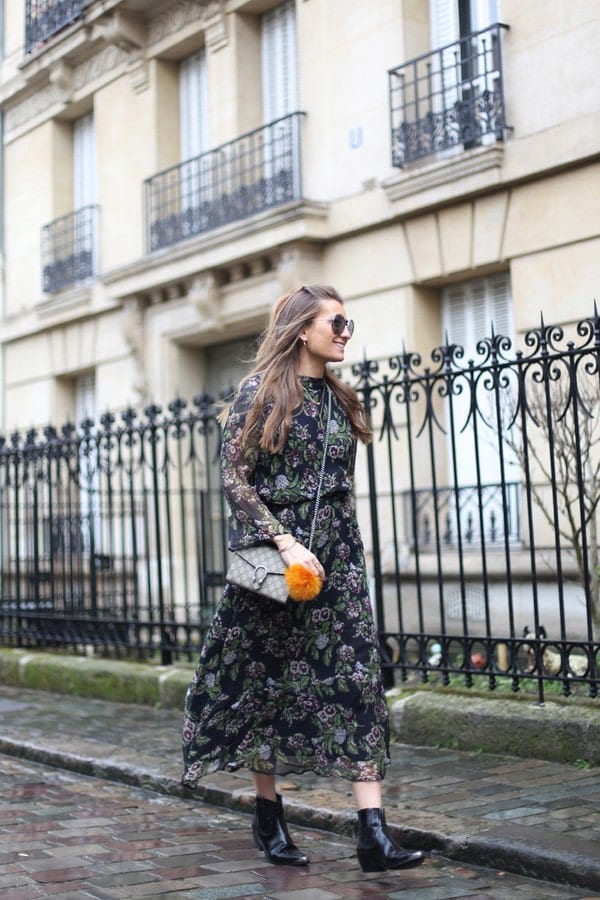 R.H. Elias is a freelance writer, aspiring author, and freelance transcriptionist. She is a homebody all the way and loves curling up on a cold, rainy day with a good book and a warm cup of tea. Her favourite pastimes include reading, writing, and watching period films. She currently lives in Puerto Rico.