Boho Chic Outfit Ideas: Looking for Bohemian style outfit ideas? Wondering how you too can follow the boho trend or you're just curious as to what actually a bohemian style is? Well, you're in for some good style tips and tidbit of history of this super stylish fashion trend.
After French Revolution, what started as a mean of expressive, laid back fashion of the artists who were struck with poverty, became a culture in itself. Boho chic or boho style is for those who break stereotypes and believe in fashion which is free-spirited. Floral prints are big part of bohemian culture but overtime other prints and patterns have amalgamated with this style. Basically bohemian style is all about carefree, flowy dresses; be it a maxi, tops or jeans. A style which let you explore your inner self and be satisfied in the kind of fashion you like, whether it is a funky, floral dress or a wide-cuff trousers, you choose your comfort.
While seasons affect your styles, that does not mean that you should not be having fun with your dressing. Bohemian style can be adapted in all seasons, so why not mix and match and enjoy your fashion styles, without worrying about who would like it or not.
Whether you want to layer-up in Aztec printed, warm sweaters or hide yourself in comfortable oversize tops and scarves, read on to know how you can up your game when in comes to styling like a Bohemian for real!
How to Dress in Bohemian Style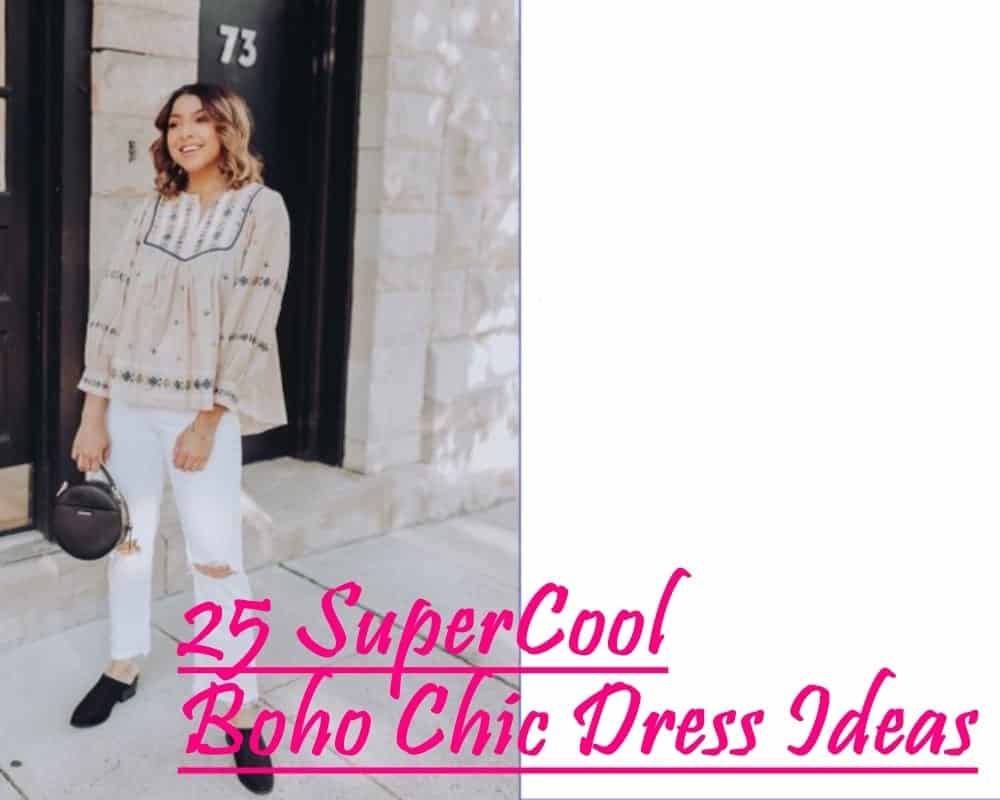 #25. Boho Chic for Plus Size Women
If you are a plus size woman who adores her curves, why not accentuate it too with you dressing. Wear a cropped top with culottes, the style looks totally summery and fashionable. Invest in a pretty white top because that can be paired with any kind of trouser. Don't forget to wear your floral sandals too, with it.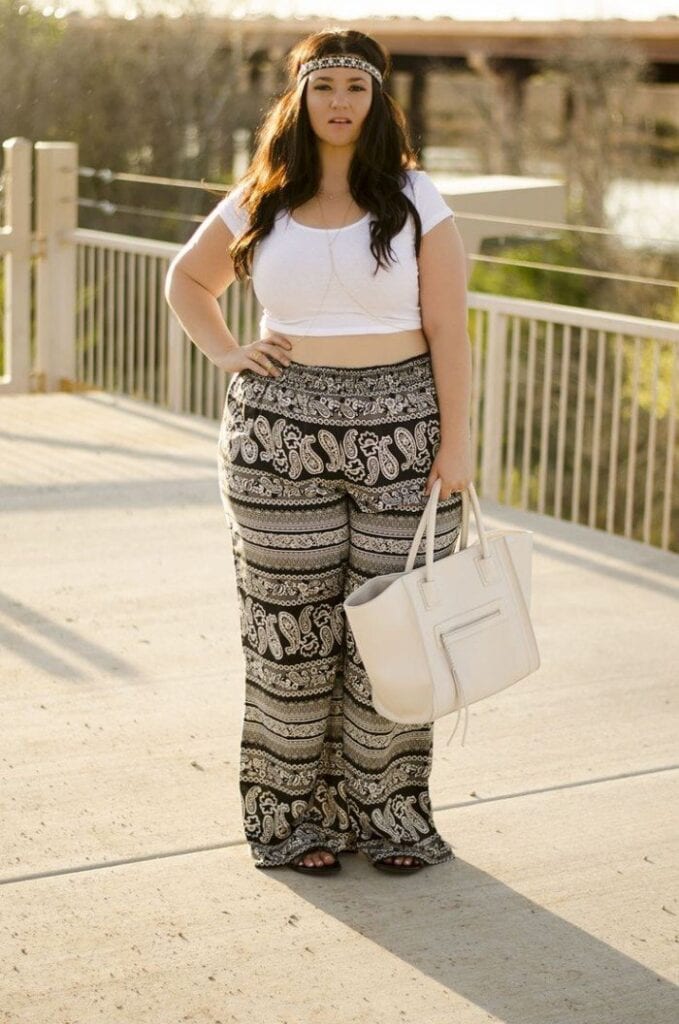 #24. Winter Elegance
This style is totally about flowy dresses, loose cardigans and sweaters. Combine your oversize, heavy, knitted sweater with a lace dress underneath and infinity scarf. Black stockings and brown boots will look lovely with the look.
Source
#23. Summery Feel
Bohemian style is perfect for voluptuous ladies. Look at this beautiful pink frock. It looks absolutely gorgeous on this woman. You can wear it with your white heels for a formal occasion or wear it with your brown boots. Accessorize with earrings and a bracelet. We sure get a picnic feel with this funky dress.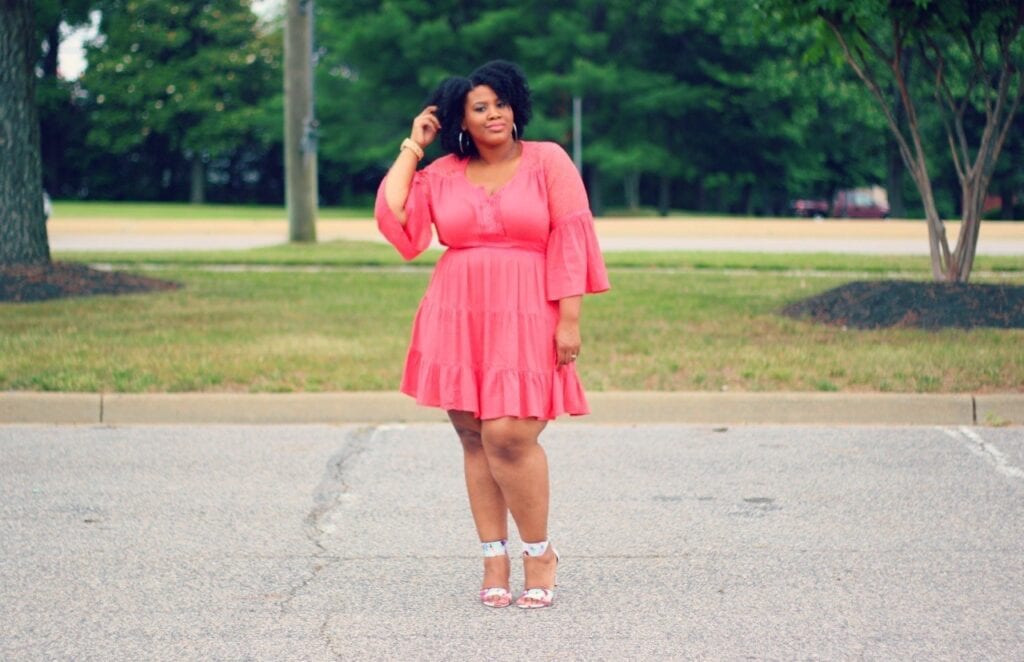 Source
Also check out 12 Chic Style Bohemian Outfits Combinations for this Season
#22. Stylish Poncho for Fall –
Who doesn't love Aztec prints. They look stylish, no matter what. You too can carry this chic look by pairing up this stunning red poncho with leather pants and a fedora hat with red boots. Time to turn some heads with your style.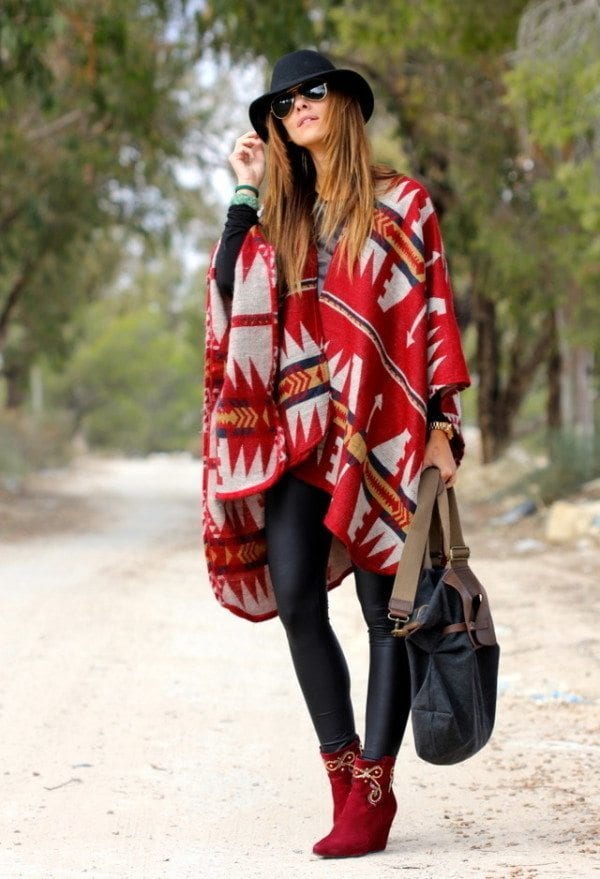 Source
#21. Styling Idea for Winters
Be it summer of winter, Aztec prints are always part of fashion. Lets prepare for Boho winter wears. How about a very sexy, pair of trouser with earthy tone of cardigan? You know you're drooling over this style already.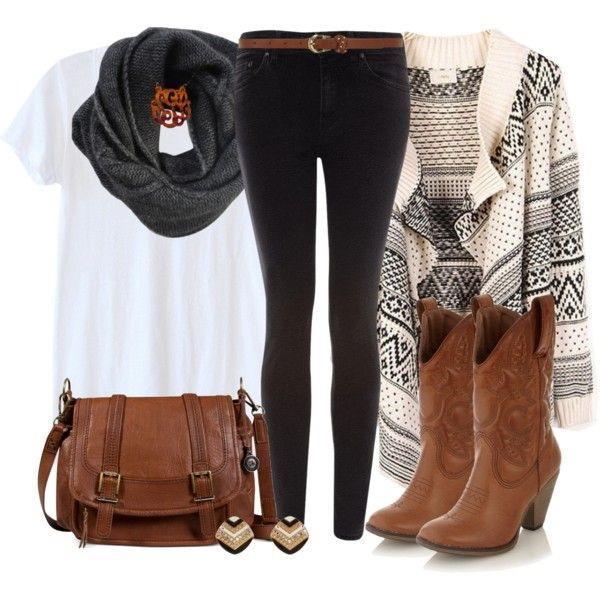 #20. Sunday Outfit
Go casual, go carefree because hey, it is Sunday. This maxi is all you need to stroll in style. Jazzing up with a leather jacket and beach waves and you're the real Diva of the day!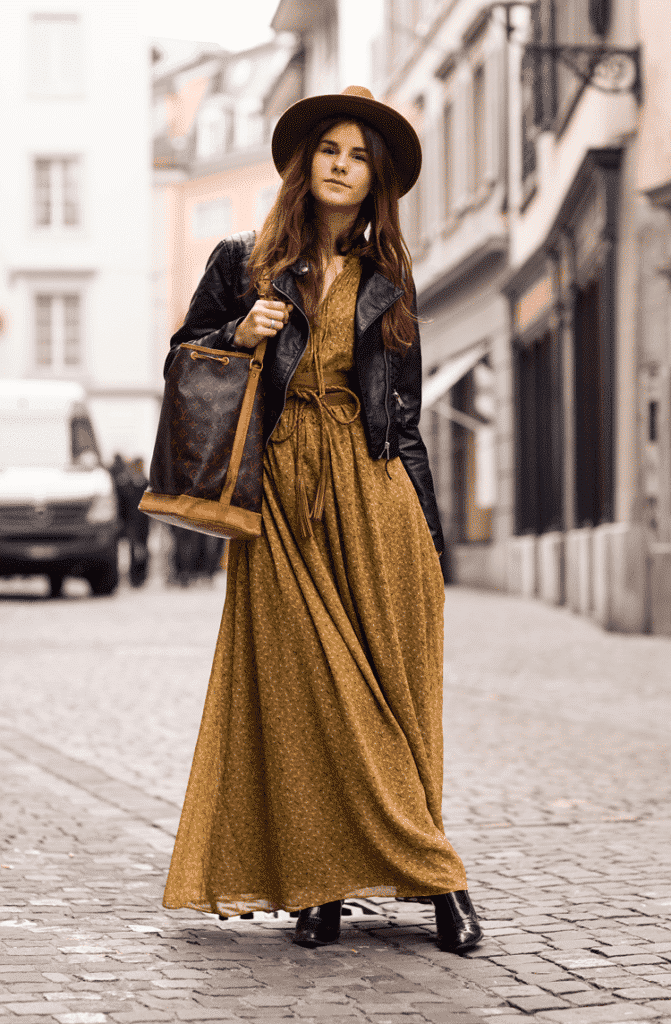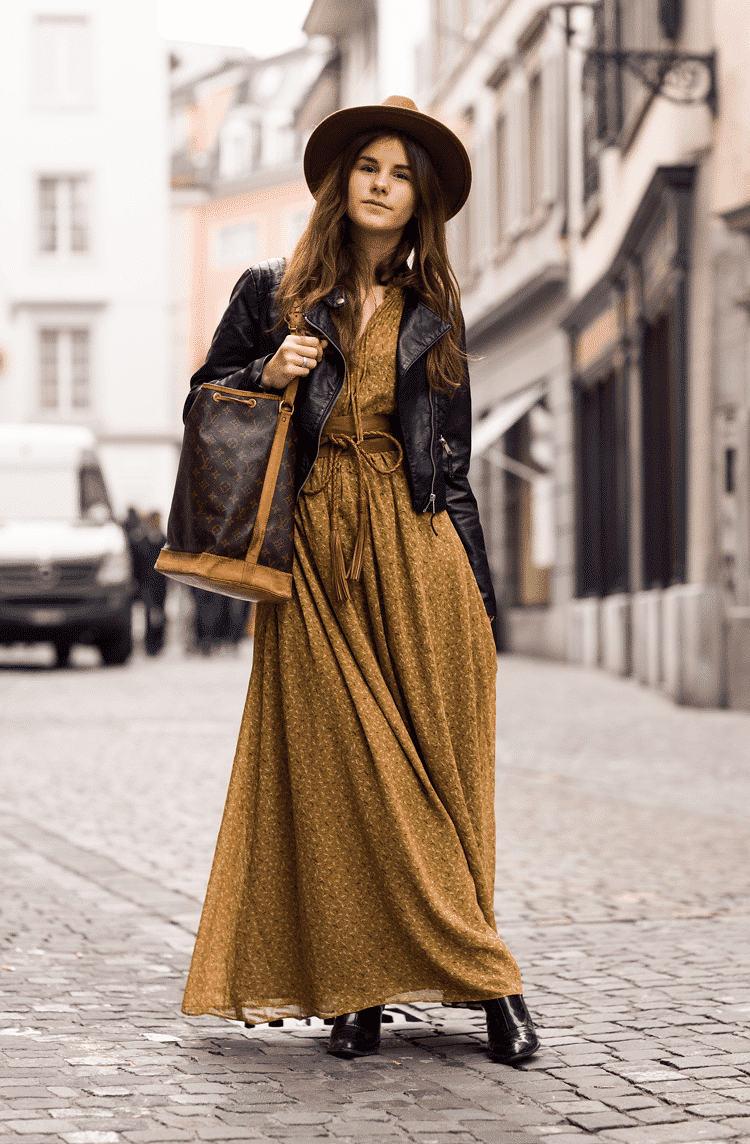 Source
Do have a look at [highlight]Cute Sunday Outfits Ideas – 30 Styles What to Wear on Sunday[/highlight]
#19. Spring Madness
Don't let the Covid-19 dull your mood. Feel happy and at easy in a floral mini frock with a washed up denim jacket. Pair it up with a scarf and head out for an evening walk around town. Remember, we follow the Bohemian culture, we are free-spirited!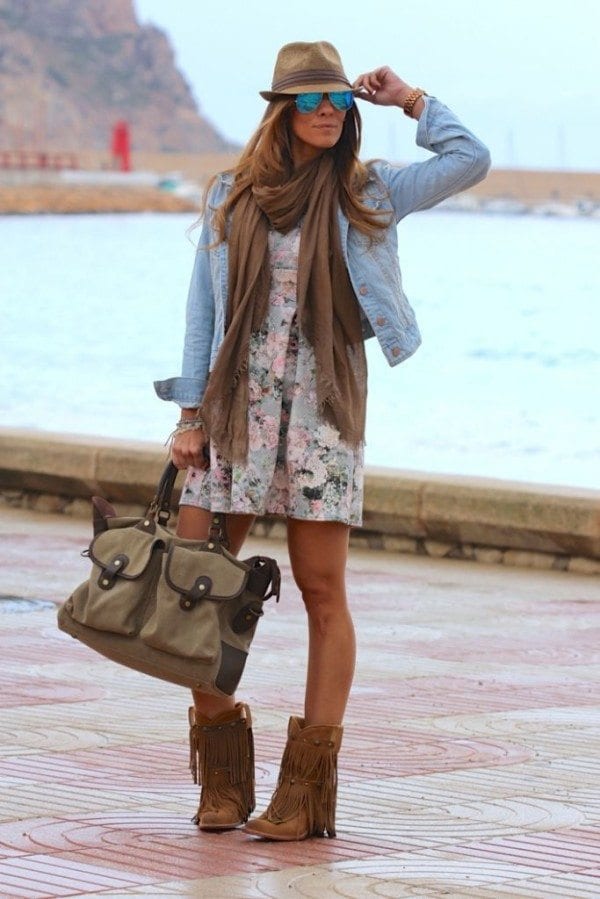 Source
#18. Just a Casual Boho Attire
Ugg Boots look nice when worn with a pair of jeans and a printed top with a cardigan. To complete the bohemian look put on pom pom necklace and a pair of neon sunglasses. Woho! you're all set to be the style statement of Boho style.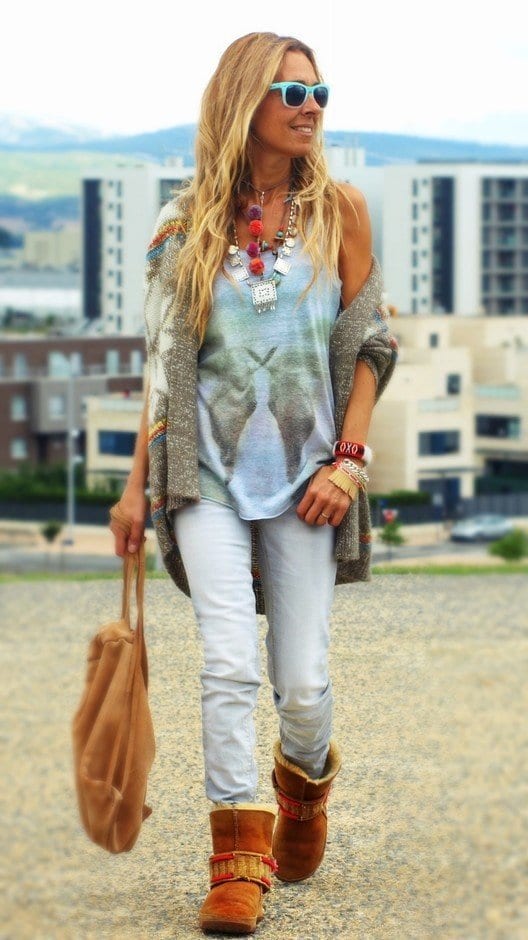 Source
Don't miss out [highlight]Cute outfits for Concerts-18 Ideas What to Wear for Concert[/highlight]
#17. Off the Shoulder Maxi
Doesn't Vanessa Hudgens looks gorgeous in this off-shoulder maxi?. You too can look this cute, just be yourself and beat the heat with this beautiful maxi style that can be carried well if you pair it up with chunky necklaces and heavy hand cuffs.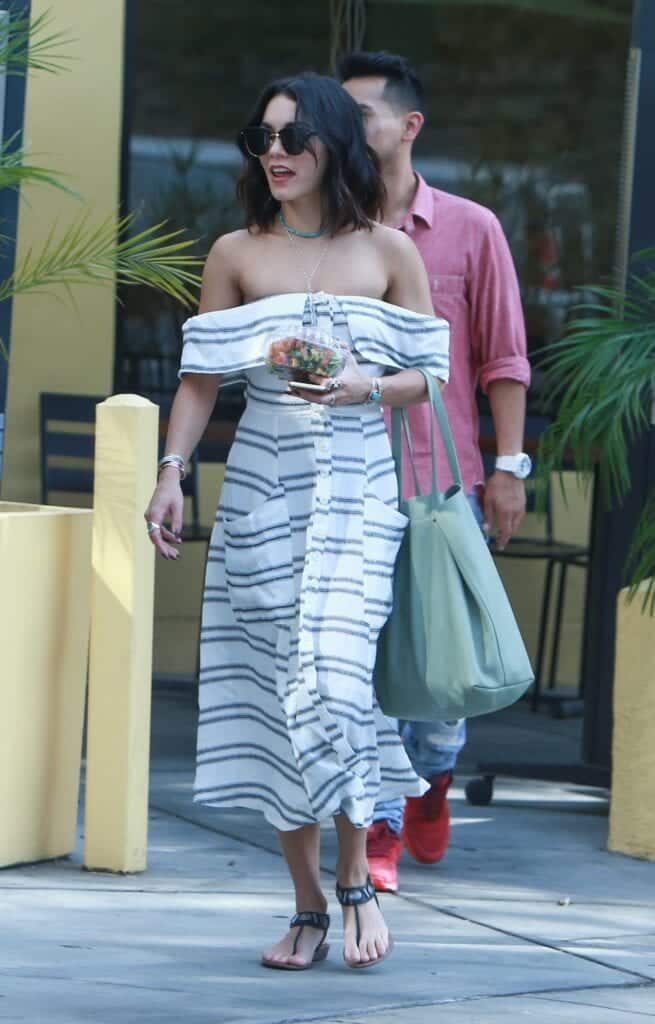 Source
#16. Animal Print Inspired Dress
Well, if you're a Boho Chic fashion lover, you need to have a maxi with animal print on it! Like, that is a must, if you have not bought yet, time to search right away, online!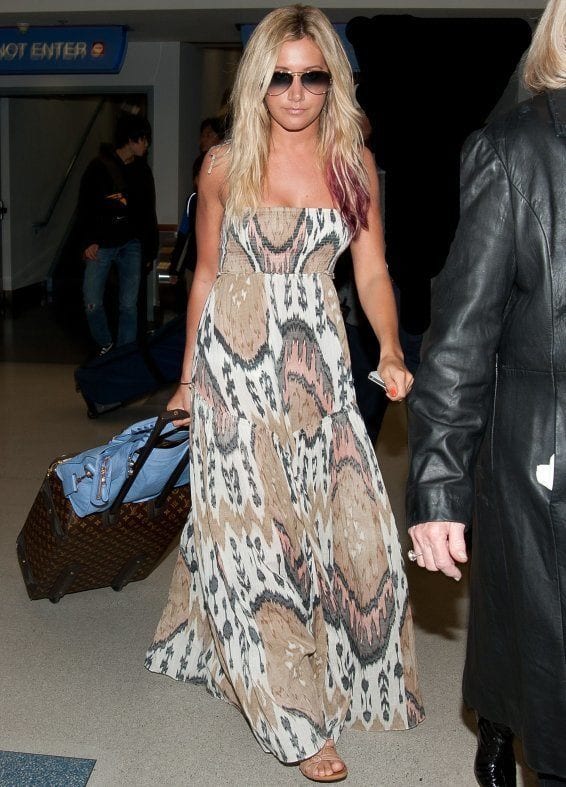 Source
#15. Evening Gown Idea
Who says Bohemian style is for casual wears only. If you hate fashion which is too restricting, you feel uncomfortable following it, lets switch to boho chic trends. This comfortable, silk, printed frock is elegant, yet so easy to carry. Casual ponytail and couple of bangles are all you need to rock this look.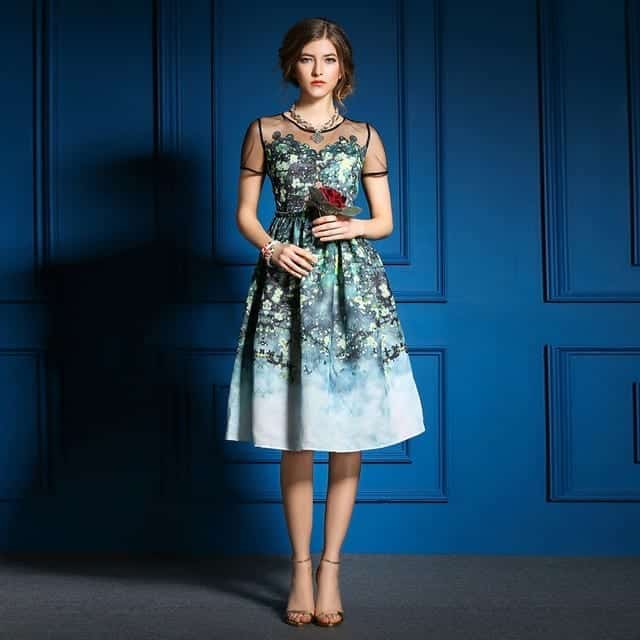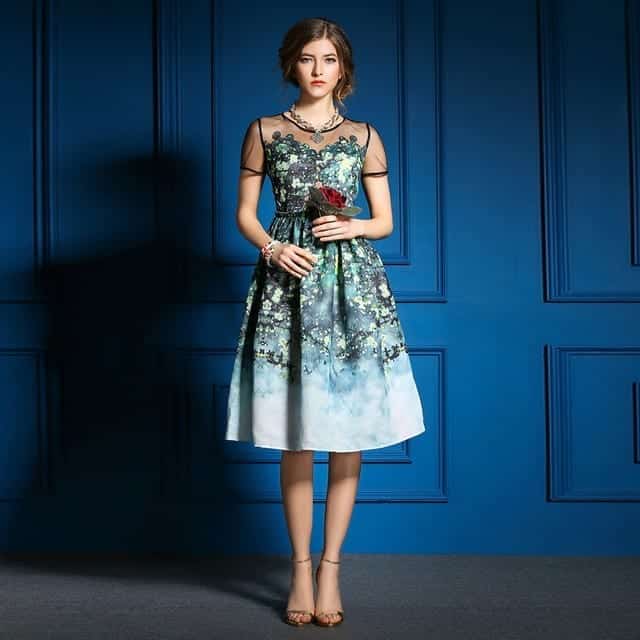 #14. Faux Fur for Fall
Faux furs have always been in fashion and this patched sleeveless jacket paired with a maxi is high fashion. Accessorize with a heavy brown belt and you're perfectly dressed for the candle light dinner at home!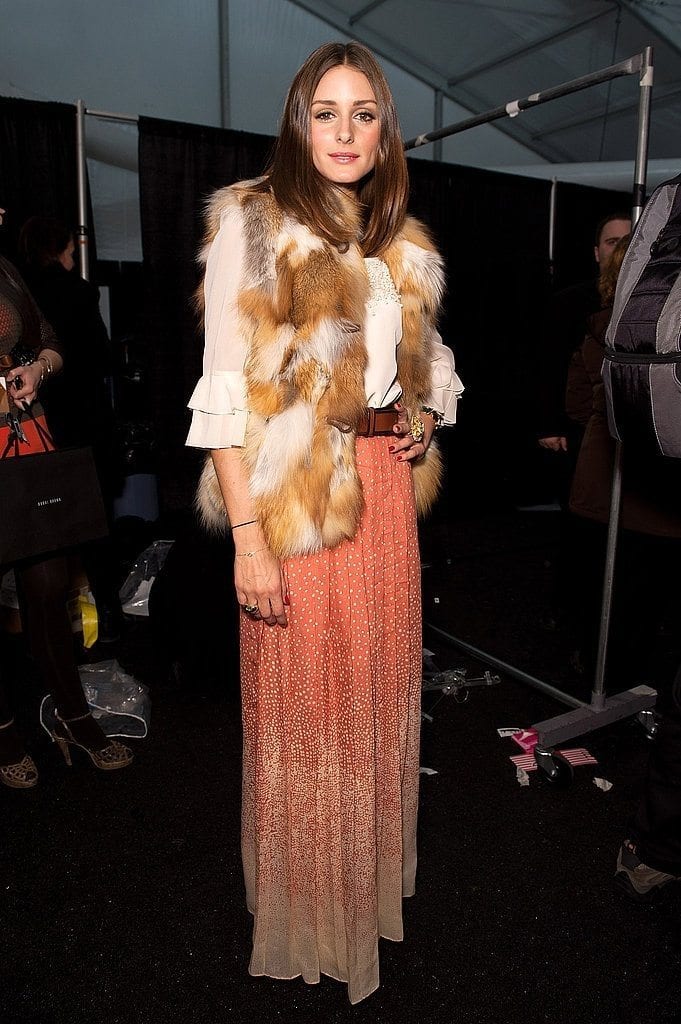 Source
#13. Sundays in Cold Weather
Purple denim combined with knee length black boots and a loose grey sweater for a relaxing Sunday. Beanies not only give warmth but look gorgeous when worn with loose curled hair. The fun boho chic look is ready!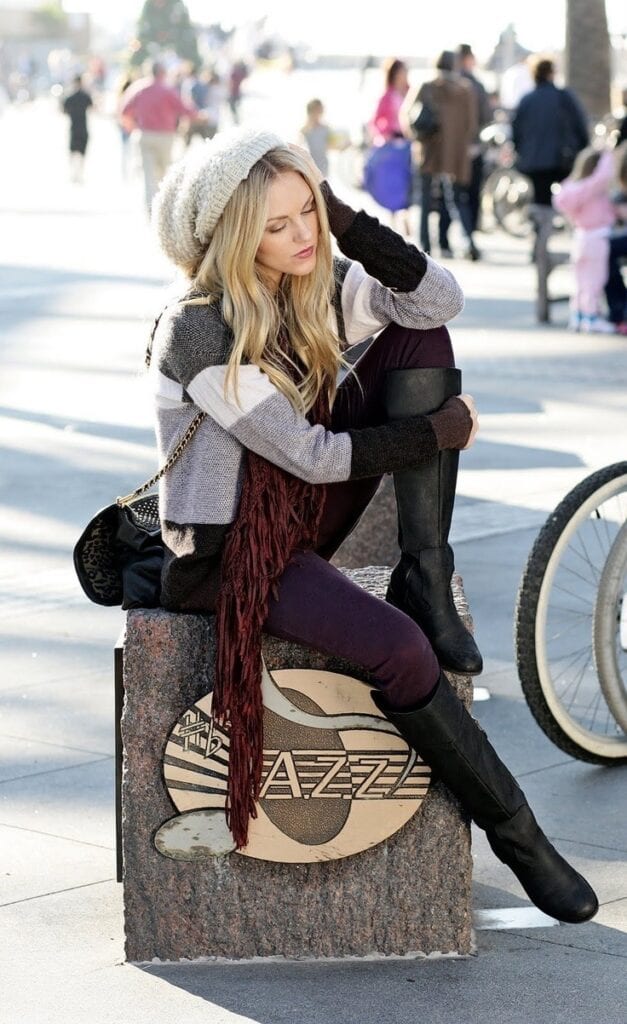 Source
#12. Bohemian Floral Dress
Definitely invest in a gorgeous vibrant colored maxi for an evening function. Whether you wear thick pearl necklace with few chains or a choker with it, it will look graceful. You can elegantly tie a bun over your head or let your tresses flow, this look is bound to make a positive impact around you, for its playfulness.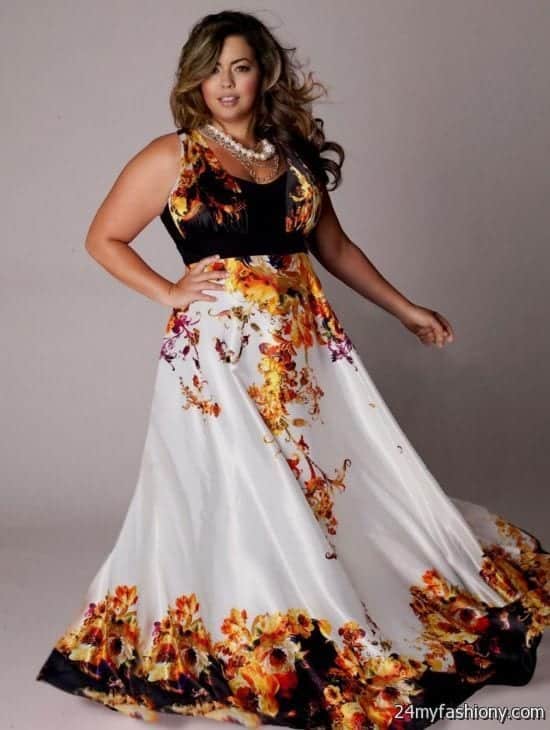 Source
#11. Shirt Dress
We all know, it is pretty hot in some regions of the world. So, if you're from Asia countries where sultry summers are making you very uncomfortable, time to add some funky boho chic mini dresses to your wardrobe. You can get variety of colors and patterns in them and they look uber cool with summer hats and sandals.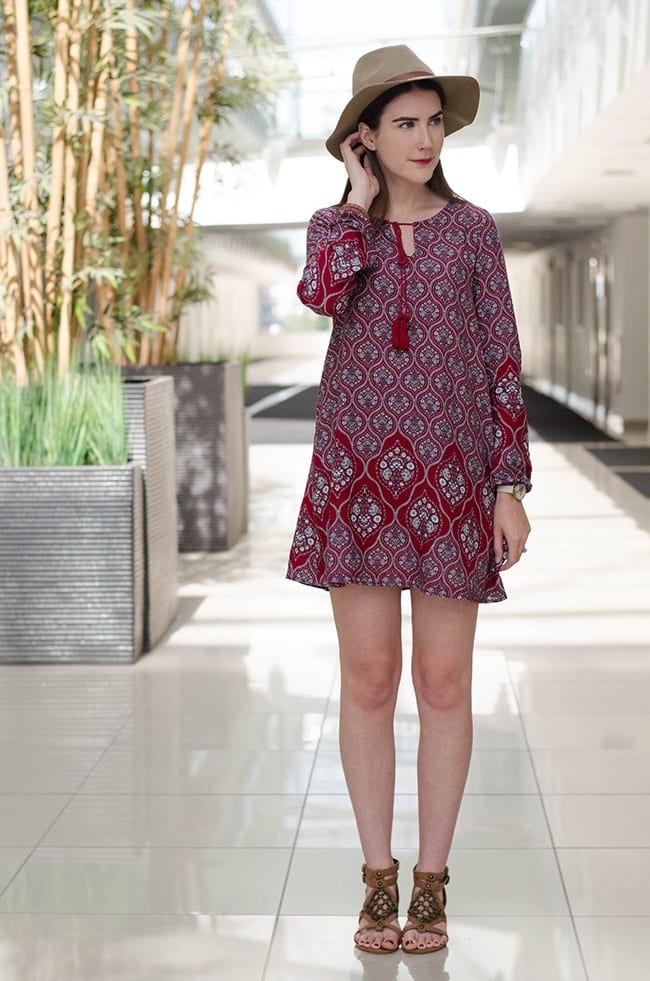 #10. Loose Silhouette
If you are from a region where the weather is moderate, well, go for printed palazzo with summer sweaters. Slightly warm, super soft and very trendy. Just tie your hair in a high ponytail and you're all set for the evening date with your girlfriends, in a bistro.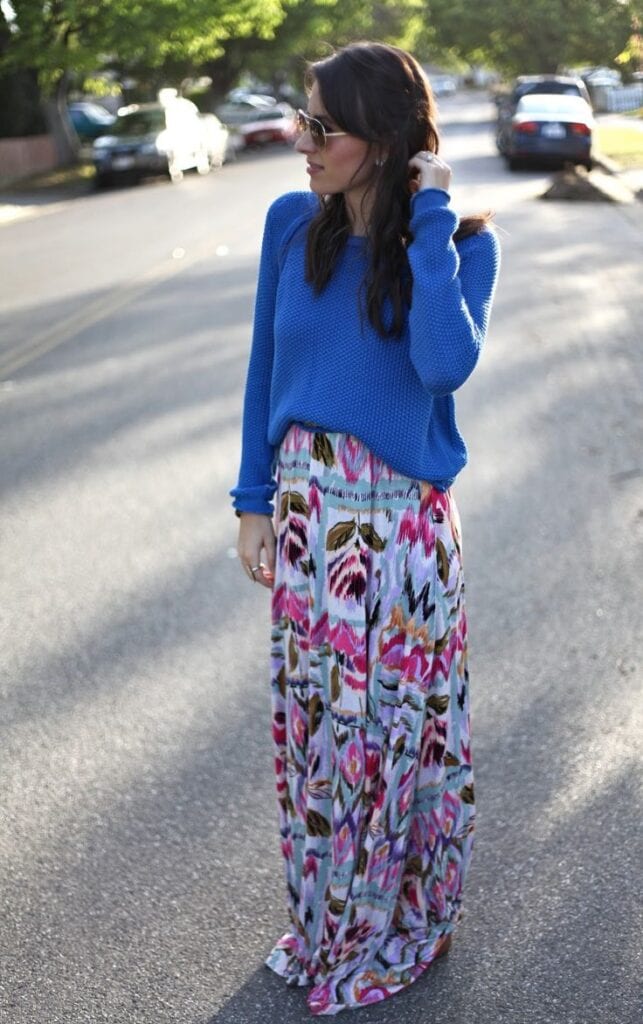 Source
#09. Ultra Mod and Chic
When you don't feel like dressing up alot. Go for a casual look. Denim shorts with a long gown looks very casual but has the aura of its own. This boho look can't be completed without a floral headband! Try it right away because you can't wait.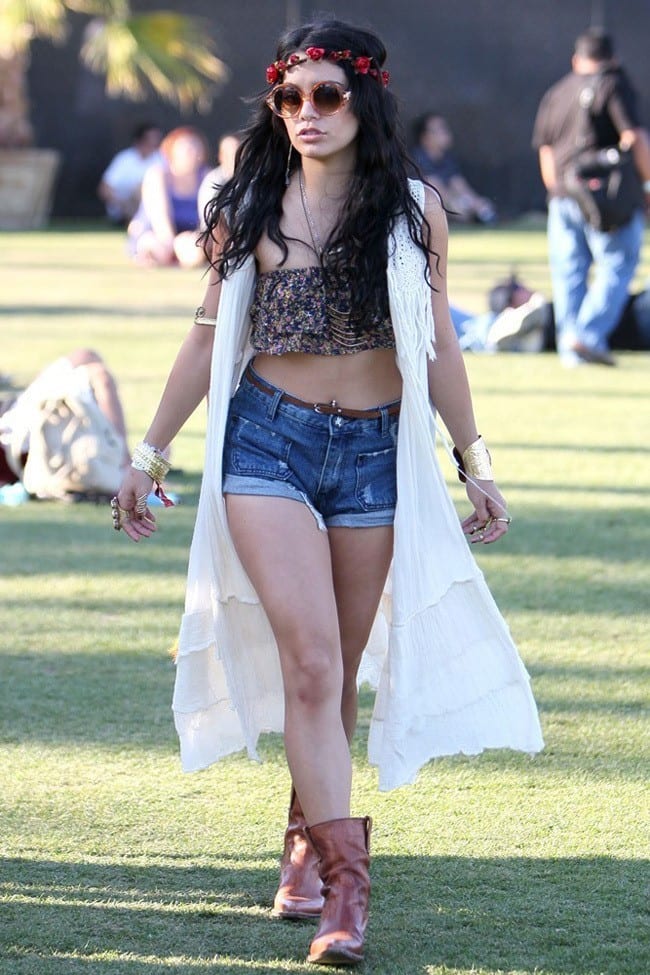 #08. White Lace Mini Dress
Going for groceries but don't want to look lethargic and dull. Well, how about a cotton, lace mini dress which looks super mod and it is very comfy too. Pair of shades and casual sandals with the dress and you're the trendiest person in store!
#07. The Breezy Summer Boho Look
Dive into this summery, breezy dress which is not only cute but is light and the perfect wear for the hot weather, which is killing us all. You should always choose the bead hoops to go with the look! Time to head to the beach immediately.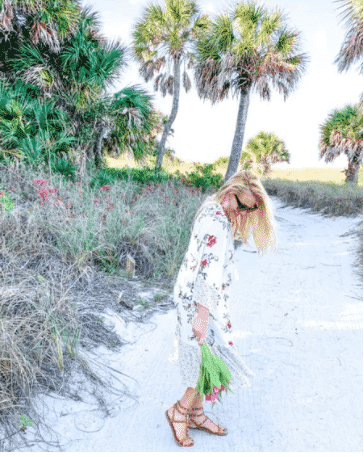 #06. The Boho Chic Beach Look
Planning to head over to a beach for a stroll? How about a cute crochet mini skirt in the color of your choice along with a fun ballooned sleeved top? This look can even be paired with colorful funky tops. Vibrant flip flops will complete the look for you!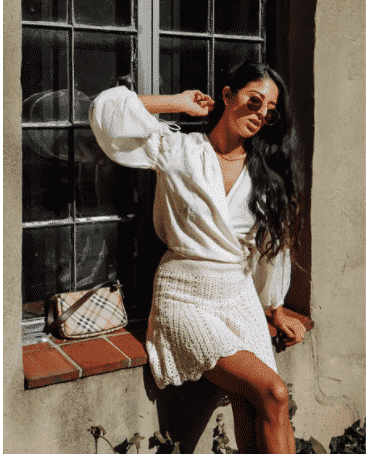 #05. The Girl Next Door Look
Want to look uber chic yet simple? The perfect look in that case would be a cute embroidered dolly shirt with ripped pants. Don't go with cigarette jeans, instead choose something casual and comfortable. You can complete this look with a pair of round hoops and a round cross-bag
#04. Go Vintage
As Boho Chic is all about Vintage Fashion, lets experience the 19th century fashion, in their style. Dress up in a long, flowy, maxi, with bat winged sleeves and you are perfect for the Dress-Up Party at your friend's backyard. Time to go vintage for sure!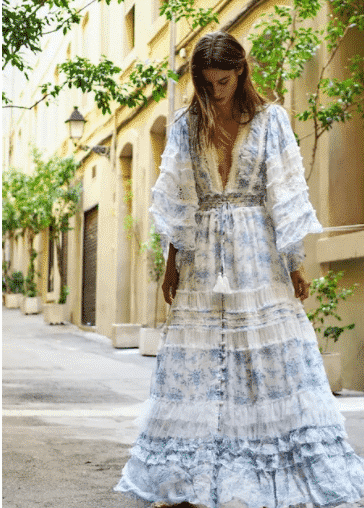 #03. The Funky yet Classy
Go bold in the tallulah embroidered top with a crisp white jeans short! The look is not just fun, but it is classy too. You can wear your sandals or even high heels with the look. Accessorize it with statement necklace and matching earrings. Isn't it the prettiest yet the dandiest look! Try it right away and let us know about the compliments you get for carrying it, for we know, you will get many!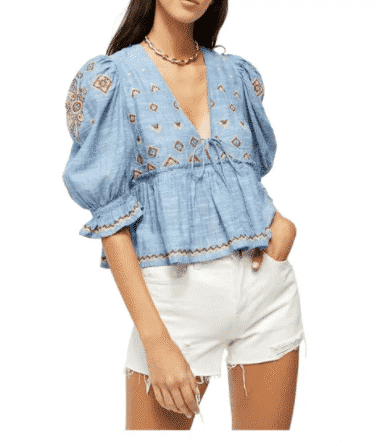 #02. For Cool Summer Nights
We all know how unpredictable the weather these days is. We have pretty sunny summers and very cool winters. For such weather, wear something which can keep you cool during the day and cosy during the night. How about a long Kimono Cardigan that you can wear over your T-shirt and ripped jeans? Cool, right? You surely can try this look if you are one of those who wants all the comfort without compromising on your style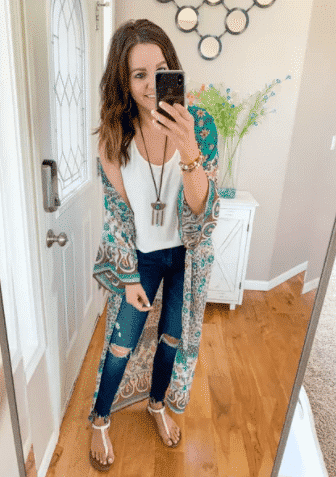 #01. The Easiest, The Better
Boho chic is all about being easy in what you wear. You do not have to put in extra efforts for setting a trend. Because if you have to try too hard and have to try things that are outside your comfort zone, then that won't be boho. The uniqueness of this trend can be experienced by wearing the simplest printed maxi that you always have in your wardrobe. The bright colored maxi, with some laces, is all you need. So, go for it and enjoy the most easy fashion because fashion should never give you hard time!