Monday Outfit Ideas For School . Dreading Monday after a great weekend? Having to go back to school after the weekend is surely a horrible feeling. Well, guess what? Monday mornings do not necessarily have to suck.
The best way to brighten up your Monday and begin a flawless brand new week is by putting an effort into styling your outfit for the day. Putting together a good outfit especially for that day will not only make you feel good and confident about yourself but it will also impress everyone around you. Since it is the first day of the week at school, you need to look fresh without spending too much time dressing up in the morning. For that we have compiled 18 stylish dressing options for you girls out there to help you decide your outfit for school and beat the Monday blues. Have a look!
What to Wear to School on Monday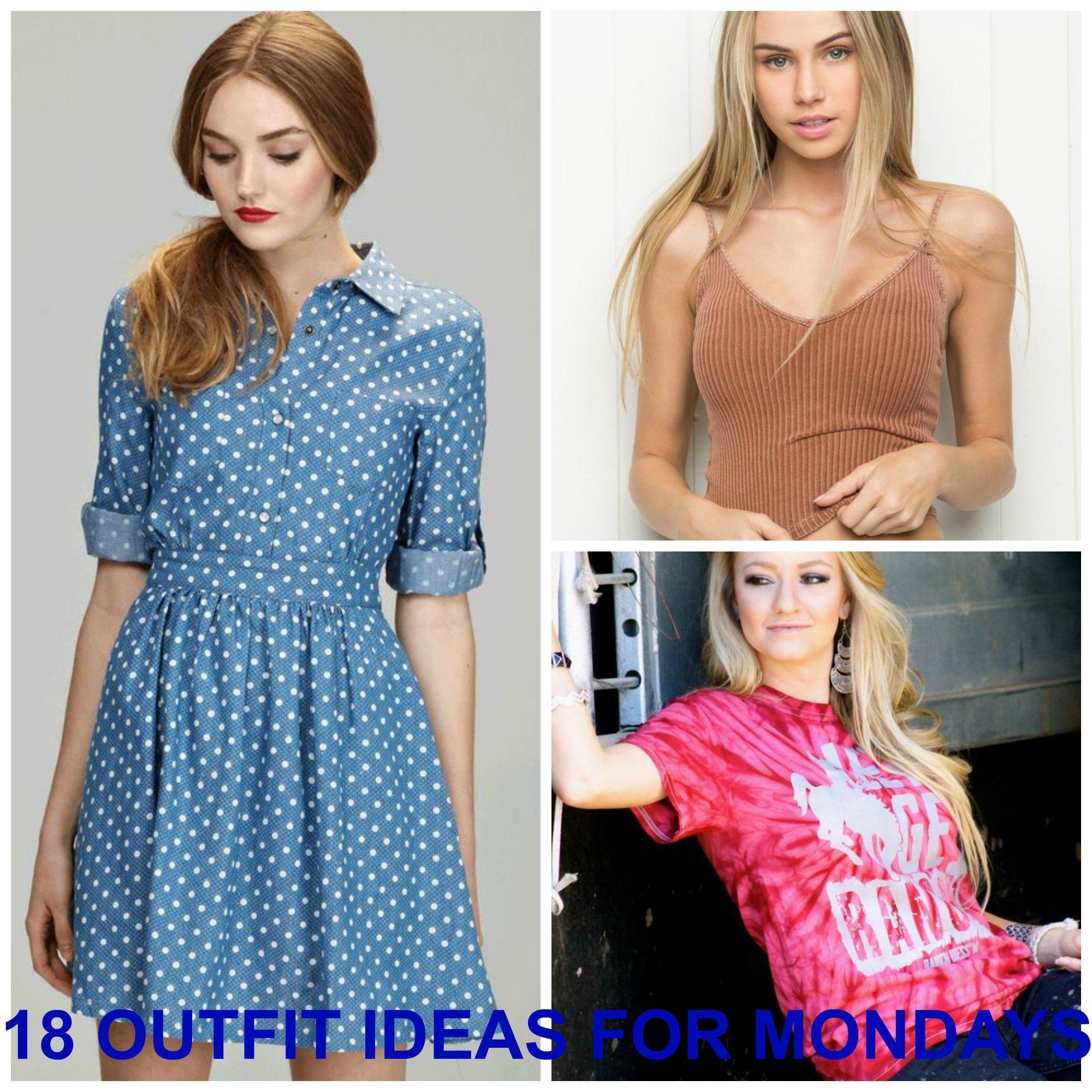 #18 – Casual Denim Dress For School
Everyone knows that denim is in trend this season. So why not wear it to school as well? Whether it is sunny or chilly, you can wear denim in every weather in different styles. Such as a denim short dress for summers, denim jacket for winters or the much hyped denim on denim look.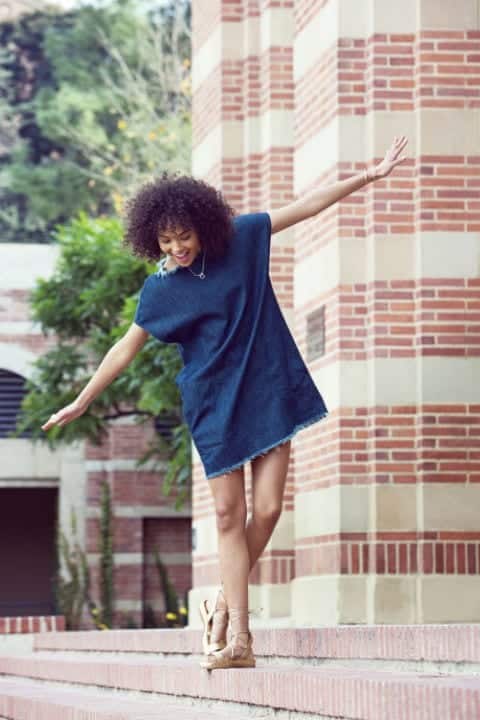 Source
#17 – Keep It Simple
Keeping in mind the limited amount of time you have to dress up in the morning, simplicity is the way to go. Apart from the fact that it will require minimal time and effort to dress up in a simple outfit, it will also make you look elegant and casual. For that you can simply pair a shirt with tights, and add a scarf for a chic look.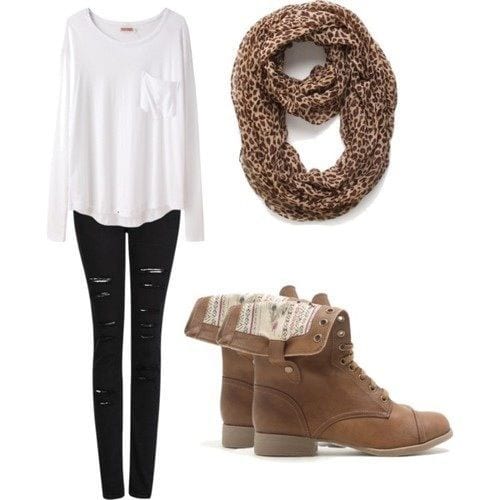 Also check out [highlight]19 Cute Sporty Style Outfits for School Every Girl Must Try[/highlight]
#16 – Games Day Outfit For Girls- There is no better outfit for sports day than this super cool games shirt paired with ripped jeans and a denim jacket! To further enhance this look, you can pair them in the same colour tone, but that is completely optional.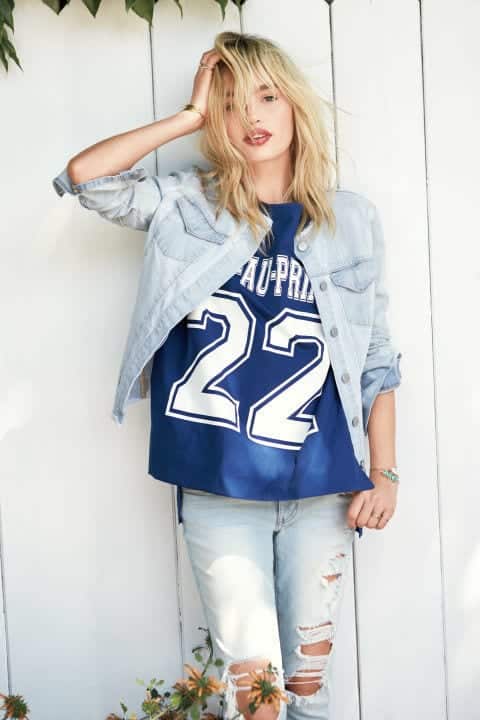 #15 – Experiment With Contrast And Colour
To look fresh and unique, play with different bright colours that will make you stand out. Such as this turquoise shirt with coral pants. This combination is to die for! If you have a presentation or event in school, you can add extra accessories to this outfit for a complete semi formal look.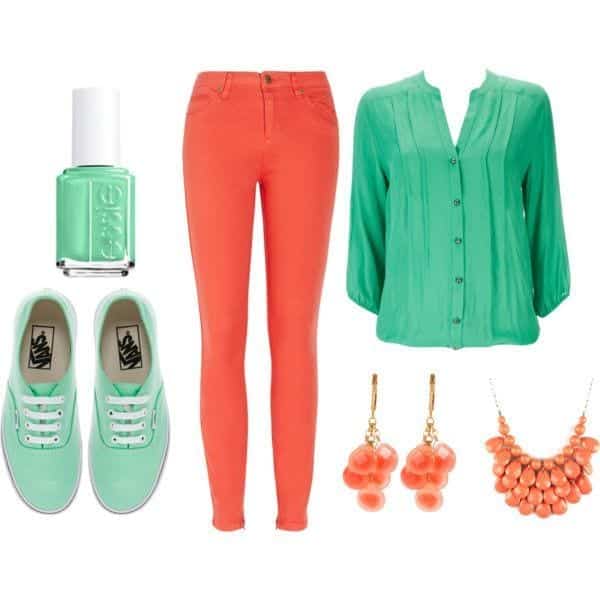 #14 – Statement T Shirts For School
Make your own style statement this Monday! And the best way to do that is by wearing these super cool textual shirts that will attract all the attention your way. You can pair it with absolutely anything – shorts, pants or even a skirt depending on what you are most comfortable in.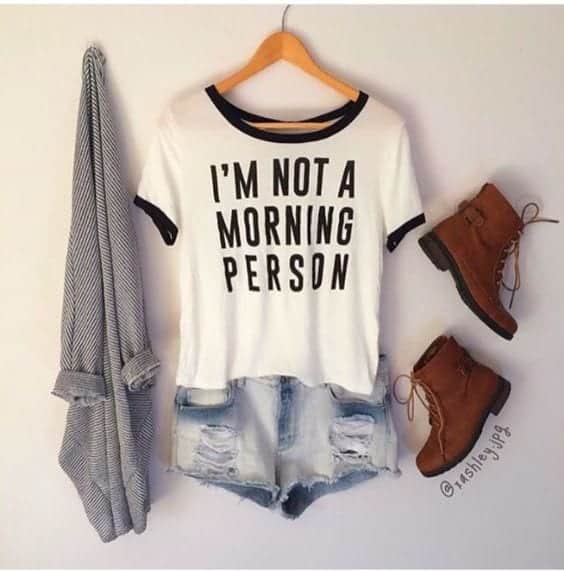 #13 – Different Prints And Patterns
If you are tired of the same old boring look, experiment with different designs and prints. There are lots of options to choose from such as floral prints, geometrical prints etc that will give you a cute and unique look.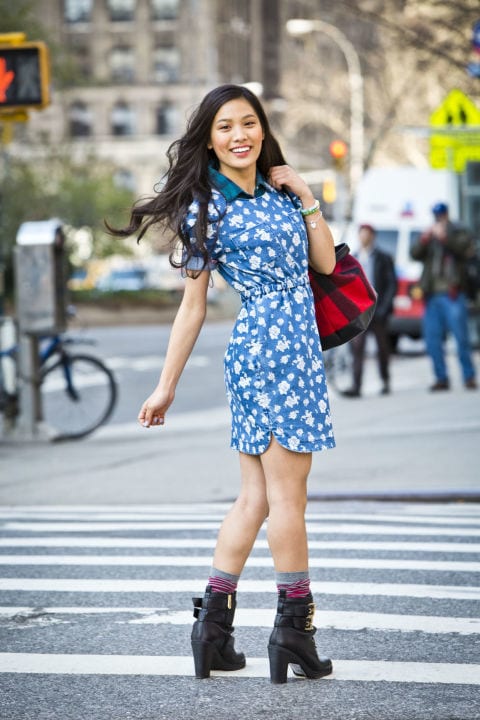 Source
#12 – Leather Mini Skirt For Unique Look
How cool do these short leather skirts look? If you do not own one of these, get your hands on them as soon as possible because your school outfit collection is incomplete without them! Wear converse shoes to complete the look.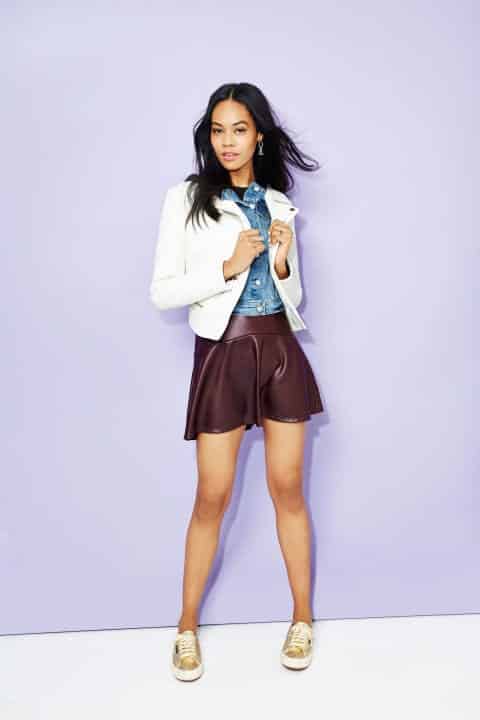 Source
Do have a look at [highlight]15 Cute Summer Outfit Ideas for Middle School Girls[/highlight]
#11 – Tie And Dye Shirts For Girls
In school, it is very important to look distinctive and extraordinary. For that we have found these extremely cute and perfect for every day wear shirts. You can get them in different colours and simply wear them over jeans and you are good to go.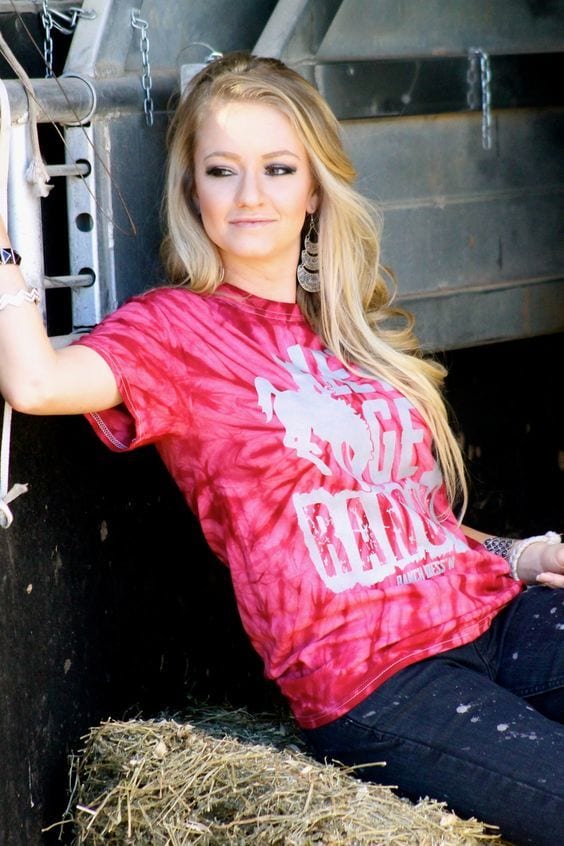 Source
#10 – Cute Monday Outfit For Teens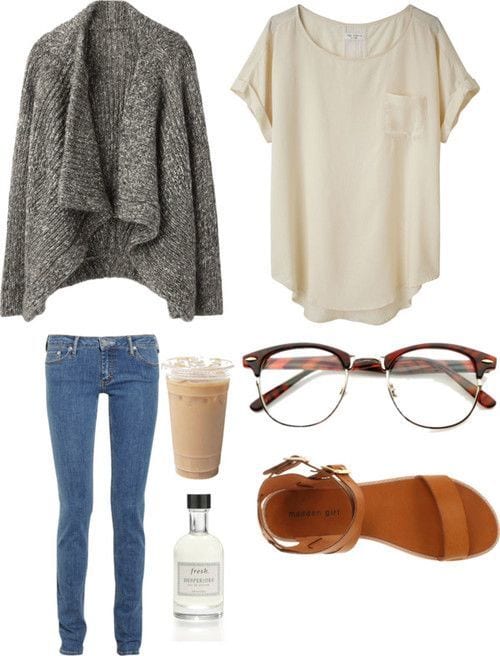 Source
#9 – Nerd Look For Girls
It is a well established fact that people these are drooling over the nerdy and geek look. So why not hop on to that trend? Wear a knotted shirt over cool patterned jeans and do not forget the bold glasses! To further add to this look you can tie your hair in loose braids. We assure you this outfit will make every head will turn your way!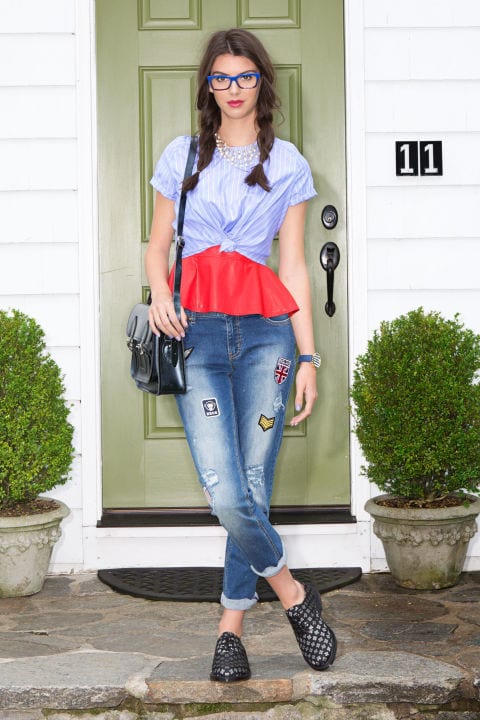 Source
#8 – Vintage Look For School – Go all old school and vintage this week! Take out all your polka dotted outfits that you have been waiting to wear. With this look you will surely stand out and impress everyone around you. To further enhance this look, tie your hair in a loose pony tail to look cute and adorable.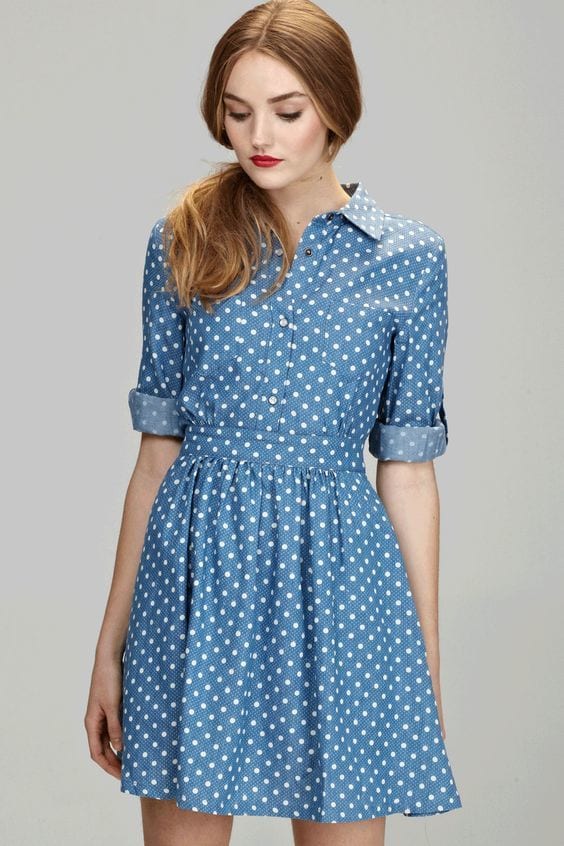 Source
Don't miss out [highlight]16 Cute Summer Hairstyles for College Girls to Stay Cool[/highlight]
#7 – Girls Outfit Idea For A Chic Look
Source
#6 – For A Hot And Stylish Look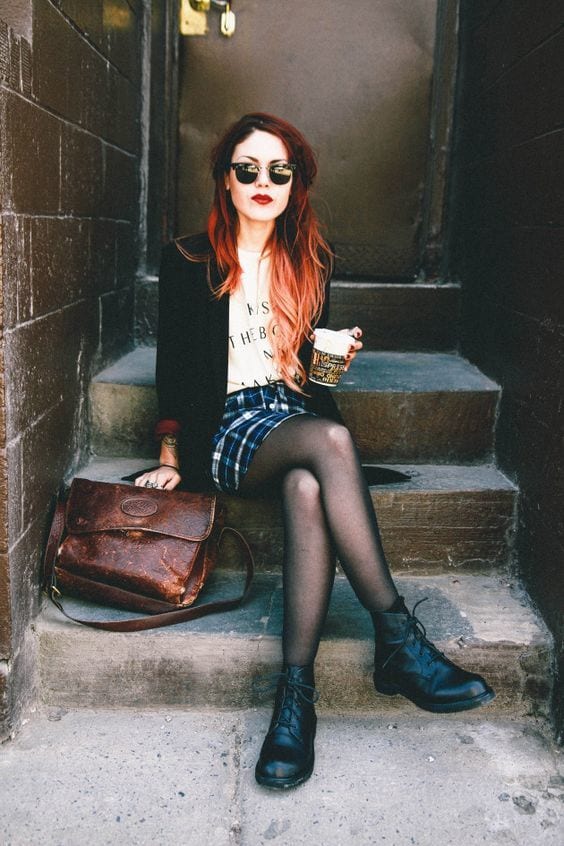 Source
#5 – Checks Never Go Out Of Fashion
If there is one style that is always in trend, it is checks! No matter what season or occasion it is, you can wear it any time in a number of ways. It gives a classic casual look without putting much effort making it ideal for school wear.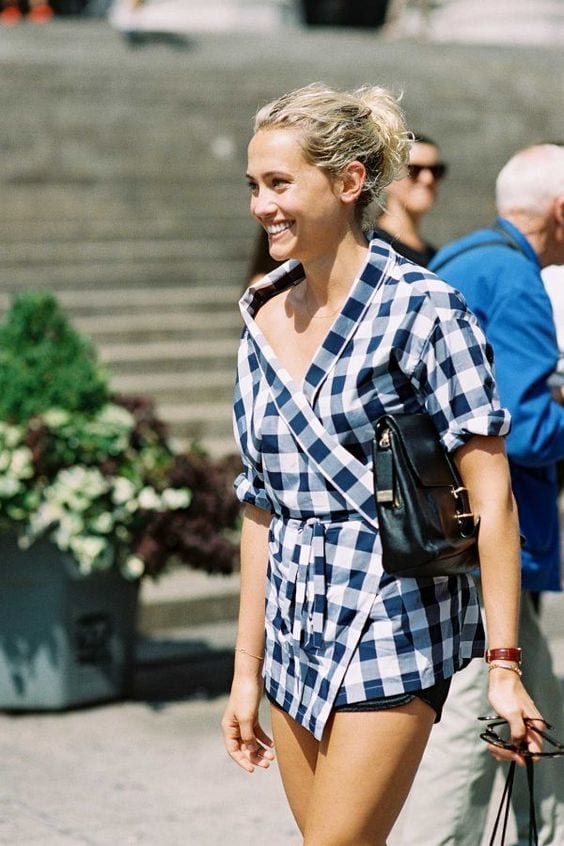 Source
#4 – Lacy Top For A Trendy Look
Laces are in trend this season. Lacy dresses and tops will make you look glamorous and classy without putting in any other effort.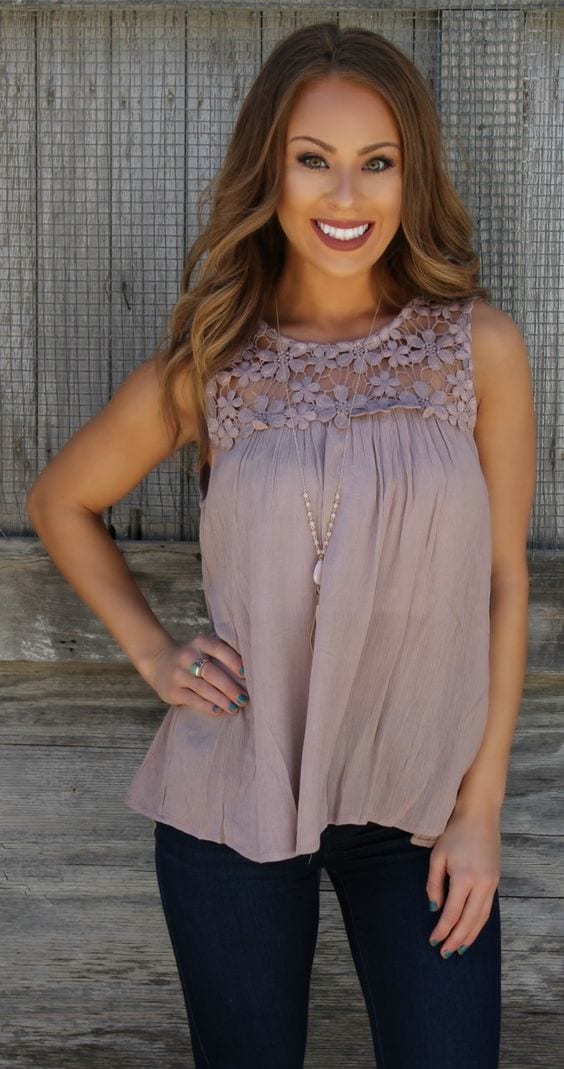 Source
#3 – Simple Tank Top For Casual Look
Wondering what to wear in that unbearable heat? Tanks is the answer to all your questions! No need to struggle with complicated time consuming outfits. Simply wear a cute tank with jeans and off you go!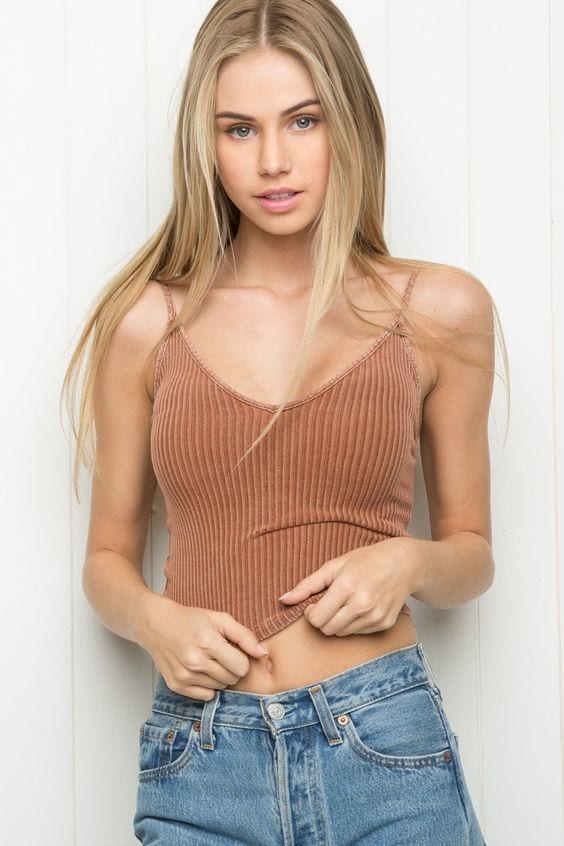 #2 – Funky Look For School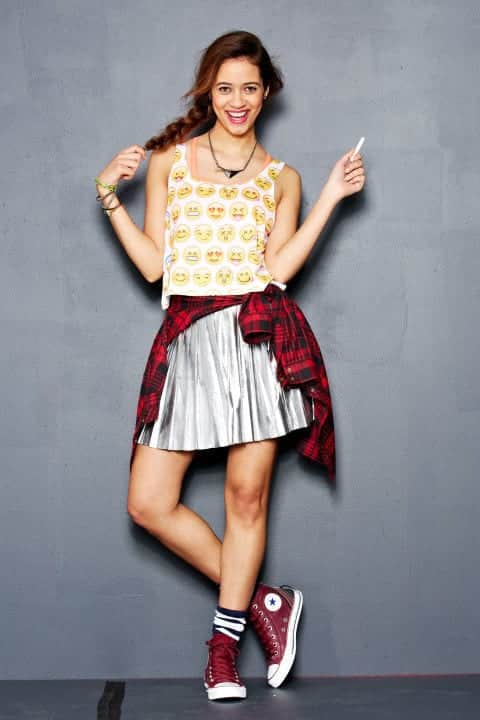 Source
#1 – Florals For Spring
Spring is all about flowers and colourful prints. Choose some bright colour and a floral printed outfit. It can be a top, skirt or a dress – whatever you like and pair it with matching accessories.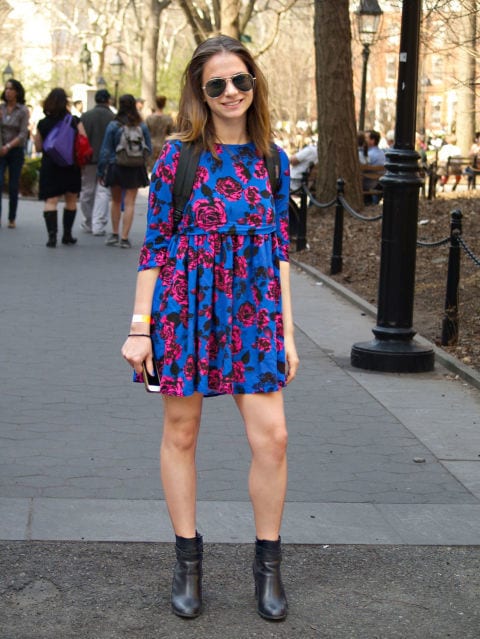 Source
Using these tips and dressing options, you can design and style your own outfit for Monday with minimal effort. The most important thing to keep in mind when choosing your outfit for long hours of school, is that you should be comfortable in whatever you are wearing. Furthermore, if you carry it the right way we believe that you will be able to pull off absolutely everything and anything! So kick start the new week in style and do not forget to let us know your favourite look in the comments section. Happy Monday!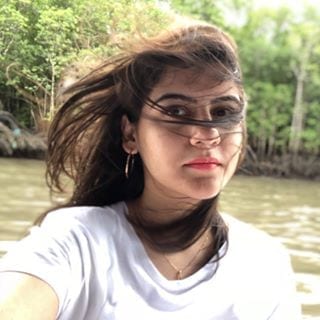 A content writer by the day and a reader by the night – two things that she loves the most. When Zoona isn't writing, she'll either be thinking of what to bake next or where to travel next. When it comes to writing, she has always been a storyteller and one of her short stories was published in 2014 in the Oxford University Press's anthology of contemporary Pakistani short stories, I'll Find My Way.  Her love for fiction writing also drove her to complete a short course on "How Writers Write Fiction," at The University of Iowa. Her other interests include binge-watching Netflix or online gaming.