Mori Girl Outfits: Mori is the Japanese word for 'Forest', so immediately, the thought of earth and nature jumps to one's mind. This would also be a correct assumption for a Mori Girl's style as she's defined by all things natural and simple.
What is a Mori Girl? Mori Kei is a style of fashion that originated in Japan and is inspired by nature. We've tried compiling everything you would want to know about the mori fashion. A girl named Choco is considered the founder of Mori style, and you can find a whole list of rules through which she describes this style.
In fact, according to the list's contents, this isn't just a style or fashion but a complete lifestyle. The mori fashion isn't very old, it only started in 2007, so it is still evolving, but in its essence, a true mori girl would look like someone who just came out of a fairytale forest.
In this article, team OutfitTrends will give you tips and tricks on dressing Mori and some cute Mori-style outfits to try. Mori girl clothing is natural, so try to venture toward fibres such as wool and cotton. Coming towards the colours, it's best to stick with brown, beige and even bottle greens. An organic look requires organic shades and fabrics.
It is acceptable in this style to use multiple layers as this builds up a natural volume. Wearing a simple top under a jumper or a long coat is a great way to attain the Mori look. All Mori clothing does not have to be body-focused or fitted; it can be as baggy and simple as you like. An extra-large silhouette is perfect in the Mori image.
The Mori girl is more likely to be found in clothing that is too big for her, so why not be daring and, instead of buying your usual size, go for a couple of sizes bigger? This style also goes hand in hand with vintage junkies and hippie styles, so why not look at the Styles for the Modern Hipster too.
Beware though! Even though these styles have similar qualities, the Mori girl is much more natural and in keeping with the forest feel. Have a look at some of the images below to avoid these mix-ups. They will be a great insight into the Mori Kei Forest girl style.
How to Dress Like a Mori Girl
↓ 22 – Mori Girl Makeup
Makeup for a Mori Girl is straightforward; remember the natural tones and colours. When choosing eye-shadows, stay along the lines of bronze, beige, and brown. Makeup should be minimalist and, if possible, avoided at all costs.
The whole idea of Mori is natural, so why use unnatural items and colours? But if you put some on, wear round makeup on your cheeks, as it is one of Choco's rules. And if you wear perfume, it would have a faint and sweet floral smell instead of the overpowering ones.
↓ 21 – Mori Girl Hairstyle Ideas
Plaits, ponytails and straight hair are all the best ways more girls frequently choose. Accessorise your hair with lace and flowers (real flowers preferably). These are great ways to add colour and a pretty and carefree touch to your hairstyle without looking too prim and proper.
Think of a fairy or even The Lady of Shallot; these images inspire any girl wanting to know the perfect way to look, Mori. Many more girl accessories are available so that you can experiment with these looks. It is highly recommended to keep a mori girl checklist. You can find more inspiration from these 10 Amazing DIY Hair Accessories with Simple Tutorials.
Here are some beautiful braided hairstyles for the Mori girls. You can see that these are not very complicated braids, so they can easily be made and styled for everyday looks. Remember that you cannot ignore your hairstyle if you want to be a mori girl.
↓ 20 – Shoes to Wear With Mori Outfits
The Mori girl is more likely to be seen wearing flat-soled ankle, calf or knee-high boots with a rounded toe. This protects your feet from the forest ground and provides a softer look. Any footwear should be made from leather, fur, or cotton because they are all natural materials.
Cotton plimsolls are a good choice during summer for a Mori girl. Moccasins and slippers are occasionally seen, too. If more girls wear sneakers, they will have cute-looking slip-on ones that fit loosely on the feet. Why not experiment with these shoe styles and create your Mori girl look?
Remember, the Mori girl look is all about being and looking natural, about being one with nature. Picture yourself living in a forest and use these tips to create your Mori image.
↓ 19 – Choose Earthy Tones
When you're looking for outfits, go for colours that belong to the earthy palette, such as these beautiful outfits in shades of green and brown that only remind you of the lush green forests.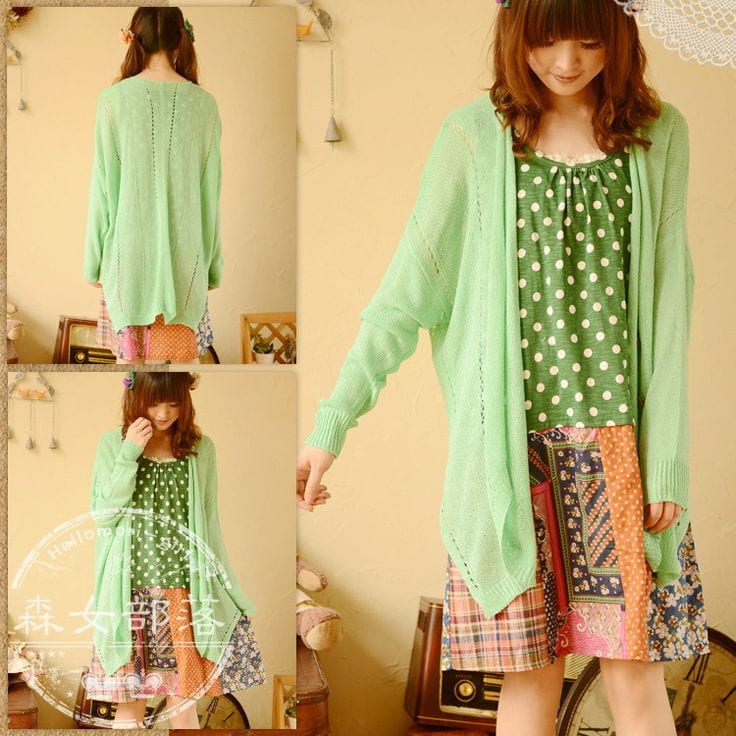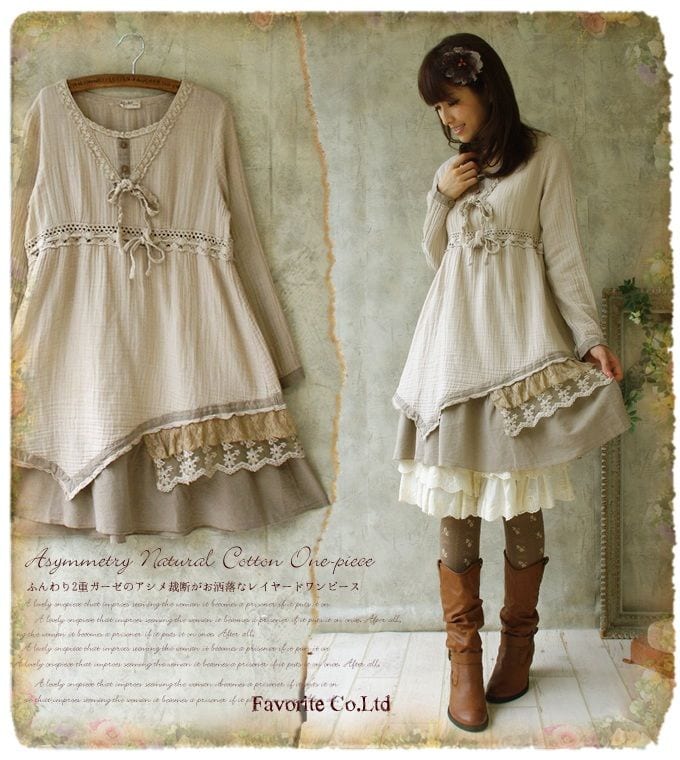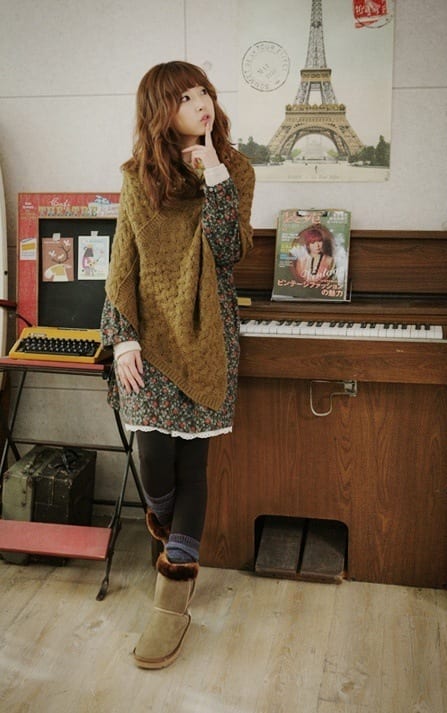 A mori girl is never conscious about her body as she is above such petty concerns. So your outfits should be flowy instead of body-hugging.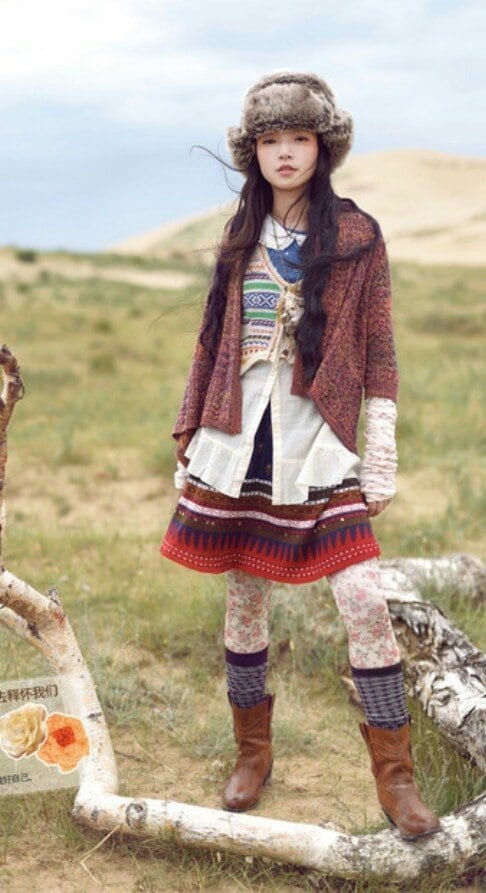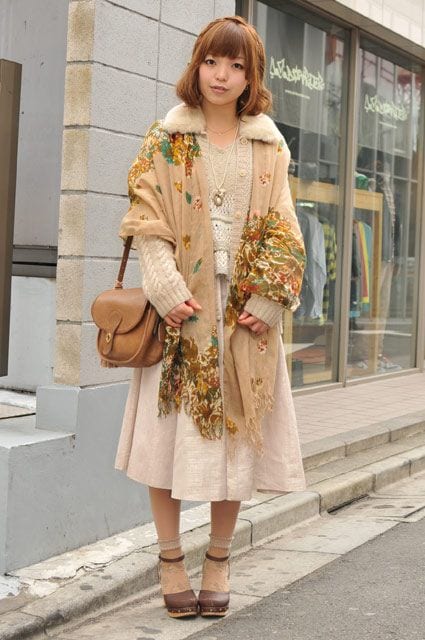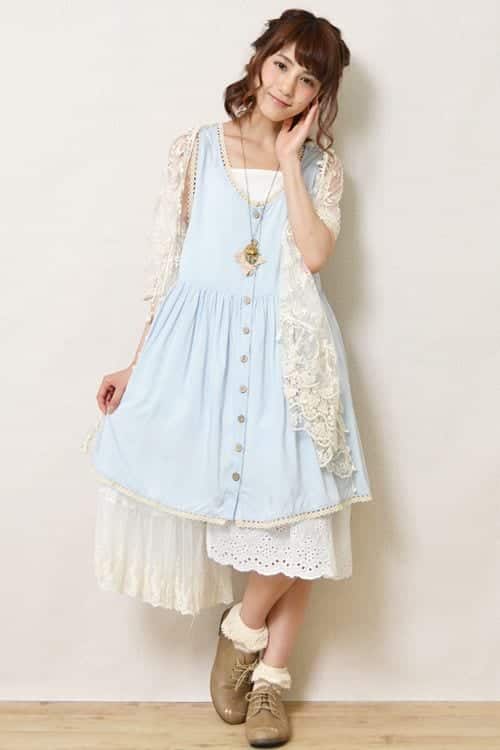 ↓ 18 – Where to Shop for Mori Fashion
Since the beginning, more girls have faced the issue of where to go shopping. The best place to shop would be thrift or flea markets. This is because a mori girl is not like the ordinary girl who would waste thousands of dollars on branded clothing.
A true mori girl would make the most of what she has so she can find everything she needs at the thrift stores. If you don't have a thrift store near you, the next best place to go shopping would be online stores like eBay and Taobao, which are home to many stores.
Only certain stores like AliExpress will provide international shipping, so you can look at such websites for outfits that match your needs. Our top three favourite places with an amazing collection of more outfits include:
Morilee for bridal wear
SpreePicky for casual wear and accessories
Hanae Mori for party wear
Moreover, a Mori girl's priority when shopping is always comfort, so keep looking for places that offer girly and comfy clothing.
↓ 17 – Layering
Layering is a key part of the mori girl outfits as this helps in creating a natural volume. You can try adding more lace elements in your layers as they blend well together. It's best to find laces with flowers or leaf styles and motifs as they depict the true Mori nature.
While it's easy to layer in winter, it's not too difficult to do this in summer, too, because, in the hotter weather, you can opt for lace kimonos that look great while ensuring you don't feel uncomfortable.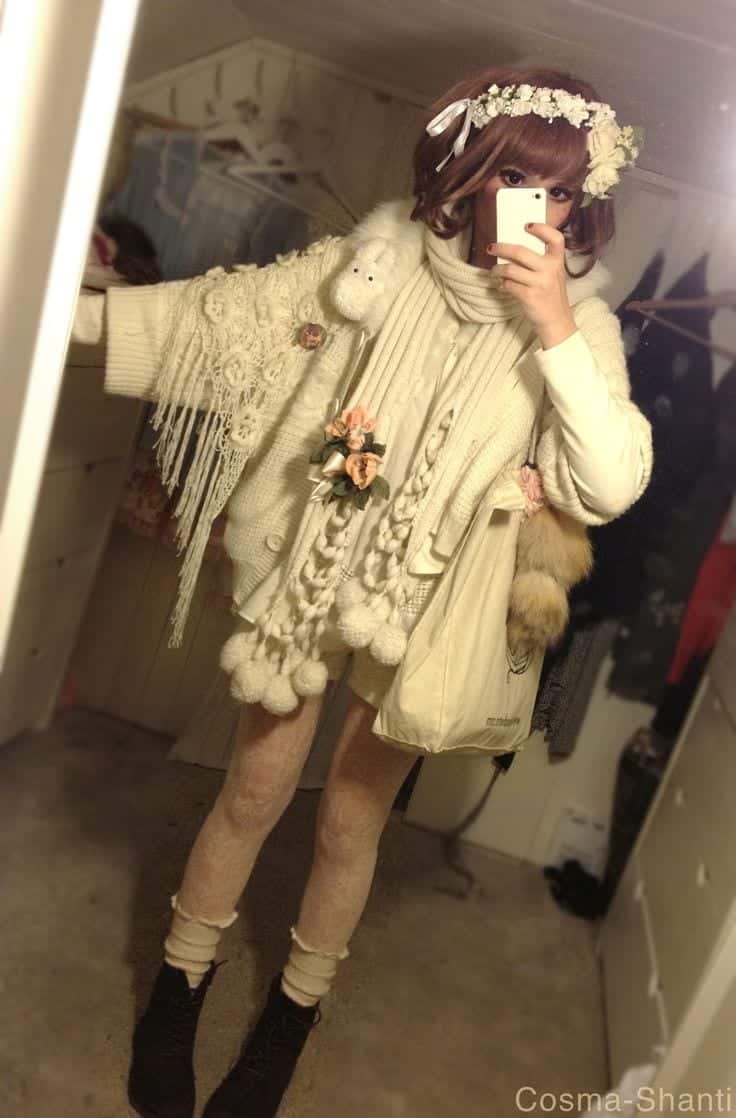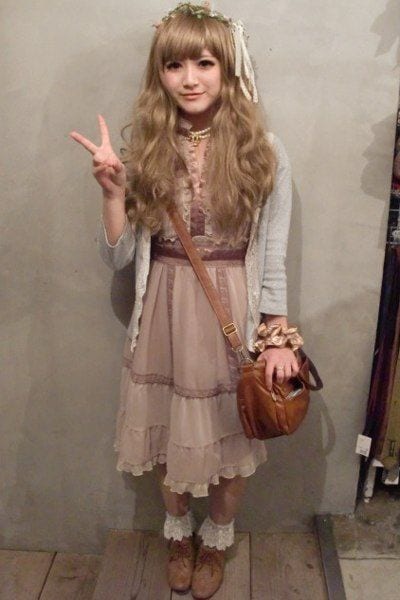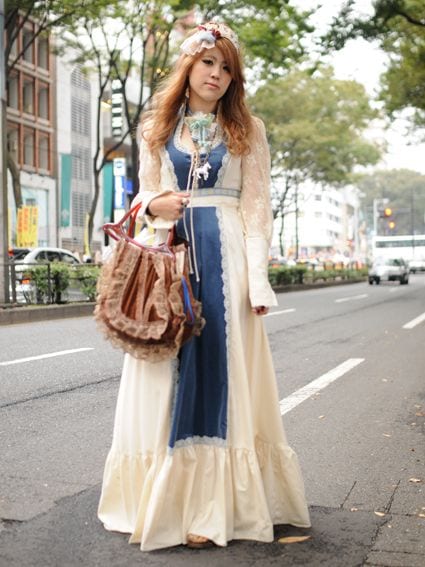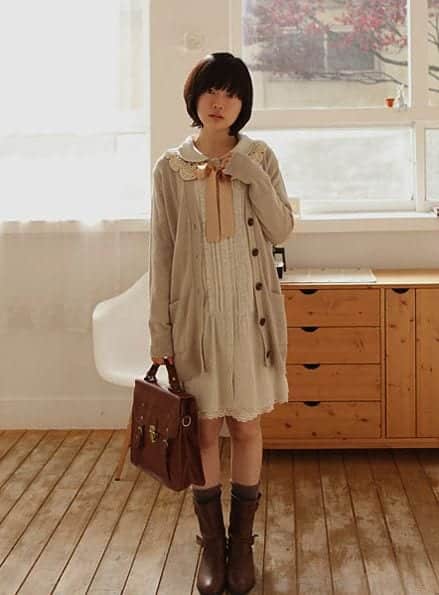 ↓ 16 – Vintage Prints
When a mori girl chooses to wear prints, they should be vintage ones.
↓ 15 – Spring Mori Look for Young Girls
Here's a simple and cute look for all the young mori girls out there. You can find this beautiful Mori dress and similar ones from here.
↓ 14 – Summer Outfit for Mori Girls
In summer, Mori girls should wear skirts and dresses. For more inspiration, look at these 19 Ideas on How to Wear Gypsy Skirts.
↓ 13 – Comfy and Airy
For those living in warmer areas, mori dresses must be comfortable and airy so you can have a good time without sweating it out. And if you're looking for a new hair colour, we love this funky purple one. The outfit seen here also complements the hair colour, and this look would be ideal for a weekend getaway.
↓ 12 – Mori Winters
↓ 11 – What Would a Mori Girl Wear to Work
A mori girl needs to work and fit in society, but she doesn't have to leave behind her mori style for this. Here are some wonderful looks to take inspiration for your work outfits. You could wear skirts, dresses, shawls and blouses that fit loosely. You can layer the outfits with scarves or oversized shawls and sweaters.
↓ 10 – Mori Girl in Fall
Your outfits will move towards the red palette for the Fall or Autumn season. It would be best to choose sweaters and cardigans in burgundy, maroon and even orange, as they all blend well with the Fall season.
↓ 9 – Accessories for Mori Fashion
A mori girl loves whimsical items like pocket watches, lockets, wreaths, etc.; she would always prefer natural gems and handmade jewellery over other accessories. She also chooses gold accessories over silver or other colours, representing her love for vintage and antique things. If she chooses to wear buttons, they would preferably be cloth ones instead of ordinary buttons. A mori girl would always choose leather bags instead of other materials.
The Mori socks are also made of natural materials like wool. They are in solid colours and slouchy fabrics and don't usually have any prints.
↓ 8 – The Mori Bride
Of course, a Mori girl needs an organic coloured and fairytale dress for her big day. Here are some outfit inspirations that can work for both the bride and the bridesmaids. We love the brand Morilee, which has dedicated itself to producing bridal and wedding outfits perfect for the Mori girl.
You can see how this outfit has included lots of frills, giving it the vibes you want.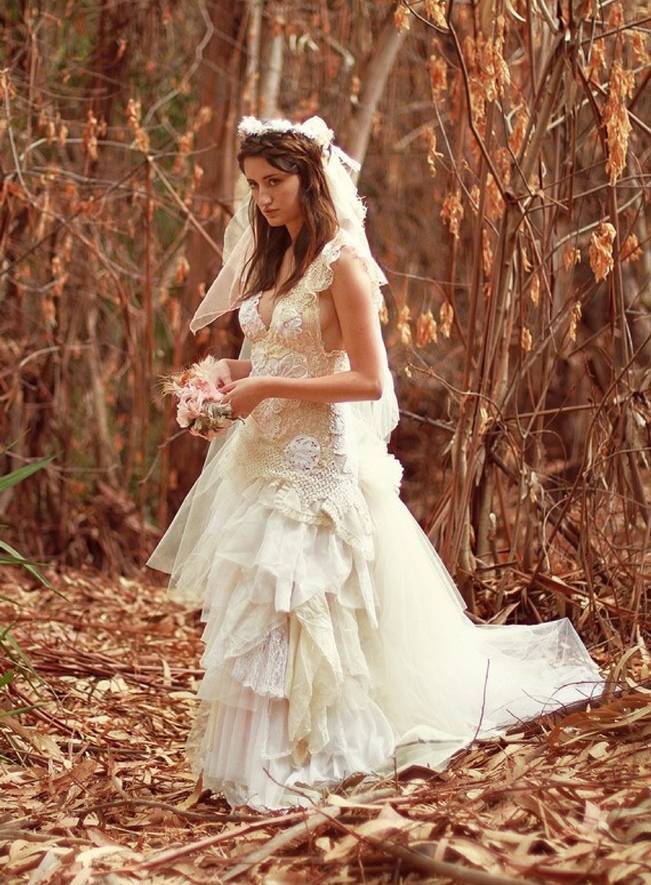 ↓ 7 – Classic Mori Feel
How amazing is adding a handmade brooch to this classic mori dress in white? Brooches like these are easy to make using online DIY tutorials. And the feeling of satisfaction that you get after making something like this is simply unmatchable.
↓ 5 – Cute Mori Outfit for School
Mori outfits are often very similar to bohemian style, so check out these 12 Chic Style Bohemian Outfits Combinations for this Season.
↓ 4 – Favorite Prints for Mori Girls
Apart from vintage prints, a mori girl can wear polka dots and plaid outfits. You can also combine different styles to create a beautiful look like this one.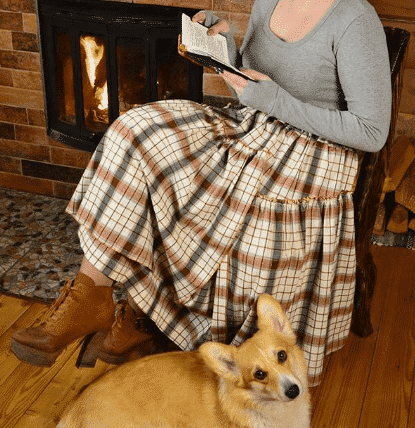 ↓ 3 – Mori Activities and Hobbies
Apart from fashion and style, the mori book even specifies the hobbies and activities a mori girl would take up. For instance, a mori girl likes making things with her hands, so she can take up stitching, knitting or making handmade buttons. She often carries a camera, likes to hang out in cafes, and gets excited about seeing cute books and furniture.
↓ 2 – A Mori Girl's Bedroom
A mori girl's bedroom would have a natural feeling through the use of plants and lots of hand painted stuff. There would probably be a bookshelf with all the cute books she loves. Everything would be simple but beautiful to look at.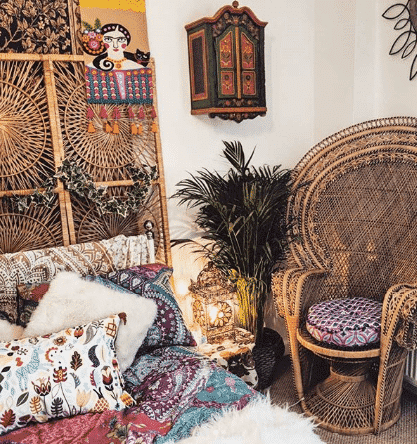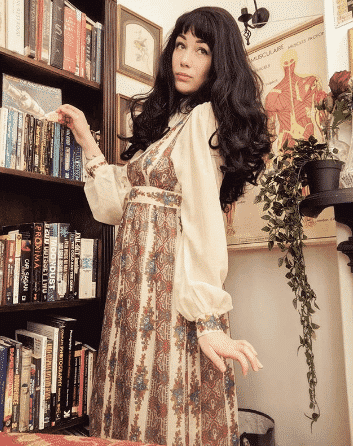 ↓ 1 – Why We Love Mori
The lifestyle is all about simplicity and enjoying life's little blessings. Once you choose the more style, there's no going back because you just fall in love with its beauty and closeness to nature. In the comments, let us know what you love most about fashion.