Baby Shower Outfits. Are you expecting a baby? Well, if your baby is on the way, and you intend to celebrate a baby shower, then you must have a look at today's article. We will reveal ideas about winter outfits for the baby shower, along with what to wear and how to wear.
During pregnancy, women often gain a lot of weight, and therefore wearing certain kinds of outfits becomes a problem. For all such issues, we bring you the best solutions and ideas. Here we will list some of the ideas that are cute and comfortable for an expecting mother to wear on her baby shower event. When you plan for a baby shower event, you have to decide a lot about the party, from gathering your friends to planning outfits and other activities.
A baby shower is one event where you celebrate for yourself and the baby that is going to be a big part of your life very soon. Therefore looking good on this special day becomes a priority. With a little knowledge, you can look your best. Here we discuss some of the latest trends in maternity fashion.
What To Wear For Your Winter Baby Shower?
Expecting a baby is one of the most overwhelming feelings anyone can ever experience. It doesn't matter if it is your first baby or fifth; they all are equally important to any woman or any family. So, whether you are planning on arranging a baby shower yourself or you are throwing one for your friend in winters, keep the following tips in mind to keep the mommy to be comfortable while she cherishes the moments with her friends and family.
Hello, mama to be, read the following tips as we think they are super beneficial for you.
Throw a baby shower in your home, preferably in the living room so that you and your guests are all warm and comfortable.
If you are planning on throwing a baby shower in your front or backyard, then make sure you have a proper heating arrangement.
Baby showers are usually all about feminine clothing, so the best choices are maxis, gowns, and skirts. You can add cropped sweaters or jackets over them and make your outfit look lovely and stay warm as well.
If you know the gender of your baby, then dress up in outfits that represent your baby. Like, a pink outfit in case of a baby girl and blue one in case of a baby boy.
Don't be afraid of accessorizing or putting on some makeup. Do it wisely, wear earrings that contour your face. Also, contour and highlight your face if you think it's too swollen because of pregnancy.
Heels can be too big of a risk in pregnancy, especially in the last trimester. So, avoid them if you think you can't walk comfortably in them.
In winters, you can add shearling coats and boots to complete your baby shower outfits.
Don't forget to do your hair.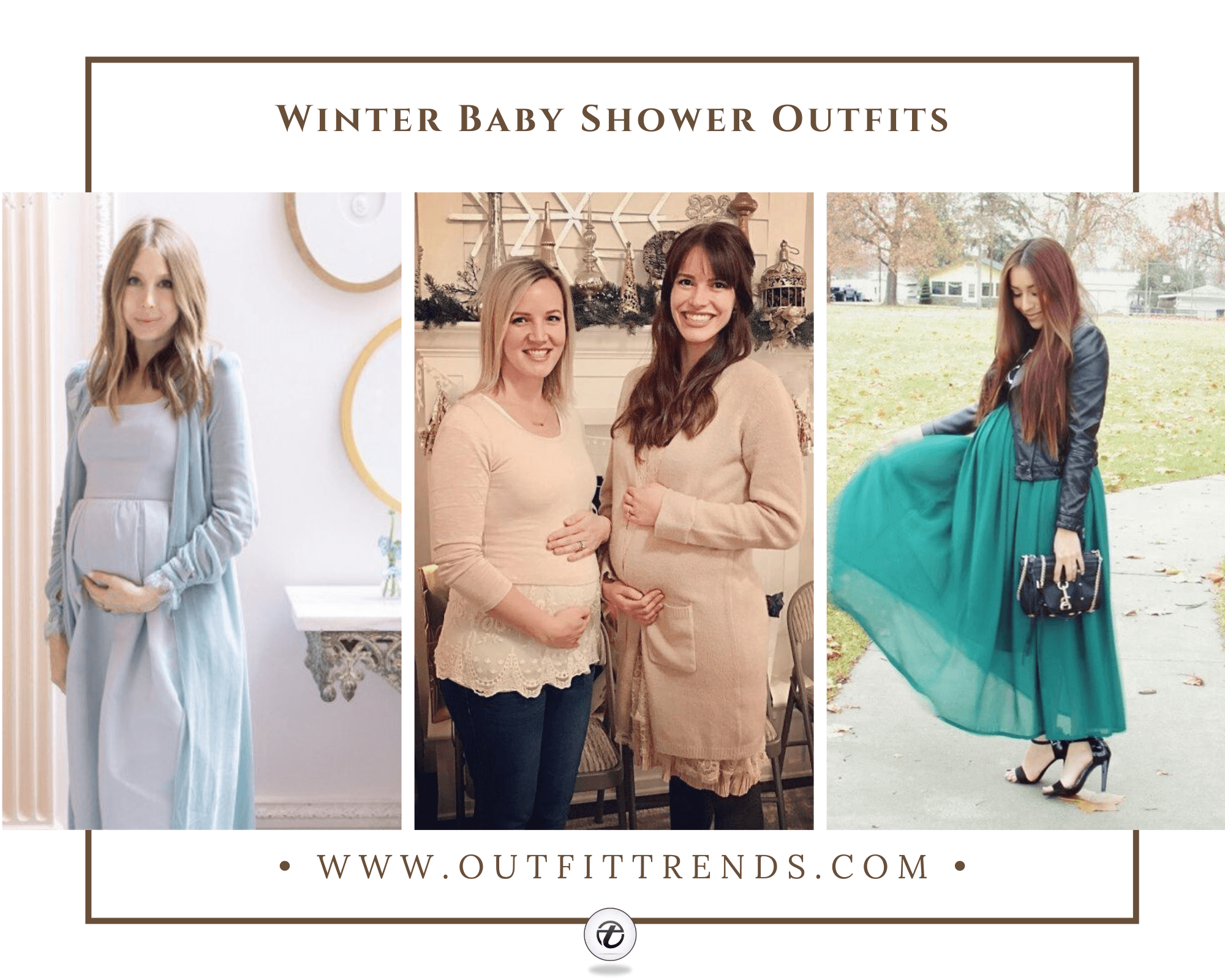 ↓ Best Themes For Baby Shower In Winter
Hey, you all reading this. If you are searching for winter baby shower ideas and tips for yourself or someone close to you, then we have a fantastic idea for you. Forget dull, plain, and boring baby showers. Add some themes and lighten up the event. Make the event a memorable one and capture every moment. Here are a few great theme ideas for you. We hope you'll like them.
Decorate everything in pink in case of princes and blue in case of a prince. And if you don't want to disclose the gender, then make everything yellow as it represents gender-neutral.
You can choose one object as the theme and decorate the entire party place accordingly. Unicorn themed party or snowy white themed party are good options for winters.
If you are planning on an outdoor party, then make it yellow, orange, and red. Put on fairy lights, make BBq, and enjoy the bonfire.
Make sure your party has one particular kind of food emphasized that's nicely wrapped, be it chocolates, marshmallows or cupcakes.
Make sure you have a cute cake for the cake cutting ceremony, you can also use it as a gender reveal cake.
Fill the entire place with balloons, ribbons, and lots of family pictures.
↓ 20 – Maxi Dresses For Baby Shower In Winters
Ladies, there are no hard-hit rules when it comes to dressing up; we all know that. But at the same time, we want to dress up in outfits that suit us and make us look pretty. There's no compromise on fashion and looks when it comes to an event that's close to a women's heart, and a baby shower is no exception to it. Any woman can wear this outfit, and it's best for someone who's expecting a boy and has a prince themed baby shower.
Wear a pretty light blue square neck cotton-blend faille maxi dress and add a Ruched jacquard maxi dress over it. Put on natural and light makeup. Your outfit is light-colored; hence you can go for subtle makeup with a dark lipstick. Add beachy waves to your hair. And accessorize your look by wearing a wristwatch and gold pleated pearl earrings.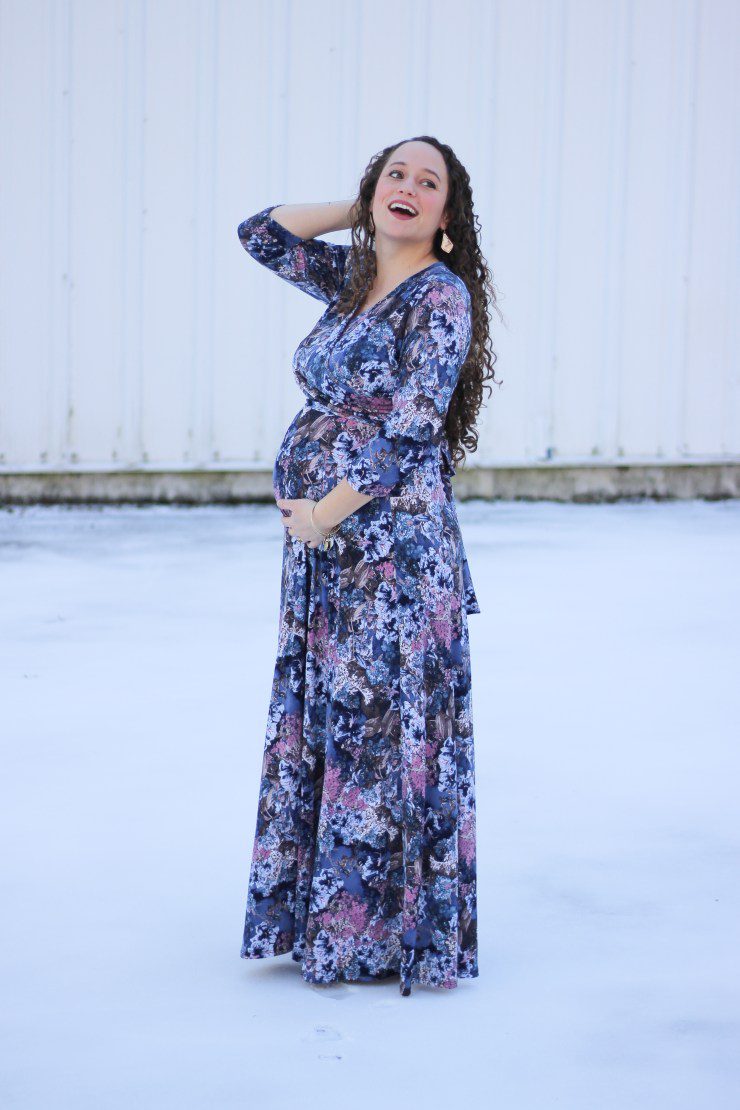 via
↓ 19 – Pleated Skirt With Velvet Top
There's no fabric better than velvet in winters for formal occasions. They give off a luxurious and vibrant vibe. So, why not incorporate it into your baby shower outfit? Wear a royal green high waist pleated A-line skirt in velvet along with a green velvet top. Forget the traditional accessories and put on a flower crown over your head. Finish off your look with sandals and brush off the makeup from your face.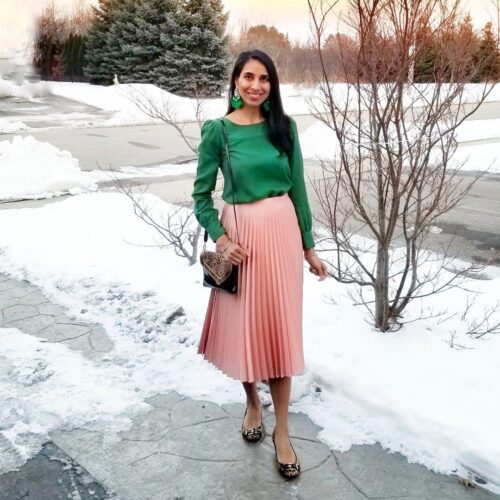 ↓ 18 – How To Dress For Baby Shower At Home In Winters?
If you are planning on having a private baby shower at home with your family, then you don't need to dress up so fancy. Stay in your comfort zone and wear a warm maroon crop turtle neck sweater and pair it up with an elastic stretch bodycon midi knee-length dress. Tie up your hair in sleek hair bun and add large studs or long ruffle earrings whatever suits your face more. It is an ideal kind of look for small baby showers where you don't want anything extra but just some quality times with your loved ones.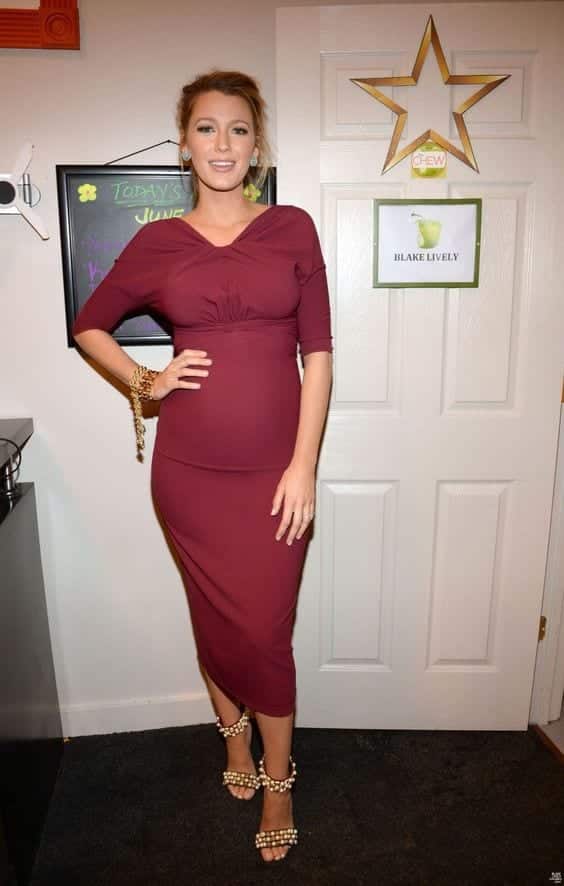 ↓ 17 – Plaid Shirts Over Gown
Now when everything is ready, the theme is all decided, and decor is done. When the hot cupcakes have arrived, and cookies are ready to be served, the only thing that is left is you!! So, mama to be, hurry up and get dressed. Go for a casual yet stylish outfit that helps you stay warm and comfortable. Wear a sleeveless slim business pencil dress and pair it up with a red plaid shirt. Wear comfy loafers with this outfit, do your hair. You are good enough to cherish unforgettable moments.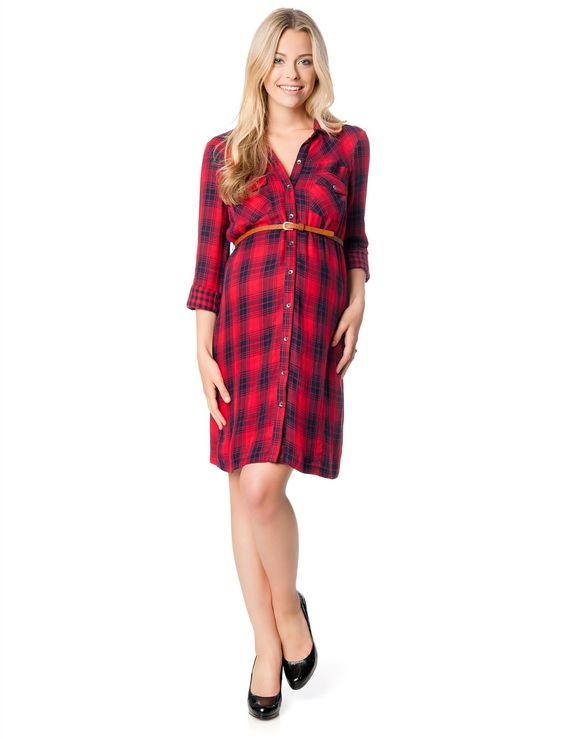 ↓ 16 – White For Bridal Shower
White never goes out of fashion, be it for a bridal shower or baby shower. If you are planning on a snow-white themed baby shower, then nothing is better than a white maxi dress. If you think you can carry yourself in heels, then no option is better than golden high heels. Ask your better half to wear white as well. I hope you love the idea.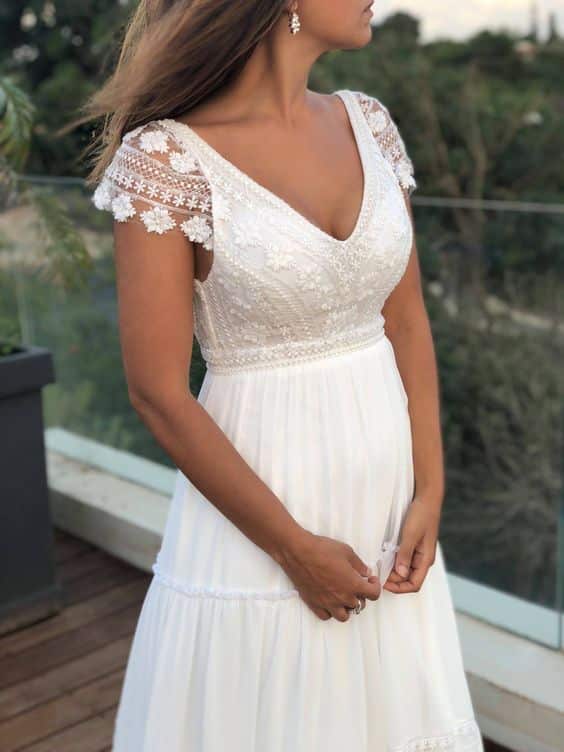 ↓ 15 – Mermaid Gowns For Indoor Baby Shower In Winter
Mermaid gowns are always trending. If you wore one on your bridal shower, friend's wedding, or some other event and don't want to buy a new outfit right now, then no option is better than taking it out and wearing it again. Curl your hair and add a flower crown. Such a cute princess, you look.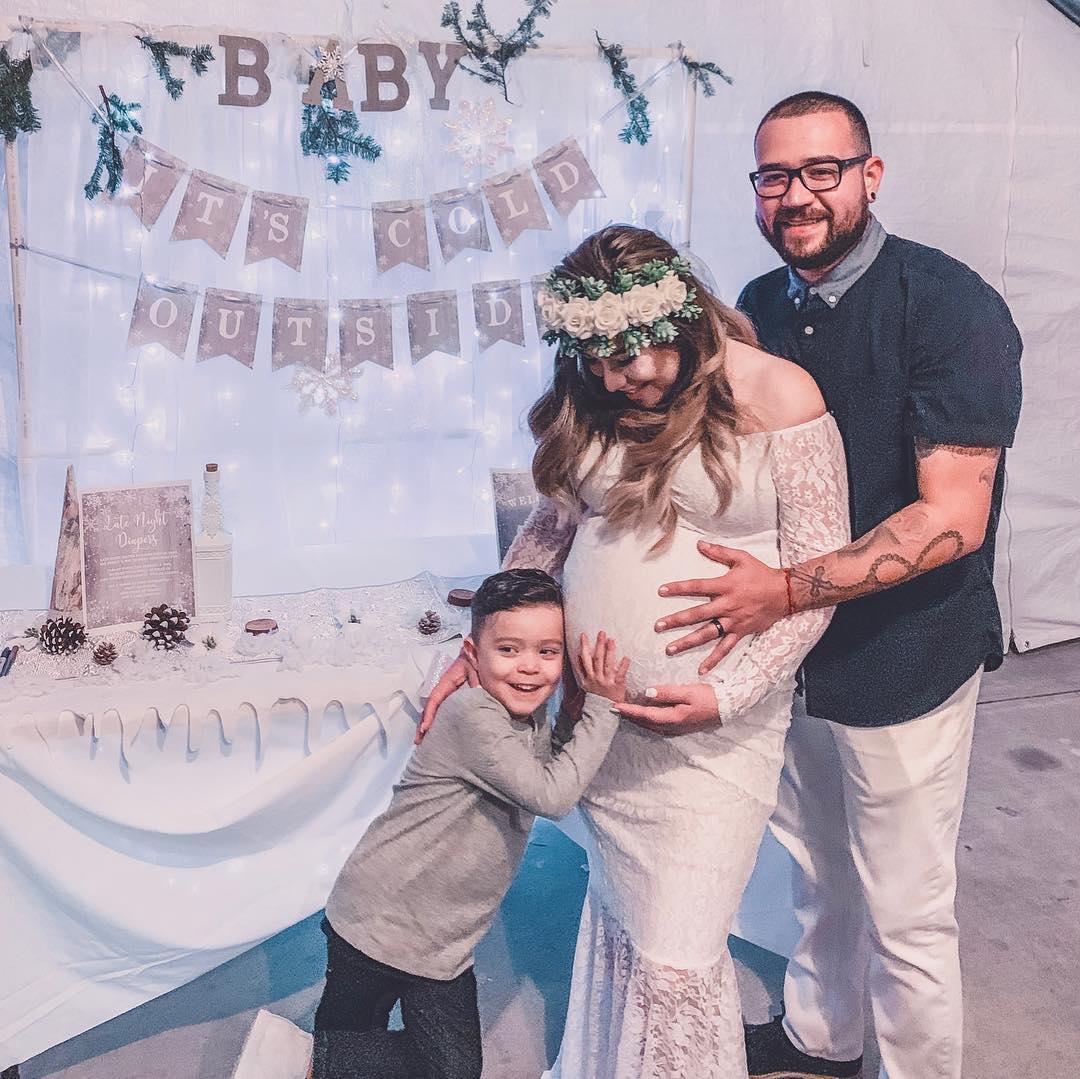 ↓ 14 – Cropped Sweaters With Gown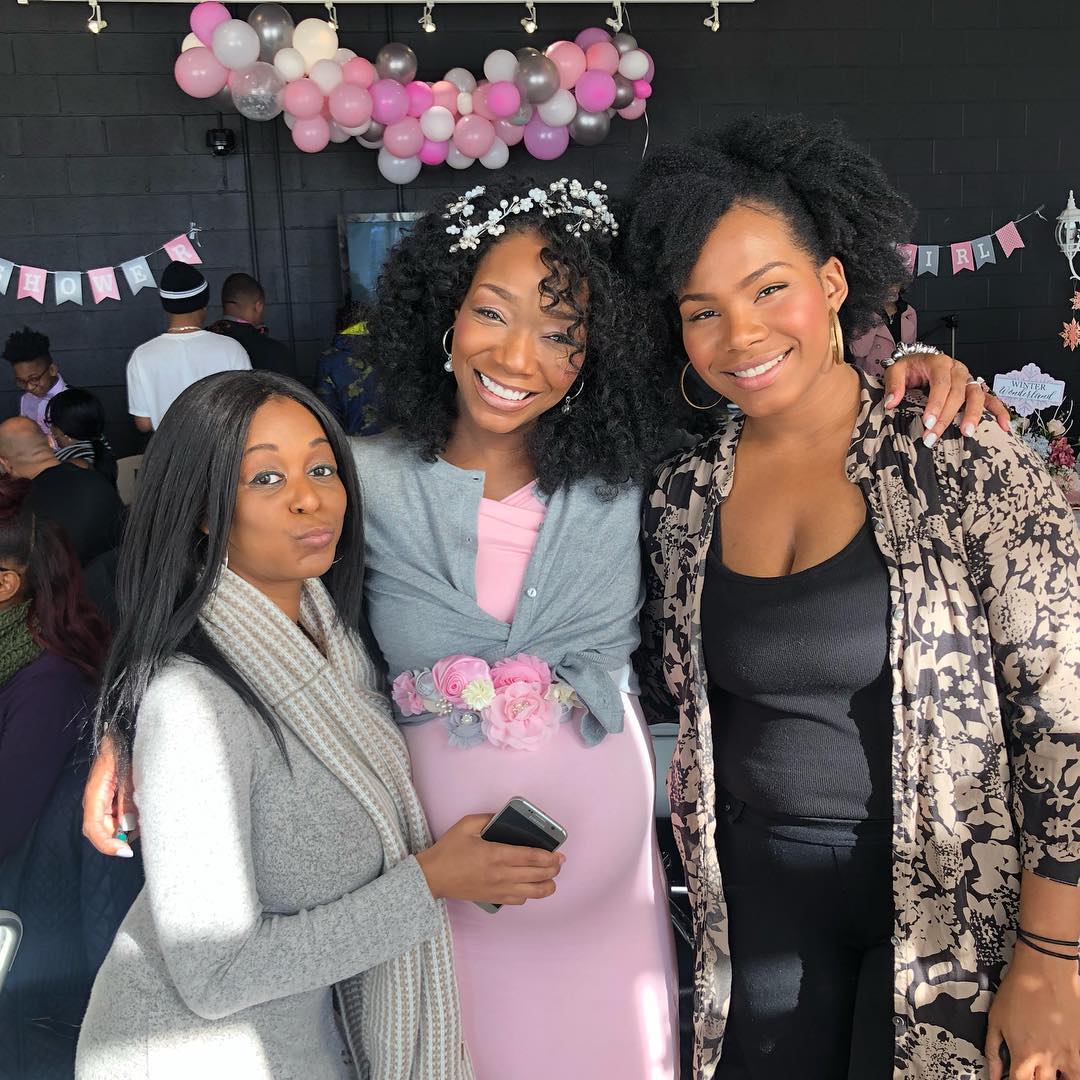 ↓ 13 – Casual Warm Sweaters For Baby Shower With Friends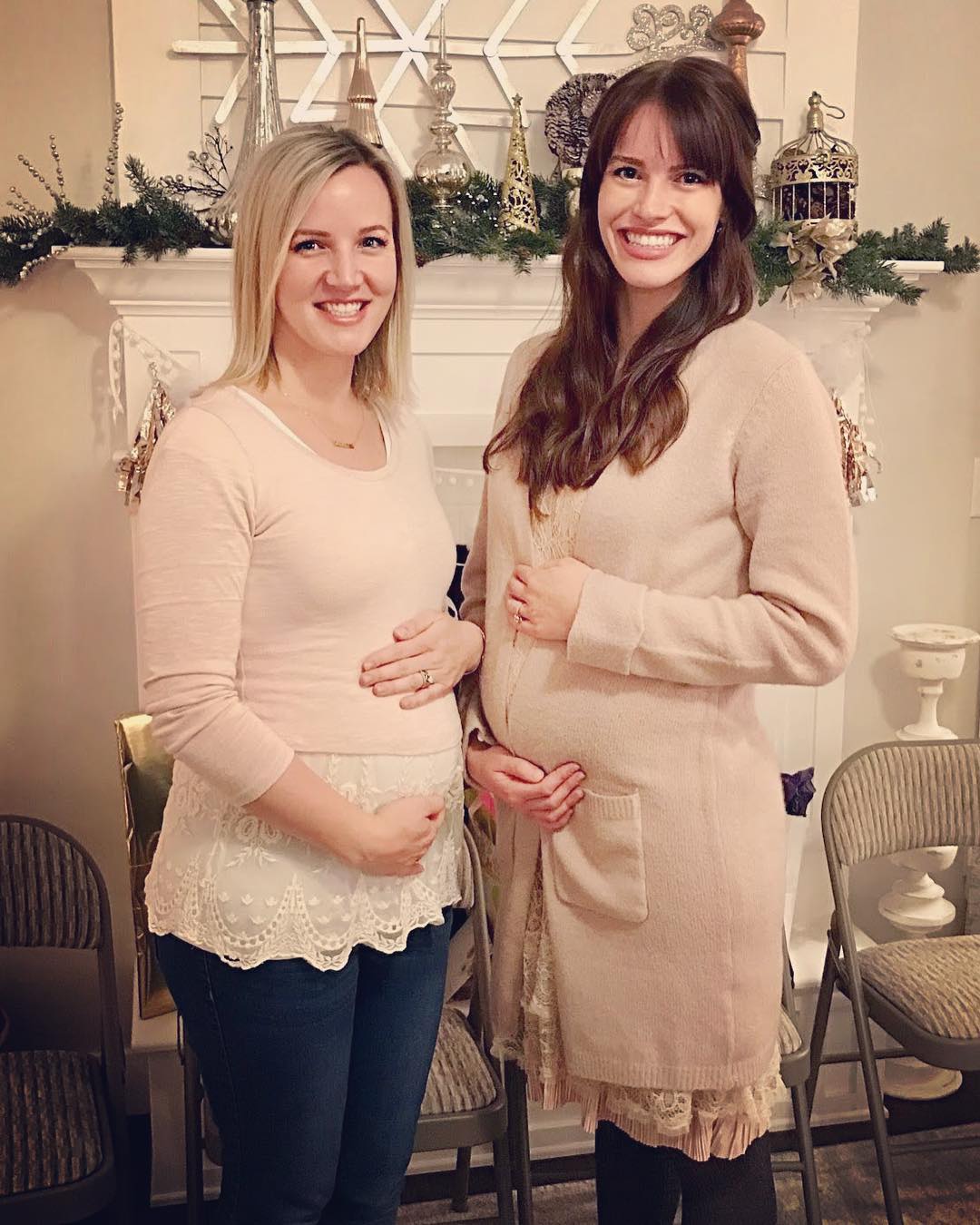 ↓ 12 – Long maxi
A long maxi dress would be appropriate to wear to a winter baby shower. It is long and stylish; therefore, you can style it well. Choose a maxi that covers the baby bump well and makes you look cute. Wear it with plain flat shoes or wedges. Avoid wearing pencil heels as they are too uncomfortable for pregnant women.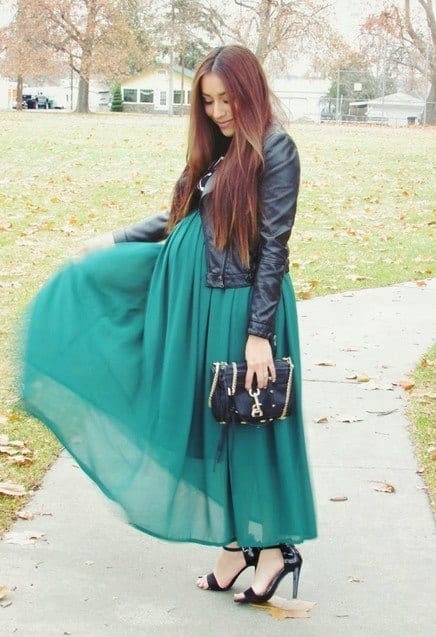 ↓ 11 – Maternal Short Dress 
For moms-to-be, there are plenty of short dresses available at maternity stores. There is a wide variety in maternity fashion where you can find short dresses made of chiffon and other materials that can be worn in winters. If you cannot bear the cold, then wearing it with leggings or tights would be perfect. To add a little sparkle, you can also wear a statement necklace with the dress.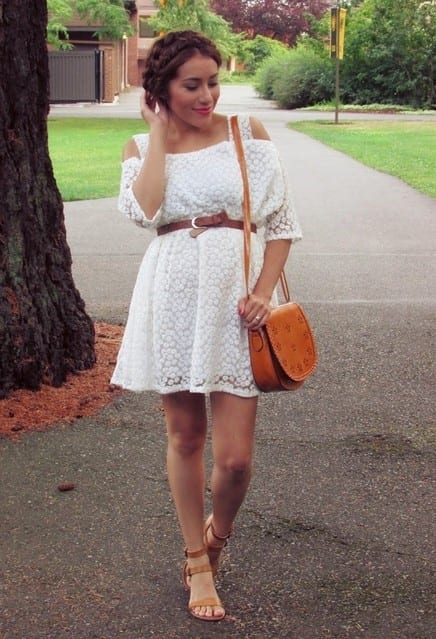 ↓ 10 – Long Jumpsuit 
Jumpsuits are very stylish and trendy. They can enhance and make one look gorgeous. A good fabric jumpsuit is a must so that you can wear it occasionally. Buttons and embellishments can add beauty to the outfit.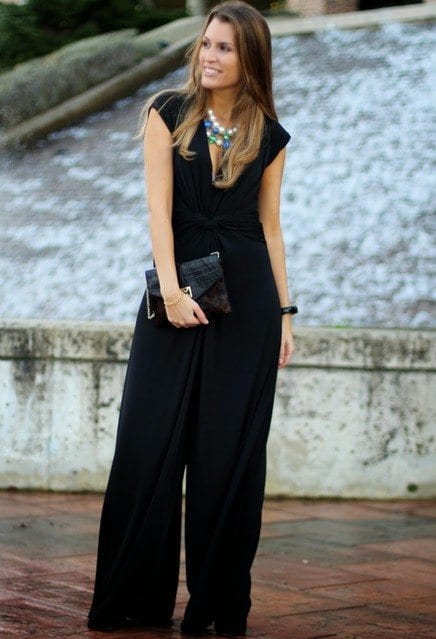 ↓ 9 – Printed Pants And Plain Loose Shirt
A loose shirt would be very comfortable and classy at the same time. You can look for colors that suit you the most. You will glow when you wear a dark bright color. The combination of printed pants and plain shirt are also a great option for the party. Printed designs are easily available online, and you can select a design of your preference and get it made.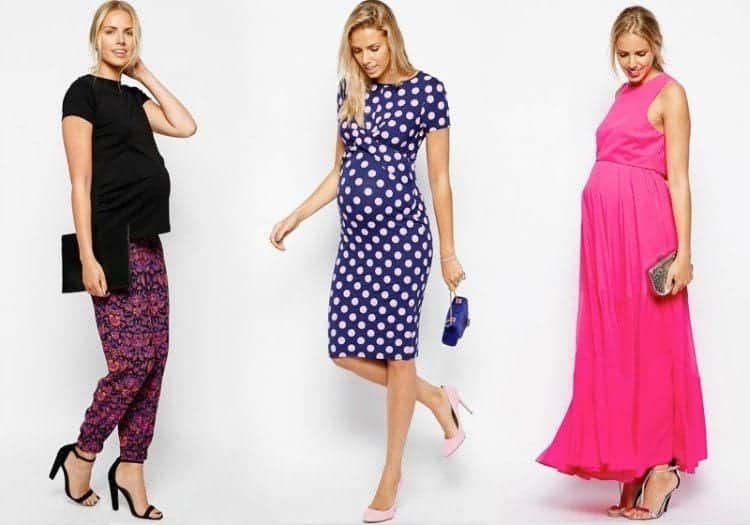 We hope that you will be able to choose the right outfit for yourself without any hesitation or confusion.
↓ 8 – Casual Baby Shower Outfit Combination
This is a casual baby shower outfit for moms who don't feel like getting dressed up, and you can find all these items in your house too, so you won't even have to go out and shop. For this outfit idea, you can wear any loose black or dark grey sweatpants and wear a light grey sweatshirt on top of the tights. For layering, you can wear any floral printed jacket to match with this dress. If you're planning on keeping a dress code and you're having a boy, then there's no doubt that blue will be the best colour theme to go for.
↓ 7 – Baby Shower Outfit With Long Boots
A belted dress is the perfect way to show off your baby bump. Wow, your guests, by wearing this outfit along with a lovely floral jacket to keep up with the winter fashion. The long boots and matching handbag make the whole outfit merely superb.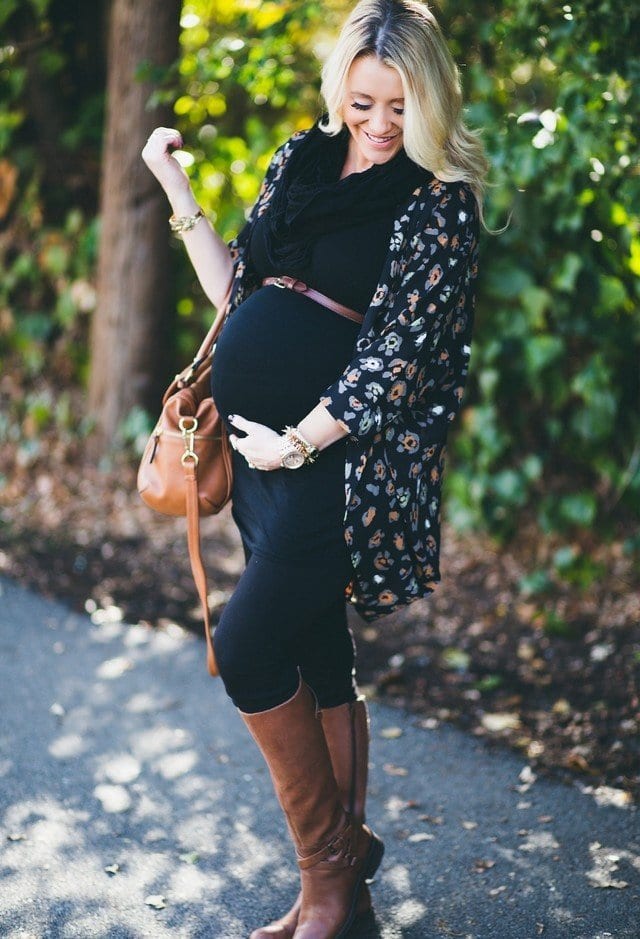 ↓ 6 – Pregnant Women Street Style
If you haven't found out yet, if you're having a boy or a girl, then yellow is the perfect color to go for.
Moreover, this color seems to bring out women's maternity glow. It'll stun everyone to see how stylish you look even during your pregnancy.
Moreover, if you're planning on arranging lots of activities on your shower and being a part of them, then this outfit will easily allow you to have all the fun you want. Find here some cute and easy hairstyles to try on your baby shower.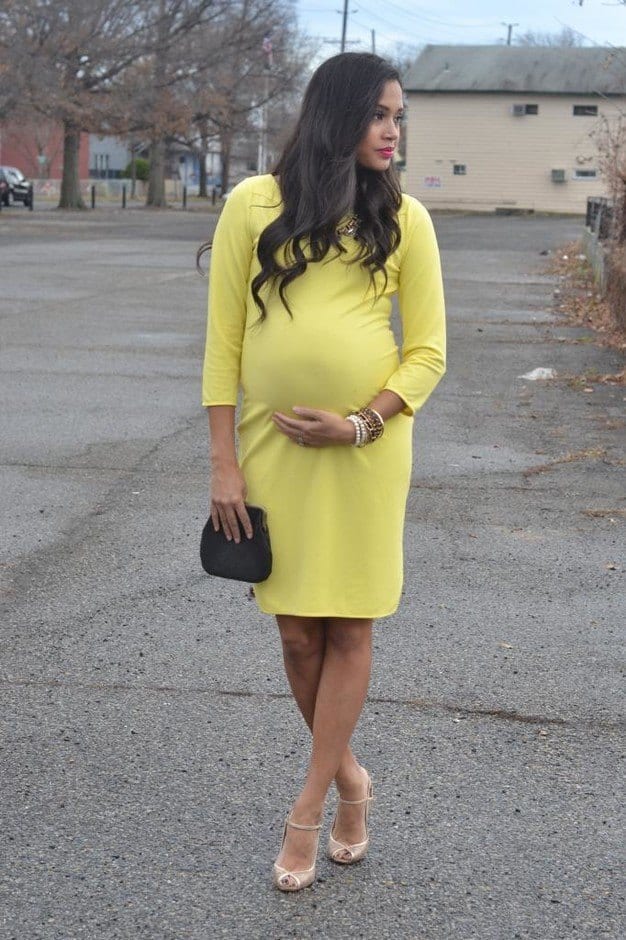 ↓ 5 – Comfortable Dress For Pregnant Women
Apart from looking amazing, this outfit is all about warmth and comfort, just what a pregnant lady needs. The fur vest helps make a real style statement. If you're the proud owner of a fur vest then do check out our fabulous collection of different ways to wear Fur Vests.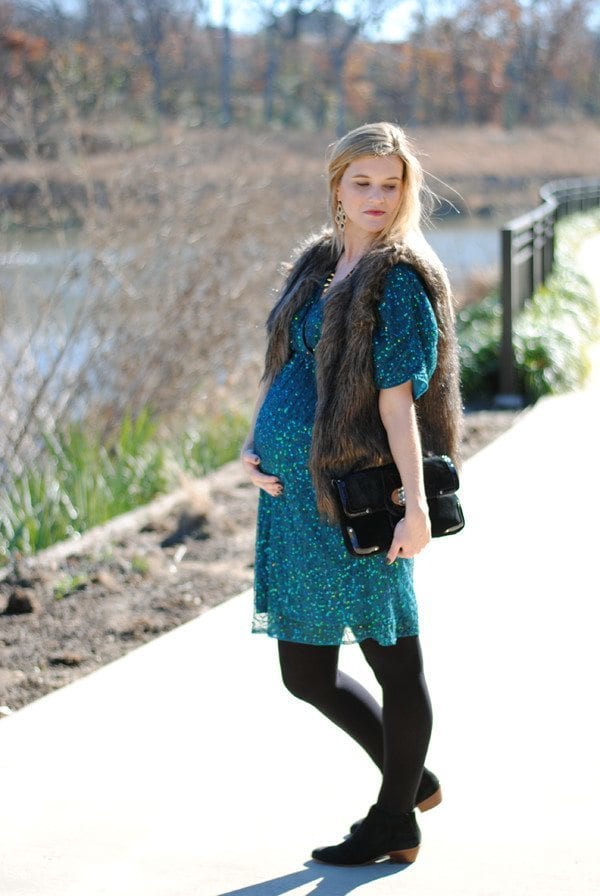 ↓ 4 – Maternity Outfits For Black Women
Wear this classy outfit with a hot pink clutch and pair it up with some beautiful pearl jewelry.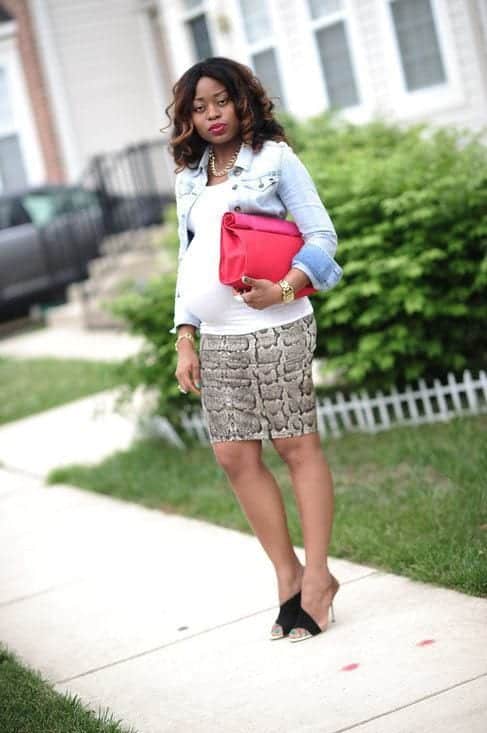 ↓ 3 – Comfortable Maternity Attire
Feel like having a relaxed and stress-free day at your baby shower? Then this is the outfit you need. A simple yet elegant outfit that you can easily spice up by adding a statement necklace and earrings. Here are some more chic Outfits for Pregnant Women.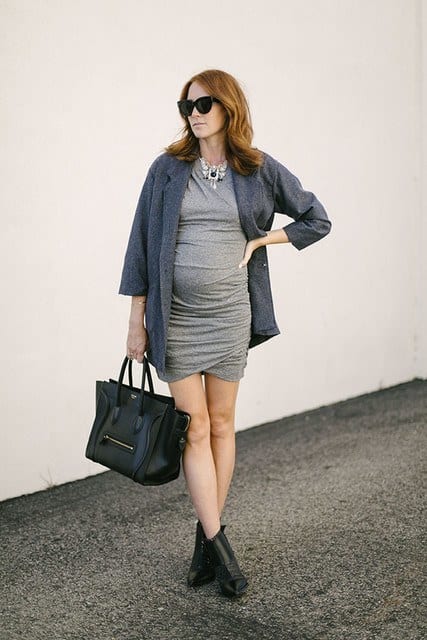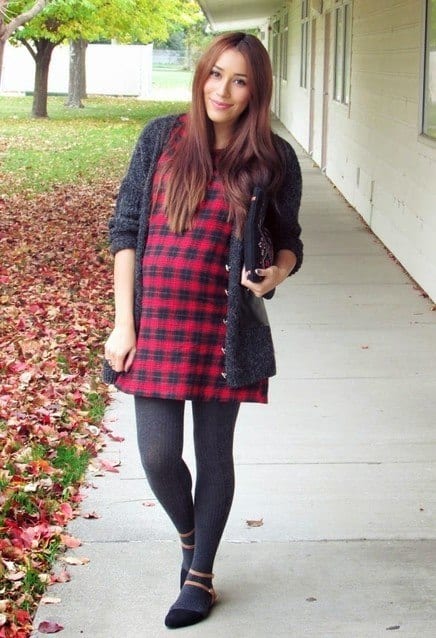 ↓ 2 – Maternity Lace Dress
As much as lace dresses are comfortable, they are also exquisite and cute to wear. The best thing about these lace dresses is that they can be found in any color possible and any size. For color options, you can get them in a dark blue color. Look for dresses in stretchy materials, so your baby bump and figure look flattering. For accessories, you can always wear nude colored high heels and a cute little bag. In this outfit, the blend of lace and floral print is simply eye-catching. Check out Beautiful Lace Dresses and Ideas on how to Wear Them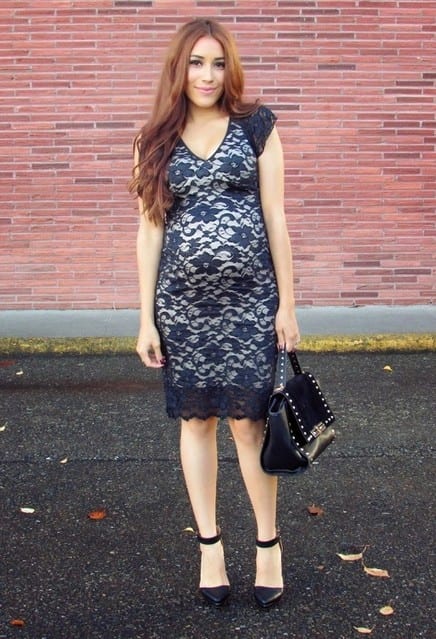 ↓ 1 – Blazer With Black Tights
Black accessories are an excellent option for Winters since they bring a swag look to any outfit you wear them with. Wearing dark colors on baby showers is highly recommended, as it will help you flaunt your curves the way you would love to.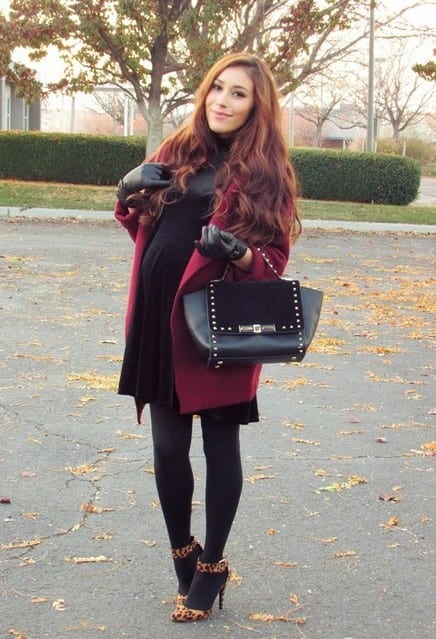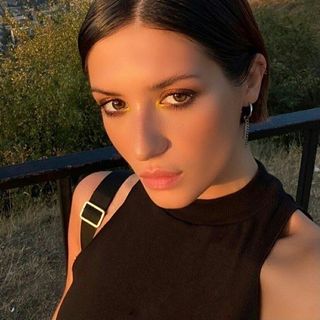 Avid reader and Fashionista. London Based freelance lifestyle editor