Tips on How To Wear Hunter Boots – With the winter season upon us, the time has come to wear long shoes. These protect us from the rain, cold and wind. Aside from these practical reasons, hunter boots look extremely stylish.
They make legs appear longer and thinner, and come in a range of colours and types. Paired with jeans, tights, skirts, trousers, pants, sailor pants, palazzos, dresses, shirts etc., they look extremely hot this winter season. Girls of all ages can try this style for the cold season. Take cue from our tips on how to look awesome and fashionable this chilly season. Enjoy and remember to have fun with your shoes!
Cute Outfits with Hunter Boots
#1. Classical and Chic Lady Diana Style
The Princess of Wales' style has always been considered iconic across the globe. Despite having passed away more than a decade ago, she continues to inspire women all over. Here, she is seen wearing long green wellington boots with a funky, bright sweater.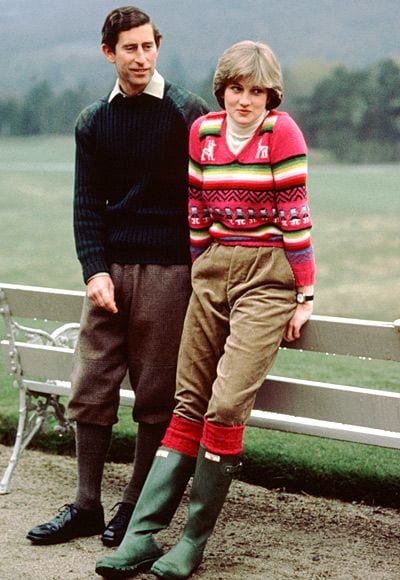 #2. Sophisticated High School Girl Style
For young girls, it is easy to get away with daring fashion looks. One of these is wearing bright red shoes along with jeans and a white blouse. Pair a multi coloured scarf along to add more color to your style.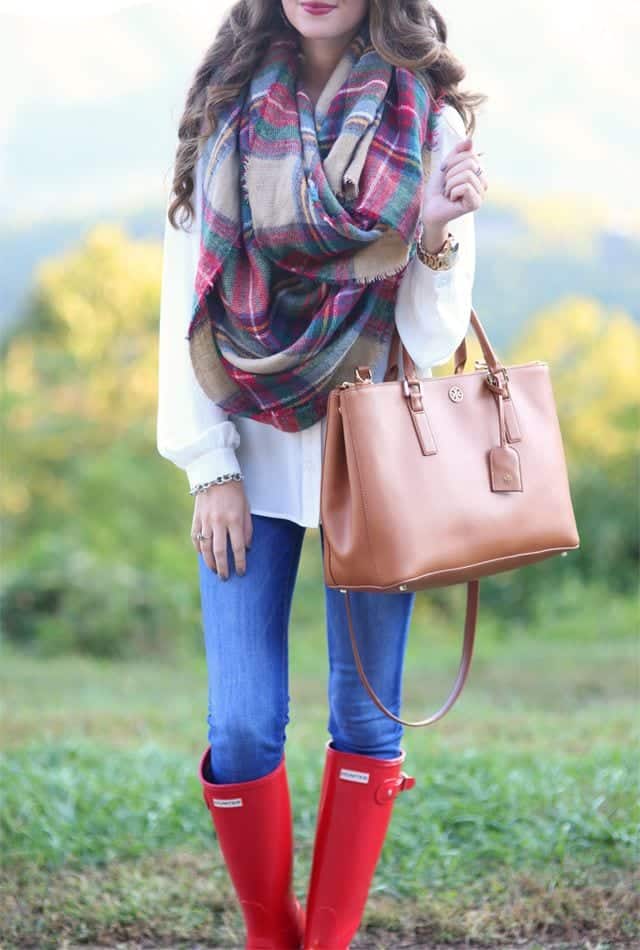 via
#3. School Girl Fashion
For school girl style, match your mini skirt with your hunter shoes. Adding a pop of color with a bright yellow coat, jacket or blazer will make heads turn in your school.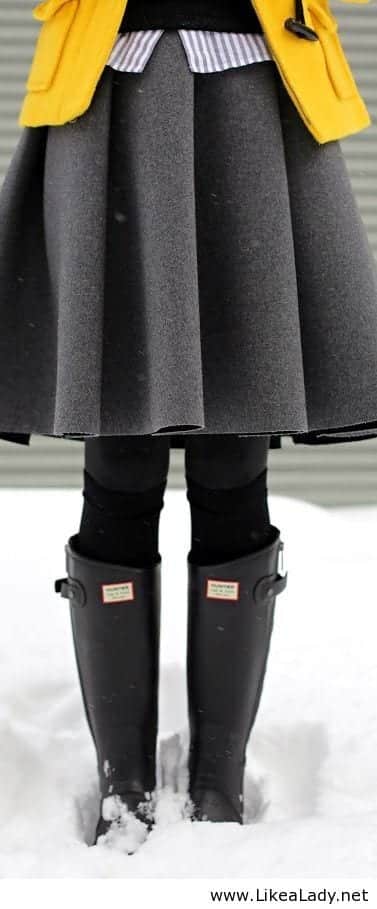 via
#4. Reese Witherspoon's Sexy Style
Reese Witherspoon knows how to look super sexy and unique. Here, she wears an interesting outfit by mixing and matching a lacy white dress, with a black blazer and shiny black, patent leather boots. Such a fun, daring outfit!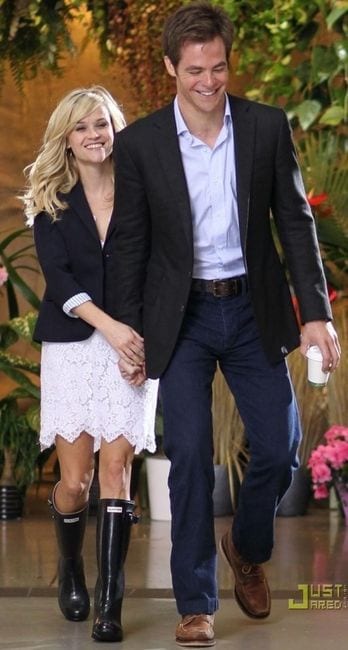 #5. Weekend Brunch Look
Want to look sophisticated but different? Instead of your usual heels or ballet flats, wear rubber boots with your attire. You go girl!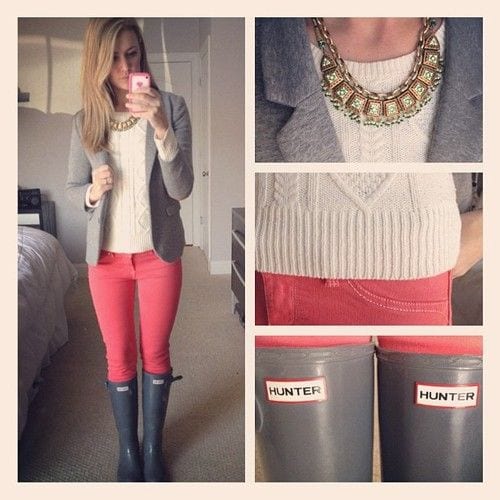 #6. Sexy Mommy Look
Who says mothers can't look stylish? Why not pop on a plain t-shirt, a stripy mid-length skirt along with long hunter boots. Practical and fashionable style for women on the move.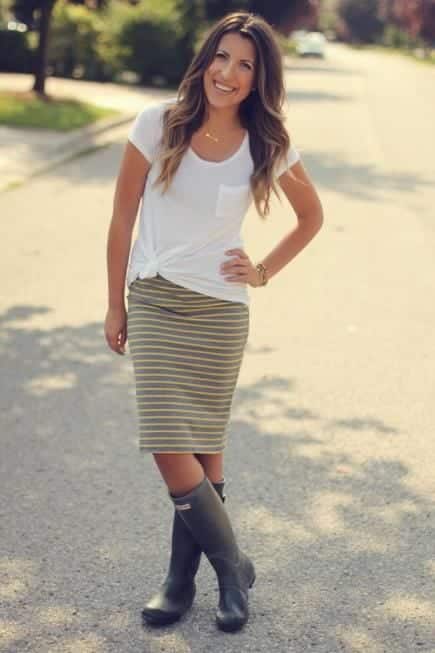 via
#7. Sorority Girl High Fashion
Rich girls love to try new looks, and hunter boots is just the right thing this season. Match a sexy, elegant fur vest and denim top with tights and long wellington boots.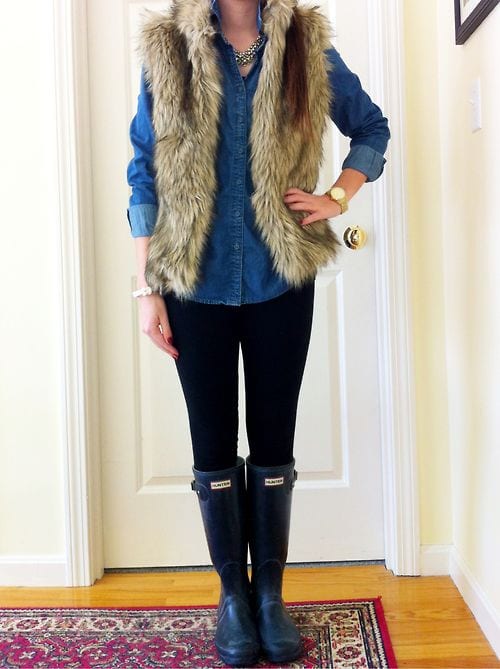 via
#8. Cute Innocent Girl Look
For a sweet style that is appropriate for teenage girls, wear polka dot tights or leggings with hunter boots. Can be worn in school and for a shopping trip with friends.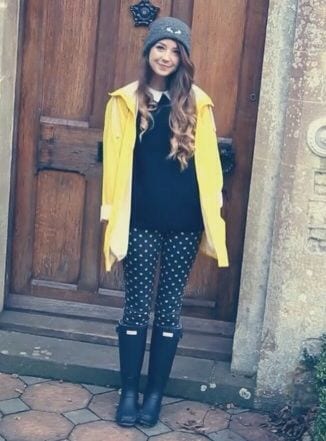 #9. Pretty in Pink Girly Look
Feel like dressing up like a barbie girl? Why not go all pink from head to toe. A pink parka jacket or hoodie works well with pink shoes or boots of any kind. Have fun!

#10. Street Style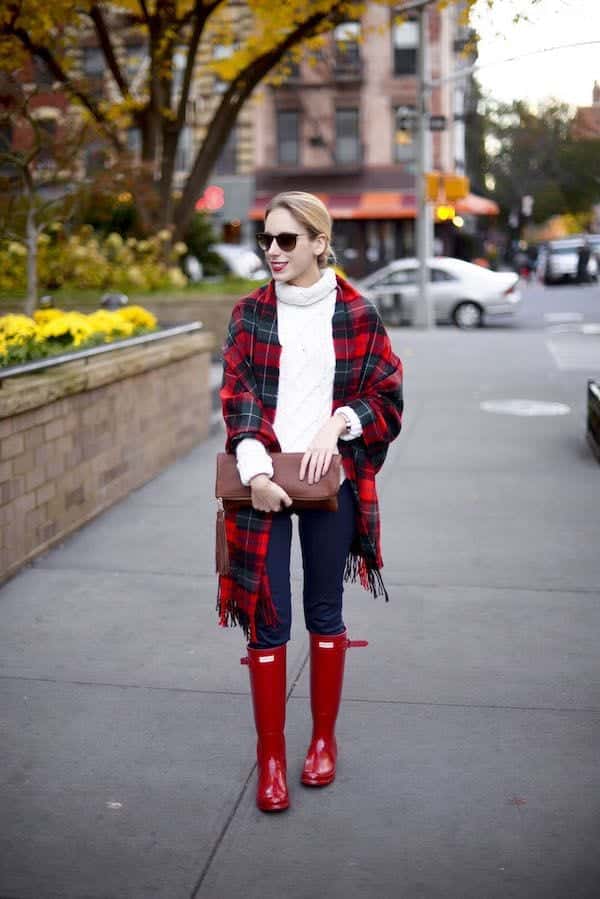 via
Like the check shirt? Then you must have a look at [highlight]18 best check shirt outfit combinations for girls in all seasons[/highlight].
#11. Casual Wear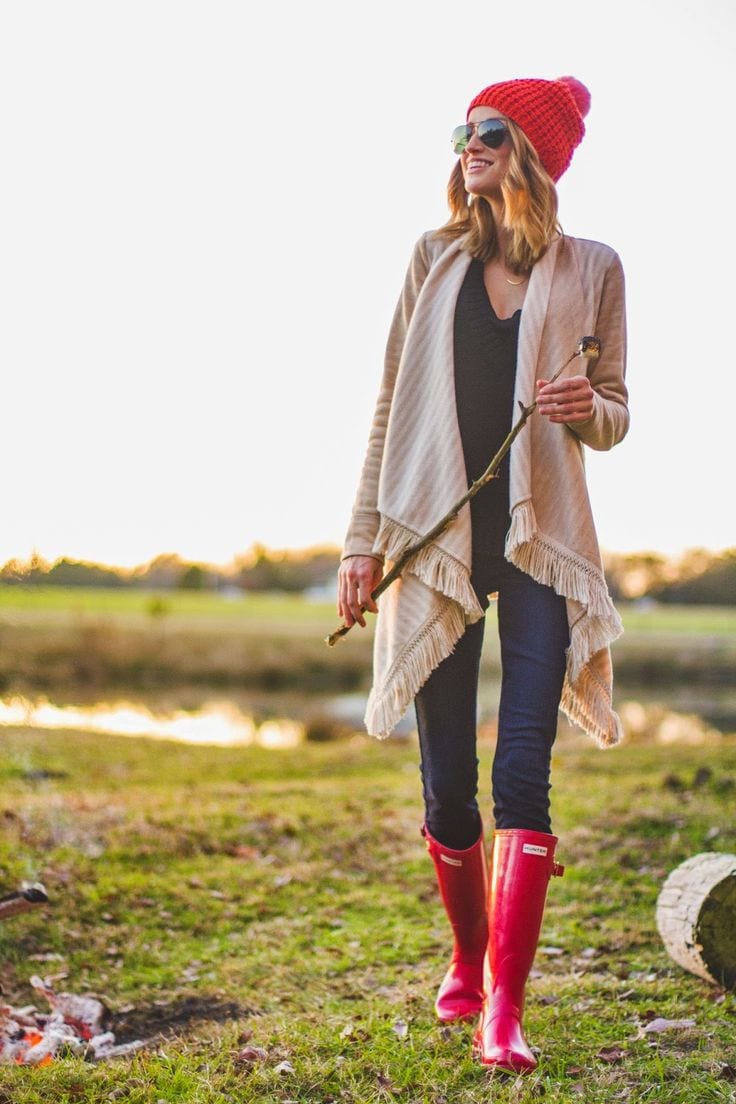 #12. Look For Girls In Their 20's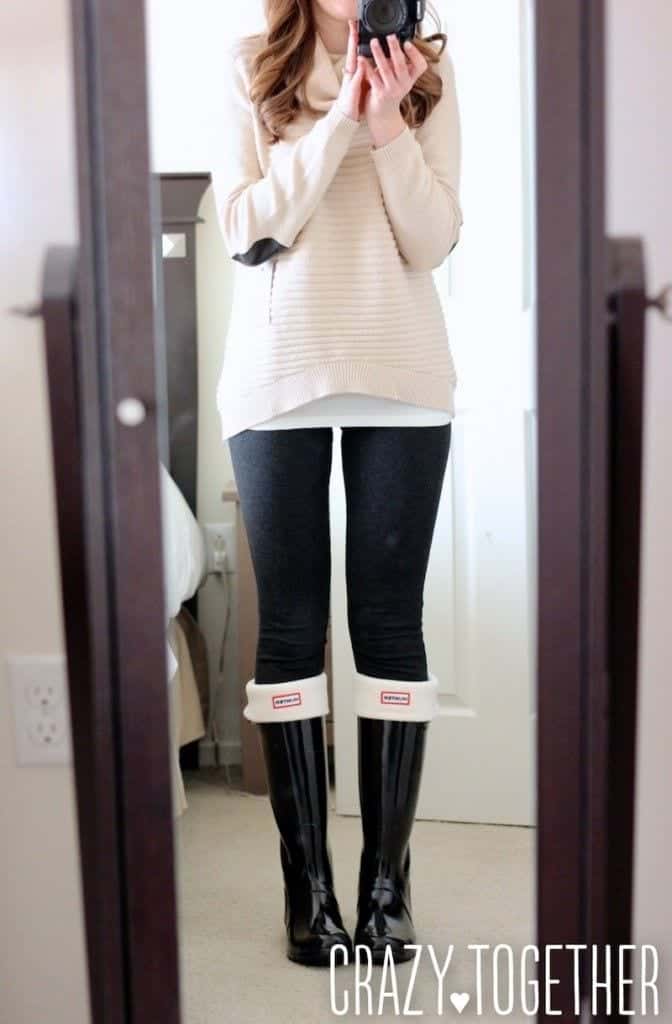 #13. Smart, Sophisticated Older Woman Style

via
#14. Weekday Date Look
#15. With Short Dress

#16. Perfect Look For Blondes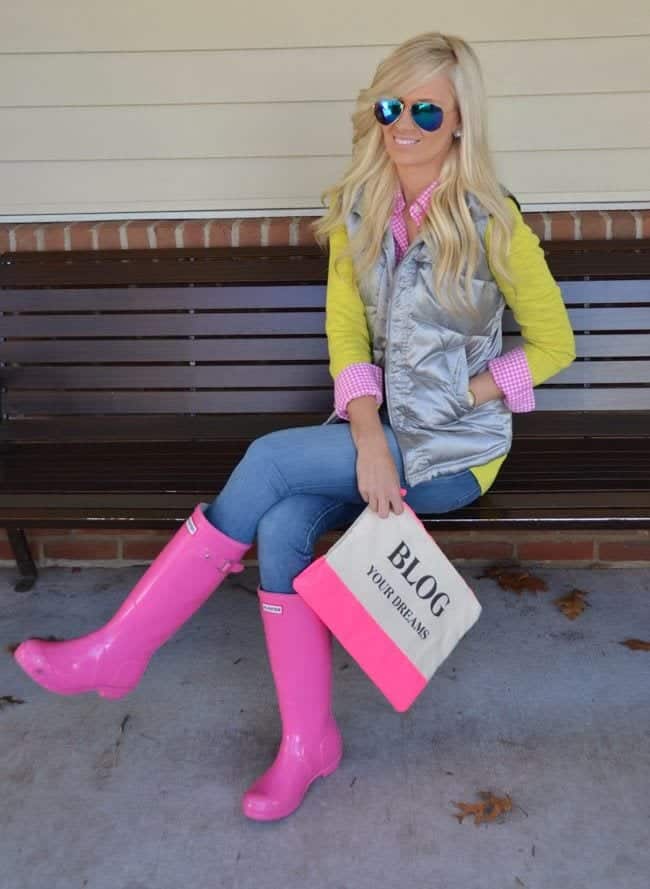 #17. Rainy Season Look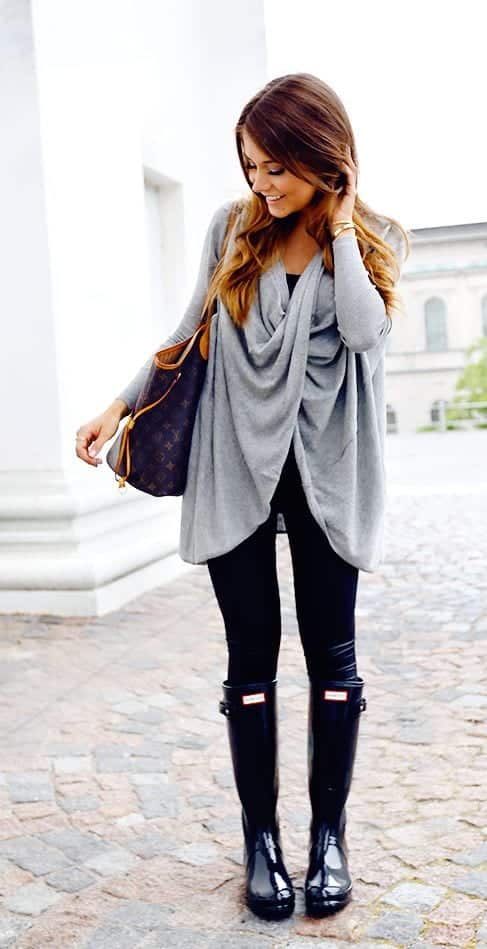 #18. Skinny Jeans with Hunter Boots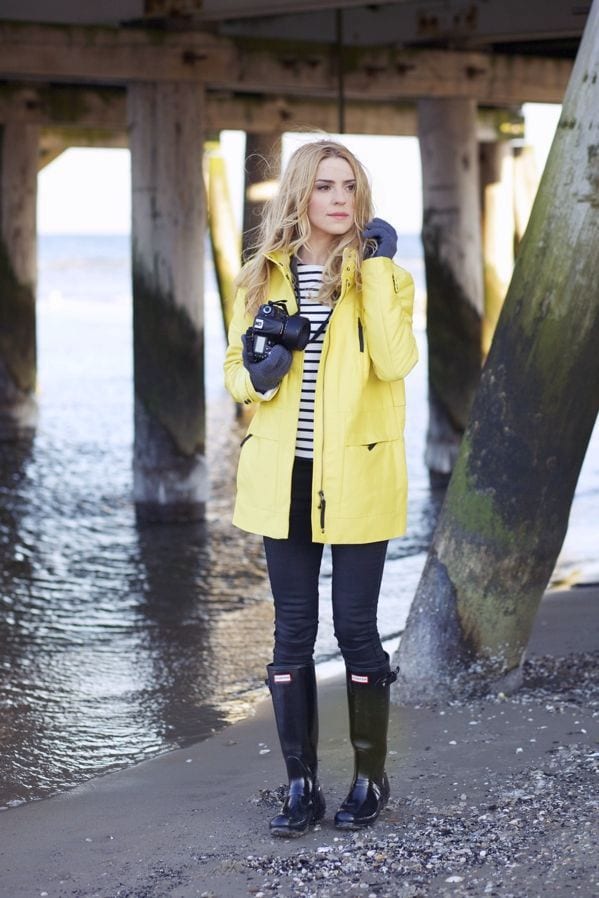 #19. Work Wear Fashion
#20. With Skirt
Also check out [highlight]Lita Boots outfits – 17 ways to wear lita shoes fashionably[/highlight]