Blanket Scarf Outfits: The coziest seasons of the year are right around the corner. Lighting up scented candles, get your blankets and throws out of the cupboards, and curl up in a corner with your favorite book or movie with hot cocoa. Sounds like a dream, doesn't it? It truly does not get any better than this!
And while curling up in your favorite blanket sounds appealing, the dreadful reality is that you can not carry them out while you're at work or running errands. However, I come bearing good news and am glad to inform you that you can cozy up in your blanket while you are outside and about. The way to do that is through scarves that mimic blankets, lo and behold, we got blanket scarves!
How to Wear a Blanket Scarf?
A blanket scarf is the perfect accessory for fall and winter and proves extremely useful when it comes to layering! You can pile layers upon layers if you face dreadful and harsh winter. And it is just as easy to shed them and get comfortable as soon as the weather gets tolerable. A scarf is not only easy to style but is also an excellent way to make a statement.
I have listed stylish and easy ways to wear a blanket scarf with coats, jackets, and all sorts of outerwear for chilly days. On the other hand, you can opt for lightweight blanket scarves for the spring and summer seasons and pair them with your short dresses and jeans. You can even wear them as tops!
50 – Go for an Oversized Knit Sweater With a Colorful Scarf
This is an effortless combination that will never fail you. Finish it off with a pair of leather pants and trendy boots, and you have an easy, stylish, and gorgeous look on your hands!
49 – Add a Sherling Jacket to Your Bright Outfit to Create a Balanced Look
If your outfit is bright like this bubblegum pink one below, then I would suggest adding a shearling jacket. This would bring class and a flair of finesse to your look!
48 – Throw One End of the Scarf Over Your Shoulder for a Chic Look
A great way to make an outfit with muted, earthy tones stand out is to opt for a pop of color when shooting your scarf. You can also go for a red, pink, yellow, orange, or any other bright color for your scarf, and you are sure to slay this look.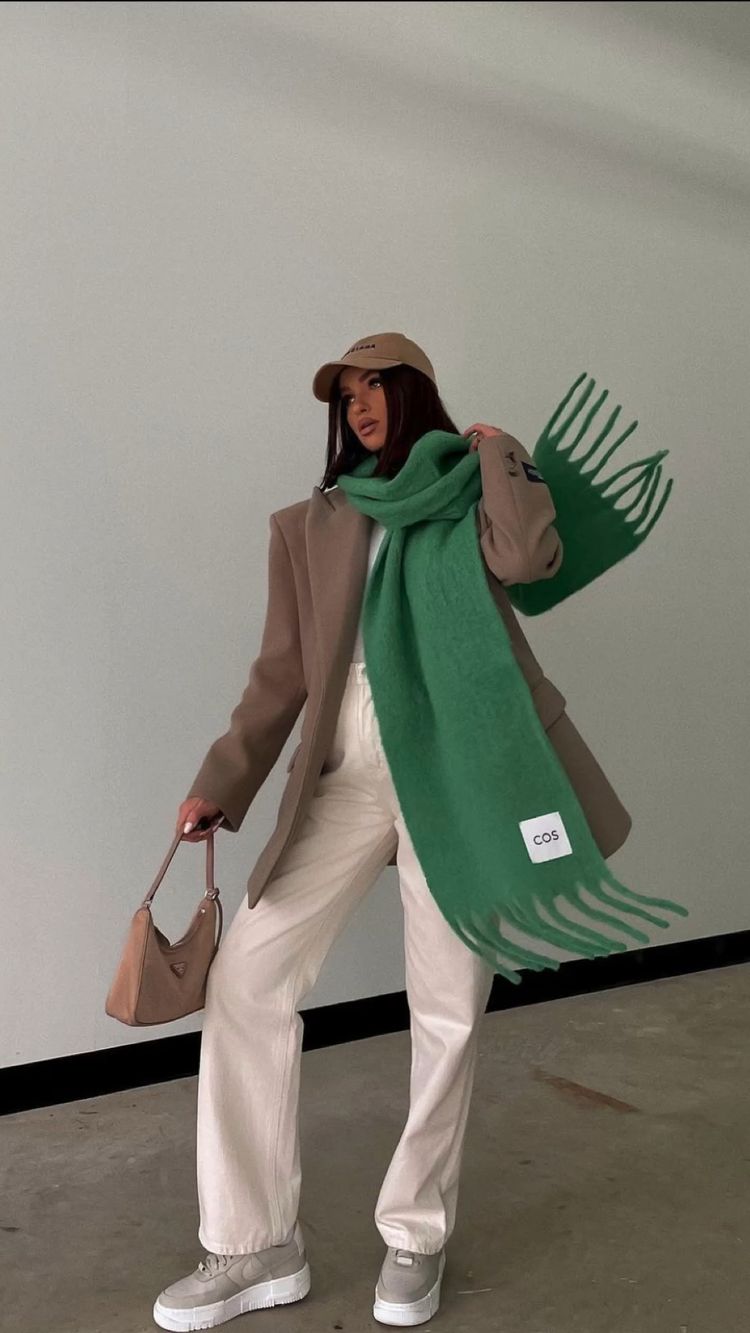 47 – Pair the Color of Your Scarf With Your Beanie
The best way to spice up a simple outfit is to add a beanie matched with your scarf. And there you have it! It now seems like you have made an effort without actually making an effort! If you like this look, here are some more Chic Outfits to Wear with Beanies.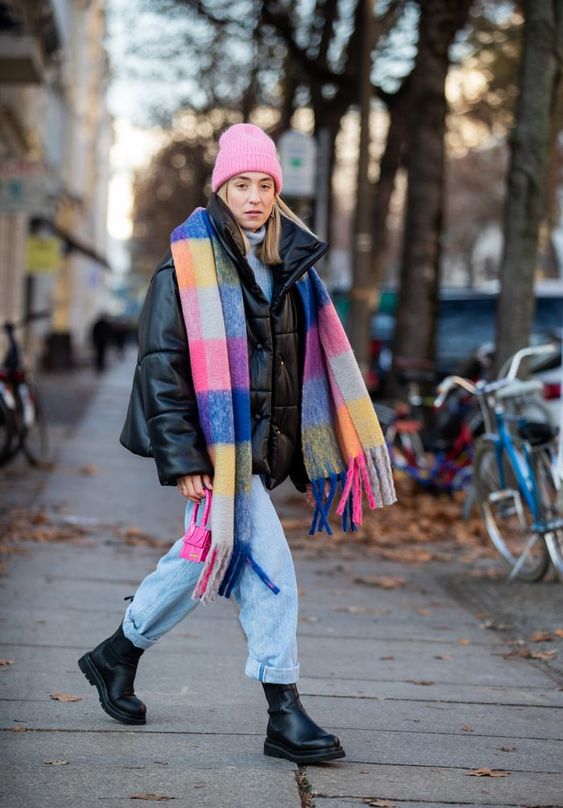 46 – Find a Scarf Which Has All the Colors of Your Outfit for a Cohesive Look
To bind all the individual pieces of your outfit together, find a scarf that does it for you. All the colors unified in one garment will knock your look out of the park and make you look hip and urban!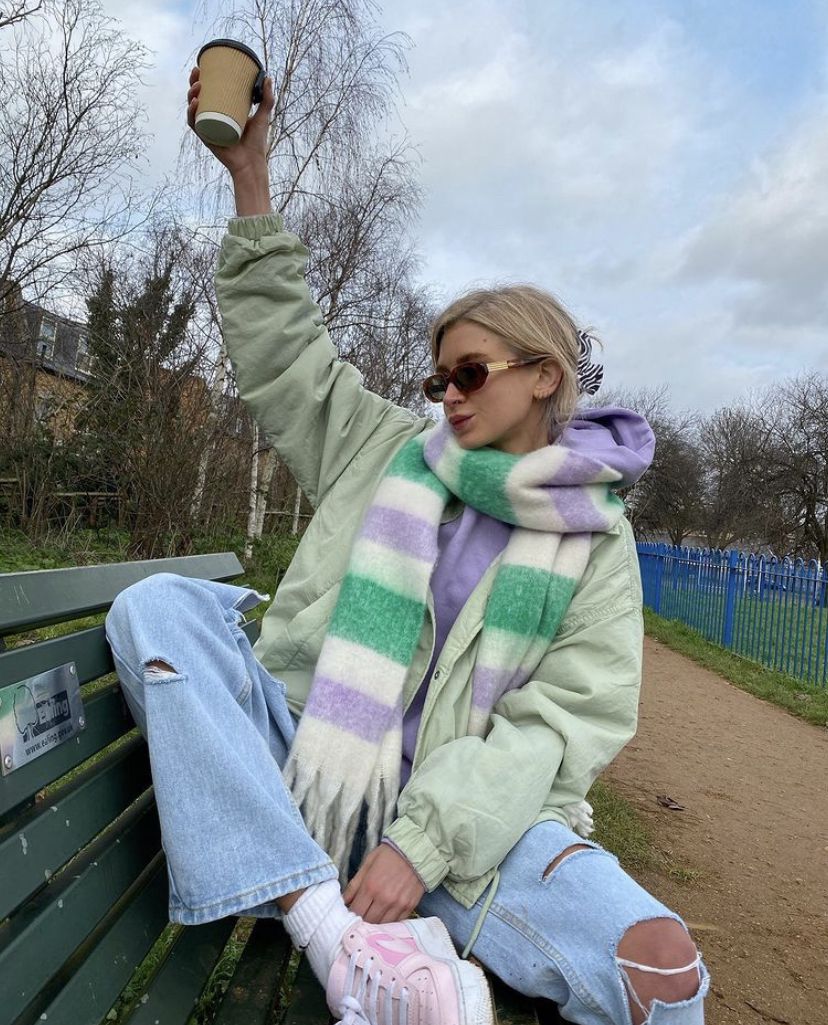 45 – Bundle Up Your Scarf Around Your Neck With a Long Coat or Jacket
Whether you let the end of your scarf hang out or hide them beneath your jacket is entirely up to you! Let your bright scarf hang loosely outside if your outfit is neutral-toned. However, if you wish to show off your jacket or coat, then bundle it up inside!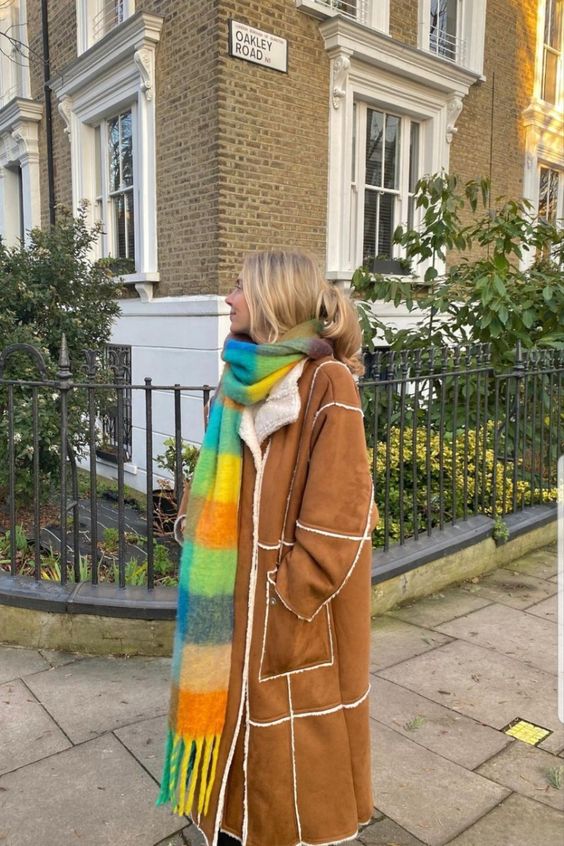 44 – Loop Your Scarf Closely Around the Neck to Show Off your Top!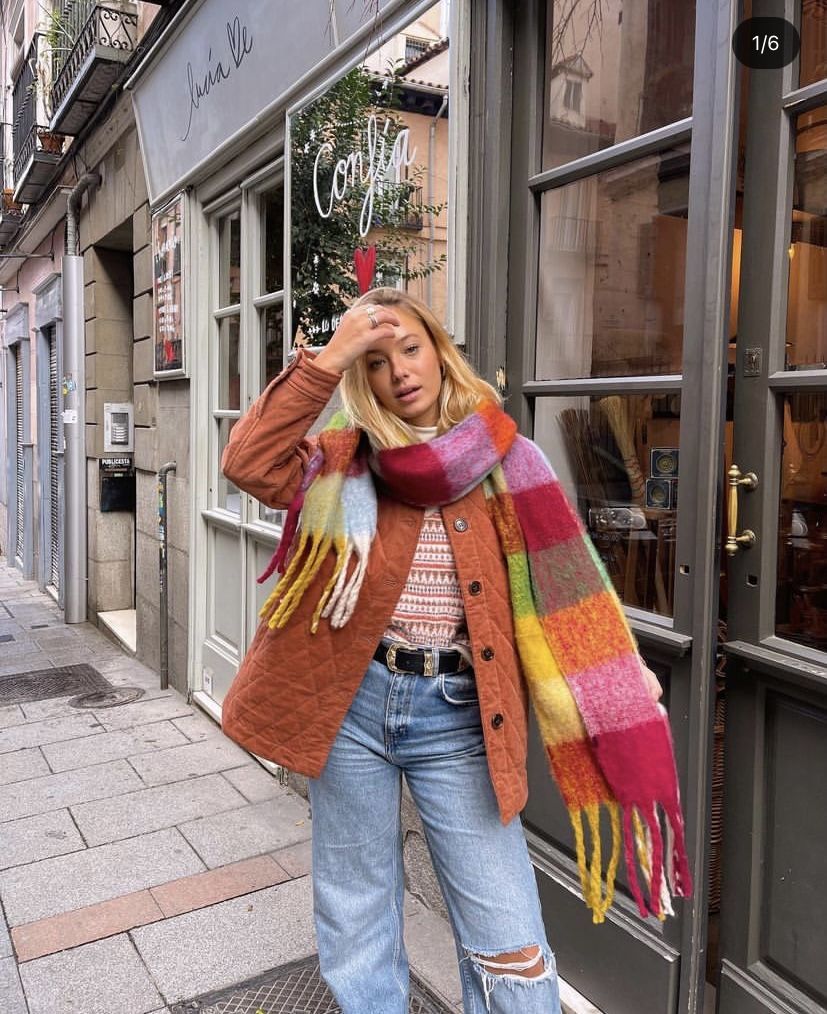 43 – Blanket Scarf Outfit Ideas for Fall
An oversized scarf in plaid is a great way to make a statement with an otherwise muted outfit. Opt for flared jeans and trendy loafers for a perfectly chic look and street for fall!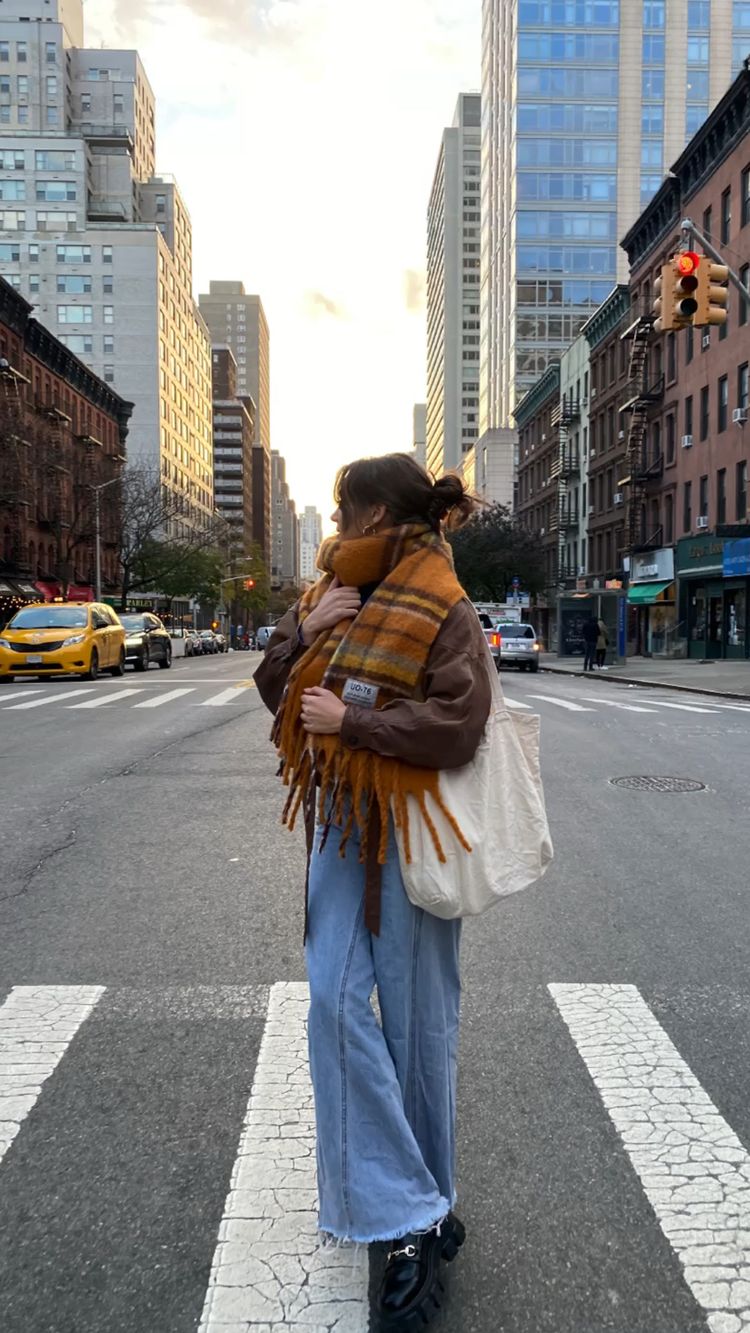 42 -The Brighter the Scarf (& Sweater), the Better the Look
Pair your striking sweater with a matching scarf and patterned mini skirt. Pull your hair up in a trendy hairstyle secured by a hair claw! Cute and chic is here for the day!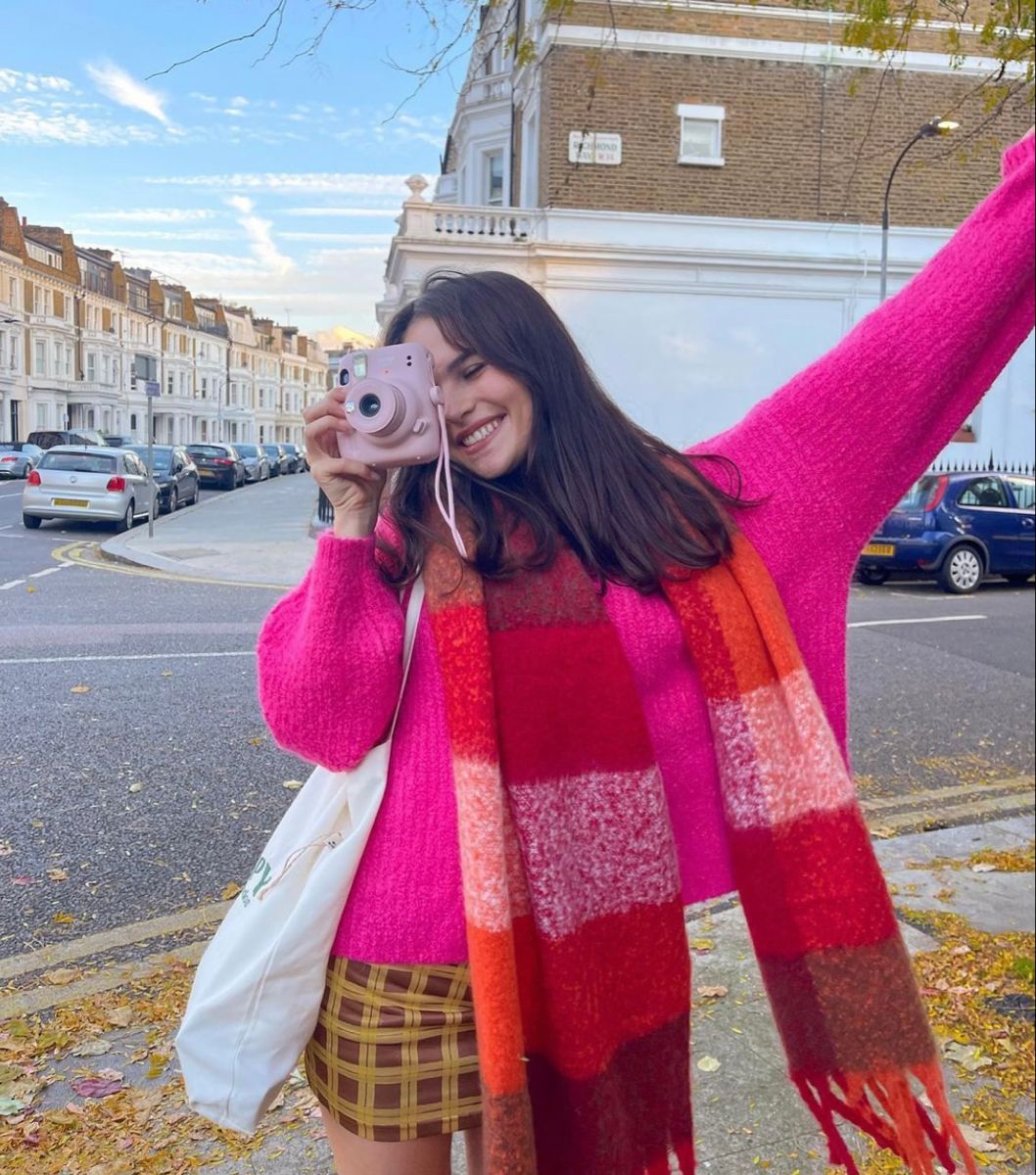 41 – Fold Your Blanket Diagonally and Tie the Ends Behind Your Neck to Get This Look
Add a touch of turquoise to your blanket scarf to stand out and make your outfit brighter. It pairs wonderfully with an outfit that is muted all over!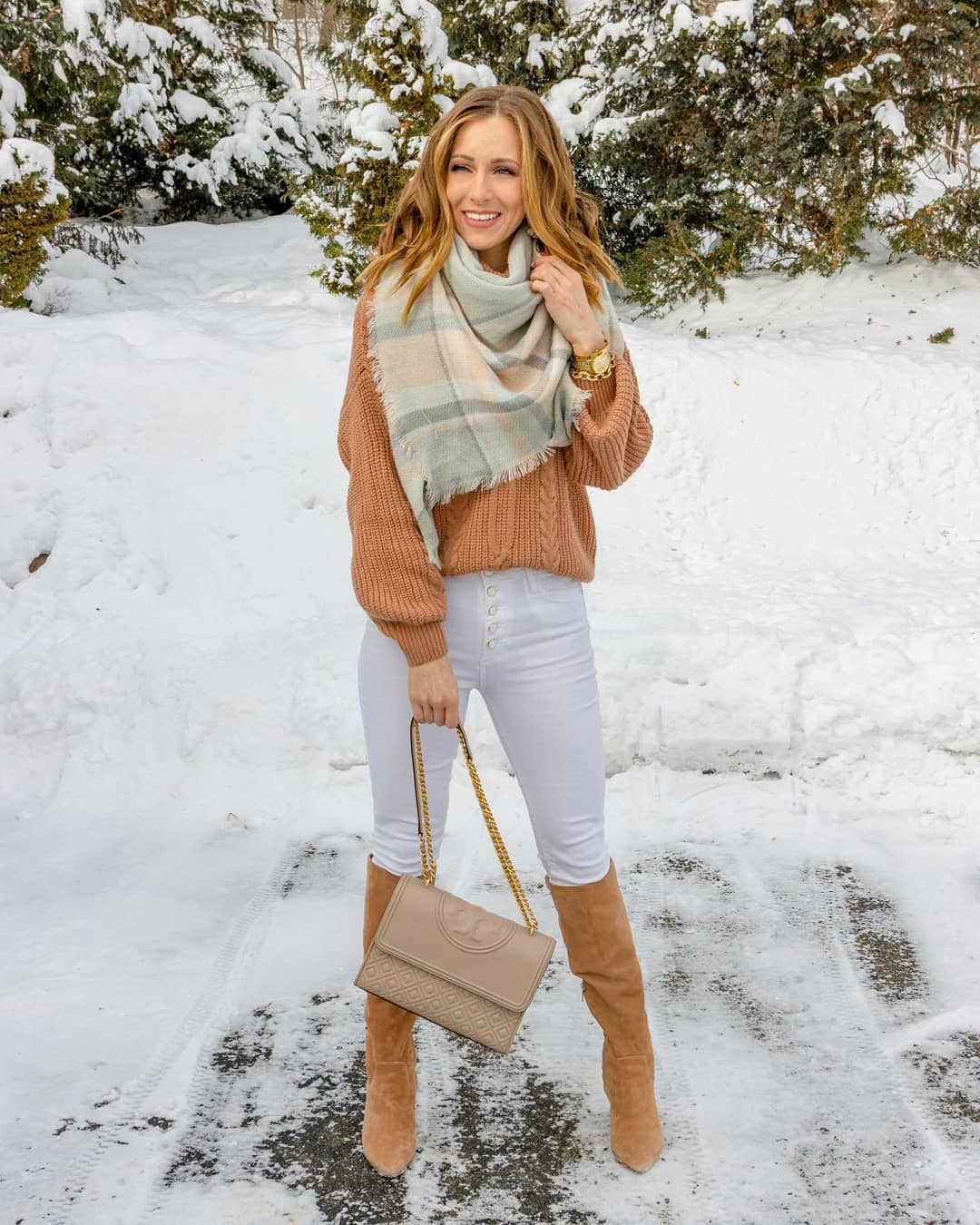 40 – Who Said Fur Jacket & Blanket Scarves Don't Mix?!
39 – Fold & Drape Your Scarf Over One Shoulder & Tie it at the Waist
If you want to radiate elegance and poise, this method of wearing a blanket scarf is the one for you! Add heels to your look, and you are officially set to conquer the world in boss lady style.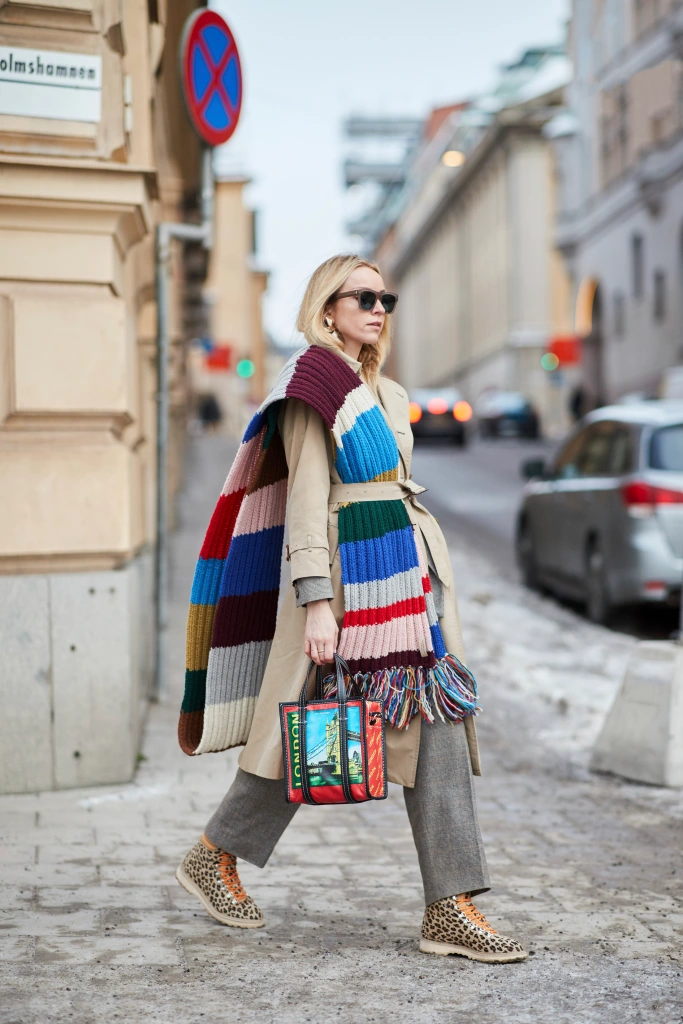 38 – Get This Spring Look With a Buffalo Check Blanket Scarf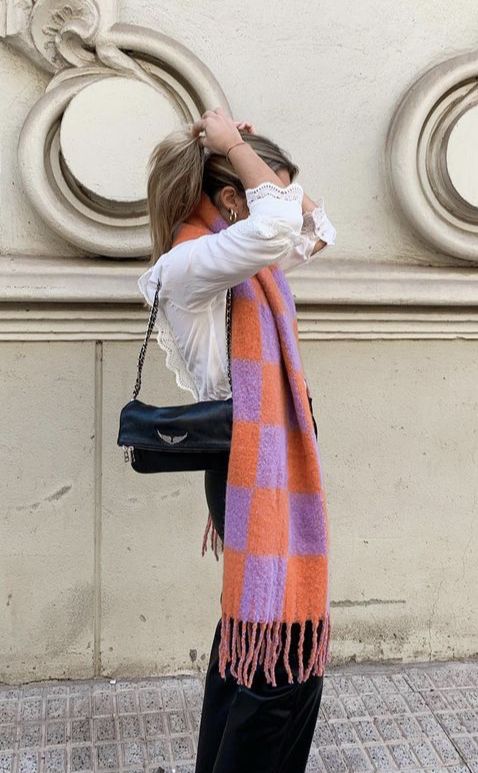 37 – Opt for a Lightweight Blanket Scarf & Drape it Over the Shoulders
36 – Keep it Poppin' With a Colorful Scarf & Hot Lip!
Adding gold accessories will elevate this look and make you appear super chic!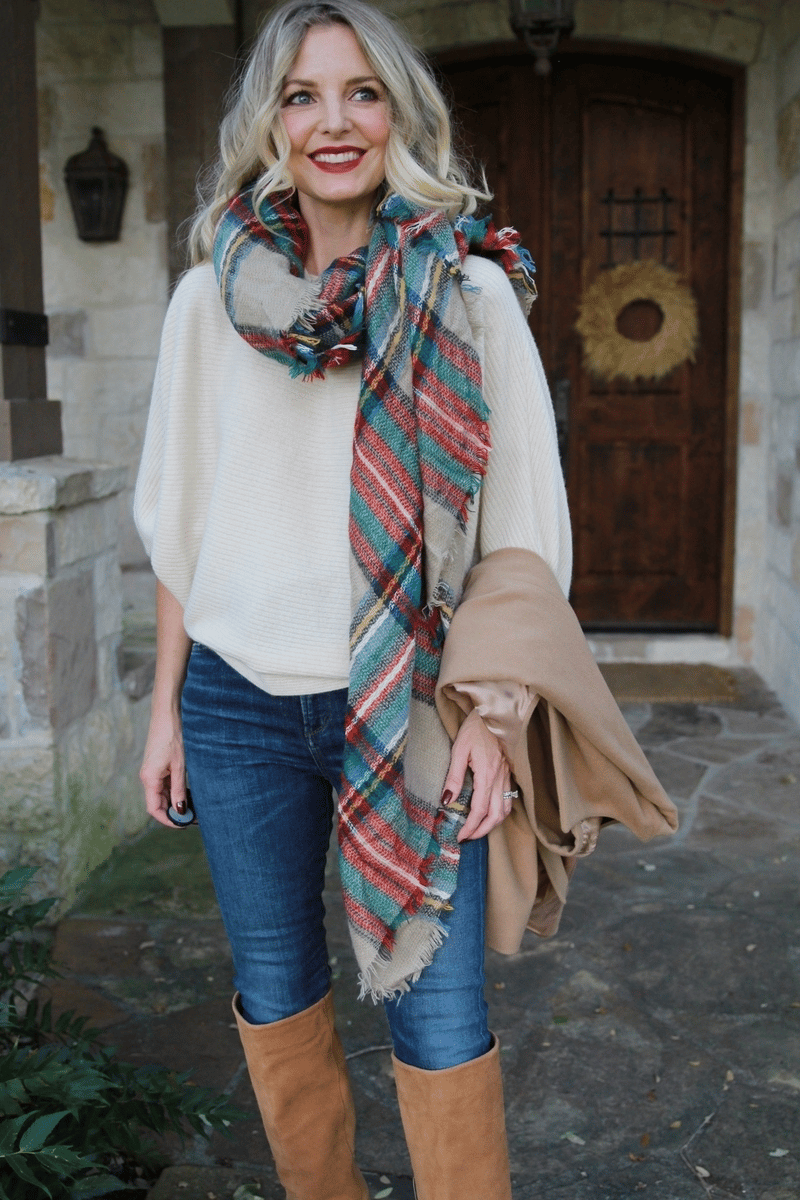 35 – Drape it Elegantly Across Your Shoulders & Tie it at the Waist for a Gorgeous Look
All this look is missing is a crown and elbow-high gloves. Talk about looking like absolute royalty! And the best part is, you can achieve this look at home with a blanket scarf, belt, and a gorgeous dress!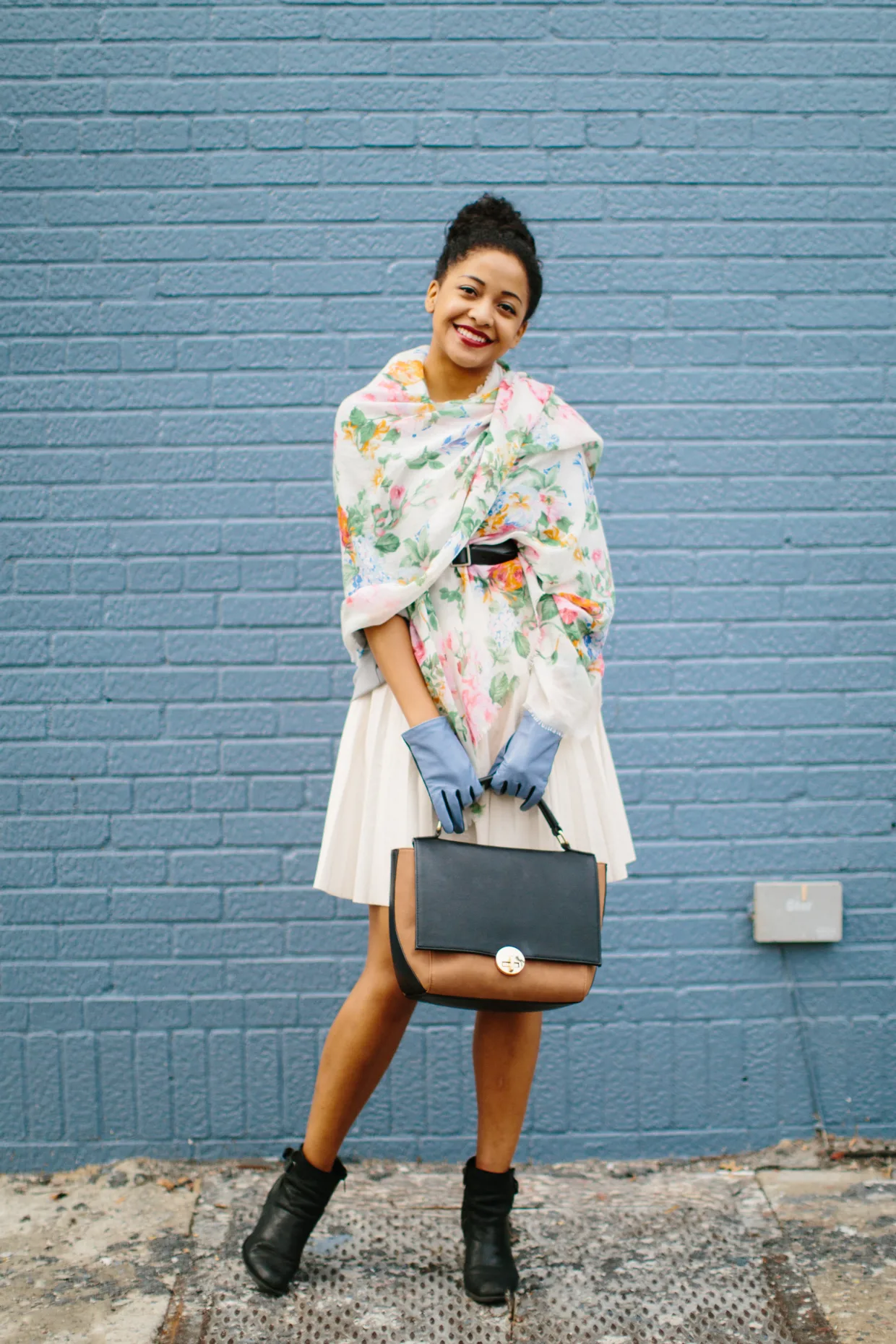 via
34 – Add a Pop of Color to This Fall Blanket Scarf Outfit With a Red Bag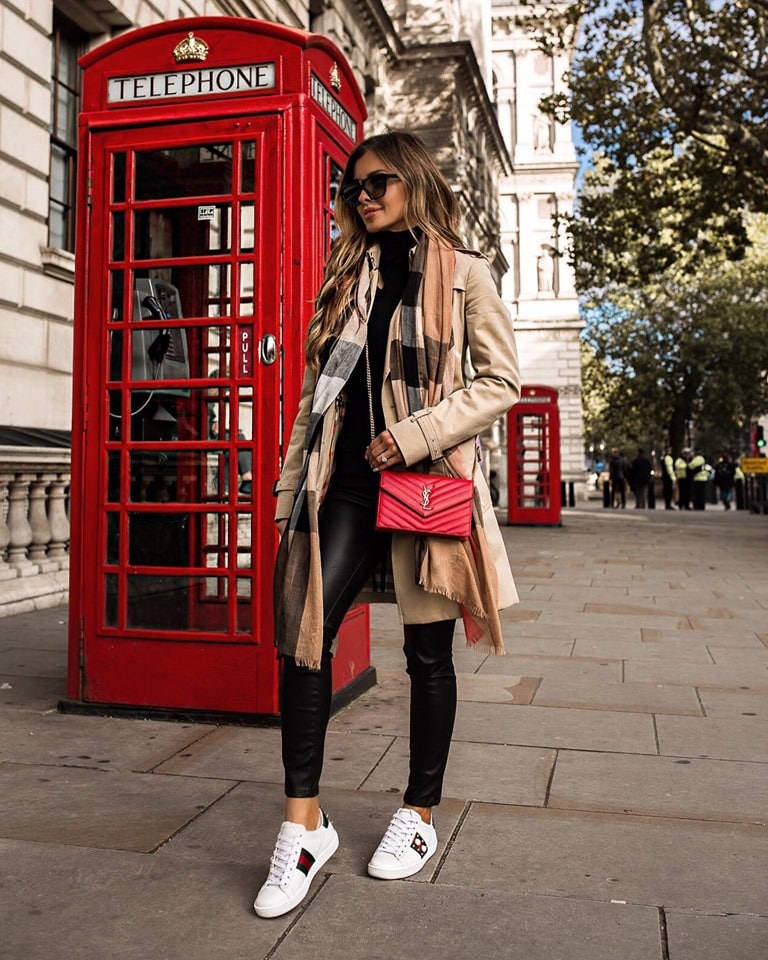 33 – Khaki Dresses Call For Plaid Scarves!
This look is perfect for blanket scarf fall outfits!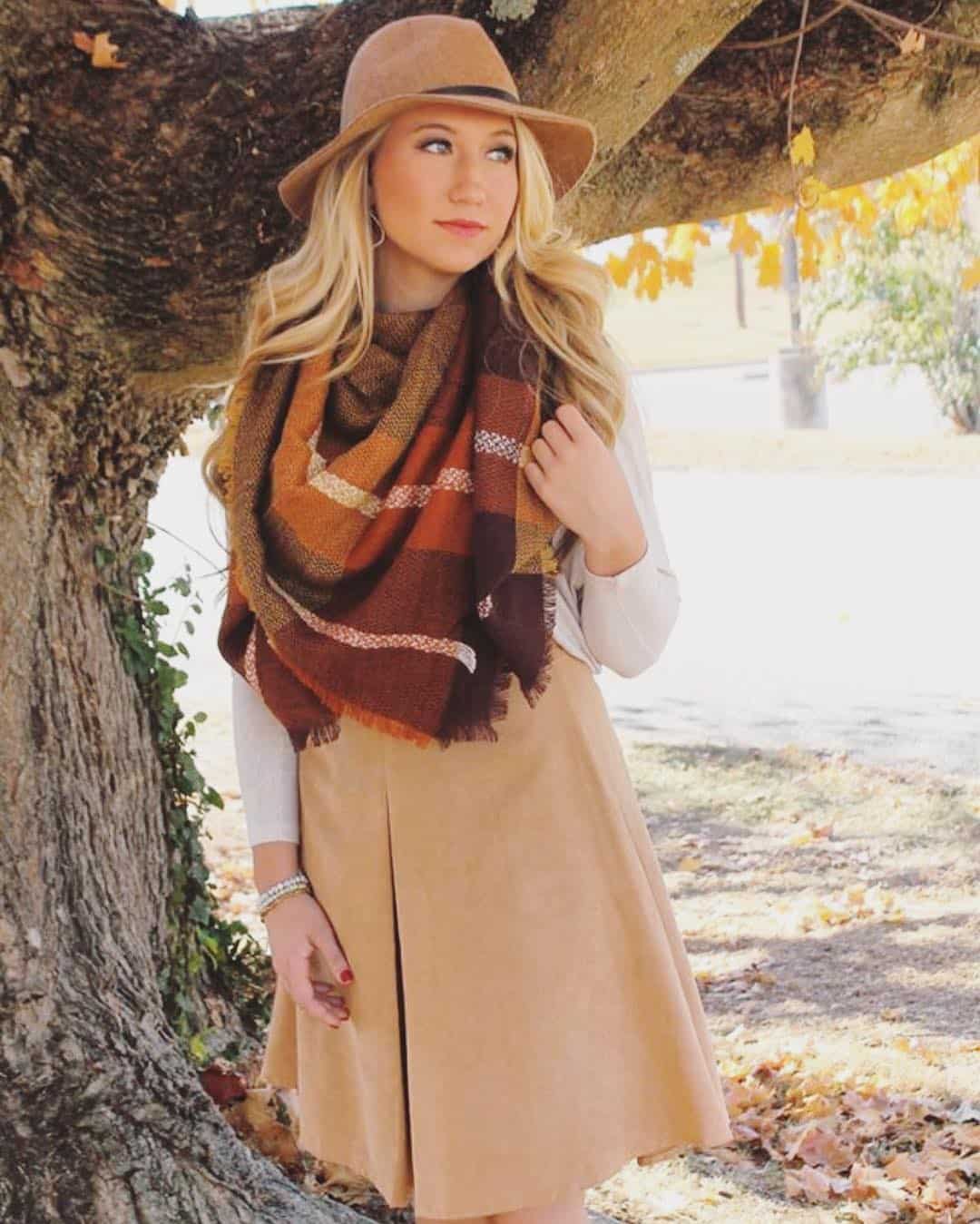 32 – How to Style a Blanket Scarf as a Poncho?
If you have a square-shaped blanket scarf, half the work is already done for you! Drape it across your shoulders and style it with ankle booties and skinny jeans. You can opt for a simple ribbed top or a turtleneck, according to your preference. Tie a statement belt across the waist to make your look unique!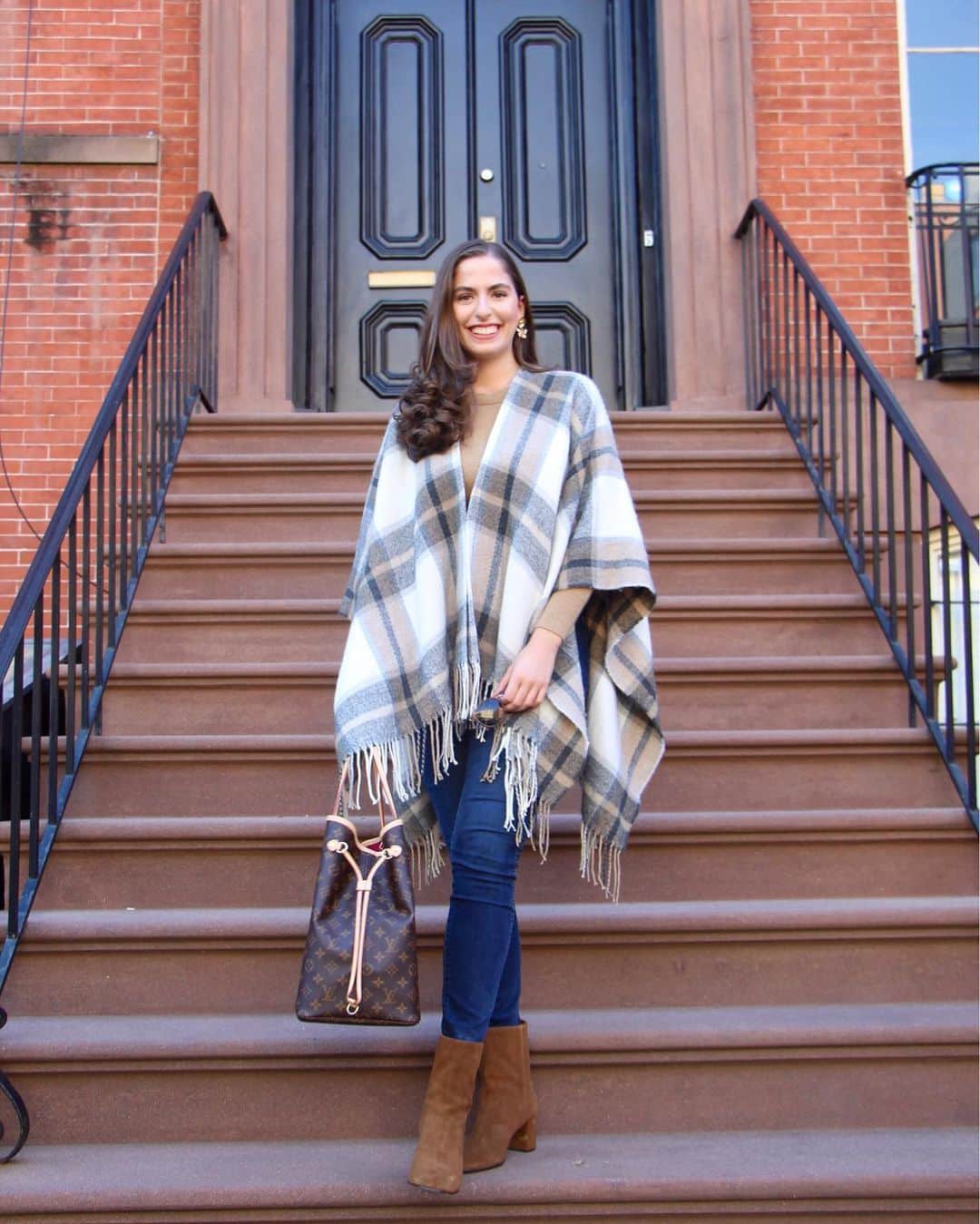 31 – Elevate Your Stunning Look With a Belt to the Waist
The method of wearing a blanket scarf is pretty basic. However, the addition of a belt to the waist elevates this look and makes it impressively unique. Moreover, the color scheme of this outfit is calling out to me as sea green is a personal favorite!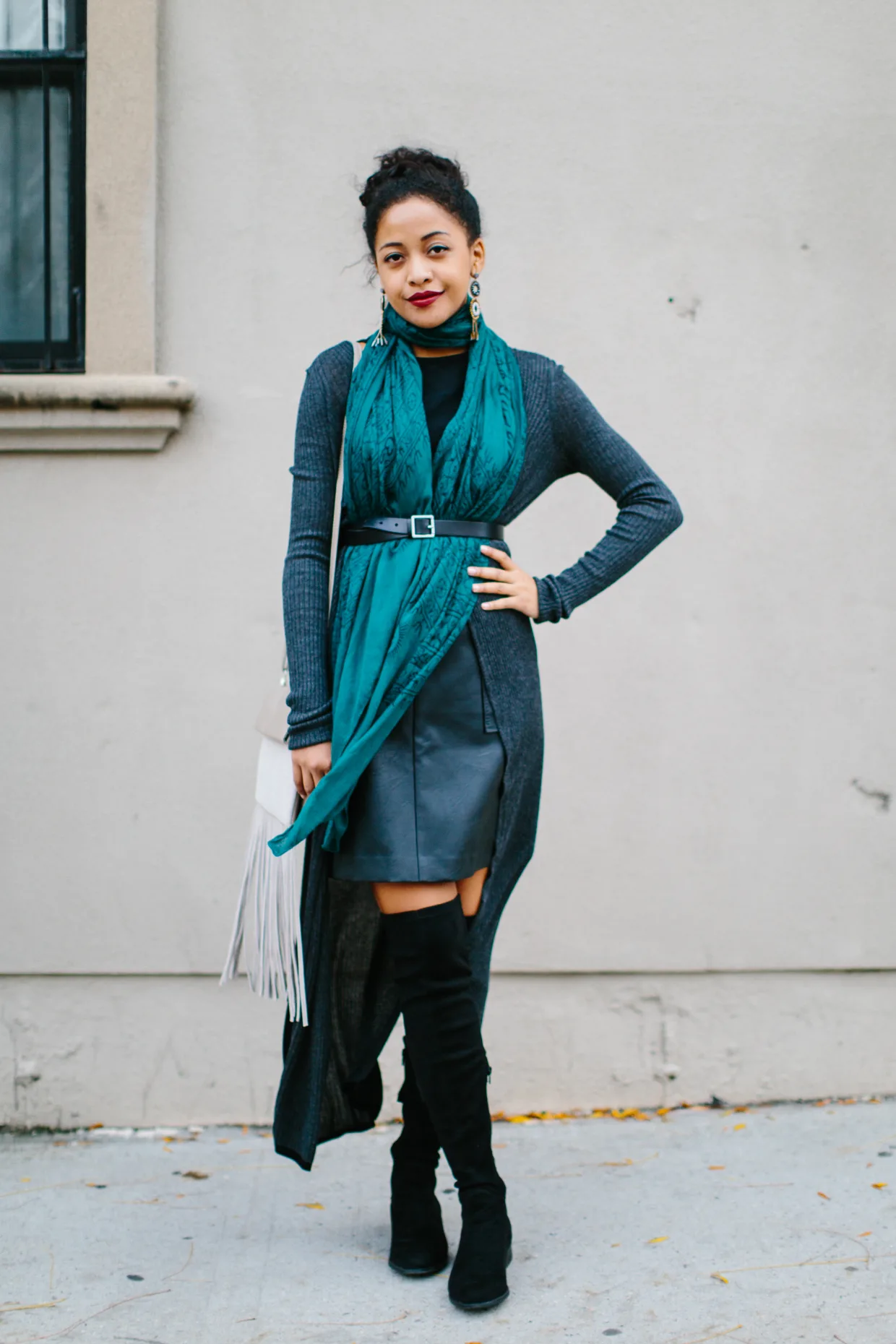 30 – Get a Plaid Blanket Scarf Outfit Down for the Fall Season
Plaid in tones of brown, orange, and red is made for the fall season. This year, go pick out the pumpkins for Halloween in style!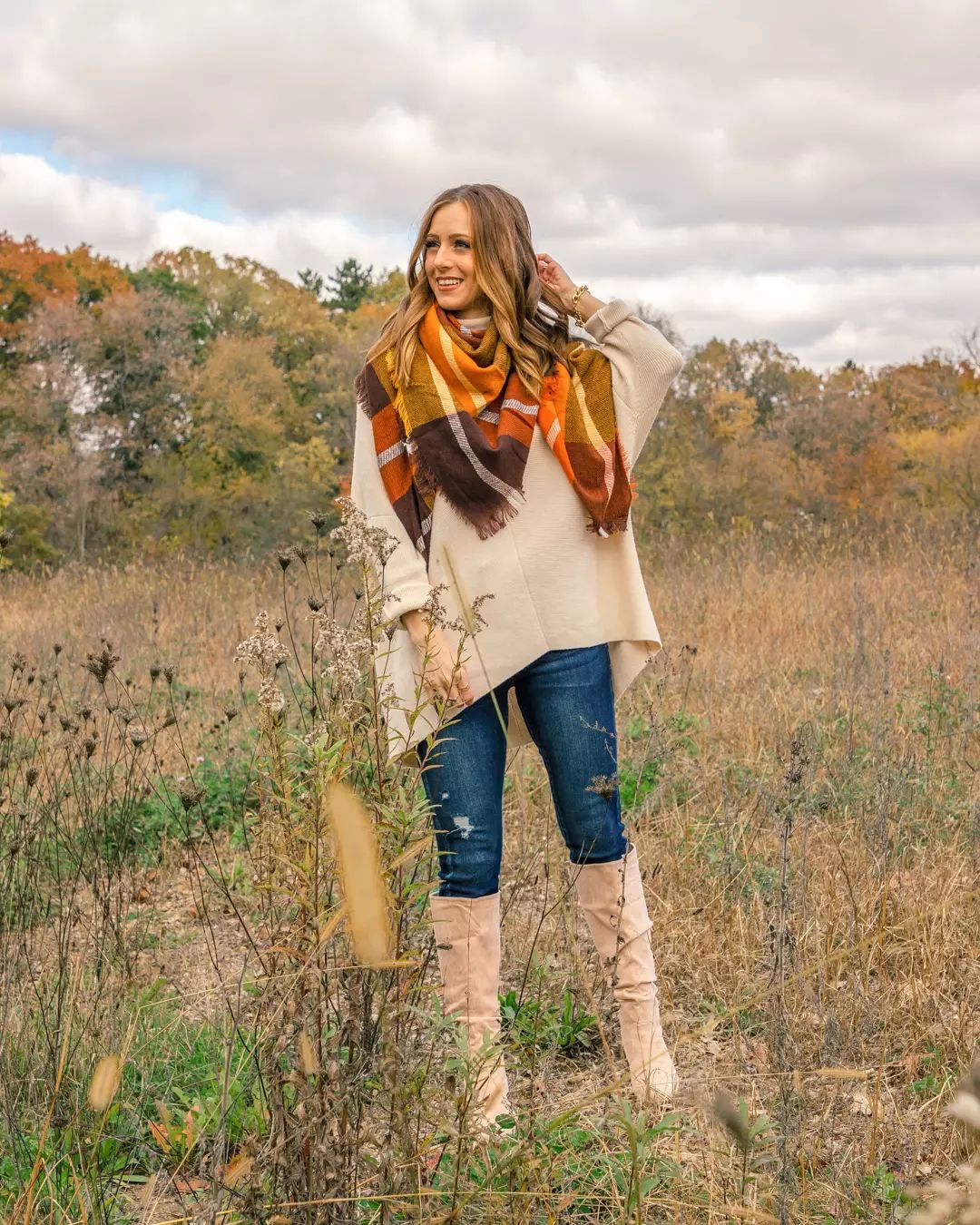 29 – Go for a Darker Lip Color or a Glossy Lip to Stand Out!
28 – Blanket Scarf Winter Outfits with Leopard Prints & Shocking Pink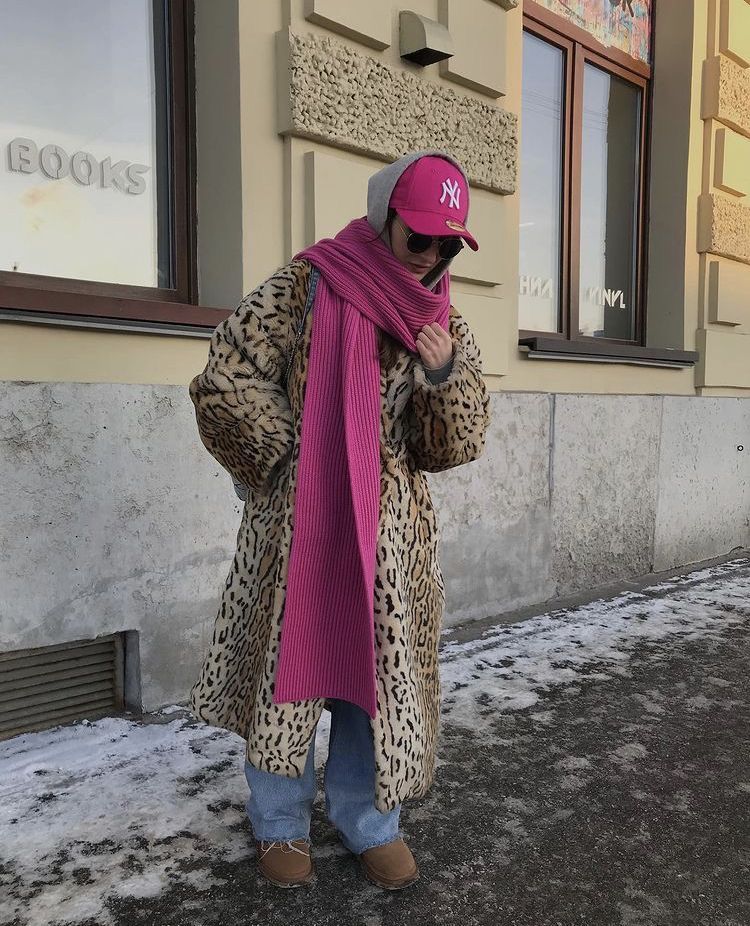 27 – Match the Pattern of Your Scarf to Your Hat for a Cozy Winter Look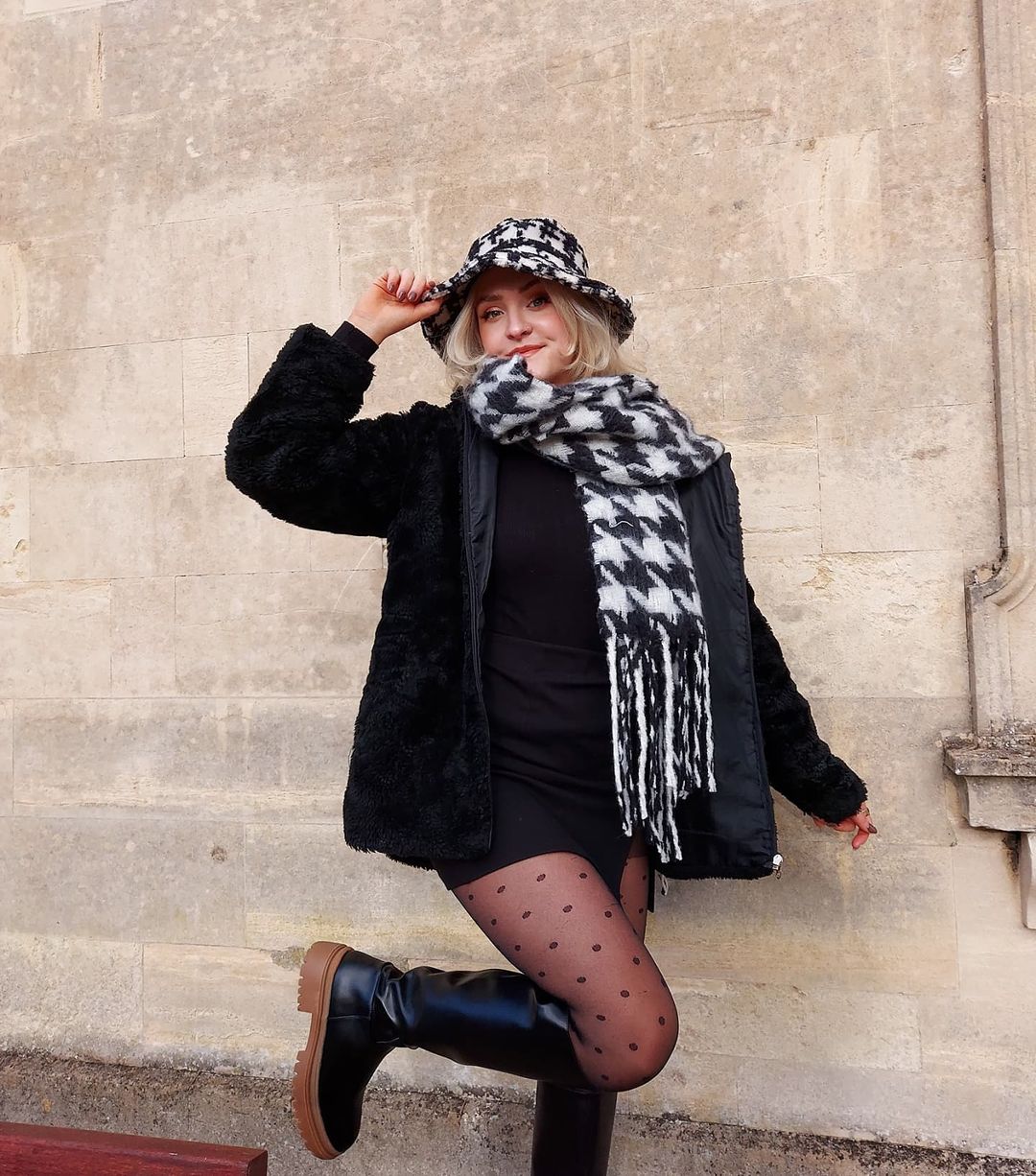 26 – Pair Bright Colors With Black Leather Pants for a Balanced Look
I suggest opting for nude lip color and hair pulled back to allow your outfit to do all the talking!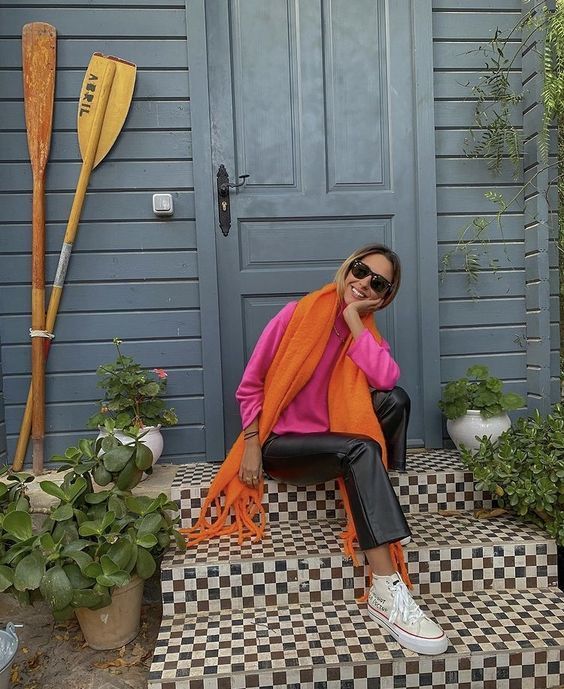 25 – When in Doubt, Style Your Scarf With an All-Black Outfit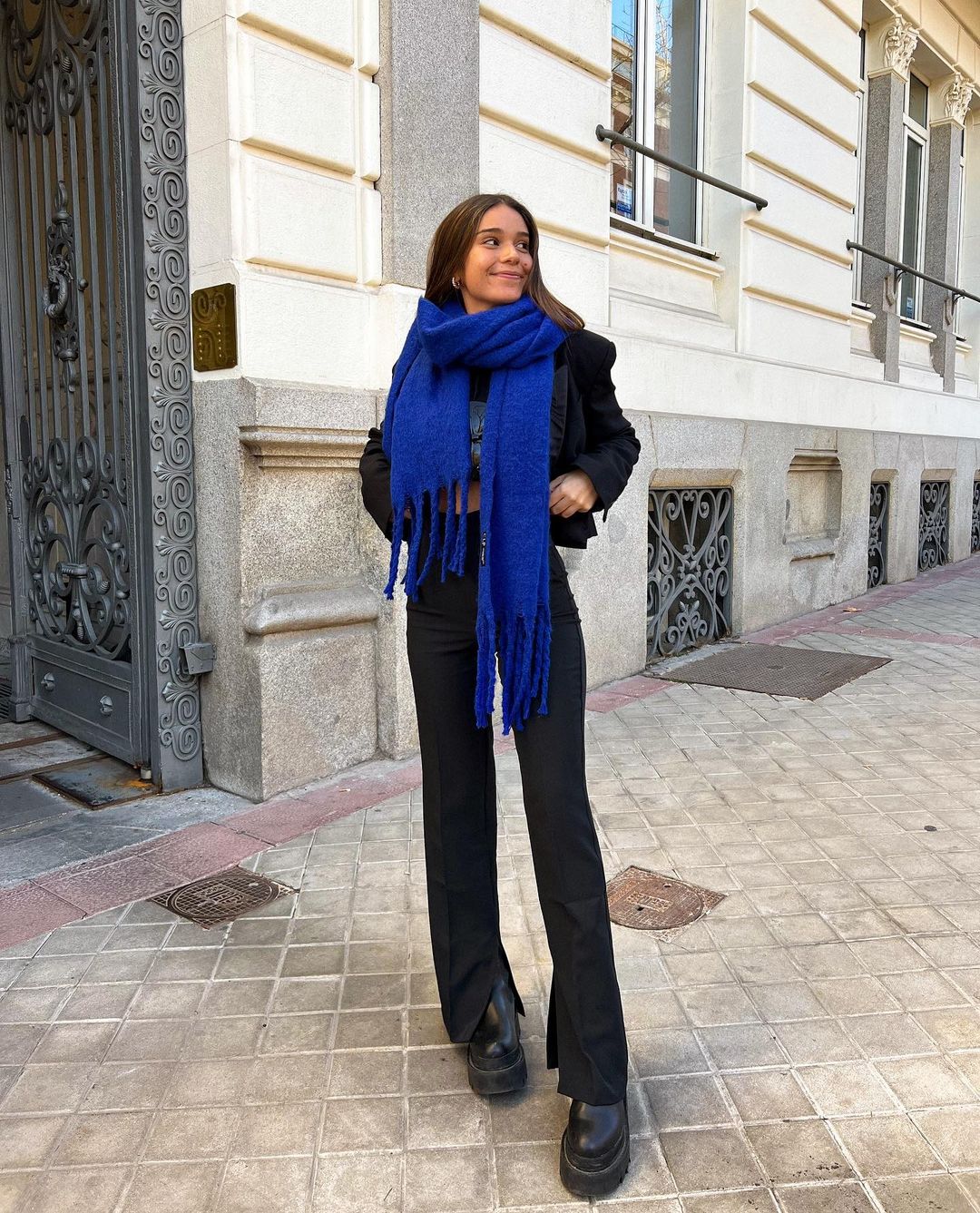 24 – Tartan Blanket Scarf Outfit for All Year Round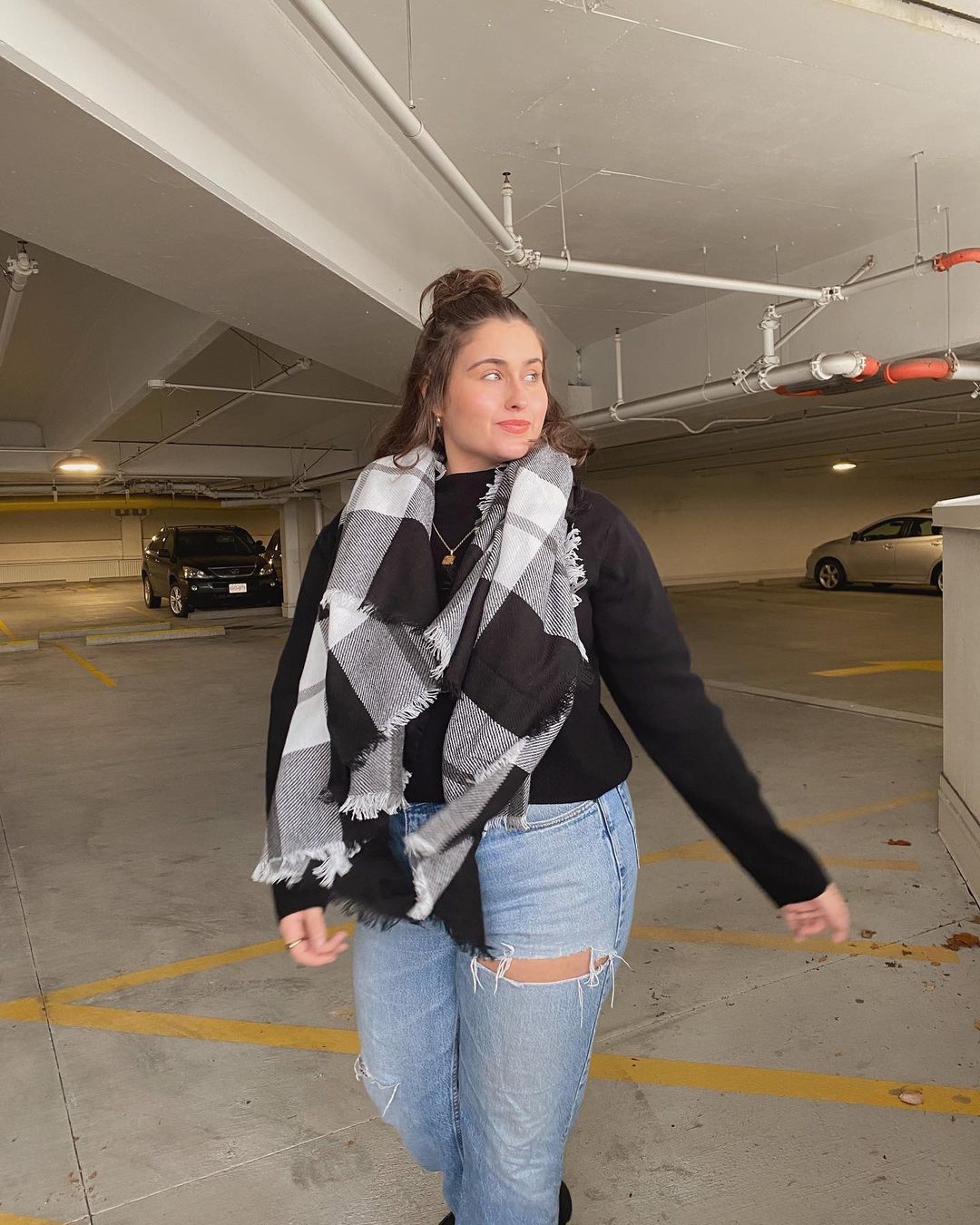 23 – Mix Bold Patterns With Flashy Colors for a Unique Look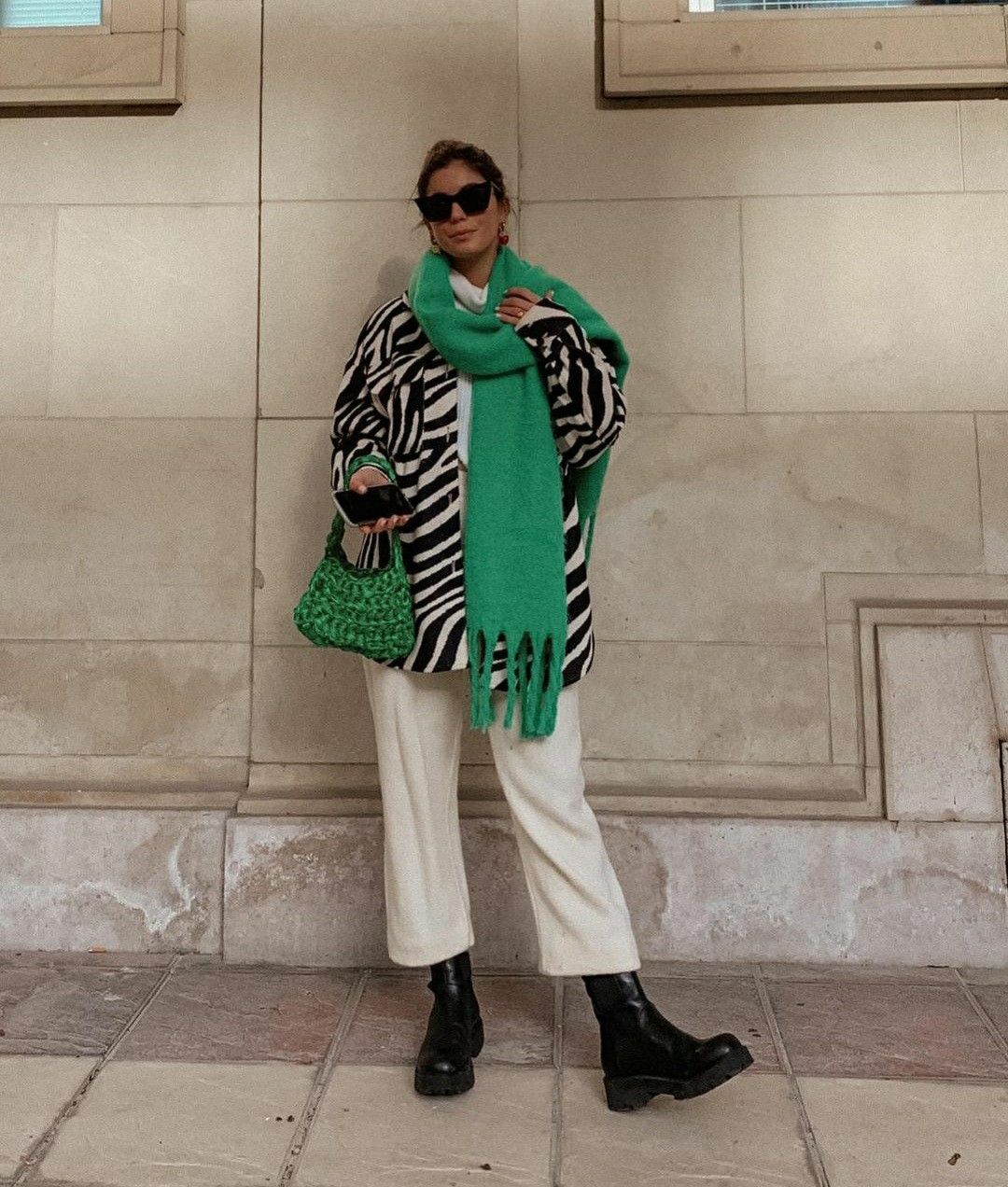 22 – You Can't Go Wrong With a Full Leather Outfit in Black
The best part is, with a leather on leather outfit, you can throw on any blanket scarf, regardless of the color or pattern. And you are bound to create an effortless look!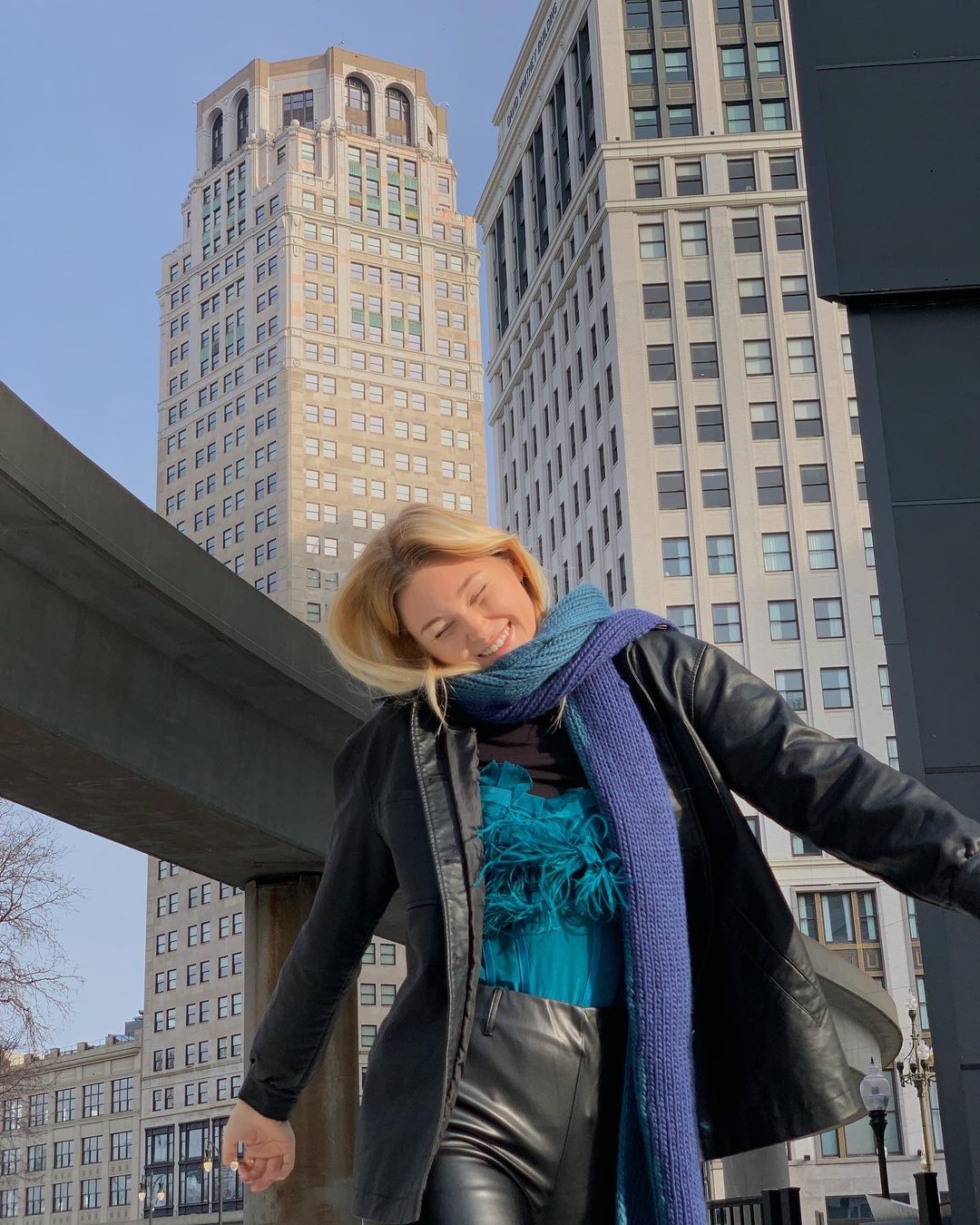 21 – Opt for a White Outfit With Lightweight Blanket Scarf for the Perfect Brunch Look
20 – Opt for a Plaid Blanket Scarf in Shades of Red to Compliment Your Monochrome Outfit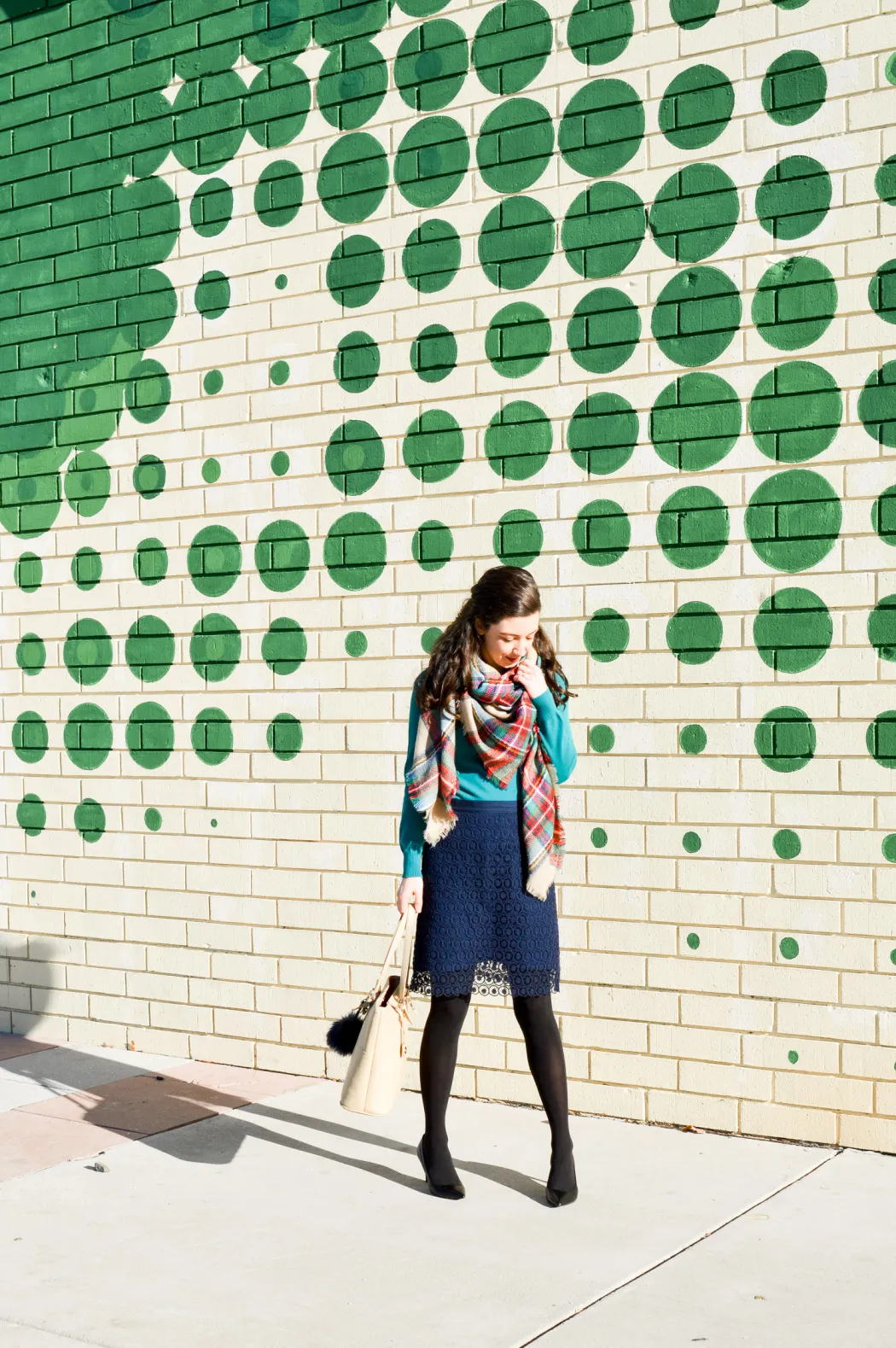 via
19 – What Better Way to Relax Than With Sweatpants & Cozy Blanket Scarf
18 – Oversized Blanket Scarf Outfit in Brown Tones All Over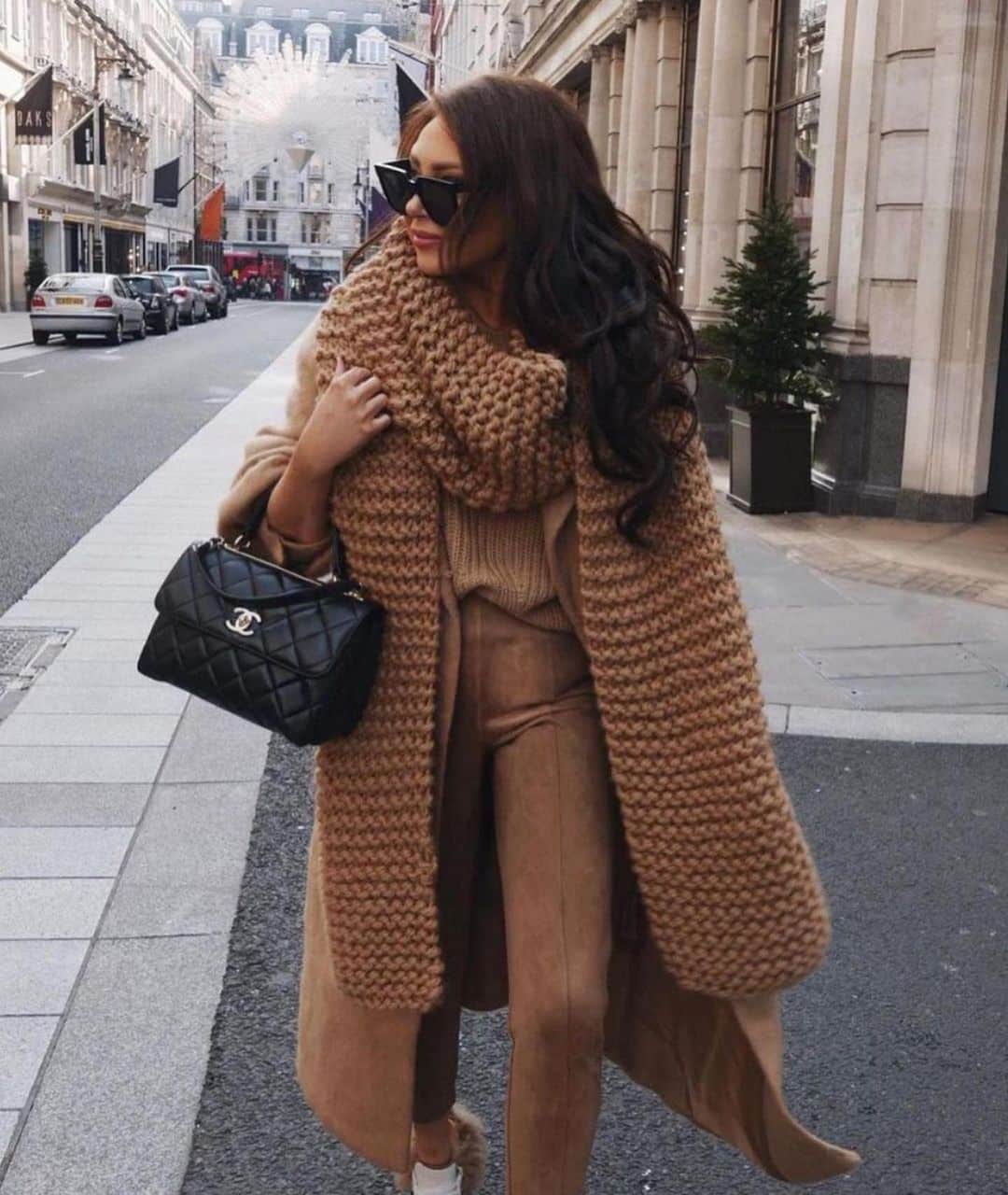 Buy the scarf below:
17 – Color Block Scarves are the It Garment for Winters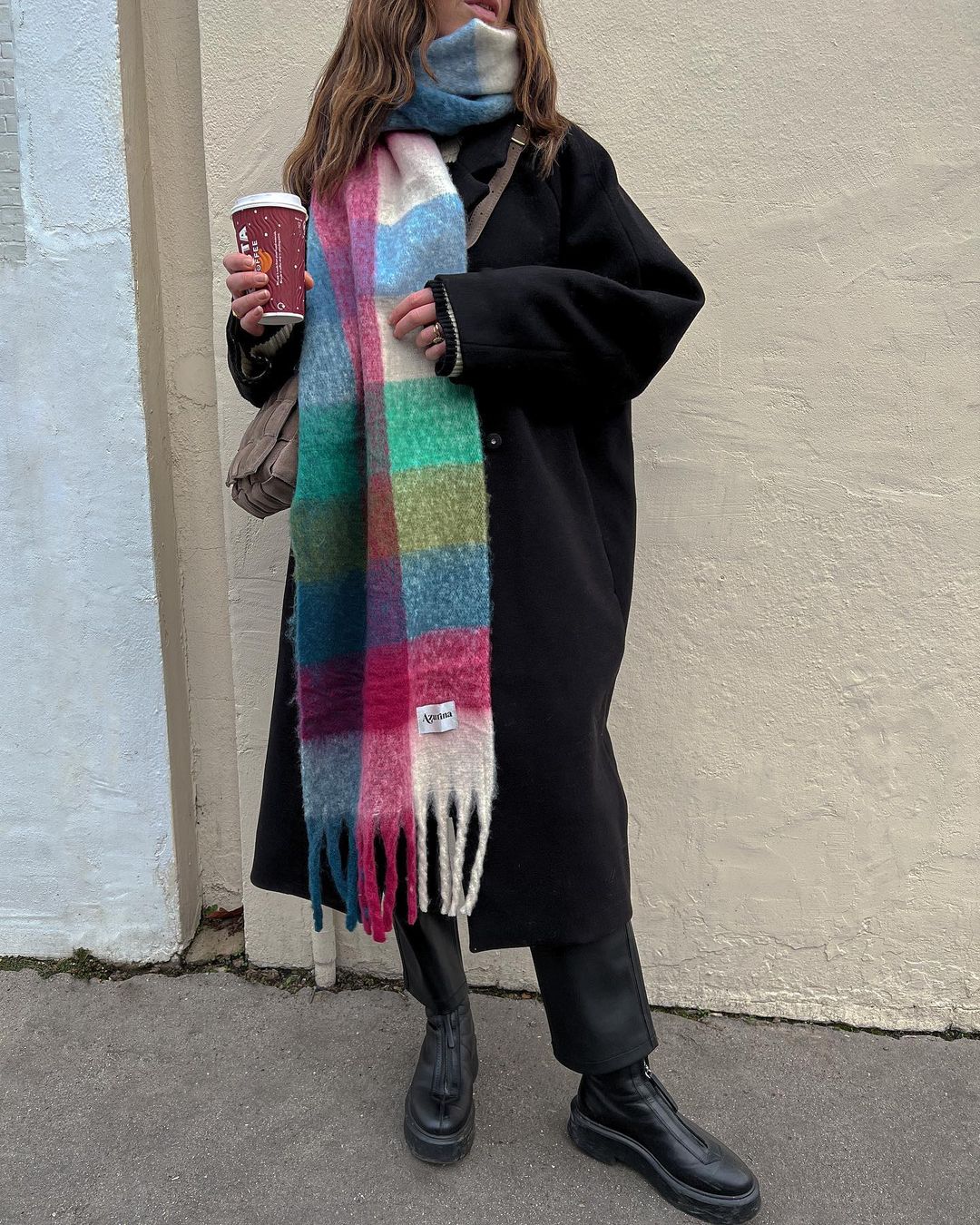 16 – Create a Warm Toned Look in Shades of Brown, Red, Green & Yellow to Transition From Fall to Winter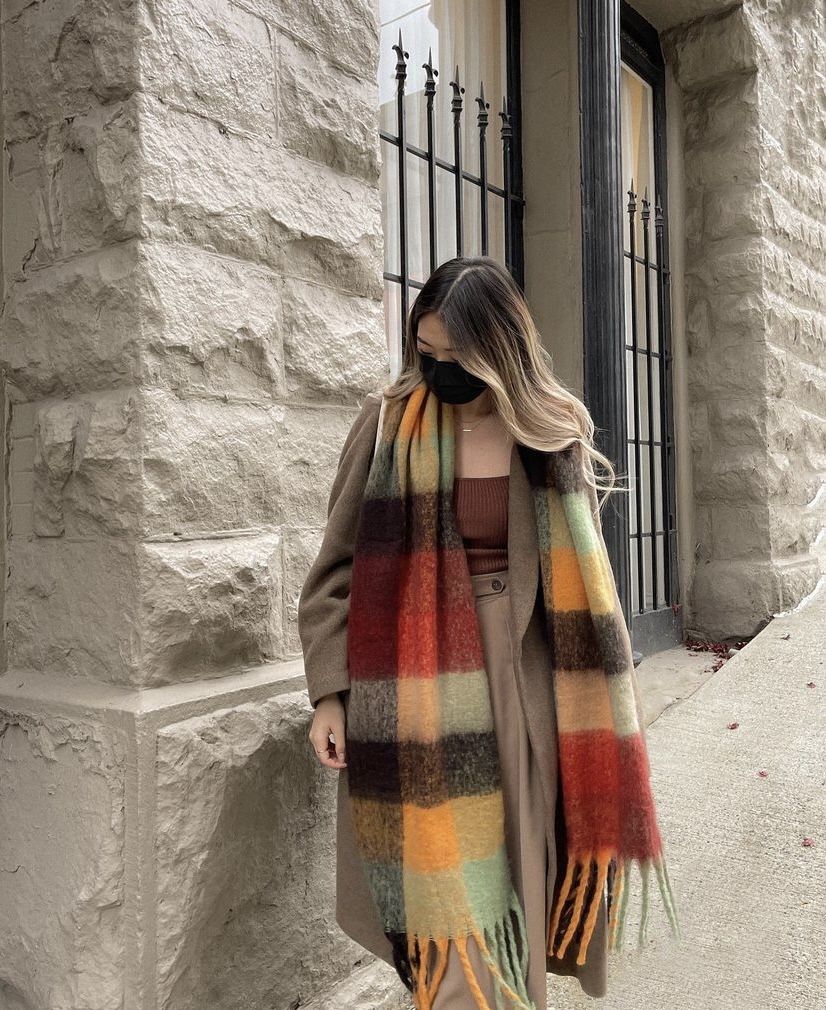 15 – Travel Destination Outfit to Celebrate a Chilly Valentine's Day in Style!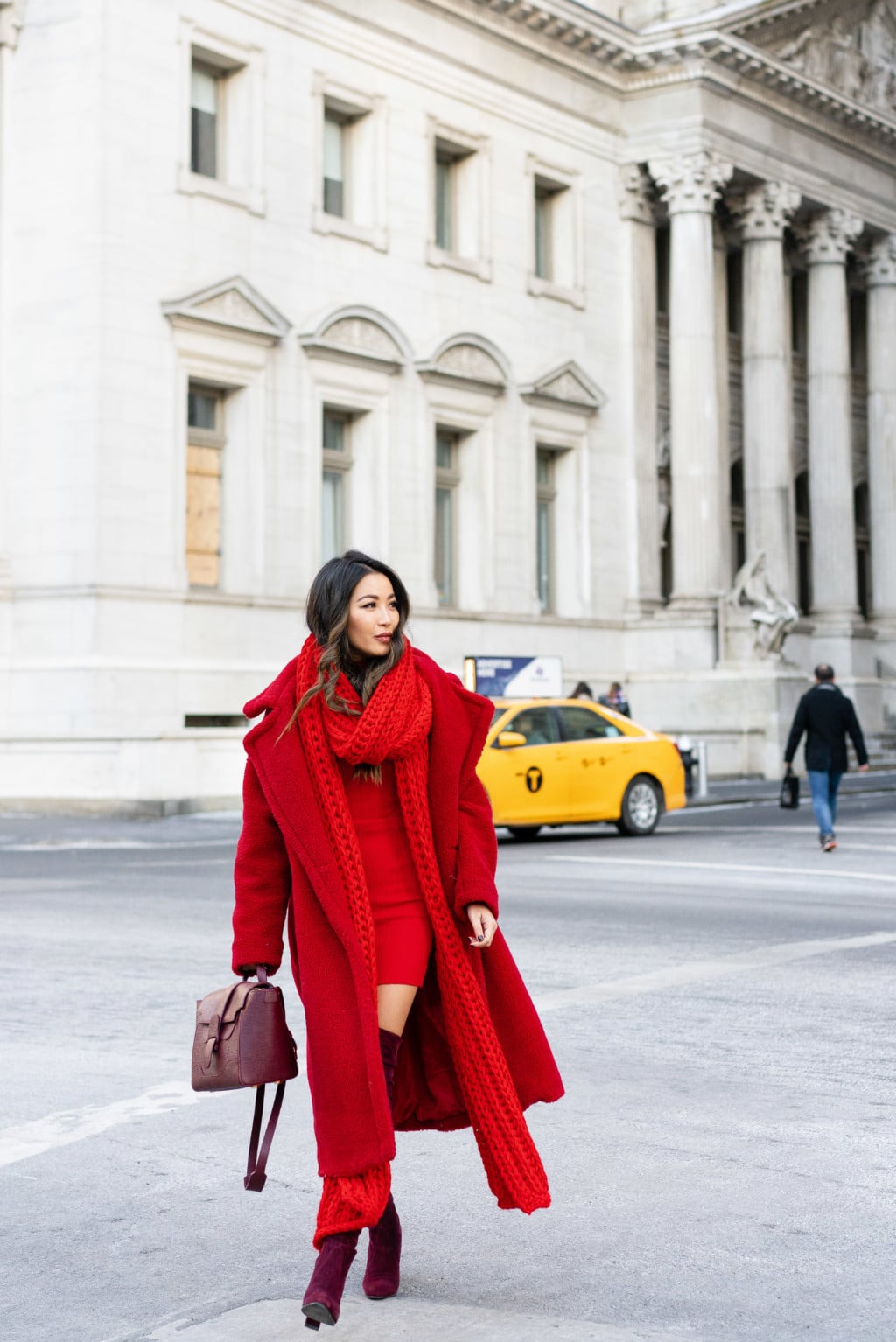 via
14 – Color Block Your Blanket Scarf Winter Outfit for a Feminine Look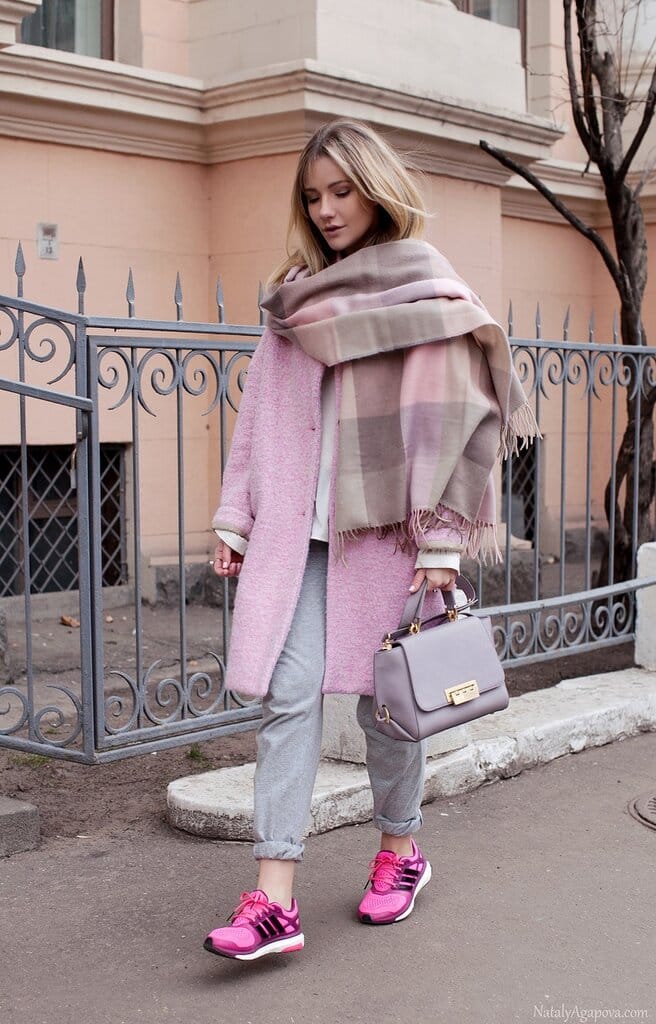 13 – Monochrome Tones are Always a Hit & Easy to Style!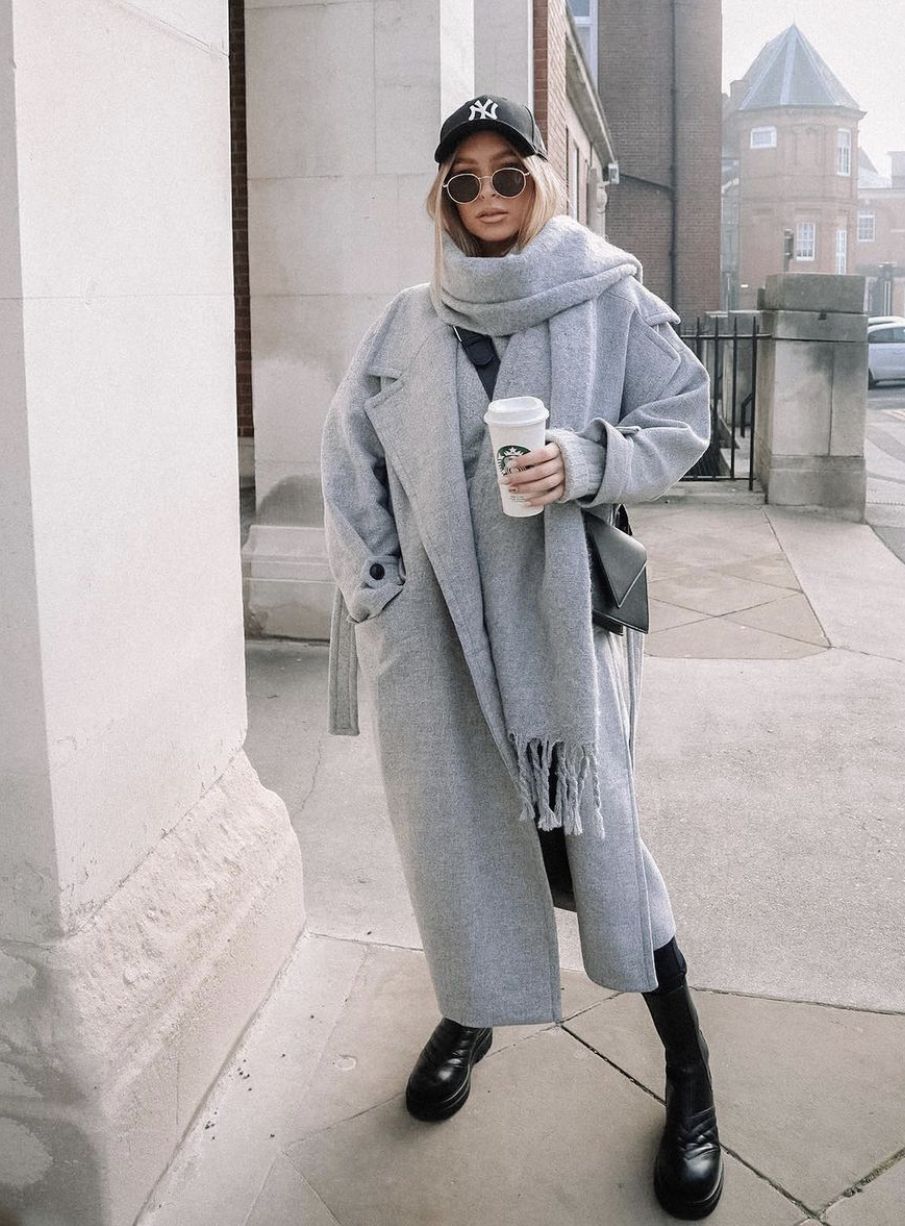 12 – How to Wear a Square Blanket Scarf?
The easiest way to style a square blanket scarf is to wear it as a poncho, similar to the image below. You can also wear it as a top in different designs. Scroll down to the FAQs to find out how to style a blanket scarf into a top!
11 – Slay a Blanket Scarf as a Poncho for the Fall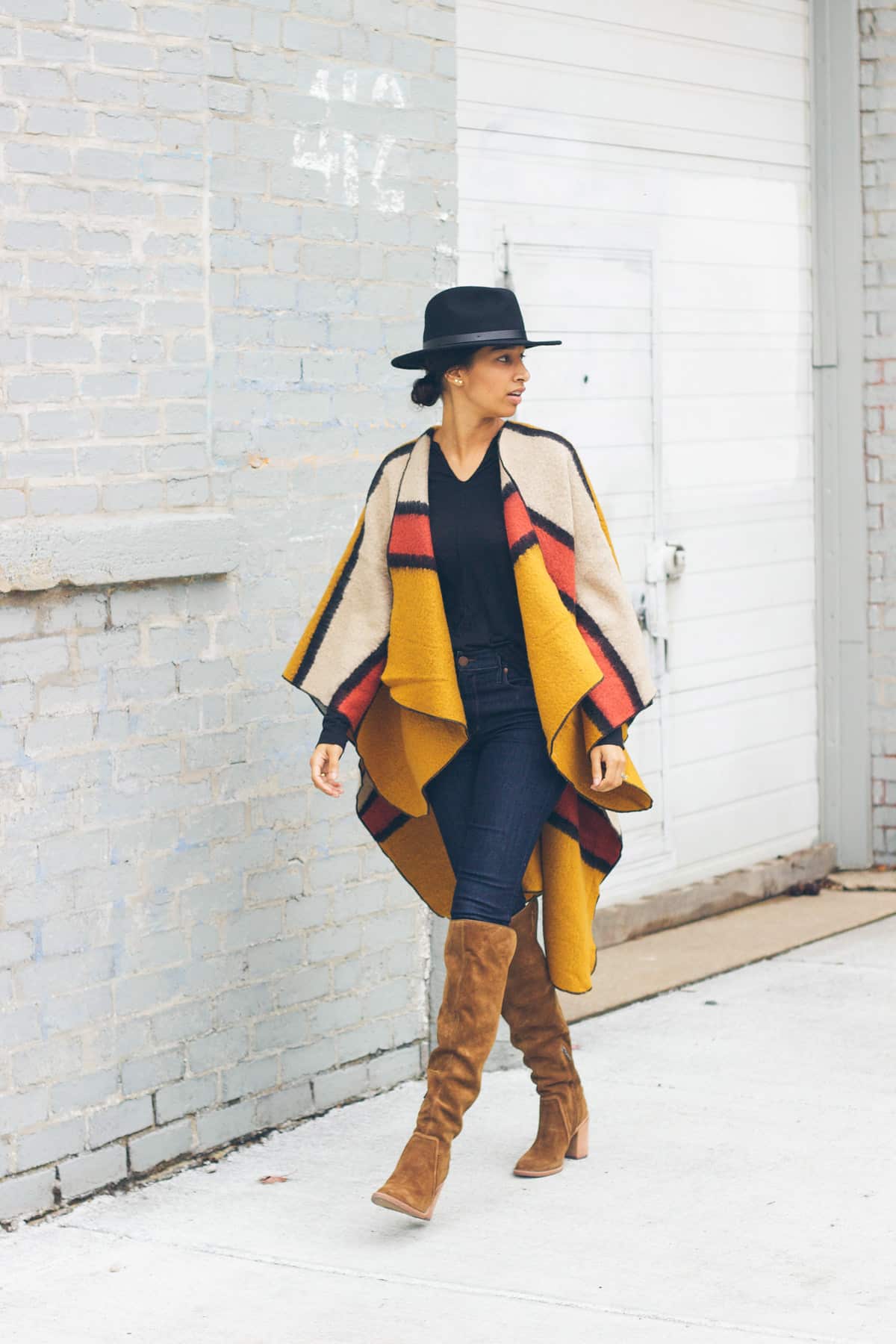 10 – Drape your Scarf Elegantly Over One Shoulder for a Sophisticated Look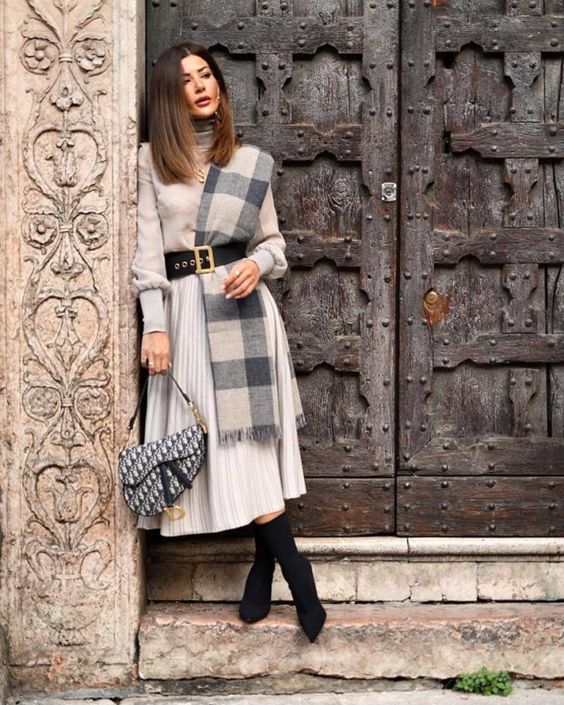 09 – Loop it Around Your Neck and Tie the Loose Ends in a Small Knot to Hide Behind the Layers
I have an easy solution if you are anything like me and do not like the pointy loose ends similarly hanging on the sides. Simply tie the two ends together and tuck them behind the layers of your scarf at the front. And voila, you are all set!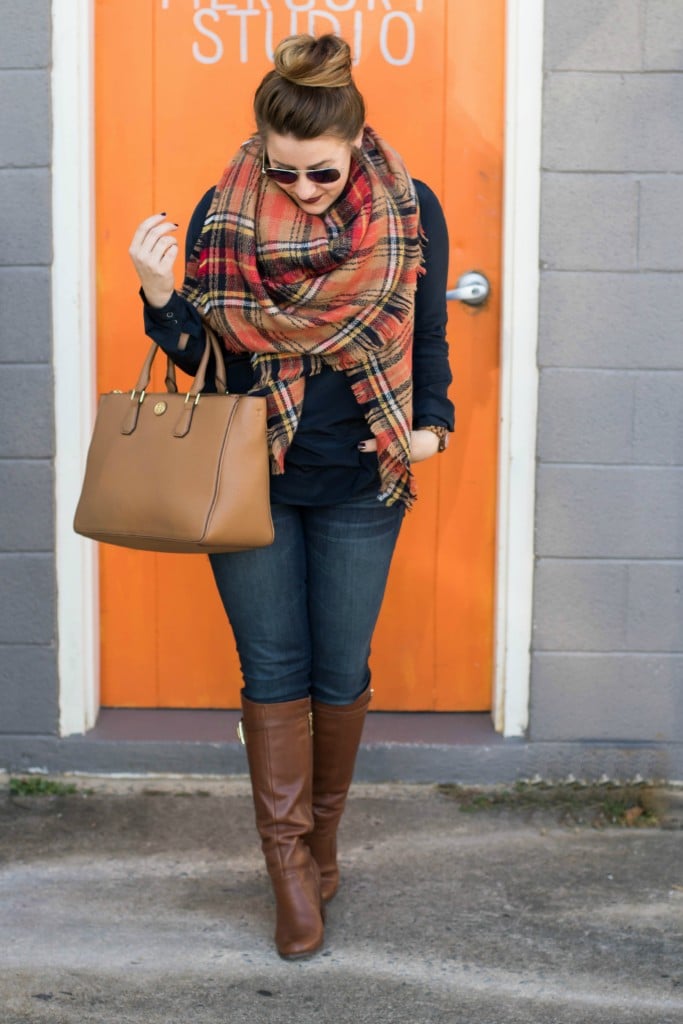 08 – Easy Way to Style a Blanket Scarf as a Top
This method is an easy way to style a blanket scarf as a top, and it looks phenomenal! This look will work better with a rectangle-shaped scarf but will look fine with a square scarf too. The only difference is that the back won't have as much length as a square-shaped scarf.
The simplest way to achieve this look is to take the smaller end of your scarf. Grab the two ends, loop them around your shoulders and bring them forward to tie in front of your chest. Play around with the knot and the length of the loose ends until you are satisfied!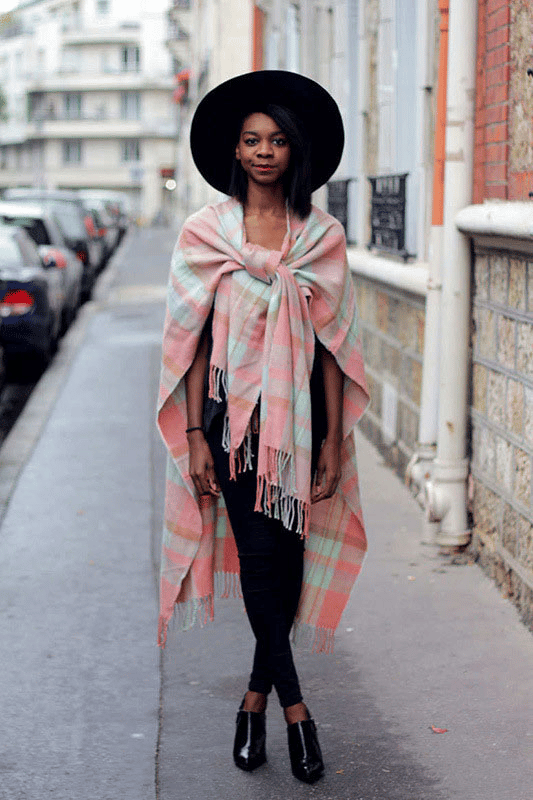 07 – Outfit for Visiting the Farm or the Ranch!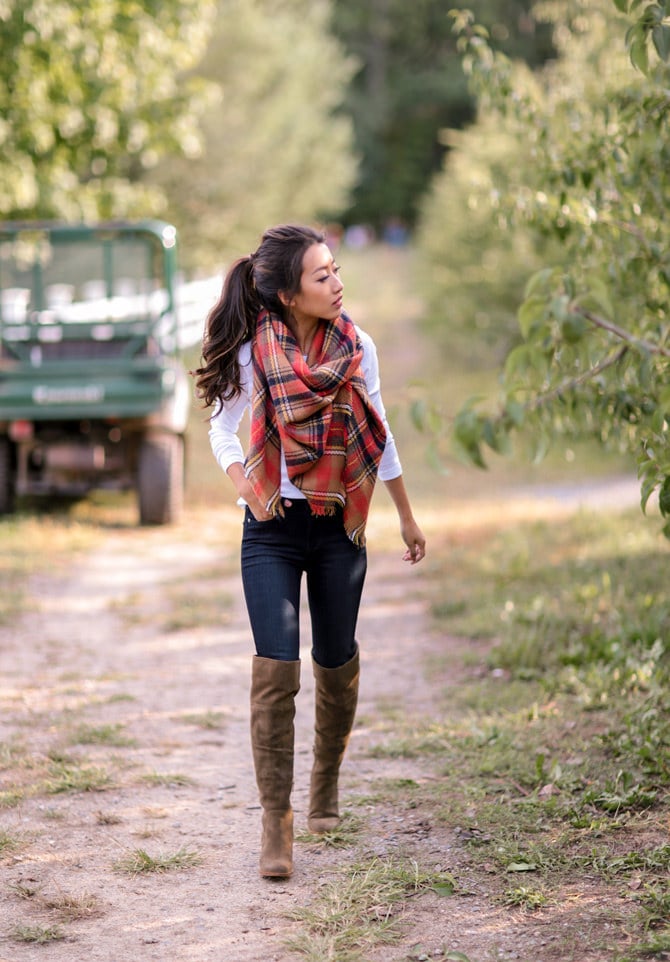 06 – Play Around With a Tartan Blanket Scarf as a Poncho Top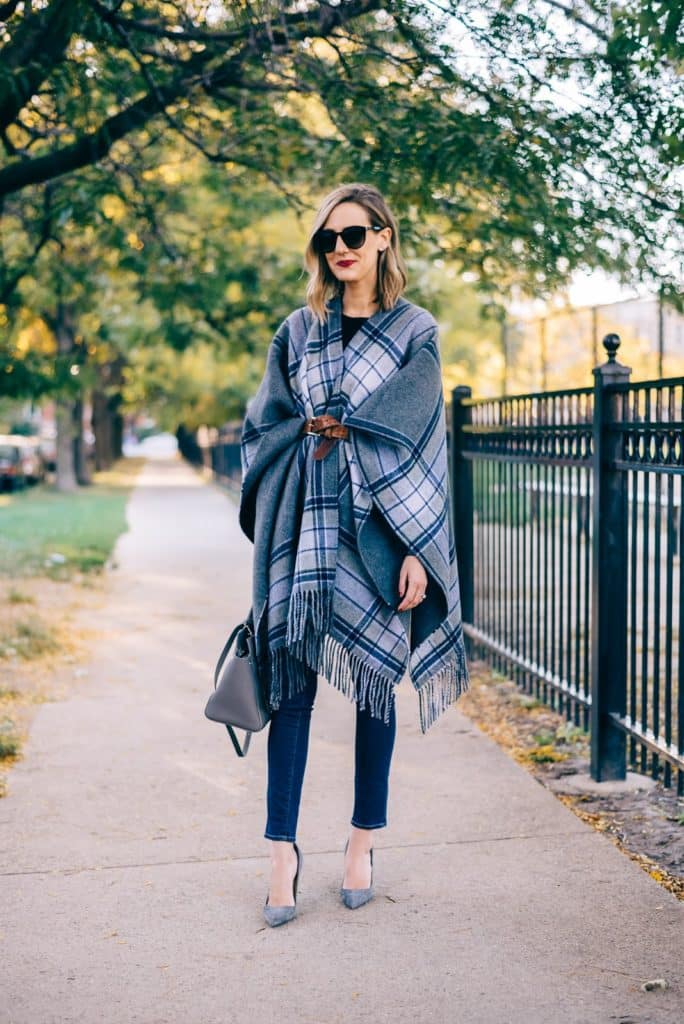 05 – Wrap Your Scarf Like a Shawl and Lift One End on One Shoulder to Let Your Top Peek Through!
04 – Blue Jeans & Heels are a Great Way to Make Any Outfit Boujee
Add a blanket scarf with logos on it, and you are playing right into the vibe you want to achieve!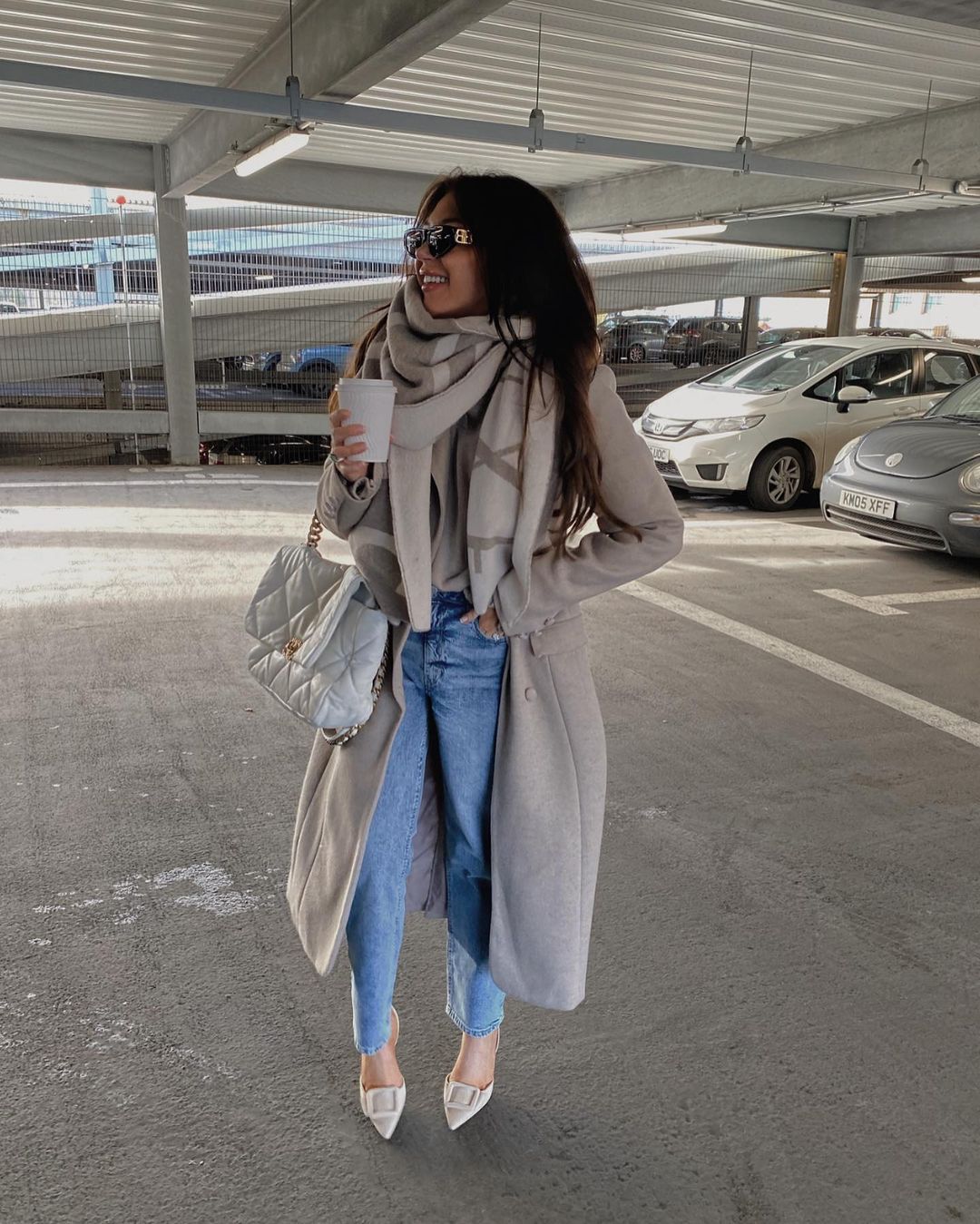 03 – Blanket Scarf Outfits for Working Ladies!
Swap the loafers for stiletto heels to make this outfit ten times more professional. Thus, this outfit can be made perfect for a lowkey day at work or upscaled for a more professional look!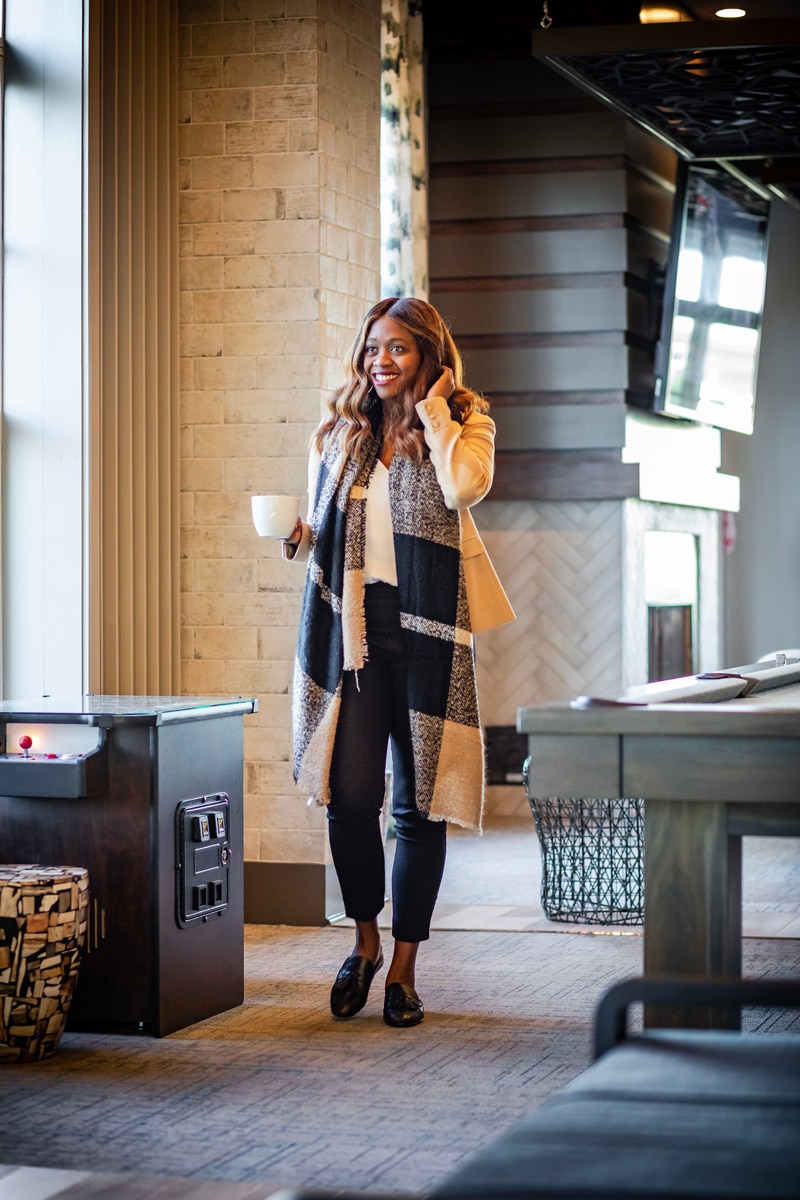 02 – Go for a Short Dress, Stockings & Blanket Scarf for a Festive Look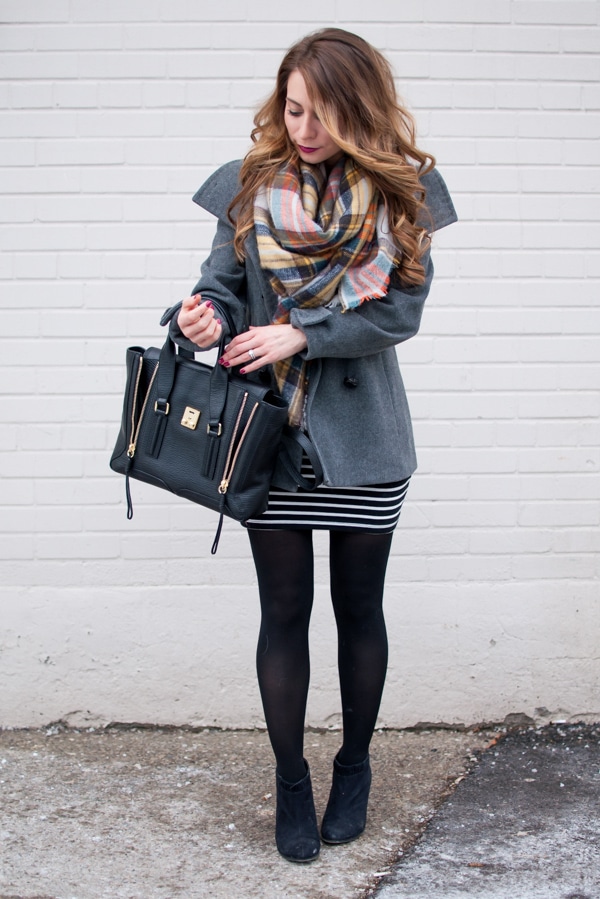 01 – Style a Black Blanket Scarf Outfit for Running Quick Errands
Frequently Asked Questions
Q. Are blanket scarves still in style?
Lately, the 90s trends are making a comeback. Therefore, it is only a matter of time before all the big names, including celebrities and brands, give us swoon-worthy looks with blanket scarves. In fact, mainstream brands are already coming in with gorgeous designs.
Moreover, blanket scarves are becoming a massive hit in street fashion. Therefore, yes, blanket scarves are very much in style in 2022!
Q. Can you use a blanket scarf as a blanket?
Honestly, if it is big enough, I do not see a reason why you can't! That is the beauty of blanket scarves. You can use it to stay warm indoors and wrap yourself in the same cloth to head outdoors. So go ahead and use your oversized wrap as a blanket!
Q. How do you wear a blanket scarf as a shirt? Can I tie it as a poncho?
If you have a square-shaped blanket scarf, fold it in half diagonally to form a triangle. Take the longer side, hold it right below your armpits and take the ends to tie them behind the back. This method will give you a classy tube top with an open back.
There are various other methods to wear a blanket scarf top. Check this video out to get ideas and inspiration for different scarf styles as tops!
You can also wear your oversized wrap as a poncho which is easier to achieve than a top. Grab your scarf and fold it in half. Elegantly drape it across your shoulders and bring it forward to cover your arms. And there you have it! A blanket scarf as a poncho! You can even tie a belt at the waist to get a makeshift top look.
Q. Where to shop for blanket scarves?