Halter Top Outfits – you probably wonder what happened to the fun halters that celebrities were flaunting a few years ago. And whether they are still in fashion or not. We aim to deliver good news and let you know that yes!
They are still very much in fashion and are the ideal top to wear during this summer. From Jennifer Aniston rocking the neckline during the 90s to Bella Hadid serving looks recently, they have been around for the longest time. And with the ease they provide with their wear, they are not going out of fashion anytime soon.
This unique style of tops debuted during the 1930s, inspired by Asian clothing. Yes, you heard that right! The halter neckline was first seen incorporated into formal gowns for women, inspired by the Asians. And it was primarily based on showing off the back, arms, and waist. Over time, different styles for wearing this design on tops were experimented with, and now, an outfit for every occasion exists in this design. From beachwear to workout gear, from streetwear to the red carpet – halters are the perfect pick!
How to Style the Halter Neckline
Styling this type of a top is not only easy but also conventional. Nowadays, they are being produced in a variety of designs. You will find most of the pieces to match your top already buried somewhere within your closet. A pair of blue jeans in any cut – flared, bootcut, ripped – will match immaculately with your top. As will skirts, whether long or short, fitted or flared. So keep scrolling to find some fabulous ways to style your outfits and discover looks that are genuinely on-brand with your dressing sense!
Where to buy Halter Tops?
Forever21: Forever21 has a variety of blouses perfect for the summers! Take a look at this cute floral print top (here).
Urban Outfitters: This bright sunny yellow romper (here) is fun and romantic. Throw on a denim jacket along with ankle boots, and you are ready for your carnival date!
SHEIN: This brand offers a vast range of outfit styles for the neckline. Please take a look at the workout gear that they offer (here) and this dainty cut-out blouse right (here).
Next: Check out the wide range of swimwear that they carry in this design. Also, this black maxi dress (here) is an exceptional pick for your formal events.
Zara: This cable weave top (here) can be the perfect staple for your wardrobe!
Marks & Spencer: If you are looking for a perfectly wild and fun top, you need to look at this zebra print piece right (here).
H&M: You can not go wrong with this jumpsuit (here), faultless for your official look!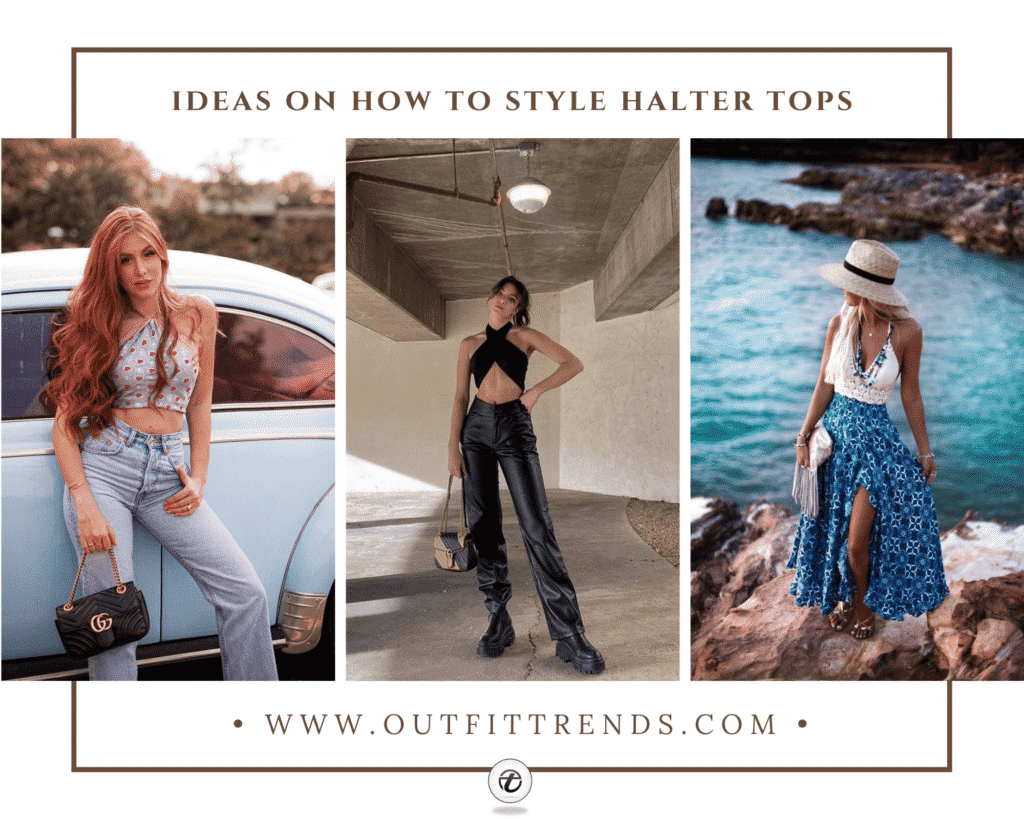 ↓ 32 – Bright Summer Colours
This look is so fresh and fun, right on-brand with the summer season! The muted green top provides a refreshing contrast against the hot pink converse sneakers – which I am in love with. The frayed white pants serve a blend between the contrasting colors of the shoes and top and bring the entire look together. It is a good thing that the jewelry is kept to the minimum, except for a few beaded wristbands and locket. Add on a nice gold watch, and you are ready for the day!
↓ 31 – The Monochrome Way
You can honestly never go wrong with the contrast of black and white. The white skirt and the black top are an effortless combination. I would suggest letting your hair down in nice waves with a bandanna if you like to add an edgy aspect to your look. Accessorize with some polished gold hoops and a pair of black long-heeled boots. Usually, halter blouses do not allow you to wear a chunky necklace, but with the style of this top, you can get away with it! Secure a lovely chunky gold necklace to match the bracelet along with gold studs to bring the entire look together.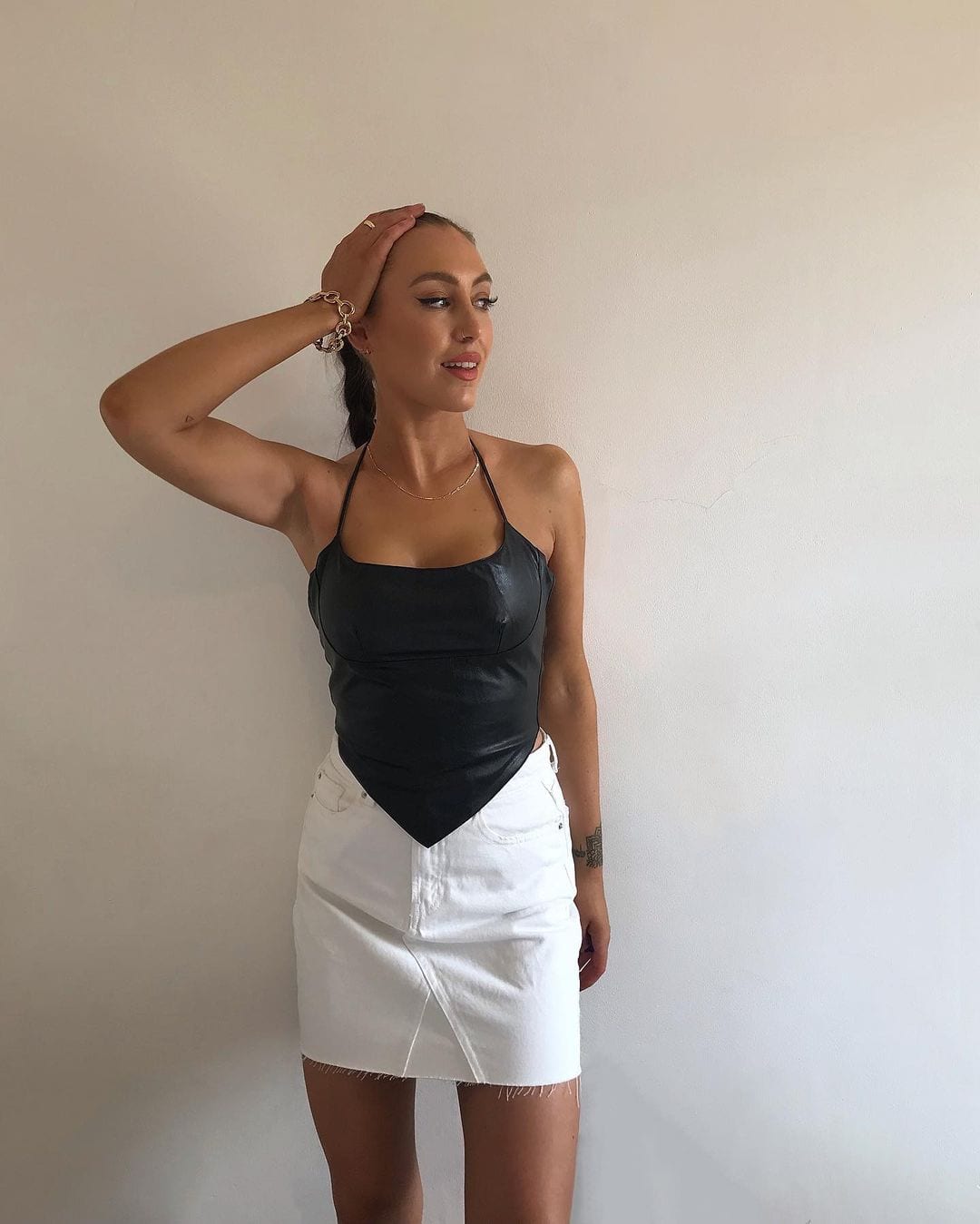 ↓ 30 – Don't Forget the Tie & Dye!
This look is perfect for the current season! With tie and dye being so trendy these days, this blouse is the supreme choice for this summer season. Throw your hair in a messy bun at the nape of the neck, and add a hair scarf to amp up your look. Finally, pair it with white sneakers and some dainty silver huggie hoops to slay the look.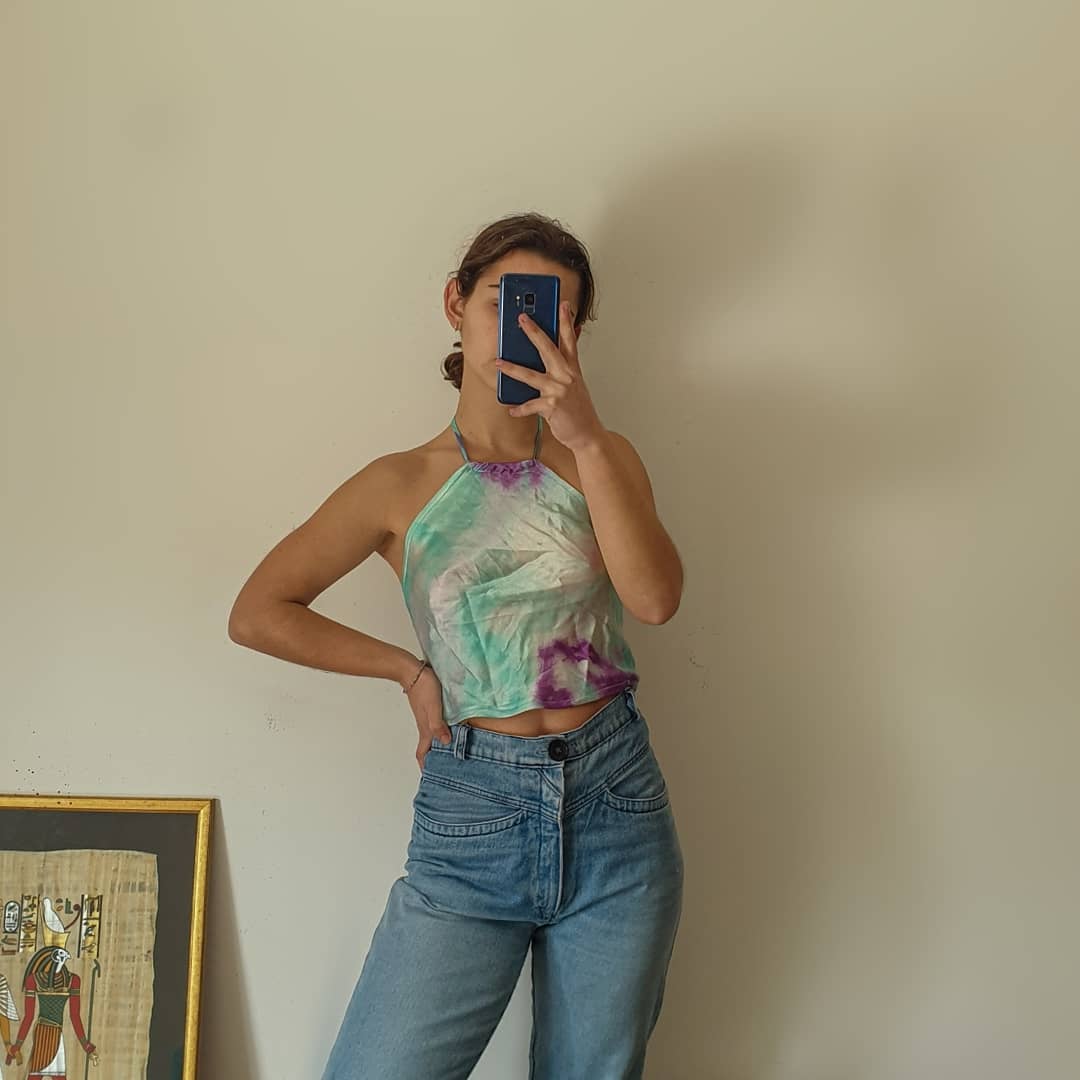 ↓ 29 – Flawless for the Festival
You are probably missing the music festival season amidst the ongoing pandemic. Trust me, we all do. So for your next concert or Coachella – which will hopefully be sooner than we think – this look is perfect! The white top with the ring detail at the front is so chic. And paired with these funky pink pants, you will surely be turning some heads your way. Opt for a white or a brighter-colored bag instead of the black one. Lastly, give your entire look the extra festive touch and experiment with temporary gold freckle tattoos and beaded eye makeup.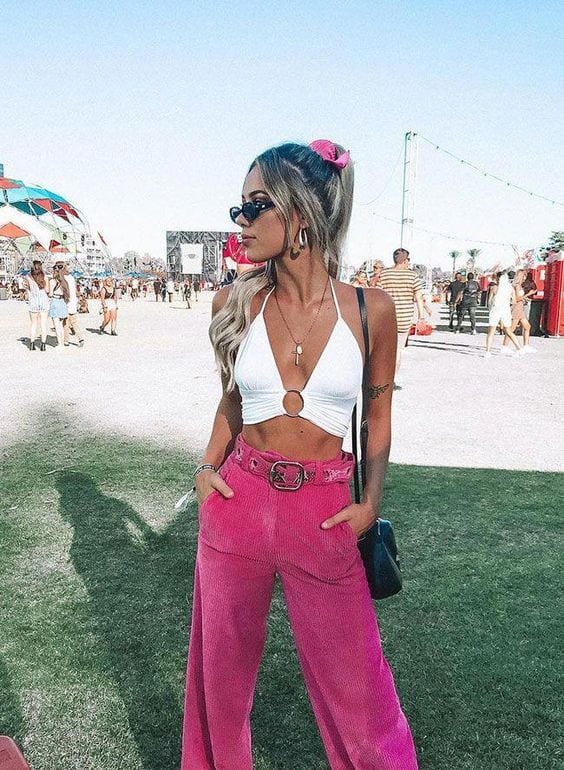 ↓ 28 – Edgy Feminine Style!
This look is definitely not for the light-hearted! This backless knitted turtleneck is ideal for cooler days, and the leather shorts give a spunky edge to the attire. You can find similar tops at Macy's. Moreover, the chunky accessories add just the right amount of glam. On the contrary, the floral fishnets soften the ensemble and moderate the entire look giving it a sublimely feminine touch. This outfit is an absolute vision to behold!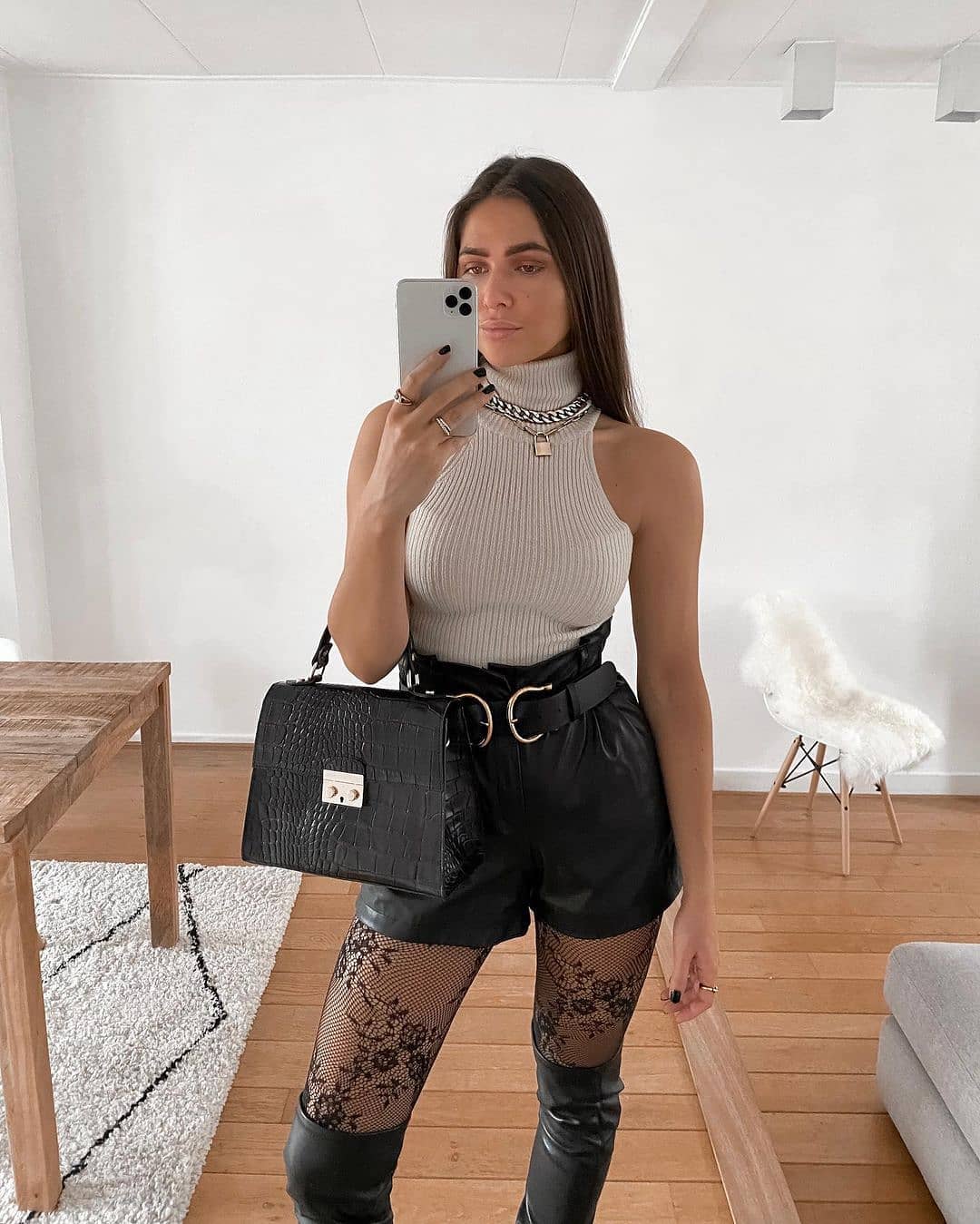 ↓ 27 – The One with the Collar
How cute is this collared top? It looks is modern and gives off an effortessly chic vibe which is perfect for your casual, laid back days.
↓ 26 – Play with Plaid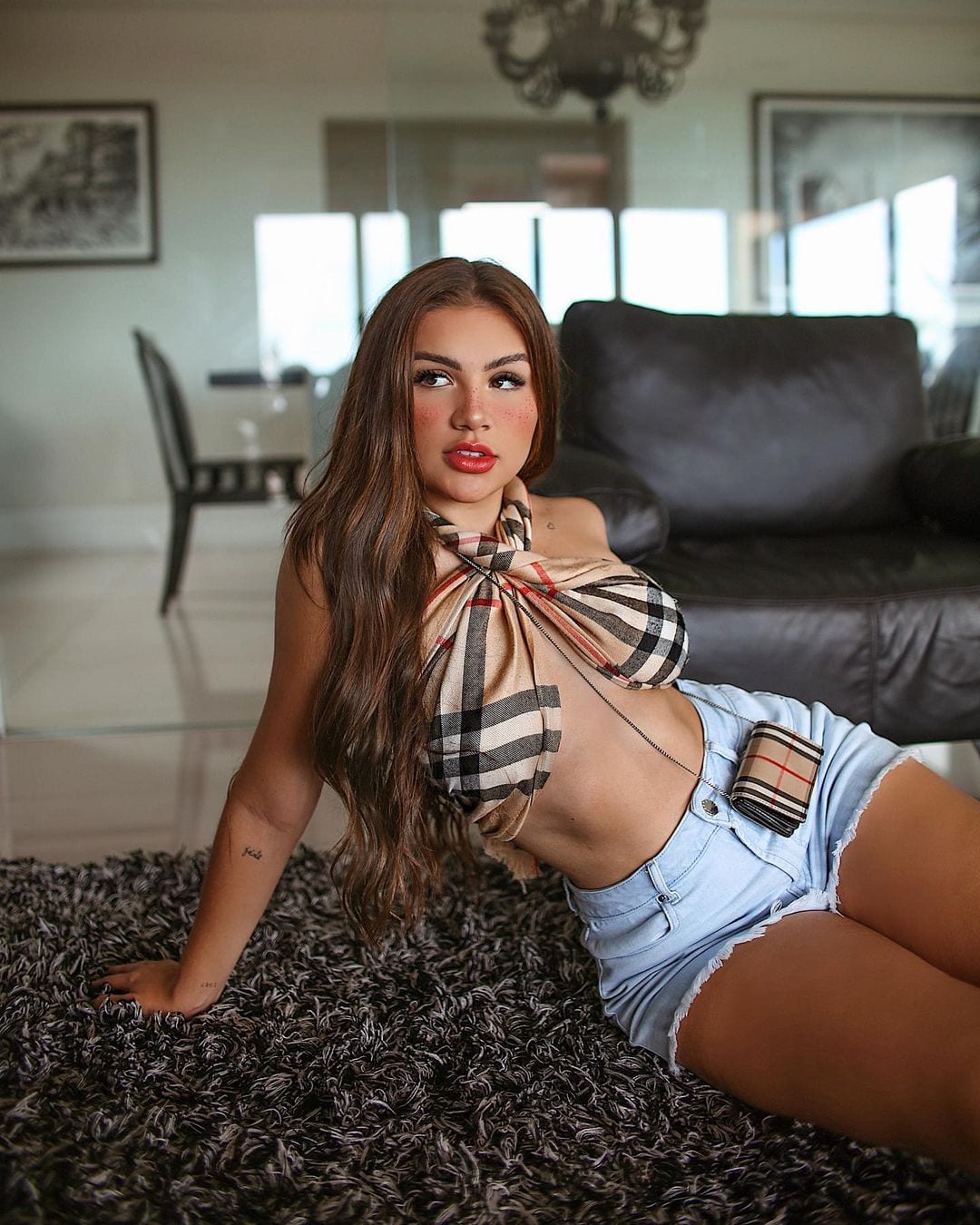 ↓ 25 – With Pastel Pink Track Pants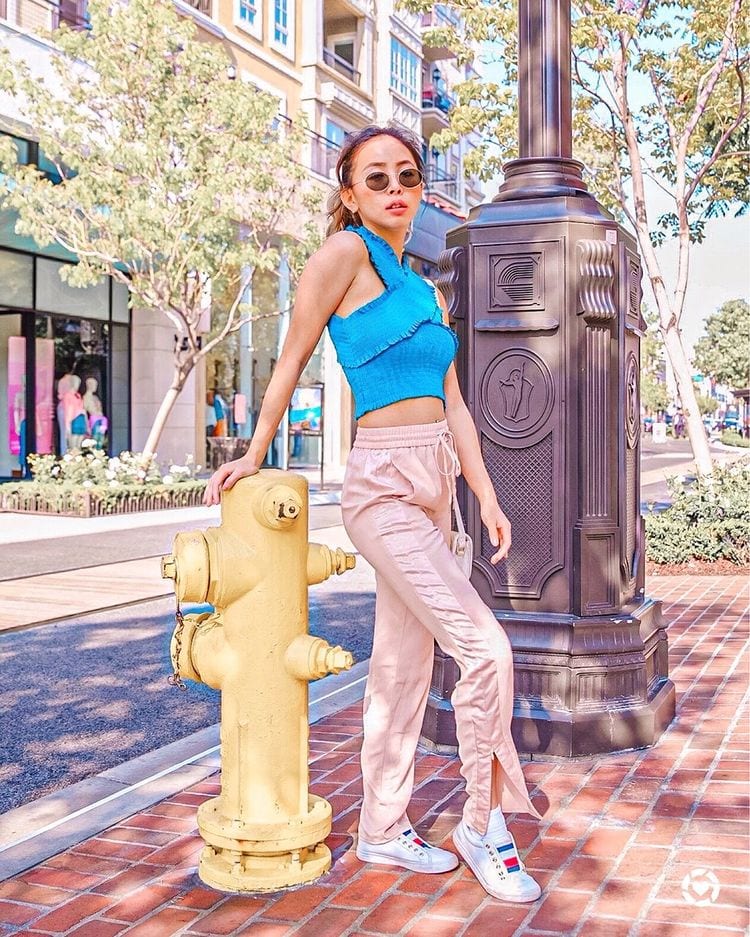 ↓ 24 – Chunky Golds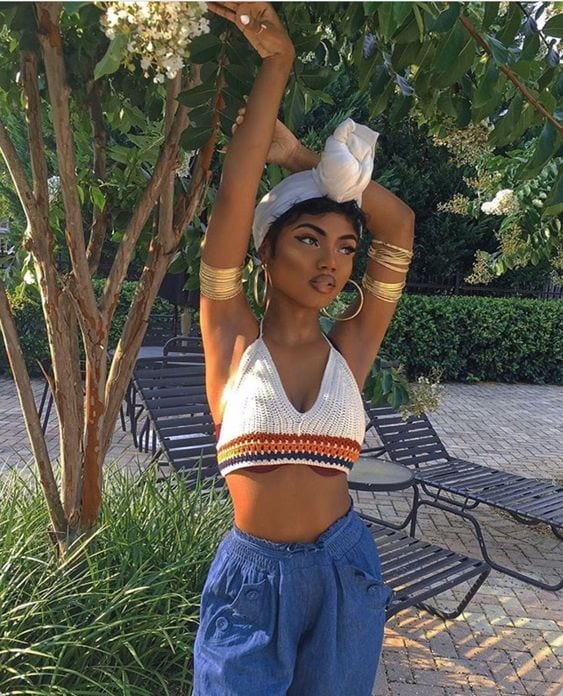 ↓ 23 – Boho to the Beach!
Channel your inner boho with this outfit which is perfect for the wild and free spirited!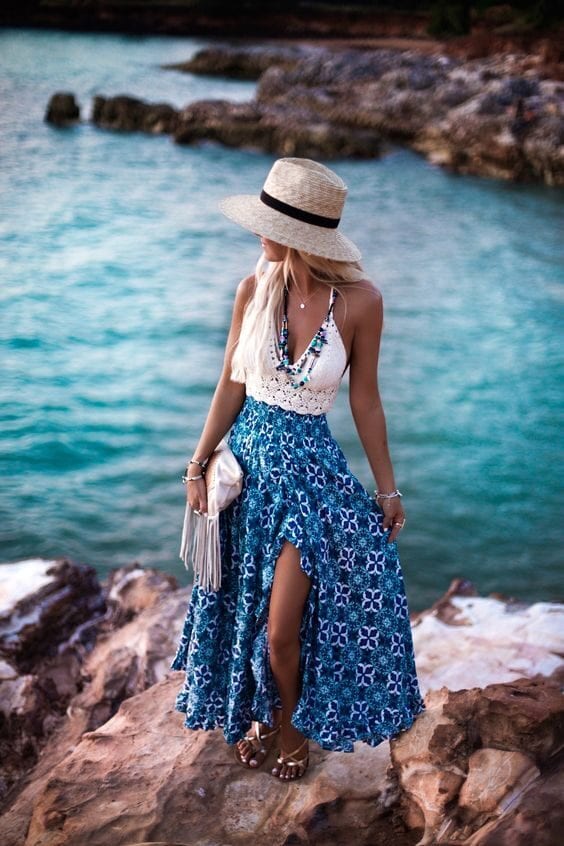 ↓ 22 – Checkmate!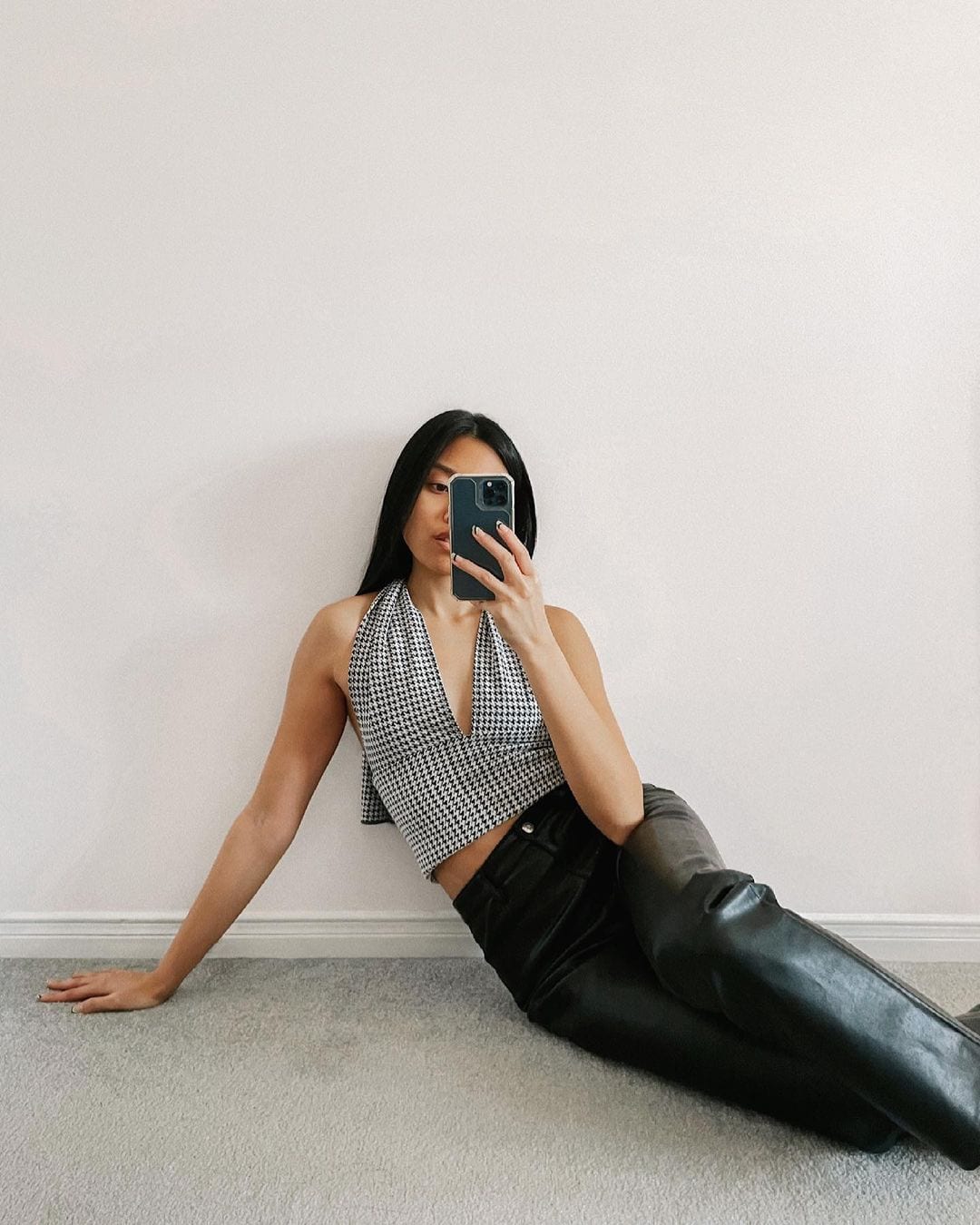 ↓ 21 – Halter Tassel Playsuit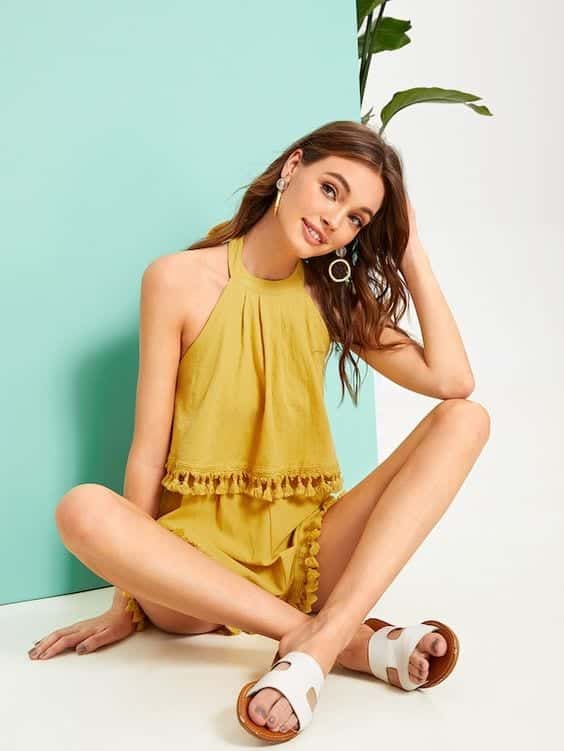 ↓ 20 – With Pastel Yellow Bag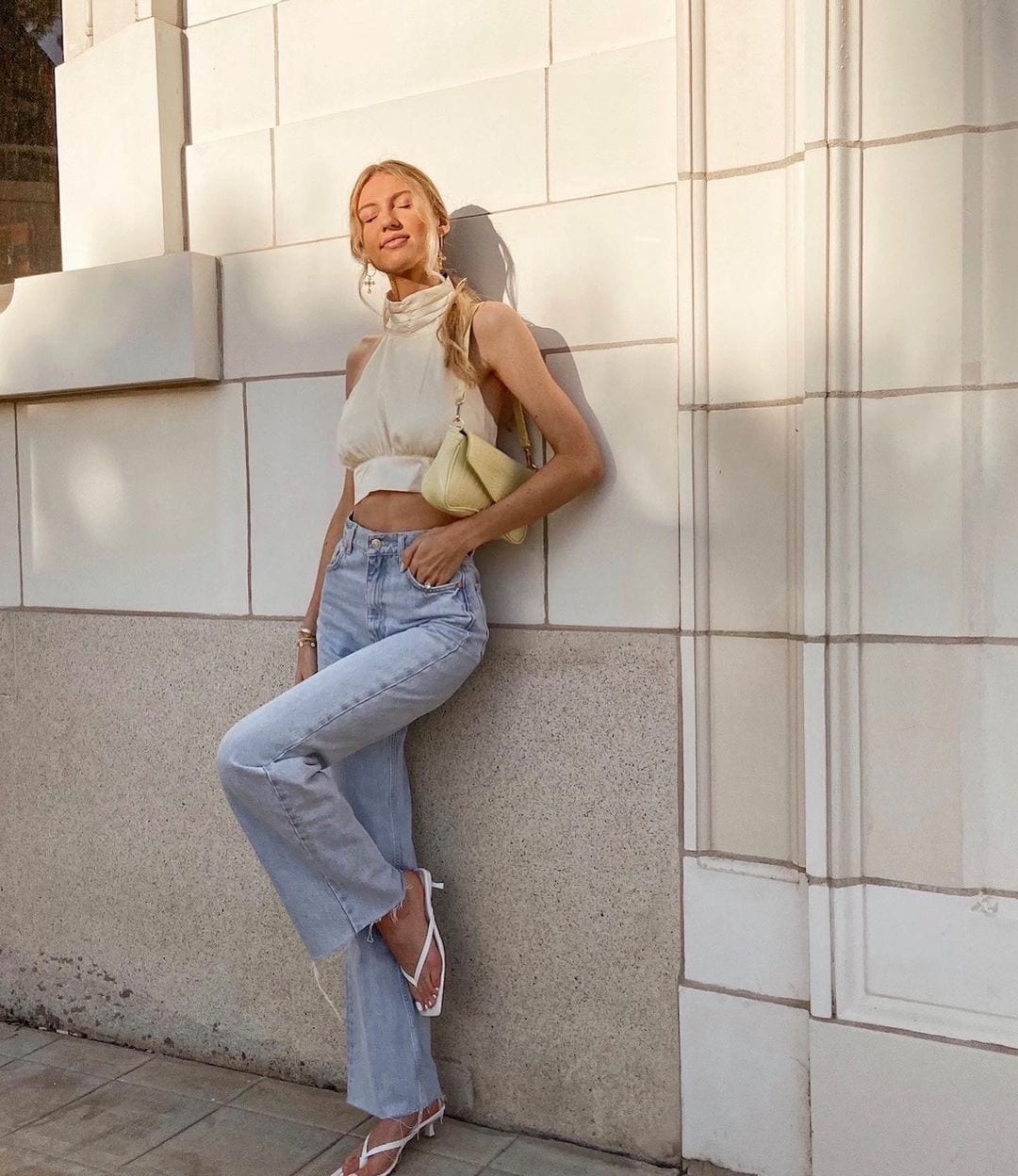 ↓ 19 – Crochet Style
Whoever thinks crocheted tops are not in fashion anymore definitely has not seen this look!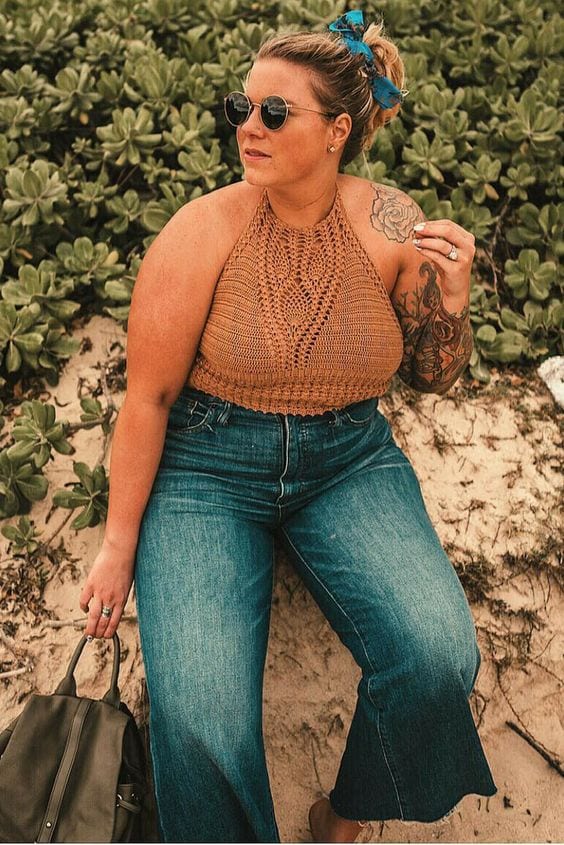 ↓ 18 – Abstract Patterned Pants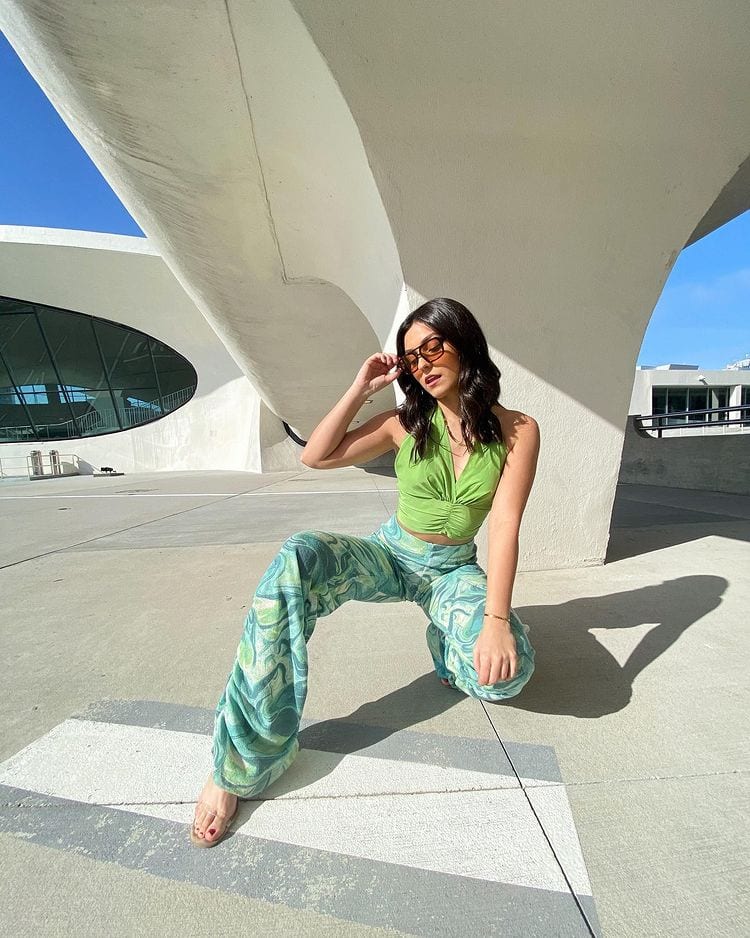 ↓ 17 – The Formal Dress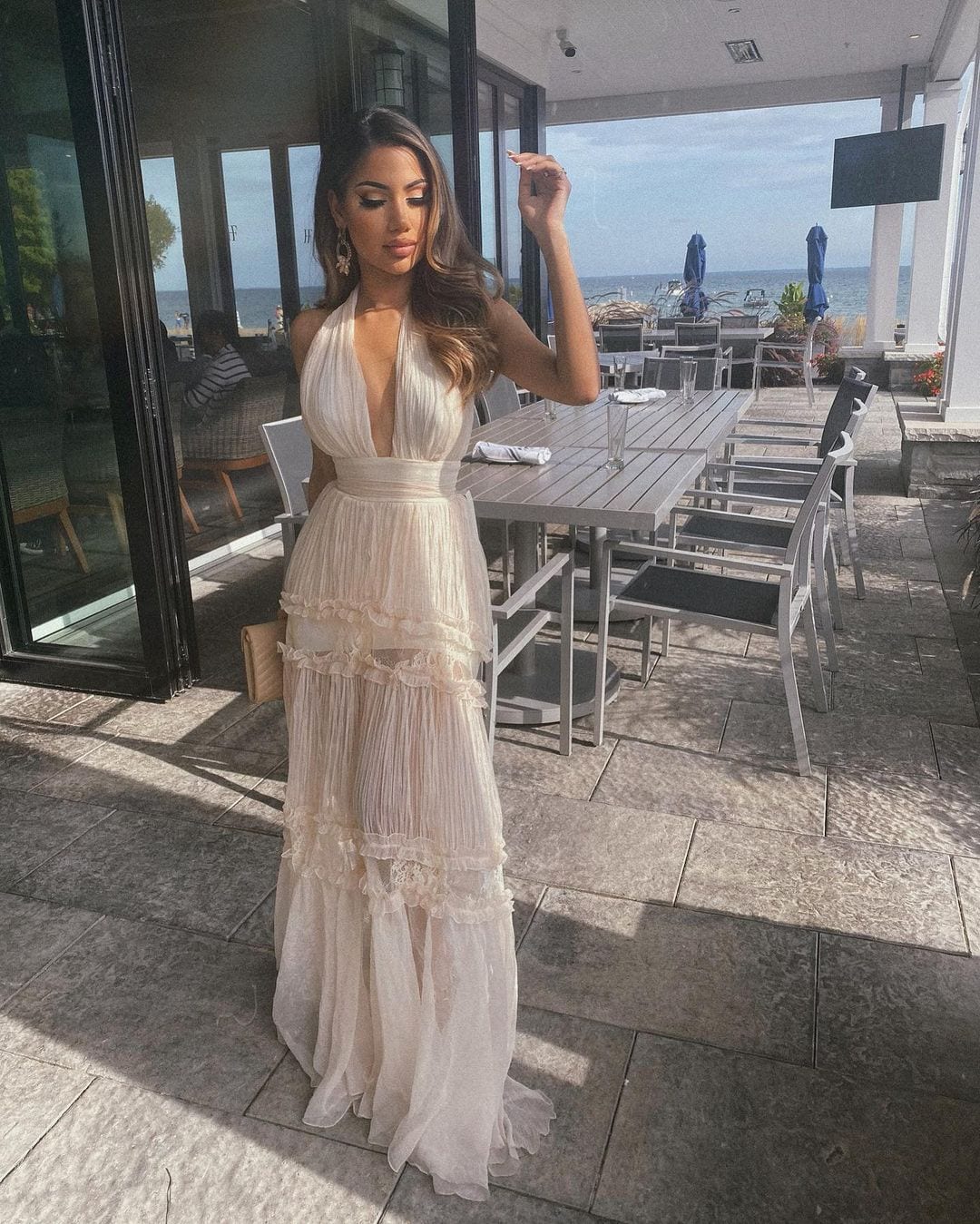 ↓ 16 – All About Black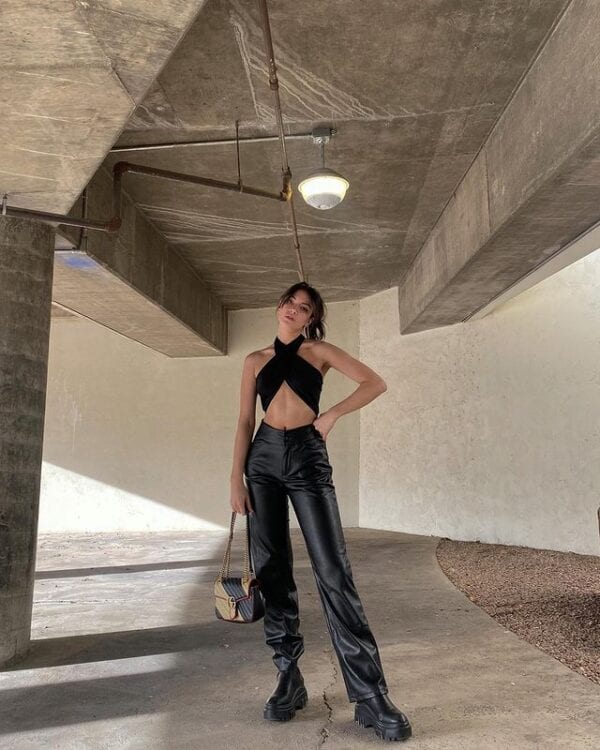 ↓ 15 – With Statement Belt
A white top is undoubtedly a wardrobe staple in 2021. Amp up your staple by wearing it with some denim and a cute neon-colored statement belt, just like Mia Maples!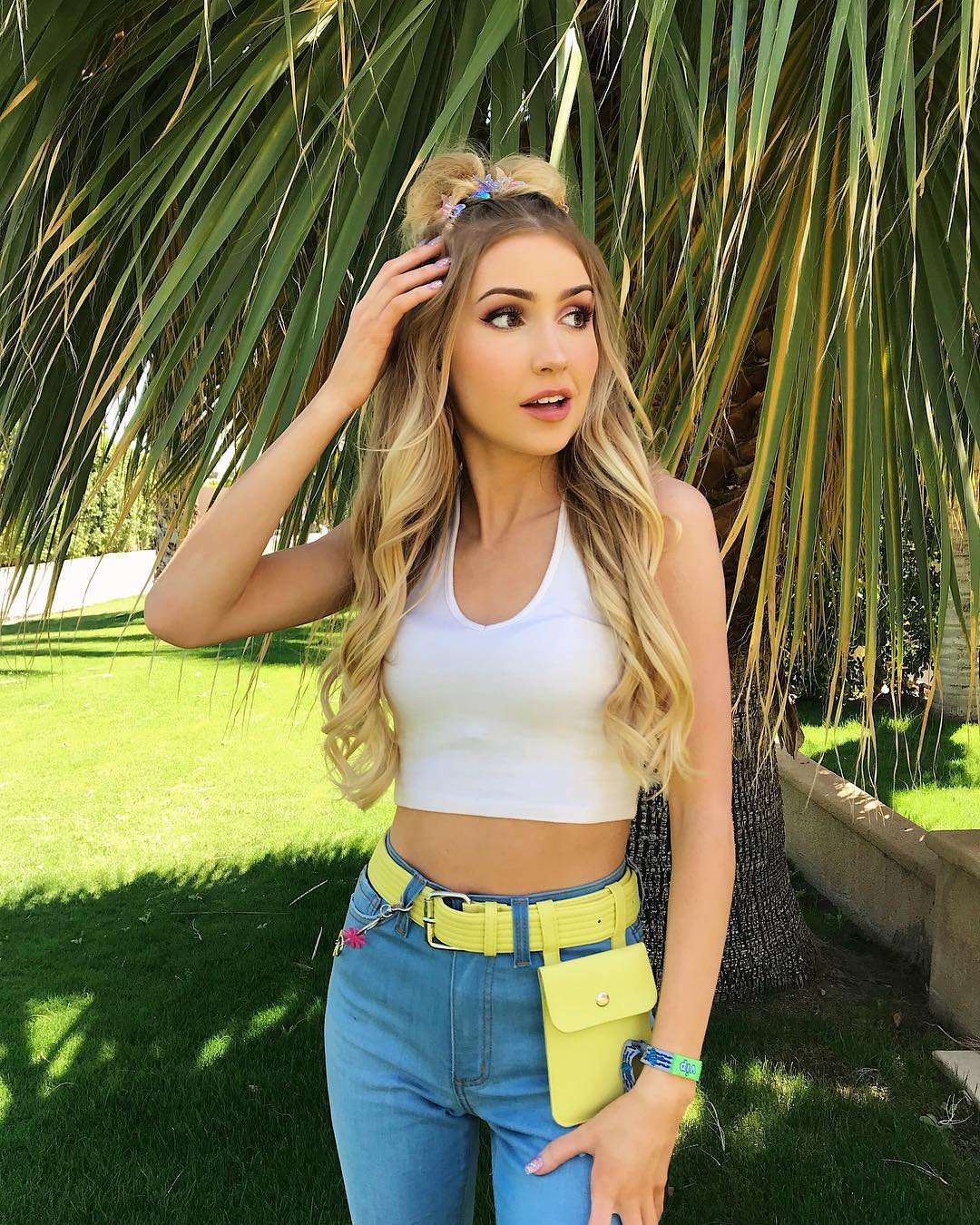 ↓ 14 – For the Gloomy Summer Days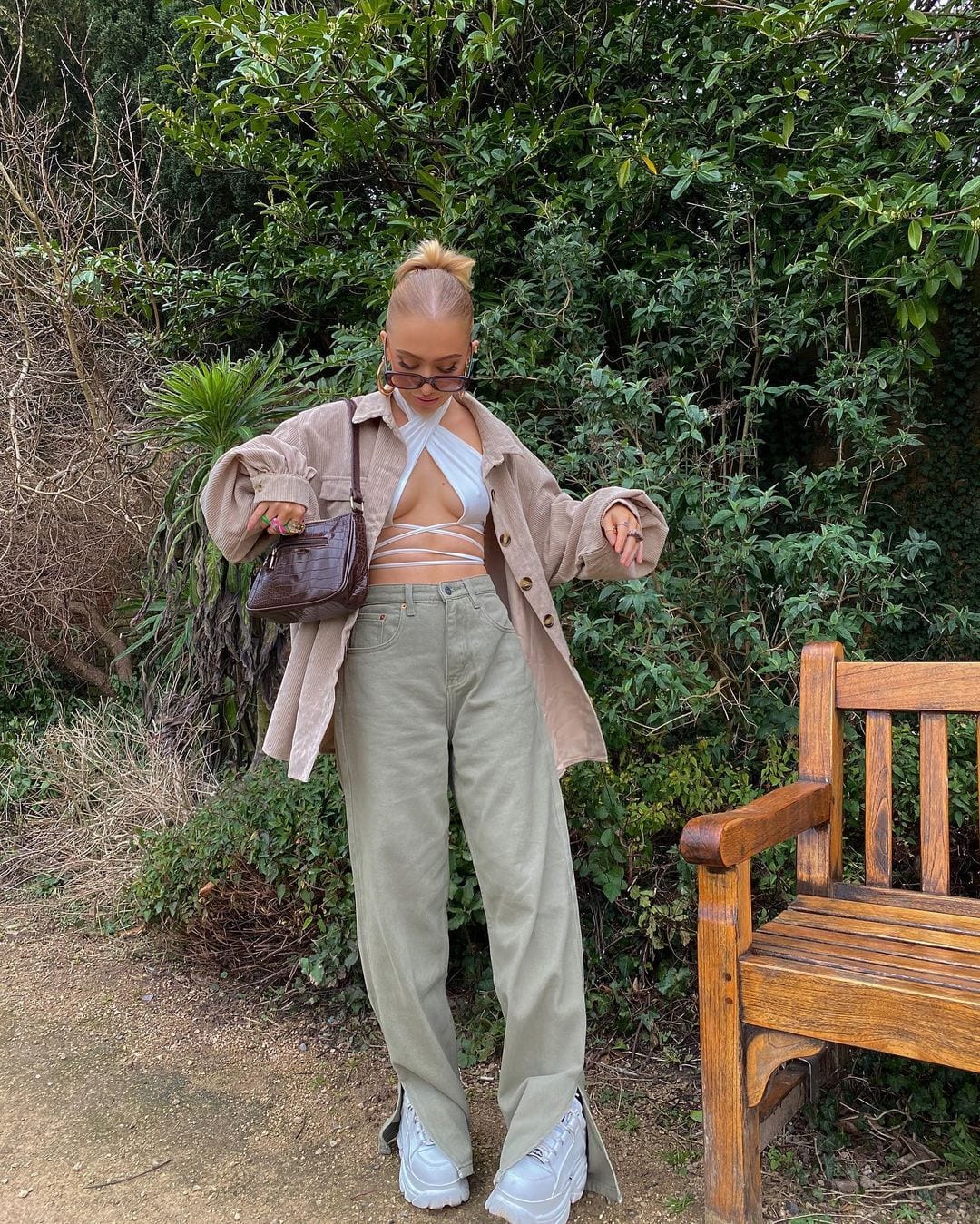 ↓ 13 – The Barbie Look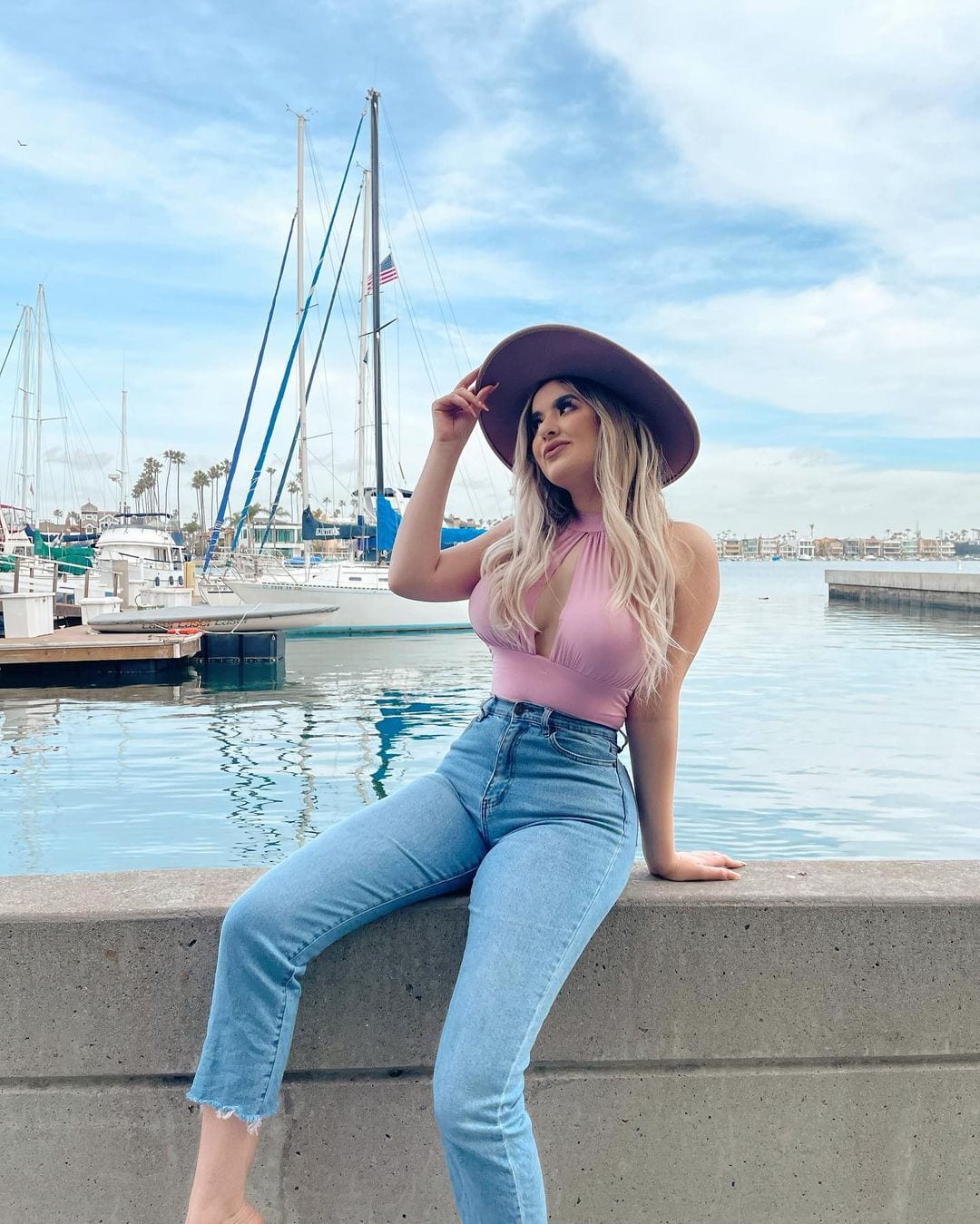 ↓ 12 – The One with the Sleeves
Yes, you heard it right! Sleeves with this unique neckline are very much a thing. And not only are they comfortable to wear but they also make you look incredibly stylish!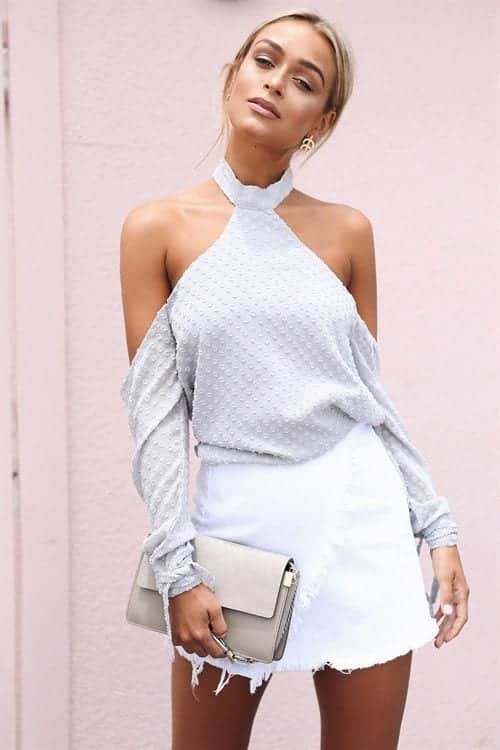 ↓ 11 – Trendy Watercolour Look
Watercolor everything is pretty trendy these days. Style this cute piece with denim shorts and pastel pink sneakers, making it the perfect outfit for your leisure days.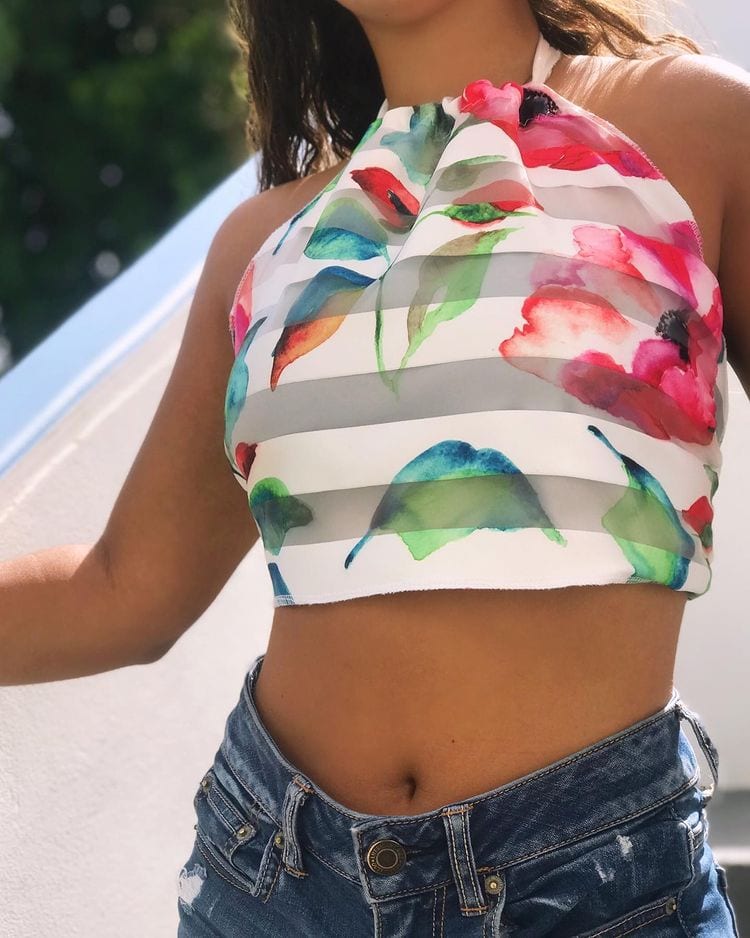 ↓ 10 – Mask It Up!
If you believe that print on print does not work – then this look will happily prove you wrong. Not only is this blogger making it work, but she looks so fun and relaxed while doing so. And of course, during this testing time, we can never forget the most essential accessory, face masks! Do not forget to serve some looks while making sure to stay safe.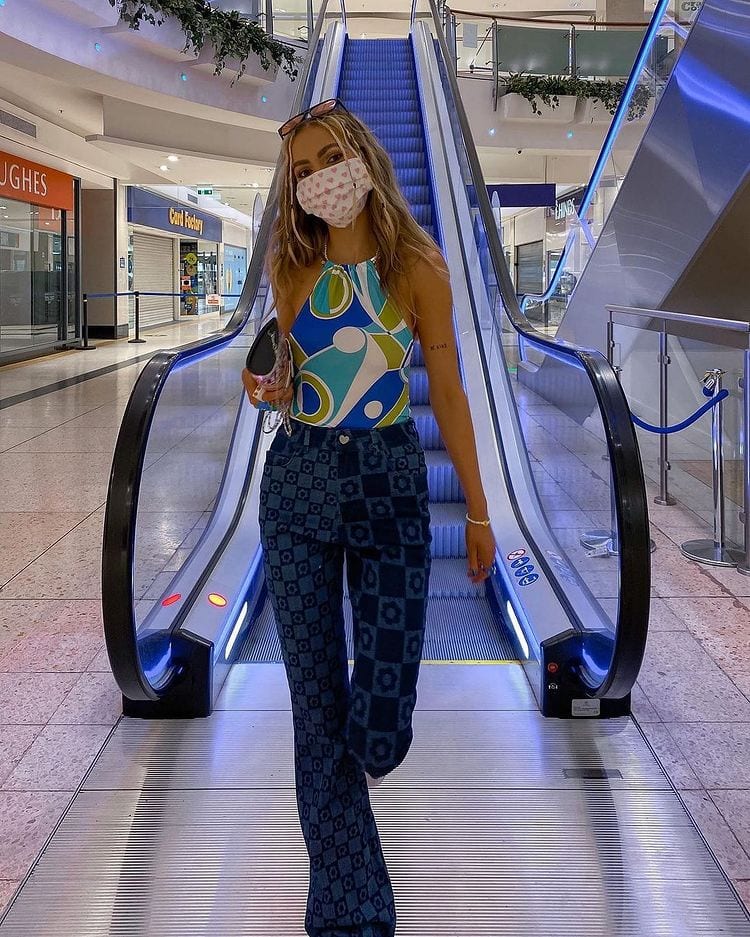 ↓ 09 – Jennifer's Sequined Top
At this point, it is pretty much established that Jen Aniston can never go wrong with any outfit that she wears. Thus, I am not surprised to see her slaying this sequined blouse with the form-fitting, long black skirt.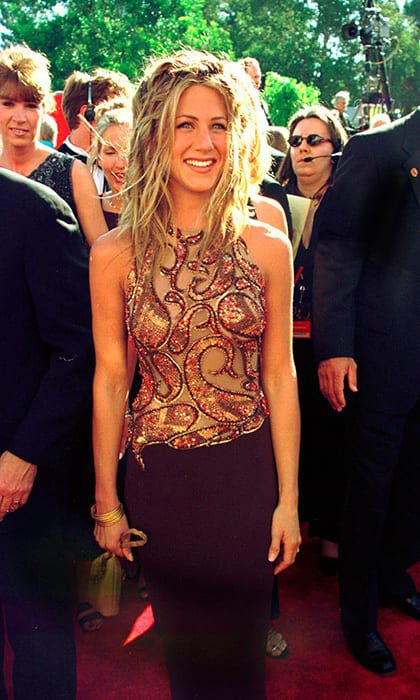 ↓ 08 – Halter Peplum
This modish spin on the neckline is so vogue and fun! The cinched waist of the peplum top, along with the sequins, will leave you looking like a dream. You can style this top to make it the ideal outfit for parties and formal wear. I would suggest pairing it with straight-cut palazzos and high platform heels – and you are a vision to behold!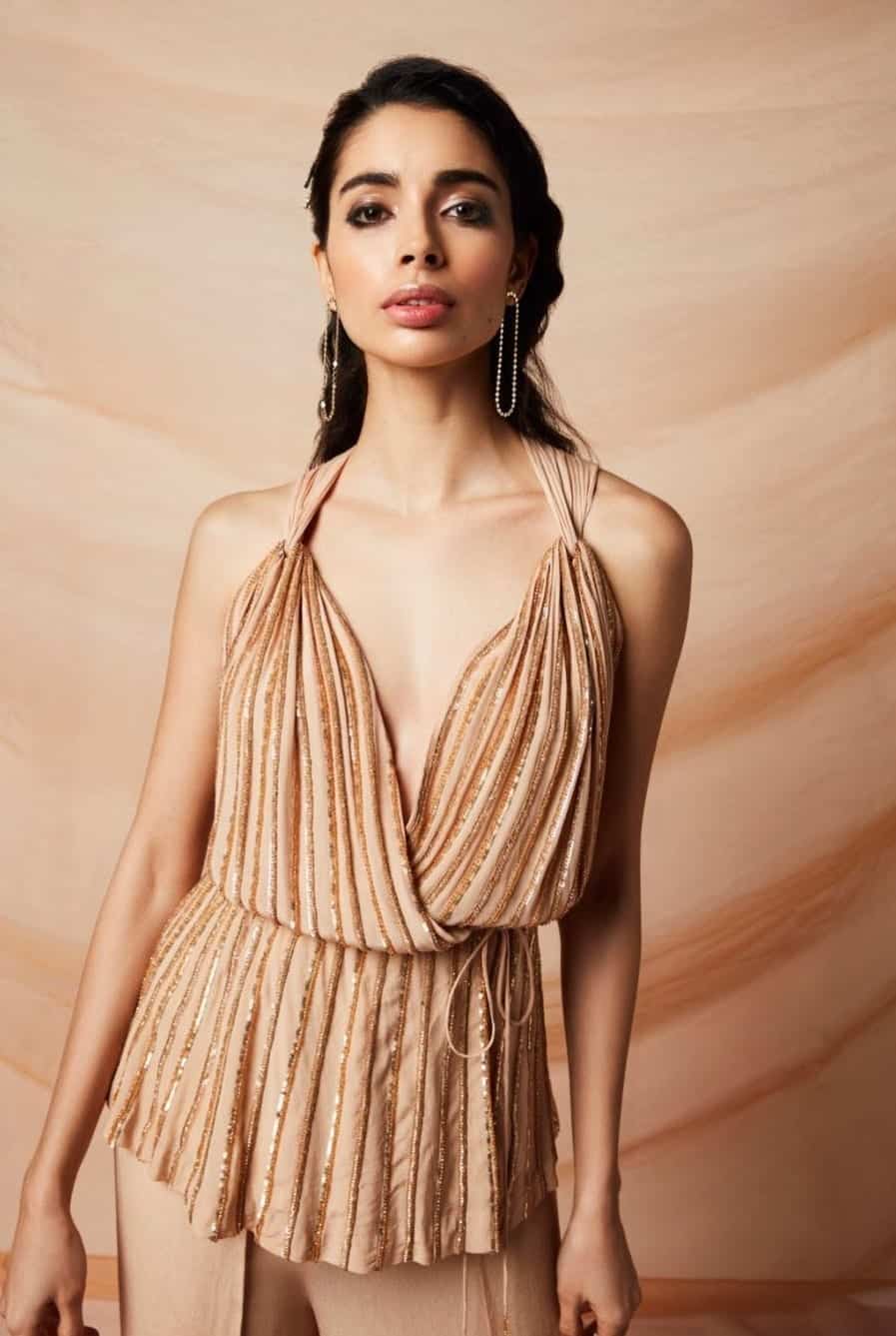 ↓ 07 – Bella Hadid's Cruise Style
Here we have the queen of halters for the modern days, back with a bang in this gorgeous outfit! Bella Hadid does know how to trend, and she does so effortlessly. This printed top on its own is cute, but she elevated the attire by adding the metallic chained straps to the outfit. Moreover, the earrings and glasses match perfectly with the top's print, bringing the entire ensemble together. Add white sneakers to top it all off!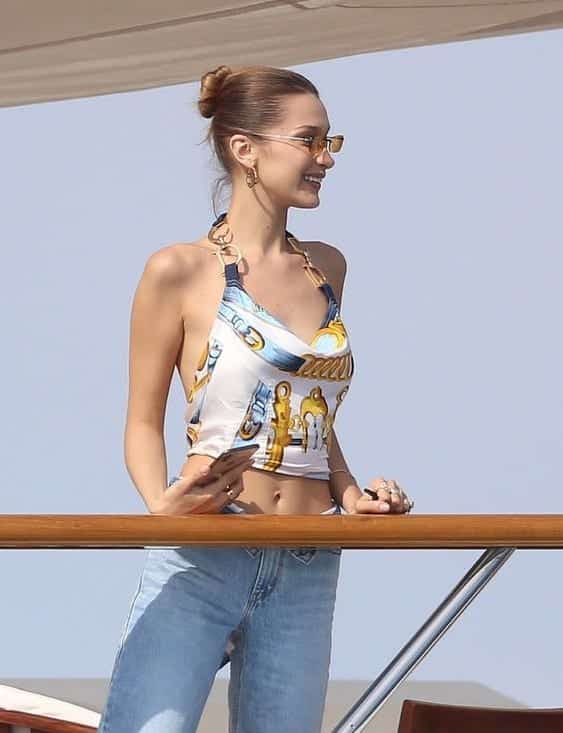 ↓ 06 – Beach Babe
What a cute outfit for the beach?! This one-piece is truly one of a kind, ideal for pool parties and when visiting the ocean.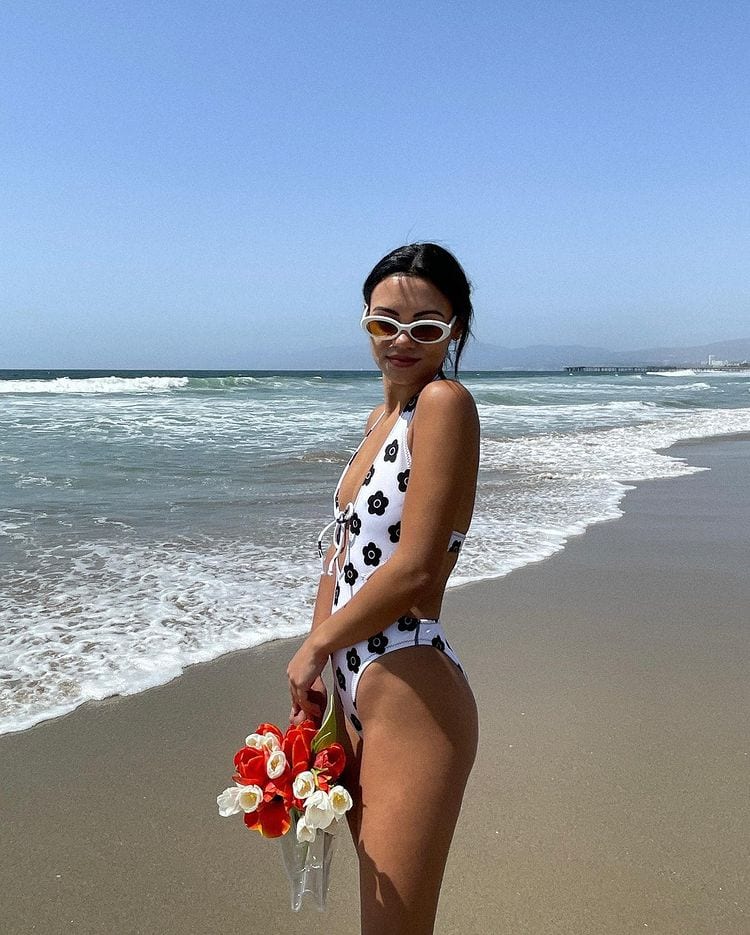 ↓ 05 – Office Chic
Want to power through your busy office day? Well, I am here to inform you that you will breeze right through if you appear the part. This outfit is perfect for meetings and essential workdays, giving you a tall and confident persona. Add on a white plain blazer to match the pants, along with white heels. Also, wear small stud earrings and a watch to complete your sexy yet official ensemble.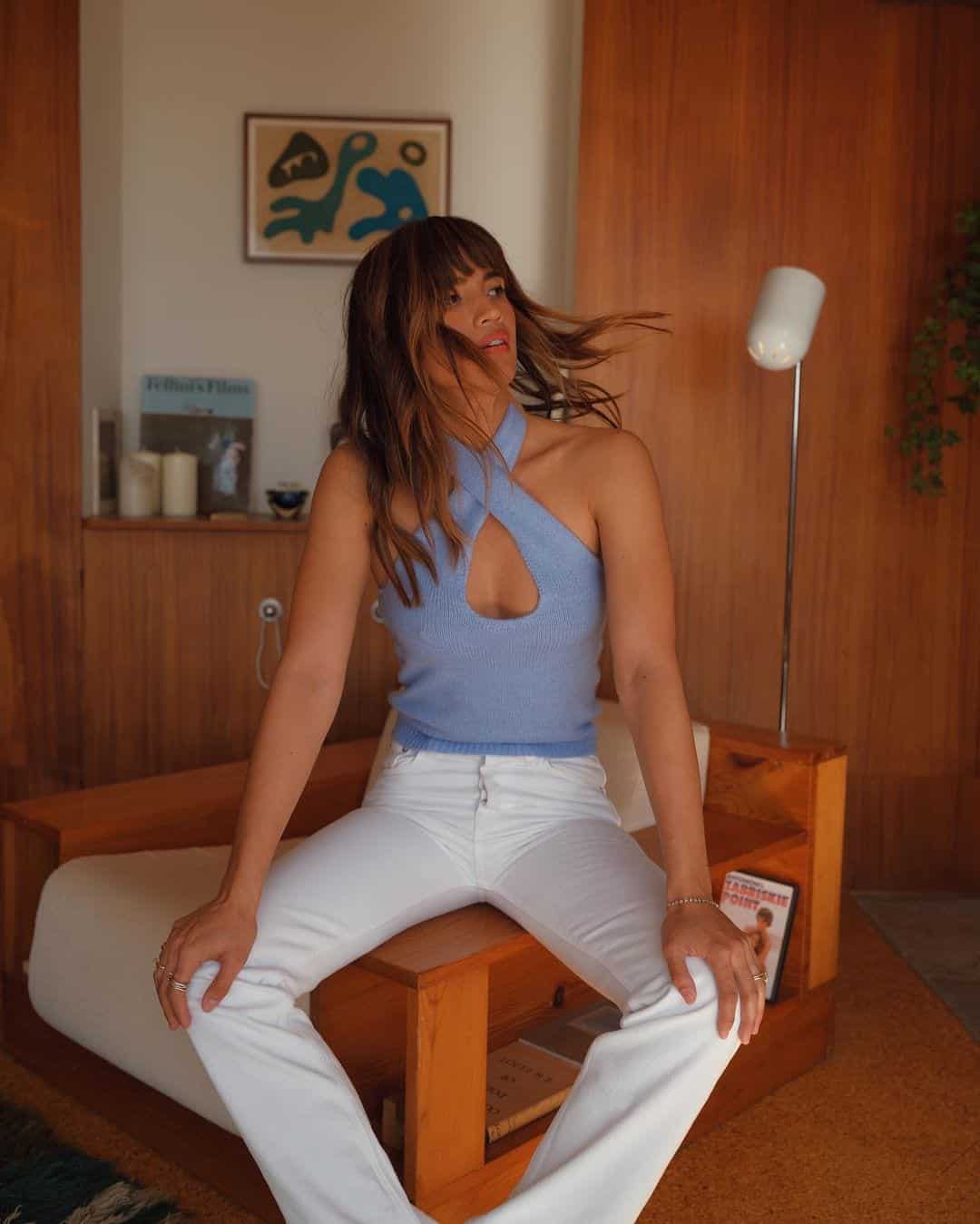 ↓ 04 – Stripes with Denim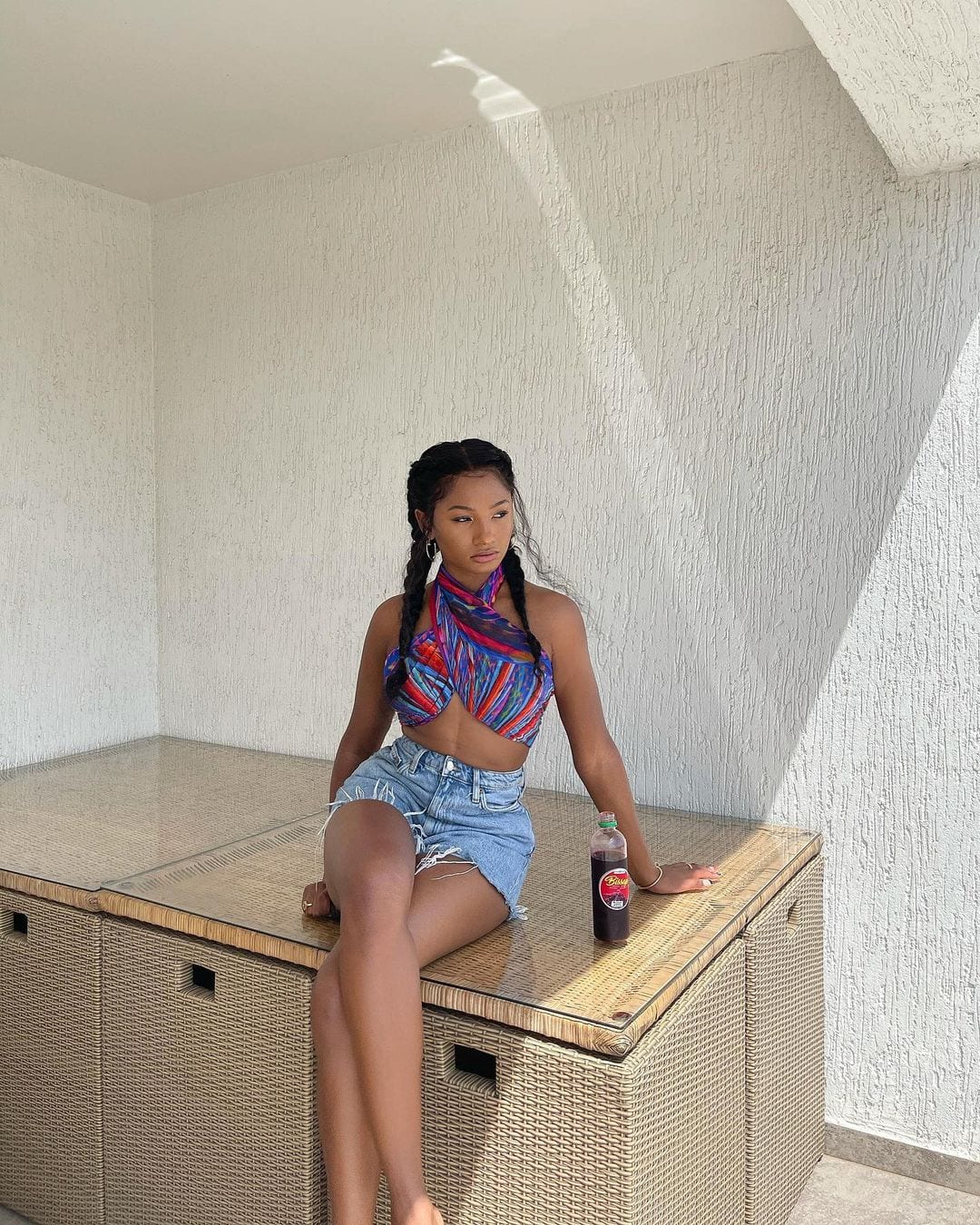 ↓ 03 – Effortlessly Ethereal
I love, love, love this entire ensemble! This look screams feminine and romantic, making it the perfect outfit for your date nights. The acid-washed hue of the jeans and blouse is exceptionally unique. Moreover, the slight pop of color on the top with the matching lip provides just the right amount of brightness to the look. Tie it all together with hot pink court shoes and a gold watch.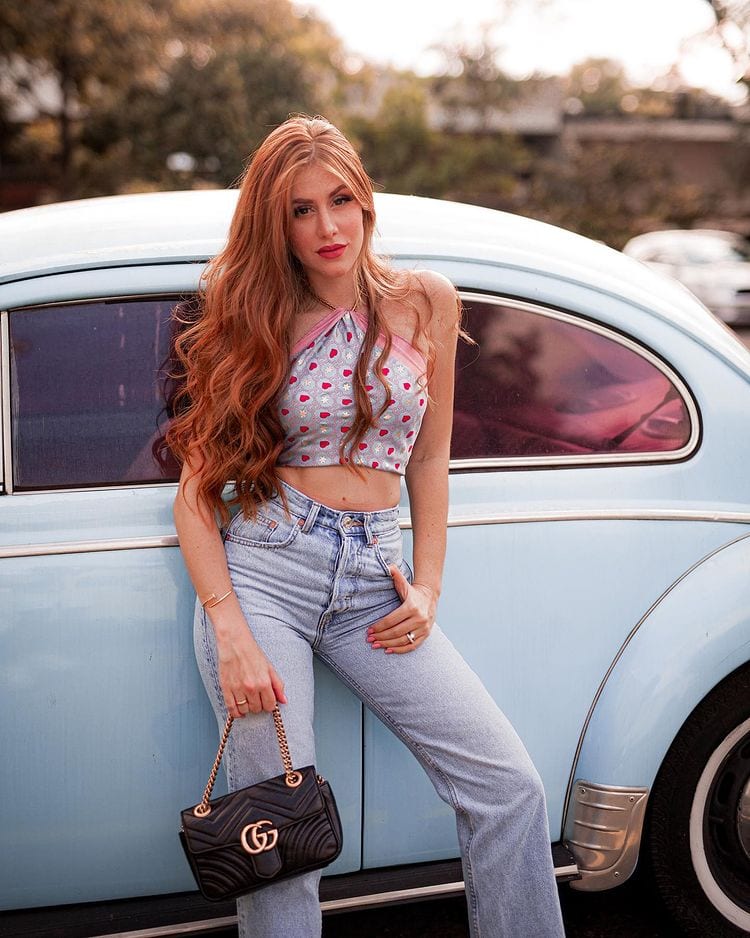 ↓ 02 – With Ripped Jeans
An effortlessly vogue look which is modern yet comfortable at the same time!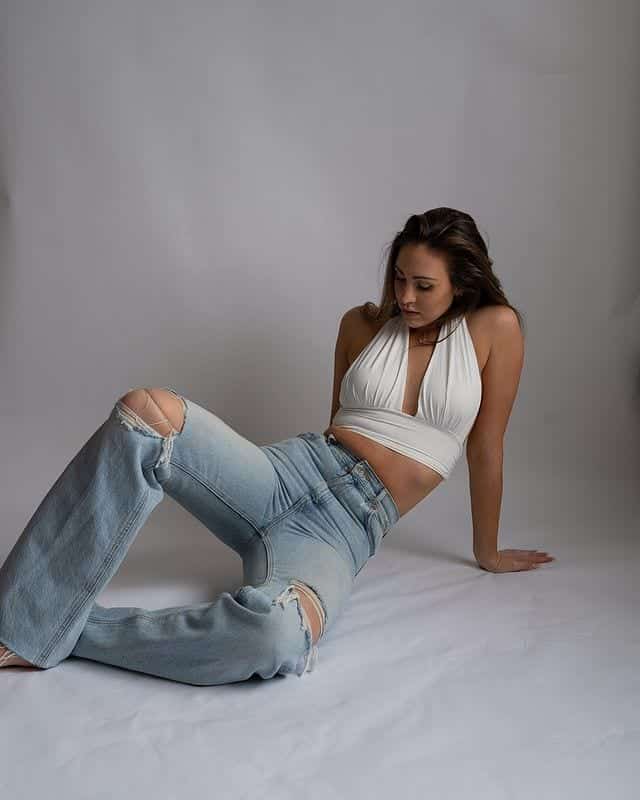 ↓ 01 – The Sari
Who said this neckline could only be styled in western fashion? This sari truly takes us back to the Asian origins of the tops. The sequined blouse is not only eye-catching but is also relaxed and refreshing to look at. I believe the pastel color palette is to be credited for that. This outfit is the perfect wear on weddings or as a bridal look for your reception. Gorgeous!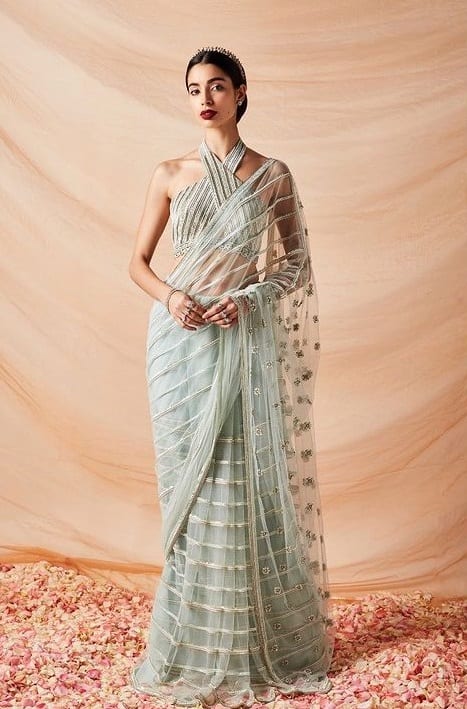 Frequently Asked Questions
Q.

What is a halter top?
A. It is a modish spin on the traditional tank top. The straps for this top tie at the back of the neck instead of the usual two separate strands. The straps can vary in thickness as well, being either thick or thin. And since the strings unite at the back of the neck in a loop, the top is usually rendered backless. Moreover, the length usually ends at the midriff but it may vary according to the design it is being produced in.
Q.

What is the difference between halters and a crop top?
A. While both the tops look comparatively similar from the front; the major difference lies in the back. A halter top is usually backless, and the straps tie behind the back. However, a crop may be completely covered or have apparent straps running down the back.
Q. What type of a bra goes with a halter backless top?
A. If you are not fond of showing bra straps, then I have a couple of options. An ideal fit for your top might be a halter-style bra. It will be comfortable to wear, easy to conceal beneath your blouse, and can be worn with various outfits. However, if you do not have the traditional style top, silicone adhesive bras might be the option. Furthermore, you can explore strapless bras and convertible ones whose strap can easily be concealed when needed.
Q.

Are crocheted halter tops in?
A. The answer is yes! Crocheted tops are very much in if you style them appropriately according to the event you are wearing them for. They are a cute and fun piece to style with jeans and denim shorts. Wear your crochet top on your days in the flower fields and when visiting the farmer's market. Not only will they make you look right on brand, but they will make you look oh-so-cozy.
Q. Are halters flattering for women with broad shoulders?
A. While there is absolutely nothing wrong with broad shoulders, most conventional blouses that tie around the neck do serve to emphasize the shoulders. However, this majorly depends upon the style of top you wear. Some draw more attention to the shoulders, making them look broader; others have an entirely different effect.
If you wish to make your shoulders appear slimmer, try on a top that is loose around the waist to balance out your top and bottom. Similarly, the neckline matters a lot as well. The straps separate to go behind the back just above the bust (check look # 3: Effortlessly Ethereal for reference) appears to slim the shoulders. Furthermore, make sure to chose thicker straps rather than thin spaghetti ones.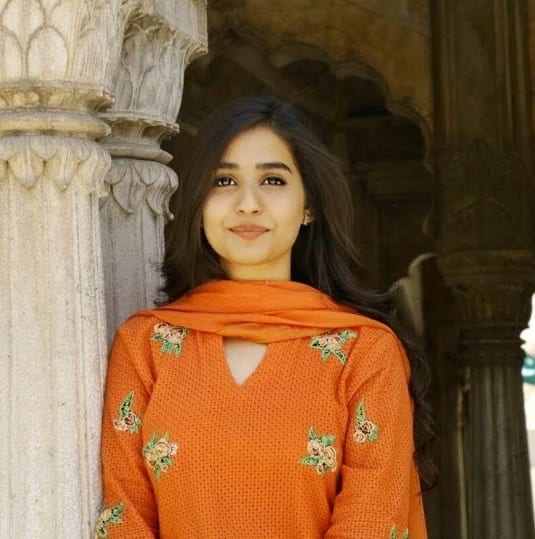 Janeeta Khan loves to write and loses herself in the world of fiction during her free time. You will probably find her curled in the corner with a Harry Potter book and a steaming mug of hot cocoa.