Glamping outfits: Glamping is a super fun activity but it can require some effort to figure out what wardrobe to take with you. Glamping is basically just camping but a more luxurious form of it. It is not that hard to figure out a wardrobe for glamping, we are here to help you out with it. Glamping will require you to look glammed up and still be in the outdoors. You must find out what your most comfortable yet stunning outfits are and take those with you.
You can easily take dresses with you. Dresses can be worn with boots or sneakers. You can pack your favorite pair of hiking pants because you will be needing those for sure. You will need one jacket that you can wear with every outfit. That jacket will keep you warm and stylish so make sure that it is cool enough. One jacket will be enough because firstly bringing more than one jacket will take up a lot of space in your bags and you won't be changing jackets every day so pack smartly.
What Do You Wear for Glamping?
Glamping is not as hard as it seems. You can pull off glamping looks very easily if you just think creatively and smartly. You can wear outfits you would wear normally by just adjusting them a bit to the environment. You can wear shorts with a pretty printed shirt and boots.
Dresses can be worn with belts to make them easier to carry and skirts can be worn with leggings or stockings to stay safe from bug bites and anything else that might harm you. You will definitely need to pack sunhats and sunglasses because you will need those. Do not forget to pack sunblock because that is one of the most important things and if you don't pack sunblock then you have no use for sunglasses and sunhats. They all do the same job, protect you from the sun and you will need a lot of that when you are out glamping.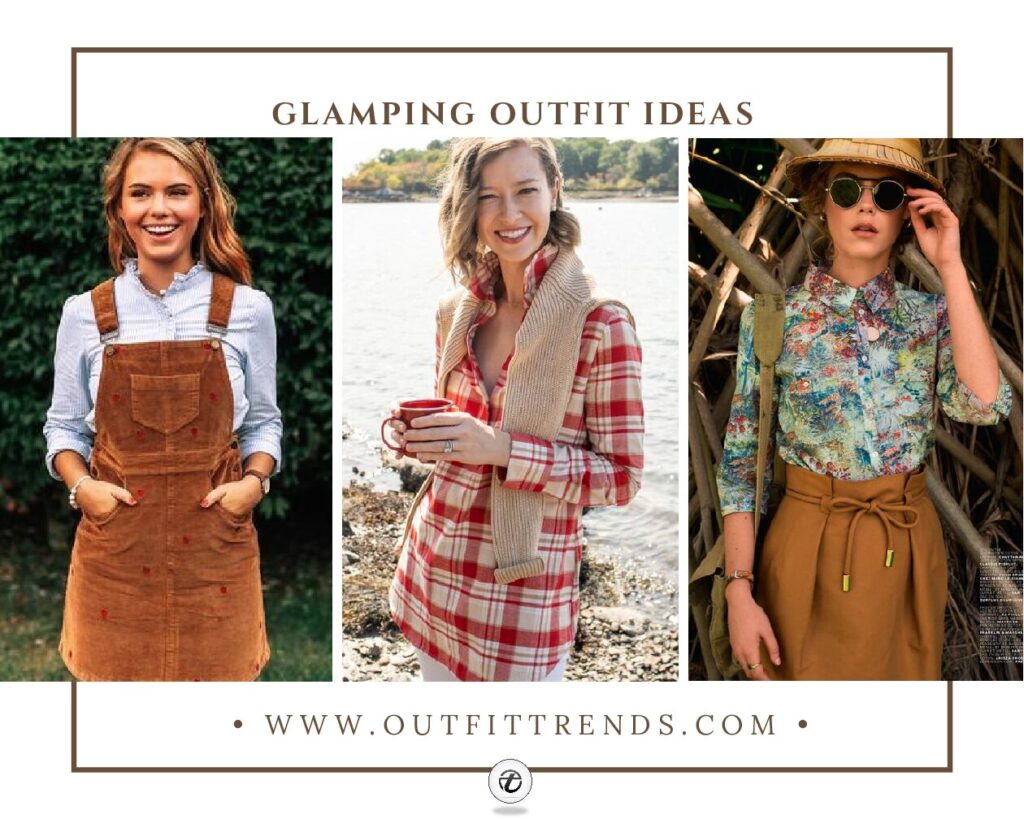 Tips For Glamping:
• You should always make sure you take insect repellant with you when going on any sort of activity in the outdoors because you never know if it will be available there or not. Keep it with you to be on the safe side.
• While dresses would simply look gorgeous in the outdoors it might be a bit risky to walk around in them and especially maxi dresses would be hard to carry so just a heads up, you will need to be extra careful when wearing a dress in the outdoors.
• If you like your hair done every day, you will need to keep in mind that while you may have some source of electricity, it may not be available all the time. You should have some no-heat hairstyles in mind before you go, to save yourself the trouble.
• You will need to make sure that the shoes you keep with you are comfortable. They should not be too tight nor too loose. You will need to walk and hike a lot so your shoes should be extra comfortable to ensure your trip doesn't get ruined.
• You should pack all types of clothes that you know you would wear. However, don't go overboard with the packing because you won't be able to carry a lot of luggage and you need to steer clear of extra weight on your shoulders too.
• You may have to mix and match a lot of outfits so pack different accessories that you think would work with certain outfits such as wearing a belt with a dress to switch it up. You will have to get creative but it will be worth it!
↓ 20 – The Perfect Black Dress!
Don't know what to wear to glamping? Here is one outfit that you will find hard to resist. The perfect black dress is what you need for the perfect glamping look. You can pair this stunning dress with a pair of black sandals or sneakers. Don't forget to wear some dainty jewelry pieces because they will bring this look together. Here are some more ideas on How to Wear the Little Black Dress.
↓ 19 – Printed Maxi Dress
Maxi dresses are some of the comfiest items of clothing and we highly recommend them for some glamping. This printed backless maxi is the perfect summer glamping outfit. Pair it with a sun hat and some bracelets. Try wearing some colorful sandals to add some color to this outfit! This outfit will not fail you and look good no matter what.
↓ 18 – Semi Formal Look
If you are a lover of oxford shirts then this is the outfit for you. A plain white oxford shirt with some ripped skinny jeans. Blue jeans go perfectly well with a plain white shirt. You can wear this outfit with sandals or moccasins if you like. You can add a cool sun hat to this outfit to complete it.
↓ 17 – Matching Glamping Outfits for Couples
Looking for glamping outfits for yourself and your partner? We got you. Try this outfit and match it with your partner. The color contrast of these outfits is super cute and we can't handle it.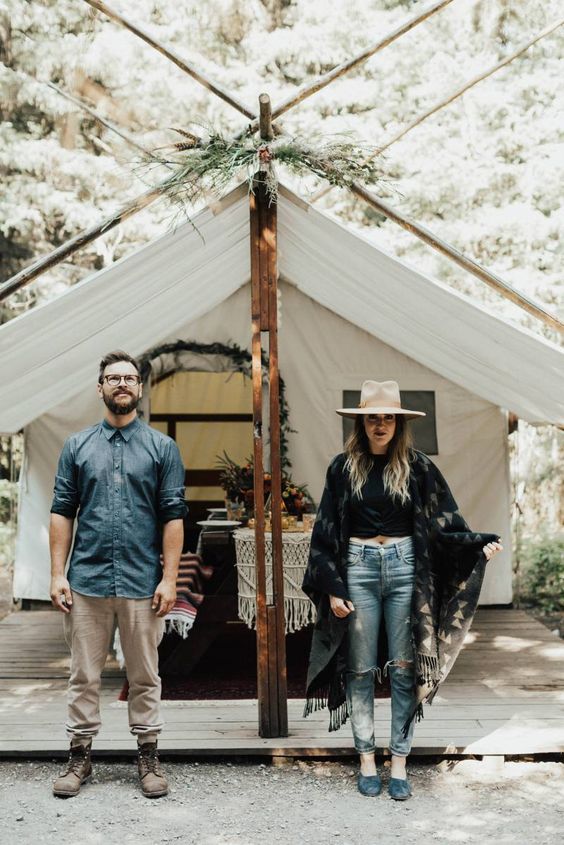 ↓ 16 – Bell Bottoms
Bell bottoms will forever stay in style no matter what! This outfit is super cool and stylish. Pair dark blue bell bottoms with a white t-shirt and heeled boots. A hat will complete this look. You can wear this look to glamping or any party if you like because this is a versatile outfit.
↓ 15 – Kate Middleton's Glamping Outfit
Kate wore the perfect glamping look and showed us all how to do it! They paired black skinny jeans with a blue oxford shirt and sleeveless jacket. Kate wore black boots with this outfit to complete the look. This look is super sporty but also sophisticated at the same time which is why it can be your next glamping outfit. Here are some more of our favorite Kate Middleton Travel Outfits.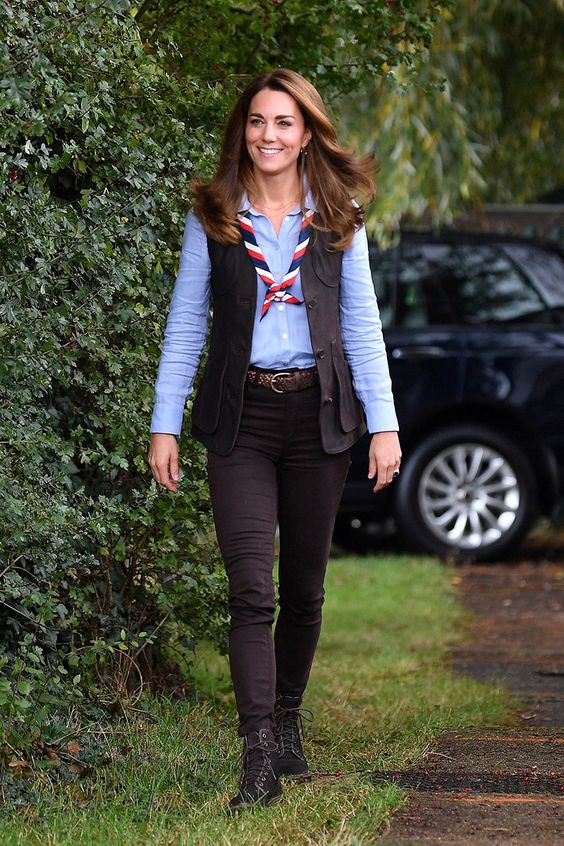 ↓ 14 – Green In The Greens!
Wear a green outfit in nature and match! This stunning green dress with a bow is super cute. You can wear this dress with over-the-knee boots, sneakers, or sandals. This outfit is perfect for glamping. If you like to wear jewelry then you should definitely pair gold jewelry with this outfit. A brown hat would be perfect for this look.
via
↓ 13 – Double Sided Jacket For Days!
If you don't know how handy double-sided jackets are then you definitely need to go buy one. These come in handy especially when traveling/glamping. You can wear a double-sided jacket with any shirt and pair it with jeans and boots. The next day you flip the sides and wear the jacket again and nobody would know it was the same jacket yesterday! Don't forget to wear your sunglasses.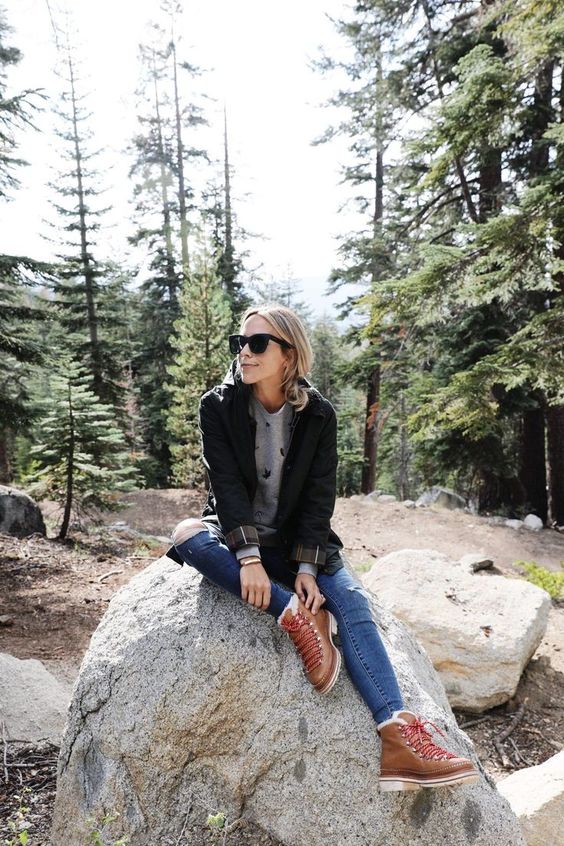 ↓ 12 – Blazer For The Camp Side!
If you prefer to stick to blazers rather than jackets then you will like this outfit. You can wear a plaid blazer with white skinny jeans and a white turtleneck underneath. This outfit will keep you quite warm for when it's needed. You can wear it with sneakers or boots. This outfit is perfect for glamping and is super cool too!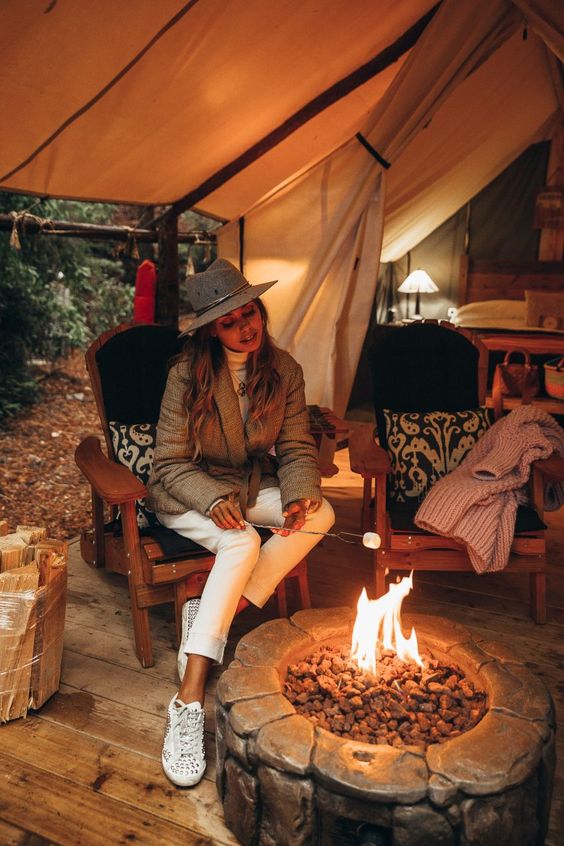 ↓ 11 – Fuzzy Jackets For The Win!
This is a simpler outfit for ones that don't like to dress up much. You can wear black leggings with a fuzzy jacket and a beanie. This outfit is super simple and will be easy to put together. You can wear it wherever you like and not just for glamping. When glamping, you can pair it with boots and if you wear it just to run some errands then you can pair it with sneakers.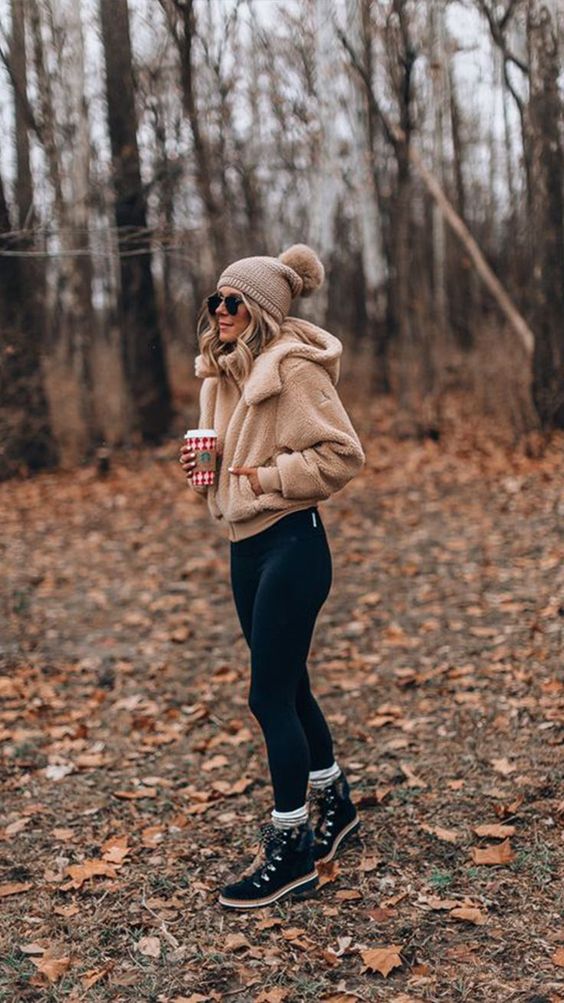 ↓ 10 – Denim Jacket For The Diva!
Denim jackets are super versatile and can be worn with anything and any color. Wear a blue denim jacket with a printed floral dress for glamping and watch all the heads turn! This is a fun and cute outfit that can be dressed up or down. You can wear this look with heels, sneakers, or just boots. Don't forget to wear a hat and a matching shoulder bag. Here are some more of my favorite Outfits with Denim Jackets.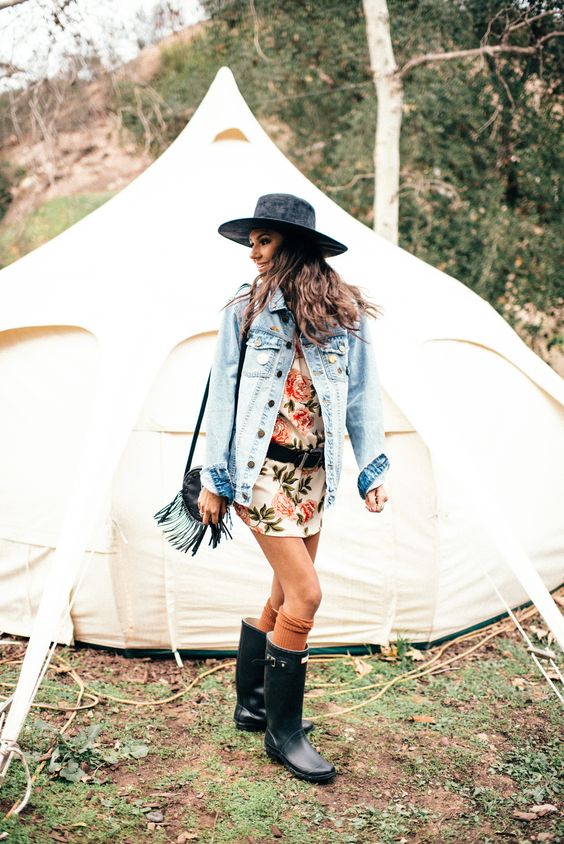 ↓ 9 – How To Wear A Slip Dress?
Slip dresses are sexy and stylish both at the same time. Some people don't know how to wear them but that's what we are here for! We are here to tell you how to wear a slip dress and how to wear it to glamping. Slip dresses can be worn in tons of ways, with sweaters, jackets, overcoats, and whatnot. You can wear a slip dress to glamping by pairing it with a long jacket and some hiking boots.
↓ 8 – The Perfect Cover-up
Glamping requires last-minute weather change outfits. If you don't want to wear a jacket or sweater then you can wear this striped cover-up. This will come in handy whenever you need to wear something warm. This purple and red striped cover-up is super pretty and will match with whatever you wear!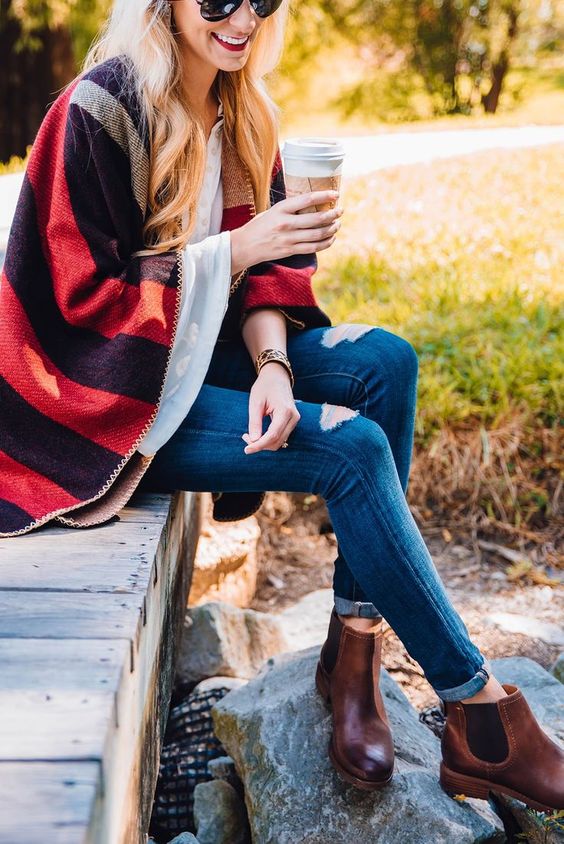 ↓ 7 – Bohoo Styled Dresses
These dresses are super fun and make the perfect outfit for glamping. You can wear a dress like this with sneakers, heels or boots. These dresses come in tons of different prints and designs and you can style them in a lot of ways. Pair this dress with a denim jacket or overcoat to complete the look.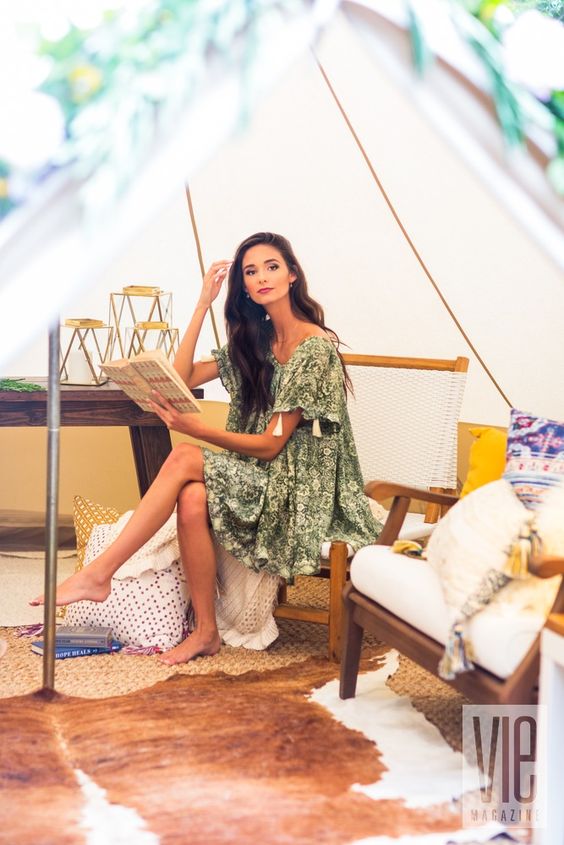 ↓ 6 – Prints For Teenagers!
These printed collar shirts are stunning for girls that like to dress up. Pair this shirt with some plain formal pants or even jeans and you will have a complete outfit. Of course, don't forget to wear your sunglasses and a sunhat for the perfect glamping look!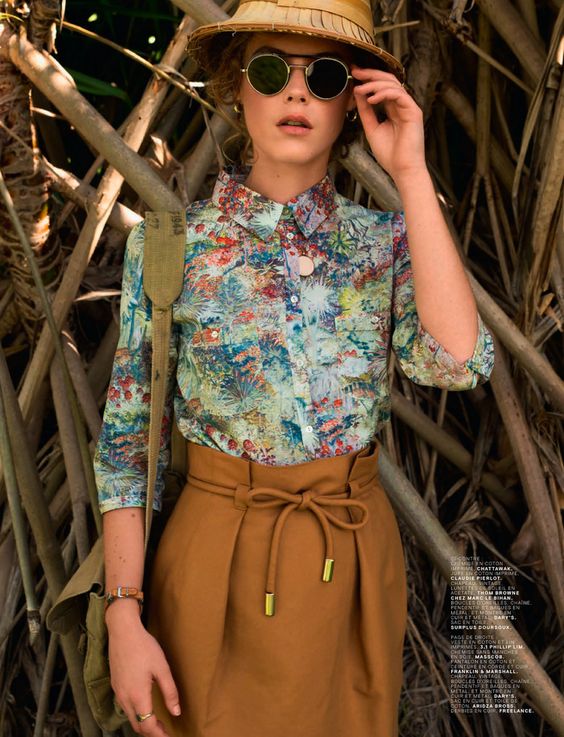 ↓ 5 – Aztec Style Dress For Glamping
This dress is exquisite and the colors on it are even more stunning. This dress will certainly catch just about anyone's eye, you just need to know how to wear it. Pair this dress with some matching sandals and a sunhat of course. Wear some gold jewelry with this outfit to complete the look.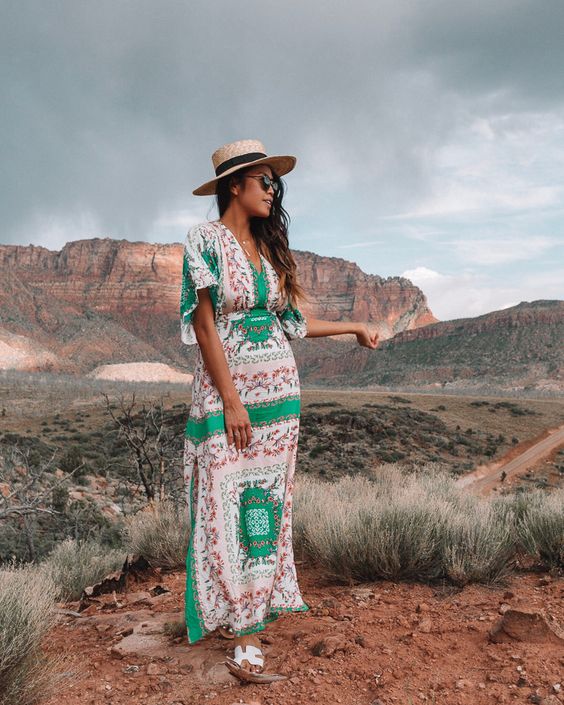 ↓ 4 – The Perfect Glamping Outfit!
If you don't like to wear pants, then this is the outfit for you. you can wear a printed collared shirt with some shorts and shoes. Grab your backpack, hat, and sunglasses and you are ready to go glamping!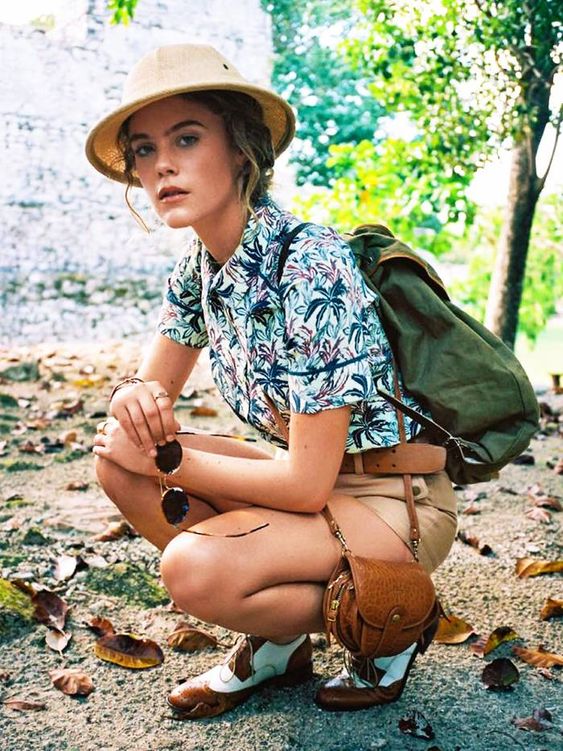 ↓ 3 – Dungaree Dress For The Fun Ones!
Who doesn't love a dungaree dress? They are super fun to style and easy to wear as well. You can wear a dress like this with just about anything underneath it. Don't worry about how you'll look just wear it if you like it. Pair this dungaree dress with over-the-knee boots and matching sunglasses to complete your look!
↓ 2 – What To Wear With Plaid Shirts?
There are a lot of things you can wear with plaid shirts. Plaid shirts have a lot going on themselves so it is advised to steer clear of any other prints and pair plain jeans, shorts, or skirts with plaid shirts. You can wear any sort of shoes with a plaid shirt, it depends on what occasion you are wearing them.
↓ 1 – Off-Shoulder Dress
This floral yellow off-shoulder dress will brighten up just about anyone's mood. You just need to pair this dress with heels or sandals and make sure to wear sunglasses and jewelry with it to complete the look.
Frequently Asked Questions
Q. What does glamping stand for?
A. Glamping stands for luxurious or glamorous camping. It is basically a higher-end version of camping with better facilities and activities.
Q. What is good about glamping?
A. The good thing about glamping is that you don't need to worry about beds and digging your own toilet or setting up a tent because all of that is already paid for and you get it done so that is something you do not have to worry about. All you need to worry about is what you will bring yourself such as clothes and other essentials.
Q. What should i wear to glamping?
A. There are a lot of outfits you can wear to glamping but you need to make sure that firstly, they are comfortable and secondly, they will keep you warm when needed. You need to pack items that are not super casual but also comfortable to wear such as a denim jacket, boots, dresses and plaid shirts.