If you are tired of wearing mainstream outfits and want to try something different, then let me introduce you to some cool military dresses for women.
Military outfits are currently having a moment in the fashion industry. Even though this trend started after World War II, there's been no going back. Lately, many of the top designers have added amazing militaristic outfits to their recent collections.
Here's everything that we'll cover today:
How to Wear Military Outfits?
These outfits usually include dark olive green, black, and khaki colors.
They are perfect for your leisure activities because they add a cool wardrobe twist. Hence, you can create casual looks that are both comfortable and stylish.
Military jackets have been really popular traditionally and they look uber cool when paired with jeans or shorts. But, lately, camouflage patterned clothing is in trend and for all the right reasons.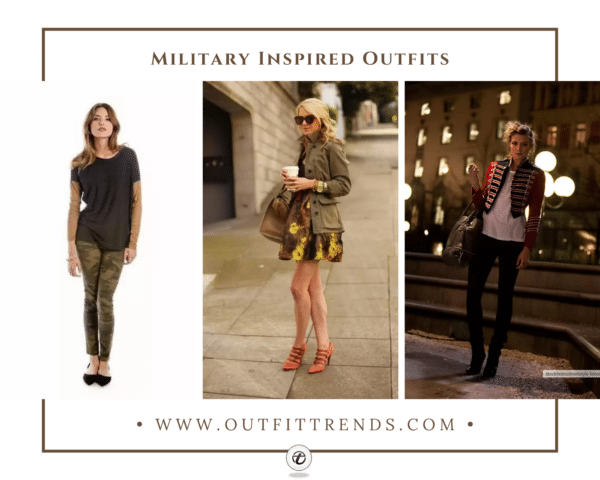 Not only does the print look really good, but you can add those to your basic outfits and create a fashion-forward look with easy fits such as camo pants.
Styling Tips
Still a little skeptical about whether these are for you? No worries, I have got a collection of stylish military outfits. Have a look at them, see some of the latest trends, and pick the best for yourself. Without any further ado, let's start with some styling tips.
Start with the basics: Begin with essential military-inspired items, such as cargo pants, utility jackets, or combat boots.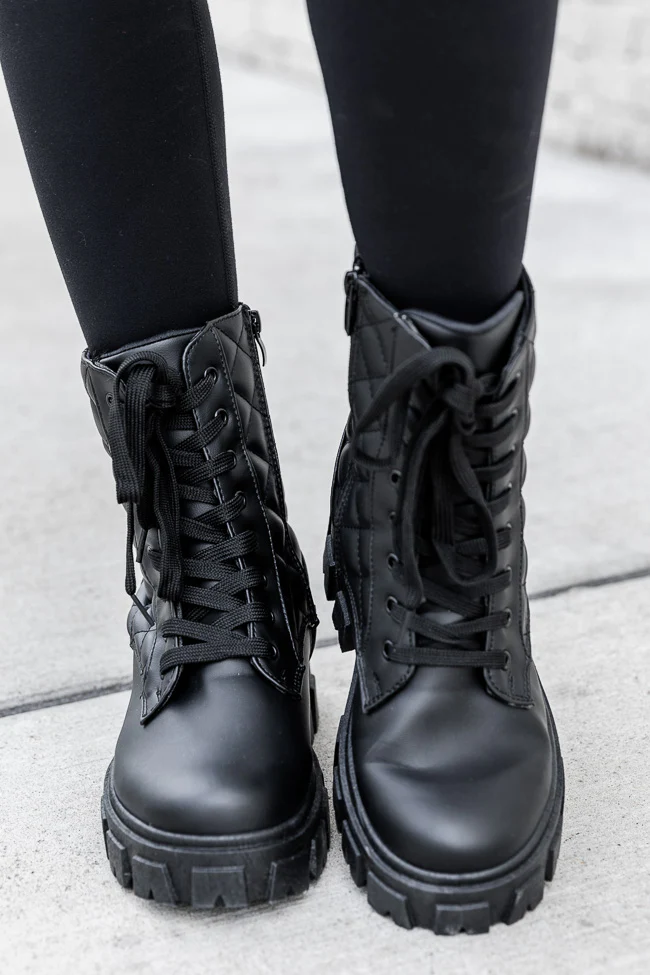 Mix and match: Avoid going overboard with the theme. Instead, mix the basic items with other casual pieces from your wardrobe to create a balanced look. For example, pair combat boots with jeans or a utility jacket with a plain t-shirt.
Choose earthy and muted colors: This fashion often features earthy tones like olive green, khaki, brown, and camouflage patterns. Stick to these colors for a more authentic style.
Olive green straight leg jeans
Pay attention to fit: Ensure that your clothing fits well. Such outfits often have a slightly more relaxed and utilitarian fit, so avoid overly baggy or tight clothing.
Layer strategically: Layering can give depth and texture to your outfit. Combine a basic t-shirt or henley with a lightweight military-style jacket or vest. This not only adds visual interest but also provides practical functionality.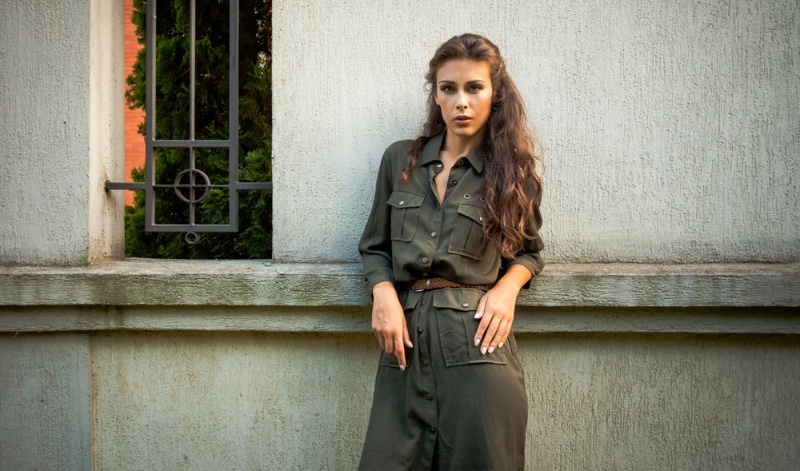 Avoid excessive patches and insignia: While some military-style clothing features patches and insignia, wearing too many can make you look like you're trying too hard. Choose items with subtle or minimal detailing.
Opt for quality materials: Invest in well-made, durable fabrics like cotton and canvas. Quality materials not only look better but also last longer.
Best Accessory to go with your outfits: Aviator Sunglasses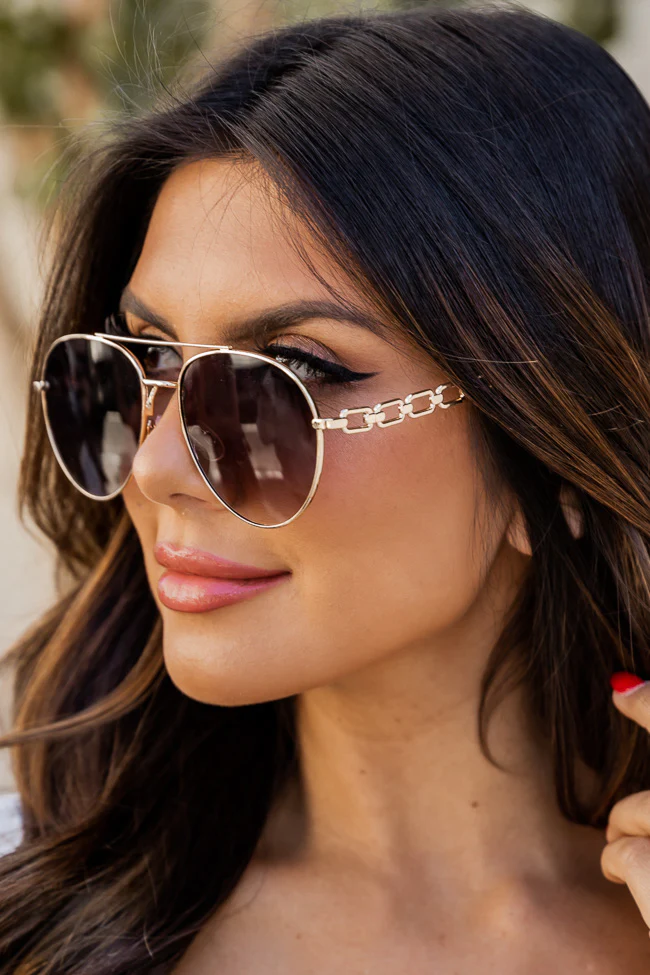 Military-Inspired Outfits That You Can Actually Wear:
27 – Opt for a Green Camo Dress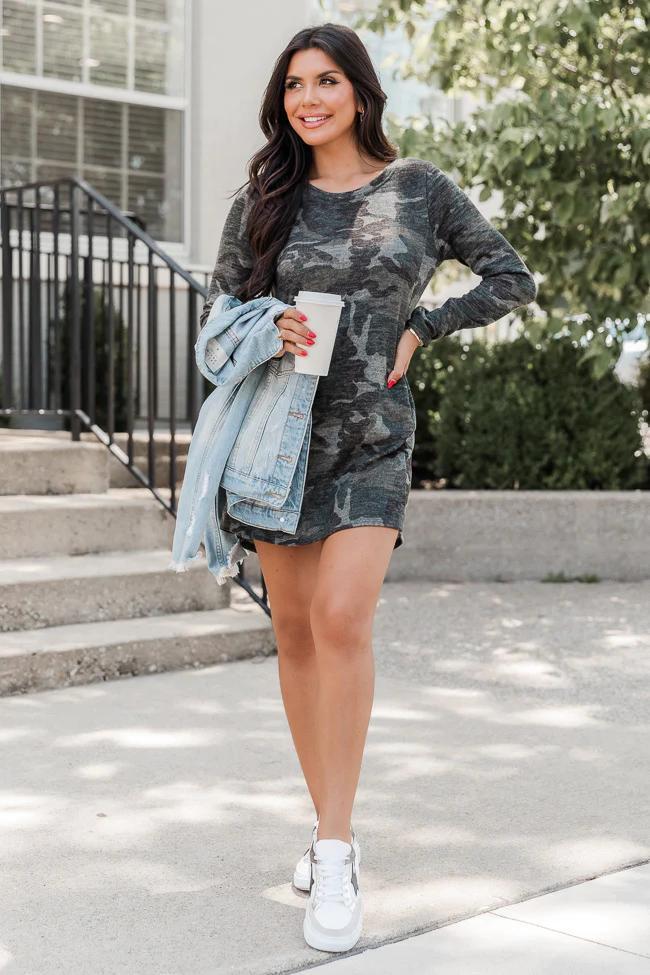 Full-Sleeved Camo dress or get this similar one
26 – Go for a Green Utility Jacket
A classic green utility jacket is a staple. Look for one with multiple pockets and a cinched waist for a flattering fit. It's a versatile piece that can easily be dressed up or down.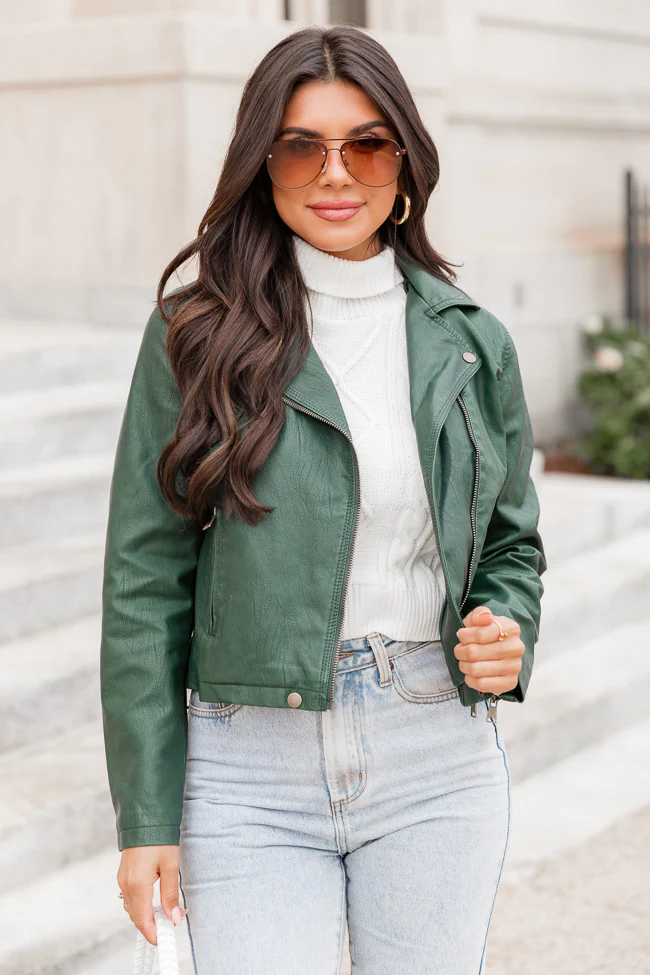 25 – Add a khaki color or camo pattern jacket to any of your basic outfits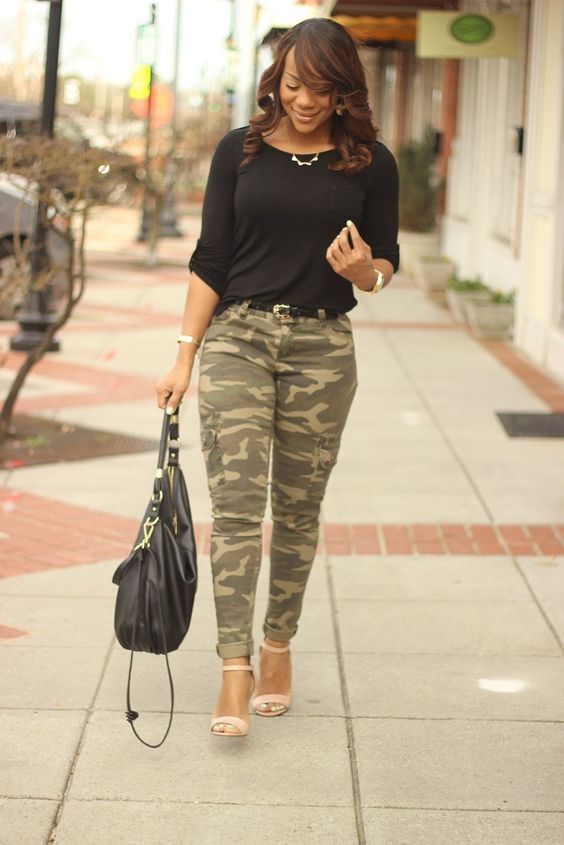 24 – Pair your cargo pants with a basic white or black top for a casual outfit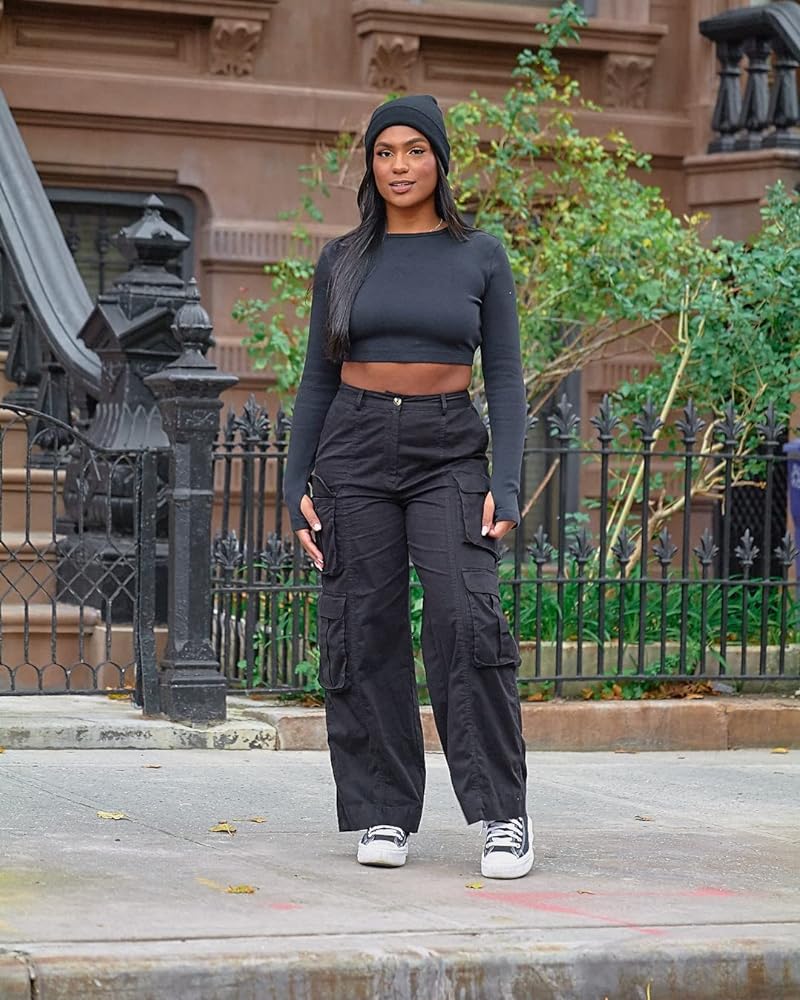 23 – For a stylish look, wear a black crop top with camo pants and add ankle boots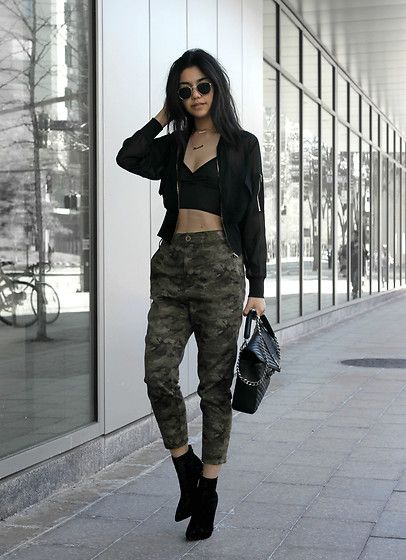 22 – Add a Camo Jacket to Your Basic Outfit
You can also wear a camouflage pattern dress for a feminine look. Just make sure to style it correctly and in colors that complement it, like an olive green or khaki color jacket. Or do some mix and match; wear a solid-colored dress with a camo print jacket!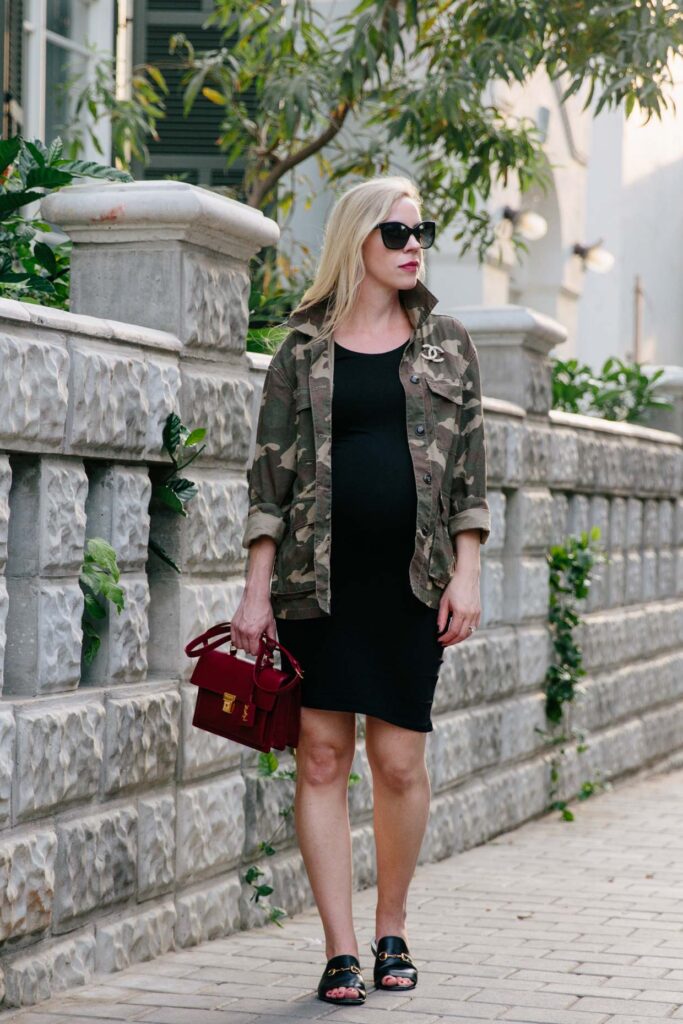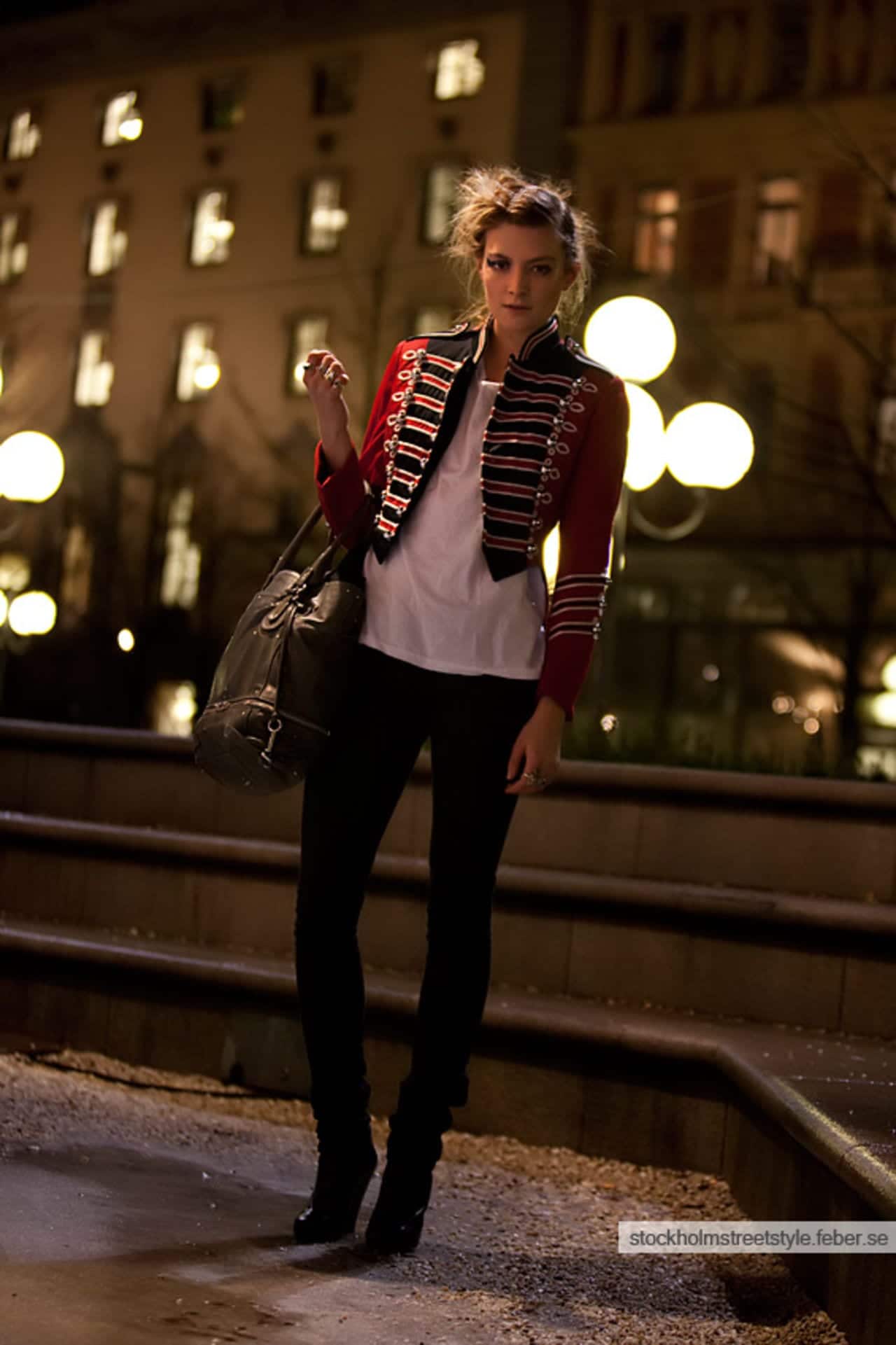 Red Military Coat (similar) $68.99
21 – Sweatshirt And Jumpsuit Shorts With Military Rank Insignia
Insignia represents the rank or designation of service members, and what's cooler than having the military rank insignia on your clothes?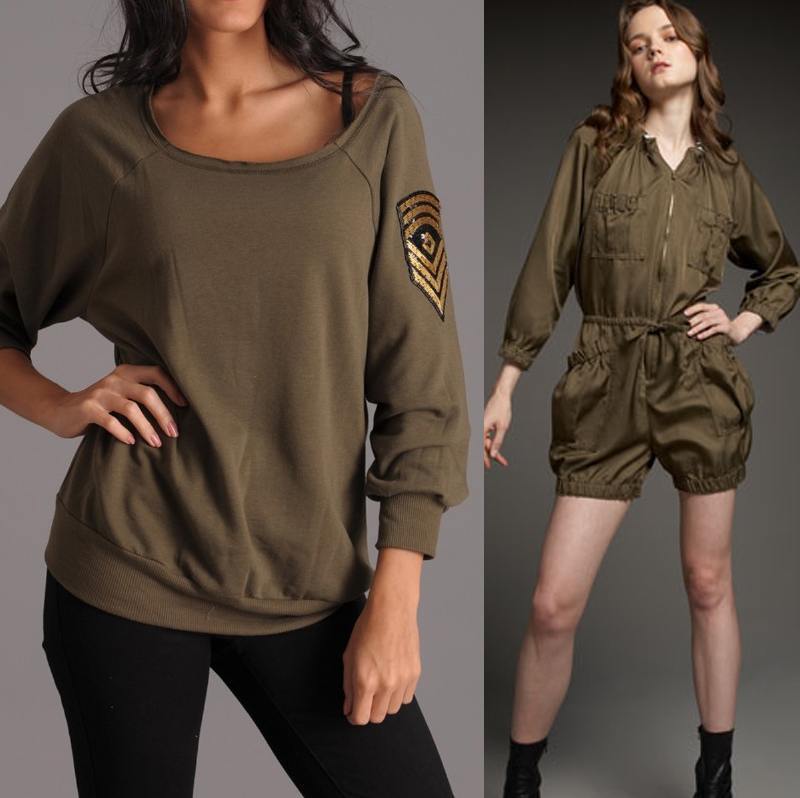 20 – Winter Wear
A stylish outfit to keep you warm during winter.
Layering is done perfectly here. For this outfit, layer your khaki tank top with a white button-down shirt and put an olive green jacket over it.
Pair these with a white pants. Moreover, Add a necklace to give a stunning look. Lastly, complete the look with black ankle boots, and you are sorted now!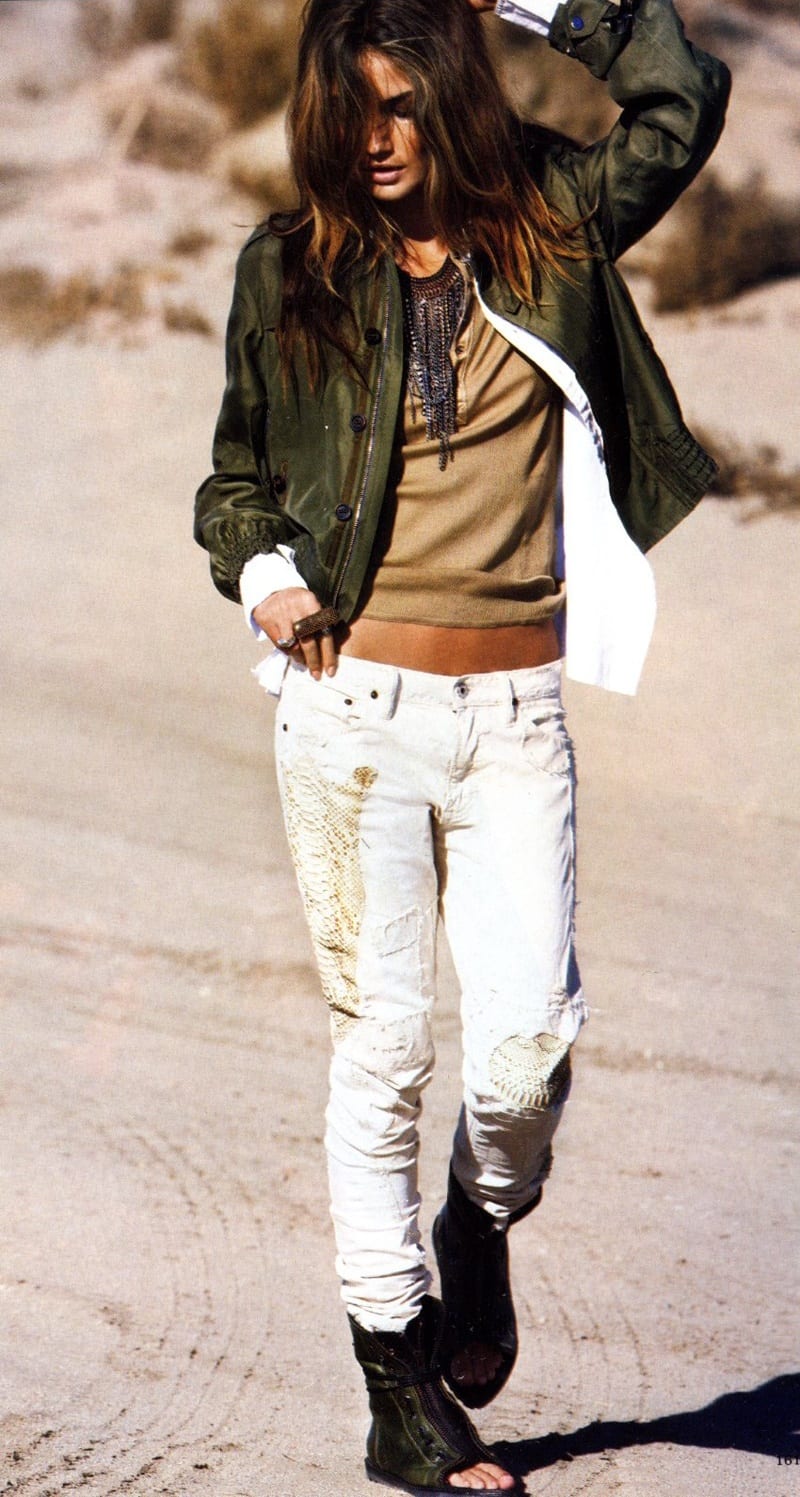 White Button Down Shirt $18.99
19 – Go With Long Boots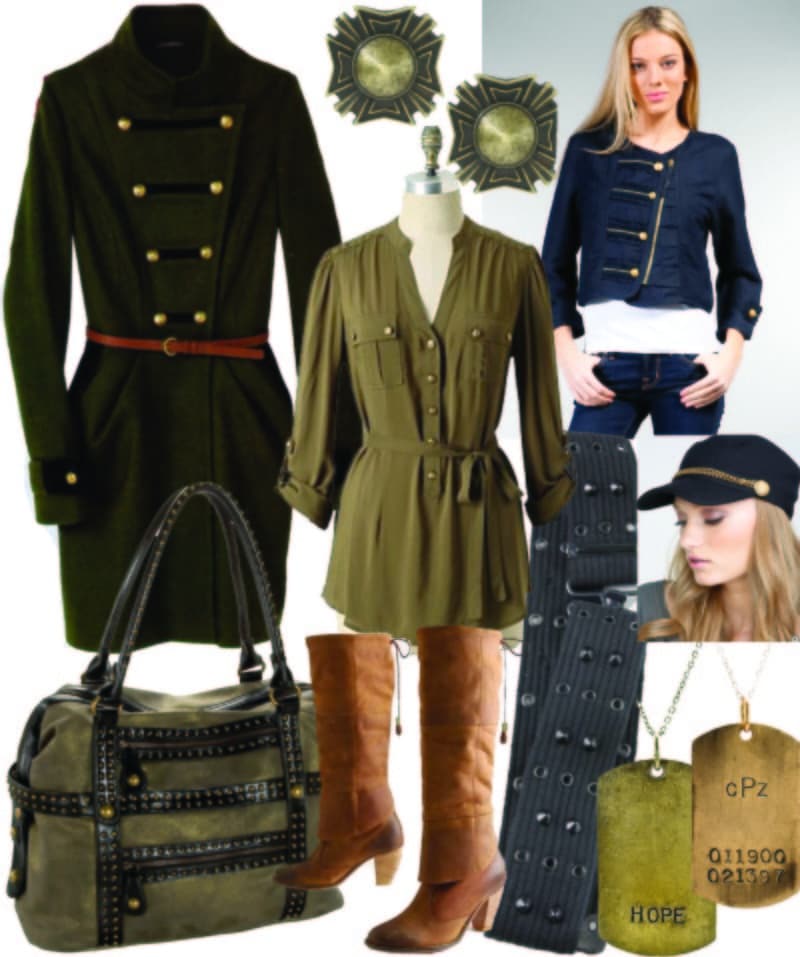 18 – Matching Beret With Camouflage Trousers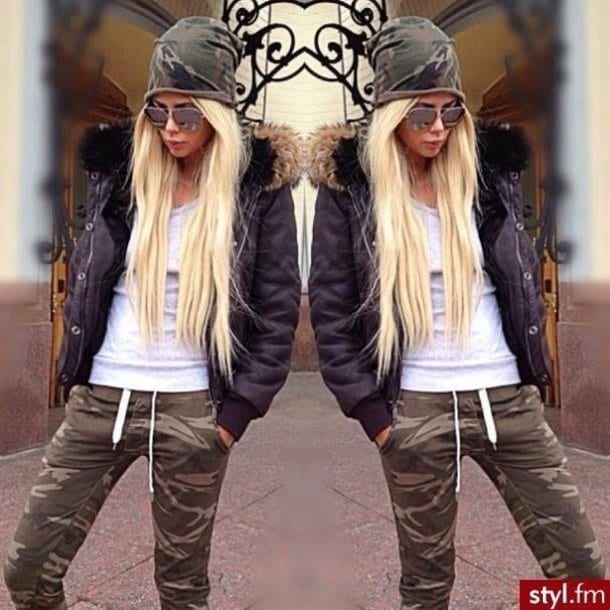 Black Fur Hooded Jacket $60.40
17 – Street Style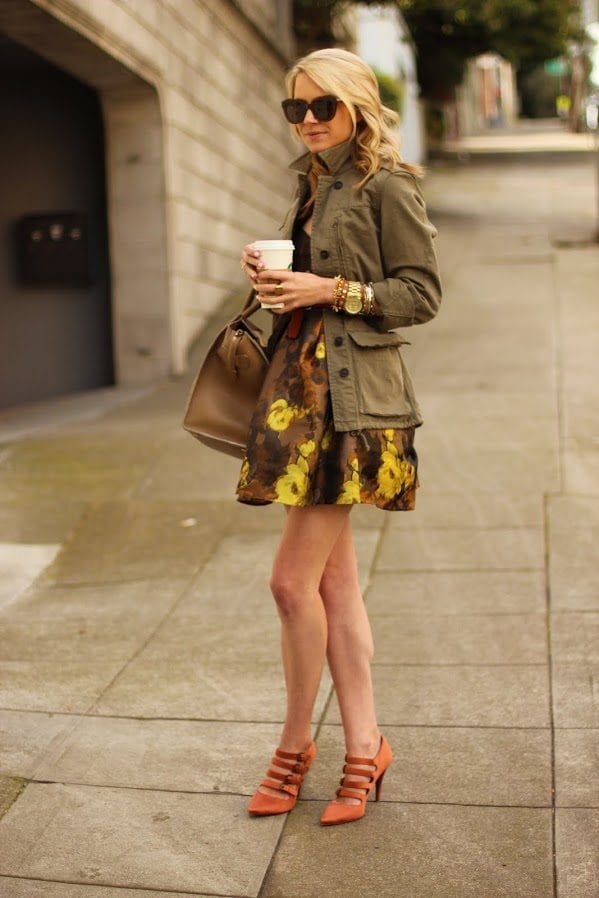 16 – Comfortable In Crop Top
Here's an outfit for people who love black.
The best part is that you are probably going to have every clothing article already, all you have to do is to get camo trousers.
For this outfit, pair your trousers with a black crop top. Add minimal jewelry like a necklace and watch. Wear a black beanie and finish off the look with ankle boots. That's it, and you get a perfect look.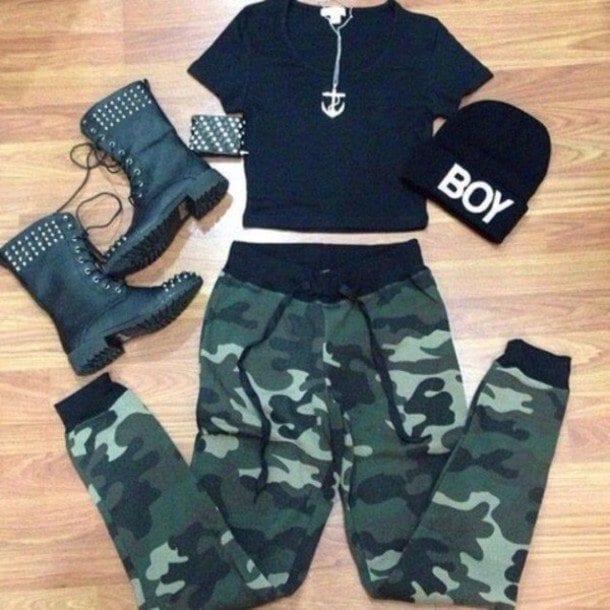 15 – Casual Outfit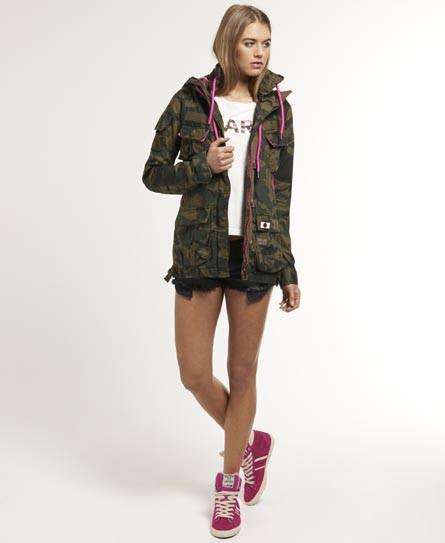 14 – Go for Army Pattern Tights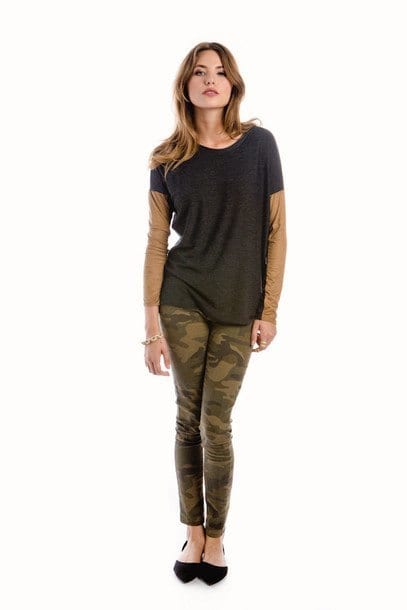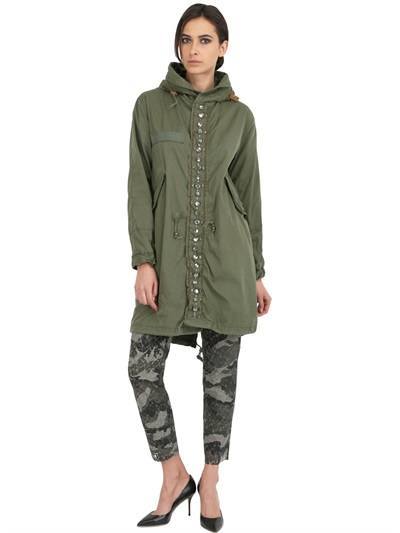 13 – How to Style a Black Military Coat?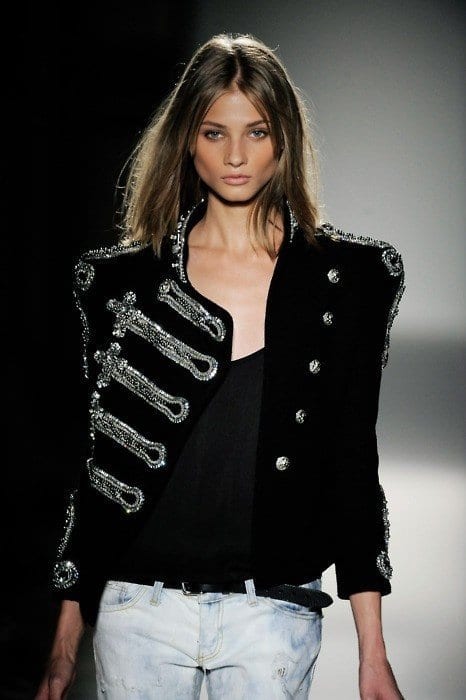 12 – Classy Outfit With Camo Pants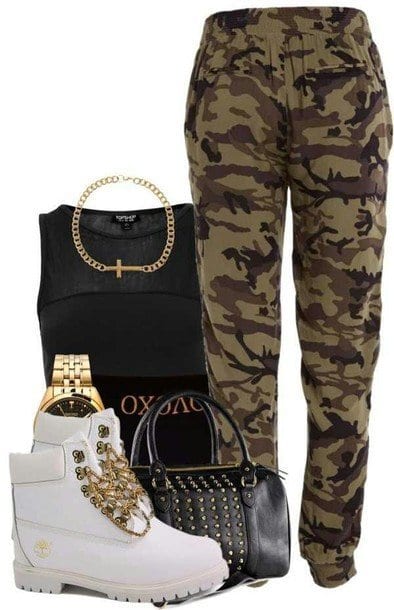 Tank Black Bodycon Mini Dress $25.99
Celebrity Style
Let's explore what celebrities have opted for in military fashion wear and what are the prominent prints and designs.
Here are some common combinations and trends that we observed when looking at the military-style outfits of celebrities
You can wear a jacket with tight jeans and long boots. You can wear a gold embellished belt around the waist to create more drama.
Shiny leggings with a printed shirt and a blazer over it would look fine. You can wear heels to complete the look.
It doesn't matter whether the print has to be green or blue; you can change the color to red or maroon. Go for a bold color shirt and wear a coat over it. Carry a clutch in your hands and wear Timberland boots.
Nothing can beat a tucked-in shirt with a jacket and long-knee boots. Wear a headband if you can, as it will complement the entire dressing style.
If you don't plan on wearing a jacket or a coat because of the hot weather, then you can wear a simple sleeveless shirt with a khaki print.
Now, look at some of our favorites below and try them out for yourself as all of these are pretty easy to put together.
11 – Jessica Alba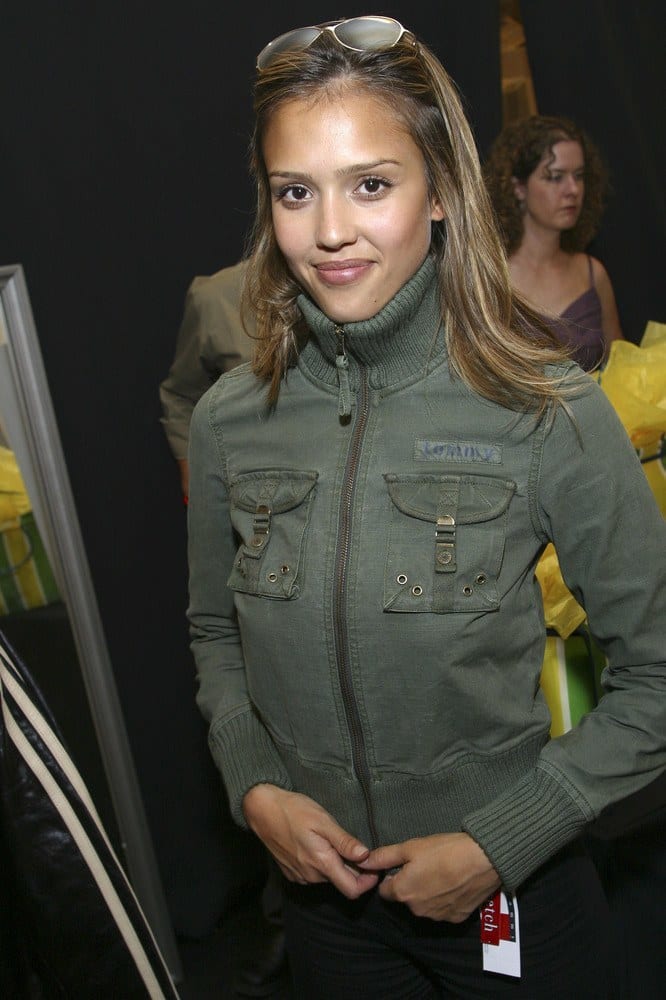 10 – Jenna Lyons
9 – Emma Watson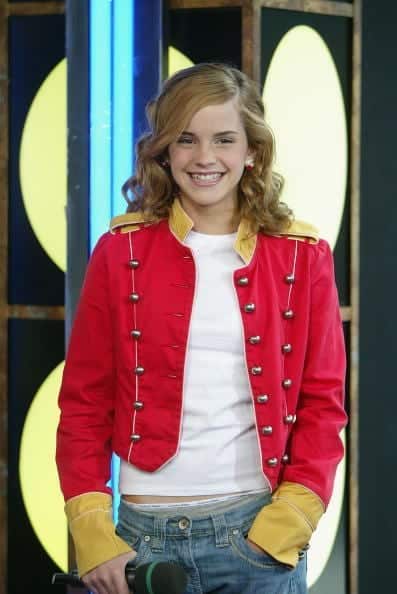 8 – Victoria Beckham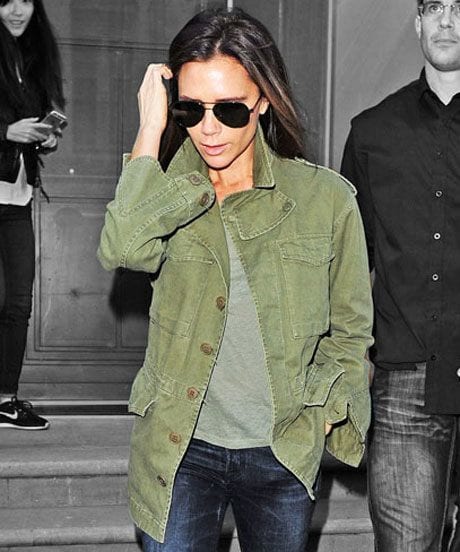 7 – Miranda Kerr in Ruby Army Jacket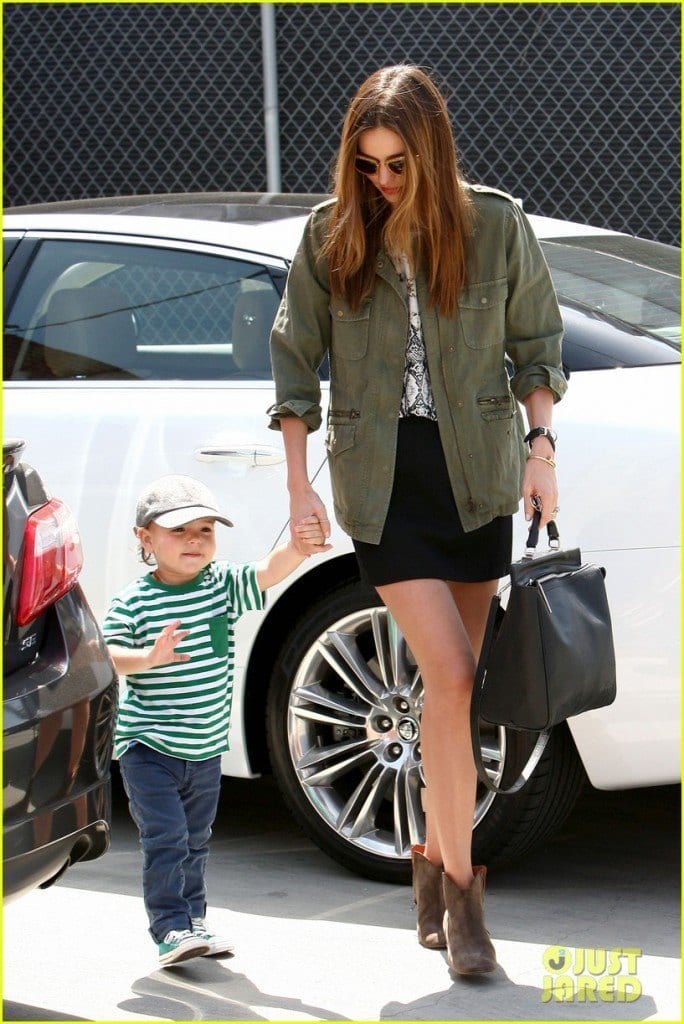 6 – Lindsay Lohan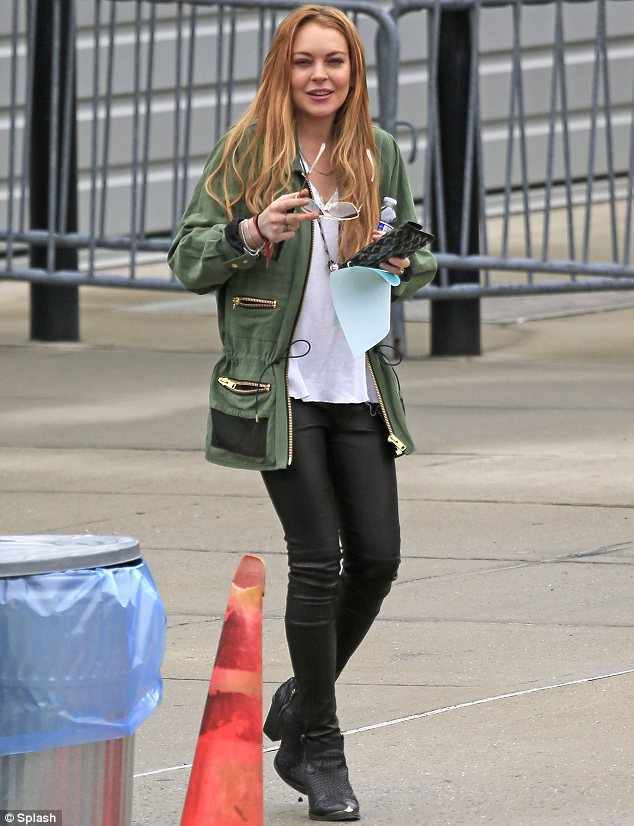 5 – Olivia Palermo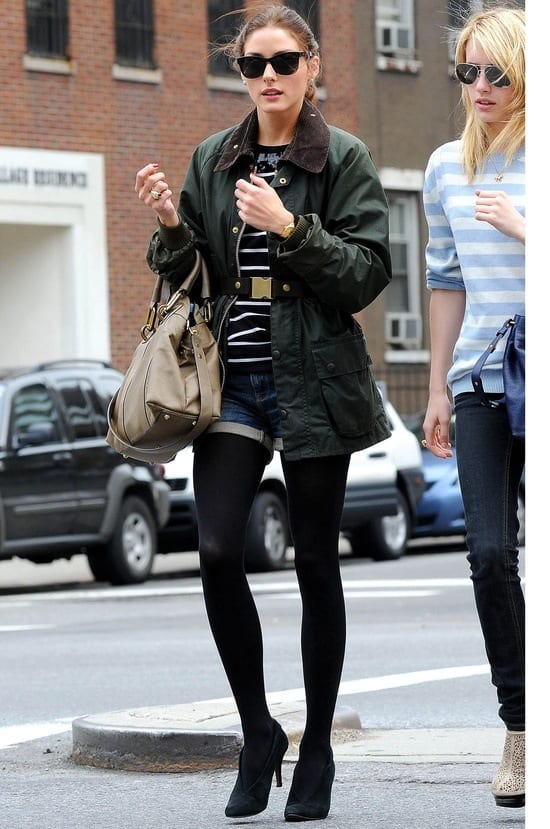 4 – Diane Kruger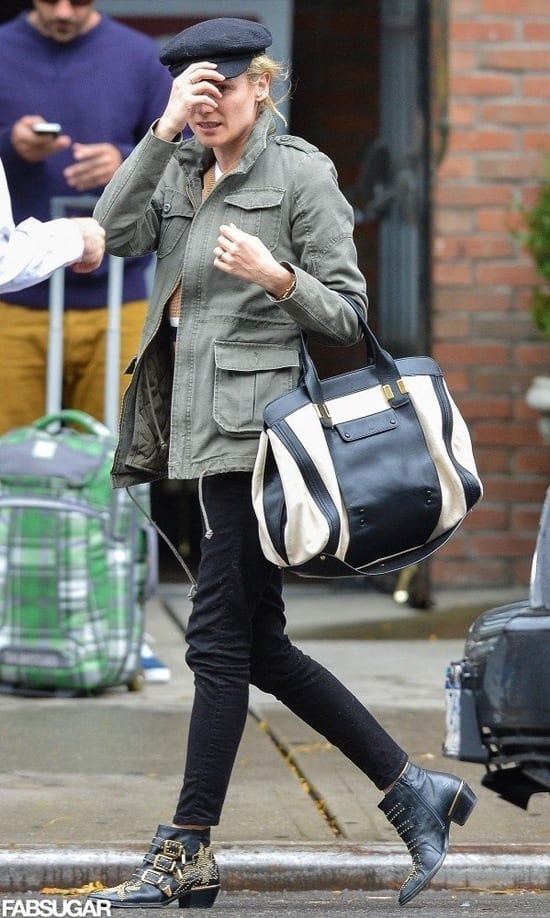 3 – Maggie Gyllenhaal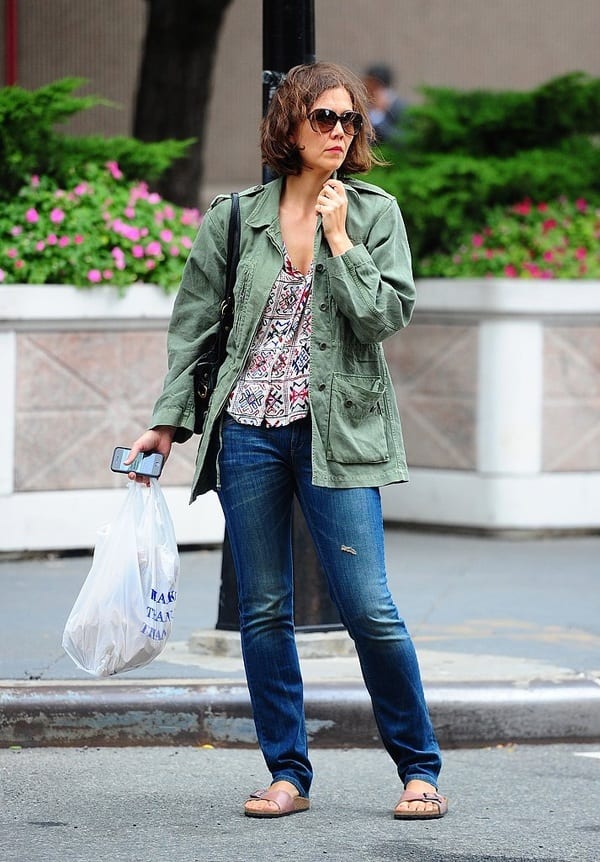 2 – Katie Holmes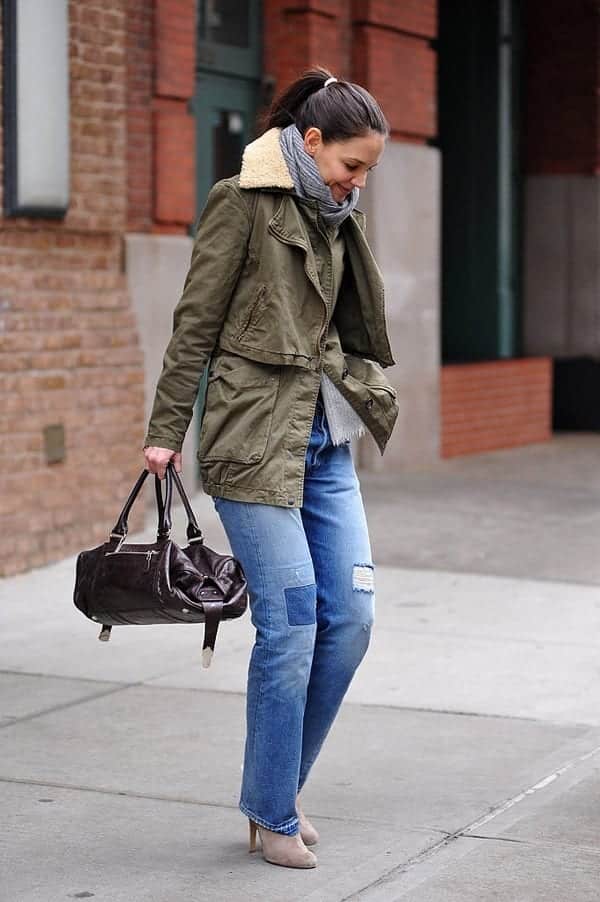 1 – Alexa Chung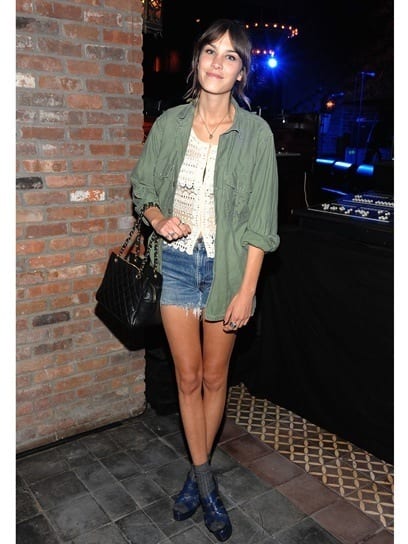 FAQs
Q: What shoes go well with military inspired outfits?
Ans: You have got a variety of options here. You can add long boots, ankle boots, Chloe boots, or sneakers; all of them go pretty well with these outfits. However, this is not all. You can even add heels, but do that with the right outfits. For instance, heels are ideal for dresses or camo pants.
Q: What military outfits can I create with high waisted jeans?
Ans: First, you can pair high-waisted jeans with crop tops and add a jacket. Second, get yourself a camo shirt dress and wear it with high-waisted jeans. You can complete the look with your favorite pair of heels, add minimal jewelry, and you are done.
Q: Where to buy military inspired outfits?
Ans: Here are some of the brands you can buy your outfits from:
Levis

Amazon

PinkLilly

Army Star

Alibaba

Military Clothing