Spring casual outfits for girls: Looking for inspiration of what to wear in this spring season? You are on the right place, all the combinations we have arranged for you can change your look dramatically. You will definitely look very fashionable and modern in these casual spring outfits.
Spring has always been considered as fashion's biggest season and most colorful one. It is all about light clothes, layering of dresses, colorful prints and funky designs. Spring fashion has the ability to reflect your personality as colors can also reflect your mood.
How to Dress Casually This Spring?
Warm weather invites you to wear light clothes that keeps you comfortable in such hot climate. We are sure many of you would want to know the outfits you can wear casually in spring season. It is time for you all to pack your jackets and put them back in your closet. Spring fashion is all about short dresses, shorts, jeans, sleevless tops, tank tops, peplum tops etc.
You can go casual but feminine with vintage pieces. For a more modern touch you can wear colorful belts, scarfs or statement necklaces with your outfit. This will add more charm to the entire outfit. You can pick up sweet pastels from the closet and pair them with jeans. Pastel colors give a very romantic touch, which is great for you to wear outdoors.
For an outdoor party, you can make a statement with a brightly colored piece such as a short dress or a top. This is one of those times when you can wear colorful prints and funky design shirts with your shorts and printed trousers. For those of you who need a little inspiration on what to wear this season, you can look at the pictures below we picked for you. All of these ideas of spring casual outfits for girls will be helpful for you to pick your outfit.
35 – Travel Style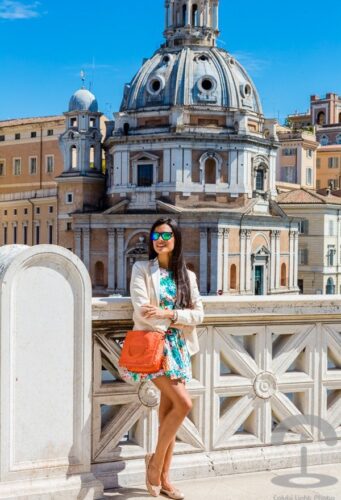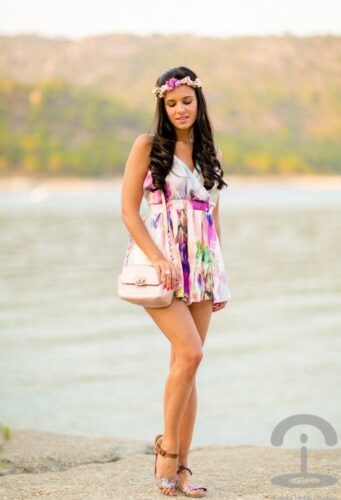 Did you know that floral prints are Spring's favorite? You can wear a floral printed shorts with a plain shirt or a short dress with a belt around the waist.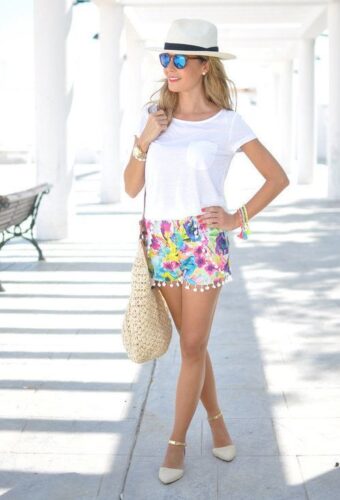 33 – Go for Subtle Prints
Subtle prints are hot trends this season. Wear it with a nice pair of heels or sandals.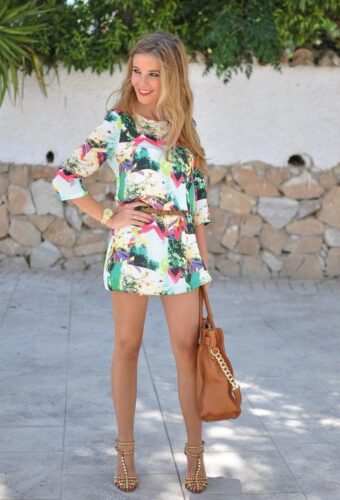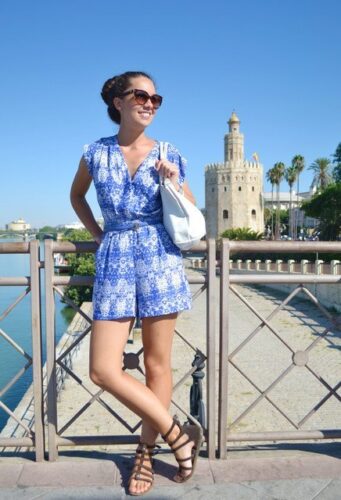 32 – Spring Outfit to Wear at the Beach.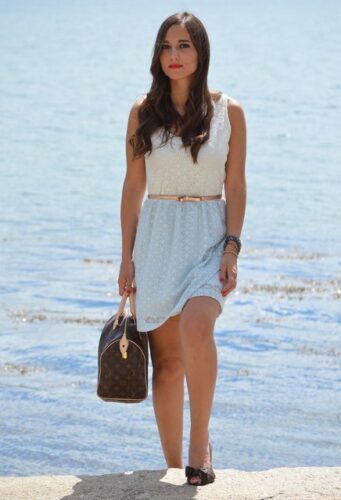 31 – Trendy Spring Outfits for Daytime
Trendy casual styles for a day out with friends. Don't forget to wear your glasses.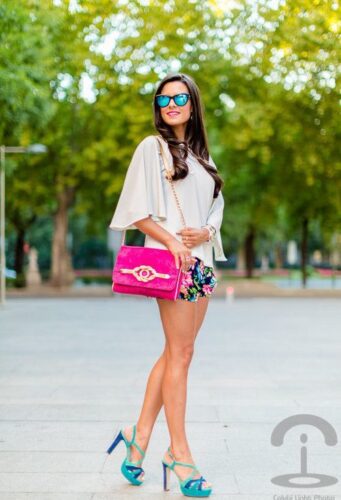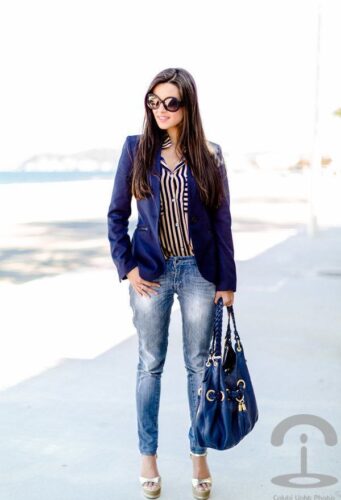 30 – Best Color to Try This Spring
Shocking pink and Red are the top trending colors of Spring. Look how you can wear a scarf around the neck for a casual look.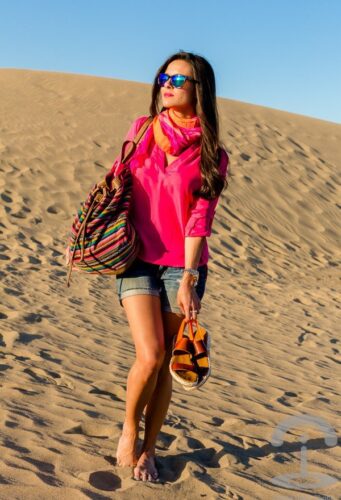 29 – Spring Workwear Outfit
For a casual office look, a black coat can be paired with red pants.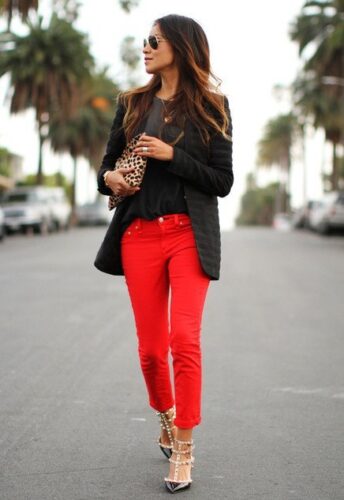 Straight pants with a fitted top would be the appropriate casual work outfit for the spring season. Carry a nice bag with you for a modern look.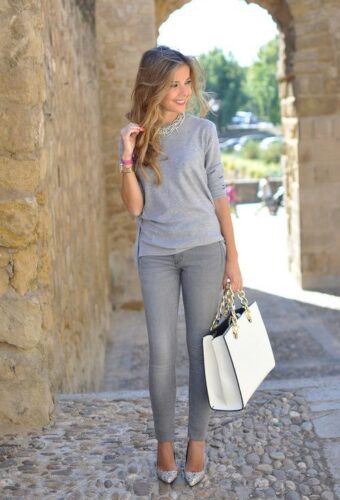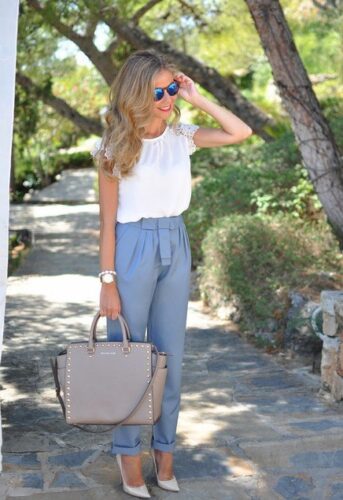 28 – Printed Trousers or Ripped Jeans?
Well both are in fashion this spring so why not try them both?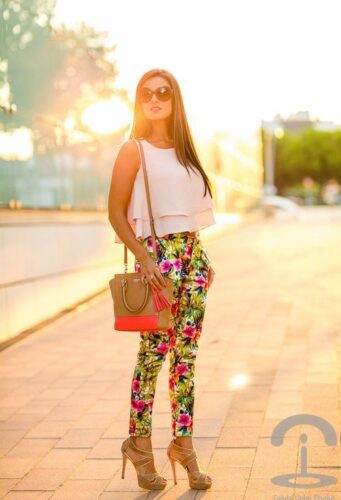 27 – Denim shorts and Denim jeans
A lace top with denim shorts make up a great combination. For a more formal look, you can wear a blazer on top.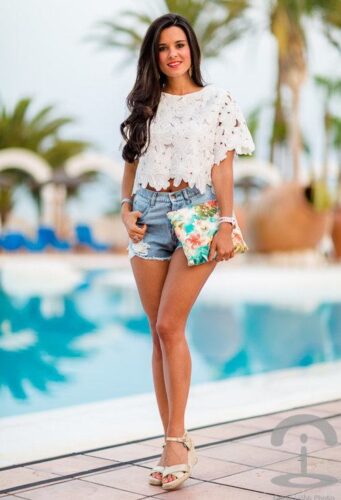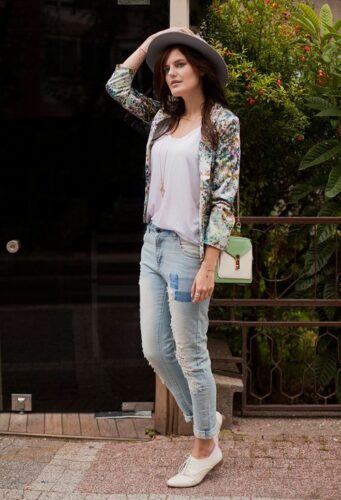 Since most of our audience wanted ideas on styling dresses in the Spring season – the next section is dedicated to dresses only!
Spring is in full swing. However, you might not be able to enjoy this spring as planned because you don't know what to wear. Though it seems like a constant complaint, there is no doubt spring is the most demanding season. It's that time of the year when you want to enjoy nature to its fullest.
You need to rearrange your wardrobe to get the best out of this season. So, please grab a cup of coffee, and let's get started on mixing your wardrobe for this spring.
How To Wear Dresses Casually in Spring?
Styling a dress can be a hassle if you have like minimal outfits. The spring season is all about vibrant colors and excessive detailing. However, if you style your outfit correctly, you can combine your minimalism with sprightly spring dresses and opt for the best outfits.
We have collected the most inspirational styles to help you find the best for this season!
Tips To Remember
Here are some tips to remember while you are styling your dresses:
Your first step in choosing the perfect dress should be your comfort. Never decide on a dress that you feel isn't comfortable for you.
Keep your makeup minimal, as the majority of the spring dresses already have colorful designs.
Make sure you choose the suitable fabrics according to the weather conditions of your area.
Don't wear too many accessories, as it will make you look extravagant. Go for minimal jewelry and elegant shoes/bags.
26 – Pink Floral Dress With White Sneakers
Accessories and shoes play a significant role in creating your look. You might be confused about what type of shoes would look good with dresses. If you want a casual look, sneakers would be an ideal choice for you.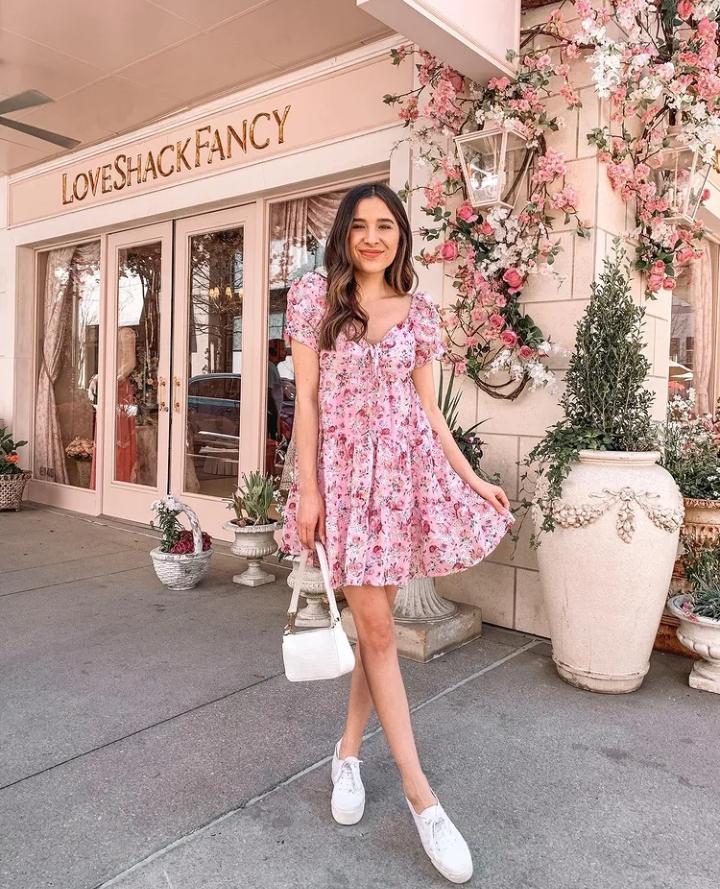 25 – Keep It Classy With Minute Ruffles
You might think ruffles and pleats on nude shades make your dress formal. However, it is an ideal choice for your spring outfits. You can pair it with hats and tote bags for a casual look. Finally, complete your look with heels.
24 – Pair Plain Dresses In Printed Cardigan
Adding printed cardigans with plain dresses is another way to wear spring dresses. Besides, you can also mix and match different prints. Furthermore, adding a flexible design on the sleeves will make your outfit even more classy. Complete your look with long boots and a floppy hat.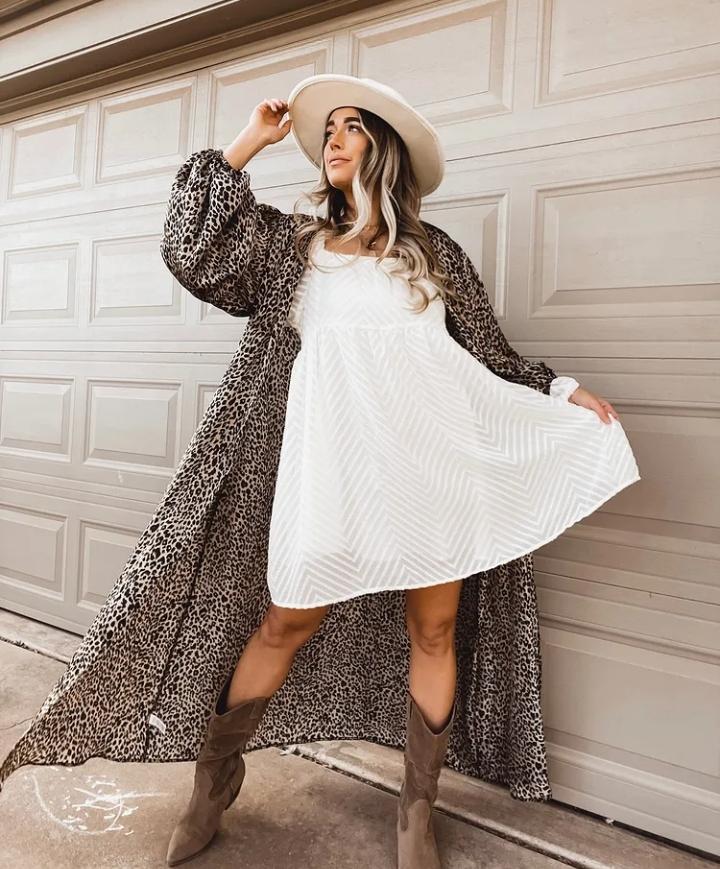 23 – Go For Baggy Dresses With Heeled Boots
This spring, go for baggy clothes rather than bodycon designs. Loose-fitting is an ideal choice keeping in view the season. Choose simple prints and add matching accessories, such as headbands and scrunchies. Besides, pair your dress with long-heeled boots and elegant handbags.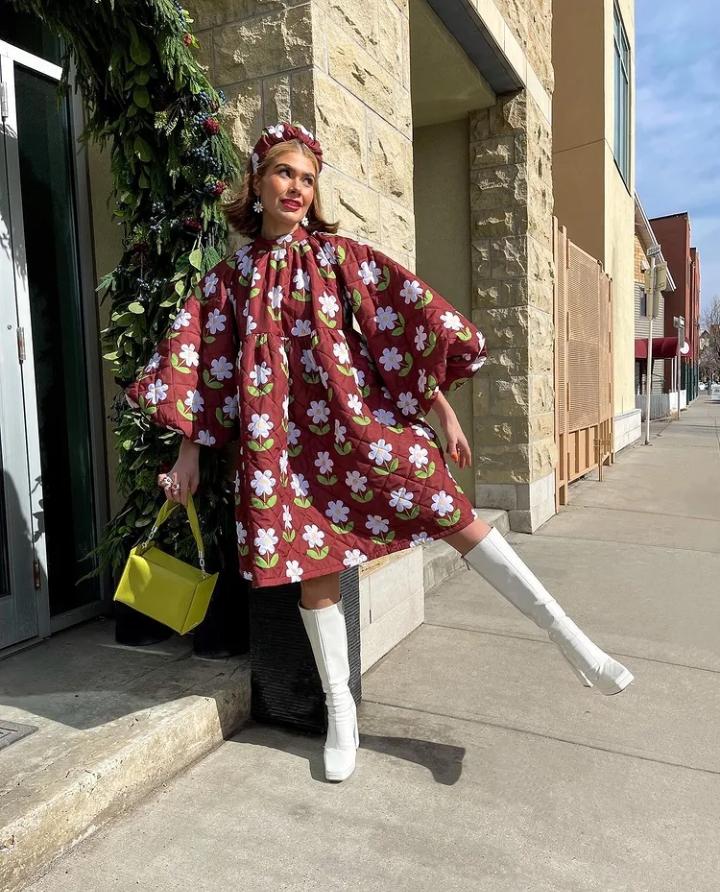 22 – Pair Your Floral Dress With White Long Boots
Spring is the gateway than takes you from winter to summer. Where you might need to wear breathable clothes, you will also need coverage to prevent seasonal changes. Pairing your spring dresses with long boots will help you align with the season and fashion trends.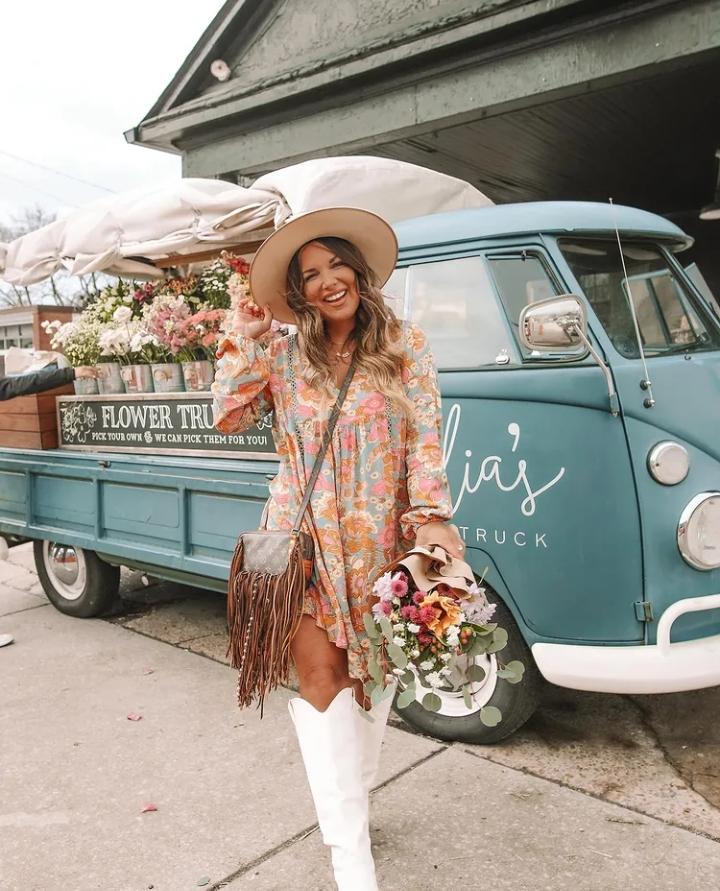 21 – Square Neckline Is Icing On The Cake
What makes your floral dresses unique is their stitching. You can spot a lot of vibrant, colorful, floral dresses, but not all of them are worth it. It is because of their stitching. One way of enhancing your outfit is to go for a square neck and half sleeves. Isn't it the perfect outfit for a picnic day?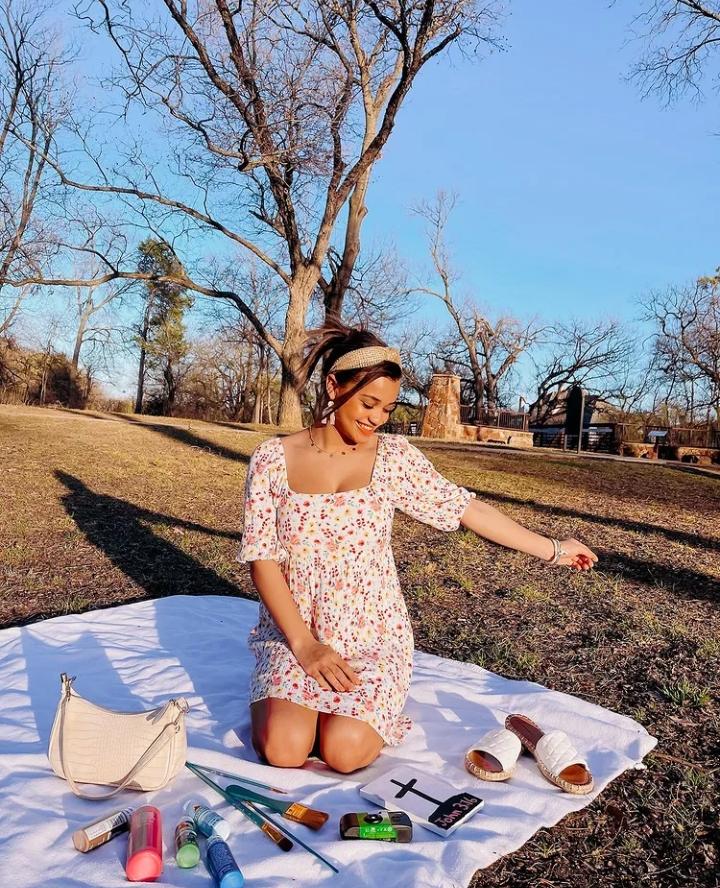 20 – Inflate The Chicness With Side Cuts
Keep your outfit modest and go for ankle-length but add side slits for a chic look. Also, if you live in such areas where the weather conditions are unpredictable, you can pair your dress with a knitted cardigan. Finally, complete your look with heeled boots and a hat.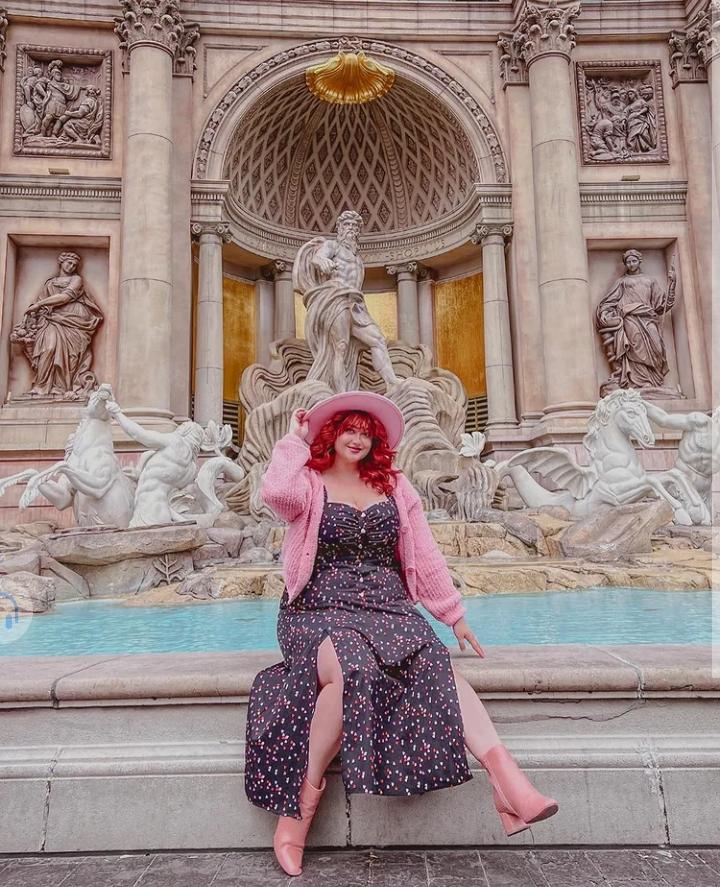 19 – Choose A Baggy Style With Spring-Oriented Print
Are you one of those who loves wearing baggy and oversized clothes? If yes, this is an ideal choice for your spring dresses. You can choose spring-oriented colorful prints for an elegant look. Also, the baggy stitching style would maximize comfort so that you can enjoy spring in its full swing.
18 – Say Hello To Cottagecore Vibes With Floral Prints And Elaborate Detailing
Have you ever pictured yourself running in a field with a basket of bread in your hand towards your friends with whom you are going on a picnic? Well, it's time to materialize your dream. This spring season, add a lot of detailing on floral prints and try retro cottage-core dresses.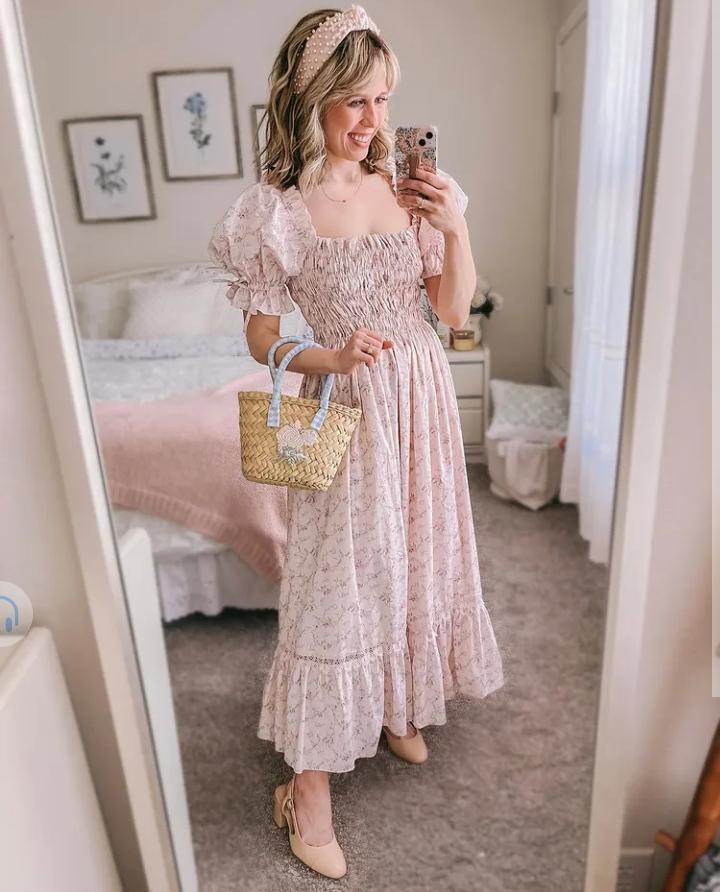 17 – Go For Criss Cross Front With A Mini-Skirt Vibe
If you want to opt for a classy outfit, go for monochrome dresses. A stylish top with a criss-cross front and a monochrome mini-skirt are all you need this spring season. Keep your accessories simple and pair them with an elegant pair of heels.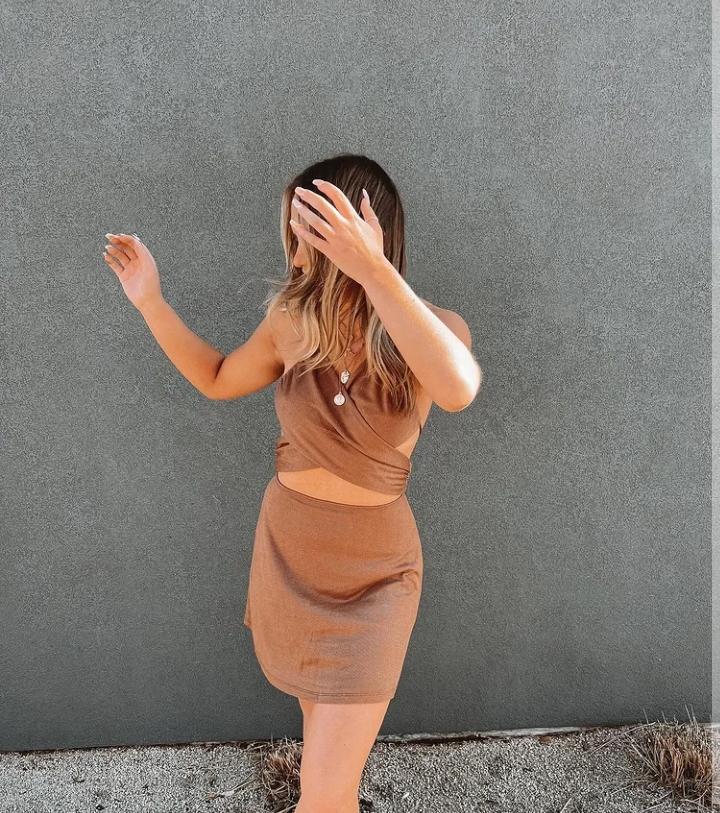 16 – White Retro Frills Mexi With Hat
Embellish your monochrome dresses with retro-style frills. You can also add pressed ruffles to give your spring dress a 90s touch. The spring is thought to be a historical tradition. So, isn't it a great way to celebrate spring by giving your outfit a retro touch?
15 – Bodycon, But It's Ankle-Length!
Not many people like baggy clothes! If you are a sucker for bodycon dresses, try this smock dress. Add frills on the sleeves and bottom of the dress for a chic vibe. Also, you can go for subtle prints to give an elegant vibe to your outfit. See (here) for more ideas on how to style a bodycon dress.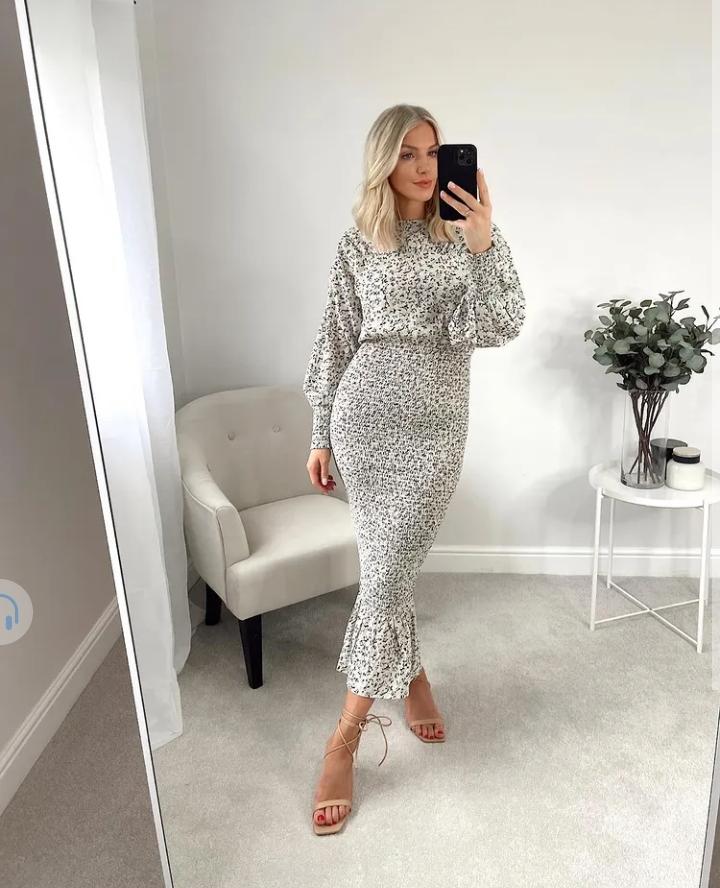 14 – Pastel Shades With Seamless Details Is All You Need
Though pastel color combinations for outfits are perfect for spring dresses, many of you would find them too simple.
So, to make it a little extra, you can add frills and ruffles along with beaded laces. You can also add layers for volume. Don't overdo your accessories as they won't compliment your dress.
13 – Be Extra With A Monochrome Embroidered Dress
If you are looking for a classy spring dress, there is no better option than an embroidered maxi dress. Choose an elegant monochrome-colored outfit with subtle details and pair it with nude accessories.
You can also add frills and pleats to make the embroidery more prominent. Keep your makeup minimal, and go for pointed heels.
12 – Knee-Length Dresses Are The Perfect Choice
Spring is that time of the year when the sun starts showing its cruelty. So, you have to dress accordingly. Knee-length dresses are an ideal choice for spring. You can go for plain dresses and embellish them with minute detailing for a chic look. Pair your outfit with sandals to keep it casual and comfortable.
11 – Keep It Backless With A Lot Of Pleats
You might be wondering if backless dresses are formal and not an ideal choice for casual spring outfits. If you style it in the right way, it can outdo all other spring dresses. Choose an eye-catching color and add elastic frills for an elegant touch. Here are some Great Bras To Wear With A Backless Dress For A Perfect Look.
10 – Add Pleats For An Elegant Look
Are you one of those who like monochrome dresses? This spring season might get you thinking about adding some prints to your wardrobe. Well, there is no need if you don't want to! You can outdo vibrant spring prints with elegant pleat designs. Just add a lot of pleats to your plain dress and tada! You are all ready to bloom.
9 – Add A Splash Of Color To Your Spring Outfit
The best thing about spring is its colorfulness. You can wear any color, whether it's pastels or vibrant shades.
Choose colorful prints and go for an ankle-length maxi dress. Keep the design simple and add minimal accessories to compliment your outfit. Also, you can accentuate the design of the maxi by adding elastic sleeves or pleated belts.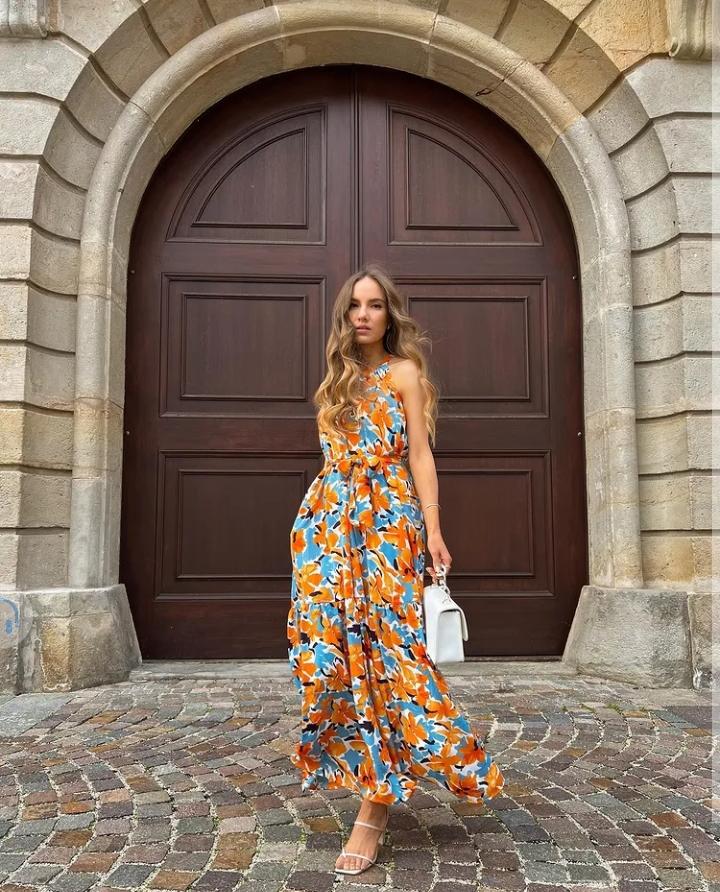 8 – Floral Prints Are The Perfect Choice For Spring
Spring is the high time to wear floral prints. Whether you go for ankle-length or knee-length, floral prints can complement all designs.
Besides, you can add frills and ruffles to highlight the detailing of your outfit. Don't forget to pair your dress with a chic hat.
7 – Compliment Your Outfit With Classy Accessories
Plain dresses are the new trend. However, plain dresses need a little makeover to turn into a classy spring outfit. You can do so by adding elegant accessories.
Go for monochrome accessories, such as a belt and hat. This minimal outfit is an ideal choice for a field trip.
6 – A Black Dress Can Never Go Wrong
When searching your wardrobe for a spring outfit, there is no way you can skip the little black dress.
You can go for ankle-length or knee-length, frilled or ruffled, sleeved or strapped. Whatever design you opt for, a black dress can never go wrong. All you need to do is pair it with the minimal accessories for a perfect look.
5 – Pair Your Elegant White Dress With Elastic Sleeve Designs
A white dress is a must-have for you. Even though it is spring and you are expected to wear vibrant colors, white can never fail to stand out. To keep it from looking too simple, you can add minute detailing. Elssstice sleeves and plain ruffles can quickly level up your simple outfit.
4 – Mix Light And Dark Shades With A Casual Touch
This spring, play with dark and light colors and come up with chic outfits.
Yellow and black will make an eye-catching pair.
Besides, you can also go for subtle prints to enhance the look of your outfit. Also, there is no need to keep the design simple. You can add side cuts and frills as per your preference.
3 – Add Criss Cross Front For A Chic Look
Who said you could wear criss-cross dresses only at formal events?
You can add a traditional touch to your casual spring dresses with criss-cross fronts. Make sure you opt for a plain garment so that the neck design stands out. Furthermore, you can layer it with a basic cardigan.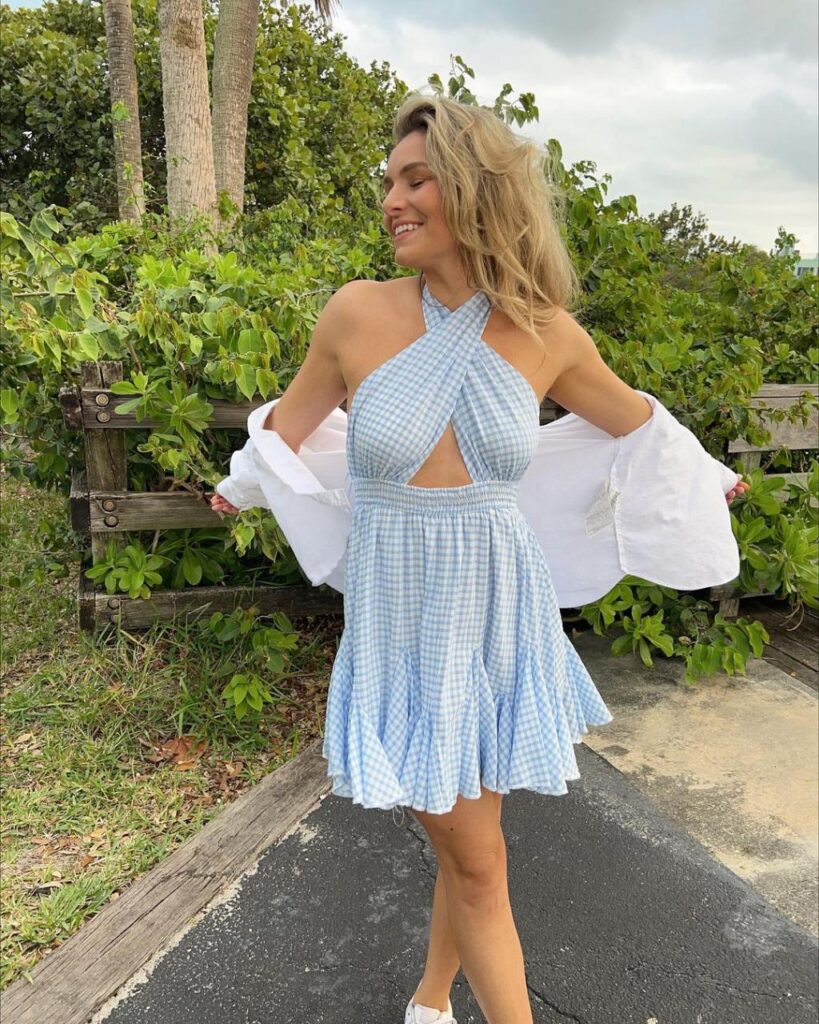 2 – Go Classy With Checkered Patterns
Checkered prints instantly enhance your outfit. Whether you are going on a date, a girls' day out, or it's just a casual college day, checkered patterns can never go wrong.
Choose a fine checkered print for your spring dress, and pair it will heel boots. Tada! You are all ready to shine.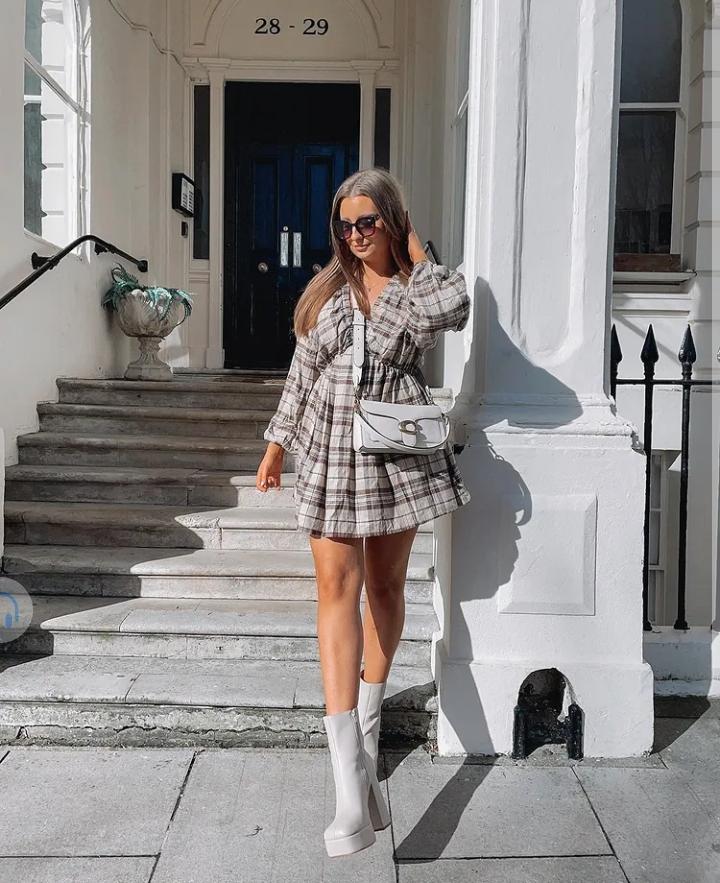 1 – Try Pastel Shades With Subtle Prints
Spring is all about chic colors so this spring, choose pastels for an elegant look.
You can go for subtle floral or symmetrical prints. Also, thin straps and bodycons will give an elegant touch to your dress. Keep your outfit simple, and pair it with minimal accessories.
Frequently Asked Questions
Q: What is the spring dress code?
Ans: There is no specific dress code for spring. You can wear what you want, but there is appropriateness for everything. Add floral prints, minute detailing, and vibrant colors to keep your outfit aligned with the season's needs.
You can pair your dress with minimal accessories, like sneakers or stripped heels. Also, carrying a chic bag will compliment your outfit.
Q: How to choose the right accessories with spring dresses?
Ans: The choice of your accessories greatly depends on the style of your dress. If you are wearing a plain monochrome dress, you will need to pair it with statement jewelry to complete your look elegantly.
However, if you wear floral prints with excessive detailing, you would have to go for minimal accessories. You can also mix and march colors to compliment your outfit.
Q: Which type of fabrics is suitable for spring dresses?
Ans: Spring is that time of the year when you have to say goodbye to winters and hello to summers. This intermediate duration is all about deciding what to wear. Though the type of fabric you can wear in this season greatly depends on your tolerance level against the weather, here are some most commonly sued fabrics for spring dresses,
Cotton
Eyelet
Tropical wool
Linen
Chambray
Q: How to choose the perfect shoes with spring dresses?
Ans: There are no restrictions about what type of shoes you can wear with your spring dresses. However, you have to divide according to the style of your dress.
If you are wearing a midi, heels, and boots will look very elegant. However, if you are wearing an embroidered maxi dress, you better pair it with a classy pair of heels. Choose sneakers if you want to give a casual touch to your dress.
So, you can decide on what type of shoes to wear, according to your comfort, preferences, and dress.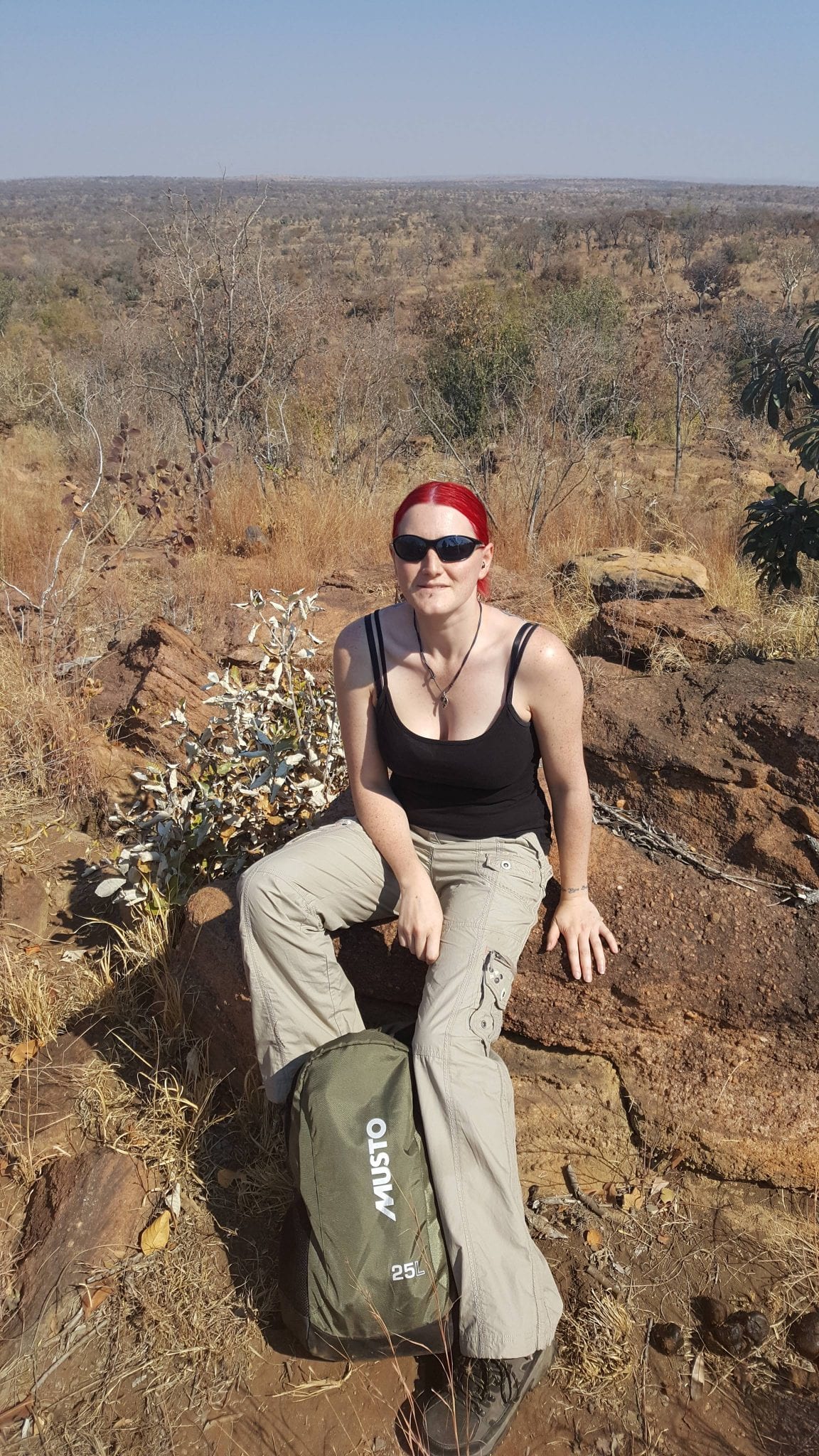 Caz, aka Vixen, has been freelance creative writing for several years. She has a lot of experience in different fields including high street fashion, tattooing art, and even the gothic and historical costumes. Caz has a Diploma in Fashion and Textiles and also a Bachelors Degree in Historical Costume and Corsetry. Her passion lies with gothic design, corsetry and any other styles considered to be taboo or unusual. Style-wise Caz has a love for Vivienne Westwood and her take on the punk era. Although Caz loves the weird and wonderful, she has a deep love for all fashion and allows this to show through her work.