Latest Dad Pants Outfits: Dad Pants, slowly paving its way into the world of fashion. During Fashion Week, most fashion bloggers and models were seen rocking dad pants, and soon enough, these one-of-a-kind pants will make their way into mainstream fashion. Not too loose or too fitted, these pants are the perfect in-between of the two.
What are Dad Pants? Dad Pants are high-waisted menswear-style pants. Dad's pants have pleats at the waist and are loosely fitted through the leg. Purewow believes "Dad Pants are the next sweatpants," indicating how comfortable they truly are. Coming in all sorts of colors, materials, and even prints dad pants are a trend you need to try out this year. Don't know how to style them? Don't worry! We have got you covered and bring to you the many ways you can style Dad Pants.
How to Wear Dad Pants?
Most people shy away from dad pants because they believe they are hard to style. However, we can assure you that that's not the case. Being lightweight, loose, and breathable, these pants are much more comfortable than your denim jeans.
The pleats on the waist add a lot of elegance to the pants as well as the outfit. They come in all kinds of materials, so you can take your pick according to the event you are going to. If you want to dress up your outfit with dad pants, pair heels and a fancy fitted top. Black dad pants are a great way to start experimenting with them as they look like black trousers.
If you want to style a cozy winter outfit with dad pants, pair an oversized sweater, combat boots and a nice belt with the pants. You may add a thicker coat on top, perhaps a leather jacket or a blazer. For a casual look, tank tops, graphic t-shirts, solid ribbed shirts and cropped tops look excellent with dad pants. If you are feeling bold, ditch the neutral colors and opt for colorful dad pants.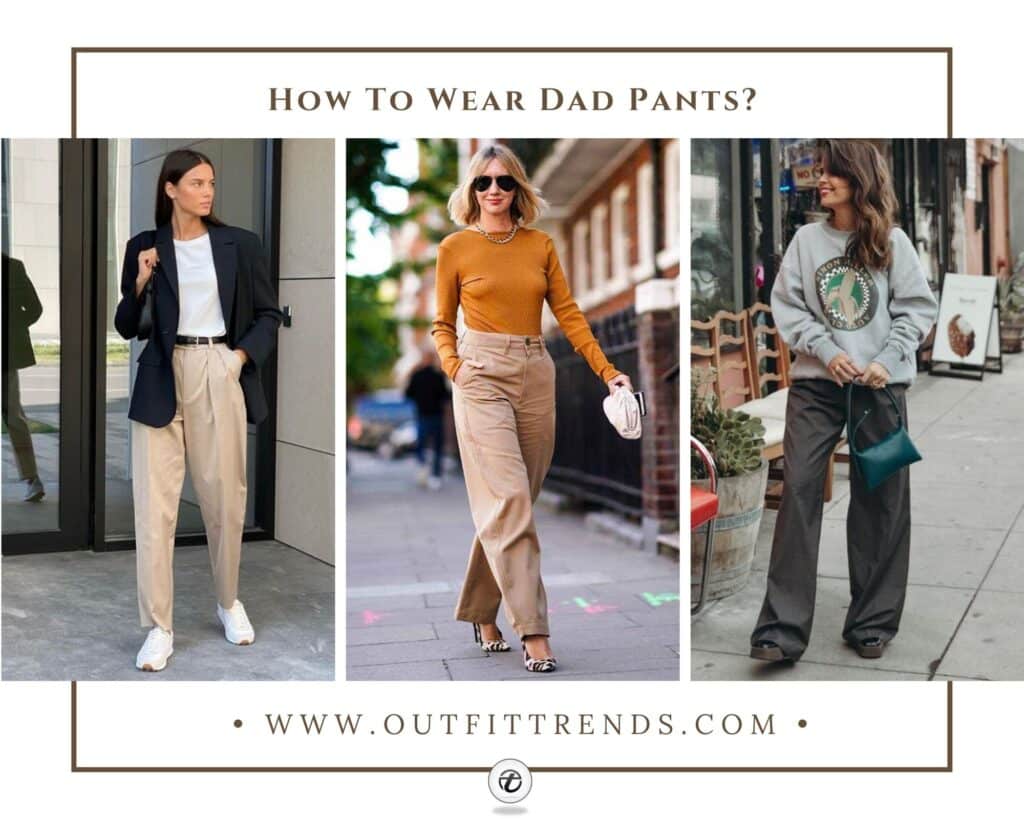 Tips For Styling Dad Pants:
-Dad Pants will always have pleats at the waist, and they will be straight cut and loose. That's how you know they are dad pants.
-Accessorizing always helps make the outfit look good. If your dad pants are of a neutral shade, pair a colorful top with it, or opt for a brightly colored bag with the outfit.
-Most of your fitted tops will look great with Dad Pants. It's a great way to make your outfit dressier as well.
-Dad Pants are excellent for casual wear, business, formal or for a dressier event.
-Dad pants look great with trainers or high heels.
↓ 23 – With a Cute Top
Dad pants can be worn with any top of your choice be it a sweatshirt, a t-shirt, or a dressy top like this one. Tops like these are so in fashion in these days and really show off your collarbones and make for a sexy night-out outfit. The one strap is super chic and sexy and looks amazing paired with dull grey dad pants.
↓ 22 – Hailey Bieber in Dad Pants
Hailey Bieber is a true fashion icon and can rock absolutely anything. Here we have striped black and white dad pants paired with a cropped white tee and an oversized coat. Outfits with masculine elements are so fashion-forward these days. You can accessorize with a pair of retro shades and layered necklaces. Here are some more of our favorite Menswear Inspired Outfits Ideas that you'll surely want to try.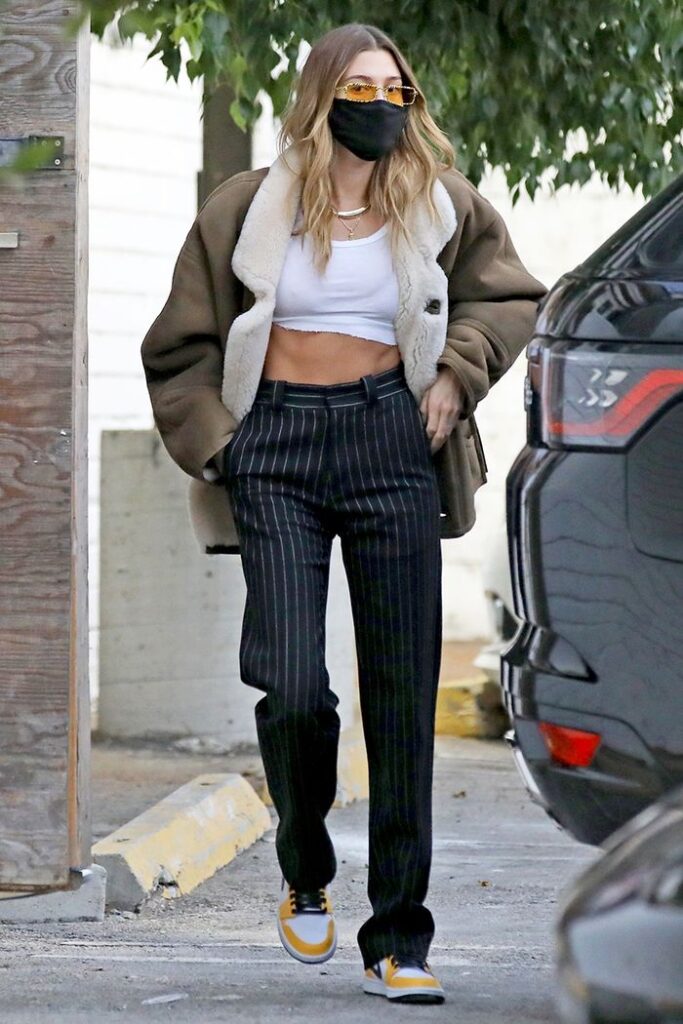 ↓ 21 – How to Style Outfits with Dad Pants?
Most people may think dad pants are very hard to pull off and style, however contrary to the notion dad pants are quite easy to style. Here we have beige dad pants paired with a fitted orange top, a perfect color combination for the fall season. If you want to dress up the outfit, try pairing heels with your outfit. You may try experimenting with printed heels, such as the ones paired with this cute outfit. A chain necklace always adds a lot of class to your outfit, as well as a small purse for your essentials.
↓ 20 – Casual Look
Going for the cool, casual effortless look? Here we have a cute grey sweatshirt paired with dad pants and a green shoulder bag.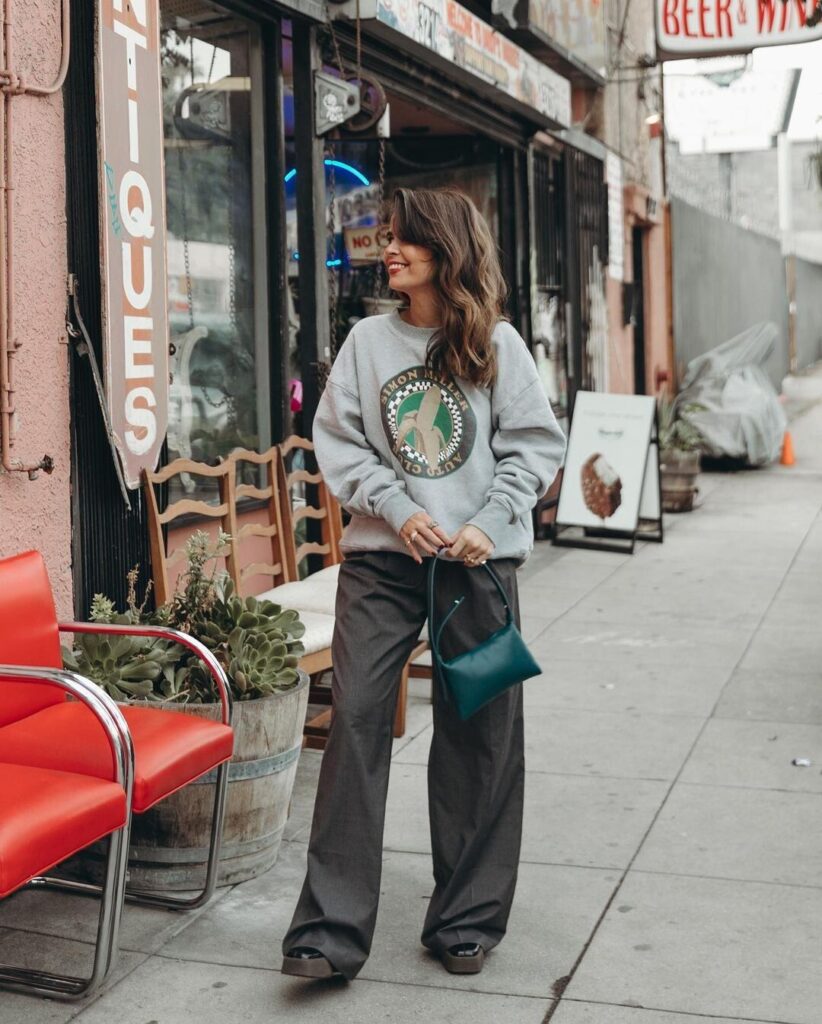 ↓ 19 – With a Leather Jacket
I am truly amazed by the versatility of dad pants and how great they look with any outfit. Pair your black dad pants up with a black ribbed shirt or a turtleneck and throw on a leather jacket on top to complete the look. Wear your favorite pair of sneakers or lace-up boots. You can wear this outfit when you are going out with your friends or to the university. Here are some more Ways to Style a Leather Jacket.
↓ 18 – Autumnal Vibes
Autumn has to be my favorite season because of all the cute outfits I can wear. Here we have a beautiful turtleneck sweater, paired with beige dad pants, a pair of nude heels and a shoulder bag. The chain detailing on the bag, as well as the gold buckle of the belt adds so much detail and sophistication to the overall outfit.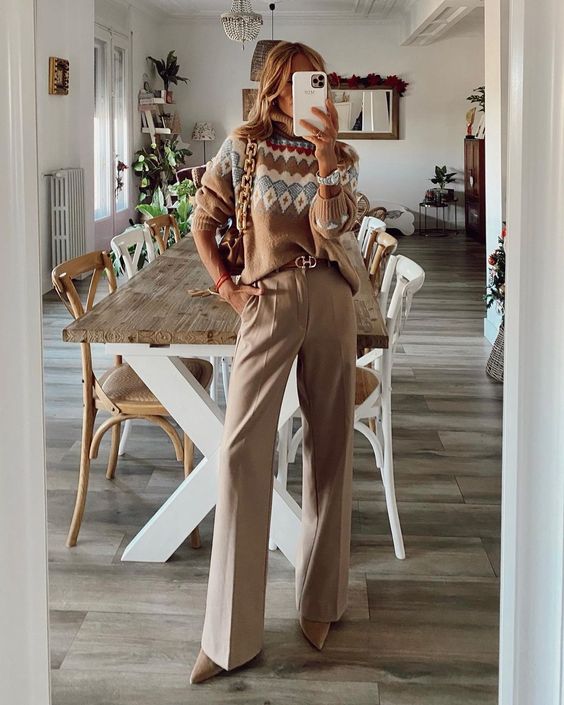 ↓ 17 – Accessorize
Dad pants may usually come in neutral colors, and if you are someone like me and love a pop of color in your outfits a great way to add color is by accessorizing your outfit. Try keeping the outfit neutral and add a neon bag or a colorful jacket or a coat on top. Here we have a neon yellow bag with a gold chain which adds an oomph to your basic outfit.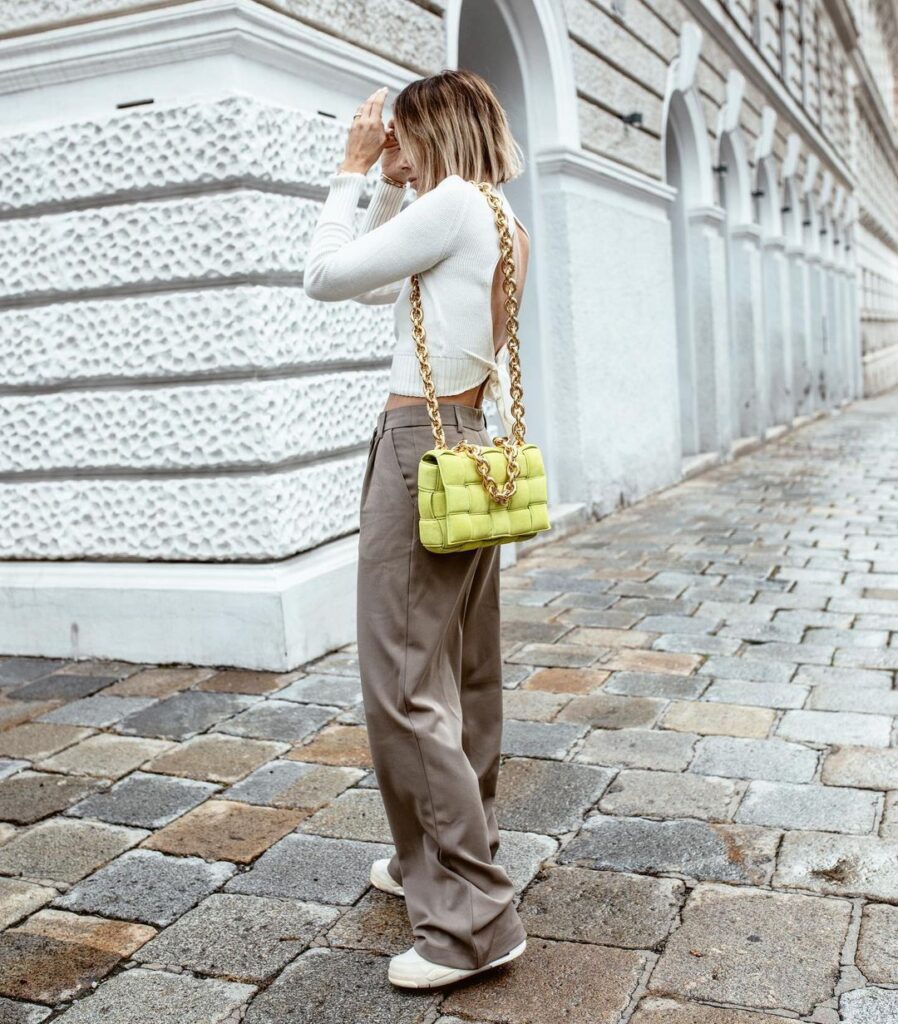 ↓ 16 – Black on Black
All-black outfits are always the way to go. If you have just started experimenting with dad pants, black is a great way to start with, as they easily pass off as wide pants and are very easy to style as well. A black band tee or a graphic shirt paired with Converse shoes and a shoulder bag look amazing with dad pants.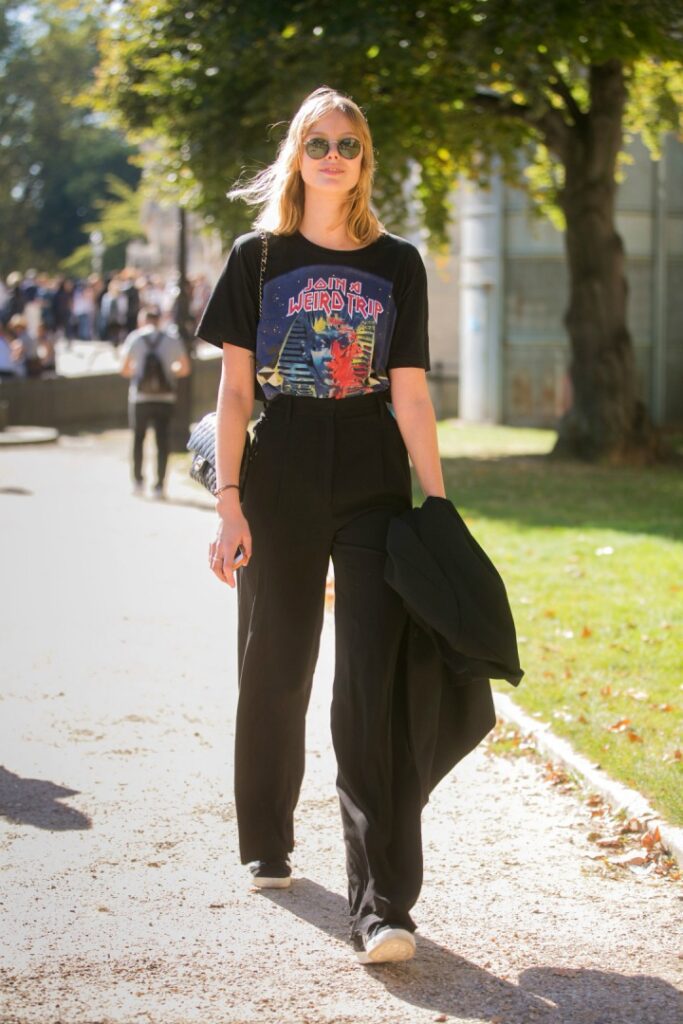 ↓ 15 – A Colorful Outfit
This outfit is for my bold girls, who love color. Here we have bright orange leather dad pants, paired with a simple yet bright yellow turtleneck, an equally bright yellow bag, and a pair of pink heels. All the colors are paired together so beautifully that this outfit actually looks great.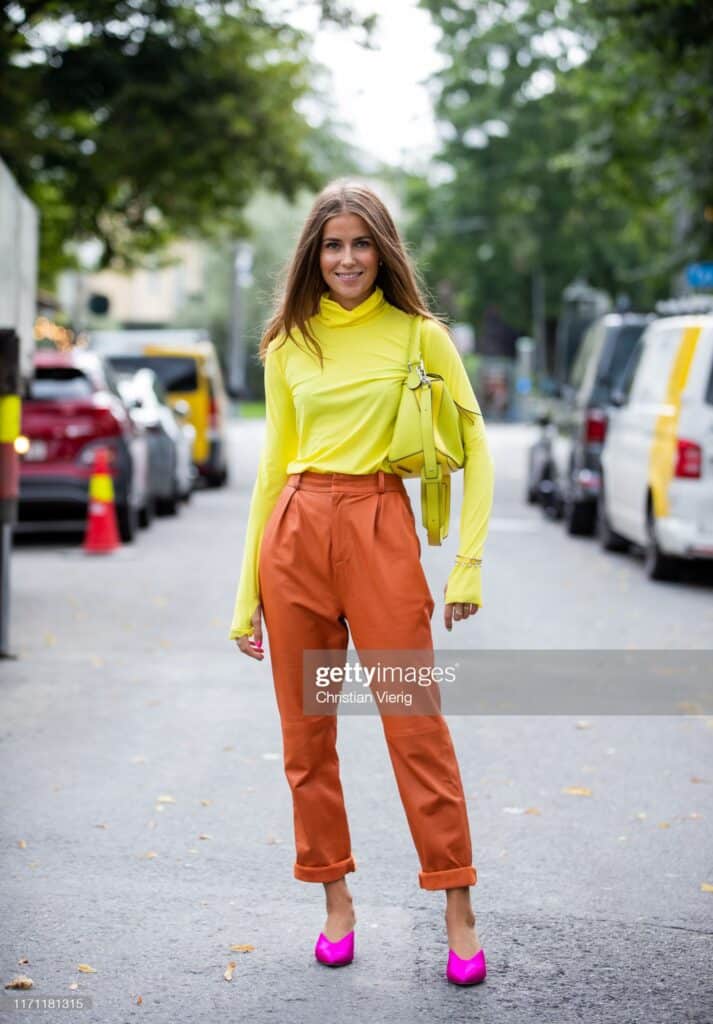 ↓ 14 – With a Blazer
Here we have a nice outfit you can wear to work. Dad pants paired with a simple t-shirt, and a black blazer. A simple yet classic outfit, which keeps you looking fashion-forward, comfy, and ready for business throughout the day.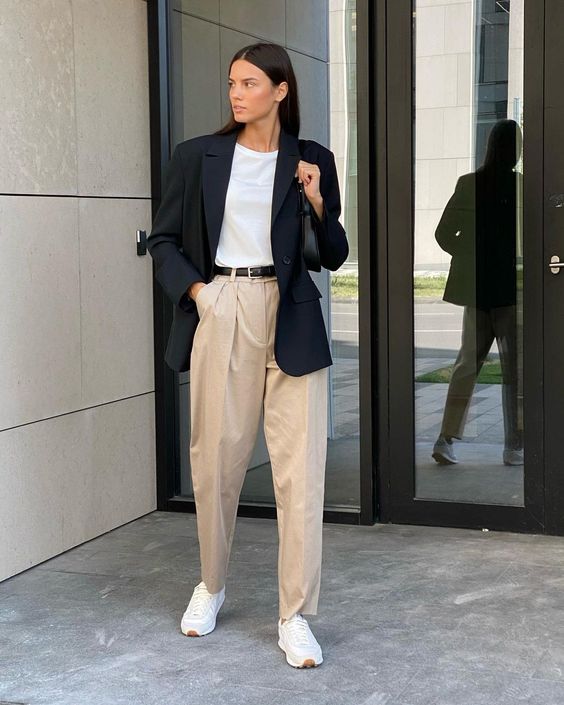 ↓ 13 – Trendy Outfit with Dad Pants
Are you looking for a trendy outfit with dad pants? Here we have brown dad pants, paired with a black ribbed top. A beige knitted sweater is wrapped around the shoulders and tied at the front to give that trendy vibe that looks so chic and perfect for an Instagram photo.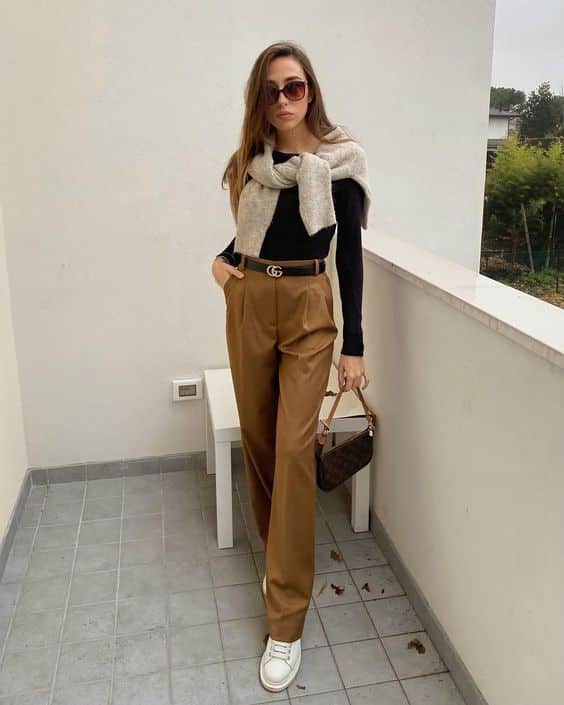 ↓ 12 – Purple
Make your pants the statement piece of your outfit by opting for a colorful pair and pairing it up with a simple t-shirt.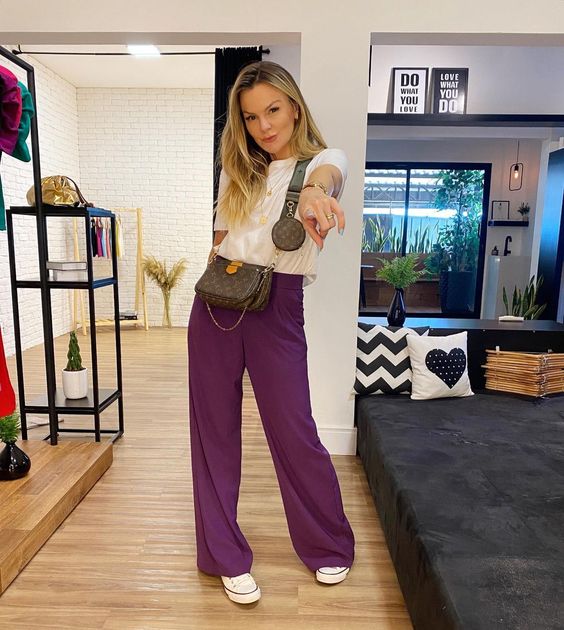 ↓ 11 – Summer Wear
If you want to dress up a pair of dad pants, a great way is to wear a classy top which fits you well and is trendy. Add a cute bag and a pair of sunglasses and you are ready to go.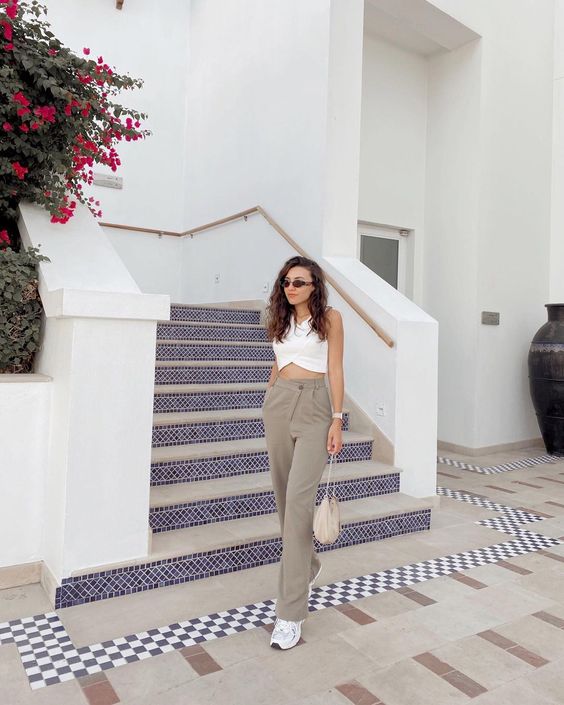 ↓ 10 – For Winters
Dad pants are great for winters because they are super baggy, comfortable and made from a thicker material which keeps you warm. Dad pants look great with a long coat, here we have black dad pants paired with a chunky tan sweater and a long coat.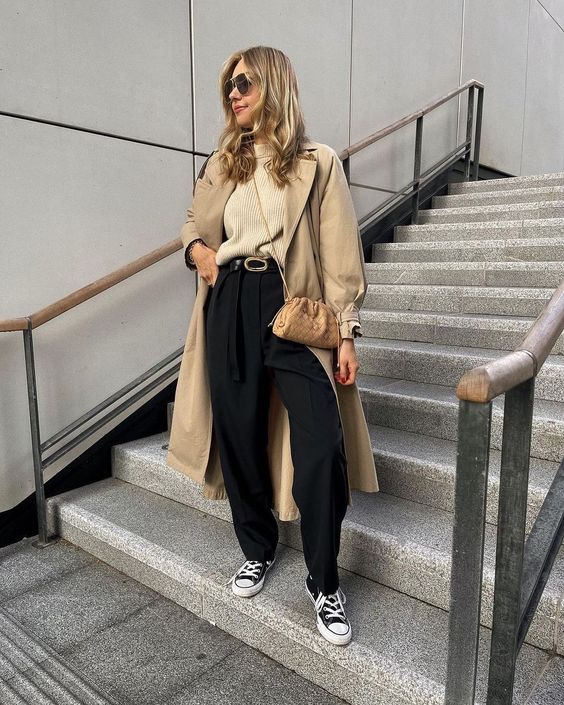 ↓ 9 – High Fashion Looks
Since dad pants are making a comeback, many fashion bloggers seem to be rocking them at fashion week. Who knew dad pants could be high fashion but they are indeed. Here we have a very chic top with pocket details, a collar and wrap details which tie at the back, paired with Bottega padded heels and their Chain Cassette bag.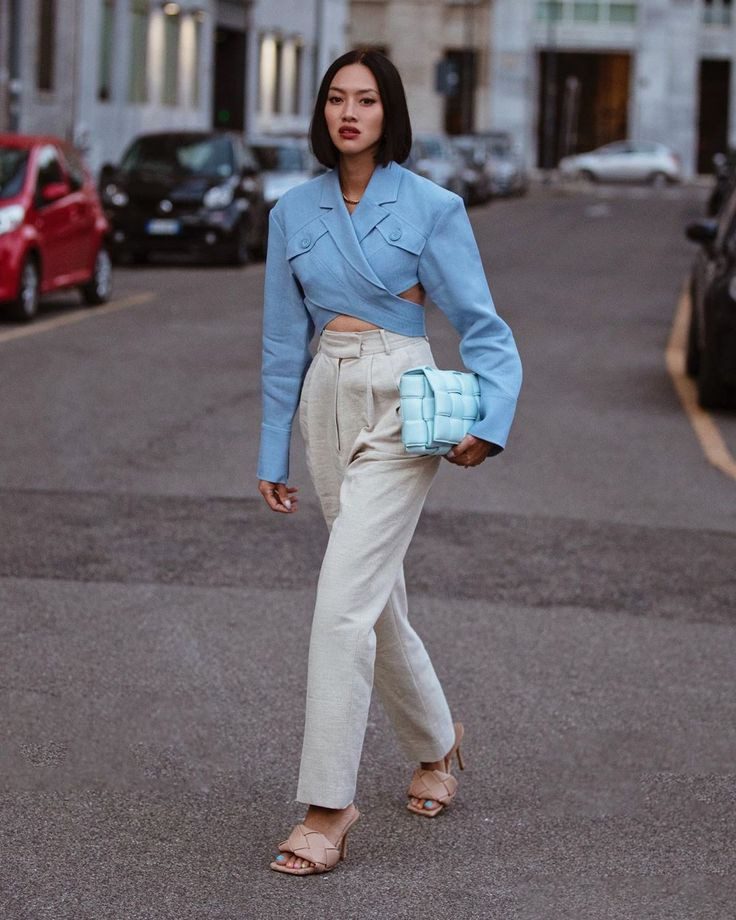 ↓ 8 – Everyday Look
Dad pants are the perfect alternate for jeans and look great for an everyday look. This outfit is very effortless but looks so put together for a day out with friends, for errands or shopping. It is paired with a comfy white shirt and a pair of black sandals. It's a very breathable outfit for the summers.
source
↓ 7 – Going Out Look
Going out with your friends and looking for an outfit? This outfit is just right, we have a wrap top, a Gucci belt, a pair of white sneakers and a velvet blazer on top paired with dad pants.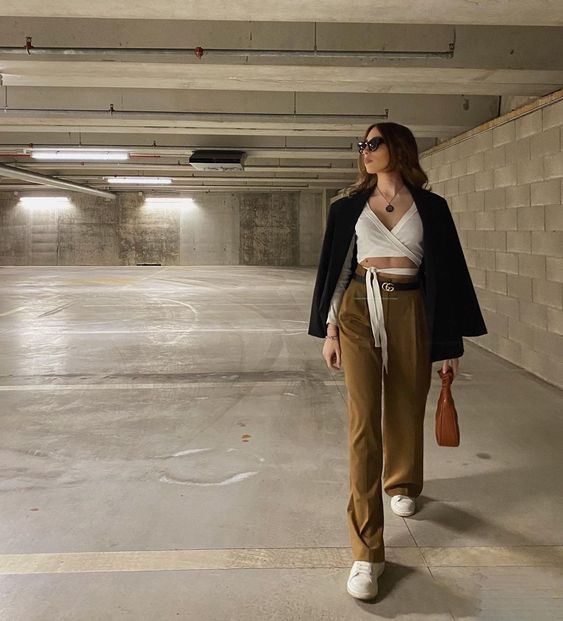 ↓ 6 – With a Denim Jacket
Everyone has a denim jacket in their closet, and it's time to whip it out and wear it with your dad pants. Here we have Taylor Hill in a black cropped tank top and dad pants, and she has paired the outfit with black heels.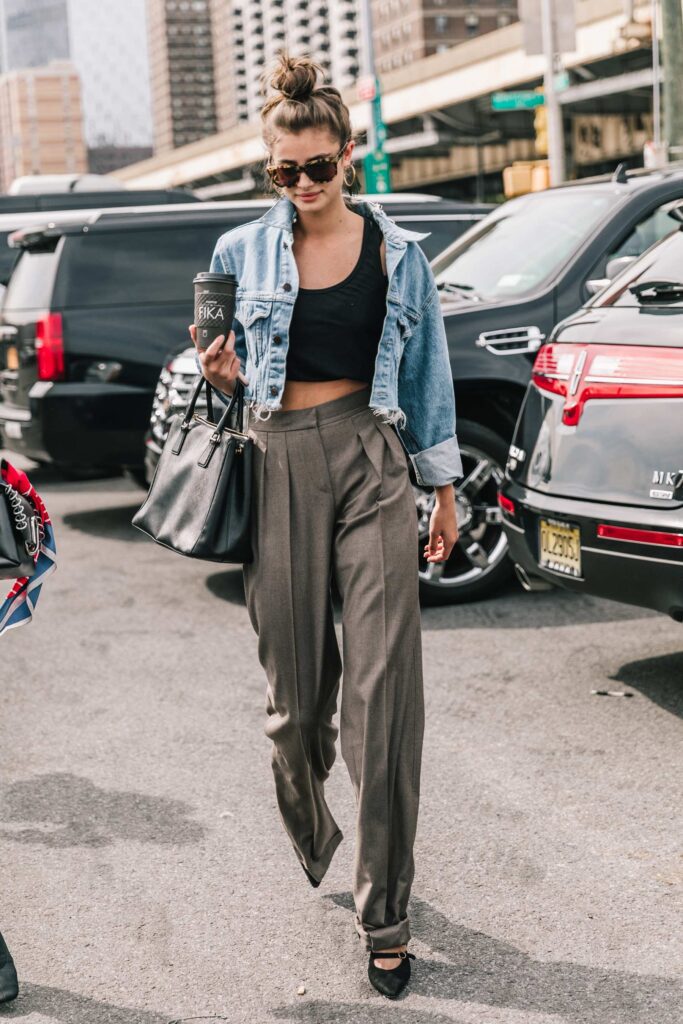 ↓ 5 – MADISON BEER Wearing NIRVANA shirt with Dad Pants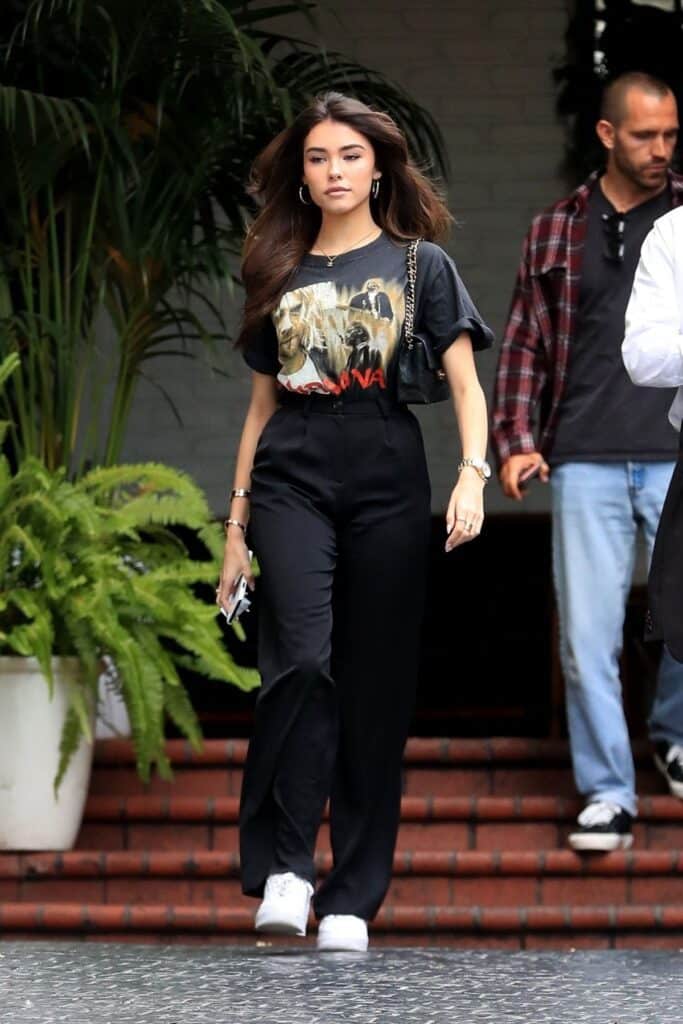 ↓ 4 – Summer Looks
Amp up your basic summer outfits with a pair of dad pants and a printed button-up shirt. This outfit is so lovely and breathable. Adding a printed shirt on top is a great way to add color and a vibe to your outfit. You can keep the buttons open as they look great and show off your cute tank top and layered necklaces.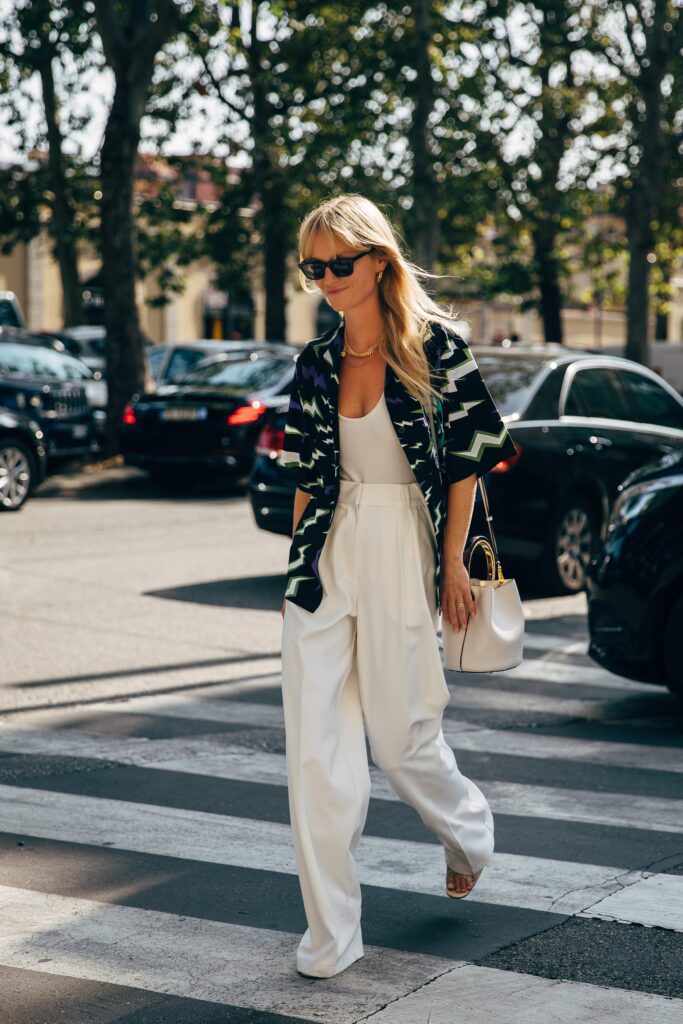 ↓ 3 – The Perfect Suit
Looking for a business formal look? Try wearing a full 2-piece outfit with dad pants instead of trousers. The pleats on the dad pants look so modern and elegant.
↓ 2 – Grey Dad Pants
Grey is such a versatile color and looks excellent with almost any color. If you want to recreate this look, all you need is a pair of dad pants that fit you well as well as a fitted tank top. This look is simple yet effortless.
↓ 1 – Striped
Stripes are the way to go, they are a simple yet sophisticated addition to your solid-colored pants. I love everything about this look, as it is so trendy and fashionable. The pants are paired with a plain black top, a white button-up shirt that is oversized and super long. Heels are a great addition as they make your legs look very long especially with high-waisted trousers. The stripes on the trousers also add to your height. The black belt ties in with the black shoes. A beret is also added, which is giving off such a Parisian vibe to the outfit, as well as some cool shades.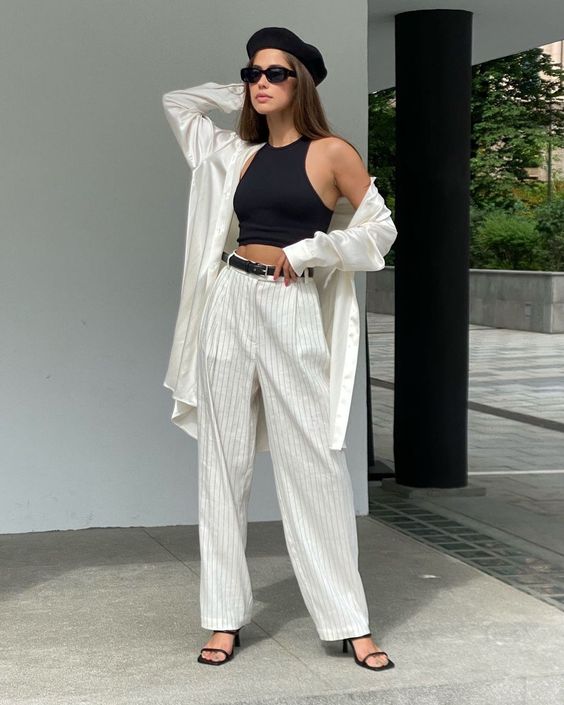 Frequently Asked Questions
Q. Where to Buy Dad Pants?
-Zara Dad Pants
–ASOS ultimate slouch dad pants in charcoal
–Mango Flecked Pleated Trousers
-Dickies High-Rise Wide Pants
Q. How to Style a Casual Outfit with Dad Pants?
A. A casual outfit is super easy to style with dad pants. Wear an oversized sweatshirt with your dad pants, and pair up converse shoes or sandals or perhaps a pair of comfy flats or espadrilles with the outfit. A basic white t shirt always looks good with any outfit, including these pants.  Keep the jewelry minimal, big hoops or flashy earrings are definitely not casual.
Q. Can Women Wear Dad Pants?
A. Yes indeed! I believe there is no set gender to clothing items, and as the world of fashion evolves both genders take inspiration from each other and wear what they like according to their style. The pants are of a masculine style; however, women look amazing in them. Most of the top models seem to be rocking dad pants, Hailey Bieber and Gigi Hadid are to name a few.