Awesome Outfit Ideas for Black women: Looking for fashion ideas for black women? How black women should dress up to have a glamorous look. Well, we bring this collection of 20 popular outfit Ideas for black women only. You can wear floral print short dresses, dark color dresses, jeans and shirt, summer shorts, maxi's, and so much more.
The contemporary designs are tribal prints from all over the globe that designers are launching. The patterns and prints are inspired by the African tribes. Check out the pictures below, and you can view great outfits for black women and see how you could dress up elegantly every day. We are sure you will love the ideas. Appearance matters a lot more than anything else; therefore, try your best to stay updated with the latest trends by subscribing to our blog.
How To Dress If You have Dark complexion?
Here are some awesome outfit ideas for black women this season that are worth buying. Scroll down and have a look at the outfit ideas to brighten up your summers. We also recommend that you check out our earlier post on Fashion Ideas for Black Plus Size Women. Note down these essential style tips to make your everyday wear elegant and stylish:
Embrace your culture by going for the Kitenge and tribal prints that are a source of pride for Africans.
If you thought bold and vibrant shades were not for you, you are mistaken. Black women can pull off red black and other bright colors just as well as others.
The recent trend calls for Jackets, Cardigans, and Blazers and we recommend including those in your wardrobe.
Prints are a wardrobe staple that every girl should own. You can go for printed skirts to go with a plain shirt or printed tops to wear with basic denim jeans.
Make sure to pick out accessories to go with your outfits — for example, the right kind of bags, layered necklaces, and beaded bracelets.
Add in different cuts and styles in your everyday wear to keep up with the latest trends.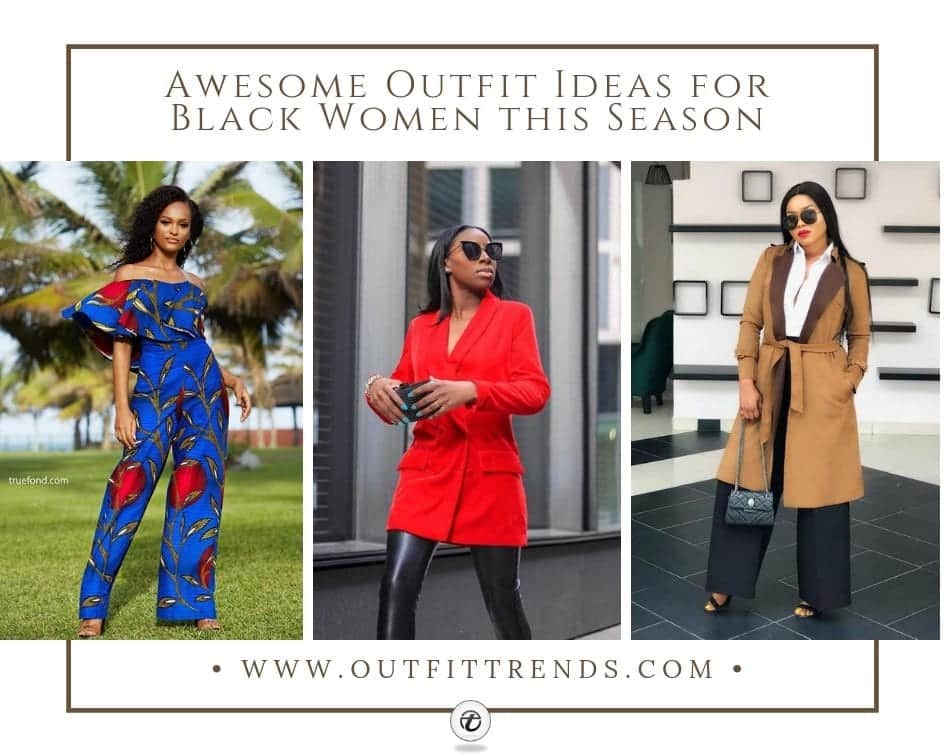 ↓ 20. Most Flattering & Trending Colors To Wear In 2019
The hottest colors this year are Fuchsia, Coral and Neutral Nudes and they all look great on darker skin tones. You can try shopping for these colors in shirts and pair them with jeans, or just go for them when buying nail colors or getting your nails done. Here's a winter outfit with nude colors: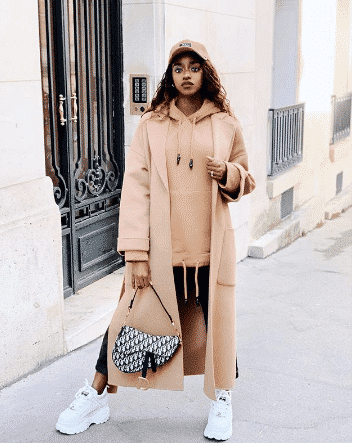 And here's a super hot Summer outfit with a coral shirt: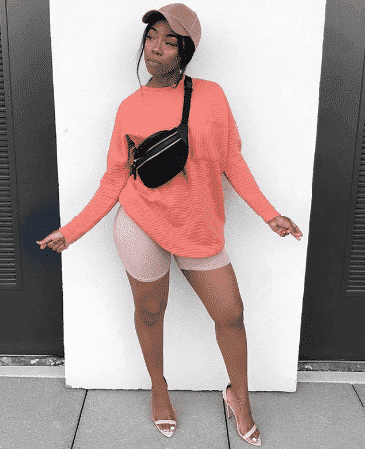 And finally we have the cutest Fuchsia jumpsuit with statement sleeves: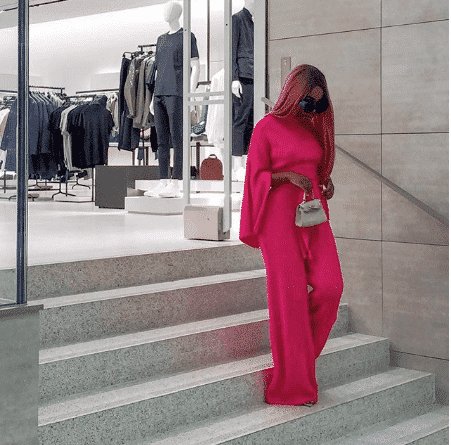 ↓ 19. Maternity Outfits
When it comes to maternity outfits, Meghan Markle is probably the biggest inspiration for all expecting black women out there. She has carried herself with utmost grace throughout her pregnancy so here's one of her best looks. She was seen in Morocco wearing a gorgeous blue printed dress, the cuts and flowing style of the dress makes it true maternity goals. She has paired the dress with a small nude purse, pumps and a sleek, pulled back bun hairstyle.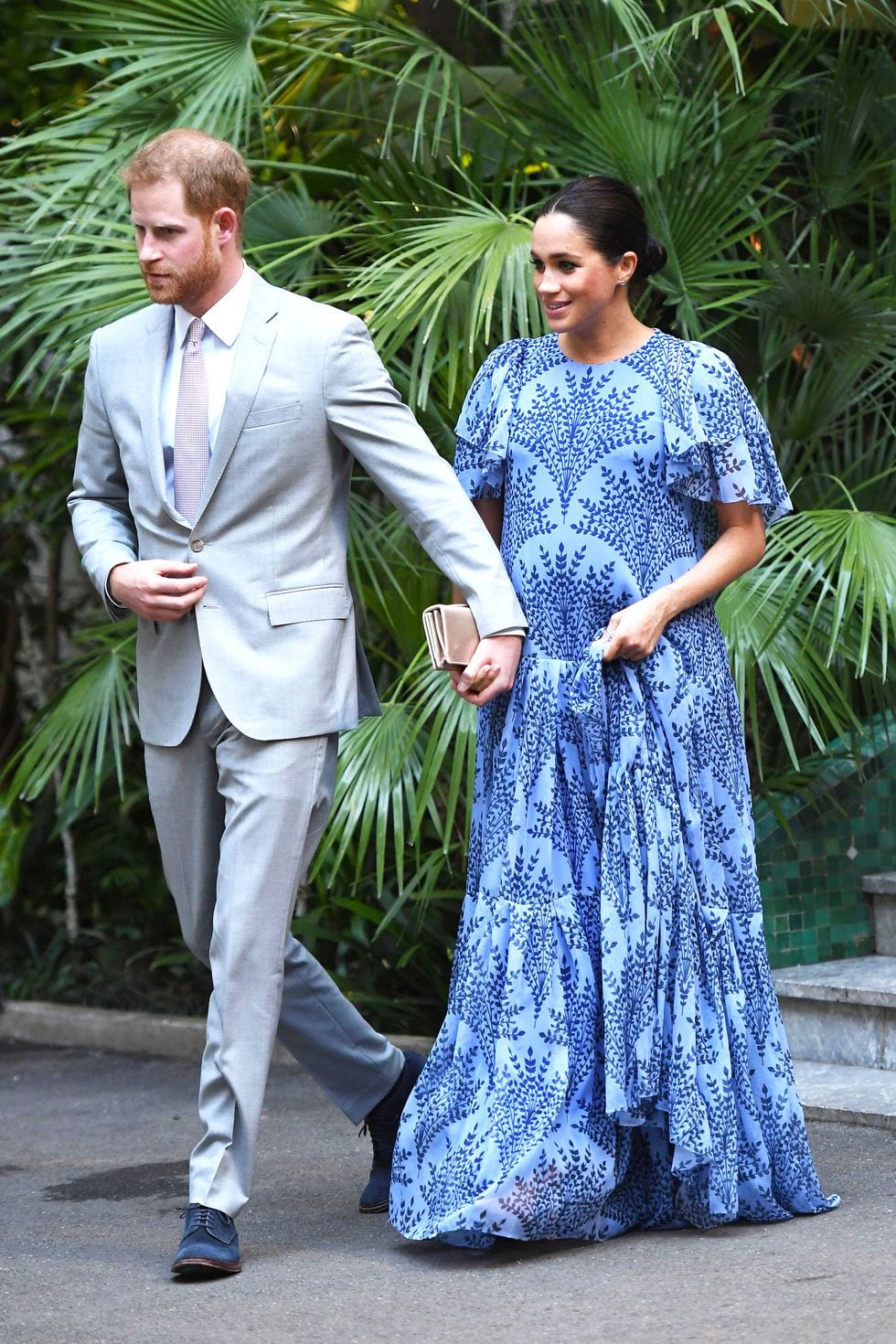 ↓ 18. Workwear Outfits 2019
Make your office appearance as much professional as Stylish. Who says workwear has to look boring and dull? If your workplace allows you to play with colors and designs, we suggest going for this bicolored sleeveless top that has been worn over a pink pant. With just a few simple accessories, the outfit looks glamorous and elegant. The black handbag, heels and the gold watch all look super formal.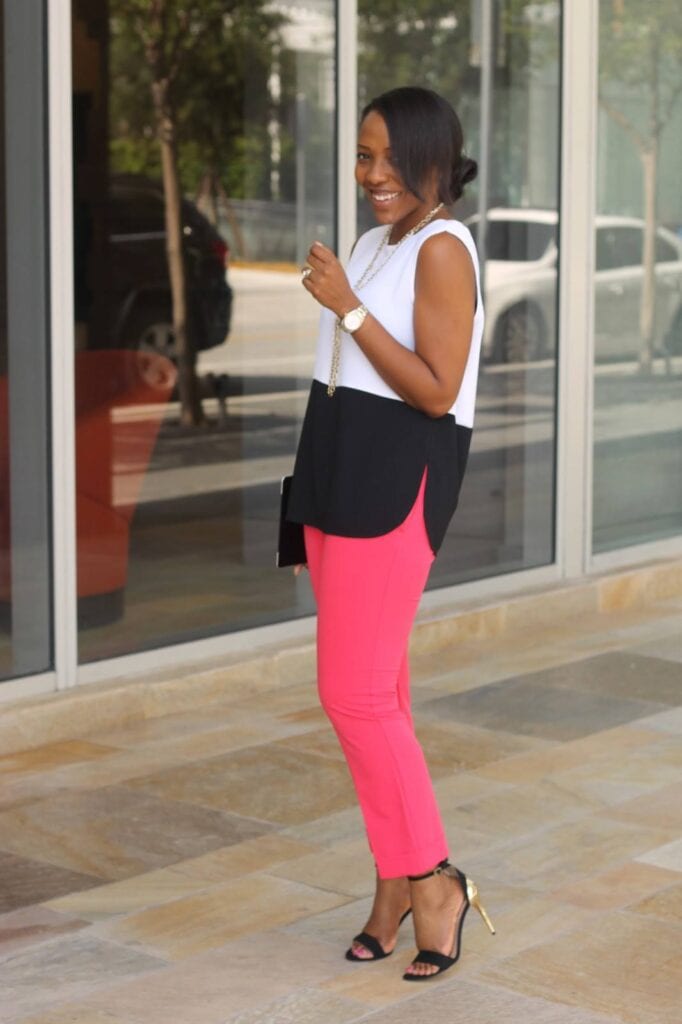 ↓ 17. Accessories For Black Women
With skirts and shorts taking over the ramp, we would totally recommend you to invest in them and make them an essential part of your wardrobe. Shorts can be styled with crops tops as well as long flowy tops. They also come in various fabrics and styles such as the denim and the cotton ones. Here is how to wear cotton shorts during the Summers for a fun hangout or a date. This all-red look involves a printed subtle top with plain shorts which has been styled with statement heels and some cute accessories. If you are headed out during daylight, add in some funky shades best suited to your face shape to make the right fashion move. The rich African fashion involves more than just tribal prints and bold patterns. Their accessories are chunkier and involve a lot of beads, pearls, and stones. Make sure to add these to your outfits to look elegant and stunning.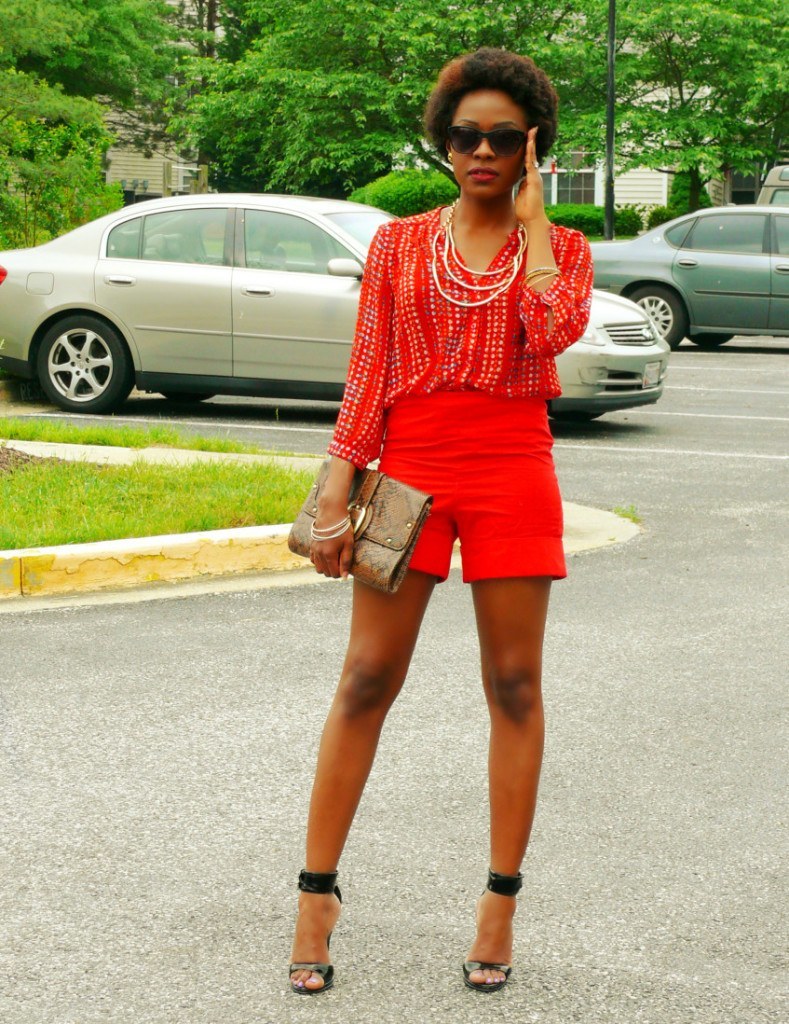 ↓ 16. Party Outfit
High-waisted pants have been trending in the fashion world for quite some time now, and we love how easily they can be styled. If you are not into skin show and yet want to give crop tops a try, you can wear them with high-waisted pants keeping your modesty intact. The dark blue color is great for evenings and nighttime to make for a formal, party look. The printed top reminds us of the rich African culture and tells us how awesome it is to create a fusion of modern and traditional fashions. Wear a crossbody bag with tan sandals to keep it comfortable while partying all night.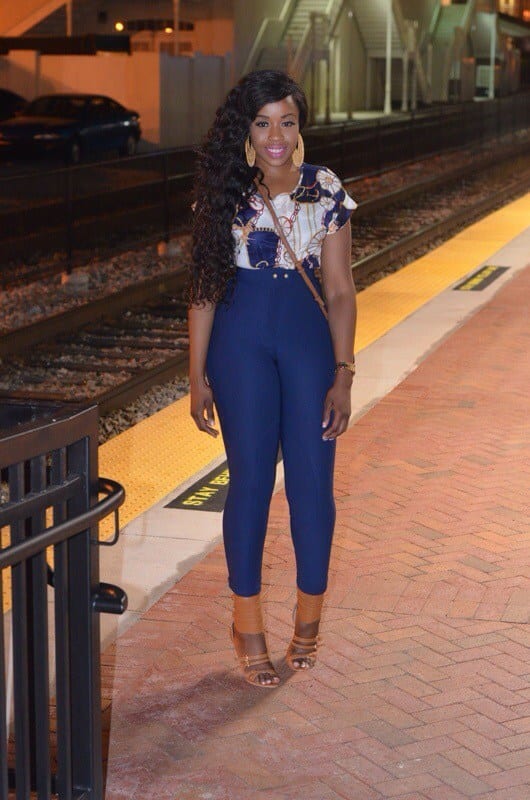 ↓ 15. Special Occasion Dress
As we talk about fashion for black women, we could not resist sharing this gorgeous blue long dress with a side slit. While this dress may not be worn by many, we cannot help but eye its beauty. The wide, embellished neckline and sleeve hem detailing looks absolutely breathtaking. Something we would totally recommend to wear to a wedding or formal party. The blue heels are a great combination to add in some style and height. With a high and embellished neckline like that, there is no need to overdo accessories and jewels.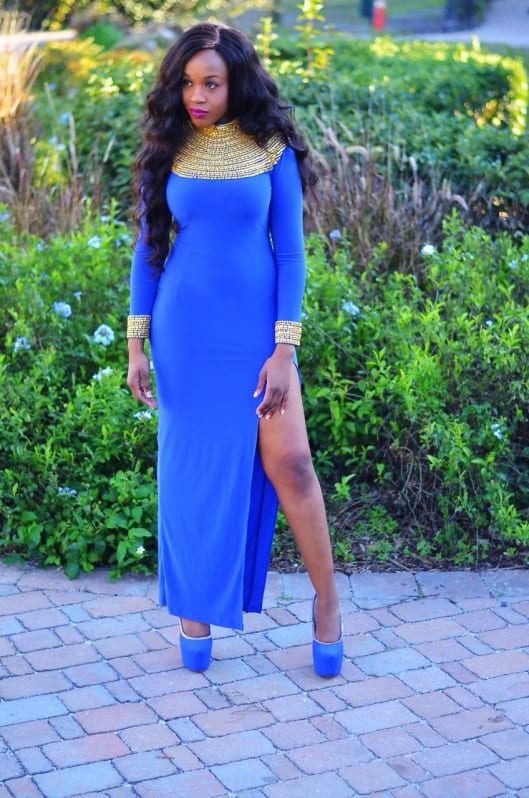 ↓ 14. Elegant Outfit Combination
Give yourself an easy and casual street style look with a basic knitted sweater over a pant. A few accessories have been added to uplift the outfit which we totally admire. The belt, handbag, heels and the shades all look super gorgeous with this Burgundy-Maroon look. If you are looking to try out a new hairstyle to take a break from your everyday look, try out this straight hair look with bangs to keep up with all the latest hair trends.

↓ 13. Summer Casual Outfit
Stripes are every girl's best friend. Horizontal stripes can help you look wider while the vertical ones help you look elongated. While this top is in black white, you could go for other colors as well to wear over denim shorts. The fringe bag is just the right kind of accessory as the fringes have been making a comeback in the fashion world. Don't miss out these top 10 Ways to Wear Striped Shirts.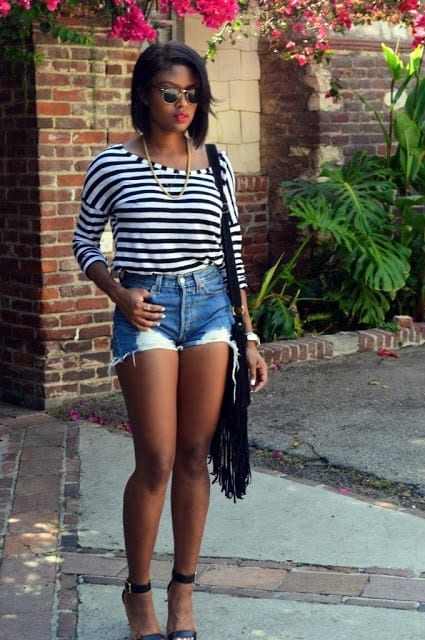 ↓ 12. Street Style
Want to do floral without going overboard with the trend? Well, here is how to do it. This subtle and youthful dress in earthy tones is a great option for Spring and Summer seasons. The brown statement heels give it a more glamorous look. This outfit can be worn to college, to an all friends hangout or just to your next Summer vacation. Keep it light, casual and comfortable while also looking chic with an outfit like this.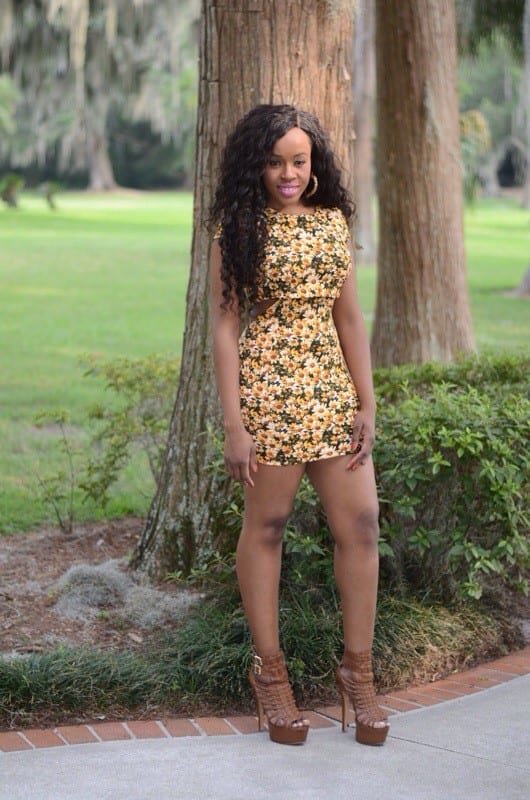 ↓ 11. Mini Skirt
Want to please your significant other with your stunning fashion sense? This vertically striped miniskirt and the textured top is a great combination to try out next time. This large sized handbag is another great trend to try out with this attire. The large buckled heels are nice to try out with a miniskirt as they look super eye-catching.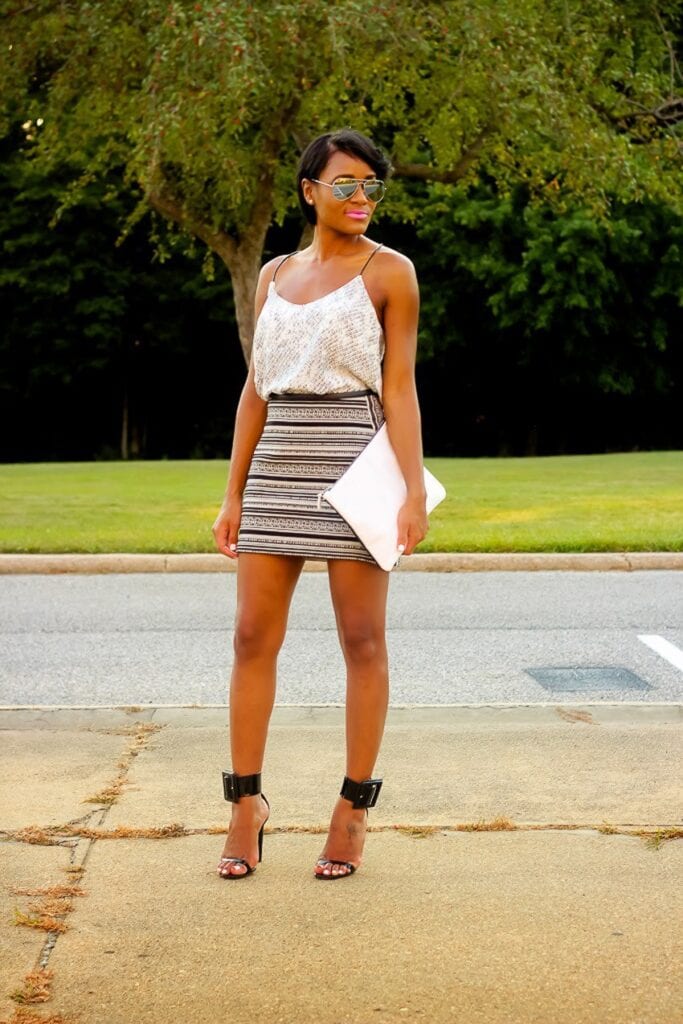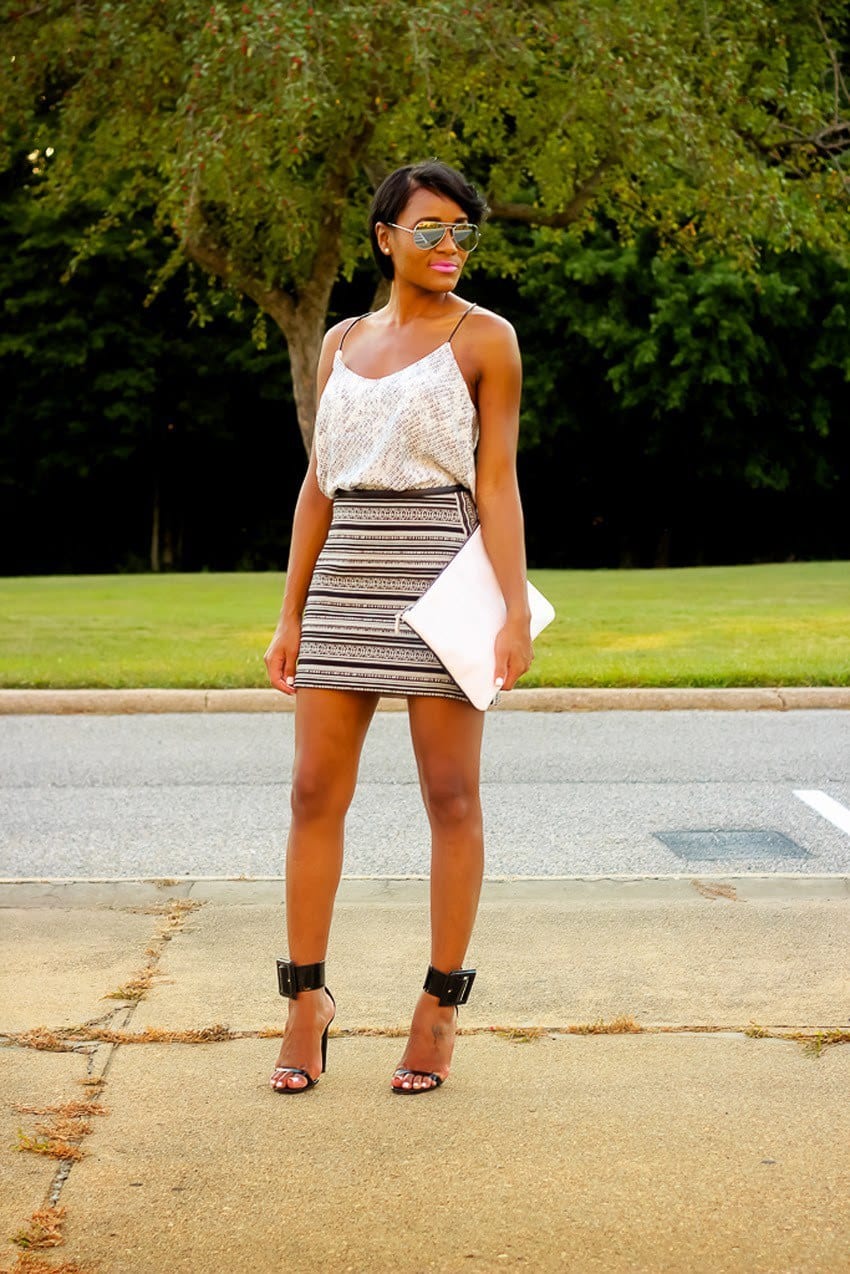 ↓ 10. Stylish Skirts
White is a neutral tone that works well with almost any other color whether light or dark. If you have a basic white top lying around in your wardrobe, put it to use by wearing it with a gorgeous denim skirt. This can be another great date look for daytime.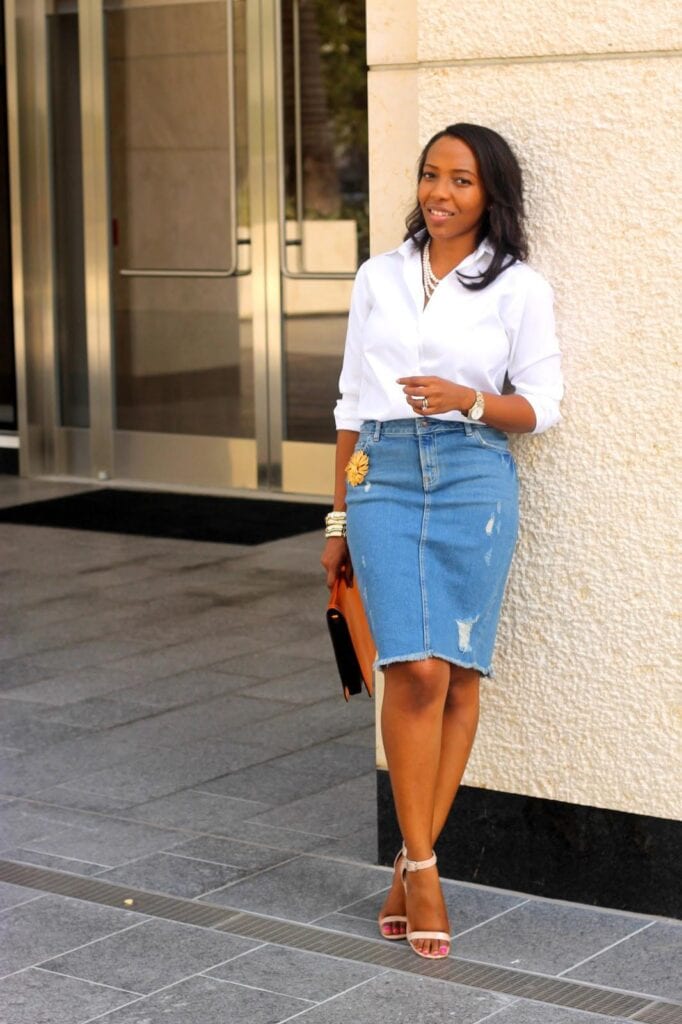 ↓ 9. Sexy Dresses
How gorgeous is this two-toned, side slit dress? Summers get super warm and sweaty, making it difficult for you to pick out an appropriate party dress for it. However, going for lighter weight fabrics can make the task very easy. This breezy and cool look is perfect for black women to sport at parties. While the outfit has been taken care of, it is essential to also look after your makeup and hair needs. Give your gorgeous curls a fine look by leaving them down to complement the formal look.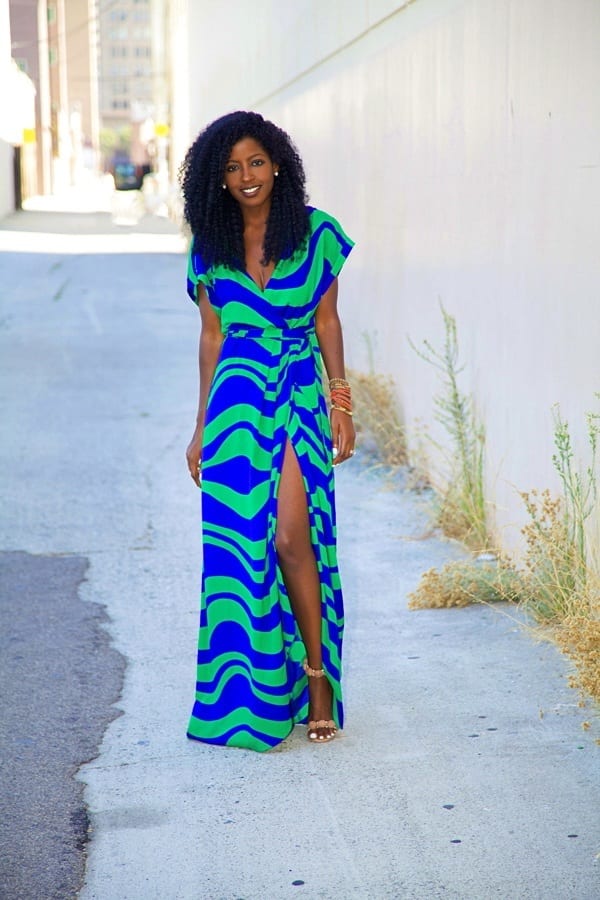 ↓ 8. Hot Casual Outfit
Got a basic denim Jeans with no idea on how to style it? Pair it with a button-down, collared shirt in the shade lighter than the denim wash for a casual look. This outfit can be worn to college by young girls and can also be made a part of your next vacation. Street style never looked this great before!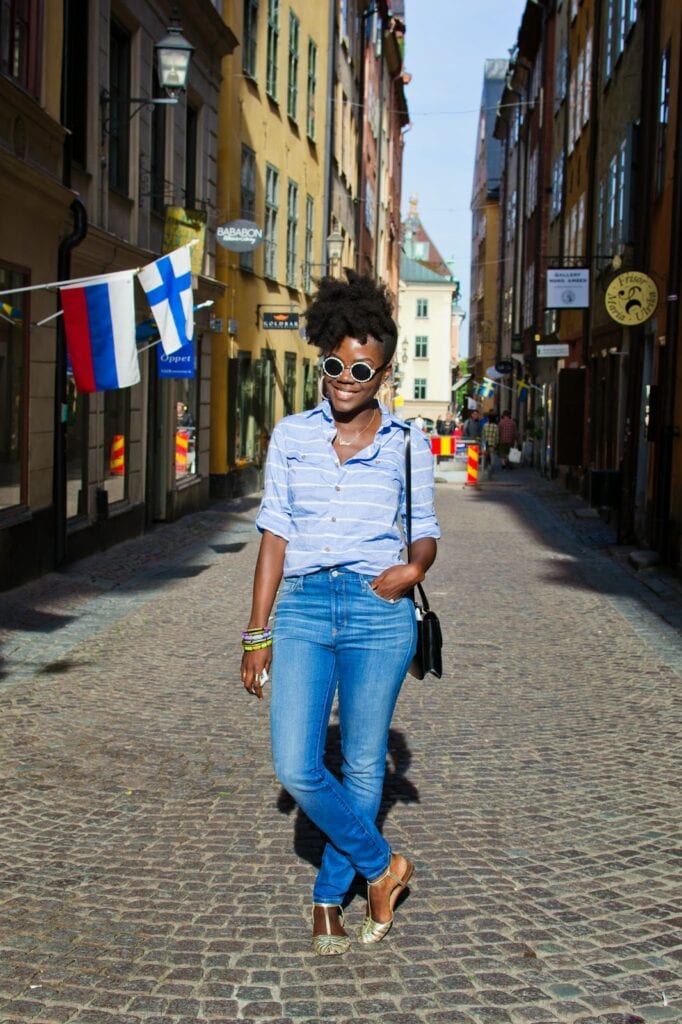 via
↓ 7. Floral Print Dress
To stay in touch with your ethnic roots, you must include bold and large prints in your wardrobe. Here is how to make it a part of your everyday wear in a subtle way. This high-waisted floral print skirt with a strapless blouse is a super chic yet comfortable outfit to wear to a fun hangout. The sleek hair bun just brought more life to this gorgeous attire.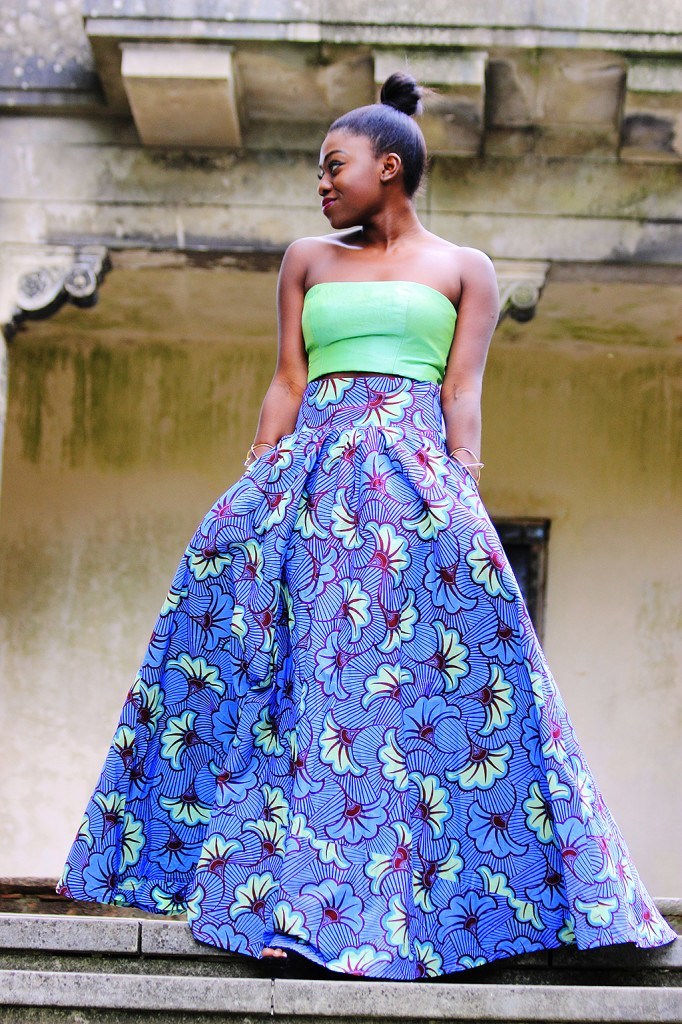 ↓ 6. Leather Shorts
Give your everyday style a transformation by replacing the old and basic cotton/denim shorts by going for a leather one instead. Create a monochrome look for yourself by pairing the leather shorts with a funky fishnet style white top. Wear this outfit with some funky eyewear and pencil heels for a stunning monochrome look. Here are 17 Cute Outfits with Leather Pants for Women this Season.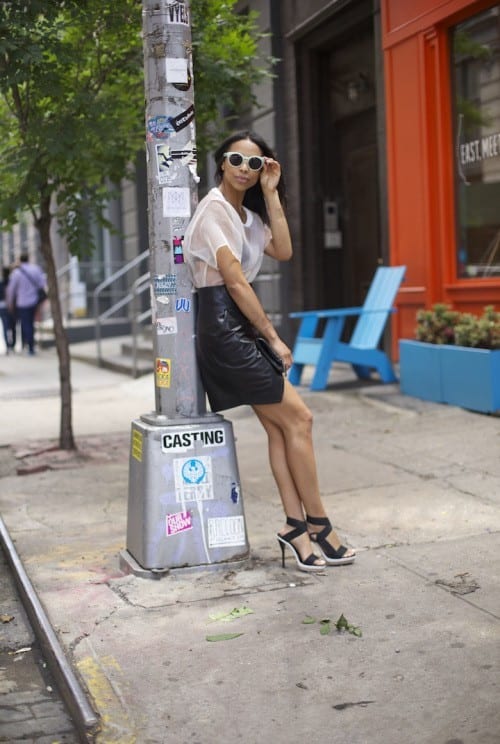 ↓ 5. Latest Fashion Ideas
Want something that is sporty yet looks super elegant? Here is just what you need. Monochrome is the solution for all your fashion woes. However, if you need just a slight pop of color, go for some stunning red stilettos or block heels as done here. The crop top and the casual shorts look super cool together, and we totally love this youthful and sexy attire. With Summers around, we would totally recommend this attire to keep it cool and refreshing.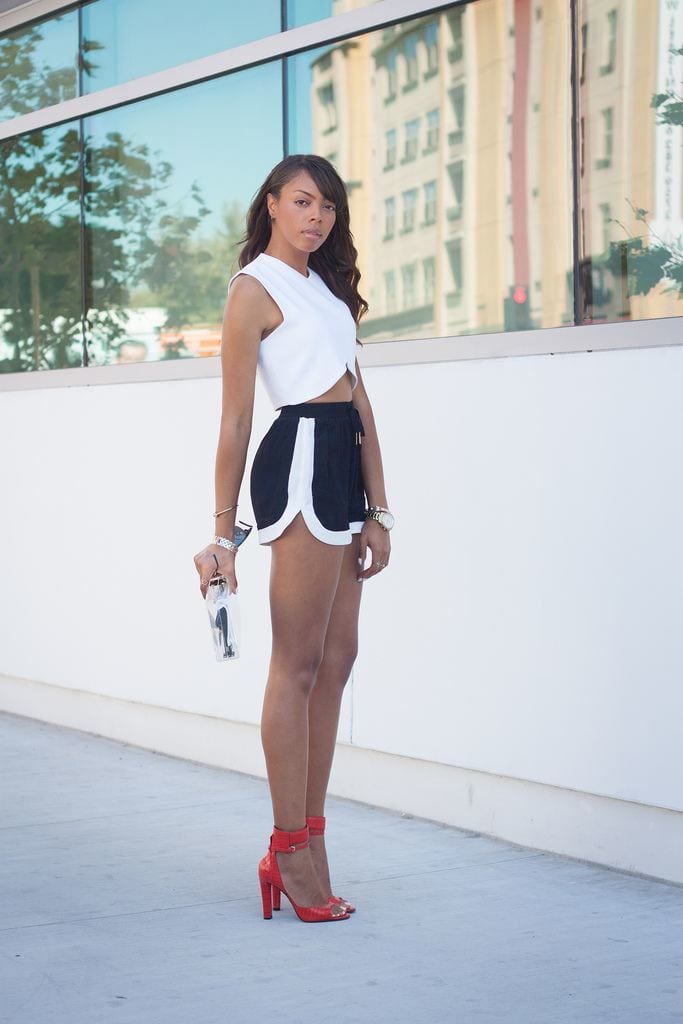 ↓ 4 – Casual Summer Date Outfit
Here is how to dress up for a casual occasion during summers with a little black skirt over a plain white top. You may add in a light color cardigan to add some print to your look. This super breezy and cool attire is perfect for the Summer heat. You can wear this with Summer sandals or a pair of hot strapped heels. Some good accessories to go with it include some cute danglers and a nice gold watch.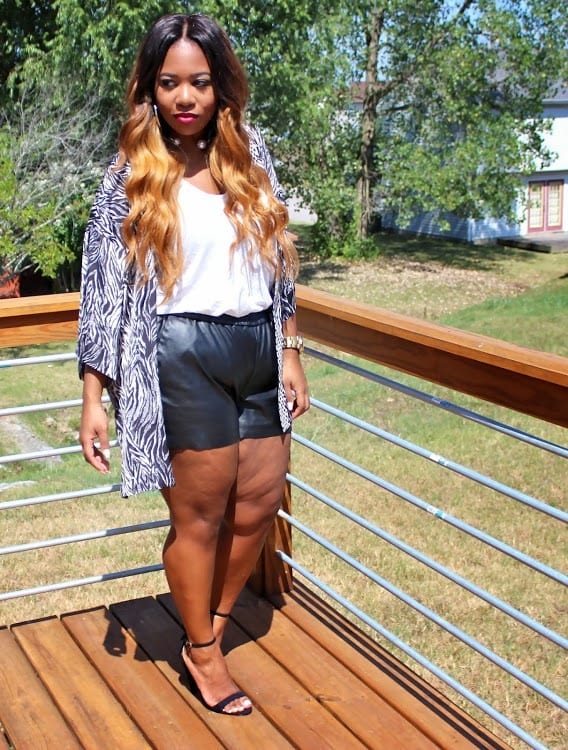 While a casual outfit is great for some everyday style, what about formal occasions? Here is a super cute and trendy nighttime look for you to sport at a fun party. The shimmery top has been worn over some comfortable trousers to keep it lowkey. You may wear this top over a pleated skirt as it is the new in thing this season. Add in hoops or dangling earrings for some added bling.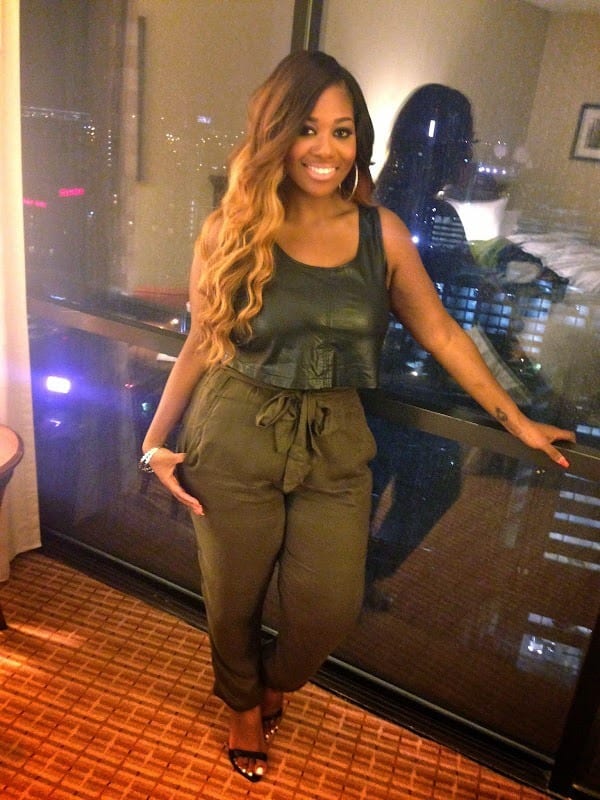 ↓ 3. Stylish Dresses for Plus Size Women
If you are Big, Black and Beautiful, don't worry because we got you. Fashion for plus size women has slowly emerged as a separate fashion world. From cute crop tops to skirts, they are finally bringing them all. Initially, it was believed that Plus Size women were required to cover up to look beautiful. However, it is time to accept yourself and flaunt your curves like never before.
Check out this super edgy vacation look for plus size black women consisting of a pair of denim shorts with a basic white shirt. Pull over a casual jacket or cardigan, and you are good to go. Black and Tan are both the best colors to go for when styling your outfit with accessories. These uber cool shoes and bag are just what you need to uplift this basic outfit.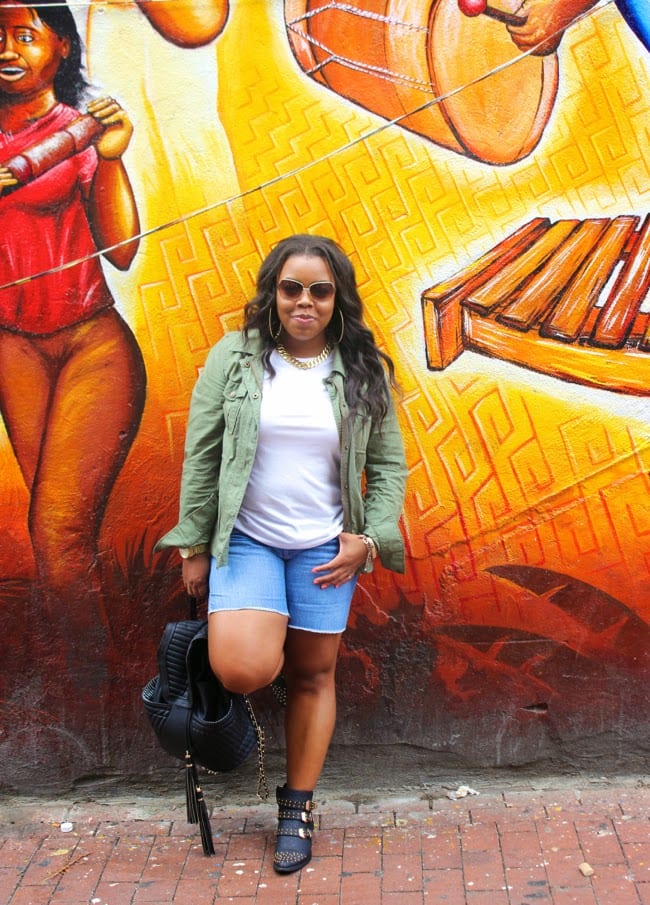 ↓ 2. Formal Dinner Date Outfit
Got a date planned and want to look your best? Worry not! Take a look at this super sexy red and black look. Who thought black women could pull off a bold color like this so well? This red blazer dress over latex pants is the new "it" trend. You can also go for thigh-high boots to go with it. The stylish eyewear is great if you are planning an outdoor daytime date. Another great accessory to carry is a cute little box clutch. However, if you need something more spacious to hold all your belongings, go for an elegant shoulder bag, but something that is not too large.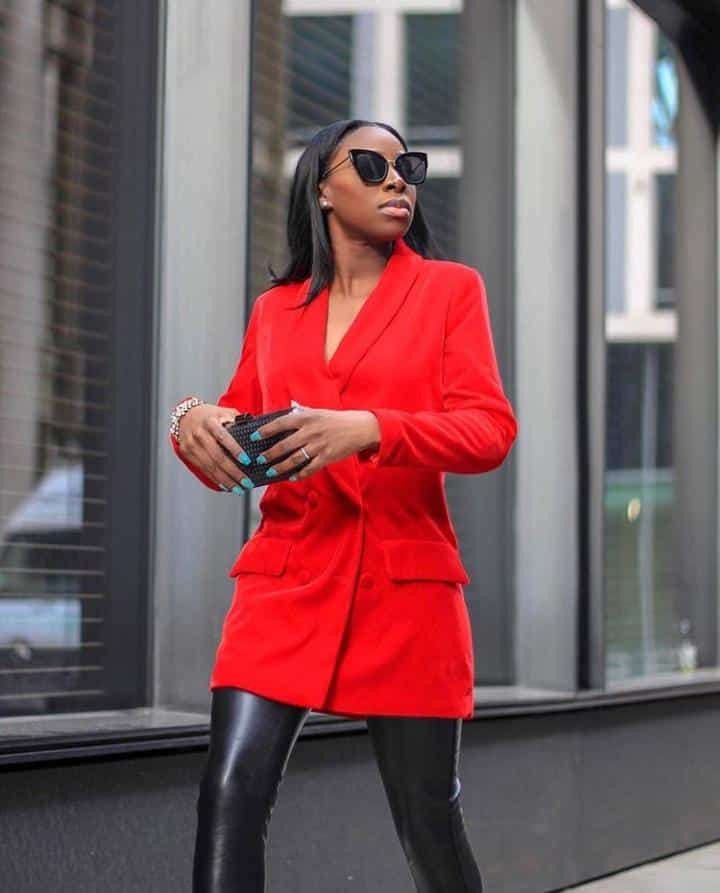 ↓ 1. Kitenge Dress
Why go for dull and boring outfits when you can proudly embrace your happening culture? The African heritage is known for its uniqueness. The Fashion there involves big, bold patterns and prints that are famous all around the globe. Kitenge is one such staple that all Black women absolutely adore. You can find out some fashion options with Kitenge from office wear to casual style. This Blue jumpsuit with floral print is a super elegant one and can be sported out at formal events for a glamorous look. Check out these Modern Kitenge Dresses To Try This Year.