Boat Party Outfits For Men. A boat party is one of the most expensive festivities. That said, you may be required to wear slightly fancier outfits instead of your usual go-to party getups.
The catch is that not all boat parties are created equal. Some give you the leeway to dress in slightly less formal outfits. And others allow you to decide on your own. But most boat parties are particular with dress code and style rules. And this is common in the most elite cruise parties.
So if you've been invited, you don't have a choice but to adhere to these simple yet tricky key pointers.
Tips When Going On Boat Trips
Colors. Look for garments in pale and ocean blue, beige, white, etc. Your color combos should give off the vibe you're holiday-ready. Stick to vibrant and primary colors when attending evening events.
Fabric. With just one glance at you, they should feel that you're taking the venue and occasion well. For one, your fabric should have the resort feel in it. Invest in French button-down linen and a crisp white shirt.
Accessories. These little guys will separate you from the crowd. Use them to take your looks to the next level. Start with sunglasses and silk scarves in paisley prints, to name a few. I would also say "yes" to linen pocketsquares.
Wear nautical overalls. The nautical style is not about trends alone. The point here is that you have to don a particular aesthetic when going out for a boat trip.
Sunblock. Pack a lotion with sunscreen protection. Unless you want those sunburns to get in the way, put sunblock on your checklist.
What To Avoid
Form-fitting outfits. Expect that you'll be spending most of your time sitting on the boat. That said, choose clothes that won't keep you from moving. Mind that you should be comfortable enough to enjoy your trip. Stay away from tight and very short garments.
Overpacking. Overdressing is one thing, and overpacking is another. Remember that it's a hassle to bring lots of unnecessary, heavy items with you. It might ruin the fun.
Boots. Save them for your winter dates and autumn photoshoots. Go for loafers and sneakers, instead. Flip-flops and sandals will do as well, as long as the setting permits.
Where To Buy Boat Party Outfits
Start your shopping journey in Sperry, J.Crew, and Nautica. However, your options are limited, so you are free to check products from other brands like Uniqlo, H&M, and Topman.
How Should Men Dress For A Boat Party?
We've already talked about the regular Boating Outfits for Men but we felt like boat parties required a special post. It's not called a "boat party" for nothing. And it's not every day you attend one, so make the most out of it. Like with other events and festivities, try to adhere to the theme in the best way possible. But this doesn't mean you will go overboard.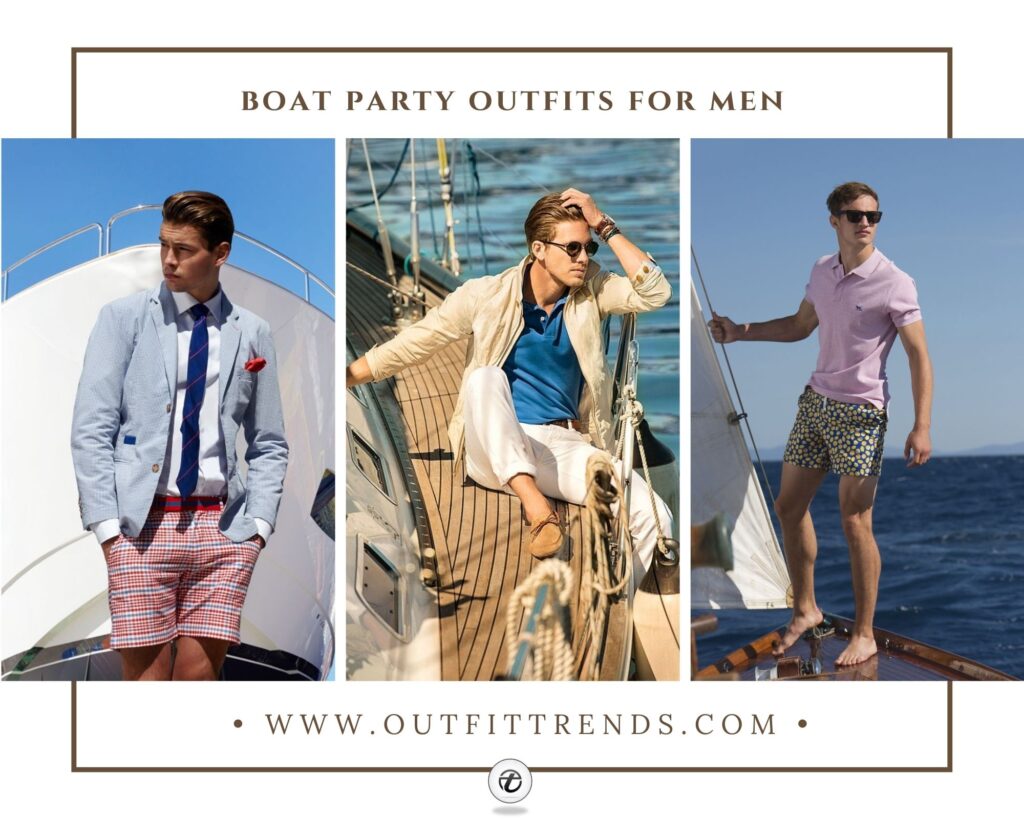 Do your part to keep your ensemble from looking like a costume. If you've never been to a boat party, I understand that things can be a bit more difficult for you. But worry not – I am here to guide you along the way!
↓ 30 – Polo Shirt
One step ahead from your daily basic tee – a polo shirt! Having a few of these in your closet is very helpful. They are essential members of your wardrobe. Stack your pile with black, navy blue, and white polo shirts. For boat trips, pair a white polo with blue nautical-themed shorts.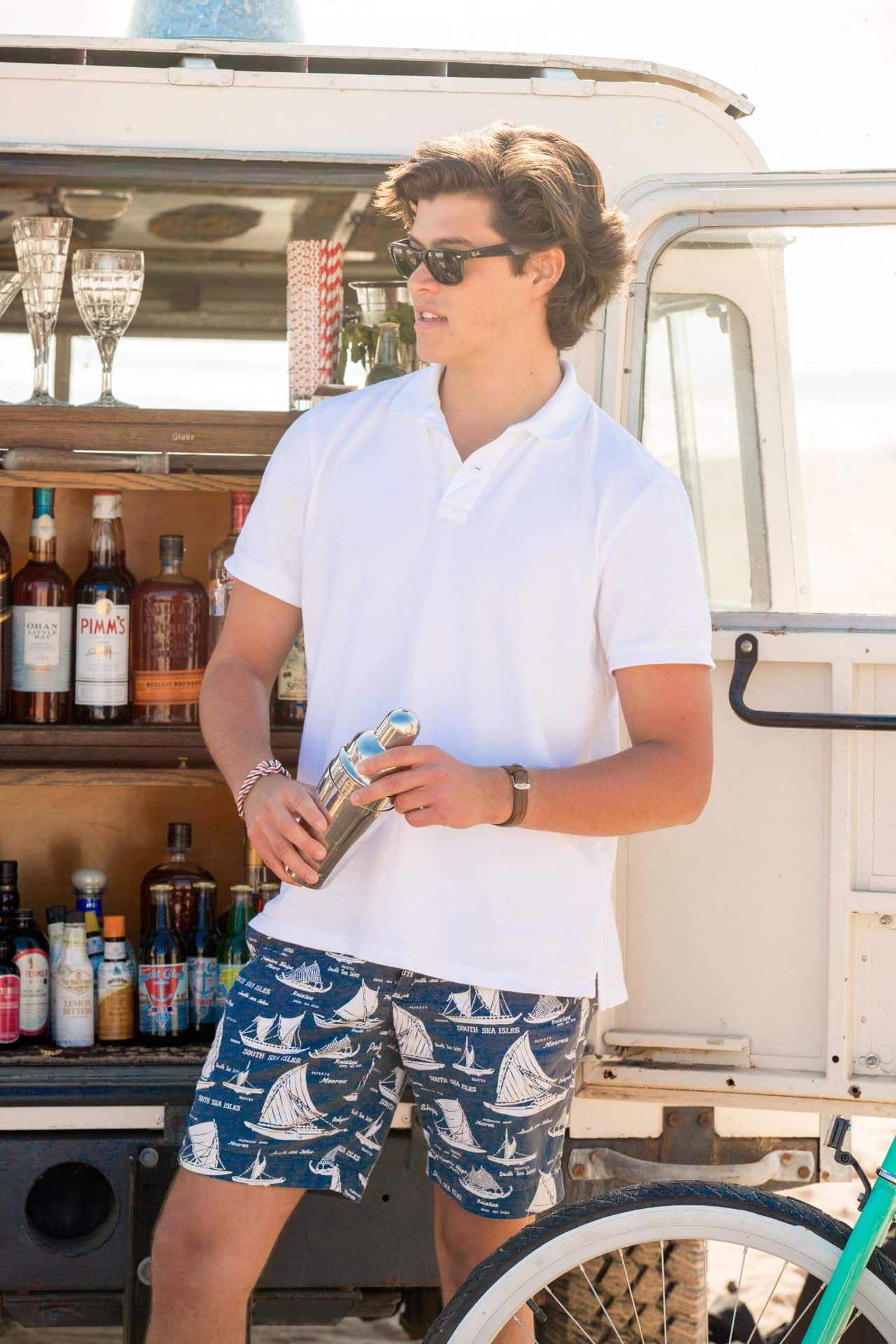 ↓ 29 – Check Shirt
A flannel or a check shirt looks good over the water. I would recommend that you stick to minimal designs. Overkill styles might ruin the fun. Pair it with a dark-colored bottom, and voila! When it's hot, don't forget to roll up your sleeves.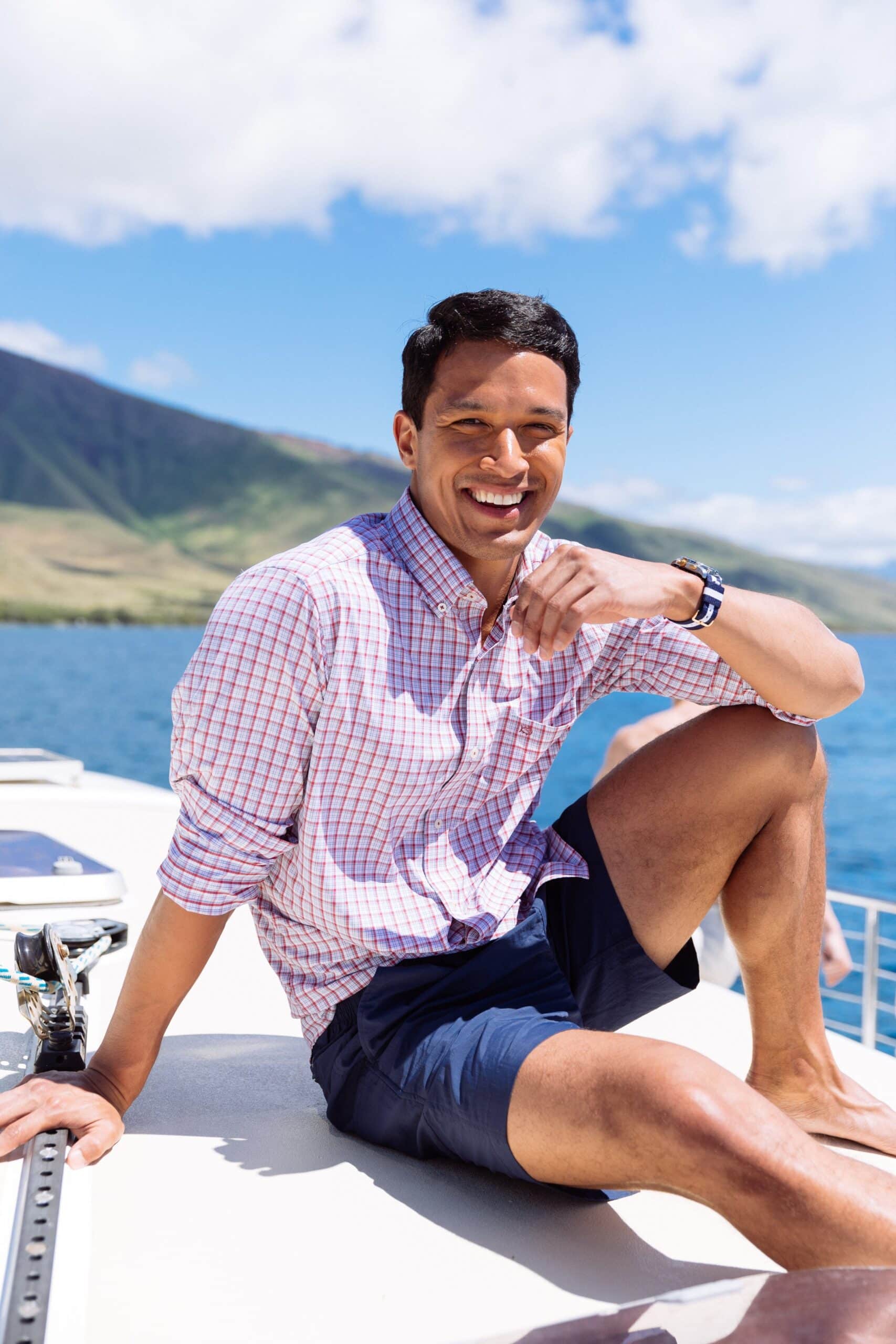 ↓ 28 – Casual
If they are not strict with the dress code, that's great news! But don't take it so lightly. At the very least, consider how you match the colors. For starters, stick to contrast colors and solid hues. Try not to create a color combo that is a sight for an eyesore. Take a look at Froy Guttierez's outfit: a stone blue tee paired with indigo board shorts.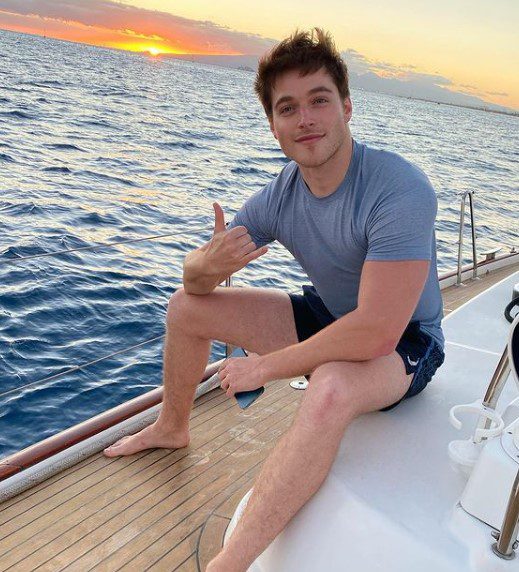 ↓ 27 – Polka Dots
It's not a bad idea to play with prints and patterns once in a while. For one, you can don some polka-dotted shorts to show some perkiness. Wear them with a crepe pink polo shirt, and finish off the look with some sunglasses.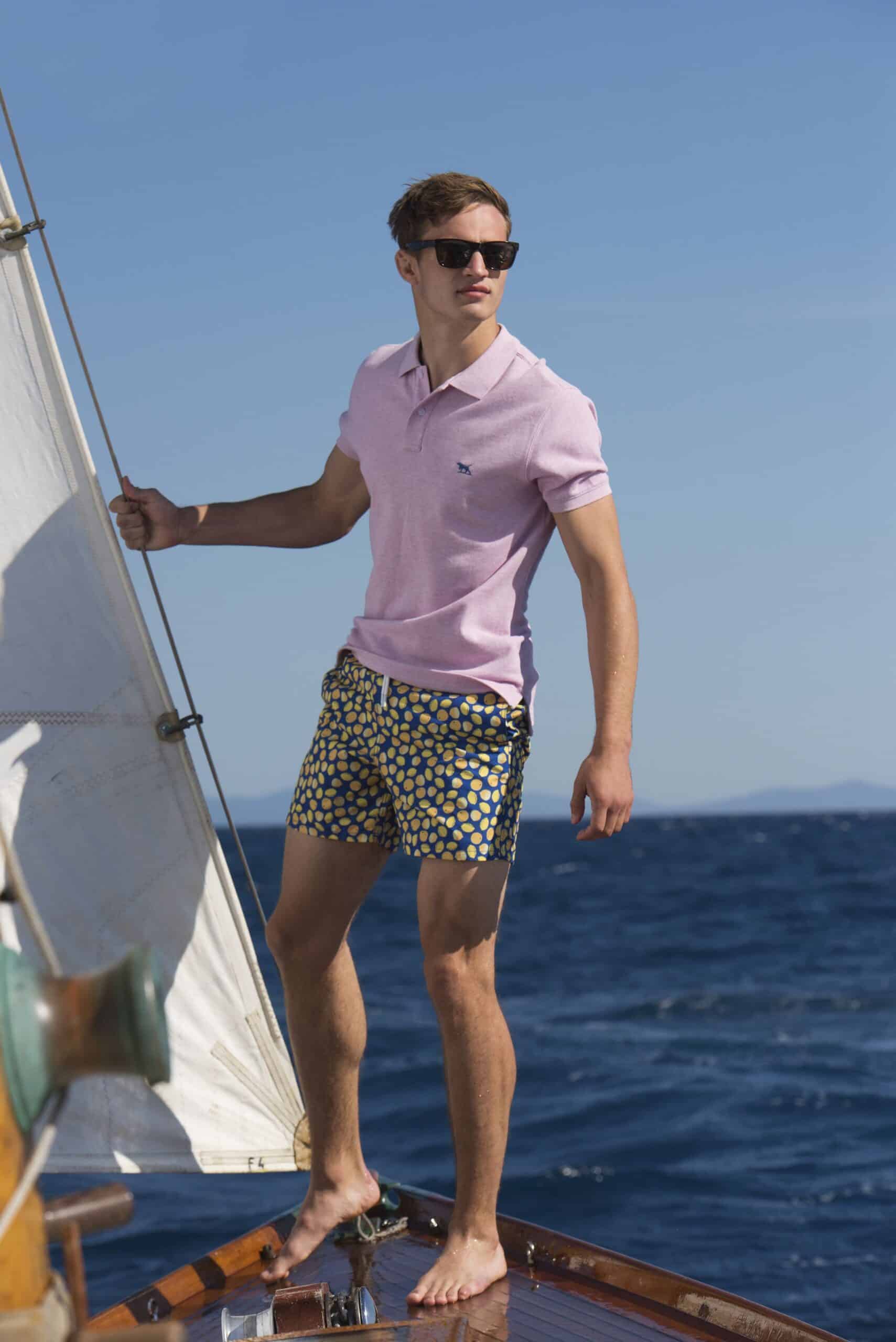 ↓ 26 – Tailored Shorts
You might no longer be surprised to see lots of blue and white combos in this post. Let's just say that they are regular members of the club. For one, a navy blue polo shirt looks great with cream or off-white chinos.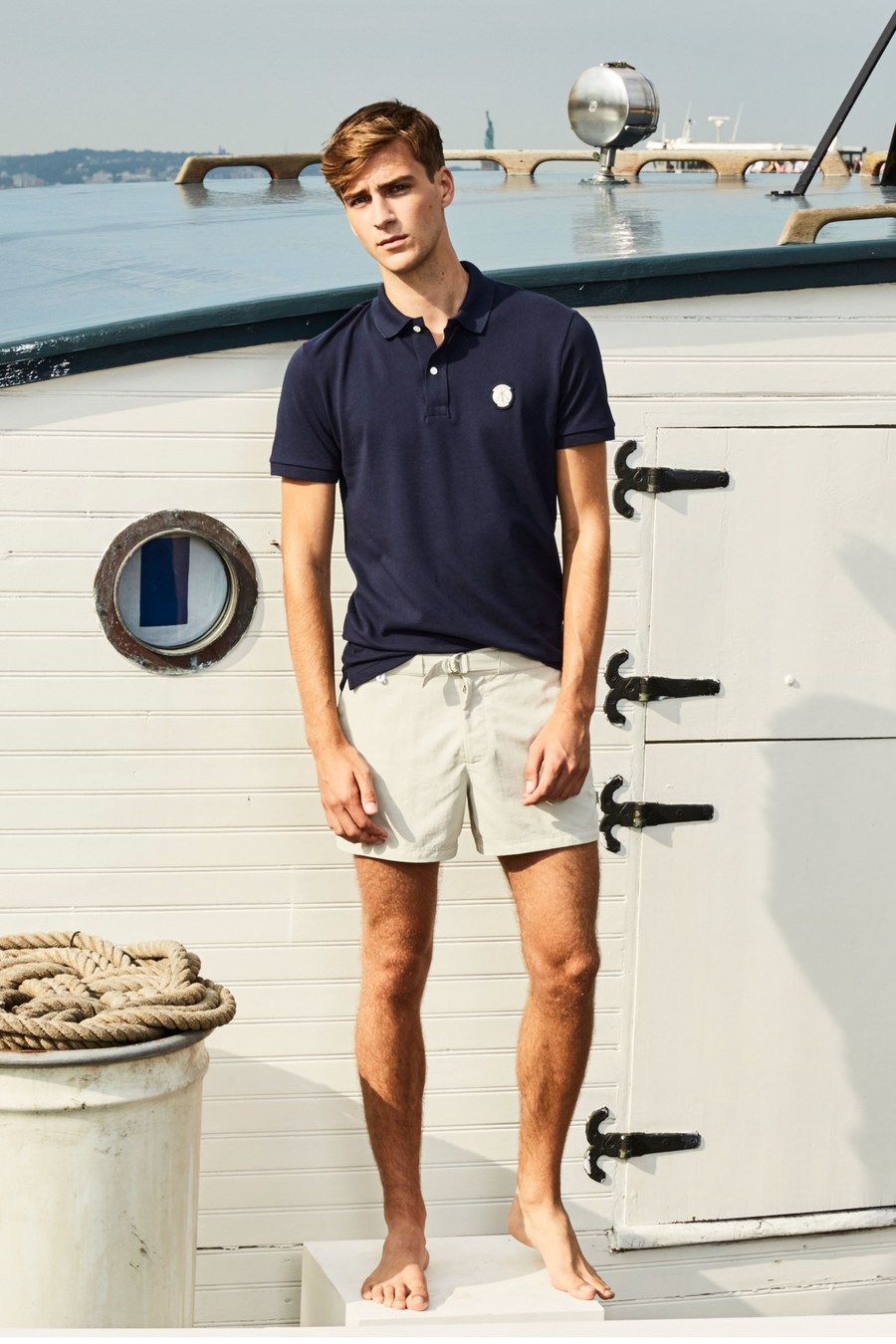 ↓ 25 – Simple And Classy
↓ 24 – Colorful and Playful
This is just another way to be cheerful, so why waste it? Express it through your outfits by wearing flashy colors. You can start with bright hues like yellow, orange, and red. And if you're up for something all-out, a rainbow-inspired garment is for you!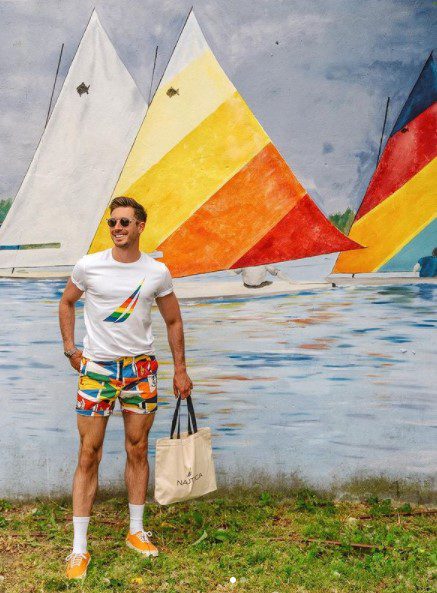 ↓ 23 – Windbreaker
Jackets and coats are one thing, but windbreakers are another! This is your best companion during chilly night boat parties. Expect that you're going to need one of these in winter and fall. For your convenience, opt for products made of materials that can stand the rigors of any weather condition.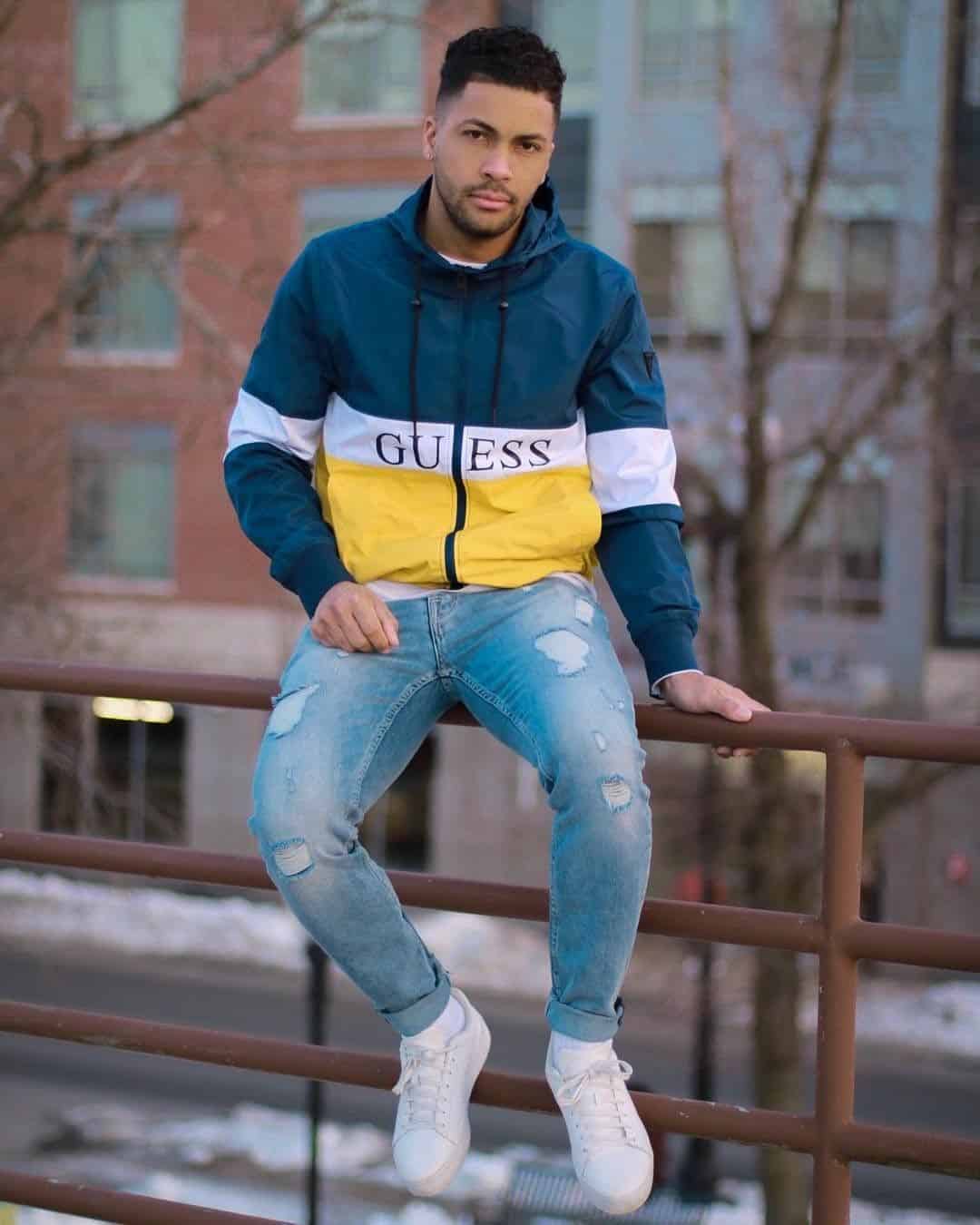 ↓ 22 – Striped Outfit
If you have a vertically striped shirt, pair it with white chinos. Finish off the look with some blue boat shoes to complement the overall style. No socks are needed! A statement belt would help to elevate your ensemble. Rolling up the sleeves would also add up to your fashion game.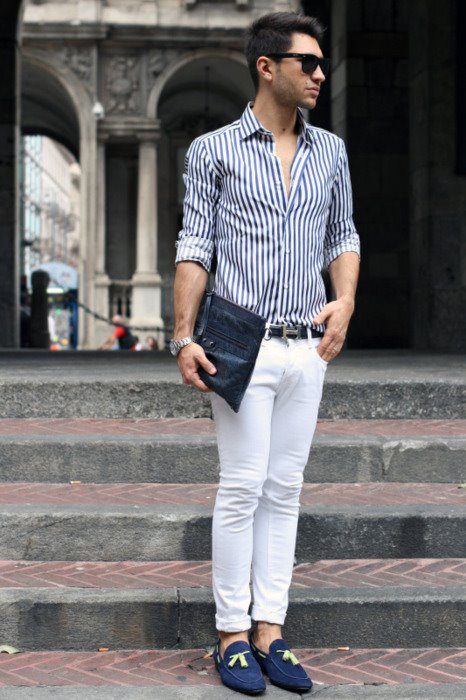 ↓ 21 – Yacht Club Attire
Strive to look preppy as much as possible when you are headed for a yacht club party. Your essentials for this look are an unstructured blazer, a tie, and a crisp white button-down ironed to perfection. Pay attention to minor yet crucial details — collars must be stiff, and your hairstyle should be on point. Your best bet: go for a slicked-back style.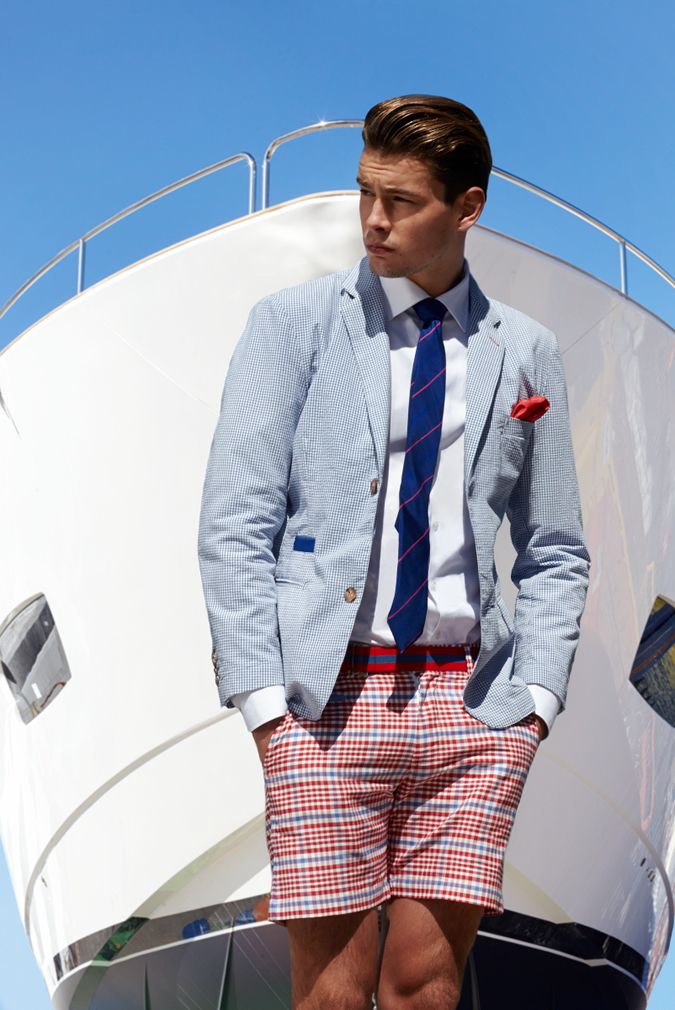 ↓ 20 – Neckerchief
A neckerchief is a worthy addition to the team. It can amp up your ensemble, no matter how simple it is. Red is your best bet here, but black will do just the same. Consider color coordination before wearing this ornament. Also, it's called "neckerchief" for a reason, so don't tie it somewhere else.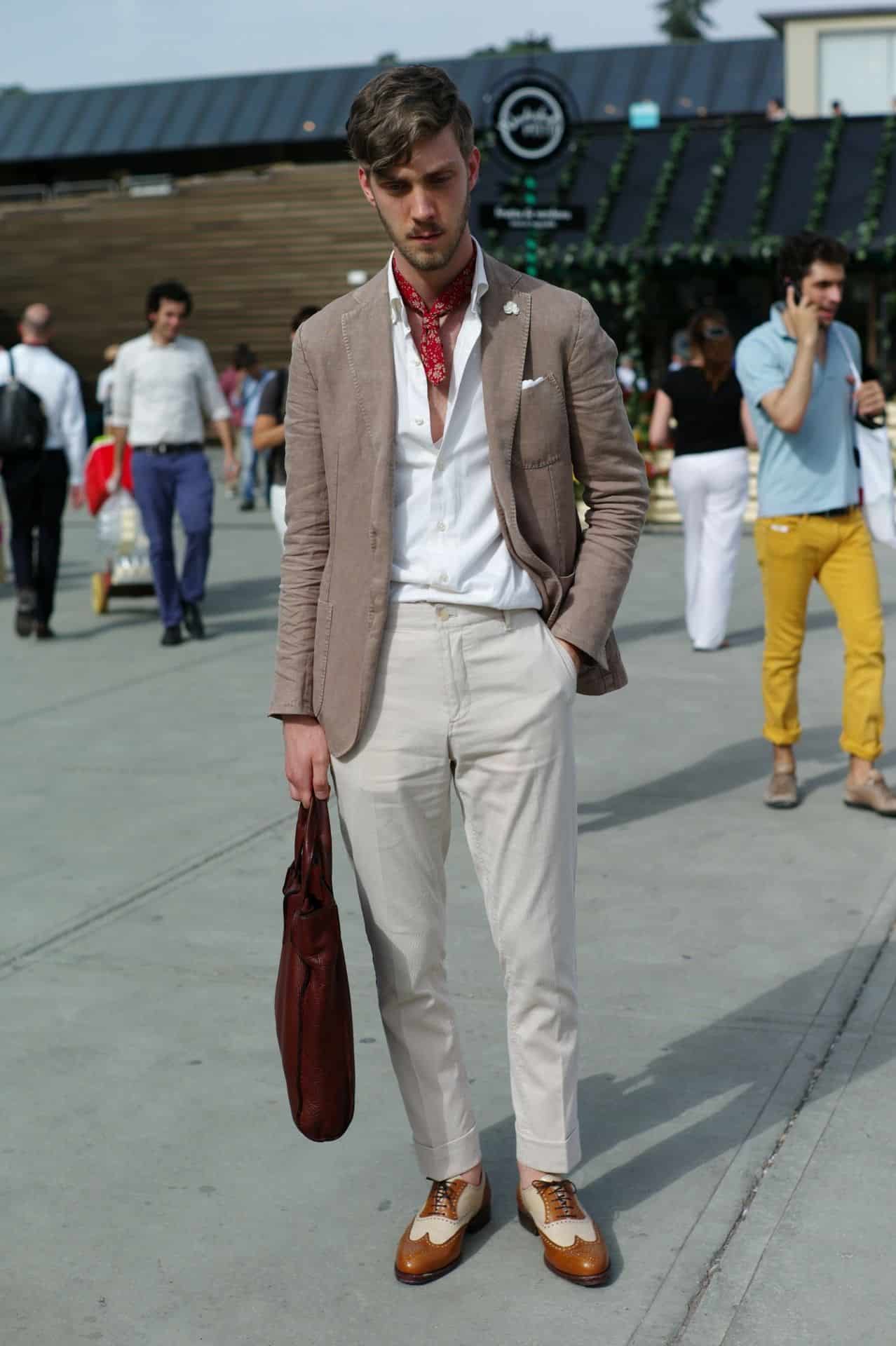 ↓ 19 – Sunglasses
If a boat trip is your thing, sunglasses are part of your essentials. As funny as it sounds, but you can't last a day without them. Being stylish aside, functionality will matter, especially in summer when the sun can get really bright, and its heat might burn your face and eyes. Consider yourself warned!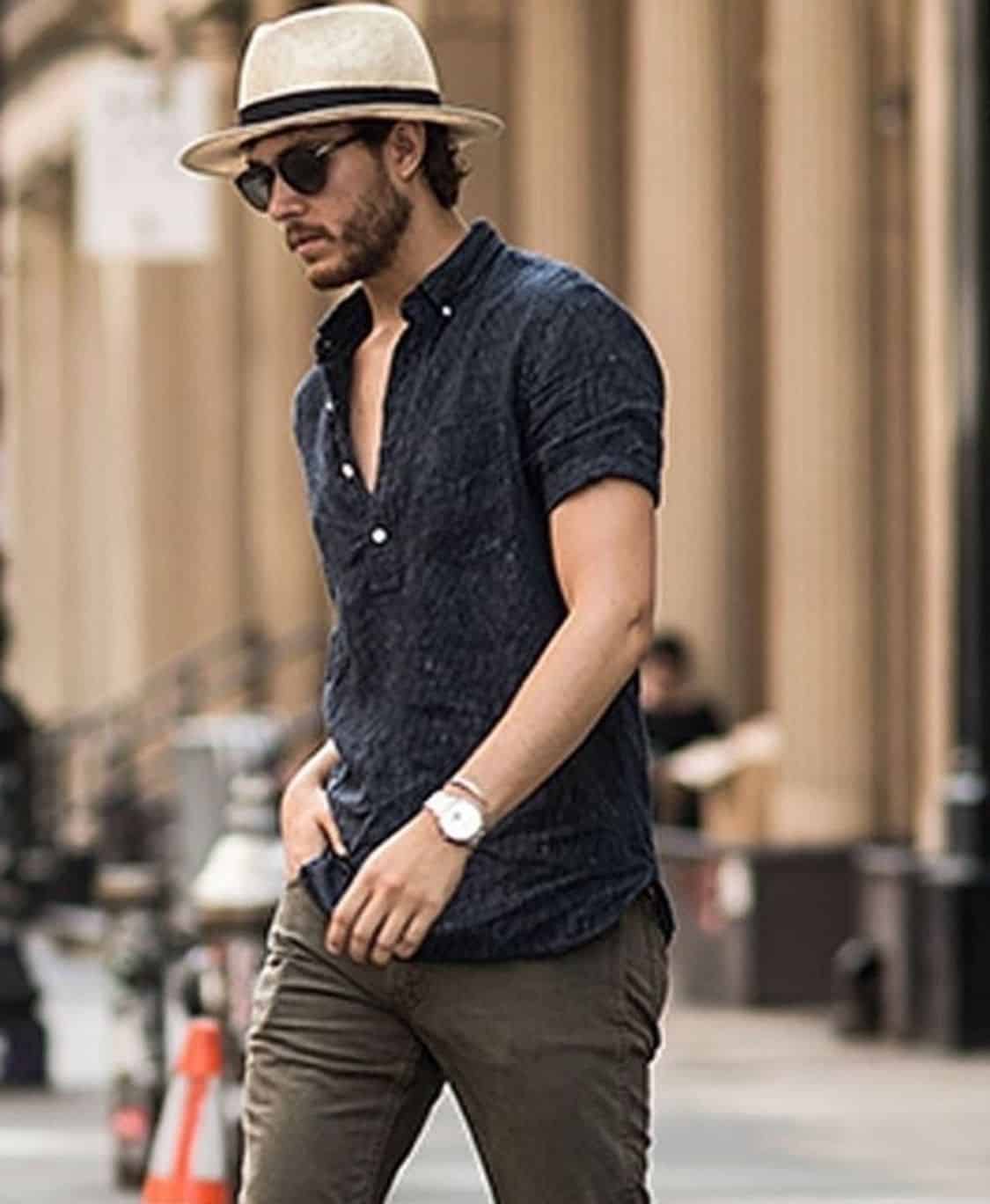 ↓ 18 – Panama Hat
Grab your Panama hats and brim hats for summer and spring. For winter and fall, keep your beanies close.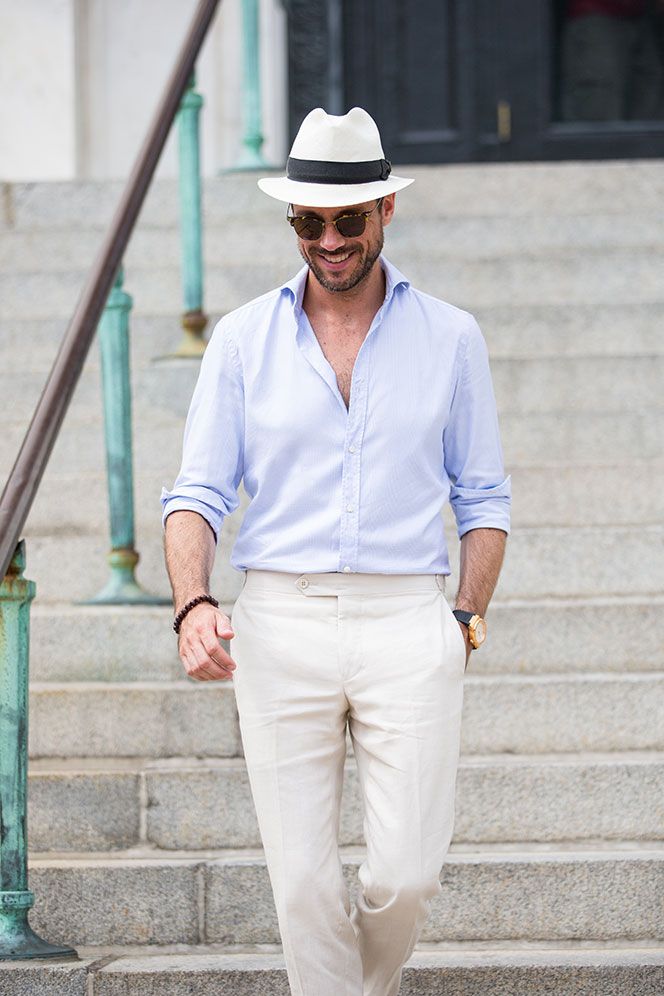 ↓ 17 – Pocketsquare
Be it single or square fold — you recognize a pocketsquare when you see one. It has the same effect as neckerchieves — both of them can do some color pop. Having one pocketsquare or two is a great idea. Let's say your outfit is missing something, then this little piece of clothing could help.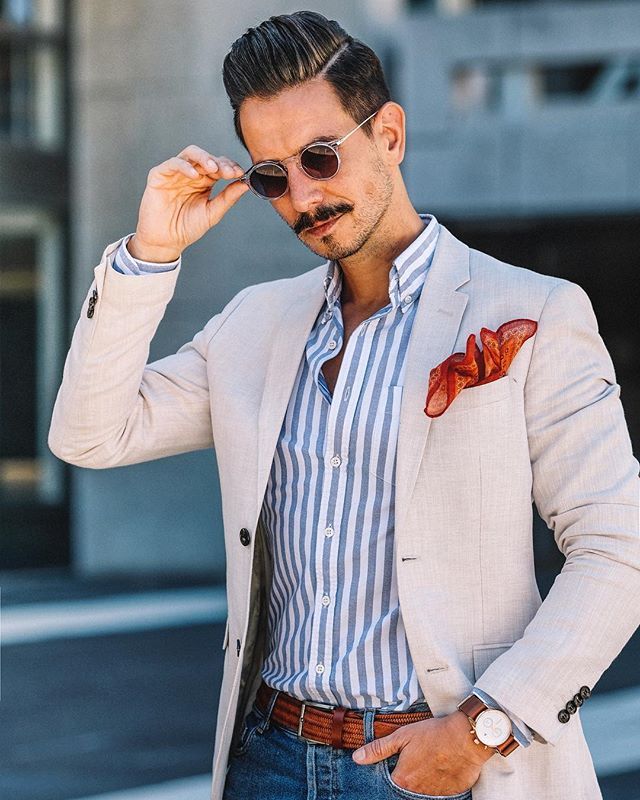 ↓ 16 – Statement Belt
The rule of thumb here is to pair it with simple outfits. Avoid combining too many colors to avoid clashing. This can easily catch others' attention, so be careful in choosing the design as it can make or break your outfit. Spice up your look and choose a bright color. It would pop and let it be the focal point of your outfit.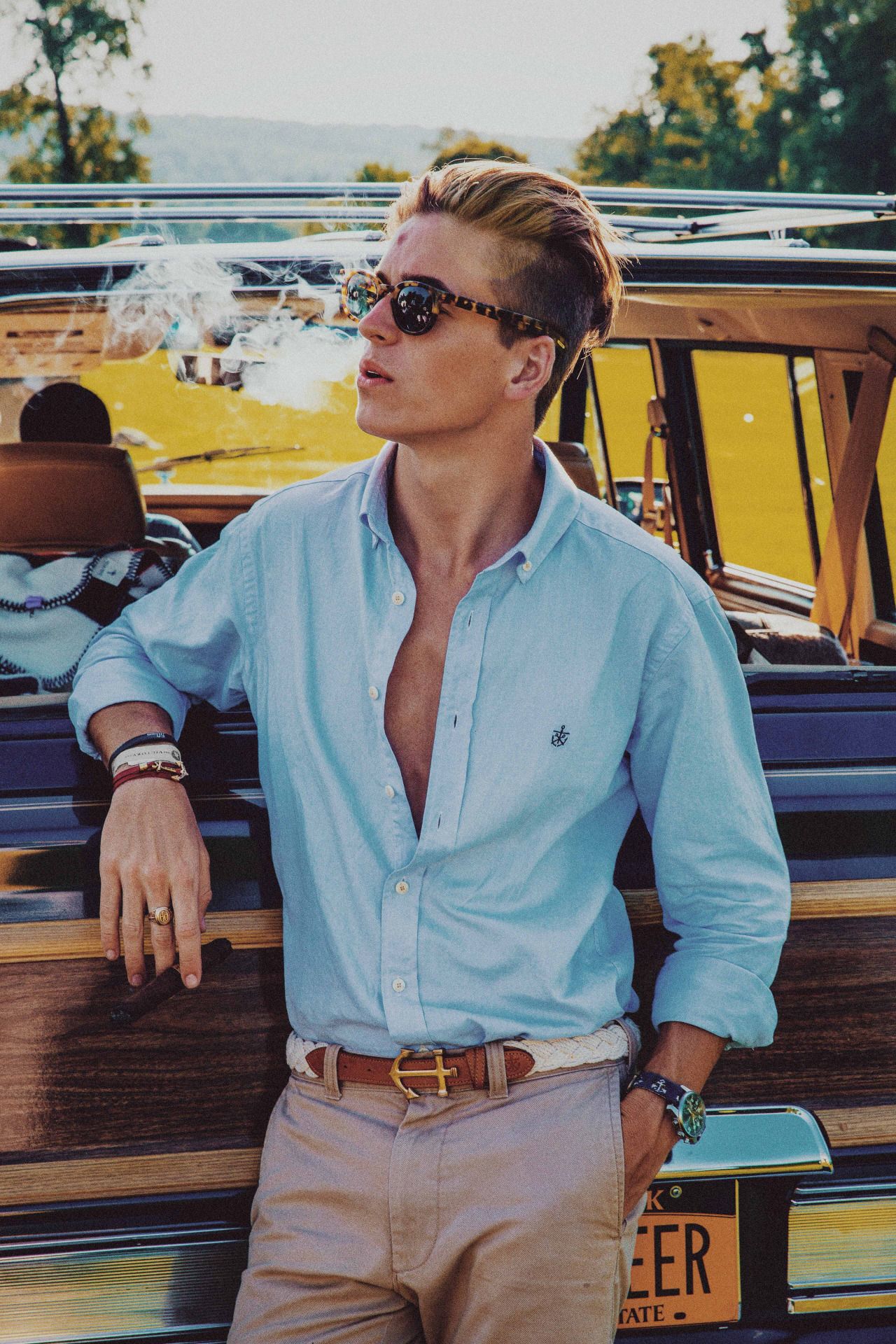 ↓ 15 – White Pants
A boat trip is relaxing, and your choice of trousers shouldn't say otherwise. Go for less or unstructured linen trousers in navy or cream.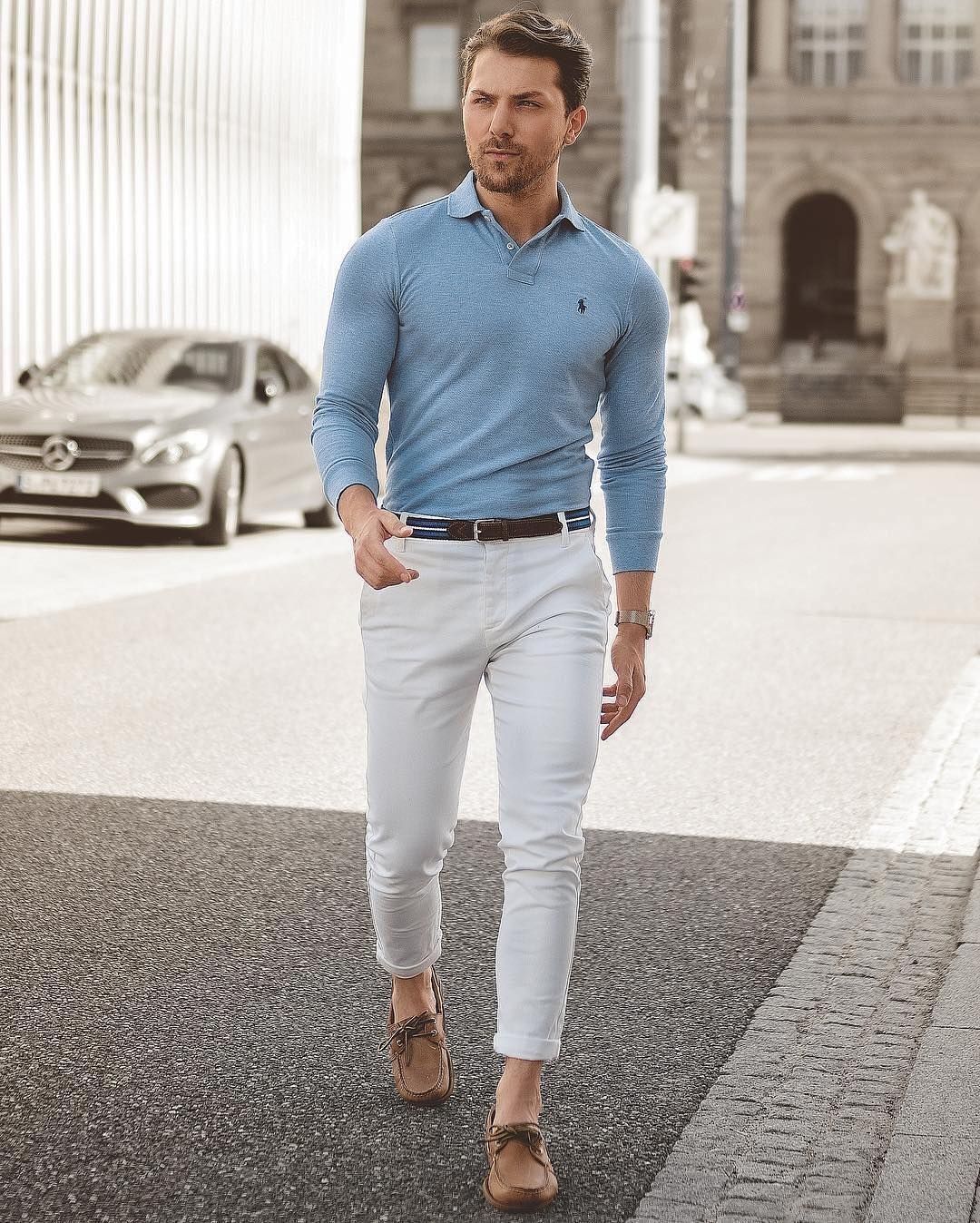 ↓ 14 – Seersucker
Seersucker or "railroad stripe," is a thin fabric made of 100% cotton. This look is perfect for sailing, and it makes an outfit more interesting. If you find your fit boring, then it's time to grab that seersucker to make some magic!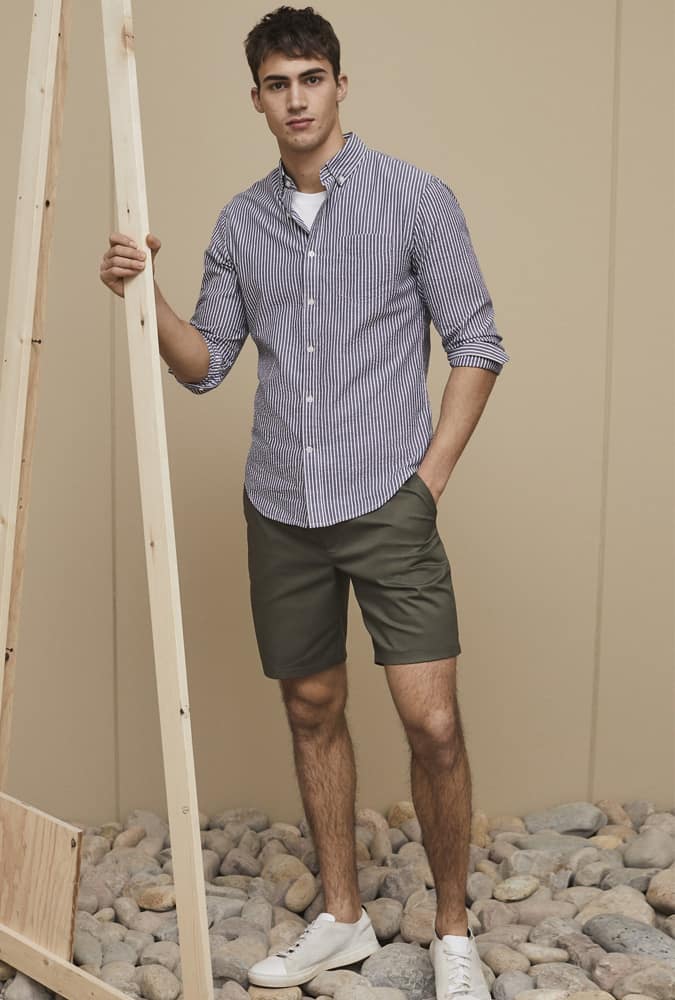 ↓ 13 – Jacket
Ditch the heavy types, and opt for lightly tailored ones. Jackets or blazers are a great way to experiment with bolder patterns and textures. Here's my detailed guide on Types of Jackets for Men & How to Them.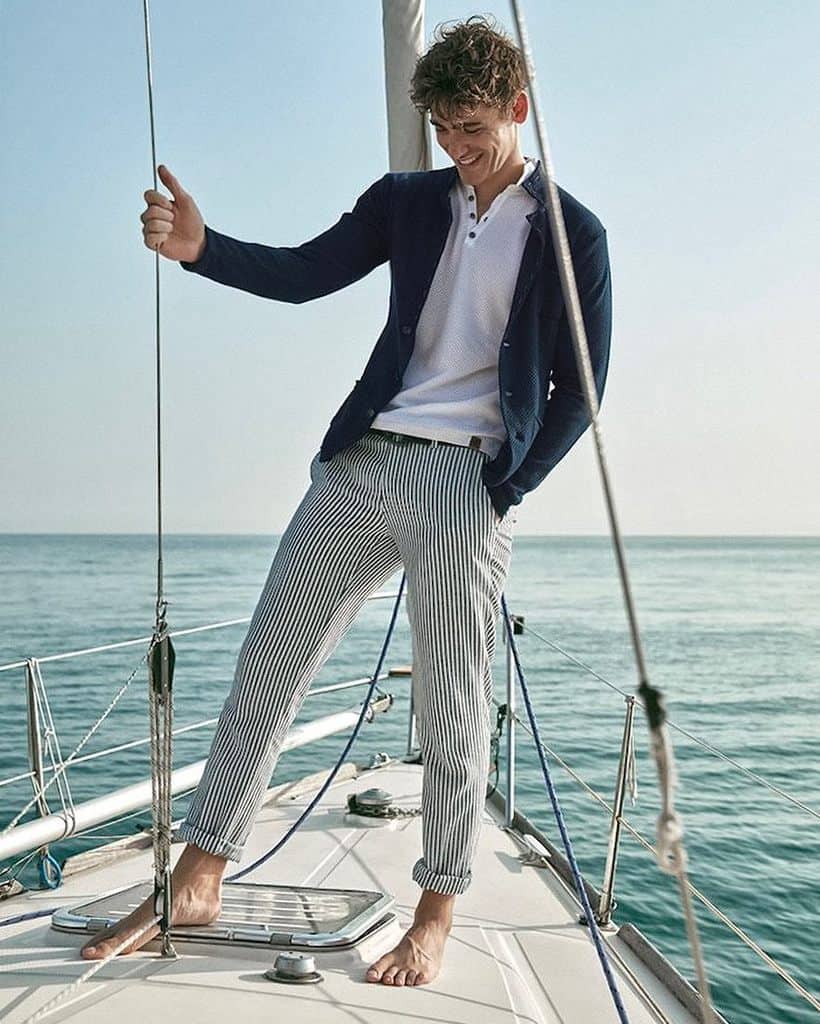 ↓ 12 – Shorts
It's most likely that boat trips are held in summer. And that entails the leeway to don above the knee clothes like shorts. Longer or baggier styles will make the proportion seem off.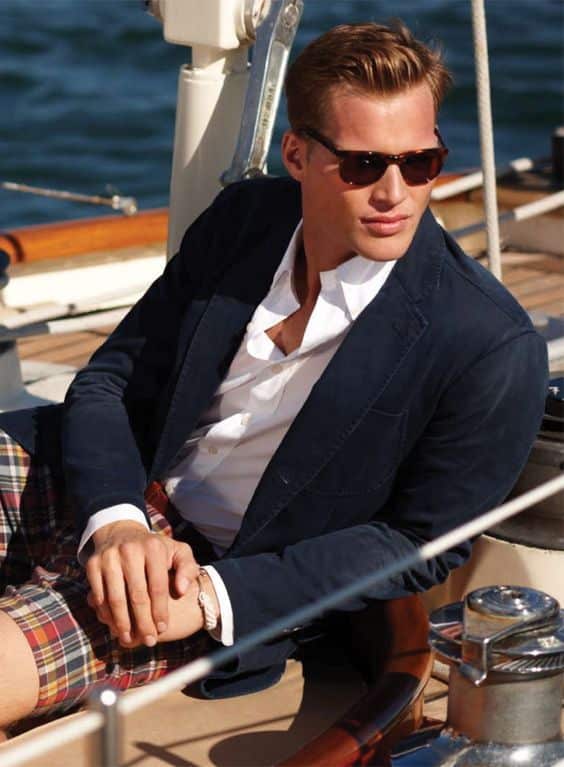 ↓ 11 – Mandarin Collar
Not your ordinary button-down! The shirt's distinct collars called "mandarin" make the shirt more interesting. And see how the absence of typical collars makes a difference. Wear it with chinos or jeans, and don't forget to cuff them. Now, this may not be for every man. If you don't feel like it, stick to your typical white shirts.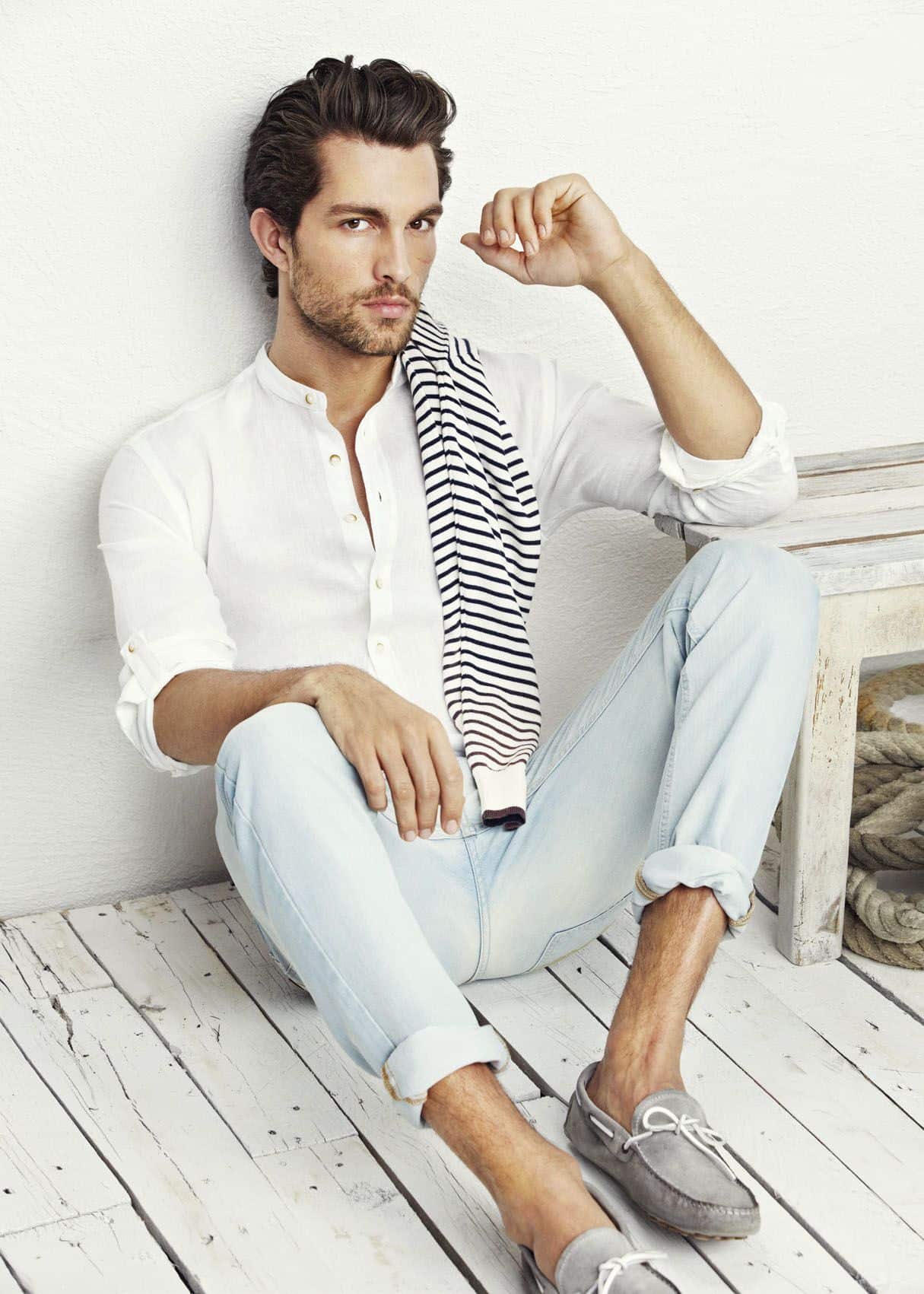 ↓ 10 – Crisp White Shirt
Think of a boat party like your first date. Dress as preppy as you can, but try not to look so formal, though. A crisp white shirt is a surefire way to start. Pair it with some trousers in blue: navy or Aegean are recommended for such a setting. Never leave your shirt untucked as it would look sloppy, which will therefore ruin the preppy look.
↓ 9 – All-White Boat Party Outfits
Nothing beats the versatility of white for its classic look. I mean, no one's ever been a laughingstock for being in an all-white outfit. Just be careful not to overdo it. A helpful tip: break the dullness by incorporating other contrast colors like brown or black. And you can do it through your footwear or accessories.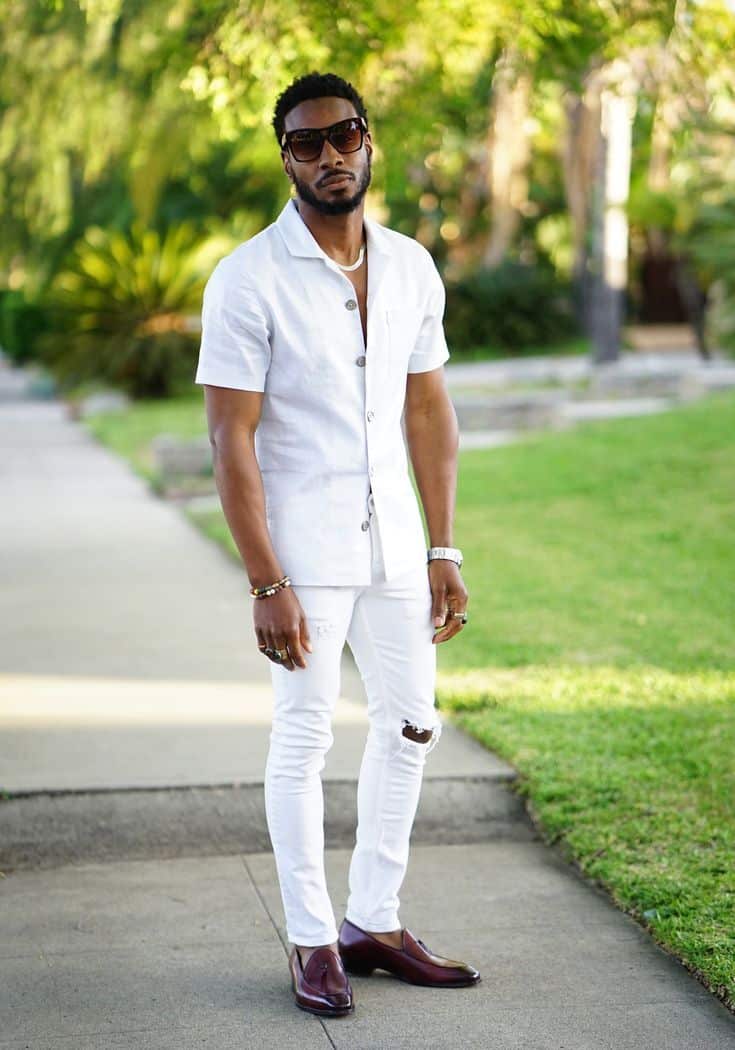 ↓ 8 – Cruise Party Outfit Ideas
If your cruise party is rather casual, wear a crisp white shirt (preferably linen for summer and spring). Your usual Oxford button-down would do just as fine. Team it up with some chino shorts.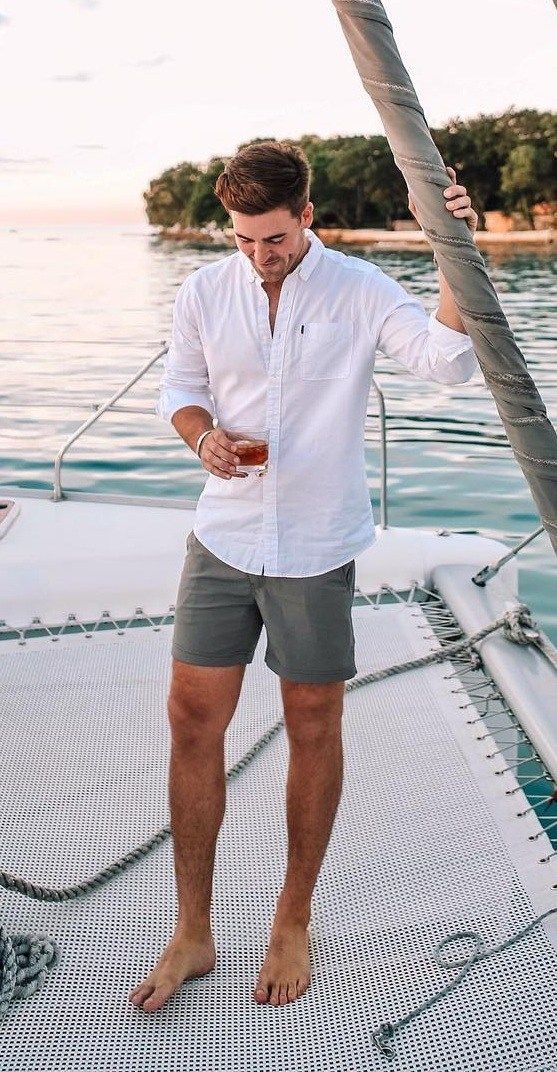 ↓ 7 – Footwear Choice
Choose from loafers, boat shoes, and flip-flops. Sneakers are also acceptable, but it would be on a case-to-case basis. But not all boat parties accept them per the dress code. If unsure, leave them at the streetwear scene. Avoid any type of boots at all costs – save them for your winter dates.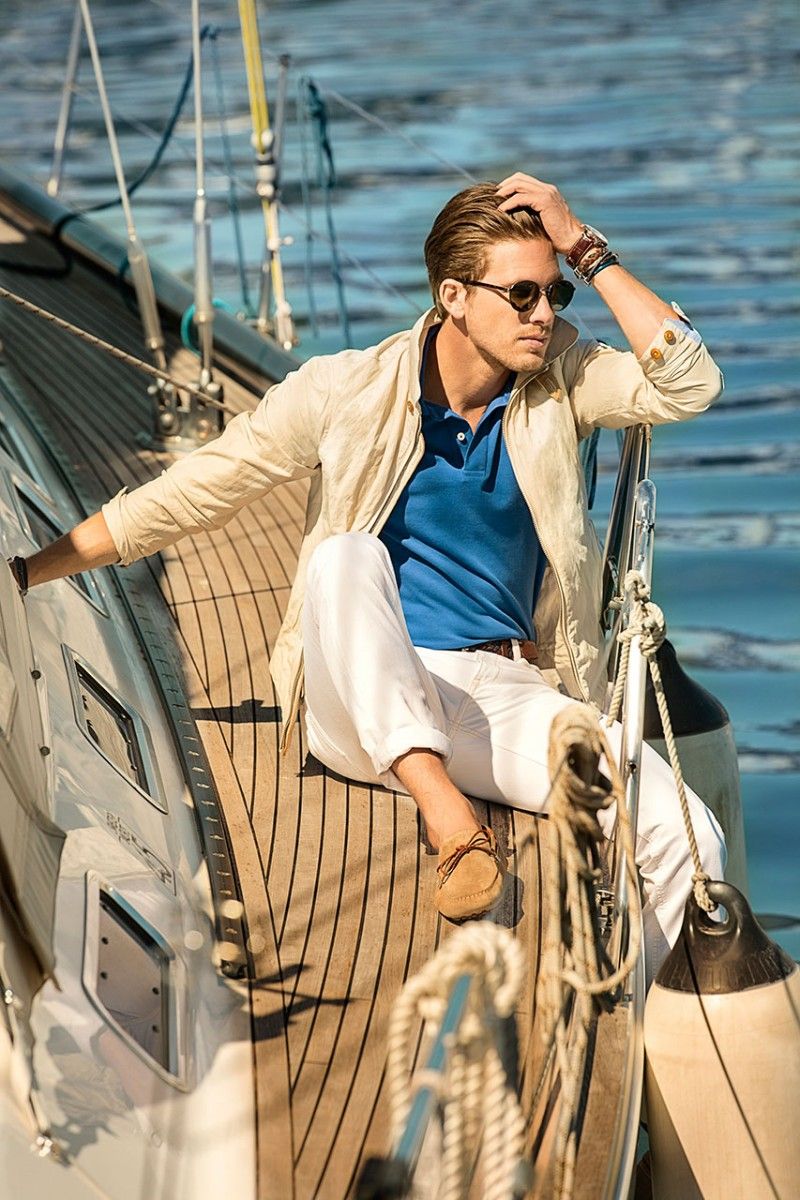 ↓ 6 – For Plus-Size Men
Wear anything you want. But if you want to look less broad just a little bit, opt for vertical stripes. Flannels are also your best bet. Ditch lousy and baggy fits as they will make you appear bigger. Simple fashion tricks like tucking in your shirt your pants will help you achieve a fashion-forward look.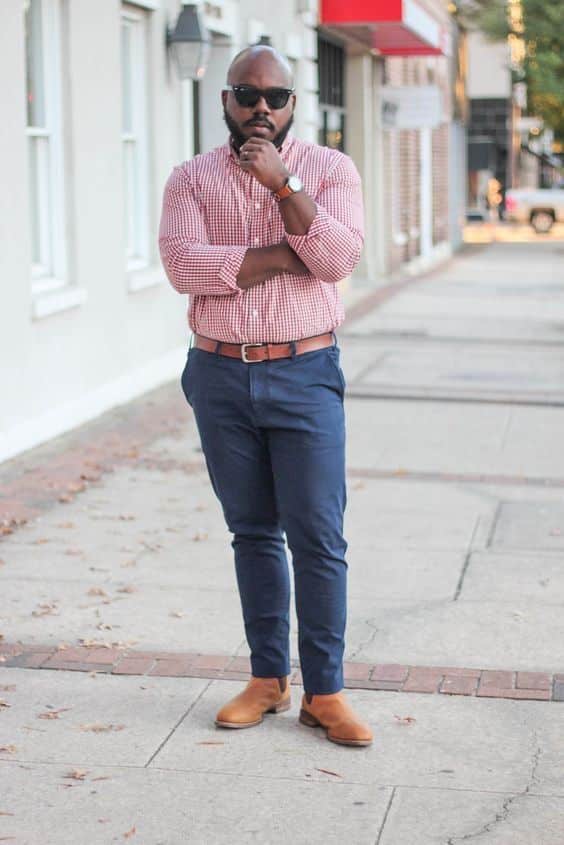 ↓ 5 – For Mature Men
Older men should stick to solid hues and contrast colors as much as possible. As we know it, brighter shades don't look good in all adult gents. So when in doubt, opt for black, blue, and white. Leave brown for your accessories like belts and shoes.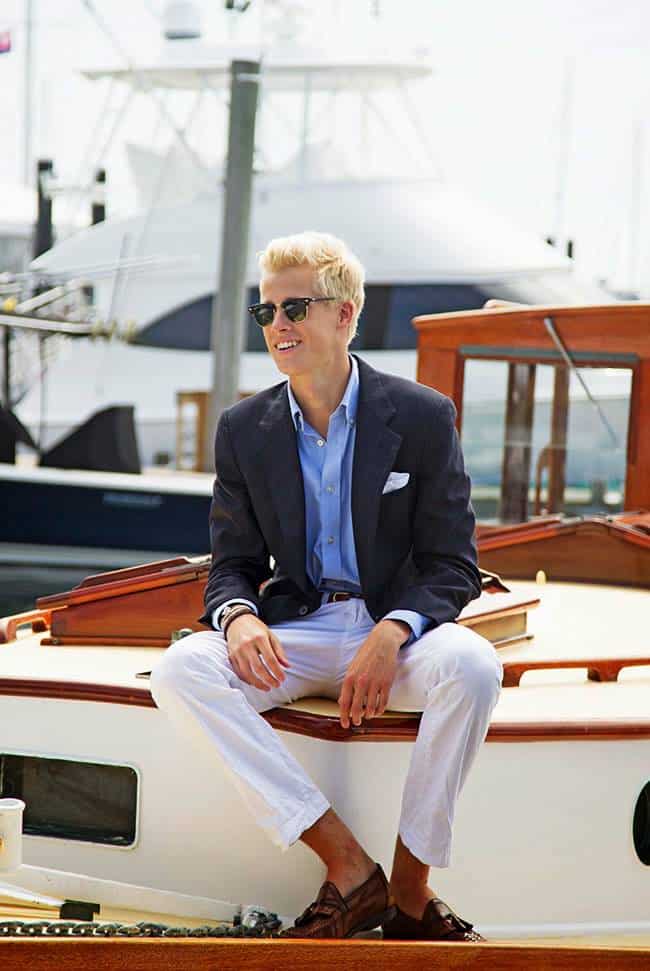 ↓ 4 – For Skinny Men
Not that it's wrong to be skinny. But if you want to look slightly broader, opt for horizontal stripes. Also, men with slim body types steer clear of ill-fitting clothes. And it's important to be aware of your body measurements.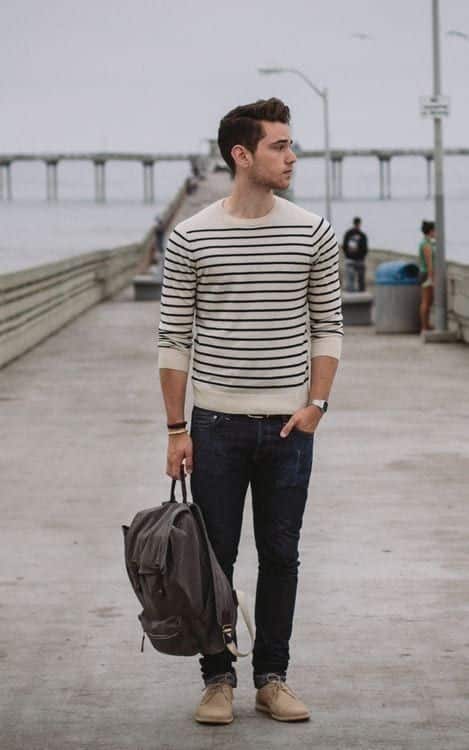 ↓ 3 – For Short Guys
Short guys should look for vertical stripes. The style rules for plus-size gents apply here. Take note that check shirts look great in shorter men as well. And at any cost, avoid oversized shirts and below-the-knee shorts. You can also cuff your pants and roll up the sleeves to create some lengthening effect.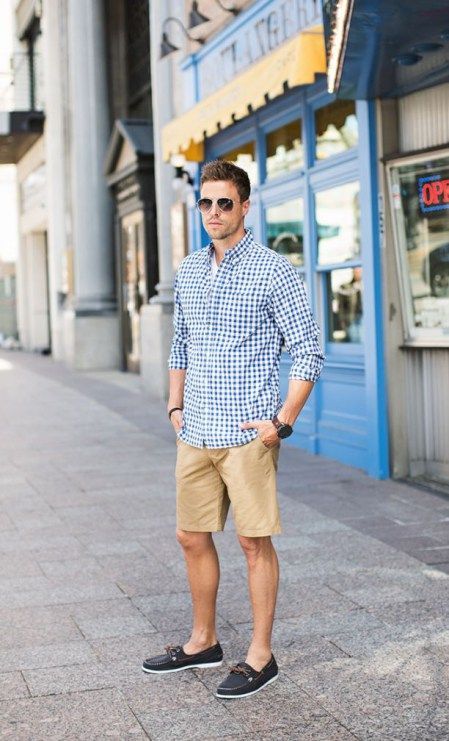 ↓ 2 – Monochrome
To get this style right, team up outfits of a similar shade together. And do not go overboard by pushing yourself to wear clothes with the exact same shades. Double denim is also a big no-no.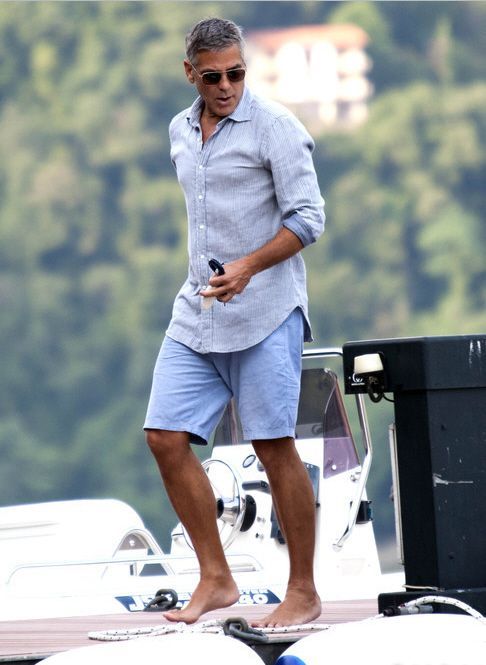 ↓ 1 – Minimalist
If you are a fan of minimalism, wear the simplest outfit combos you can think of. For starters, the fewer prints and patterns your clothes have, the better. And leave those unnecessary accessories at home.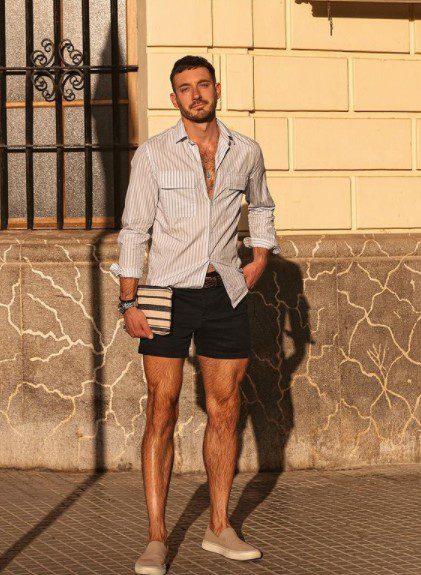 I hope you liked these picks. If you're still confused, that's okay. Don't beat yourself up. And don't forget that it often comes down to how you pair your outfits.
Never overlook the fit and fabric as they are essential building blocks of your wardrobe. Also, colors and prints would say a lot about your getup. Mix, match, and try every combo you can think of. It's not a crime to experiment and explore.
Frequently Asked Questions
Q.What do guys wear on a yacht?
A. If it's a day boat trip, opt for Bermuda shorts. Other practical and comfy options include pants made of materials like twill, corduroy, and cotton.
Q.What should men wear to a lake?
A. Choose outfits that will let you move freely. Follow the general style rules for boat party outfits, and things will never go sideways. Consider comfort before style. As such, a simple combo of a tee and some knee-length shorts.
Q.What kind of shoes should you wear on a boat?
A. Never compromise the quality of your footwear. Don't overlook the functionality and durability. Mind that not all branded clothes are gonna meet your expectations. It's a plus if you have these in your arsenal. But when shopping for new, look for the following:
Deck shoes

Plastic Sneakers

Water Shoes

Sailing Boots

Barefoot and Flip-flops
Q.Can I wear crocs on a boat?
A. The company itself claims that their boat shoes are engineered with comfort, style, and functionality. It's an advantage for people fond of going to boat trips and parties alike.
Q.What do men wear to a boat party at night?
A. Consider it a black-tie event or gala and abide by the style rules. First, opt for a dark suit and match it with some polished black dress shoes. Steer clear of polo shirts, khakis, and boat shoes in the meantime. Tuxes are also suitable, provided you know how to style them right.