Smart Spring Work Wear For Men. In a world where fashion has always been given great importance, it becomes a necessity for everyone to dress up well and look good. For people who go to work dressing up smart becomes one obligatory act. If you are also at a loose end to figure out what to wear to embrace the aura of spring then you are at the right place. Here we are to share with you some great spring workwear outfit combinations for you to slay this spring in style.
What To Wear At Work In Springs?
A lot of professional workers have left wearing suits to their offices. Instead, they try on different outfits. One should always update the wardrobe with trendy clothes every season for a change. Since the spring season has got everyone thinking about their outfits and style, we thought to present you outfits that men could wear to work in spring with confidence.
We have arranged some images of the latest fashion trends in workwear outfits for men. Now you can easily straighten your spine and stay relaxed. You should know how to carry yourself well in order to grab everyone's attention. We have put together the best dressing styles that will help you climb the stairs of success. From these pictures, you can get a lot of ideas as to what to wear to the office during the spring season. With just upgrading your style you can look amazing every time you step out of the house.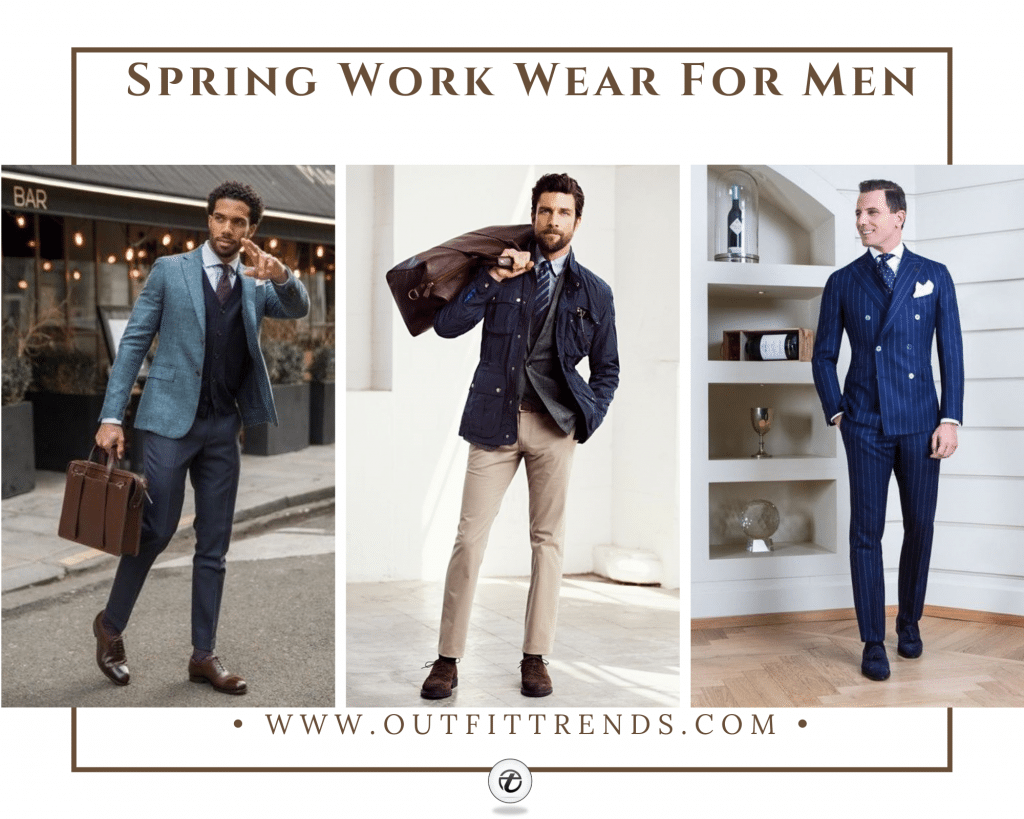 Tips On Styling Work Wear Outfits
Wear clothes that are comfortable, as you have to spend your whole day in them.
Always try to style your outfit with a tie for a nice corperate look.
Wear accessories like a leather belt that maches your shoes, metal wristwatch, tie pin and cuff links.
Go for oxford or leather loafer to style with your bussiness casual look.
For a perfect overall look, you need to put together everything that compliments the look. Everything matters from the color, shoes, tie, shirt, etc. To achieve a head-to-toe business attire look, follow the steps we have mentioned below.
15 -What Shirts To Wear With Your Work Outfits?
When was the last time you changed your shirt style? Don't wear the same boring outfit to your workplace. Try and look for shirt styles that are new and different. Pick a dress shirt that goes well with your pant and looks good in appearance. You can o for plain shirts in tones that go well with your spring vibes like emerald green, royal blue, and black. Plaid and stripes are also a decent option to opt for. Keep these ideas and tips in your mind when you go for your spring shopping.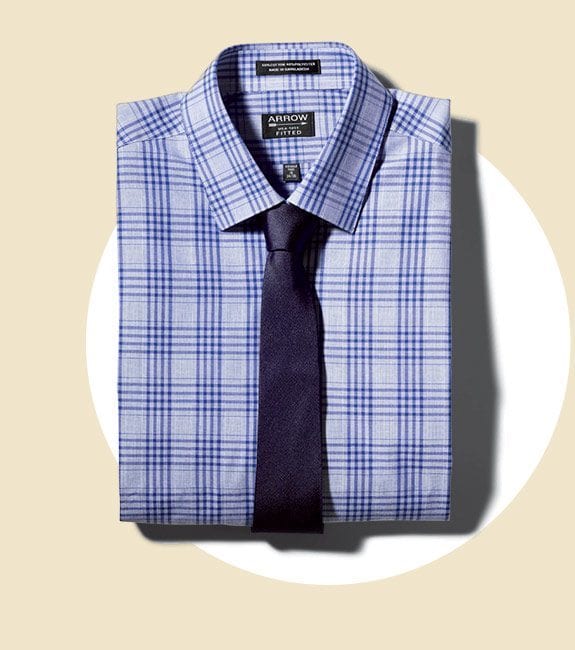 14 – Bussiness Casual Pants
Pleated pants have now gone out of fashion. People avoid wearing them. Instead of those, you can wear Khakis, greys, and olive green tones straight-fit chinos. They are 100% cotton pants, made from more synthetic materials. They not only look formal but are very sheen.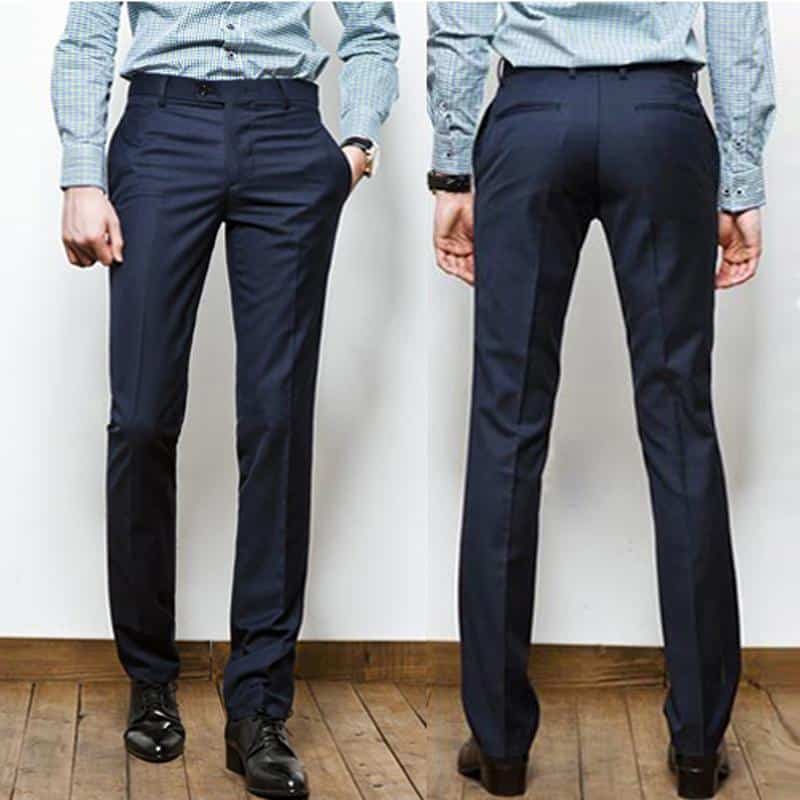 13 – Choosing The Right Tie
One of the most important pieces of cloth to wear for a formal look is a tie. This trend can never change. A good tie reflects your personality and professionalism. Silk ties and bows are acceptable throughout the year. You can try experimenting with different colors and patterns to make it work, for springs.
Pro Tip: Wear your tie in contrasting color with your formal outfit.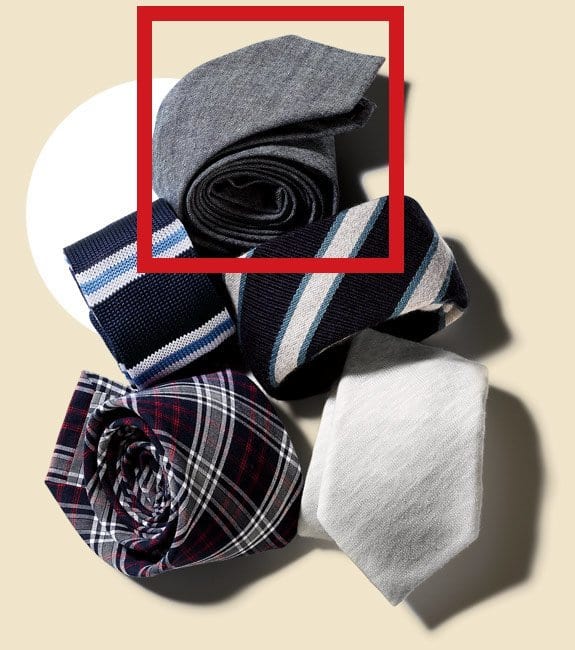 12 – What Shoes To Wear With Your Work Wear?
Shoes are the most important part of a men's personality, especially at work. The right type of shoes has the power to make or break your overall look. Men should wear dress shoes that look great and are comfortable at the same time. Oxfords and Loafers are perfect formal shoes to wear with workwear outfits. Oxfords are good all-around dress shoes. They can be worn to the office and also for other several occasions.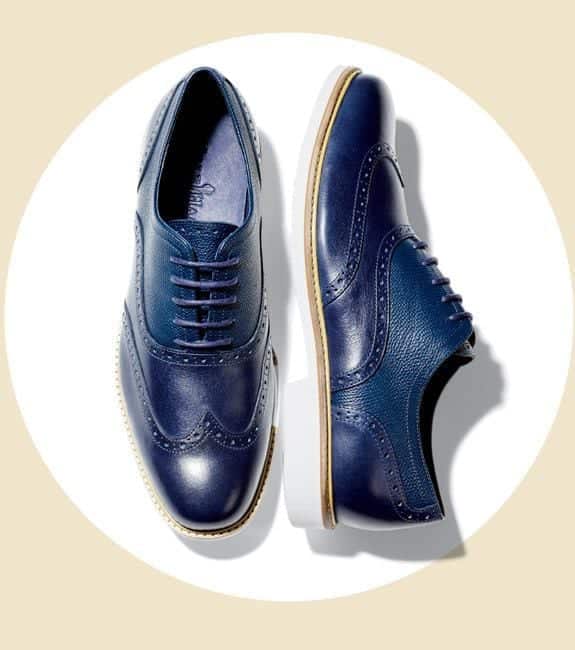 11 – The Waist Belt
The leather belt is the most essential accessory to have in the closet. It can be worn with Khakhi's, straight pants, and even with jeans. You can get interesting designed belts at the markets.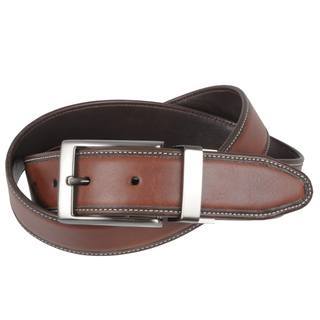 10 -The Magic Of Decent Cuff Links
Cuff links are the most underrated accessory in men's formal look. You can achieve an impeccable professional look effortlessly, by wearing a pair of decent cuff links that compliments your suit. So, wear your cuff links and slay all your business meetings in style.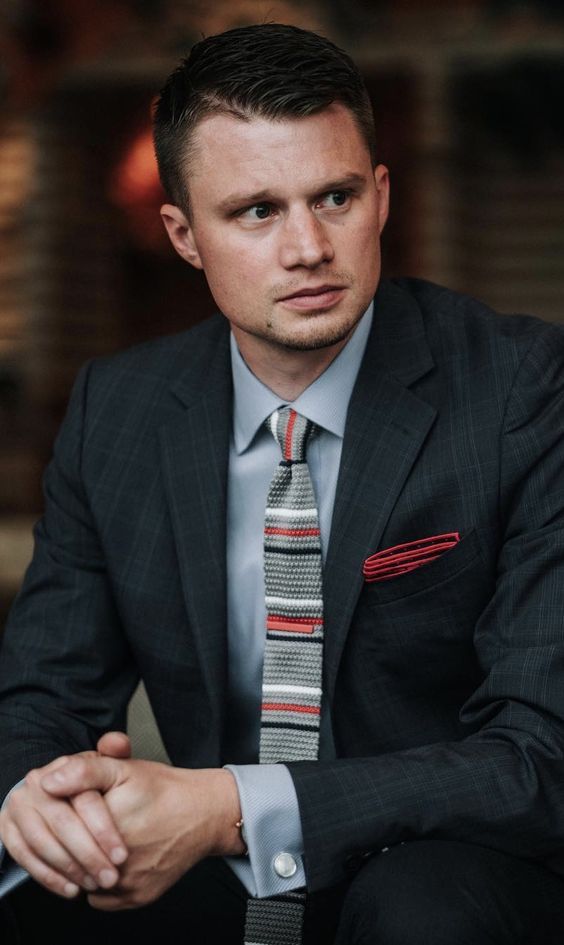 White Tuxedo Cuff Links 20.08$
9 – The Classic Tie Pin Look
A tie pin is a little accessory that can instantly enhance your look into a more formal and presentable one. After being out of style for a couple of years, it is now again the raging fashion in men's accessories. You can style it with your formal dinner suit or with a button-down office look.
8 – Work Wear for Black Men
Wanted to style impeccable for your next business meeting but does not what colors or styles to opt for, that will suit you as a black person? Here is a tip for you. Wear whatever you feel comfortable in because it is your confidence that brings out the best in your personality. Look how graceful this man looks in this basic blue bussiness casual suit paired with a red striped tie and pocket square along with a white dress shirt.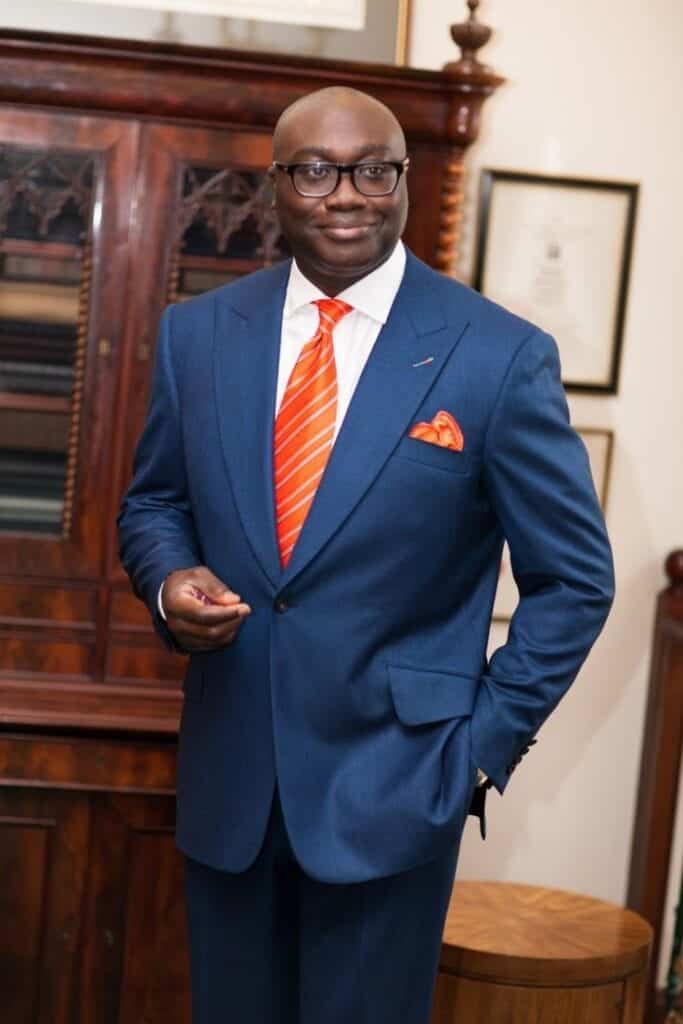 7 – Traveling Outfit During Business Trips
Going for a bussiness trip, out of town? Then wear something that you are comfortable in, as you will have to be in that particular outfit for a loner than usual. It is best to not carry a tie, all the time. you can keep it with you and only wear it for the particular bussiness meeting for an everlasting impression on your clients.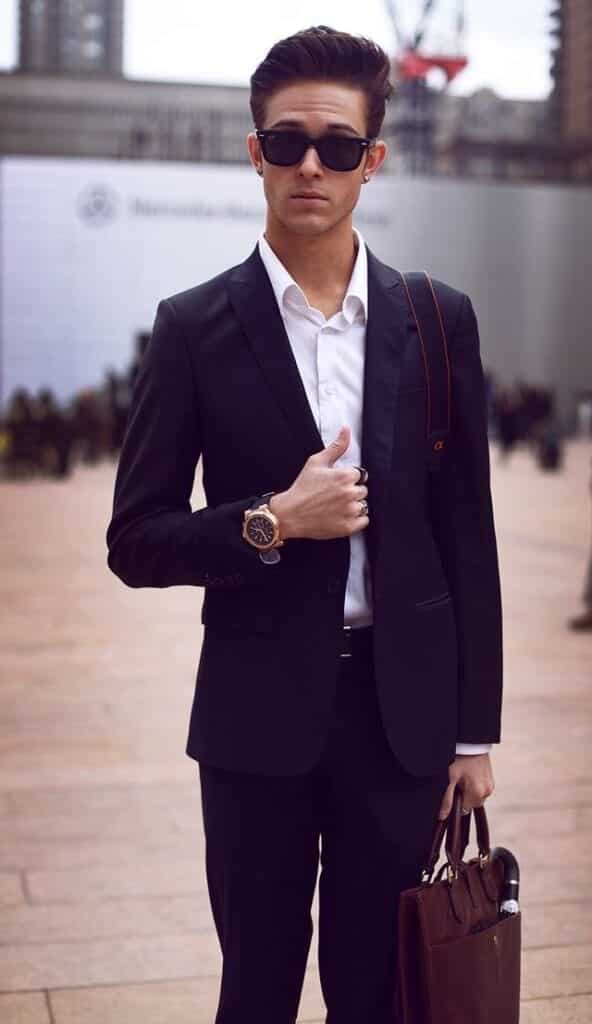 6 – When To Wear Semi Formal Suits?
Semi-formal suits are the best outfits to wear at any important corporate meeting. Otherwise, you can dress up well, in your dress shirt and pants, for any casual day at work. You can pair your semi-formal suits with a tie, vest, and your usual dress shirt. Moreover, you can choose to wear some textured or plaid button-down under your suit to style your bussiness attire.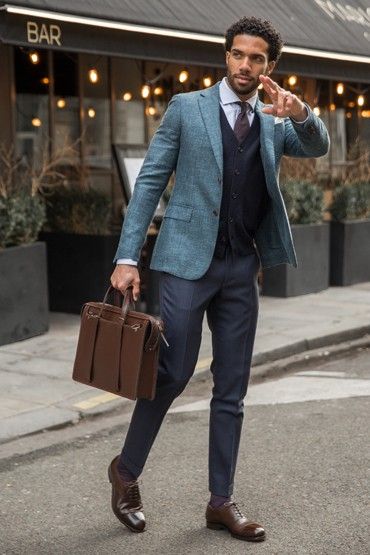 Via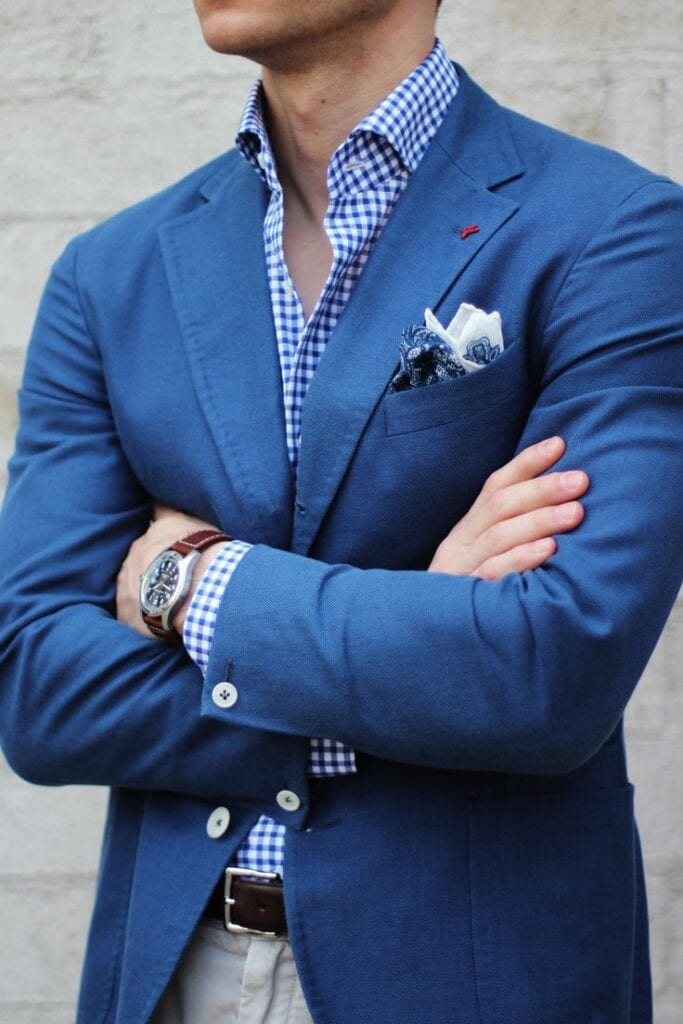 5 – Casual Work Style for Men
A good appearance matters a lot. Spell your magic at work by looking confident in your right formal attire. Business casual is the right way to go. A lot of people fail to understand that but the proper business casual dressing is the best way that can help you climb the corporate ladder.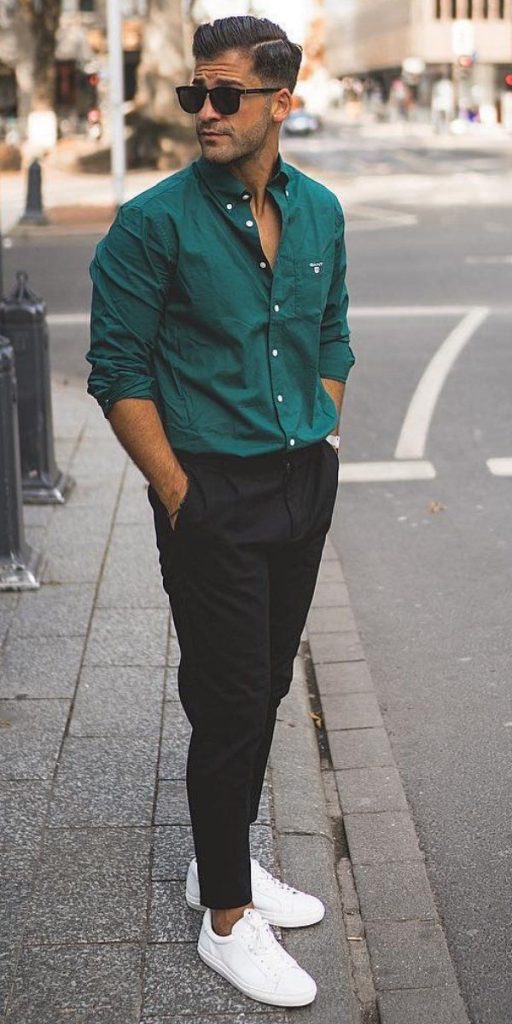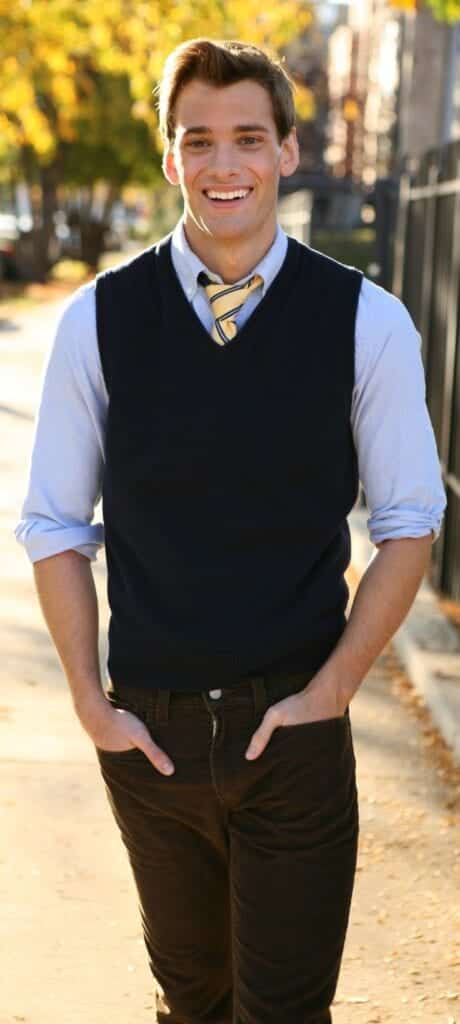 4 – Slaying The Black Suit In Springs
Are you a black lover and wanted to spill the magic of black in your spring workwear outfit? How about styling a black sweater with a black straight-fit chinos tone done with a hinge of white? In addition, you can also go with a black bussiness suit paired with a white shirt and black tie for a more formal look. Lastly, pair these outfits with suitable accessories and footwear to achieve your final look.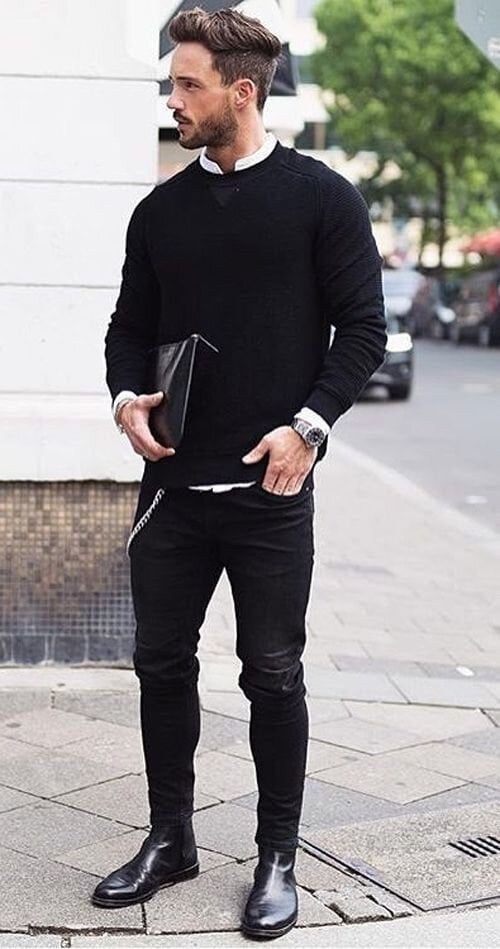 3 – How To Style On Cold Spring Days?
This outfit combination is for all those windy spring days where layering up becomes essential. You can achieve a very fine, professional look by wearing a solid color knitted sweater with your usual dress shirt attire.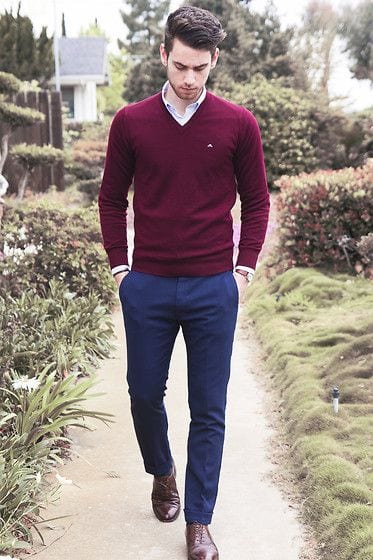 Burgundy V-neck Sweater 28.10$
A blazer made of thick woven fabric will also work well against the wind!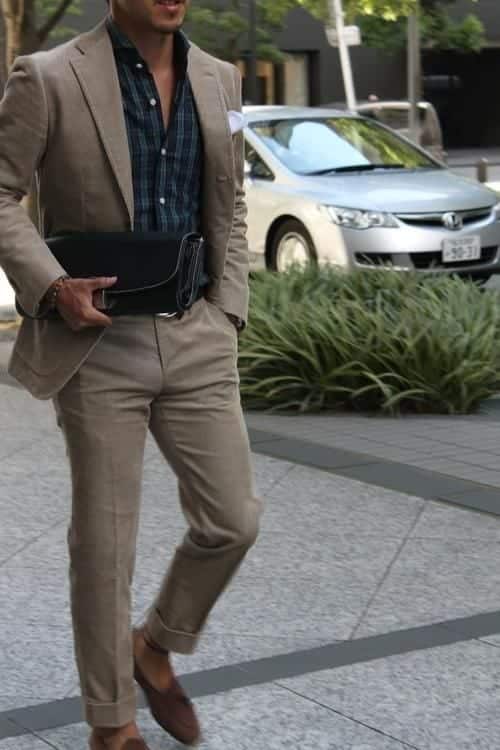 For those uncertain days, grey sweaters will always be a safe choice to wear at work.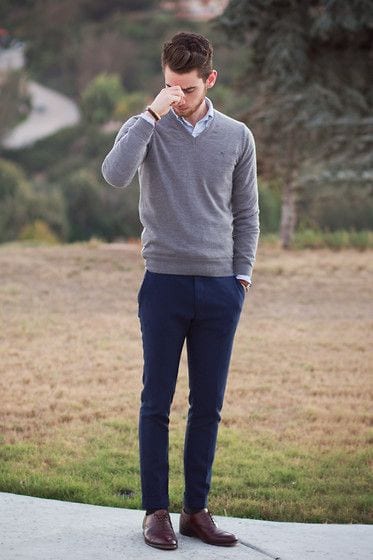 2 – Pairing Sweater With Your Corporate Suit
Wanted to achieve an elegant corporate look in those little cold spring days. Pair your casual crew neck sweater with your button-down shirt and bussiness suit and slay your next meeting in warmth and style!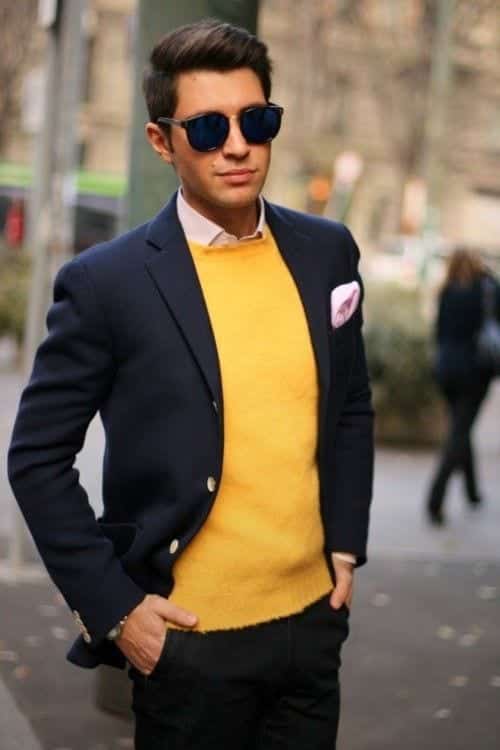 Mustard Crewneck Sweater 35.51$
2 – The Vintage Pinstripe Outfit
Pinstripe suits will always be a vintage corporate style to wear in corporate environments. Look how elegant and professional this gentleman looks wearing this royal blue pinstripe suit with a dotted tie!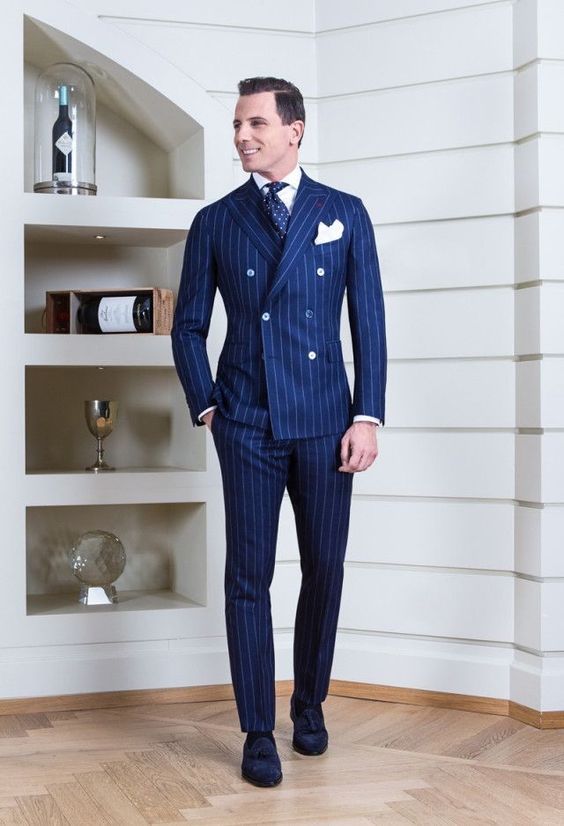 1 – Styling Field Jacket With Workwear
A field jacket is a perfect outfit to wear outdoor over your workwear on those chilly spring evenings. Just pair your usual cotton straight-fit pants with your casual work attire and wear a wind blocker over it to achieve a really professional yet stylish look.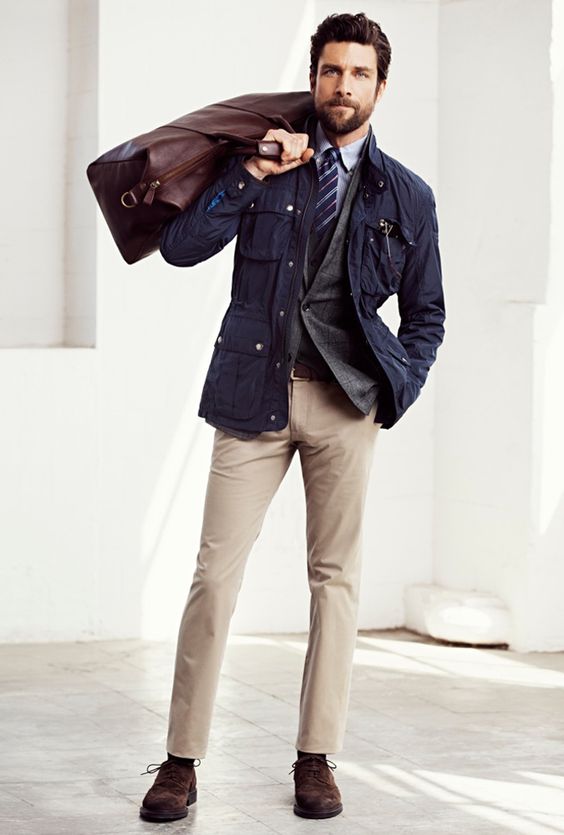 Frequently Asked Questions
Q: What colors should men wear in spring?
Ans: Unlike women, men have a limited choice of colors to style in springs. In order to embrace the spirit of spring, you do not have to look like a clown all dressed up in bright tones. You can simply tone down your usual summer dark tones into a bit lighter ones. For example, instead of wearing indigo or fuchsia, you can try styling in lilac and light pink tones to rejoice in the essence of spring.
Q: What is men's business casual attire?
Ans: Typically, a button-down shirt styled with dress pants, leather belts, and formal oxfords is considered perfect business casual attire. But, the workplace norms have also evolved with time and now you can also wear chinos or straight fit jeans with a dress shirt and sneaker shoes and still manage to look professional at your workplace. But, wearing shorts, polos and a t-shirt is still not appropriate workwear for your office.
Q: What do you wear to work in the spring?
Ans: Spring has a very refreshing aura. In order to dress up well in springs at your work try to wear lighter tone bottoms like khaki, grey, olive green chinos, and dress pants in a bit dark colored shirts. You can choose to wear forest green, black, royal blue dress shirts and style them with sweaters and vests for the cold of springs. Moreover, style these outfits with oxfords or formal loafers, and do not forget to wear a stylish watch, cuff links, and leather belt to make your look more formal.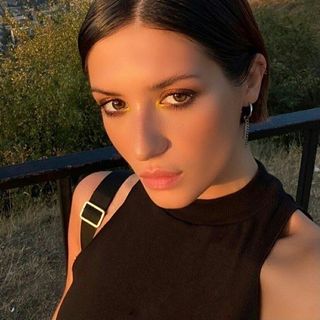 Avid reader and Fashionista. London Based freelance lifestyle editor