Winter Office Outfits for Men: Winter is that time of year where most people would like to stay indoors in front of an open fire with a mug of hot chocolate. But this can only be a weekend luxury as during the week, and he is out battling the elements on route to work during the week.
We've already talked about Summer Office wear for men, however, in this article, we explore how to dress well in winters for the job, the best winter outfits for men to wear at the job/office, and how today's businessmen can look the part in the office at the same time as wrapping up warm.
What to Wear to Work in Winter?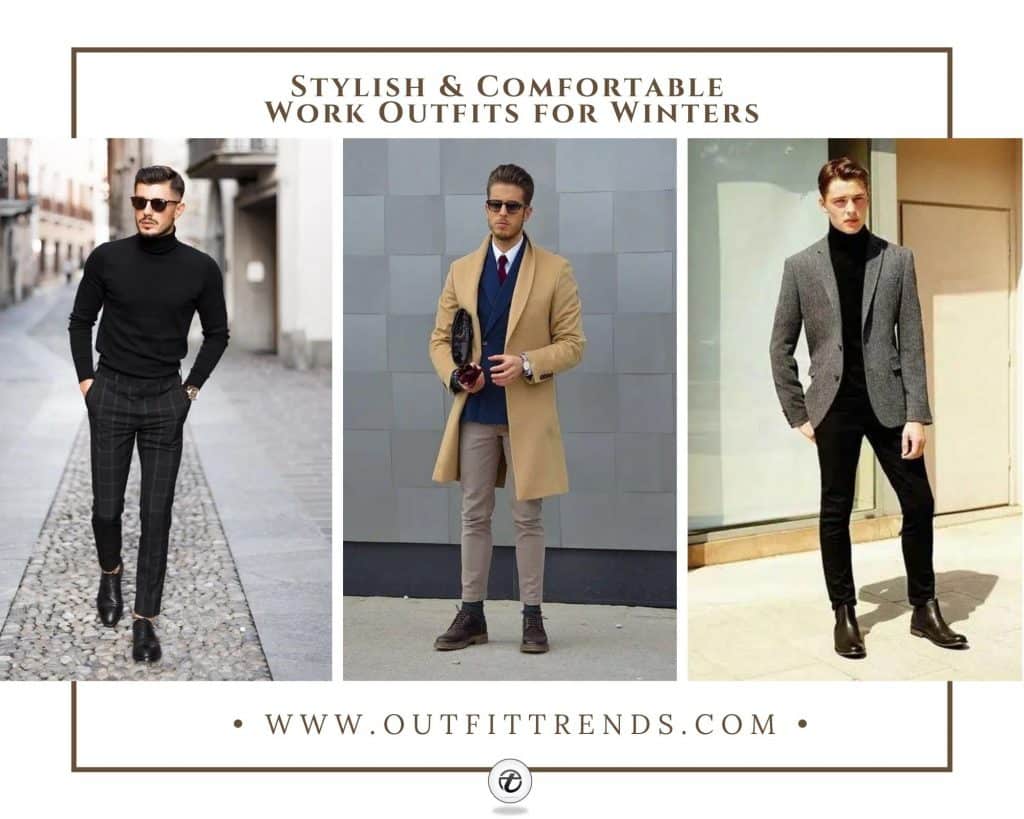 Office Outfit Essentials for Winters:
Overcoats. More often than not, you'll be wearing a lot of trench coats in winter. Camel, beige, and navy are the best options for a work wardrobe.
Wool Trousers. Be it black or grey, wool is the perfect fabric choice for your pants.
Footwear. The best shoes I can think of are black boots and brown Chelsea suede. Oxfords and brogues would do as well.
Turtlenecks. Invest in cream, beige, white, and black rollneck sweaters. Use them as undergarments for your suits. Here are some of my favorite ways Men's Turtleneck Outfits.
Knitwear. Cardigans and knitted sweaters are great alternatives for work attire as well.
Scarves. These are optional as office attire can be stylish enough without them. The flannel-like scarves are my favorite. They can amp up your style due to their aesthetic designs.
Gloves. They are a stylish addition to the team. However, they are optional as well. If you insist, opt for black or brown leather gloves to match your shoes.

It goes without saying that this item of clothing is essential during winter but what style is perfect for the modern business man?
There is always the waterproof rain mac or overcoats which are both popular and practical however they denote 'amateur' when entering a prestigious workplace. In this case, a long woollen overcoat is highly suitable and makes a business man look much more distinguished. What better fabric to have in winter than wool? A pure wool overcoat is much more durable than any blend of fabric so will not only look the part but will last you many years. Even though you pay for quality, it will save you a fortune in the long run.
There are different styles of wool overcoats, the most obvious being single or double breasted. Keep in mind that a double-breasted coat may be weighty but will keep you warmer in the winter weather. It is a must that any over coat for a business man must cover the cuffs of a shirt and suit jacket. Cuffs showing under an overcoat look scruffy and clearly show you have chosen a coat which does not fit properly. Ideally these coats should be knee length or preferably lower. Winter overcoats are designed to keep you warm and protect your outfit so why venture out in a jacket which will do the exact opposite? Lapels must be crisp and sit properly too.
Winter Business Suits
Considering the weather outside is a bit on the chilly side, why not be daring and venture into the three-piece suit realm? Not only do these make a businessman look exceedingly dapper, but they will keep you that extra bit warmer while in the office.
Make sure your three-piece is matching! An odd waistcoat with a different suit can look sloppy. Instead of plain black grey suits, why not go for a nice charcoal pinstripe? Pinstripes are great for slimming the figure as well as keeping that sophisticated image.
Winter Shoes and Accessories

Shoes must still be pristine and appropriately polished. During the winter period, it may be more suitable to attain a pair of ankle boots. These under trousers give the illusion of a smartly prepared business shoe but will also keep your feet warm and dry. No businessman's outfit in winter is complete without leather gloves and a token scarf. Long scarves are smart but casual. However, it is much more acceptable to choose a scarf of a darker colour such as maroon or emerald. Bright coloured scarves for a businessman will not do you any favors and give people the feeling of an amateur. If you want to go for two-piece suits, check out these 16 Elegant men's suit combinations to get a sharp look.
Tips On Wearing
Fit And Cut. Please mind the cut and length — ask yourself how long is too long? I prefer the "just above the knee length." And you know the fit is off when the garment.
Colors. White, blue, and grey tones are perfect for winter. Try to play with pastel colors like purple and pink. Also, you can see a lot of men in camel and cream overcoats during winter. I think black is overrated so consider it only as your last resort.
Fabrics. Colder months entail the excitement of choosing wool, cashmere, and leather fabrics.
Texture. Corduroy and suede will help you stand out from the crowd.
Suit Lapels. Choose the appropriate suit lapel. If you can't decide, consider how formal the dress code should be. Notch is for casual, while the shawl is for a rather formal setting.
What To Avoid at Work:
Ill-Fitting Clothes. In any event, the fit will be the most noticeable aspect of your outfits. Imagine having the most expensive overcoat, but it's too big for you. That said, keep your friends close and the tailors closer.
Going Overboard. Accept the fact that you won't look great in all outfits. For instance, short men don't look so good in long garments like a mac. Instead, they can look for trimmed versions like peacoats and regular blazers.
Show-Off Prints And Patterns. Pinstripe would be fine, but tie-dye and polka dots should be crossed off your list. Solid colors like black and navy blue are the most appropriate in the office setting.
Too Many Layers. Layers are ideal during colder months but don't get carried away. You'll feel uncomfortable being wrapped in unnecessary garments.
Beanies. There's no need for them. Save them for a more casual setting, like weekends and first dates.
The rule of thumb is to look decent and professional. You should strike a balance between comfort and style. Expect that you'll be spending most of your time sitting. That said, opt for well-fitting outfits that won't get in the way of your productivity.
Suits are the standard choice for work attire. But if you think it's too boring for you, spice things up by switching to macs and peacoats. Experiment by trying out colors like cream, beige, and camel. Then accessorize with ties, gloves, and scarves.
30 – All-Black Winter Outfit for Work
Black won't be missing from this list. For one, black has always been associated with class and elegance. Workwear staples like shirts and overcoats look particularly good in black. Opt for monochromatic style by going all-black if you must. Things won't go sideways with this option, as black is timeless and versatile. Here are some All Black Outfits Men to further inspire you.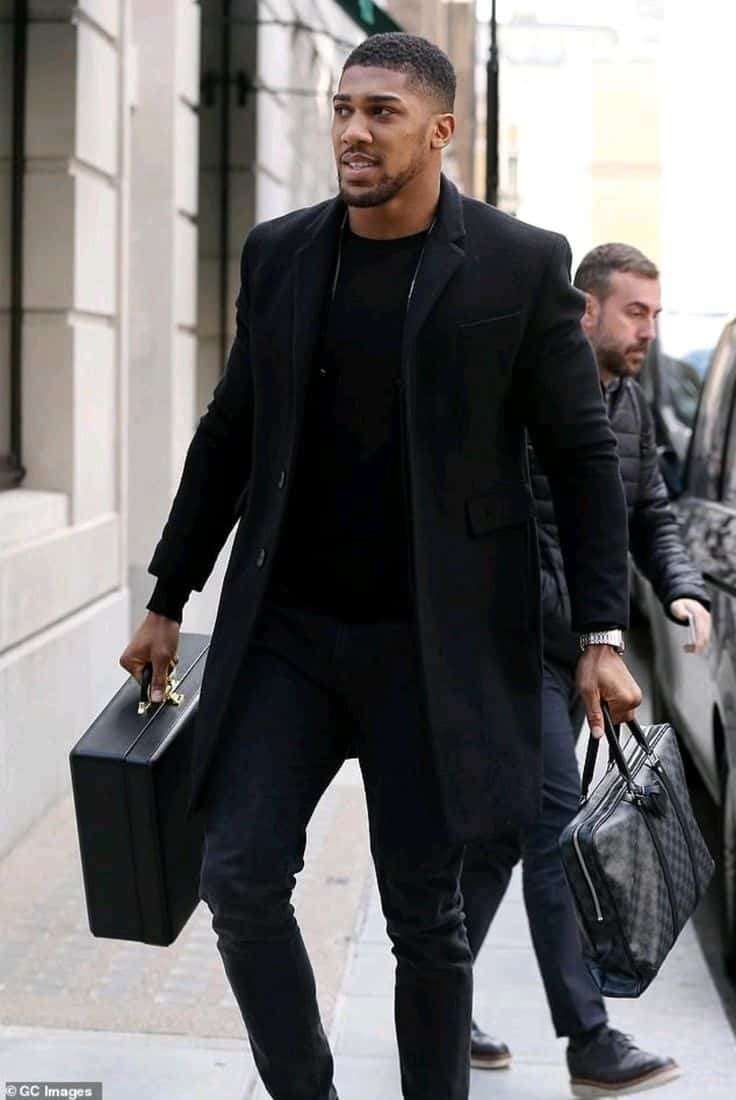 29 – For Short Guys
If you have a relatively short stature, steer clear of oversized garments. Lousy and baggy clothes are off the table. Instead, opt for something you're comfortable in. Try not to overdo it by trying hard to be taller. Regardless of your height, you can be stylish enough as long as you choose your outfits well. Start with a rollneck shirt or sweater and throw in a coat over.
28 – What is Business Casual Attire for Winters?
Wool pinstripes suits are a worthy investment, especially during winter and fall. Layer it over a shirt, preferably a collared one. For men with a small build, look for horizontal bars as they can make you look bigger.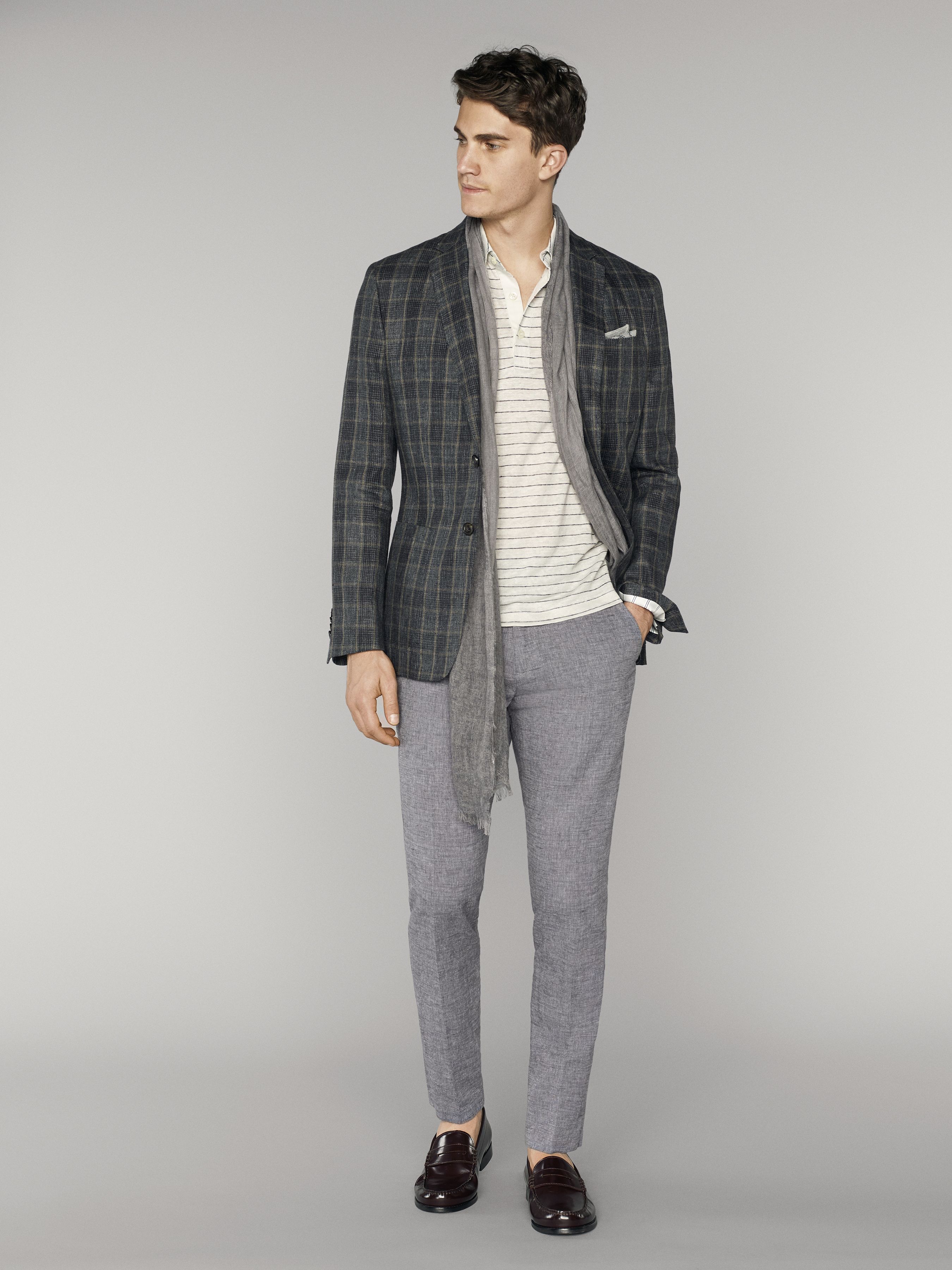 27 – For Skinny Gents
If you have a scrawny build, it's a crucial tip to wear well-fitting clothes. And since you're headed for the office, keep your ensemble business-appropriate, even if it's a laidback outfit. Try wearing a grey crewneck jumper over a crisp white shirt. Now many of you would be asking by now – are jeans acceptable at the office? Read on to find out!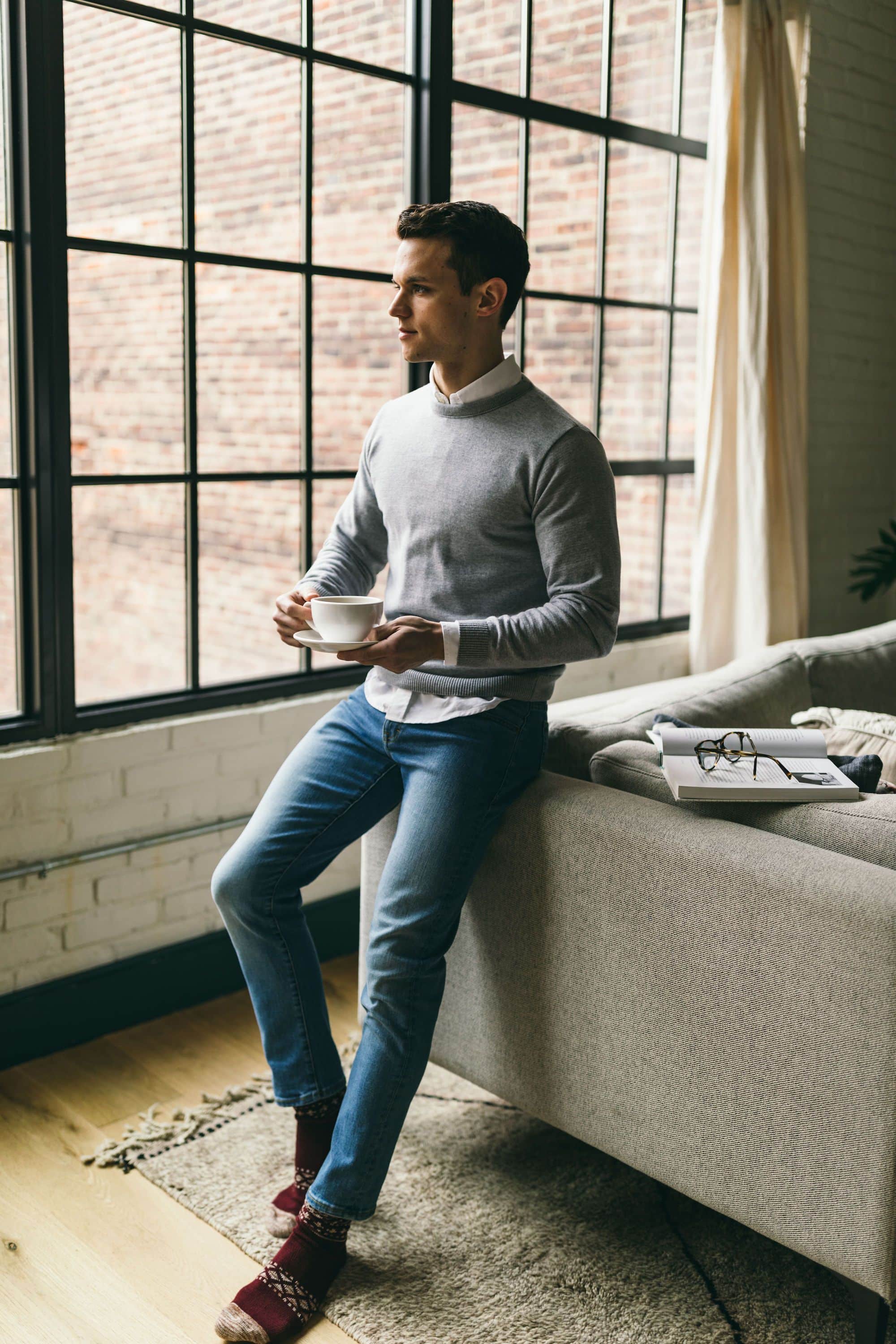 26 – Blue And Camel Combo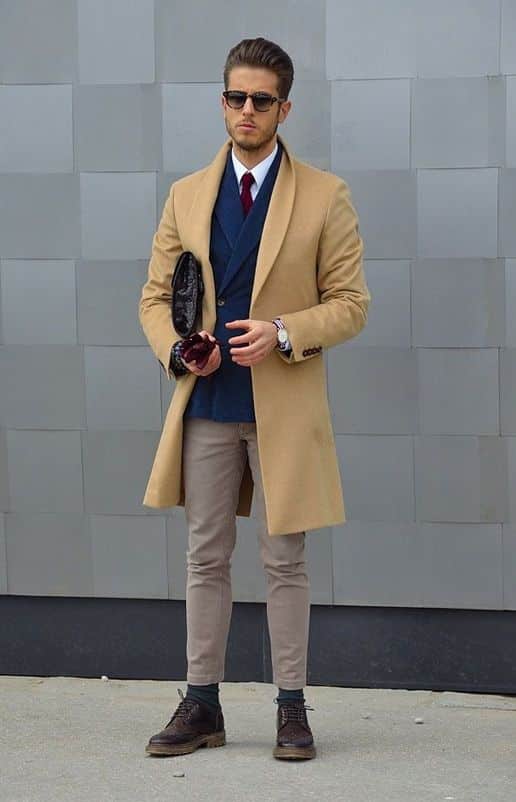 25 – Stylish and Comfortable Winter Work Outfit for Men
If your supervisor allows it, wear a pullover in the office. What I love about a jumper: it can stand the cold weather despite its lightweight construction. Unlike macs and blazers, it won't give you that heavy feel due to layers. To style, throw it over a collared shirt and make sure the collar pops up. Team it up with grey slacks to keep that workwear vibe. More often than not, this outfit is suitable for Casual Fridays.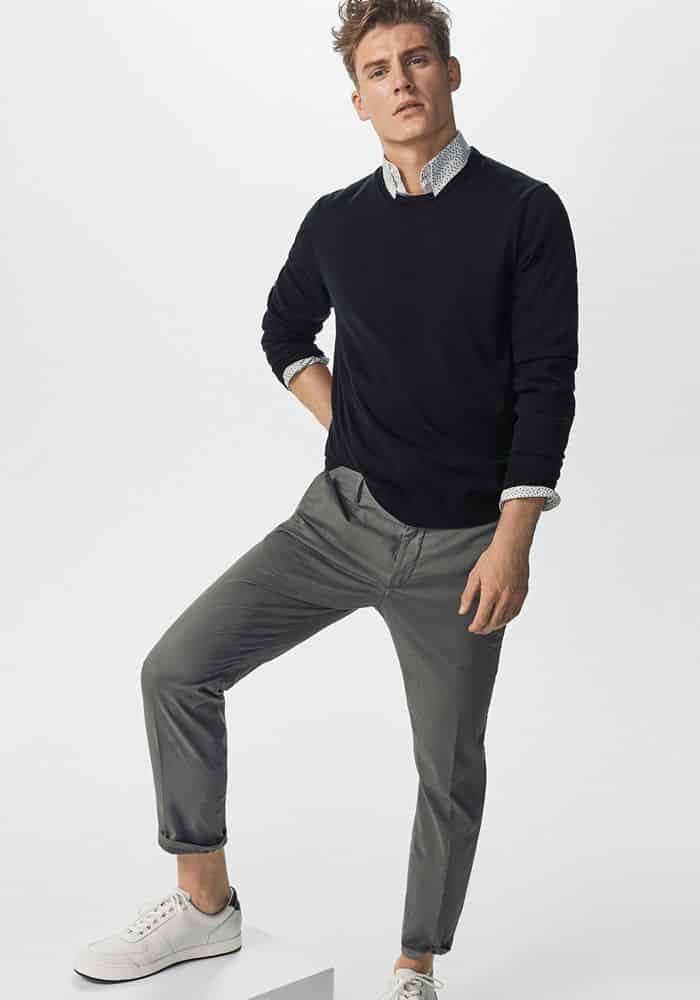 24 – For Mature Men
Older men look their best in neutral tones like grey, black, and white. If you think you can pull off beige and brown clothes, then go. It would also help if you'd limit your accessories or have none at all. You can settle with a simple suit dressed down to perfection.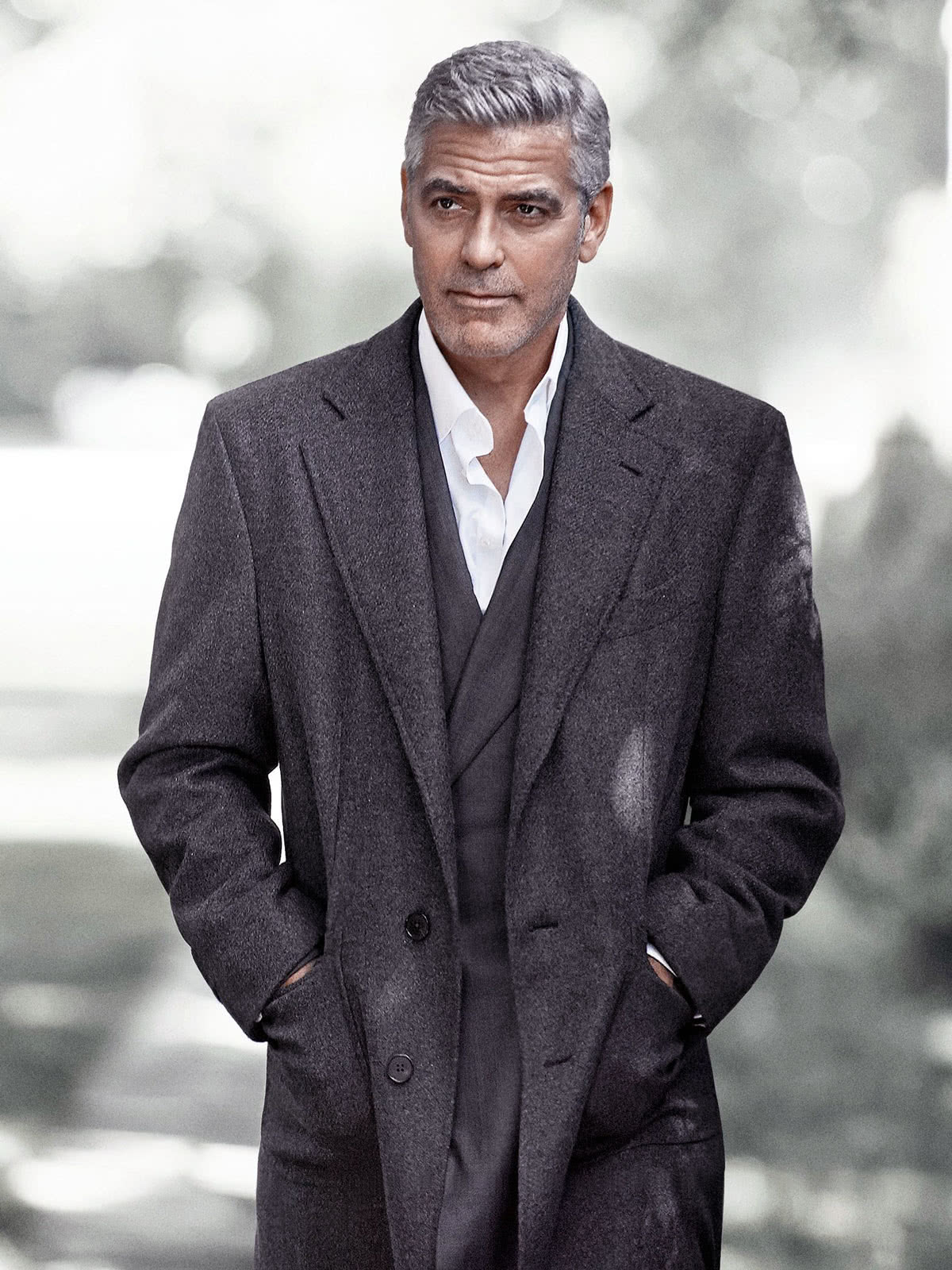 23 – V-Neck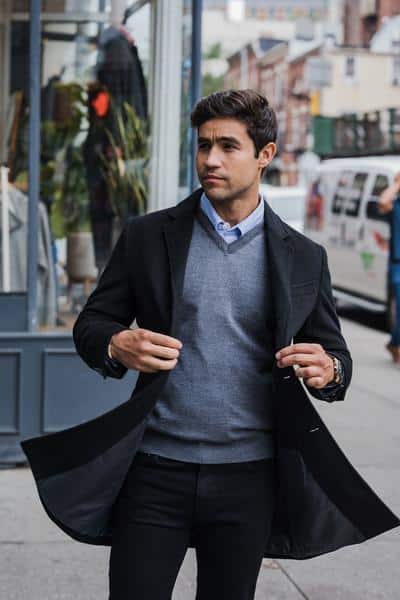 22 – Easy Winter Outfit for Work
This may look like something you'll wear to a party. But hang on, some employers don't require a super formal dress code. If that's the case, you can lose a piece for a laidback yet stylish look. For instance, you can ditch the blazer or overcoat and let the undershirt do the talking. But take note that it won't always work unless you're wearing a rollneck sweater or a crisp collared shirt.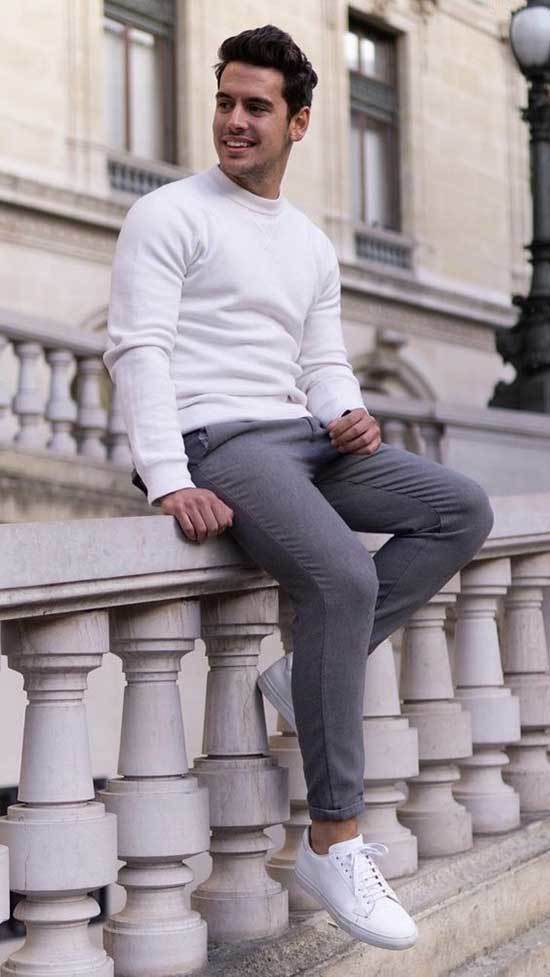 21 – Preppy
Many of you have seen that Ivy League style. Ties, crisp shirt, and expensive-looking blazer — I know a preppy outfit when I see one. These pieces make up the starter pack! Do it right by thinking twice about the color combos and fabric choice. Here are some Preppy Hairstyles to go with such looks.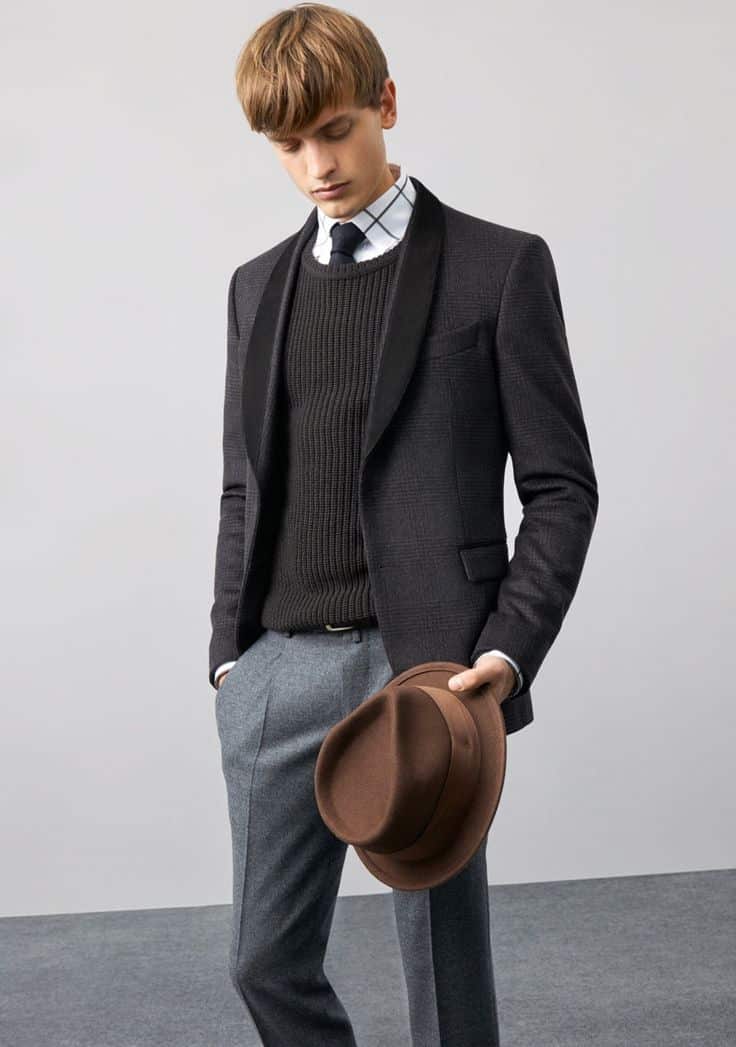 20 – Leather Jacket
Not everyone can pull off a biker jacket. For one, this entails the need to project a fierce look. Rock and roll culture is associated with this jacket. That makes it difficult for someone to wear at the office. But what I like about this outfit: the fabric because it keeps you warm. Since this is for office attire, look for the restrained leather jacket style. Layer it with pieces like vests, ties, and a white shirt. Never wear jeans with them to avoid looking so casual at work.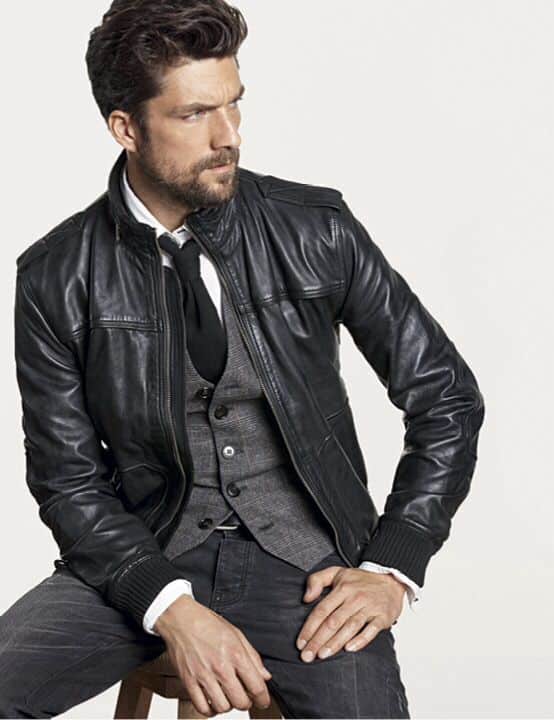 19 – Brown Overcoat
This color depicts the beauty of fall. Whenever I take a look at it, I see foliage and dried leaves. Even if it's winter, a brown coat is suitable, especially at work. For one, brown is a contrasting color. And if you're up for it, try on cord or velvet fabrics. Make the coat the top layer for darker tones like black and grey.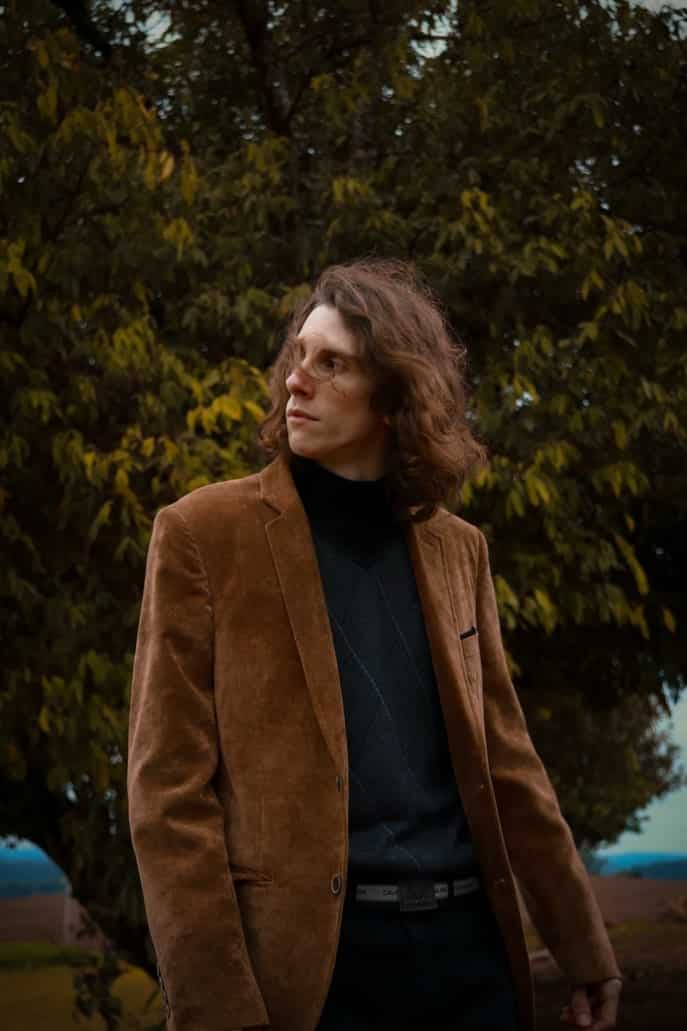 18 – Turtleneck
Limit your options to black, grey, and beige. Match it to the color of your pants and shoes.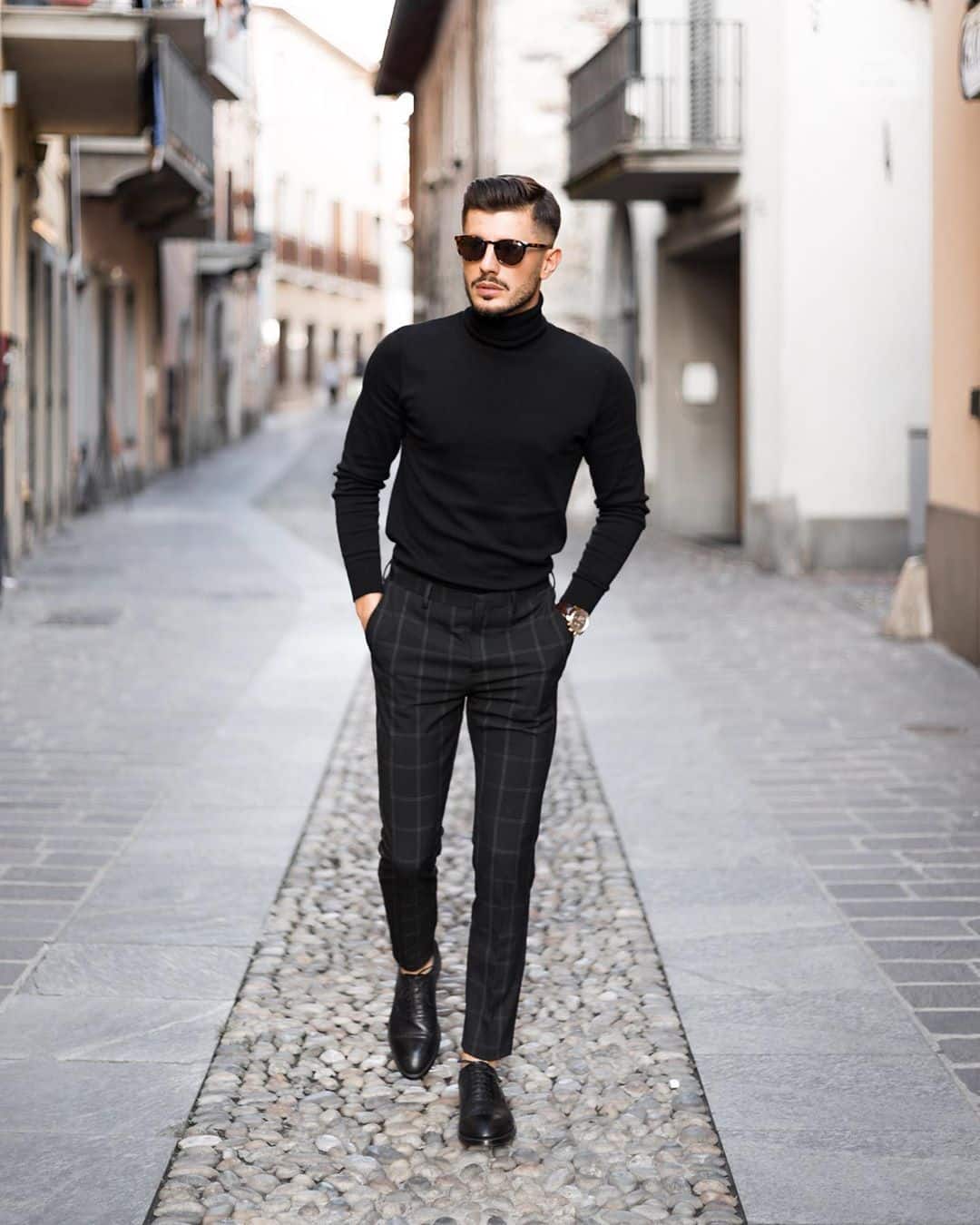 17 – With Cardigan
This is an excellent substitute for blazers and overcoats. Cardigans are pretty convenient due to the lightweight feel. They can keep you warm without the need to add more layers.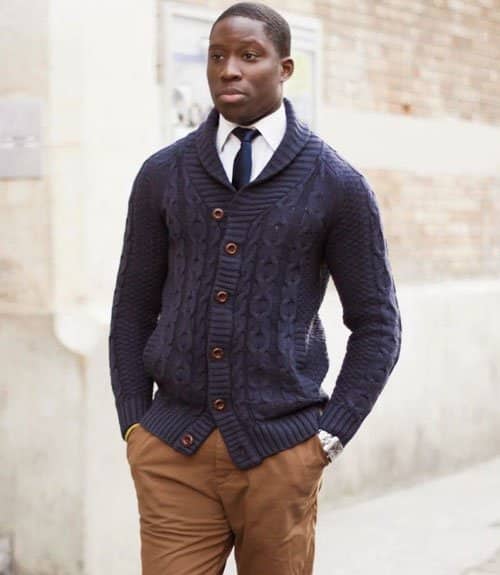 16 – What Shoes To Wear
Look for boots, Chelsea suede, and Oxford shoes. They should be black, grey or brown. Sneakers are only for casual Fridays.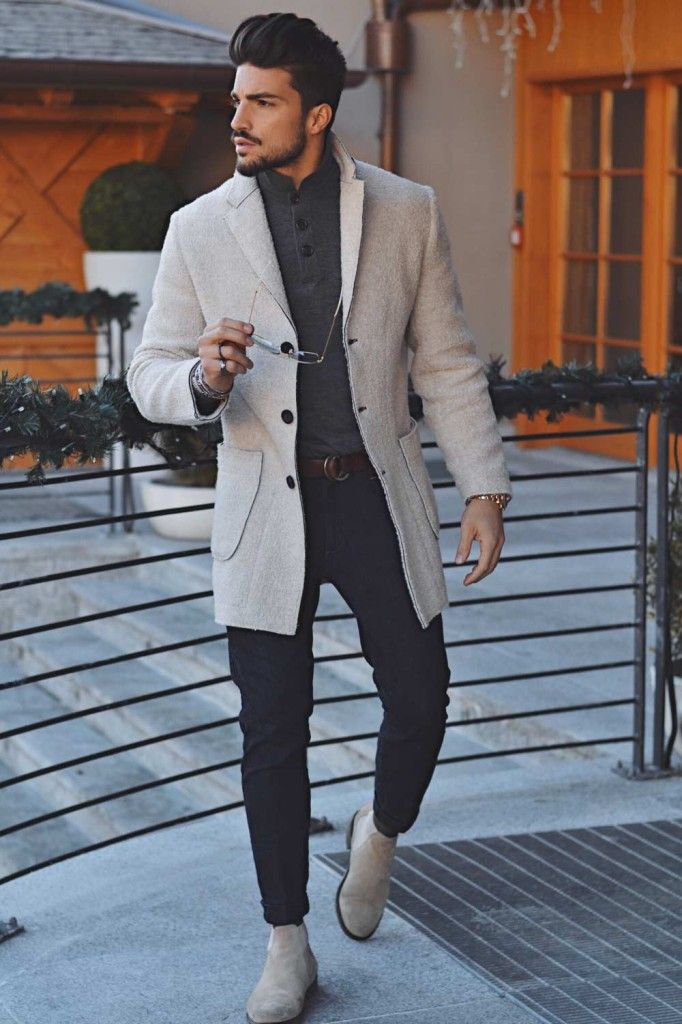 15 – Three-Piece Suit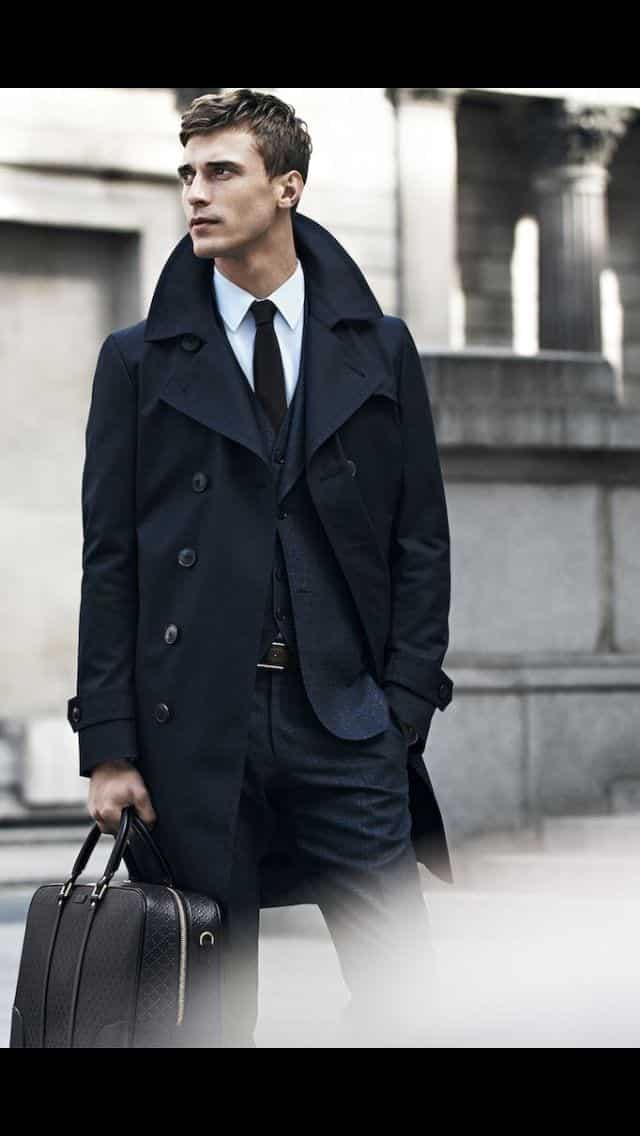 14 – Be Fancy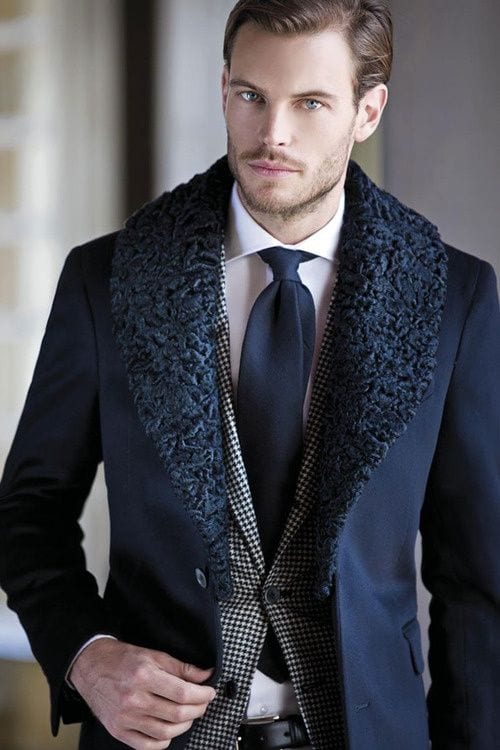 13 – Casual Business Attire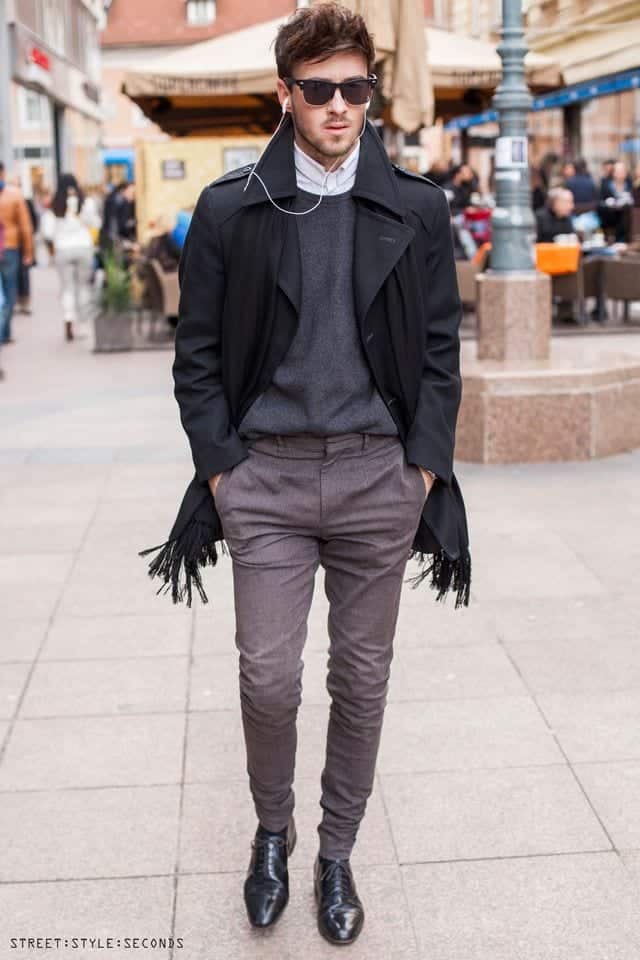 12 – Gloves Or No Gloves
Gloves are a good option to keep your hands warm on your way to work, of course you'll have to take them off once you get there.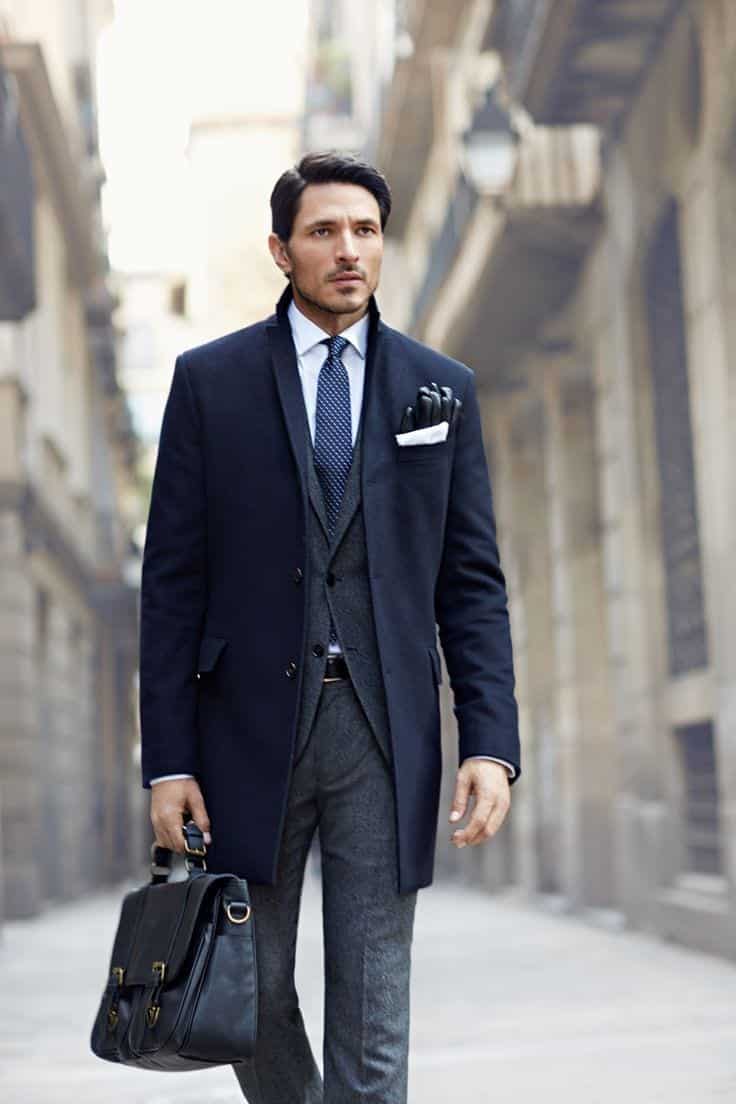 11 – What Bag To Bring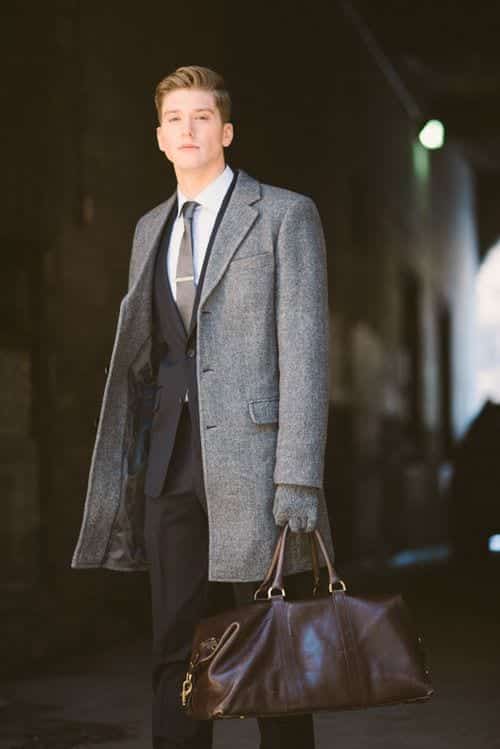 10 – Accessorize With A Scarf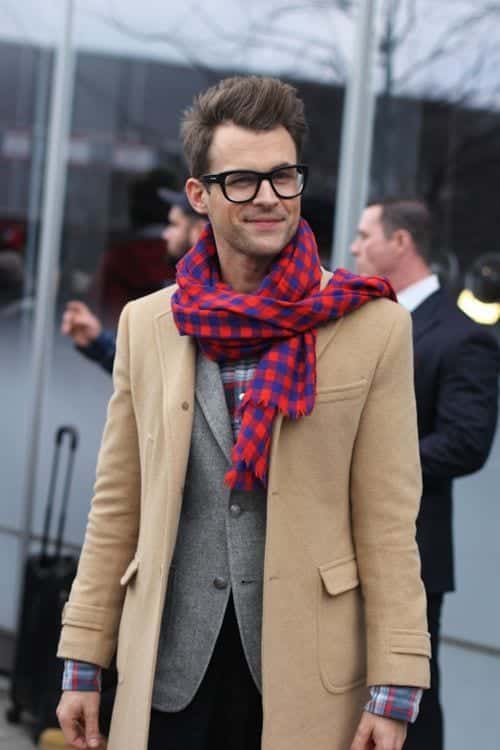 9 – Leather Trench Coat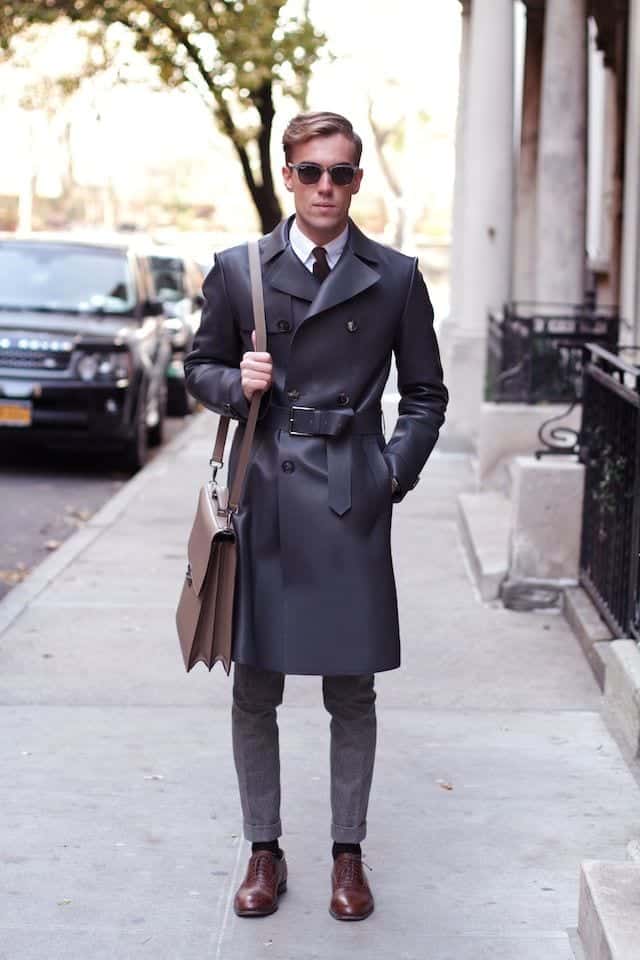 8 – Jeans At The Office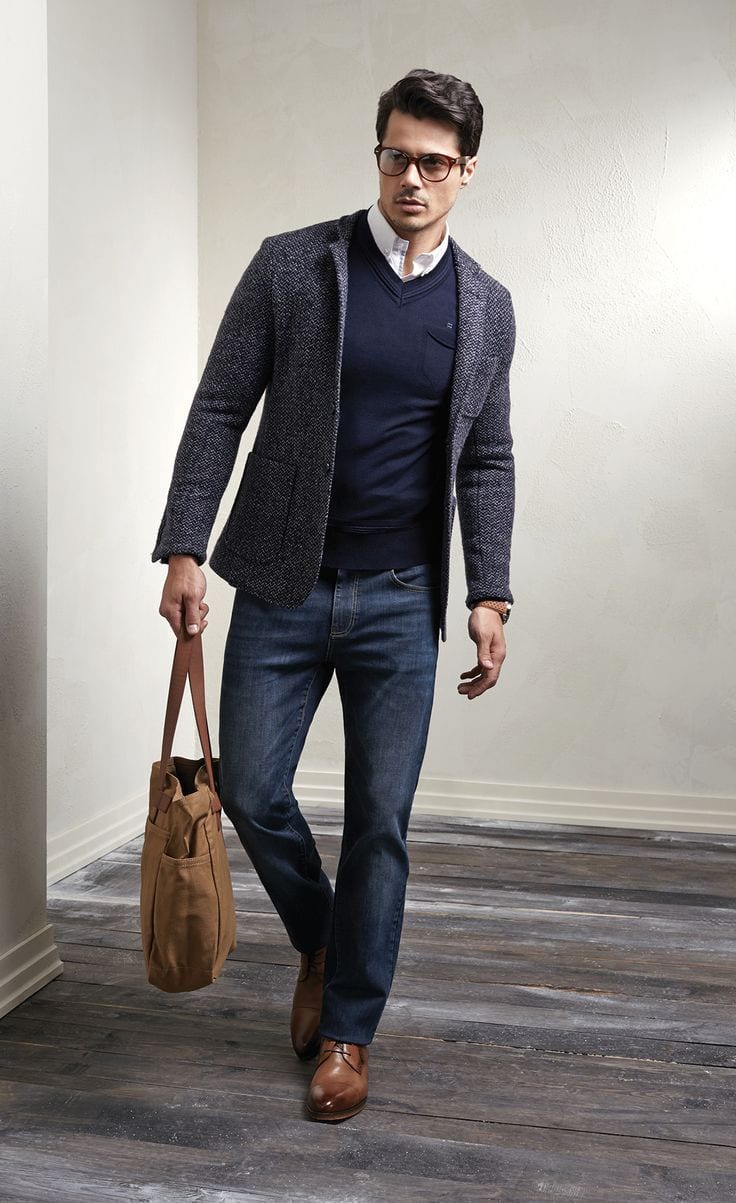 7 – Grey Tones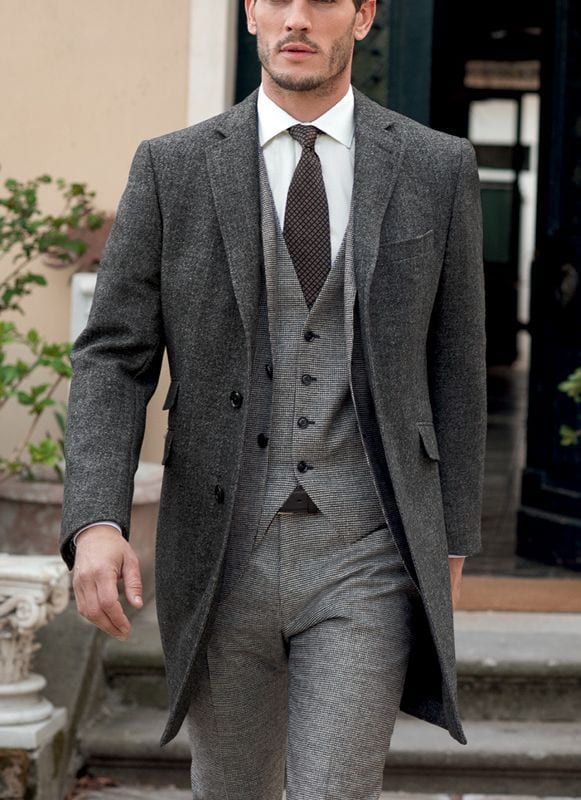 6 – Grey Wool Blazer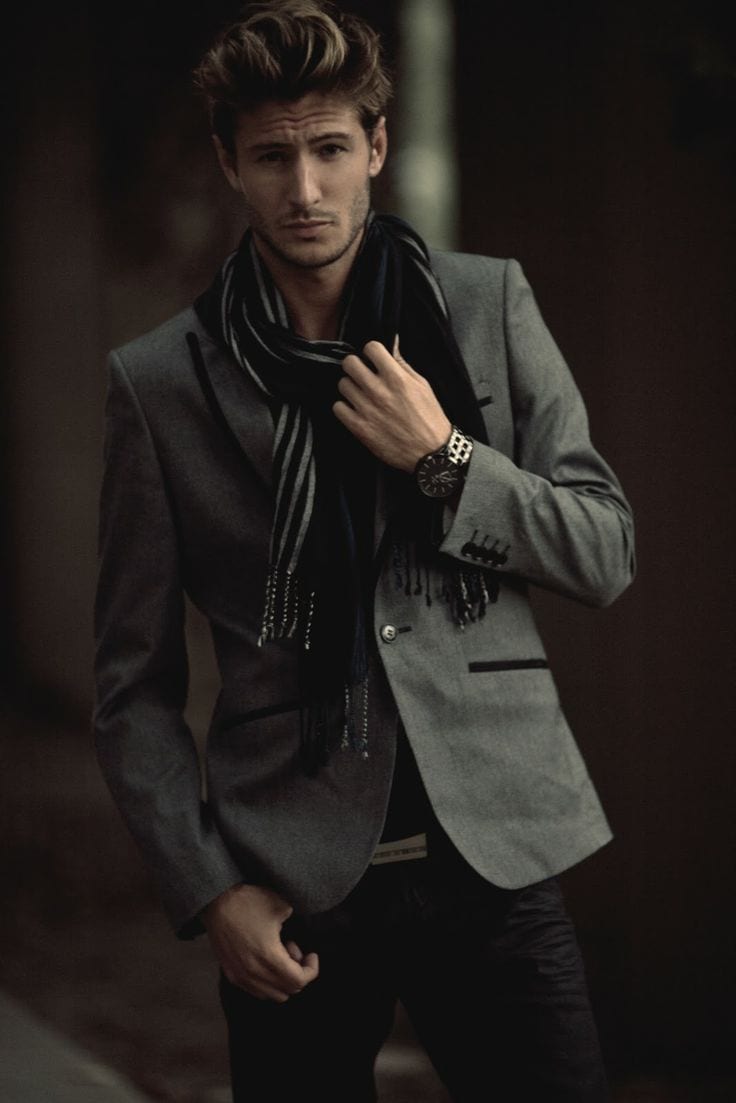 5 – White Trench Coat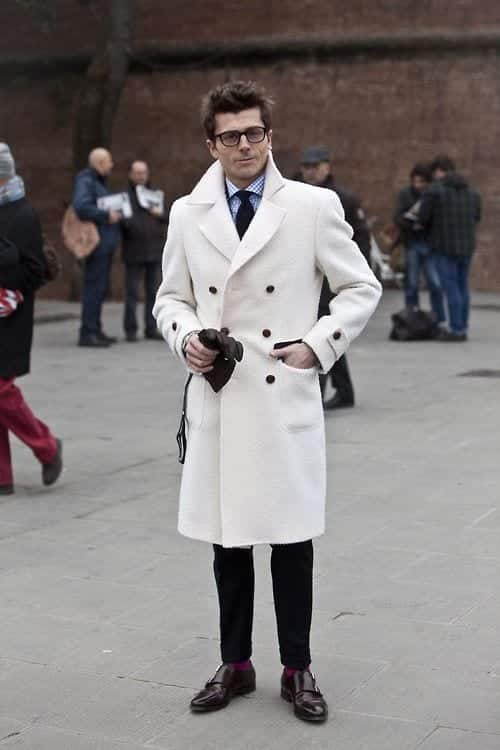 4 – Layering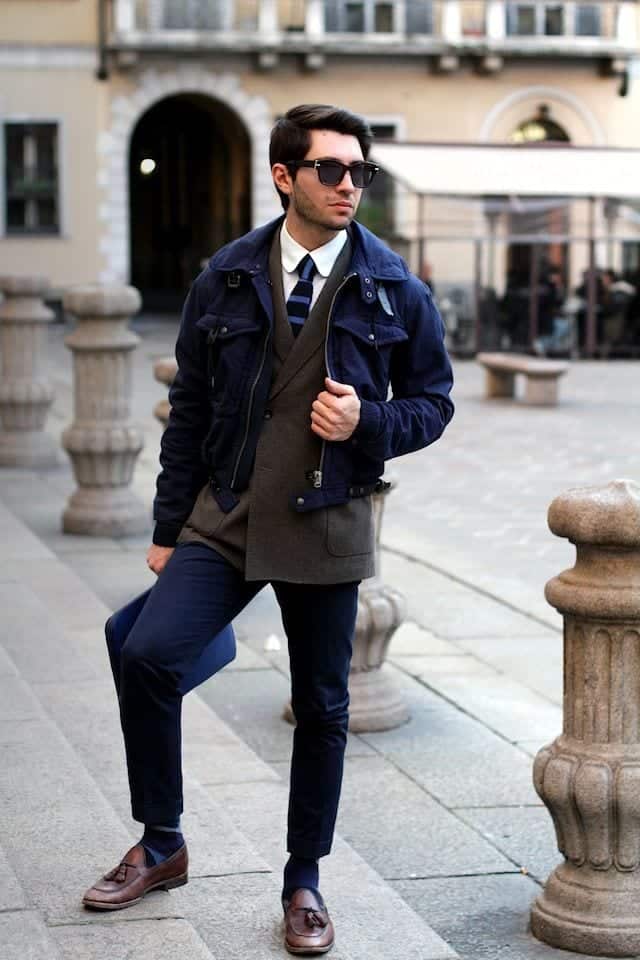 3 – Blue Trench Coat

2 – Styling Long Coats for Work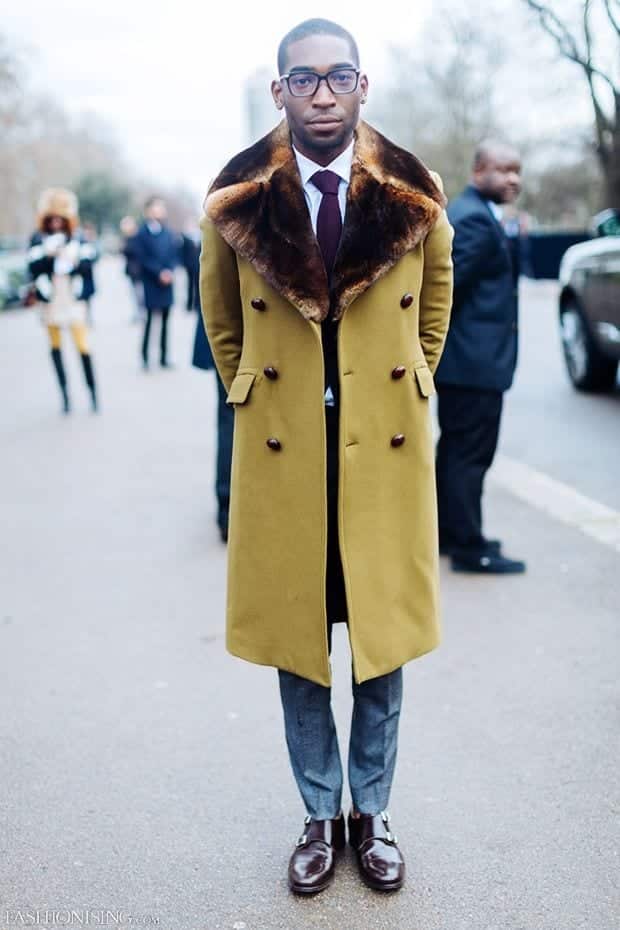 1 – Long Camel Coat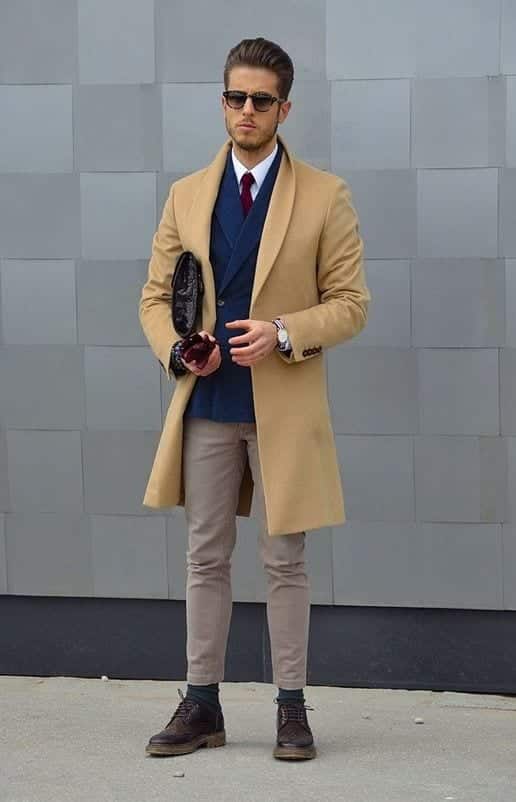 Frequently Asked Questions
Q. Should I wear a tux in the office in Winters?
A.No. While tux is indeed a formal piece, for me, it's overkill. Save it for black tie events along with your bow tie and crisp white shirt. Instead, opt for a regular suit.
Q. Can I wear casual outfits to work?
A.Casual outfits would make the cut, but I'll leave you with this question: How casual is casual? And what kind of casual is work-appropriate? For one, hoodies, letterman, and denim jackets are off the table in the meantime. While they are worn during the colder months, they simply won't work. Instead, opt for rollneck sweaters and cardigans so you can layer them and not appear "too casual."
Q. Can I wear jeans at the office?
A.It depends. It always comes down to what dress code you have at work. To be safe, ditch the jeans and opt for black or khaki pants.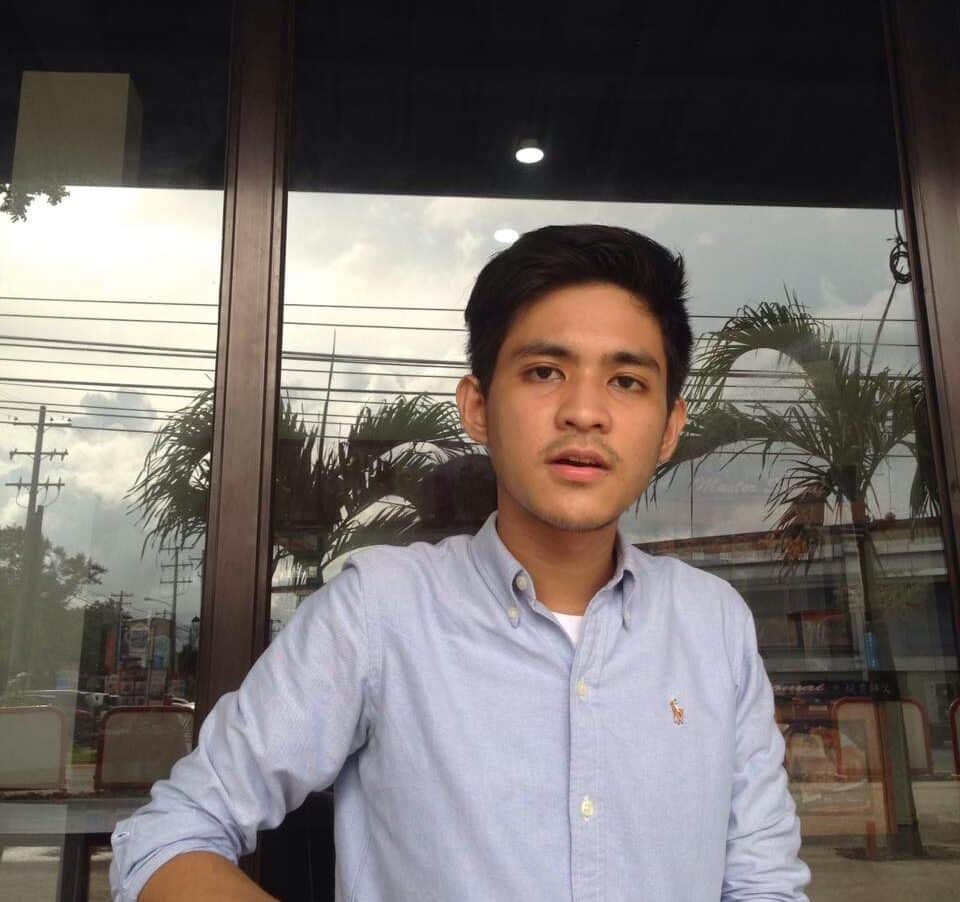 John Vincent studied Communication Arts in the Philippines.
Growing up, he's always had an eye for aesthetics. He enjoys writing a lot. Books, TV series, and movies are a big part of his life. His all-time favorites are Harry Potter, Game of Thrones, and Marvel films.
He believes that fashion is a pure form of art. You express yourself through your personal style – it's something you can't replicate.