Men Turtleneck Outfit Ideas – I feel that turtlenecks or roll-necks are extremely underrated. They are one of the best pieces of clothing for the fall and winter seasons for several reasons, but not many people realize that. Some of you may not even consider adding it to your wardrobe because you do not know how to carry it.
Here are some of the clothing items you should have in your wardrobe to put together different looks with turtlenecks:
Blazers for corporate and smart-casual events
Overcoats like pea coats and trench coats for cold weather
Cardigans for casual gigs
Suits for a formal look
Denim jackets
Buttoned shirts
Bomber jackets
Flannels
Suede jackets
Or it can be worn as it is
Men and women have worn turtlenecks for many, many years. In recent times they have made their way back into fashion, as seen in fashion weeks and magazines. In autumn and winter, when you are always looking for warm items in your wardrobe for layering, roll-necks will be of great use.
If you are hesitant to try one out or have made up your mind to wear one but are confused about how to wear and style it, then this article is for you. You need not stress over it anymore as we have all the tips, ideas, and everything you need to know about turtlenecks and how to style them. So read on!
How to Wear Turtlenecks?
While some of you may think turtlenecks are only for casual wear, that is, in fact, not true. You can also wear them for the most formal events if you style them the right way.
To give you a good understanding of how you should pair these items and create different looks for different occasions, we have rounded up a list of the best ways for you to wear turtlenecks. Take a look:
↓ 35. Style them with Jackets.
Our favorite jacket to wear with turtlenecks this season is the suede jacket. It's always nice to wear a white turtleneck for the winter and fall seasons; pair it up with a cream suede jacket as the overcoat. Tuck the roll neck in your pants for a smart and clean look. Finish off the style with black boots.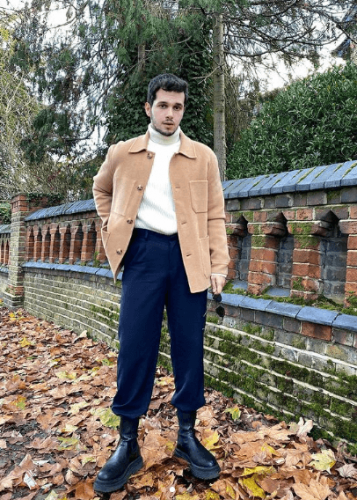 ↓ 34. With a Blazer
Pair up a cream roll neck with a long checkered blazer. This smart casual look is suitable for events like engagement parties, dates, etc.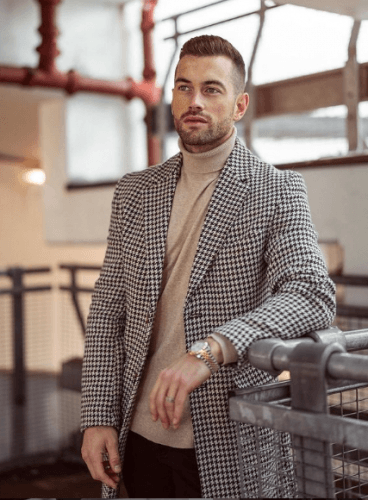 ↓ 33. Office Wear
Wear a turtleneck at work? Why not! Style it with a long coat. For the shoes, dress shoes will do. If you have plans after work, like going out with your friends, you can make some changes with the footwear – wear sneakers, instead.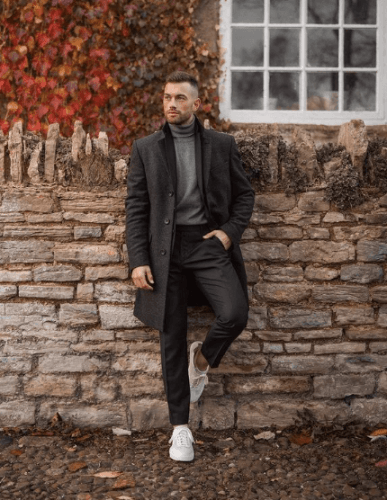 ↓ 32. Casual Outfit
The roll neck can be a standalone outfit, too, meaning that you don't always have to worry about layering it. Tuck it in everyday pants, and you're ready to rock! This outfit is good for casual hangouts and gatherings.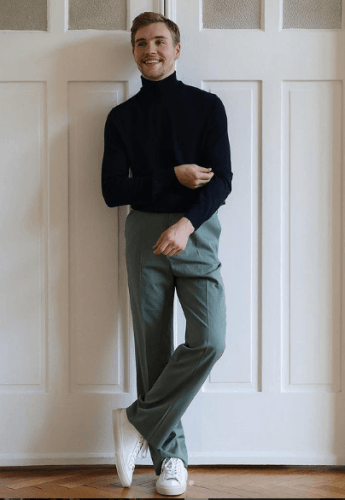 ↓ 31. Spring Season Style
As we said before, turtlenecks can stand alone. Pair it up with your chinos. Try khaki as it makes amazing color coordination when matched with white. Here is my previous post on Outfits with Khaki Pants.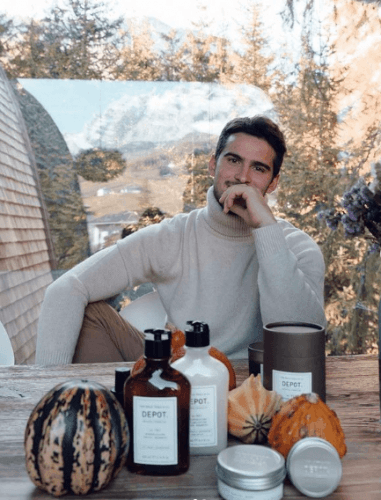 ↓ 30. Winter Staple
Use your roll-neck sweater as the undershirt for a peacoat or a trench coat. Blue jeans will do the job to make your outfit a street attire.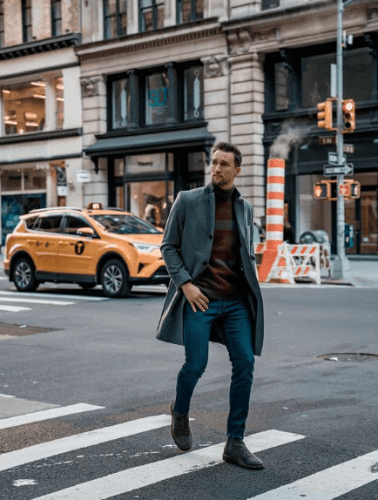 This monochrome combination is a classic and looks good on every skin tone.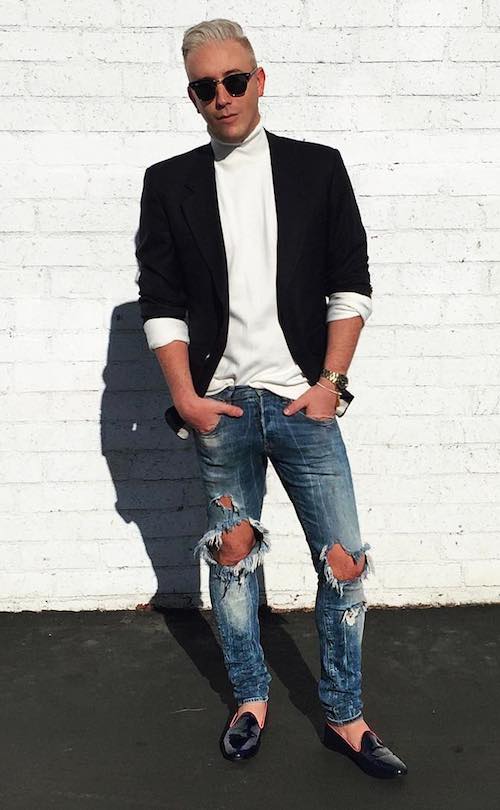 A dark grey roll-neck will make a good match with an ash grey suit. This formal outfit is best for corporate events and big gatherings like premieres, red carpets, etc.

For a regular workday, wear a red turtleneck without layering it. Wear it as it is, and pair it up with black slacks and boots. Remember to polish/clean your shoes, as your footwear says a lot about you. This outfit is also great for college students, especially when they are giving their presentations or reports.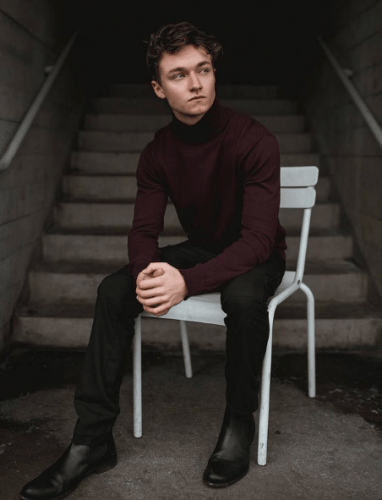 ↓ 27. With Denim Shirt
Earth tones would make a nice contrast with denim. Wear a white turtleneck with a light brown denim jacket shirt, and consider matching the footwear with your overshirt color. You can also unbutton the shirt for you to be comfortable and to be less formal, as well.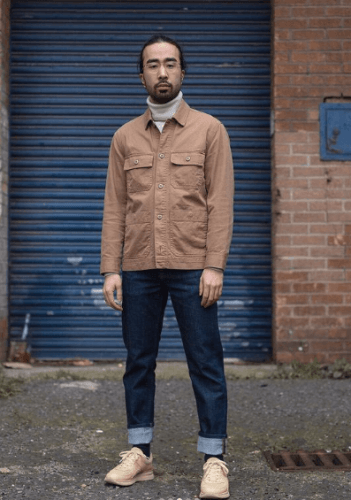 ↓ 26. For Blonde Guys
Match your hair color with earth tone turtleneck and a coat of the same shade. It makes your style uniform and pleasing to the eye.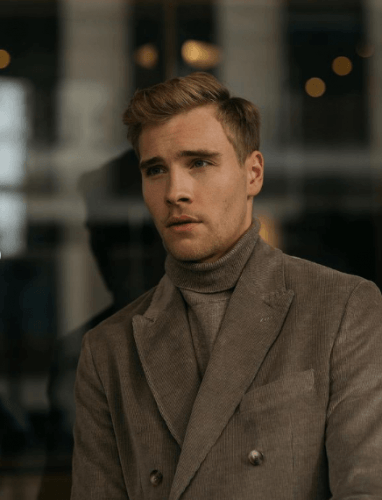 ↓ 25. Retro Vibe
Even though we live in a modernized time, cars can still be retro, and so do outfits. Don't forget to wear your sunglasses as it's essential for this style.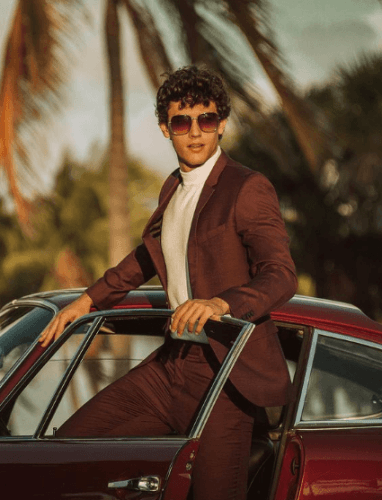 ↓ 24. With Black Denim Jeans
Wear a turtleneck as a standalone top; pair it up with black denim jeans and some casual sneakers.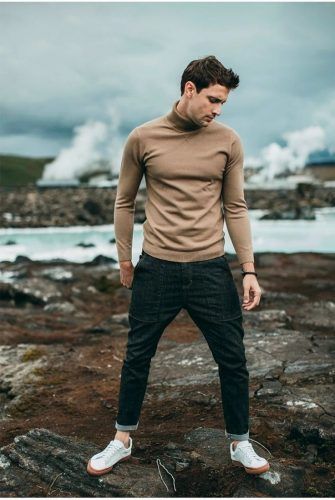 ↓ 23. With a Denim Trucker Jacket
For another streetwear look, try to layer your roll-neck with a trucker or regular blue denim jacket.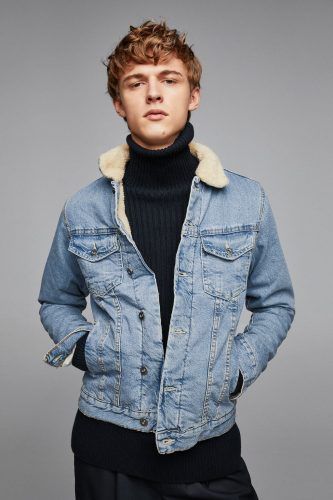 ↓ 22 – Casual Wear
Less is always more. If you are not into experimenting, this look is for you. Wear it on its own to keep it safe and casual.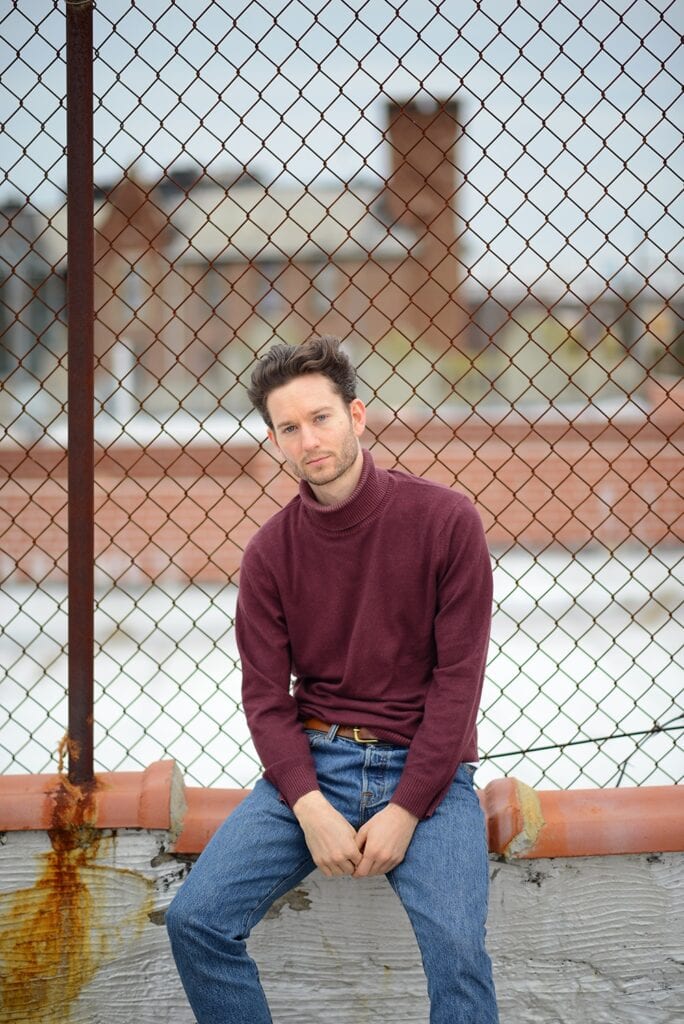 ↓ 21 – Patterned Turtleneck Sweater For Funky Look
For a chic look, try wearing a patterned or printed turtleneck. Here are 17 Ways to Wear Sweaters Fashionably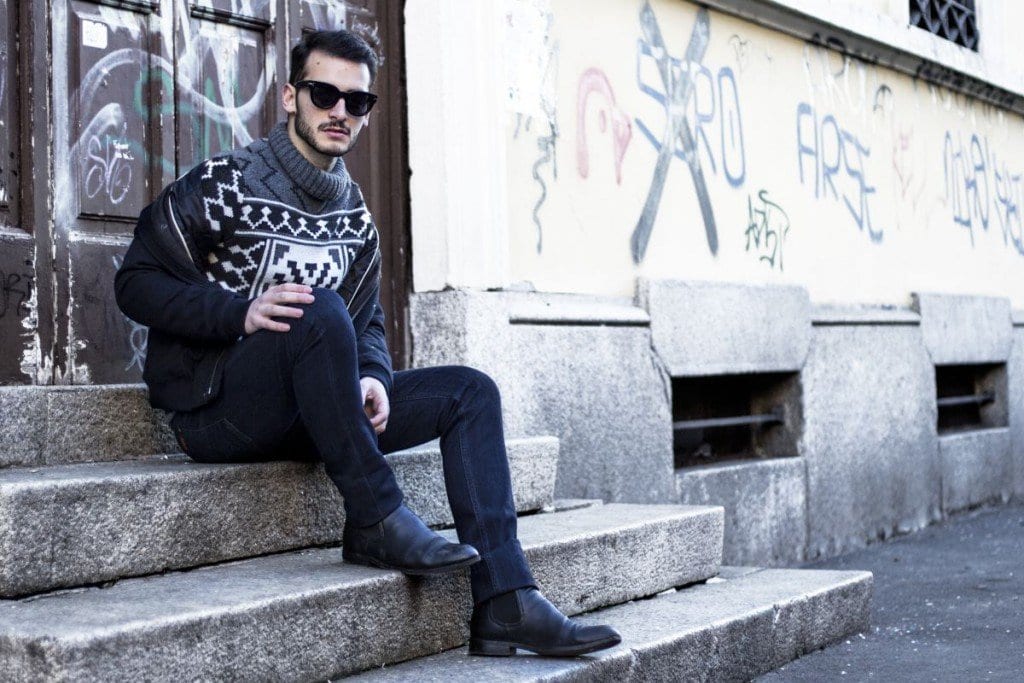 ↓ 20 – Woolen Roll Neck
Woolen turtlenecks are the best if you prefer to keep yourself warm in winter.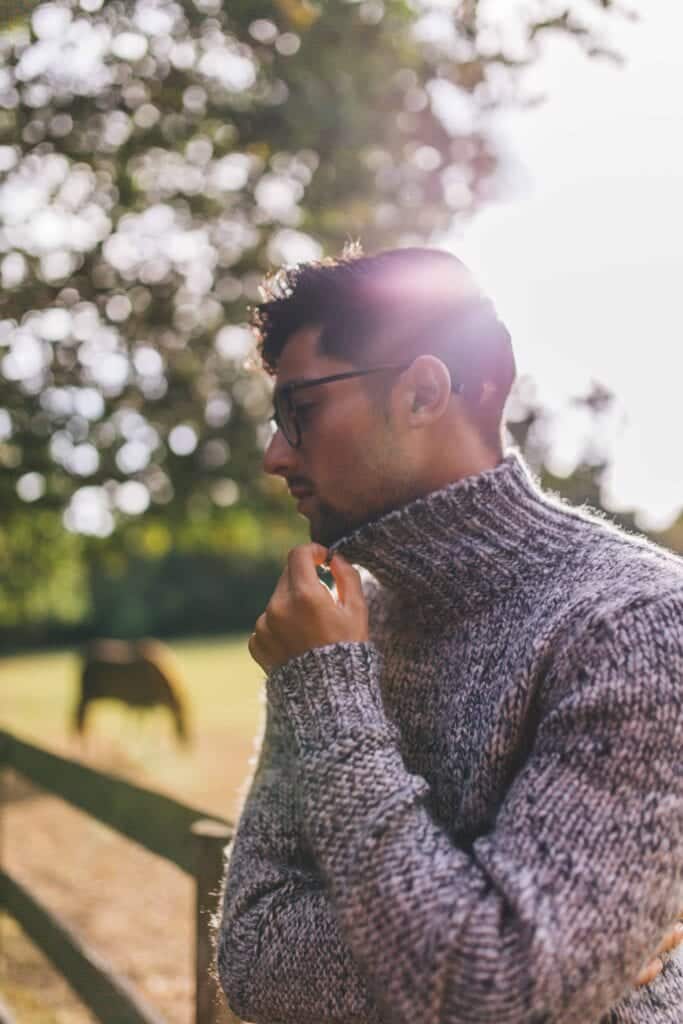 ↓ 19 – With Muffler
You can wrap a muffler around your neck to look stylish. Check out these 40 Best Fall Fashion Tips
↓ 18 – All Black Everything
You can never go wrong if you are dressed in all black. Pair up a black coat and dress pants with a black turtleneck. This look is also for formal events.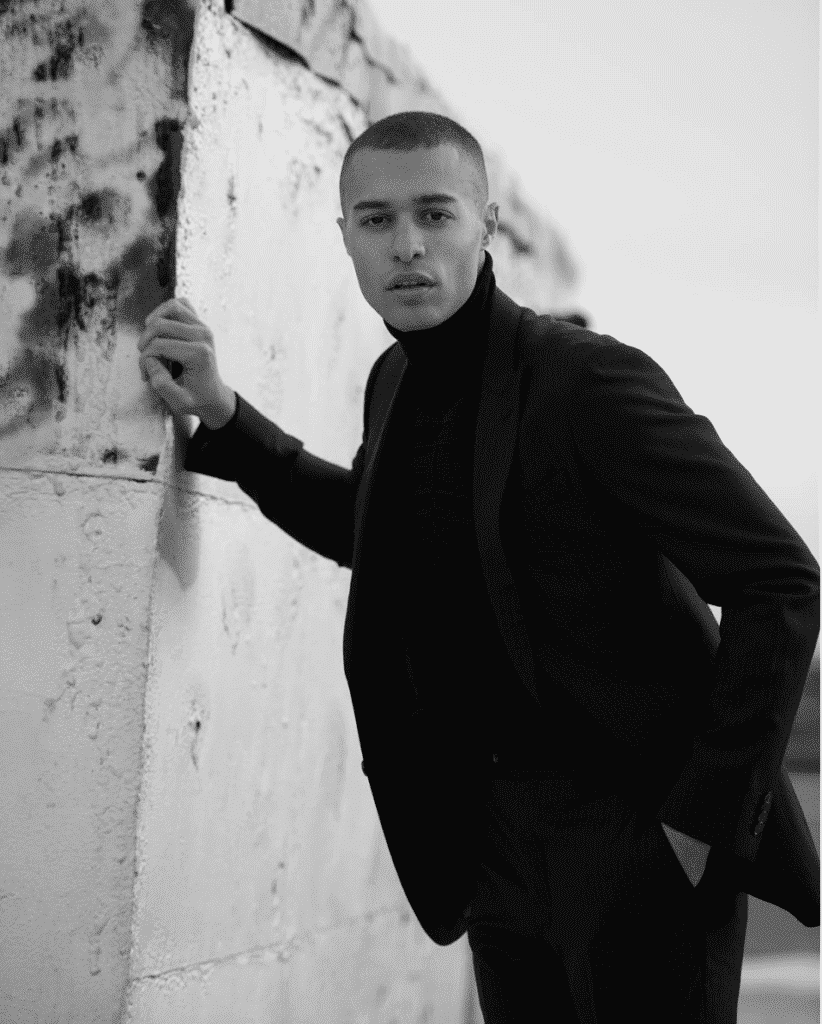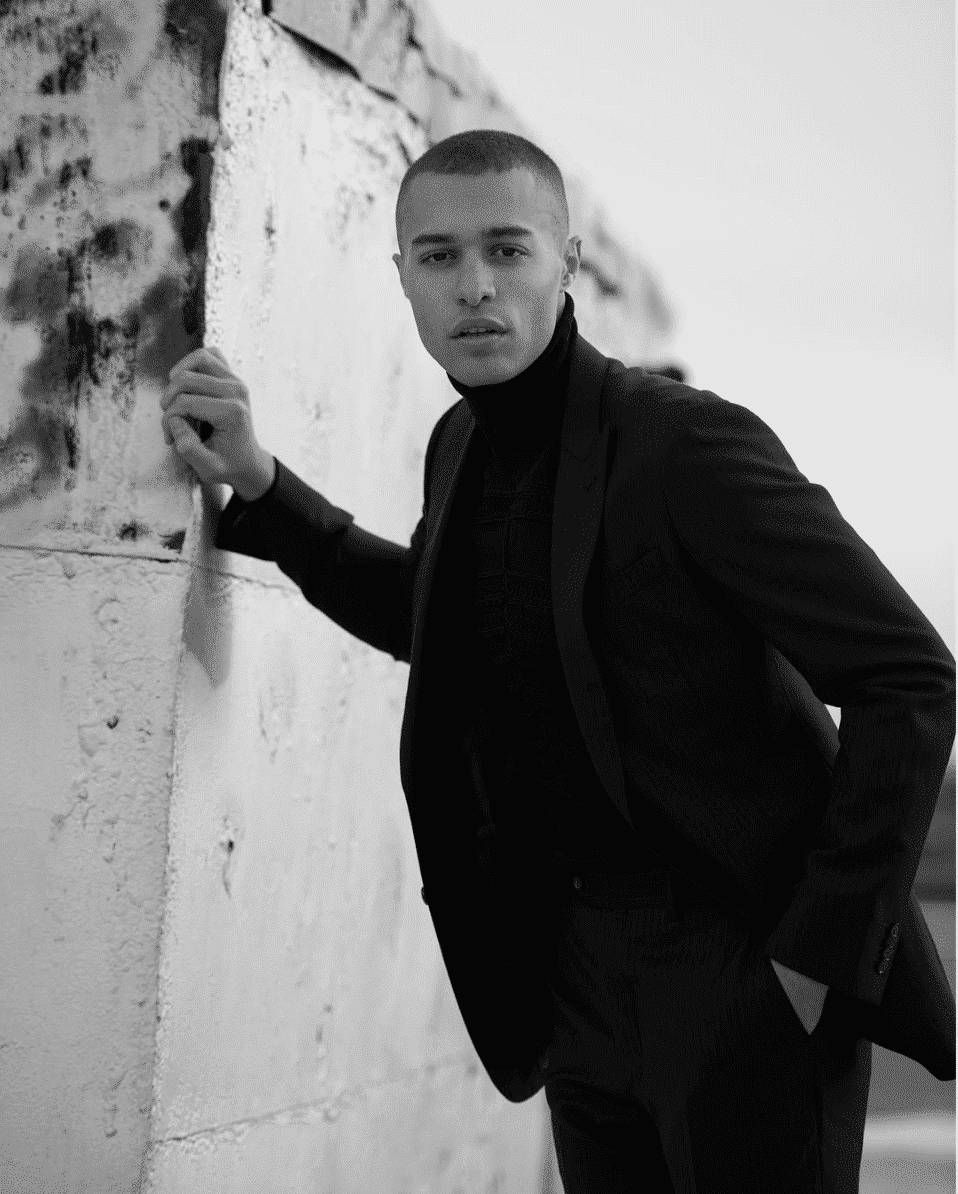 ↓ 17 – Roll neck With Coat
Try to be minimal; do not exaggerate your layering techniques. A simple coat looks good when paired up with a plain roll-neck. Here are 19 Ways to Wear Trench Coats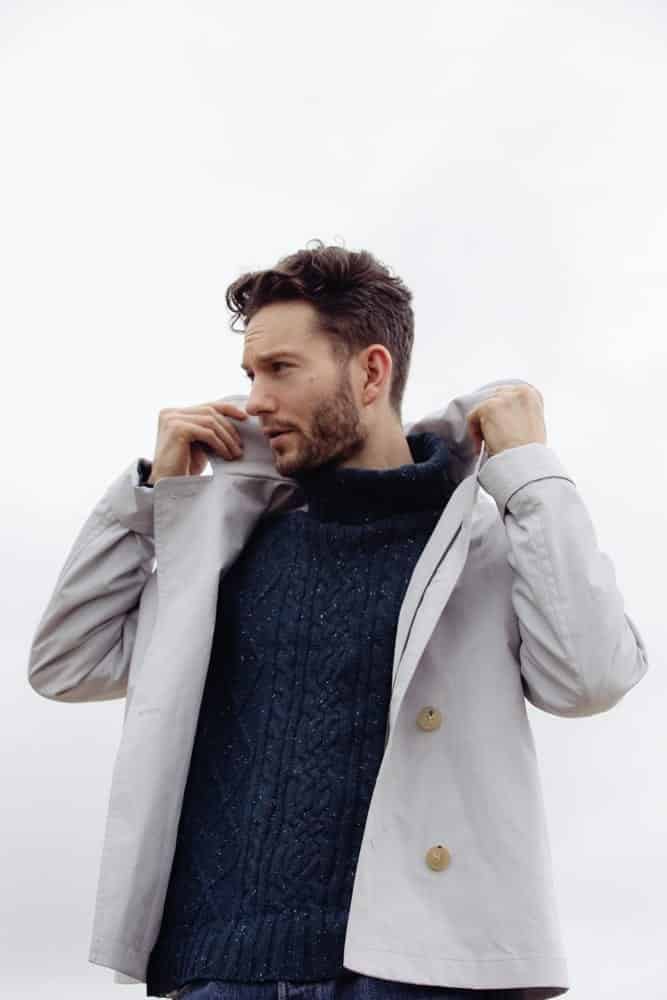 ↓ 16 – With a Suit
Try to layer with different coats and blazers in a way that does not look too stuffed. If you are using this style at work, try not to over-accessorize.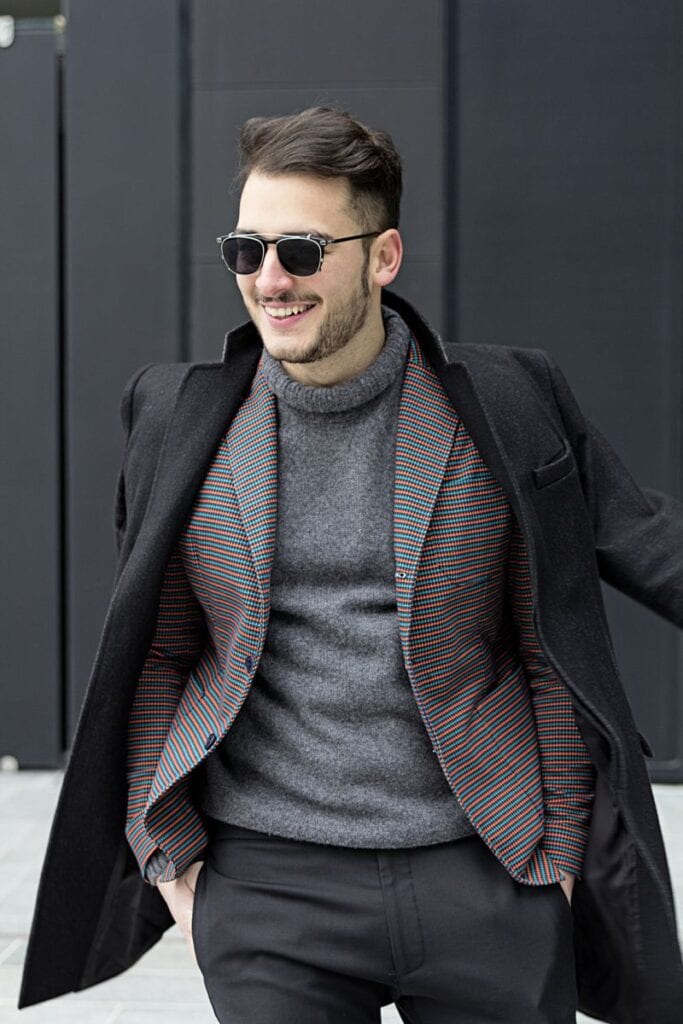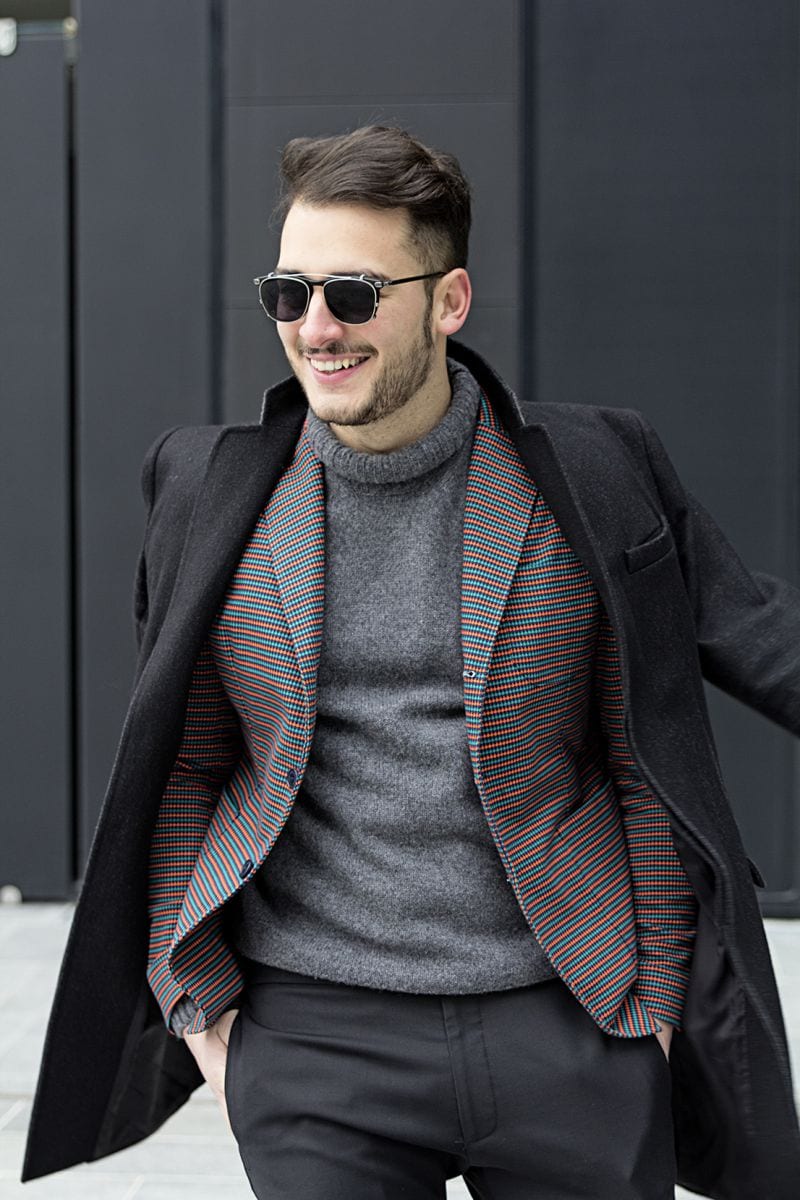 Like it or not, we all have to be formal occasionally. If you are attending a wedding, christening or ball, a suit is your best option. A black turtleneck can be an undershirt for a white suit.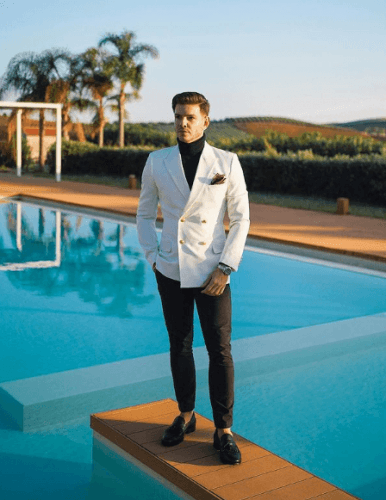 I'm sure you've heard of this before – that nothing makes you look more elegant than a black suit. If the event you're attending is a formal or a semi-formal one, make sure that the roll neck is tucked in your pants. Make a good choice with the belt; the one with a minimal design will make you stunning for tonight.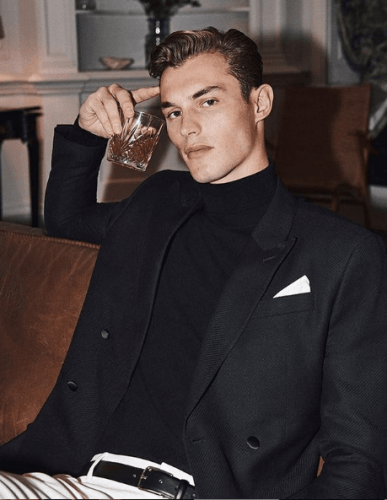 ↓ 15 – What Pants to Wear With Turtleneck
Patterned or textured pants enhance your look. Here are 30 Ideal Ways to Style Khaki Pants for Men.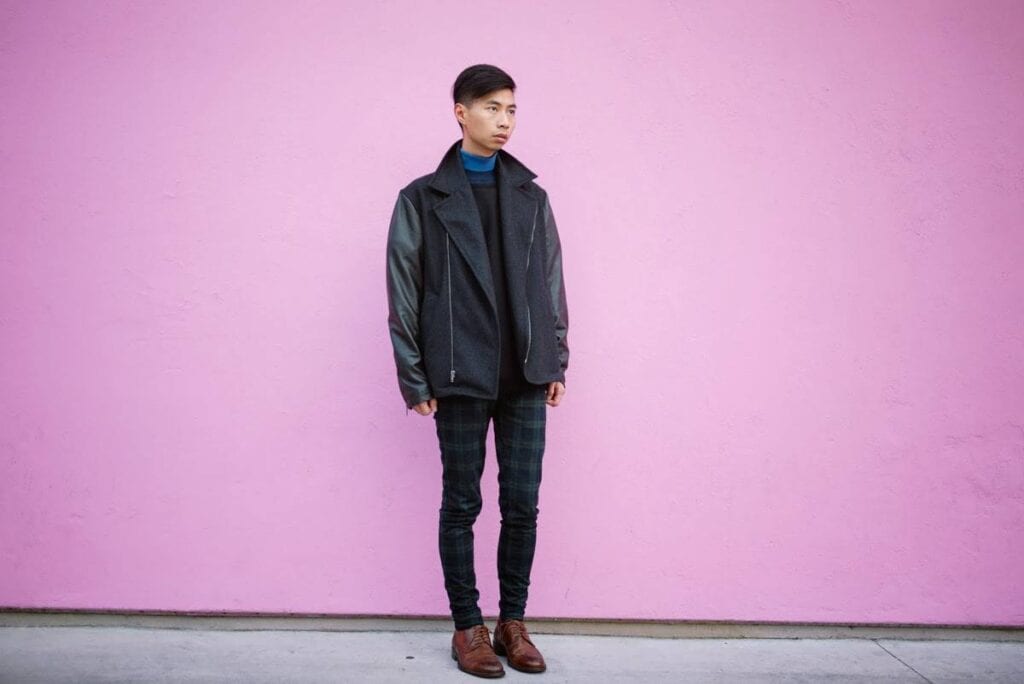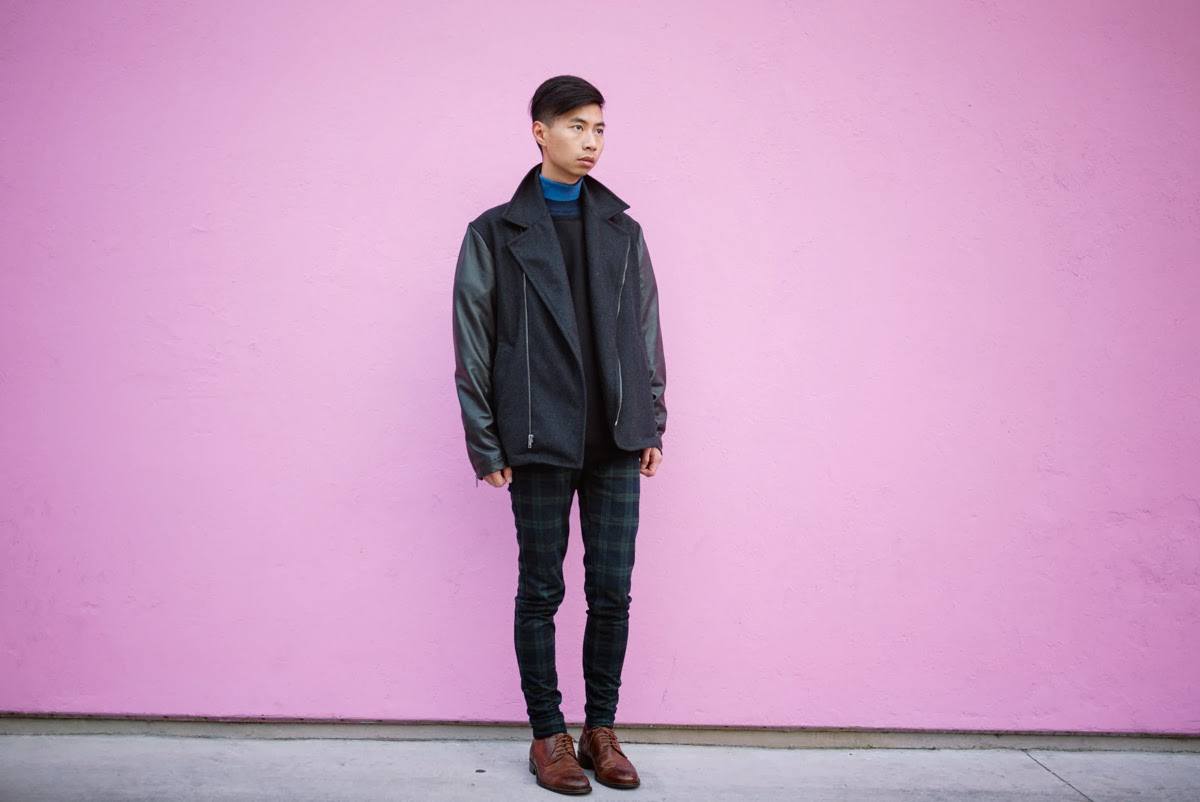 ↓ 14 – Workwear
You can also wear these to meetings and work with a suit and look extremely professional.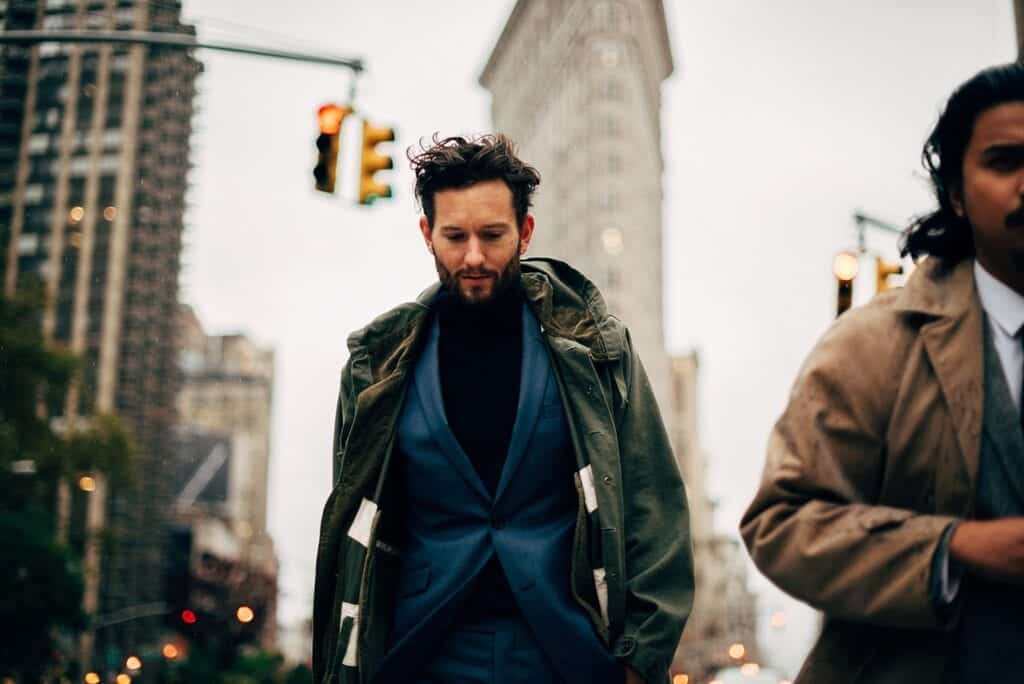 ↓ 13 – Long Overcoat To Add Class
Also, see these 18 Latest Men's Casual Outfits with a Blazer.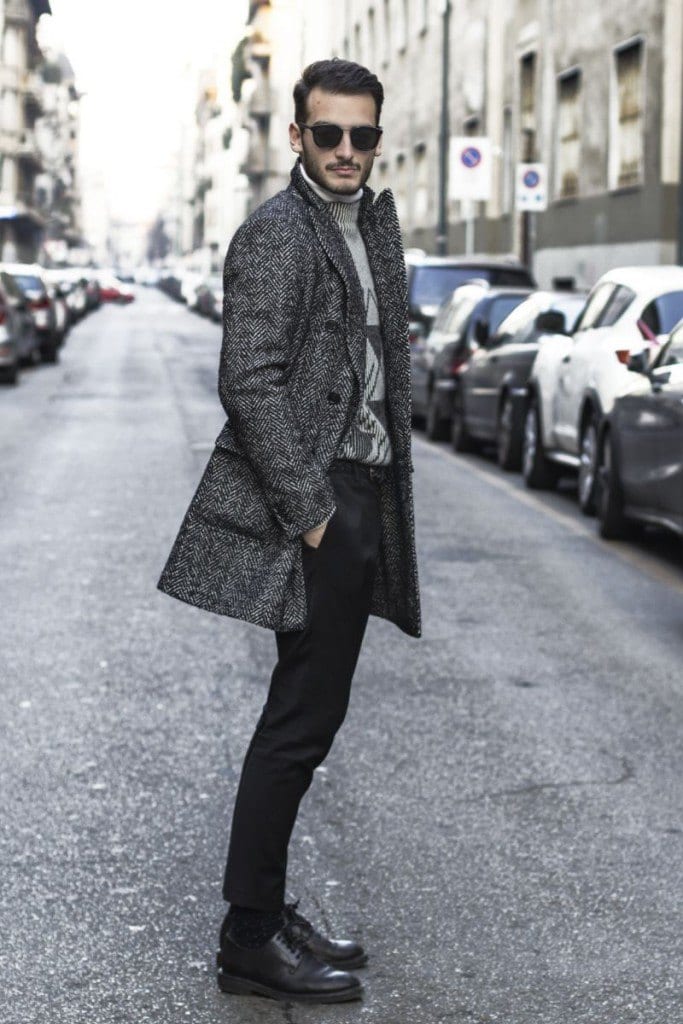 ↓ 12 – Casual Outfit
It's good to mix and match, so go through your dresser drawers to look for outfits that would make a cool combo with a turtleneck.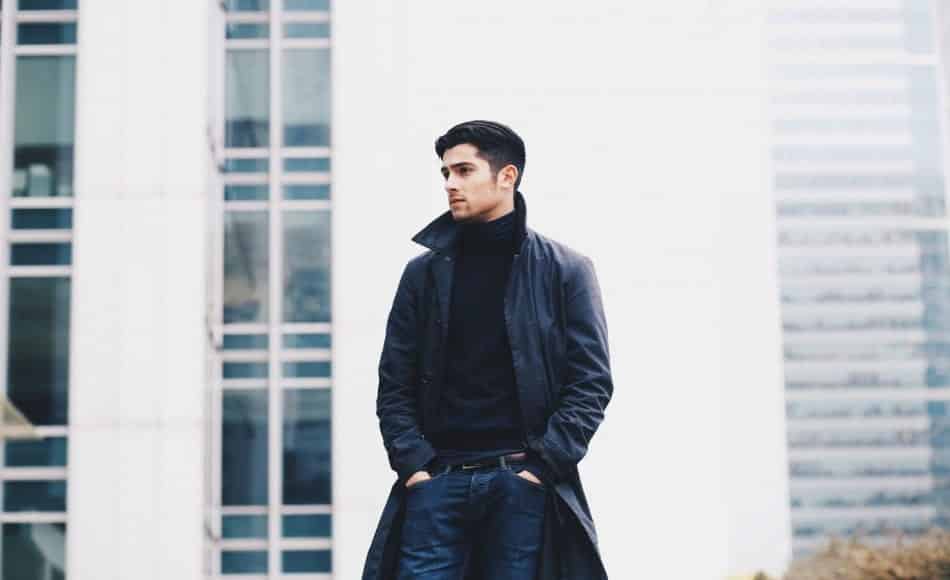 ↓ 11 – With Ripped Jeans
These jeans look amazing with almost every shirt. Here is an ultra-chic combination of white roll neck, pink jacket, and boyfriend jeans for you to take inspiration from. Don't miss out on these 18 Tips on How To Wear Ripped Jeans.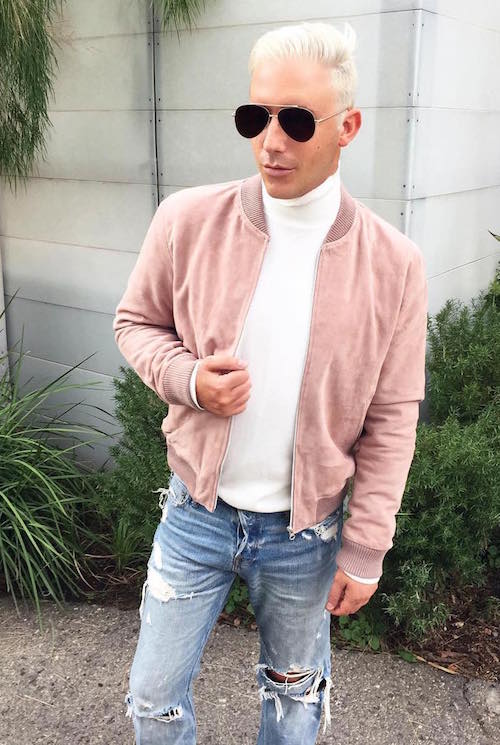 ↓ 10 – For Teenagers
Teens are all about slogan tees and sweaters. Wear your favorite sweater as the outermost layer to achieve your desired look.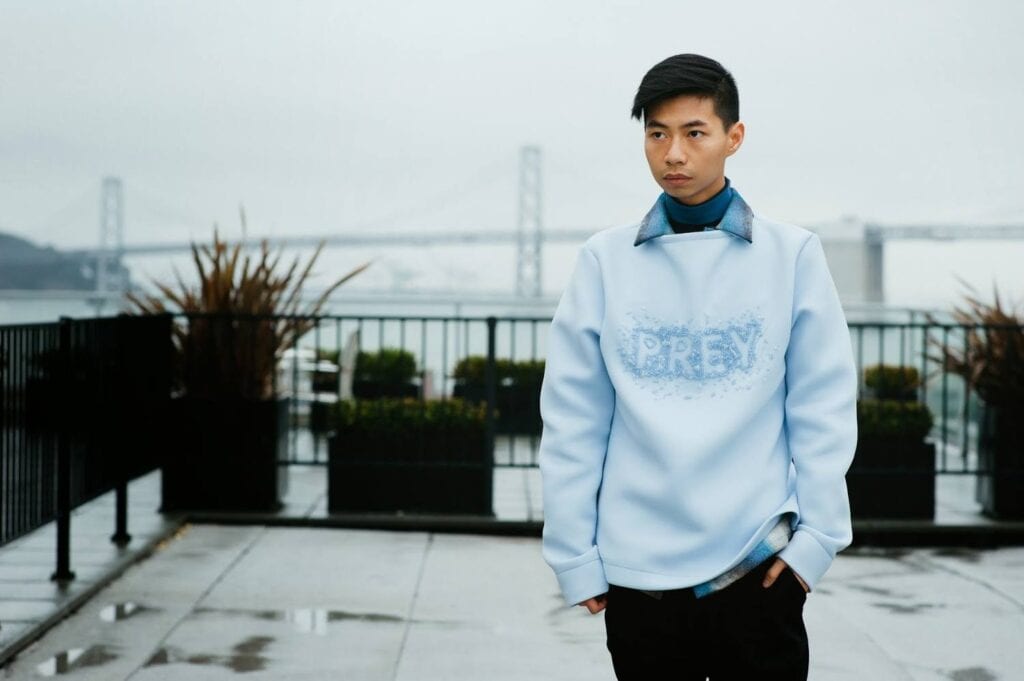 A well-layered turtleneck outfit makes a teen look younger and more professional.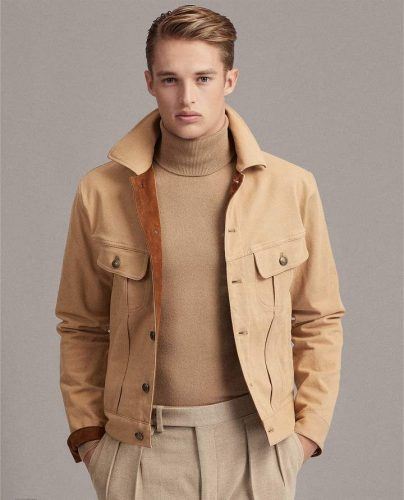 ↓ 9 – Shoes To Wear With Roll Neck
Your shoes will depend on your clothing and where you are going. If you want to stay comfortable for an effortless look, wear sneakers or Converse. If you are going someplace formal, you can wear loafers. And here are some great Ideas on How To Wear Loafers Shoes.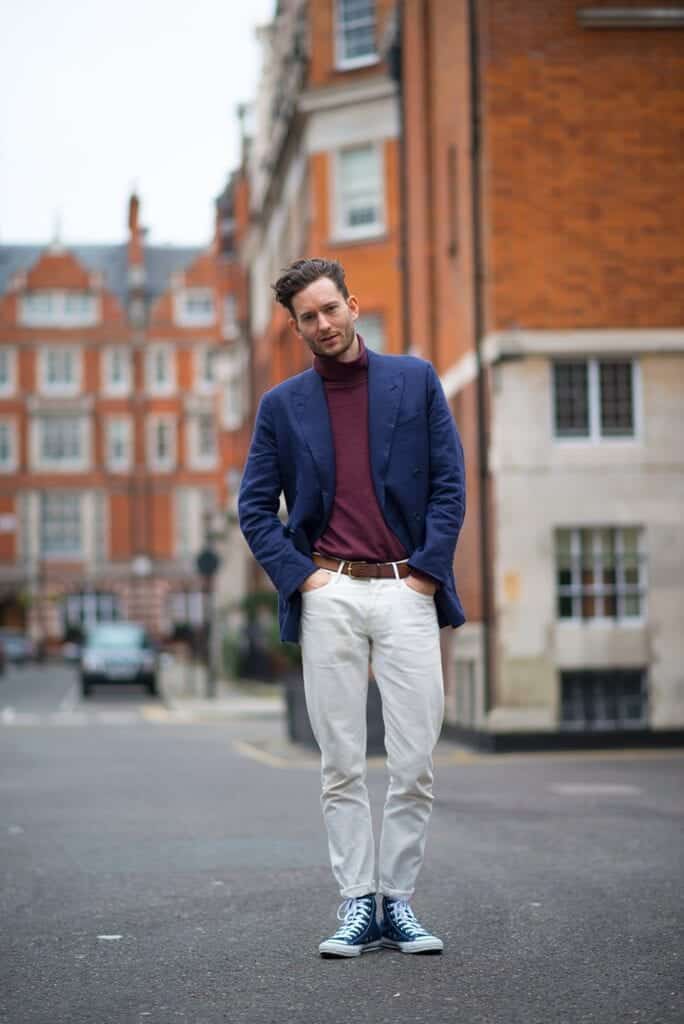 ↓ 8 – Accessorise It
There are many ways to accessorize. Scarves look great, whether they are plain or patterned. You can also get a cool men's bag and shades to complete your look.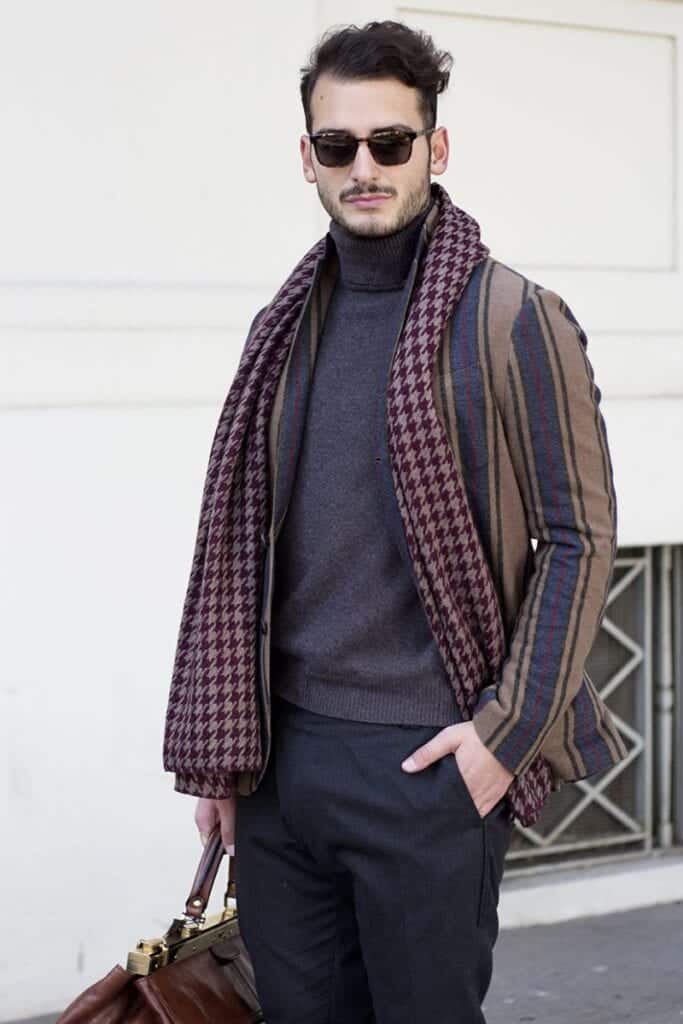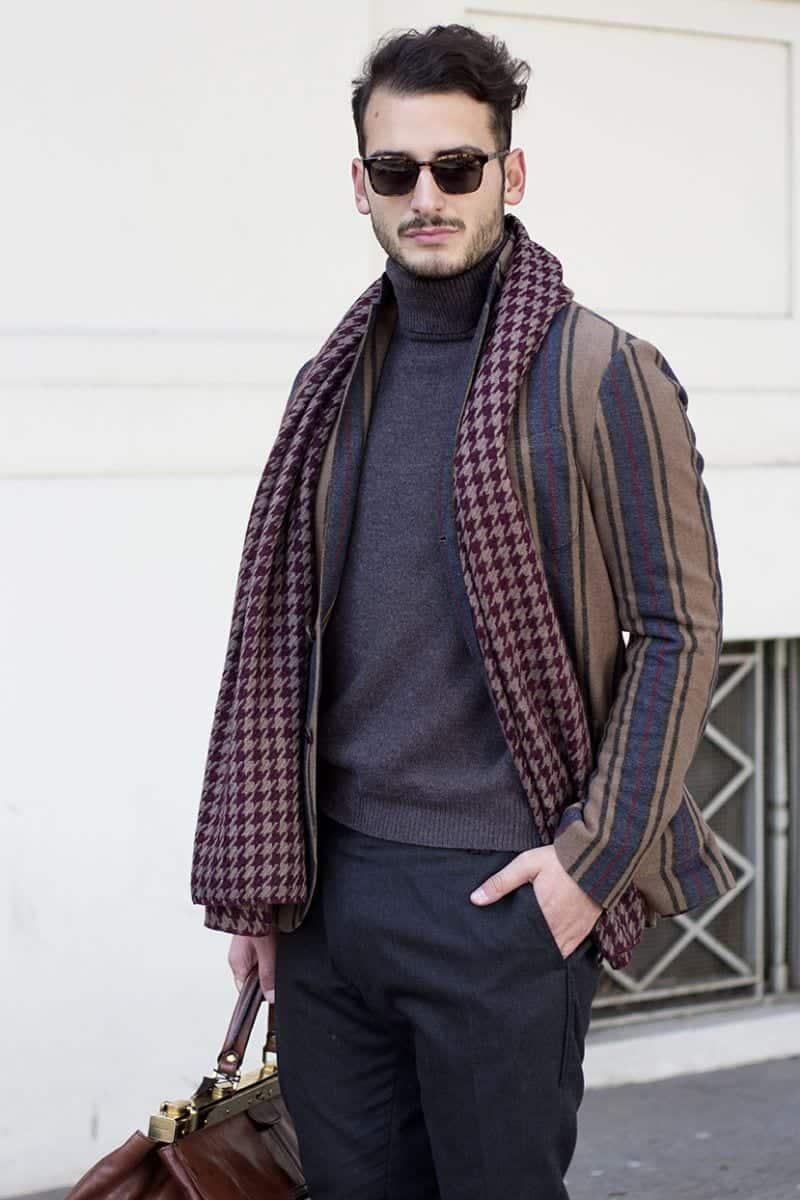 ↓ 7 – Add A Leather Jacket For Trendy Look
Here is one more way to make your outfit look super stylish. Here are the best Leather Jacket Outfits for Men.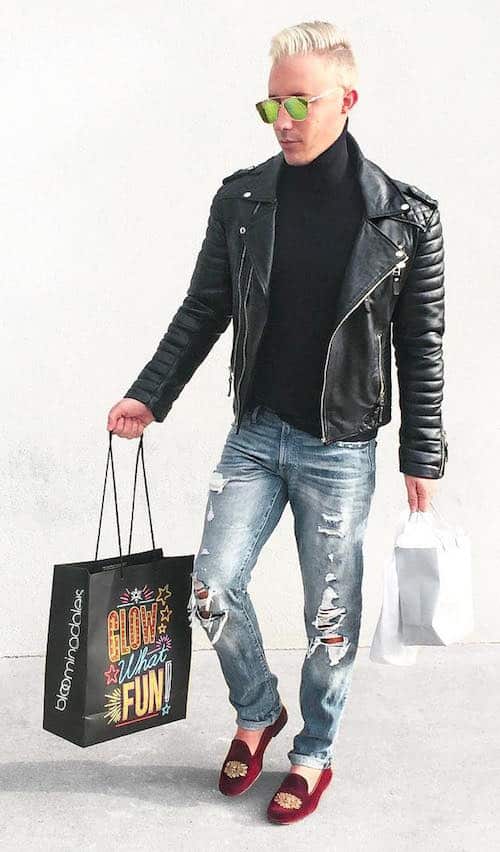 Style your roll-neck the monochromatic way. Let's go all black from head to toe – from eyewear to footwear. Who will not look good with such a style?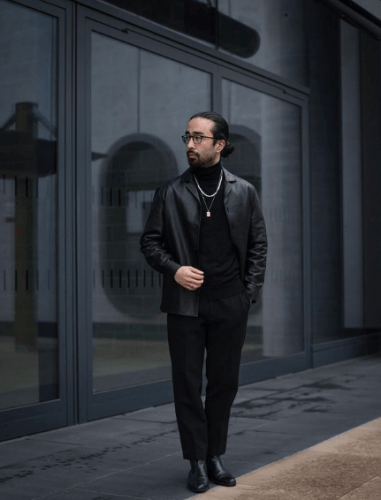 ↓ 6 – With Checkered Shirt
Flannels are also a nice option to pair up with a roll-neck sweater.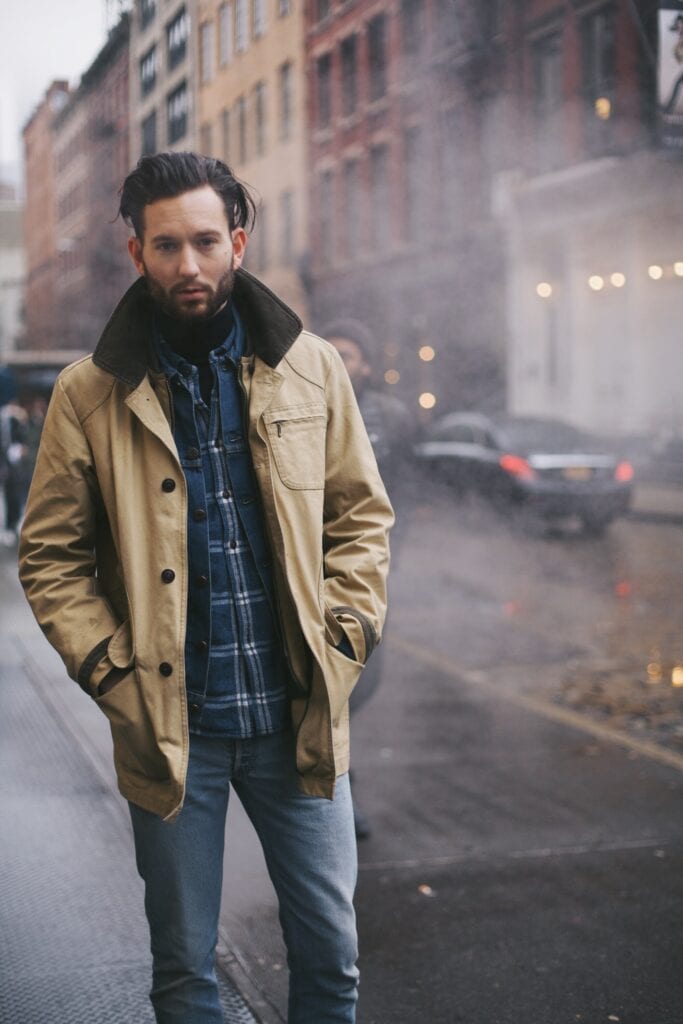 ↓ 5 – With Velvet Blazer For Parties
Turtlenecks are not only for casual wear! You can wear them to the classiest events if you wear them the right way. One way to make them look formal is to pair a blazer, which is preferably velvet, to make your outfit look fancy. Here are 17 Ideas on How to Wear Velvet Blazers.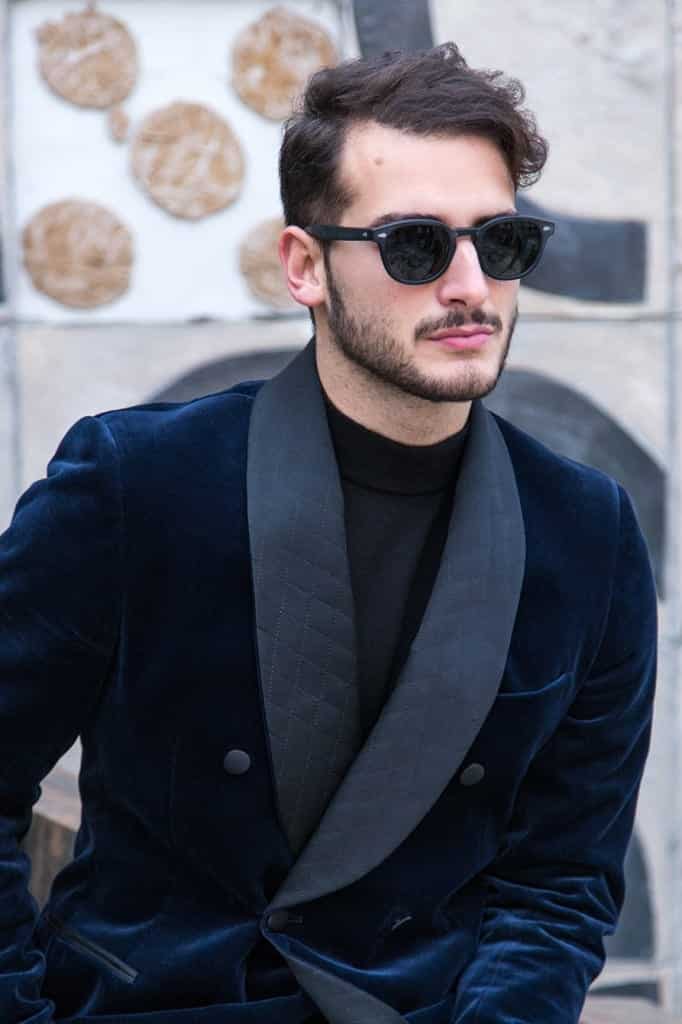 ↓ 4 – With Bomber Jacket
Bomber jackets are in trend this season, so why not wear them with a turtle neck shirt or sweater too? This style is bound to make you look super fashionable. Don't miss out on these 18 Outfits with Bomber Jackets for Men.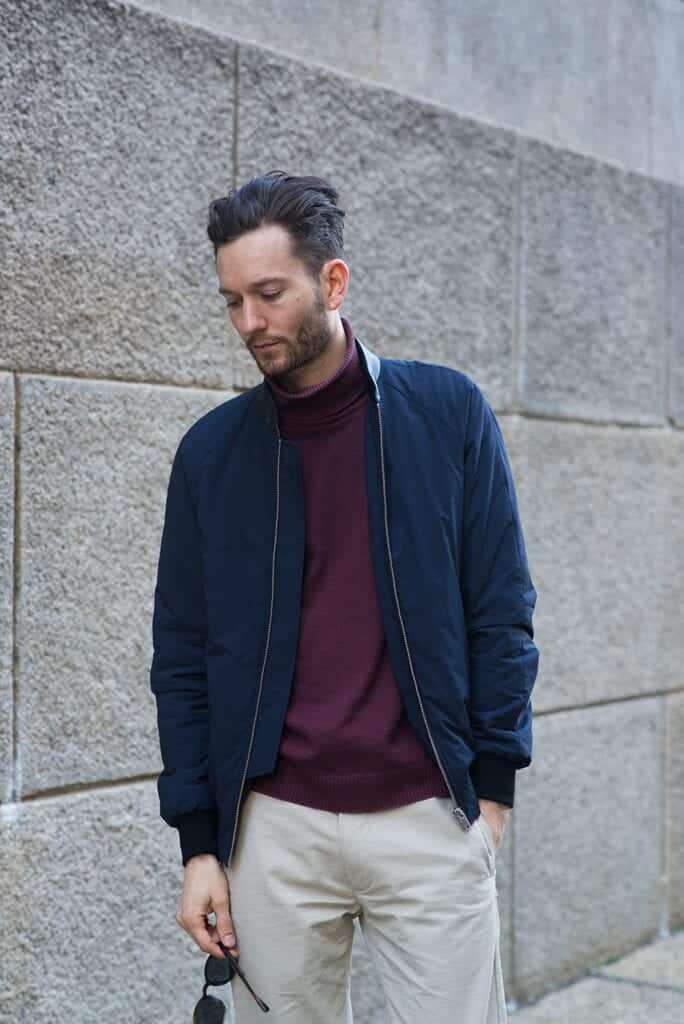 A bomber jacket, just like the other overshirts, looks good with a turtleneck. The only thing to worry about is the color combination. Again. Do not be an eyesore. Make a good choice. A black roll neck and a blue bomber is the perfect combo. You can go monochromatic if you want.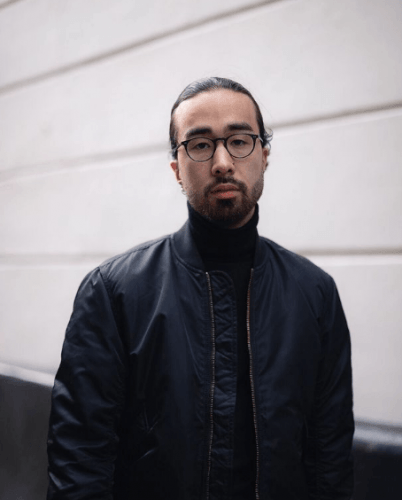 ↓ 3 – Turtleneck For Plus Sized Men
Do not worry if you are a plus-sized male. These shirts and sweaters look great on everyone. You can wear it without layering it up so that it does not make you look too bulky.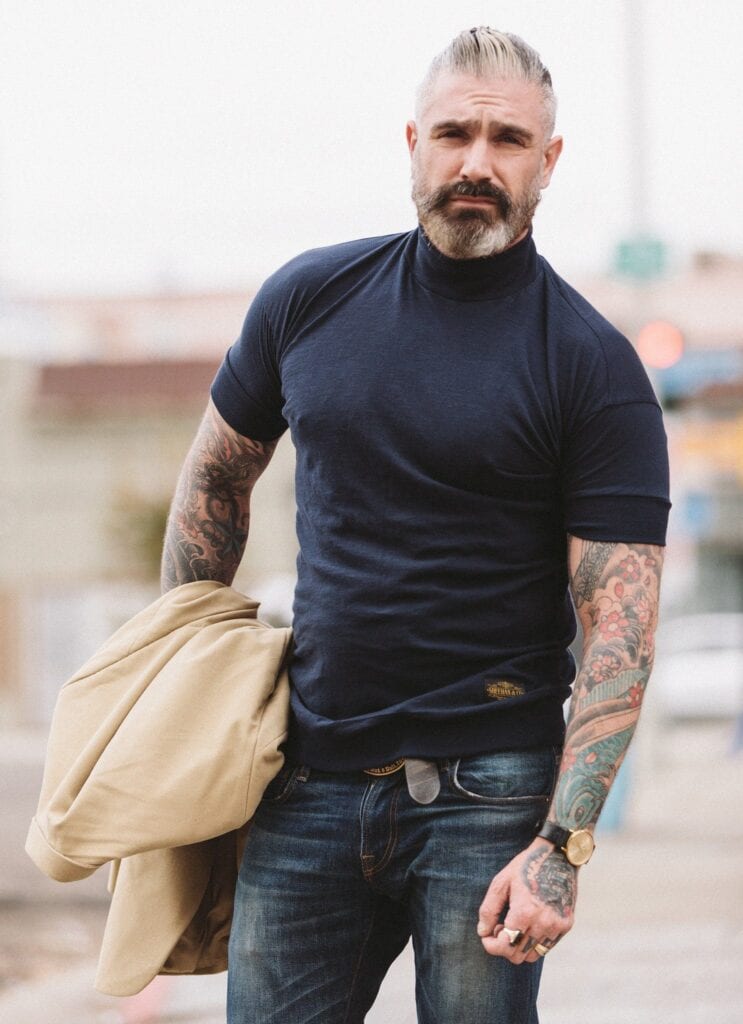 ↓ 2 – Different Layers With Roll Neck
Turtlenecks look best when they are layered with different items such as blazers and coats. Experiment with the ones you have in your collection.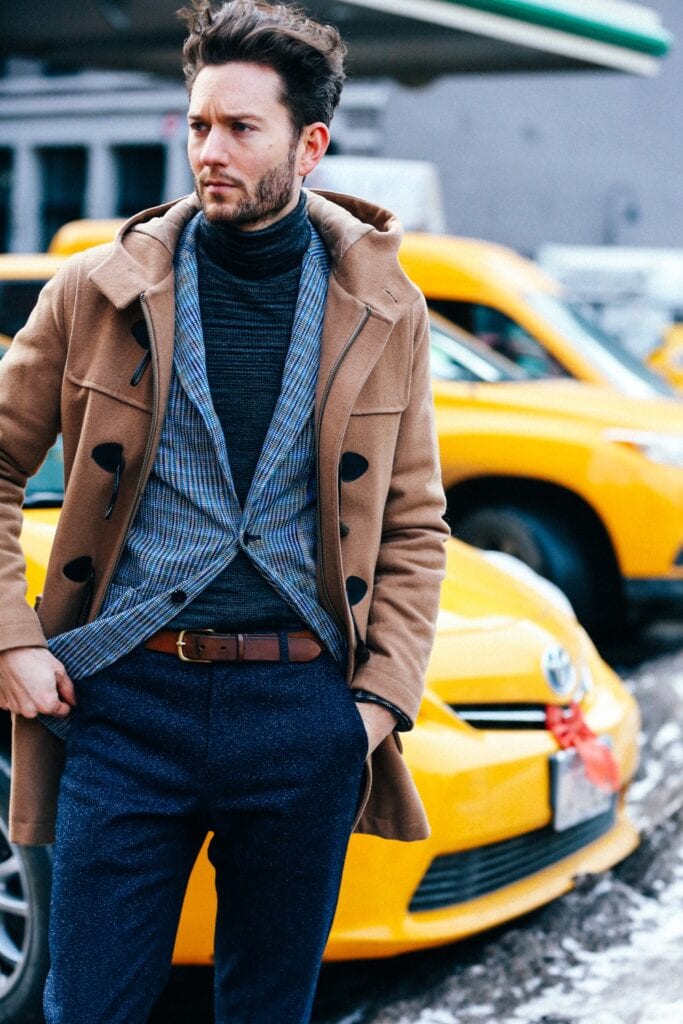 ↓ 1 – Fancy Outfit
If you need to go to a party or some formal event, you can wear your turtleneck with an embellished or fancy leather jacket.