How to put on cufflinks. Nothing says formal like a pair of classy cufflinks. Cufflinks as small as they seem are just as important as your dress shirt or pants are. They give a composed and collected look, adding a personal touch to it.  Made from glass, stone, leather, metal, precious metal or combinations of these, cufflinks are designed only for use with shirts which have cuffs with buttonholes on both sides but no buttons.
There are a few rules when it comes to cufflinks or else the fashion police will come at you. I mean, the type of shirt you can wear them with, what's the difference between studs and cufflinks, what color looks good, which material or design to choose etc. But, you do not need to fret we have you covered in this article.
Tips on How to Style Cufflinks
Firstly, choose the correct shirt. Cufflinks go with French cuffs (or double cuffs) dress shirts
Then you need to fold the cuff. The end edge of the cuff (closest to your fingers) should fold back to form an even and lining.
Hold the cuffs together. Pinch the two open edges of the shirt cuff together so the two edges lay flat, away from the wrist. The inside fabric of the cuff edges should be pressed against each other. This will create the classic "kiss cuff".
After that, align the holes of the cuff. This will make inserting the cufflinks a lot easier and can reveal if your fold is even and aligned where it should be.
Insert and secure the cufflink. When your arms are at your sides, the decorative face of the cufflink should be outwardly displayed. Secure the cufflink depending on its style (capsule, bullet back, chain link, reversible etc.)
Always keep a quarter to half an inch of shirt sleeve visible if you wear a jacket.
What Are Cufflinks?
They are small decorative buttons, often worn on dress shirts for more formal wear. They date back to the 16th century but over the years they have evolved greatly and now come in so many different styles. They're definitely one of men's accessories that can never go out of style.
When to Wear Cufflinks
They are usually chosen for formal and semi-formal events as well as weddings and business attire.
↓ 10 – Cufflinks with Cuffed Shirts
French cuffed shirts are also known as double cuffed dress shirts. It is constructed in double length of a regular cuff. It is folded back over itself and secured with cufflinks. There is no button on the cuffs, hence the cufflinks. The cuff is to be folded in such a way that the holes are parallel to each other. The end edge of the cuff (closest to your fingers) should fold back to form an even and lining. Once that has been achieved insert the cufflink and secure it in place. The decorative face of the cufflink should be outwardly displayed. Now you are good to go and look classy on any occasion or event. If it's a French cuff option that you're going for, we would discourage you from taking your jacket off while wearing the suit – a double cuff shirt looks best in a formal look. Keeping this in mind, make sure your suit is not too heavy; do go for the thinner fabric, when dressing for the day. Also, have a look at these Top 10 Men Formal Shoes Styles And Ideas How to Wear them.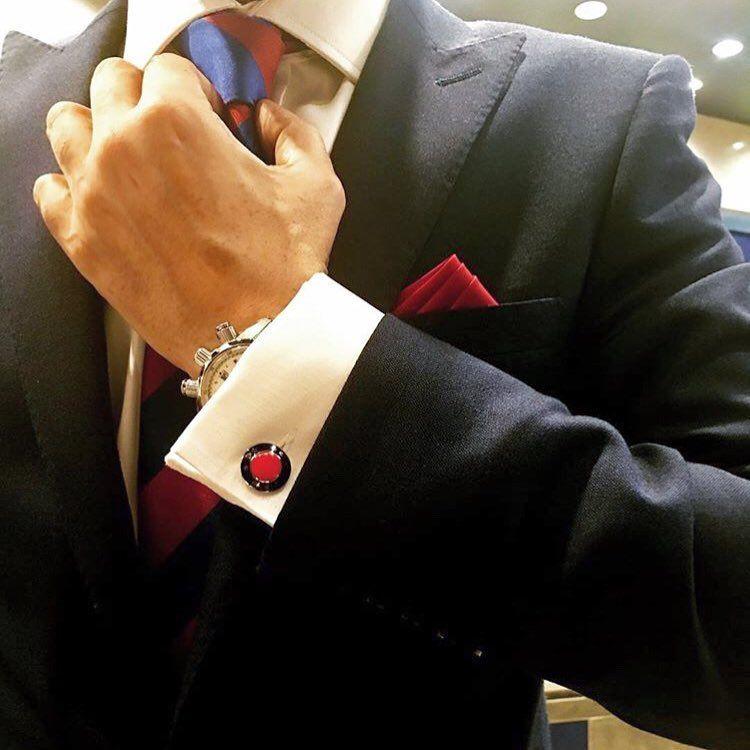 Step by Step Video Tutorial on How to Buy Cufflinks
Moving on, here's a video tutorial that will teach you EVERYTHING that you need to know about cufflinks from how to buy them to how to wear them in style!
Cufflinks with Single Cuffed Shirts
A Single cuff wraps around the wrist, usually with a single button for fastening. A Single cuff is the most common these days. It is functional, versatile and easy to wear. It also comes in a variety of shapes; it could be round, square or angled. In case of single cuffed shirts, it is pretty simple. You do not need to fold any cuffs so this option is easier and faster. All you need to do is put the cuffs on to of each other such that the holes overlap, perfectly. Next, put the cufflink in and secure it as explained in the tutorial above.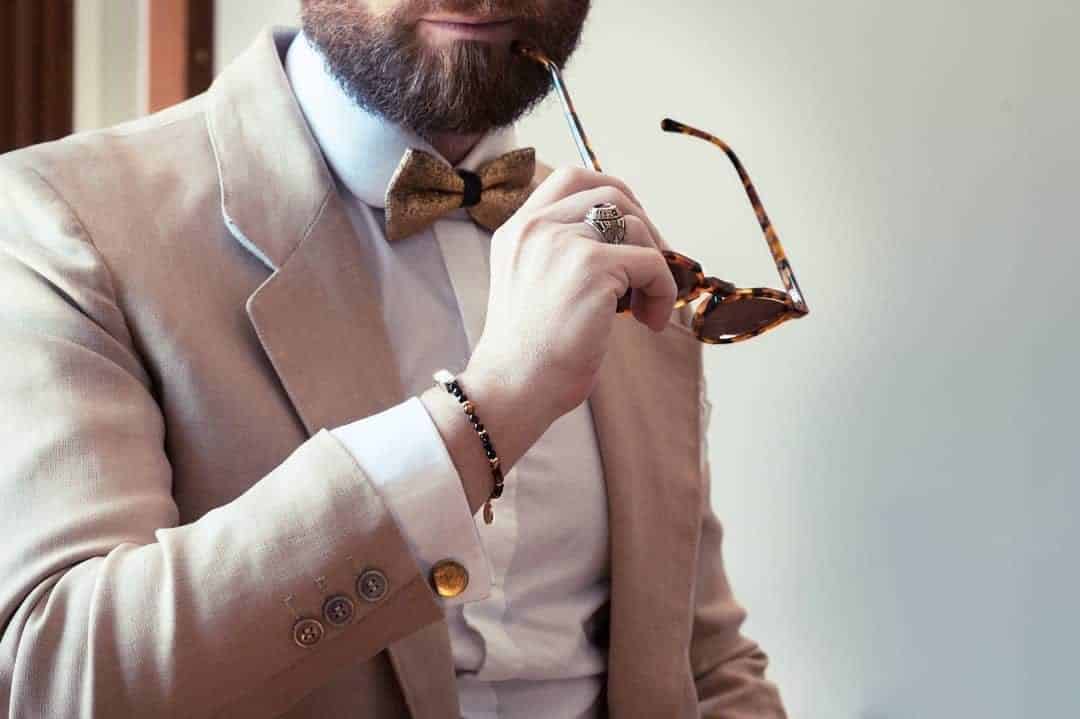 ↓ 9 – Cufflinks with a Suit
The color of your cufflinks depends on your dress shirt more than it does on your pant or coat. Different shirts and suitable cufflinks have been discussed below. A suit is most probably worn to a formal gathering or an office meeting so it is preferable to go with a decent pair of cufflinks. But, wearing something that looks extra every now and then does not do any harm either. It all really depends on your personal style. No hard and fast rules.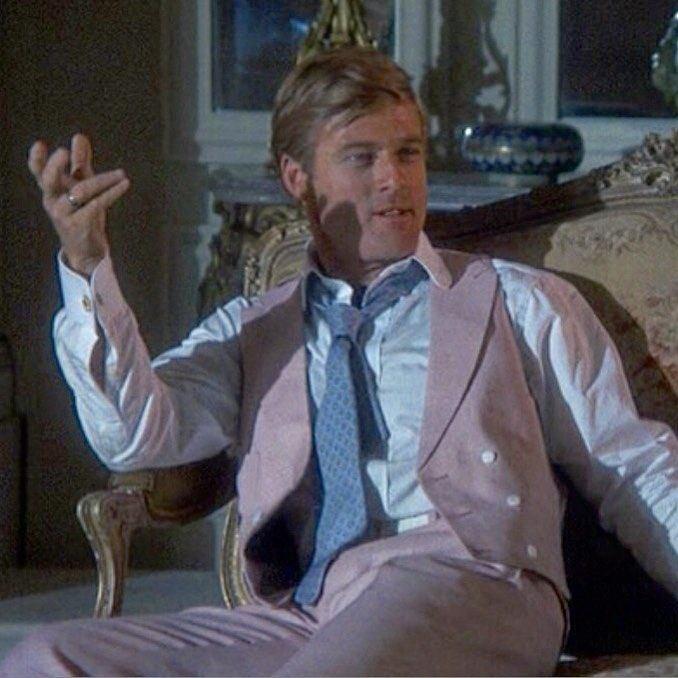 Cufflinks with a Black Tuxedo
Black tie events are generally more formal than other. Simplicity and elegance is the key. This is why plain minimal cufflinks will do a great job of making you look appropriate and well dressed. On black tie events always choose either gold, silver or black inserts such as an abalone stone or dark mother of pearl. You can also go with onyx or hematite. If you're getting prepared for a Black Tie event – meaning you are wearing a dinner suit and a bowtie – a crisp white shirt with a French cuff, without a doubt, would be the most appropriate.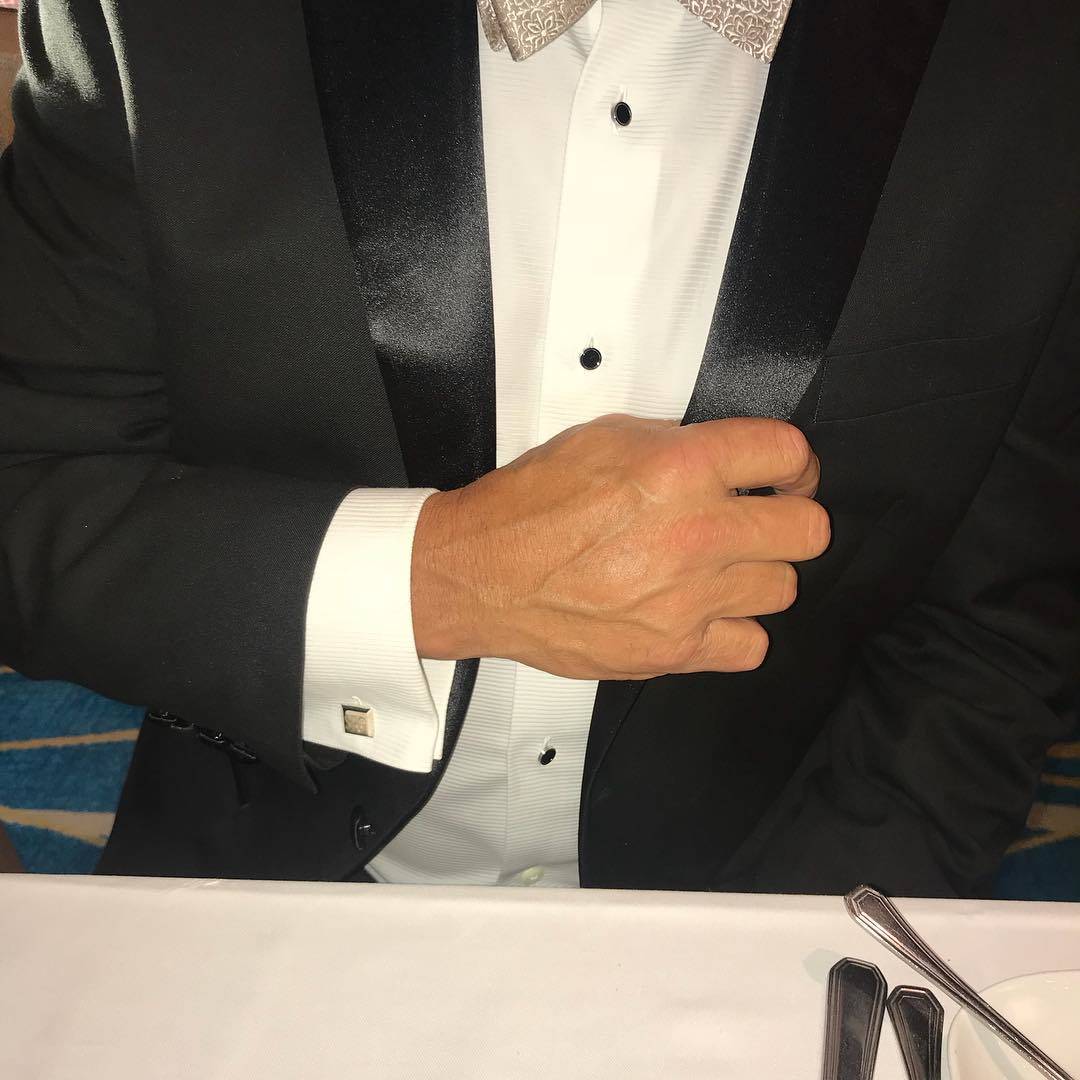 Cufflinks to a White Tie Event
White tie functions are more formal so you need to be more careful with your outfit. This means your cufflink game needs to be heightened, too. A good pair of Mother of Pearl cufflinks is perfect for such events, though that might be a little expensive. There are many cheap alternatives available on the market that can achieve the same look. A double cuff shirt is obviously more preferable on occasions like these because they appear to be more formal compared to single cuff shirts.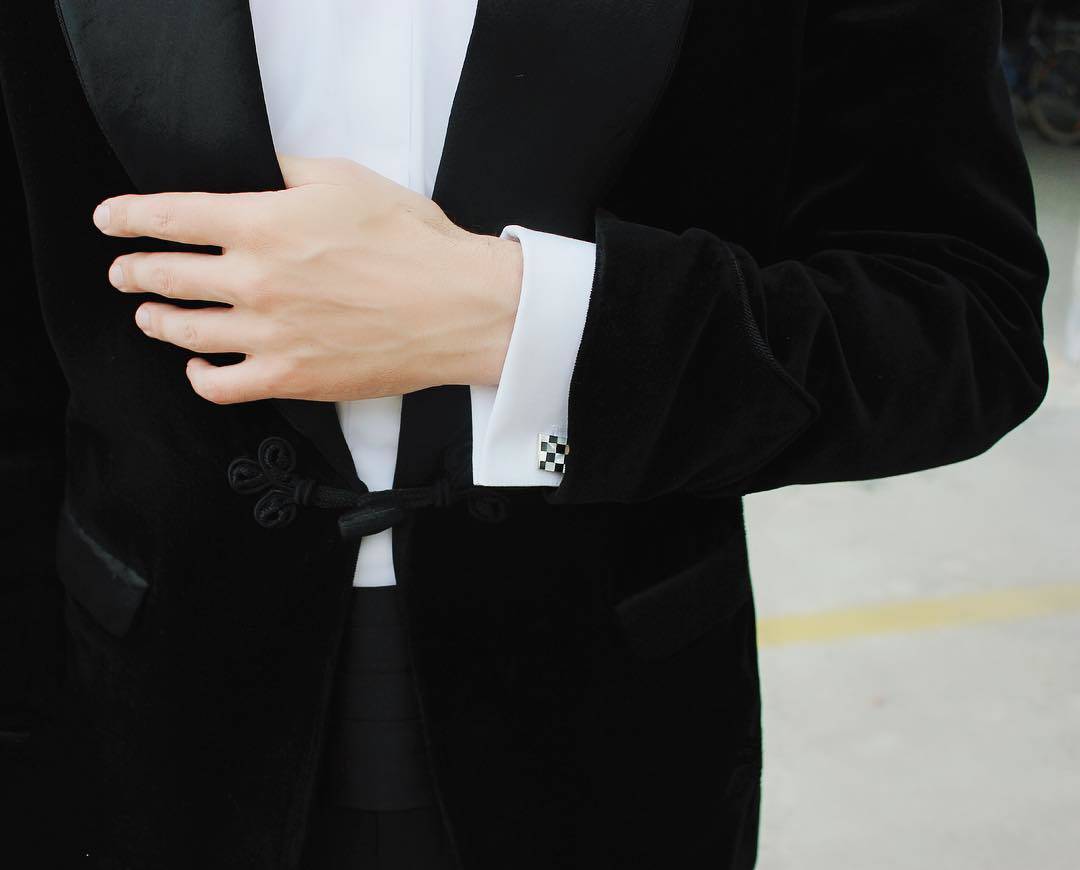 ↓ 8 – Cufflinks with Solid Colored Shirts 
Your own sense of fashion matters a lot here. If it's a solid white-colored shirt then solid silver colored cufflinks might not work, as the two colors will blend together. A gold pair or something with a brighter color might do the trick, though. Here are 30 Amazing Men's Suits Combinations to Get Sharp Look.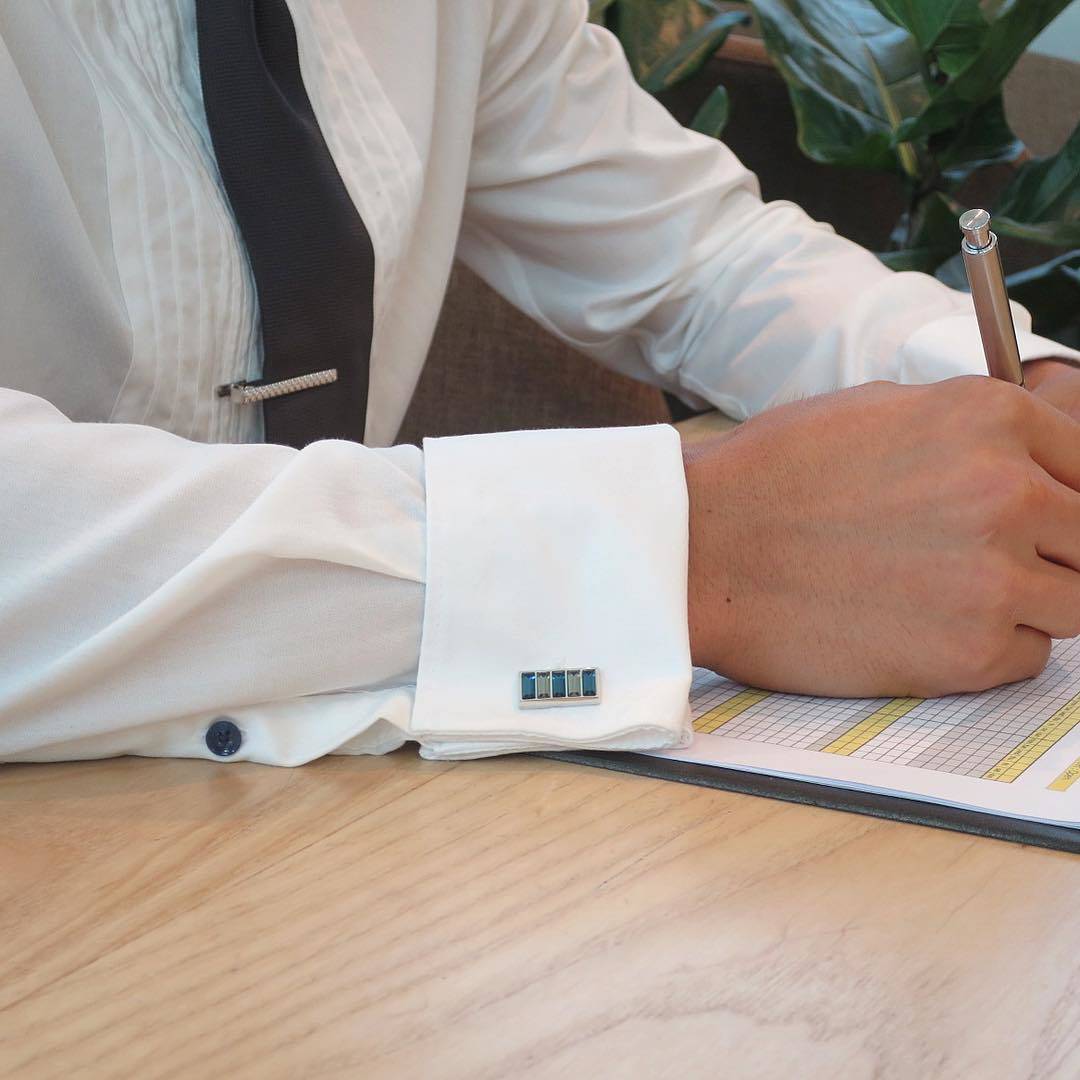 Cufflinks with Stripes
You need to be careful to choose cufflinks with the same color as that of the stripes. Adding a third color might aid in making you look like a clown. The colors do not have to be exactly the same but something in the same hues will do the work.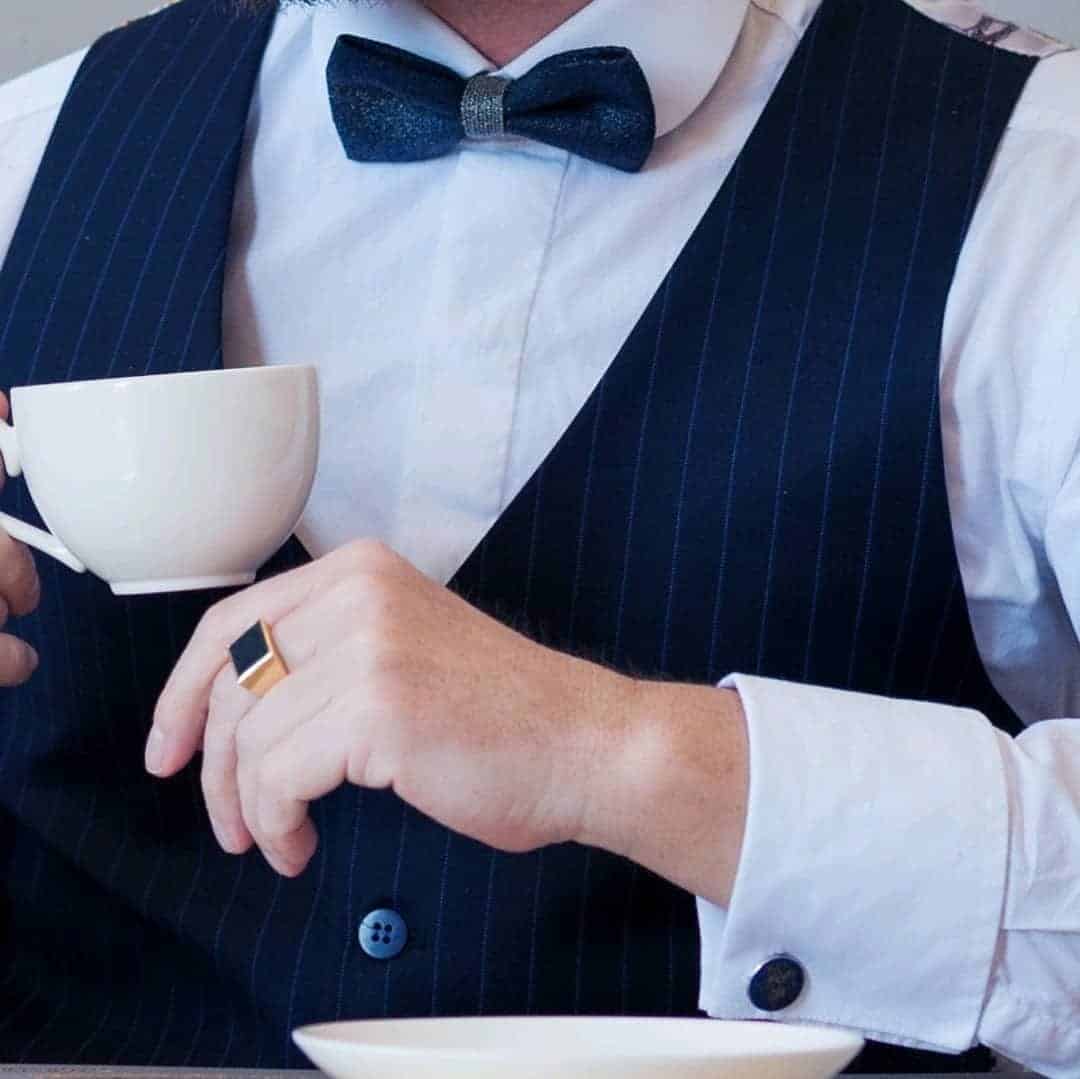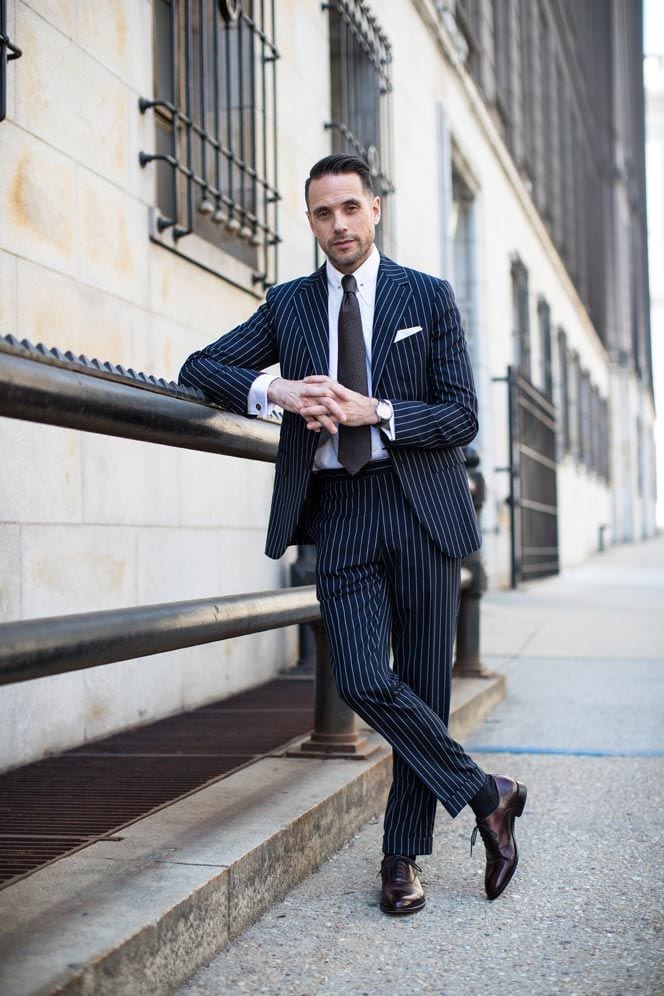 What Cufflinks To Wear with White Shirt
White shirts themselves are simple and elegant. The best thing is that anything looks well with them so you have a gigantic range of choice. If you want to go a little bold then choose colors like red, green or blue. If you want to stay lowkey and simple then black or gold cufflinks is our perfect choice. It all depends on your mood and sense of style.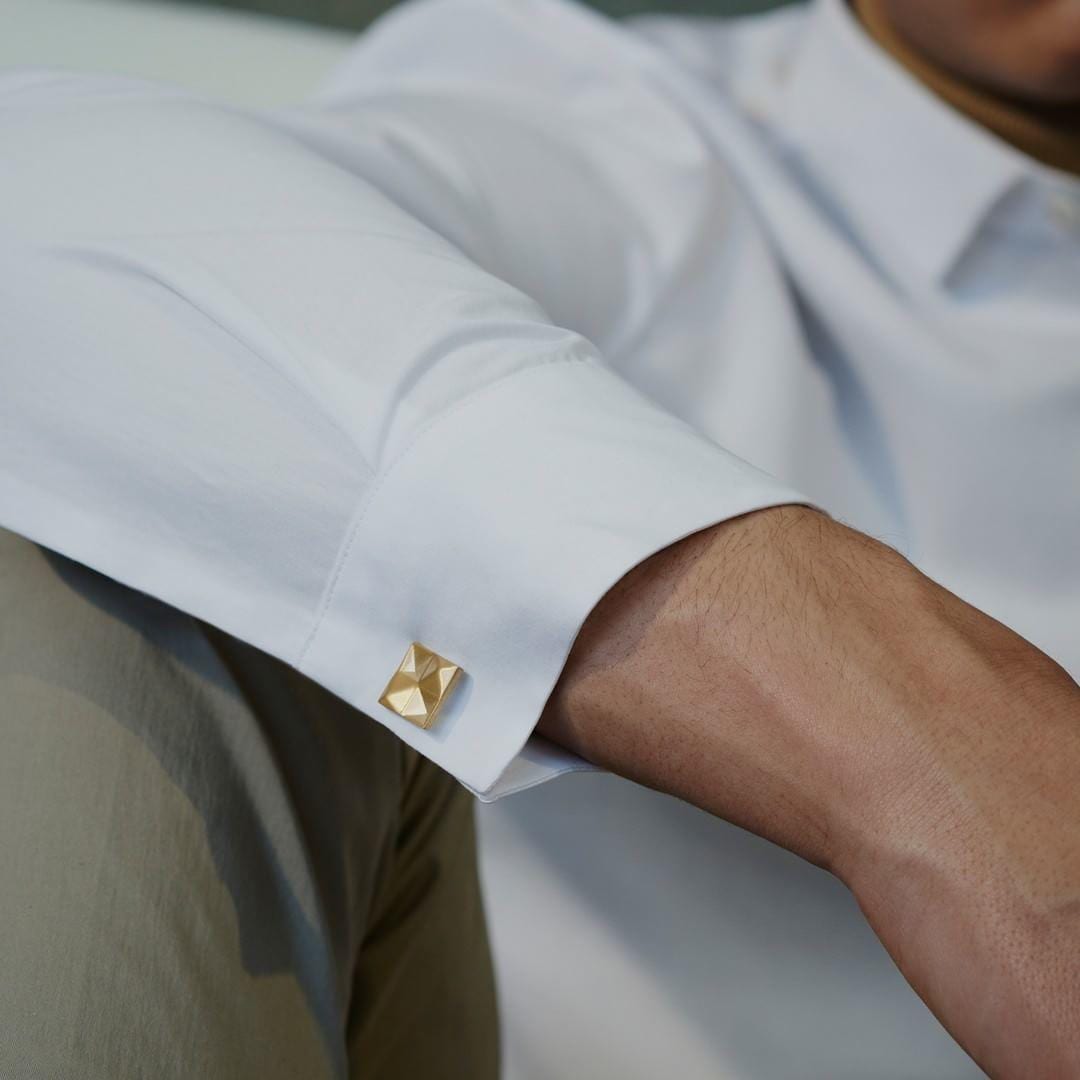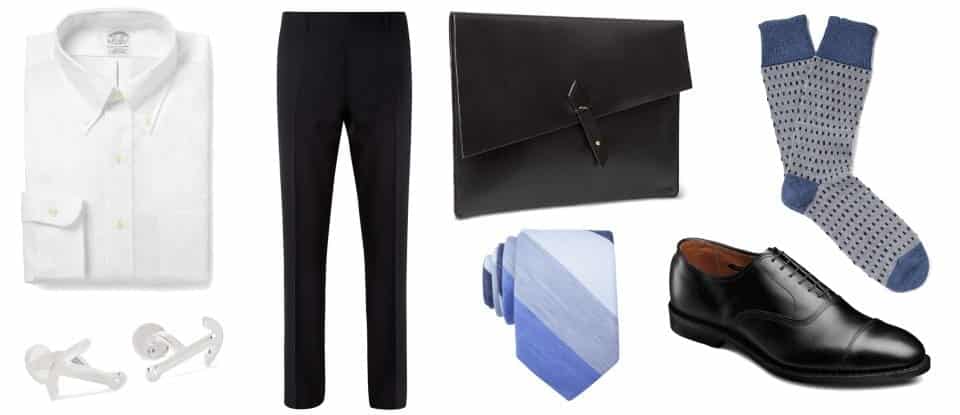 Cufflinks on a Regular Shirt
A pair of cufflinks fulfill your quota of being extra on a regular day. When there is no black tie event to attend but you still want to dress up a little then go with a simple single cuffed or french cuff shirt to wear your cufflinks with. The best thing is that there is no dress code so you can even pull off your silly ones, like a pair of Batman cufflinks or your favorite cartoon.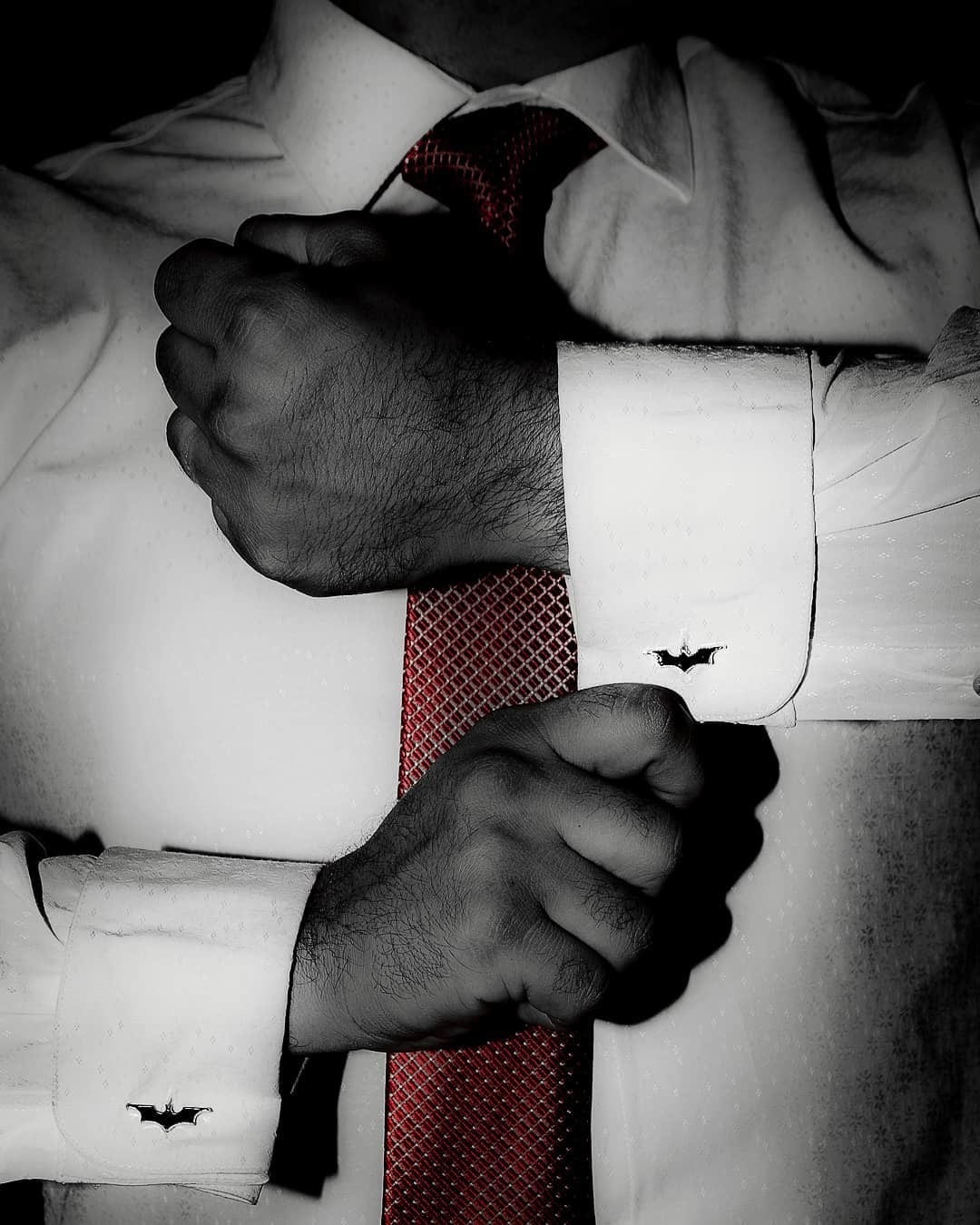 Cufflinks on a Shirt With Buttons
You cannot wear cufflinks on shirts with buttons. It is technically not possible. The main function of cufflinks is to secure the cuff and shirts with buttoned cuffs already have this feature, so there is no point. Please, do not try to force the cufflink in the buttonhole.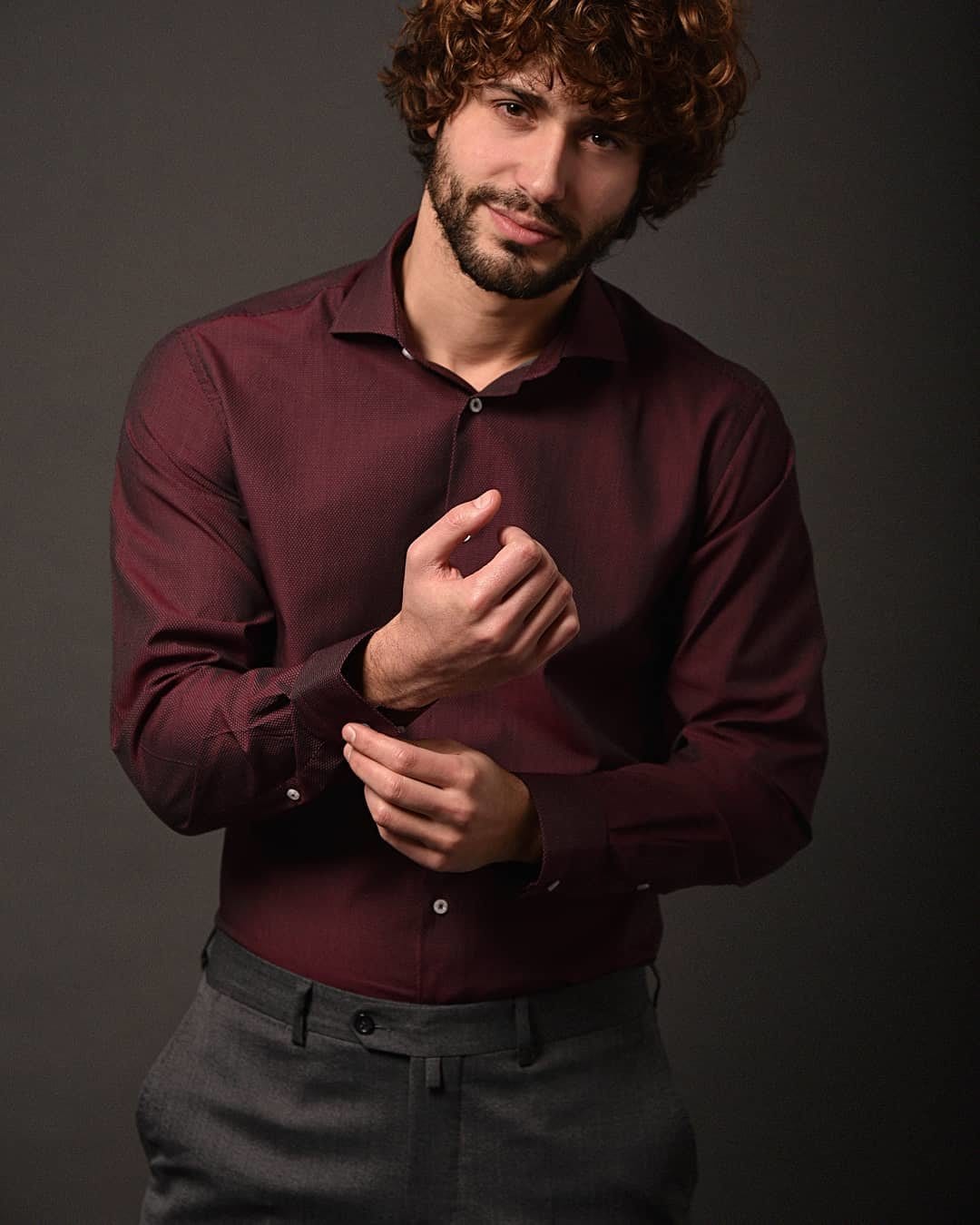 ↓ 7 – Unique Styled Cufflinks 
If you have a hipster soul inside of you then be afraid to show it off. There is a huge range of design out there on the market to match your personal style. Choose some silver savage cufflinks featuring a skull design with a headband and fluffy black hair to give a subtle hint of your wilder side to the world while looking classy and composed at the same time.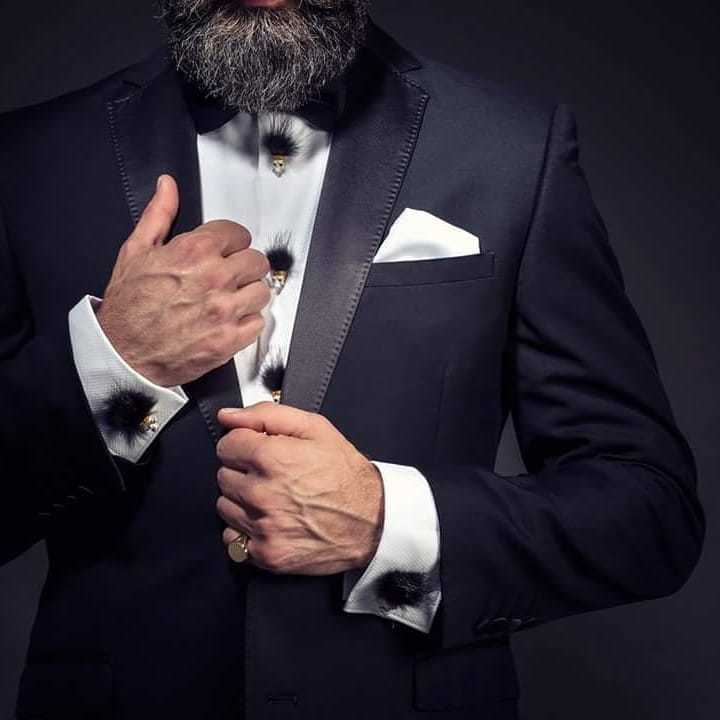 ↓ 6 – Cufflinks with a Three Piece Suit
A three-piece suit is either worn to special extremely formal and important occasions or for your Instagram post. In both cases, your outfit will be thoroughly observed so it is advised to get it right down to the tiniest details. A double cuff shirt would make your look more refined. Additionally, a pair of thoughtfully selected cufflinks might send the right message to the observer and tell a bit more about your personality. Also, check out these 18 Tips What to Wear for Business Casual.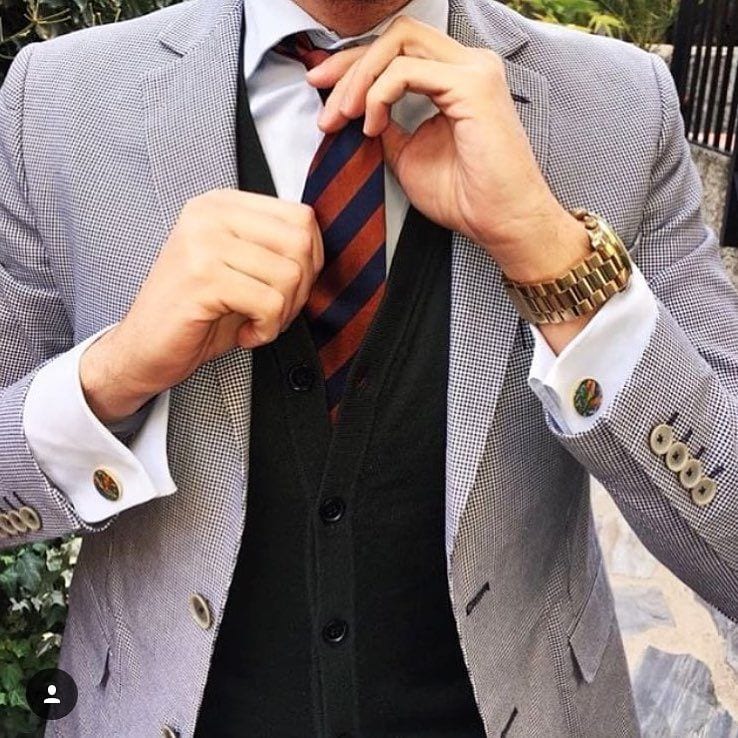 ↓ 5- Cufflinks on your Wedding Day
It is your big day and everything needs to be on point. Your outfit matters the most because being the center of attention all eyes will be focused on you. So, it is best to look top notch from head to toe. Every minute tenny weeny detail matters. Go for a pair that says sophistication and class. Try to avoid any bright colored or funny shaped cufflinks, you don't want all the wedding guests whispering about your crocodile faced cufflinks. I think this is the first time someone is using the words crocodiles and weddings in the same sentence, so well that is a huge NO.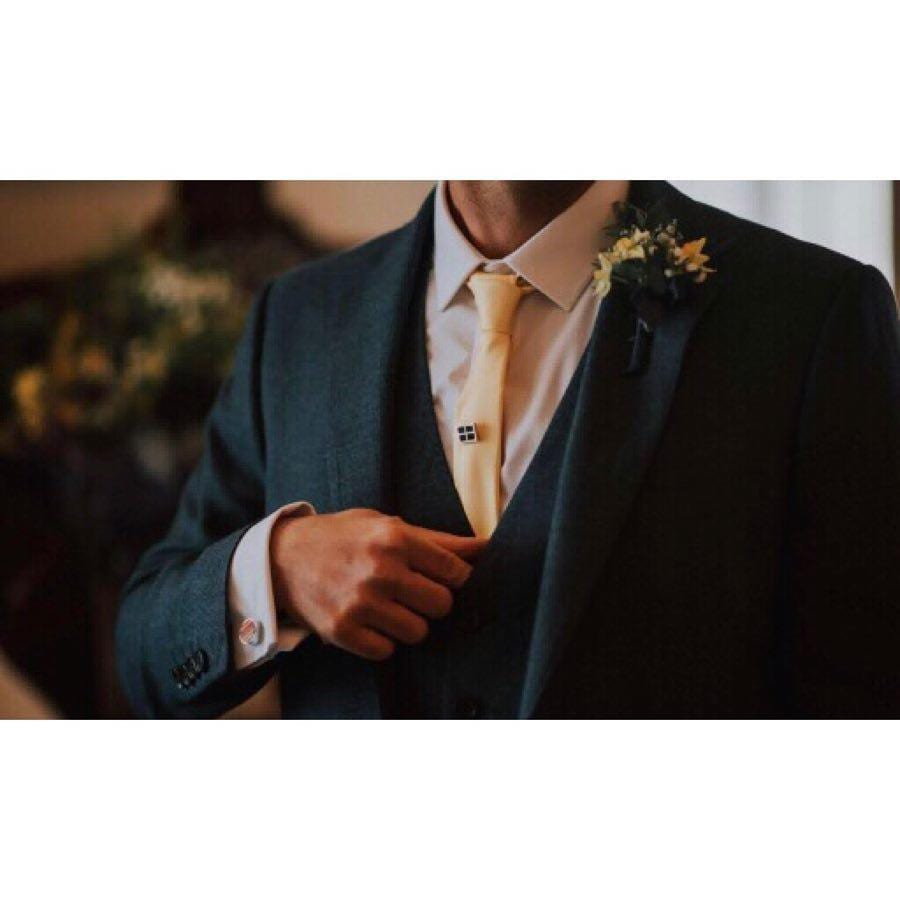 Matching Your Cufflinks 
This depends entirely on your outfit and cannot be generalized to one rule. But, if it still has to be said in a few points then it will go something like this: match your cufflinks with your coat, jewelry, shoes, lapel pin or bow tie etc. You can also match it with a printed shirt. Choose the color of the print (not the base) to match your cufflinks. In case of stripes go for a simple pair of one of the colors of the stripes.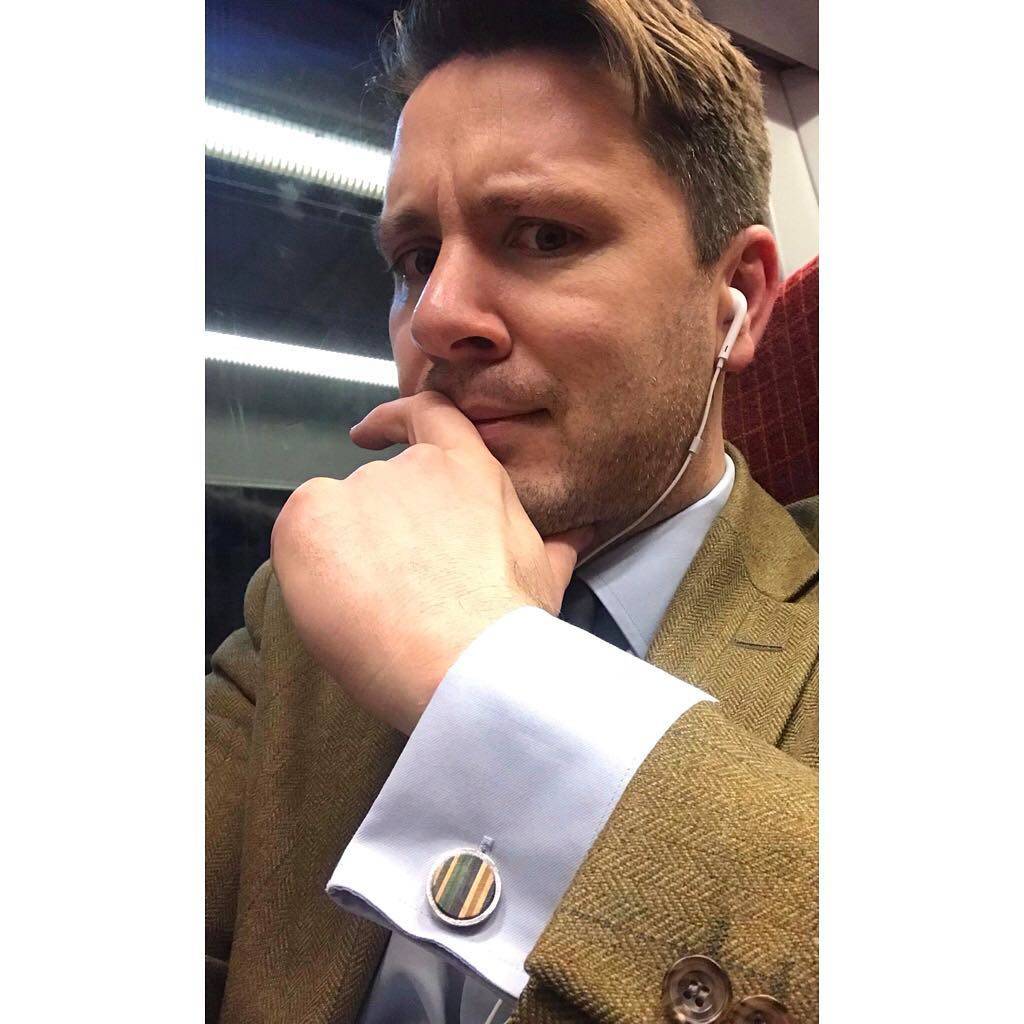 Bright Colored Cufflinks
Bright colored cufflinks look good and popping on solid neutral colored dress shirts. The color pops attracting people's sights and fetching compliments. But wearing it with the wrong shirt and the compliments can turn into whispers behind your back and the looks will be filled with distaste instead of awe.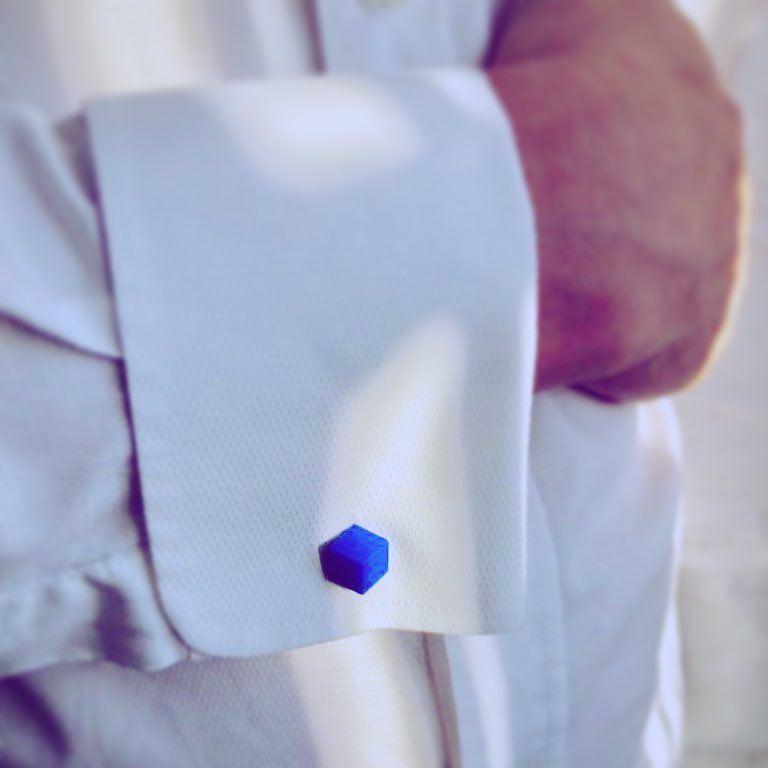 ↓ 4 – Cufflinks with a Jacket
The only part of your dress shirt showing in winters are your cuffs because of all the layers on top. This is why it is necessary that your cufflink game is up to the mark. At times you might prefer wearing a smart v-neck or crew neck knitwear instead of a jacket or simply want to throw in another layer of clothing into the mix because it's chilly outside. If that's the case, we recommend wearing a single cuff shirt instead of a double – it would look much tidier underneath your knit and won't stretch its sleeves too much.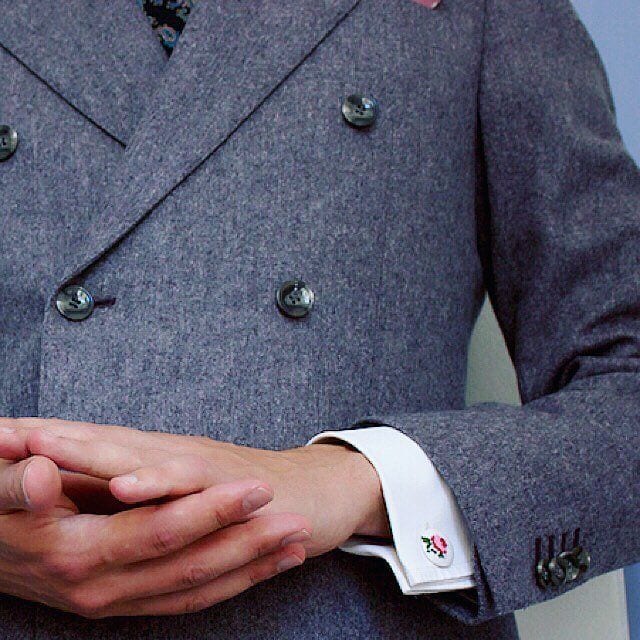 ↓ 3 – Wearing Expensive Cufflinks
Cufflinks are jewelry for men and those with expensive taste definitely like it made of gold. But, you need to make sure that you do not give an impression as a show-off. Showing off your money has the opposite effect f what you are trying to do so always keep it simple and let your personality show your class. Like these 18 carats gold cufflinks really do scream sophistication and are the perfect choice for any discerning gentleman – and the lime green border and sapphire center perfectly adds a subtle pop of color to your attire. Have a look at this ultimate guide on How to Make Bow Tie and 16 Cool Ideas to Wear Bow Tie.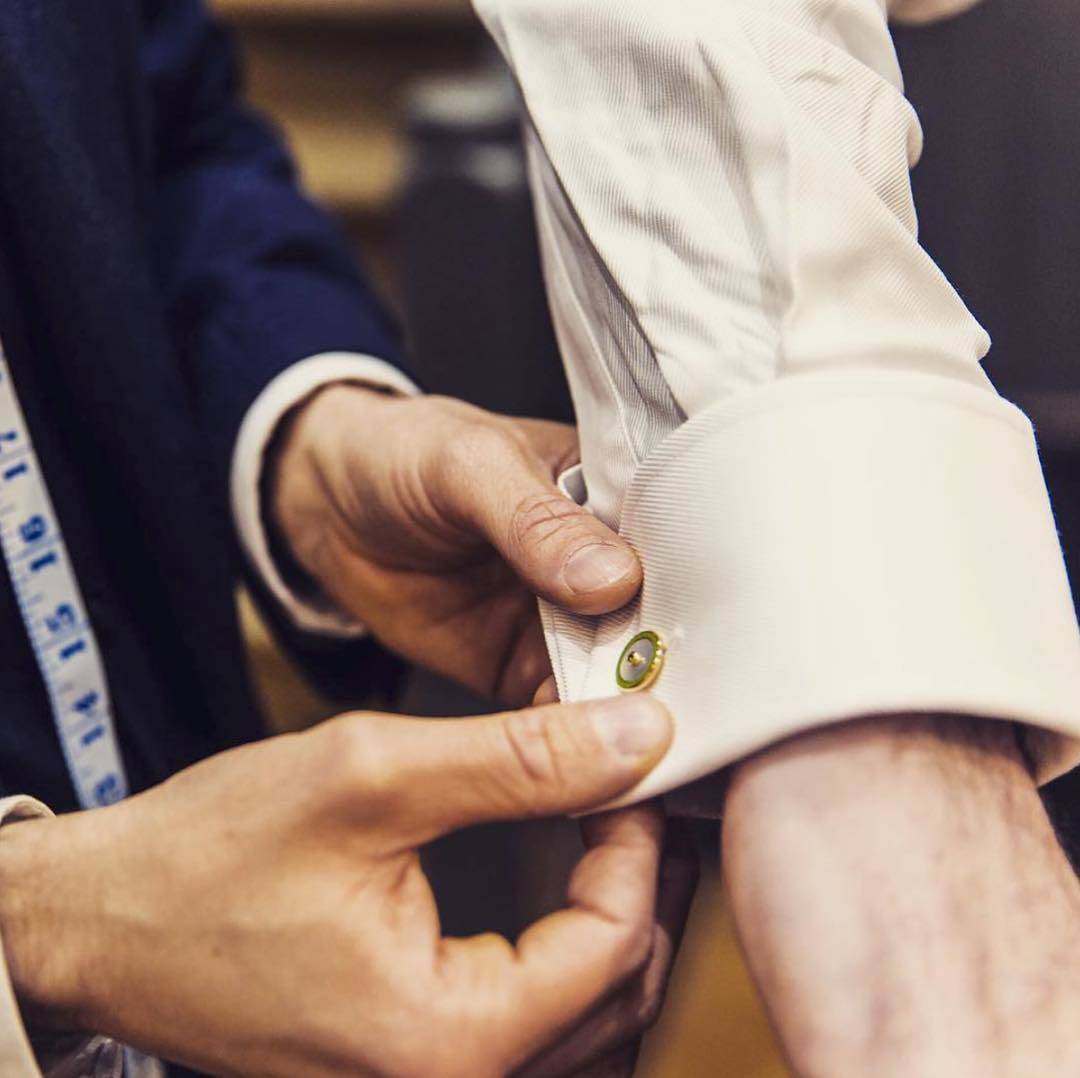 ↓ 2 – Cufflinks with Other Accessories
Your cufflinks need to be in contrast with rest of the jewelry you have embraced. All these things are part of your outfit they all contribute to your look. Just like your shirt or jacket your jewelry needs to be in coordination with rest of your outfit. For example, a gold ring with silver cufflinks just won't do. Similarly, if you choose to wear a bold colored pair of cufflinks, try that rest of your jewelry is either of that color or something in the same contrast or one of the basic neutral shades.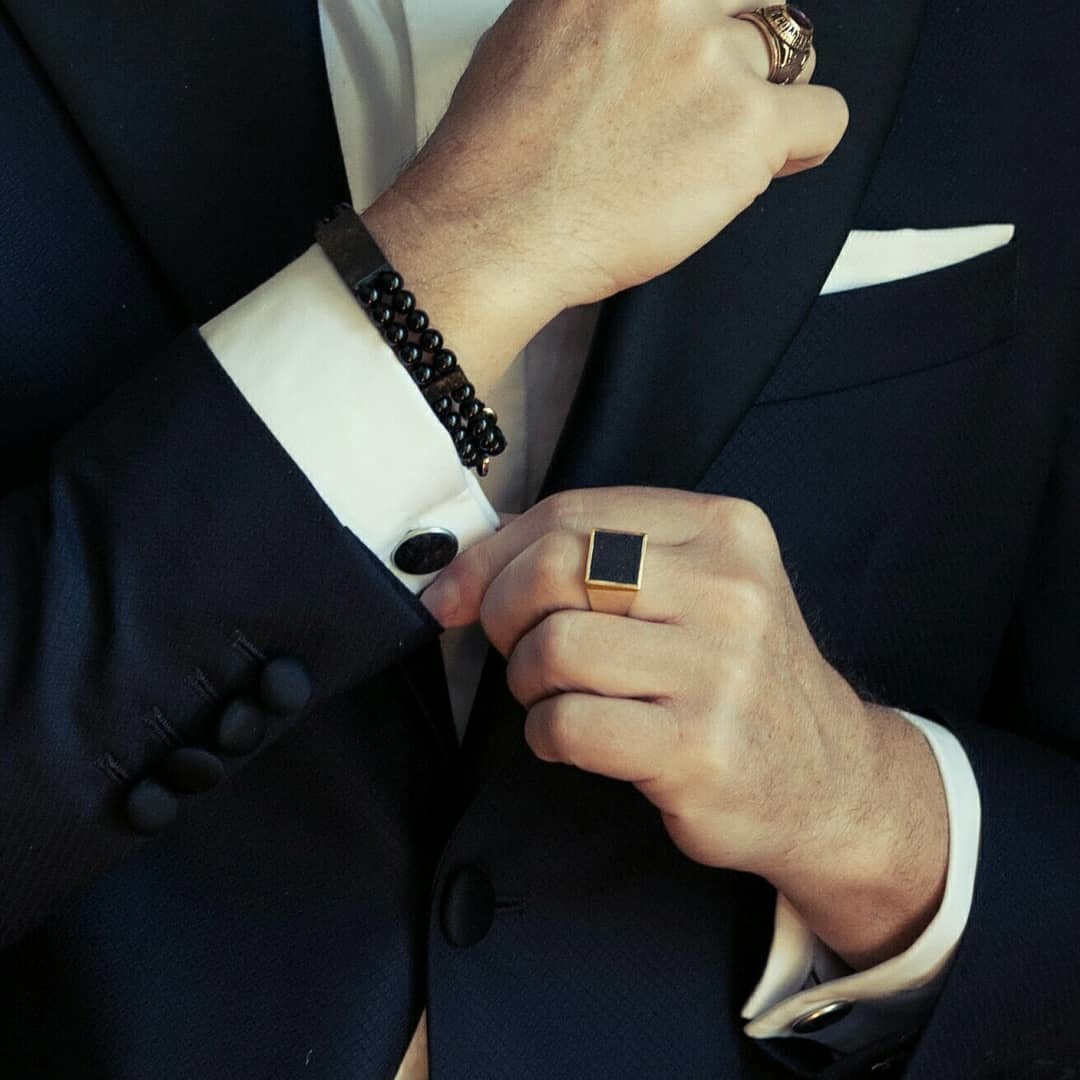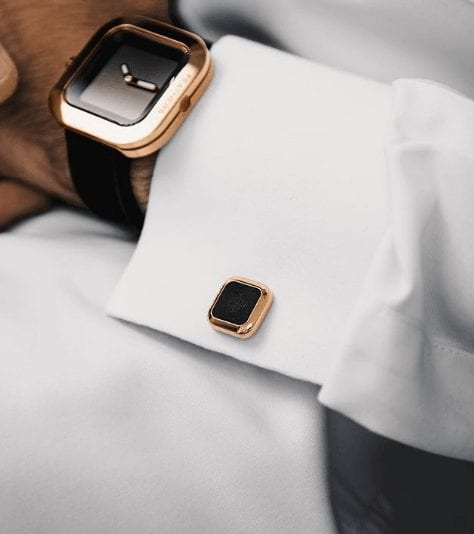 ↓ 1 – How to Match Cufflinks with Rest of Your Outfit
Your cufflinks should not be the same as your solid colored shirt because they will not be visible. try matching them with your tie or bow ties. This gives a collective contrast to your outfit. You can also match them with your coat or jacket. Or other pieces of jewelry like your lapel pin or rings etc.