Black Pants with Brown Shoes for Men. Many would say the contrary, but black and brown if paired correctly make for the best duo ever. They complement each other like old lovers do. Here's all you need to know about pairing these two colors together.
So today we'll be sharing some of the most awesome looks using this timeless combination.
How to Pair Brown Shoes with Black Pants for Men
Here are some tips to remember
If you are wearing brown shoes, your belt should be of the same color
Slim fit black pants are considered very fancy these days
White, black and, brown; your outfit should be in this order
Wearing a lighter shade of brown shoes is difficult to pull off for most
↓ 20 – When to Wear Brown Shoes
Brown shoes are a part of every stylish man's wardrobe. It's almost impossible not to have even a single pair of brown leather or suede shoes. These shoes can be worn casually when paired with tees and jeans and you can also rock them with a suit. They perfectly contrast most colors and look extremely dapper. RECOMMENDED: Brown Boots Outfit for Men- 30 Ideas What to Wear with Brown Boots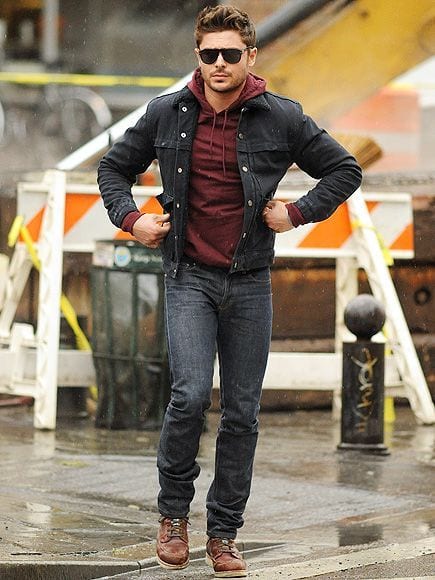 ↓ 19 – Shirt Colors When Wearing Black Pants with Brown Shoes
When wearing brown shoes with black pants you can combine these with most of the colors. But you have to be careful as to not appear like a fool. Some shirt colors that can never go wrong include white, grey, black, maroon and dark blue.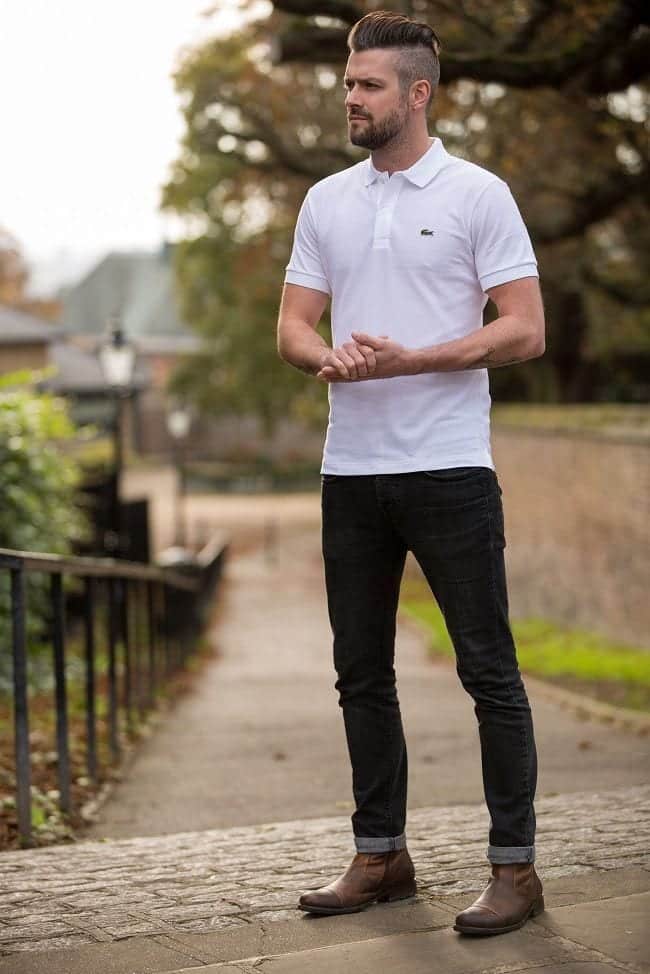 ↓ 18 – Black Pants and Brown Boots for College
Black pants and brown shoes exude a very chic look. No other color shoes go with black slacks like brown as it is neither too formal nor too informal. It makes for the ideal balance between the two.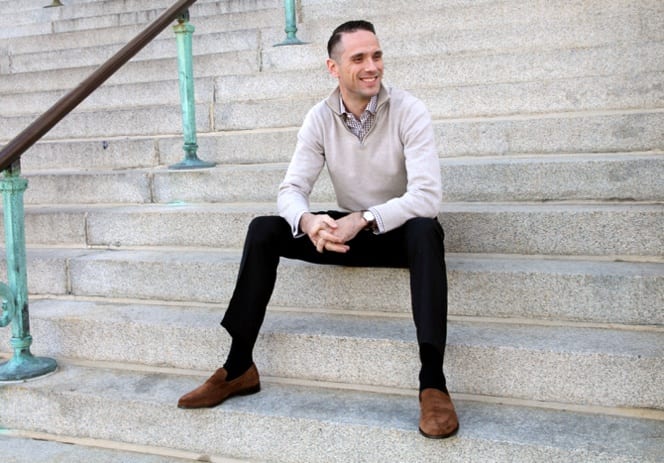 ↓ 17 – Work Outfit
Most men wear black suits to work. But if one pairs this black suit with black shoes and black dress shirt he'd look like he is heading to a funeral rather than his office. Black suit with white shirt is another work outfit and can be paired with either black shoes or brown ones. With black though, the look appears too strict. Brown, on the other hand, is stylish but admittedly difficult to pull off. When pulled off correctly it looks bonzer! Here's a complete guide on How to Wear Brown Shoes-16 Men Outfits with Brown Dress Shoes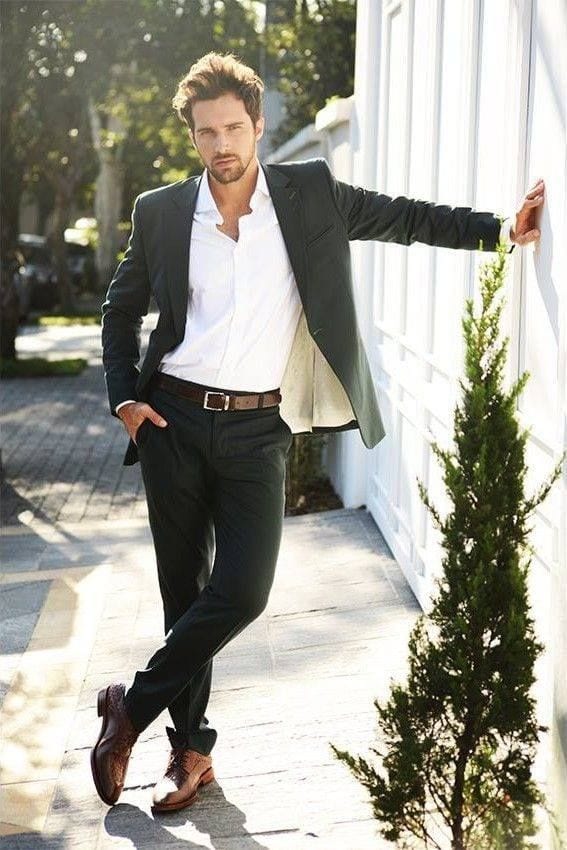 ↓ 16 – Winter Party Outfit in Brown Shoes
Brown is always the right choice. When paired rightly with casual party clothes, it looks very classy. As any other funky colored shoes can just not have the sass brown ones do. With a white shirt and blue ripped jeans, brown shoes look modish and smart like nothing else can!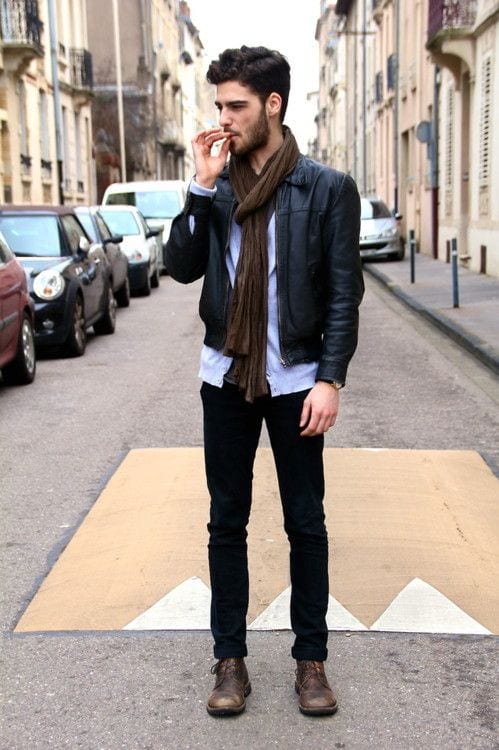 ↓ 15 – Brown Shoes with Black Jeans
Many might consider a black jeans and brown shoes blend as a fashion blunder. However, if done cleverly, together they look too hot to ignore. Brown shoes and black jeans give a very masculine and vintage vibe that is a total heart winner! Check out these Black Jeans Outfits for Men–18 Ways to Wear Black Jeans Guys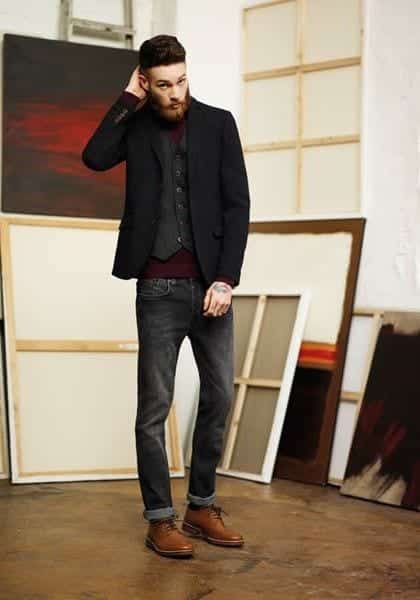 ↓ 14- Latest Brown Shoes
LLOYD Gabriel Plain Toe Derby Shoe for Men in Brown and Robert Wayne Chukka Dress Boot for Men top our list of incredibly fly brown shoes of 2017. These are sure to make men look debonair!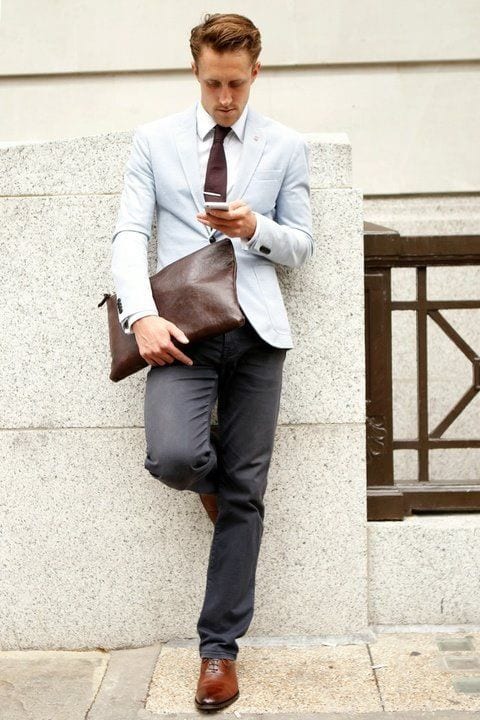 ↓ 13 – Casual Outfit in Brown Shoes and Black Trousers
Black trousers and brown suede shoes perk up a man's appearance. Play with colors and follow the fashion rules that will light your way. For a more classic and polished look, go for Chelsea boots. Don't be scared to break stereotypes. Add stylish accessories to jazz up the look even more like a watch and sunshades etc., etc.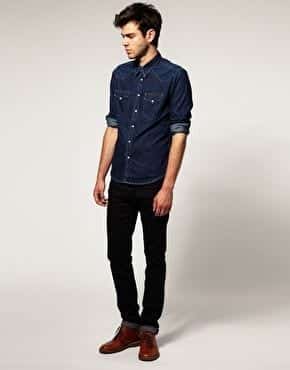 ↓ 12 – Belt to Wear with Black Pant Suits and Brown Shoes
One fashion mantra is to try to match the color of your belt with that of your shoes. Unless you are donning a pair of white or some other bright colored shoes. With black pants and brown shoes a matching brown belt will do perfectly. RECOMMENDED: 30 Amazing Men's Suits Combinations to Get Sharp Look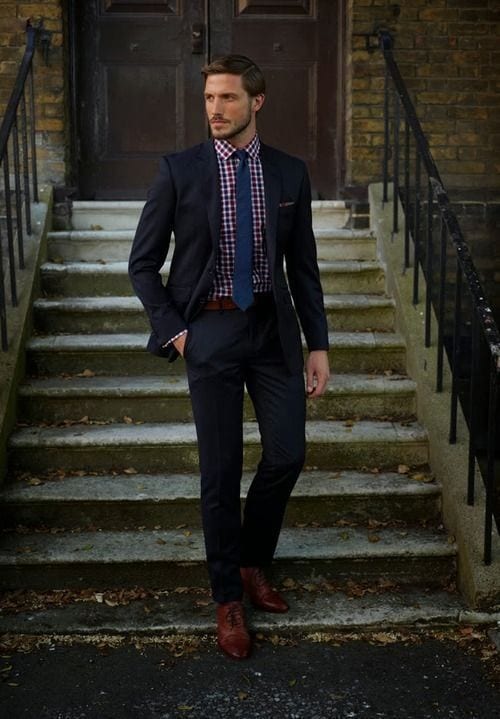 ↓ 11 – What to Wear with Light Brown Shoes for Men
It's comparably easier to pull of deep brown shoes than a lighter tone. However, light brown shades of shoes also look top-notch if properly done.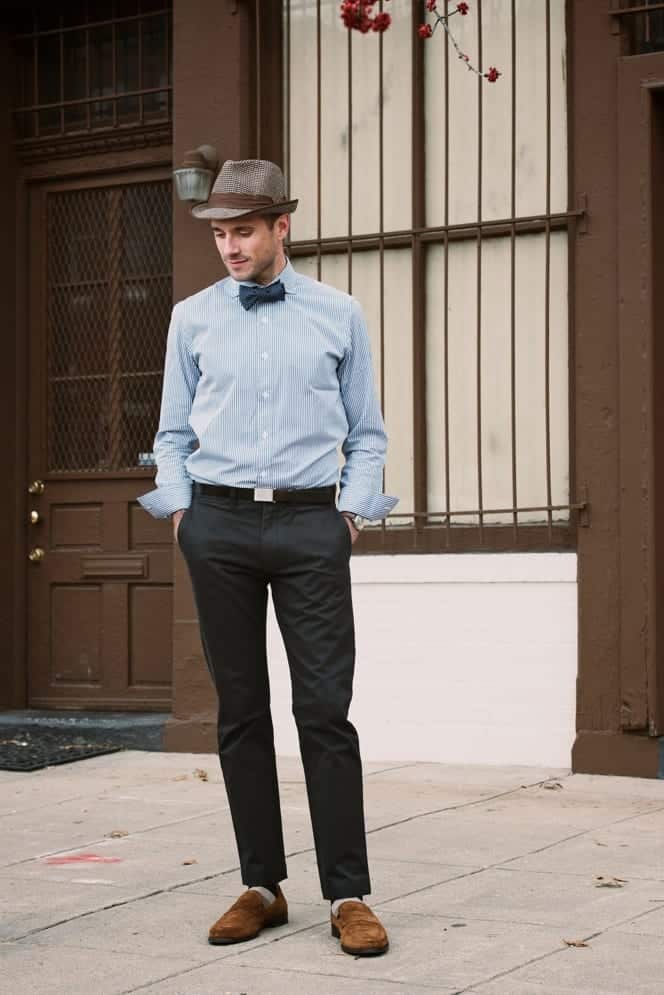 ↓ 10 – Black Slacks with Brown Leather Shoes
There are several types of black slacks. Paired with mahogany brown shoes, the look is very sophisticated. Here are some amazing ideas on Men Scarves Fashion; 18 Tips How to Wear Scarves for Guys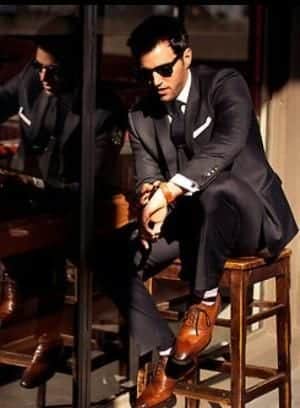 ↓ 9 – What to Wear with Brown Ankle Boots
Brown ankle boots can be worn with ripped and cuffed jeans of either blue or black color. When wearing boots, the trousers have to be worn up to the ankle. In this way, you can show off more of your boot and style. Brown ankle boots are highly popular these days and that's because of how extremely steezy they look!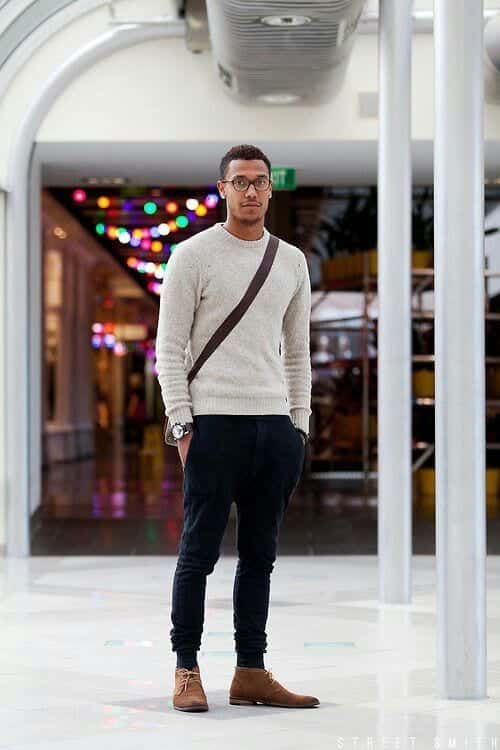 ↓ 8 – How to Wear Brown Shoes with Black Blazer in Winter
Brown shoes compliment a black suit greatly. They look voguish and tune down the extremely rigid look black shoes with a black suit give. RECOMMENDED: Men Blazer Styles -18 Latest Men Casual Outfit with Blazer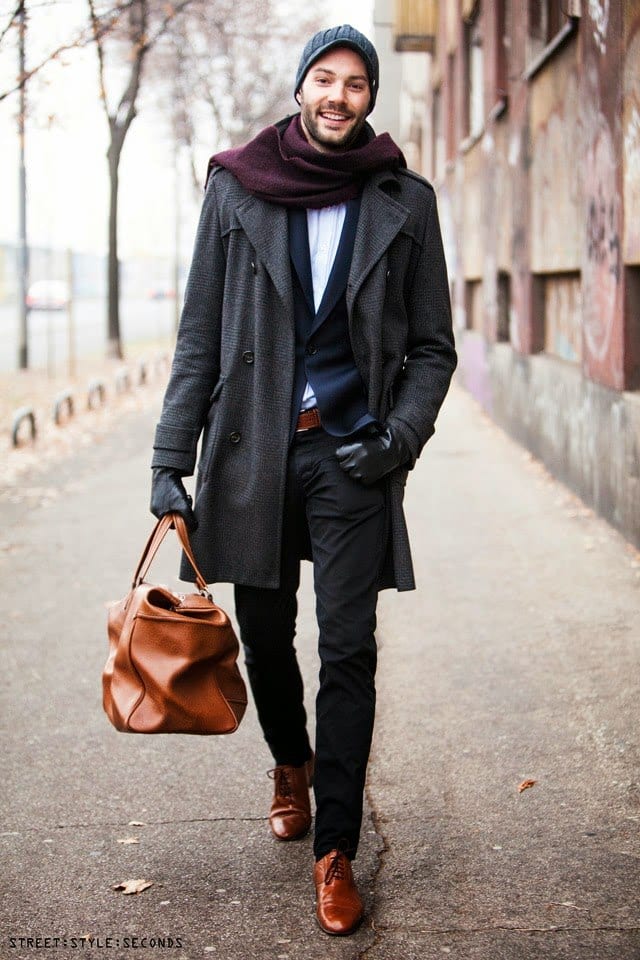 ↓ 7 – Black Slim Fit Pants with Brown Boots
Slim fit pants, tucked up by the brown boots give an elegant look. For a more formal look you can fold the hem of your black pants to boast your style to the max.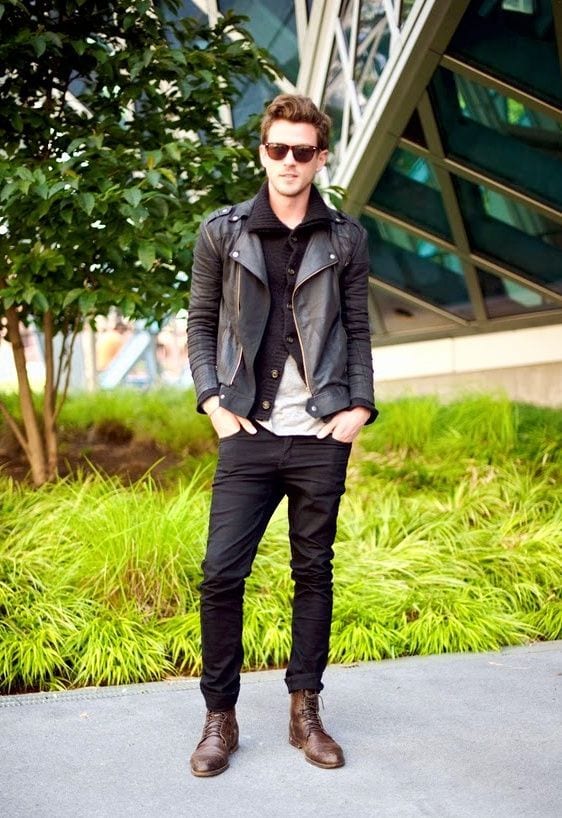 ↓ 6 – Brown Shoes with All Black Outfit
Brown shoes together with a black shirt and pants can look very suave if you can pull it off smartly. Make sure the color of your pants doesn't ruin the overall look but instead goes with it. Here are some cool Black Shirts Outfits for Men; 19 Ways to Match Black Shirt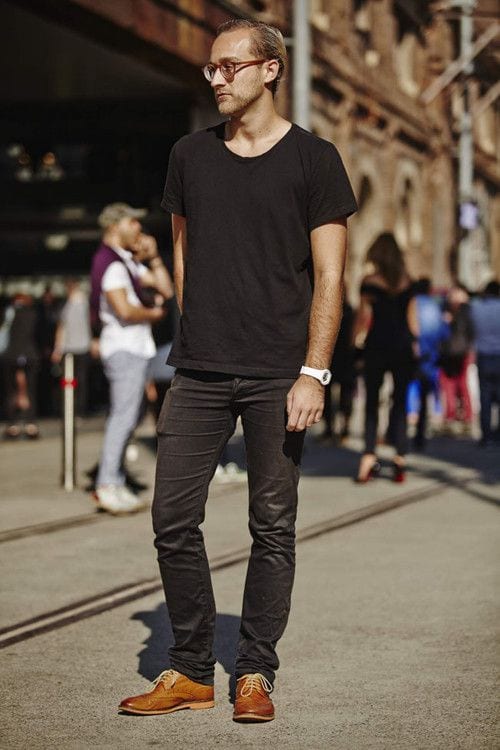 ↓ 5 – Brown Shoes with Black Pants and Belt
Typically, the color of your shoes and belt should always match. For breaking this rule, you have to be a bit too stylish to do so. However, the common man better not make a mistake like that.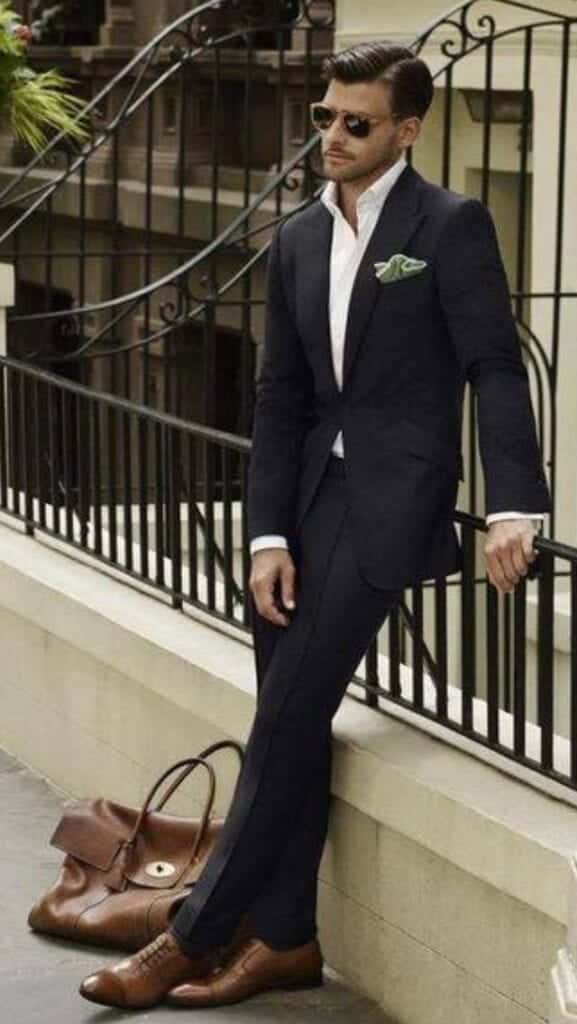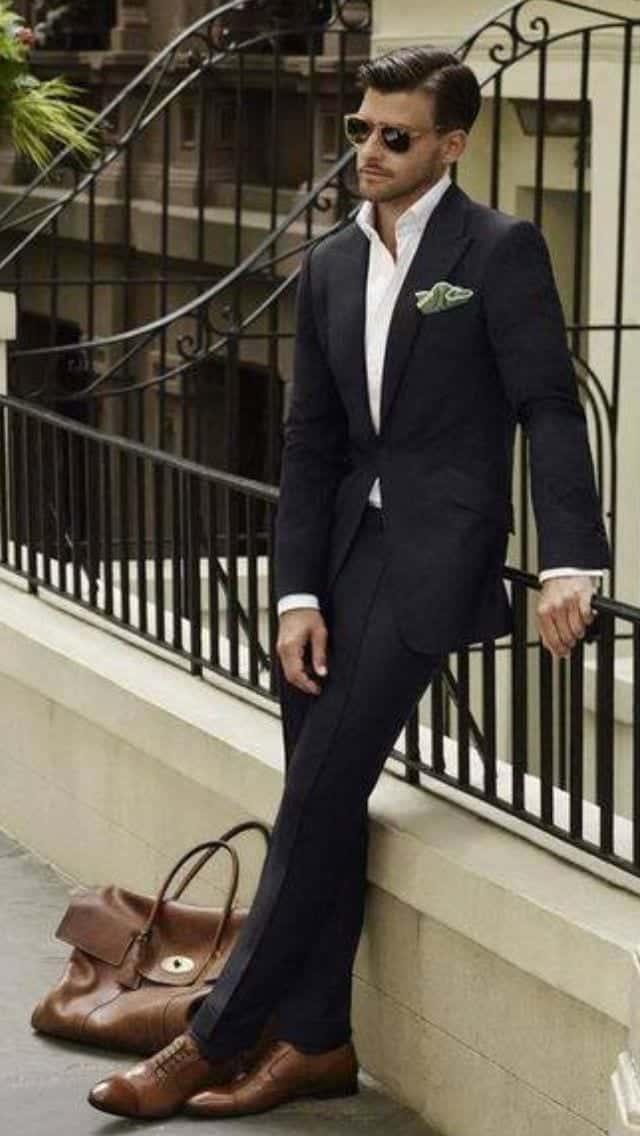 ↓ 4 – Brown Shoes with Black Blazer and Jeans
A spiffy look one should go for is pairing black jeans and blazer with brown shoes.
↓ 3 – Brown Boots with Black Jeans
If you know how to rock brown boots then you can do so effortlessly with black jeans! RECOMMENDED: Men's Workout Outfits; 20 Athletic Gym-wear Ideas for Men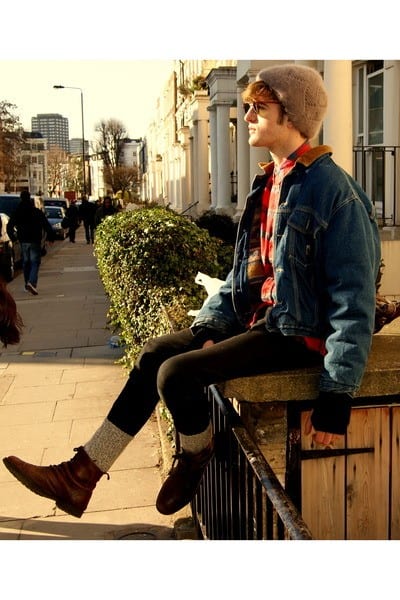 Via
↓ 2 – Brown Shoes with Black Pants and White Shirt
Brown shoes, black pants and white shirt? Yes, please! Combined these three give a very laid back look.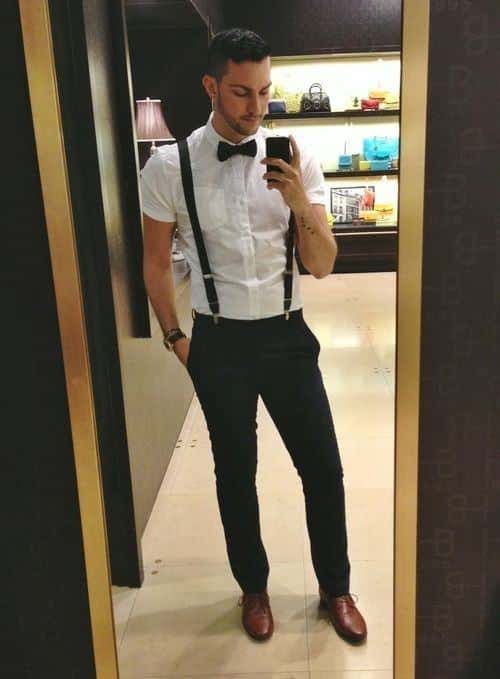 Via
↓ 1 – Brown Shoes with Black Pants and Grey Jacket
This is an ultra-modern combination that is surely going to help you make a style statement!