Men's 1990s Themed Outfits. The '90s were an iconic time for many reasons, the least of which being the wacky but very fun style trends. There were still some elements of the '80s dominating the scene (loud sweaters, anyone?), but for the most part, men's fashion was moving in a new direction, and of course, we have all the pictures and footage to prove it.
Men sometimes look in the candor of the past to get inspiration for their style. And 90s fashion is one of the themes that have inspired designers and fashion enthusiasts worldwide. Fanny packs, NBA jerseys, and Gameboys – welcome to the decade of innovative pop culture and emerging technology.
From the previous decade straight to the 90s, fashion lived in a more laidback yet rebellious era in terms of style. This is the decade that witnessed streetwear, sneaker culture, and athleisure. Justin Timberlake, Will Smith, and Tupac are just some of the icons to have seen rocking 90s outfits. Some of the outfits they wore included oversized basketball jerseys, graphic tees, and ripped jeans.
As of late, some of the most iconic trends have been making a reappearance… and if you are a guy who likes to keep up with the trends, then this article is for you. Not only will we talk about what those iconic trends were, but we are going to show you 36 outfits that you can rock today, all based around the '90s themed style. Sound good? Great! Let's get started.
How To Get The 1990s Style?
Some of the most prominent fixtures of men's fashion from the 1990s were cargo pants, biker jackets, casualwear, turtlenecks, snapback hats, and ripped jeans. Grunge burst onto the scene, and it was all about edgy, casual street style. While some of those elements are still, arguably, prominent today, the '90s were distinct in that these style choices dominated men's fashion. So, with our outfits today, we will show you how you can modernize some of these trends to fit your 2020 wardrobe.
For instance, turtlenecks are a preppy garment that can be an ideal substitute for other flashy trends of 90s fashion. They were first seen in boybands, and they now come in two styles: thick sweaters and fitted and ribbed designs.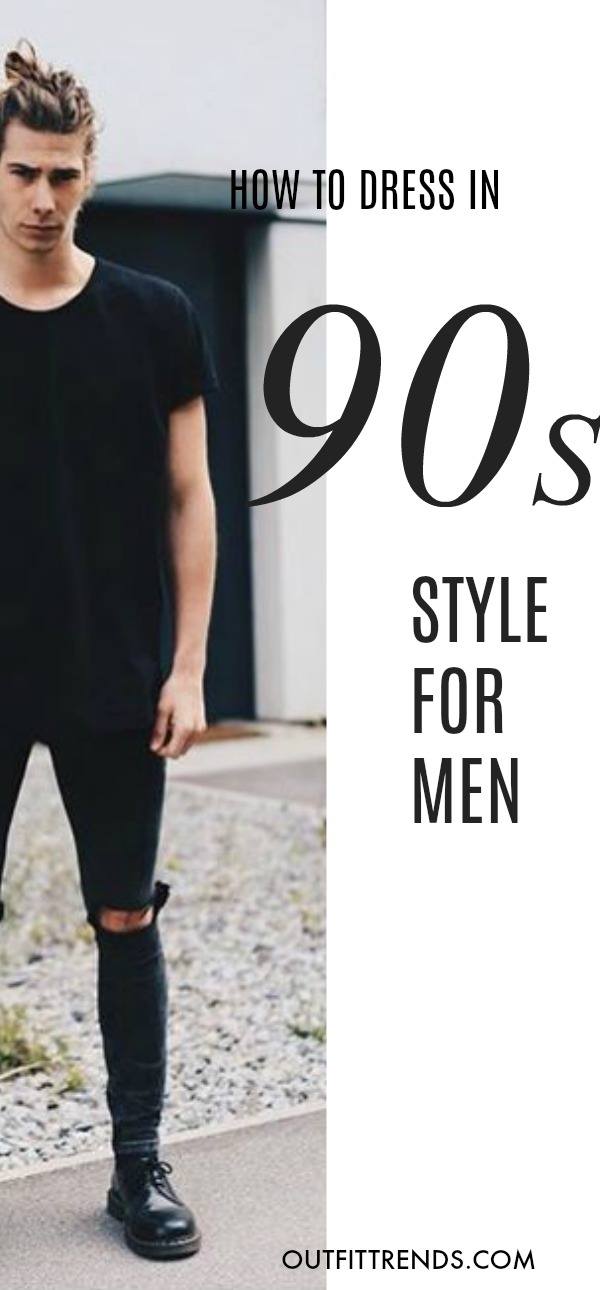 ↓38. For Older Men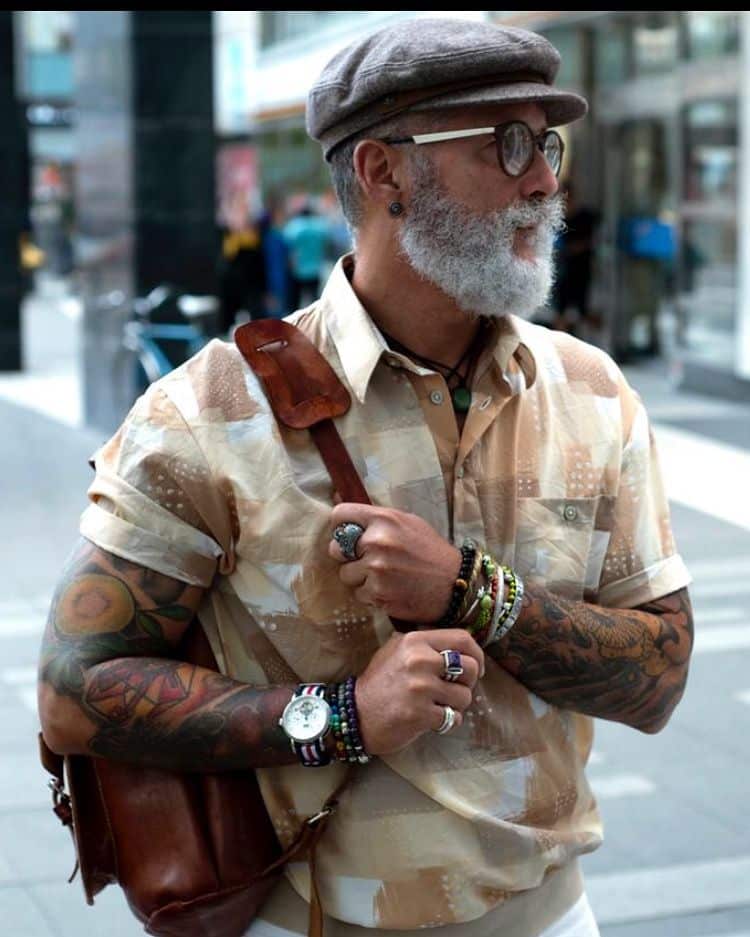 ↓39. For Plus-Size Men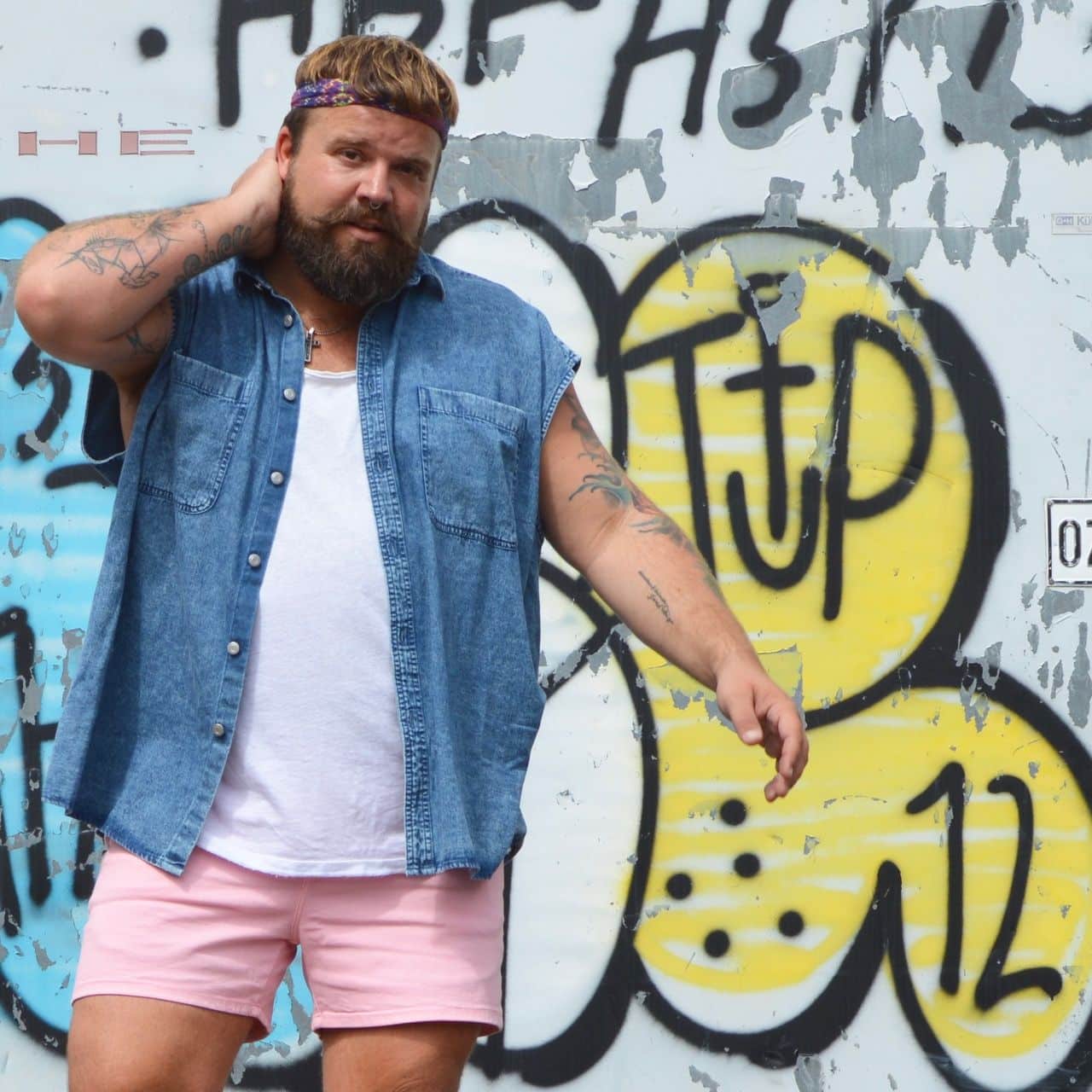 ↓37. Where To Buy 90s-Themed Outfits
You don't have to spend much money. For instance, if you have regular blue wash jeans in your closet, make them DIY ripped jeans instead of getting a new one. The result would be the same if you follow the steps – you can watch YouTube tutorials about it. 
Nonetheless, if you're willing to buy new pieces, my advice is to get them separately from different shops, including thrift stores. You don't know what you'll find in a sea of fishes, so use your stylish side to pick the right aesthetic clothes for you. Check my picks:
↓ 36. Snapback Outfit For Men
The hip-hop style slipped its way to the 90s fashion when it came with snapback hats. We started to see this kind of outfit in rappers, and it was later adopted by some gents around the globe. About the caps, you should wear them either forwards or backward, but never to the side.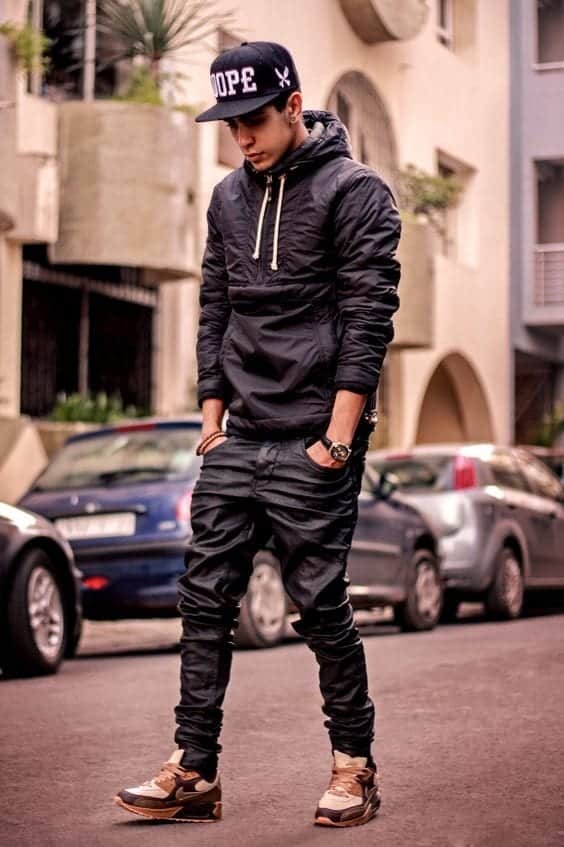 via
↓ 35. Lousy Shirt In Spring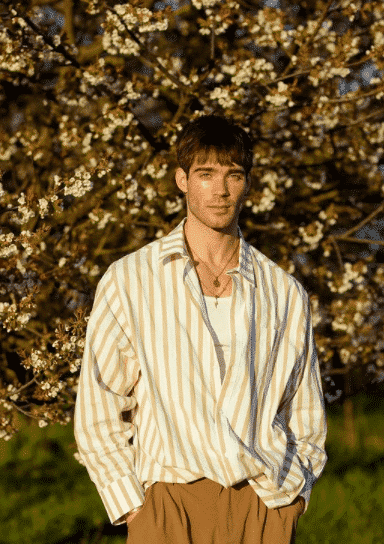 ↓ 34. Western Outfit
↓ 33. Flannels And Jeans
You can wear them in two ways: open with a tee underneath (graphic shirt, I hope) or wrapped around your waist.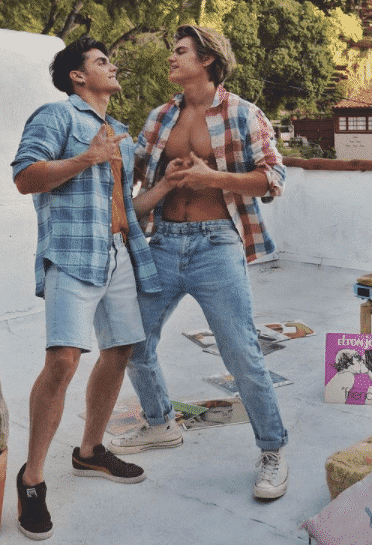 ↓ 32. Linen Shirt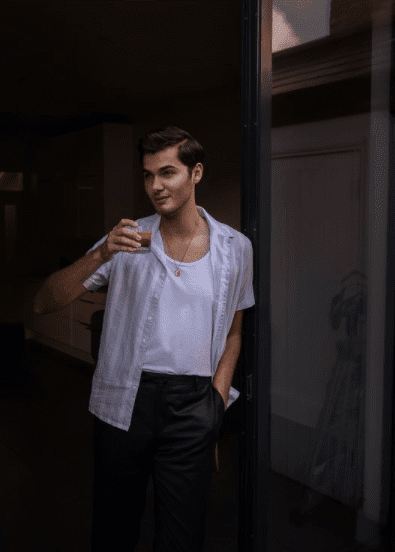 ↓ 31. White Shirt And Jeans
It should be made of premium quality cotton. Opt for loose fit as much as possible.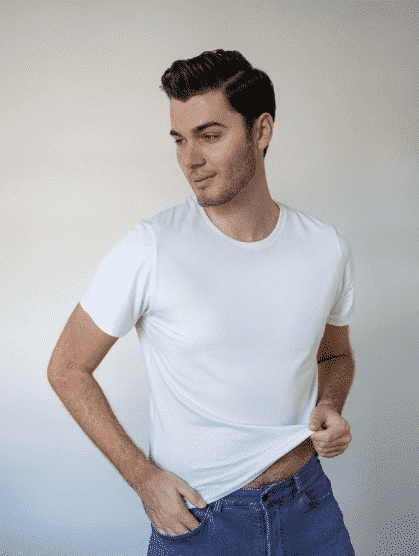 ↓ 30. Leather Jacket
Leather jackets were at their peak in the 90s. The catch is that you don't have to be a motorbike. Also, you don't have to purchase expensive genuine leather; faux or eco will do just fine.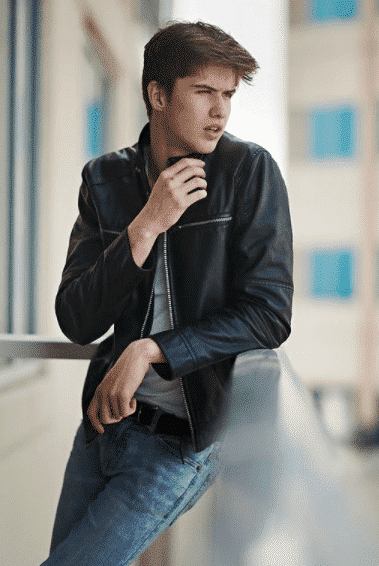 ↓ 29. How To Wear
We had our moments, and so did cargo pants, especially in the 90s. They are both practical and fashionable. You can also carry your valuables (like your pager and Velcro wallet) as they have pockets that make them functional. Cargo pants back then were baggy, but today we can avail them in a slim or tapered fit. And thanks to the 90s skate culture, graphic tees became a stylish piece. Today we can see men rocking them everywhere, but it looks best as streetwear. We can often see prints of popular music icons (like Michael J), food labels (like Coca-cola), and superheroes (Spiderman, for example).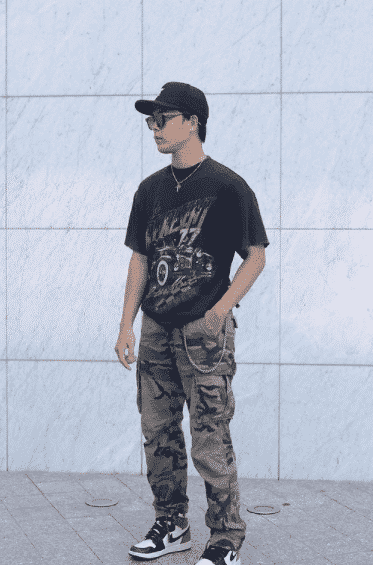 ↓ 28. Lousy Trousers And Tote Bag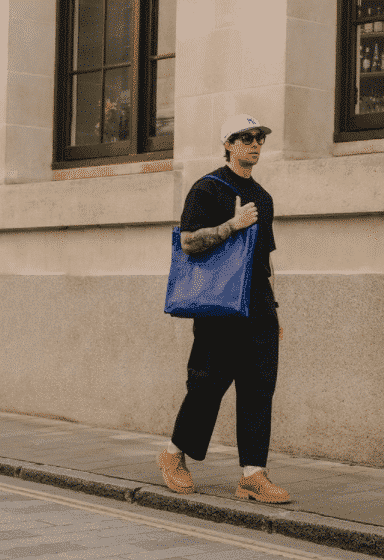 ↓ 27. When To Wear
In summer, try graphic tees, tank tops paired with shorts or loose jeans. Meanwhile, look effortlessly cool in the fall season with a monochrome zip-up sweater paired with polyester shorts – perfect for travels and road trips.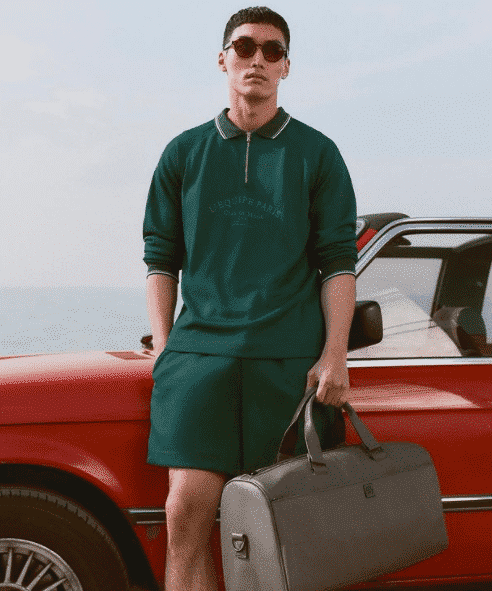 ↓ 26. Sweatshirt And Baggy Joggers
The 90s fashion tends to defy the modern style rules, including how fit is an essential factor of a good outfit. Back then, the baggier your pants are, the better. Baggy trousers like jeans and joggers are a streetwear staple for all guys in the 90s, but I can't say the same for today's style.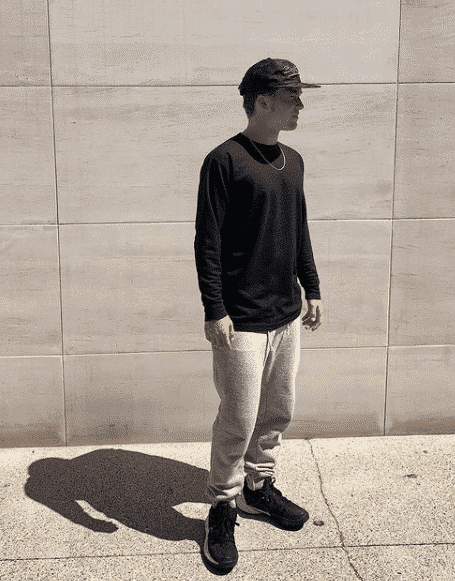 ↓ 25. Denim And Ripped Jeans
Grunge played a major role in the 90s fashion, with the help of ripped jeans. These pants can show your rebellious side when paired with the right outfits.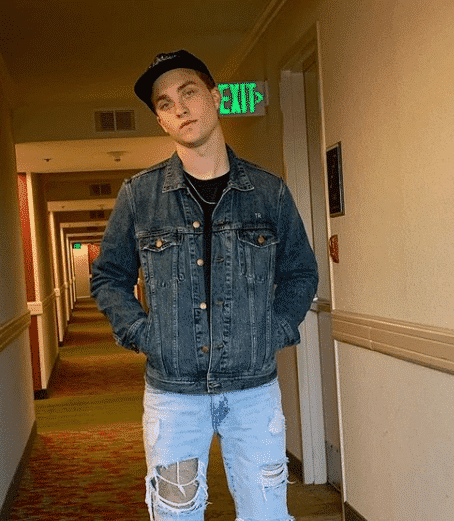 ↓ 24. Striped Shirt
Striped shirt has become a part of dailywear and casual fashion – no wonder why it was able to slip its way into the fashion industry in the 1990s.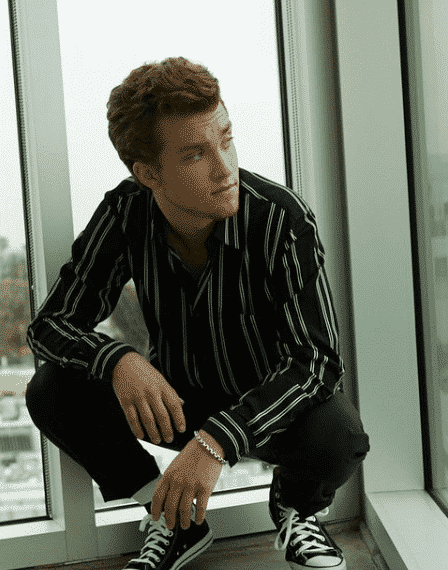 ↓ 23. Velour Tracksuit
These bad boys were everywhere in the '90s, rocked by such celebrities as Justin Timberlake and Puff Daddy (and Britney Spears, for that matter). To rock it today, it is just a matter of color, style, and brand. A neutral-colored Adidas or Nike tracksuit is a great option.
For more stylish gym outfits, check out these Men's Workout Outfits.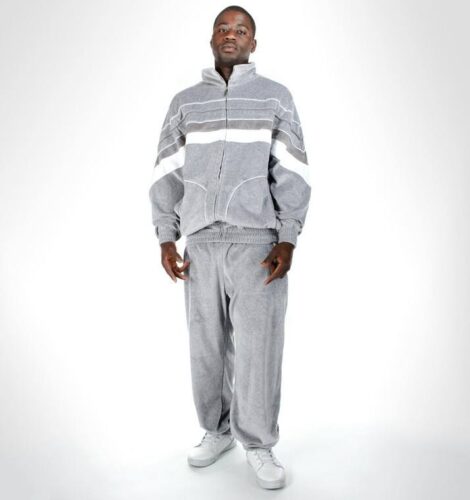 ↓ 22. Retro Fashion
For '90s kids, The Fresh Prince of Bel-Air starring Will Smith was a show we all loved. And who could forget those wacky outfits? Here, Will Smith rocks the one-strap down look that was intensely popular at the time, along with an iconic button-down shirt and flat top haircut. Overalls were a big deal in the 1990s, and they are usually worn with one strap hanging loose for a reason – style. Please take note that dungarees require a lot of confidence to pull off.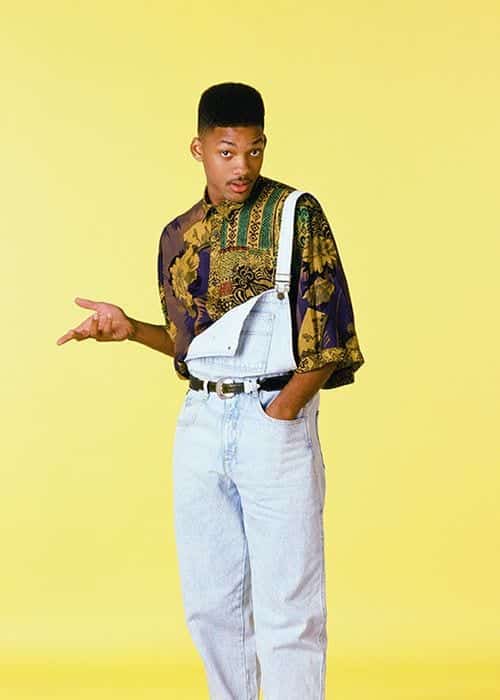 To get a similar look in 2020, we recommend buttoning both straps of your overalls (unless you are a very confident guy, in which case, have at it!) and taking a page from Chris Pine's book and opting for a neutral color like brown or black, worn over a white long-sleeved shirt. You can roll the cuffs on your overalls and pair them with some white high-tops. Add a baseball cap and sunglasses, and you are good to go.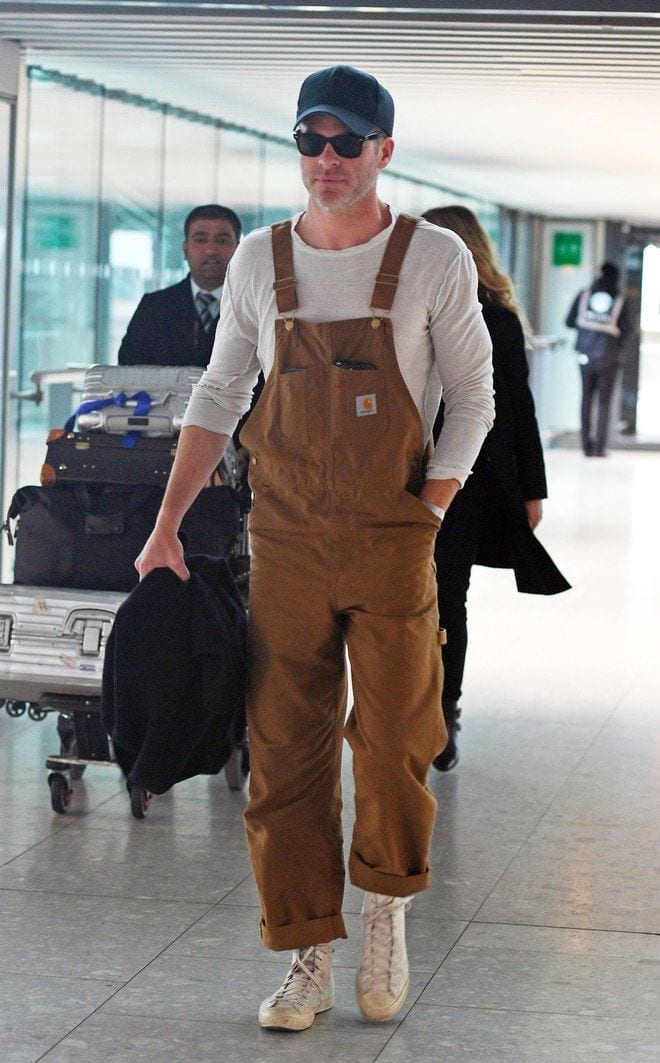 ↓ 21. Grunge Trends
A hallmark of the '90s was a cultural obsession with biker jackets. Whether you were a guy who owned a motorbike or not, these leather jackets were all the rage and they added to the grungey street style that exemplified the era. But it did not stop there. Just as famous as the biker jacket was the bleached hair trend. From Brad Pitt's golden locks to Justin Timberlake's curls, hair was just as much a part of what made the decade so distinctive as clothing was. Here are some awesome Street Style Fashion Ideas for Men.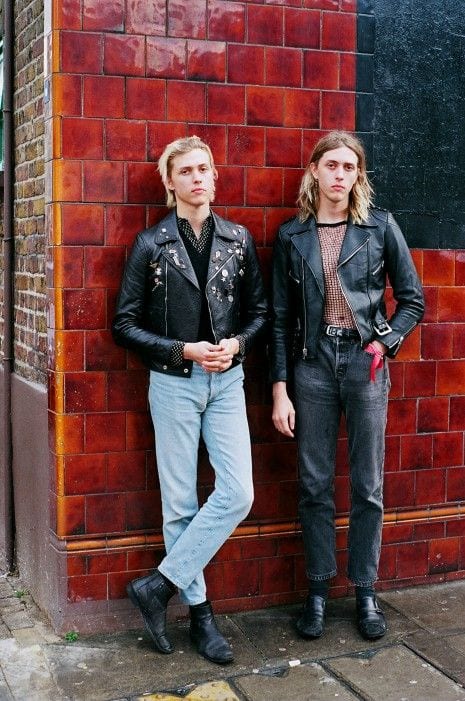 via
Now, whether or not you decide to bleach your hair to honor a bygone era, you can certainly rock a biker jacket with ease. It is not hard to modernize the biker jacket trend at all. In fact, it is as simple as pairing up it up with a black turtleneck (another trend of the '90s… score!) and some rust-colored corduroy suit pants.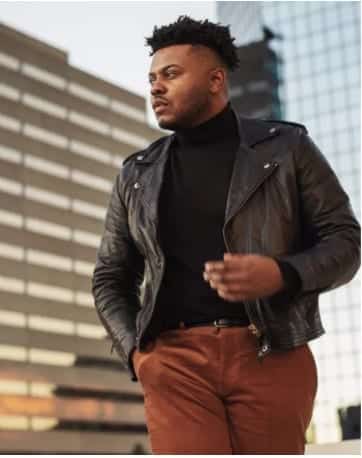 ↓ 20. Rolled Cuffs
A crewneck sweater tucked into a pair of belted light-wash jeans is a look that could have been pulled straight out of Friends. (Pro tip: An easy way to gauge whether or not your outfit is the '90s enough is by asking yourself: would Chandler Bing wear this? Would Joey? Ross? No? Not '90s enough.)
We like how this look stays modern while also subscribing to some classic trends that give you the throwback stamp of approval.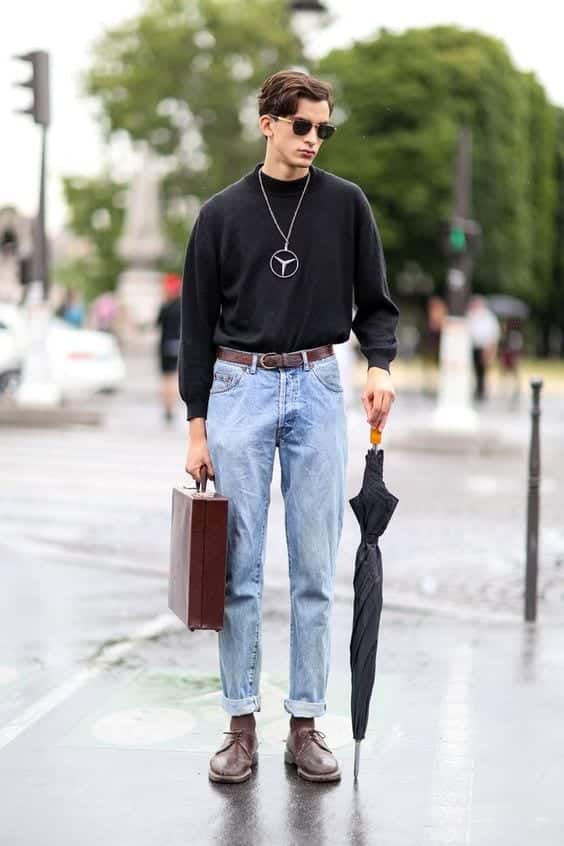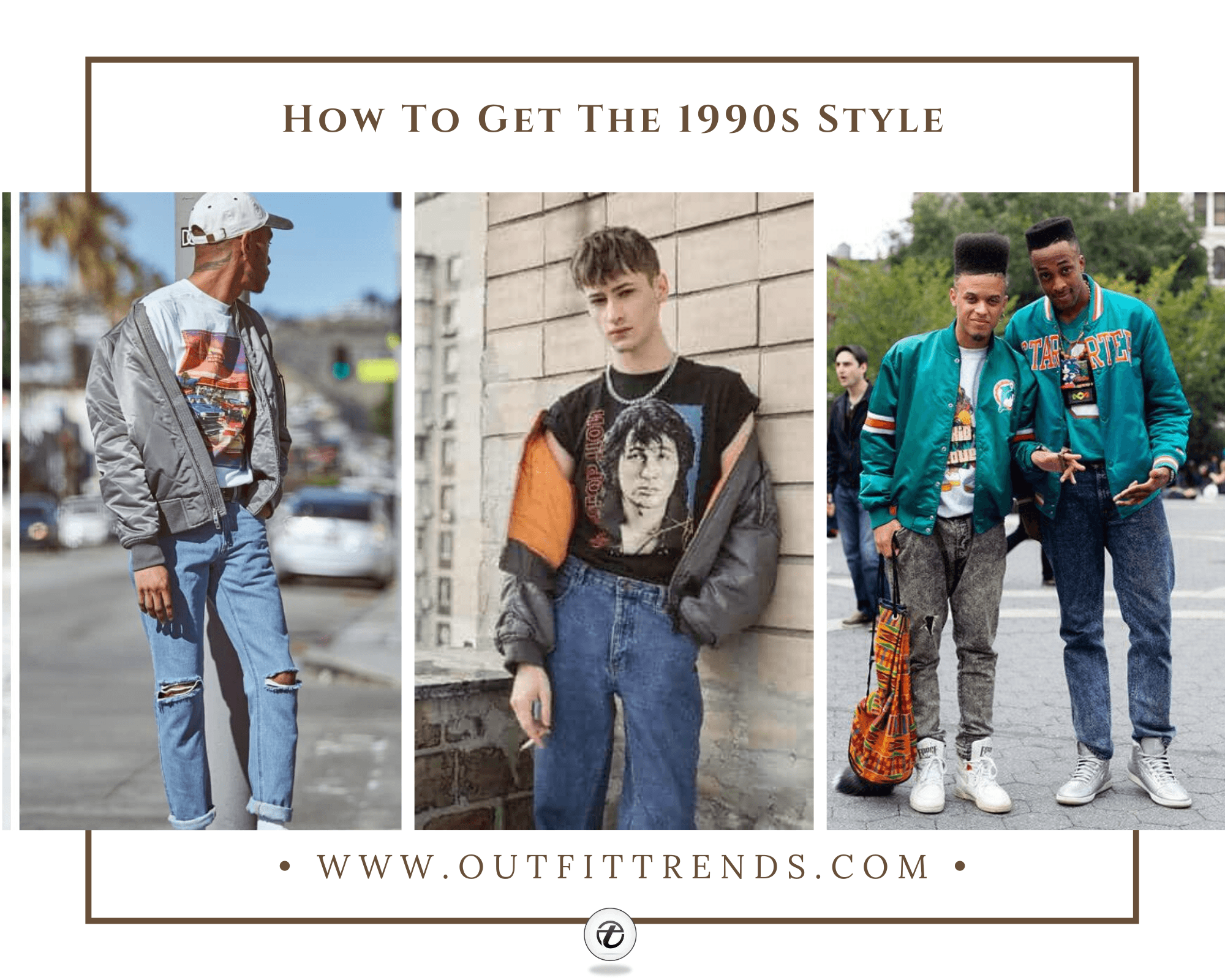 ↓ 19. 90s Grunge Fashion
Are you a simple guy who prefers simple styles? A stripped-down grunge look might be the look for you. This all-black outfit is a piece of cake to throw together. Here are the best Men's Ripped Jeans Outfits.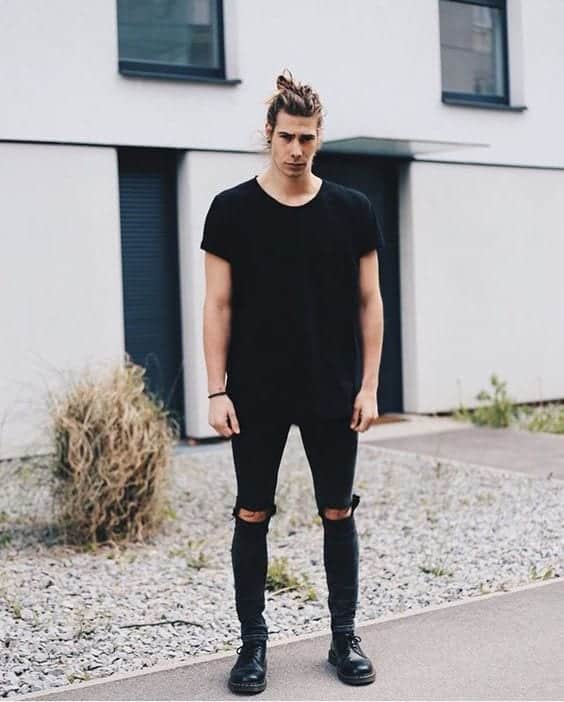 ↓ 18. Rolled Jeans and Lace-Up Boots
This rather daring look is quite iconic. It's especially great if you have got the long hair to go with it!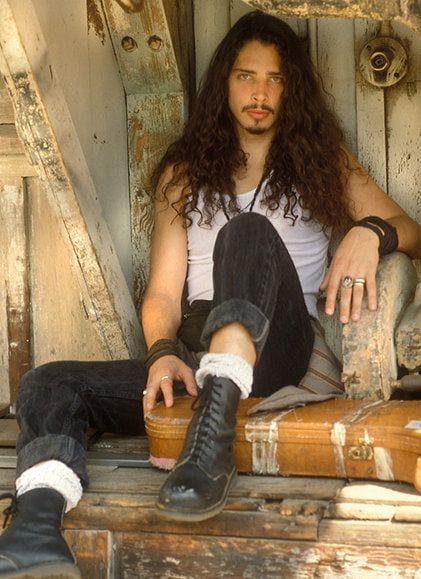 ↓ 17. 90s Style Striped Sweater
A striped button-down sweater was a popular look 20 years ago. Here we see it as worn by James Avery on The Fresh Prince of Bel-Air.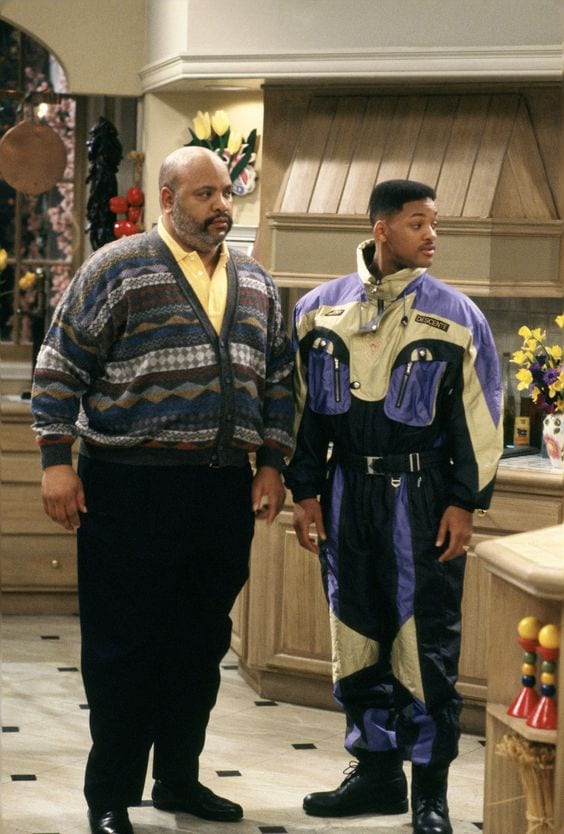 Here is a modern take on the striped sweater look. Here are 17 Ways to Wear Sweaters Fashionably.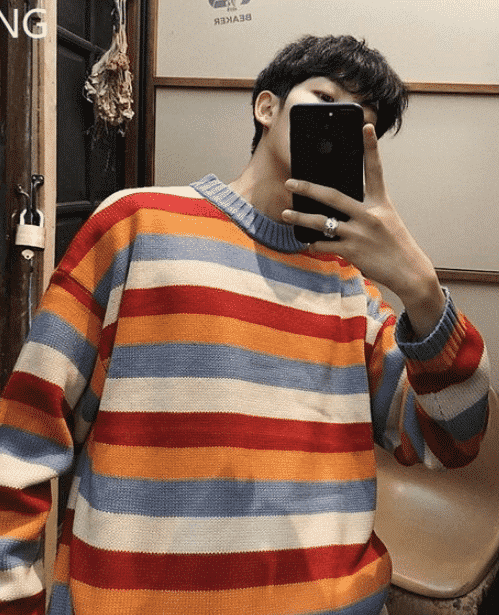 ↓ 16. Celebrity Style: Flannel Shirt over Graphic Tee
Zac Efron may have unintentionally rocked a popular '90s trend, which is the open flannel over a graphic tee paired with jeans. He kept it modern by pairing it with Aviator sunglasses, mid-wash jeans, and a mod haircut. For more celebrity style inspiration, check out these 30 Hottest Pictures of Kenton Duty.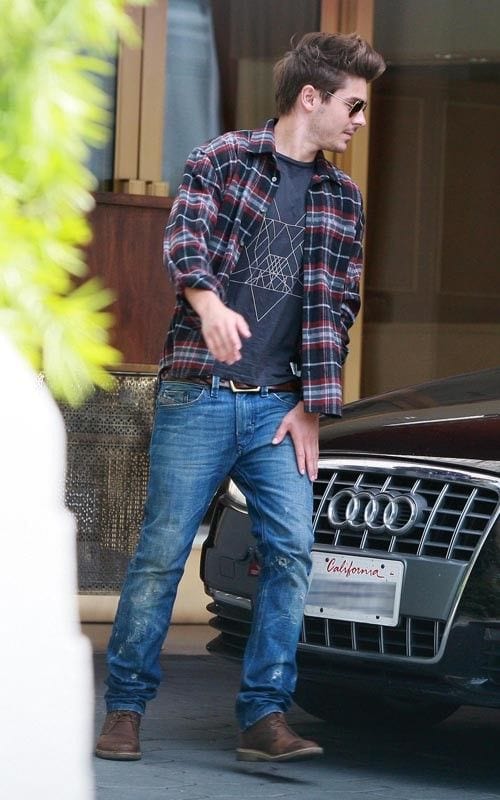 ↓ 15. One Pant Leg Rolled Up
Ah, yes, who could forget this iconic trend of the '90s? Guys everywhere were hiking, one pant leg up, whether it was jeans, joggers, or sweatpants. Think you've got what it takes to rock this look? If you are headed to a '90s themed party, this is a fun way to give the nod to the '90s that your fellow '90s nerds will love.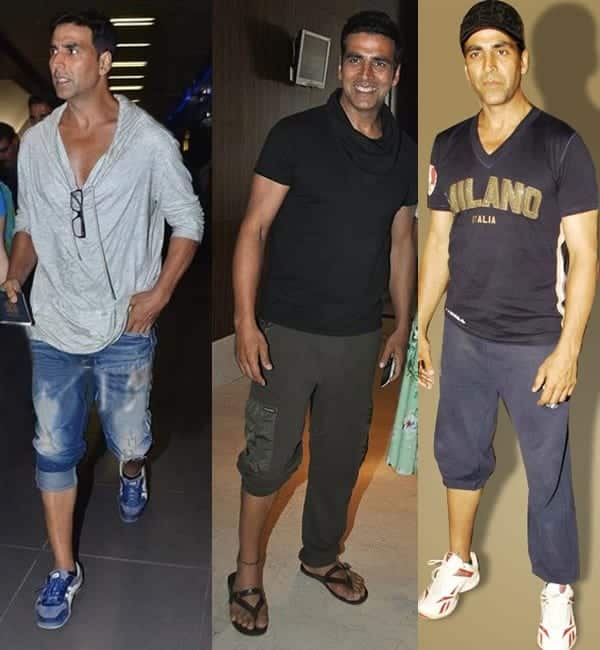 ↓ 14. T-Shirt and Long-Sleeved Shirt
If you have watched Friends, then you've seen this look before. The t-shirt over the long-sleeved shirt trend was best worn by Chandler Bing, and it's a great, understated way to give nod to the era. We especially love the extra detailing of the chain hanging from the belt loop and the exposed socked ankles and dress shoes.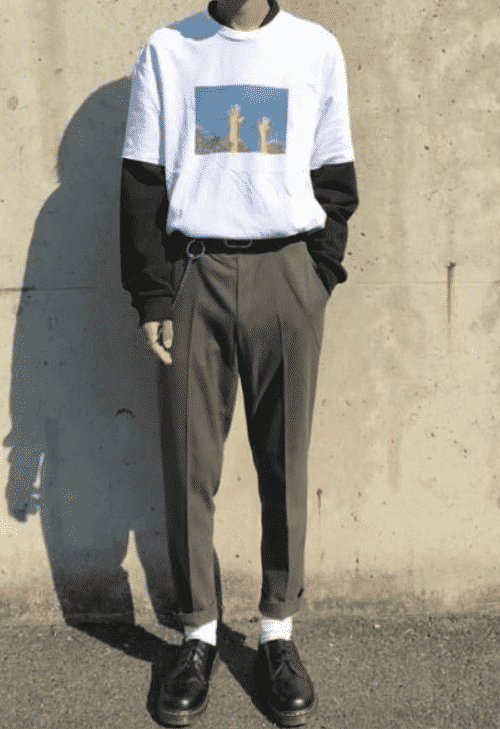 ↓ 13. 90s Style Baggy Jeans
Baggy jeans were an ongoing trend of the 1990s. They were popularized by musicians and then gradually made their way into the general public's wardrobes.
For a fresh take on the look, get yourself some harem-style jeans and pair them up with a wide-striped sweater and forest green high-tops. This is a casual look that is subtle enough that people will have to do a double-take to figure it out.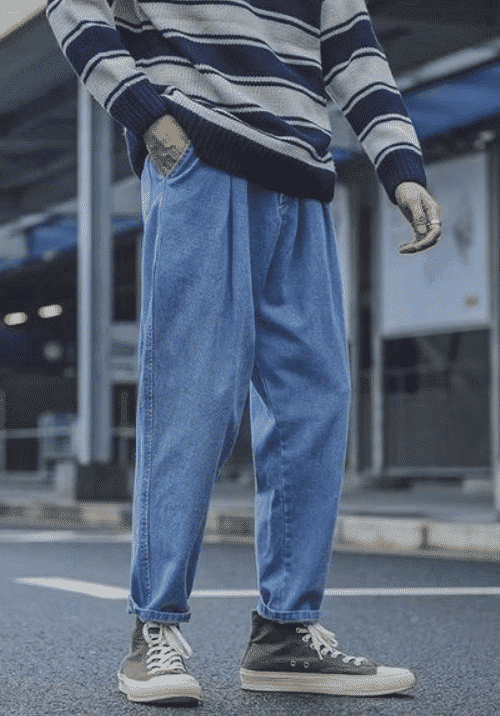 ↓ 12. Travel Attire with Bucket Hat
An easy way to create a subtle '90s vibe is by adding a bucket hat. We particularly like this look for traveling, but you could certainly wear it to a party, to run errands or another non-formal event.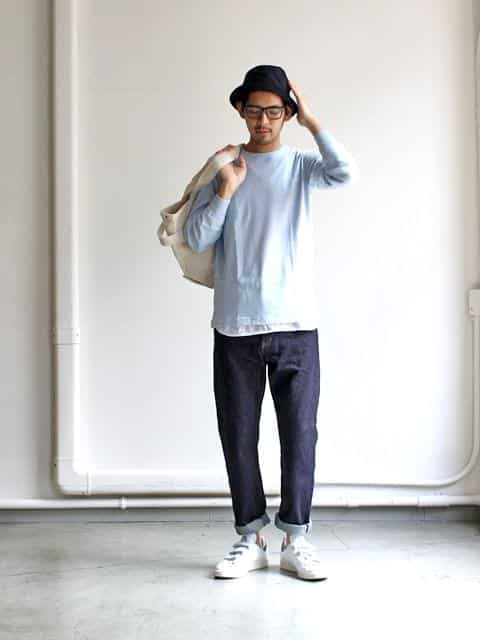 ↓ 11. Vertically Striped Shirt
Vertical stripe t-shirts were big in the '90s. Such designers as Tommy Hilfiger, Eddie Bauer, and Polo made it popular. This is a great college look or themed party outfit. Pair a vertical stripe shirt with a crewneck tee, light-wash jeans, and white low-tops. For more cool and funky looks, check out these Men's Yellow Pants Outfits.
↓ 10. Sheepskin Leather Jacket
For your next casual business meeting, give a sheepskin leather jacket a try. This subtle throwback look will earn you major style points from men and women alike.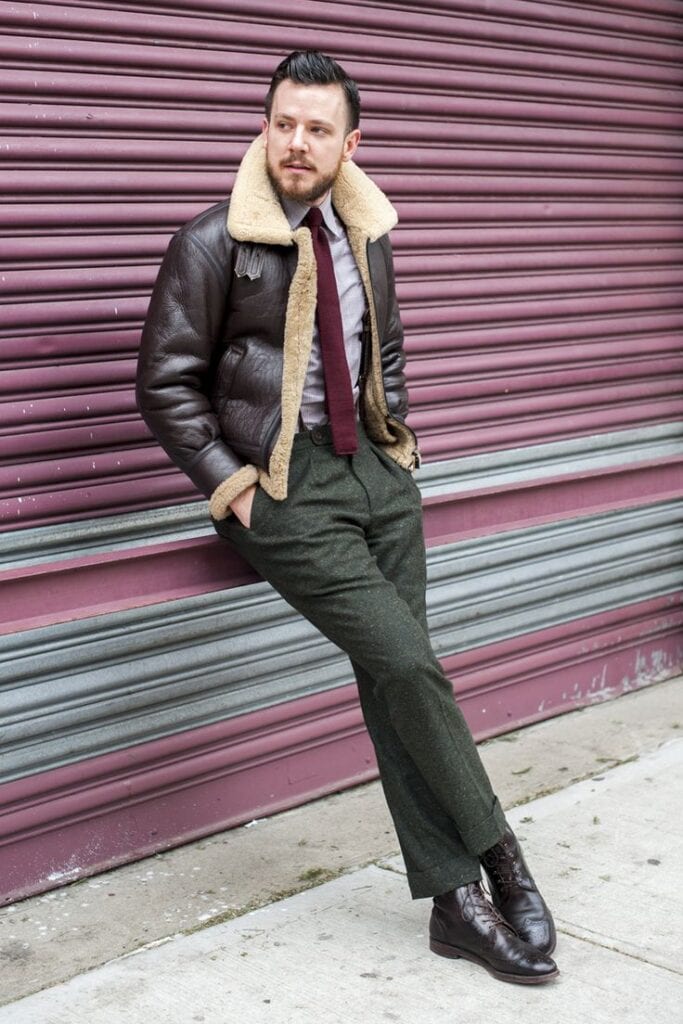 via
↓ 9. Classic '90s Look
Here is a classic '90s look that you can easily imitate if you are on the hunt for throwback outfits.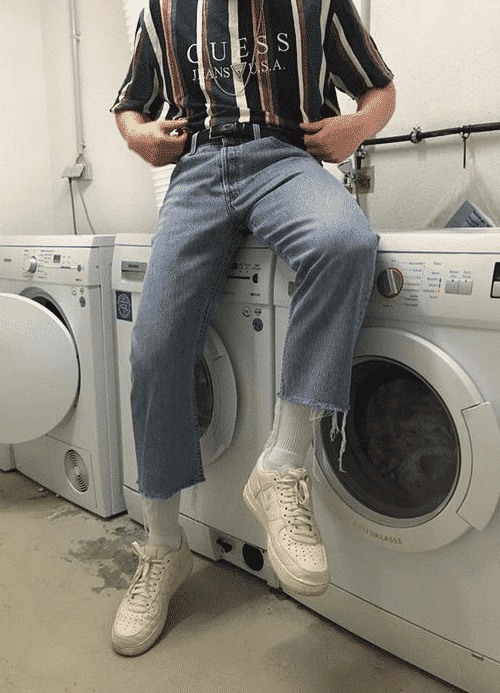 ↓ 8. Classic Look with Flannel Shirt
Pairing a snapback hat with a flannel shirt is an easy way to create a '90s look that still fits into a modern view of style. When it comes to snapback hats, wearing it forwards or backward will give it the 2020 stamp of approval. (Basically, what we are saying is: don't wear it sideways. There is a line when it comes to flirting with '90s fashion, and you know you have crossed it the moment you twist that cap sideways.) Wear a white tee for extra era brownie points.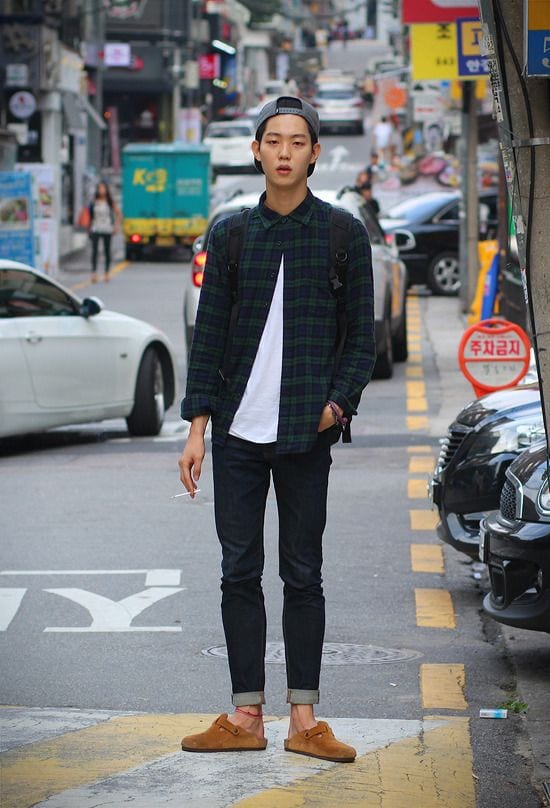 ↓ 7. What to Wear to a '90s Party for Men
If you are headed to a '90s themed party, you have an abundance of options to choose from – when it comes to wardrobe, that is… In the end, how committed you want to be to the theme is up to you. If you wish to go all out or keep it lowkey, we have two options for you to showcase both ends of the spectrum—first, our all-out option. Not only is this a flashy outfit, perfect for a themed party, but how about that jacket and matching tie? From the colors to the fit, this pairing is super '90s. Very Fresh Prince, too.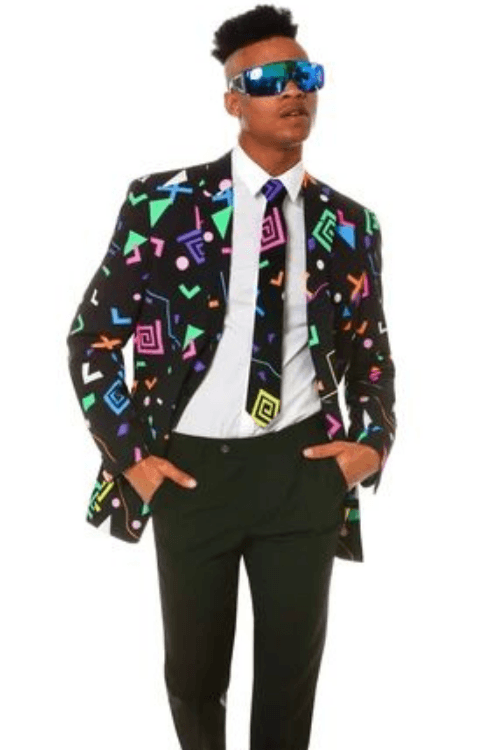 We also like the Nike sneakers which add a bit of a modern touch to the look. This list wouldn't be complete without mentioning Converse, oh wait – and Adidas as well! If you are wearing sports brand socks, you need to make the brand visible because it would be pointless otherwise. People might think you're showing off, which of course, you are.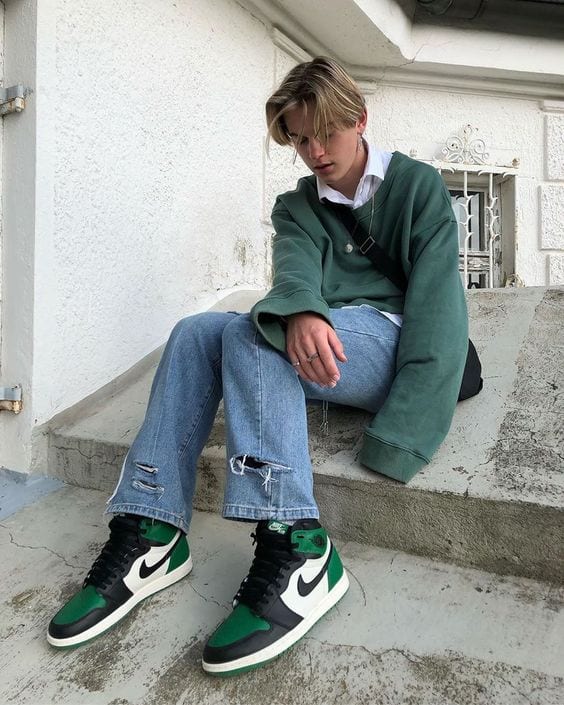 ↓ 6. Baggy Pants
Few things say '90s style like a pair of super baggy pants. Paired up with a graphic tee and some chunky skate shoes, this is a look you would probably see most days, sported by skater guys and your average Joe alike.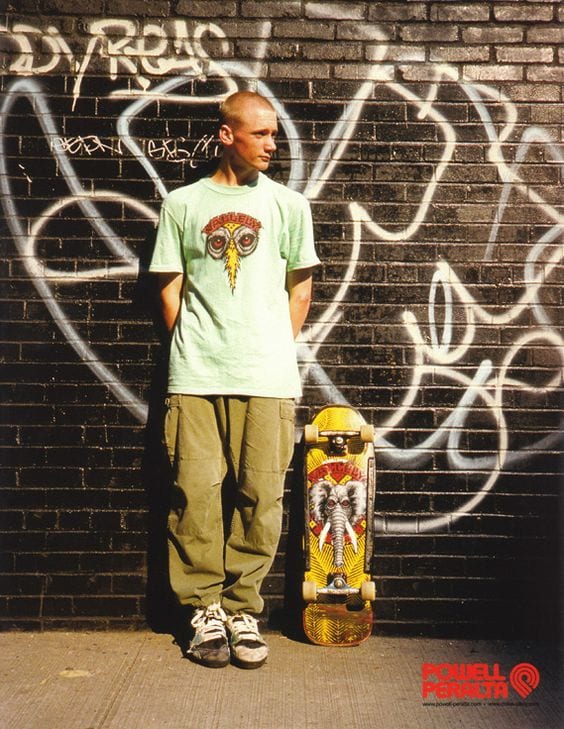 Keep it fresh and modern by taking it in a loungewear direction. This super casual but very stylish look can be rocked at home or when you are heading out to run errands. Pair a white tee with some loose hemp pants in blue. You can wear this outfit with sandals or slides. Add a flat cap for that little bit of extra detailing.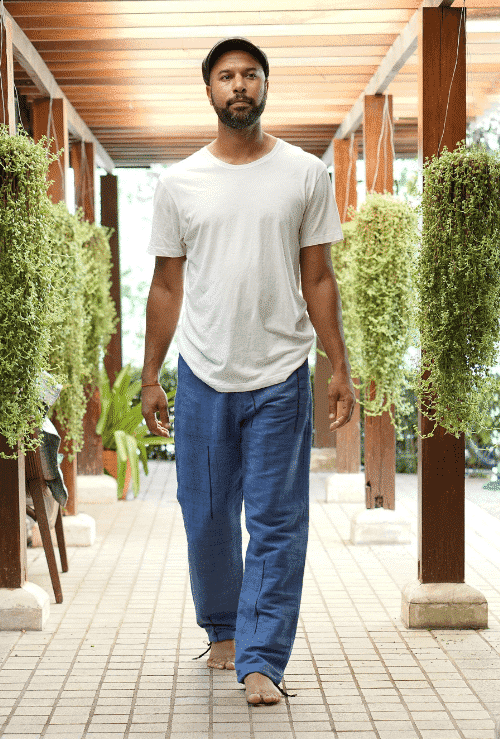 ↓ 5. Summer Outfit with Bandana
Bandanas really came into their own in the '90s rappers often wore them to show gang affiliation. But the trend picked up, and soon, guys of all sorts were rocking a bandana tied around the head. Various subcultures wore bandanas, and we can still see some do it today. Rappers don it to proudly express that they are a gang member. But you don't need to be one of them to rock a bandana.
It's easy to incorporate a bandana into a summer look. Check out this 2020-approved ensemble that also works in some cut-off denim shorts (very '90s) and a Coca-Cola motif tee.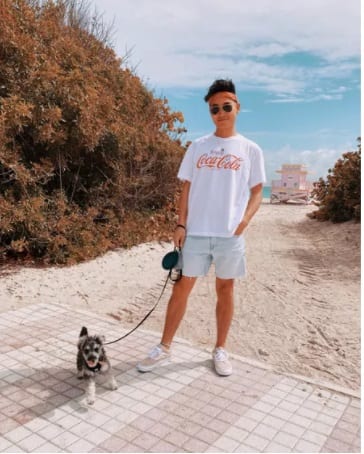 ↓ 4. Mandarin Collared Shirt
Looking for a casual outfit for a business meeting? Try a mandarin-collared shirt. This light French-beige shade is pretty classic and you can pair it with jogger-style pants and white slip-on shoes. Going sockless is very European and will keep the look fresh and modern. Here's a complete collection of Men's Business Casual Outfits.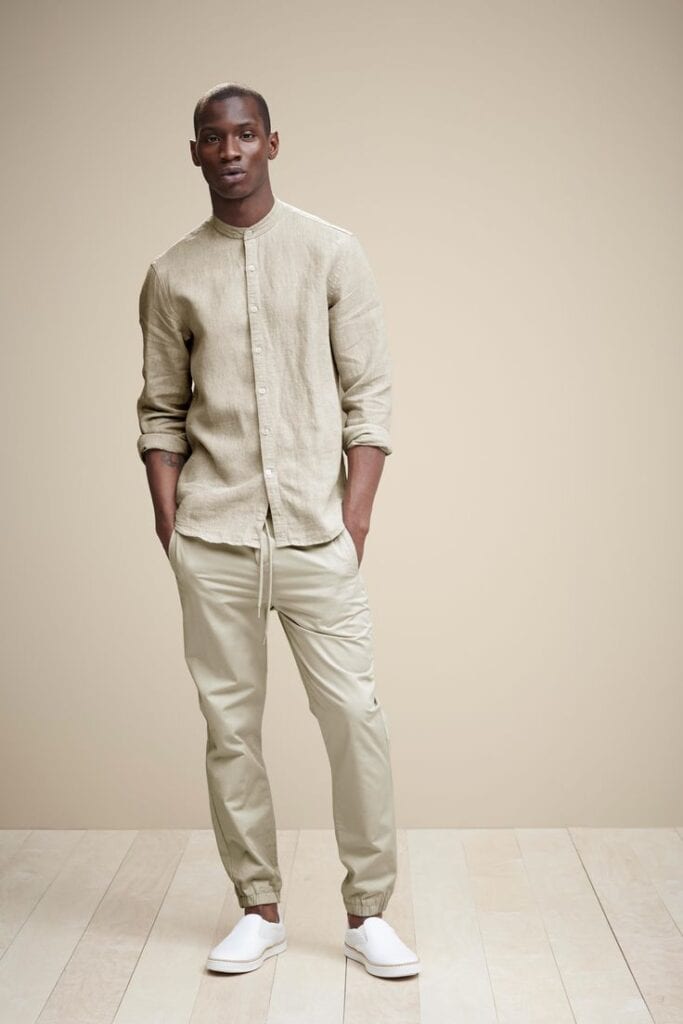 ↓ 3. Rayon Print Shirts
Ooh, baby, was this a look. Rayon button-downs in paisley and similar prints definitely defined the '90s. These guys were paired up with colorful pants, flat top hairdos, and all kinds of footwear. Check it out and see what we mean.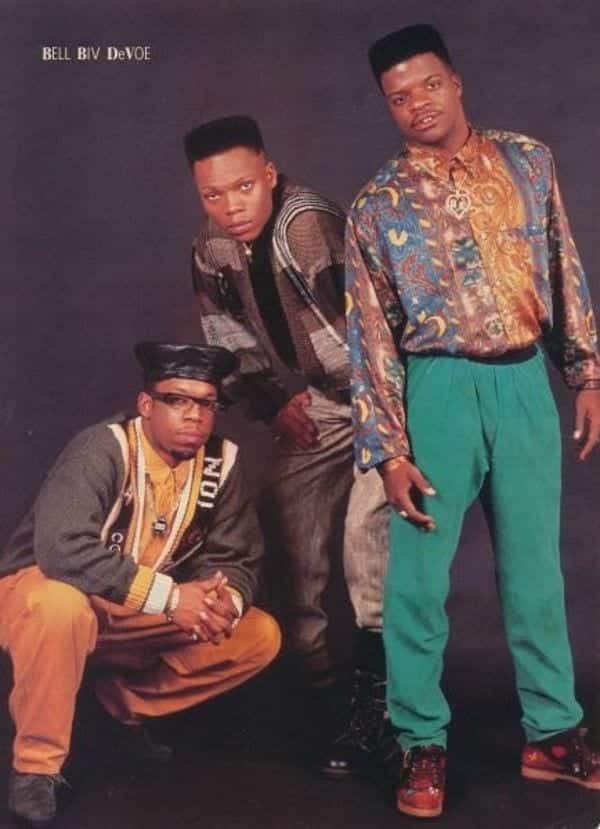 Now, this is definitely a themed look that will take a fair amount of confidence to pull off… but if that sounds like you, then why not give it a whirl? Whether you are headed to a themed party or just feel like spicing up club scene with your friends, keep the look fresh and distinctive by pairing your shirt with some black slim-fitting pants, white socks, and black dress shoes.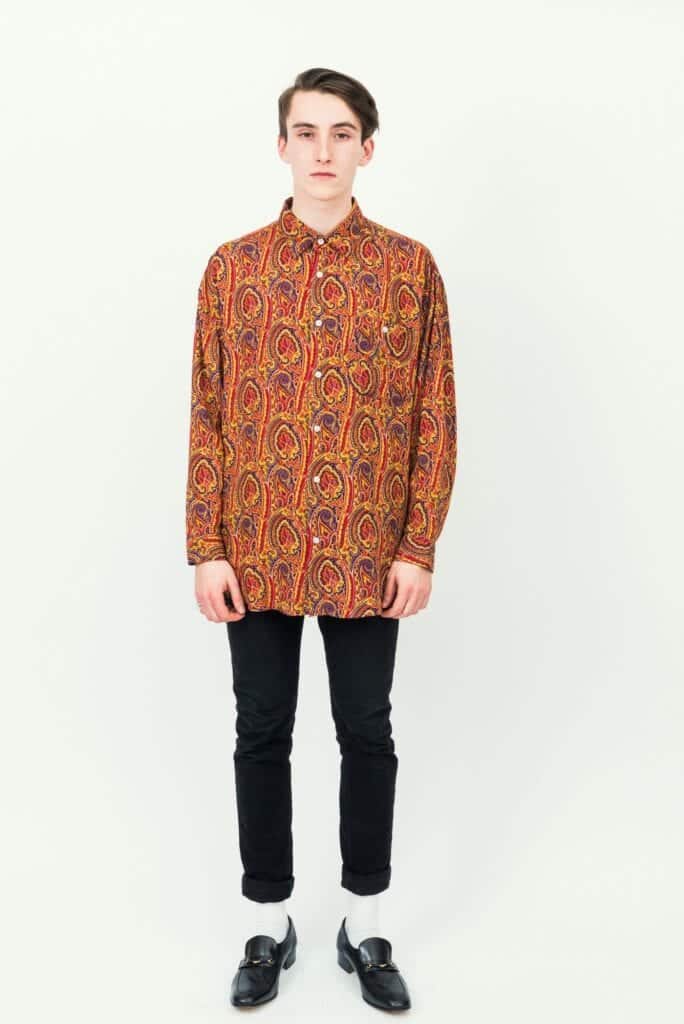 ↓ 2.
Starter Jackets
Windbreaker is a lightweight jacket ideal for humid seasons due to being wind-resistant. This is an excellent choice for men aiming to channel some retro and sporty vibes. Starter jackets were one of those things that crept over from the '80s and redefined itself in the '90s. Because colors were so distinctive in both decades, you can really get a feel for the era when you don a jacket like this in 2020. If you want to really throw it back, get yourself a starter jacket in some '90s-approved colors: this combo of turquoise and purple was super popular.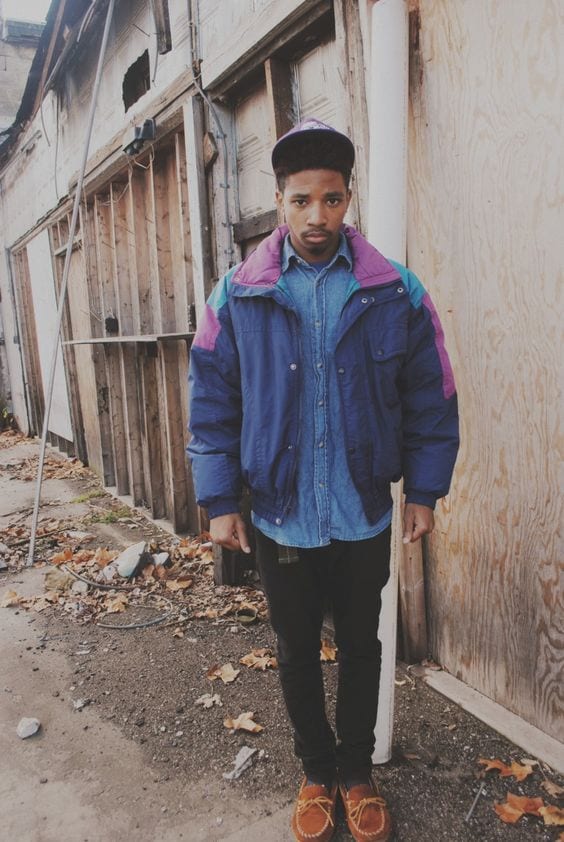 ↓ 1.
White Crewneck Tee Shirts 
White tee shirts were a hot trend of the '90s as well. They were worn oversized with baggy pants, super tight with rolled sleeves, and under jackets, from denim to leather. You would often see such celebrities as Johnny Depp and Eminem rocking the white tee and doing it with aplomb. They could also be worn with white jeans and black dress pants for a clean-cut street-style look.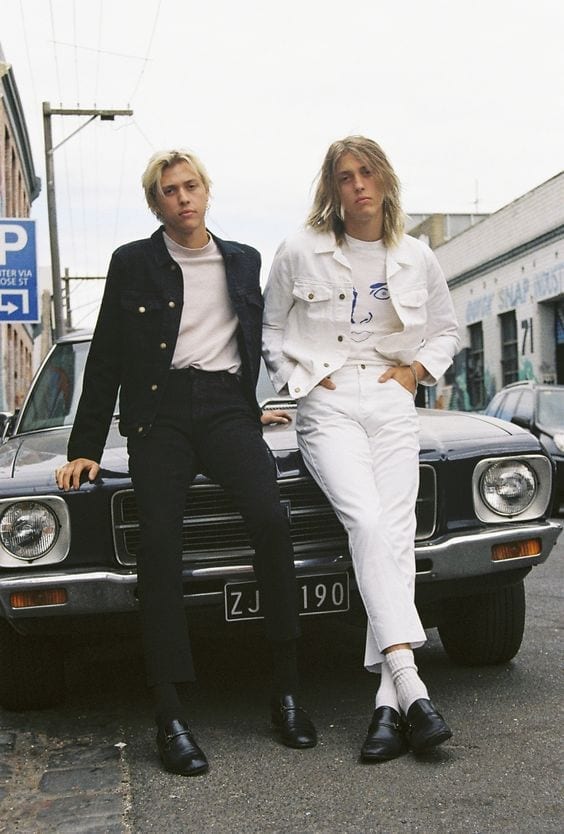 To modernize, it is easy to pair your tee up with a pair of distressed denim jeans and a denim jacket. You can roll both the cuffs on your jeans and the sleeves of your jacket up for that little bit of extra detailing that takes your outfit to the next level. Accessorize with a nice watch, some rings, and finish off your outfit with a pair of black-and-white Vans.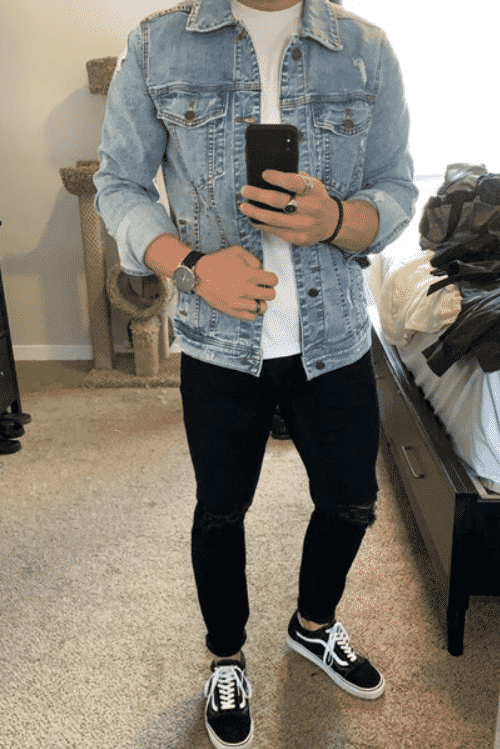 Don't beat yourself up if you think that 90s fashion would not look so good on you. Alternatively, you can opt for a grungy style and start by incorporating low-key and individual pieces into your ensemble instead of going all-out. For instance, if you don't feel a biker jacket is for you, opt for a restrained style instead.
Frequently Asked Questions
Q. What hairstyles are in style for 90s fashion?
A. Bowl cut – To rock the style, visit a barber and ask for a choppy version. Don't have someone put a bowl on your head and then cut around it. Middle Part – If you have medium to long hair length, rock the look and boost the volume of your locks to prevent your hair from being flat. You can go for cornrows, spiky, flat top, bleached tips, and "long" hair aside from these two.
Q. What accessories are considered 90s fashion?
A. Accessories were a big deal in the 90s. Aside from G-Shocks and wallet chains, sunglasses would have a lot to say about that. Get a frame that best suits your face shape, and definitely not the Tony Stark design of eyewear.
Q. What shoes did men wear in the 90s?
A. Combat shoes were a fashion mainstream, particularly in the grunge subculture in the 90s. Aside from this footwear, men were also seen in Nike, Adidas, and Converse sneakers.