How to wear duvet coats? The colder seasons of the year are right around the corner, and you must bundle up in style. After all, fall and winter are all about layering your items to get your perfect desired look!
Therefore this season, you will be bundling and layering up -not only in style but in duvet coats too! But the real question is how to wear duvet coats. 
A duvet coat is not only a fashion statement but also helps you keep super warm! So on those gloomy winter days when you can't seem to get out of bed, a duvet coat is your safest bet to keep you snuggled up, cozy, and warm against the harsh winter all day long. Plus, they provide extra padding!
What Do You Wear With a Duvet Coat for Women?
Styling a duvet coat is one of the more simple pleasures to enjoy because you can go as lowkey or glammed up as you want. This garment will not fail you either way. Need to step out but don't want to change out of your sweatpants, a duvet coat is an answer! Simply throw it on with a pair of sneakers and you are a look to behold.
On the contrary, you can look fancy in a gorgeous dress, topped with a duvet coat and your best pair of heels. Lately, the coat is also making rounds in streetwear. Therefore, you can put together some killer outfits by color blocking, going for an entirely solid color, or introducing funky yet trendy prints and colors. The options are endless, and each one will leave you looking like an icon!
Scroll through all these styling tips to get inspired and take your unique spin on a duvet coat!
30 – Add Different Textures While Layering an Entirely Solid Outfit
Styling an entire outfit in one color is a trend that has been making rounds lately. However, as monotonous as it sounds, it doesn't look the part! Therefore, do not turn away from this trend just yet, because there are a few ways to make your outfit stand out, even if it is entirely in one color.
You simply need to add texture and layers!
Introducing different textures while putting your look together can be a great way to elevate your look. For example, you could go for corduroy pants, a button-down shirt with a woolen sweater vest, and add a duvet coat on top for an excellent look in the same color family. And now you have a trendy and equal parts fun look!
29 – Opt for a Fun & Colorful Pastel Duvet Puffer Coat to Pair with Matching Leggings
This colorful pastel duvet coat is super cute, and the best part is you can style it in so many ways! I love the matching look with similar tights. However, flared jeans will look equally fabulous if you can't find a similar pair of leggings.
Put on similar sneakers or swap them for a pair in light shades to be decked out in pastels from head to toe!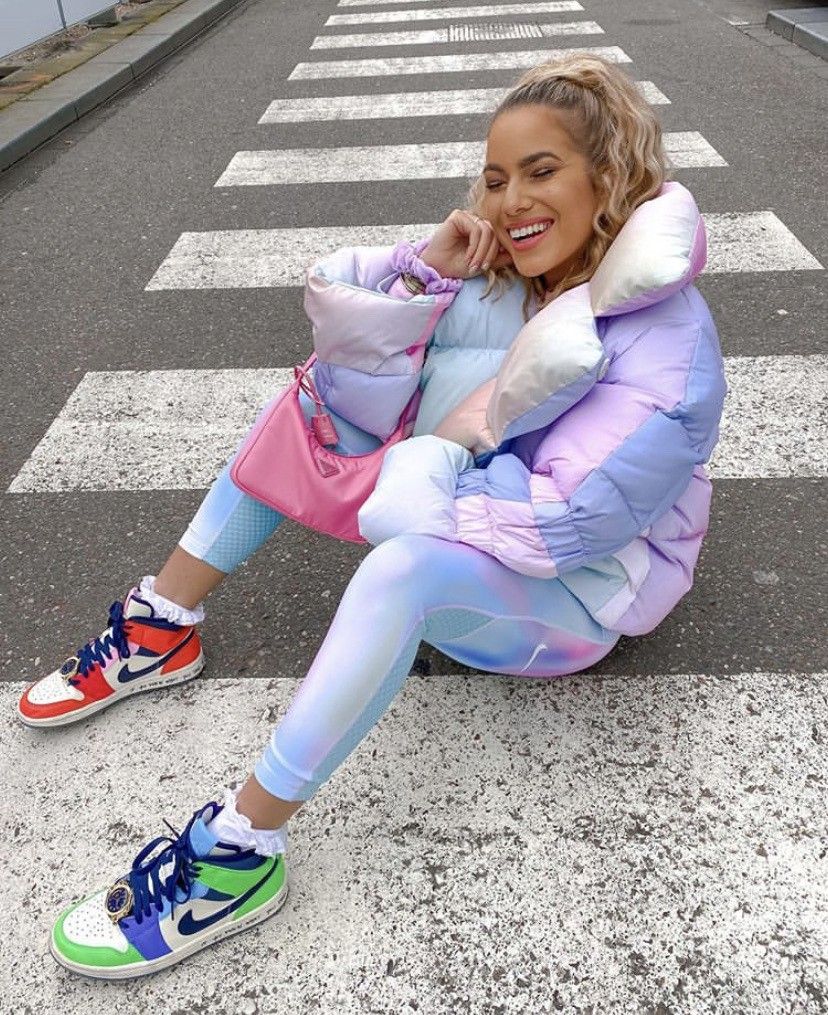 28 – Let Your Printed Top Peek Through a White Long Coat & White Pants
This outfit is super retro and stunning and easily one of my favorites! The oversized duvet coat is not only cozy but an excellent fashion statement. Moreover, the flared pants and platform boots contribute to the retro vibes effortlessly. I only wish the shoes were burgundy or brown to match the shirt!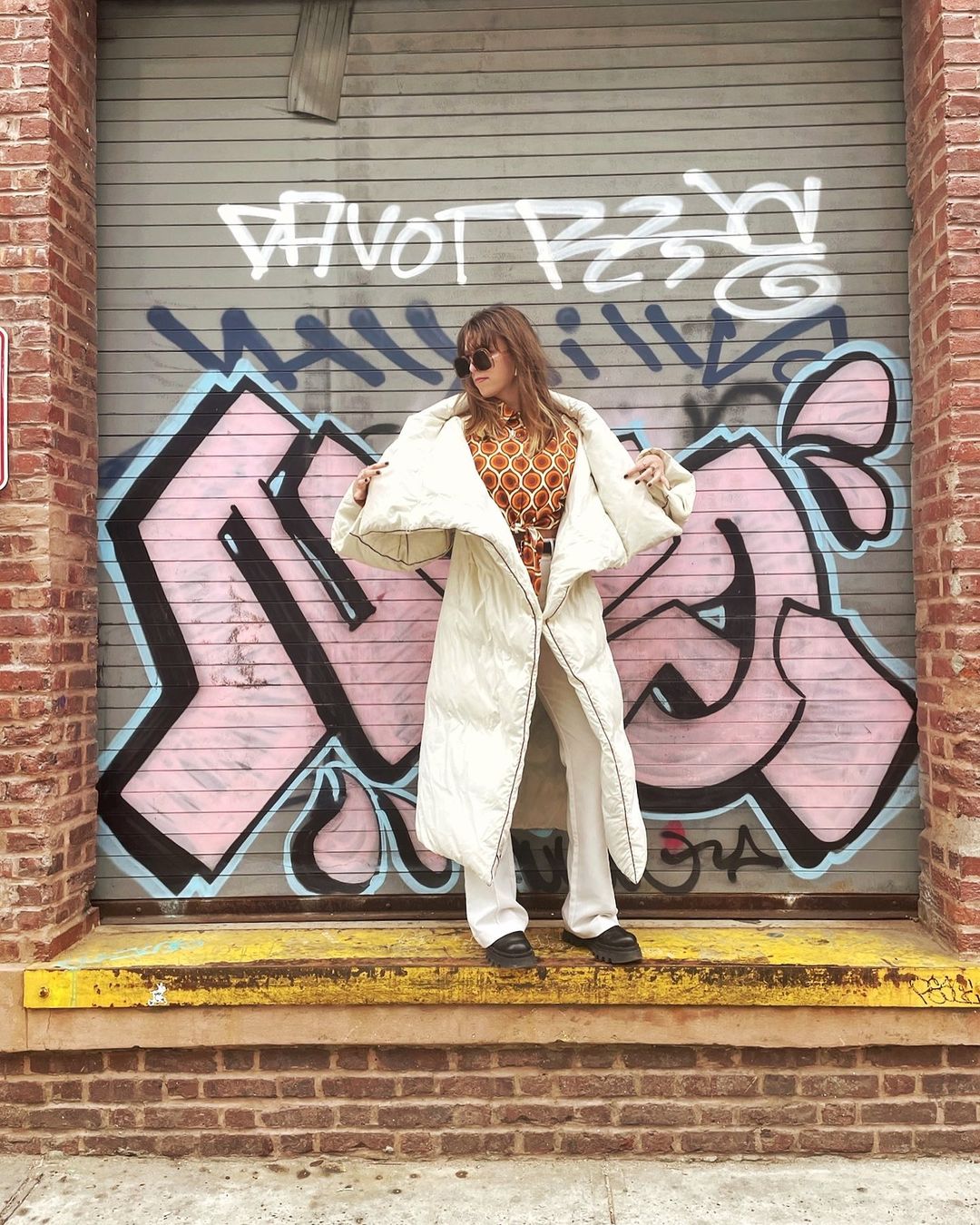 27 – Nail the Street Style with a Camouflage Duvet Puffer
I believe it is safe to say that this look is not for the weak-hearted! A lot is going on with this look, but if you are someone who enjoys stepping out to make a statement, this is it for you. The camo print on the coat is adventurous, and the hints of blue make it unique.
I would advise swapping those gold bottoms for a pair of army green ones to make the look more wearable and blend in easily. But the outfit as it is is super edgy and eye-catching!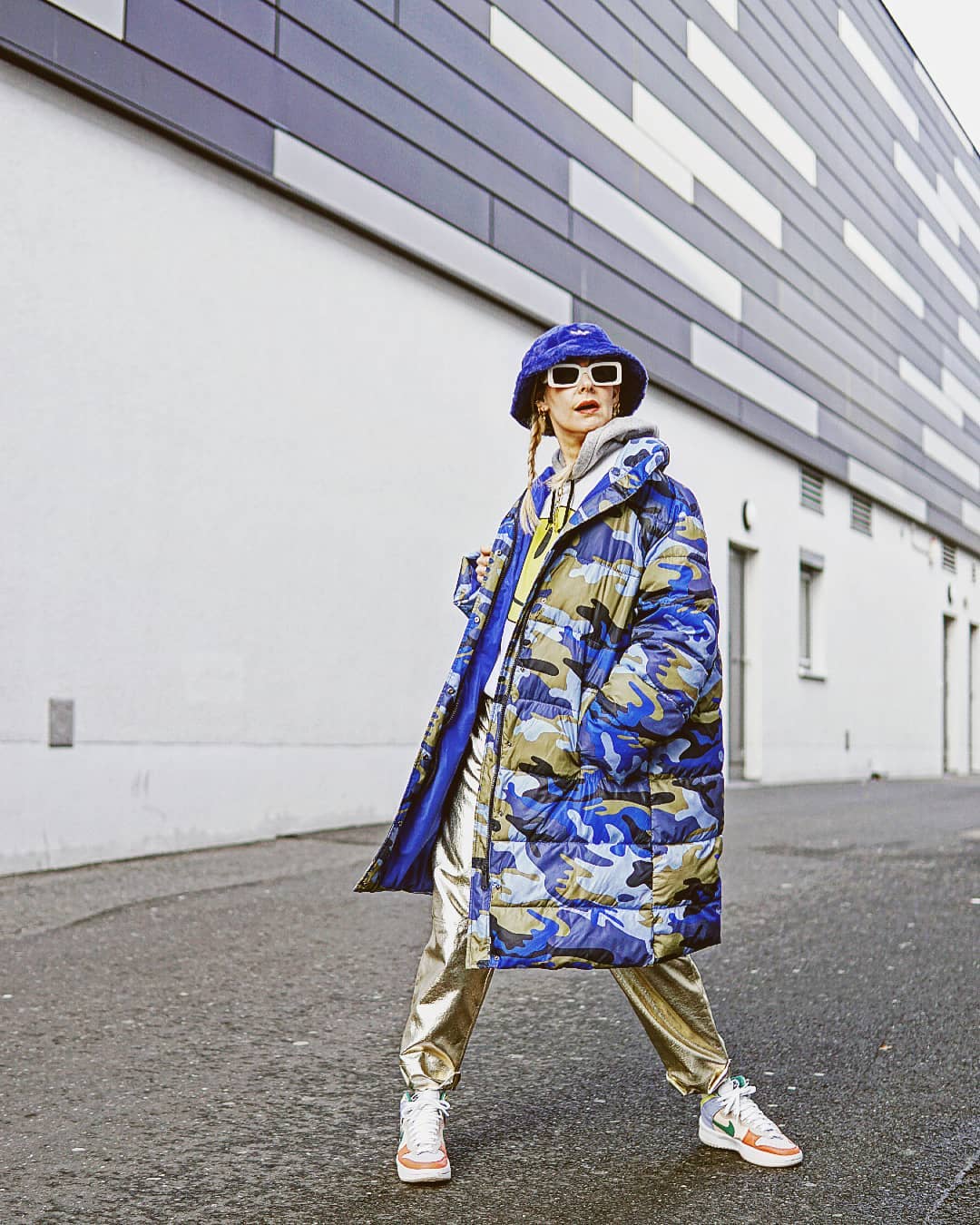 26 – You Can't Go Wrong in an All-Black Fit!
Add chunky gold accessories to make your outfit stand out even more!
Shop the duvet coat right here!
25 – Add a Statement Belt
A statement belt to the waist truly elevates the entire look. It adds to the shape and finesse of the duvet coat and shows off your gorgeous curves. Moreover, a belted waist is an excellent way to make your outfit more exciting and easy on the eyes!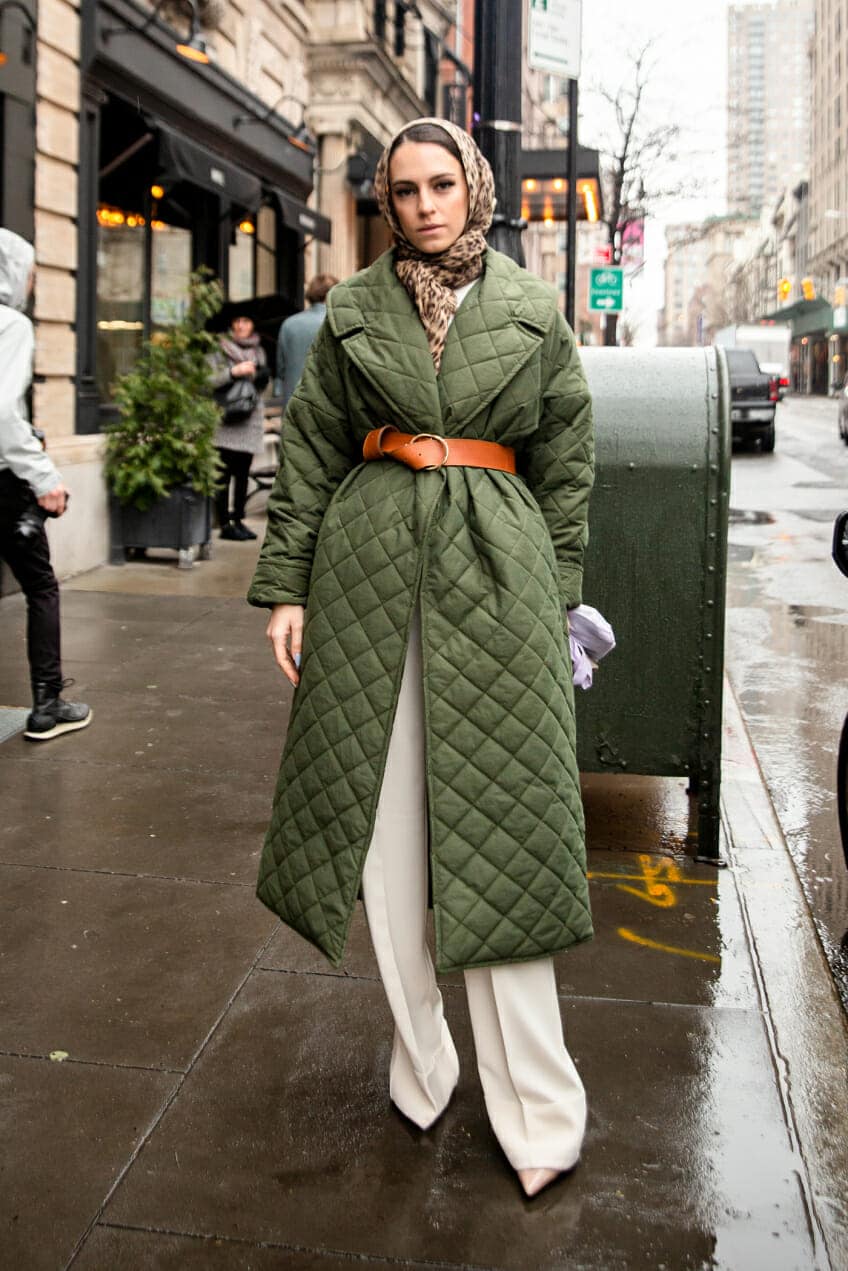 24 – Match a Pastel Colored Coat with Camo Pants for an Effortless Look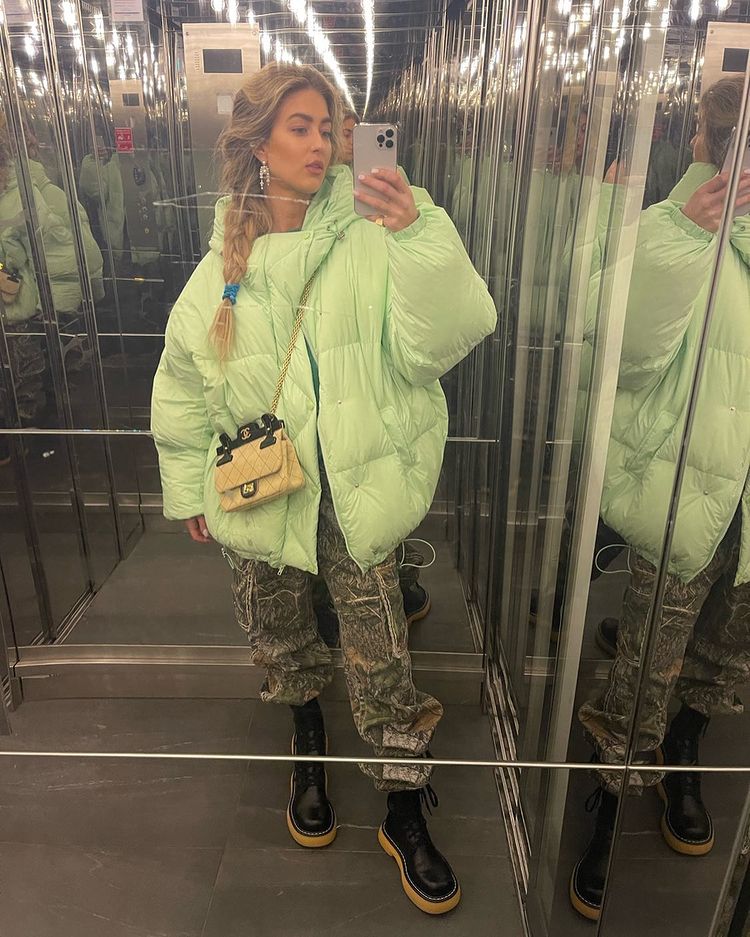 23 – Layer your Outfit in Shades of White to Emphasize your Pastel Coat
Nothing speaks fashionable more than an all-white outfit styled with a trendy pastel duvet coat. The details of this outfit are impeccable and praiseworthy. The white blazer is a stylish spin to wearing a duvet coat, and the white cardigan tied at the waist helps add character and layers to this look.
This look will easily make you feel like you have stepped right out of a magazine, paired with a striped shirt and white boots!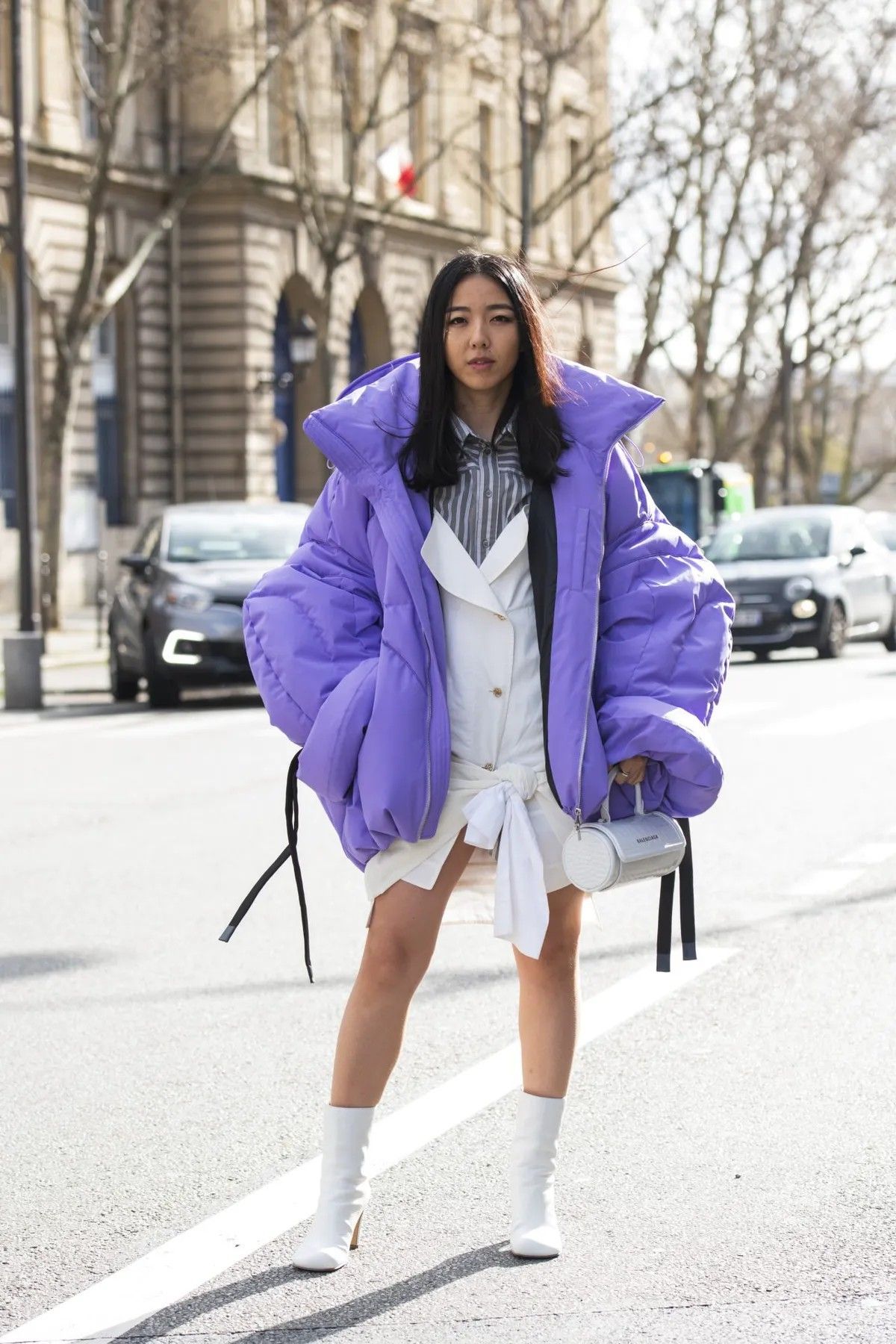 22 – Add a Bright Coat to a Monochrome Outfit
Leather pants are an excellent way to spice up any look. Therefore, style them with a monochrome outfit, and add a bold colored coat to stand out and put your unique spin on wearing a duvet coat. And let us all take a moment to appreciate the super cute bucket hat we all need in our closets!
21 – Go for the Double Coat Look in Pastel Yellow
This season is all about nailing the blazer on coat look. But when done in yellow and with capri pants, it is truly knocked right out of the park! This look is casual, and street style, and swapping the shite tee shirt for a more detailed blouse will make it fancy enough to wear to semi-formal events!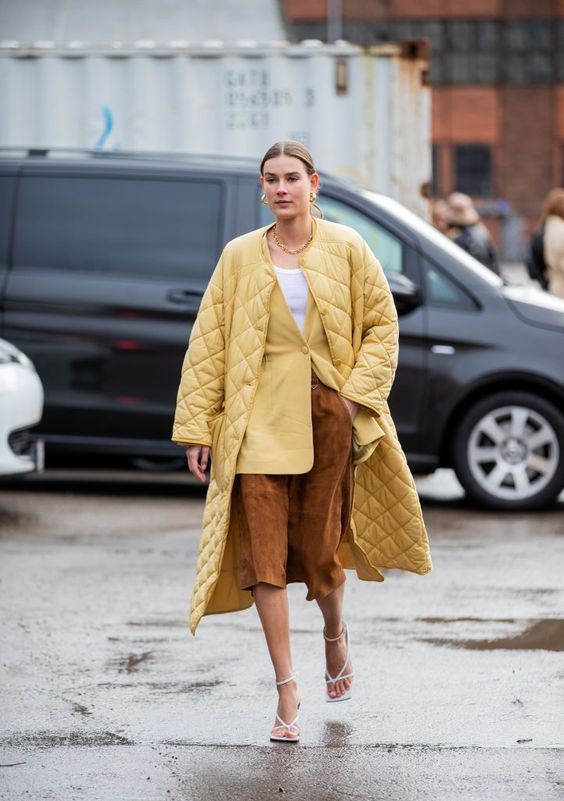 20 – Flared Pants Upscale Every Garment
An easy and quick yet equally fabulous way to duvet a duvet coat is with ripped flared jeans! Grab a similar colored ribbed tank top as your coat and throw all the garments on with a pair of white sneakers. Do your hair in a messy bun, add gold jewelry, and you are ready to hit the door!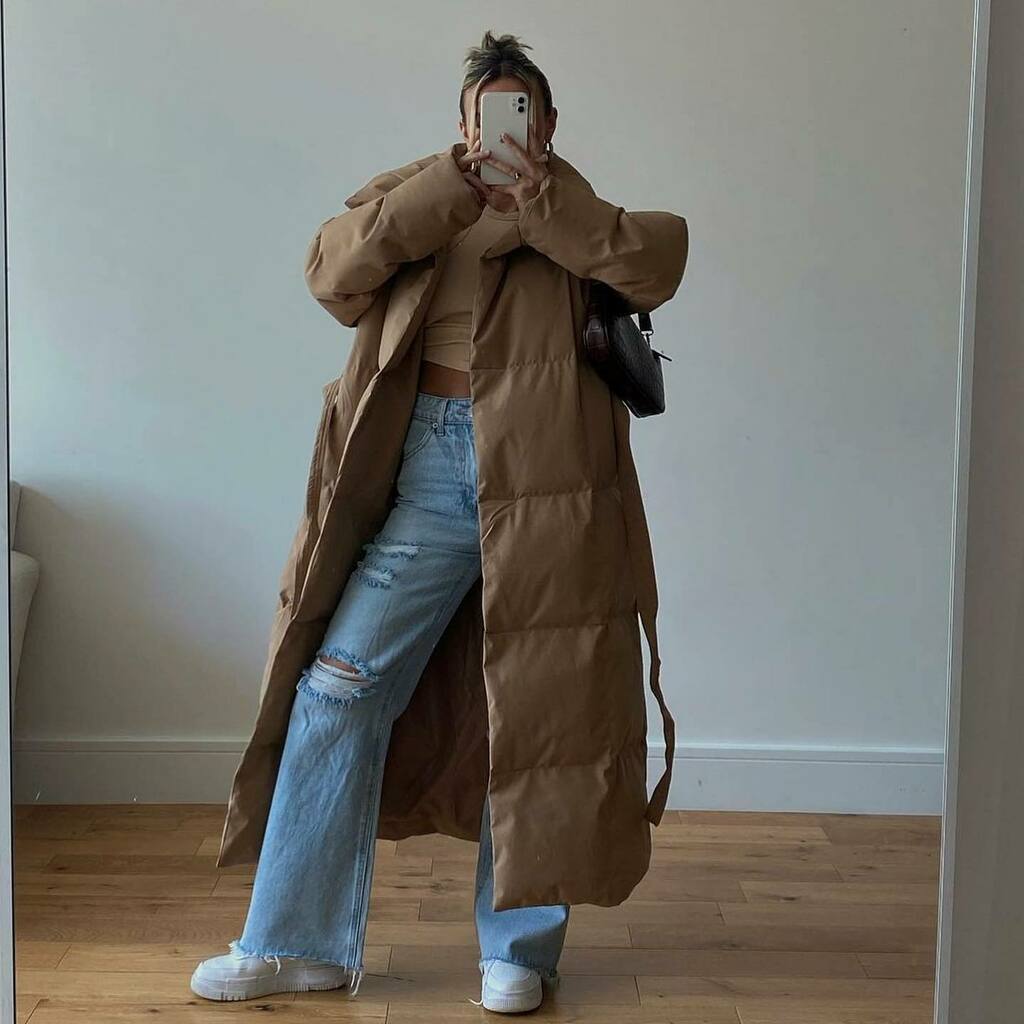 Grab this coat below:
19 – Matching Sets in Quilted Duvet are Gaining Popularity for All the Right Reasons!
Matching duvet sets are the popular trend lately because they are easy to style and look incredible too! Moreover, they are the perfect garment to wear on unpredictable days when the weather can't seem to decide its mood and causes unexpected cold.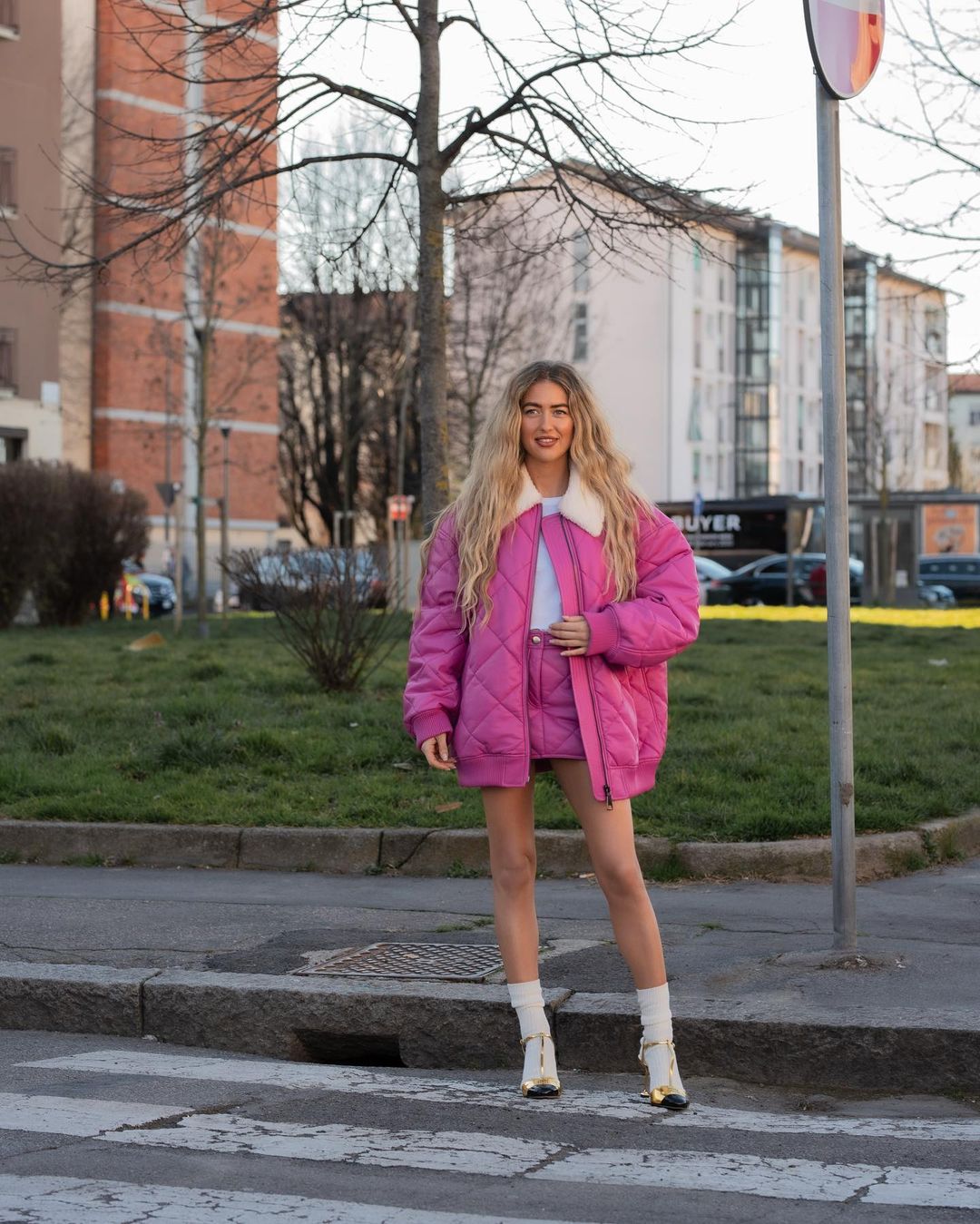 18 – Wrap a Warm Winter Scarf Along with a Solid Coat
These types of scarves are super cozy and look phenomenal! Especially if they are styled similarly to the image below. The beauty of the scarf adds to the grace of the duvet coat and adds something extra special to the overall look.
You can find similar scarves at Acne Studios. Click this to explore all your options!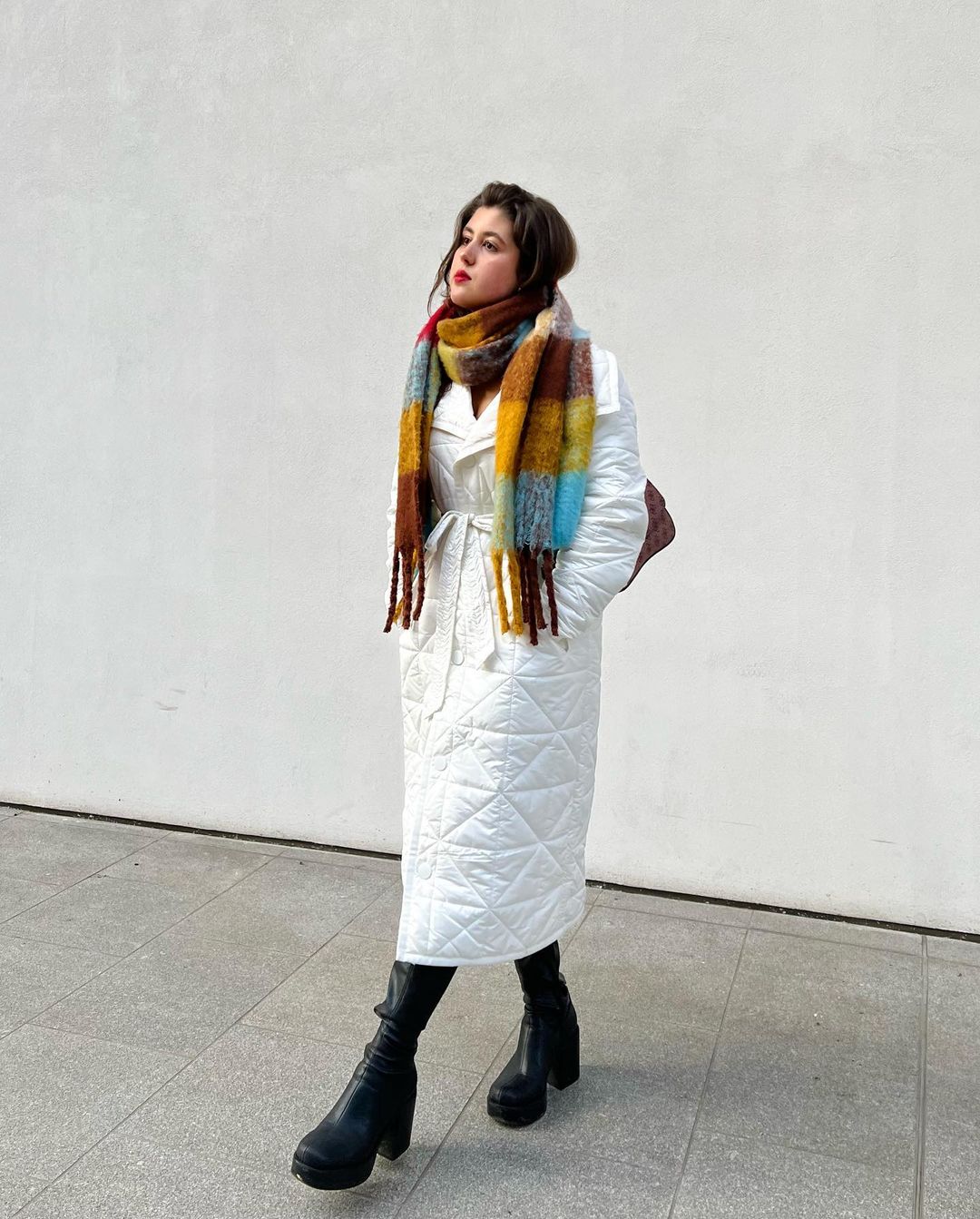 17 – Play Around with Prints and Patterns to Make your Solid-Colored Coat Stand Out
Jumpsuits and co-ord sets are an excellent match to tall and oversized duvet coats. Add a pair of heeled booties and you are all set!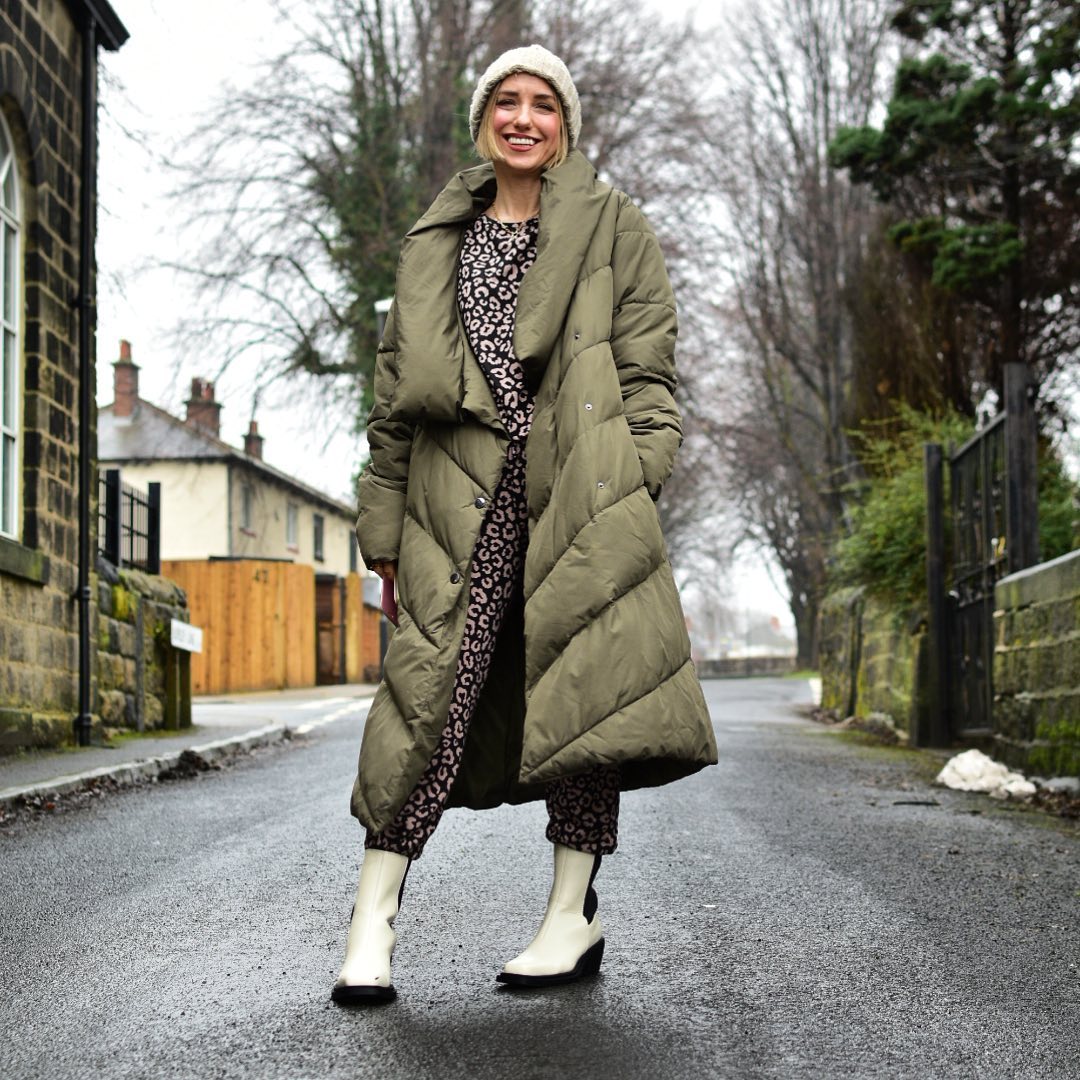 16 – Throw Your Hair in a Messy Bun and Add Sunglasses to Match the Trendy Vibe of Your Outfit
Here's a celebrity look we can easily recreate, especially if pink is your color! Grab your favorite tall duvet coat and pair it with a loose-fit ribbed knit sweater and printed funky pants. Swap those shoes for white sneakers or boots to match your sunglasses, and there you go!
Check out this gorgeous duvet coat in blush (here).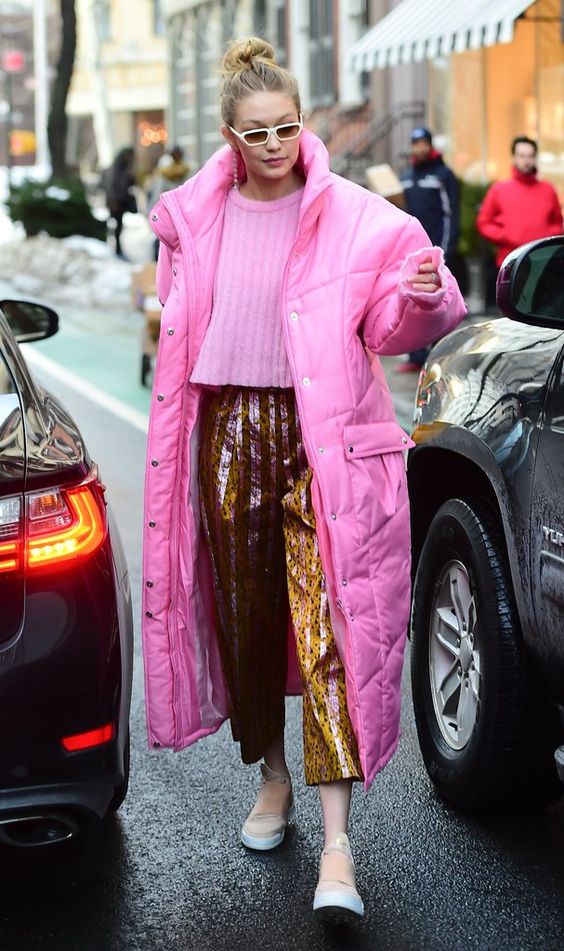 15 – What Better Way to Wear a Duvet Coat Then Matching Your Mini-Me?!
Step out of your home with mommy-daughter goals written all over your outfits!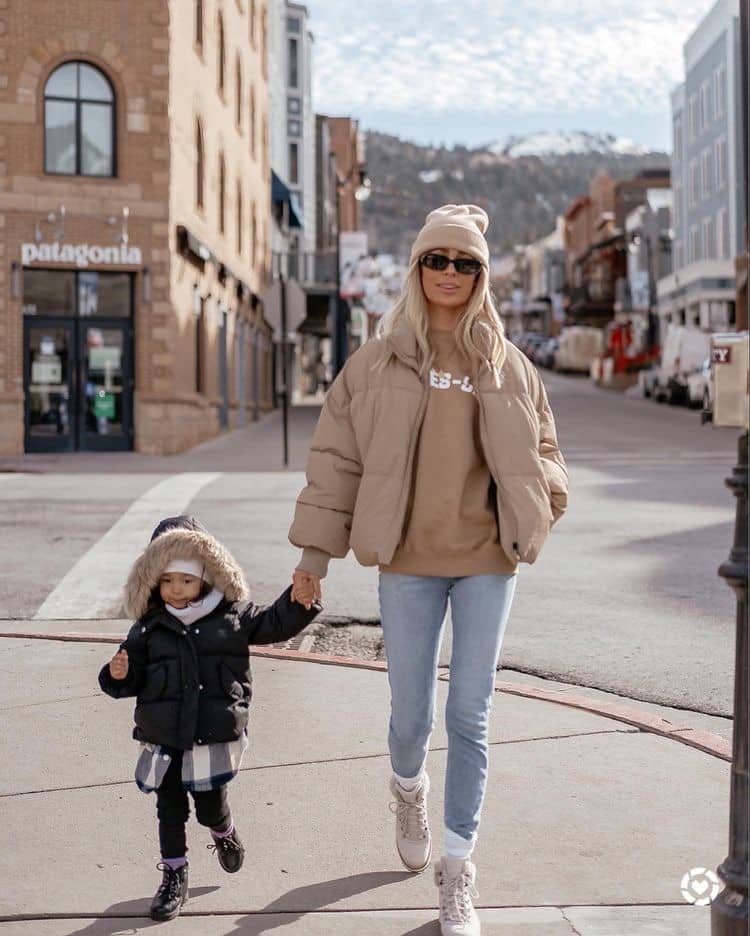 14 – Keep The Rest of Your Outfit Minimal If Your Jacket is Bold & Unique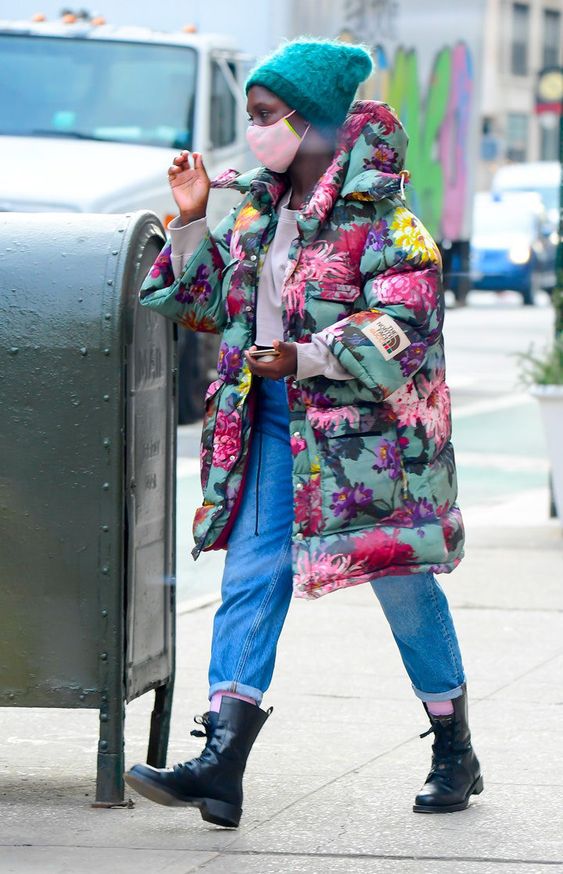 13 – Pair with a Printed Cardigan for a Unique Look That Keeps you Warm!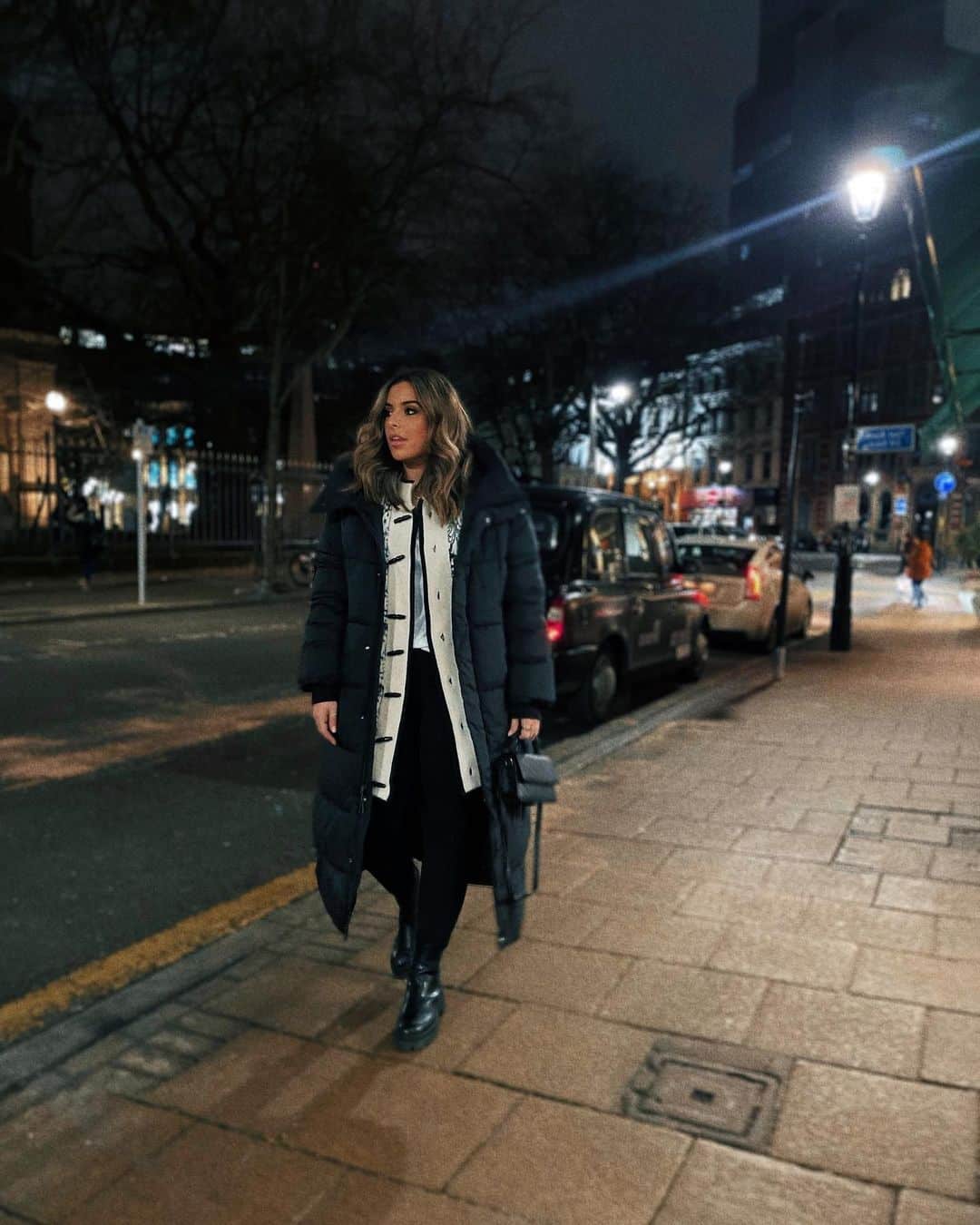 12 – Go Big on the Accessories & Hat or Go Home!
Even if your outfit is plain and you feel pretty mundane about it, there are a few ways to jazz it up and make it more exciting. And the way to do that is through accessories! I firmly believe that accessories can make or break your outfit and this look is proof of that.
Notice how her look immediately became unique and stylish? All she did was add a pair of chunky hoops, a dainty gold necklace, and that fun hat to compliment her fit. And it does compliment her entire look!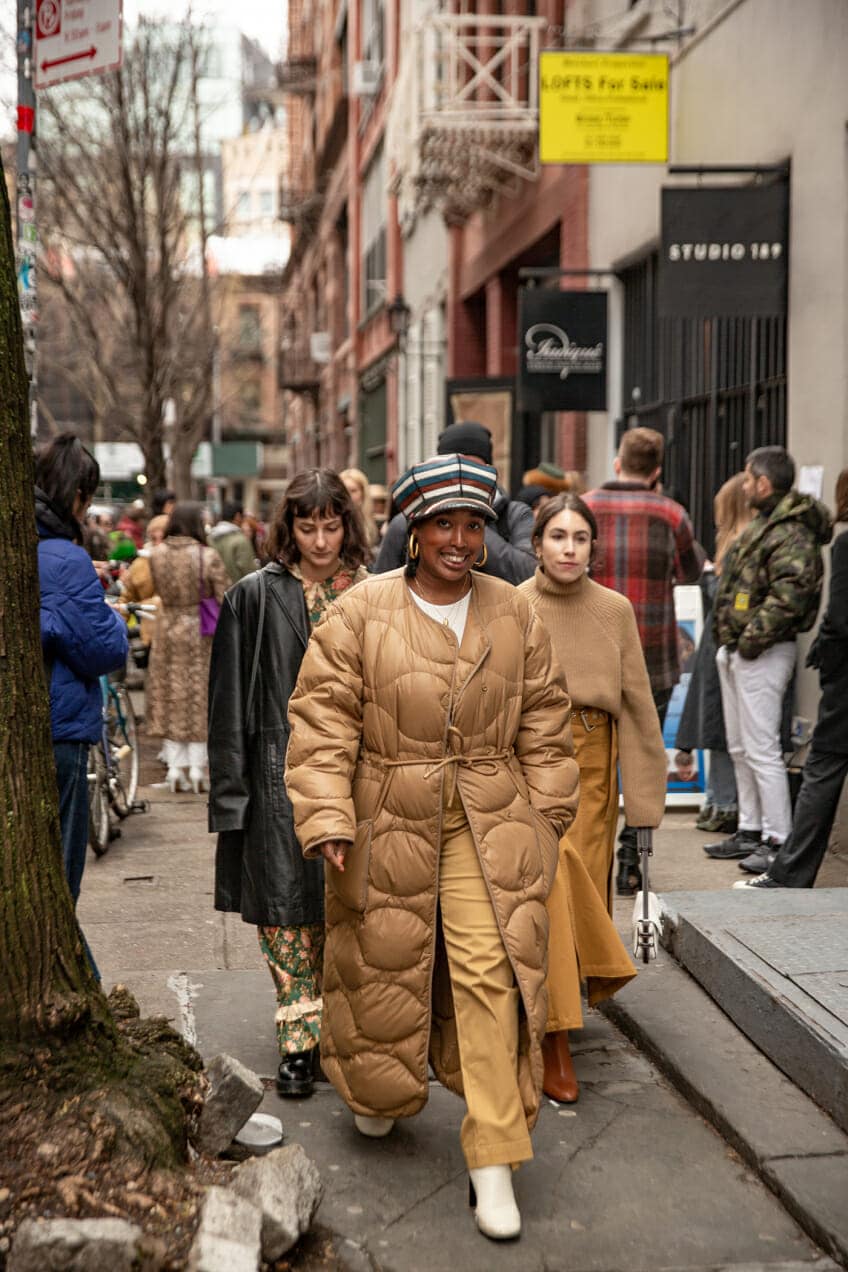 11 – Add a Pop of Color to Peek Through a Neutral Toned Outfit
Adding an orange turtleneck to this otherwise dull outfit is an extremely clever way to stay warm and stylish too! I suggest adding a similar colored handbag to tie the entire look together.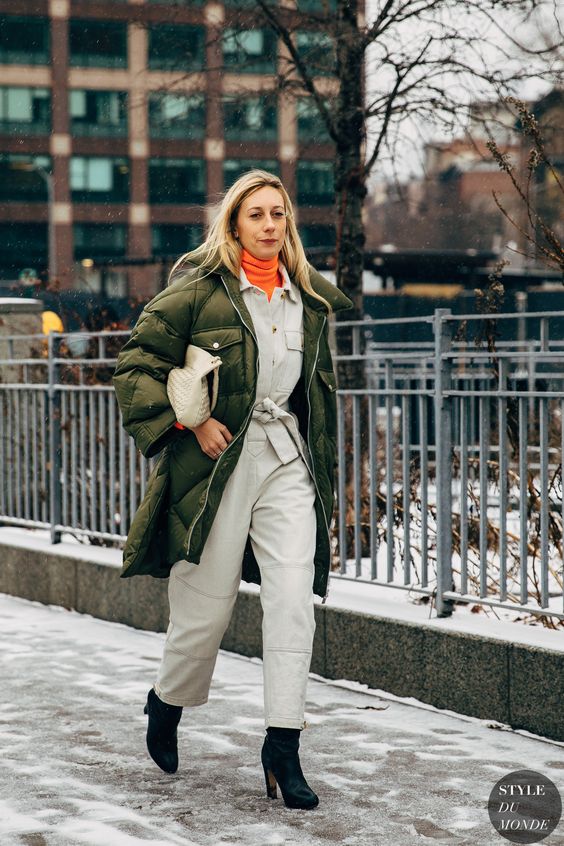 10 – Patchwork Quilted Duvet Coats is a Statement in Themselves & Does Not Require Meticulous Styling!
With a coat as detailed and stunning as a patchwork quilted duvet coat, you do not need to put much effort in regards to the rest of your outfit. A simple pair of jeans and black or white boots will suffice, ensuring you look spectacular.
09 – For the Not So Chilly Days, a Shorter Duvet Over a Mini Dress is a Perfect Choice!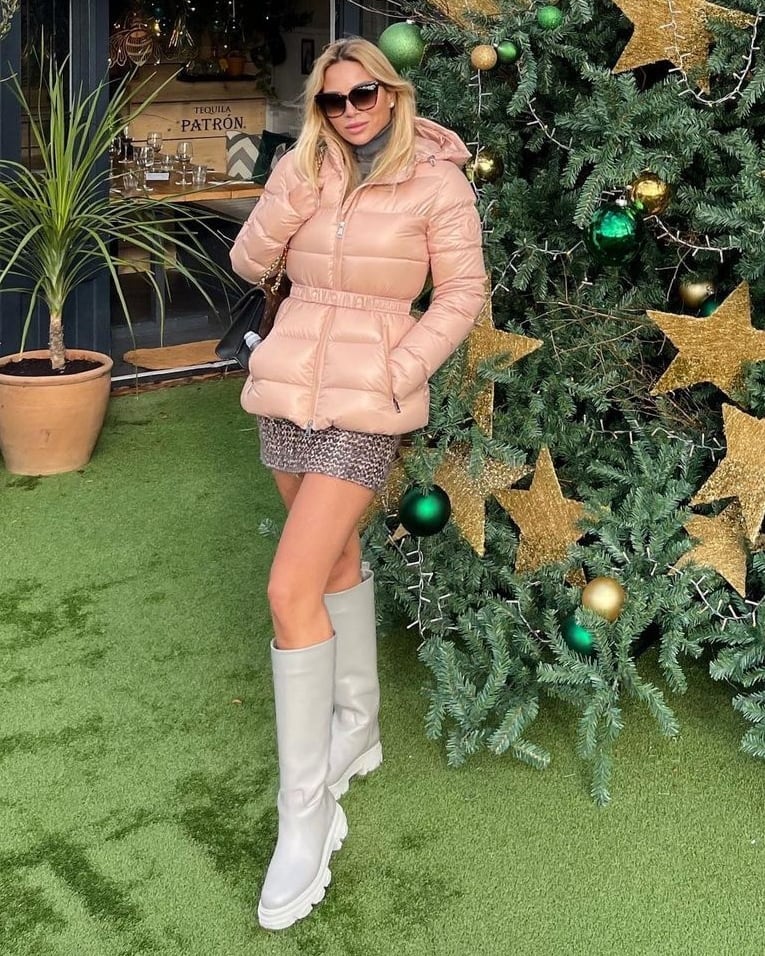 08 – Go For a Small Purse That is Easy to Loop Through the Arm
I would suggest opting for a similar purse or any bag that loops through the arm, is lightweight, and is easy to carry rather than a bulky bag that keeps falling off the shoulders. Moreover, a smaller bag adds to the aesthetic of the outfit too!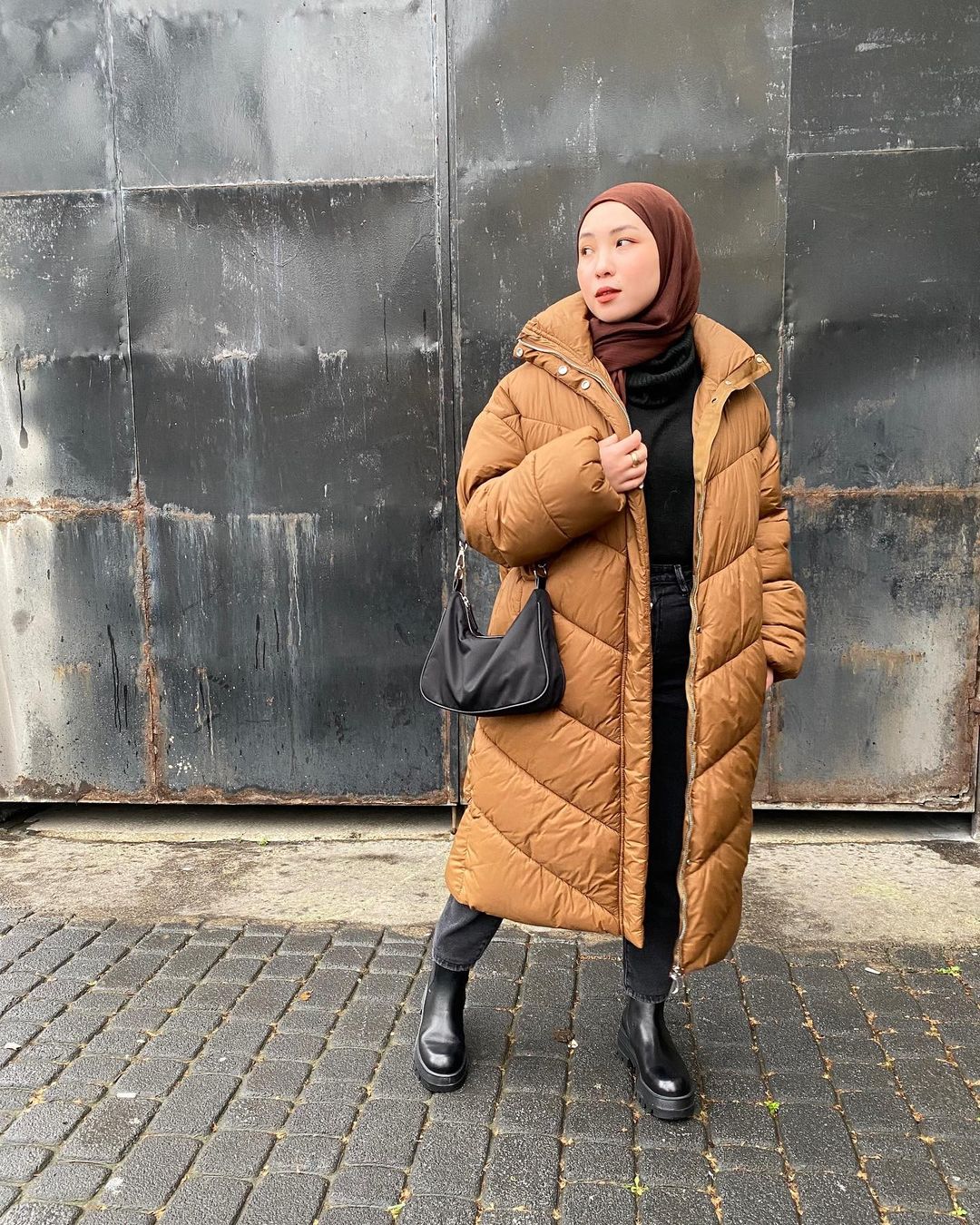 07 – Opt for a Bright Coral Coat for the Early Spring Days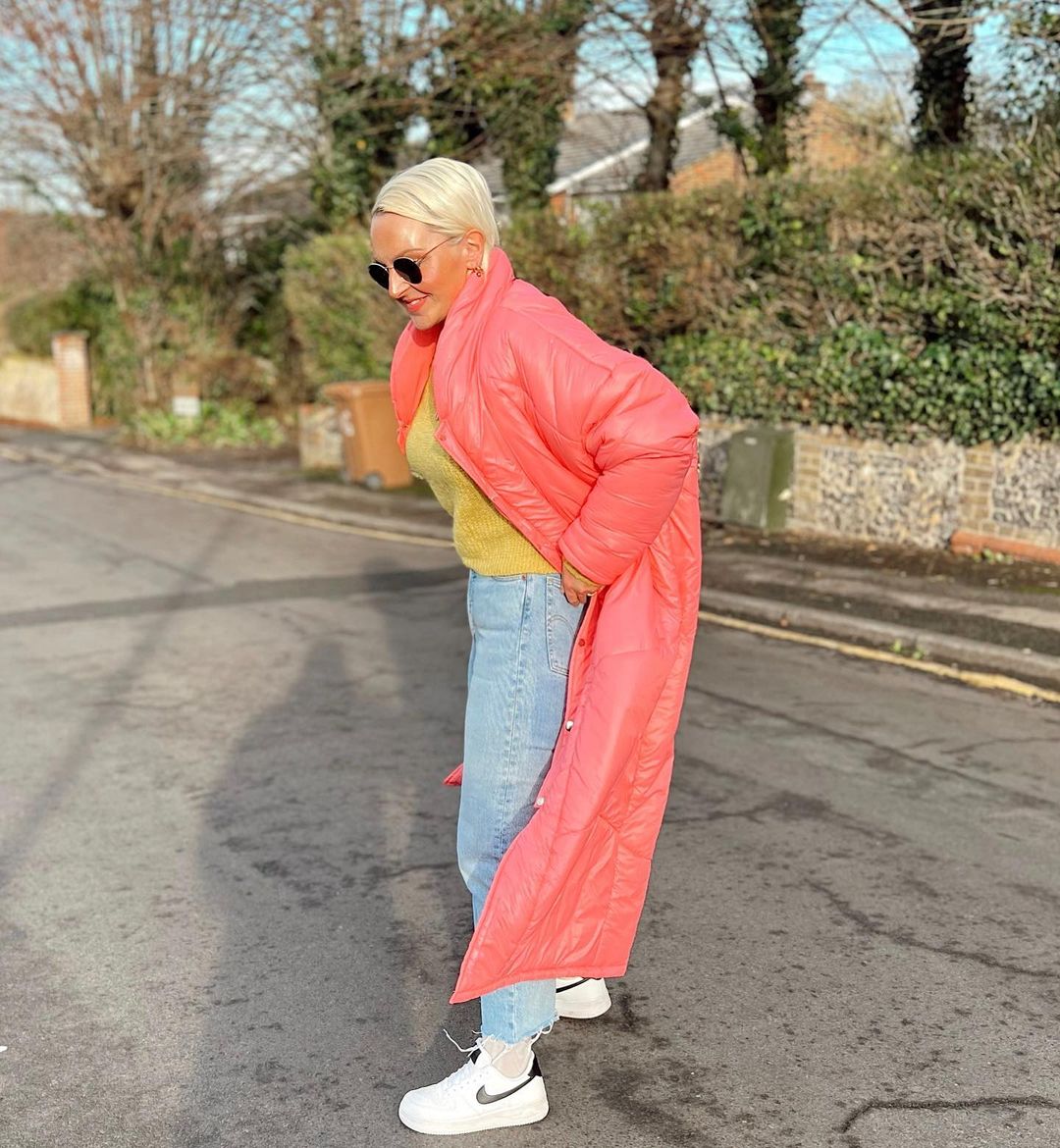 06 – Do Not be Afraid to Throw on Your Duvet Coat Over a Sweatsuit if you Want the Ideal Street Vibe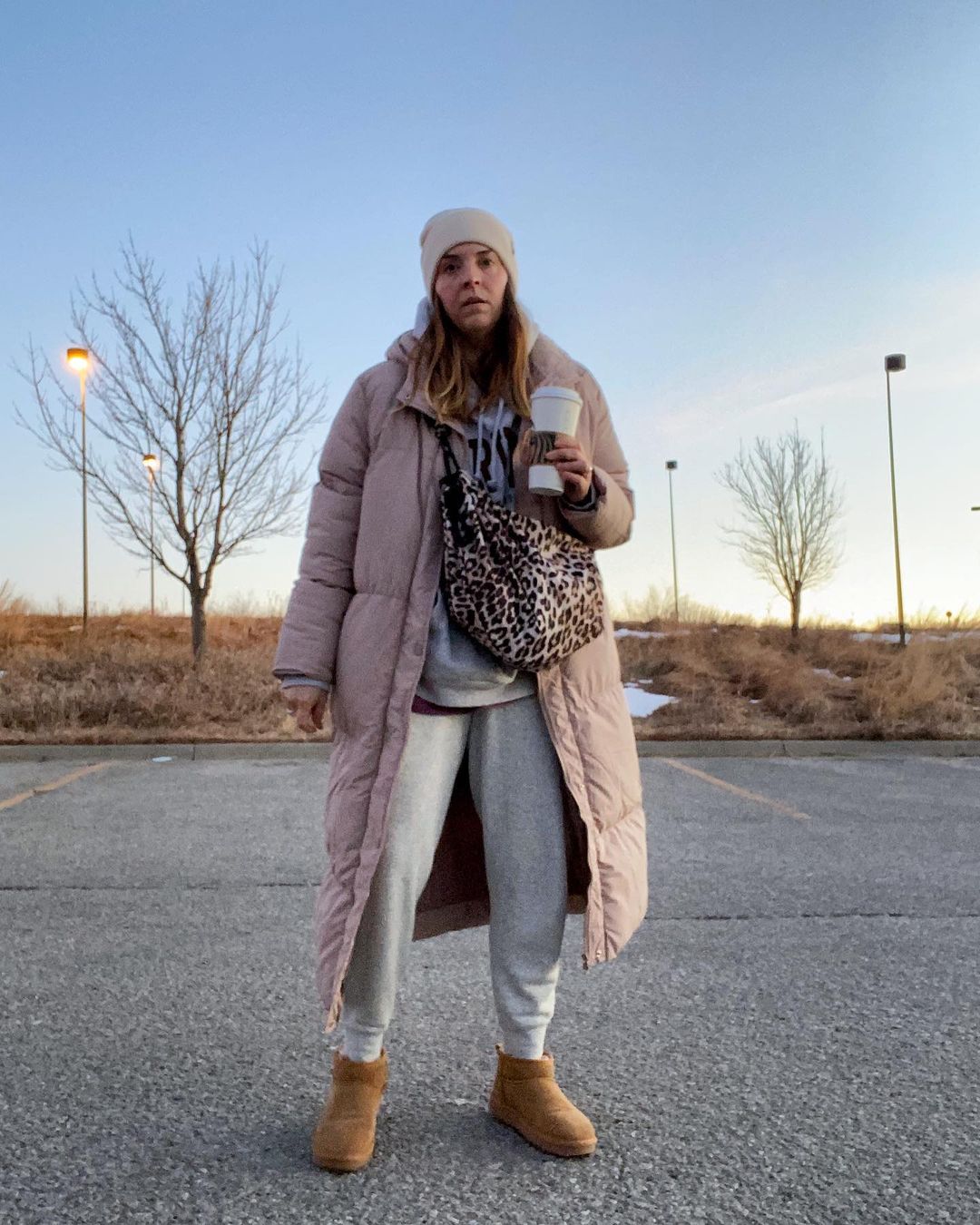 05 – Add a Red Beanie to Introduce Color Blocking to Your Look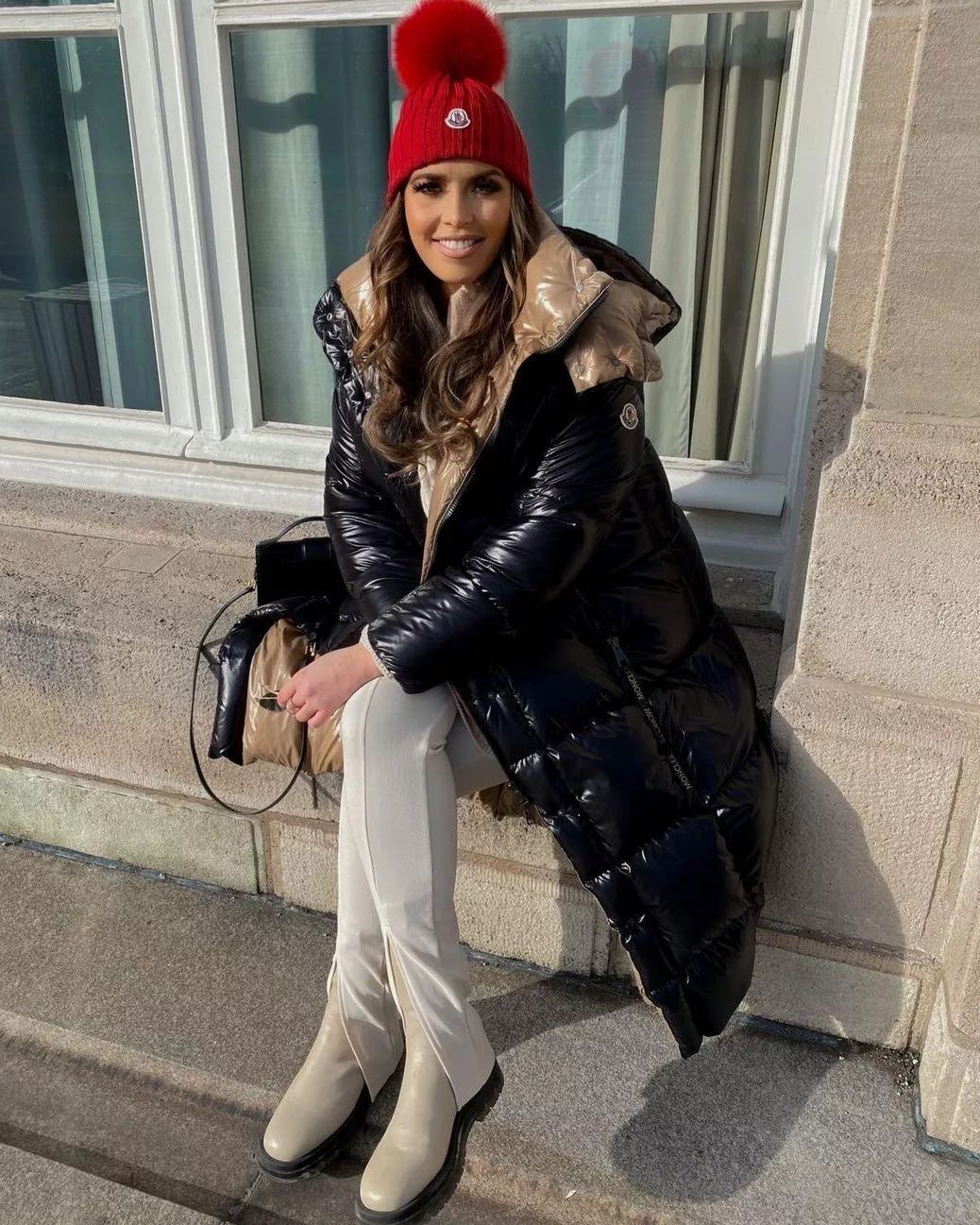 04 – Add Dazzling Accessories to Make This Duvet Coat Go from Basic to Street-Chic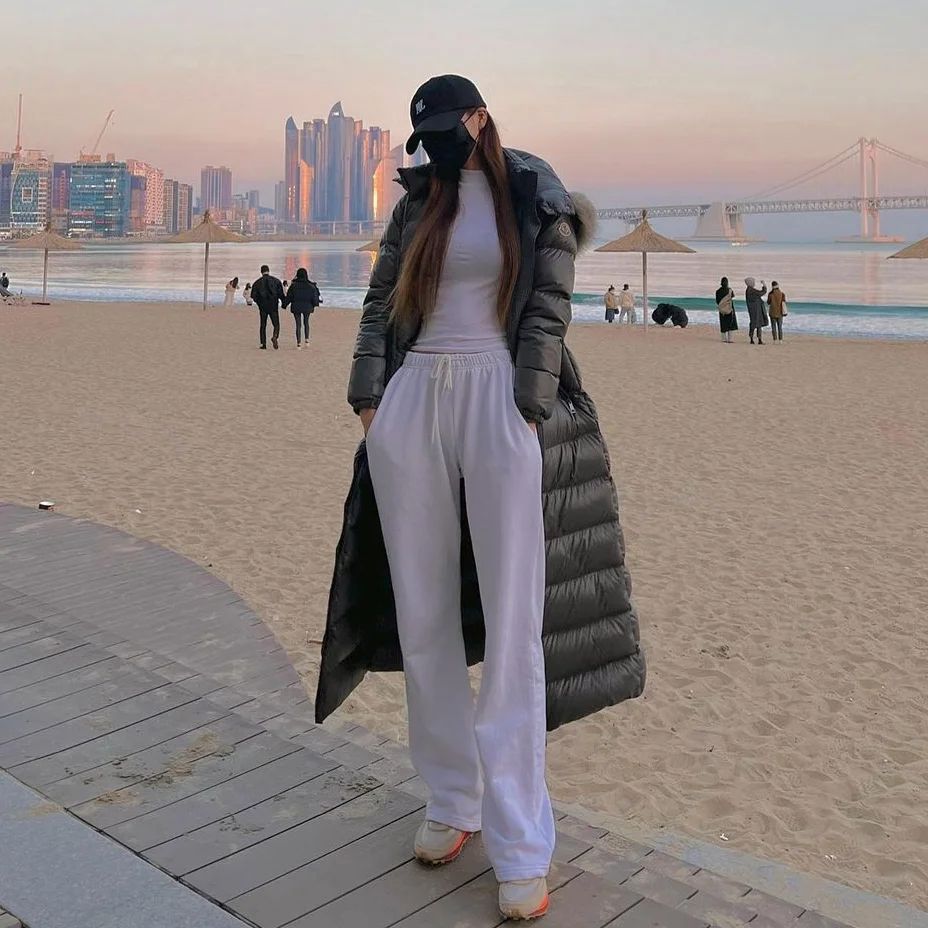 03 – Layer your Quilted Duvet Coat Over a Turtleneck Dress in Monochrome Shades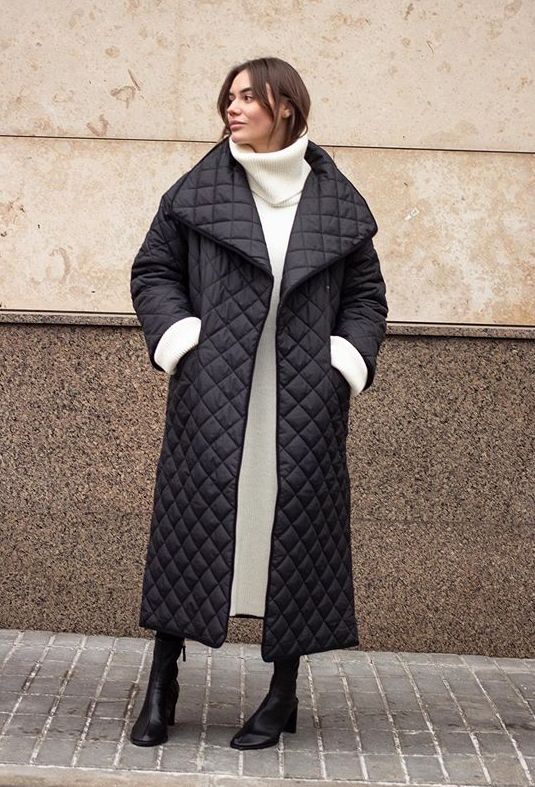 02 – Nail This Summer Look With a Short Duvet Puffer Coat and a Pleated Skirt!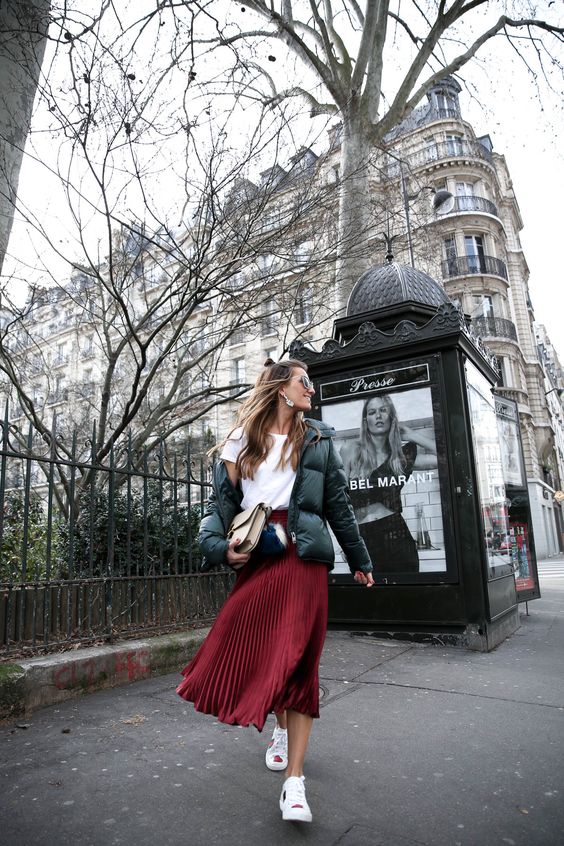 via
01 – Pair a Graphic Tee with a Metallic Duvet Coat to Outshine the Crowd!
Frequently Asked Questions
Q. Are duvet coats waterproof?
You will have to check the label for instructions and directions. Generally, duvet coats come with a waterproof tag. However, if your outerwear comes without any product details, it would be safer to assume it is not waterproof and treat it as such.
For more details, check out the website of your respective coat for the specifications. That should clear up any misunderstandings!
Q. How long should a duvet coat be?
The answer to this question is relative! Coats come in all sizes, from short to long. Therefore, a duvet coat can generally be however long you want it to be. It can be short till the hips or go all the way down to your ankles.
When talking about duvet coats specifically, I gravitate more towards the longer ones below the knees. There is just something extra cozy about a duvet coat that wraps you up from head to toe and helps you get the feeling you never left your bed. After all, that's what duvet coats are all about for me!
Q. What bag to wear with a duvet coat?
A crossbody bag is perfect if you wish to remain hands-free and hassle-free all day long! You would not have to worry about carrying and taking care of your bag. Instead, you will be reassured to have all your belongings compiled in one place.
Moreover, the options for styling a crossbody bag are endless! It can be as dainty or bulky as you want and are bound to look fabulous. Otherwise, a small purse or a fanny pack would suffice as well!
Q. Where to buy duvet coats?
There are so many places you can find a good duvet coat! Check out these brands to find the perfect match for you!