Top Hijabi Bloggers. With the growing trend of hijab fashion, young fashion bloggers have taken over the social media world by storm. At outfit trends – where we have a vast collection of Muslimah latest fashion – we have been receiving many messages regarding the outfits and hijabs that bloggers wear.
You asked, and we delivered. Here are some of the top Hijabi fashion Street style bloggers that are a must-follow for your daily fashion inspiration. Check them out below.
Top Hijabi Influencers
Read on to find some of the best hijabi bloggers and follow them to stay updated on the latest fashion trends.
↓ 20 – Aya Elshehaby
This blogger loves to stay simple and sticks to mostly nude and white colors. Her Instagram is full of stunning pictures of her on the beach mostly, seems like she loves to travel! She has whopping 93K followers on her Instagram @100looks_. Aya posts day-to-day pictures of their favorite local finds, perfumes, jewelry, and much more so make sure to check their profile. This blogger is a designer, stylist, and entrepreneur. Talk about being multi-talented!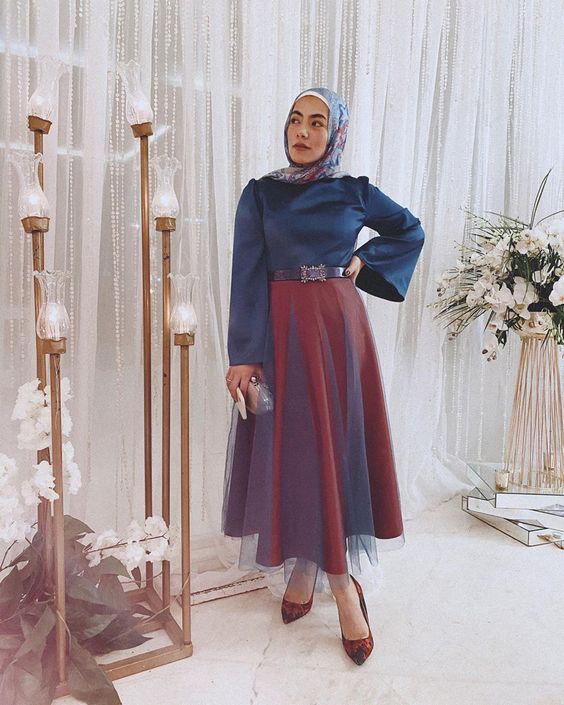 ↓ 19 – Fatema Alawadhi
Fatema's style is stunning as ever. She loves to wear suits and style them in different ways. Makeup and fashion is her passion, so make sure to check her very own boutique out dl.boutiqaat.com. Fatema is also the brand ambassador of Charlotte Tilbury Makeup Arabia 2021. Her amazing sense of fashion and makeup has brought them a following of 357k on Instagram @justfatema.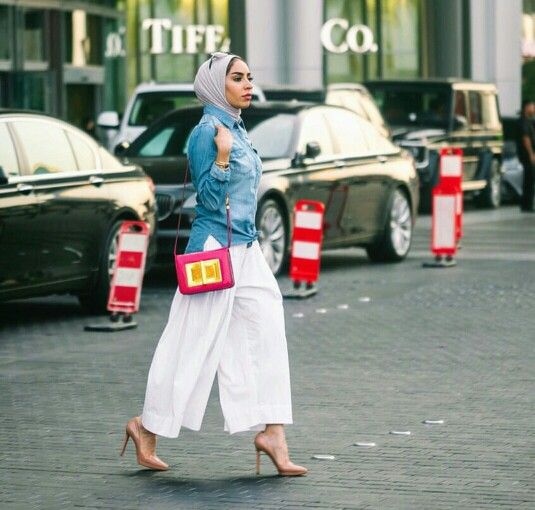 ↓ 18 – Sally Ashour
Sallys Instagram screams french renaissance. Her style is something we cannot explain using words, you will have to check it out for yourself @sallyomo. Her vibe seems amazing and we cannot get enough of it. She shares images of her loving relationship, travel, and her love for painting. She is definitely someone we look up to in terms of hijabi fashion because she takes it to the next level! She is also the CEO of her own brand that sells vintage clothes and jewelry, sallydelarose.com.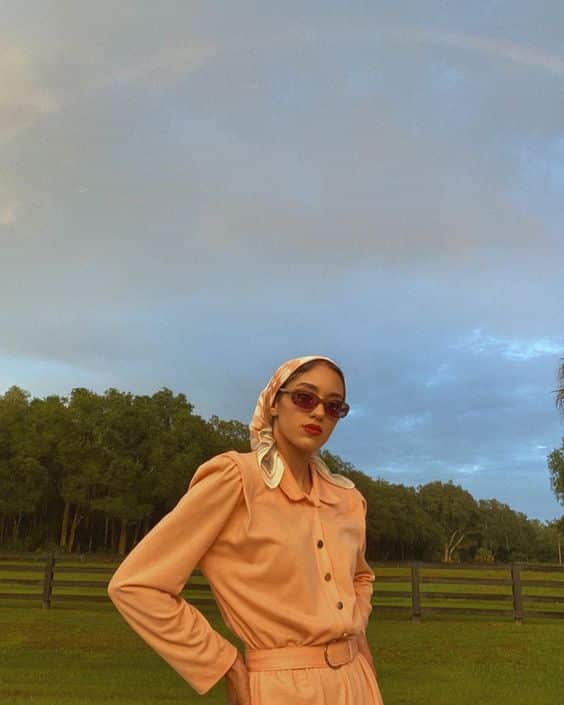 ↓ 17: Farah Emara
Farah Emara is an Egyptian beauty who gives us some major #hijabgoals. The petite lady is well known for her turban-and-sunglasses combo. She is not one to keep her styling secrets to herself either; she often shares tips and tricks for tying a turban to suit different occasions. Her colorful outfits and gorgeous smile can brighten up anyone's Insta feed. You can visit her blog here to stay updated about the latest happenings in her life, along with her favorite fashion trends. You can also watch her videos on YouTube, which makes her fashion applications easier to follow. With such rigorous updating on all her platforms, it's no wonder that she has raked in 213k followers on her @farahemara.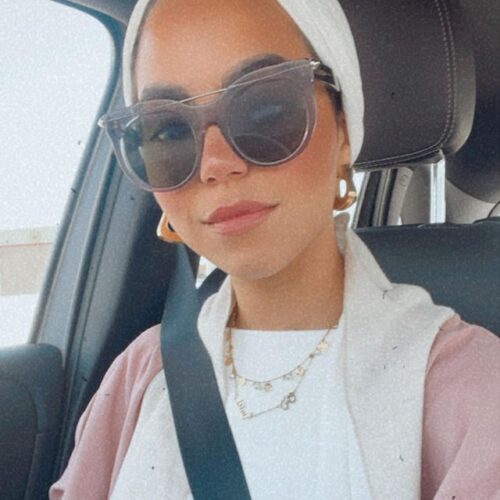 ↓ 16: Imane Asry
Speaking of minimalism, how can one forget this stunner: Imane al Asry. The 24-year-old Economics student is based in Stockholm, Sweden, and regularly shares posts that look like they were taken straight out of a painting. Her cool neutrals make her a favorite among many Instagram users who have nicknamed her the 'Modest Minimalist.' She embodies her username by taking style and modesty hand in hand. The fashionista soon found her hands full with requests from eager fans and has since started a Youtube channel youtube.com/Fashionwithfaith, where she shares different aspects and tips from her life. You can also join her 164k followers on Instagram @fashionwithfaith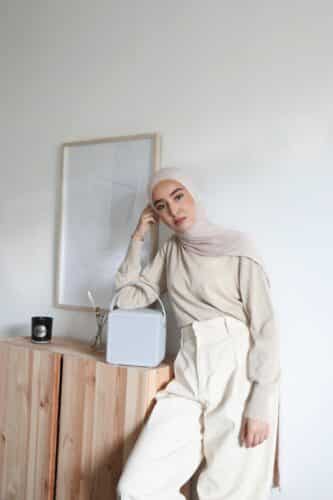 ↓ 15: Yasmine Simone
This green-eyed beauty is none other than Yasmine Simone. The girl can make literally anything look good. Her casually cool outfits are sure to make your jaws drop. And who can deny her mad cut-crease skills? Her immaculate glowing skin speaks for itself, and she shares tons of much-needed makeup advice, DIY skincare, and slip-proof hijab tutorials. She even has a video on how she edits her Insta posts! She has a huge following thanks to her helpful posts and receives a lot of love from the Instagram community. Don't forget to subscribe to her Youtube channel. The fashion goddess also has 220k followers on Instagram where you can follow her @___enimsay
↓ 14: Heba Jalloul
Heba Jalloul is an Arab-American fashion blogger currently residing in New York, USA. She shares different picturesque moments from her colorful life in the big apple and visits abroad. Not one to shy away from experimenting, she constantly surprises us with her wide range of styles. From sequins to muted neutrals, to eclectic patterns – the girl can own it all with ease. She brings together all her looks with a chic handbag. The lovely sceneries, paired with her fashion sense, have brought her 144k followers on Instagram. Make her a part of your daily feed @heba_jay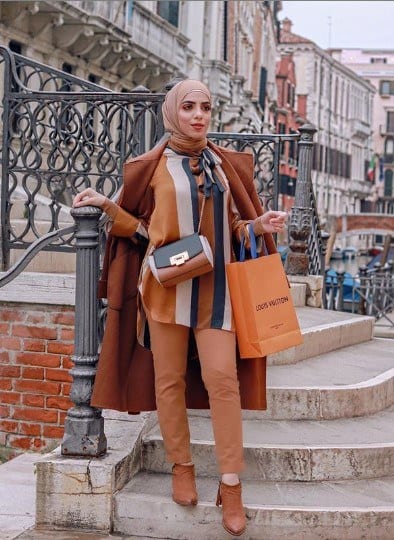 ↓ 13: Osob
Oslob's glittering makeup tutorials have been garnering all the love on Instagram this year. The Somali make-up artist lives in Canada and frequently shares makeup tutorials. She proves that being a hijabi does not limit your beauty at all. With a casual outfit, she almost always goes for a nude lip and flawless contour. The gracious diva shares her contouring hacks freely, and you are sure to have chiseled cheekbones after subscribing to her Youtube Channel youtube.com/osobbeauty or following her on Insta @osob.mohamud. She reigns at number 15 on our list with 187k followers.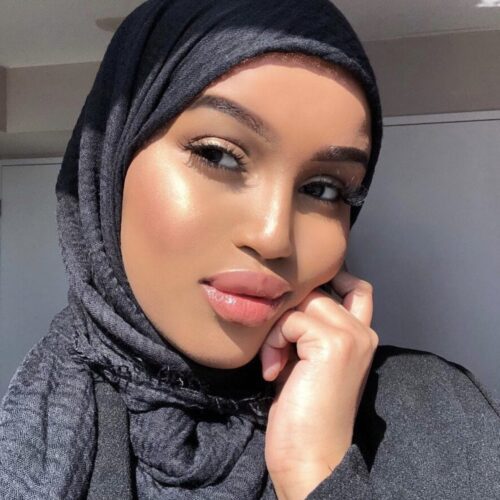 ↓ 12: Melanie Elturk
Melanie Elturk is the entrepreneur behind Haute Hijab. She launched the brand which encompasses her love of classy vintage fashion. She shows the world how it's done by pairing her own hijabs with stylish wear. Her clothes are usually sculptured and masculine in nature, but she feminizes them with her grace ala Prada. You can buy the hijabs she wears at HauteHijab. Her Instagram account has a whooping 333k followers, and you should get in on the fashionista's feed as well @hautehijab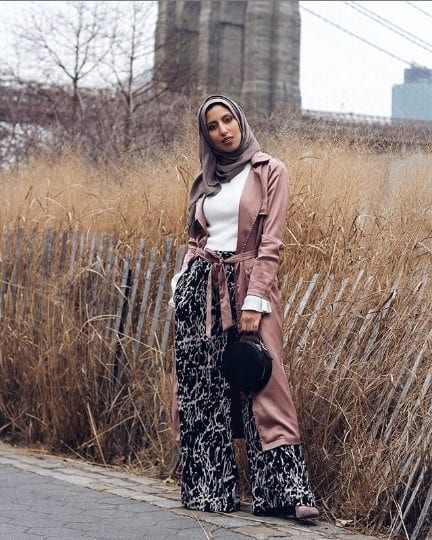 ↓ 11: Shahd Batal
The young Californian is fast becoming our go-to blogger for creating graceful, casual looks. Shahd really knows how to rock the nude look and is a pro at including stylishly oversized clothes in her ensemble. Hoodies, sweaters, blanket scarves – there is nothing the girl can't pull off. She keeps up with all the latest fashion du jour, which have earned her 387k subscribers on Youtube and 411k followers on Instagram. Follow away @shahdbatal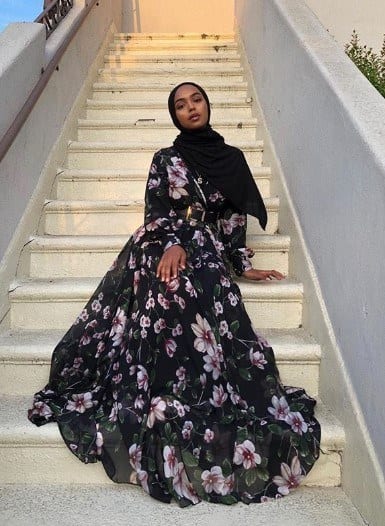 ↓ 10: Manal Chinutay
Canada-based Chinutay has gained a following of over 324k followers on Instagram thanks to her quick-and-easy beauty tutorials. She incorporates her hijab effortlessly with her outfits, often styling it as a turban, bandanna, or even beret. Her outfits are usually accompanied by pops of prints and color, paying homage to her Nigerian roots with a Western fusion. Thanks to her huge fan following, the blogger continues to work with major brands like Loreal and Lancome, while successfully running her own scarf company. Buy them at chinutayco.com/shop/. Visit her Youtube channel and be sure to give her a follow on Instagram @chinutay.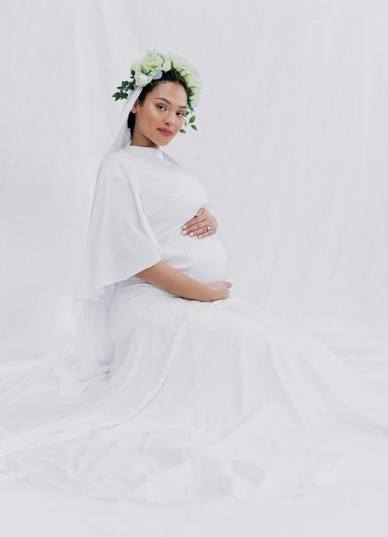 ↓ 9: Soha Muhammad Taha
This beauty is famous for elegantly draped hijab and modest dressing. She not only wears modesty but sells it as well on sohamt.com. Her site also includes cosmetics, handbags, and other products. Soha regularly posts pictures of herself and embodies modesty and grace with her frequent use of pastels, vintage, and drapes. She currently resides in Dubai, where she enjoys her newlywed life. Follow her for some amazing fashion inspiration @sohamt, where she boasts over 800k followers.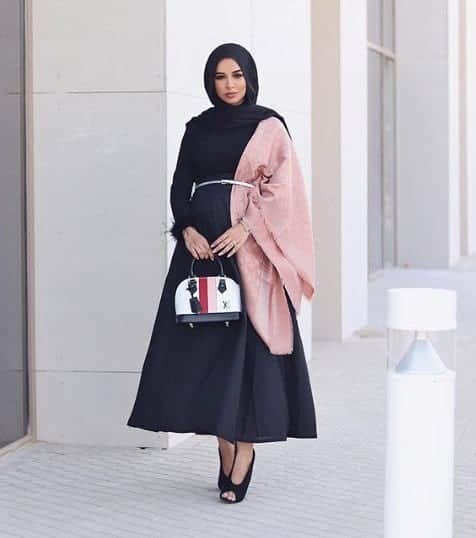 ↓ 8: Maria Alia
Maria is another Hijabi blogger based in New York. She posts aesthetic pictures from her life, traveling around the world. She mostly opts for sleek Western cuts, dangling earrings, and a swept-back hijab. She shares many of the beauty hacks behind her dewy, clear skin and has worked with Loreal and Dior among other major cosmetics brands in her makeup tutorials. Visit her Youtube channel: youtube.com/mariaalia and be sure to add her fabulous posts to your Insta by following @mariaalia joining her 404k fans.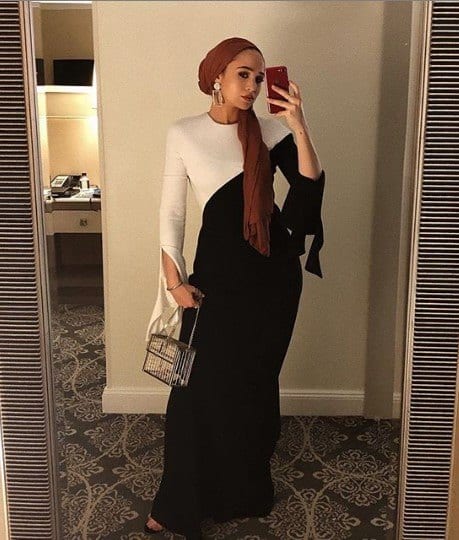 ↓ 7: Basma
Basma is one British-Somali gal who really knows how to reinvent culture with style. Her outfits pay homage to her rich heritage while gracefully combining them with Western cuts. Her highlighter is always on fleek, just like her dresses. What's more, she owns her own line of hijabs by the name of Basma K, and she's often seen styling hers as a turban, draping it, or even wearing it with a straw hat. Only she can pull that look off with such grace! Her immaculate fashion choices have attracted 410k Instagrammers, where you can follow her @basma_k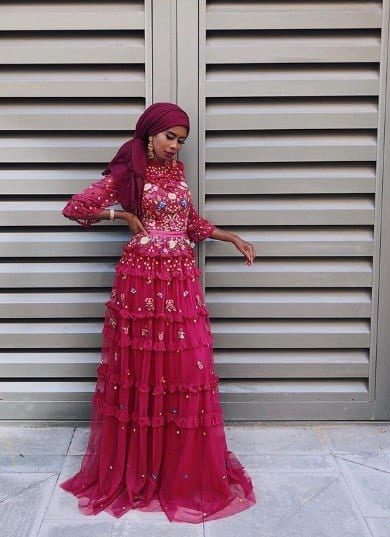 ↓ 6: Sahar Foad
Sahar Foad is an Egyptian hijabi blogger with an eye for art and fashion. She's considered one of the emerging Muslimah street style bloggers on social media. The iconic woman is known for dabbling with various trendy hijab styles, and it comes as no big surprise that she was the face of 'Hijab In style' magazine for the Winter '18 edition. The gorgeous girl keeps her feed interesting with eccentric, playful poses and a girl-next-door personality. Don't forget to follow her Instagram @saharfoad, which is already followed by 941k followers, and visit www.saharfoad.tumblr.com.
↓ 5: Sabina Hanna
This girl has brows to die for. The gorgeous London-based blogger pairs her sleek hijab with bold makeup looks. From dramatic smoky eyes to halo effects – she owns them all. She often combines her South Asian patterns with modern styling to create one-of-a-kind looks. On her YouTube channel, you can watch the magic happen in the tutorials. Her unique fashion sense inspires over 577k followers from all around the world on her Instagram @sabinahannan.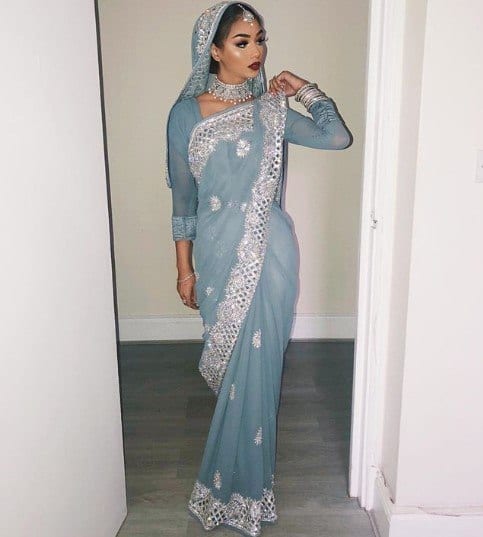 ↓ 4: Rianne Mua
Rianne is no ordinary blogger. This super-talented girl recreates the looks of famous celebrities, paints art pieces on her face, and keeps up with all the latest 'challenges' and trends. For her outfits, she usually goes for a simple black hijab with an under-cap and muted colors for her clothes. She has whooping 504k followers on her Instagram @riannemua. You can also subscribe to her on Youtube for in-depth tutorials.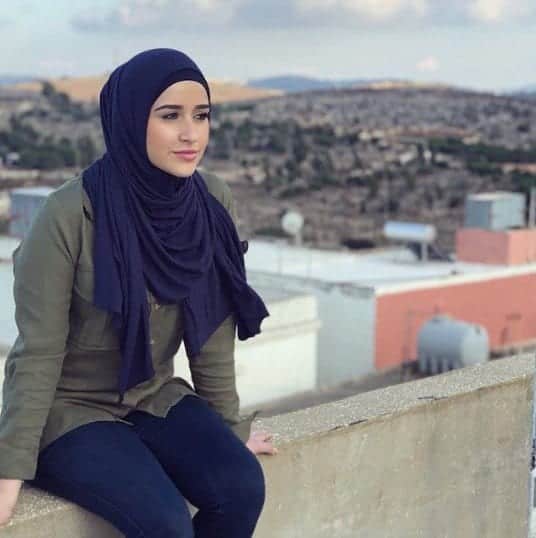 ↓ 3: Amena Khan
If you're looking for ideas on how to rock your hijab with style, be sure to keep this girl on your radar. Between running a scarf business and a lash line, the British blogger somehow still finds time for her blogging. She shares different aspects of her lifestyle and generous makeup tutorials. With 581k followers, the girl's not slowing down any time soon. Follow her Instagram account @amenakhan. You can also buy her products from her site.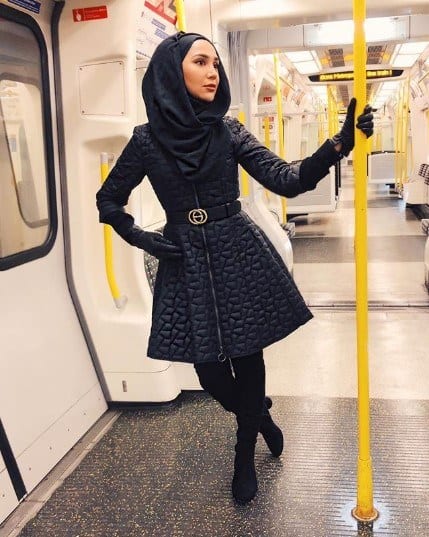 ↓ 2: Habiba de Silva
Habiba da Silva is a Birmingham-based fashion blogger. She is well known for going with pops of bold colors and having cheekbones to die for. The girl is all for women's empowerment and encourages other girls to 'be the CEO your parents wanted you to marry.' She started small with a hijab collection and today owns a company by her own name. Habiba is arguably the best advertiser for her company. She styles her hijab to go with her outfits, always mixing it up. Shayla, Ankara, Turban – is there any hijab style that she can't show us how it's done? You can watch her tutorials on Youtube and follow her @lifelongpercussion, where she's followed by over 862k people already!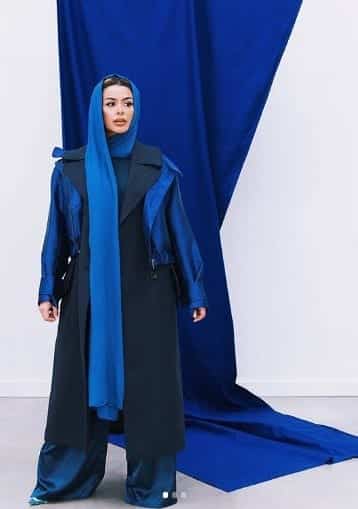 ↓ 1: Dalal AlDoub
Dalal is one of the most recognizable faces on social media from the Middle East. She has been a blogger for six years now and has attracted 3.0 million followers in such a short span of time. Her secret? Every single one of her posts is a work of art in itself. Despite using mostly the Arabic language, her beauty and style are universal. Dalal always dons a white hijab fitted snugly around her neck, which goes with all her outfits. The clothes she wears are trendy and elegantly simple. For her makeup, she goes for a subtle look with all the focus on her bold red lip and dramatic lashes. She often shares her signature hijab tutorial, makeup tips, and product endorsements. So be sure to get in on her tips by following @dalalid, and subscribe to her Youtube channel.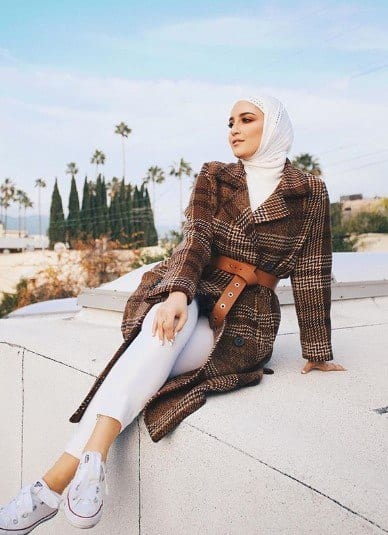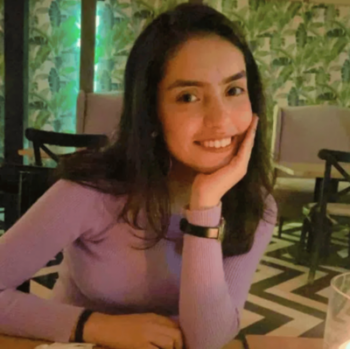 Lover of books and mountains, Monishka is a freelance writer working in various genres like fashion, beauty, and travel. She enjoys her own company and likes to keep herself busy.