What to wear as a Hijabi traveler: "The world is a book and those who do not travel read only one page" is a very famous St. Augustine saying and indeed it is true. Exploring the world takes us out of our comfort zone and makes us open our eyes to so many new things and experiences.
Whether you are traveling alone or with someone, for the first time or have traveled before, it is fun and with few tips and tricks, you will be able to make the best out of it. As a hijabi, you have to take certain precautions and extra stuff with you. We have compiled a list of all the major fashion items and other accessories that you need to carry with you while traveling so that you can stay at the top of your game.
How to Pack & Dress up as a Hijabi Traveler
Try to keep minimum clothing items with you especially if you wear abaya and keep yourself fully covered.
Instead, focus on keeping various and versatile hijabs and coverups that will go with most of the outfits.
Don't carry a lot of makeup/skincare item as mostly you will be too busy or tired to experiment with a lot of stuff.
You can even take pictures of various outfit combinations in advance to save you time.
Keep comfortable footwear with you that wouldn't hurt your feet.
Keep an extra pair of praying dress and mat with you in case you have to perform Salah on the go.
Get to know about the country you are visiting beforehand so you can compile a perfect list of mosques to visit and safe places for women to stay in at great rates.
Search for places that serve halal food in advance.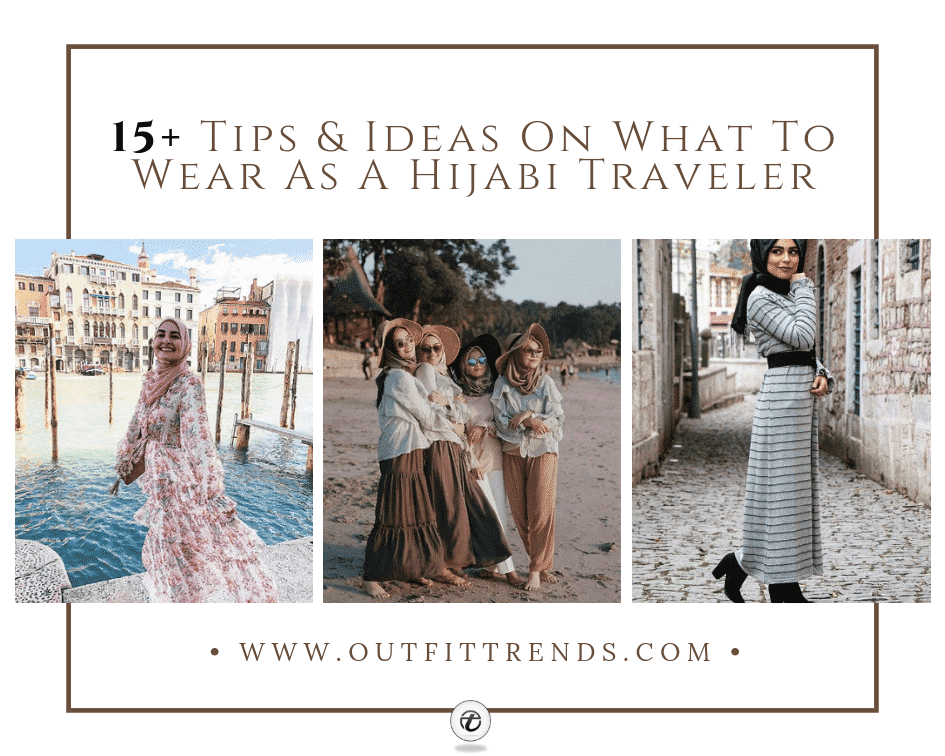 ↓ 15. Destination Appropriate Attire
It is said that when in Rome, do as the Roman do. So while traveling, this should be your mantra too. Dress according to the destination you are traveling to because Hijab doesn't restrict you in any way.
So if you are taking to the west, we know that jeans and leather pieces are more in vogue and will certainly fit into your modest as well as trendy wear outfit formula. Maxi cardigans and jeans will also work well.
However, if you are traveling to the eastern side of the globe, your dress choices will be different. More vibrant colors and floral print garments will be appropriate. You can take plain skirts or floral skirts with you to wear with different tops. Maxi dresses will also be a great choice and will keep you away from stressing about matching different pieces. Here's a Complete Guide on How to Wear Hijab Underscarf With Tutorials.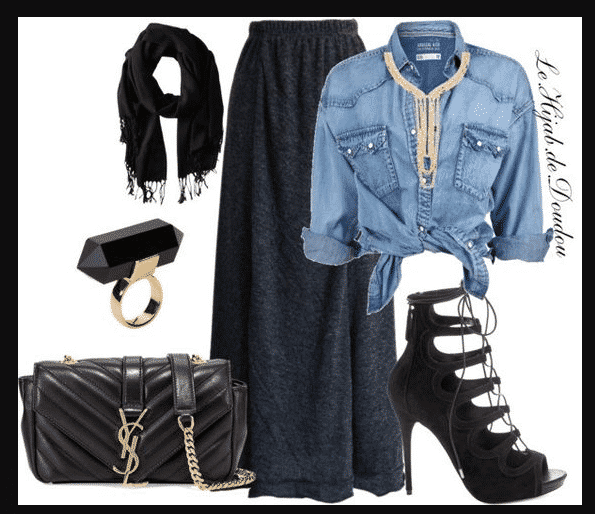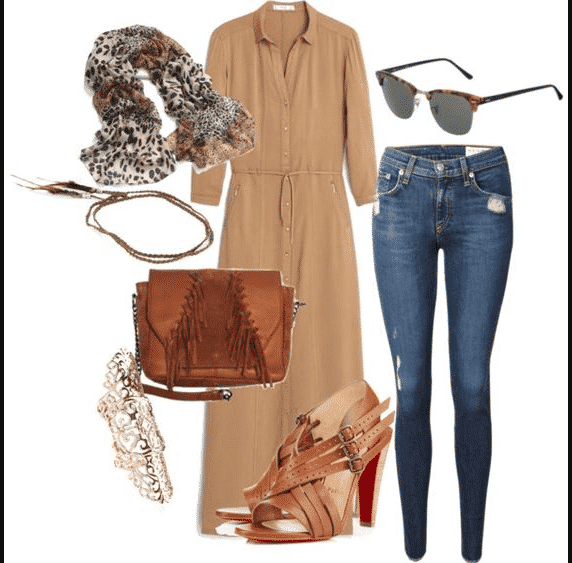 Via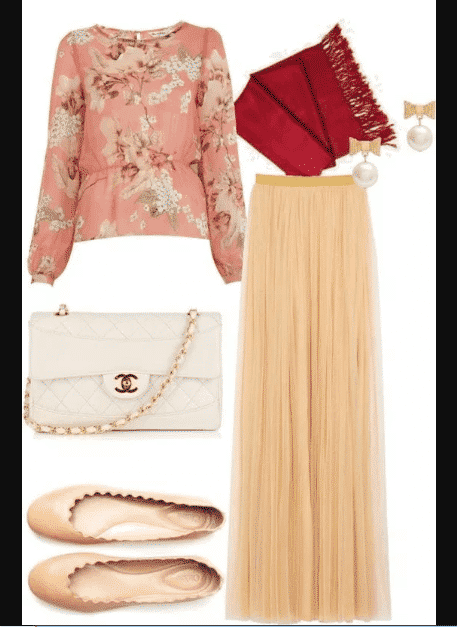 Via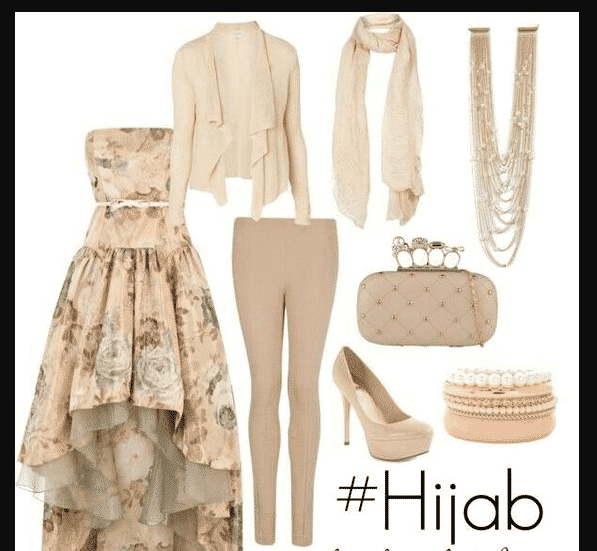 ↓ 14. Hijabi Travel Outfit for Mothers
As moms, especially if your kids are young, you need clothes that will not make you appear frumpy and yet are quick to pull off and easy to move around in. Keep your traveling wardrobe relevant to your needs and don't forget the baby carrier/baby leash if you have a little baby traveling with you.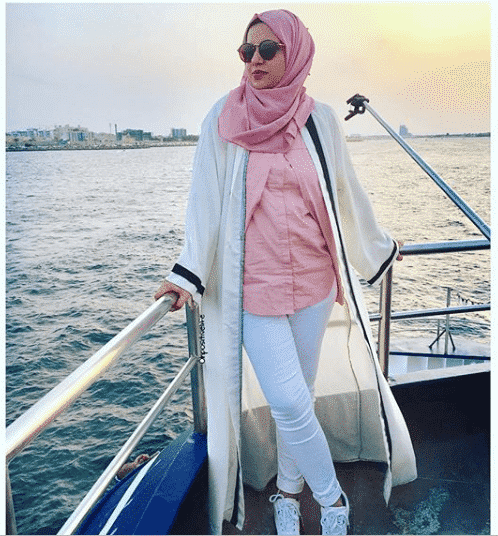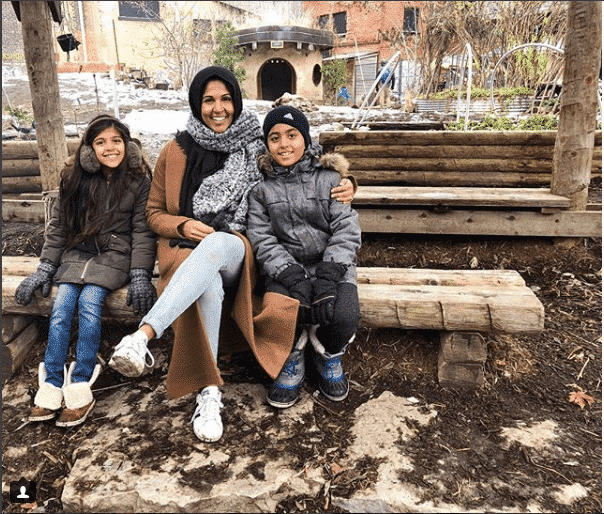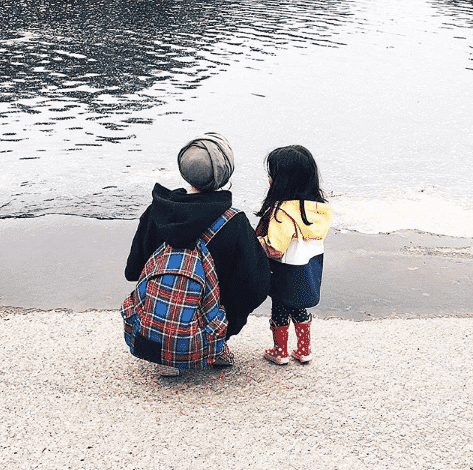 ↓ 13. Getting to Play Your Abaya/Travel Maxi Game Well
Plan out beforehand about the maxi/abaya you will be taking with you for travel because you will need a spare one other than the one you will be wearing. You can even change it immediately after your flight ends to make you feel and appear fresh. The fabric should be appropriate to the climate you will be facing in the country you are traveling to.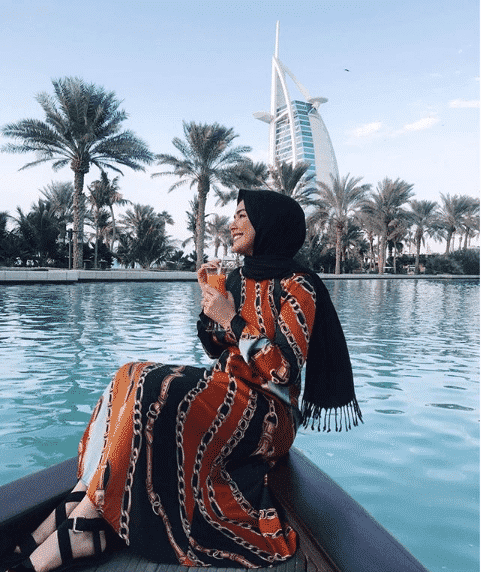 ↓ 12. Outfits for Parties & Weddings
What you should pack and wear to parties and weddings varies according to the custom and traditions of the location. If you are traveling to countries with Eastern values, you won't be able to get away with simple outfits so you will have to take on the most glamorous skirts and dresses with you. Mostly Eid dresses can be taken because we work hard to acquire them so its time to flaunt them again.
For parties, you can either take something with glitter or sequins work at the top, and relatively simple bottom. You can also choose outfit and a printed multi-color hijab for a great look. Here Shumaila Dhirani is flaunting a perfect dress for parties and weddings.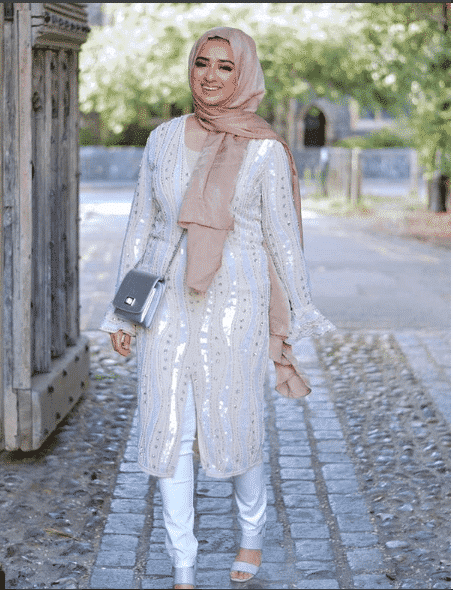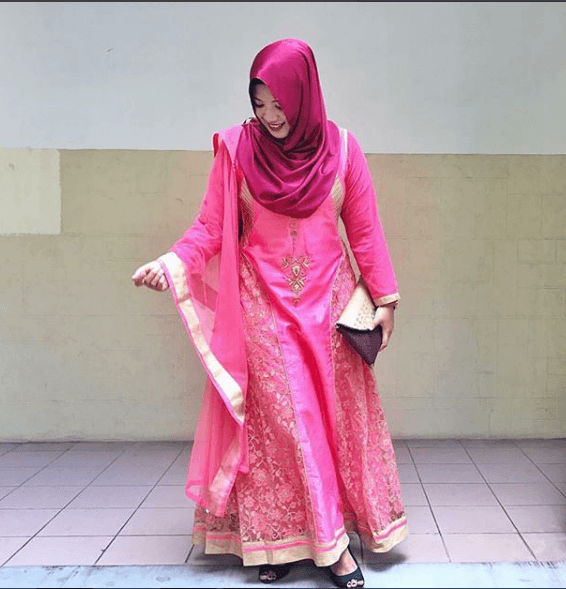 Via
↓ 11. Winter Hijabi Traveling Attire
Whilst traveling for colder temperature, you will have to decide what winter items to keep in your bag because coats, blazer, cardigans, and jackets can surely take up a lot of space. For milder temperatures, keep a light cardigan or denim jackets. For really tough weather conditions, keep bomber jackets and overcoats. Turtleneck sweater and hoodies are preferable for winter wear because you can easily wear a turban style scarf or cap and get away with it. Dina Tokio is wearing a bomber jacket and turban style scarf for winters.
Keep viscose, jersey and pashmina scarves with you and a good woolen scarf to wrap around your neck or just casually drape around like a shawl of sorts. Keep ankle boots to ward off the cold. Thermal inner wear and woolen pants are also great options for traveling off to destinations with a colder climate.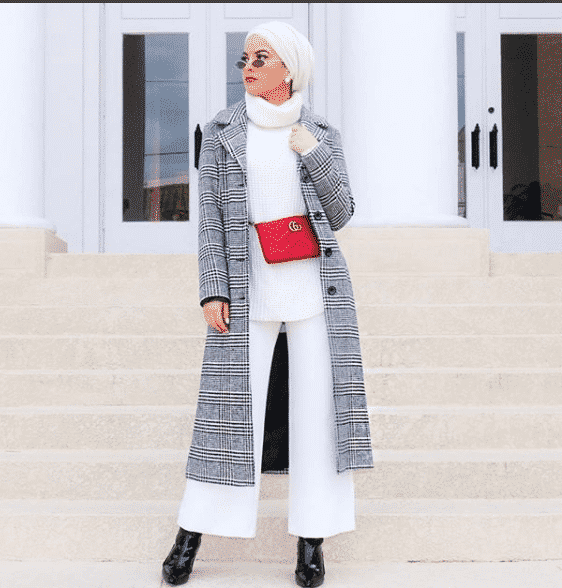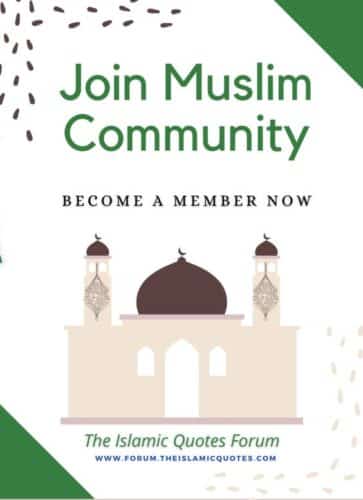 ↓ 10. Summer Hijabi Traveling Attire
Summer traveling attires are usually very easy to choose and it is not such a complex or bulky task like the winter attires planning. Keep flowy skirts with you and they will match and complement various tops.  Floral maxi skirts are the perfect option because they will provide you with the perfect coverage and are really trendy too. Pleated skirts are best for formal wear and any parties that you have to attend and will give to the elegant and feminine look. Do check out these 30 Stylish Ways to Wear Hijab with Jeans for Chic look.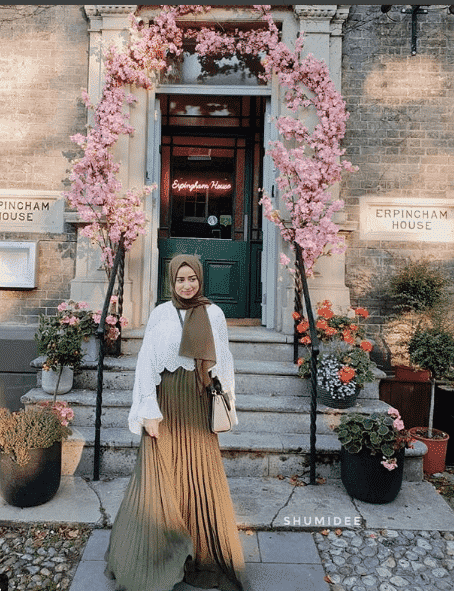 Via
Another classy outfit inspiration is to go towards culottes or other loose-cut trousers whether in cotton or denim. These loose fitting pants are not only a very lovable trend but also best for transitions between day and night or casual to formal. You can match various shirts with these pants and you are good to go. They can also be ideal for work in case you have any business meetings to attend. Keep flats or converse shoes with you for sightseeing. Silk and georgette scarves are ideal for summer travel.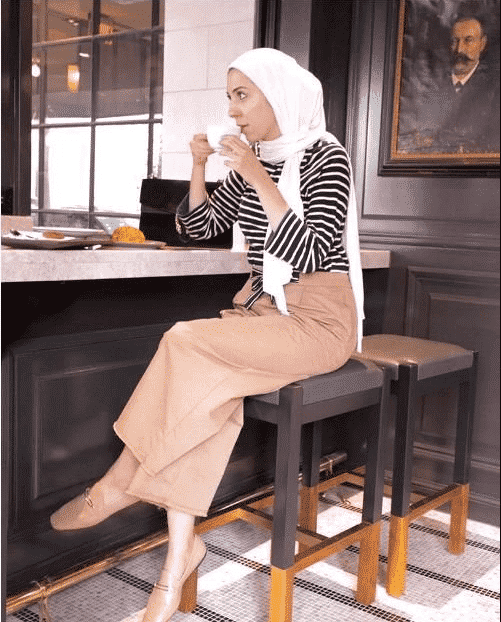 Via
↓ 9. Hijabis Coverups
Coverups are important if you are a hijabi traveler because they give you a very flattering look with their fit and flare non-sheer styles and cover you up at the same time so that you don't always have to worry about choosing and wearing certain restricted clothing items. For winter, cover-ups can be an ideal mode of layering up in a fashionable and trendy manner.
If you are traveling in summer, you can add kimono or maxi cardigans in chiffon to keep you sweat and stress-free. However, if you are traveling for cold destinations, take blazers and long maxi cardigans/overcoats with you.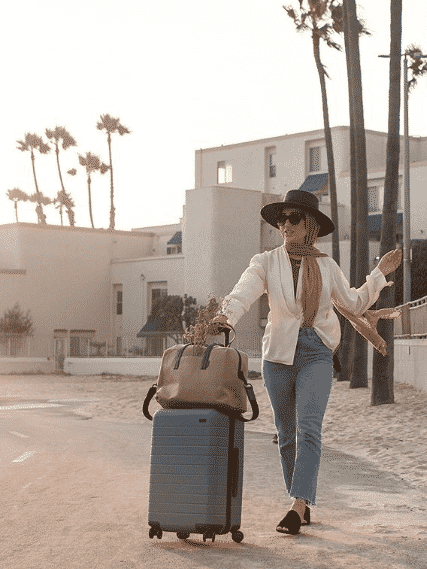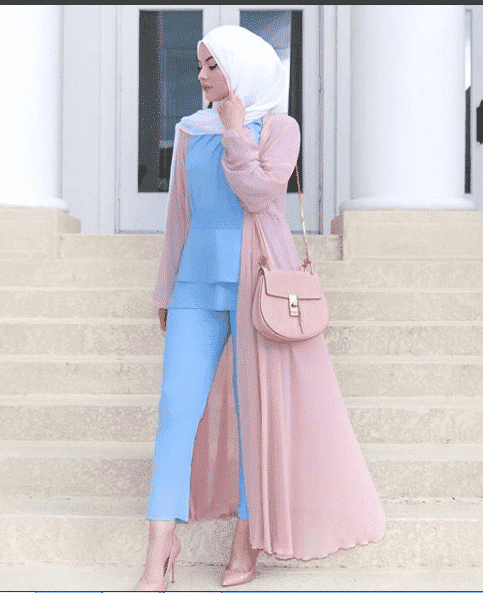 ↓ 8. Different Styles and Types of Hijabs for Traveling
Lightweight and breathable fabrics are ideal for taking to places will warm climate. Thick fabric and layering styles of hijab are perfect for cold climate. Chiffon, linen and cotton fabrics for hijab are great for summer travel. While jersey and pashmina viscose hijabs are ideal for winter wear.
This turban style hijab is perfect for parties and weddings when you want to flaunt your gorgeous jewelry and headpiece.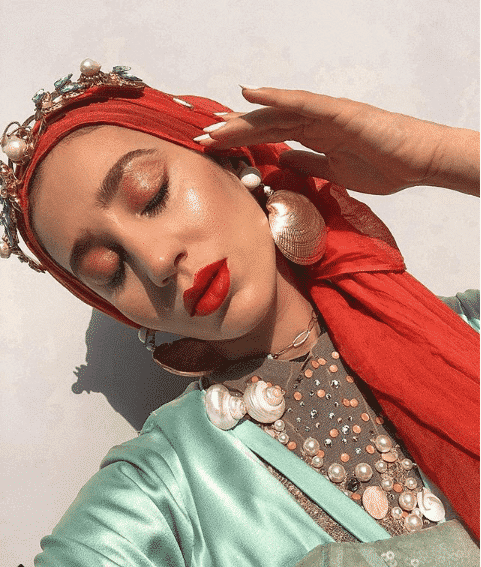 This style of hijab is perfect for when you have to head out for a casual sightseeing trip or for when you want proper coverage.
↓ 7. Minimalist Wardrobe
The value of a minimalist wardrobe can only be felt when you are traveling or shifting houses. The more clothes you have, the more difficult it gets to pack and to decide what to wear.
While traveling, keep items that are versatile enough so as to make different outfits and thus a complete wardrobe. Keep items that fit your style. Choose two different options for bottom pieces like skirt or trousers for different moods. Take dress shirt along with you that you can tuck in and use with other bottom pieces or as dresses on different occasions with tights or leggings. You can also keep colorful and floral scarves and take more plain tops to complement the fancy Hijabs.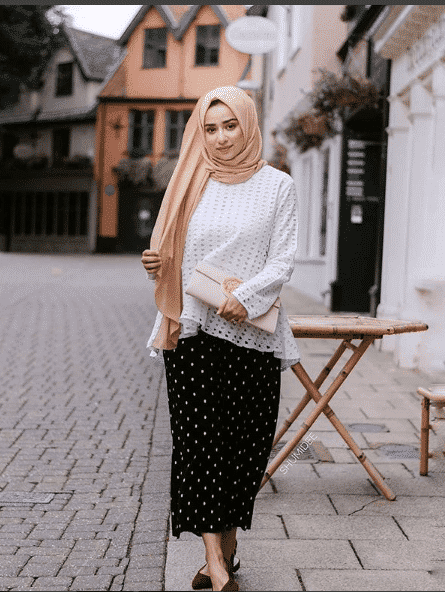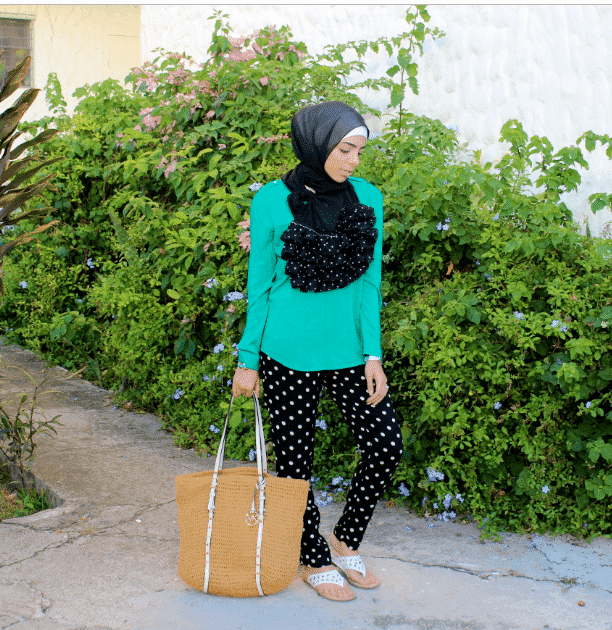 Via
↓ 6. Workout Clothes to Keep Yourself Fit & Active
It is never a bad idea to workout or do activities that will keep you moving around in fun ways so that you can keep fit even while traveling. Some of the hijabi travel bloggers are very particular about indulging in healthy activities that will not slow them down or make them gain those extra pounds while traveling.
Here we can see Zehra, doing a fast run through trails. She is wearing black sports pants, a hooded sweatshirt, and a jacket to keep her warm.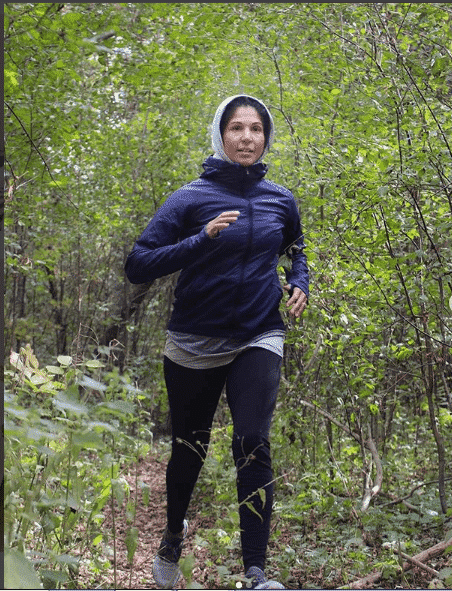 You can even wrap your hair in a safe turban so no hair will spill out and embarrass you while working out and wearing a loose-fitting long shirt with full sleeves and loose black track pants with comfortable shoes to keep you motivated. Many famous brands are now giving Hijabis the opportunity to get their hands on comfortable and modest attire for working out and playing sports.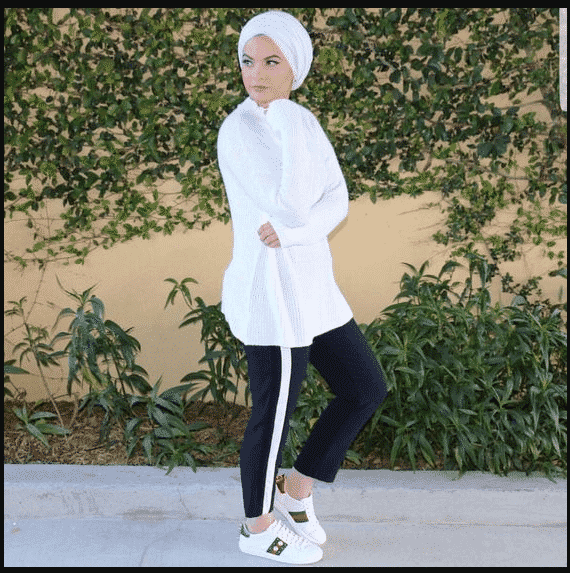 ↓ 5. Keeping a Prayer Dress and Set With You
While you are out and about, keep a prayer dress and prayer set with you which can easily come in handy. You might be at times wearing clothes that are not loose enough or covering you fully for which it is essential you carry a separate set of prayer dress. With a prayer dress and set, you are free to easily throw on a dress and set your prayer mat on the ground with the right directions, and carry on your duty where ever you are at. This way you won't feel guilty that you are neglecting your compulsory duties. Here are Simple Makeup with Hijab Tutorial and Hijab Makeup Tips.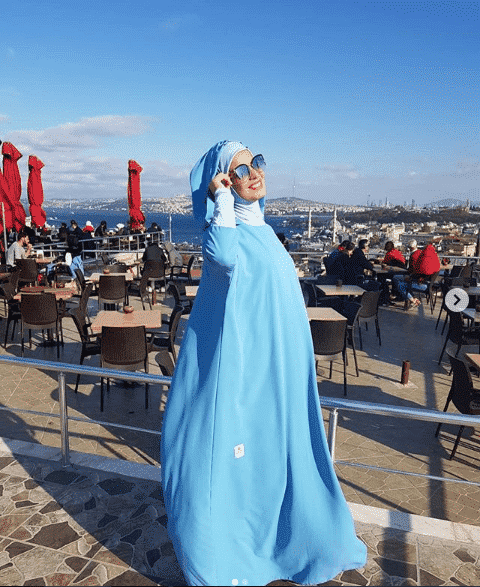 Via
↓ 4. What Footwear to Take With You
If you are traveling, it is a wiser option to ditch heels. Instead, keep comfortable shoes with you that can help you in exploring and moving around with ease.
In case you are traveling to somewhere cold, it is essential that your shoes will protect you against the tough winter weather. The best option is to go with mocassins with special thick faux-shearling lining and suede upper. Another option for sporty girls is to go with converse and sneakers because they go well with all types of outfits and are tough enough to facilitate your whole trip without any trouble. You can buy these mocassins here.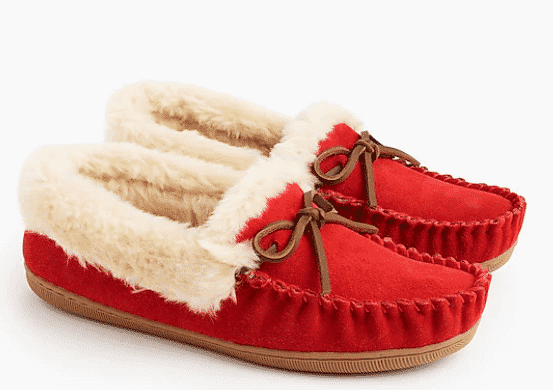 Via
Some prints are making a huge comeback so try on these check styled flats with pointed toe and a sequins bow for your travel. These are perfect fancy flats that will go with most of your outfits and yet give you a stylish look. You can buy them here.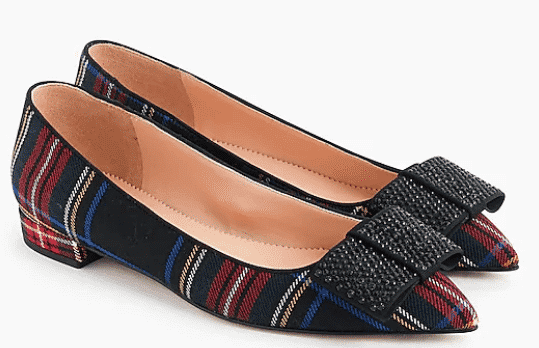 Via
If you are going for foreign travel with weddings to attend and parties to enjoy, and you can't ditch your heels, try these black chunky heels with embellished velvet that is not only extremely chic but you will easily be walking around in them with comfort. You can buy them here.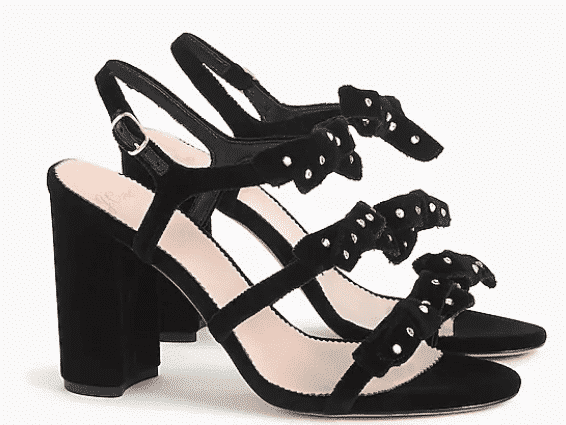 Via
↓ 3. Handbags to Carry with You
While traveling, you will have limited space so keep the handbag to a minimum limit. A single bag pack or cross body bag is enough while traveling because you don't want to feel that additional weight while moving around. Keep a large size tote with you too in case you have to pack lunch or picnics or have to go to the beach.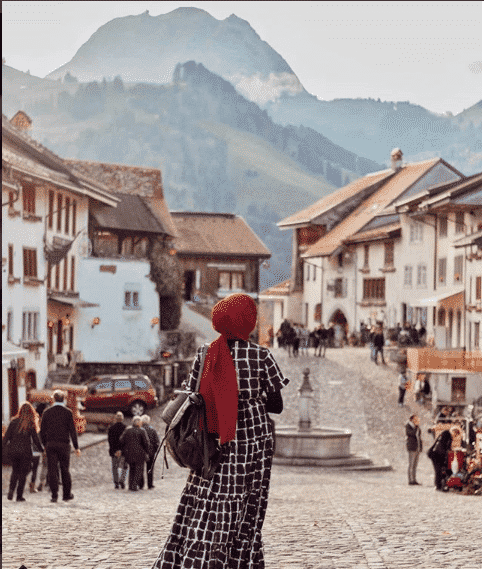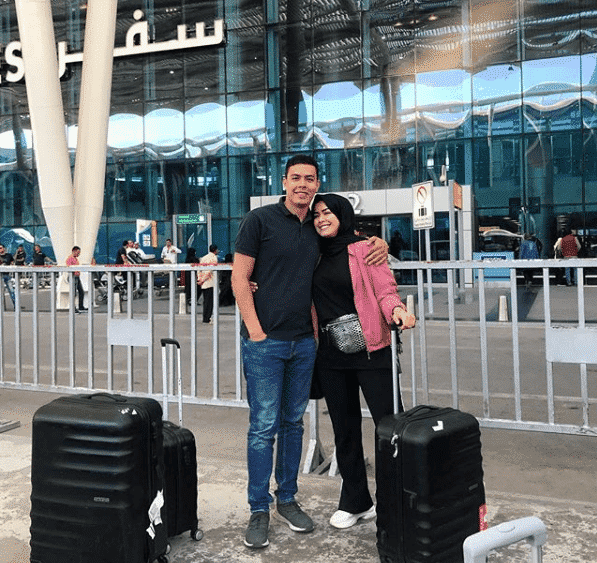 ↓ 2. Makeup & Skin Care Items To Carry
You need makeup and skincare items that will not be greasy and leave marks on your hijab especially if you are keeping pastel and nude shades of Hijabs. Keep certain basic necessary items that will give you the everyday natural look with a glow like a highlighter and blush and eye makeup to create certain drama. Two to three shades of lipsticks usually pink, brown and red will be enough for any makeup look. Moisturizer, cleanser, sunscreen, and some face masks should be packed if you have a plan of staying out in the sun or in dry climates.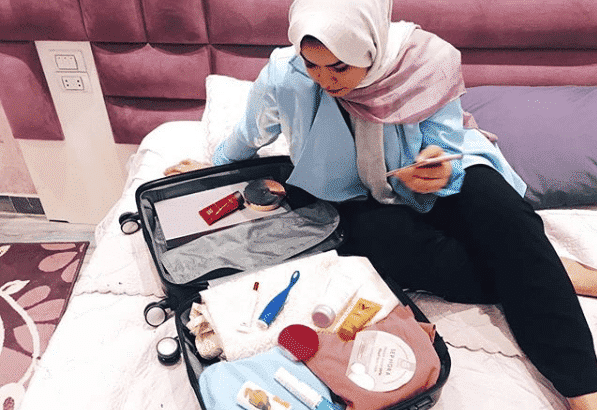 Via
↓ 1. What Accessories Go Well With Hijab
Hijabs are often useless if you don't carry the necessary accessories with them like under caps and pins. Hijab pins and caps not only help you in keeping your scarf style intact for the longer duration but also add an elegant touch to your overall look.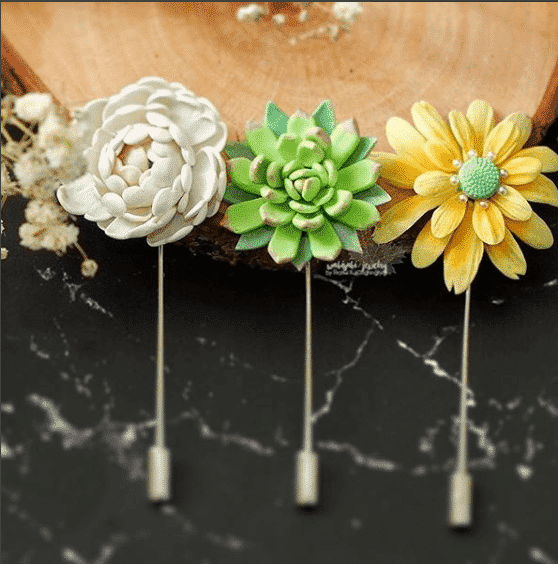 In case you are planning to attend some fancy weddings and parties, floral head garlands and head jewelry to wear with hijab is an absolute must. Since you can't wear a necklace, wearing a metallic headpiece will give you that much-needed bling. Keep bracelets and rings with you to wear to formal events.