What To Wear In Hong Kong – Knowing what to wear on a vacation is a substantial question to be wary of when packing your outfits. Keeping a pragmatic approach when it comes to your outfits is key.
Packing essentials must adequately respond to the current weather conditions while staying in touch with the city's fashion trends.
What to Pack?
Flying over to Hong Kong for a nice vacation, you'll need to have more than just your average traveling gear.
Be on the lookout for humid weather forecasts because it does tend to get rainy there (during June, July and August) so you can either take an umbrella with you or buy one from the local markets.
Lastly, try keeping your outfits light and airy, because it is always advisable to value comfort over all else while traveling.
Here are some items that I recommend carrying:
Comfy Pants or Cargos: On-the-go utility pants will be your best friend so ditch the high-end fashionable denim and try styling comfier pants.
Apt Footwear: Be mindful of the shoes you pack up with you because there will certainly be a lot of walking. A pair of sandals and joggers will be an all-time need so be sure to bring those along.

Beachwear: Try keeping one piece with greater coverage when packing for the beach. Prioritize modesty and comfort when doing so.
Light shirts to beat the heat: For summers, be sure to pack up light airy tops because temperatures tend to reach incredible heights in the region.
Raincoats: Keeping a raincoat with you in case of unprecedented rains is a great idea since a foreign city won't be easy to navigate right away. So pack 1-2 rainy day outfits.
Dresses: They are perfect for styling and good for a rigorous day too.
Summer Outfits
25 – Long Mustard Sundress
Sundresses are ideal for a hot summer day filled with light activities.
A long mustard sundress would be a perfect fit for a tourist's day in Hong Kong. Not only would it be totally stylish but it will help you beat the heat and keep you comfy throughout the day.
Style the dress with a pair of shades and some sneakers and you are all set to explore the streets!
24 – Red Skirt With White Top And Sun Hat
Sheltering yourself from the sweltering sun should be a priority.
Be mindful of packing sunscreen with you but packing a sunhat would do you great wonders too. Not only will they keep you from being sunburnt but also help accessorize your outfit.
This outfit inspiration has a red floral maxi skirt styled with a pair of white sneakers and a white top to match.
Add a brown boho bag spacious enough to carry your tourist essentials and a black sunhat to help shade you from the sun.
23 – Neutral Floral Midi Dress
A neutral floral dress is a great look to wear both during the day on one of your tourist conquests but also works perfectly for formal dinners. Style the fit with gold accessories to make it formal or a pair of boots and a hat.
22 – Floral Dress
If you are planning to make a stop by the beach, be sure to wear a fit that isn't too revealing. Valuing their culture should be a priority when it comes to outfits.
In this outfit, we bring you the right amount of modesty blended with fashion. Try a black and white floral midi dress. Not only does this outfit scream beach vibes, but it also keeps you protected from the harsh sun.
Casual Outfits (Best Picks for Disneyland)
You'll need a lot of casual outfits, for sightseeing, ferry rides, eating or drinking out and also for your trip to Disneyland. Here are some options you can consider:
21 – Sweatpants with Matching Top
20 – Shirt Dress with Scarf
19 – Don't Forget the Headband
You can take your own or buy one at the spot, but Disneyland pictures are usually incomplete without a cute headband.
18 – Basic Beige Pants With Blue Top And Sneakers
Take it from the queen of fashion when it comes to traveling outfits. Nothing better than light, comfy, and easy-going outfits to wear while traveling to a foreign country, especially if you really want to enjoy the experience thoroughly.
A pair of basic beige pants with a light blue top can always be upgraded with accessories. Add a sporty pair of black Adidas and shades to match and you are all set to tour in style.
17 – Basic Baggy T Shirt With Green Pants
Throw in a few baggy pieces, they'll keep you both in style and comfort. Try pairing a basic graphic t-shirt with a pair of thrifted baggy green pants. Add crocs for shoes, an essential tool for comfort and a hassle-free day.
A black bag to match your crocs and you are ready to blend right into Hong Kong fashion while remaining true to your own style.
16 – Pastel Pink Sundress With White Button Down Top
When you are allowed limited luggage, it is a battle to choose what to take with you. Playing with the multi-dimensionality of pieces in times like these is crucial. White button-downs are timeless and universal. They can be styled effortlessly with nearly anything.
In this outfit inspiration, we bring you a look where the white button-down is layered over a satin pink dress. Not only will it keep you in the safe semi-formal zone but also have you strolling comfortably throughout the day. Add a pair of Yeezy slides and you have yourself a perfectly stylish tourist outfit.
15 – Sage Skirt With Yellow Top And Sneakers
Going all Y2k fashion on your trip might just save you a lot of trouble. Keeping an assortment of baggy yet trendy clothing items that you can interchange with one another will be all you need.
Skirts may sound inconvenient to wear as an exploring tourist but going for a baggy parachute skirt will work wonders for you in terms of smart packing. You can style the skirt with joggers and a basic t-shirt to match, and you are all set.
14 – Pink Tank Top with Basic Black Pants
Packing a pair of basic baggy black pants will win you a new outfit every day on your vacation. A solid pink tank top to go with the pants and a statement corduroy bag in pink to tie it all up.
You'll have yourself a look based on multifarious pieces that all come together to keep things functional in style.
13 – Striped Black and White Top With Brown Pants
Neutral earthy tones are the perfect blend of colors for you to wear. If you pack smart, you could whip out a pair of solid brown basic high-waisted pants and create a perfect fit.
Throw on a black and white striped top, and a pair of sneakers to keep you light on your feet and you are all set for a day filled with adventure, all the while keeping up with Hong Kong fashion trends.
12 – Cross Body Fanny Pack With Oversized Baggy Shirt
Packing a cross-body fanny pack with you will save you a lot of worries. It'll keep your things in order, fastened safely to you, within seconds of reach. And it has outstanding styling potential. Here's how.
Crossbody bags are great when it comes to accessorizing basic loose-fit outfits. Pair an oversized baggy graphic t-shirt with baggy parachute pants. A pair of sneakers to go with the outfit and you are all set in a quick, easy-to-put-together, and practical outfit.
11 – Pink Addidas with Neutral Baggy Outfit
Try packing a pair of baggy hiking shorts that can always be styled with a basic y2k top. The baggier and the longer the shorts, the better.
Add a cross-body bag to carry your necessities and a pair of contrasting pink Adidas to tie it all together for a long day.
10 – Blue Button Down With Cream White Pants
Keeping a range of button-downs in different shades will keep your looks modest and diverse. A light, airy, and baggy blue button-down can be styled over a tank top in your shade of choice. Pair it with white parachute pants to keep things breezy and coy.
9 – Don't Forget Your Sneakers When Visiting Tian Tan Buddha
For visiting Tian Tan Buddha, Lantau Island, you'll need a casual outfit but more importantly, you'll need really comfortable shoes as a lot of walking and stair climbing will be involved.
8 – Dressing Up for the Hong Kong Skyline
You must see the city's stunning skyline on your trip. Some good places to see it are Victoria Peak's peak tower and Ritz Carlton's bar. It's best to wear something casual for it like a skirt outfit, shorts or maxi dress. Do keep a jacket in case it gets chilly.
Winter Outfits
7 – Grey Sweater Vest and Baggy Denims
If your trip is during winter time, it shouldn't be too much trouble to pack because temperatures rarely fall below 15 degrees. Pack light and add some sweater vests.
Keeping denim is a great idea as long as they are breathable. A grey sweater vest with a white half-sleeve top and a pair of loose-fit denim will keep you warm and stylish in Hong Kong's mild wintertime.
6 – Dark Sea Green Sweat Suit
Sweat suits are effectively warm and comfortable. In this outfit inspiration, the model sports a deep sea green sweat suit. Style your look with an edgy bold bag and a matching pair of shoes and you are all set.
5 – Striped Top And Pants With Tote Bag
Flapper pants are a great choice to add to your packing list. Not only are they appealing to the eye and very in the now but will also keep you at ease.
A striped shirt in black and white to go with your flapper pants with pressed creases running down them make for a great outfit. Add a vintage tote bag and conquer the adventurous day ahead of you!
Formal Outfits
It's a good ideas to pack at least 1-2 formal outfits for your trip – you can wear them to any fancy dinner or when visiting one of the palaces. I personally love wearing formal dresses to museums when traveling because the pictures there turn out amazing.
Pro tip: Most Hong Kong museums have free entries on Wednesdays so plan accordingly.
4 – Satin Silk Skirt With Doc Martins
Packing separate accessories with each outfit will be the least impractical approach when it comes to packing. Keep your shoe list concise and practical.
A satin green skirt with a basic white tank top styled beautifully with comfortable doc martins that will go easy on your feet for the entire day and night out. Not only is this outfit comfortable but also fit for formal occasions you might need to attend.
3 – Blue Button Down With Maroon Pants
Basic solid pieces can always be glammed up to fit your needs. You can take your outfit from a basic one to a formal one with just jewelry. Dainty gold or silver jewelry is light on the luggage but does wonders for your fit.
Style a blue button-down with solid deep maroon pants. Keep the shirt half tucked in for a trendier look and style with gold jewelry and you are set for the night!
Work Trip Outfits
2 – Maroon Top With White Pants
If you're on a work trip, it is imperative you keep a formal outfit with you. Doing that while remaining within the luggage weight required of you might come as a challenge. But we have just the outfit inspiration for you!
Pieces like a maroon top with detailed cutwork near the neckline are multi-faceted and can be styled in multiple ways and not just once. Add a pair of white pants and some comfortable pull-on shoes and you are all set.
1 – Blazer Over Denim Jeans And Striped Top
Blazers are a great way to turn a casual outfit into a work outfit. So be sure to add a blazer to your packing list because it can be styled effortlessly and come out looking flawlessly stylish.
Layer a blazer over any of your casual day outfits. A brown blazer on top of a black and white striped top paired with loose-fit denim jeans makes for a ultra-stylish, and formal outfit. Accessorize with dainty jewelry pieces to bring in the beauty of detail.
FAQs
Q. Does Hong Kong have a dress code?
There is no dress code in Hong Kong so you are free to wear whatever you want.
Q. Can I wear shorts in Hong Kong?
Absolutely. Summers in Hong Kong can get quite hot and shorts are commonly worn there.
Q. Do you need a coat in Hong Kong?
Winters are rarely too cold. Temperatures fall only as low as 15C here with sunny days and very little rain. Packing mildly warm clothes will do just fine. You might need warmer coats if you are visiting during December when it gets a bit colder.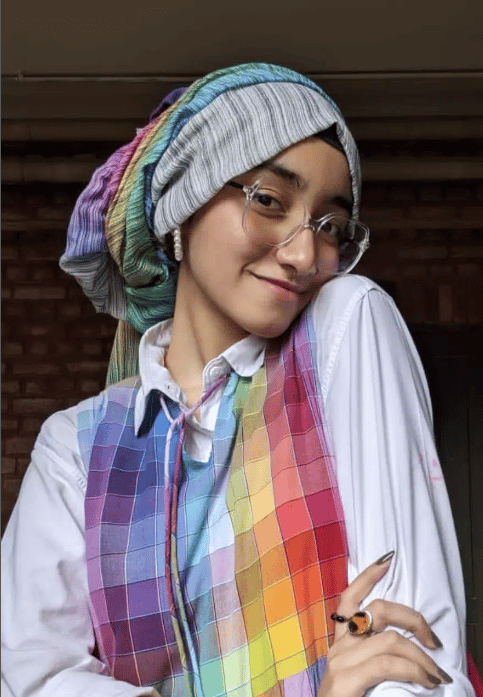 Hi! I'm Spogmai, a 3rd year architecture student and a fashion enthusiast with a knack for graphic design and content writing.