Perfect hijab for your skin tone: Hijab is an Arabic word meaning barrier of partition. The most prominent form of hijab is the head covering. Most women like wearing head veils called hijab. A hijab gives you the best way to present decency. Not only does it make you feel confident and bold, but also gives a look of modesty.
Hijab gives women a sense of freedom and ease. To carry a hijab is very easy and comfortable. A hijaab makes a woman or a girl look beautiful and bold. Hijab suits any type of dress wear whether it is simple eastern clothing like shalwar kameez, a kurta or an abaya, whether western wear like jeans and shirt or whether a fancy attire. There are a lot of different styles of hijab, which gives women a fashionable look along with a humble look. The most essential decision for every hijabi is to choose the perfect color of hijaab that suits their skin tone. Choosing the wrong color that may not compliment or suit your skin tone can make a person look odd.
How To Choose The Best Hijab For Your Skin Tone?
Every person has a different skin tone, some having a warmer tone while some having a lighter tone. So if the goal is to feel beautiful in your hijab, choose the color that best suits your skin and makes it glow. To feel comfortable and confident in your hijaab, one of the ways is to have the go-to colors that you know suit your skin tone best and will elevate your skin and outfit.
Do's and dont's of wearing a hijab:
The main purpose of hijab is to present modesty. However you wear a hijab, you have to look elegant and not overdo it.
Wear colors that you feel confidently beautiful in.
Choose colors according to your skin tone and under tone.
Don't wear such colors that would make your skin color look washed out.
Frame the hijab around your face in whatever style is most comfortable for you.
Use pins to keep the hijab tightly in place.
Don't overdo the pins that they start showing or looking bad.
Don't wrap the hijab too tight around your neck that you start having trouble breathing.
Wear your hijab with elegance and confidence.
Style your hijab according to your dress in order to give a good and decent look.
21 – Hijab For Light Skin Tone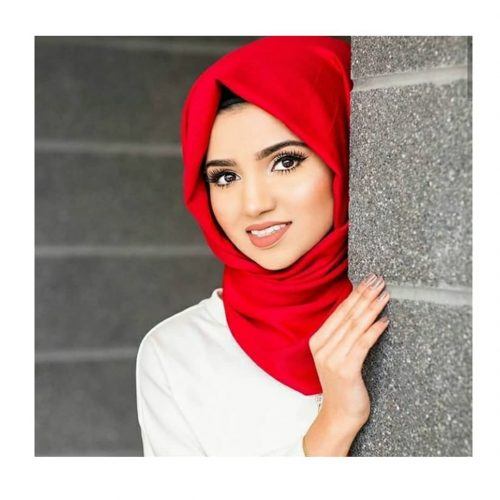 Light skin tone is usually complimented best by pastel colors. These colors include orchid bloom, light pastel etc. Bold jewel tones like ruby red, emerald green, royal violet, cobalt, sapphire and royal blue look absolutely stunning with a light skin tone. Keep in mind the colors you'd want to avoid are beige's, camels and taupe's as they can make your skin look even lighter or pale. For more inspiration, here are 50 Best Hijab Styles on Instagram 2019 For all Hijabis.
20 – Hijab For Medium Skin Tone
Medium skin people usually have yellow undertones. Due to this the fall and autumn hues colors like beige, taupe, camel, olive, green, cranberry, teal blush pink and red are considered no fail colors. These colors go with medium skin tone without a fail. Colors apart from these that might also look good are the bold jewel tones hues like emerald, cobalt, ruby red, royal violet etc.
These colors bring out the warmth in your skin and gives a healthy glow. Colors that should be avoided are pastel colors, unless it's a little bright like bright turquoise or bright pink but if they're muted and you're in the pastel arena, your skin could look washed out. Another important tip for medium skin tones is to use ivory instead of white and use the shades of blacks that go with your darker features appropriately.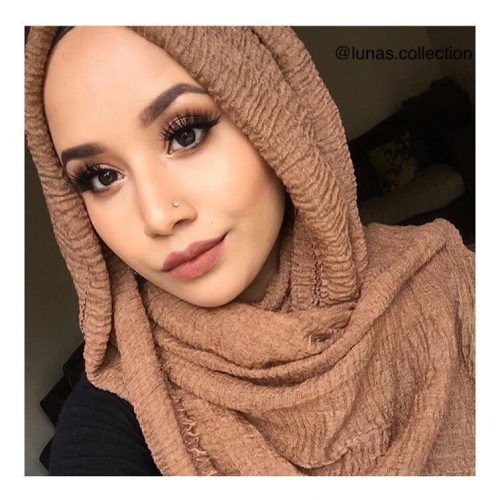 19 – For Dark Skin Tone
If you're a dark-skinned person, you're the most blessed in terms of what color you can wear. Almost every color suits dark skin tone. The shade of ivory should be used instead of pure white, stark white could be a bit harsh for dark skin.
Almost any color is fair game, but if you want to look exceptionally good, go with something that has a bit of warmth. Pastel colors look absolutely gorgeous with dark skin. The best-suited colors include the basic bold jewel tones including cobalt, emerald green, ruby red, and royal violet.
Black color looks great with dark skin but it depends on the shade of the dark skin. Chocolate brown suits dark skin the best. Do have a look at these 20 Best Lipstick Shades for Girls with Dark Skin Tone.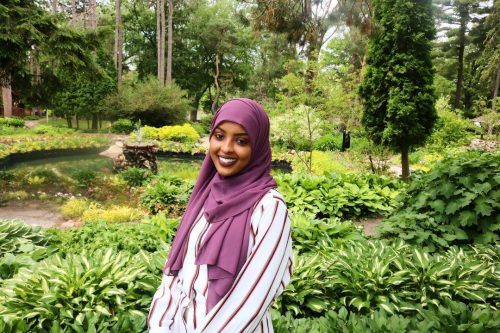 18 – For Cool Skin Tone
Cool skin tone is usually complemented by bright colors. Your go-to colors for cool skin could be purples, lavender, lilac, bright blues, reddish pinks, bright rose, and ruby. The neutral colors for cool skin tones could include grey, navy blue, pristine white.
Yellow and oranges are best avoided as they can make the skin look bad.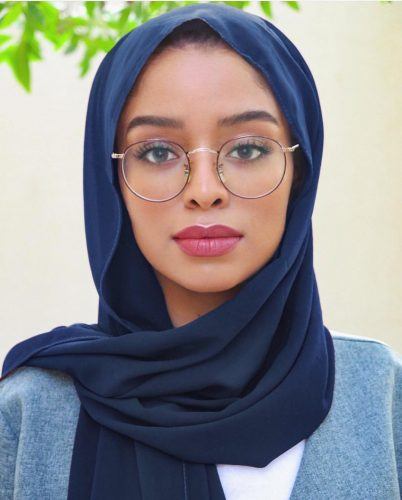 17 – For Warm Skin Tone
Your go-to colors for warm skin tone include shades of oranges, reds, golden yellow, amber. The colors like warmer shades of greens, blues, and turquoise also suit warm skin tones. The neutrals like taupe, latte, brown, cream and white also suit warmer skin tones really well. Avoid pale icy shades, bright reds, greens, and blues.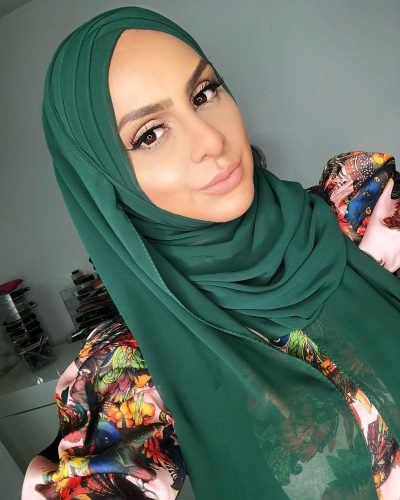 16 – For Neutral Skin Tone
For neutral skin tone, warm and cool shades will suit you but try to stay away from really bright colors. Colors that are not too bright and not too pale like placid blue, sage green or dusty pink would suit a neutral skin the best. Grey's, off-white and taupe are recommended to be your go-to colors. Here are Top 20 Hijab Fashion Bloggers Every Hijabi to Follow in 2019.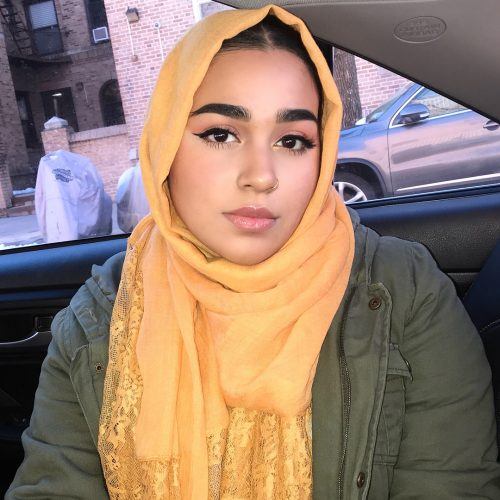 15 – For Dusky Skin Tone
Most Indians have a dusky skin tone. Colors recommended for this skin tone are cobalt blue, emerald green, golden and grey, magenta and orange, mustard yellow, earthy green or maroon. These are the bright and dark shades that make the skin pop and glow. Light colors like white or bright yellow's or oranges should be avoided as they can make the skin look odd.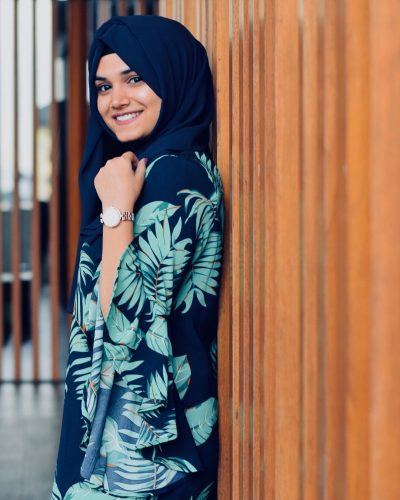 14 – For Tanned Skin
Tanned skin looks best with shades of rich browns. Orange and yellow colors compliment a tanned skin beautifully. Olive green, deep reds and purples look beautiful with a tan skin tone. White, black or any faded pastel colors are best to be avoided by a person with tan skin because they can make the skin look darker than tanner.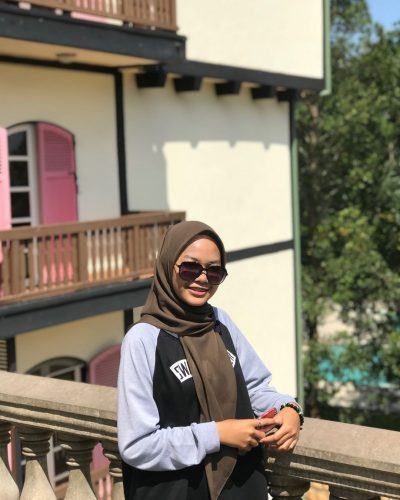 13 – For Pale Skin
Pale skin is quite a light tone of the skin, therefore dark shades would best compliment it. Dark shades of blues and reds are the best choice for people with a pale skin. Black and whites are avoided because they wash out the light skin.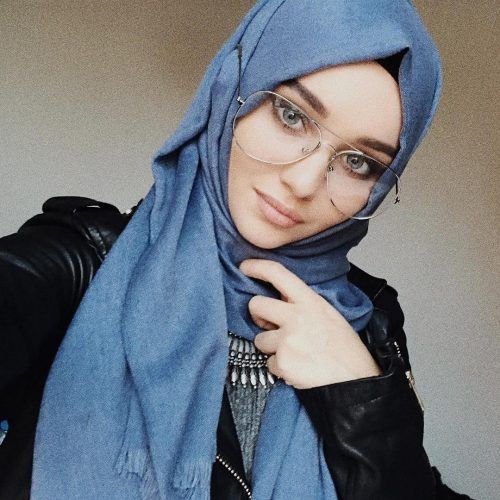 12 – Blushed Pink Skin Tone
On the warm side of the color wheel, you should turn to red, peach, coral, orange, amber, gold, and yellow. You also should look great when you wear "warmer" versions of cool colors, like olive, moss, orchid, and violet-red. Neutrals that are best for you include taupe, cappuccino, cream, and mushroom gray.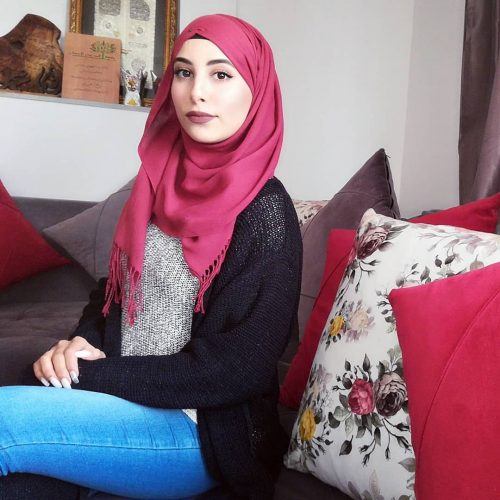 11 – For Wheatish Skin Tone
Wheatish skin is best seen to be complimented by bold colors. Many of you might shy away from such bright and dark shades such as cobalt blue, but you will be surprised by how beautiful they look with the wheatish skin. Emerald green, Golden and grey, Magenta and orange, Earthy green.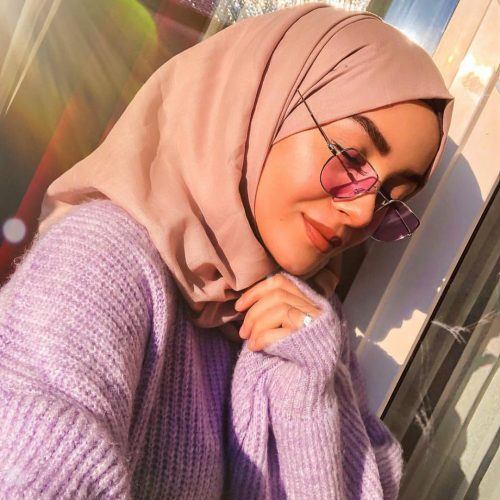 10 – With Olive Skin Tone
Olive skin tone can be best suited with purple, shades of dull pink, maroon, burgundy, dark browns, and a burnt orange shade. Stay away from greens; navy blue also looks good. Almost all colors look good on olive skin except pastels and green shades, as that will just bring out the green in your skin tone. You'll also find some great ideas from these Simple Makeup with Hijab Tutorial and Hijab Makeup Tips.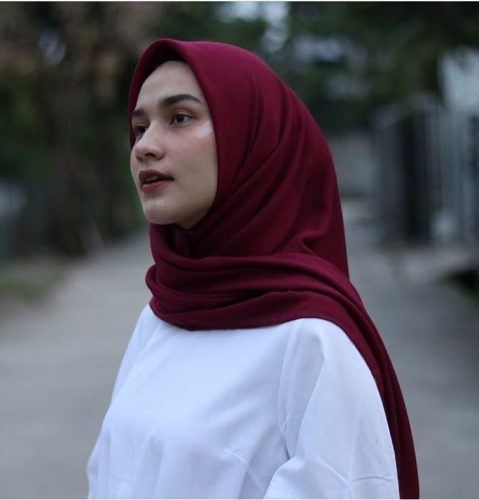 9 – With Natural Beige Skin Color
Cool tones of natural beige skin tone looks good in deep, vibrant colors, such as blue, purple, and emerald-green. Warm tones in natural beige skin glow in earth tones like red, orange, yellow, and olive-green. If you can wear both shades, you have neutral undertones.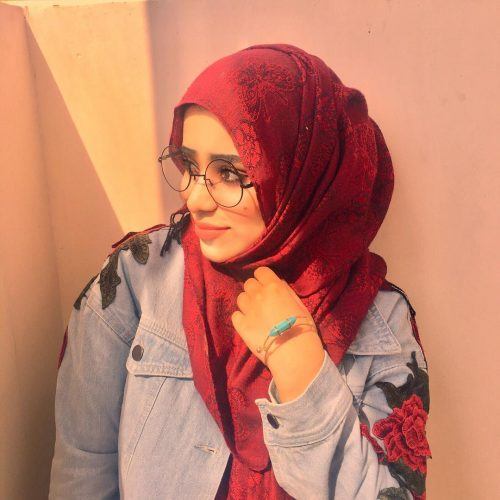 8 – Head Wraps For Golden Skin Tone
So, if you're fair-skinned with warm undertones, earth-tones will look great on you. Think any shade of brown (even pinkish-brown) and any shade of green- from olive to grass, emerald and lime. Ivory, navy and gray will also look really good on you as they'll compliment your peachy undertones.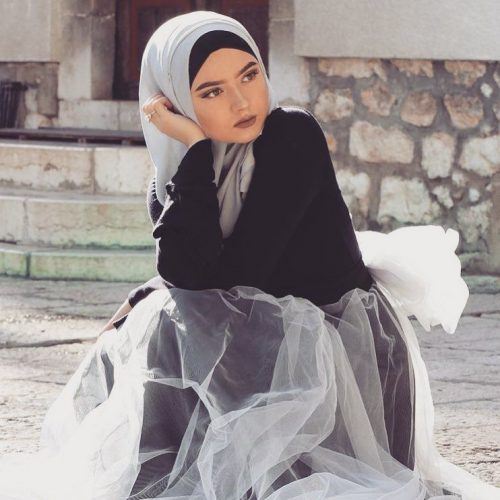 7 – Best Hijab For Cream Skin Tone
Avoid wearing shades of green or yellow, these colors may be too close to your skin tone. For dark skin, the safest color to match with a darker skin tone is white, but if you want to try other colors, light shades of purple, pink, peach, orange, yellow and green will look great.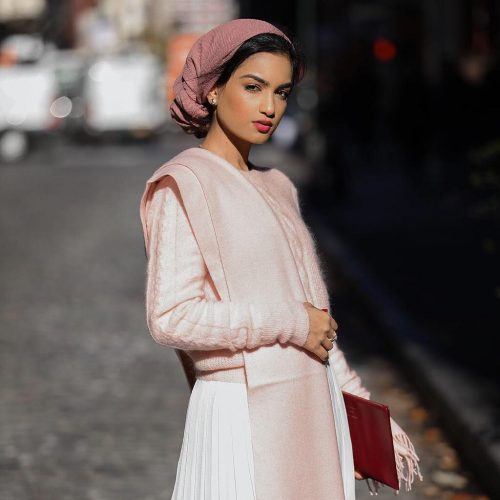 6 – Best Hijab To Enhance Sand-y Skin Tone
Sand-y skin tone is best suited and enhanced by deep, vibrant colors such as blue, purple, and emerald-green. Warm tones glows in earth tones like red, orange, yellow, and olive-green. This skin tone is complimented by these colors beautifully. The colors to be avoided include the lighter shades such as white, off white and mainly pastel colors.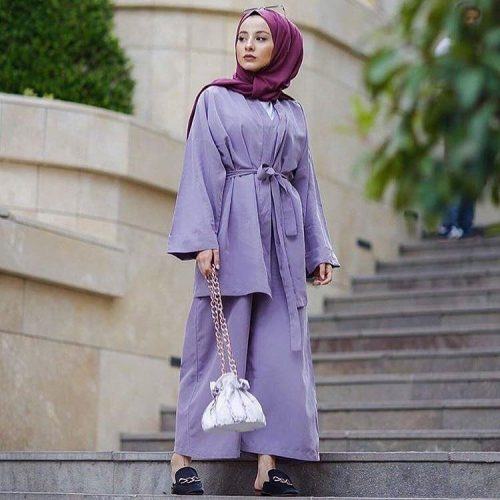 5 – Hijab That Suit Warm Ivory Skin Tone
On the warm side of the color wheel, you should turn to red, peach, coral, orange, amber, gold, and yellow. You also should look great when you wear "warmer" versions of cool colors, like olive, moss, orchid, and violet-red. Neutrals that are best for you include taupe, cappuccino, cream, and mushroom gray. These colors really compliment the warm ivory skin tone beautifully. Worn confidently and with boldness, these colors can make you look absolutely stunning.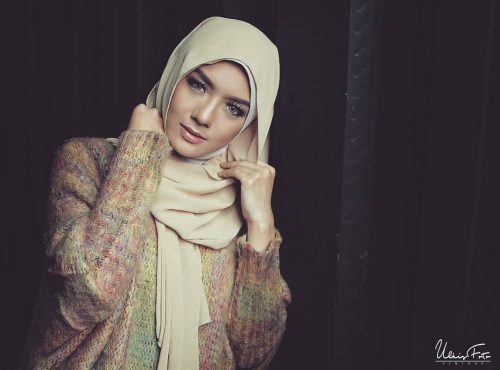 4 – Hijab Complimenting Almond Skin Tone
Caramel browns fit best with skin tones on the lighter side of olive, with a bit more yellow and green tones to them, adds Pick thorn. This color looks really beautiful on a base or roots that are naturally dark. Shades of browns, beige and cream are known best for suiting and making almond skin tone glow. These colors bring out the glowing element of the skin and makes the person look gorgeous. Bright and vibrant colors such as bright yellow, royal blue or blood red are recommended to be avoided by the almond skinned people as these colors can make the skin look not-so- great.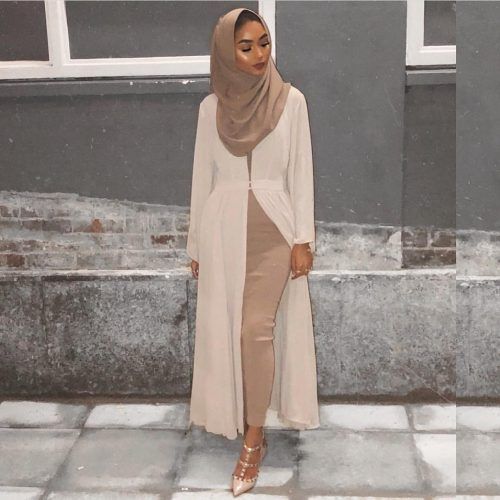 3 – For Porcelain Skin Tone
For porcelain skin to really look great pastel colors are used. Although stronger and more vibrant colors like dark blue or red look great too. White and black are best to be avoided as they can wash out light skin tone. The brighter colors make the sun glow and look more beautiful than the light shaded colors.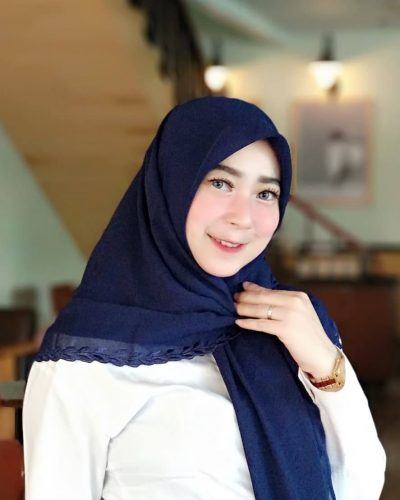 2 – For Honey Gold Skin
Honey gold skin is a very glowing and beautiful skin tone that looks stunning with different shades of browns such as caramel brown, light brown or sand brown. This skin tone looks gorgeous with the color black.
Black brings out the beauty and glow of this skin tone and never fails to look amazing. Bright and light colors like white, light pink, sky blue etc should be avoided as they wash out the glowing effect of the skin and can give it an effect of sickness.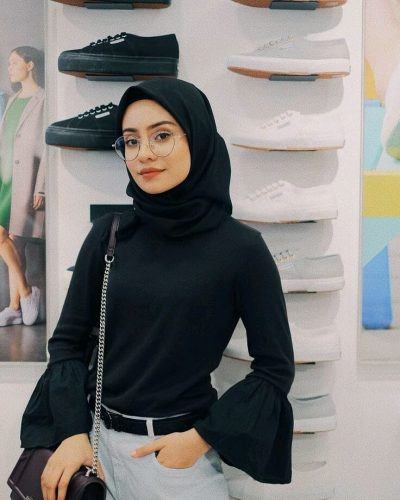 1 – Best Hijab Colors for Brown Skin Tones
As a majority of our audience was looking for hijab ideas for brown skin tone, we have added this special section for them:
Hijab colors for brown skin tones: Hijab is an Arabic term which means veil or barrier. Most people have this misconception that only Muslim or Arabic women wear hijab, but that's not true. Nowadays, the hijab is one of the most loveable and popular fashion pieces.
Out of a few evergreen fashion trends, the hijab remains in the limelight and never goes out of fashion. It gives you a bold yet elegant feel within yourself. Hijabis from around the world keep trying out different looks to keep the fashion alive. You can even match your outfits with your hijab and create your own look. To find exciting outfit ideas, keep reading.
What are the Best Hijab Colors for Brown Girls?
There are around 7.9 billion people in the world, each with different features, natures and complexion. Lucky you! To have the most attractive skin tone-brown. Where thousands of people are putting efforts to darken their skin by sunbathing and medical treatment, it won't be wrong to call you God's favourite child.
Almost everything suits brown skin and so do most hijab colors. To ace the look, you need to pick the right hijab outfit and colour to match your skin tone. Here are some tips on how to choose hijab outfits for brown skin.
No color compliments brown skin more than warm colors, i.e., dark green, red, soft golden color, purple and many more. You can get the template and choose a shade.

Dark colors like brown and black mostly don't suit brown skin tones and make them look pale. So, try avoiding such colors.

Pick outfits that highlight the color of your skin and hijab as well.

Avoid bright and shining colors like luminous yellow, shocking pink or bright green.

To make your skin appear appealing and bronze-y, opt for light and soft colors hijab outfits like sky blue, pink, pastel or nude colors.

You can even match your hijab with the color of your eyes.

Pick a hijab that is lighter in the shade if you are wearing a dark color outfit and vise versa.

Always put your outfits and hijab on your skin to observe if it makes your complexion dull or complements it.

There are hundreds of different shades of white color and some of them will look amazing on brown skin tones so find the one that works best for you.
Now that you know the essential points let us move on to a list of hijab colors for dark skin girls to look fabulous in:
Both dark and light shades of blue look pretty good on brown skin tones. I recommend keeping the makeup natural with a light pink lip color.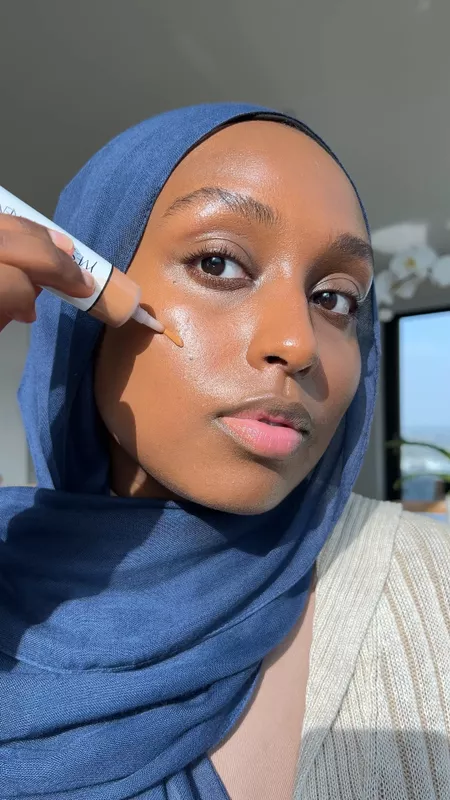 Pink colors are simply made for brown girls!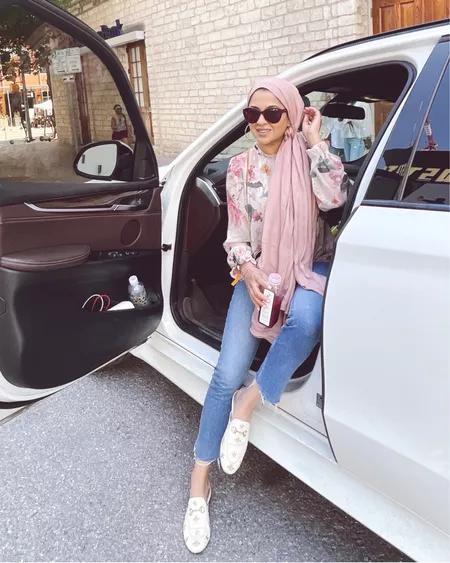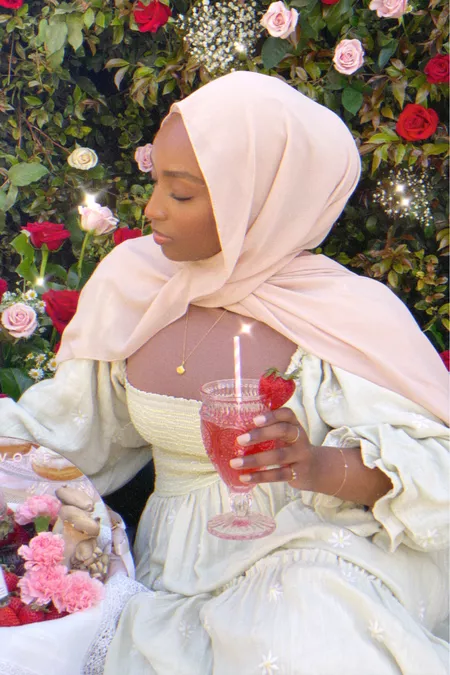 Yellow is a color that girls with darker skin tones are often told to avoid but trust me, it looks fabulous, especially during the daytime. But when wearing a yellow hijab, don't make the mistake of going for a yellow outfit as it kind of becomes overkill. Instead, go for a white or neutral-colored outfit to keep things classy.
Here are the Best Lipstick Shades for Girls with Dark Skin Tone.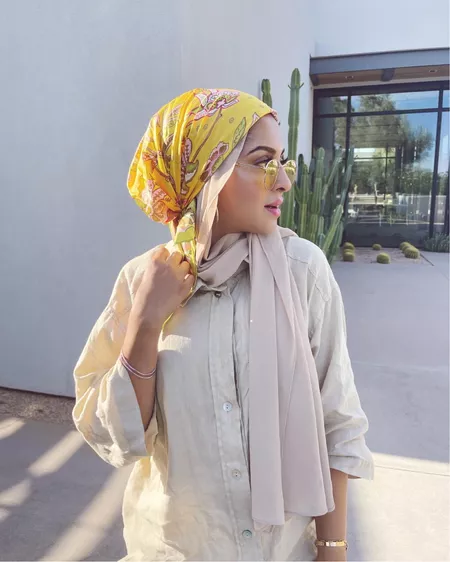 Can this pair ever go wrong? No! it is always in and comfy yet stylish attire. People tend to wear jeans and sneakers almost every day. You can even wear colored jeans and match them with your hijab.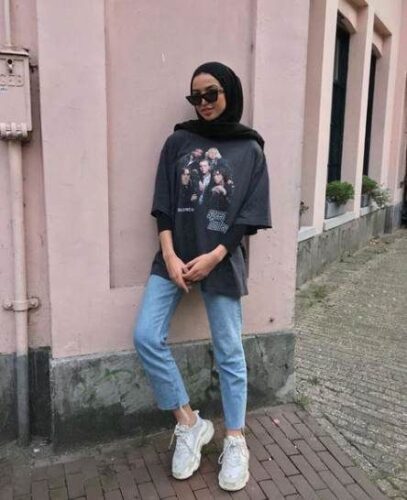 Are you a businesswoman? Because this outfit is ideal for all the businesswomen out there. Be it a man or woman; a suit gives your personality a classy look. You can match your hijab with your business suit and even your tuxedo. Nowadays, silk hijabs with suits are really in.
For brown skin tones, I highly recommend silk hijabs in blush pink color. Here are some Ideas on How To Wear A Silk Hijab.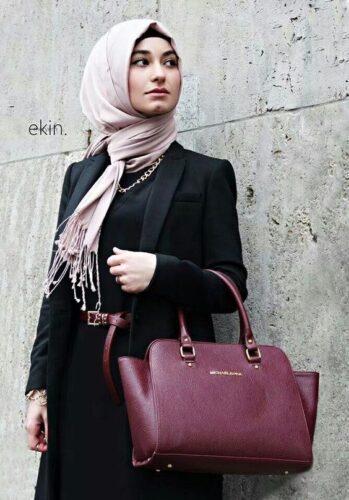 Via
Like I said before, white hijabs come in many shades so choose one that works best on your skin tone. By draping the hijab in a Turkish style, you can even give your face an elongated look.
You can't be lucky enough to find matching hijabs every day. That is why you should always have solid color hijabs in the backup to pair up with everything.
To have a boyfriend is not necessary but to have boyfriend jeans in your closet is a must. You can create a classic and casual look with hijab, boyfriend jeans and upper. Here are some ideas on what to wear with boyfriend jeans.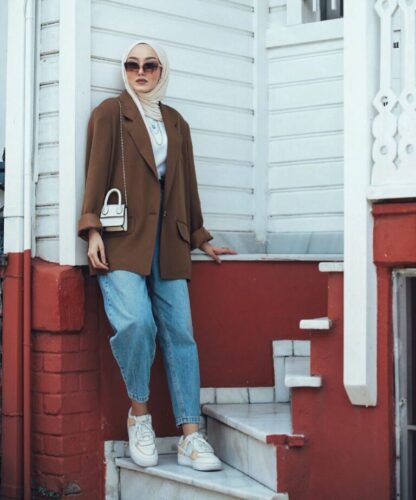 Brown girl, brown hijab and a brown outfit – isn't that the ultimate dream! Love this chocolate-y look and how the brown hijab brings a glow to this girl's face. But with an outfit and colors like this, you need to be careful with your makeup.
Alternatively, you can also go for brown boots to match your brown hijab and pair them with any outfit of your choice.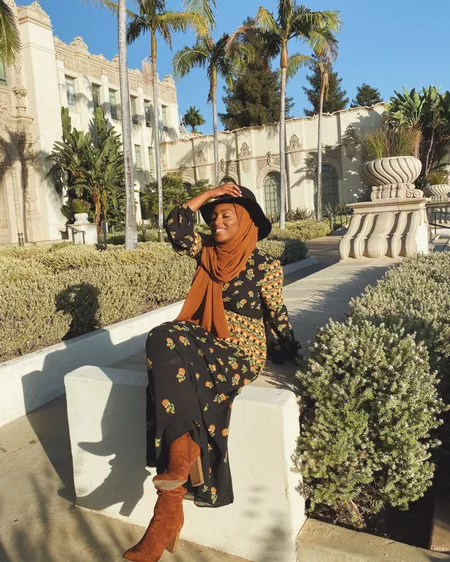 Is there any girl who does not have a frock or maxi in her wardrobe? Frocks and maxi instantly make you feel that you just stepped into a fairy tale. There is no specific event for this, you can pair up your frock with a turban-style hijab, or just a simple hijab would work too anytime, anywhere.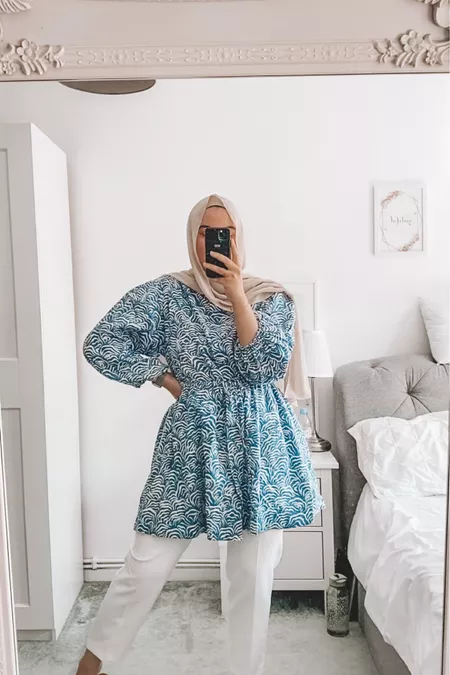 They say, when nothing goes right, wear denim. True that! Our love for denim is never-ending. You can wear a simple printed hijab with denim. But, to twin your hijab and denim, you can buy a hijab with denim-like color or texture too. Matching shoes will be a cherry on top!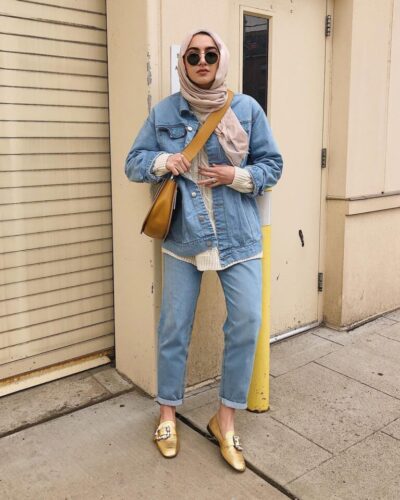 Some people find it challenging to style themselves up as a teenager as there isn't much diversity, but in my opinion, outfits and styling as a student is the prettiest thing. Imagine books, specs and hijab. What a deadly combination it is. You can wear printed hijab in many different ways with your college uniform or dress.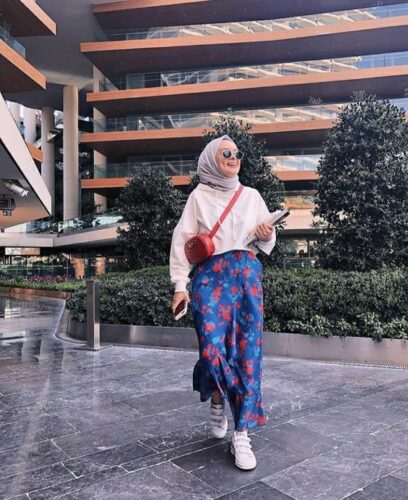 The evening time is very calming, enviable, and my favorite, readily. But, it is essential to pick the right color for your dress and hijab. Dark and bright colors don't look right for an evening party. Always choose a soft color for your evening outfits like ice blue, baby pink, grey or peach. Since you will be wearing a light color outfit, don't forget to wear a dark color hijab to complete the look.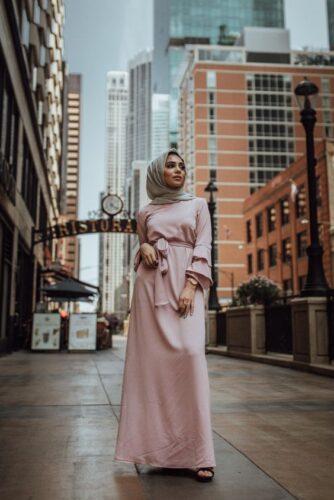 Since green is an outdoorsy color, it looks superb in all outdoor pictures. I would recommend Olive green and emerald green as both of them look beautiful on brown skin tones.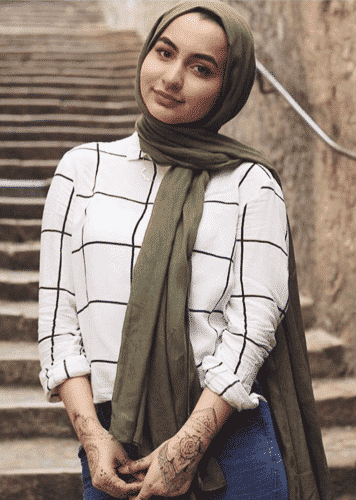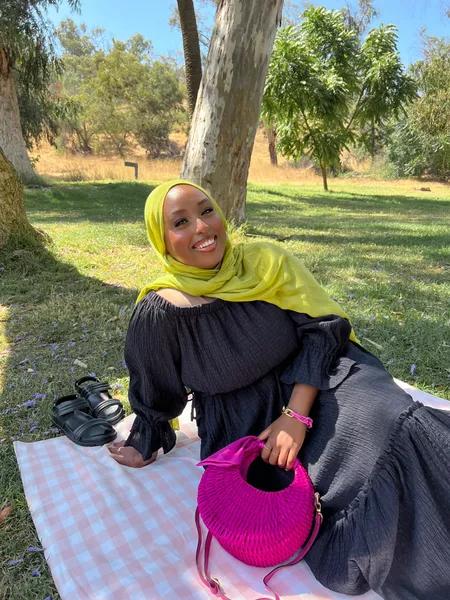 Some brown girls remove their hijab at festivals like weddings or Eid, while some wear hijab even on special occasions. It is their own choice, and we respect that, but I admit that hijab and fancy dress are unique and different looks you can try this wedding season.
Many designers are now presenting stylish hijabs with their outfits for brides as well. You can also pin different jewels and accessories to your hijab to add more bling to them.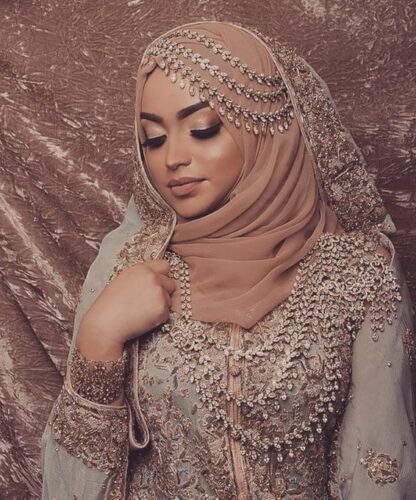 Here is one more killer look for you. It is currently on the top list of the latest trends. Don't believe us? Pair a plain outfit with a printed hijab and see for yourself. You can also reverse it by wearing a printed outfit with a plain hijab.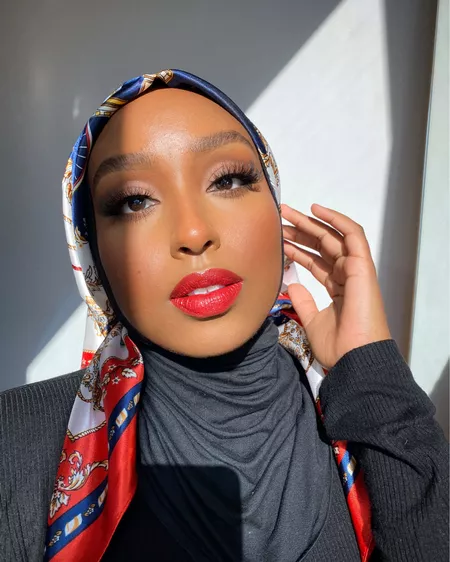 Solid Hijab with a Floral Dress
This one is for you, my delicate brown girl. Just like you, floral prints are beautiful and gives an elegant look to your personality. You can wear a floral hijab with it, or a simple hijab can do the work too. You can wear a floral bracelet to look more appealing. Try floral earrings if you are wearing an open-ear hijab style.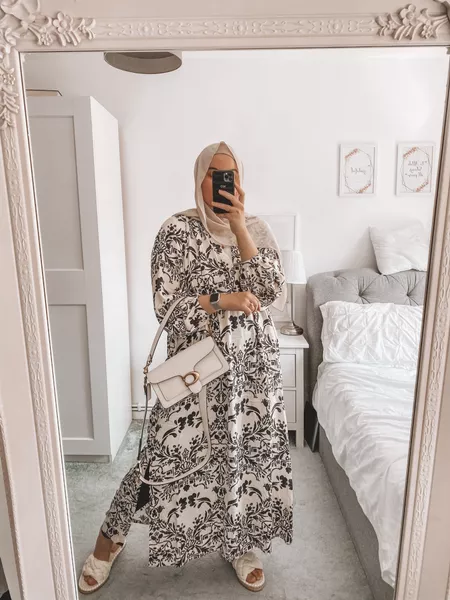 Love oversized clothes? Then try this look. Oversized hoodies and hijab look as good as popcorn and movie. You can also try the loose peach hijab with your oversize tee-shirt to show your love for oversized and loose clothing styles.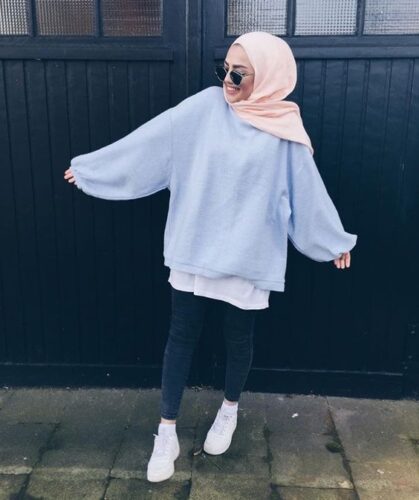 Everybody agrees that winter outfits are way more relaxed and stylish than summer outfits. Sweaters, leather jackets, mufflers are just too good to handle. A hijab with winter outfits is the perfect winter treat. It adds up to your look and makes everyone go gaga over your beauty. Not to mention, it saves you from the harmful cold air as well. Isn't that all we need?
In Winters, most of us go for dark colored hijabs and it is a practical thing to do. My favorite colors for the season are black, beige, nude and brown.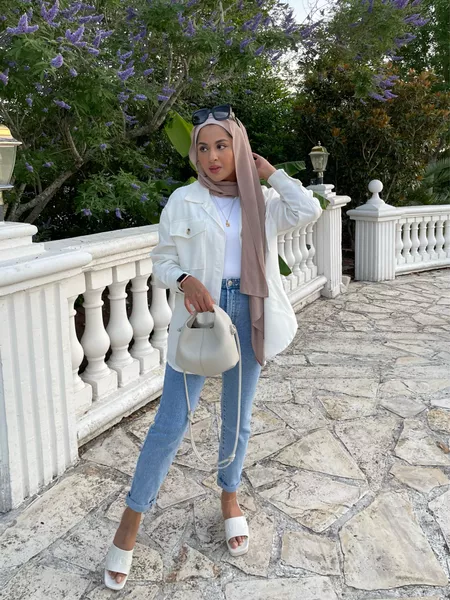 If you are not a very colorful person or want to take a break from colorful funky clothes, wear nude color hijab outfits. Nude colors look perfect on brown skin tone and give it a glowing complexion. You can wear nude outfits with matching hijabs or make your combination like nude and dark green.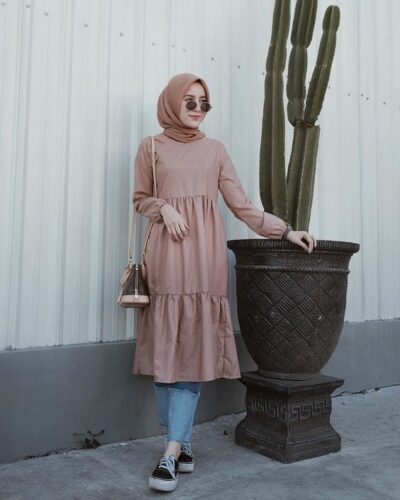 Warm colors like yellow, red, orange and different variations in their shades are called warm colors. They compliment brown skin tone like no other. Find your favorite color out of these, wear it, match it with hijab, and you are all set to go.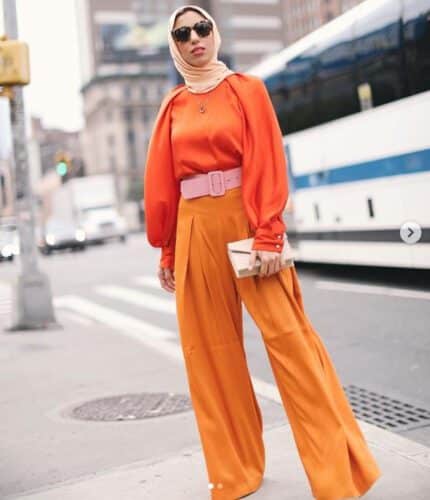 Black and White Printed Hijab
Females in Arab and some Asian countries prefer to wear a hijab with an abaya to cover themselves completely. You can even wear an abaya and hijab as a whole new outfit. Abaya comes in different styles like open button, coat style, baggy style, depending on your preference.
When wearing a black abaya, your best bet is to go for a printed hijab.
If you're wearing a white outfit, I would recommend going for a white and black hijab. Or you could simply wear a white cap and cover it with a black hijab. This creates a very simple yet elegant look for work or professional meetings.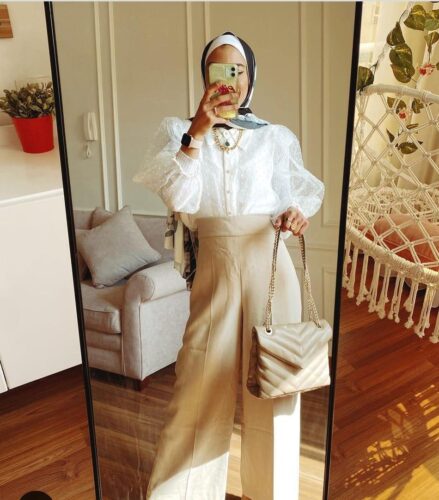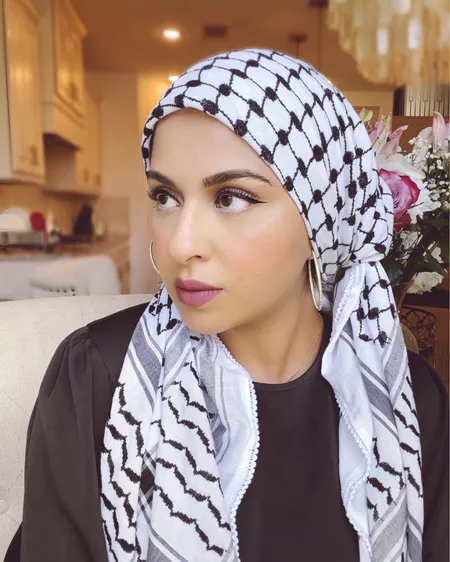 Polka Dot Hijabs in Light Colors
The amygdala in our brain is the reason why we feel hypnotized by this dotted and playful print. Just like animal prints and floral prints, polka prints are evergreen and all-time favorites of people worldwide. Usually, it comes in black and white color but now it is easily available in different cute colors.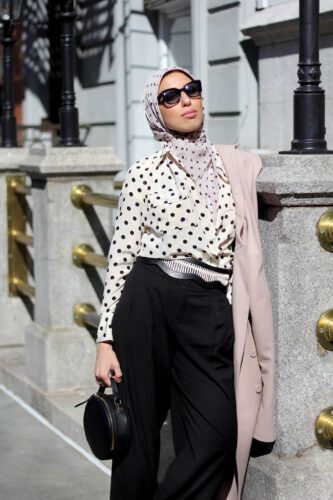 Tanned brown skin is when the tan of the person is higher and darker than usual, giving the skin a shade of brown. This skin tone is complemented by various shades of brown with yellow, red, or blue undertones. These are the colors that make the tan glow and pop-up. Avoid pastels and bright whites that will make you look washed out, and lime and olive greens that can make medium skin look sallow.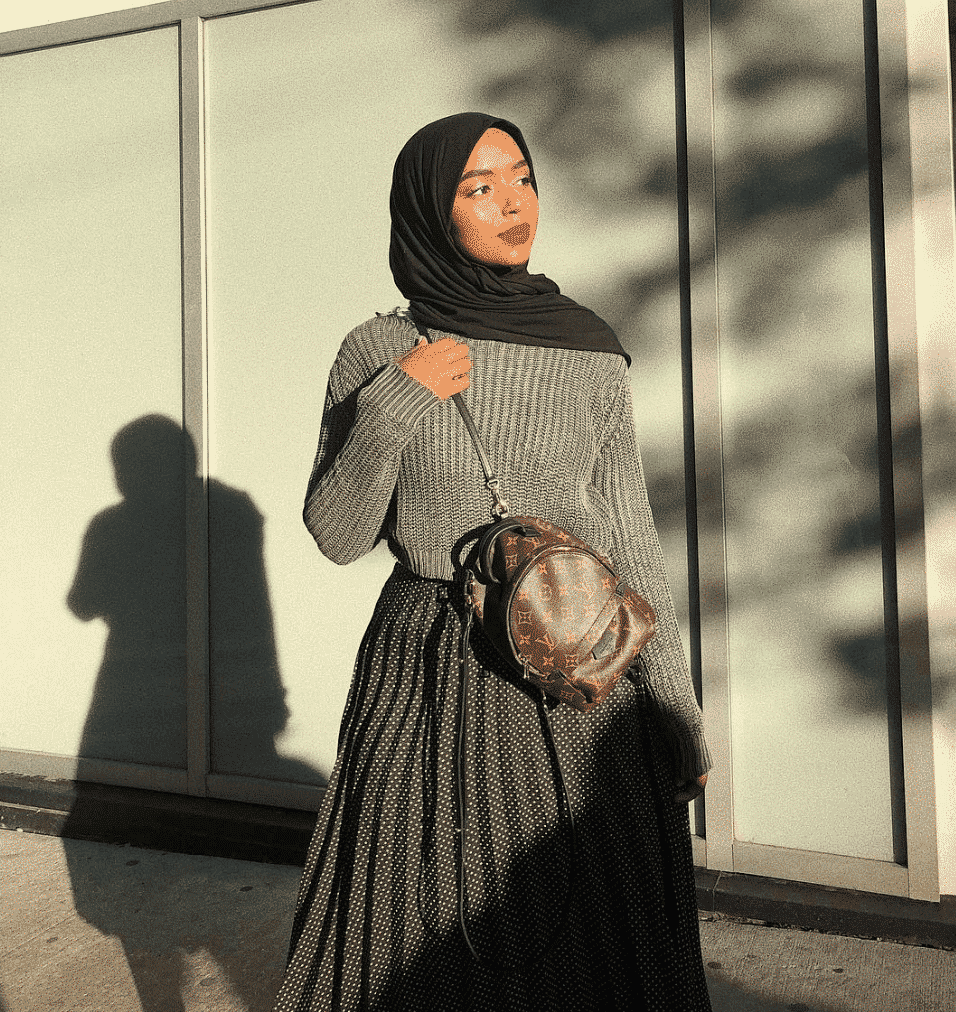 Frequently Asked Questions
Q. What Colour hijab outfits should a brown skin girl avoid?
There is literally no color in the world that won't look good on you as long as you carry it with confidence and style it with the right outfit.
Q. What colors look good on brown skin tones?
Light and soft colors look good on brown girls. Not to mention red which never disappoints.
Q. What color hijabs brighten dark skin tones?
Colors like blush pink, rose gold, ivory and royal blue will usually have a brightening effect on dark skin tones.