Silk Hijab Styles – Today, in the 21st century, Silk Hijabs are gaining quite a fame amongst girls of all ages. Silk Hijabs are becoming a fashion statement not for Muslims only but also for non-Muslims as many fashion designers make their models wear silk hijab with different outfits on the ramps.
This article will put the spotlight on the individuals who are quite a fan of silk hijabs with 25 ways for wearing Silk Hijab with various outfits. All those girls who have been wondering how to style Silk hijabs or what to wear with silk hijabs, this article is a definite read for them.
What To Wear With A Silk Hijab
Silk Hijabs are dreamy. They make every outfit look so luxurious and royal. You definitely need to have a look at these 25 outfits paired astoundingly with silk hijabs.

 Silk Hijab: Step By Step Guide
Under scarves is an unquestionable requirement to wear under silk hijabs, as they keep them from sliding. Similarly, pins, preferably long ones are an absolute necessity have, and obviously, self-clasping pins are always preferred. For a flawless look, follow the steps below:
Place the hijab on your head with long and short sides.
Both sides should be pinned up properly.
Bring the short side over your neck.
Now you can either go along with it to the opposite side utilizing the self-locking pin or simply wrap it and tuck it someplace.
At that point, bring the long side and wrap it all over.
Pin it to fix it.

↓ 25 – Hijabs You Must Have In Your Wardrobe In 2019
If you are a hijabi, especially a beginner, then you must have some primary colors in your wardrobe. We assume you must have black and white, but they are too mainstream. Here we have made a list of a few colors, fabrics, and prints that you must have in your wardrobe. Once you have them, you will no longer need to worry about matching a hijab with your outfit, be it any color or season.
Fabric
Silk
Georgette
Organza
Chiffon
Cotton /Lawn
Pashmina
Linen
Color
White
Black
Grey
Beige
Peach
Red
Pastel colors
Gold
Print
Floral prints
Check print
Linings
Polka dots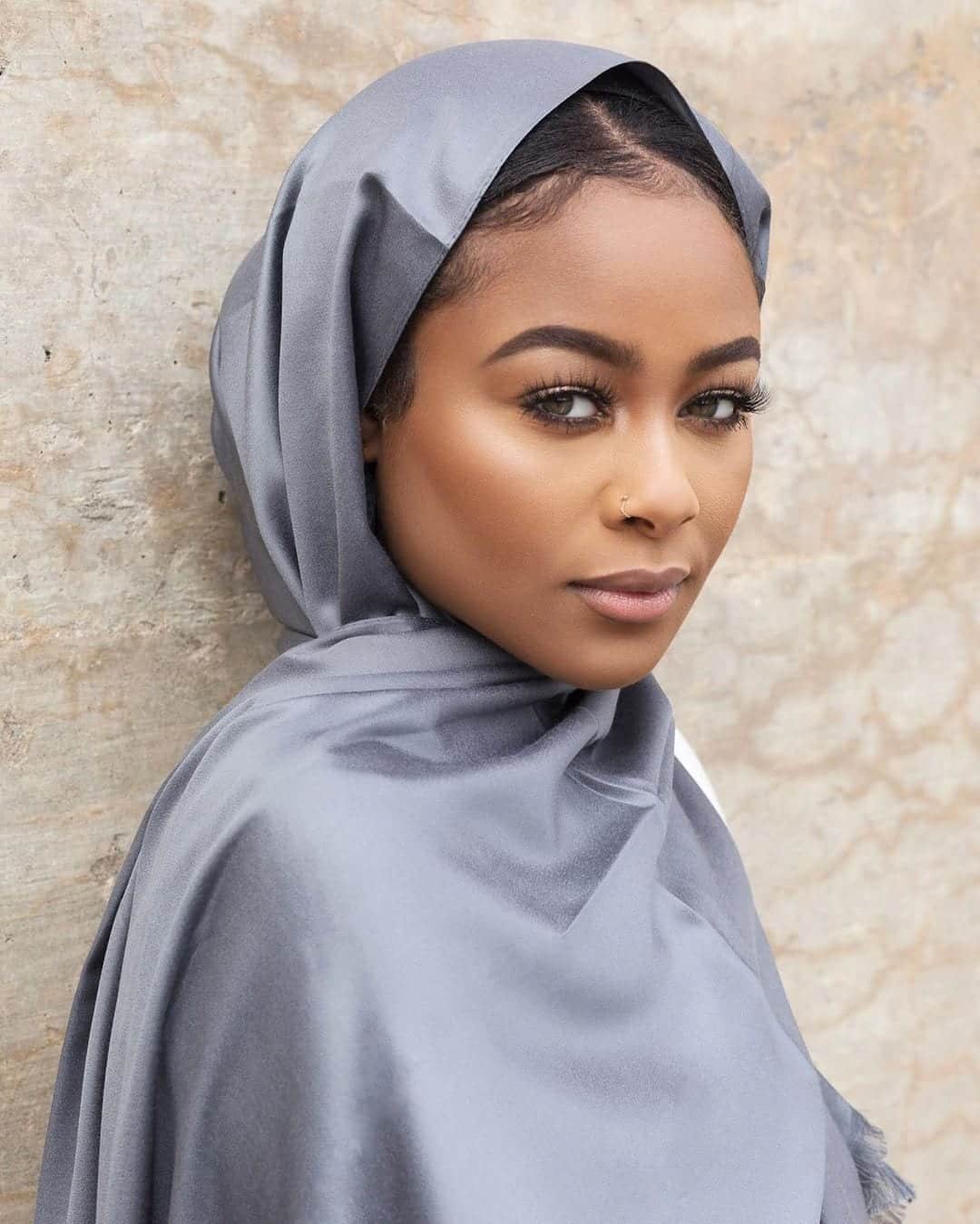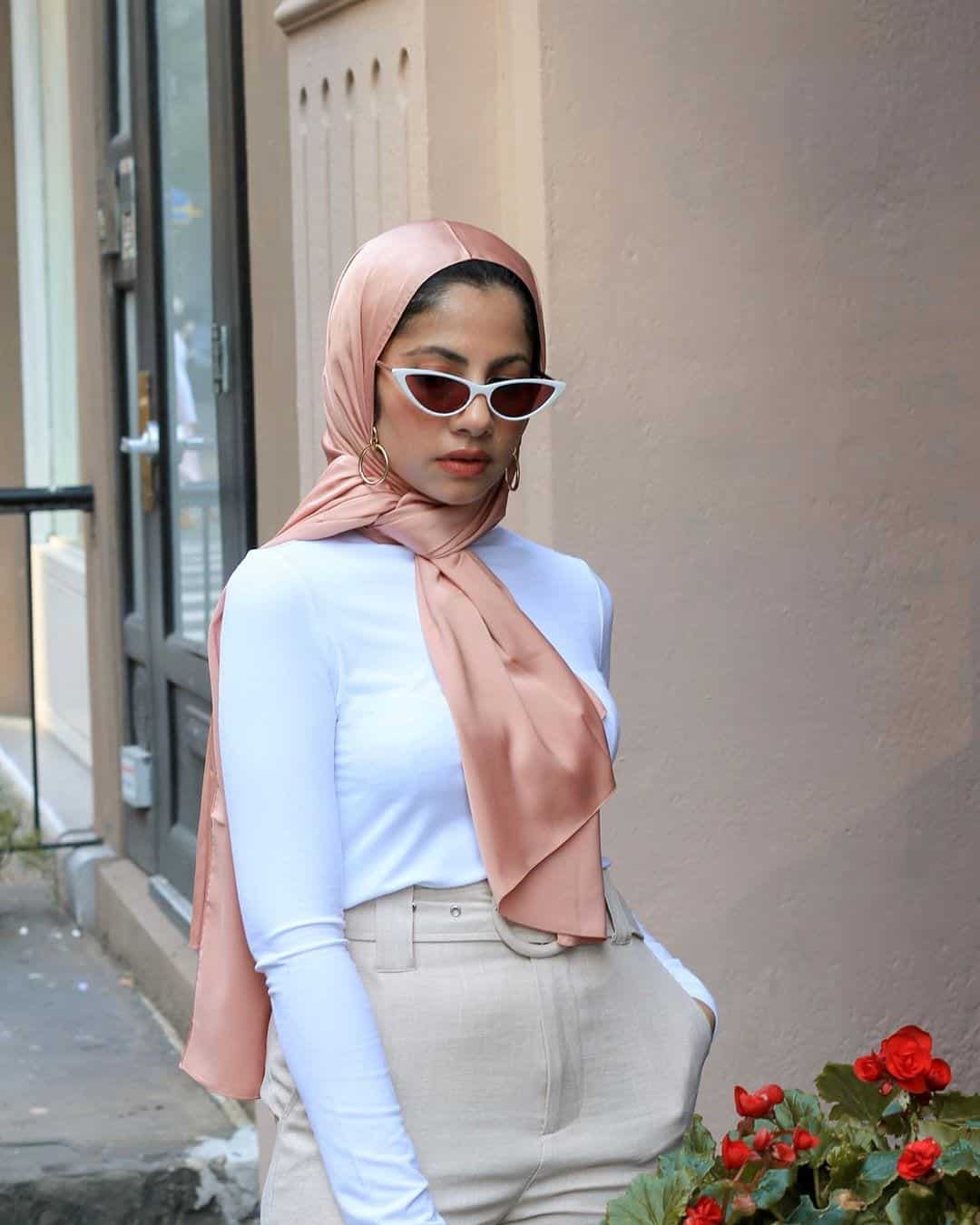 Buy similar hijab
Essential Silk Hijab – Rose Blush $65USD
Have a look at how beautiful this pearl dust hijab looks with a white-colored shirt with a vibrant April skirt. You can wear an outfit like this on birthday parties or even for semi-formal hangouts.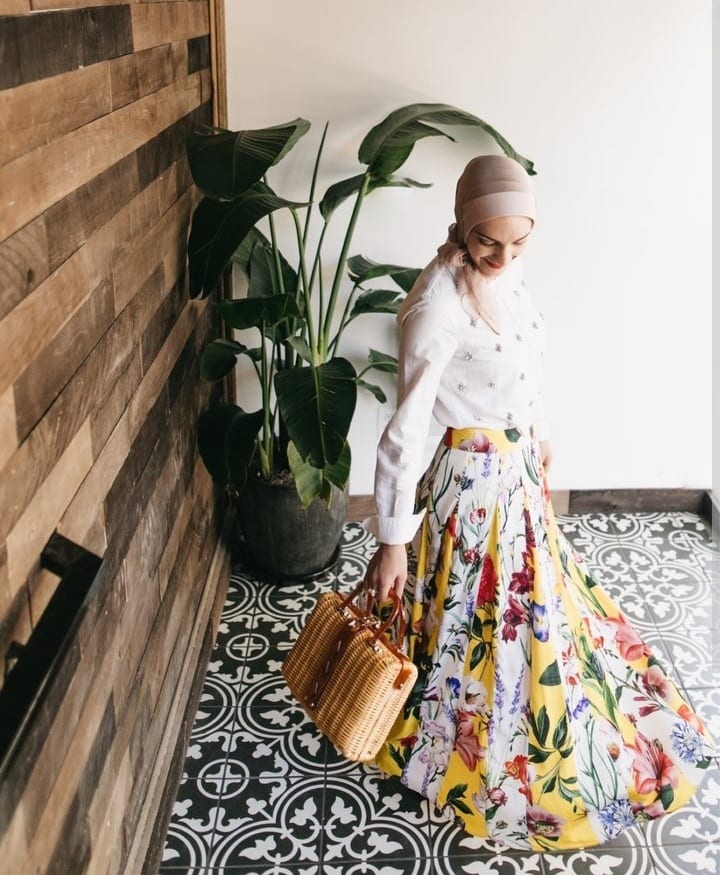 Shop similar look below
Riley Tailored-Fit Super-Stretch Shirt $34.00
Aprile Skirt
Essential Silk Hijab – Pearl Dust $65USD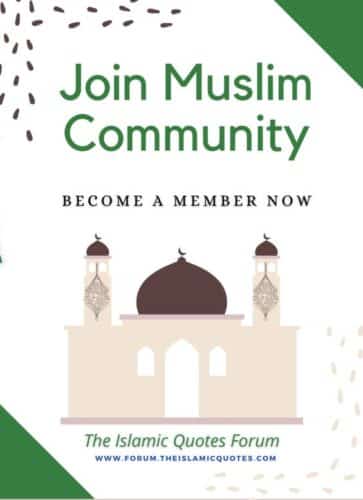 ↓ 24 – For Friends Hangout
Hanging out with friends never gets old, No matter how much you grow up. Whenever you want to relax or set your mind off the building tensions around you, a friend's hangout makes it better. Ladies, we all know the troubles of selecting dresses and asking each other what they are wearing. So let outfit trends make it easy for all of you beauties. Wear abayas in similar shades or color coordinate with each other in your silk hijabs. Silk Hijabs makes the simplest of all outfits look so royal and eye beguiling.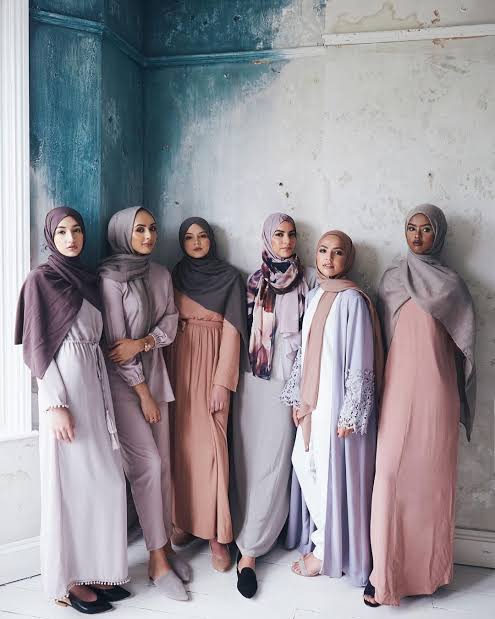 Here's another very hot outfit that you can wear to your next friend's hangout, be it brunch, lunch, movie night out, or just a cup of tea. The red pleated skirt looks mesmerizing with a maroon sweater and silk hijab. The heel boots elevate the entire look by a factor of ten. Put on pink lipstick, a light chain in your neck, grab a crossbody bag, and your shades. That's the best outfit that you can wear, trust us.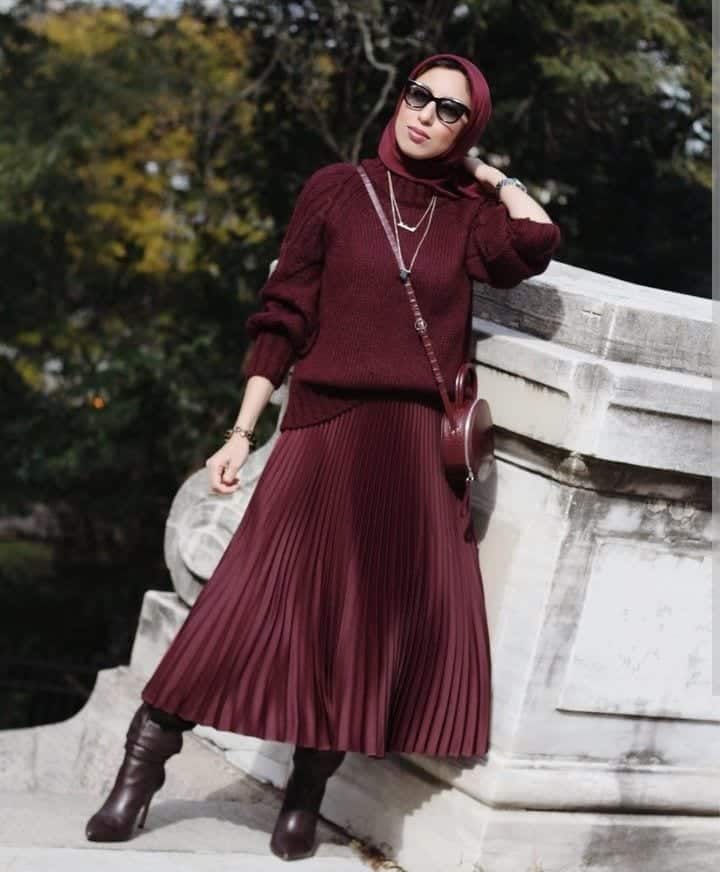 Shop the similar items below
Chained Circle Crossbody Bag
Essential Silk Hijab – Bordeaux $65USD
↓ 23 – Printed Aesthetic Silk Hijabs
Solid colors get dull, and one becomes fed up with them. Old hijabis can relate to it. I'm sure. Forget dry and boring now. Printed silk hijabs should be your new hunt. They look so aesthetic and luxurious like they've come right out of an art exhibition.
You can wear them with plain tops to add some colors to your outfit. Where to find printed silk hijabs? Well, the answer is many numerous online stores supply them. You could even borrow silk dupattas from your mom. Many old three-piece suits have captivating dupattas, and you can use them as hijabs. Wear it in dupatta style, wrap it around your head, or go with turban or ponytail style. Whatever you like the best.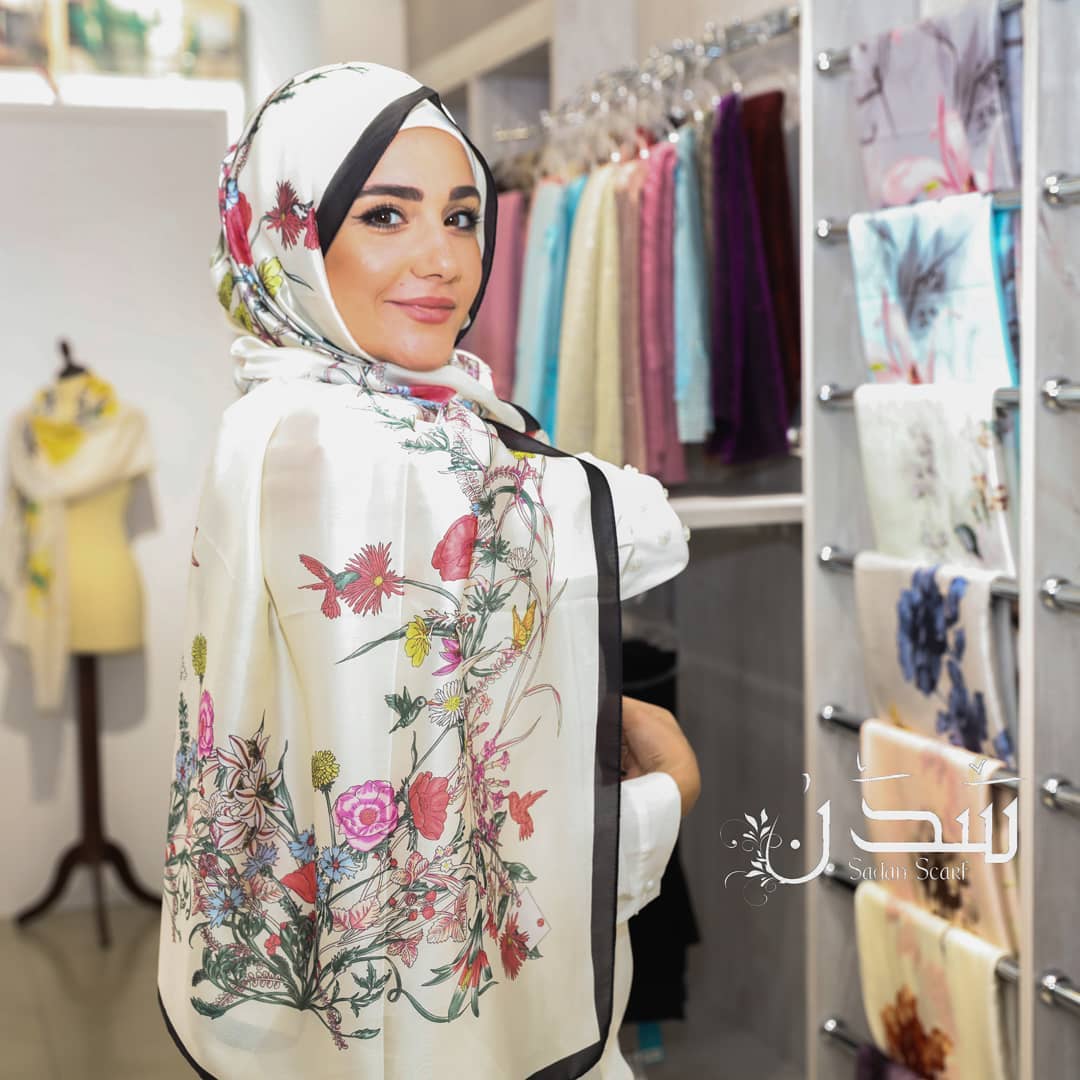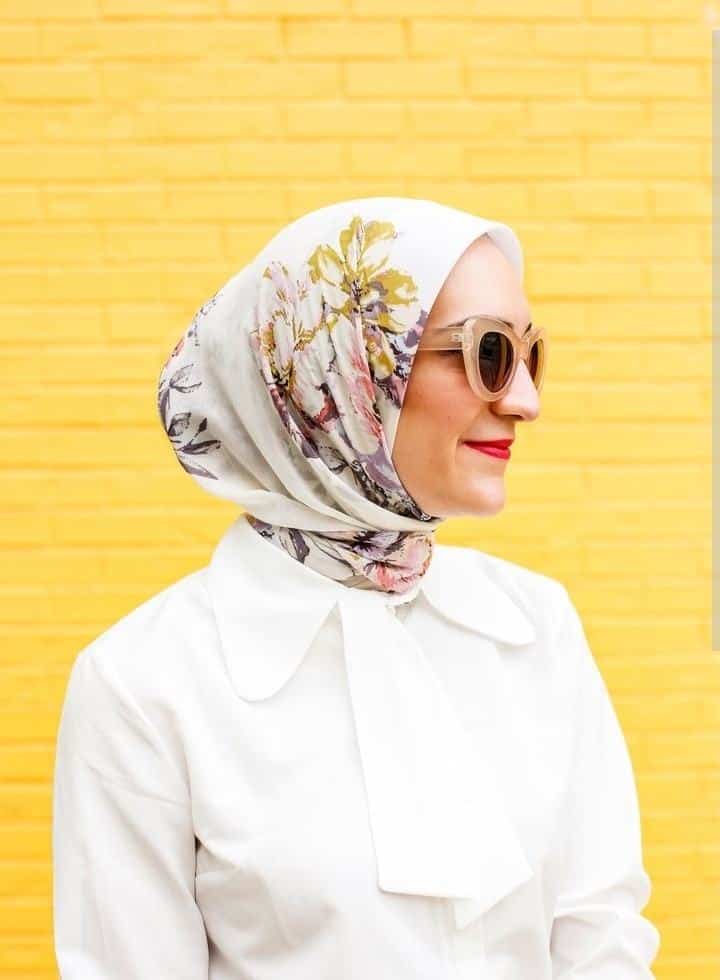 Shop Similar items below
Quinn Straight-Fit Oxford Shirt $68.00
Boudicca Round Sunglasses $38.00
↓ 22 – Silk Hijabs For Office Wear
Silk hijabs are worthy of office use for sure. They will help you create a more formal vibe. Have a look at this hijabis blogger who is rocking an office look. She is wearing plum high waist wide leg pants along with an orange-gold top. Her jacket, hijab, clutch, shades: everything is so on point.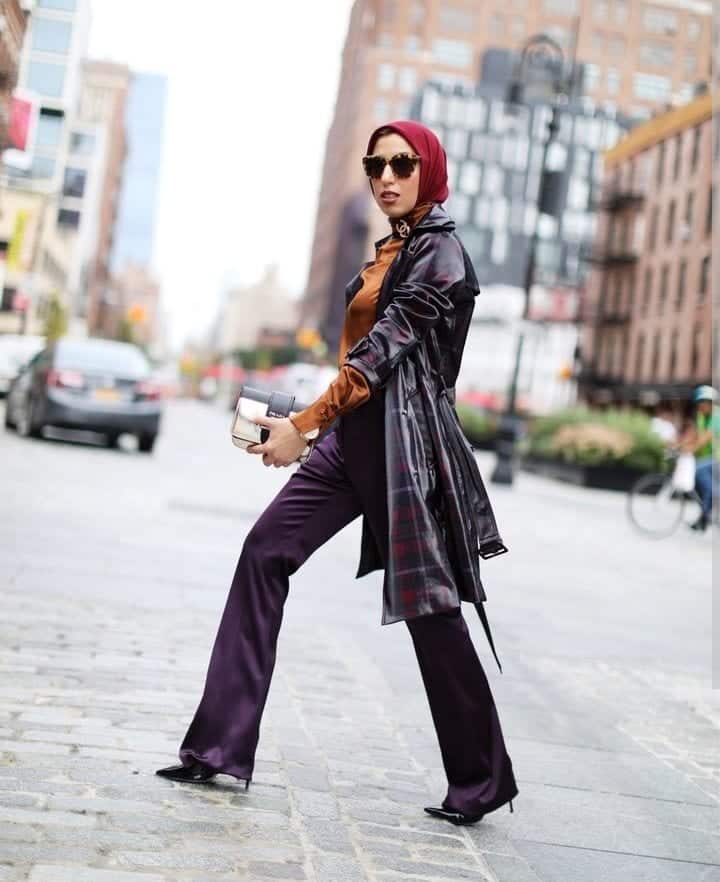 Shop the similar items below
Everyday silk Hijab – Cranberry $20USD
Prada Cahier Leather Belt Bag
Let outfit trends help you create an adorable outfit for your office use. Put on a drapey white top and printed skirt. Throw over a chic blue blazer and wrap a silk hijab around your head. Gorgeous beauty!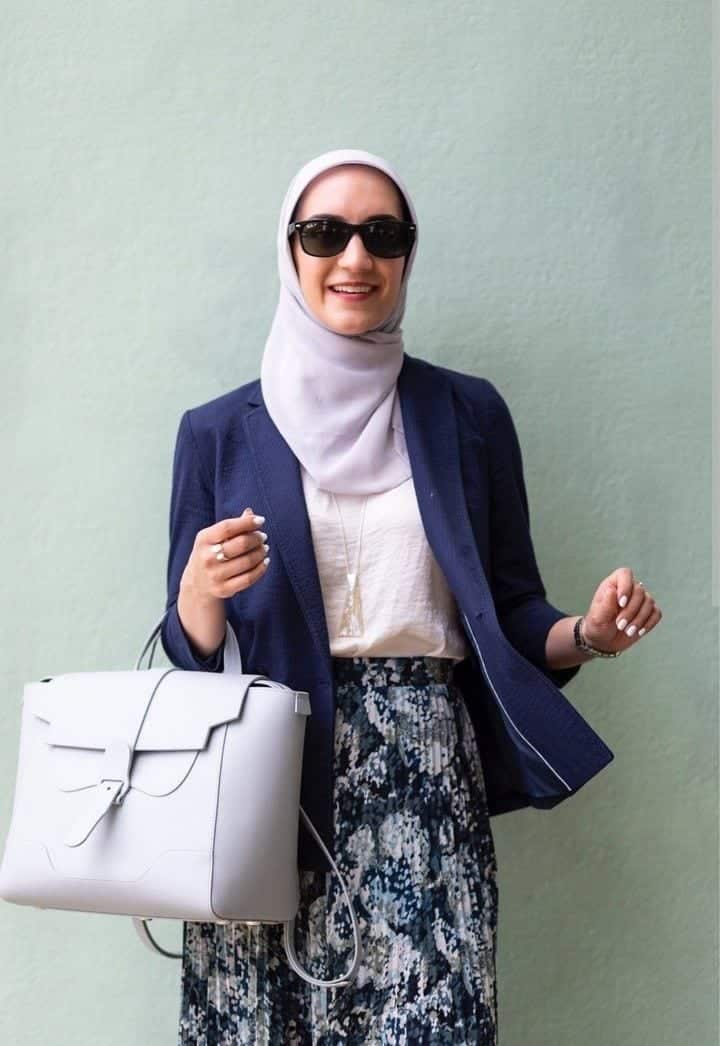 Shop the complete look below
Standard New Wayfarer 55mm Sunglasses RAY-BAN PricePKR 24233.35
Essential Silk Hijab – Silver $65
Wear something formal yet casual to the office on your lazy days. Put on a striped sweater along with yellow pants, skin hijab, and multi-colored heels. So cute!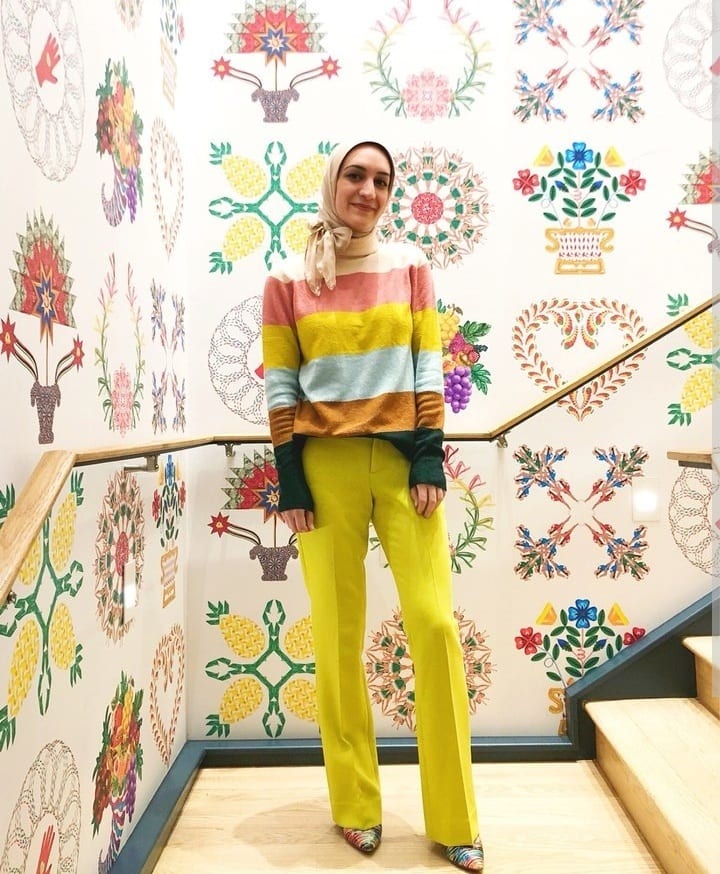 Buy similar items below
X Atlantic-Pacific Shimmer Stripe Sweater HALOGEN®
Essential Silk Hijab – Pearl Dust $65
↓ 21 – Hijabs For Flowy Outfits
Every girl loves Flowy outfits or at least obsesses over them at some stage of her life. If you are a young graduate enjoying your early twenties and want to wear something girly, then Flowy outfits are the preferable choice.
Try out this captivating shocking pink Marcela outfit. And town down the sharpness of this outfit by wearing nude hijab, brown pumps, and a leather handbag.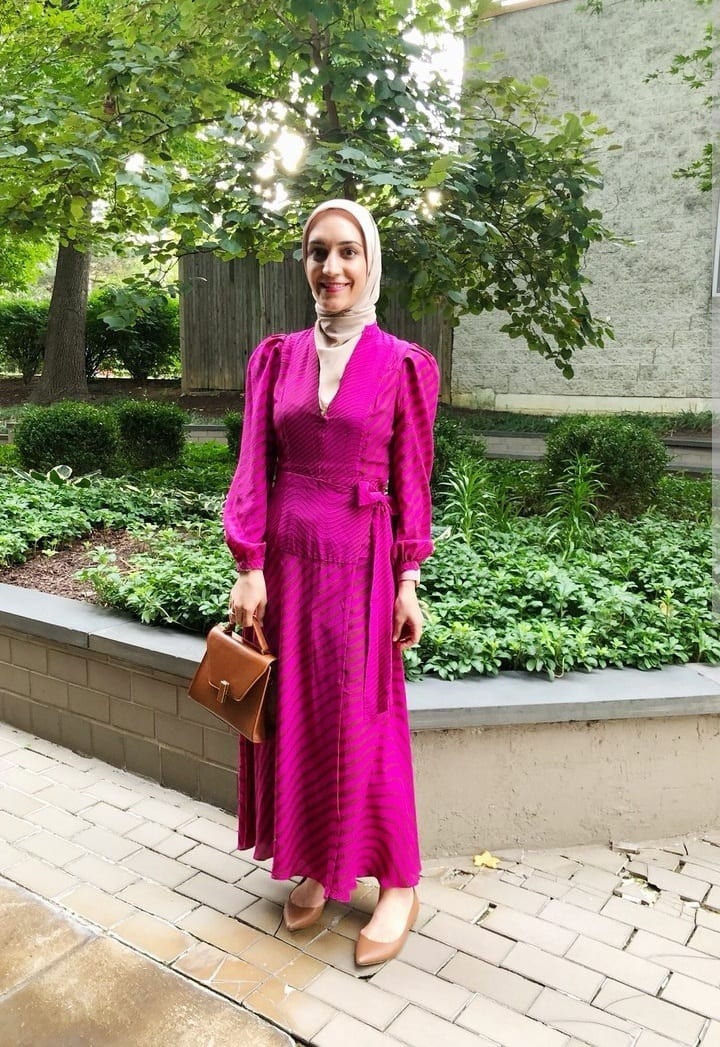 Shop the complete look below
Tanya tailor Marcela dress 545$
THE FORTUNA Made by hand in Toscana, Italy $198
Everyday silk Hijab – Sand $20USD
Another very decent outfit is this orange-brown midi dress. You can look effortlessly chic in it if you just put on some light makeup and carry a clutch bag.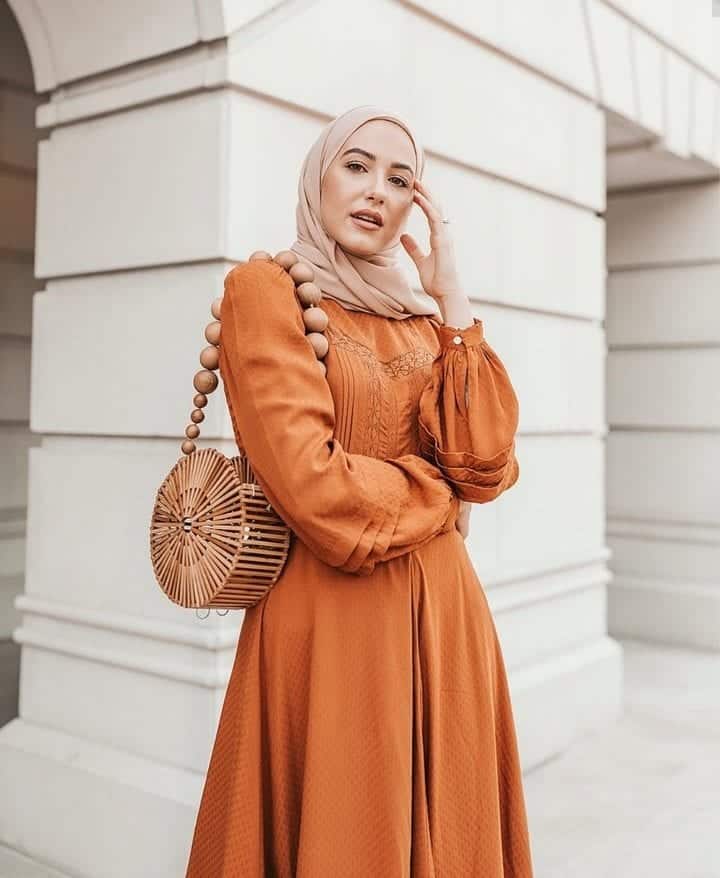 Shop the complete look here
WANT Hold On Wooden Clutch Bag £19.00
Long Sleeve Lace Trim Midi Dress £110 £66
↓ 20 – Multi-Layered Style Silk Hijab With Black Abaya
Mostly hijabis prefer wearing Abayas. The most significant advantage is that you don't have to worry about your outfit. But make sure your abaya is tailored well. Color coordinate your abaya and scarf and have an easy day at your office.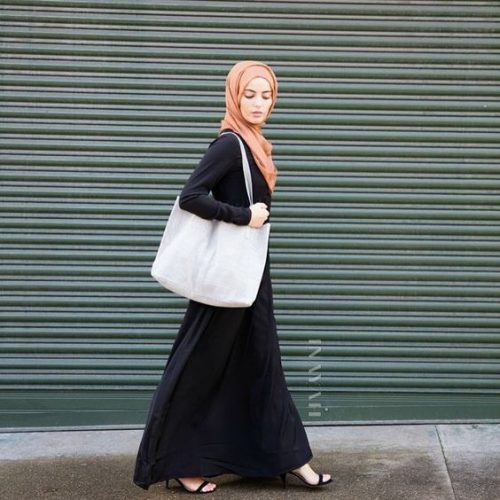 ↓ 19 – Turkish Style Silk Hijab With Fur Jacket
For more such awesome ideas, have a look at these 14 Latest Turkish Hijab Styles for the simplest tutorials that you can easily follow.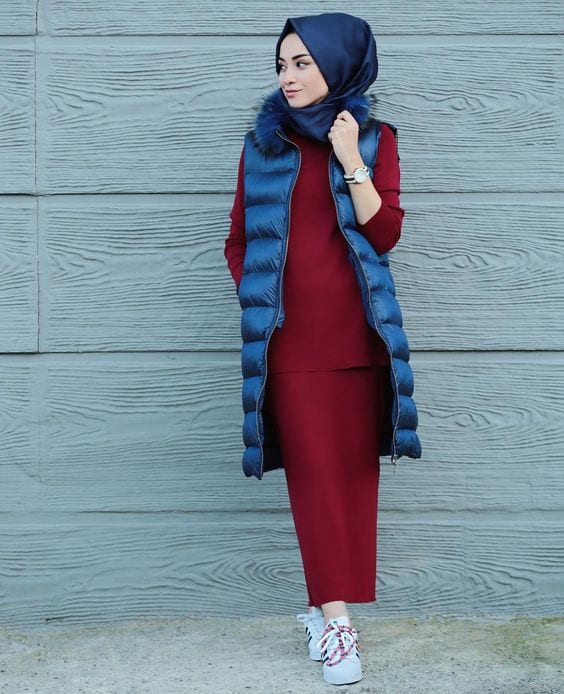 ↓ 18 –  Party Outfit With Silk Hijab And Kimino
Hijabs aren't even going to weddings, parties, and functions without their veils on, right? Well, here is an ideal outfit for you to try on, on an event. Wear a plain brown Kurti with straight pants and printed kimono. Go for headwear in a similar shade and dark maroon heels. It's simple yet very stylish and chic.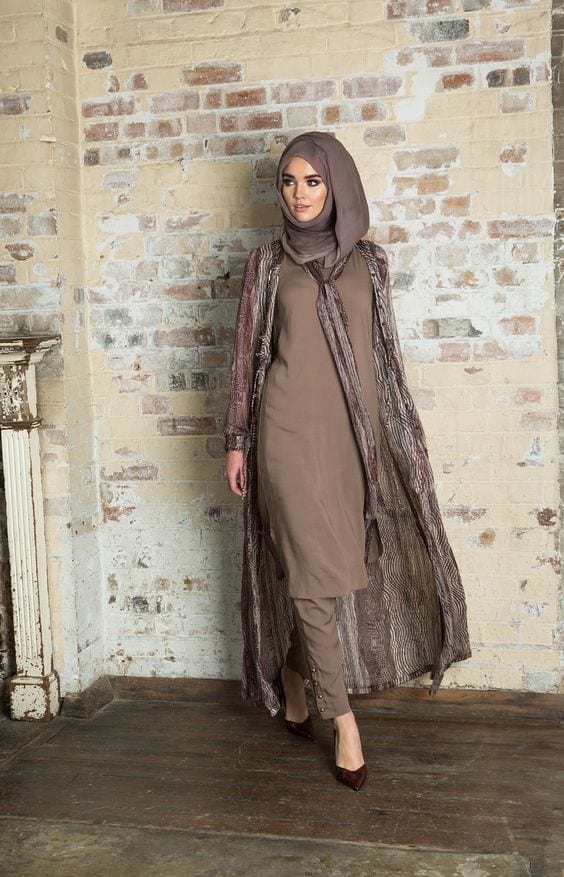 ↓ 17 – Work Outfit With Silk Hijab And Heels
Here the models exhibit how girls who are crazy about silk hijabs can wrap it around for an interview or an official meeting with different outfits. Here are 12 Ideas to Wear Hijab at Work Elegantly.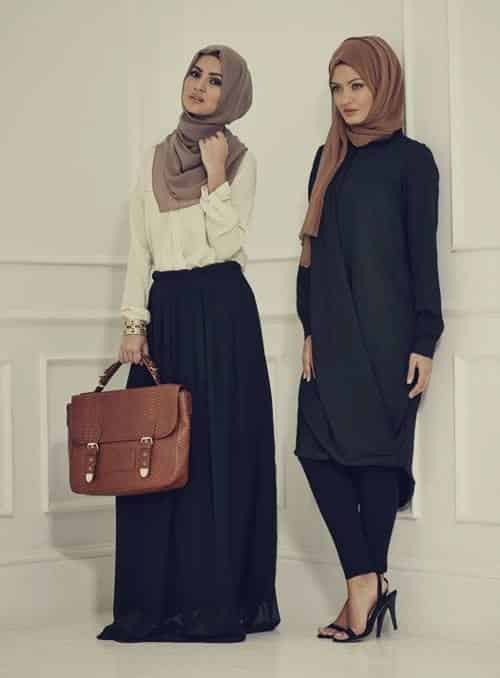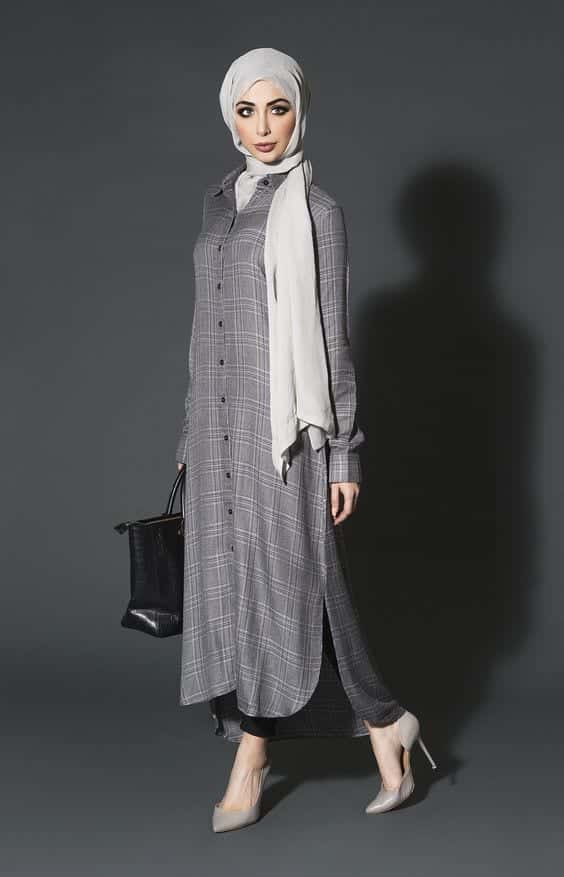 ↓ 16 – Cruising Outfit With Peach Silk Hijab And Mint Maxi
Whether you're looking for a travel outfit or a modest honeymoon outfit with hijab, this look would be perfect. The choice of colors is also right on point for a cruise or beach day.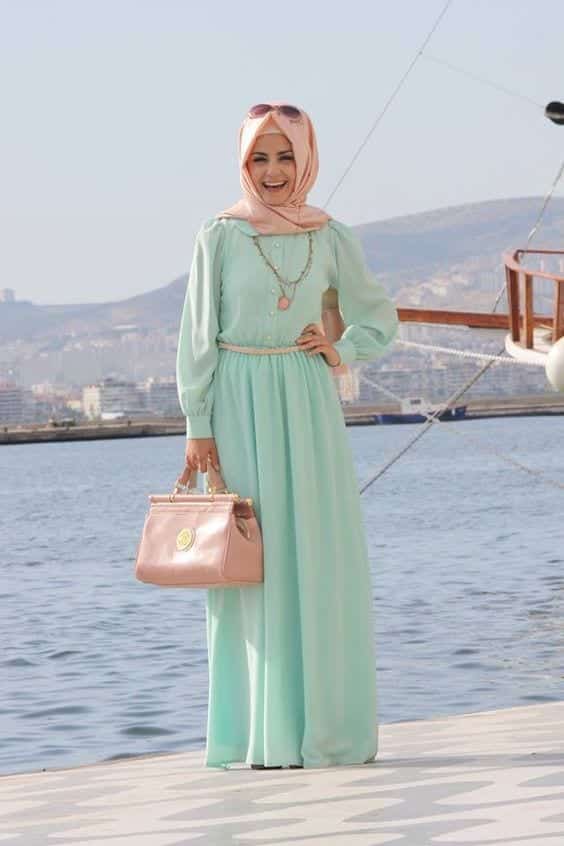 ↓ 15 – Pink Silk Hijab With Pink Clutch
Loving the idea of matching your silk hijab with your accessories!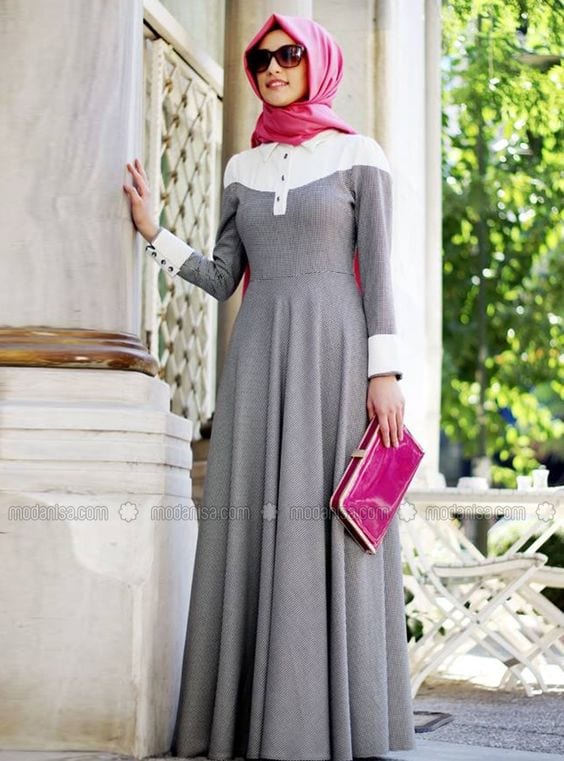 via
↓ 14 – Elegant Look With Marron Silk Hijab
In the picture below, the model wears a silk colored maroon hijab in Turkish style with an Artichoke shade of maxi with all these, gives her a graceful, elegant, and pure look. This look is highly recommended for girls going to college formal events or for a job interview in the winter season. Do have a look at these Latest Turkish Hijab Styles With Simple Turkish Hijab Tutorials.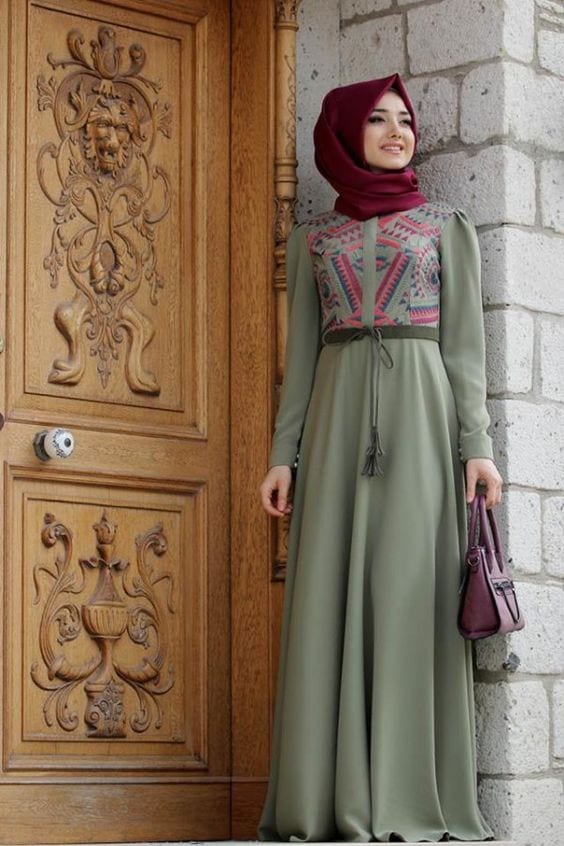 ↓ 13 – Western European Look With Silk Hijab
To instantly add sophistication to an everyday look, wear a thin silk hijab without an excess of volume. This is again to ensure you can pull the Cowboy hat down to make it sit on the head.  The model in the picture below is wearing a nude shade of silk hijab that's tightly wrapped around, because of that her cowboy hat and the silk hijab both look incredible together. As all girls know that hats come in various sizes and shapes. Therefore, they might need to decide on the size of the cap. On the off chance that they think if their hijab will not take up much room and in the same event that you are wearing a thin, silk hijab like the model, then one can go for the standard size hat. And here are the cutest Hijab with Hats Styles.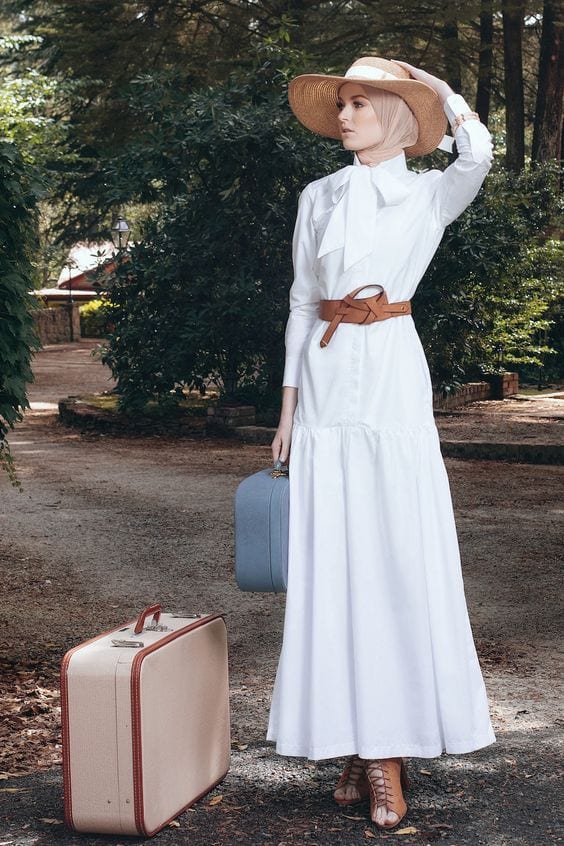 ↓ 12 – How To Style With Silk Hijab And Skirt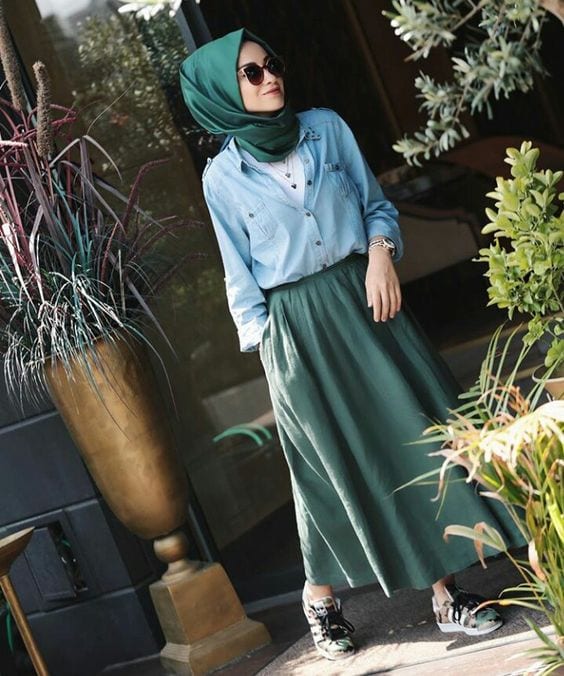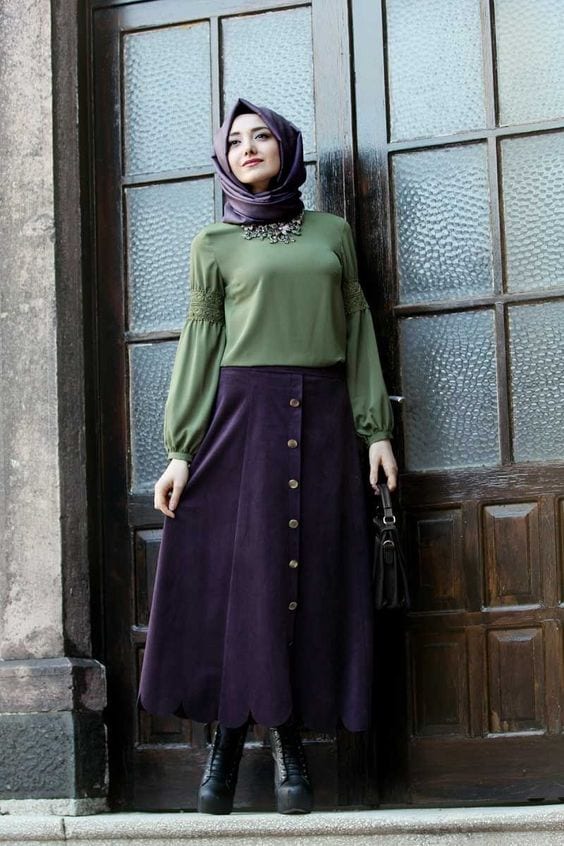 ↓ 11 – Black Silk Hijab With Skinny Jeans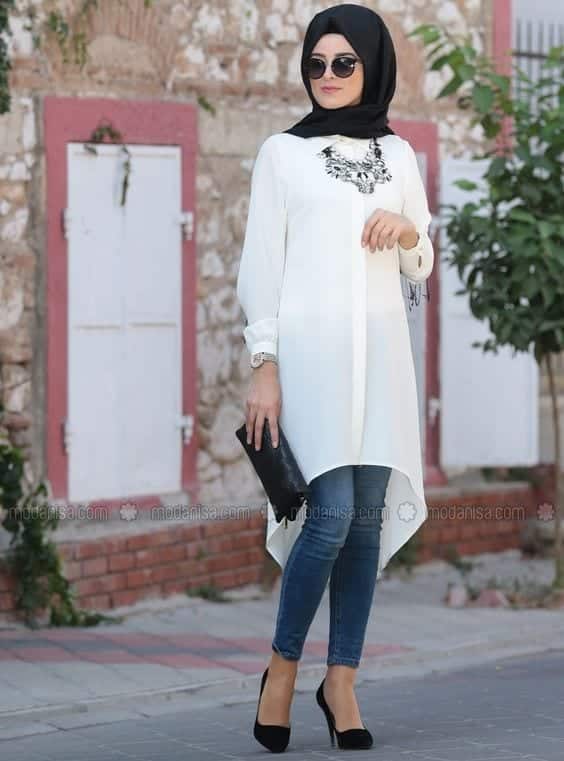 via
↓ 10 – Winter Outfit With Silk Hijab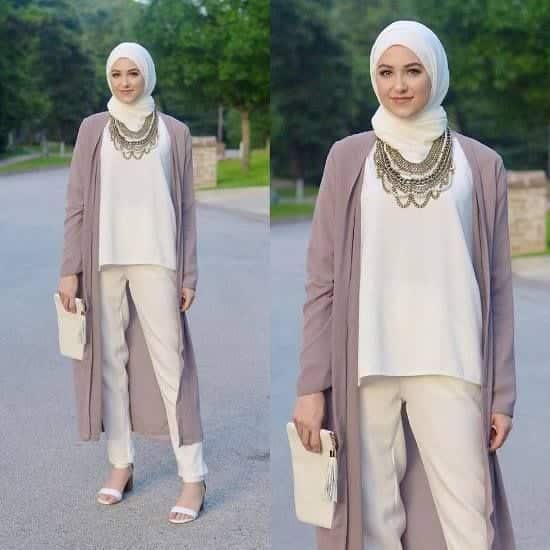 ↓ 9 – Wedding Outfit Styling With Silk Hijab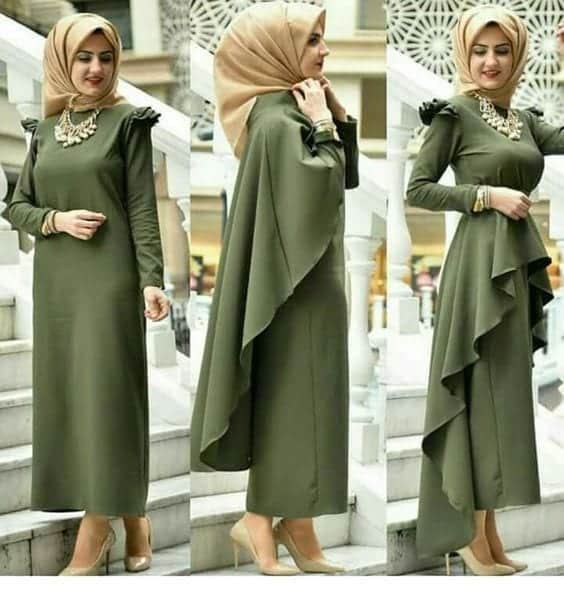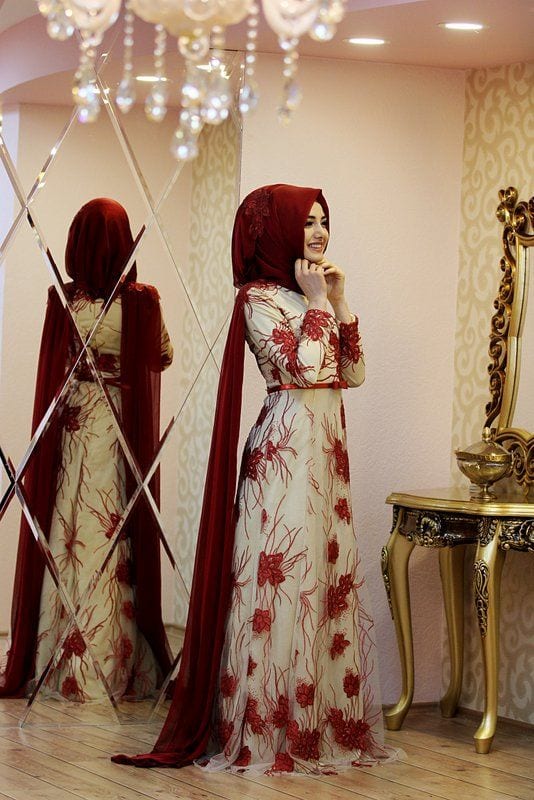 ↓ 8 –  How To Style With Yellow Tunic And Silk Hijab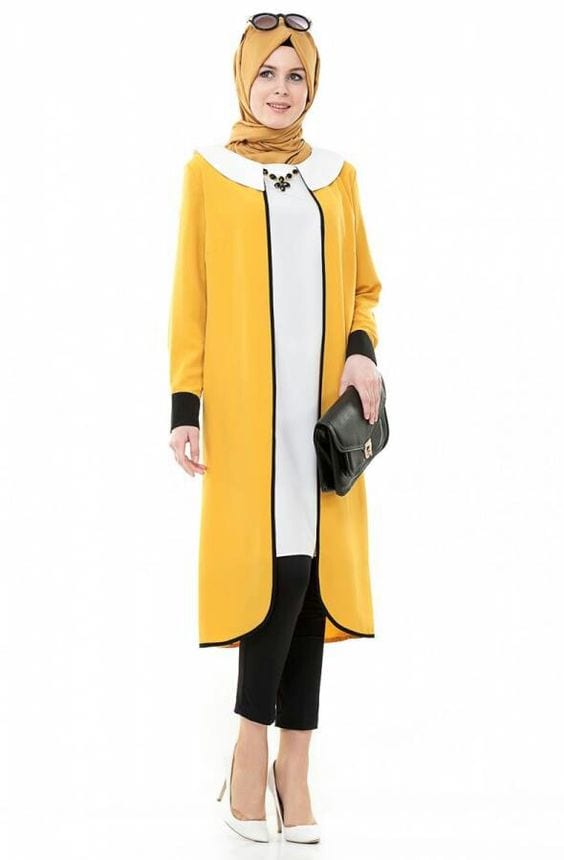 ↓ 7 – Causal Look With Silk Hijab
For workaholic girls out there, style your workout wears with a nice long shirt and long silk hijab that should be pinned up properly. To mix the athletic look with the chic look. This would make a fabulous summer hijab style. Don't miss out these 14 Popular Hijab Street Style Fashion Ideas This Season

↓ 6 – Floral Print Jacket With Silk Hijab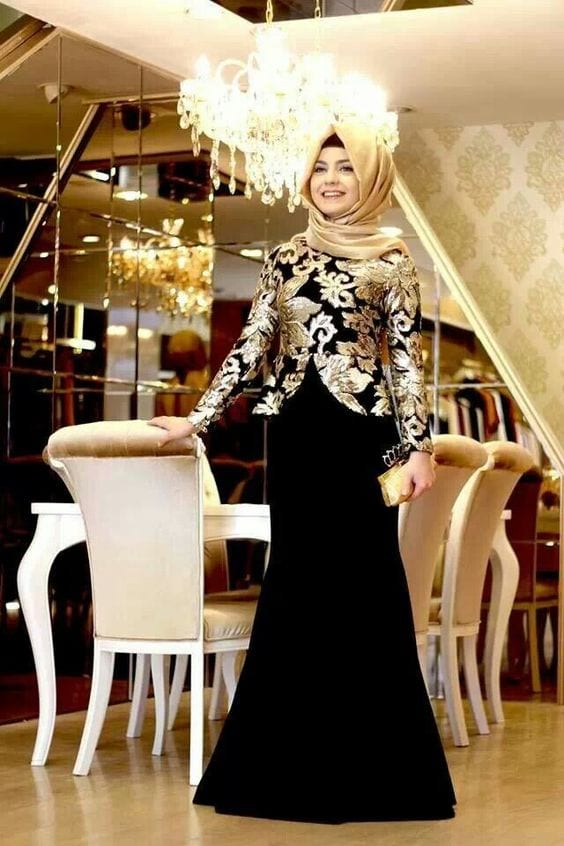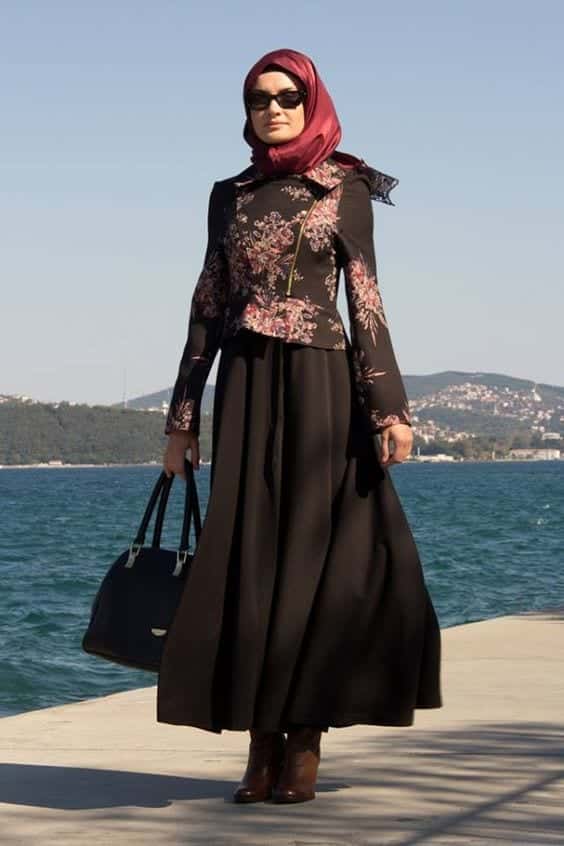 ↓ 5 –  Silk Hijab School Outfit
For all school girls who want to have the volume on their head, then they should opt for this Multi-layered style of hijab. This style of silk hijab has most of the volume in itself, and one doesn't need to be so worried about its folds as its layering can be done neatly or roughly; it doesn't matter both will give a significantly gorgeous look with any outfit.
Both models below are wearing different outfits – one with skinny blue jeans, nude shade of Kimono, white inner and accessorizing herself with an animal print clutch, gold bracelets, a heavy necklace with the black sunglasses this all pull off together very well. She has given her nude shade selection quite a value if one makes notice her silk hijab, kimono, and even her moles all are of the same colour.
The second model wraps animal print silk hijab with the denim jacket quite neatly that also gives her a fashionable look.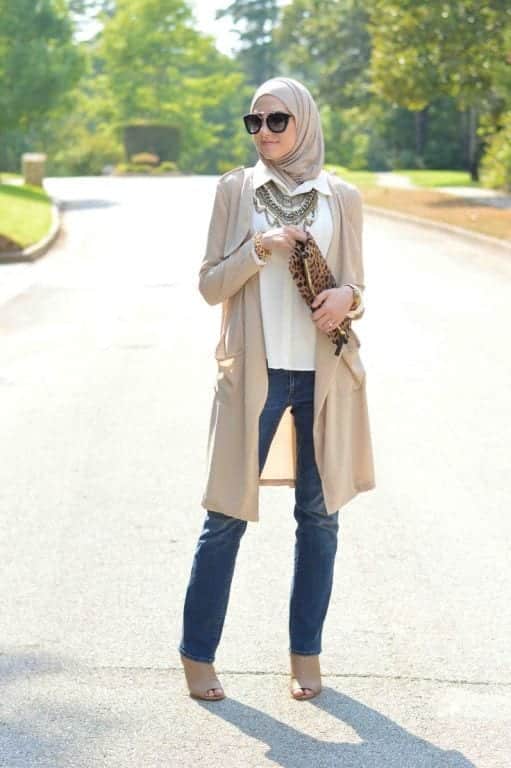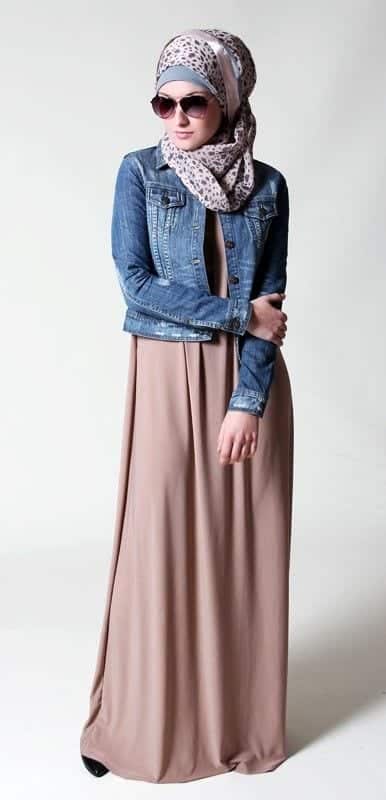 ↓ 4 – Classic Look With Silk Hijab In Turban Style
Relatively very few ladies dare to endeavor this style; however, the updo hijab is known as a Turban style that is an ideal appearance for ladies to flaunt at supper parties or work. Many girls choose to wear turban hijabs with turtleneck tops to cover their necks. The model in the picture below wears a fawn shade of silk hijab with floral prints at the edges of the scarf and wraps it around her neck in a way that she doesn't feel the need for turtle neck to cover her neck. She is also accessorizing herself very well with the same shade of jumper. This all brings her entire look into a very classy and stylish one. All those women out there who are going for work or night out party with friends can adopt this style that is easily carried and looks very stylish. We also recommend all hijabis to check out these 12 Great Ideas for Organizing Hijabs for Every Day Routines.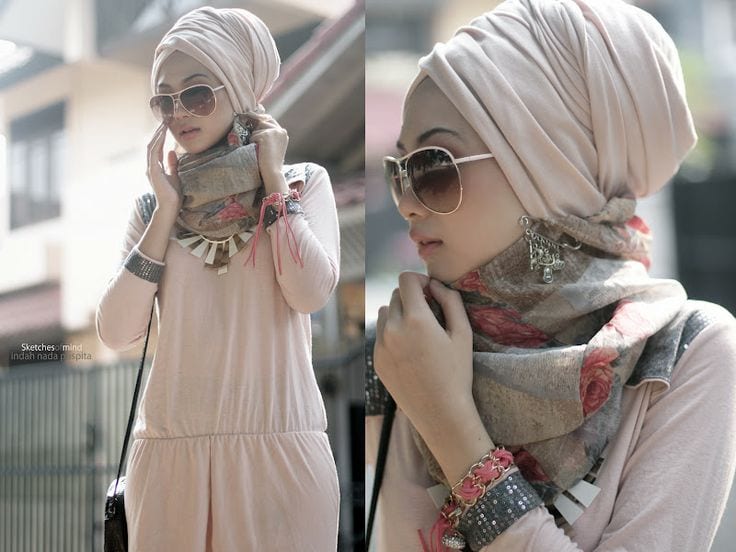 ↓ 3 – Bridal Silk Hijab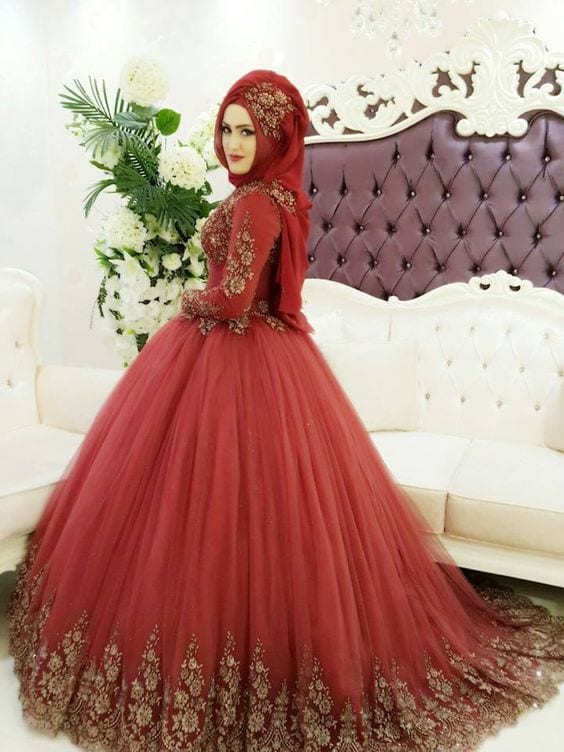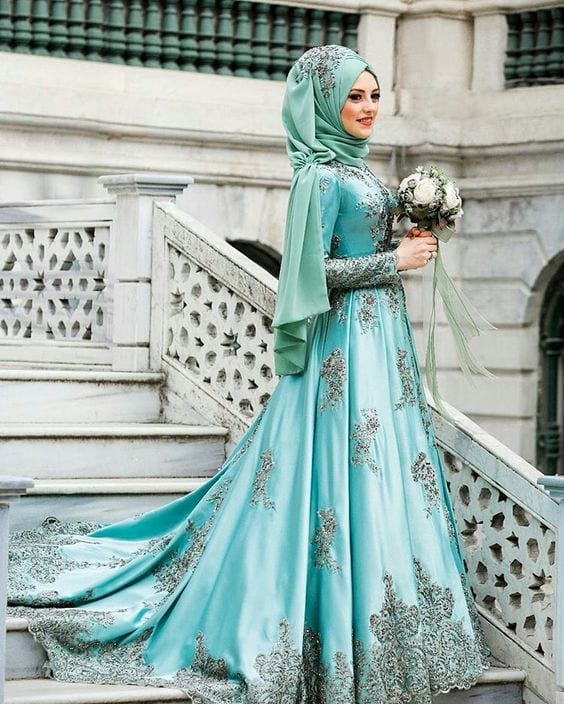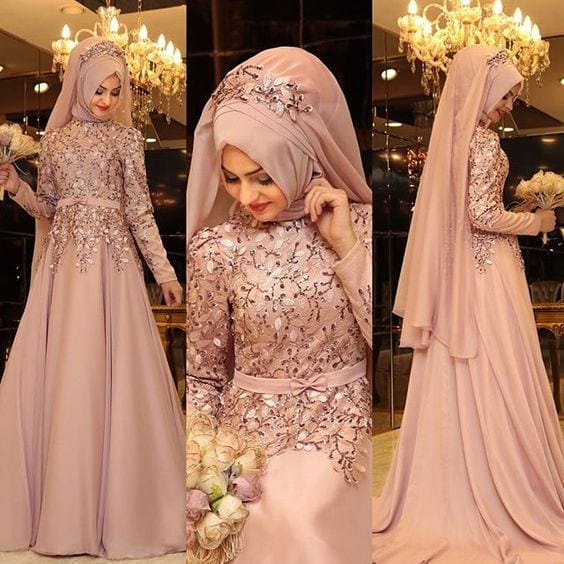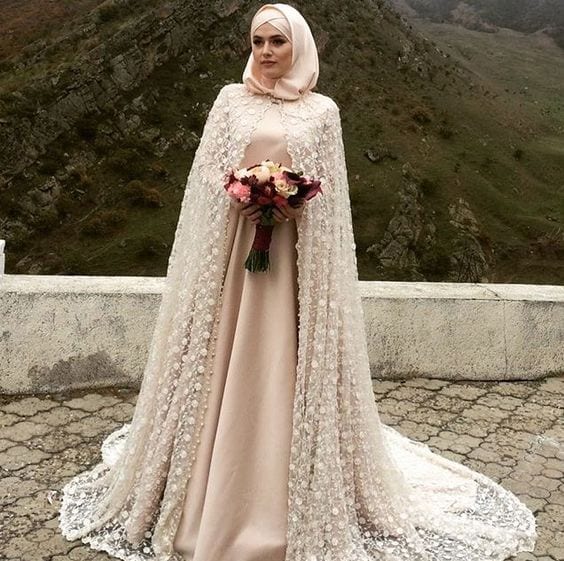 ↓ 2 – Red Silk Hijab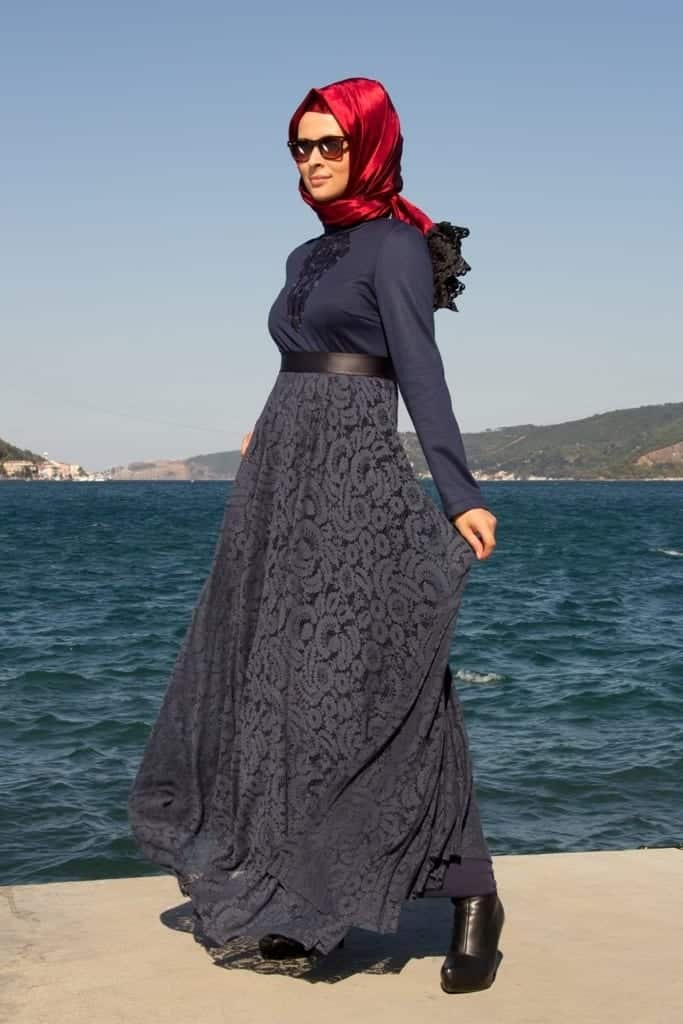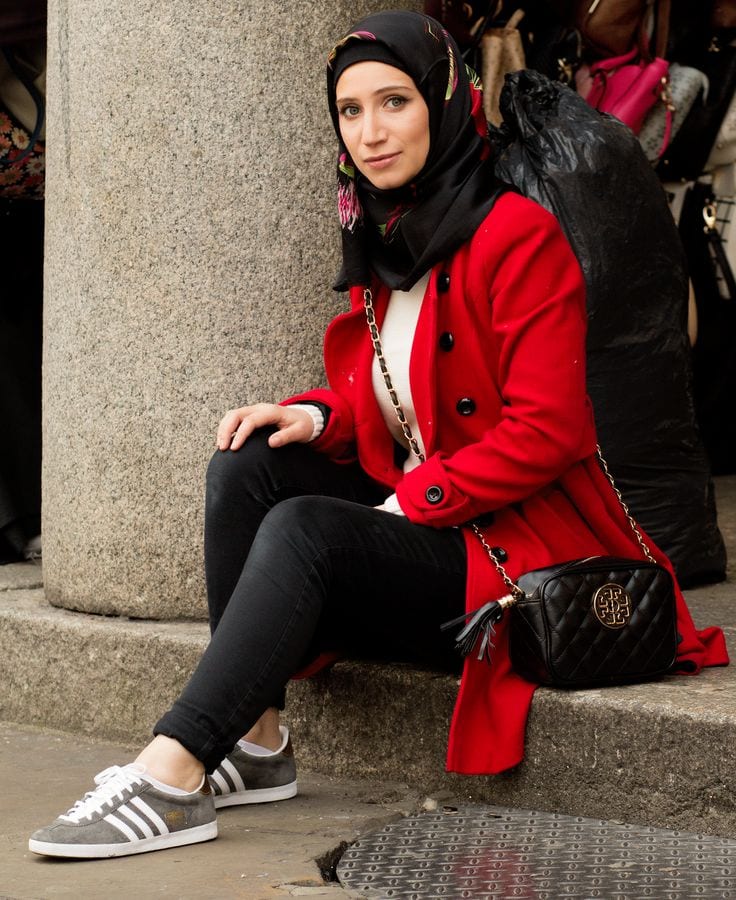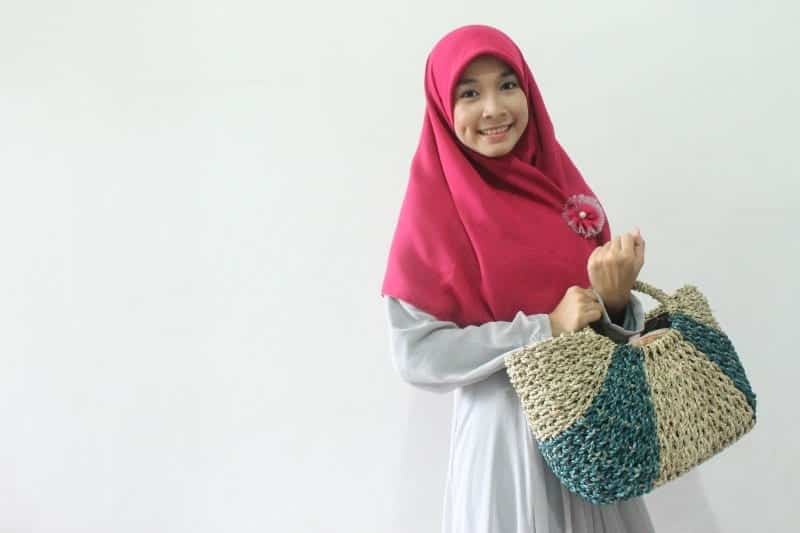 ↓ 1 – Modern Look With Silk Hijab
The 29-year-old celebrity Robyn Rihanna Fenty is a Barbadian singer, songwriter, and actress. After her live concert in Abu Dhabi, she took time off to visit the capital's Sheikh Zayed Grand Mosque complex, one of the largest Muslim places of worship in the world and a major tourist attraction for Muslims and non-Muslims alike. She is dressed in all black with gold accessories that include the toe shape pumps and the long necklace and, lastly, completing her entire look with the black tightly wrapped silk hijab.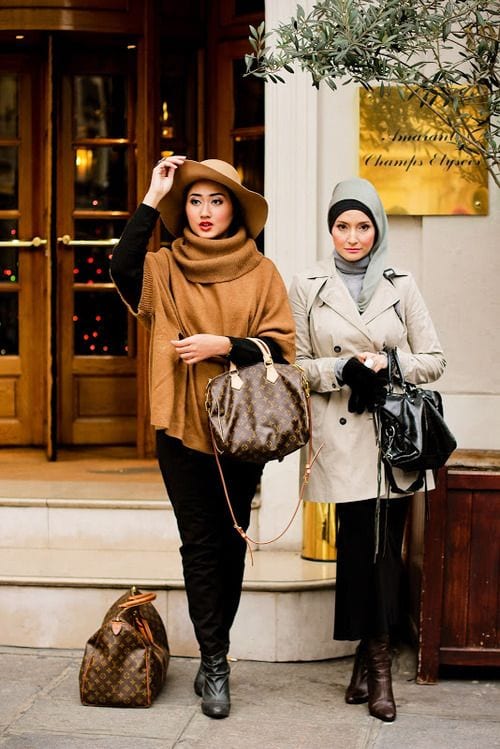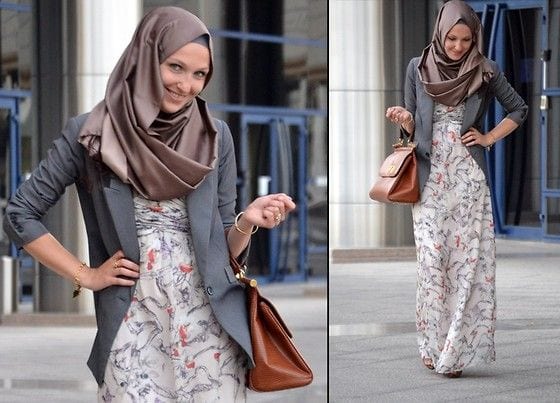 ↓ Best Places To Buy Silk Hijabs From
Below are a few online stores from where you can shop every kind of silk hijab, be it plain or printed, and get it delivered all across the world. The best thing is that all of them are pocket-friendly.