Hijab Organizing Tips . Being a Hijabi or a scarf lover, you might be having an extensive collection of colorful and amazing Hijabs or Scarves. Here, the greatest issue for you would be to have a perfectly organized method of storing your Hijab collection.
Putting them in an organized manner and in a small space is a very tedious task indeed! On the other hand, having a large number of Hijabs just dumped into your closet will definitely be a mess for you! and a headache too! to search for a suitable one matching to your dress daily and find the ones wrinkle free too for saving your precious time. We are here with the best ever solutions for your Hijab or scarf storage problems. For help in selecting the right hijabs for this year, you can see these 2017 Hijab Styles.
We will share all those brilliant and super easy ideas that will surely help you to keep your hijabs well managed and up to the mark.We are here with the best ever solutions for your Hijab or scarf storage problems. We will share all those brilliant and super easy ideas that will surely help you to keep your hijabs well managed and up to the mark.
How to Keep Your Hijabs Organized
We are here with the best ever solutions for your Hijab or scarf storage problems. We will share all those brilliant and super easy ideas that will surely help you to keep your hijabs well managed and up to the mark.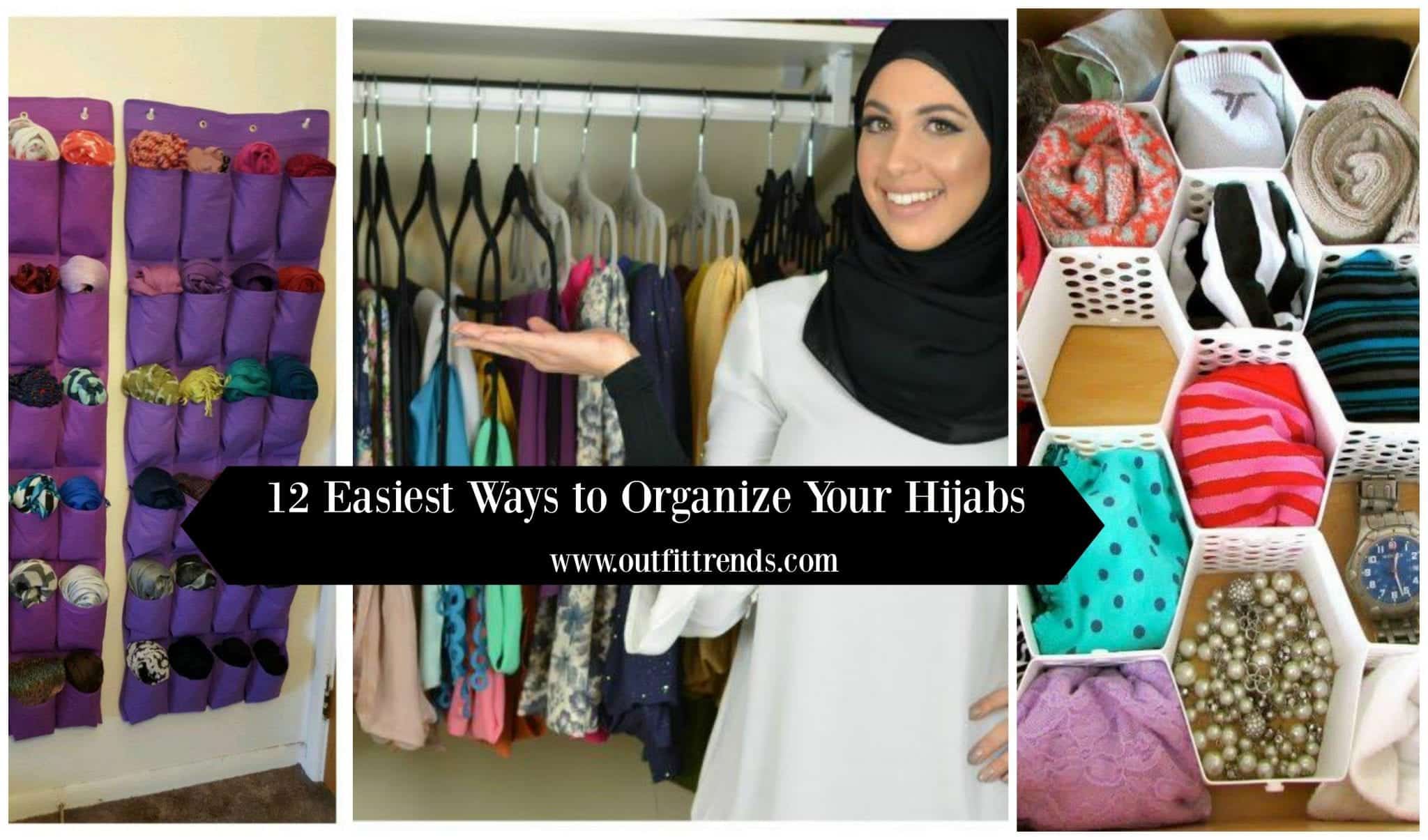 Organizing your room and your closets will make you feel really comfy and cozy. A well-organized wardrobe will explicitly make the idea of getting dressed up pleasure for you instead of a trouble. A classified Hijab storage idea is easier and quicker way for you to choose the suitable color or design according to your dress as well as it will keep them wrinkle free and neat.
RECOMMENDED : 10 Simple DIY Hijab Accessories Tutorials You can Do Easily
Here you will find these 12 simple hijab organization ideas for daily use really amazing and practical.
DIY HIJAB ORGANIZERS
#12- Wall Pockets Organizers
These wall pocket organizers also one of the diy hijab storage  are easily available in the market of organizing and storing small sized equipment and clothes such as socks, ties, wrist watches, and scarves. You can comfortably nail it behind your door or inside your closet. It's a perfect and quick organizer of your Hijabs. It's also available in various colors so it will add to the beauty of your room too.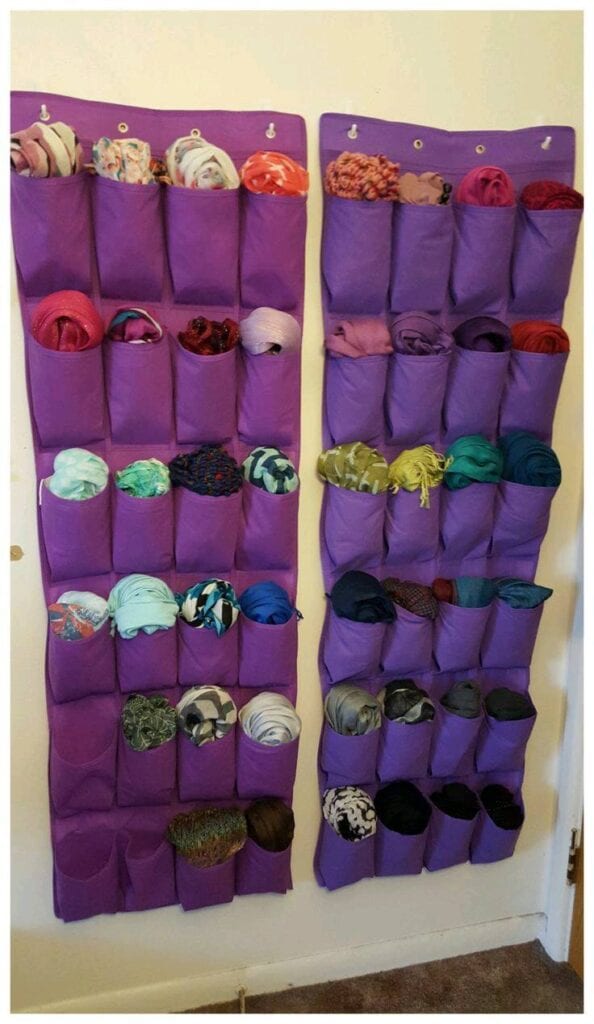 via
#11- Huggable Tie Belt Hanger for Hijab collection
The tie belt hanger is the perfect thing to store your adorable hijab collection easily and safely. It will display the colors and thus will make it easier for you to choose a perfect Hijab daily. In a minimum space, you can store a large collection of Hijab and hang them in your closet. RECOMMENDED: 30 Cute Hijab Styles For University Girls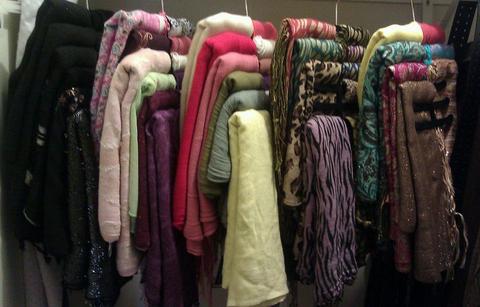 via
#10- Hijab Box
If you have less hanging space in your cupboard or closet, these self-designed Hijab boxes are the best option for you. You will not have to spend the amount on buying any piece of furniture or any other organizer for this purpose. All you need is any empty spacious box (you can cover and prepare an empty shoe box too!) and fold all your Hijabs and place them in it neatly and put it anywhere, under your bed or on top of your cupboard.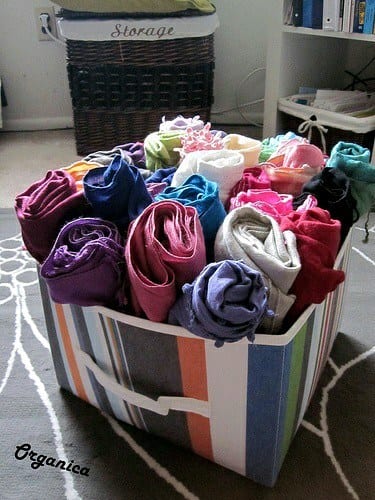 via
#9-Towel Bars Scarf / Hijab Organizer
The regular towel bar is another inexpensive option for organizing your Hijabs. They are available in all sizes, textures prices. So select and arrange the one you find most suitable for your wardrobe and tie all your Hijabs on it. No hassle of folding or pressing and they are easily available when you need them. Here are some cool Hijab Earring Style; 16 Ideas to Wear Earrings with Hijab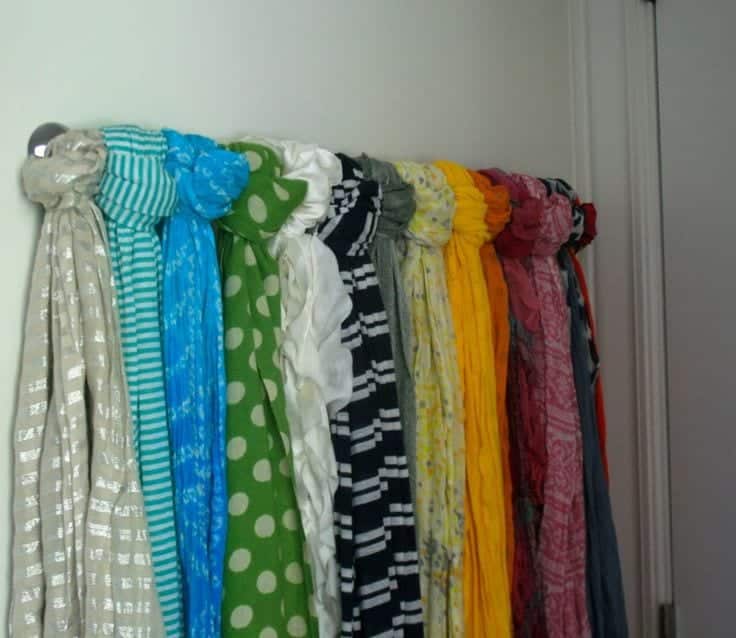 via
#8 –  Over the Door Shoe Rack for Hijab Organizing
This shoe rack is the perfect solution for organizing your Hijabs behind your door. Here you can classify and display your huge lovely Hijab collection in a beautiful way. The tip for your daily ease is to keep the most favorite ones in the first row and so on.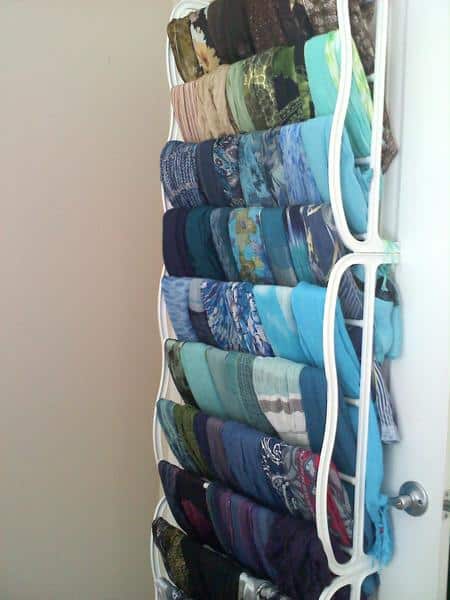 via
#7 -Hanger with Rings For Hijab Storage
Hijab Hanger Ideas – Be a little creative and make an easy to use Hijab organizer yourself. All you need is to buy a hanger and a pack of shower cap rings from the nearest home store. Place these rings in the hanger and make as many organizers as you need. The best thing about them is that you don't need to spend time on folding your Hijabs. You can easily place them in and pull the ones you need out without any trouble. This is the best thing for the daily busy routine.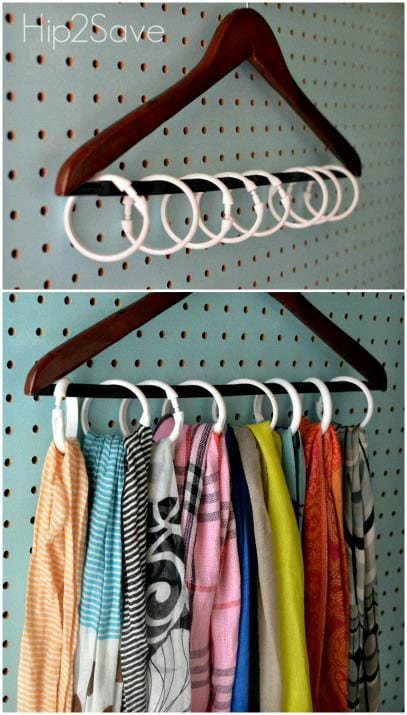 via
Step by Step Video Tutorial – How to Organize Your Hijabs
# 8- DIY Scarf or Hijab Hanger
You can use  your cloth hangers for making a perfect and easy to use Hijab organizer.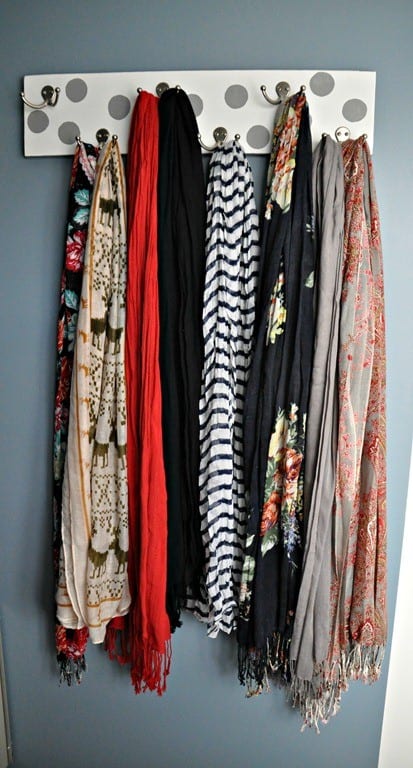 via
#6- Pant Hanger for Hijab Organizing
The simple pant hanger is easily available in any store. It takes less space and a large number Hijabs can be organized I displayed here. You can put it in your wardrobe along with the related colored dresses, and it would be easy for you to grab the best Hijab for you daily. RECOMMENDED: Hijab With Infinity Scarf: Simple Ways to Wrap and Wear it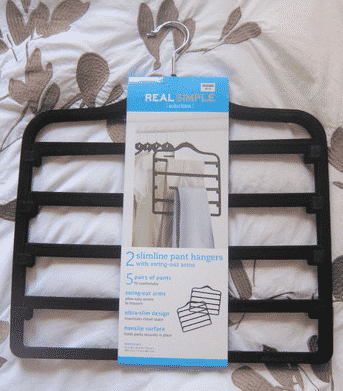 via
#5- DIY Shower Curtain Rings in Towel Holder to Organize Hijab
If you are willing to work on a 'little Do It Yourself' technique, this one is easiest for you. Get the shower curtain rings and put them in a regular towel rode. You can fix them in any convenient place and easily arrange all of your Hijabs.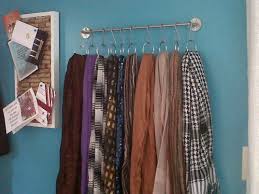 via
#4 -Match and Place Hijab with Dress Hangers
If you are color conscience and want to wear perfect matching Hijab daily according to your dress, you have to do a little effort and place all your Hijabs with suitable matching dresses. So that daily you will not have time to waste on deciding what to wear!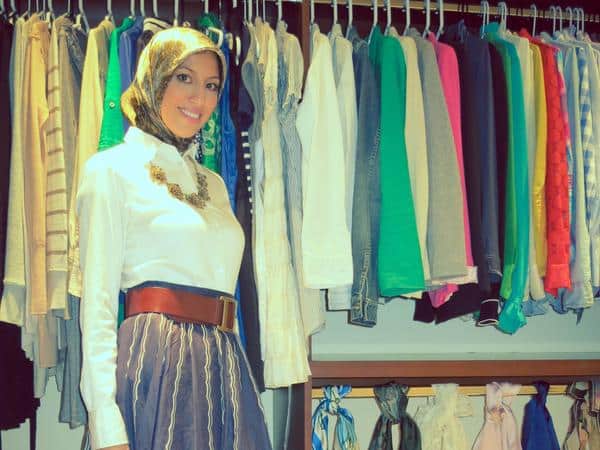 via
#3 -Mini Box organizers in Drawers
The Hijabs placed in a drawer is always a mess! It's very difficult to keep them organized in a drawer as they will get displaced and mixed up. But if you have empty drawers, you can put theses mini box organizers inside them to make it well organized. Don't miss out Simple Makeup with Hijab Tutorial and Hijab Makeup Tips
              via
# 2- DIY Cloth Peg Holder for Hijab
via
#1-Ikea Hijab or Scarf Hanger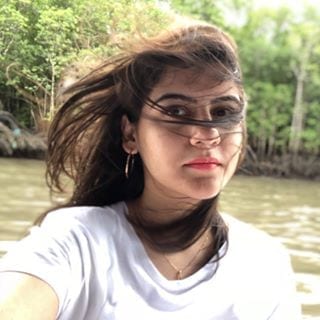 A content writer by the day and a reader by the night – two things that she loves the most. When Zoona isn't writing, she'll either be thinking of what to bake next or where to travel next. When it comes to writing, she has always been a storyteller and one of her short stories was published in 2014 in the Oxford University Press's anthology of contemporary Pakistani short stories, I'll Find My Way.  Her love for fiction writing also drove her to complete a short course on "How Writers Write Fiction," at The University of Iowa. Her other interests include binge-watching Netflix or online gaming.