Once there was a time when sunglasses were only about protecting your eyes from the sun. But it is no longer the case. Shades are all about adding style and charisma to your personality. Whether summer or winter, you must have shades to create a chic look. Also, if you are a hijabi and wondering how to wear them with your headscarf, this article is all you need to go through.
Here's everything that we'll cover:
What to Consider When Buying Glasses as a Hijabi?
When choosing glasses to wear with a hijab, consider the following factors to ensure a comfortable and stylish combination:
Frame style: Opt for glasses frames that complement your face's shape and style. There are various frame styles, such as round, square, cat-eye, or rectangular frames. Select a type that you feel confident and comfortable wearing.
Frame colour: Consider the color of your glasses frames about the colours of your hijabs. If you wear various colours, neutral-coloured frames like black, brown, or silver can be versatile and match most outfits. Alternatively, you can choose frames that coordinate with or accentuate the colors in your hijab for a coordinated look.
Frame size: Pay attention to the size of the frames concerning your face. Ensure the frames are not too large or too small, as they should complement your facial features without overwhelming them. Frames that are proportionate to your face size tend to look balanced and flattering.
Lightweight frames: Opt for lightweight glasses frames, as they will be more comfortable to wear with a hijab throughout the day. Heavy frames can cause discomfort or leave imprints on your skin when combined with the pressure of the fabric.
Avoid wide temple arms: When wearing a hijab, wide temple arms (the part that extends over your ears) can be more challenging to accommodate. They may interfere with the fabric or create bulkiness. Look for glasses with narrower temple arms that are more streamlined and sit closer to your head.
Consider adjustable nose pads: Glasses with adjustable nose pads can be beneficial as they allow you to customize the fit and prevent the glasses from sliding down your nose or causing discomfort.
Styling Tips
Most hijabis find wearing hijabs with glasses a tedious task. They are always confused about whether the temples of their glasses should be inside the hijab cap, the headscarf, or over the scarf. Also, slipping off the glasses or shades hurting the ear is another big problem almost all hijabis have faced at some point. But don't worry, girls, now you can style up and cherish each event if you follow to given below simple steps:
For wearing a hijab over the headscarf, opt for a fabric with a strong grip, like cotton or linen. Avoid fabrics that are too silky like chiffon or silk.
Keep your hijab cap, and scarf loose when wearing glasses under the hijab. Opt for styles like dupatta hijab, ponytail style to turban style. This way, your shades won't hurt your ears.
Make sure your frame fits you perfectly. You'll have to fix it on and off if it is too big for you. Moreover, if the frame is small, it will eventually hurt your head and ears.
Don't compromise on your style and make sure whatever style you are going with is comfortable.
Don't be afraid of accessorizing with earrings while wearing a hijab and sunglasses.
If your glasses have temples that hook around your ears, ensure the hijab fabric is not folded or bunched up underneath them. Smooth the fabric around your ears and temples, ensuring it remains comfortable and secure.
Once your hijab and glasses are in place, ensure they are both comfortable. Adjust the fabric and glasses if necessary. Ensure that the glasses do not press too tightly against your face or cause any discomfort around the nose or ears. Also, check that your vision is not obstructed.
To keep your hijab in place throughout the day, use hijab pins or clips to secure it at strategic points, such as the sides or back of your head. This will help prevent the hijab from slipping or shifting, which may affect the position of your glasses.
Everyone's preferences and face shapes are different, so feel free to experiment with different hijab styles and glasses positions to find what works best for you.
Ideas on How to Style Glasses with Hijab
From the following images, you can get a lot of ideas about styling your hijab. You can look as chic as them. You can style the same way or just get ideas and inspiration from their styling combination and create your own unique looks. Top fashion bloggers have included these styling trends in their latest looks. Let's see the collection now.
Note that fashion is never restricted by rules, so feel free to experiment further with these ideas. The kind of hijab you chose will depend on a lot of factors, but the most important one will, of course, be your personal preference. Always go for hijab colours and fabrics that you feel comfortable with. Other factors may influence the decision, like the occasion, the weather, or the outfit you plan to wear.
26 – It's Okay to Add on More Accessories
Wearing glasses doesn't mean that you need to restrict yourself in any way as you can still add as many more accessories as you want or need. For example, I love how adayinthelalz accessories her hijab outfits with hats, ear muffs and other interesting accessories, along with the most eye-catching sunglasses and hijab combinations.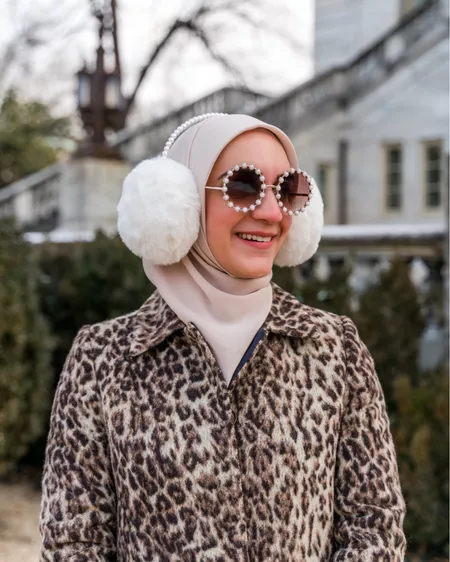 25 – With White Top and Printed Skirt
You can wear and slay sunglasses with any type of outfit. Be it a girly outfit or menswear inspired one. All you need to ensure is that your shades vibe with your outfit. Wear a plain top with a printed skirt and finish off your look with a plain relaxed headscarf and oversized shades.
It is an ideal look for a day out at the beach, lunch, or friends' get-together, especially if it is hosted outdoors. For colder days, you should layer such outfits with denim or leather jacket.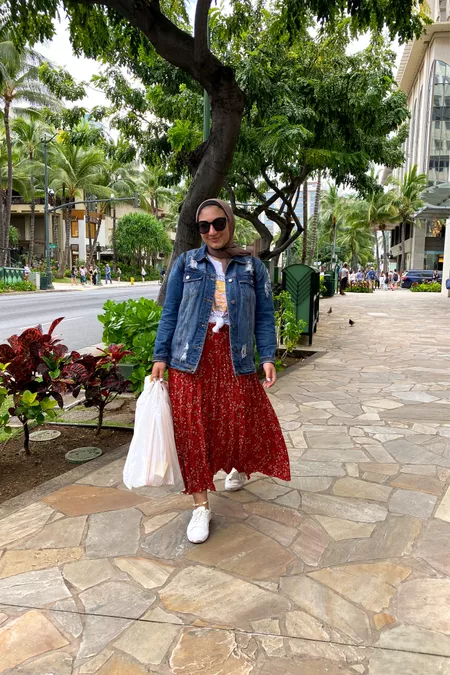 24 – Beach Style
Looking forward to creating a cute beach look? Make sure you have all the accessories that can protect you from sunlight. If you are not a hat person, then make sure you have a good pair of sunglasses. Wear them with your favourite maxi dress and enjoy the cool effect that the shades provide to your eyes. Also, apply sunblock as sunglasses can only protect your eyes, not your skin.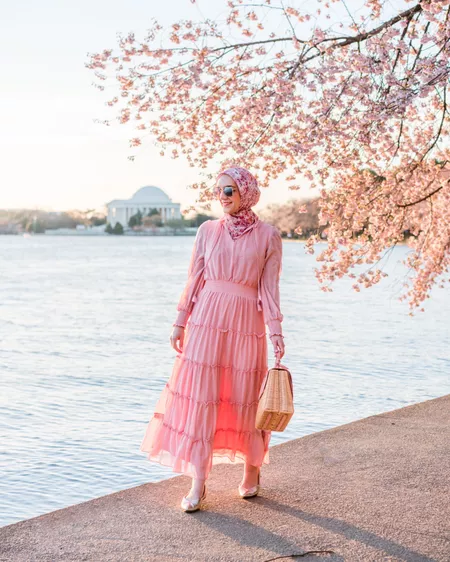 23 – With Maxi Outfit
Girls love wearing maxi dresses, isn't it so? Many hijab wearers avoid wearing sunglasses with maxi and headscarves because they think it will make them look shorter and curvier. Well, it's right to the extent, and you shouldn't cover yourself in clothes from head to toe, but it doesn't mean you shouldn't wear sunglasses. Instead, get your styling on point.
Wear a maxi with the top portion well fitted and wear a hijab that is neatly wrapped around your head. Also, avoid wearing oversized frames; instead, opt for a medium-sized or small frame, so your entire face isn't covered.
22 – With Mask and Glasses
Here is another incredible style that you can try out while going out in summer, inspired by the epidemic days.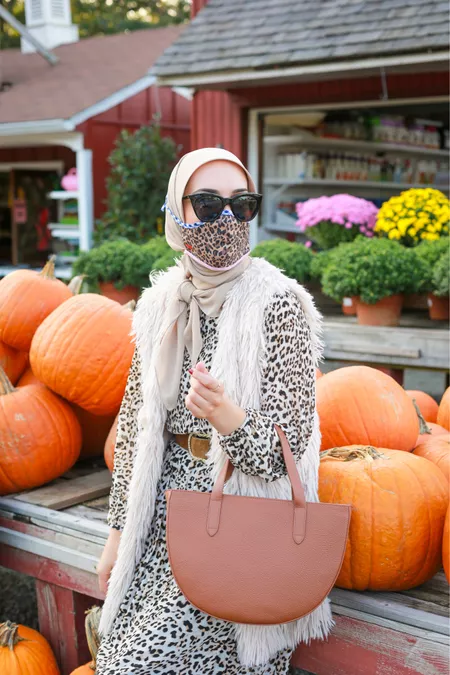 21 – Office Style
Sunglasses are an essential part of a chic office look. You don't need them while you are inside and working, but they are important while you drive to the office and back home. Moreover, they look sassy with sophisticated work outfits like pants, tops, coats, and hijabs.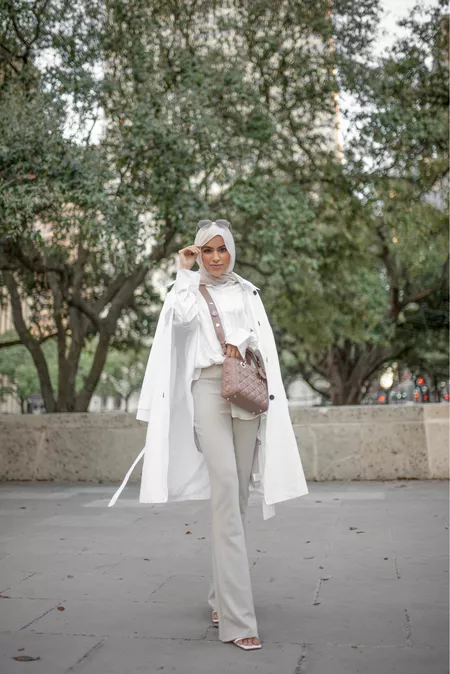 20 – Vacation Style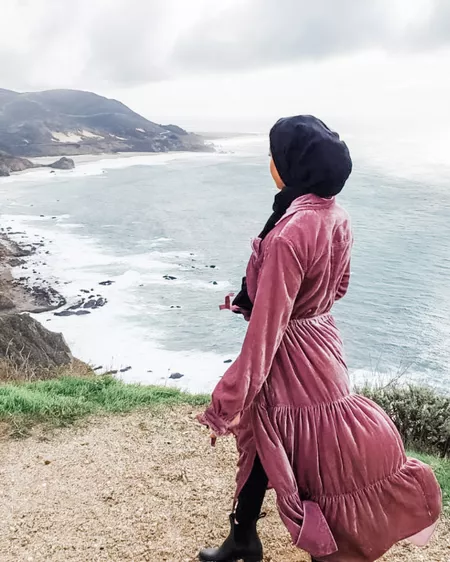 19 – For Mid Day Shopping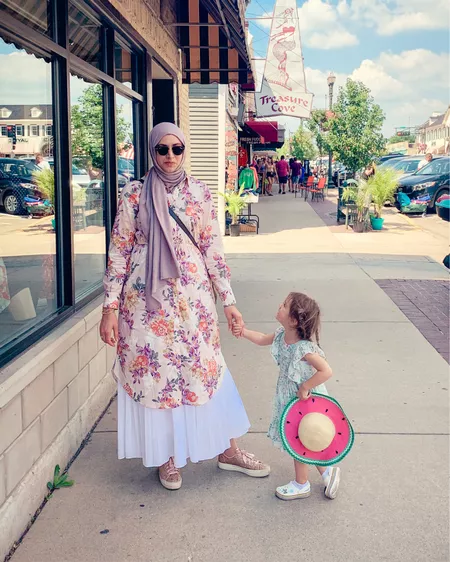 18 – Sports Style
Working outside on a hot sunny day? Make sure your hijab is neatly wrapped and not bothering you at all – a turban is an excellent choice here. Also, if it is too sunny, prefer getting on hands on a pair of oversized shades with thin temples.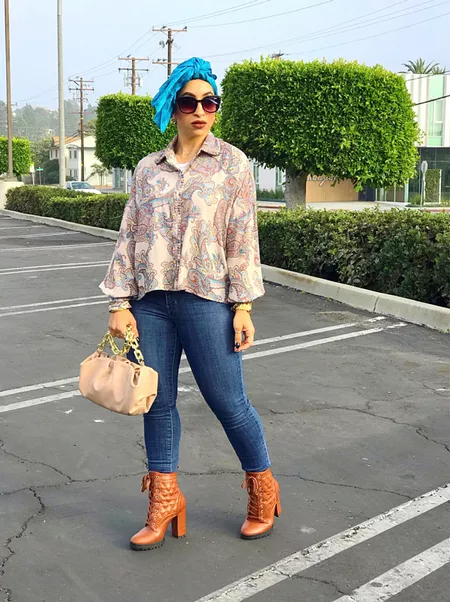 17 – Mirrored Sunglasses
One of the latest trends in sunglasses is mirror lens sunglasses. These look great with pastel-coloured hijabs and matching lipstick.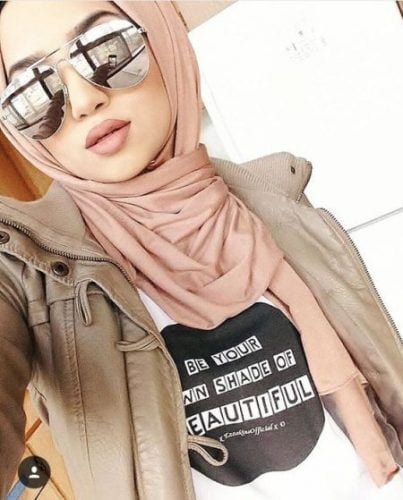 16 – Branded Sunglasses with Abaya
Dolce & Gabbana recently introduced their hijab line, which left everyone amazed. A range of hijabs was introduced in eye-catching colors and prints, but this floral one has been our favorite among them all. It has been paired with chic and girly floral sunglasses.
This isn't something you can wear for casual, everyday dressing, but it would surely look super cute for special occasions or a birthday party.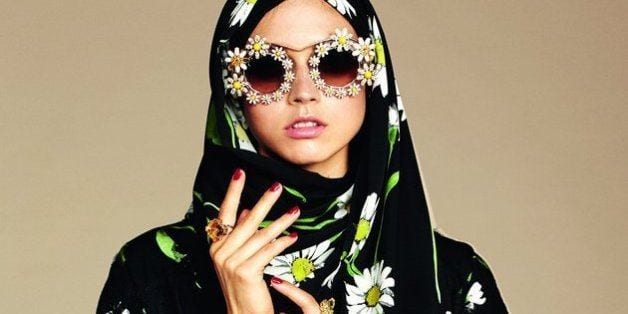 15 – With Floral Hijabs
If you have bought glasses with a colored or printed frame, then it's pretty obvious that you would want to wear it with a matching or contrasting hijab. Try wearing a cap in the same shade or a lighter one than your glasses and then loosely wrap it around a printed hijab for a nice and elegant look. The floral prints look especially good for the Spring season.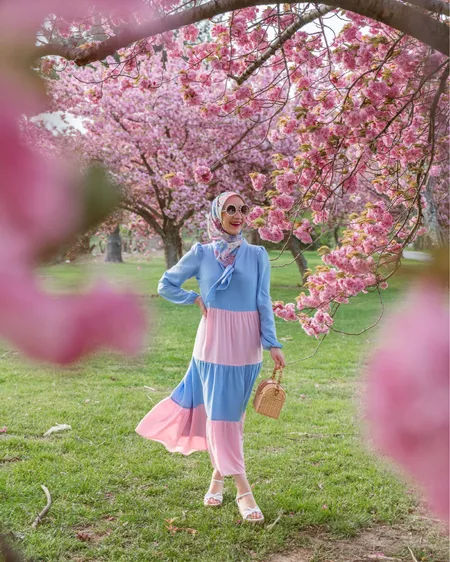 14 – Pink Glasses With Red Hijab
Here is a pretty look created with the help of a red hijab and purple sunglasses. You might want to wear similar shades to your next event.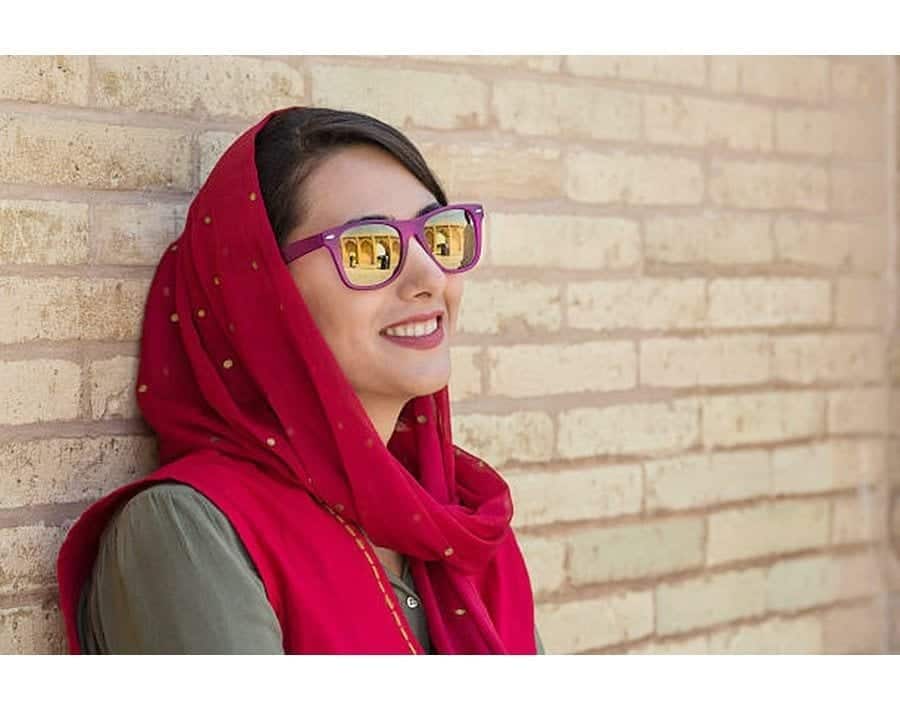 13 – Winter Look
For Winters, you can choose hijabs that are smaller in size so they can easily be worn under sweaters and coats without making you look bulky.

12 – Glasses Under Hijab Cap
Here we see the model wearing her glasses under her cap, which is a unique way and is recommended if you want your glasses and hijab to stay in place for the longest time. Another noteworthy thing here is the use of metallic accessories to match the glasses. It is an excellent way to access any outfit, so buy many accessories to match your glasses.
For accessories to wear at weddings or formal events, you can check out this post on Maang Tikka With Hijab.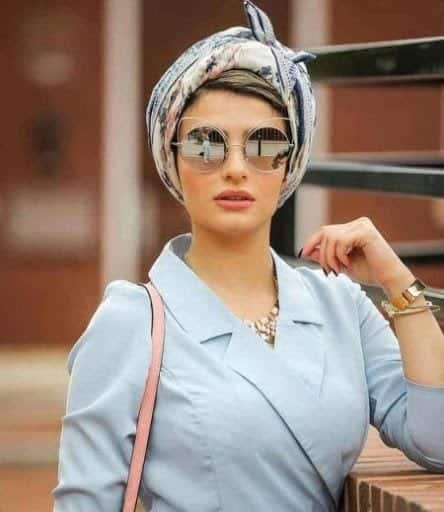 11 – Stylish Look for College Girls
College girls who are often running late and don't have much time to wear fancy hijab styles can just opt for this simple and elegant look that can be achieved within a minute. Simply wrap half of your hijab around the head, pin it, wear your glasses, and then wrap the other half over them.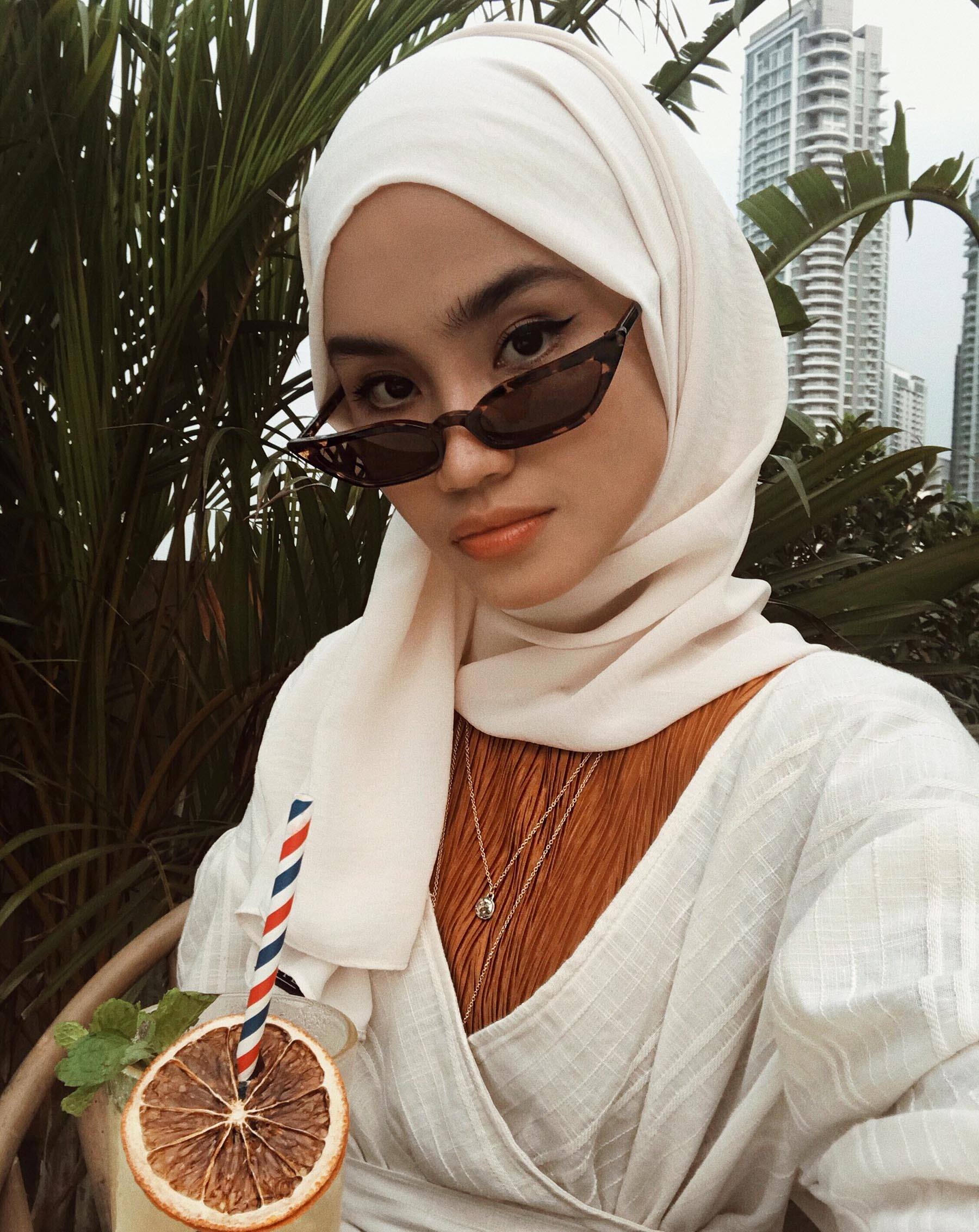 10 – Elegant Look for Working Women
Here is a quick and stylish look that any working woman can try out.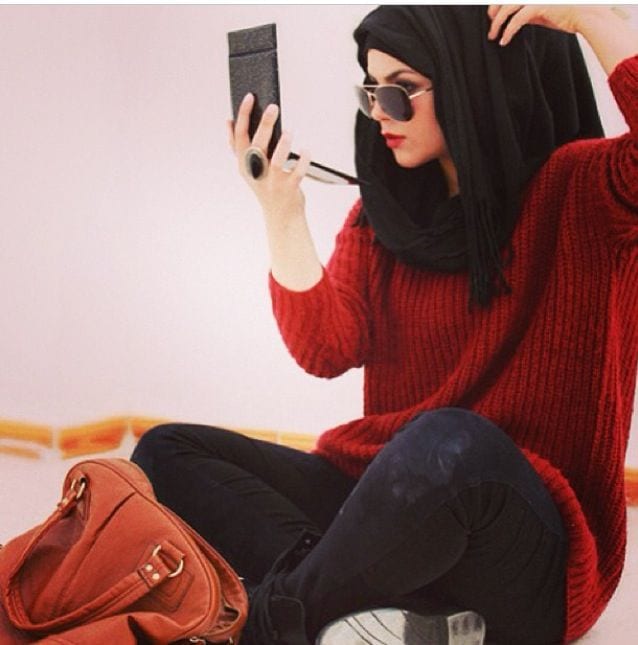 9 – Street Style Look
Turban hijabs are undoubtedly the best choice for wearing glasses with a veil. But the problem with this hijab style is that it leaves your neck and chest uncovered, and many of us are not comfortable with this idea.
So what you can do instead is, wear the turban hijab and then cover yourself with a scarf. The entire combination gives off feminine and stylish vibes. Here are some more similar ideas on styling Hijab With Infinity Scarves.

8 – Cute Turkish Style with Shades

Step by Step Video Tutorial
7 – Shades and Jewellery

6 – Sunglasses with Hijab and Eye Makeup

5 – Plaid
If you like wearing printed hijabs, then you probably have a plaid headscarf. The best thing about them is that they usually come in many different colours, allowing you to wear them with different coloured outfits and, of course, different coloured glasses as well. Here's our exclusive collection of Hijab Winter Styles.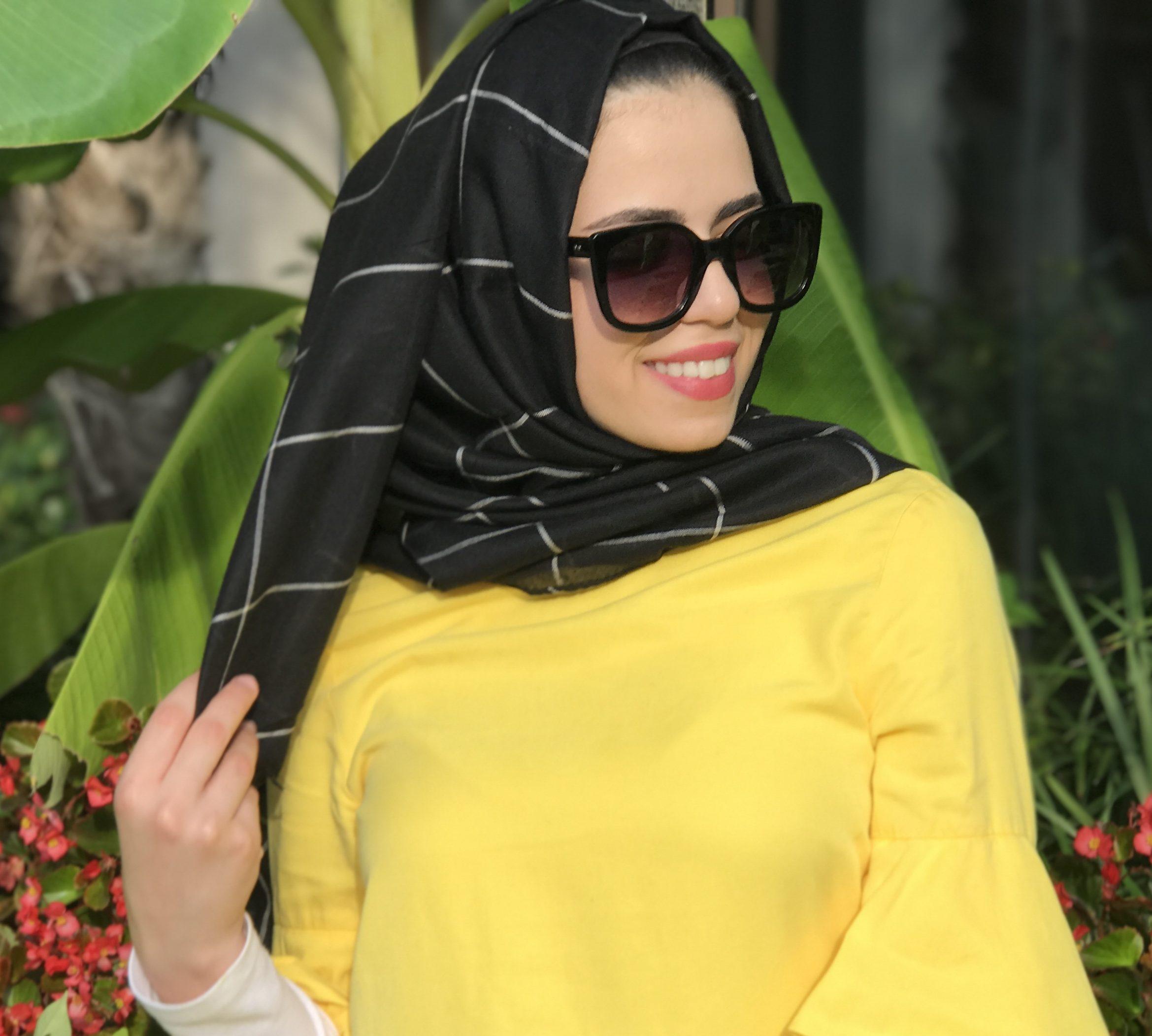 4 -You Can Even Wear Glasses on Top of Your Scarf

3 – Black Hijab with Black Framed or Lens Glasses

2 – Try a Blue Hijab with Blue-ish Shades and White Outfit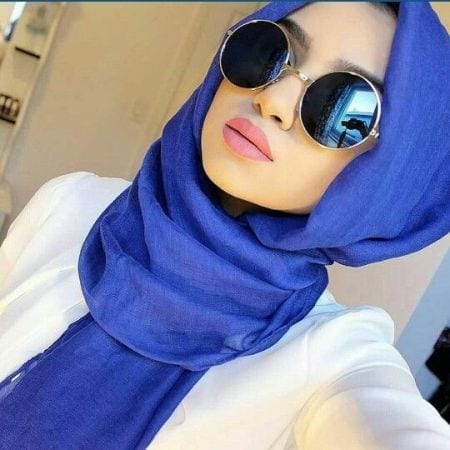 1 – Turban hijab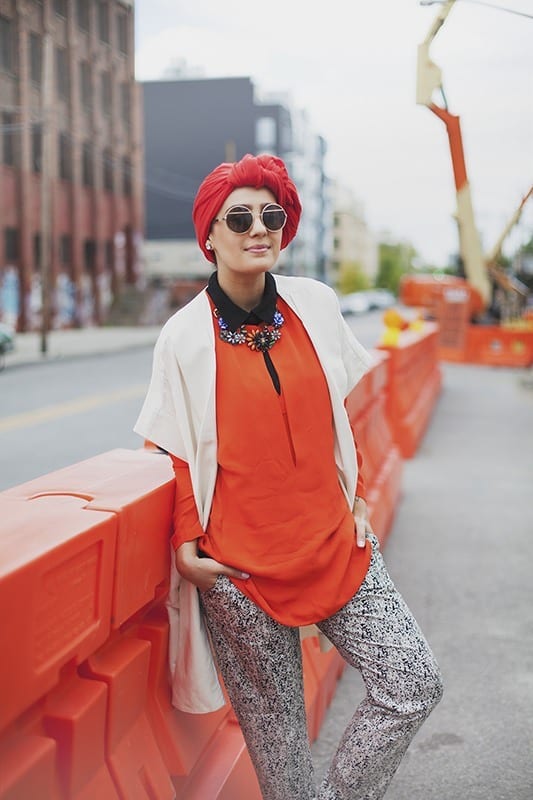 Here's another turban hijab style but with a twist, this time as the hijab has been folded above the forehead into a bun.
FAQs
Here are some of the most asked questions about wearing sunglasses with hijabs. Do give it a read, one of them might be on your mind as well.
Q.

What fabric is suitable for a hijab with shades?
A. It depends on what style of hijab or shades you are planning to wear. You can go with almost any fabric for frames with thin temples. For thick frames, opt for a flowy material like chiffon or silk. Moreover, for wearing sunglasses under the hijab, any fabric will work.
Last but not least. For wearing shades over your hijab, go with fabric that provides a good grip, like lawn, cotton, or linen, and refrain from silk and chiffon.
Q.

What type of sunglasses suit round face type?
A. People with round faces should wear frames that can help them contour their faces. Avoid wearing oversized round shades and go with cat-eye frames or small frames.
Q.

What is the best way to wear mirrored glasses with a hijab?
A. Mirrored sunglasses somehow gives a very luxurious vibe. So, it is advised to wear them with minimalistic headscarves. Avoid wearing them with vibrant or printed hijabs for a sophisticated look.
Q.

Do the temples/arms of the sunglasses have anything to do with the hijab style?
A. Yes, the size of your shade's arms has much to do with your comfort. The larger the temples are, the higher the chances they will hurt your head and ears. So, whenever wearing them, make sure your headscarf is loosely wrapped. For thin temples, you can go with tight wraps or even head caps.
Q.

Can I wear oversized sunglasses with a hijab?
A. Yes, you definitely can wear oversized shades with hijabs. They look gorgeous. Just make sure that your wrap isn't so tight. Wear them with turban style, dupatta style or knot, and ponytail style hijabs for added comfort.