How To Wear A Baseball Cap: Baseball caps are one of those accessories that are always easy and accessible, they can be styled by anyone and worn with almost any outfit to really elevate the look. They come in all different colors from muted undertones to bright and colorful ones for those who love a pop of color in their outfit. Baseball caps are the easiest way to uplift an outfit by adding another element that will, in most cases, not clash with the outfit at all.
Styling Baseball Caps
While there is only one way to style baseball caps, (by just wearing them), there are many ways to go about it cleverly to make your outfit look well thought out. This is done by color theory and see what colors go well together and complement each other the most.
This is such an easy and effortless way to add a little extra to your outfit and make it more interesting and dimensional. Especially if you are not one to accessorize with jewelry or add more layers, baseball caps are the perfect alternative for you.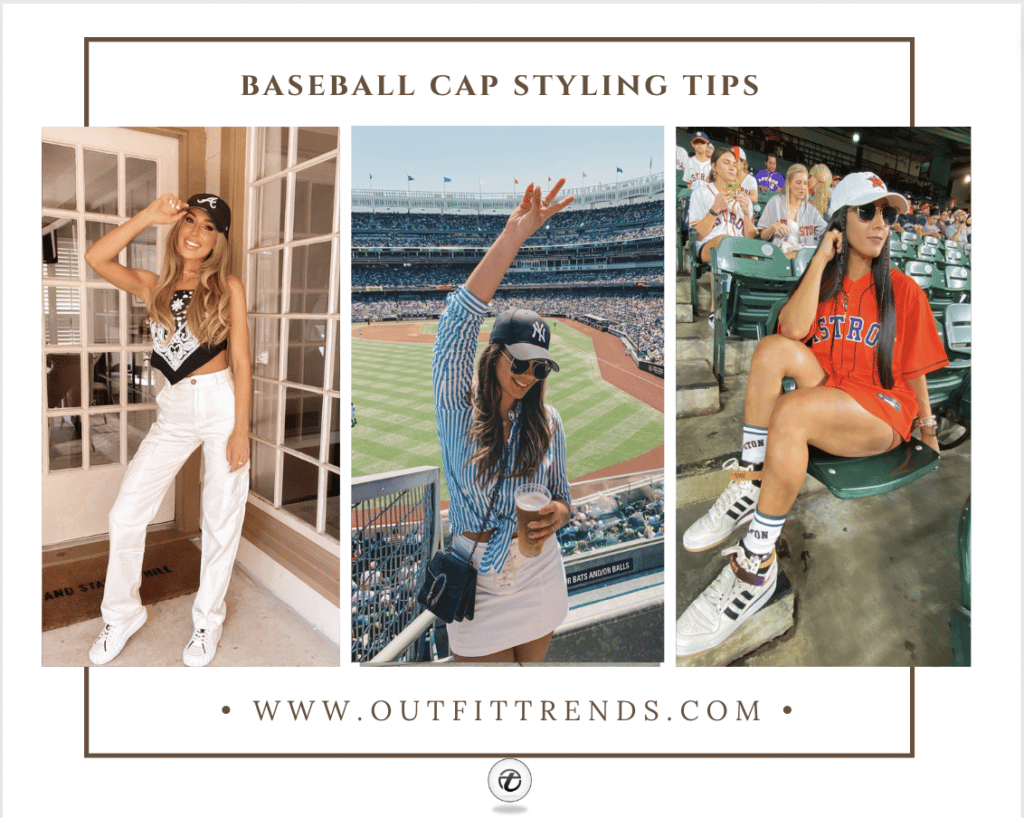 Do's And Don'ts of Styling Baseball Caps
Do try to be creative by trying out bright and bold colors, no matter how different they are from the colors in the rest of your outfit
Don't be afraid to color coordinate and match your cap in a single colored monochromatic outfit, it will never go wrong and will always create a flattering look.
Don't wear your cap backward. While that may be okay with more relaxed looks, it gives an overall very casual look and the colors are not prominent enough to really tie the outfit together by adding it as an accessory.
Do try to incorporate sneakers trainers, or any type of athletic shoes, to really create a sporty and athletic look. Baseball caps are perfect for such looks and will really take your outfit to the next level.
20 – Green Baseball Cap to Go With Green Top and White Puffer Jacket
This is a beautiful modern outfit that will work perfectly with a baseball cap as it matches perfectly with it. The top will complement the cap's addition and the white puffer jacket adds a beautiful touch of atheleticism that will make the outfit stand out.
19 – Duo-chrome Outfit With Baseball Cap to Match the Jeans
Duo-chrome outfits can never go wrong! Take this one for example. This white tube top is perfectly matched with the white slides and the straight-legged pair of distressed jeans go perfectly with the matching baseball cap. Overall, this creates a very well-thought-out look, but in reality, is a very effortless outfit as it contains all the staple pieces found in every girl's closet.
18 – Oversized Tee, Matching Shoes, and an Accent Baseball Cap
This outfit follows a very athletic and sporty theme with its oversized tee and biker shorts paired with it. The long white socks and white trainers only further compliment this look. To really elevate the outfit though, there is the addition of the accent blue baseball cap that adds a touch of color to the otherwise plain outfit and adds a lot of dimension to it.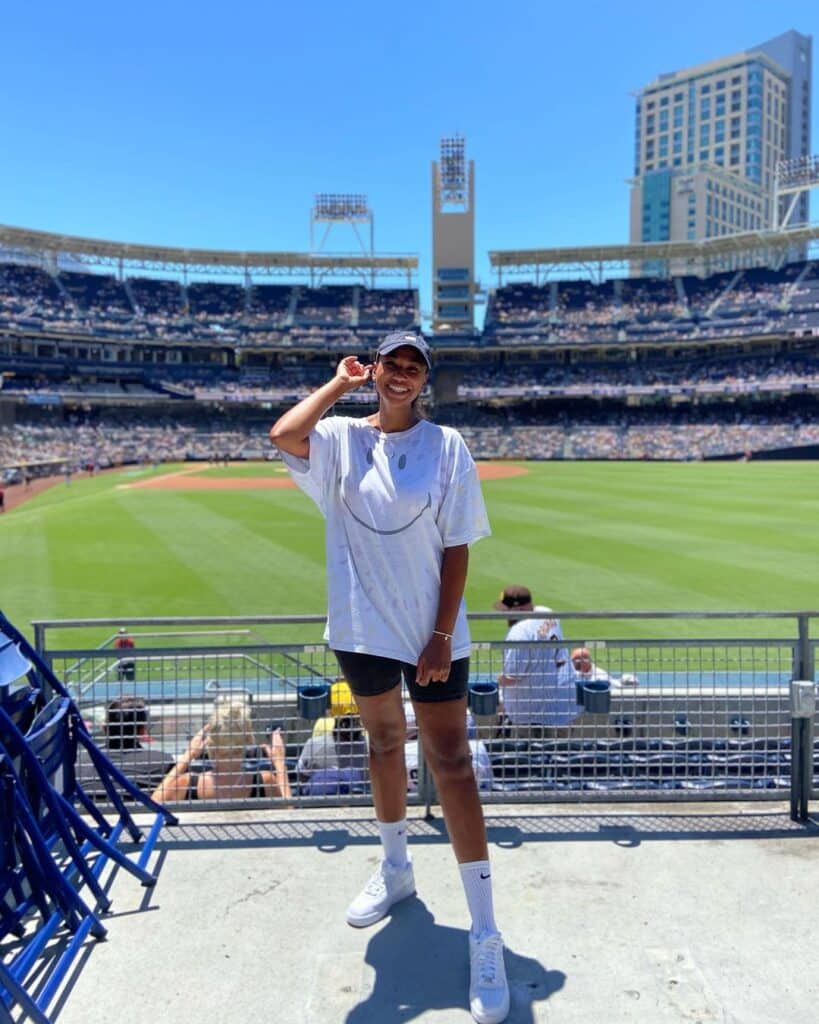 17 – Bright Orange Jersey Top With White Shoes Matched with White Cap
A white baseball cap goes perfectly with a brightly colored top. The colors may not match, but they go together perfectly to create an outfit that will stand out and get everyone's attention. You can further make this outfit better by the addition of any type of white sneakers or trainers, such as the Adidas ones pictured here. These, along with some white long socks, will tie the cap together and make the orange top the statement piece of the outfit, hence making it a well-rounded and well-thought-out outfit to wear, especially at a baseball game.
16 – Plain White Tank Top, Distressed Shorts With A Green Baseball Cap
In this outfit, as opposed to the previous one, there is more emphasis being laid on the baseball cap itself rather than a statement top or a statement bottom. This outfit shows us that with a nice, neat, and clean base outfit (something as simple and easily worn as a white tank top and light wash denim shorts), you can make your baseball cap the star of the show. You can choose a nice color for the baseball cap, perhaps even the color of the team that you came to support (at a baseball game or any sporting event that you wear this to!)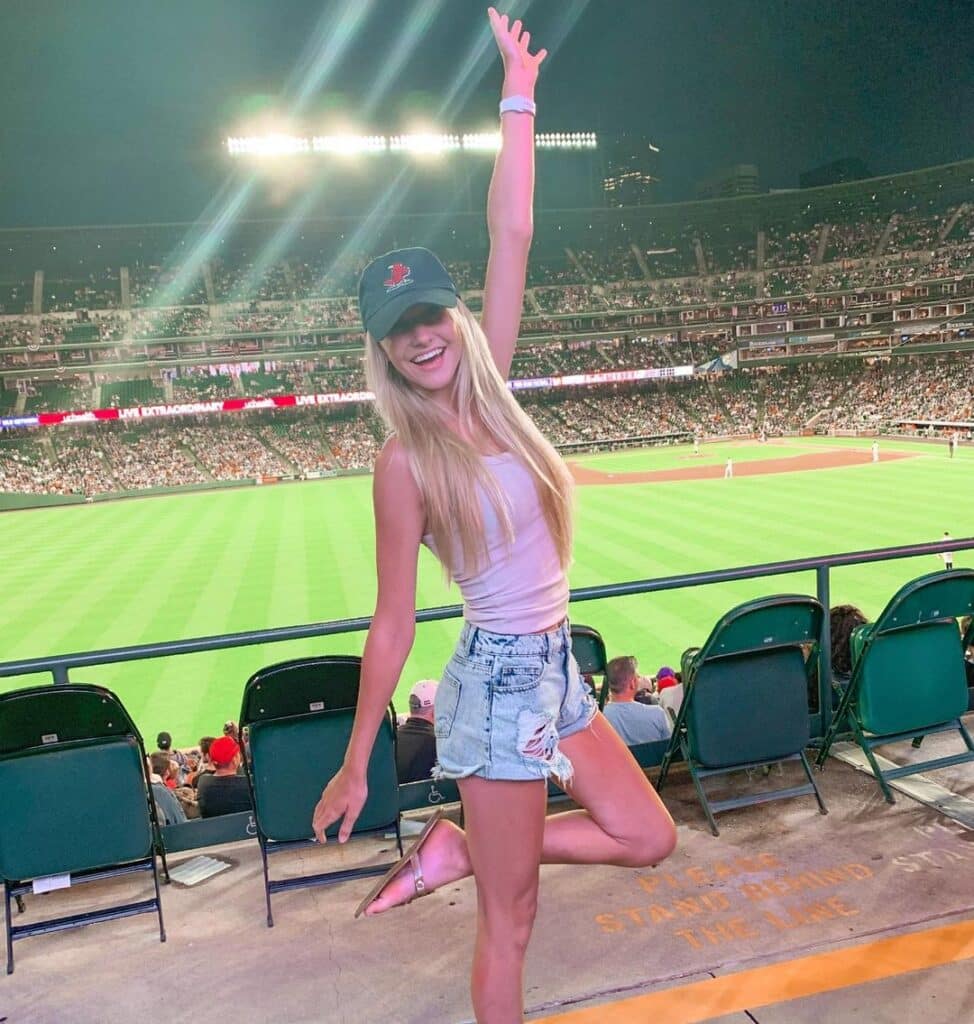 15 – Black Tube Top Paired with Lightwash Denim Shorts and A Bright Red Baseball Cap
This outfit is similar to the previous one except the base outfit is chosen to be colors that will uplift the color of the chosen baseball cap a lot. Using the same concept, you can take a simple, plain, black tube top and pair it with a normal pair of shorts, and add a bright red baseball cap as an accent color to tie the whole look together. In this case, a darker color has been used for the base outfit, keeping in mind that a color like bright red will stand out more against a darker base color like black. That is why this outfit works so perfectly together despite having somewhat mismatched colors.
14 – Button Down Shirt With Denim Shorts, and a Plain Black Cap to Match With Knee High Boots
This outfit is much less on the athletic side but still uses a baseball cap to its full potential: to further enhance the outfit. This beautiful and flattering cropped button-down shirt is paired with distressed denim shorts and also a beautiful pair of leather knee-high boots. A plain black baseball cap is used to tie the boots and the shoulder bag together to amalgamate the whole outfit into an amazing dimensional one. It really takes it to the next level, and requires minimum effort to pull off!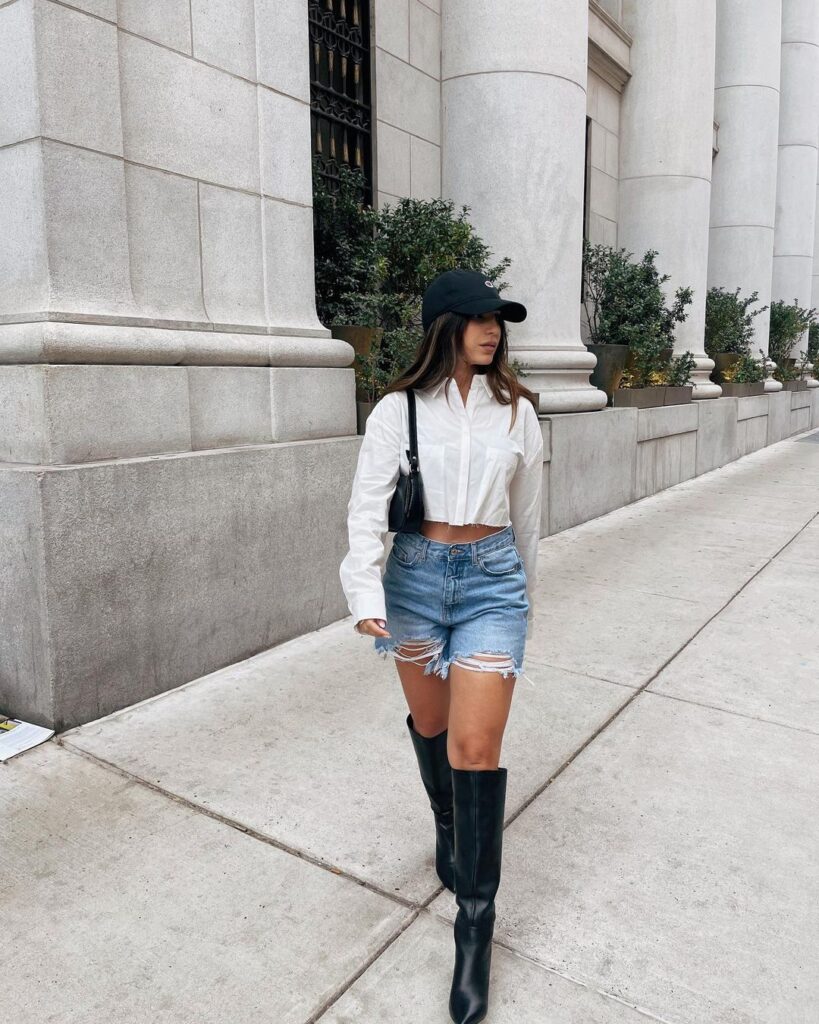 13 – Nude Tank Top With Straight Leg Jeans Tied With A Yellow Baseball Cap
A much more sophisticated rendition of a sporting outfit, this one enhances your figure with the well-fitted tank top. The nude color of the top will not take away from the beautiful muted yellow color of the cap and will make it stand out even more.
12 – Blue Jeans, White T-Shirt Top, and A Bluish Grey Baseball Cap
This outfit shows that you can also use your baseball cap to create a color palette for your look. This will be essential for those outfits where you do not want to put in as much effort and only want to pick some easily available clothing items and make them work. For example, here the items worn are easily accessible in anyone's closet and can be thrown together to create a casual outfit. But the addition of the cap adds a color that completes the entire color scheme and makes it look absolutely perfect.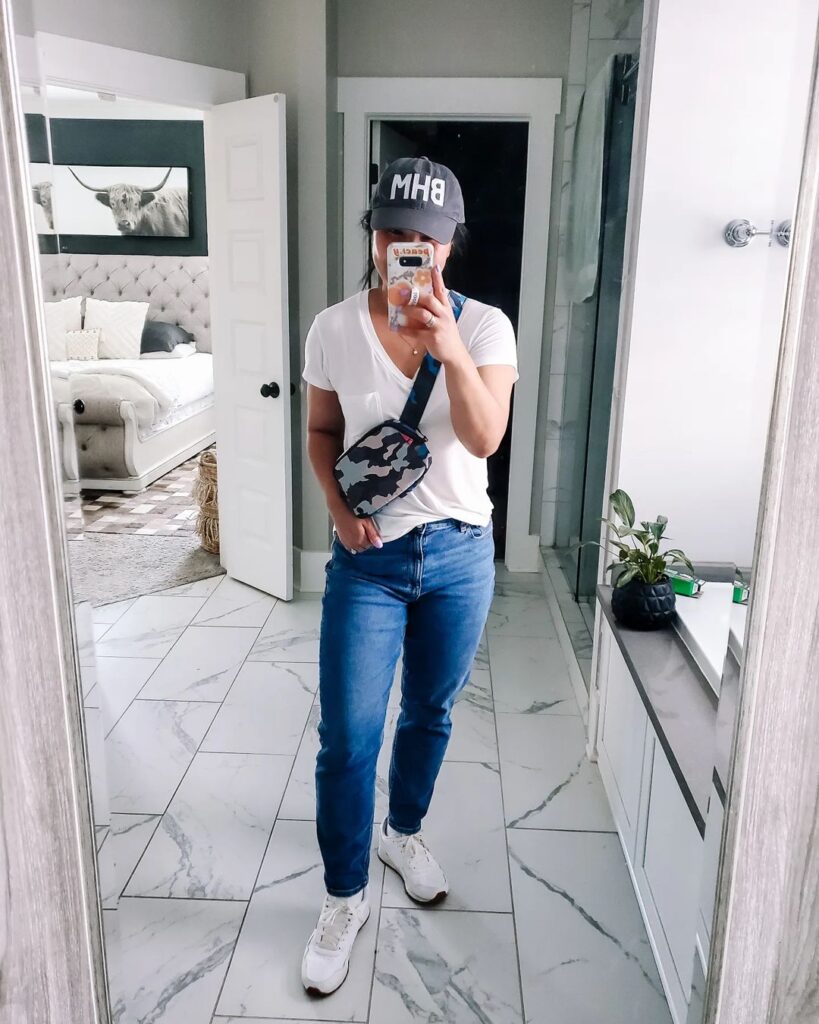 11 – Grey Baseball Jersey Top With Black Sweatpants And Grey Cap
This outfit is the perfect example of athleisure. The baseball jersey top and the comfortable black sweatpants make this outfit the perfect one to lounge around in as it definitely prioritizes comfort. But the addition of a baseball cap matching perfectly with the jersey top pulls it all together and takes it up a notch by adding a bit of style to it. It makes the look of athleisure look intentional and will make you look great as well as comfortable!
10 – Black Gym One-piece With White Baseball Cap
This outfit is perfect to wear when going for a run or going to the gym. The black one-piece will keep you nice and comfortable and the stylish white button-down top is the perfect cover-up for it. The white sneakers and the matching white cap pull the whole outfit together and make it such an easy outfit to pull off with a baseball cap.
9 – Black Crop Top With White Cover Up and Red Baseball Cap
This is a great outfit, which is very similar to the one mentioned previously, but this time the baseball cap is added not as a matching element, but rather as an accent color that will add a pop of color to the outfit. This can be done with any other color, but you can not deny that the color combination of white, black, and red is truly unmatched!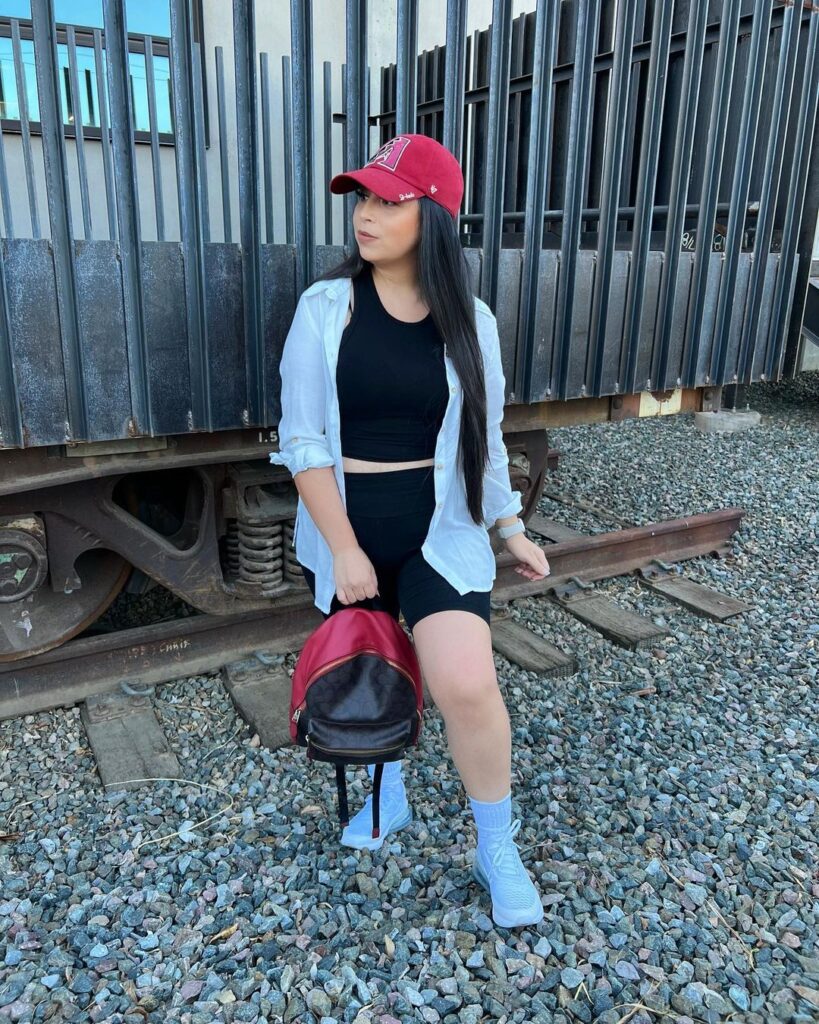 8 – Green Cropped Top With Matching Green Baseball Cap And Ripped Relaxed Jeans
This outfit is perfect to wear to a baseball game as it gives you so much opportunity to support your favorite team without the use of t-shirts. This outfit is made of easily available pieces such as a green cropped top that can be paired with your favorite pair of distressed jeans. Match a baseball cap to your top perfectly to create a wonderful outfit that can be worn to support your favorite team in a subtle and stylish way.
7 – All Blue Outfit With Matching Tights, Socks, And Baseball Cap
This outfit is a perfect representation of a monochromatic outfit done well. This outfit incorporates many textures of the shirt, socks, and the baseball cap perfectly with a little bit of white detailing to create an overall outfit that will not look too over the top and will be perfect to wear to a game. The baseball cap really completes the whole look by adding to the sporty and athletic essence of the overall outfit.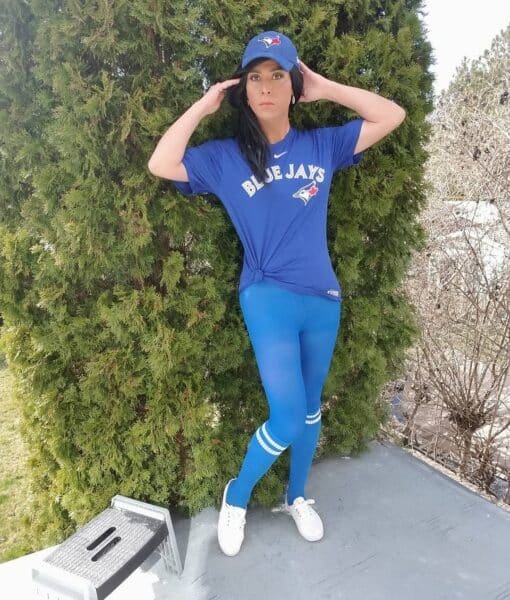 6 – White Tank Top Paired with a Neutral Baseball Cap
This outfit has more of a casual way to incorporate baseball caps into the outfit. These are easily found clothing items that are paired together to form a coherent outfit that can be worn anywhere. The baseball cap adds a bit of dimension to the otherwise plain outfit by adding an additional element that will really elevate the entire look. The color of the baseball cap also makes a huge impact on the outfit. Neutral or earthy colors can really tie the whole look together without bringing too much attention in one place, but rather making the whole thing seem like one coherent unit.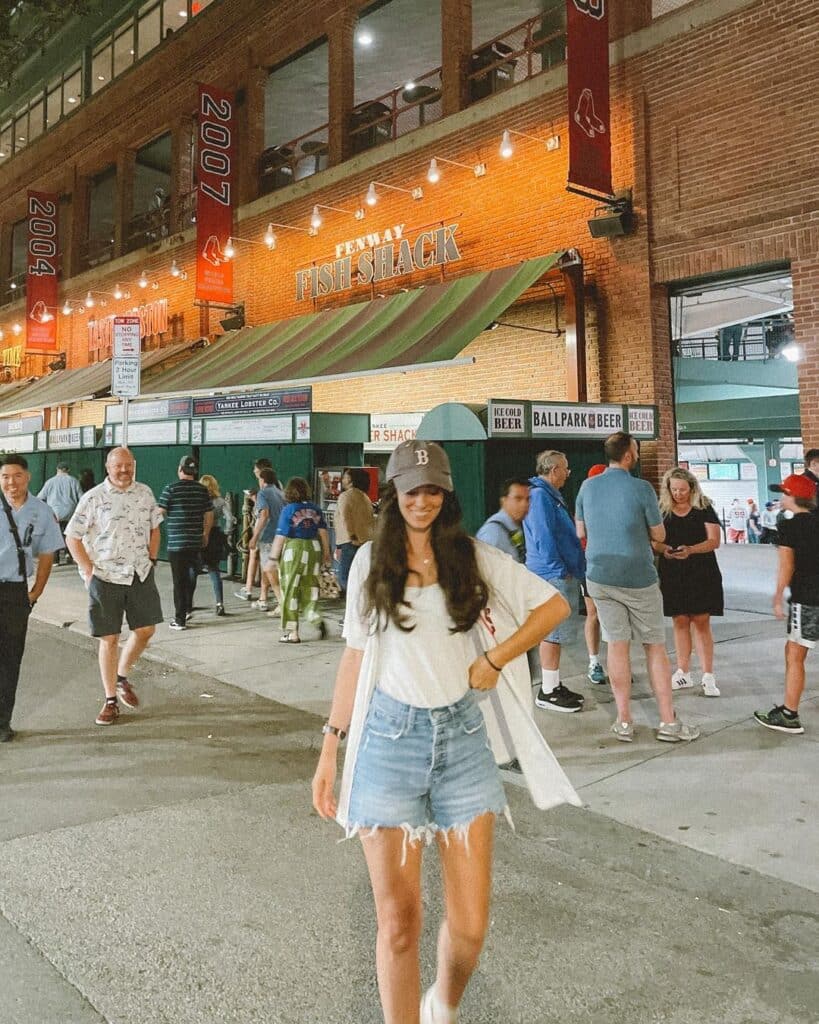 5 – White Ribbed Top With Bright Red Denim Skirt, and Blue Baseball Cap
Try to create fun color combinations with the use of baseball caps. In this outfit, there are three elements in the base outfit: the white ribbed shirt, the bright red denim shorts, and the blue denim jacket that is tied around the waist. The addition of the blue baseball cap adds another shade of blue to the outfit, without any extra layering that would have made the outfit look too chaotic. So baseball caps can be used to add colors when you have no other way to!
4 – Pink Sports Top With Black Leggings And White Baseball Cap
This is a cute color combination in an outfit that is perfectly complemented by the baseball cap. The main star of the show in this outfit is the pink neon top, that is ribbed cropped and sleevless, for a figure enhancing shape. The black leggings also add a sporty look, but the thing that makes the outfit look the most athletic and effortless is the addition of the white baseball cap, which really enhances the overall look.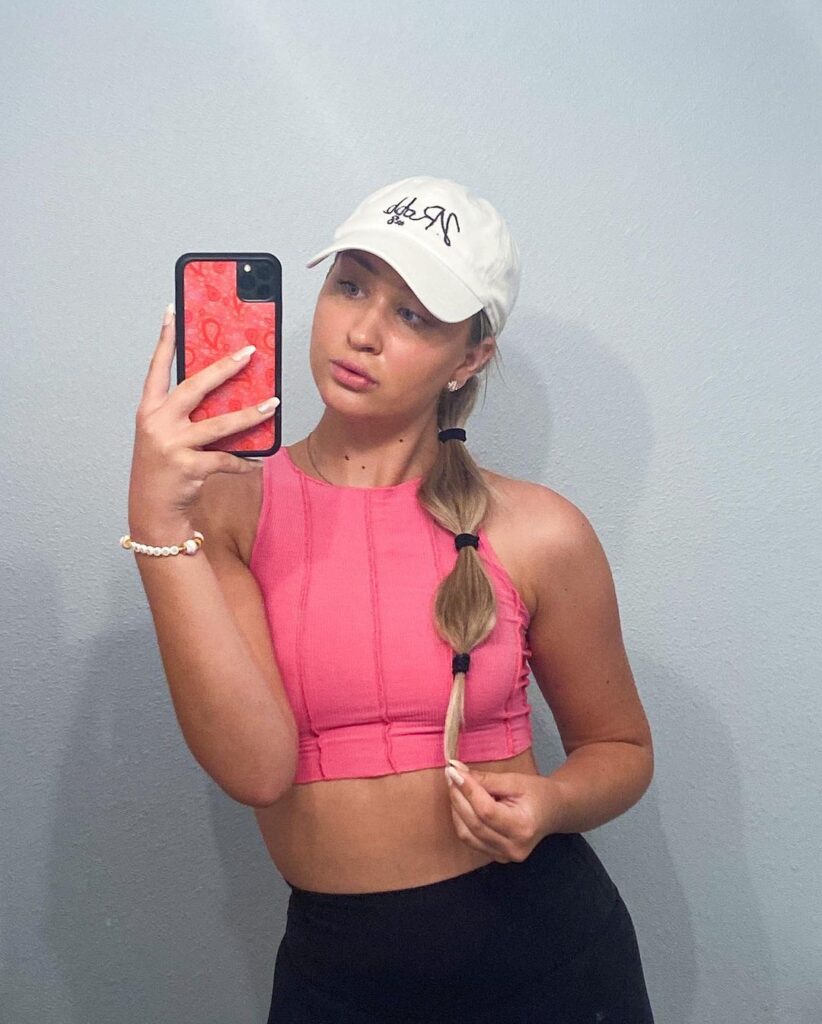 3 – White Cropped Tank Top And Denim Shorts With Blue Baseball Cap
The basis for this outfit is the two colors blue and white, that are used very cleverly in an alternative pattern, allowing for a very creative and dimensional outfit. The colors going alternatively catch the eye in and in a very pleasing way, and the baseball cap is a very easy way to add color without any layering on top of each other.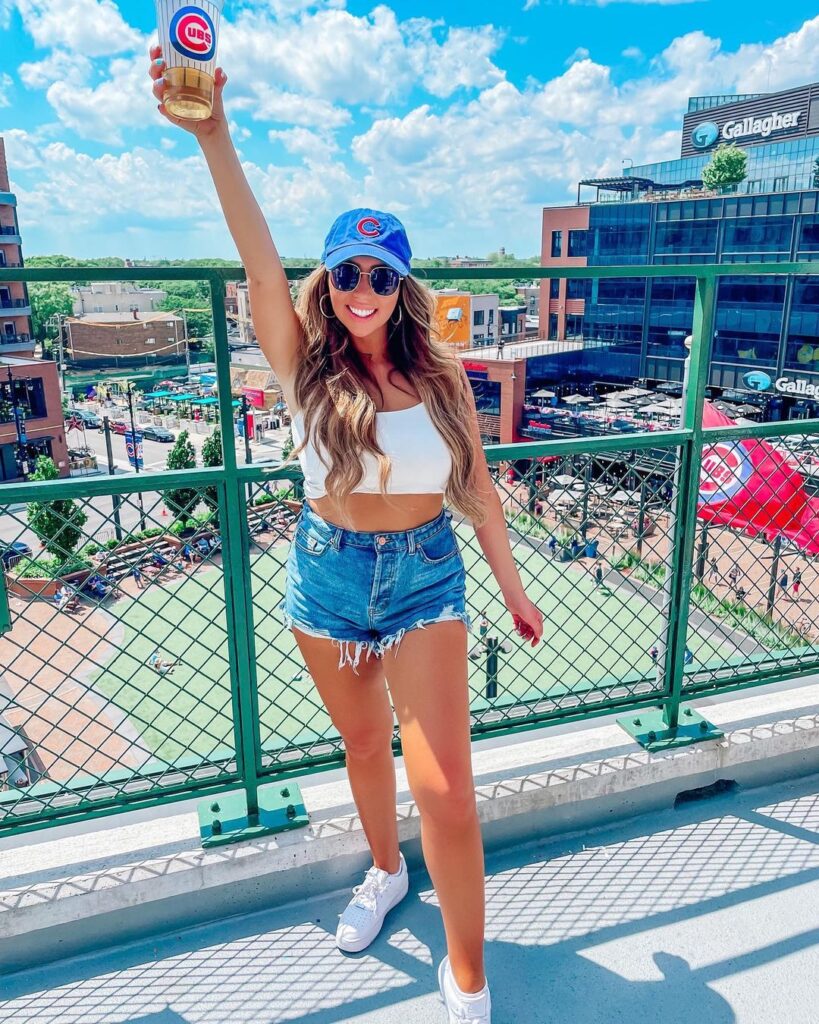 2 – Baseball Cap To Match With Light wash Shorts
The statement of this outfit may be the amazing leather jacket but the matching done by the lightwash shorts and the baseball cap make it all tie together perfectly.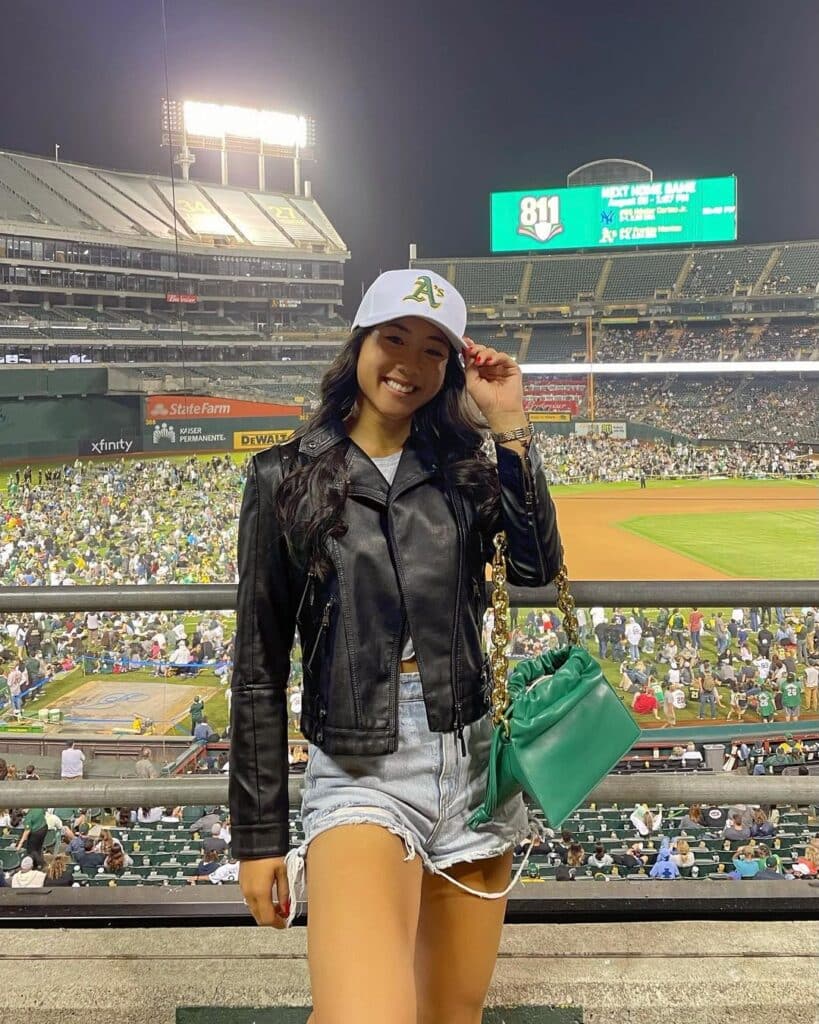 1 – Bandana Top and White Jeans With Black Baseball Cap
The bandana top in this outfit has both black and white colors in its patterns. This is paired with a plain white pair of jeans and white shoes. The black and white scheme of the top is also reflected in the baseball cap which has a white logo on a plain black background. This is a clever way to subtly carry forward the black and white of the top further into the outfit.
Frequently Asked Questions
Q. Does the baseball cap need to match the rest of your outfit?
Ans. No! The baseball cap is a versatile item that can be matched and contrasted with your outfit in many different ways. Be creative with it!
Q. Will baseball caps go out of style?
Ans. Baseball caps may have spiked in popularity at different times, but they have always been a timeless piece that can never go wrong. You can pair them with literally any outfit!