The holiday season is just around the corner, and as much as you like to dress up for it, so do your pets! Your cat deserves to look cute and have their special outfits. You never know; they might be more excited than you!
There are various simple and easy ways to create outfits for your kittens that look adorable for the festive and holiday season. It will make your cats happy, and I am sure it will also be a treat for you.
And thus, we have rounded up ideas to help you design an outfit for your pet.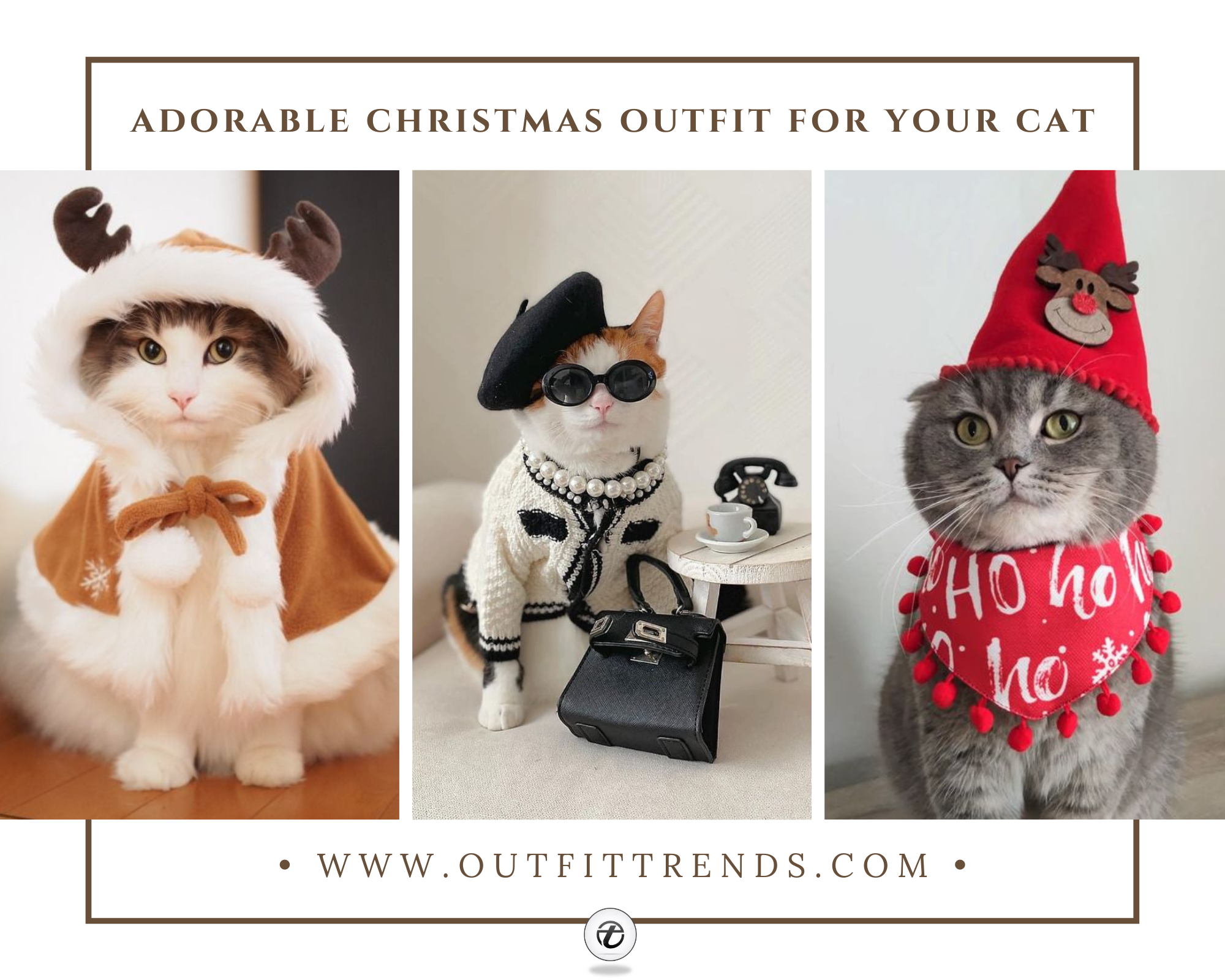 Should I Dress Up My Cat on Christmas?
In all fairness, cats do not need to dress up. However, as owners, we feel inclined to dress them up in adorable outfits, but there can be positive aspects to dressing them up.
First and foremost, it gives them a unique personality. If you have never dressed your pet up, you might be surprised by how much some love getting dressed up.
Moreover, Christmas is usually cold, and your furry friend needs protection from the cold, especially if it tends to wander outside, so why not offer it some?
Styling Tips
Let's begin with some basic guidelines to review what we must remember when selecting an outfit:
First of all, remember to try the outfit before Christmas so you are sure it is the right size. The ideal way is to wait for the cat to be in a good mood, as it does not let you get the size unless it is calm enough. Start by measuring the length from its neck to its tail. Then, measure its width by wrapping the measuring tape around it, especially its belly.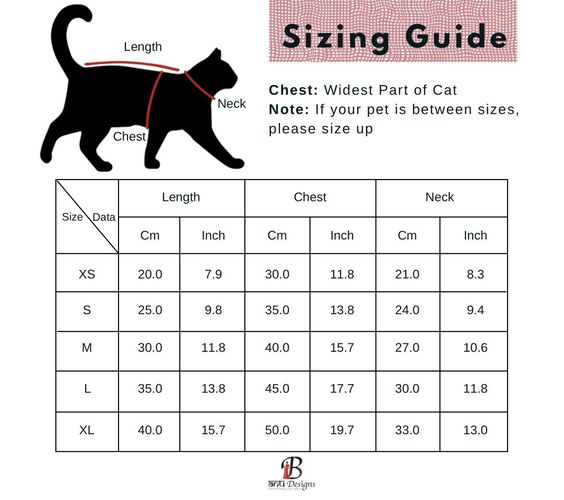 Secondly, if your cat starts getting uncomfortable or stressed in the outfit, get him out immediately.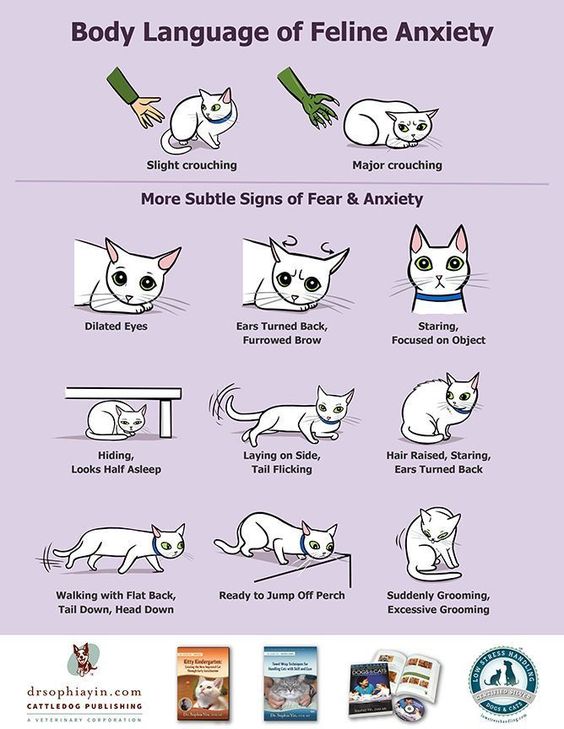 Thirdly, once you decide you want a Christmas outfit for your cat, set a budget so you can plan things accordingly.
Don't go overboard. Keep things simple but creative.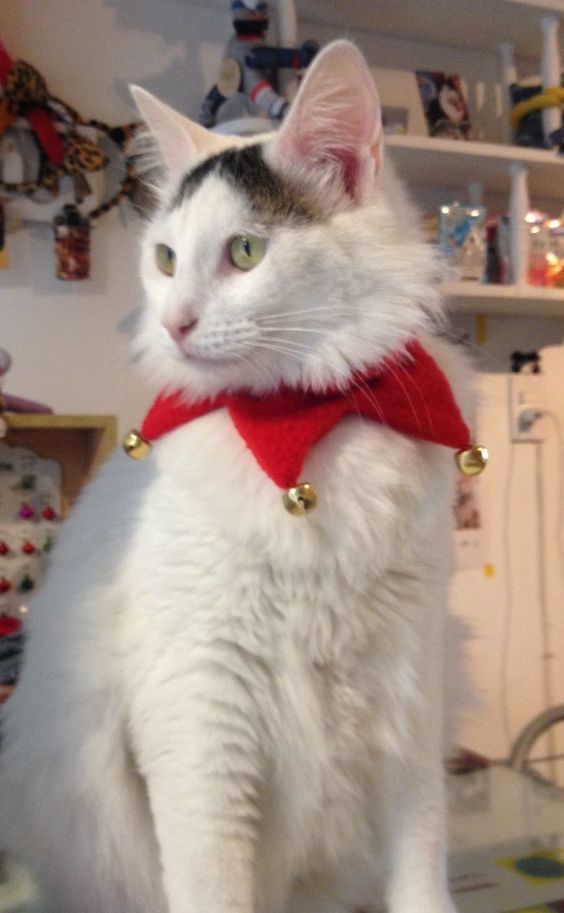 Ensure that the outfit you get or stitch is not too smelly. One option is to let the cat play with the outfit before trying it on so the cat gets familiar with it beforehand.
Lastly, when your cat is wearing an outfit, never leave it unattended, as cats dressed in outfits tend to get in lots of trouble around the house, so make sure your cat is always safe and supervised.
Without further ado, have a look at these 25 Christmas costumes for cats that we have compiled for you:
Bodysuits and Dresses
25 – Allow Your Cat to Step Out in Style in a Chanel-Inspired Fit
If you plan on letting your inner diva out and dressing up in a luxury Chanel outfit, it only makes sense to twin with your pet. The two of you will be the couple to watch out for!
24 – A Dress Paired With an Oversized Hat is too Cute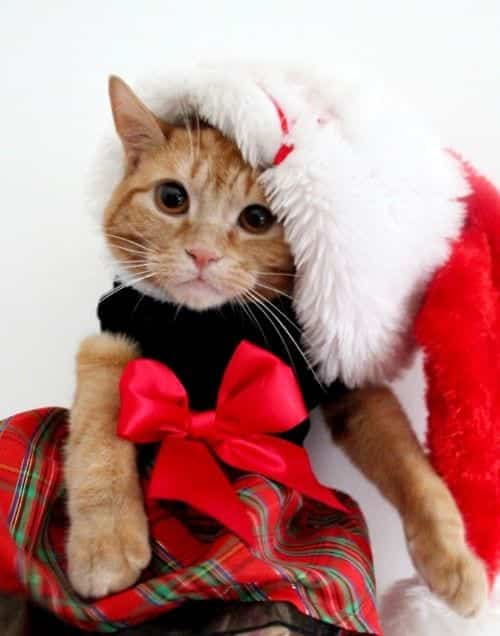 23 – Make the Black Coat of Your Furry Friend Stand Out With a Red Pyjama Set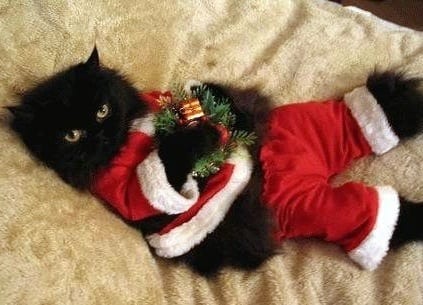 22 – You Can Not Go Wrong With a Printed Bodysuit in Festive Colors!
21 – Cute Robes For Kittens
You can get a complete Christmas-themed robe with a hood for your cat. I guarantee you extra cuteness with an oversized hood with ears!
20 – If Your Cat is a Dive, it Only Makes Sense to Get it a Dive Fit!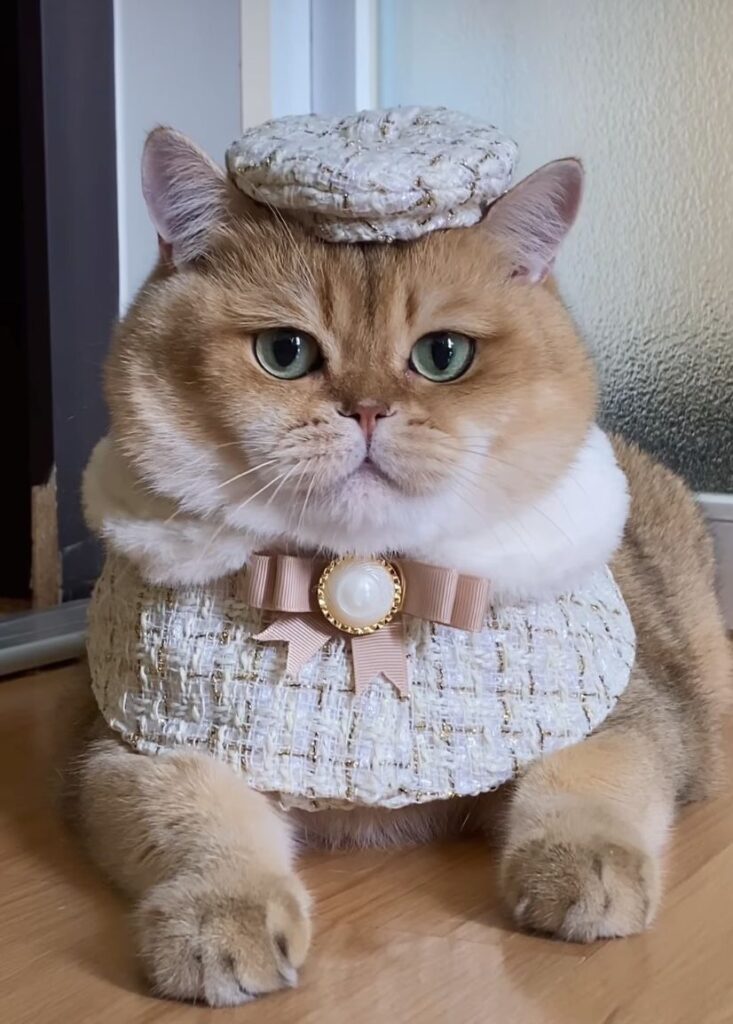 19 – Opt for a Matching Plaid Sweater and Hat Set
You can create a Christmas outfit for a cat by pairing any sweater with a hat in Christmas colors. But a matching set is the way for an effortless and put-together look! If you are getting a sweater or any other shirt for the cat, you must also measure its size.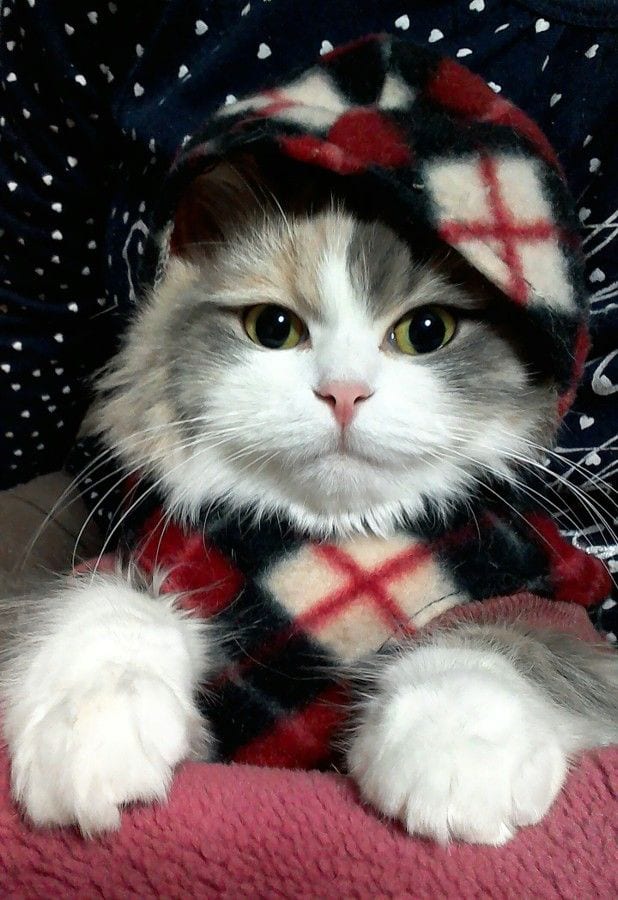 Scarves and Capes
18 – Make Your Persian Cat Extra Fluffy in a Poofy Cape!
Santa capes look fantastic. Tie them around your cat and add a Santa hat for a perfect Christmas look.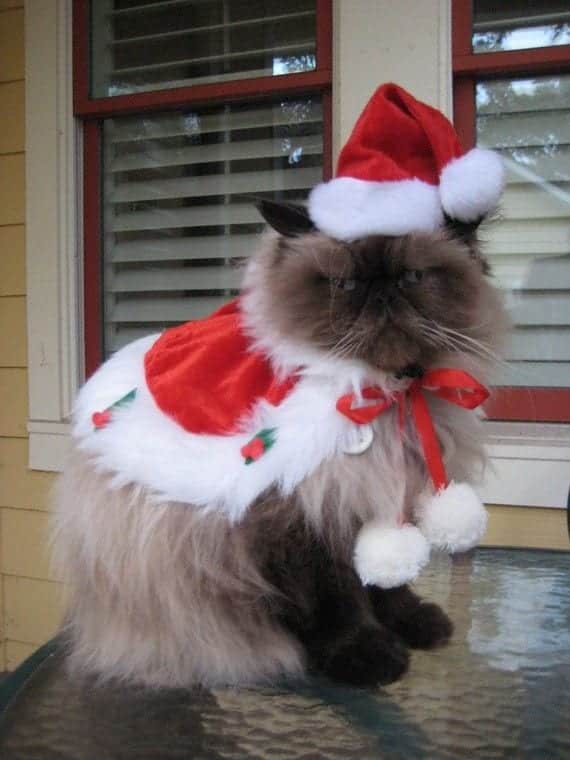 17 – A Cute Santa Bandanna and Matching Hat is too Cute to Miss Out on!
16 – The Pom Poms Will Keep Your Cat Entertained All Night!
These Santa Claus capes for kittens are easily available and look extremely cute. It would be adorable if you got yourself a hat as well! Check out these Stylish Winter Hats for Women: These 8 Winter Hats Every Girl Must Try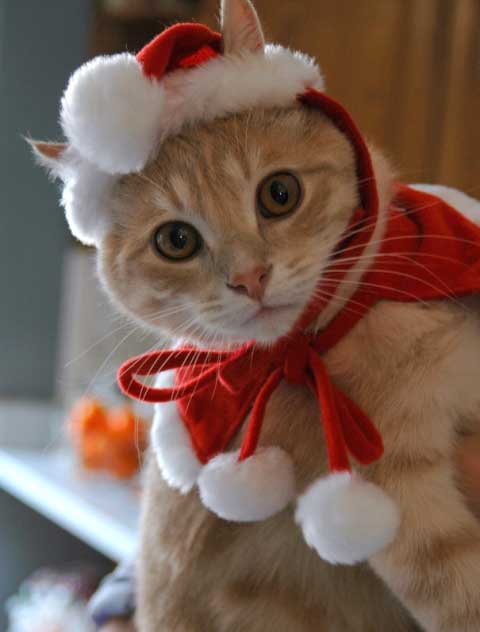 15 – Opt for a Pj-themed Outfit for Christmas Eve
Wrap a scarf to give your pet a unique and adorable look. Add a hat that matches the muffler to step up your style game. If you are planning a Christmas Eve party, then such adorable outfits are going to get your cat everyone's attention.
You could also try getting your cat these hats and mufflers in colors that match your own Christmas outfit. That way, you will have matching costumes!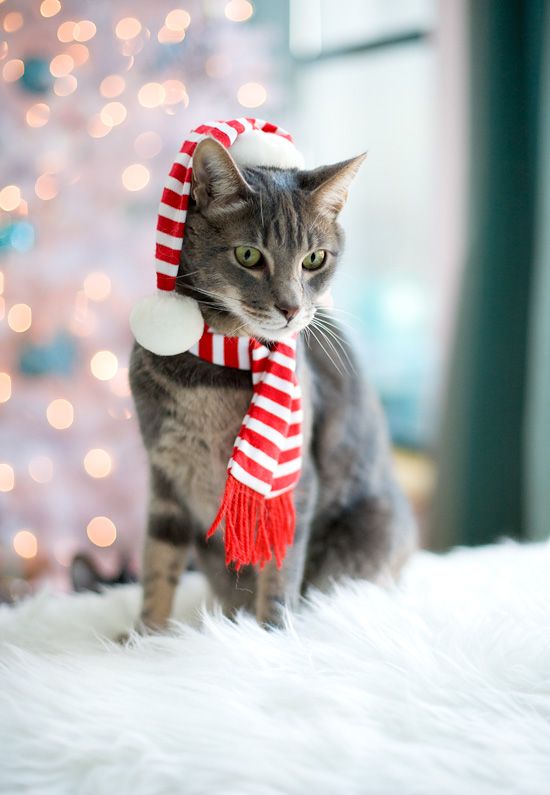 14 – Pair a Reindeer Hat With a Red Scarf to Add Character and Attitude
Instead of wearing typical Santa costumes or hat-collar combinations, go for something different, like a detailed hat and a muffler wrapped around the neck.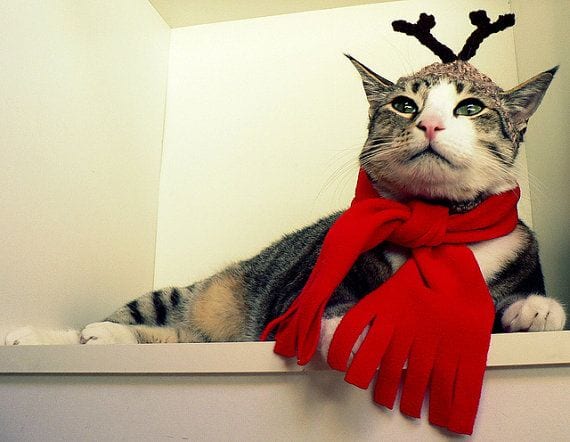 13 – Go All Out in a Red Outfit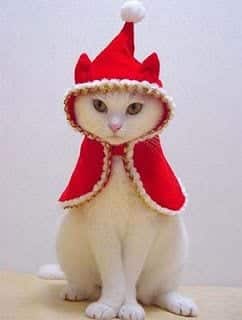 12 – This Adorable Christmas Cape is the Pick this Year!
I love how the colors of the cape complement and enhance the cat's coat. The matching of antlers to the coat on the face is too cute!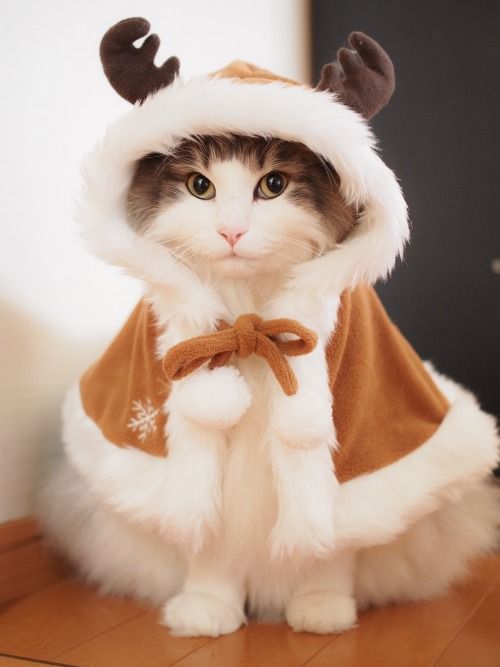 Buy similar:
Collars and Hats
11 – Mix and Match Collars and Hats For a Fun and Festive Look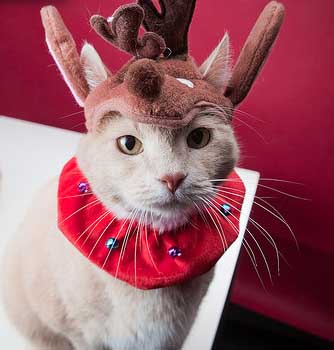 10 – A Simple Collar in Gold Will Tie This Look Together
How adorable are these reindeer hats? They look great and even better if paired with a cat scarf or sweater.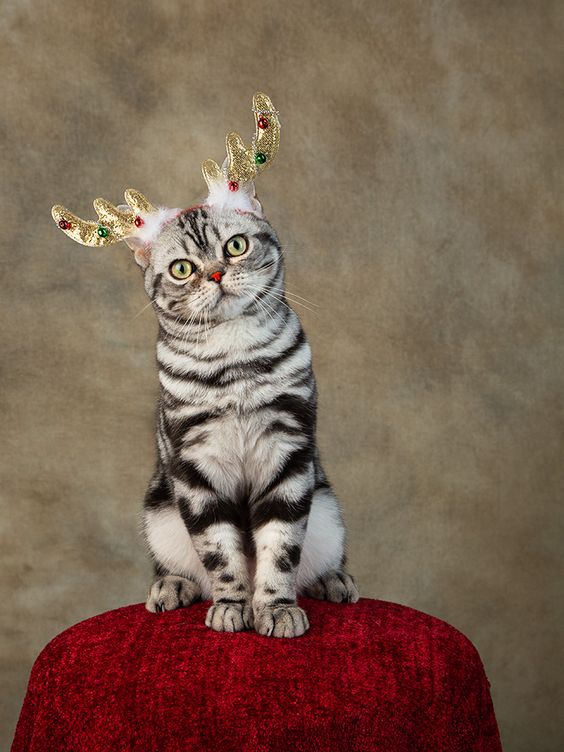 09 – Keep Your Cat Busy With a Reindeer Hat With Bells
Christmas bells will add a finishing touch to your cat's outfit and keep it occupied all night!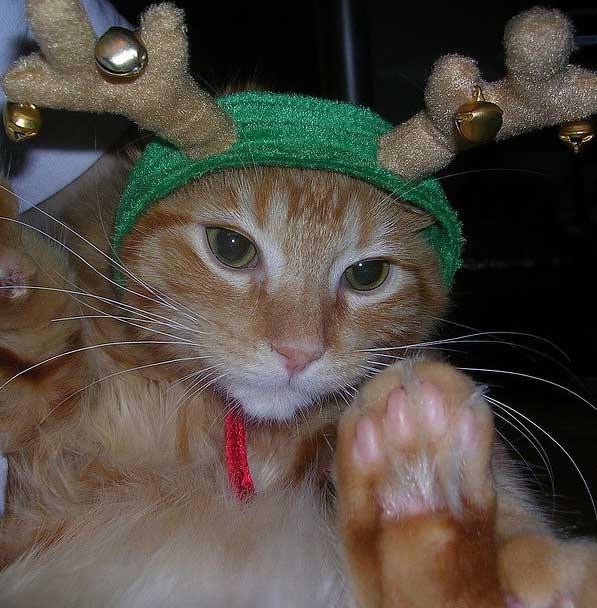 08 – Woven Accessories in Christmas Colors
Red and green woven hats are a classic! You can easily make or buy them in different colors and designs. But if you wish to spice things up, add a touch of gold to make the outfit stand out!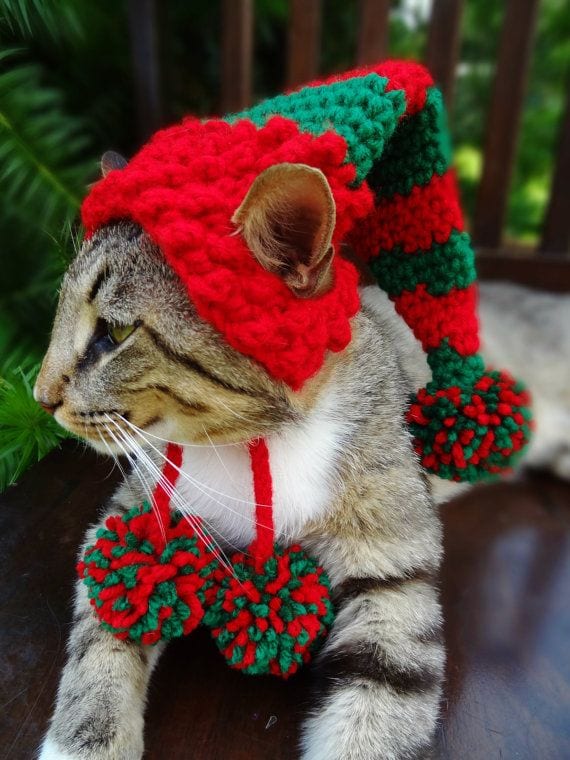 07 – Pair a Santa Buckle Hat With a Bow Tie
If your cat is uncomfortable with a shirt or sweater, try going for a hat and bow tie. They look cute and are not likely to bother your cat much.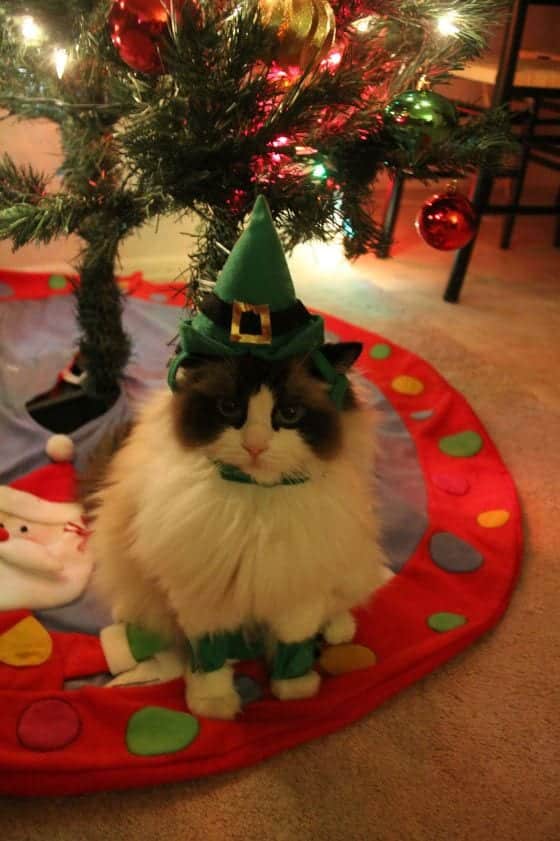 06 – Fancy Elf Hoods are the Choice for this Holiday Season!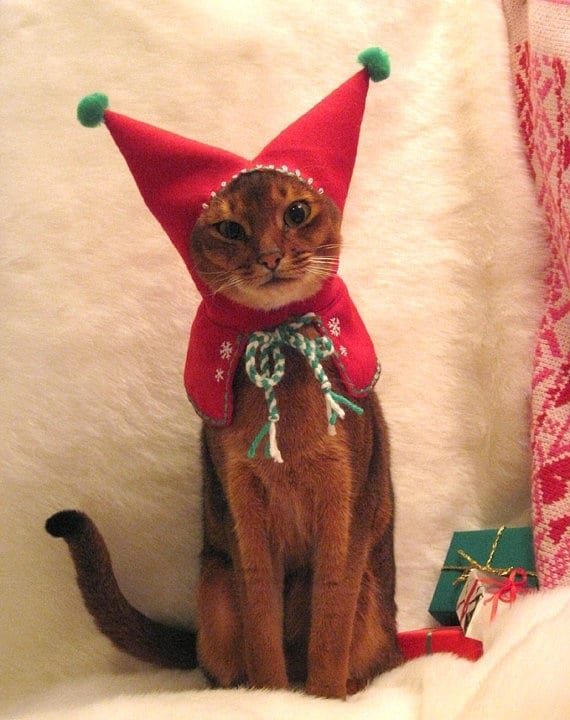 05 – Go for an Under-The-Mistletoe Hat to Keep Your Pet Occupied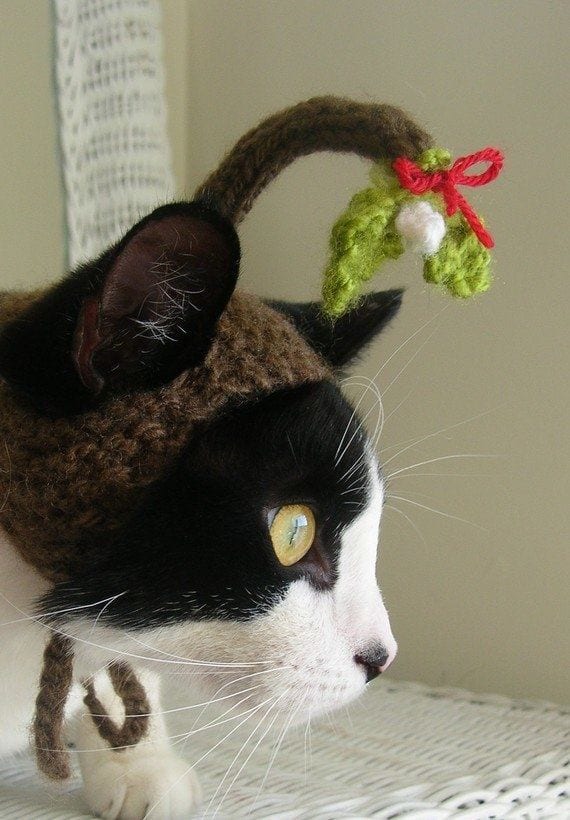 04 – Christmassy Beanie Hat With a Bowtie
What is better than making a hat yourself if you are fond of crocheting or knitting? It would be the best gift for your furry friend!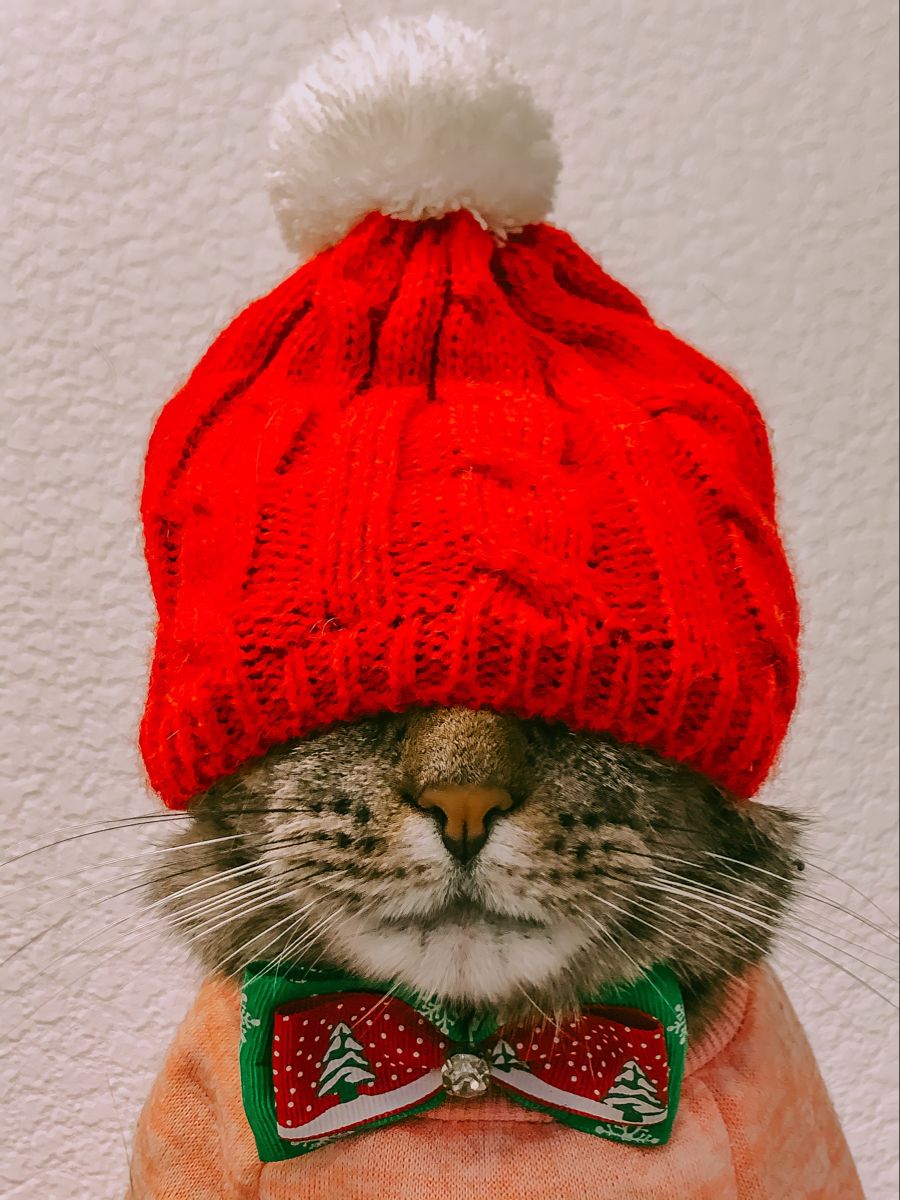 03 – The Collar Ensures a Festive Vibe if your Cat Decides to Get Rid of the Hat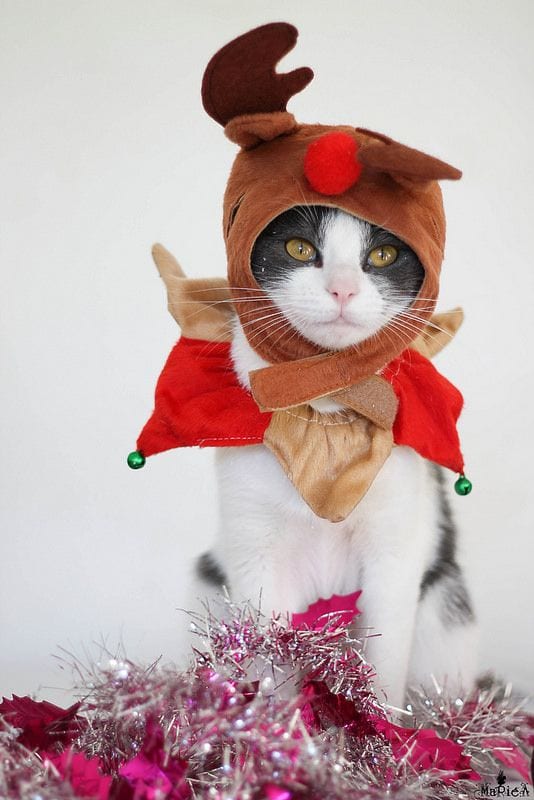 02 – Tie a Simple Ribbon as a Collar if you did not Have the Time to Shop
It does not necessarily have to be a red ribbon; you can work with any ribbon available in your home for a quick and unique outfit for your kittens!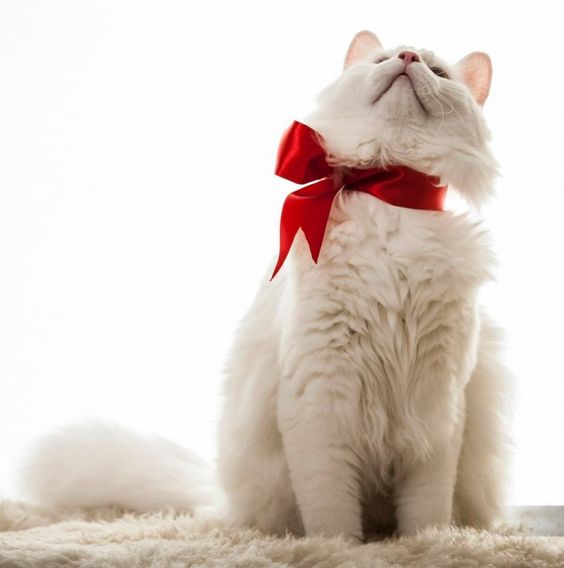 01 – Opt for Minimalist Style in Dashing Bows for your Boys
You can go the extra mile by making the men in your family wear green bowties to twin with the cats. And you should wear a solid dress in green to complete the picture-perfect family vibes!
Step-by-Step Video Tutorial – How to DIY Christmas Outfit for Your Kitten
These super adorable cat pictures will tempt you to dress up your cats similarly. Use these ideas and ways to dress up your cats this Christmas and enjoy the day full of love, happiness, and joy for you and your kitty.