Winter Nail Art Ideas. Winters are definitely all about wearing dark and hot colors that matches the cold and so less degrees outside and even set a contrast with the snow, which is the coolest. And that is exactly what these nail art ideas are all about.
Which means every color that just makes winters so mesmerizing and unique will be included. And not just that, but also has everything we love doing in winters; like playing in the snow, snow art/man, christmas and how much we adore snowflakes – will be right here on your very nails. So why wait? Try on all of these and make your winter nails exactly how you plan to be spending your winters this year.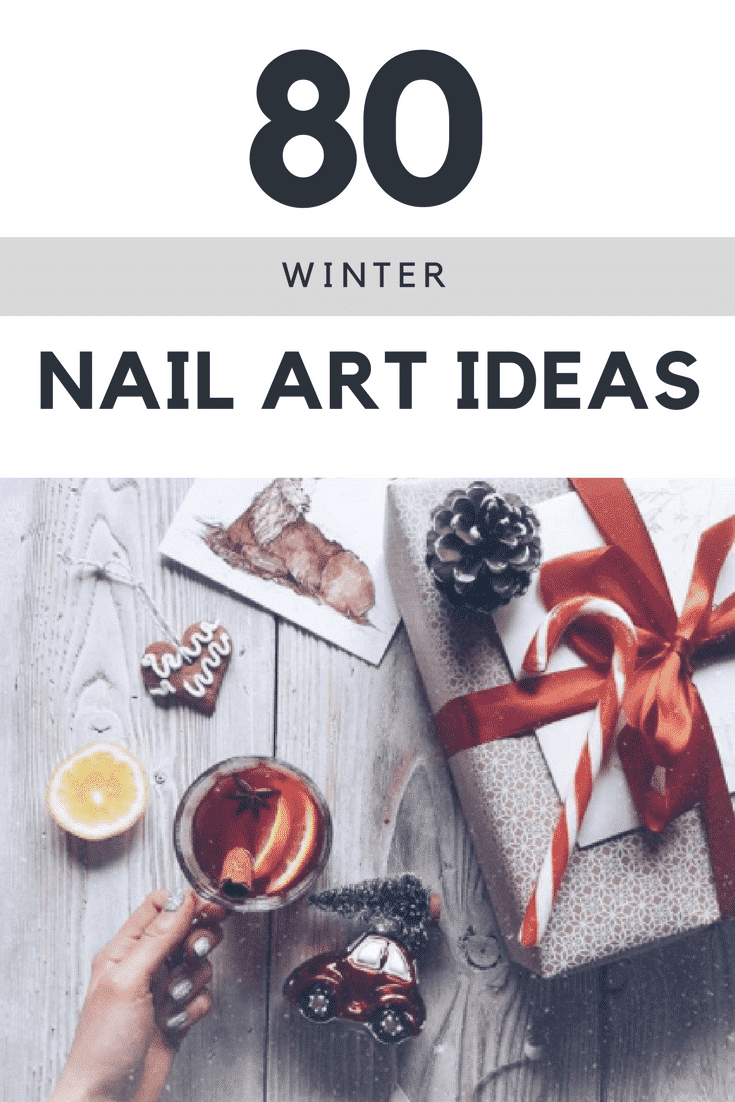 Here are about 80 most trended winter nail art ideas this year that we are sure you will love every single bit of. It is all about implementing your creativity once in a while and making something cool out of it. There are quite easy to a knack of, but if you do not then internet has tons of tutorials to come in handy. We hope you have winters with darkness, art and magical nails. Have a look and enjoy!
Cute Winter Nail Designs
There are lots of things that make winter nail art different from that of Summer or other seasons. For instance, the colours that look good in Winters are more bold and not very bright. For instance, we usually avoid yellow in Winter nail arts. Some of the most popular nail colours for this season include shades of maroon, burgundy, shades of grey and blues. Red, white and blue are classic colours that are used for Christmas themed nail art.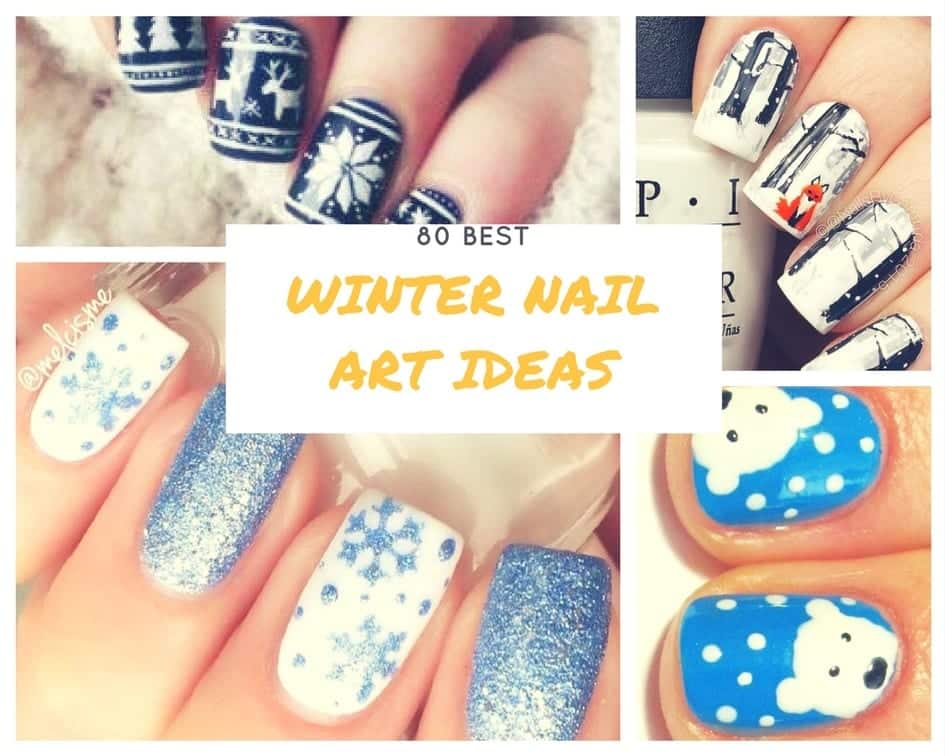 ↓ 80 – Colour of the Year
Ultraviolet has been declared as the Pantone color of the year, so why not bring it to use on your beautiful hands? Don't miss out these 26 Ways to Wear a Scarf this Winter.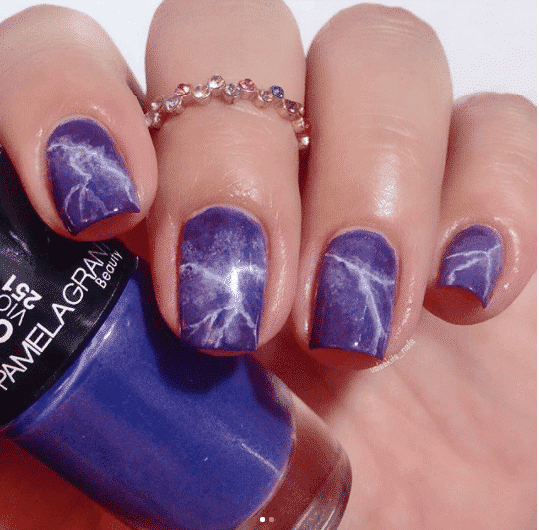 Via
↓ 79 – Step by Step Winter Wonderland Nail Art Video Tutorial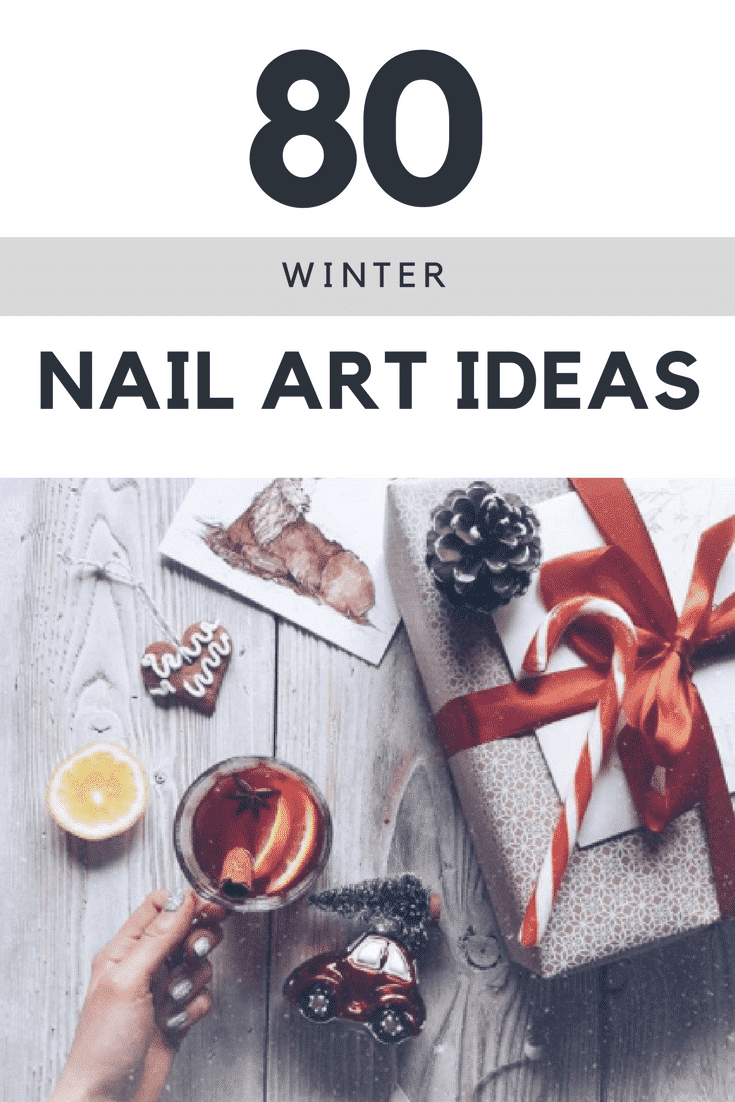 ↓ 78 – Pastel Snowflake Design
If you love winters and snow then this is the best nail art idea for you. The pastel colours chosen here work really well with almost any skin tone and of course they look really pleasant in the dull and cold winter days.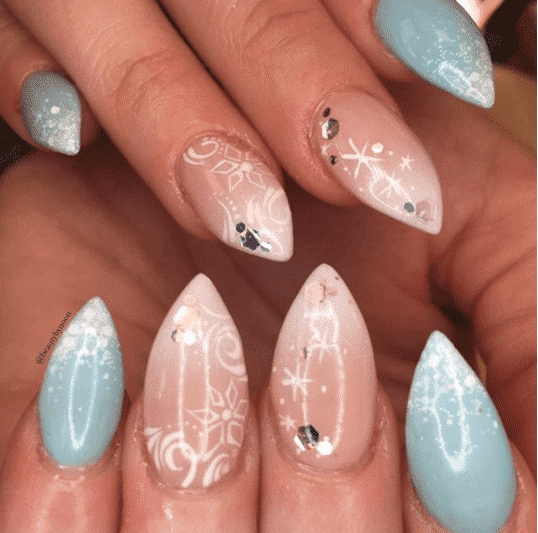 ↓ 77 – Nail Swag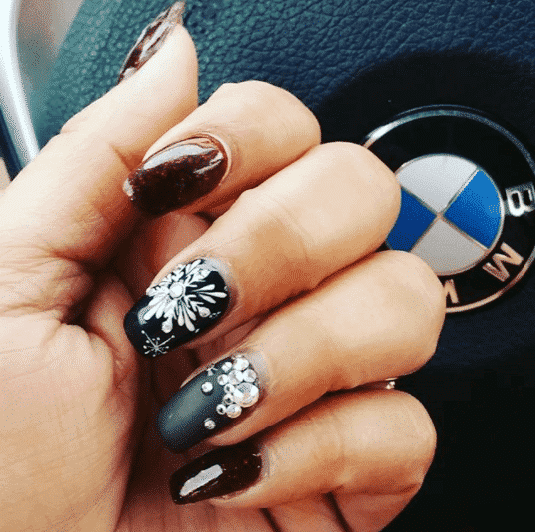 Via
↓ 76 – Polar Bear Nails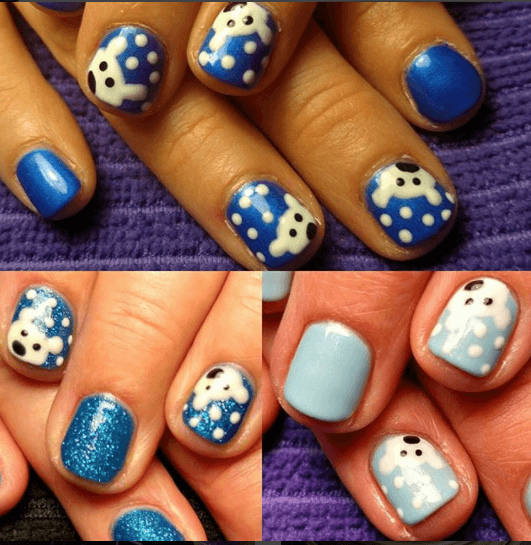 ↓ 75 – Keep Shining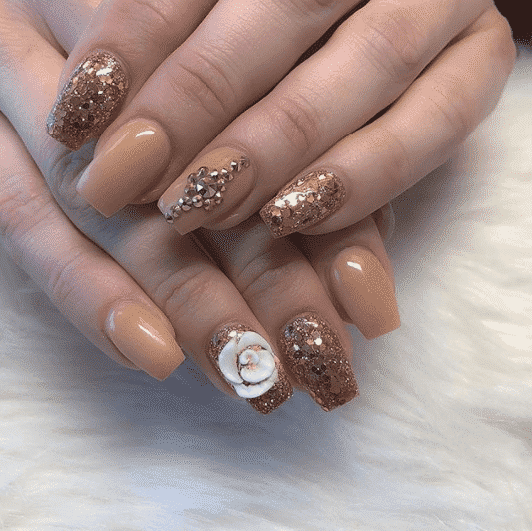 ↓ 74 – Rainy Day Nail Art
Do pair these nails with one of our Raniy Day Outfits Ideas, for the perfect winter combination.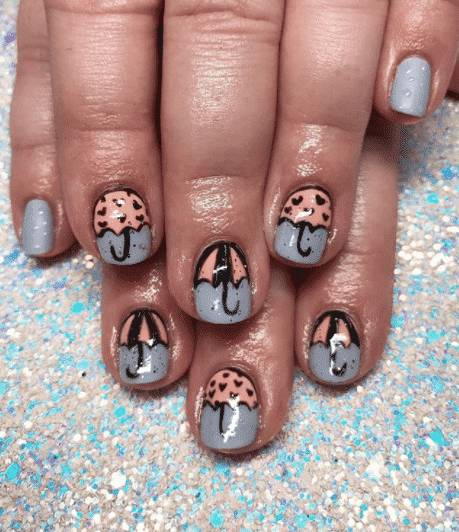 ↓ 73 – Orange Me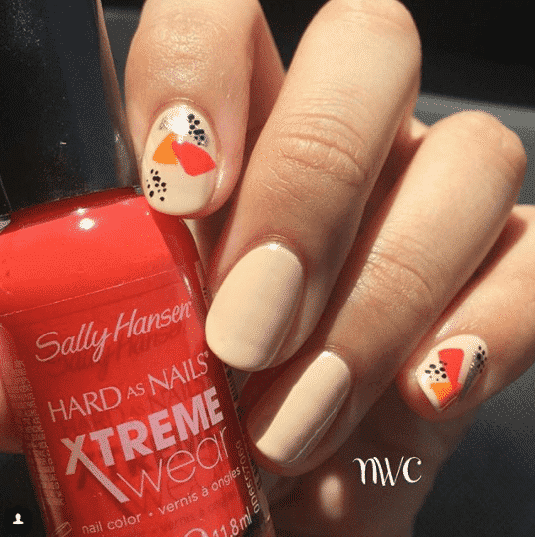 ↓ 72 – Winter Nails with Stamping Plate
There are many nail art tools such as stamping kits which make nail art possible for anyone while they are sitting at home. So no need to waste your money on getting acrylic nails anymore. Simply use these tools to create the most amazing designs yourself!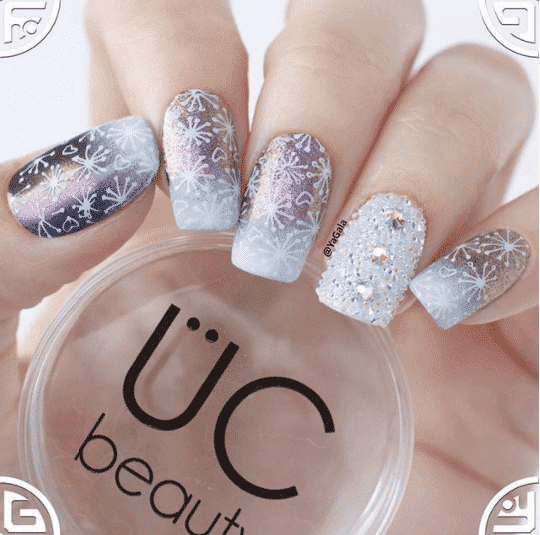 ↓ 71 – Dotted Nail Art
All you need for this nail art is a dotting tool. Don't have one? No worries! Simply use a hairpin/bobby pin to create the dots or you can even use a toothpick.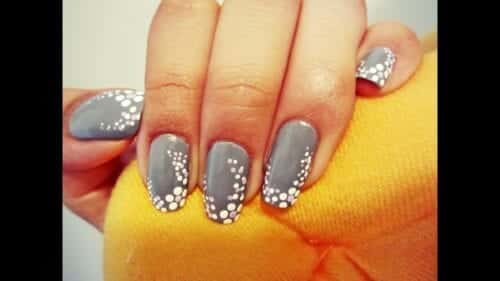 ↓ 70 – Inspiring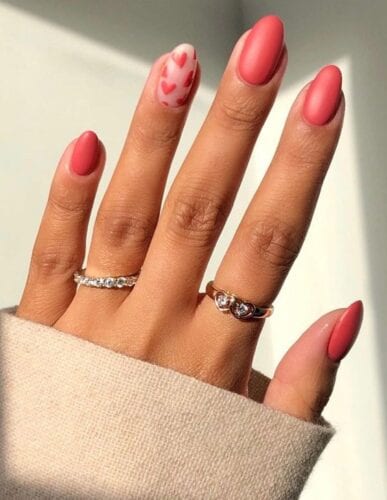 ↓ 69 – Olaf
Who doesn't love the adorable Olaf from the movie Frozen? Bring him back to life with these olaf themed nails.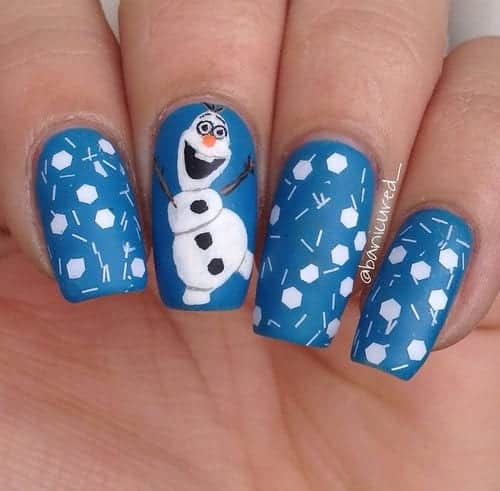 ↓ 68 – Furry Manicures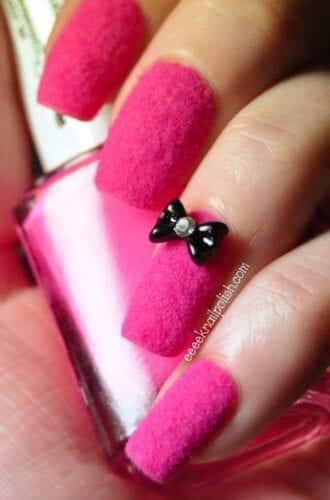 ↓ 67 – Red and Black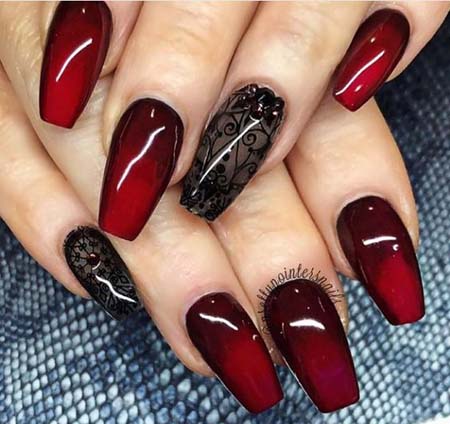 Via
↓ 66 – Christmas Tree and Gifts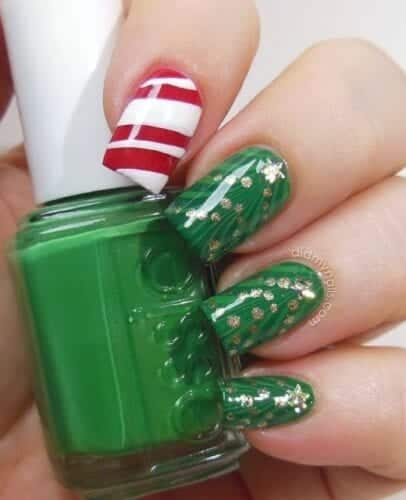 ↓ 65 – Snowman Design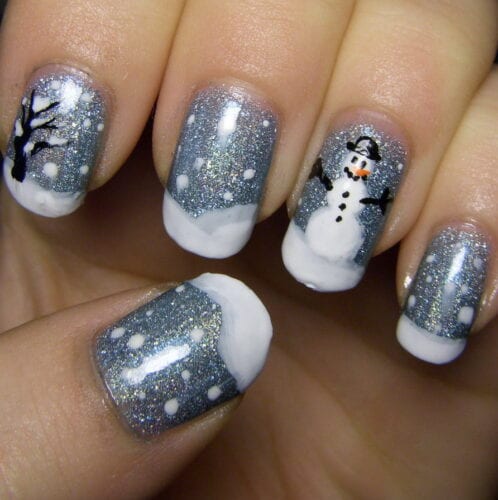 ↓ 64 – DIY Striped Nail Art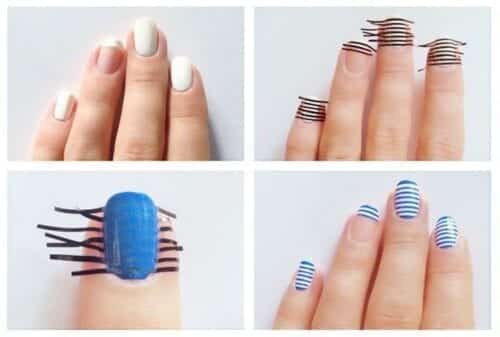 ↓ 63 – Birds in the Snow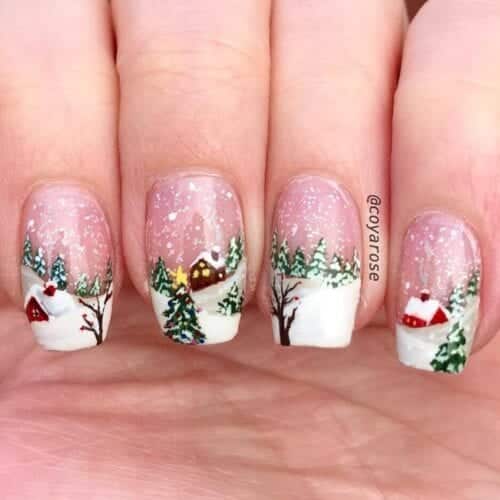 ↓ 62 – Town Girl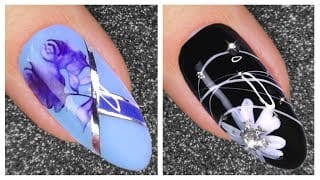 ↓ 61 – Reindeer Nail Tutorial
Follow this simple tutorial to create this cute peek-a-boo reindeer.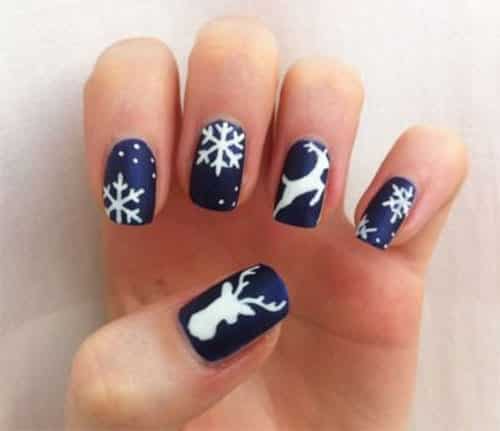 ↓ 60 – Snowman Nail Art Tutorial
Here are 60 Beautiful White Nail Art Designs and Ideas to Try Now.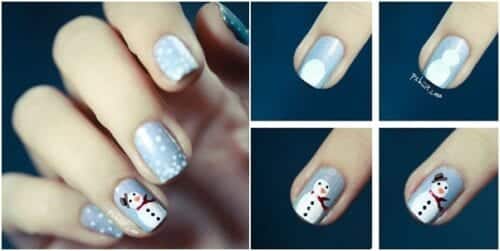 ↓ 59 – Frozen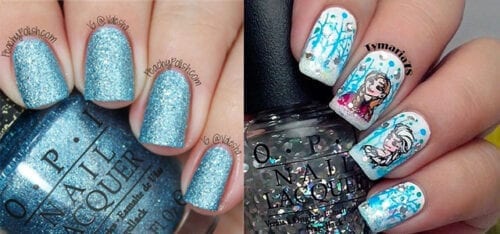 ↓ 58 – Let it Snow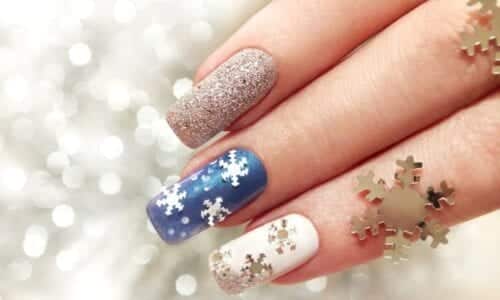 ↓ 57 – The Winter Greens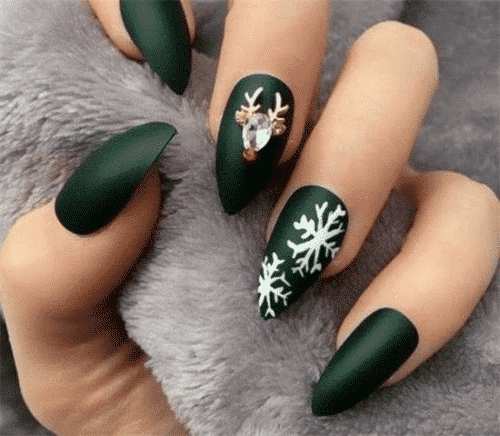 ↓ 56 – Winter Florals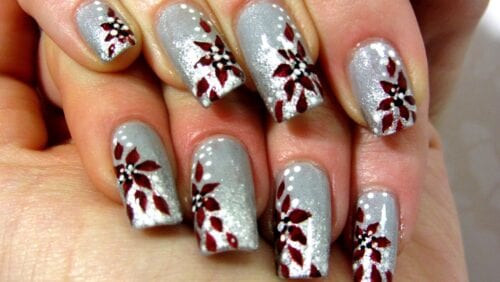 ↓ 55 – Diva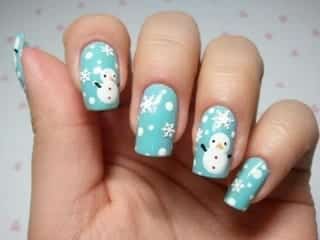 Via
↓ 54 – Picture Perfect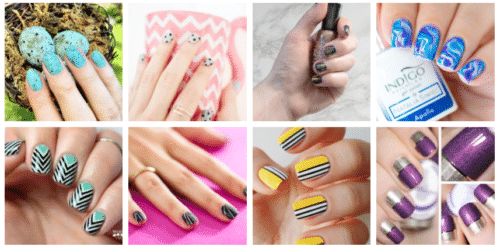 ↓ 53 – White and Silver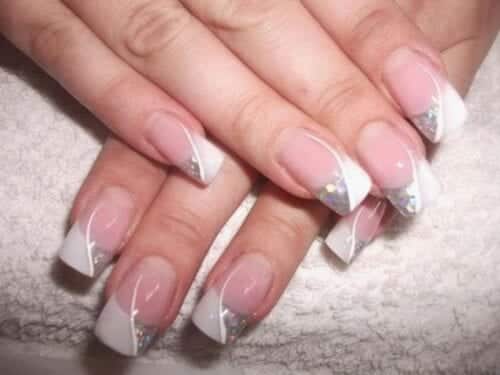 ↓ 52 – Navy Blue Nail Art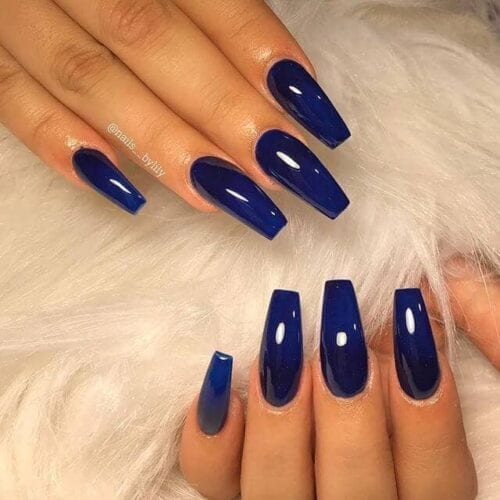 Via
↓ 51 – Black on White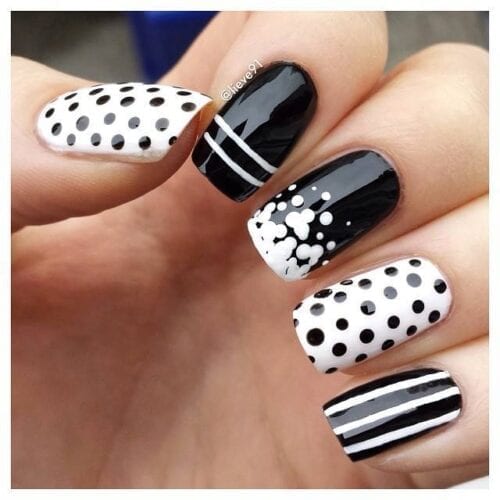 ↓ 50 – Shine Bright Like a Diamond
Don't miss out these 25 Most Awesome Mirror and Metallic Nail Art Ideas.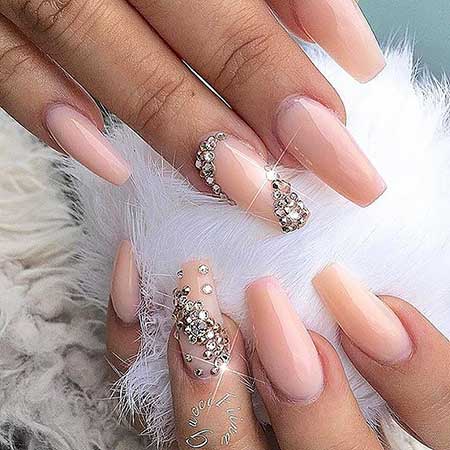 ↓ 49 – Christmas Nail Art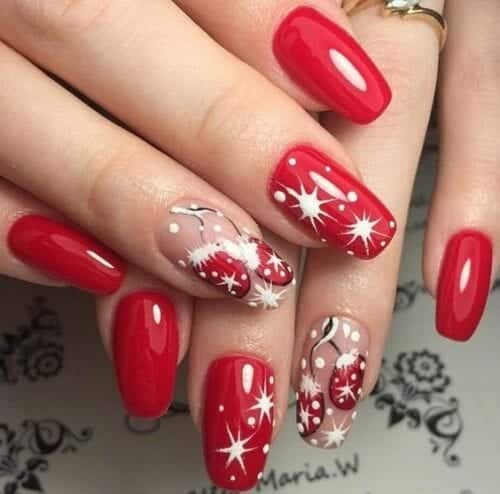 ↓ 48 – Snow Themed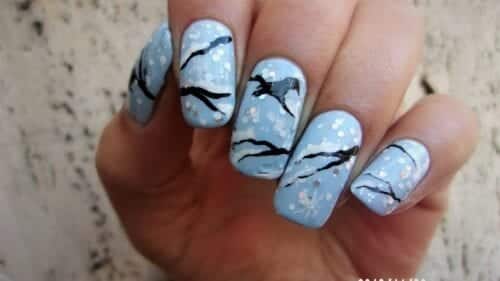 ↓ 47 – Plaid Nail Art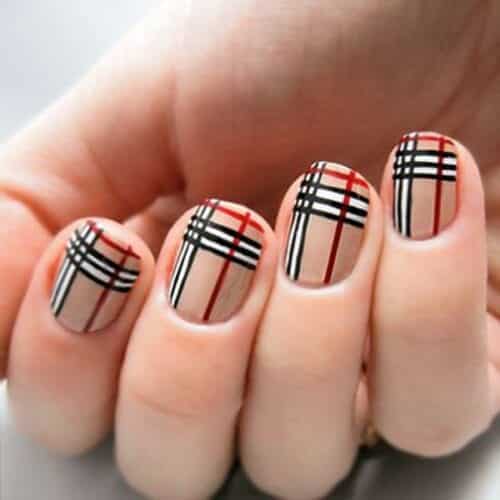 ↓ 46 – Nail Art with White Sweater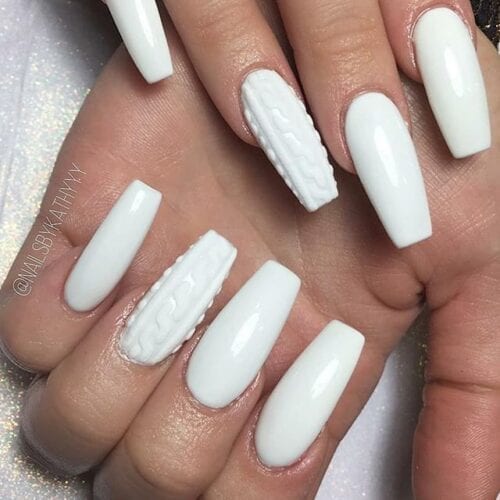 ↓ 45 – Jumper Patterns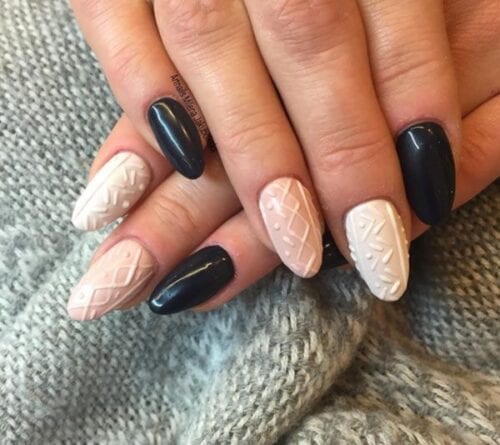 ↓ 44 – Leafy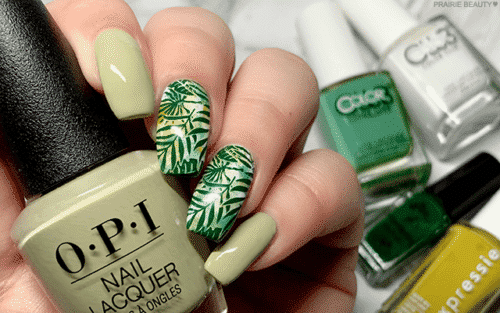 ↓ 43 – Manicure Ideas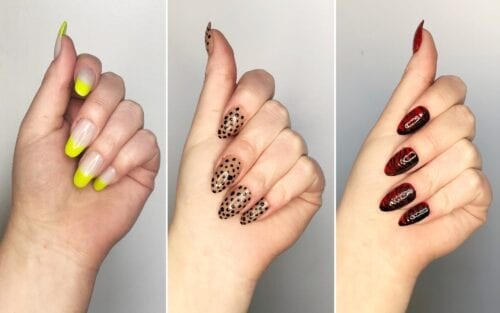 ↓ 42 – Easy DIY Winter Nails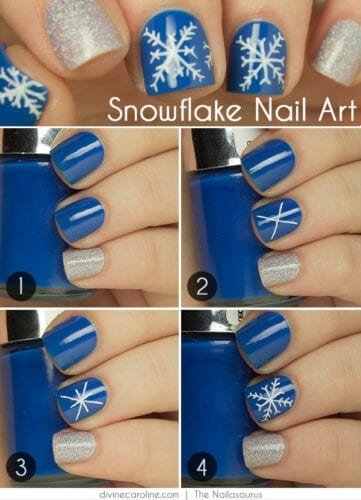 Via
↓ 41 – Stripes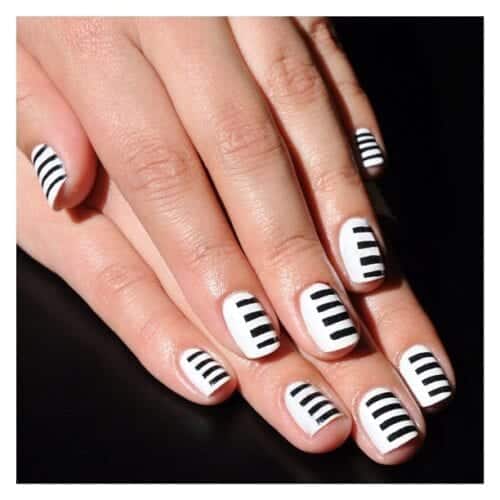 ↓ 40 – Eye Candy
Here's How to do Metallic Nail art with a DIY metallic Nail Tutorial.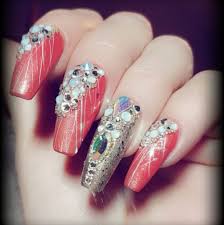 ↓ 39 – Funky in Nude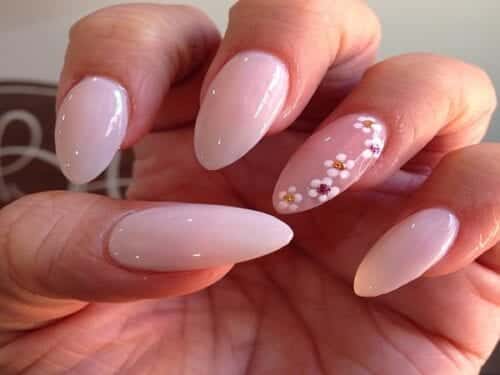 ↓ 38 – Posh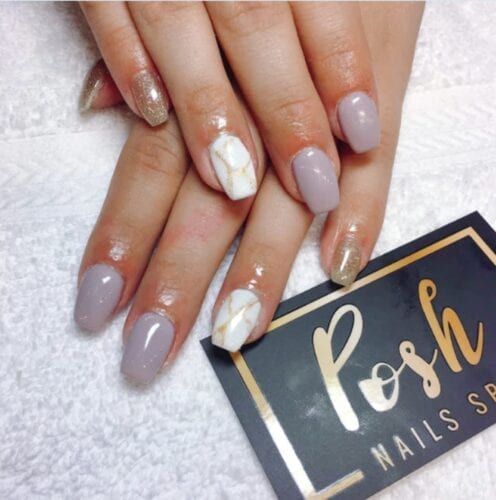 ↓ 37 – Sugar and Spice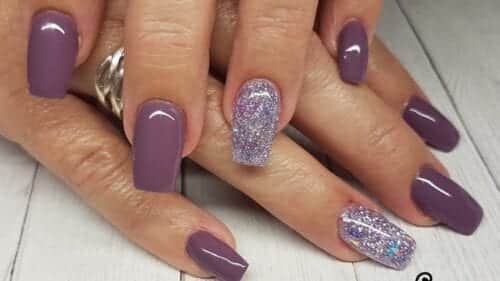 ↓ 36 – Fiercely Bold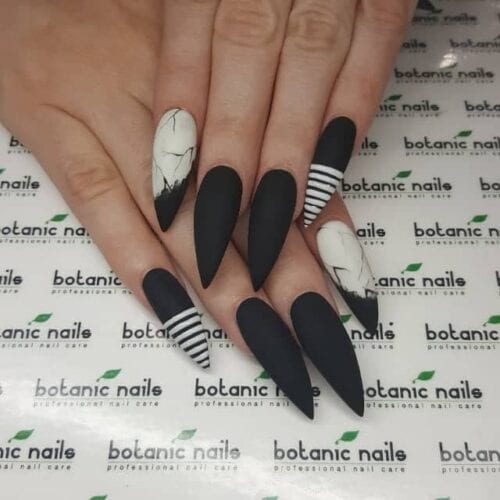 Via
↓ 35 – Winter Beauty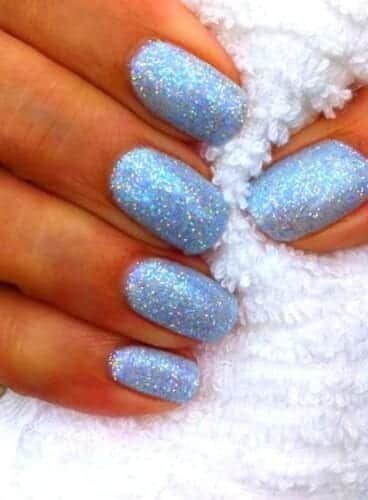 ↓ 34 – Bring Out the Confetti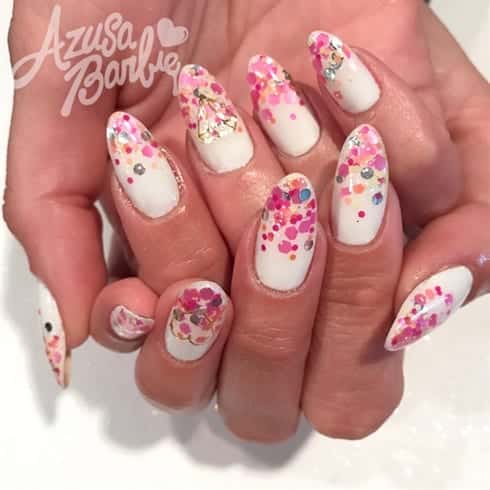 ↓ 33 – Playing with Bling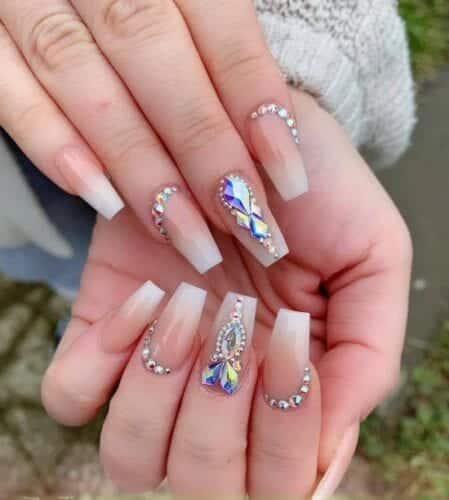 ↓ 32 – Serious Business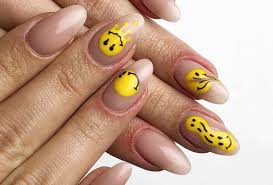 ↓ 31 – Divine Beauty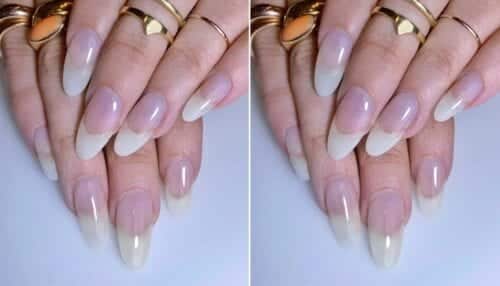 ↓ 30 – The First Snow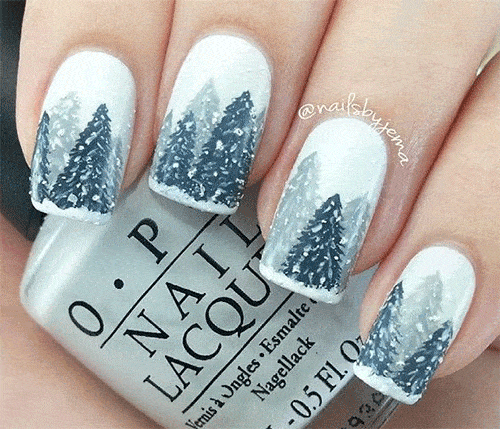 ↓ 29 – Unique and Glittery Colours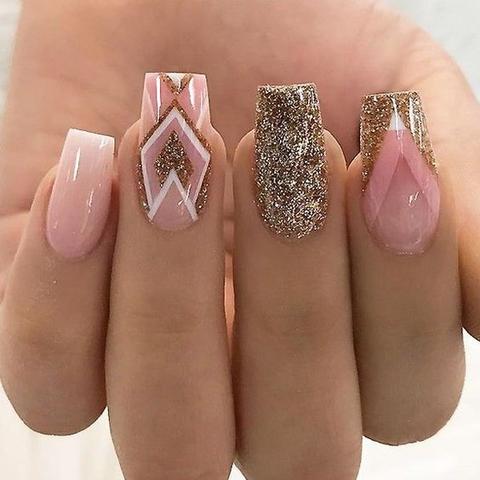 ↓ 28 – Polka Dot Nail Designs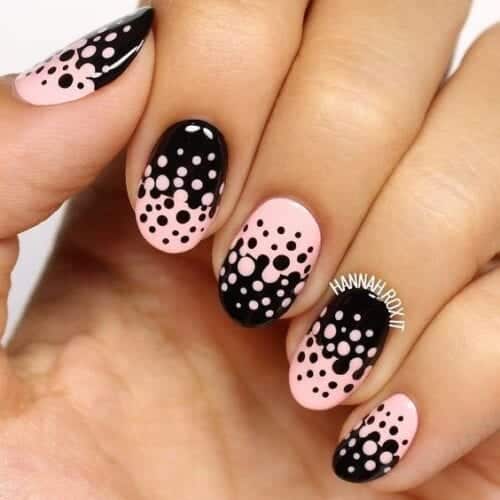 ↓ 27 – Black and Pink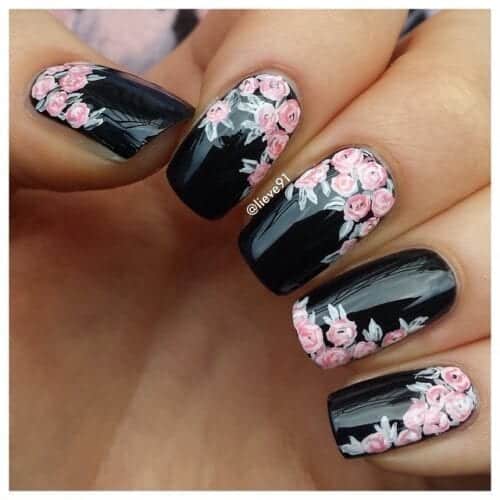 Via
↓ 26 – Little Hearts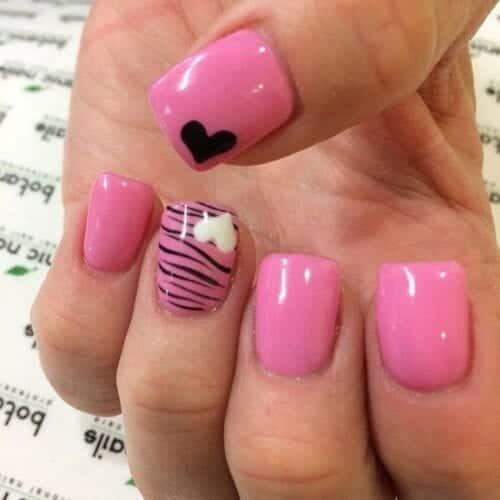 ↓ 25 – Colours to Go with Your Winter Sweaters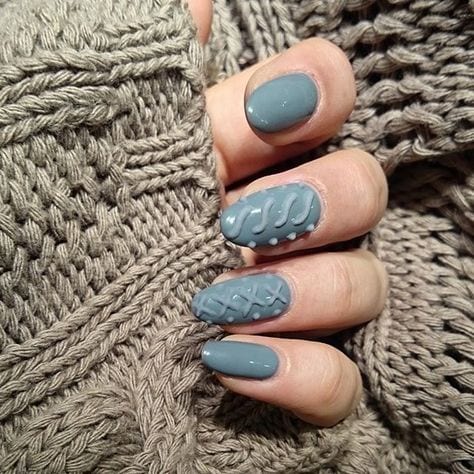 ↓ 24 – Brown Nail Art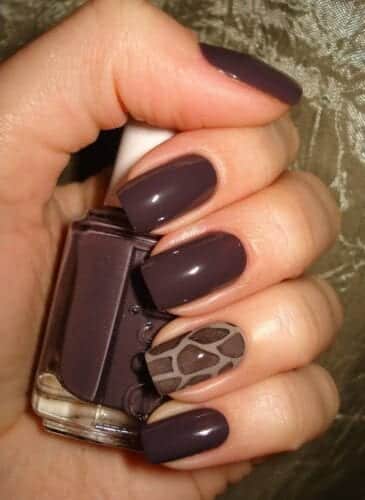 ↓ 23 – Eye Catching Colours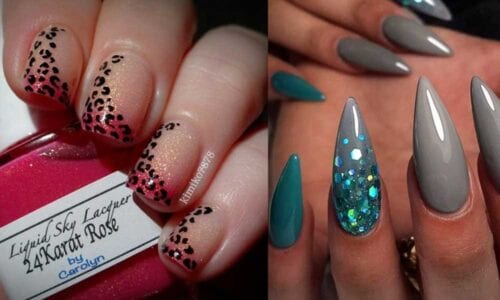 ↓ 22 – Blue Drama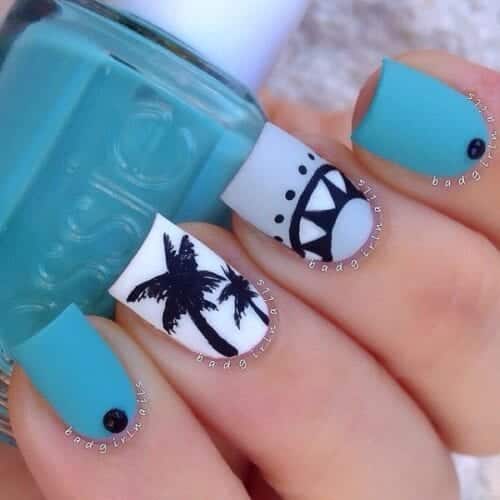 ↓ 21 – Manicure Nail Art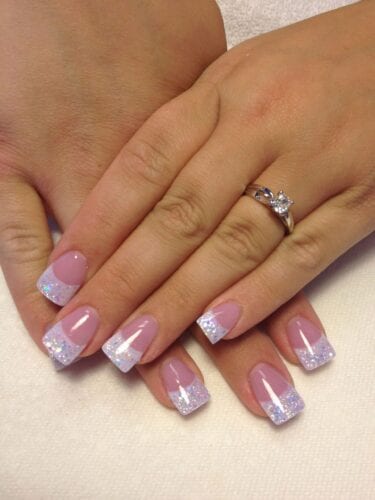 Via
↓ 20 – Hot and Happening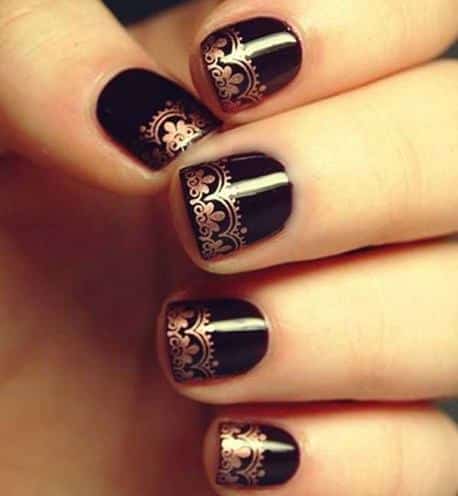 ↓ 19 – Pretty Matte Colours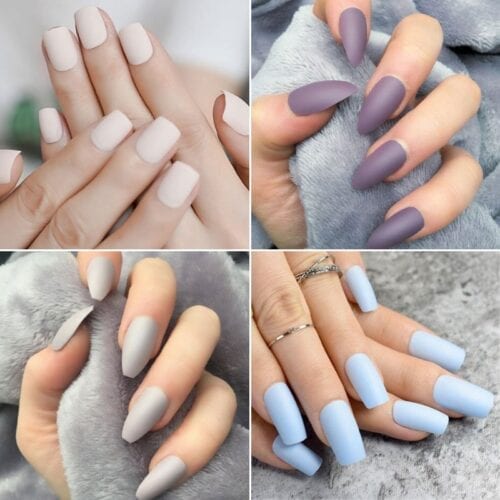 ↓ 18 – Glitter Loving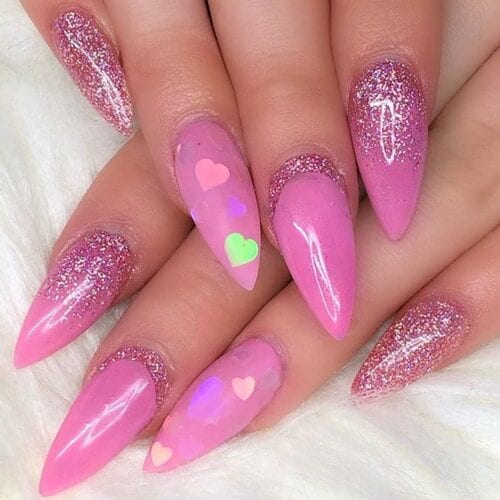 Via
↓ 17 – Gold Spark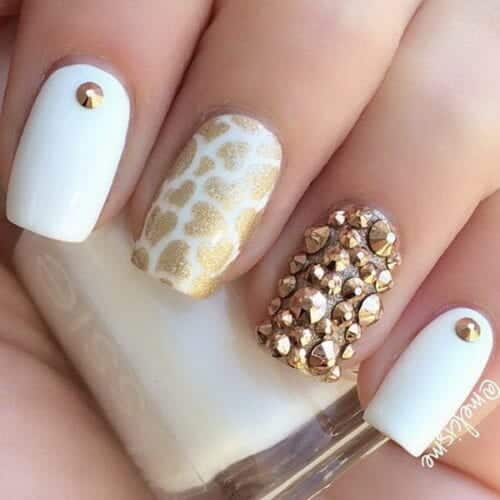 ↓ 16 – The Classic Black and White with Vintage Vibes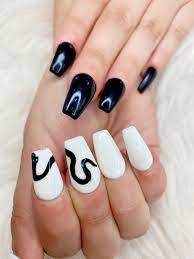 ↓ 15 – Quick and Simple Nail Art for Chilly Nights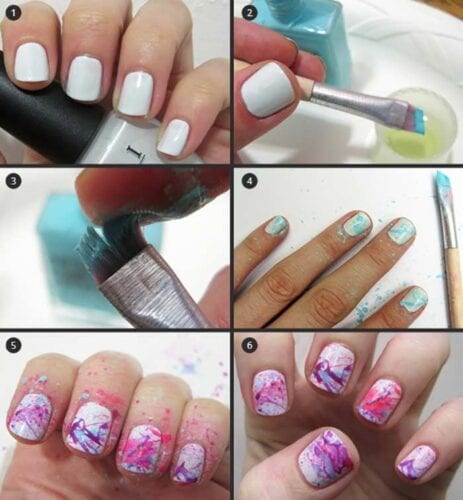 ↓ 14 – Simplest Nail Art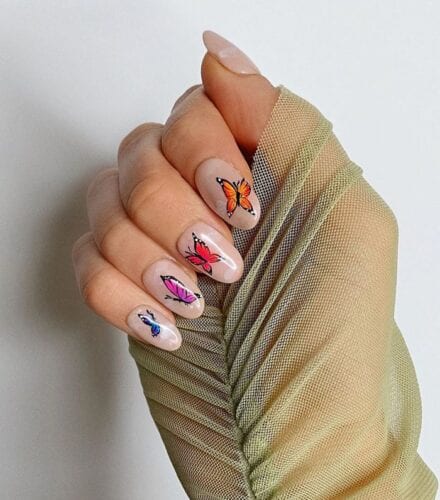 ↓ 13 – Purple and White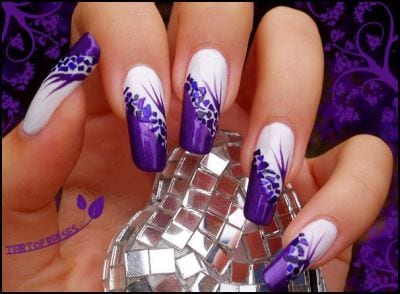 ↓ 12 – MAC Nail Polishes
MAC nail polishes are a bit heavy on the wallet as compared to other low-end options but they are surely worth the money. Their shine sets them apart and they can stay fresh for years, unlike the cheaper nail polishes which start getting thick and dry after just a few uses.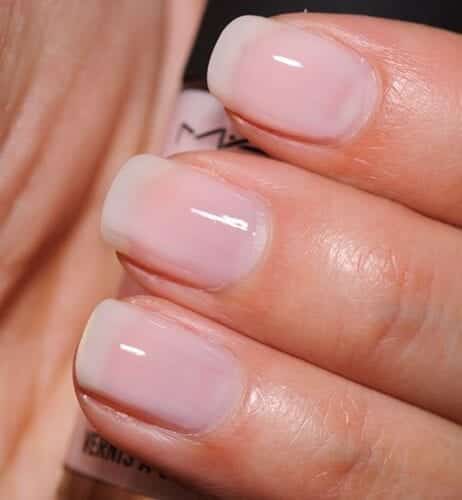 ↓ 11 – Some Nice and Affordable Nail Colour Brands
One of our favorite nail colors this year have been by a relatively unknown brand named Zoya. They produce natural nail polishes that are very long lasting and they come in a huge range of colours and hundreds of them are the winter colours that you would want in your collection.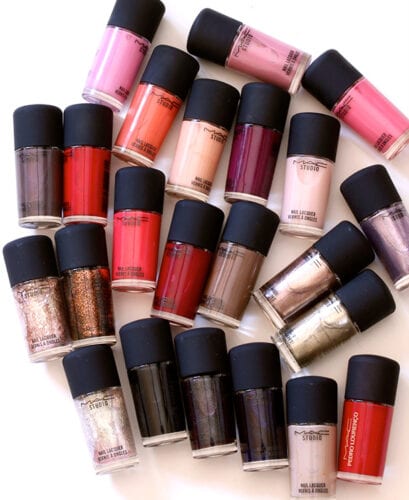 ↓ 10 – Glossy Winter Nail Colours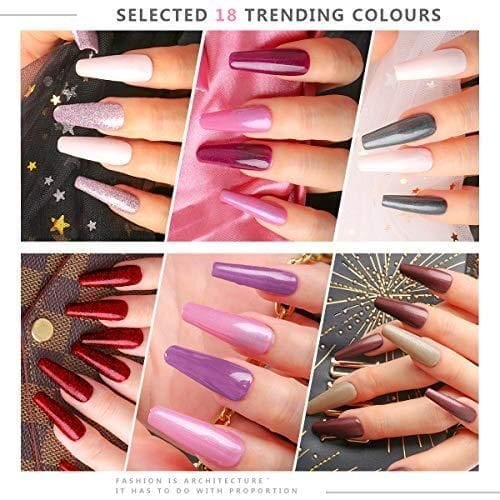 Via
↓ 9 – Cool Winter Colours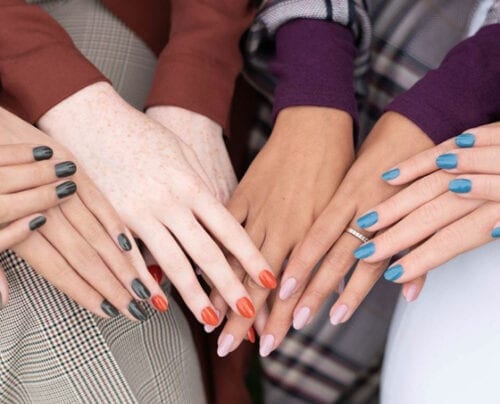 ↓ 8 – Matte And Geometric Designs
↓ 7 – Pretty in Pink Nails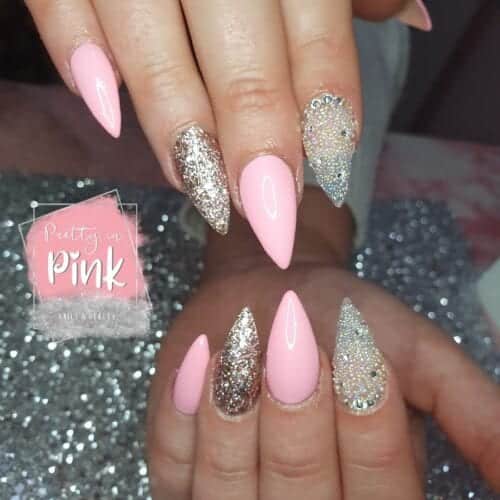 ↓ 6 – Black and Silver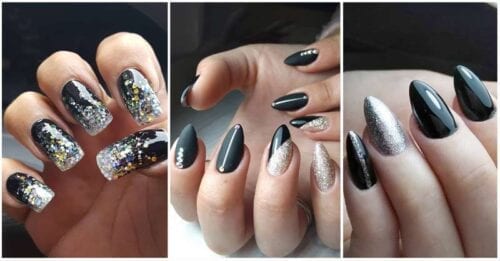 ↓ 5 – Cute and Easy to Do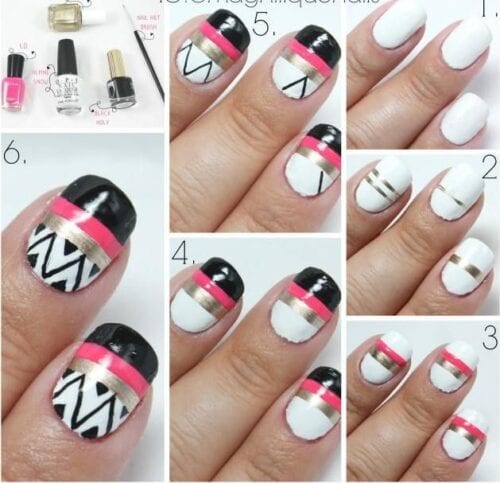 ↓ 4 – Grey and Pink
A sweet and pleasant colour combination for the season. These colours work together really well in not just outfits but also on your fingers.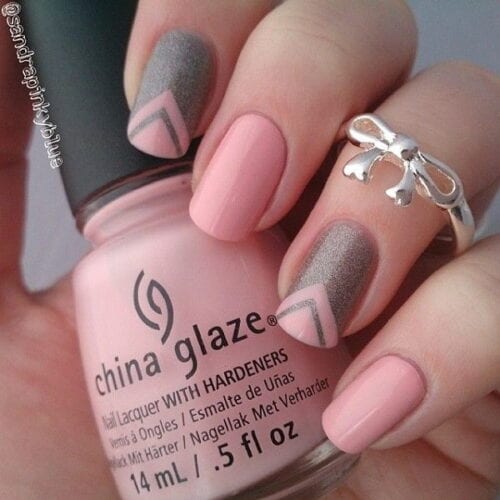 ↓ 3 – Ombre Nail Art for Winters
Ombre nail art looks absolutely majestic and yet you won't believe how easy it is to do on your own. All you need are two of your favourite nail colours and a piece of sponge. You can use the sponge to create the ombre effect by blending the two colours together with it. It's pretty much the same concept as applying eyeshadow so all you need is a little practice and you'll master this awesome technique in no time.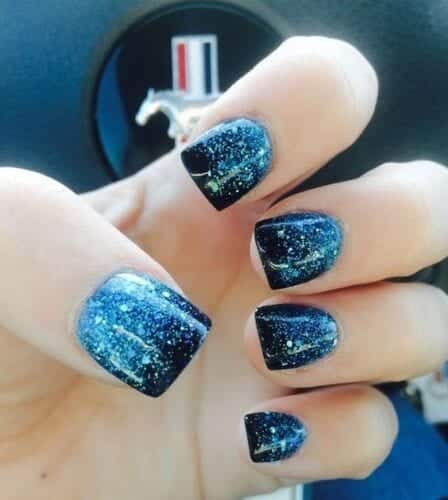 Via
Here's a simple tutorial to help you start off your first ombre project.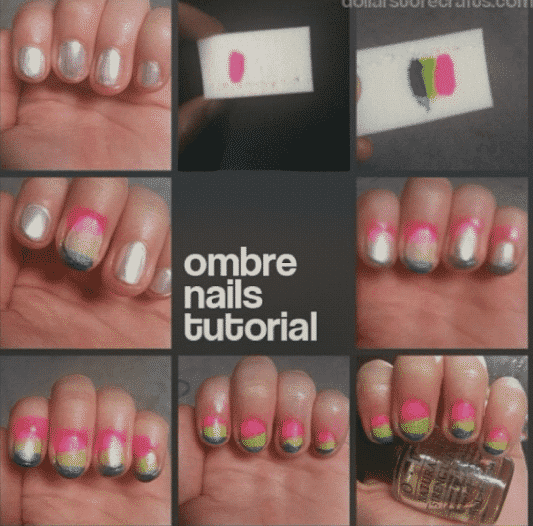 ↓ 2 – Matte with Touch of Acrylic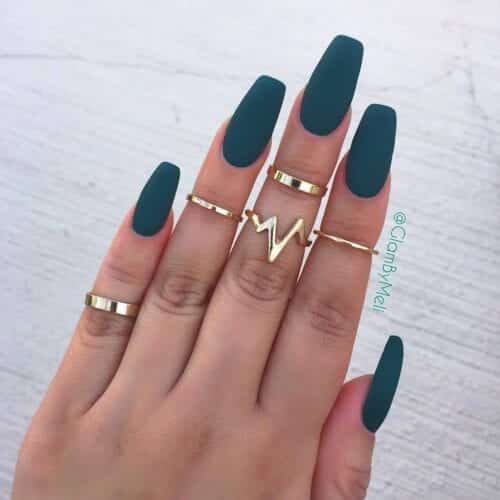 ↓ 1 – Christmas Feels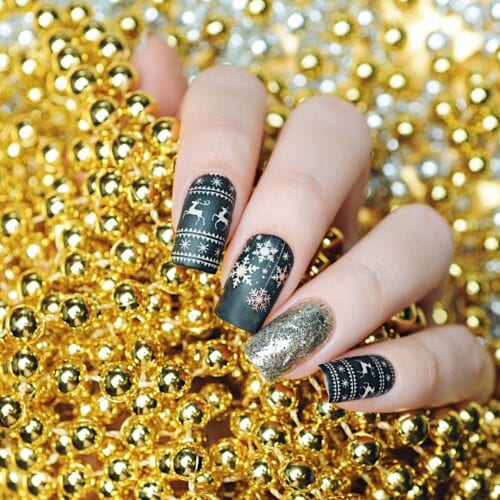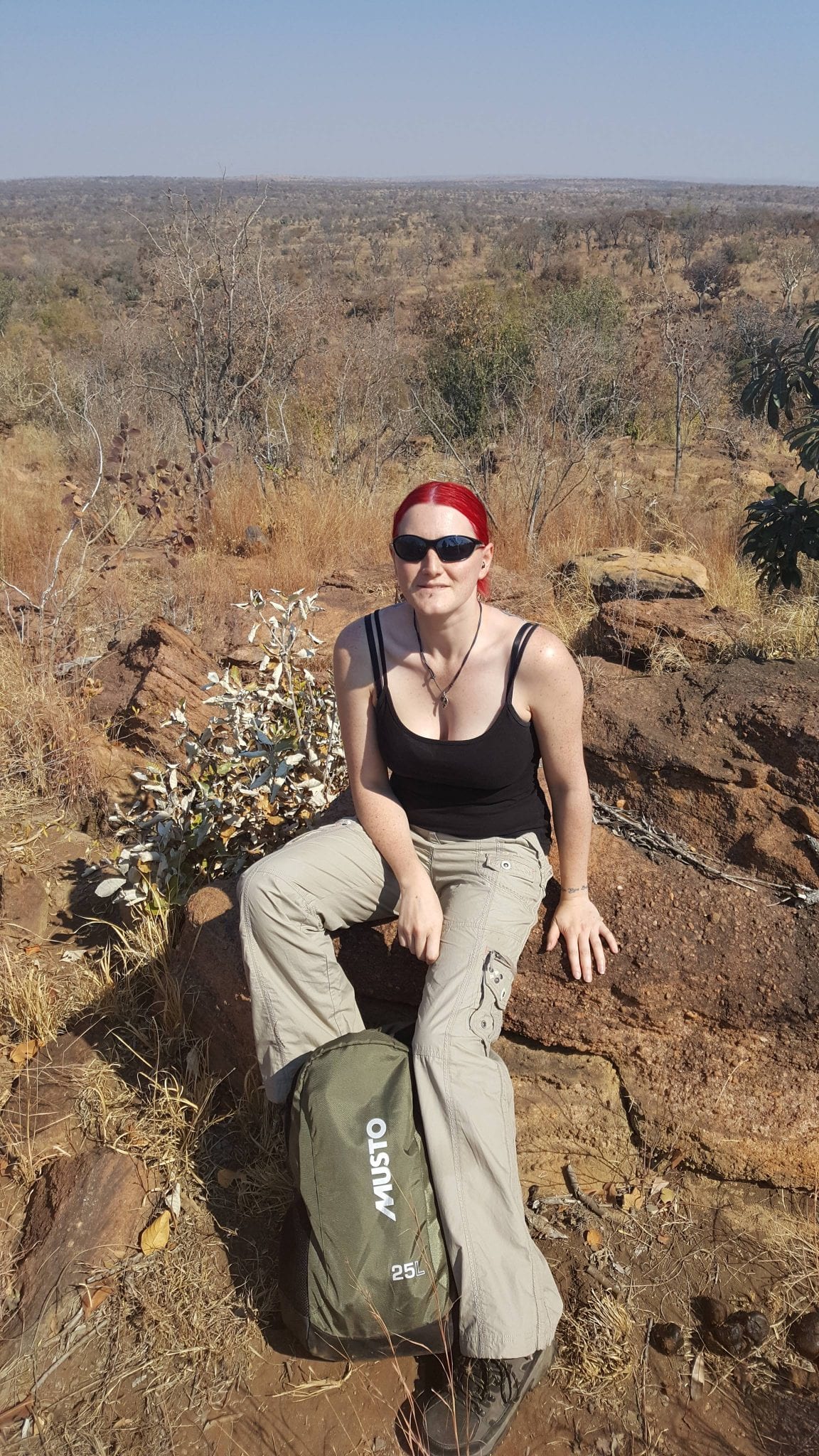 Caz, aka Vixen, has been freelance creative writing for several years. She has a lot of experience in different fields including high street fashion, tattooing art, and even the gothic and historical costumes. Caz has a Diploma in Fashion and Textiles and also a Bachelors Degree in Historical Costume and Corsetry. Her passion lies with gothic design, corsetry and any other styles considered to be taboo or unusual. Style-wise Caz has a love for Vivienne Westwood and her take on the punk era. Although Caz loves the weird and wonderful, she has a deep love for all fashion and allows this to show through her work.