Cute Pink Nail Designs: Are you a nail paint lover? Do you love to paint your nails with unique designs and art? A majority of females love to paint their nails and like to be creative with their nail art. There used to be a time when nail paint meant wearing just a single colour and that was the end of it. The times however have changed now. Girls and women alike, prefer to be creative now.
When it comes to choosing a colour for your nails, the options are numerous. The best and the most suitable still remains to be pink. When you hear the name of the colour pink, you might imagine a boring plain pink, but that's where you are wrong. There are so many ways to paint your nails with pink colour that you might find it surprising.
Pink Nail Art
Pink nail designs with glitter, or stamping different shapes over your pink is popular these days. It all depends on the occasion though. Make sure you keep the occasion in your mind while going for a pink manicure.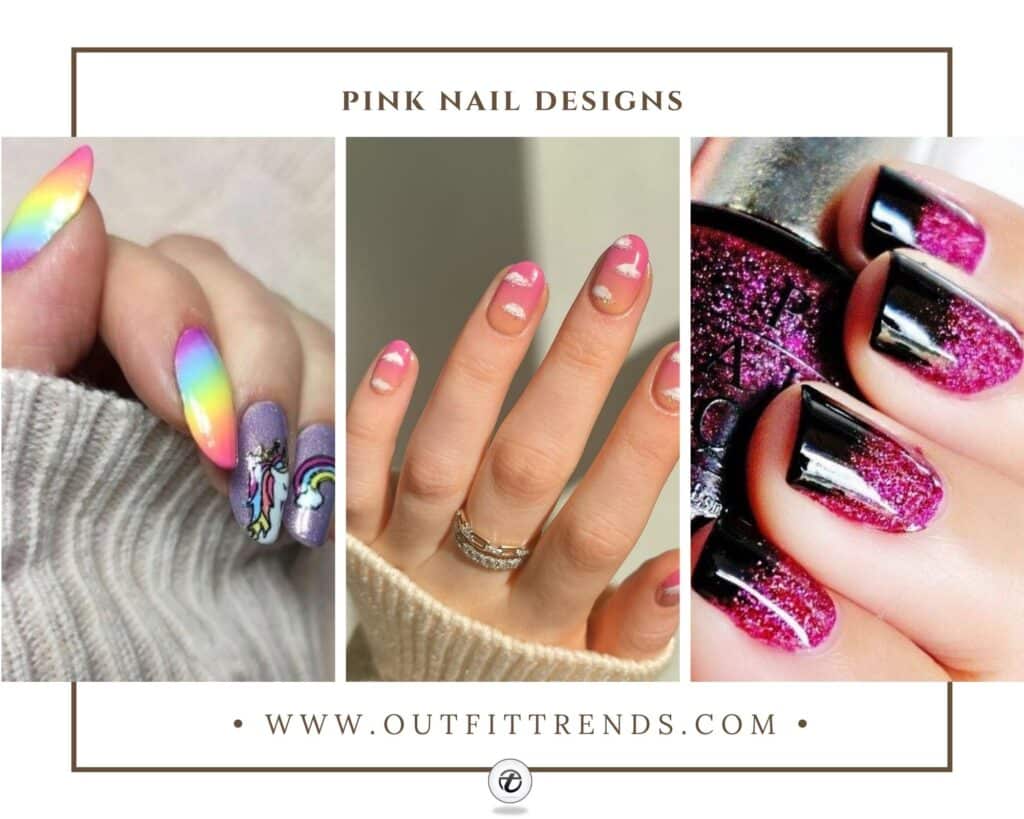 Tips
Always clean, exfoliate and scrub your nails before going for a pink manicure.
Apply rose water a night before you apply pink paint. It will make your nails shiny and your nails would look healthy. If you apply rose water daily, that is even better.
Always apply a base coat before you go for your pink manicure. It protects your nails.
Check you allergies beforehand. Your paint might have any chemical that your skin is allergic to.
Paint your nails according to the place and occasion. If you are going to the office, you wouldn't want to have your nails painted pink with glitter.
If you are going for a dual tone nail design, be mindful of the color combination.
20 – With Glitter
19 – Rainbow
This might be the one for you if you are looking for super cute and stylish nail art. Pink won't be boring and dull when you paint your nails with rainbows on them.
18 – Square Shaped Nails
Do you like your nails in a square shape? If yes, this one is for you. Go a bit different and unique with your nail art. Paint your nails with bubblegum pink and be creative with painting. Paint your nails in different shapes, for instance, put splotches of nail paint on one or more fingernails. Finish your nail art by sticking a few rhinestones at the base of your nails.
17 – For Halloween
Looking for inspiration for a Halloween-themed pink manicure? You can take your inspiration from this design. Paint your nails with different shades of pink like bubblegum pink, shocking pink, and watermelon pink. Afterward, using a nail art machine, draw different Halloween-themed objects such as spider, spider web, bat wings etc. Now you are all set for attending your Halloween party.
16 – Teenage Girls
Teenage girls often love glittery nail designs. If you love pink and glitter, then this design with glitter is for you. Paint your nails with glittery gold nail polish at the base and hot pink at the top. This design will make your nails sparkle and stand out in the crowd.
15 – For A Meeting
Are you looking for decent and professional-looking nails? then this one is for you. Appear all professional, yet stylish wearing this fuchsia nail paint. This design would make you look like you have everything under control.
14 – Party
This nail design has all elements of glamorous and elegant design. I would suggest this one for your upcoming party. Paint your nails with a blush paint. Then throw some glitter over your nails and you are all set for your party.
13 – When To Go For Light Pink Nails?
This design is for everyone out there. It is one of the most decent, elegant, and stylish designs. This design is ideal for book club meetings as well. It gives bookish vibes. In addition, you can go for this design on almost every occasion. You can check Abstract Nail Art Ideas for more inspo.
12 – For Dark Skin
Gone are the times when pink was considered a "no go' colour for dark skin. Be a bit creative with your nail art with this taffy nail paint. Wear a base coat and then paint your nails with different shapes like this one. This design is simple as well as stylish. You can adapt this one for different occasions.
11 – Floral
These floral pink nails are for all flower and spring lovers. So if you are one, go ahead with this one. Add these beautiful floral designs to your nail art and show off your nails whenever you can! You can trim your nails if you want or keep them long, both would look good.
Keep in mind that the length and the shape of your nails will alter the look of the same floral design. If your nails are long, they might give a bold look, but that doesn't mean it is a bad look. You can definitely go for them if that's what you like.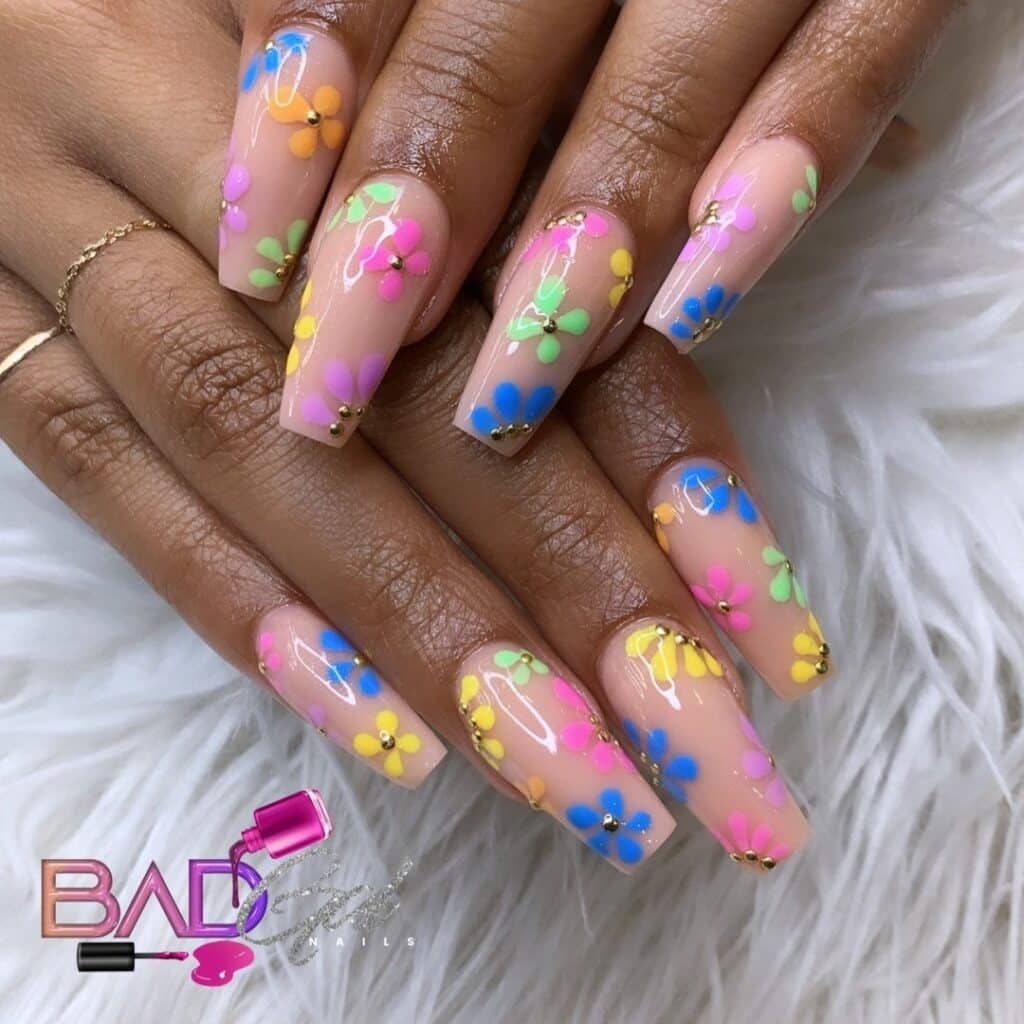 10 – Pink and Silver
For those who love decent and simple nails, this is the one for you. This elegant design will make you look sophisticated wherever you go. This design gives off positive vibes, so go with this design confidently.
9 – How To Paint Your Nails With Pink And White Color?
There was a time when pink and white nails were considered to be out of fashion, but it's not true anymore. Since a few years back, many celebrities have been seen with pink and white nail designs and they have been slaying this look ever since.
Everyone is getting creative with pink and white nails now. For instance, this design is quite famous these days. Pink, white, and glittery nail paints have been mixed together to create a gorgeous look. You can definitely apply this one and flaunt it in your social circle.
8 – Elegant Design With Clouds
You couldn't find a more elegant nail design than this one. This design has everything. If you don't like monotone nails, then you can go for this two-toned nail art. Paint your nails with pink and salmon nail polish. If you want it to be more stylish, make clouds with dotting tools. Besides, this is the best one for sky lovers.
7 – A Black Outline
This design could never be outdated. It has its own charm and beauty. Hot pink is often viewed as bold and sometimes even flirty, so if you don't want to appear that way, outline your nails with black nail paint. This black outline will neutralize the hot pink colour and give your nails a modest look.
6 – Pink Wavy Nail Art
Some Women don't like top coating on their nails. You might be among them if you think you had too much of top coating of your nails with a certain colour. If that is the case, you can always rely on transparent nail polish for top coating. If you don't want your nails to appear too simple, make use of your nail paints of different shades. Mix dark pink and light pink shades for your art. Make wavy lines with a dotting tool and there you go, all set for showing off your nails wherever you go.
5 – With Polka Dots
If you are going to a themed party or a bridal shower, where you have to go all cutely dressed up then this one could be your source of inspiration.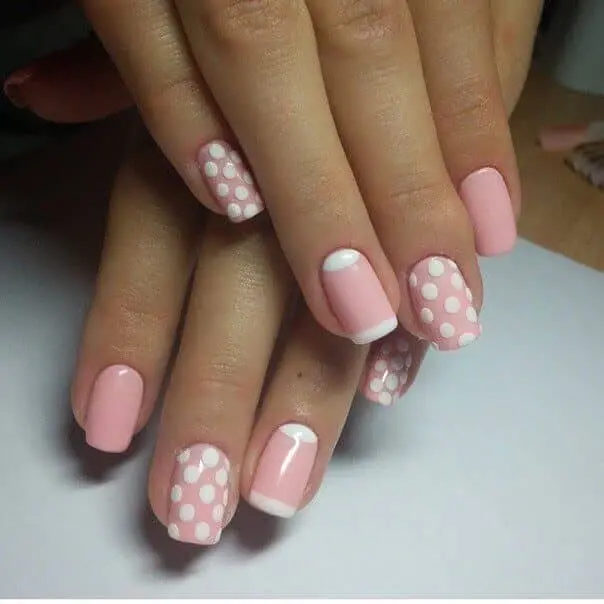 4 – Gems
If you want to get the feels of the sky indoors, this one is the design for you. You wouldn't be missing the sky if you get its feeling around you everywhere. What I mean is make sky-themed art on your nails and you will not miss the sky when you are indoors.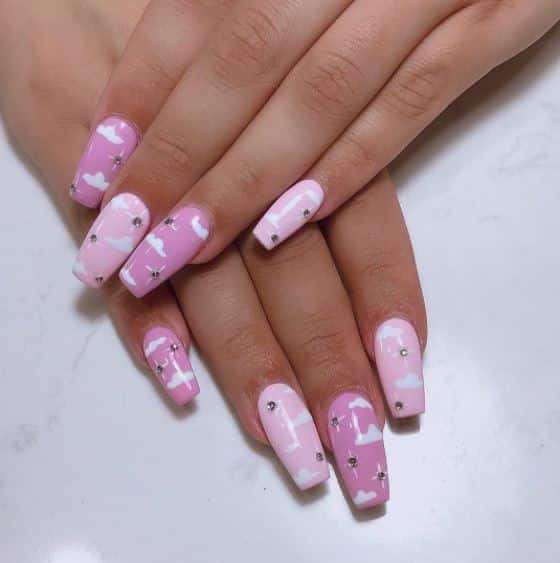 3 – Pink And Black Glittery Nails
Do you love nails with glitter? Are you out of ideas for glittery nails? If yes, then you can follow this design. Simply take a pink glitter nail polish and paint your nails with it at the base till half of your nails are covered. For the upper half, take a shiny black nail paint. Paint your nails with it.
2 – Rhinestones Nail Art
Go glam this year and add some rhinestones of different sizes to your nails. Moreover, you can add some stickers to your nail art. Your glam nails are ready to slay. This is an Abstract Nail Art design that you should definitely try out.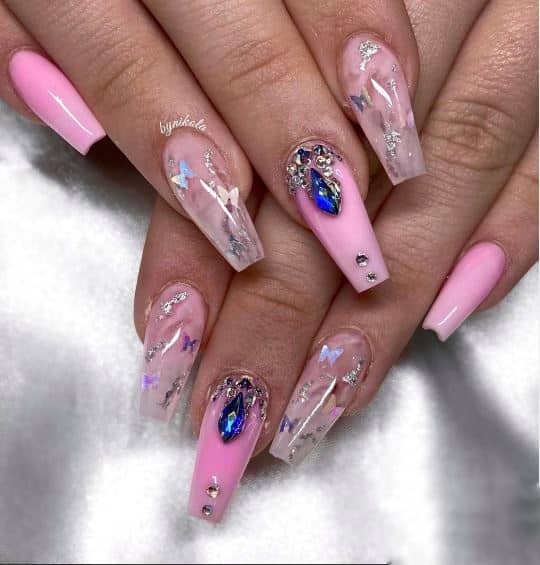 1 – With Smiley Stickers
Smileys are never going to be out of style. Everyone loves smiley stickers. You can spread smiles everywhere by adding smiley stickers to your nails. All you have to do is paint your nails with pink (glittery or matte, the choice is yours) and stick some smiley stickers on your nails. These smileys will remind you to smile no matter what happens.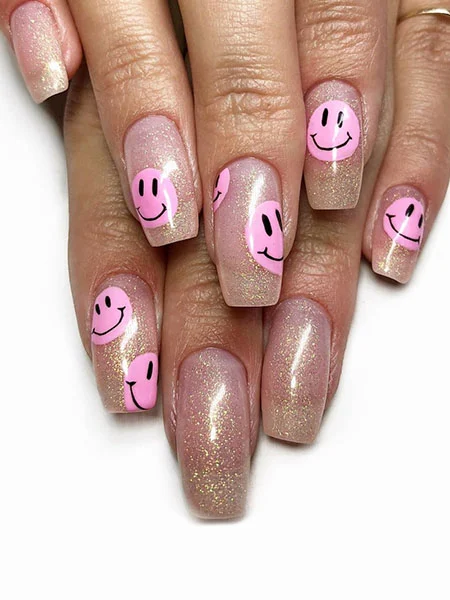 Frequently Asked Questions
Q. What is the most popular nail color for 2023?
Ans. Different people would answer you according to their own expertise, preference, and opinion. However, the colours that are popular are red, burgundy, dark blue or purple, and off-course pink. Many other colours are also popular like orange-tinted and other dark colours. Pink, specifically hot pink and shocking pink are trending these days. Go for a two-tone nail paint design and you are going to love it.
Q. Are pink and white nails out of style?
Ans. Pink and white nails were considered to be outdated a few years back. It was considered too old-fashioned and boring. Recently, this trend is back. Many celebrities are seen going for a French manicure with beautiful pink nails with white tips. Famous celebrities like Bella Hadid and Ariane Grande have been seen with pink and white nails. So no, pink and white nails are not out of style.
Q. What is the most popular nail shape this year?
Ans. Every occasion demands a different nail shape and nail design. The nail pros consider oval-shaped, round-shaped, square-shaped, stiletto, almond, or coffin-shaped nails to be popular and glamorous. The nail shape determines how you appear i.e, girly, innocent, mature, or someone who has everything under control. So choose the shape of your nails wisely and go for one of the aforementioned beautiful nail designs. If you like short nails then here are some manicure ideas for short nails.