Outfits with converse. Is it possible to have a closet without converse? NO! Well this is the simplest thing to answer, no matter what age, what size, everyone owns a pair of Converse sneakers. It is said women never compromise on their style but converse is one of the most stylish yet comfortable thing owned by them. It may be a perception that converse don't go well with cute dresses. Well, let us prove you wrong.
With Converse Shoes, you can never go wrong. These are comfortable yet never out of fashion. These can be literally paired up with anything and yet give a modern look.
How To Wear Converse With Different Outfits
We bring you some exciting looks that can be carried with Converse.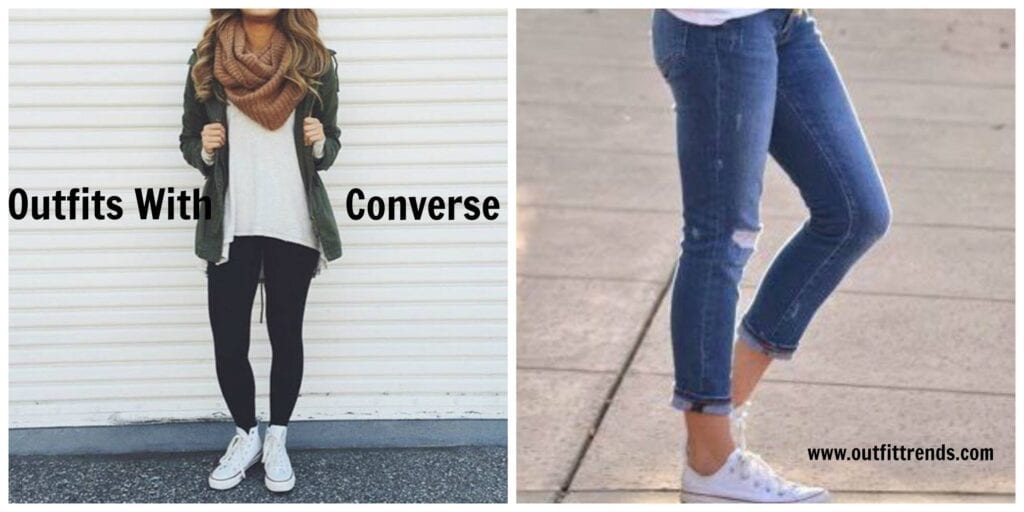 RECOMMENDED: Outfits with Cowboy Boots -19 Ways to Wear Cowboy Shoes
Look # 20: Converse Shoes for Casual Outings
Combine your dress with a pair of tights and Converse and head out and enjoy your day!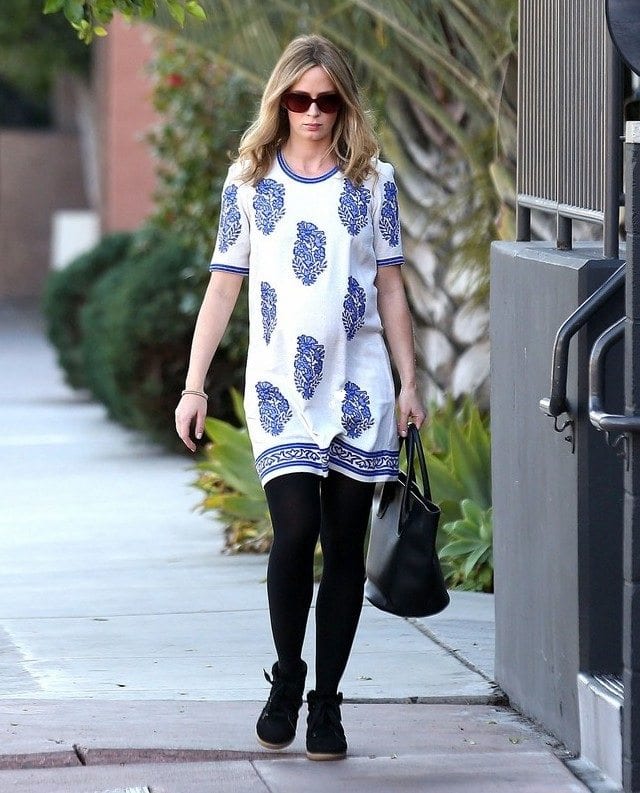 Via
Look # 19: Wear Converse Shoes to School/ College
Go for a plain dress, and pair it with Converse. This look can be carried easily to schools and colleges. Here are some more Perfect Monday outfit for school&College Winter Season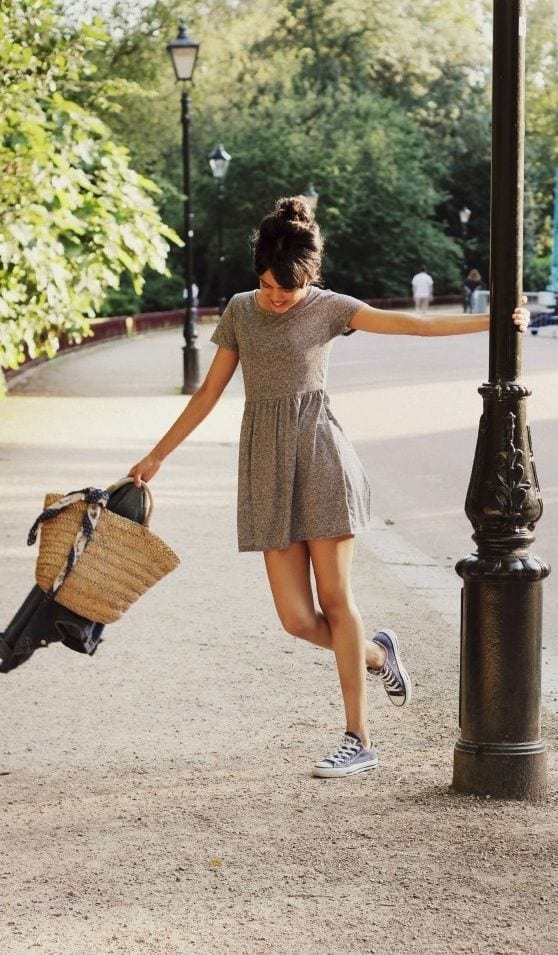 Via
Look # 18: Converse Shoes for Date Day
Not comfortable in heels, for a prom or date day? Don't worry wear Converse with your red dress and flaunt your style.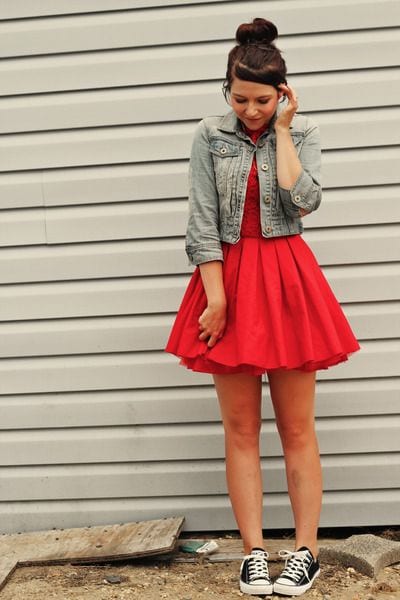 Look # 17: Everyday Hot Casual Look with Converse Shoes
Running errands, or out to take care of some duties, well dress up and wear Converse for extra comfort. Here are this Season's 12 Most Hot Casual Outfit Combinations for Girls.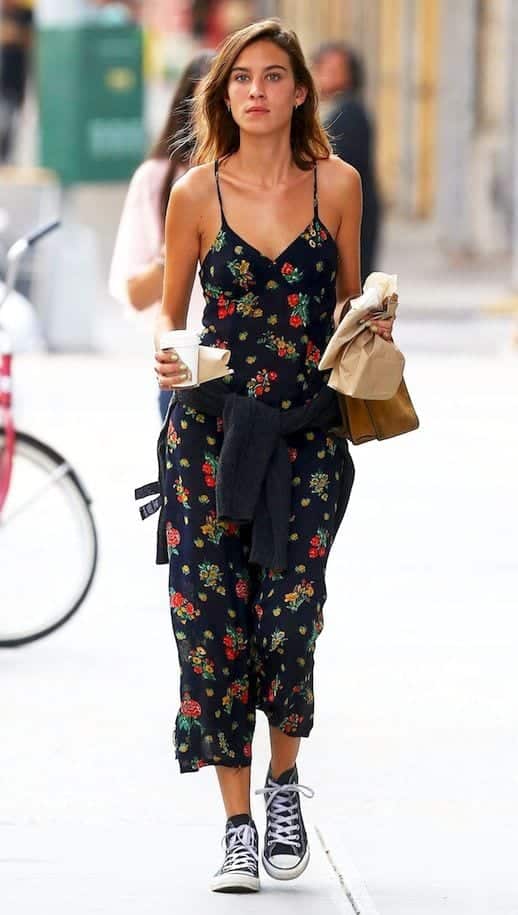 Via
Look # 16: The Daytime Look
For casual outings or day time look, combine a long dress with denim jacket and pull the look with Converse.
Look # 15: Converse Shoes for Work
You can totally wear converse at work and give yourself the complete office look.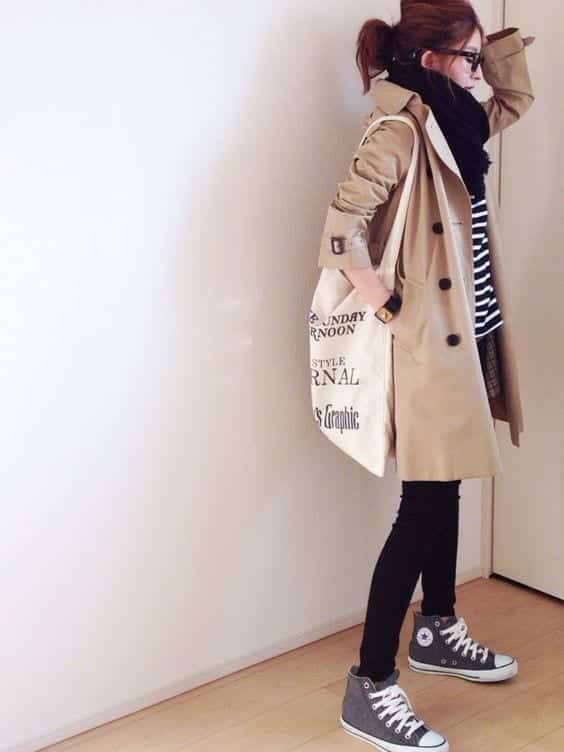 Look # 14: Long Coats, Always!
What's better than a long cheetah printed coat combined with shorts and sneakers. This chic look can be completed with a complimentary bold hand bag. If you love long coats then don't miss out these 15 Stylish and Cozy Women Long Coats for this Season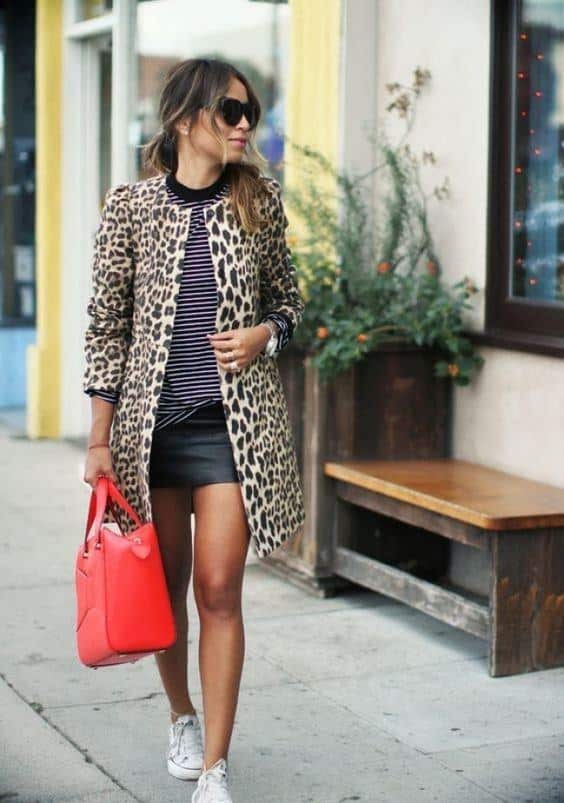 Look how's Selena Gomez carrying her long coat and Converse look!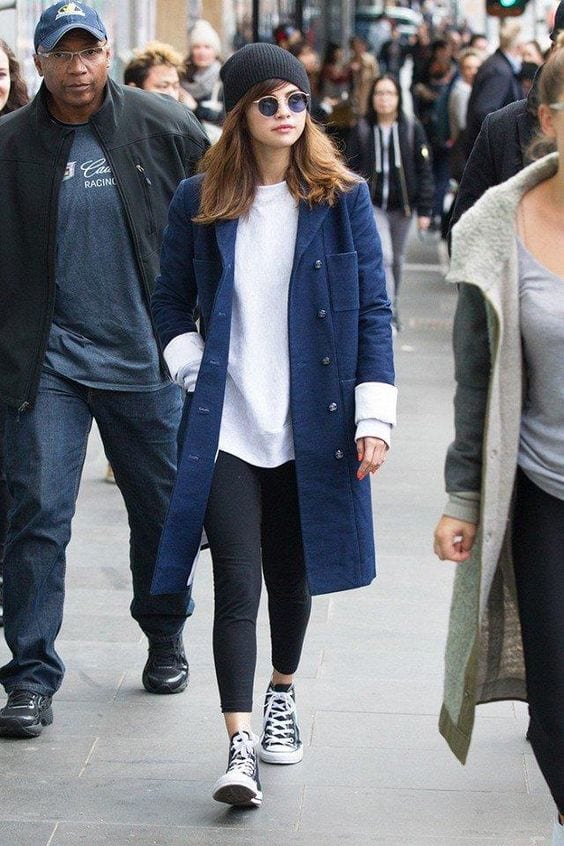 Look # 13: Some Colored Pants
Go for a simple sweatshirt and a colored skinny pant and pull it off along Converse. This gives an everyday casual look.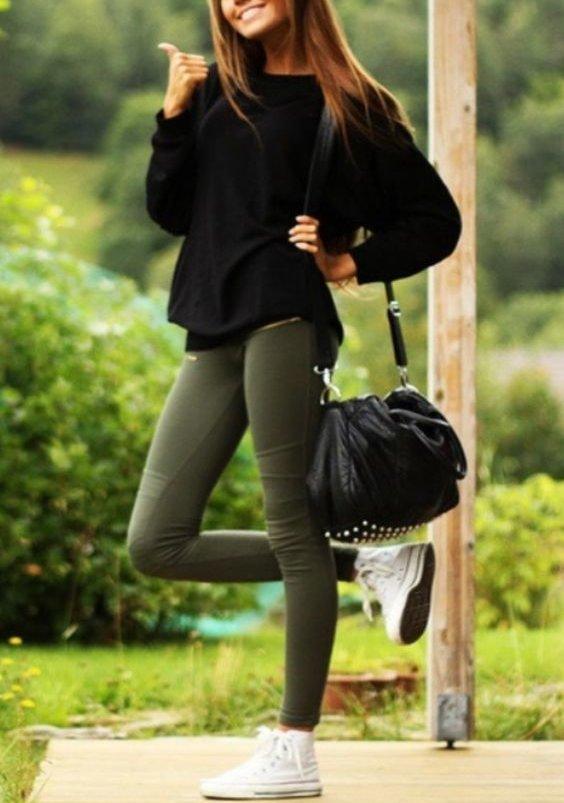 Look # 12: Converse Shoes with Denim Shorts
Denim and Converse, forever complimenting each other. Wear denim shorts or denim skirt and pair it up with jacket, so it gives a touch of sophistication with comfort. Add an X-factor to your denim outfits by wearing studded denim shorts, here are 25 Cute Outfits Ideas to Wear with Denim Studded Shorts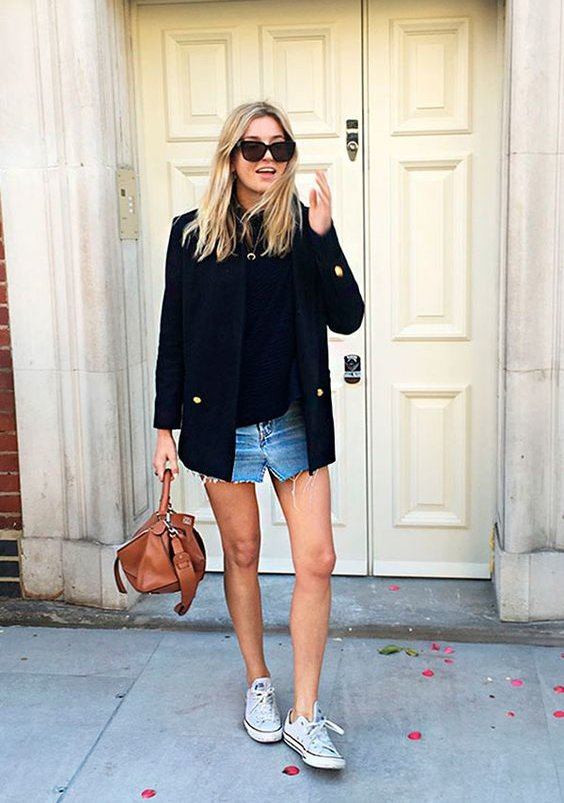 Look # 11: Let the Handbags do Magic
Fancy accessories or handbags also enhance the overall look. Like a fancy handbag can uplift the style from being all tomboyish to chic and girly. If you're looking for a nice handbag then check out these 13 Most Fashionable and Stylish Tote Bags for Women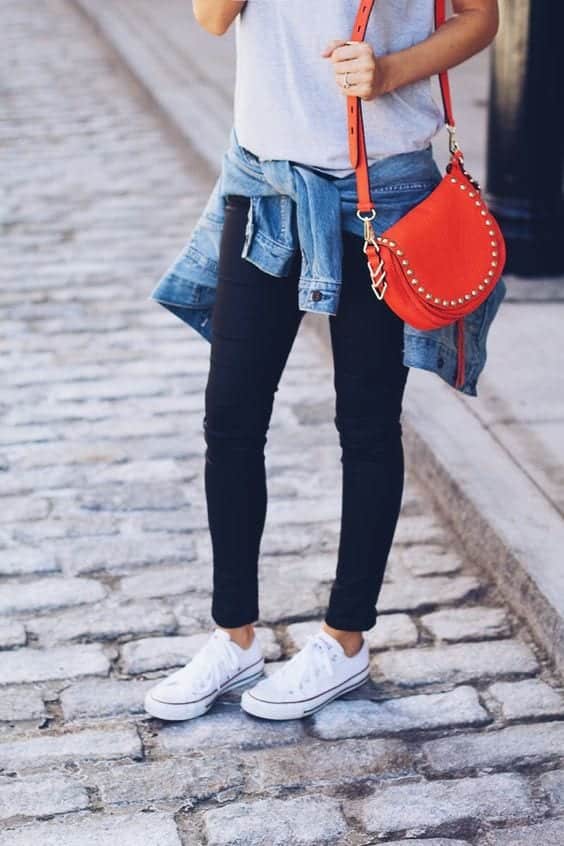 Look # 10: Going Formal
Women can also experiment with being all formal even in converse. Dresses along with complimenting accessories can give you a semi-formal look.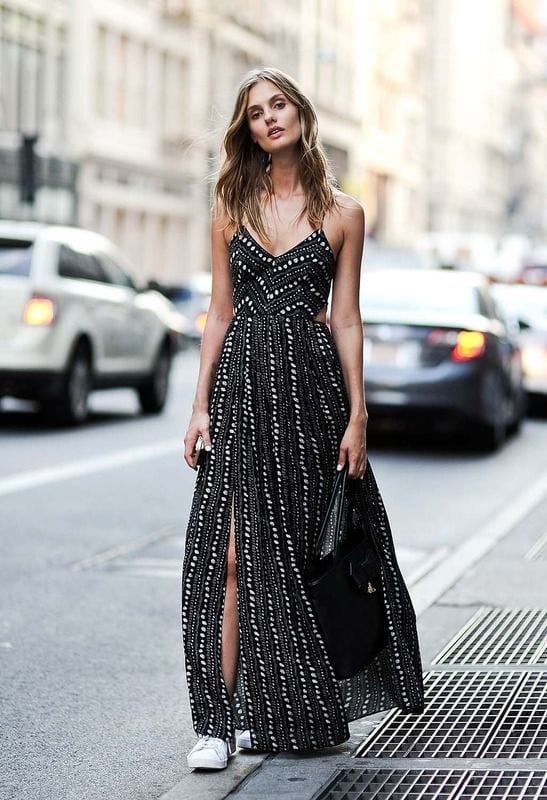 Look # 9: Winter Look
As always, women love winters. Winters provide with more options to experiment with styles. For a casual look, sweat shirt can be worn over a regular top paired with jeans and to complete the look wear sneakers.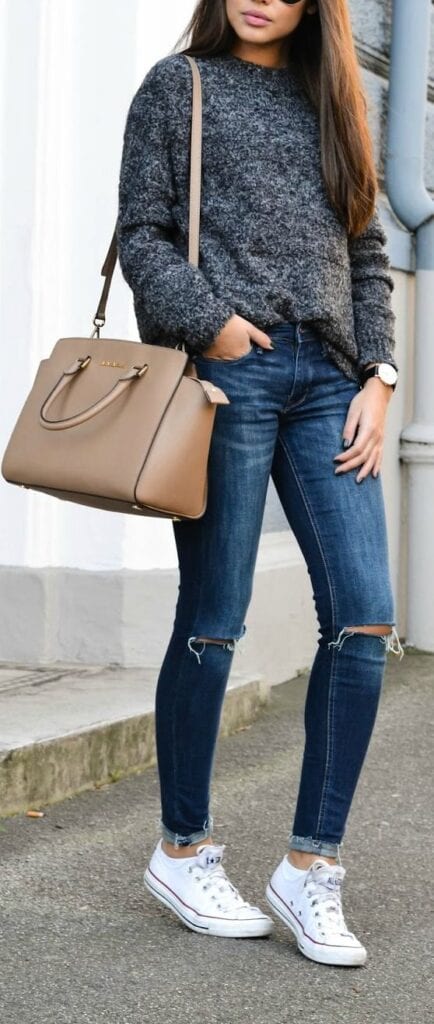 Look # 8: Black it Up
Black is always the solution, every single lady agrees to this. Wear entire black attire, be it a dress, a pair of pants and top or a black coat. Carry any colored sneakers with it, and look fab!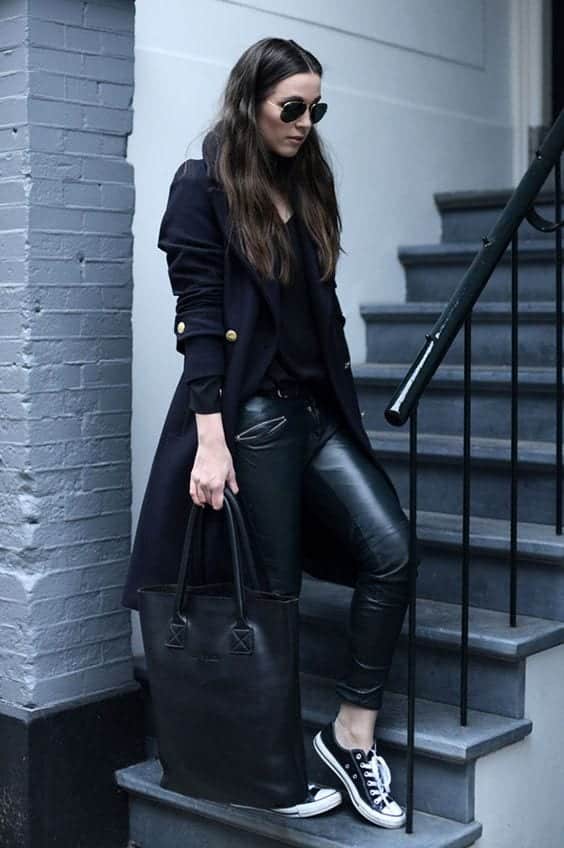 Look # 7: The Comfy Look in Black Converse
Long skirts vary from casual to formal wear, but combining these with Converse gives not only comfort but a bold style statement.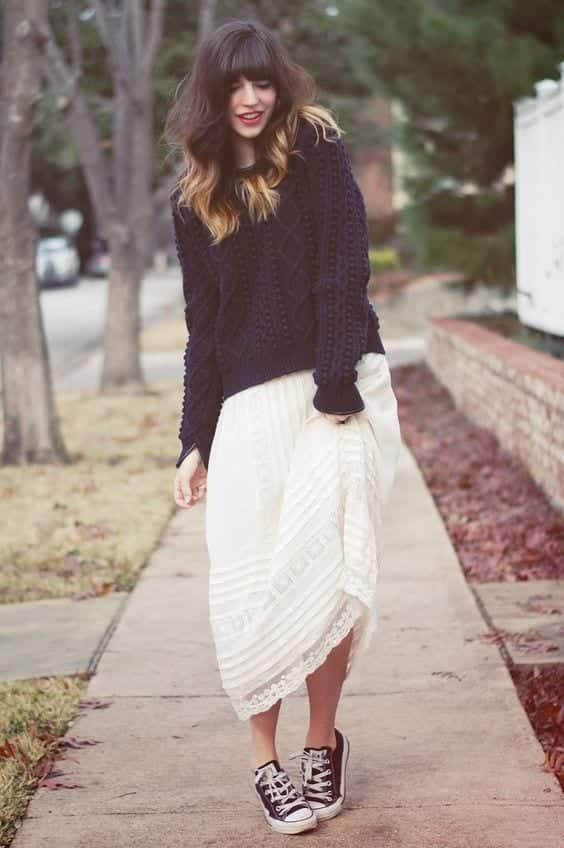 Look # 6: Wear Converse with Skinny Jeans
Art of wearing scarves never goes in vain. A plain dress, combined with a nicely worn scarf and Converse look beautiful and chic. To complete this look, choose from these 30 Ideal Shoes to Wear With Skinny Jeans To Rock Your Outfit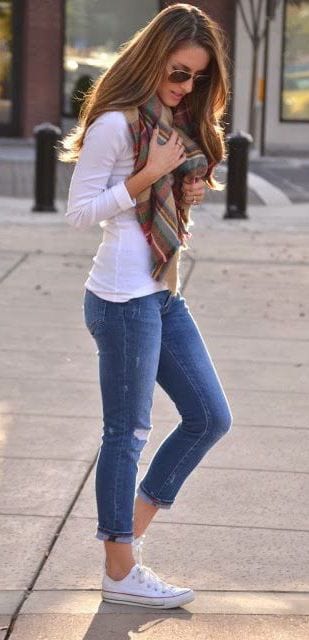 Look # 5: The Chic Look
Shoulderless tops keep their space in the fashion parade; these can be used to give a tough to chic look. Women can opt to wear them with sneakers to give a tougher look.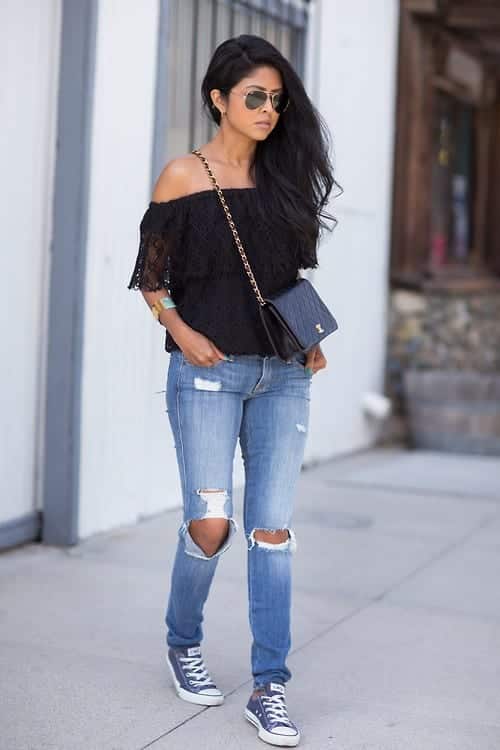 Via
Look # 4: Sweaters and Converse
The most worriless way to wear Converse and look super cool is to wear it with a sweater. If you find sweaters to be boring, then spice them up with tips from our Sweater Wearing Ideas-17 Ways to Style Sweater with Outfits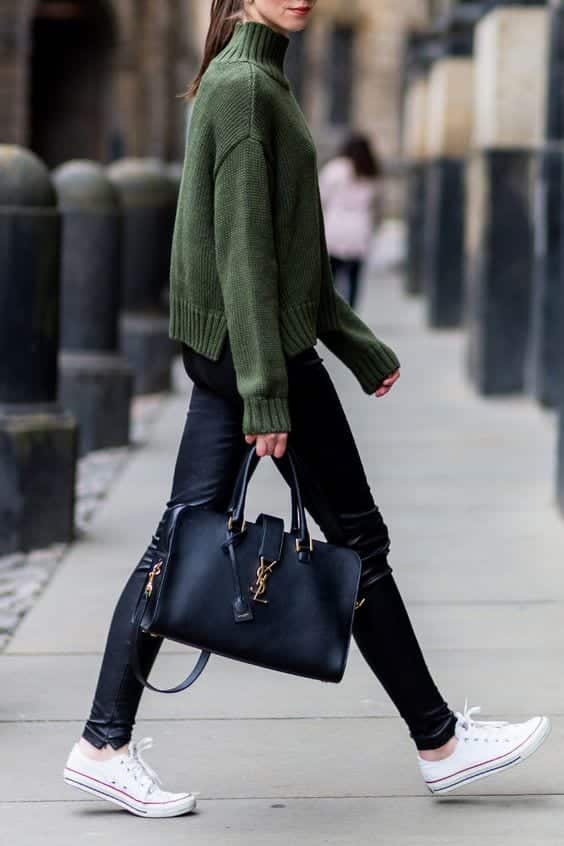 Look # 3: Cute Dresses and Converse
Women must stop worrying if they own too many dresses, because Converse look super cute with dresses. It gives a feminine look to overall attire.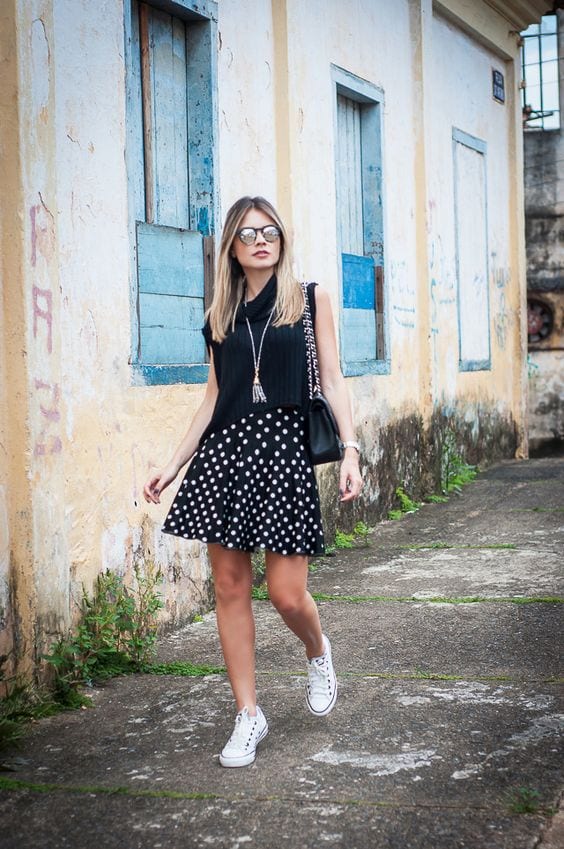 Look # 2: Jacket All the Way
Jackets are literally the best cover up in the world. Jackets go along with everything and cover up in dresses emergencies. So why not wear it along some cool Converse?
Look # 1: Summer Times Look with White Converse
For summers or on vacations, Converse can be worn with crop tops and shorts. Giving you style and comfort at the same time.