Outfits with Checkerboard Vans Sneakers: Over the years, Vans have not remained same, or they would have been long obsolete. The crew and designers have worked hard to keep them relevant to the style and preferences of the younger generation so that wearing these comfortable shoes would never go out of fashion.
There are now plenty of designs, colours, and styles of vans that you can choose to wear for different occasions. Checkerboard Vans are perfect to wear with all sort of dresses and events. You can style them with jeans, shorts or even midi dresses with ease.
The attractive design and colours make them versatile and charming. We have gathered 30 brilliant ways in which you can pair up different outfits with checkerboard Vans.
How to Style Checkerboard Vans
Don't wear your checkerboard vans with long or flared jeans or pants because that would hide the classic pattern.
It is better to go for ankle socks or knee high socks but nothing in between the length with vans.
Cropped pants or rolled jeans look very chic with checkerboard Vans.
Don't' wear vans with outfits that have too many colours or that will spoil the look.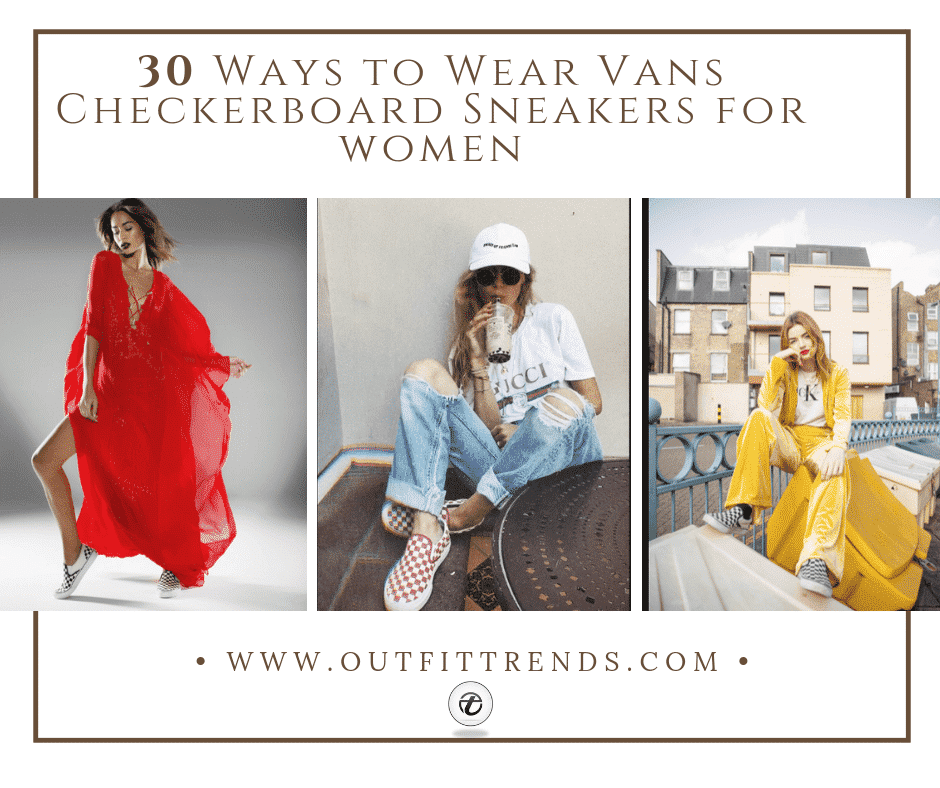 ↓ 30. Perfect for Lunch Date
Whether it is with family or friends, lunch date outfits can be a bit tricky to manage. If you are planning to wear your favourite checkerboard sneakers, go with something that is relaxed and easy to carry. Go with a classic structured formal black pants and casual, vibrant tee with an oversized shirt combo. The high-waisted pants go well with sneakers. Here are 20 Best Outfits to wear on a Date.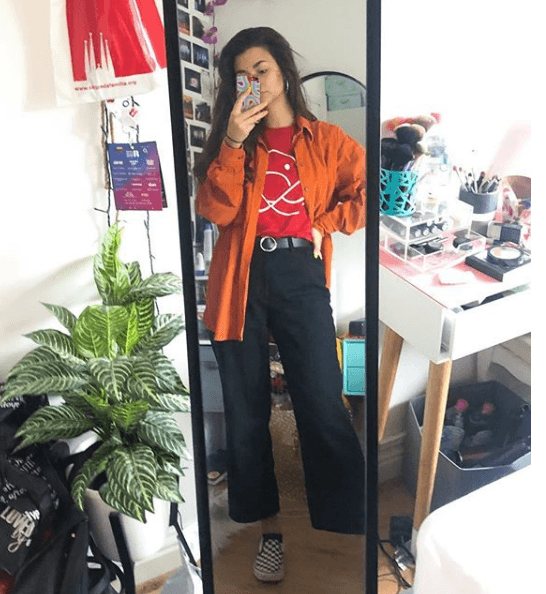 ↓ 29. Grunge Street Wear
Explore the grunge look with an oversized hardcore black heavy metal shirt and short denim frayed hem shorts in black. To carry this look, you will need some bold makeup and probably need to get your darkest lipstick in action. Go for a choker for neck and black nail colour. Complement the look with black checkerboard vans, and you can even wear fishnet tights for a sultry appearance.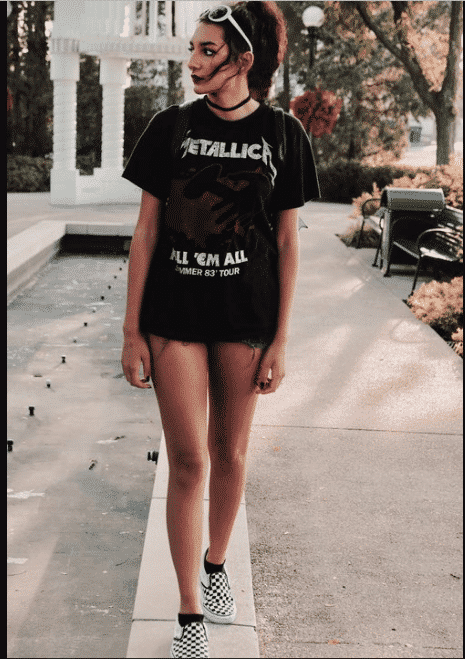 ↓ 28. Styling Vans with Summer Dress
Whether you are frolicking in the garden or have a daytime lunch planned out, summer dresses are perfect and don't we crave to put them on all year. While moving around, we all need comfortable shoes that go well with different outfits and doesn't hurt our feet. Wear a sexy slit midi summer dress and wear vans along with it while you are out having fun.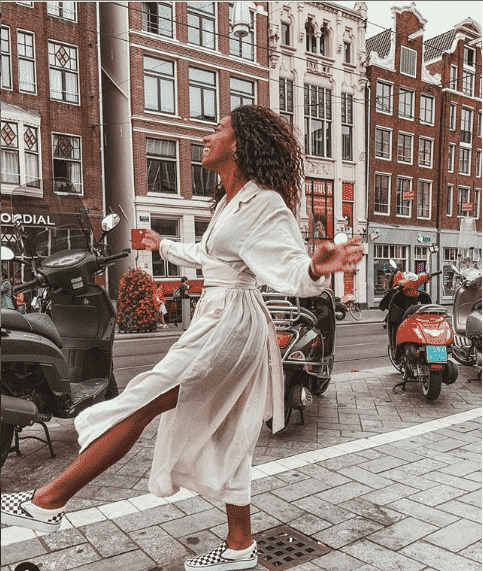 ↓ 27. Travelling Footwear
Wear your vans while travelling and flaunt an all-black look that is perfect for daytime strolling around in a new city. Get a fanny pack to keep all your essential valuables with you while doing so which also gives you some sporty vibes. In case you are a hijabi traveller, wear a black silk scarf for a refined look.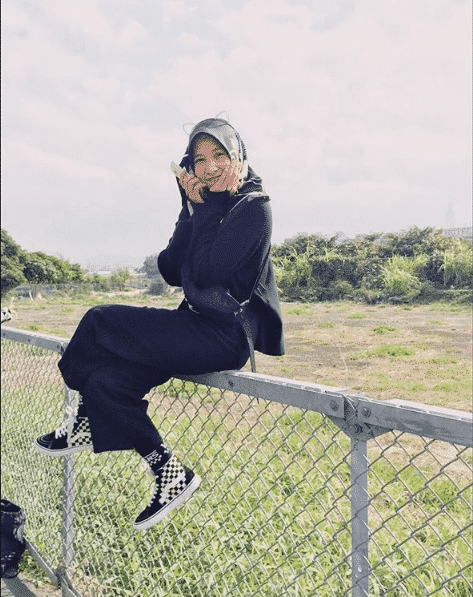 ↓ 26. Runway Ready
Got a dazzling dress that you have wanted to wear for a long time? Why not take it to a fashion show with you or for a great event coming up. It is a common misconception that a girl needs to wear heels with a dress. However, we disagree.
While wearing a maxi dress at an important event, you need to keep your comfort at the highest priority. Go for something that is both easy to wear and has a little style to it.
↓ 25. Best Teenager Outfits
Teenagers always look out for edgy and trendy outfits to wear to school. However, the footwear can also play a pivotal role in your outfit choice. If you want to spend a day with super comfortable and trendy shoes like checkerboard vans, you need to wear an edgy complementing outfit.
Go with denim shorts and a long sleeves sheer mesh top that you can wear with a graphic black tee. Wear knee high socks for the charm.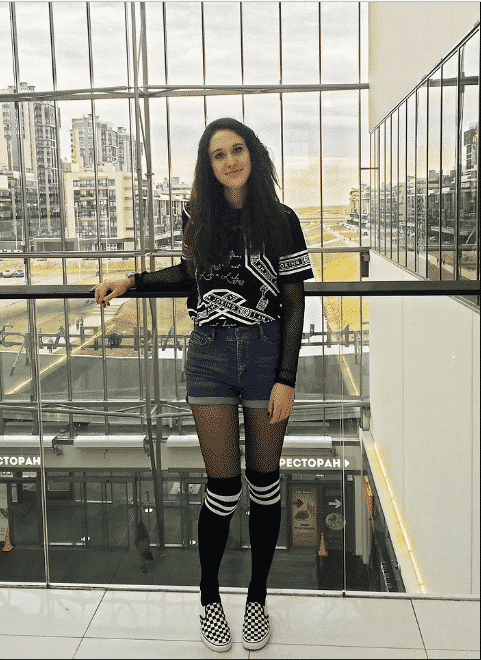 ↓ 24. Glamorous Looks
It is just a matter of one piece of garment to take your whole look street style glam and awesome. These dull gold metallic pants are such an example.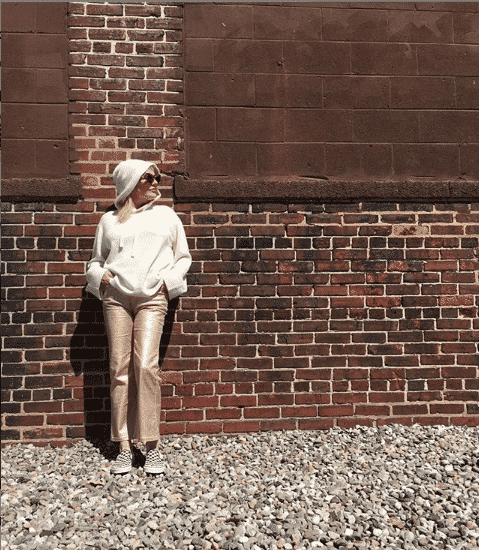 ↓ 23. Winter Comfort
We all need the best vans to support us in winter and keep us cosy and warm. However, what goes best as a winter attire to ward of the chilly breeze? Pair up your cardigan dress with a teddy coat and woollen tights along with ankle socks and vans. Don't forget to wear a warm beanie along with the outfit.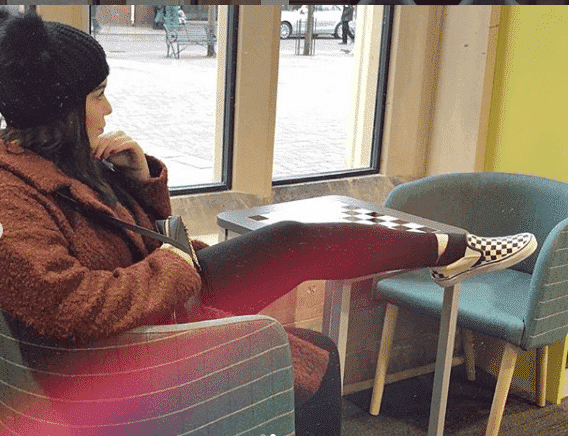 ↓ 22. Running Errands and Looking Smart
Running errands in vans is the best because you need not to wear yourself out and yet appear presentable and not messy.
The best thing about these shoes is that they complement almost any dress you have in mind and you don't want the hassle of choosing dresses while you step out for house chores. Wear your favourite tee and jeans and tie an olive man shirt around your waist for the best look while performing your chores.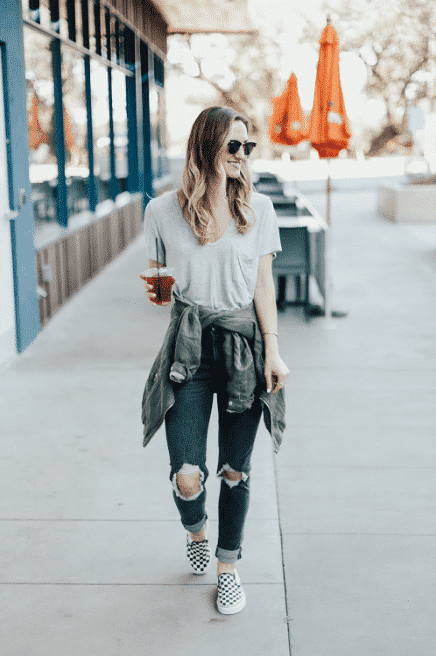 ↓ 21. How to Wear Vibrant Outfits with Vans
When choosing to wear vibrant and bright colours, you need to be careful in not going overboard with accessories and the choice of footwear because it can destroy your look. Subtle footwear can throw attention to your outfit and to create a great impression, go for a bright shade of lipstick.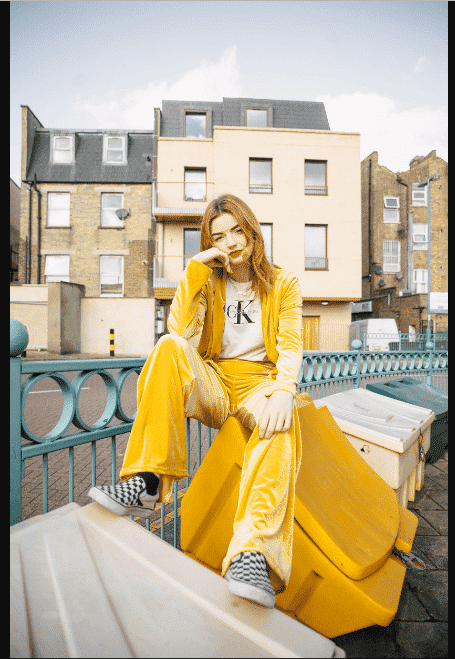 ↓ 20. Denim Overall Shorts
Denim overall frayed hem shorts go ideally with a checkerboard cropped top and checkerboard sneakers. Some neon green socks will add edge to this outfit. Do have a look at these 30 Ideas on How to Wear Bike Shorts for Women.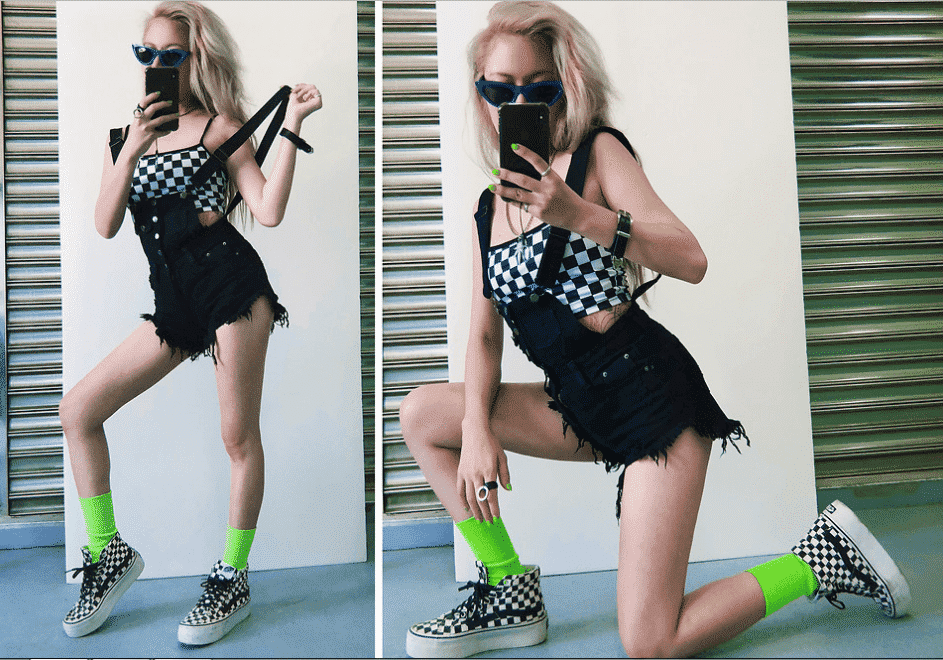 Via
↓ 19. Oversized Hoodies and Vans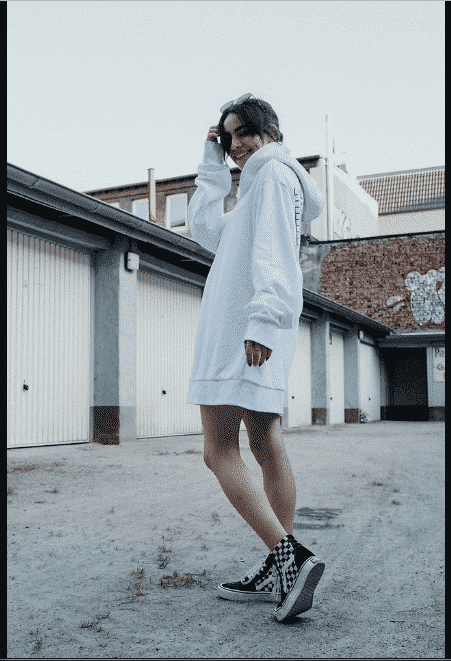 ↓ 18. Being Bold with Animal Prints
An animal print dress is a gift that won't stop giving. You can style it up or down in various ways. You can wear an elastic brown animal print midi dress at the waist to create the illusion of an hourglass figure and black vans.
You can dress up this look with a fancy black cardigan or blazer and some vibrant accessories like a silver necklace and beads bracelets. Carry a fanny pack and a cap with this look for a sporty look.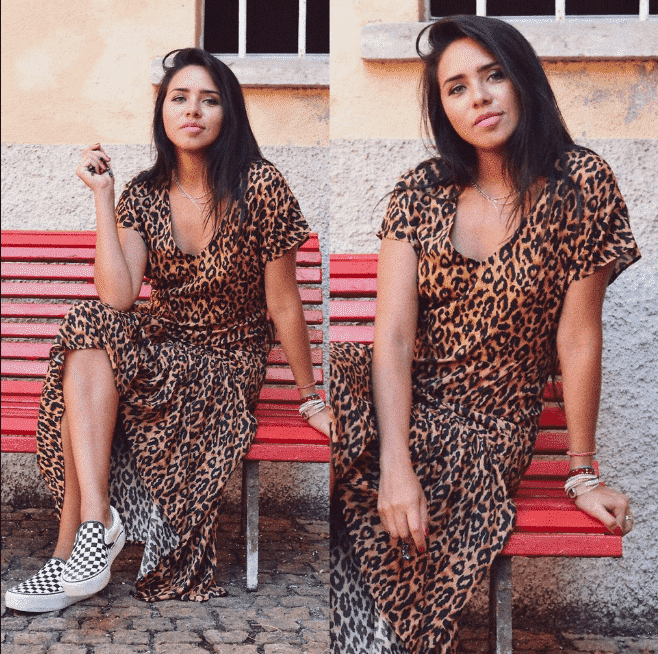 ↓ 17. Summer Outfits with Checkered Vans
If you are on vacation mode for summer, you need some fancy outfits. Whether you are on a cruise or at the beach or some great resort, soak in the brilliant views and sunshine and get tanned in the right way by wearing a statement pink crop top with matching shorts and vans.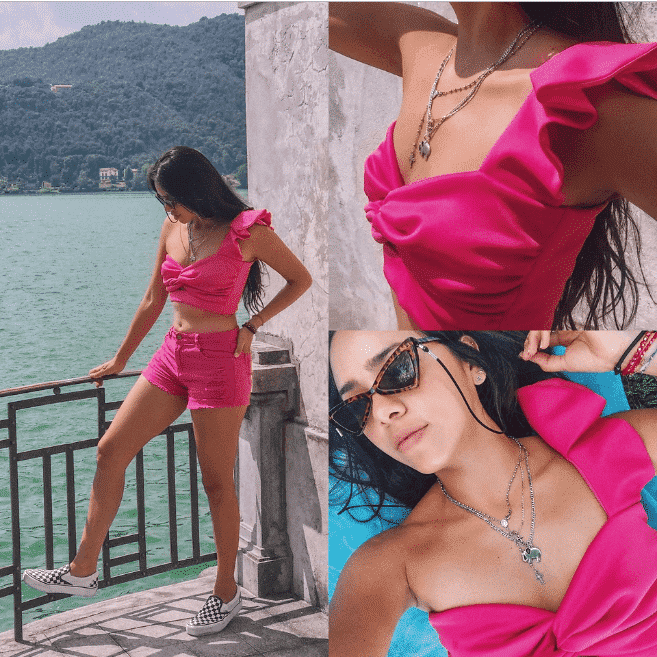 ↓ 16. Celebrities Style Vans
Celebrities have been flaunting checkerboard vans forever because of their appealing design and comfortable fit.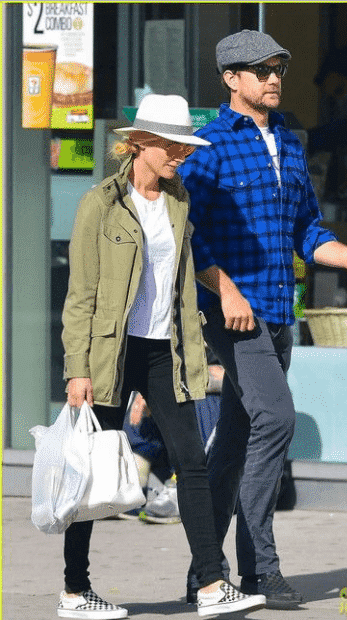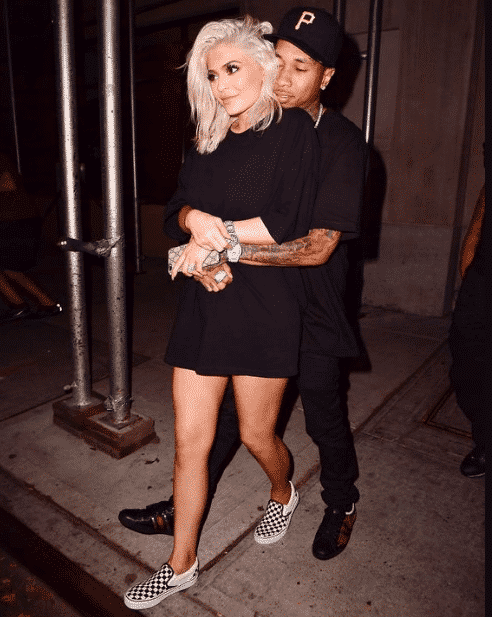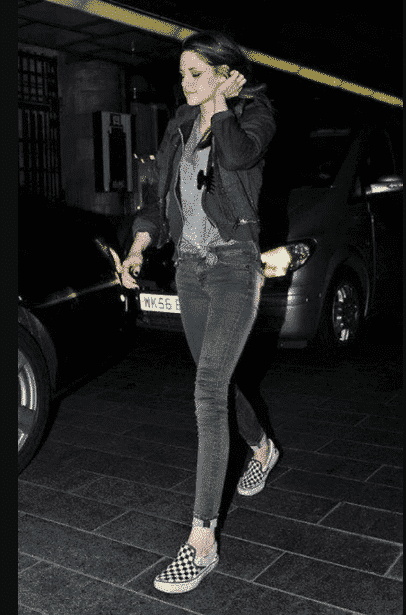 ↓ 15. Styling Checkerboard Vans with Pants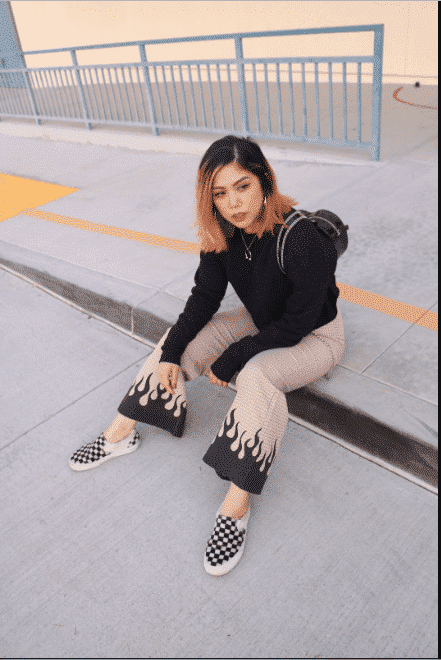 ↓ 14. Canadian Tuxedo
Double denim look is here to stay even if the year is changing. This is the best and the most natural look to wear on days when you don't want to waste your time planning your outfit. The only trick is to keep the top darker than the bottom. Go for a dark blue or black denim jacket, along with sky blue or white distressed denim pant and vans.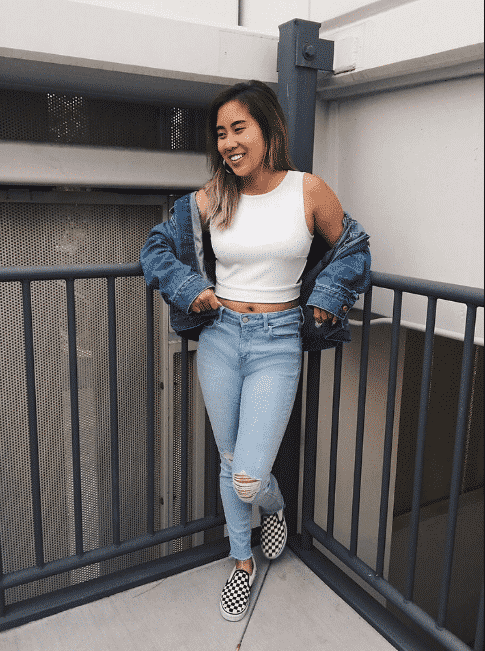 Via
↓ 13. Faux Leather Jacket with Vans
A faux leather jacket is a wardrobe staple that you can't live without. It can help you instantly upgrade your attire on days when you want the minimum fuss. You can wear a leather jacket with a simple tee or cardigan and cropped jeans or yoga pants and pair it with these vans for an instantly upgraded look that you can carry on lunch or dinner date.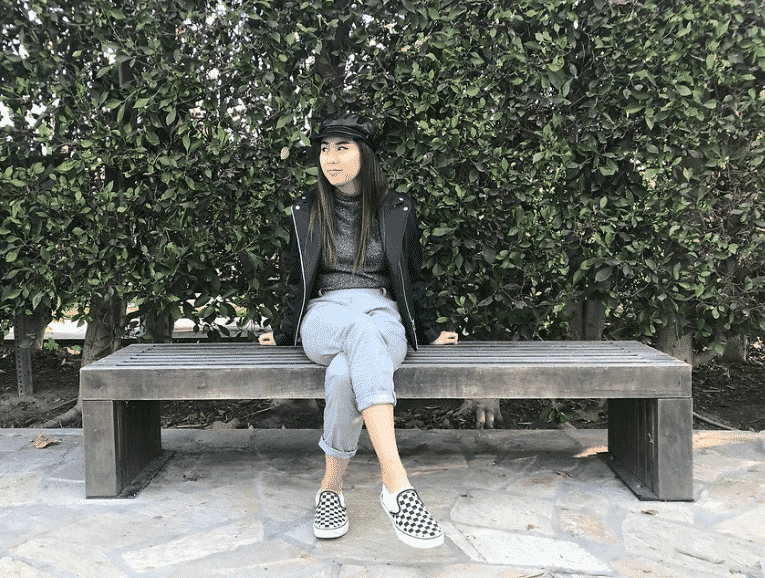 Via
↓ 12. Sheer Tops Styling
Sheer styling mesh tops are the best thing that has a lot of attitude about them. There are so many creative ways to wear them, and you can style them with an embroidered bralette or crop top and tailored pants along with checkerboard Vans.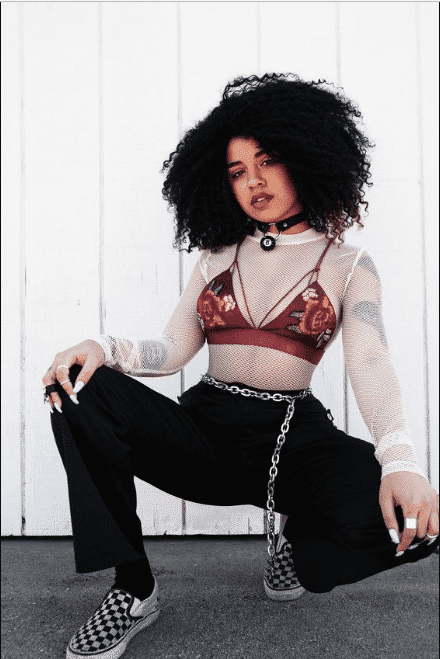 ↓ 11. Coloured Vans with Graphic Tops
Coloured Vans in delightful colour choices are now available and wear them with logo graphic tee and distressed jeans and cap for an edgy look.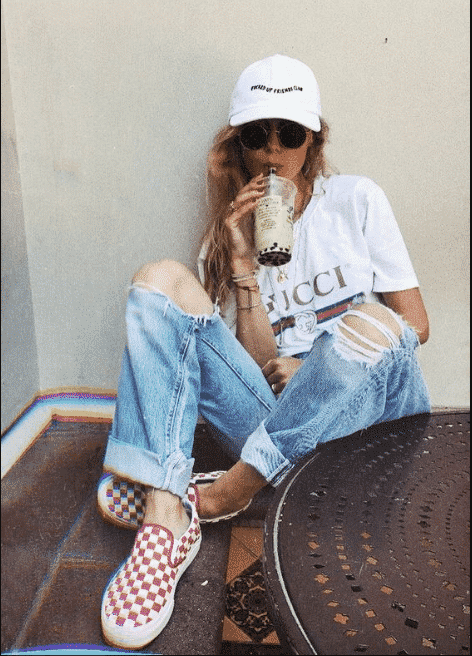 ↓ 10. Skirts and Vans
If you have the height benefit, you can wear vans with mini skirts and turtlenecks for any day. Here are some more awesome Women's Outfit Ideas with Vans.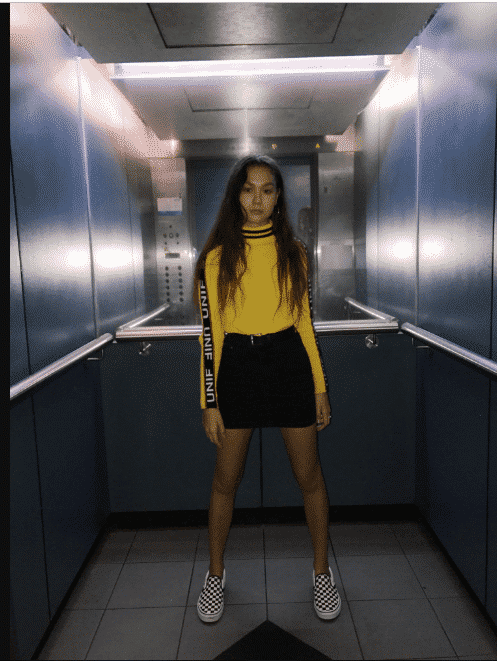 ↓ 9. Patterns that Works Like Wonder
For some strange reason, the marriage of stripes and checkerboard pattern is perfect and looks rather good together. Bring on your most vibrant striped shirts and distressed jeans combo because checkerboard sneakers are best suited to wear with this outfit. Go with a sophisticated white purse to bring together the whole trendy lady look.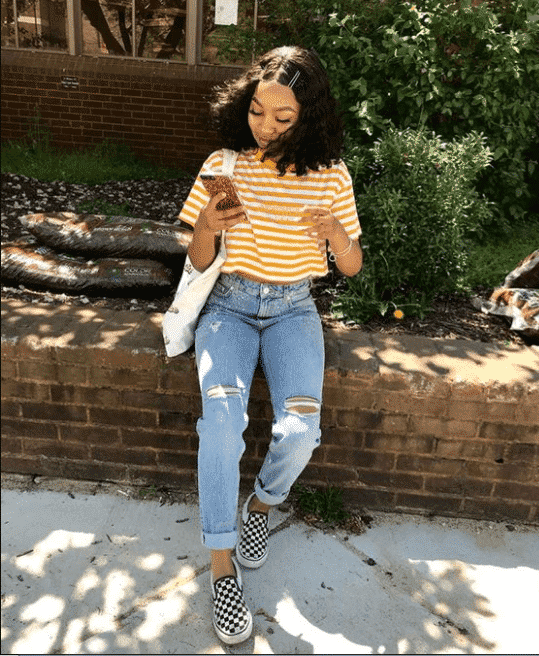 ↓ 8. Camo Tops with Vans
Capri style jeans are amazing to pair up with various tops and are also incredibly chic. What could you possibly wear with it to portray a refined look? Go for Camouflage top as this trend is hitting off all the right chords this year. For a more formal look, pair this outfit with classy accessories to highlight it. Go with black checkerboard sneakers, a statement purse, and big glittery earrings.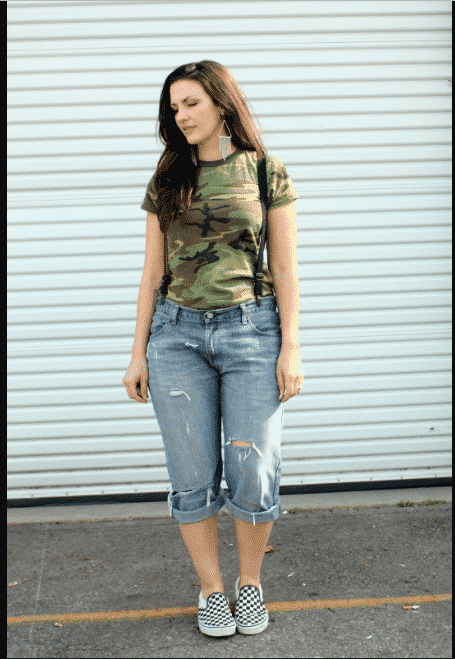 ↓ 7. Pink Power Suit with Vans
Pink Powersuit is the talk of the town this year, so it would be silly not to include it in your wardrobe! Exude powerful feminine vibes with an oversized pink double-breasted power suit and pink vans! You can wear these pink vans with both pink shorts or pink pants accompanying the pink blazer according to the weather and your personal preferences. To cut through the pink, get your self a shiny black clutch and silver necklace with this outfit.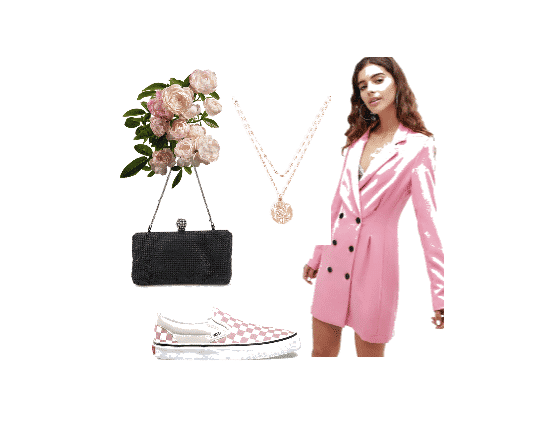 ↓ 6. Customised Vans
You can now have your customised vans with various options so that they can suit your unique personality. You can easily go for your favourite shades on the shoe along with different prints and images. Wear classic springtime sunflower vans with a checkerboard pattern shirt and Capri tights. You can even rock them with a crop top and skinny jeans.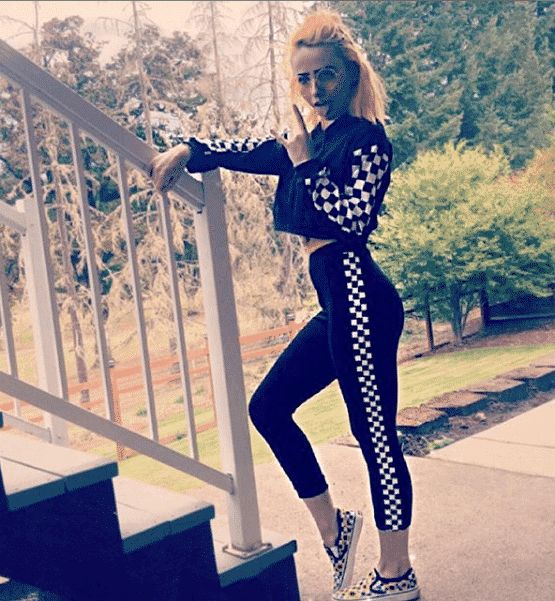 ↓ 5. Styling Rainbow Vans
Rainbow vans are perfect when you want some fun with your footwear choice, and nothing else suits your fancy. You can style them up or down with no worries. With their multicoloured look, you can wear them comfortably with vibrant dresses for date night or parties and be at ease for long. Don't miss out these 25 Outfits to Wear With White Sneakers for Women.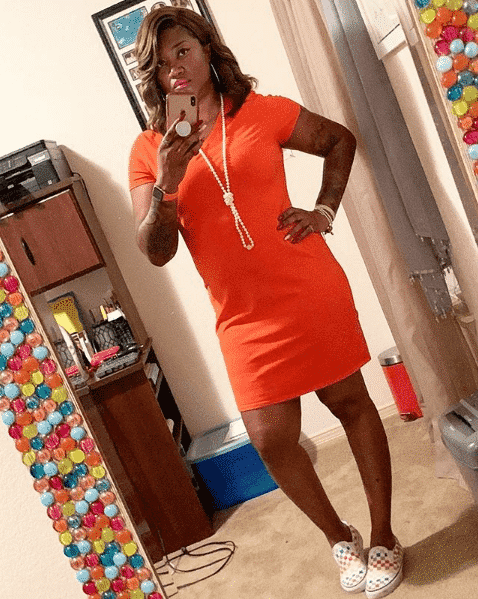 ↓ 4. Beach Ready
Time to hit the beach, but are you ready? It is essential to keep the right accessories because your trip can be a disaster if you don't. If you want to appear chic for that beach trip with friends or a family party, wear a beautiful floral beach dress and pay attention to the accessories.
These light-wear vans are perfect for walking on the beach, and take a nice floppy beach hat along with a straw tote to keep your essentials in. For a youthful look, go for a black and silver neck choker and soft nude shade of lipstick.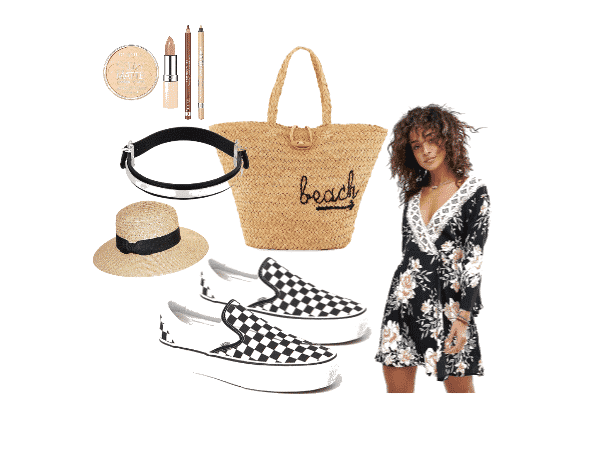 ↓ 3. Vintage Outfit
Want to jazz up the famous LBD? Pair it with a bright kimono jacket with retro print and pair it with black checkerboard sneakers and a camo bag for the style. This outfit is perfect for both sightseeing around the city or having a lunch date with your sweetheart.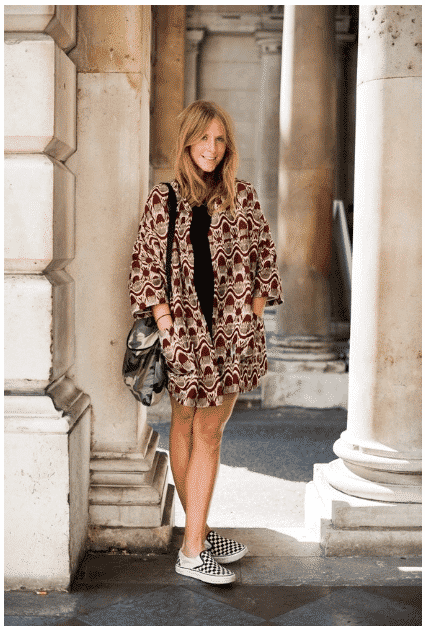 ↓ 2. Getting Ready to Party
Get your checkerboard vans ready to dance around in the next party you have on your list! So many of us believe that anything other than heels won't do at parties. Here we present to you a perfect party outfit, and how you can pair it up perfectly with vans.
Wear a beautiful black lace crop top with a silver pleated metallic midi skirt and vans. Go for bold red lips and black nail colour for the party. Carry this beautiful black bamboo basket bag that you can buy from here.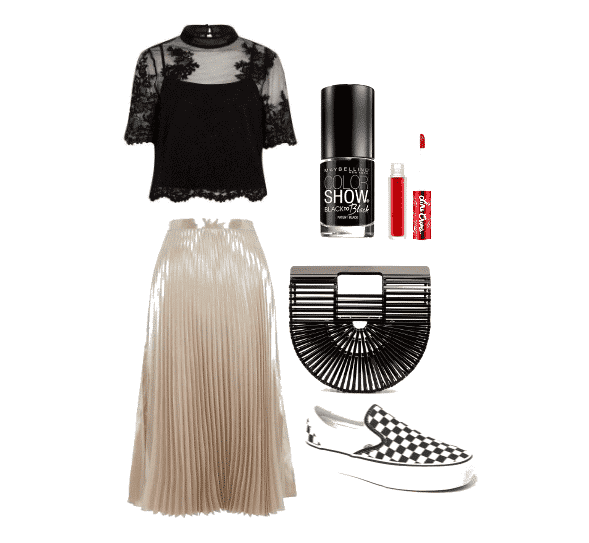 ↓ 1. Vans on Vans
Since the popularity of the brands, you now have the option of garments and accessories courtesy of the brand. So you can easily get your hands on some fantastic tees in the same checkerboard print and wear them with your favourite jeans and these checkerboard Vans.