Farmers Market Outfits: When in the mood for the freshest produce, goods, plants, and even live animals, a farmer's market is the place to go! You will find the newest and best quality products in this magical place because farmers and growers directly sell their products!
Also, it is open to all, so make sure to get your grandparents to go with you for a nice bonding trip that is right up their (and secretly yours, too) alley! However, to get your desired outcome, you will have to clear your schedule according to when it opens, or else you'll be left empty-handed, and we don't want that.
How to Dress for Farmers Market?
Styling an outfit to a farmer's market is not as challenging and daunting as it may seem. The key lies in staying true to your roots. I would advise you to wear the clothing you feel most comfortable in, whether dresses, jumpsuits, shorts or jeans.
And to make your favorite clothing item casual and perfect for a trip to the farmer's market, I come to the rescue! I have gathered the best outfits for your visit ranging from fancy casual to laid back casual, so keep scrolling!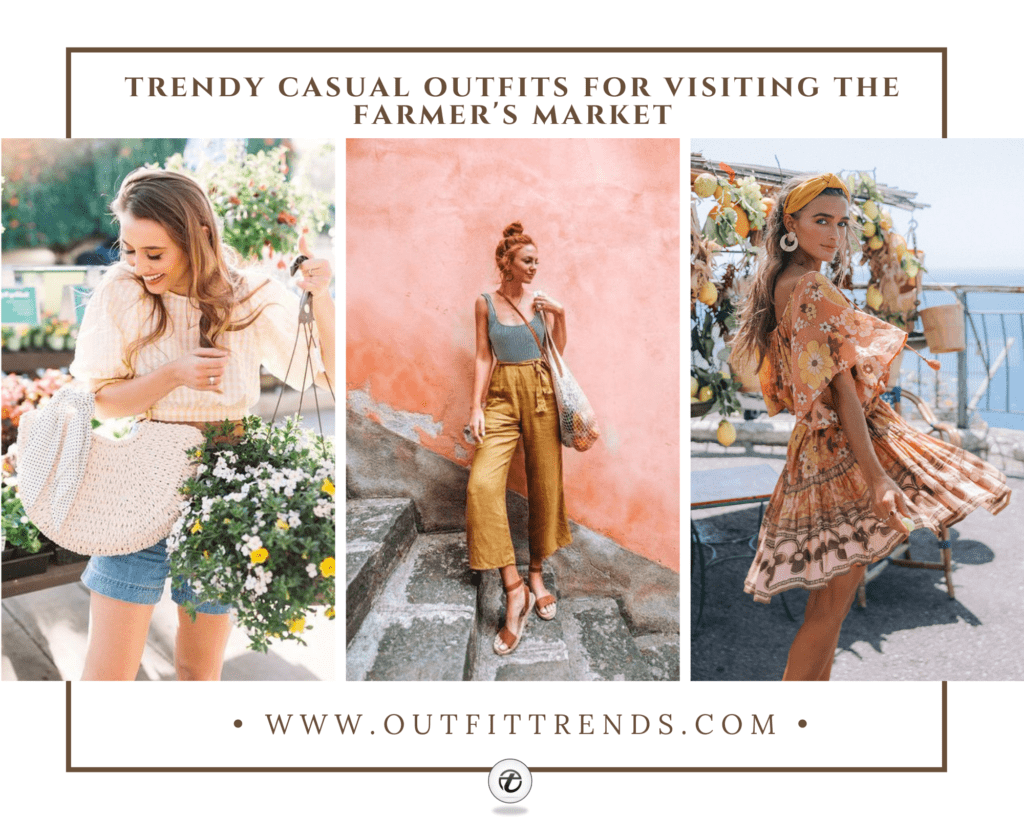 Dressing Tips
Dress casual. Chances are there will be crowding, so going fancy might make you stick out like a sore thumb. Unless, you are into standing out then go right for it!
Take a quick look at the weather before you leave and dress accordingly.
Keep a pair of sunglasses and a sun hat because they will definitely come in handy.
Carry a large tote instead of a small purse. It will be utilized more and you will have less things to carry.
Wear your most comfortable pair of shoes, whether it be slippers, wedges, sandals or joggers. Happy feet would contribute to a successful trip!
Don't forget your hair tie! If it gets too crowded and humid, your hair tie will be your savior.
Travel light. Leave your excessive hand-carry items home because it will get difficult to keep track of them. Besides, you want to be able to carry maximum amount of items that you shop!
↓ 40 – Pastel Hues in Lemon!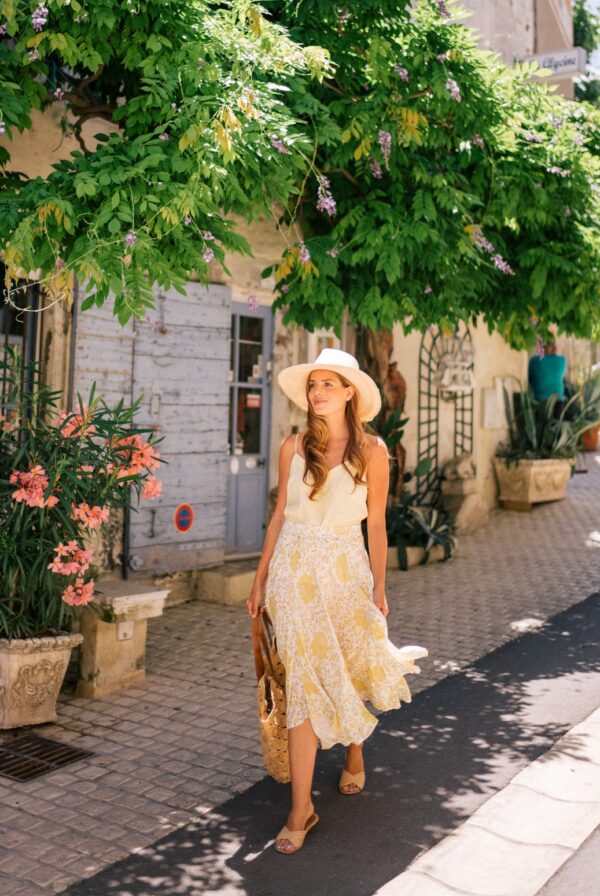 ↓ 39 – Classic
When visiting the farmer's market, you can not go wrong with a classic white button-down shirt and faded denim. And you can amp up your look to make it fun and cute too! Add on a colorful printed hair scarf, along with dainty gold accessories to make it fancy and more your style.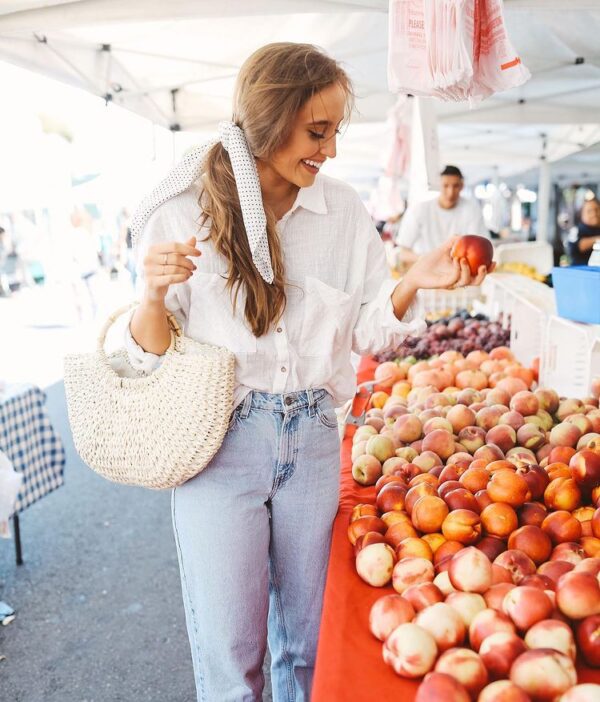 ↓ 38 – Skirts for the Win!
I love how chich and trendy this look is! If you are on vacation, and planning on visiting the local farmer's market of the city, then this outfit is the one for you. Moreover, you can carry the same look to the beach later on or carry out your remaining plans because you will be in style throughout!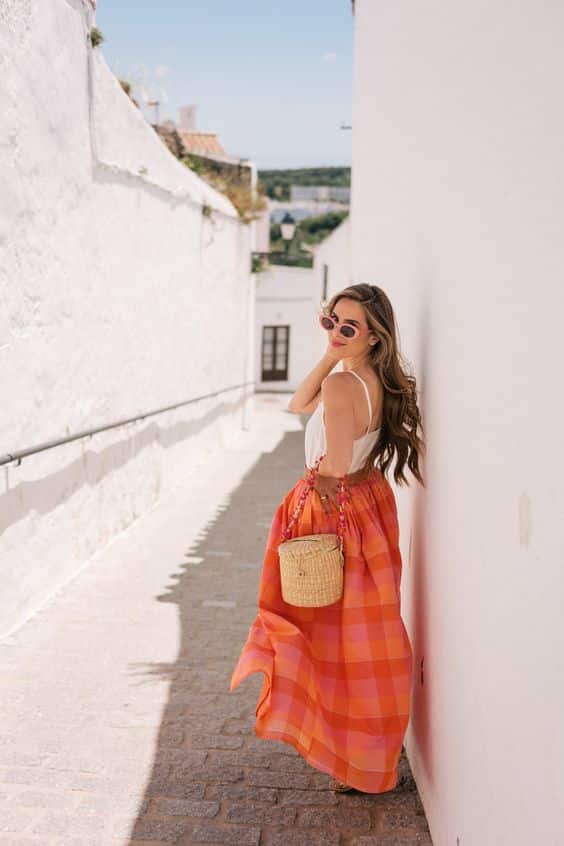 ↓ 37 – Summer Dresses for Farmer's Market Clothing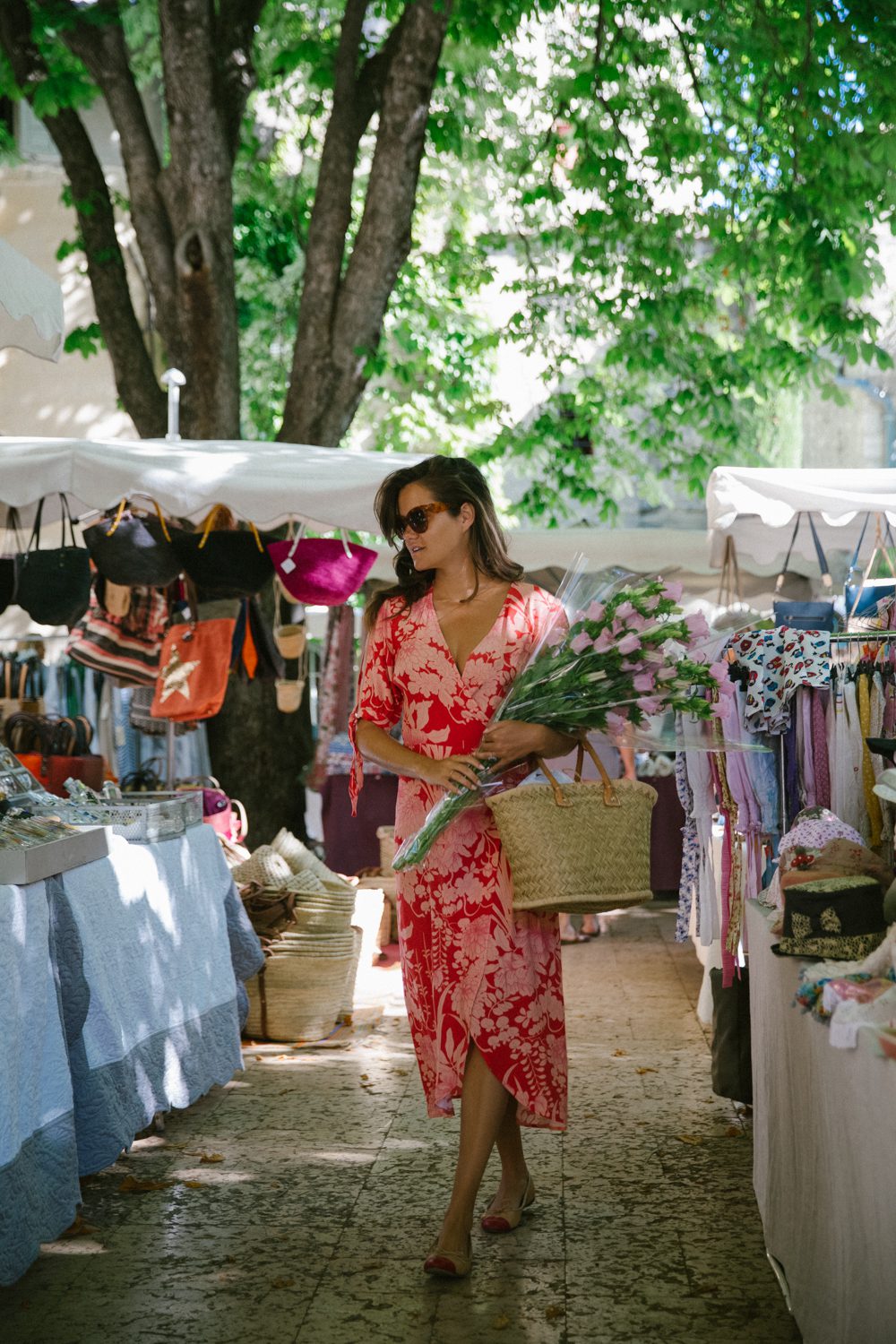 ↓ 36 – Decked Out in Blue!
How cute is this top?! The off-shoulder silhouette, ruffled details and plaid pattern make this top an absolute win for the summer season. Pairing it with classic denim jeans and a white bag is truly the cherry on top of a fantastic outfit.
And those shoes look comfortable, stylish, and all sorts of right with this top! I must appreciate that the accessories were kept to a minimum and let the outfit do the talking, making you exude a chic, elegant persona.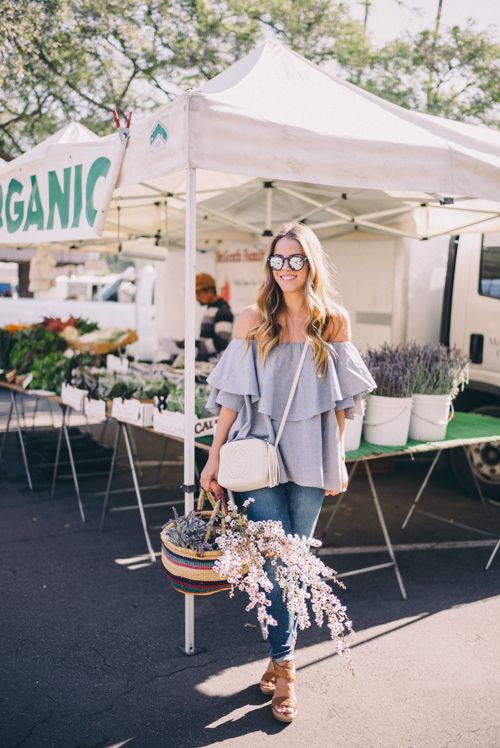 ↓ 35 – Spring Vibes for This Outfit!
At first glance at this attire, my mind immediately exclaims, spring, fun, playful, and flirty. And I very much agree with those adjectives for this trendy look! Next, the denim short and tube top, paired with this adorable cardigan and white sandals, are an ideal pick for one another.
And finally, the anklet and braids tie this look together for ultimate trending! Let me quickly appreciate the pastel color palette of this outfit, which is so in this season and a choice you can not go wrong with.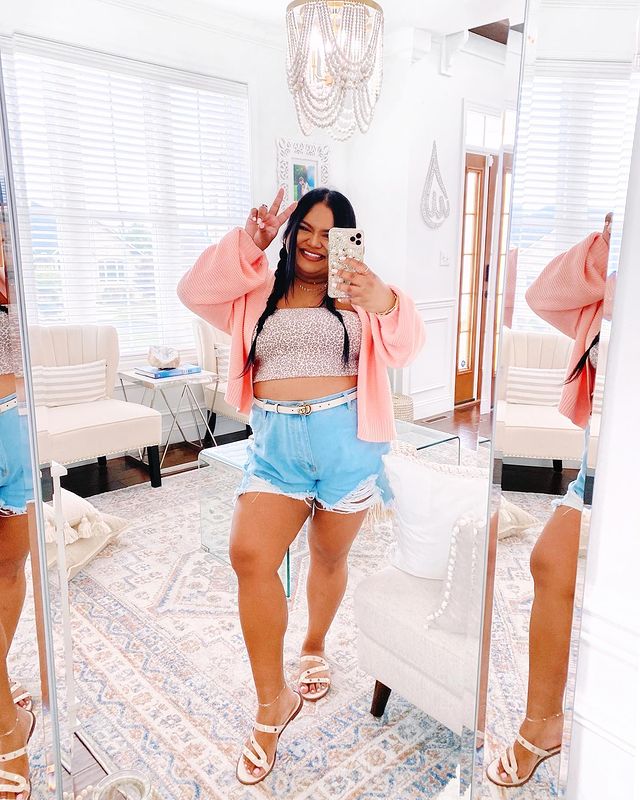 ↓ 34 – How to Wear Maxi Dresses to a Farmer's Market?
This dress is the perfect pick for the spring-summer season! The lemon and white is refreshing to look at and styled the way it is; this look is an absolute win. The denim jacket looks trendy, and the white sneakers make this attire ideal for a farmer's market.
The shoes would allow you to be on your feet all day long, going from stall to stall, searching for the best products!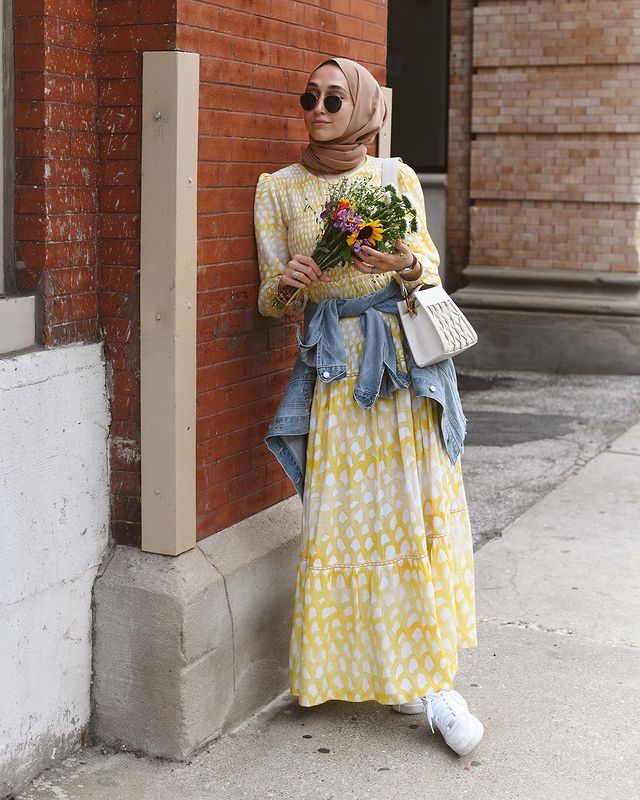 ↓ 33 – Hairstyle to Match Your Fit
A messy top knot is a perfect way to style your hair for a visit to the market. Not only is it kept in one place and out of sight, but this hairstyle is also convenient and would allow you to stay cool and breezy!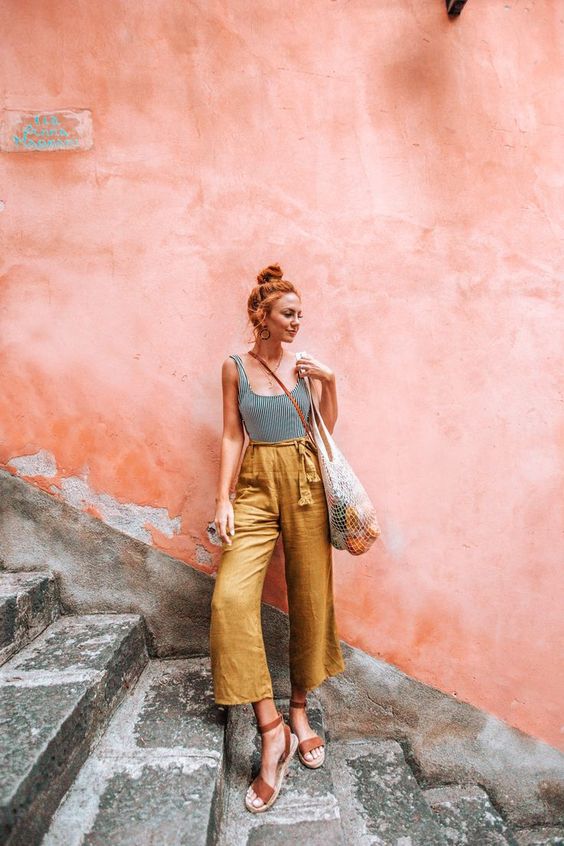 ↓ 32 – Denim Romper Loving!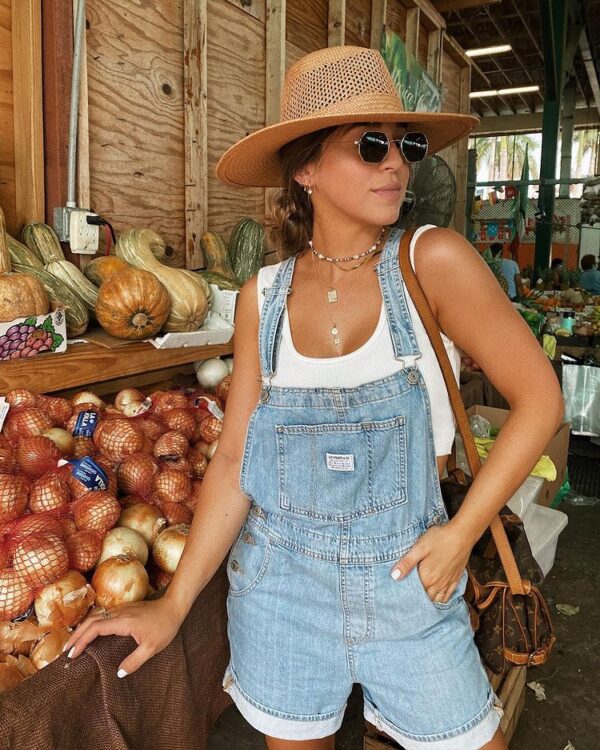 ↓ 31 – Bold and Beautiful in Red
Layering maxi dresses is a fun art to master especially when going to the farmer's market. For starters, it is the top way to stand out dresses in a bold colored maxi. And to make it more comfortable for yourself on the wear, layer it similar to how it is done below! Throw on some funky accessories to match your daring and unique outfit, and you are all set!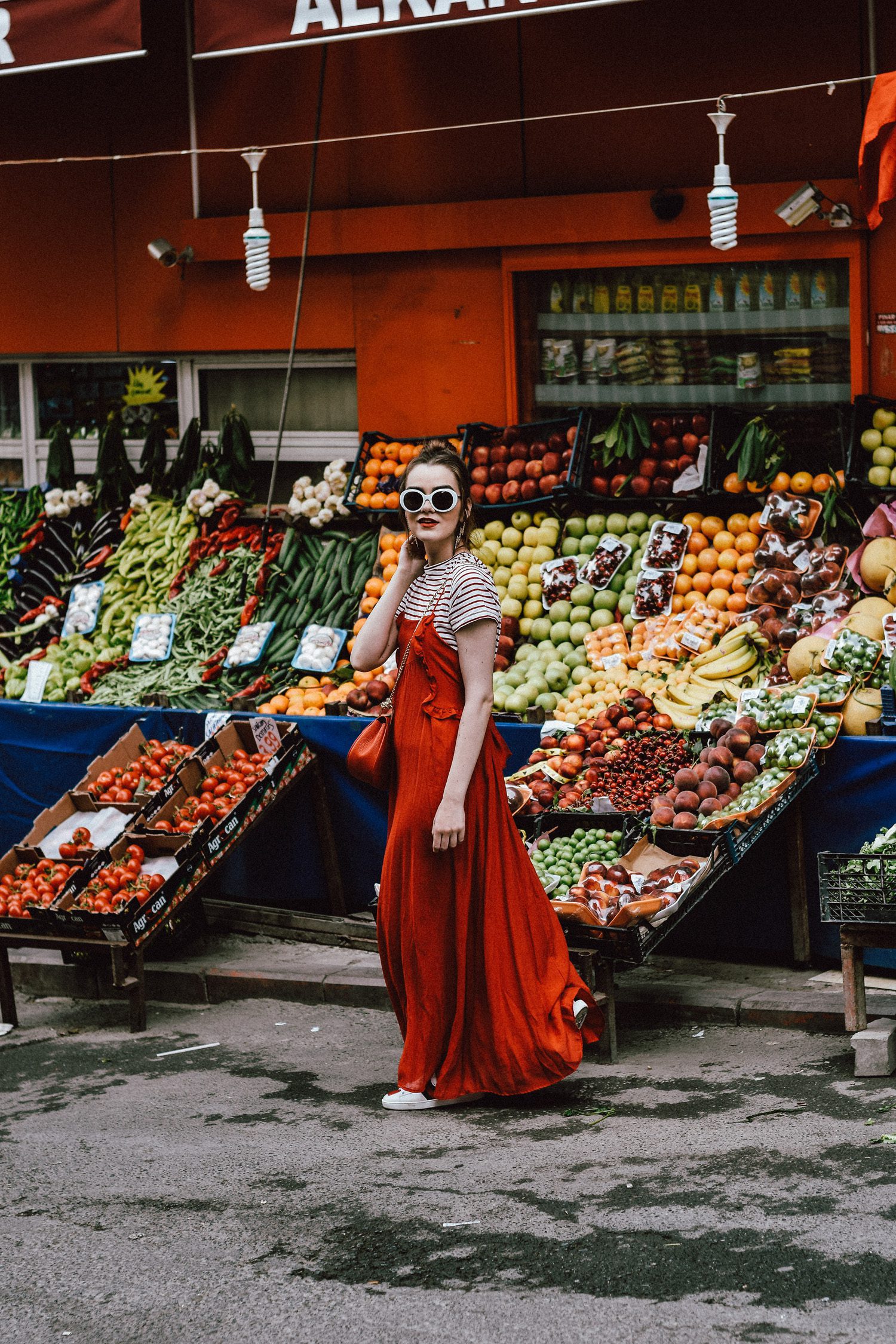 ↓ 30 – Accessories for Farmer's Market Outfits!
Keeping it light, simple, and classy is how one should accessorize for the farmer's public market. A classic pair of hoops, some layered bracelets, and a lovely anklet would be more than sufficient and flattering with your outfit. However, I would advise you to leave your rings behind as they hurt your fingers when carrying heavy bags.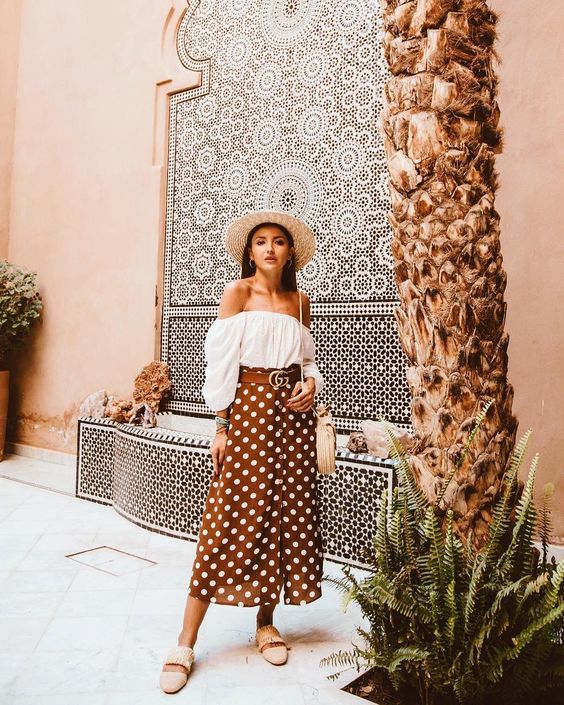 ↓ 29 – Stripes and Jumpsuits
One can not go wrong with a striped jumpsuit, no matter the occasion! Similarly, this outfit is a faultless pick for buying organic and fresh produce. Not only is it stylish, but it is also conventional, allowing you to shop to your freedom!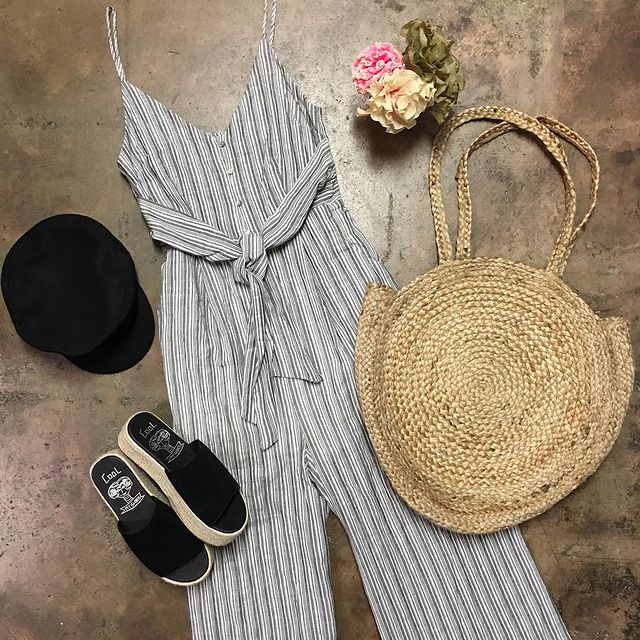 ↓ 28 – Plus Sized Women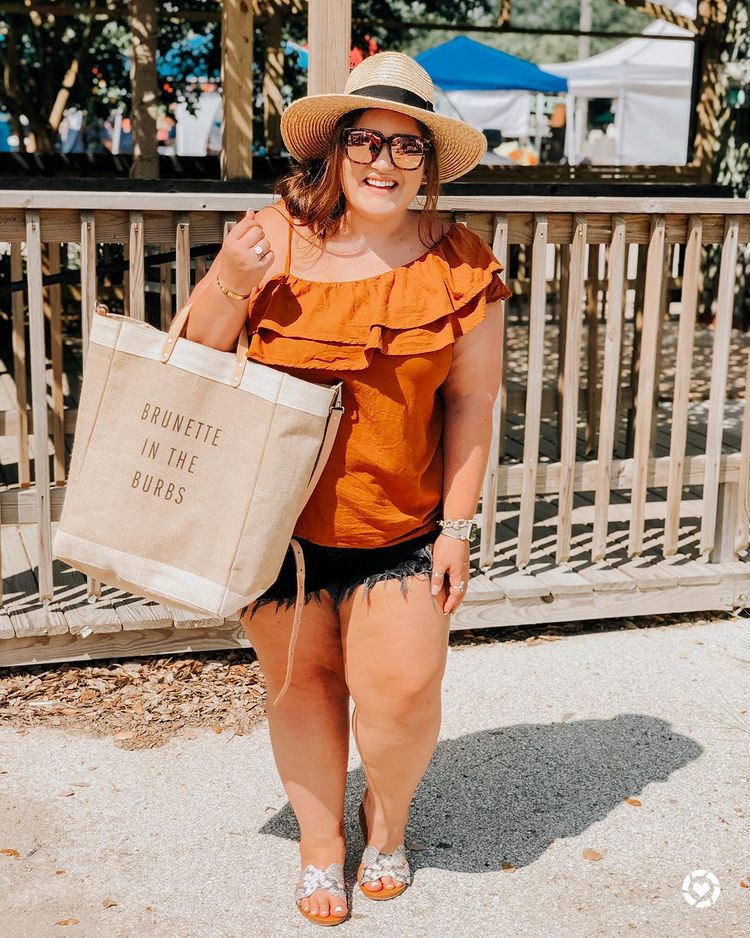 ↓ 27 – Summery Chic With Denim Skirt!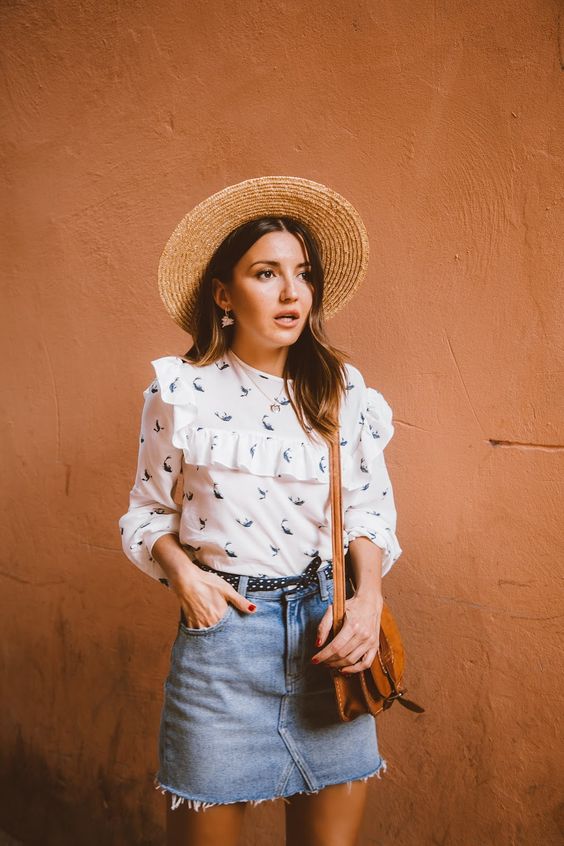 ↓ 26 – Polka Dots for Dresses!
Polka dots are such a classic print that looks good on every single garment and ultimately on you. Similarly, this polka dot dress is a great pick to have in your wardrobe. And I love the chic manner in which this blogger has styled this outfit.
The camel-toned accessories complement the dress wonderfully and enhance the beauty of this look! Do check out these Best Polka Dot Outfits.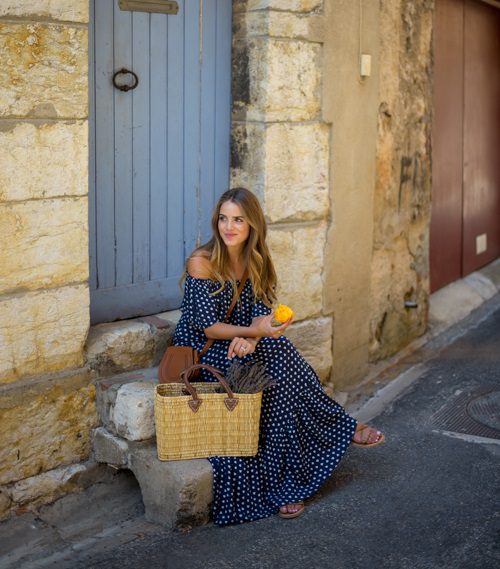 ↓ 25 – Teenagers Style for Farmer's Market Outfits
Whites and flattering lilacs? Yes, please! From the cami top and skirt to the lavender button-down, this outfit is right on point with the latest trends, making it perfect for teenagers!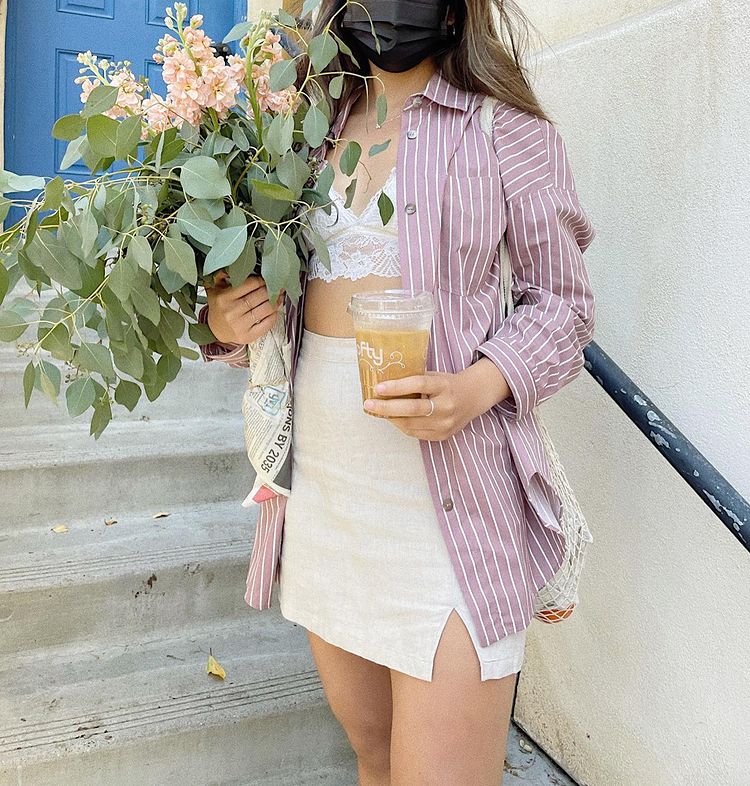 ↓ 24 – Maxi Dress
Do not forget to accessories aptly and style your hair! A belt on the waist would greatly help accentuate it and compliment your figure for your maxi dress. Furthermore, a lovely sunhat or a pair of glasses would be the ideal addition.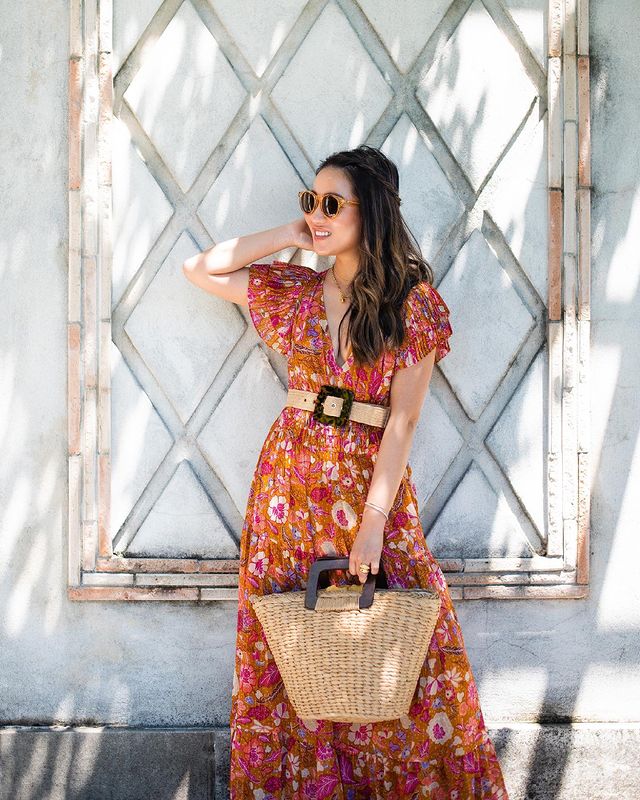 ↓ 23 – Dreamy in Puff Sleeves!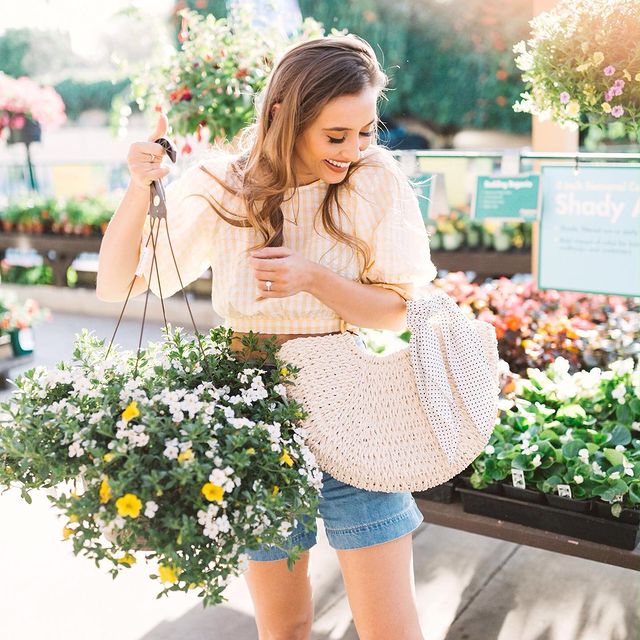 ↓ 22 – Twirlin' the Day Away!
Short printed summer dresses are so cool, breezy, and flirty to wear during the hot summer days. And considering how chic they look, I would advise everyone to style a short summer dress when planning their trip to the next farmer's market!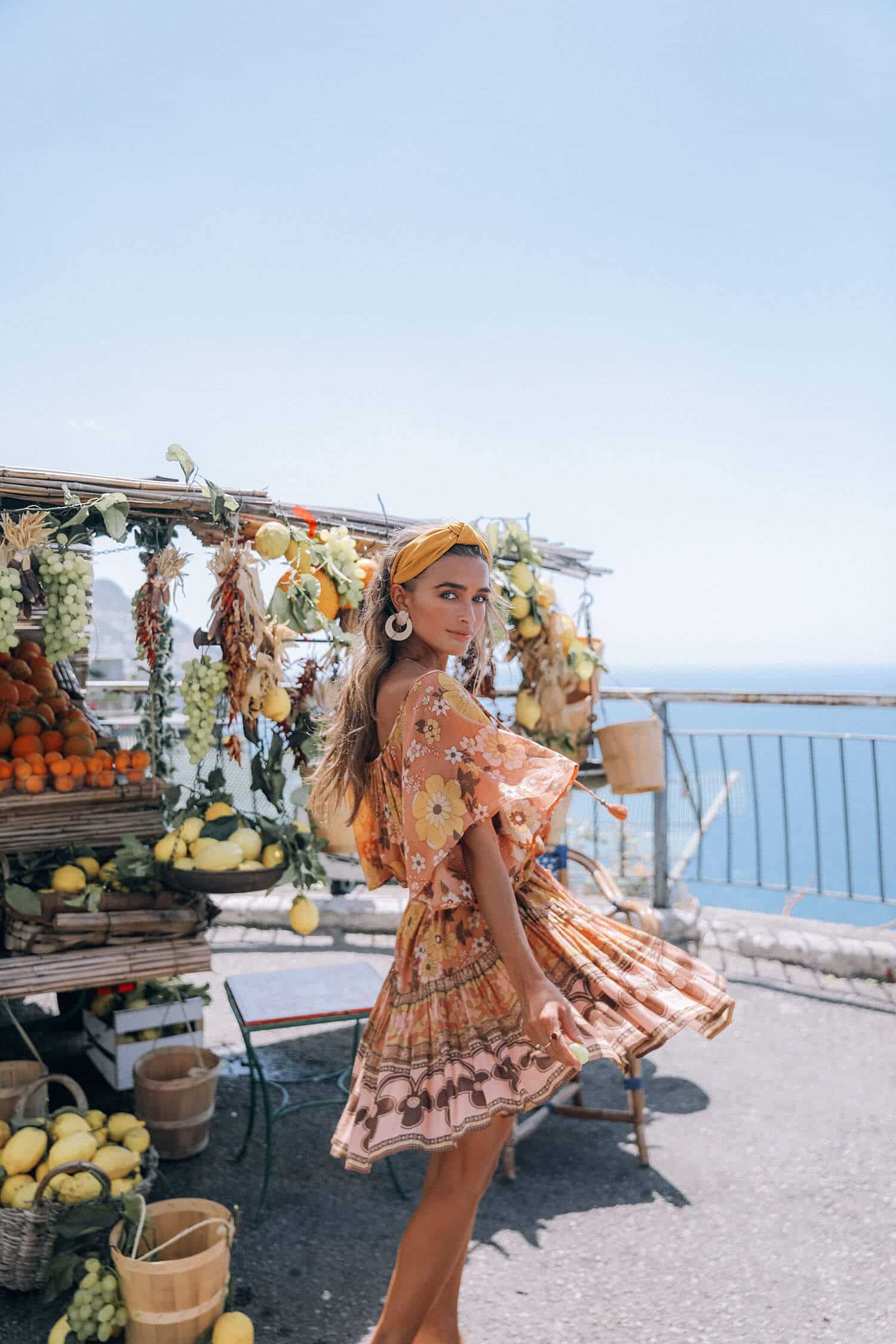 ↓ 21 – Monochrome Blends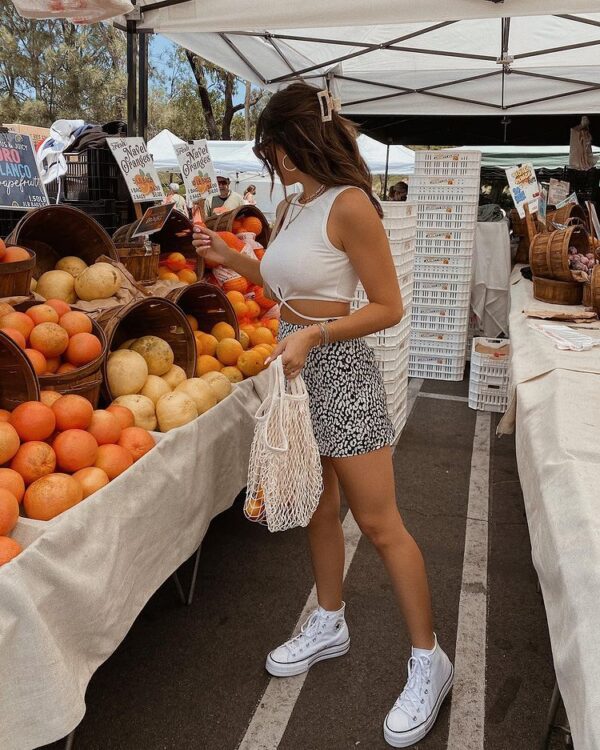 ↓ 20 – Old School Vibin
You definitely can not go wrong with a solid printed dress such as this! Here are some of our favorite ways to wear a Maxi Dress.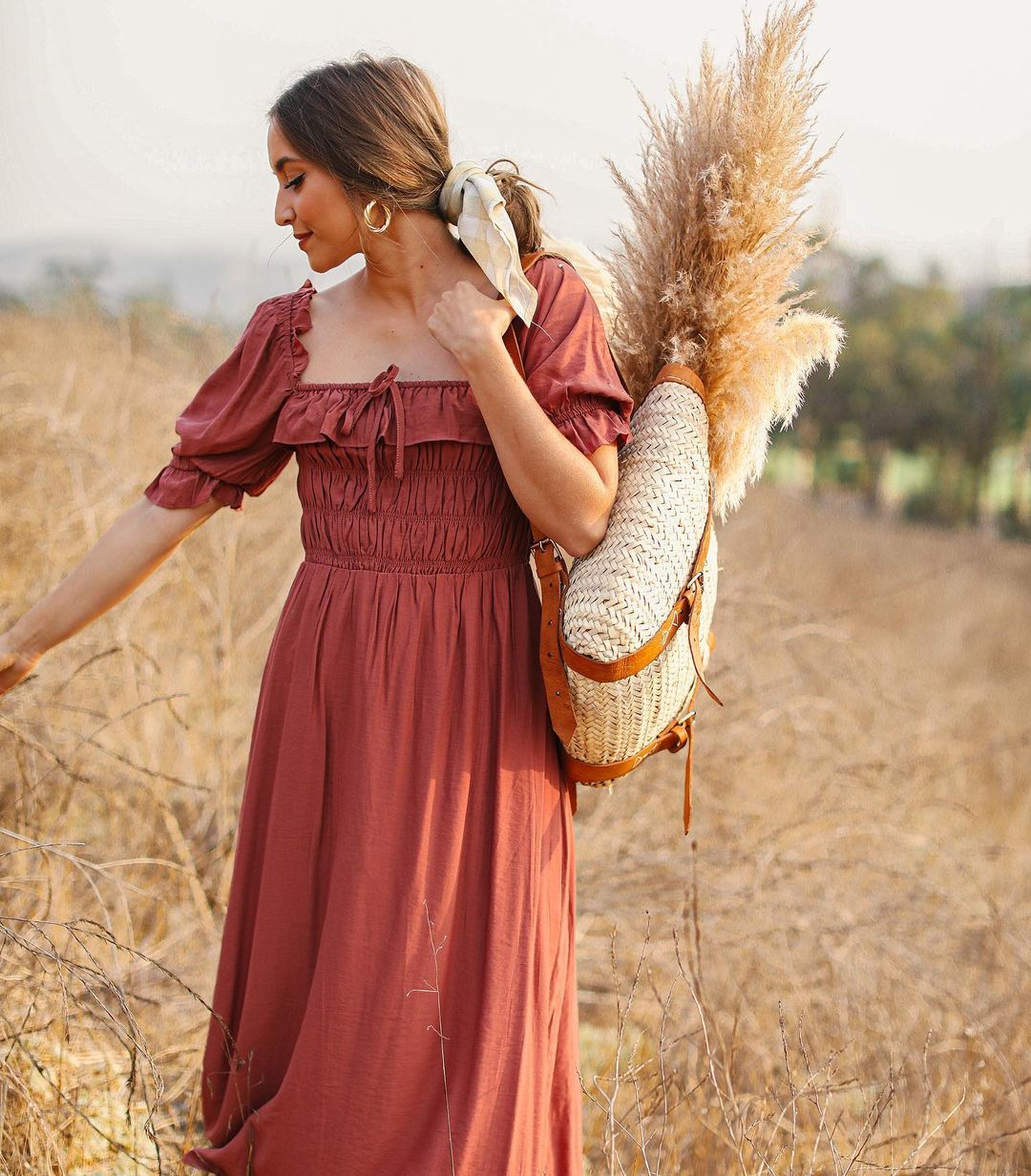 ↓ 19 – Crochet and Nudes Tones
The crochet pattern is utterly timeless and makes whatever it is on unique, whether dresses or tops. Similarly, style your crochet top to serve some killer looks at the farmer's market!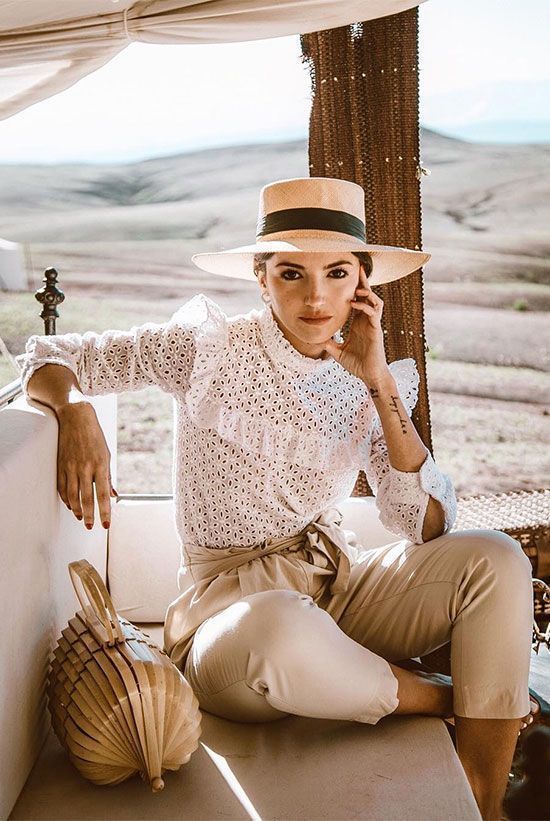 ↓ 18 – Make it Bright and Beautiful!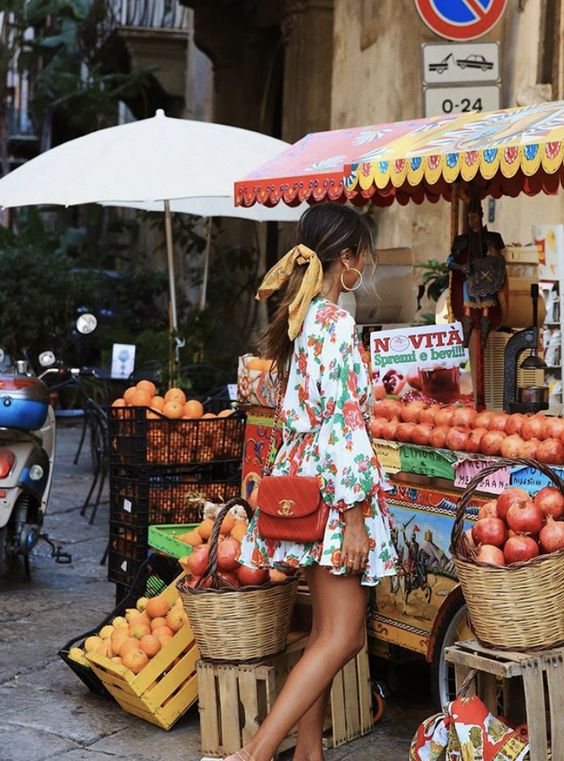 ↓ 17 – Casual
Front knotted tops and blouses are super these days. And I am not complaining about how chic they look and take your outfit to the next level. However, please keep it simple and sophisticated when visiting the farmer's market and avoid over-styling your front-knot top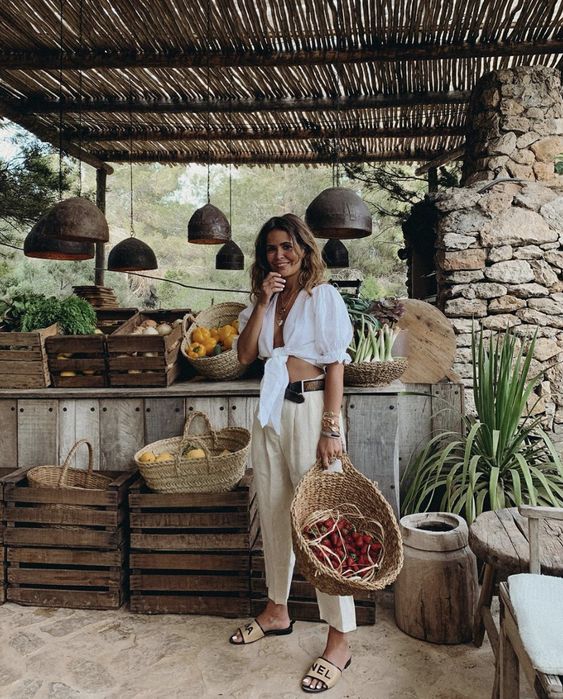 ↓ 16 – Tee-Shirt to Match the Produce!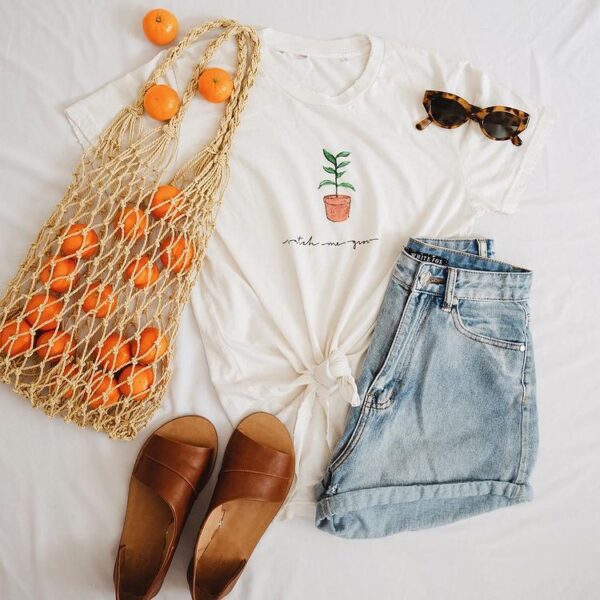 ↓ 15 – Outfits for Winters!
Layering would prove sufficient when dressing for a wintertime farmer's market trip. The camel boots look gorgeous and complement the sweater in an exemplary fashion!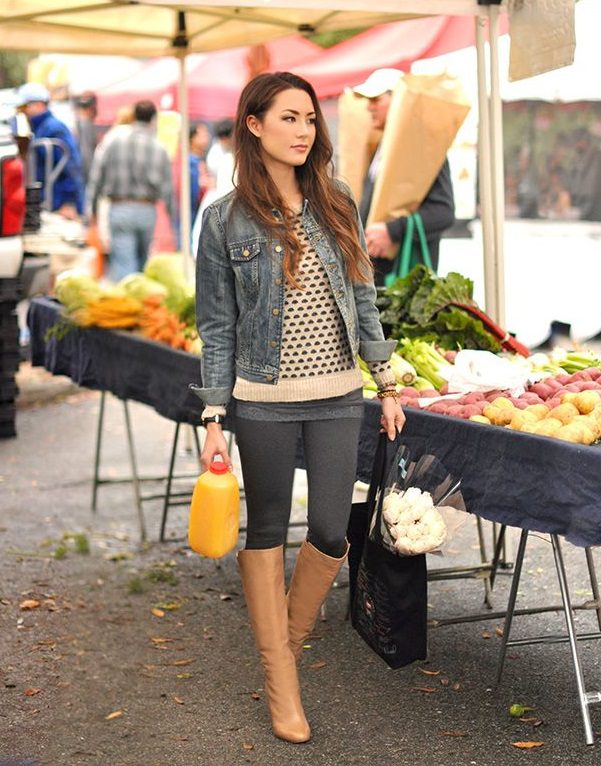 ↓ 14 – Elegance at its Finest!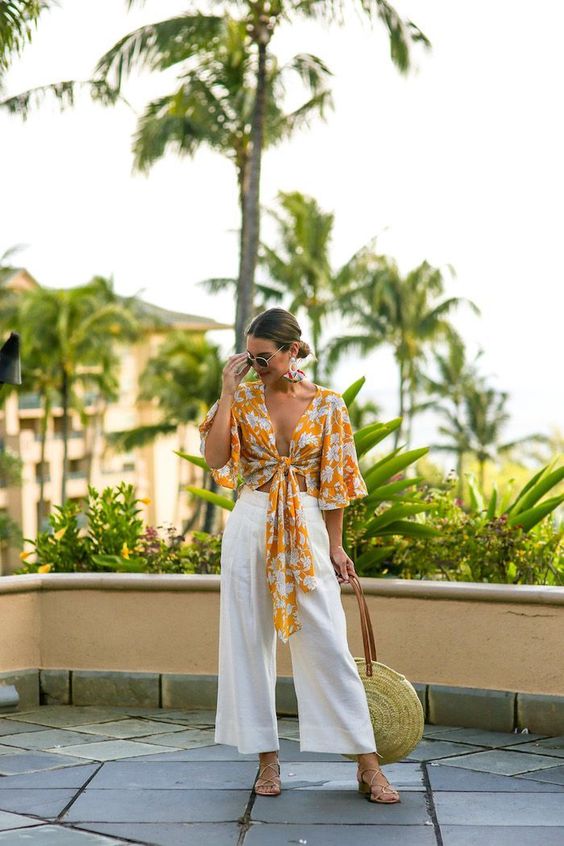 ↓ 13 – Chequered Style for the Market!
This chequered maxi dress is classy, chic, and oh-so-flattering. Wear it with dainty hoops and your most comfortable pair of black wedge heels! Thus, it would be the perfect pick for an elaborate trip planned to the farmer's market with your friends.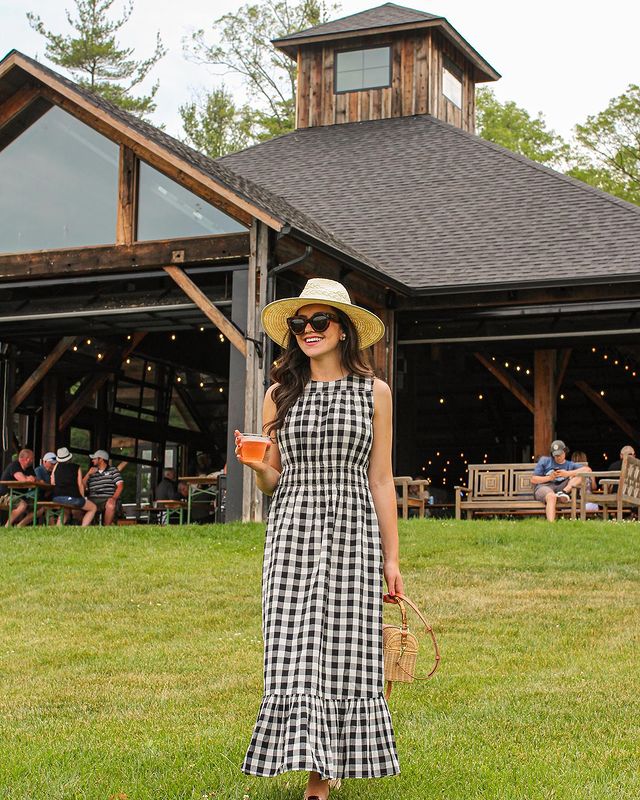 ↓ 12 – Relishing in Rustic!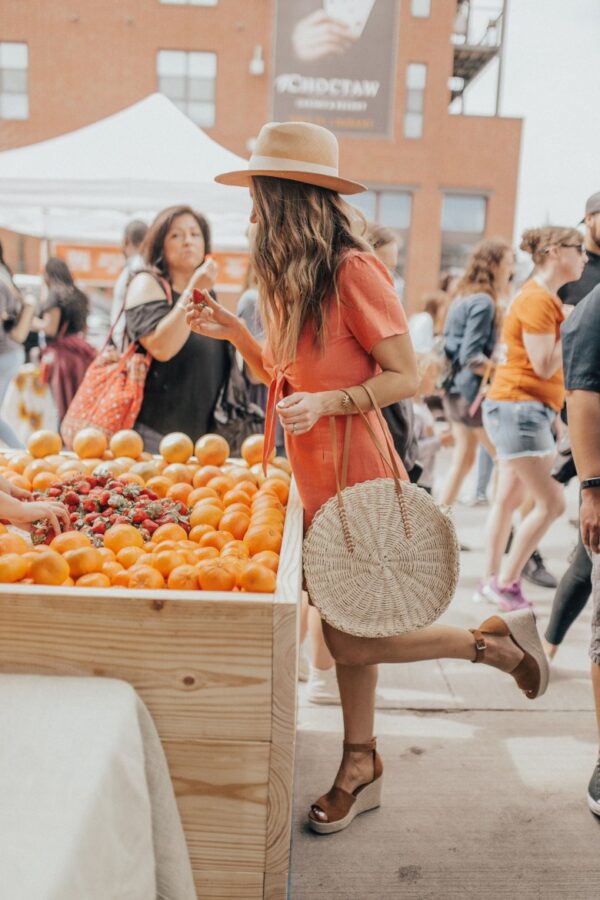 ↓ 11 – Simplistic and Trendy Outfit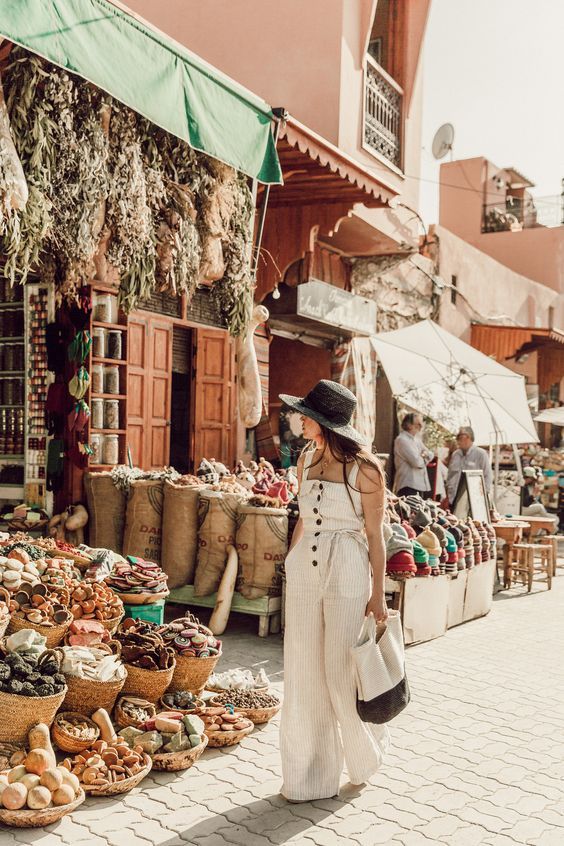 ↓ 10 – What Shoes to Wear with Farmer's Market Outfits?
I would advise you to wear flats, whether it be sandals or sneakers. However, if you are comfortable wearing heels/ wedges and can walk long distances in them, you do as you wish!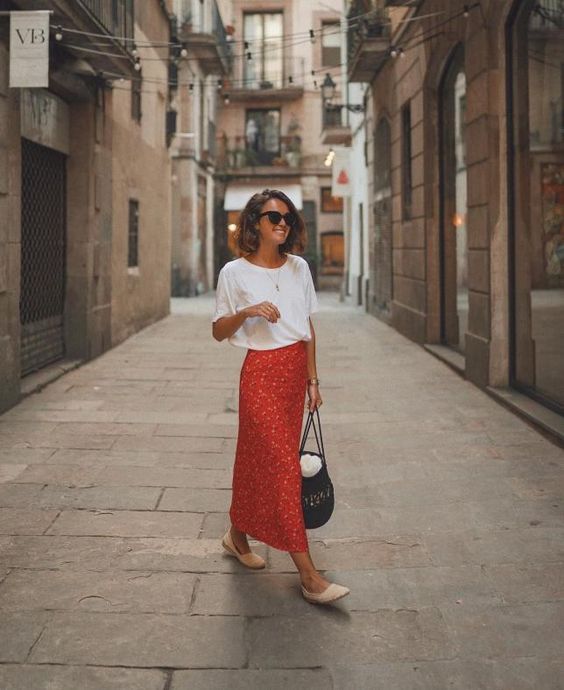 ↓ 09 – Springing in Greens!
↓ 08 – Berets to the Farmer's Market!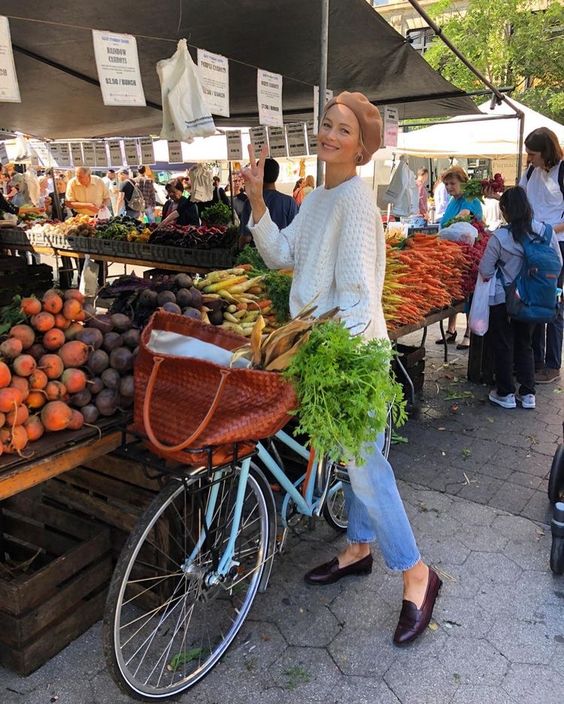 ↓ 07 – Casual Clothing Style!
Simple, straightforward, and oh-so-pretty!The ruffled skirt matches ideally with the basic white crop top, making this look perfect for the ones out there who wish to put in minimal effort and still look effortlessly classy.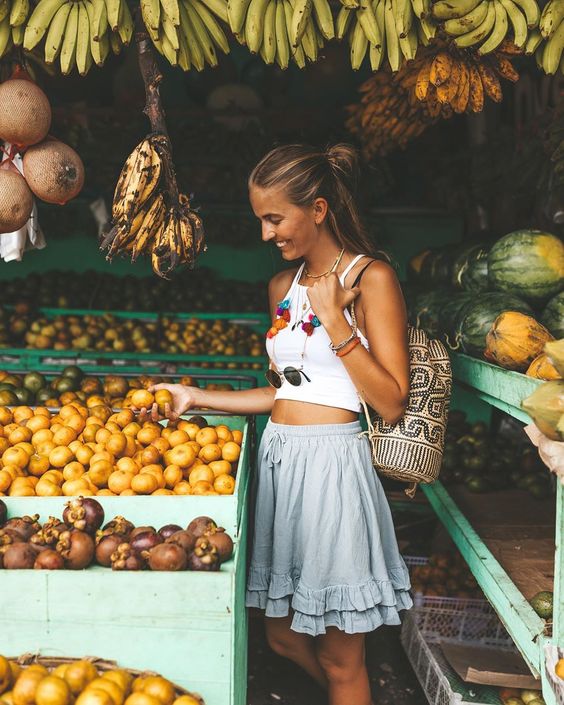 ↓ 06 – Bright in Black!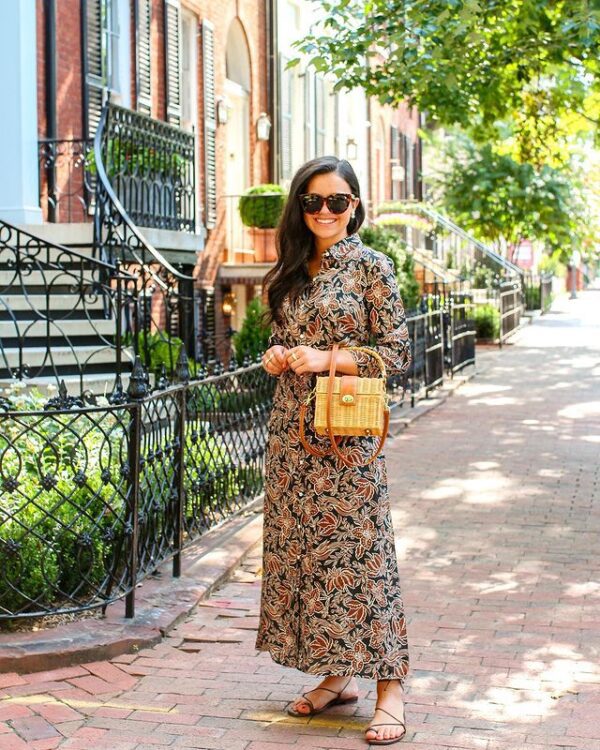 ↓ 05 – Vacationing!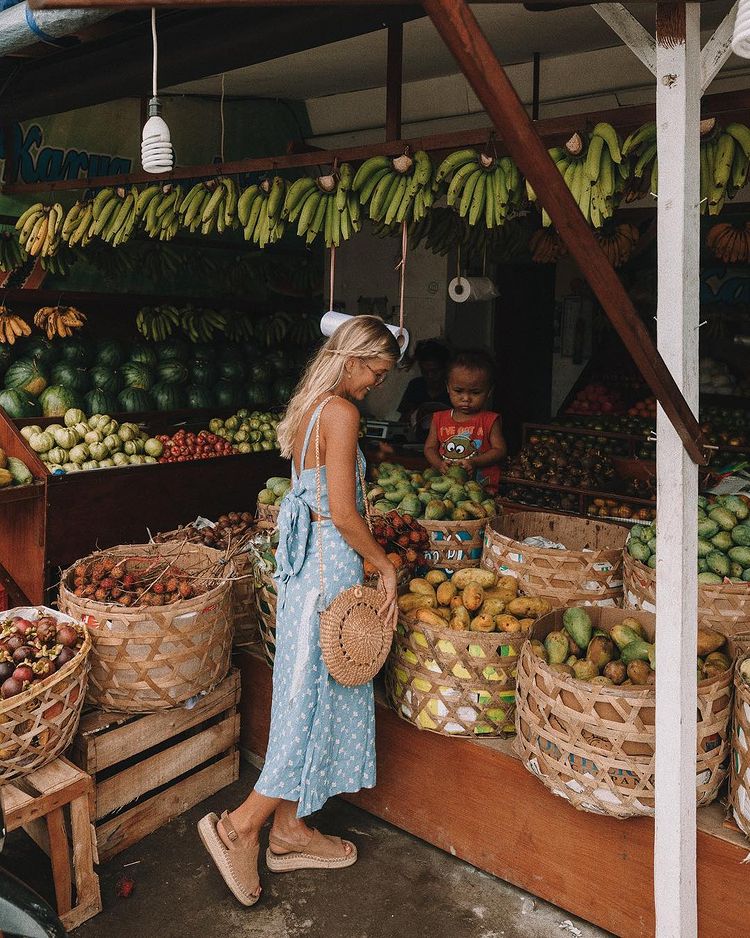 ↓ 04 – Quick Trip Outfit
Edgy minimalism is the perfect way to describe this outfit. At first glance, it appears straightforward and basic, but the little details added here and there give it its edgy aspect, for instance, that belt!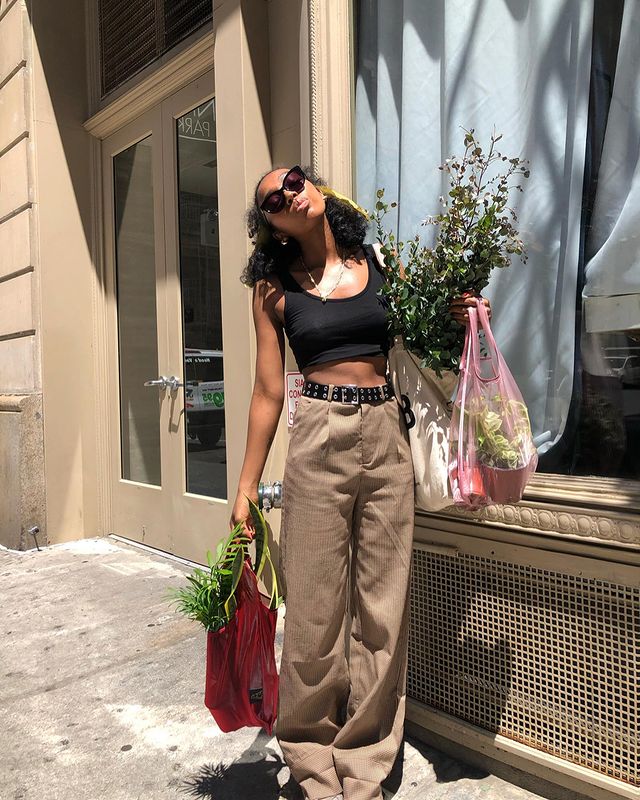 ↓ 03 – Matching Two-Piece Set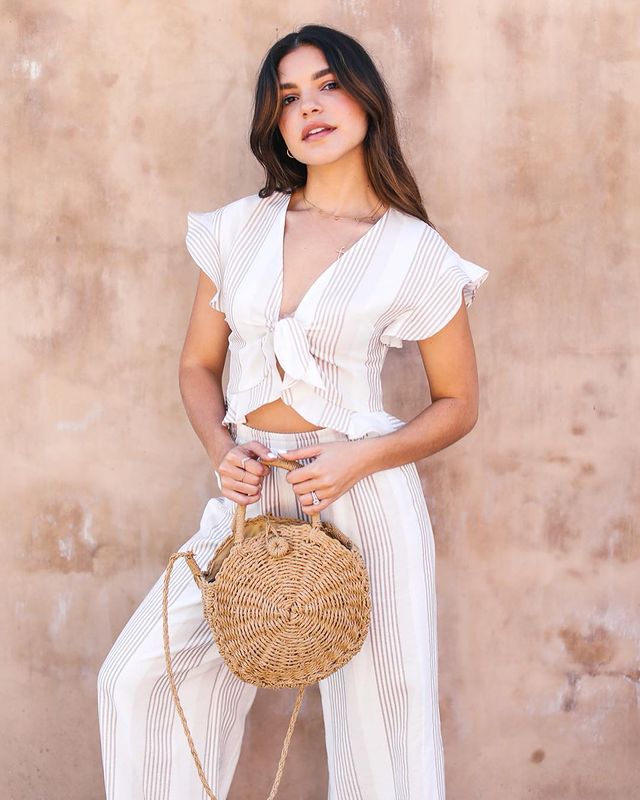 ↓ 02 – Simply Rustic!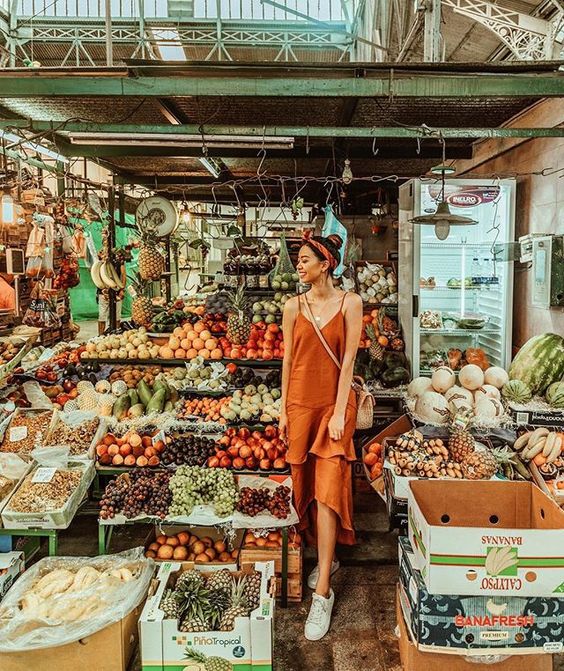 ↓ 01 – What to Wear to a Farmers Market Date?
This striped dress is such a flattering find and a must to have in your wardrobe. Not only is it perfect for visiting the farmer's market, but it is also ideal for a picnic, lunch date with friends or your significant other, or for simply running errands.
Just make sure to accessorize it according to the occasion you are dressing for, and you can not go wrong with it! Here are some more cute First Date Outfits For Girls.
Frequently Asked Questions
Q. How do I stand out in a farmer's market?
A. If you wish to stand out in the crowd, I advise dressing up in bold colors. The majority of the attendees opt for muted tones and whites, but a bold red or orange will make you shine in the best way. Another way is to Accessorize fancy with your casual outfit! A lovely pair of earrings with a dainty necklace and rings would take you to look to the next level and help you achieve your goal. And lastly, don't be afraid of trying new things!
Q. What kind of shoes do I wear to a farmer's market?
A. One word: comfortable. I say this because you will be on your feet the entire day walking from booth to booth. Thus, you need to dress in your most comfortable pair of shoes, which can keep you on your feet all day long without causing them to blister.
It does not necessarily mean that it has to be a pair of joggers, no. It can be your trusty sandals, sneakers, wedge heels, or even flip-flops! Only then will you be able to shop at the market successfully and get your hands on the best deals! Just as long as they are comfortable and keep your feet happy.
Q. Where do I buy farmer's market outfits?
A. You can find clothing for a farmer's market anywhere, but these are the best places to grab the finest pieces!
Anthropologie: These wide-legged pants (here) will be an absolute hit for your trip to the farmer's market! Pair it with a cute tank or cami top and your outfit exclaims effortless chic!
ASOS: Lilacs and flowers (here)? Yes, please!
Princess Polly: Pair this cozy cropped sweater (here) with these trendy pants (here). The perfect fit for cold summer or winter days!
Jack Wills: How cute is this pink denim dress (here)? Wear it with a balloon sleeved white top, and you are vision to behold.
SheIn: Denim shorts and this summery top (here) are a match made in heaven!
Next: You can not go wrong with this chic jumpsuit (here).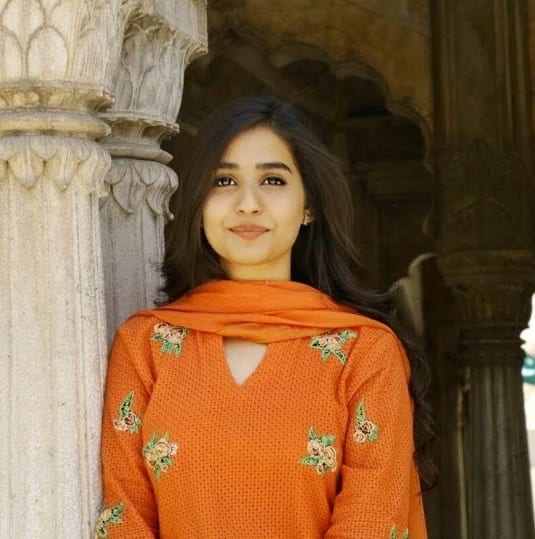 Janeeta Khan loves to write and loses herself in the world of fiction during her free time. You will probably find her curled in the corner with a Harry Potter book and a steaming mug of hot cocoa.