Goth Outfit for Guys. Goth outfits and goth look is one of the most prime looks, which never goes out of fashion. When you look around and do some research you will find out that the dressing style and outfits might vary for true goths, non-goths and wanna be goths. If you want to dress as goth or want to have varied goth looks then this article is meant for you!
Before some great outfit ideas, there are some important tips that you must always keep in your mind. Read on to find out.
How to Wear Goth Outfits for Boys
Do's of Goth Outfits
Make sure material of the cloth is not very heavy
Make sure you have a black blazer
Dont's of Goth Outfits
You don't have to always wear makeup
Black is not the only one color
↓20: The Winter Goth Look
Winter is all about layering up and wearing jackets and boots. Young and middle age men can take great benefit from black skinny pants and combining it with a black shirt and a leather jacket to add more charm to the whole look.If you have long hair then this is an additional add-on to your look. Here are some more awesome Winter Outfits for Teen Guys.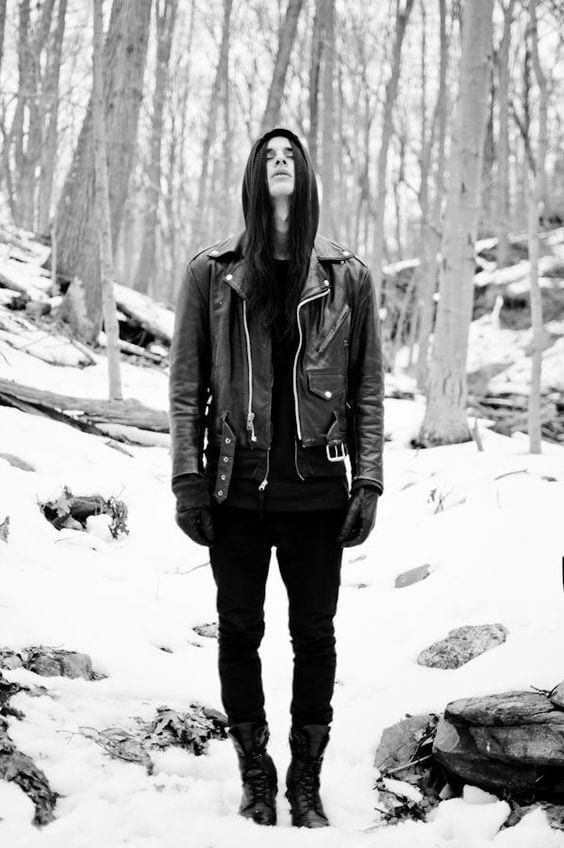 Via
↓19: Gothic School Look for Fall
Confused whether you can rock a goth look at school or not? Well, a lot of young guys may not be confident if they can look smart as well as not break the school dressing policy, for them the easiest way is to carry a long coat over black pants. This look can be combined with short trimmed hair to look smarter.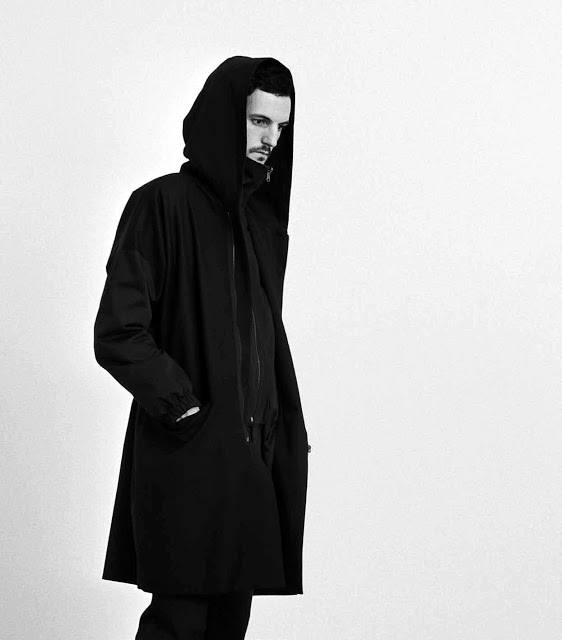 Via
↓18: The Goth Wedding Look
A goth-themed wedding and you are clueless what to wear? Or if you are a groom who wants to give your wedding dress a goth touch, well, here is the perfect idea for you!  Combine your black suit with royal purple. A purple waistcoat, tie, and handkerchief will give you the best glam wedding look! Do check out these Casual Wedding Outfits for Men for ideas on what to wear as a wedding guest.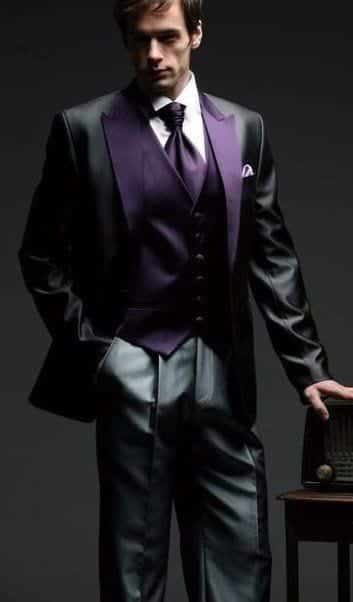 Via
↓17: The Velvet Touch
Velvet is known as one of the most royal cloth and for ages, it has been used to give the ultimate royal look. So why not add velvet to your outfits and look royal even in goth style. A dark toned, preferably maroon velvet coat would add a lot of charm and this look can be carried to formal events.
Via
↓16: Keeping it Simple
A lot of times one is not in a mood to dress up all fancy, however, to maintain the goth look what you can do is wear a plain black pair of pants and top, and to add the goth look wear a large size black scarf to give the right vibes!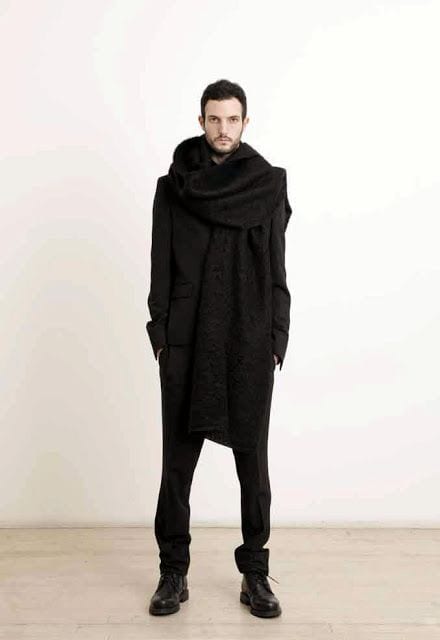 Via
↓15: Keeping it Royal
As mentioned, the goth dressing is not only about color black, instead, you can opt for browns and whites and look royal if you know how to pair them up the right way. Along with a touch of gold and some accessories you are ready to rock any formal event in a royal goth style.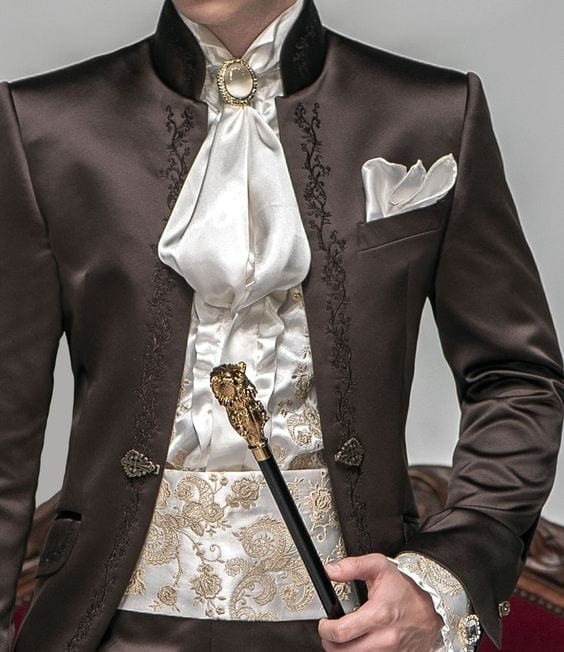 ↓14: The Right Goth Accessories
No matter how cool you dress up a lot of times if you are wearing the right accessories it also makes a lot of difference. To look like an ideal goth you can wear a hat with the right kind of pendant, for a minimal yet ideal look. Don't miss out these Trendy Mens Clothing Trends and Fashion Accessories.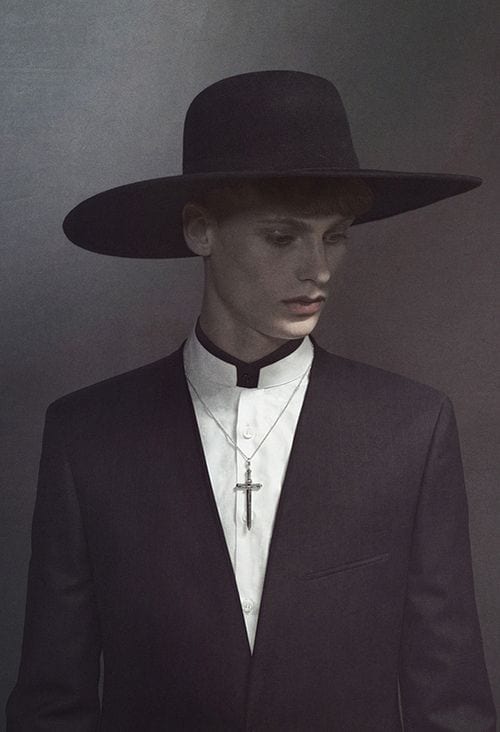 Via
↓13: Go Retro
Some days it is okay to look different and be that way. Some people may confine goth style but we can tell you that you can play along with it. Go retro! You can opt for a frilly upper with jacket and hat to look different, this getup can be done for different occasions.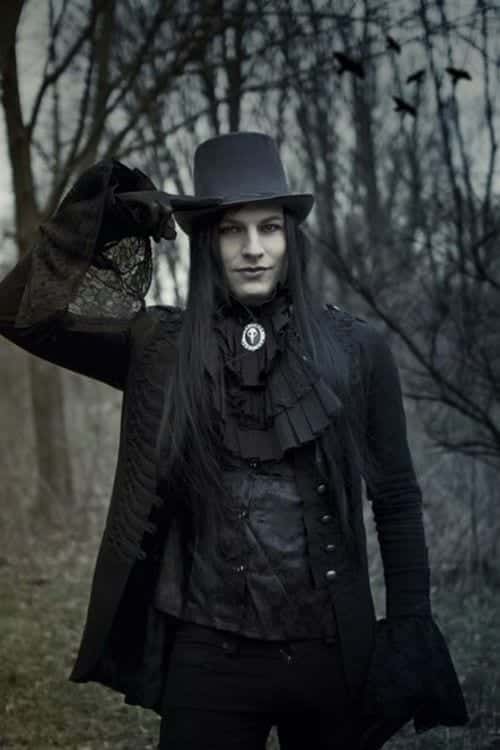 Via
↓12: Be a Little Fancy
Goth is not all about being simple and plain, you can opt for a silk material top and a black embossed coat, this will add a lot of glam to your goth persona.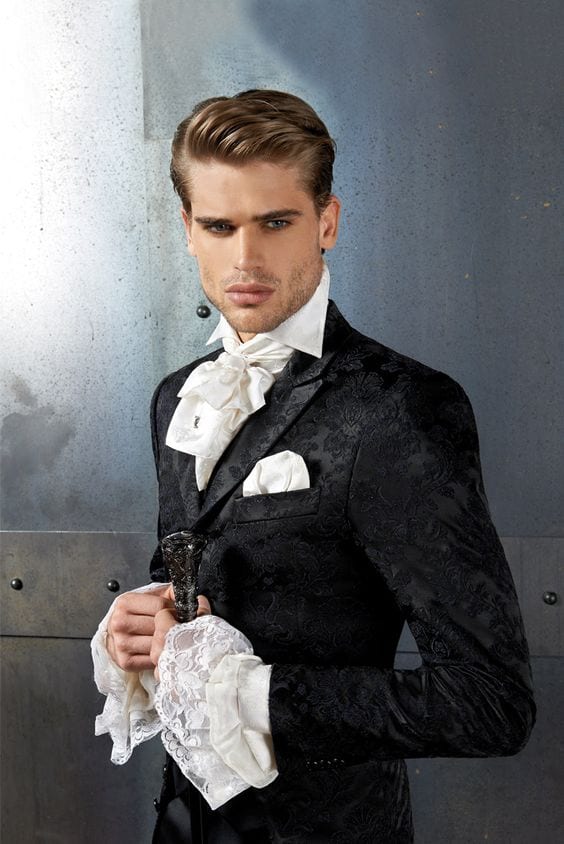 ↓11: Tattoo Up
Another way to up your goth game is to get yourself inked. You can get tattoos on the body parts which are visible, for instance, your hands or even neck. This way you can look goth even with minimal dressing.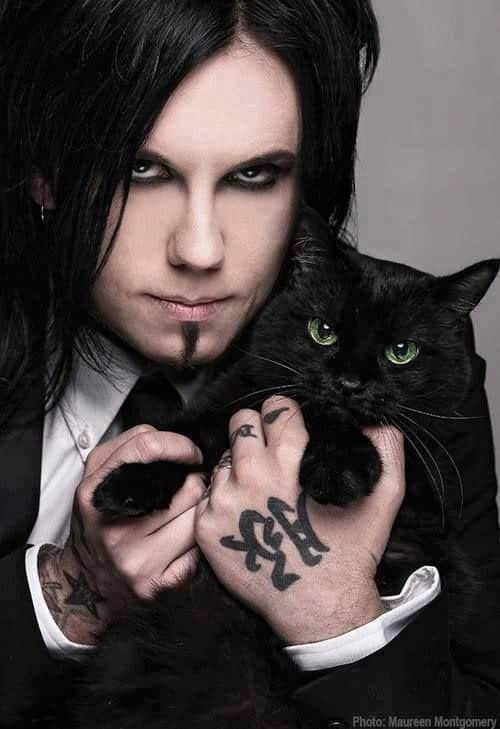 ↓10: A Dash of Funkiness
Most of the young and middle age men are looking for ideas of outfits which they can carry to their prom or for a formal date night. For them, the best thing is to opt for a three piece suit in black or preferably any other dark color and contrast a funky printed waistcoat to add a dash of fun in the dress. Here are 30 Amazing Men's Suits Combinations to Get Sharp Look.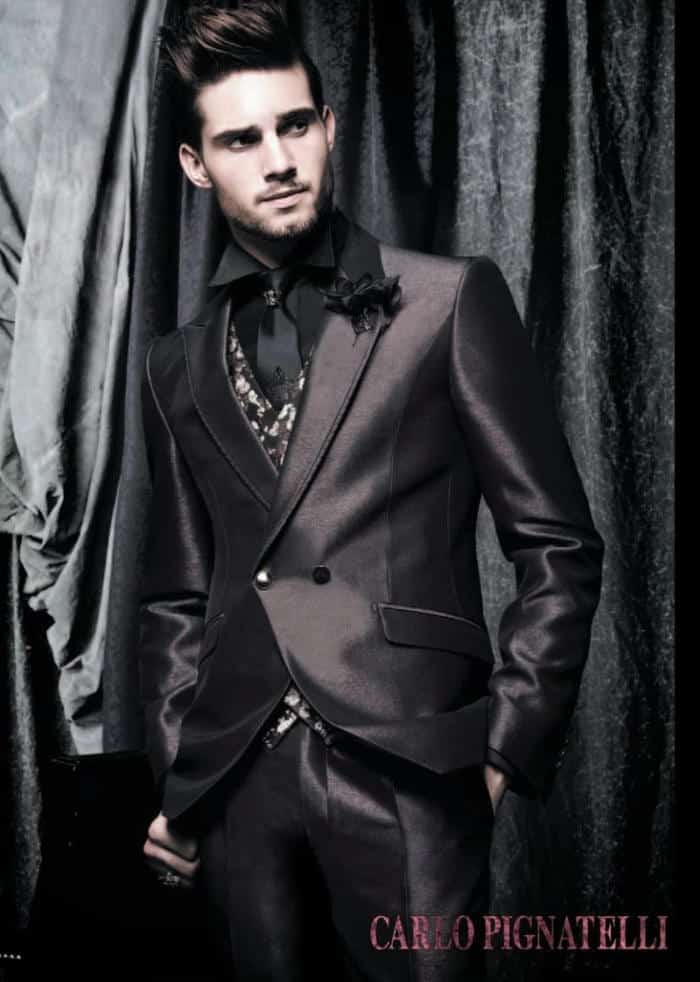 ↓9: School Dress Up
School dress ups are fun and creative, and if you want to dress up as a gothic character than you can portray your best creative skills. Wear a black leather coat with buttoned black pants and a black shirt. Your main focus should be your goth makeup which should comprise of dark lips and dark eyes to add more drama.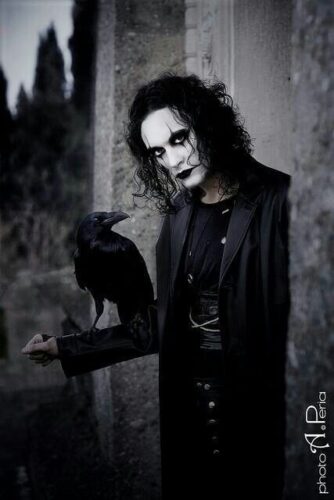 Via
↓8: Your Tie Game
Sometimes it's just the accessories that make a huge impact on how you carry yourself, being a goth enthusiast is all about that! You can pull off a black shimmery suit, however, if you add a matte finish tie tied to this outfit it will definitely make you look unique and more goth.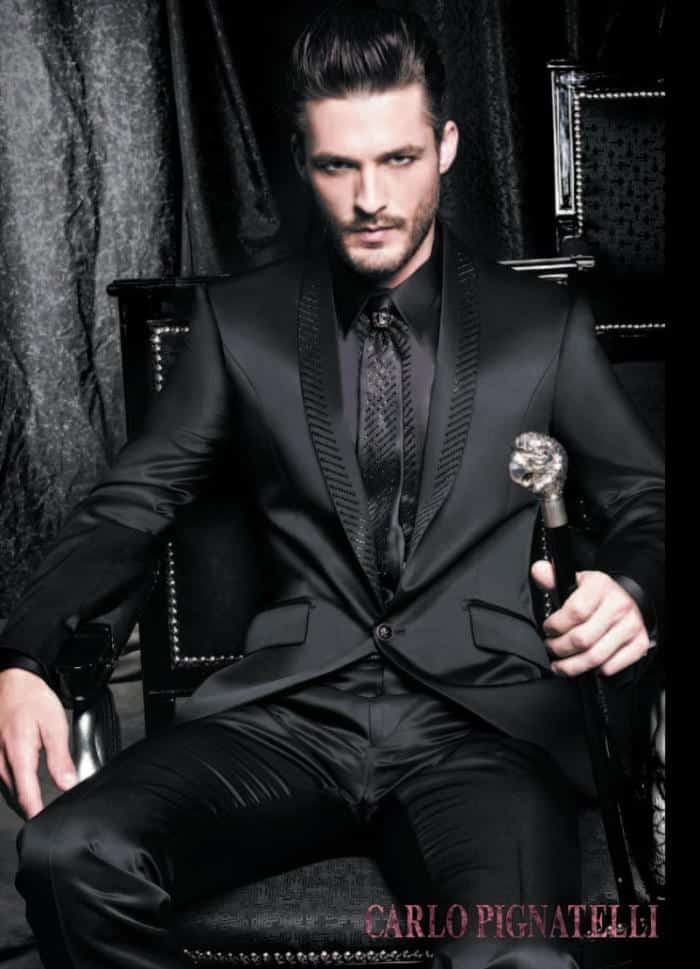 ↓7: Hairstyle with Goth Outfits
Usually, goth outfits are not the only way to appear goth, instead, you should work on your overall personality. To achieve the look you can grow your hair long, till your back. This will create ease and you won't have to work a lot with the outfits.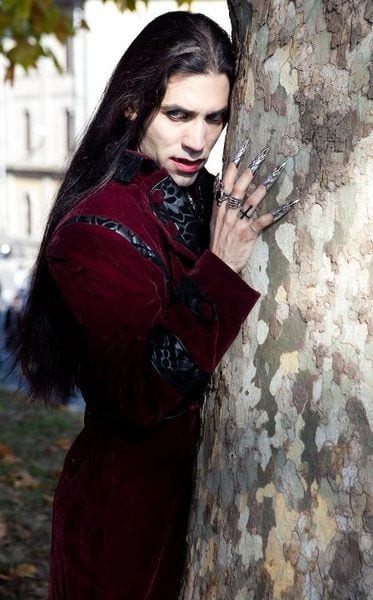 Via
↓6: The Best Prom Look
For the young boys who are looking for prom ideas, the best idea is to wear a combination of red and black. A suit with these two colors will match up to your goth personality and will make you stand out in the crowd. Monk Strap shoes would look great with such outfits, here are 30 Best Men's Outfit Ideas to Wear with Monk Strap Shoes.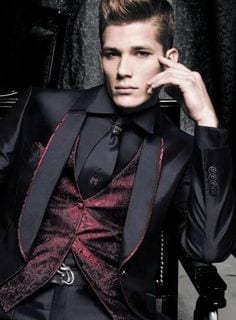 Via
↓5: The Goth Gentleman
So you think it is not possible to have a combo of gentleman and goth at the same time? Well, we can prove you wrong! A black self-embossed coat with black button down shirt and pants is the right way to achieve the look. You can also opt for a clean shave to give you a smarter look.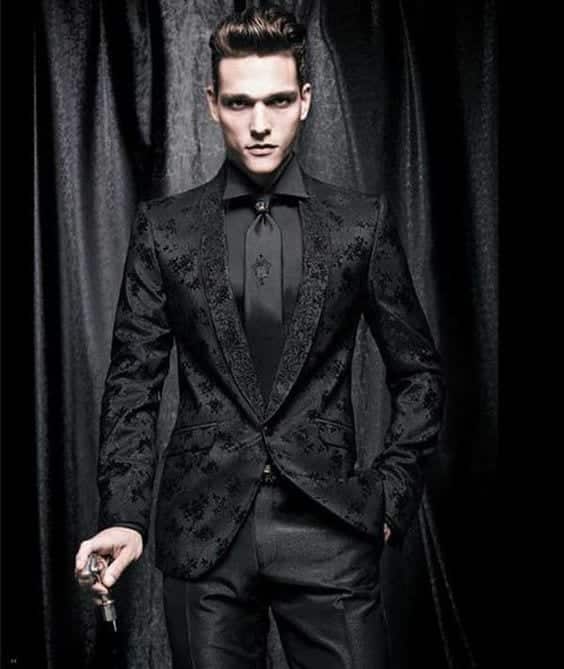 ↓4: The Fusion of East and West
Want to opt for a goth style in the Eastern culture? Here's our simple advice, wear a black sherwani with black skinny pants and that's it simple yet a fusion goth look to carry at different festivals.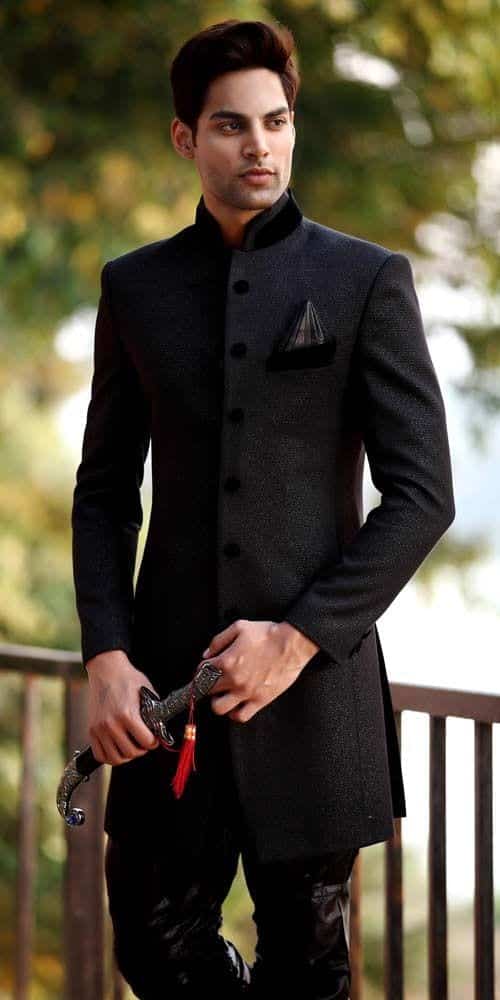 ↓3: The Right Choice of Footwear
With many footwear options available in the market, the best ones are black ankle boots. These uplift the whole look and can be worn with multiple outfits and styles.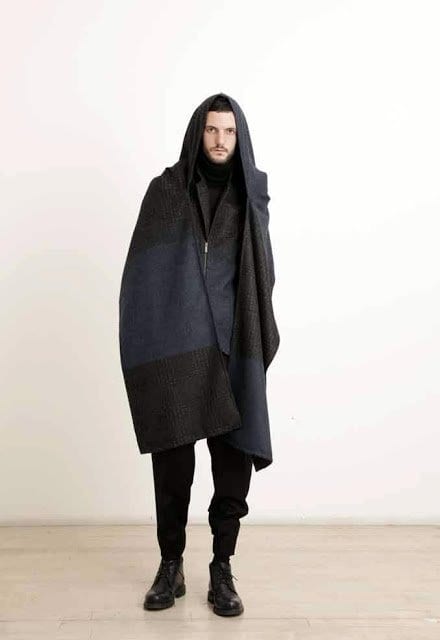 Via
↓2: Black is not the Only Color!
As mentioned earlier you don't need to wear black all the time to appear goth, instead, you can play with red and maroons to look different than your usual goth look.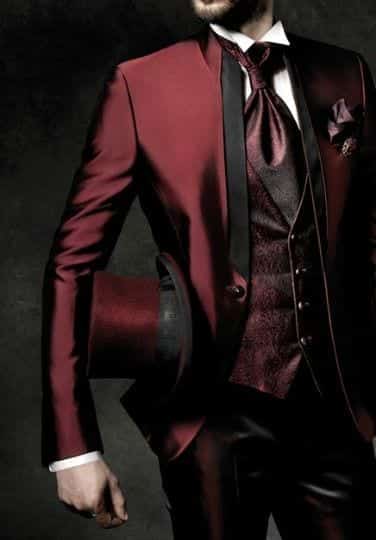 ↓1: The Right Eye Makeup
Lastly, what is a goth without the right eye makeup? Use red and black hues to create a dramatic look with your outfit and enjoy your goth look!