Park Date Outfits – Dressing up for a date at the park can be both fun and challenging. On one hand, you have the opportunity to have some fun with your outfit and show off your style. On the other hand, the last thing you want to do is take a wrong turn and end up looking like you're about to go out clubbing.
The key is finding an outfit that's casual enough for the setting, yet still stylish and flattering. Putting together the perfect ensemble that is both comfortable and stylish is easy once you know what to look out for.
What to wear to a date in the park?
When it comes to dressing for your park date, the possibilities are truly endless. If you're feeling daring, kick it up a notch with a fun print or bright-colored dress. For a more casual look, try a pair of shorts and a graphic tee outfit. For something a little more elevated, try wearing a statement top or jumpsuit with sandals or flats.
When it comes to park dates, comfort is key. You want to be able to relax and wander around without feeling restricted or uncomfortable. A lightweight blouse, a pair of light-wash jeans, a pair of canvas shoes, and a delicate necklace can make for a chic yet laid-back look. Alternatively, a ruffled sundress with strappy sandals is also an easy and effortless date look that's perfect for the park.
Tips on how to dress for a park Date
Floral prints will never go wrong! Whether it's a date or a casual day out with your besties, floral print is always the way to go.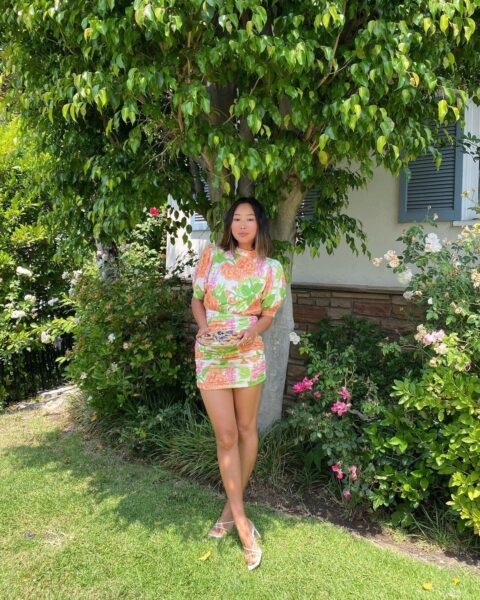 For short walks in the park, a pair of shorts would be perfect! To finish off your look, add a baseball cap and some sneakers to give it an effortless vibe.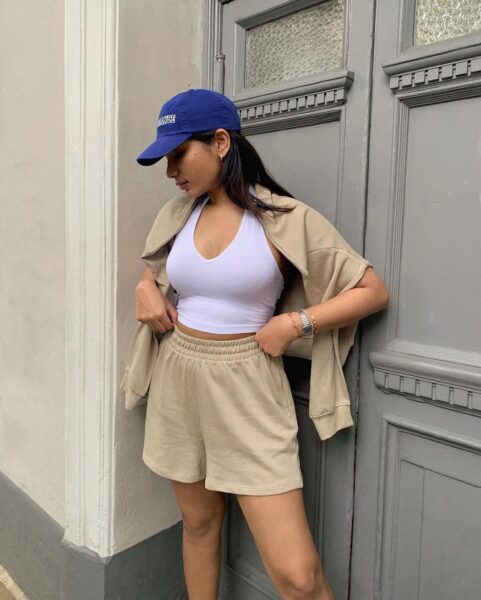 On a cold winter day, layer up! Start with a base, such as a long sleeve T-shirt, and pair it with a thick sweater or Cardigan. For your bottoms, you can go for jeans and opt for a more relaxed cut for more comfort.
A coat is essential to keep you warm and give you that chic look. Opt for puffers to create contrast in your outfit. For shoes, I recommend boots with good grip since they are comfortable and offer good protection from the cold.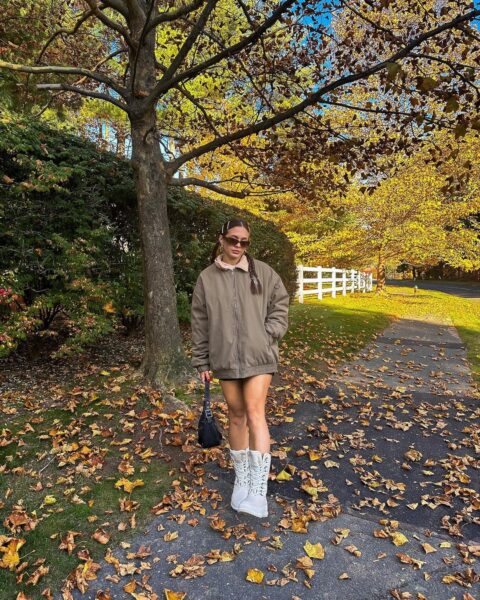 When the weather is more forgiving, layer up with lighter materials like cotton or silk to stay cool but still look fashionable. Take into account that accessories can bring colors together in an outfit so feel free to play around!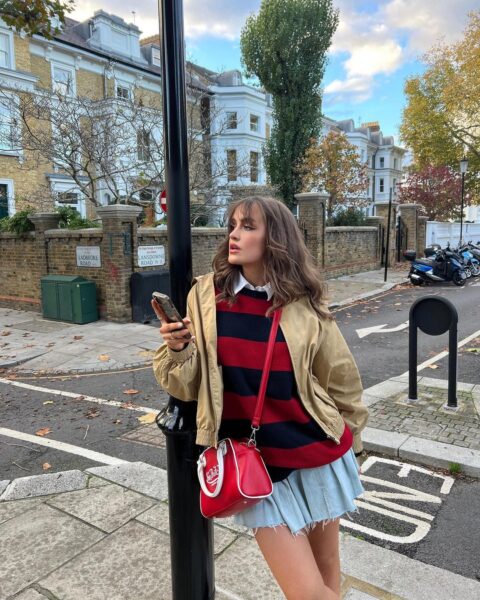 20 – Floral Sundress with pink heels
Such a classic staple in every girl's wardrobe. You can make your look feminine by focusing on the silhouette and length of the dress and the print on it.
To bring out the best in a floral dress, keep the rest of your look clean and dress with a neutral-colored handbag and small earrings. For the make-up, you can wear a pop of color to match the pink hues in the dress and top it off with cat-eye sunglasses!
19 – Off-shoulder top and loose-fit cargo pants
An off-the-shoulder top paired with loose-fit cargo pants is an ideal look for a romantic stroll in the park. Add a pop of color with a bright shoulder bag and keep the ensemble comfortable with white sneaker shoes.
To complete the look, add some light jewelry like a necklace or bracelet, and your favorite pair of sunglasses, and you'll be ready to enjoy the warm sunrays of summer.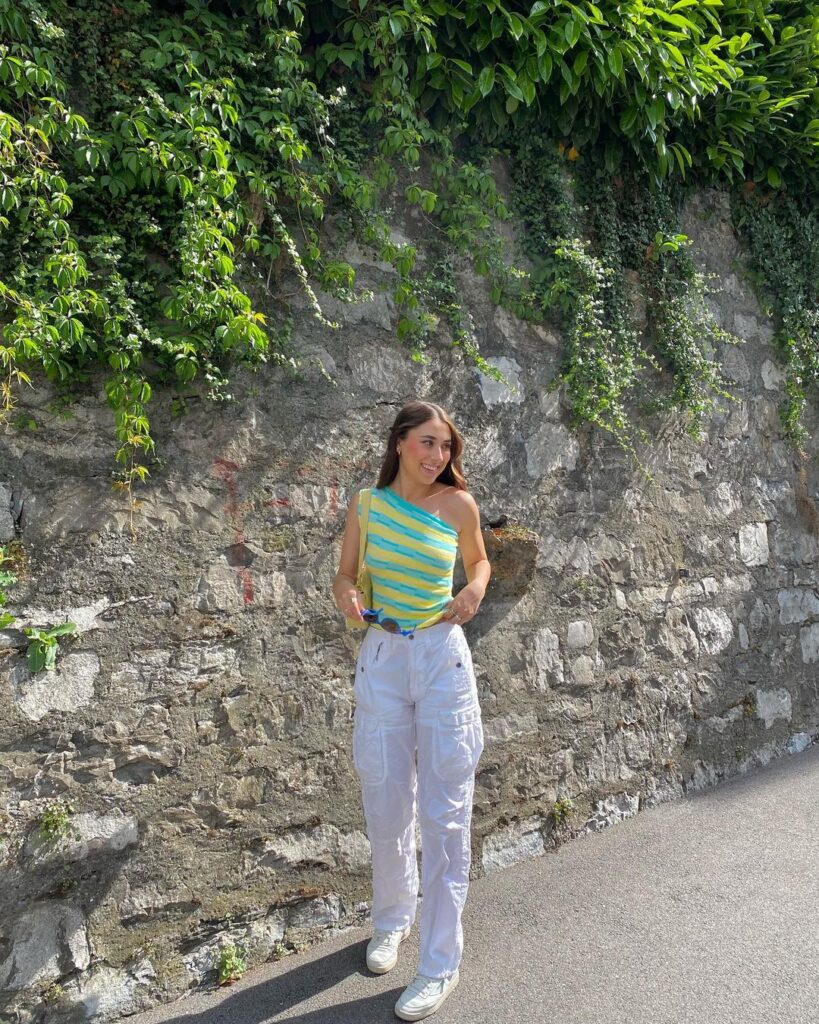 18 – Black Jacket With White Fur With Long Mesh Skirt
With summer in full swing, many people are on the lookout for the perfect outfit for a romantic date. Why not try a black jacket with white fur for a look that will turn heads?
Combined with a long mesh skirt and some accessories such as a shoulder bag in the same family color and sleek black ankle boots, you can create a sexy look that will be sure to woo your significant other. This look is perfect for a walk in the park or a night spent under the stars.
17 – Ice Blue Vest Top With White Loose Pants
This outfit is the perfect mix of modern and classic. The ice blue vest top with white loose cargo pants is a stylish and chic statement piece, while the body chain bag adds a contemporary edge.
The vintage speedy glasses and sleek bun create a classy look that will turn heads. They keep you cool in the heat and together, these pieces offer a timeless style that is functional and chic.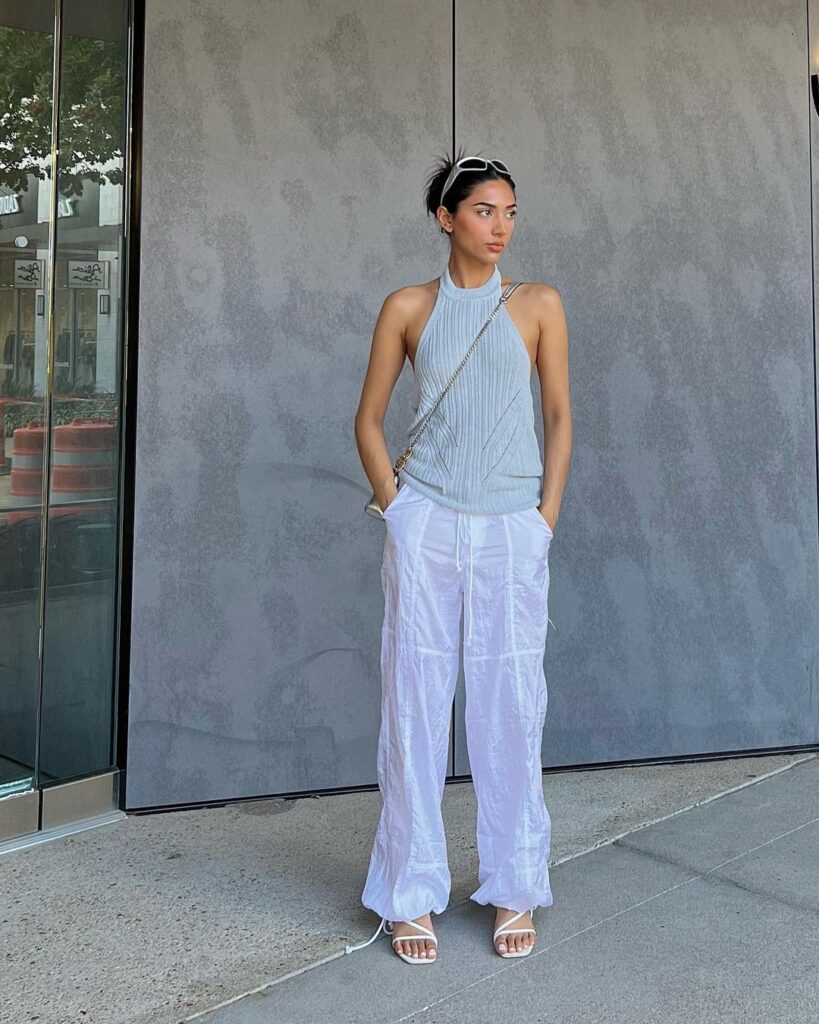 16 – Wide-Leg Jeans And White Shirt With A Sweater
Take style advice from the pros and opt for wide-leg mom jeans with a white shirt and a funky sweater. Perfect for a chilly day at the park, you can accessorize with UGGs for extra warmth and a pair of sunglasses to soak up the sun all day long.
Whether you're out on a date or just with your best friends, you'll have the time of your life when you dress up in this casual and chic ensemble.
15 – A White Low Cut Mini Dress & Matching Sneakers
14 – Matching Mauve Set With A Varsity Jacket
For a stylish yet casual look, pair a matching set with a varsity jacket. Accessorize with basic white sneakers, and you'll be ready for a walk with your pets at the park date.
The matching set and varsity jacket create an effortless yet pulled-together look that's perfect for outdoor activities. Make sure to layer on extra pieces if the weather is cool so that you can stay comfortable.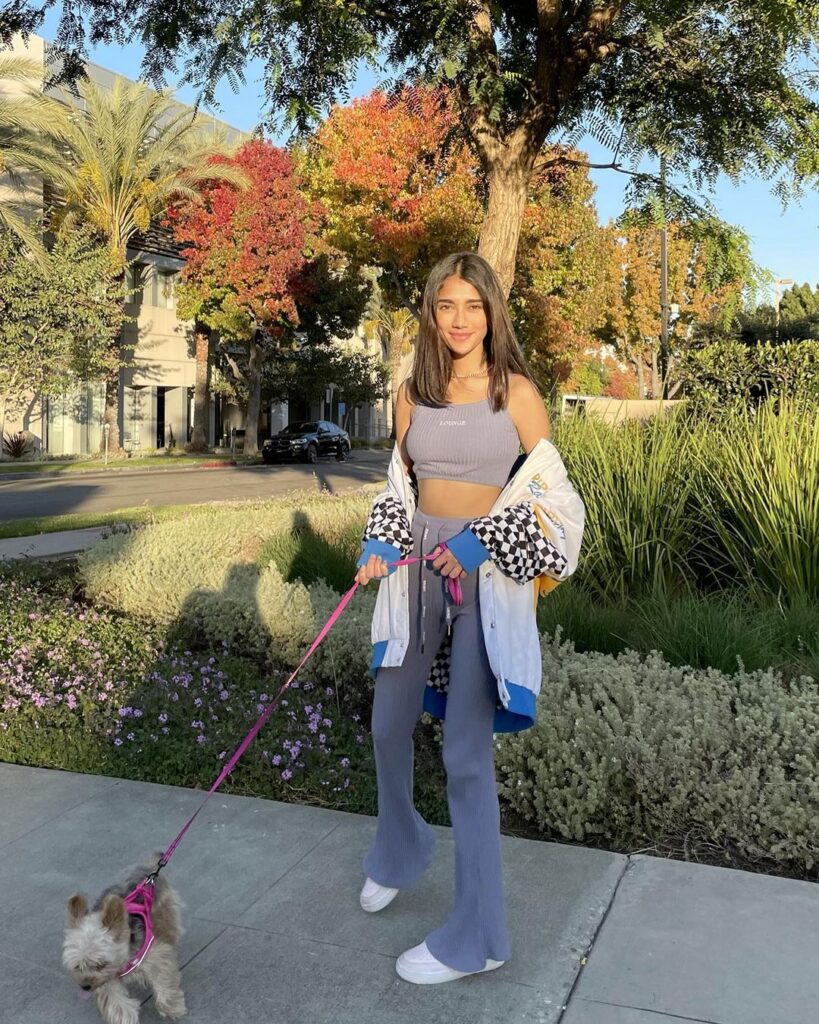 13 – Strapless Black Dress With A Brown Jacket
To add a bit of edgy but subtle style, try topping it off with a brown jacket. Knee-length black boots will complete the look and add a hint of sexiness.
This outfit is perfect for a coffee date at the park or any other outdoor location. With the right accessories and confidence, you can never go wrong. The high-quality materials of the jacket will keep you warm and you'll be sure to stand out in the crowd.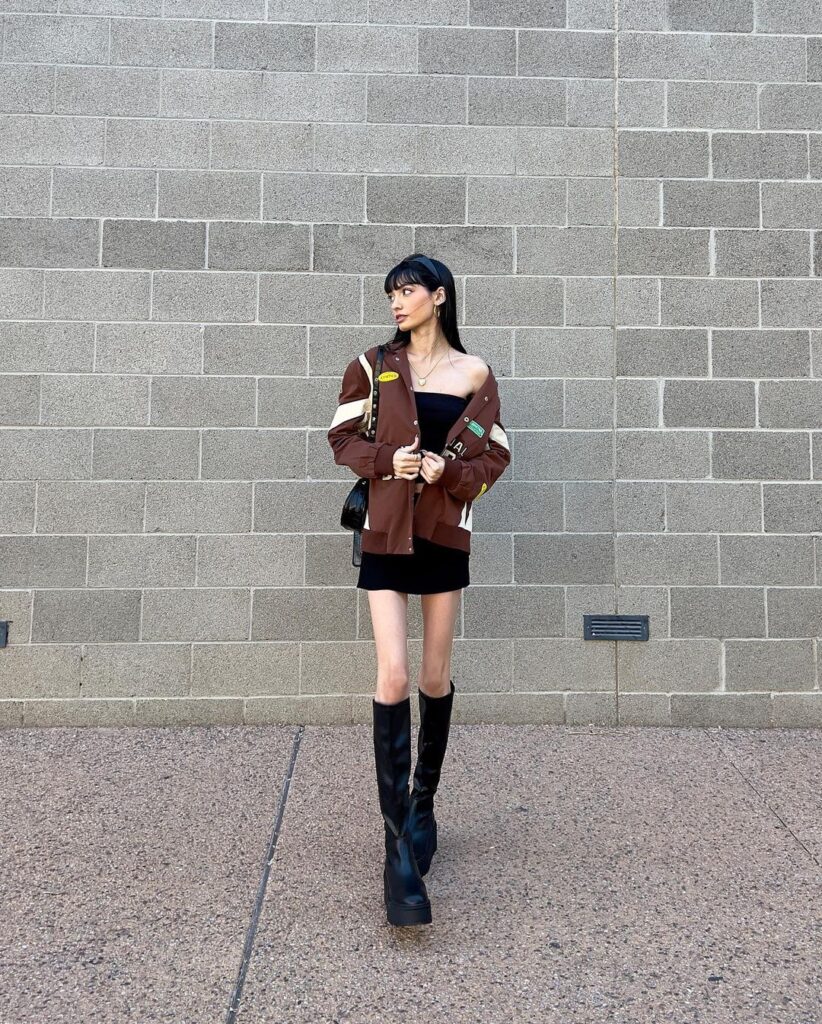 12 – Black Tank Top and Green Cargo Pants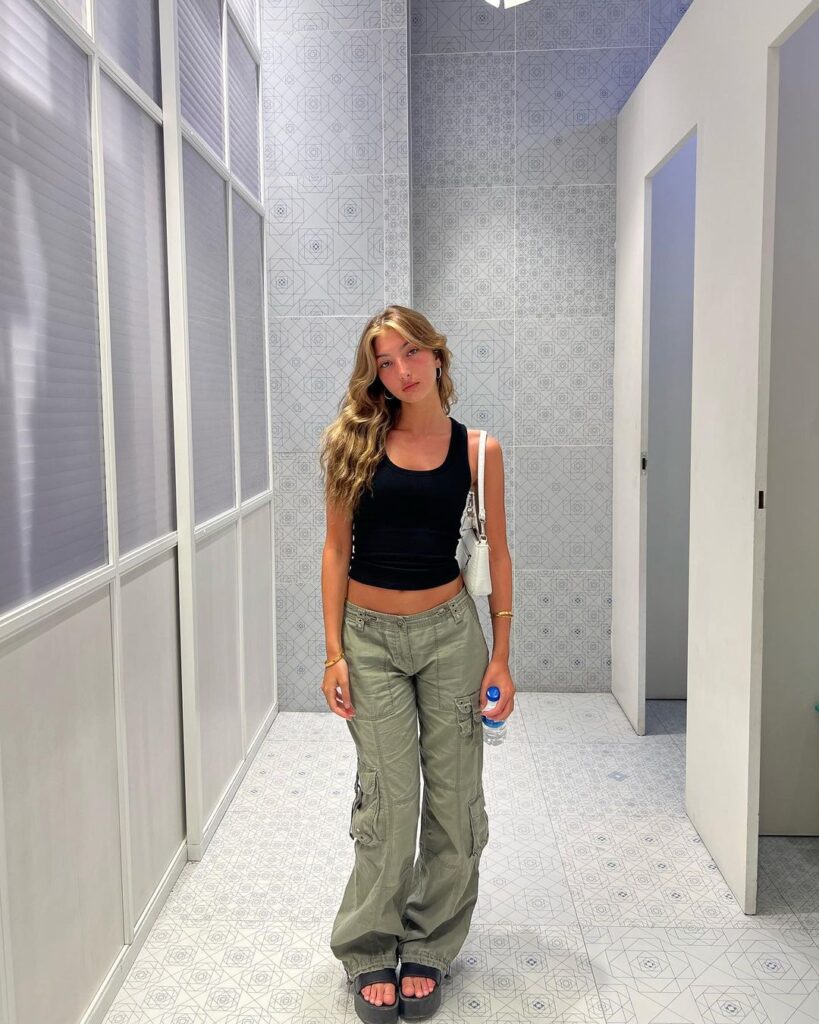 11 – Glittery Skirt with white matching top & Cowboy Boots
To complete the perfect look for a picnic at the park, consider a glittery skirt with a white matching top; this look can be highlighted with cowboy boots.
Not only is this outfit extremely fashionable, but it is also extremely comfortable. Plus, you can easily swap out the boots for sneakers or sandals depending on the weather. Accessorize with an oversized sun hat, and you are ready for a lovely day outside.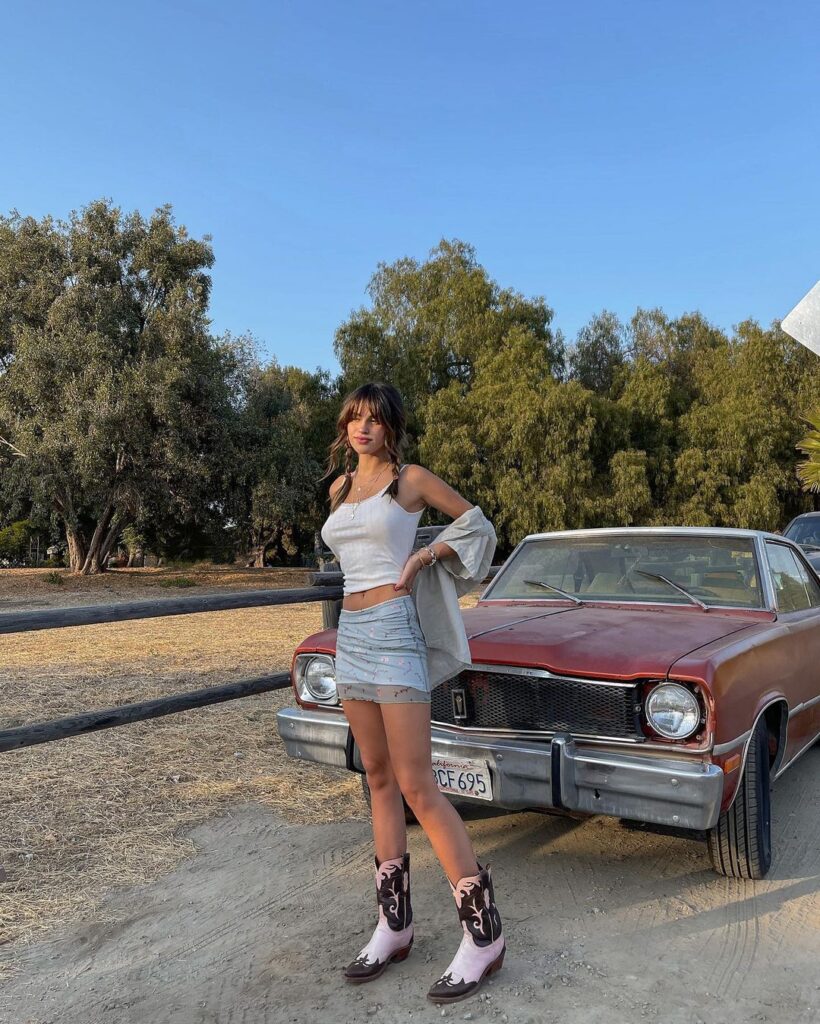 10 – Cottage core inspired Pastel dress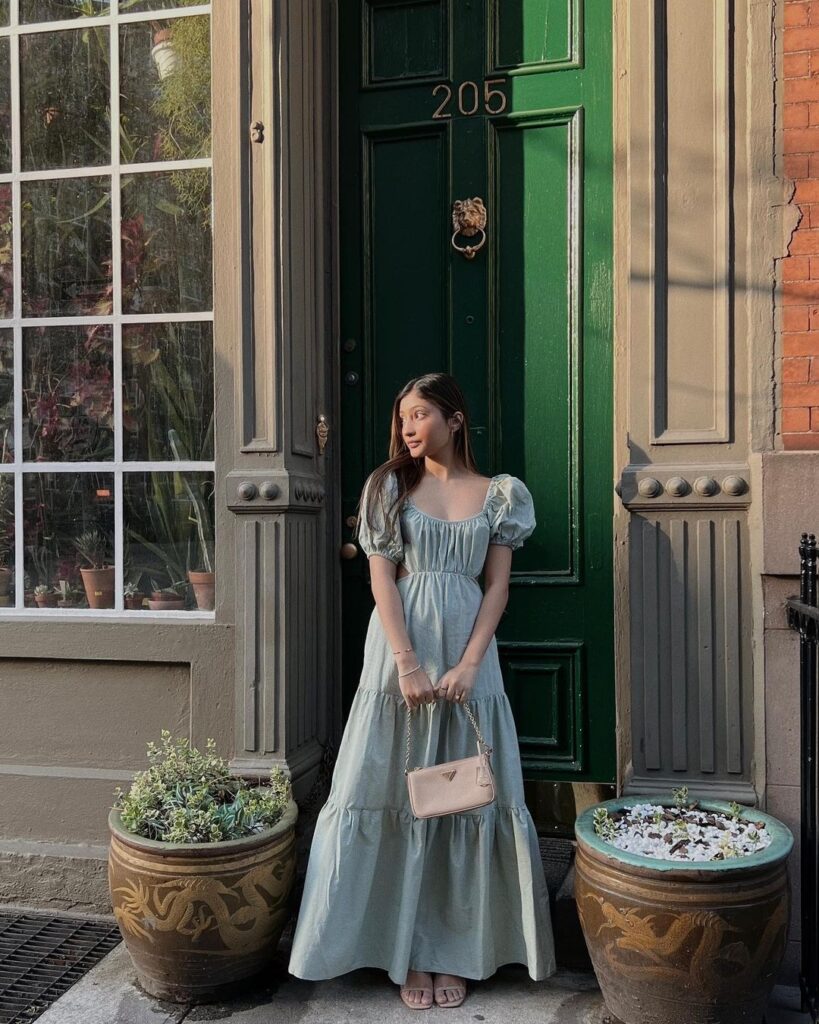 9 – White Button Up Shirt With Jean Shorts
The modest denim shorts are a terrific thing for a summer date that no lady will be without over the summer. Every girl's summer wardrobe will have a pair of them.
They are ideal for displaying those bronze legs while still retaining a clean midsummer look. You must finish the ensemble with a white collared shirt.
8 – White Knit Sweater With boyfriend jeans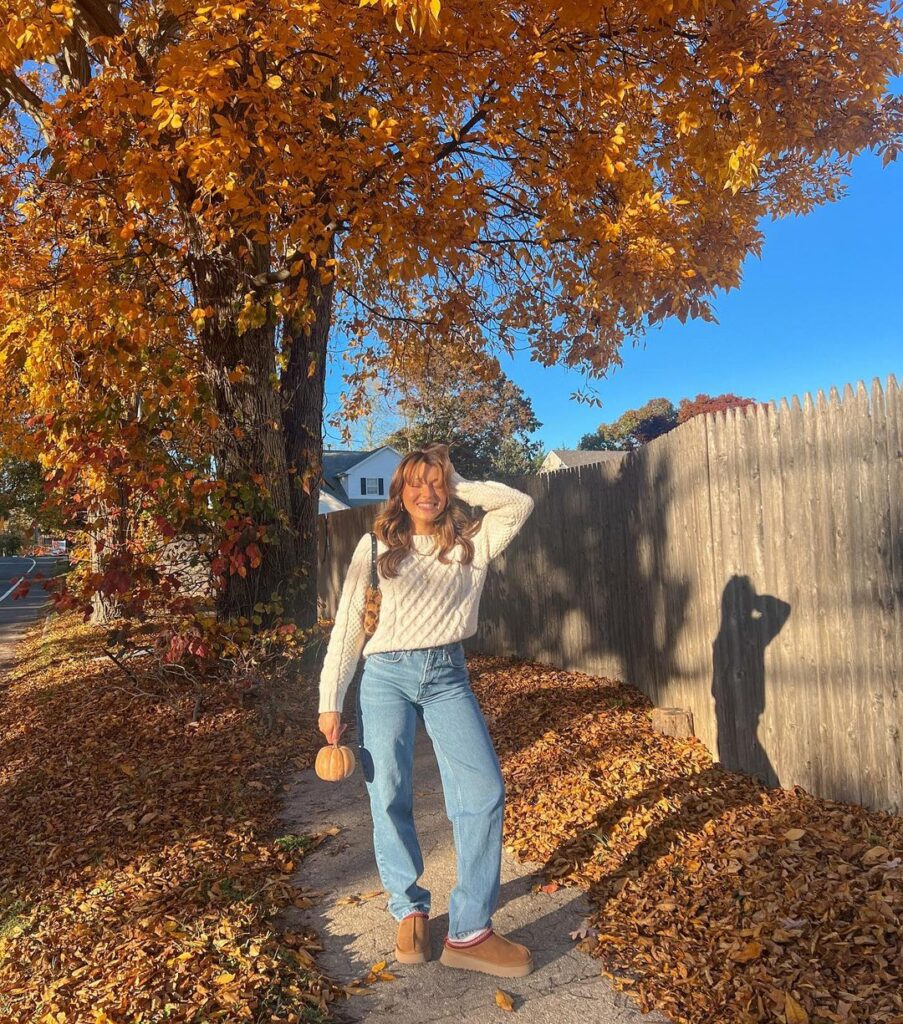 7 – White Matching Tracksuit with converse
To complete the trendy look, people often choose to wear low-waist tracksuit pants paired with a matching hoodie as the top. Accessorize with your favorite jewelry pieces and the choice of comfy shoes for that perfect off-duty park hangout look.
A scarf or hat can add to the overall vibe and a pair of sunglasses can complete the outfit.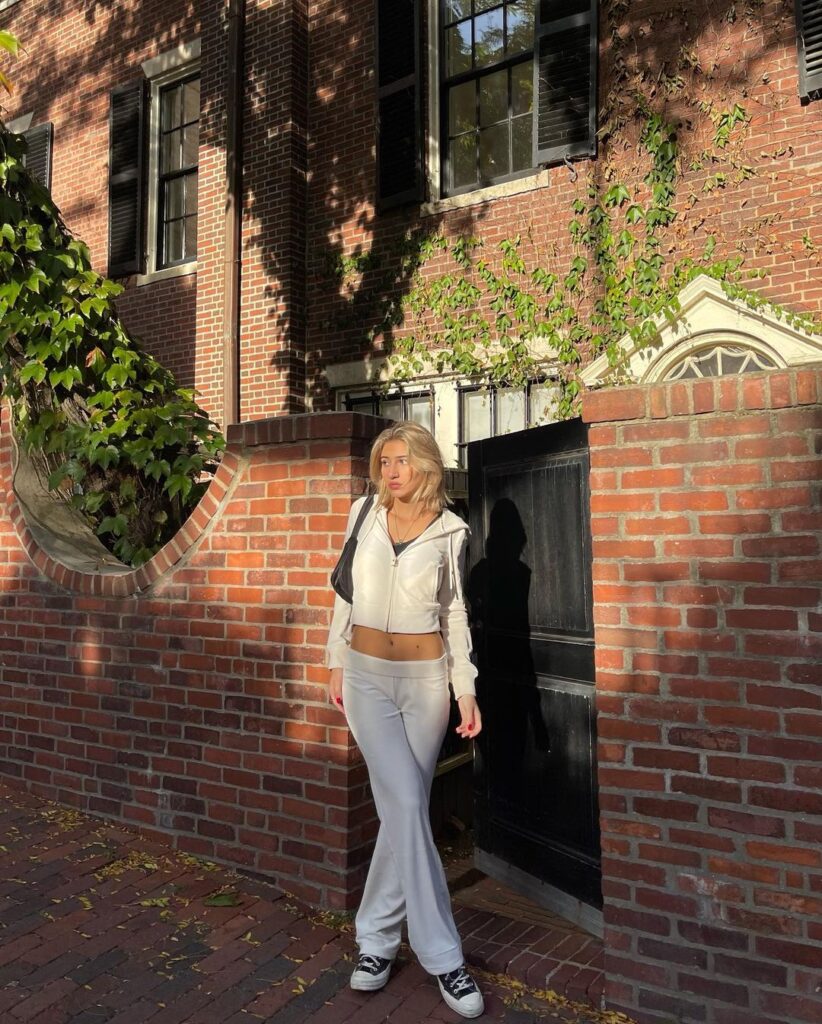 6 – Low-waist Skirt paired with a White & Yellow top
Low-waisted long white skirts paired with a colorful top are the perfect combination for a day out. Finish the look with your favorite jewelry pieces and your comfiest shoes for a relaxing afternoon in the park.
With this combination, you can feel both fashionable and comfortable, ready to enjoy all the park has to offer. Enjoy the fresh air and the beautiful scenery that awaits you.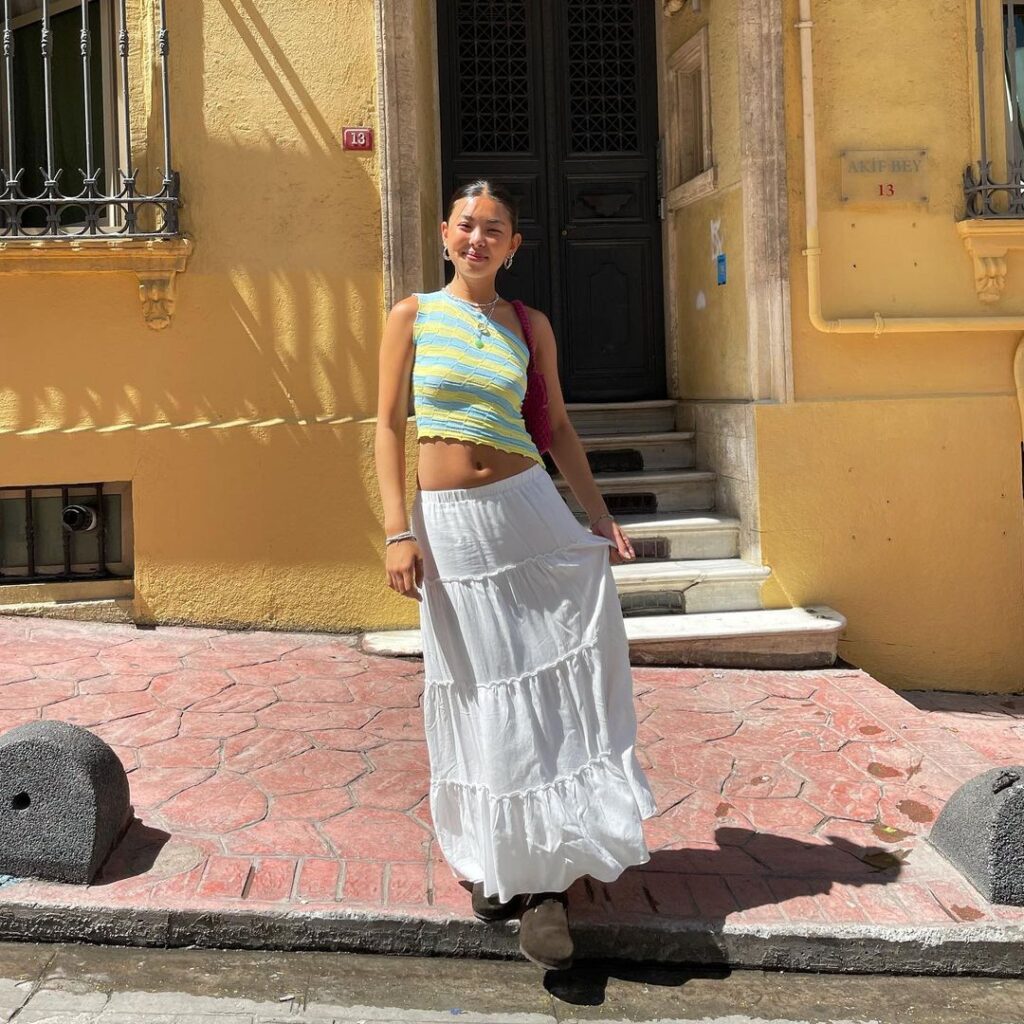 5 – Black Scarf with a Black Border Sleeveless dress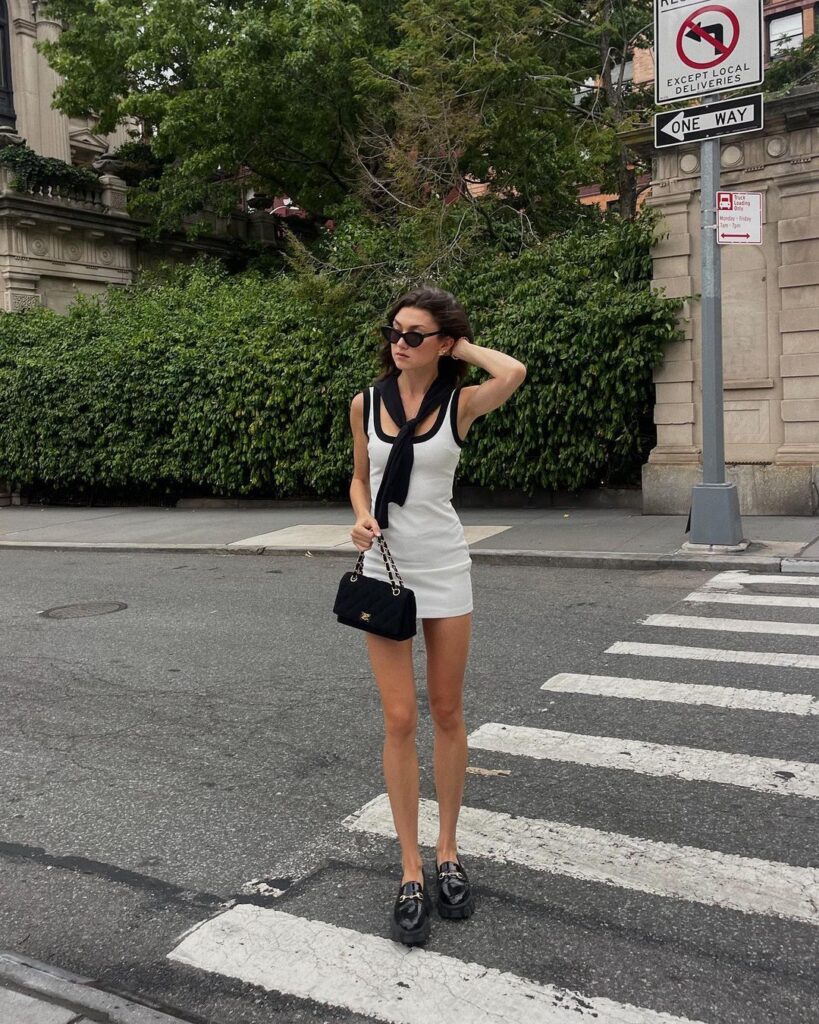 4 – Graphic Mesh Top with Straight Pants
A great way to make a statement while still looking professional is to pair a graphic mesh top with straight pants. This look can be accessorized with a bright handbag or purse and tall boots to complete the ensemble.
The key to this look is making sure that the colors coordinate, so it's important to choose clothing that is cohesive and has the same tone. The addition of jewelry and other accessories can also add interest to the outfit and make it stand out.
3 – Black Corset Dress with A White Pullover
To add a touch of class and flair, try a black corset dress with a white mini sweater to stay cozy. Accessorize with loafers and ankle-high socks for an extra dose of style. You can even add bows to your hair for an added level of sweetness!
With this outfit, you're sure to make your date swoon. You step out the door, your ensemble ready for a beautiful day at the park. You feel confident and excited as you walk with your date hand in hand.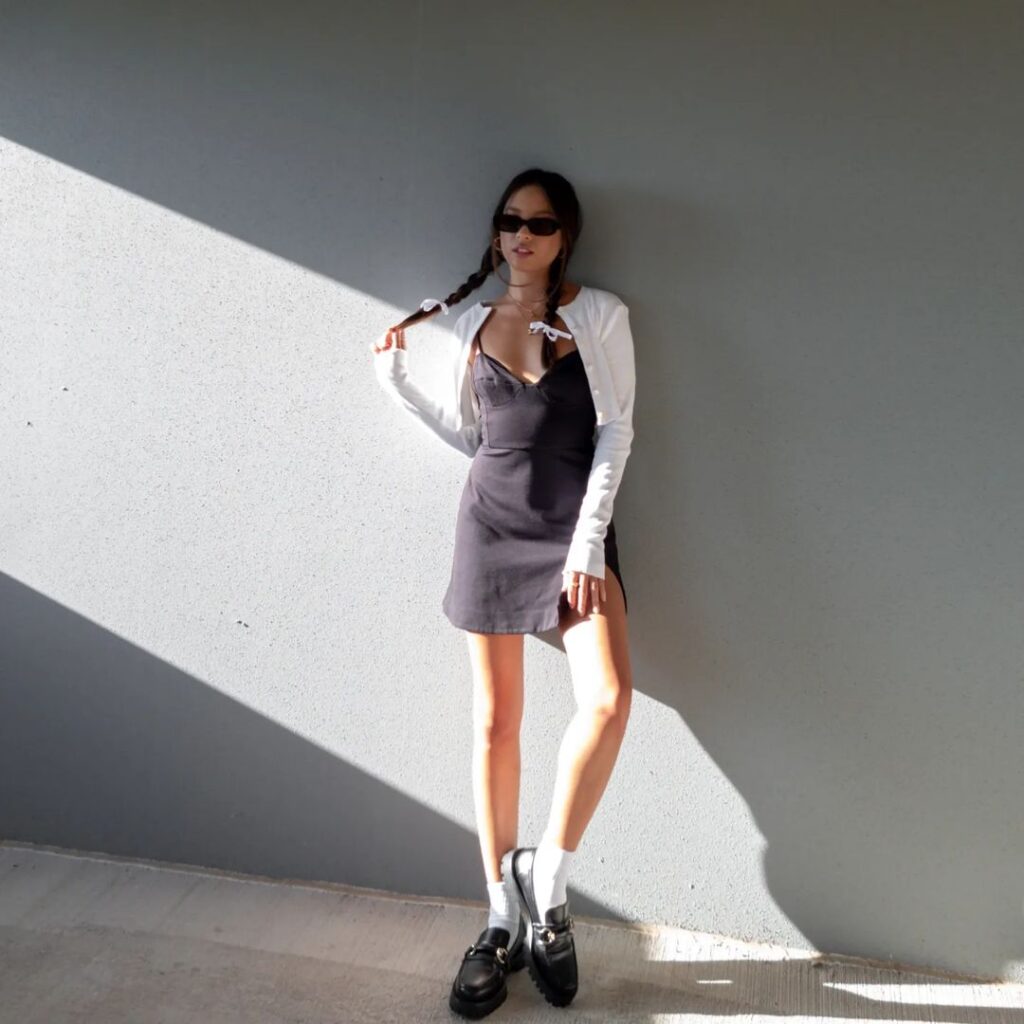 2 – White Bodycon Dress With White Converse
In this era, not possessing a white little dress is a severe fashion crime since you're losing out! Wear your white dress with vibrant accessories and matching shoes to provide contrast and make you stand out. Furthermore, the adaptability of a white dress makes it a spring and summer wardrobe must-have!
A sunkissed, bronzed complexion with smudged eyeliner and natural skin is the ideal makeup look for an afternoon date at the park. Choose a lip tint to bring out a rosy tone on your cheeks and lips; you're set!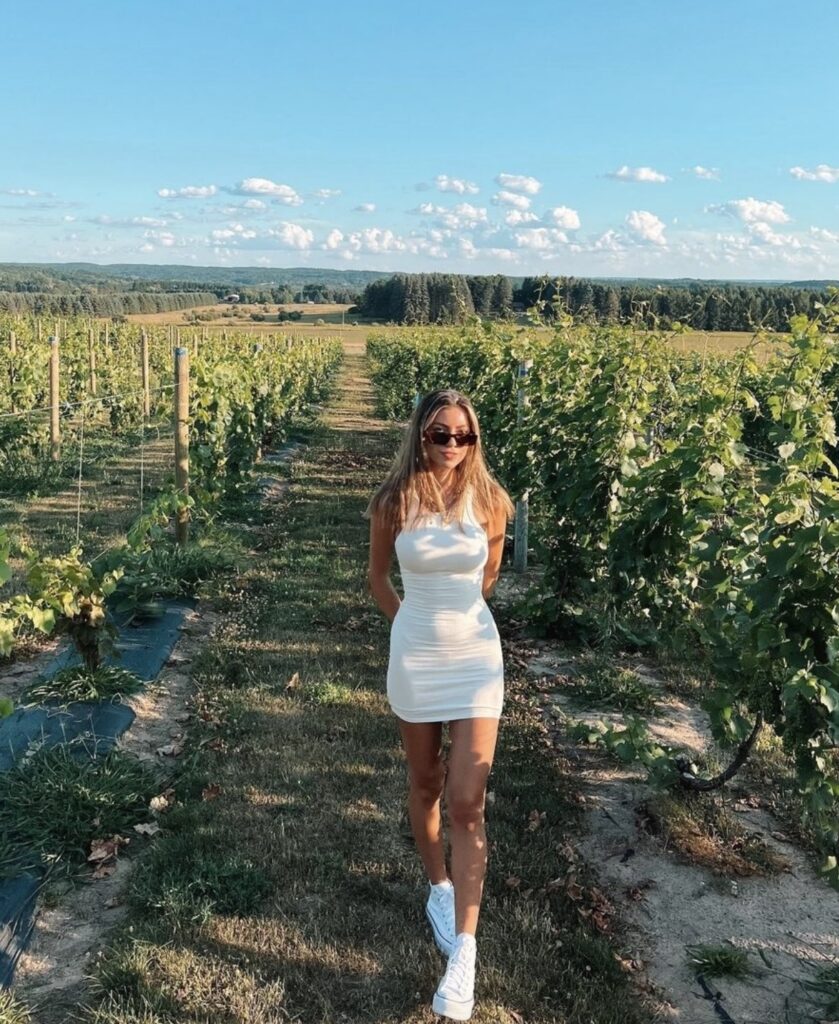 1 – Red Maxi Dress With Frill & Clear Heels
If you are on the clock and need to head out as soon as possible, this dress is the way to go! Go for a cute long dress and pair it with a handbag and your clear heels for an effortless look.
Moreover, this look will give you minutes to spare so you can focus on your hair and makeup & get glammed up! You can up your game with sharp eyeliner and red lips.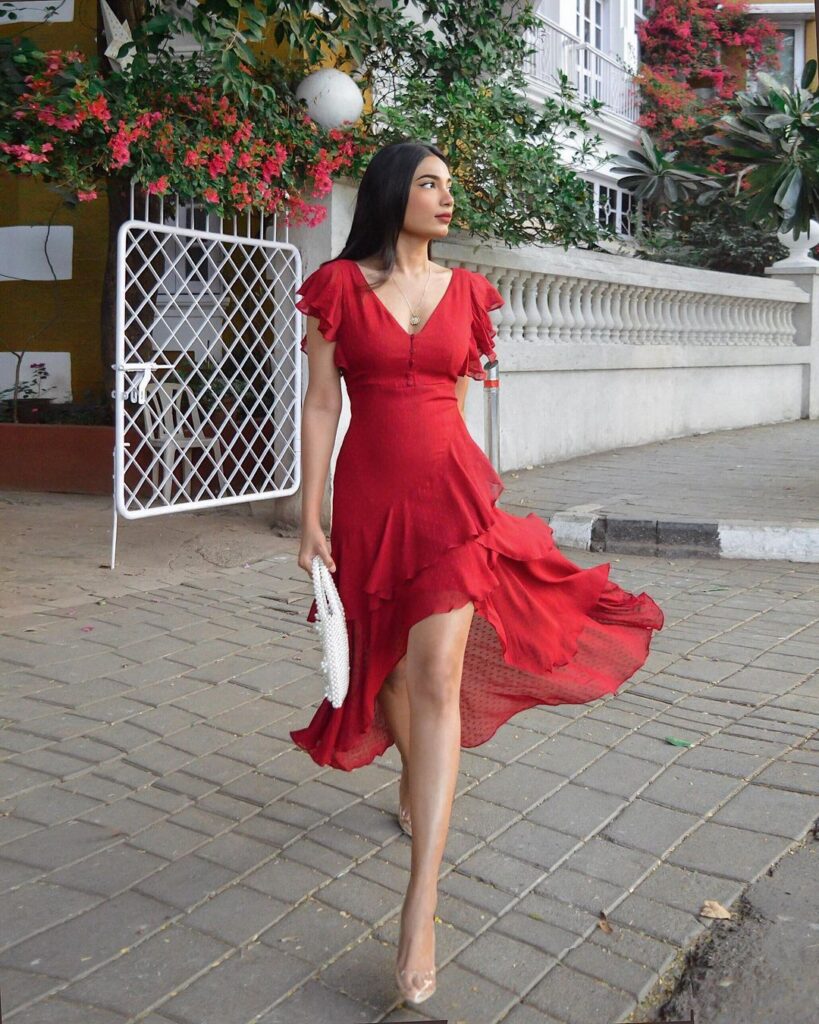 Frequently Asked Questions
Q. What do you wear on a picnic date in the park?
Ans. Choosing a cute picnic date outfit that is also appropriate for the outdoors can be exciting and simple. All you need is some inspiration!
Crop top and maxi skirt
Skinny jeans and a button-down shirt
Overalls and a patterned shirt
Floral midi dress and sunhat
Q. What is an attractive outfit for a first date at the park?
Ans. First dates are frequently accompanied by a lot of nervousness, at least a little amount of terror, and a sprinkling of jitters. The panic creeps in, and you second-guess everything before you leave the house, even the clothes you chose after anxiously googling "what to wear on a first date" all day. The best part is that you're here, and we've got your back!
Wear something you've already worn and know you're comfortable in
Take out the pieces you usually reserve for special occasions
Think about what makes you feel the most confident
Q. What should I wear on a first date in the park?
Ans. You should play around with oversized jackets, crop tops, high-rise jeans, and athletic leggings. Opt for light fabrics and casual shoes. The basics sometimes are your best bet.