Winter Date Outfits Ideas. So you are going on a date in winter and you want to look amazing and yet keep warm, a dilemma for both guys and girls. But what outfits should you wear on a date? How do guys dress on a winter date? What shoes are both stylish and appropriate for this season? And what accessories should a man use?
This post brings the guys some great ideas on how to look fashionable and be practical at the same time during this bleak season. For a first date avoid the uptight-looking suit. These are reserved for operas, theatre, or the most prestigious restaurant in town (Unless of course, these are the location of the date).
Keep things smart but casual – a simple light shirt under a sweater is acceptable.
Don't be too casual, however; T-Shirts with 'Angry bird' logos or offensive phrases are a huge no-no! You want to impress, not insult or come across like you couldn't be bothered. Decent trousers are a must during winter and especially on a date.
Jeans are a great choice for both of these. They are sturdy, hard-wearing will look great with a shirt, and will give the impression that you made an effort. Make sure you choose a suitable coat for your big night. Smart jackets are always a winner, or knee-length wool coats. Not only will these keep you warm but they with give you a sense of sophistication without looking pretentious.
What to Wear on a Winter Date

The right outfit is extremely important for giving you the confidence you need. So when getting ready for a date in cold, here are some things to keep in mind:
Always play your strengths, which means that you need to wear colors and styles that look best on you. Especially if it's the first date, you should avoid experimentation and stick with what you feel most comfortable with.
It can often seem like jeans are a bit too casual and pants are too over the top. In such scenarios, it is best to add some textures or prints like plaid shirts, textured sweaters, or corduroys as they can add some fun element to otherwise monochromatic outfits.
Winter is all about layering so make sure to choose appropriate but warm pieces so you can stay comfortable.
If you want to make a lasting impression on a date then go for dress boots.
Most importantly, be a gentleman and put your phone down to give all your attention to your lady.
On a final note, make sure you are appropriately groomed. Clean fingernails, groomed hair, and brushing teeth are all aspects girls look for. Grubby and shabby is not a good look and although a girl may seem like she hasn't noticed, she will have and the chances of a second date will dwindle fast!
↓ 39 – Peacoat in a Smart Casual Look
Wear peacoat with jeans with a blue undershirt and a scarf. This double-breasted overcoat is a classic option for any man.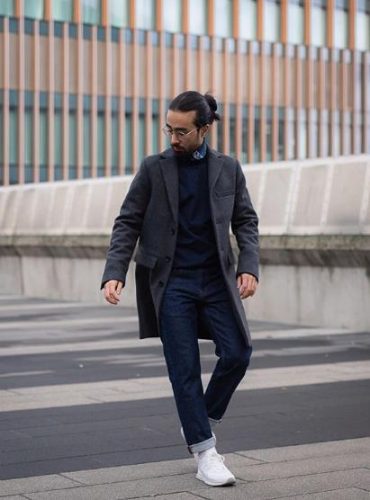 ↓ 38 – Peacoat in a Semi-formal Look
Yes, you can totally wear it as part of a suit.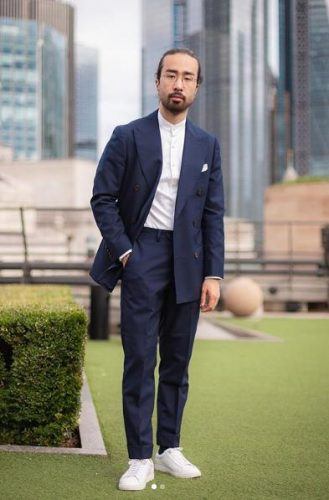 ↓ 37 – Wool Overcoat
This stylish outerwear might be a bit costly, but it's all worth it. Choose bold colors that can offer a timeless appeal e.g. navy, camel, and charcoal.
↓ 36 – Selvedge Denim Jeans
These sophisticated pants can give a casual twist to any outfit. If it's a bit dry outside, try pairing them with a shirt and a sweater or cardigan. To help you out with this, here are some of the best Sweater outfits for men.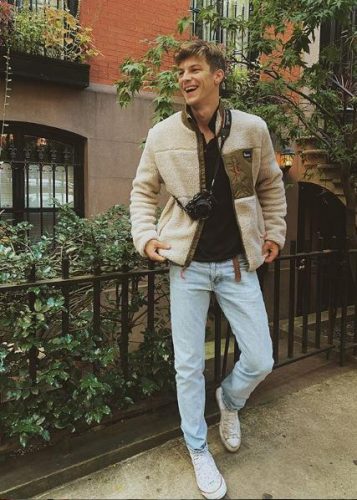 ↓ 35 – Woollen Blazer
Wear it with a button-down shirt.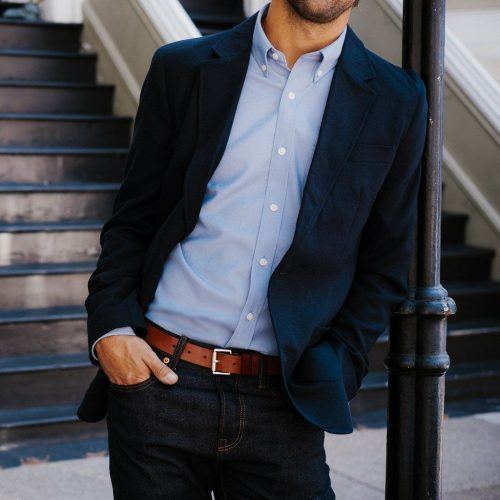 Style it with a roll-neck.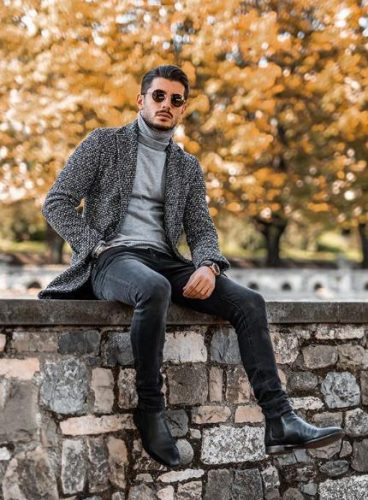 ↓ 34 – Wool Suit
Anyone can rock this any time of the year. It is heavy enough to keep you warm. For a smart-casual look, pair it with a T-shirt or a roll-neck.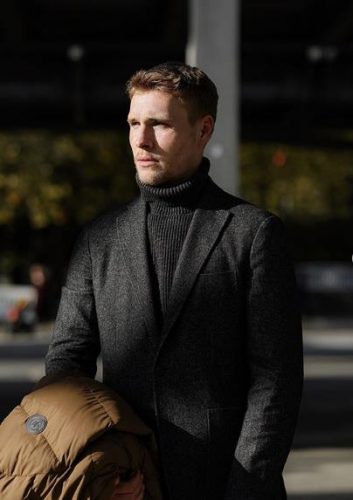 To achieve a fresh and formal look, wear it with a classic button-down (and a tie).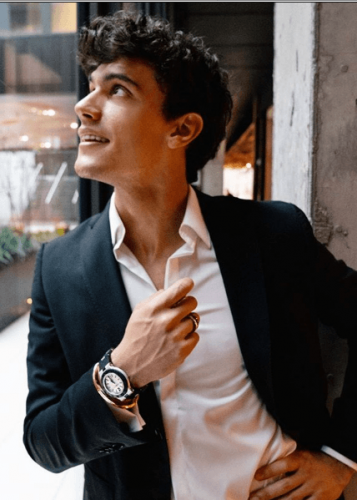 ↓ 33 – Cable Knit Crew Neck
This standard option will always make you feel warm enough for your winter date.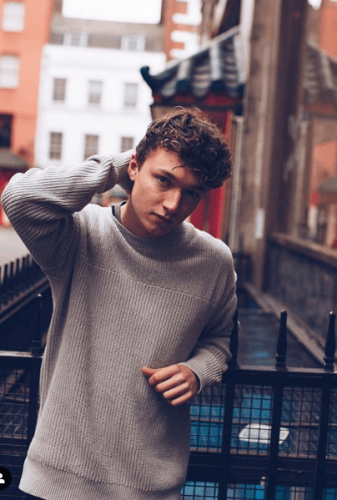 ↓ 32 – Oversized Jumper
 Yes, even a chunky knit looks good when paired with a classic shirt and jeans.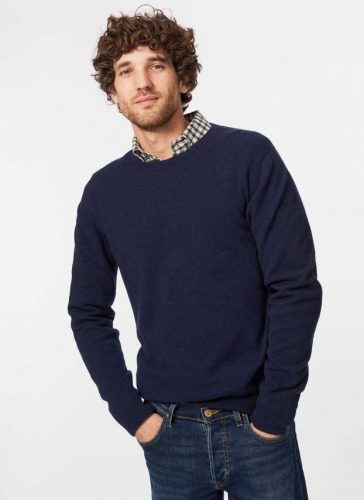 Keep it casual with a large pastel-colored pullover and tight-fit chinos.
↓ 31 – Turtleneck
This staple piece of clothing looks perfect with a shirt, blazer, or even with a denim jacket. Here are some more Ideas How to Wear Turtlenecks.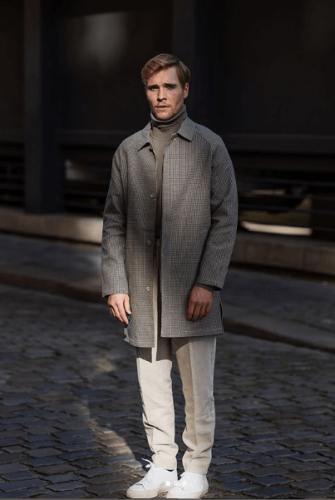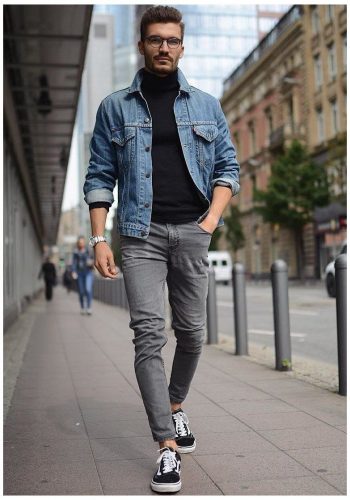 Channel some old-school classic vibe by pairing it with trousers.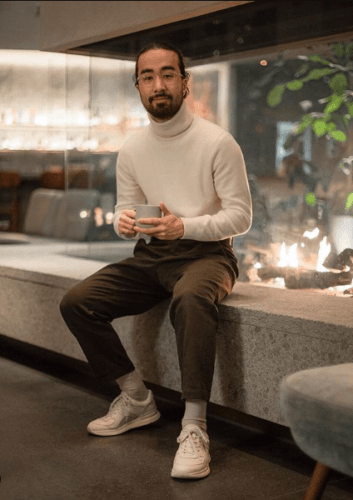 If you live in a country where Winters get extremely crisp and chilly, you obviously need something cozy for your date. We suggest that you go for a turtleneck as it is not only date-appropriate but also one of the warmest garments.
The look comprises a woolen overcoat that's worn over a tuxedo blazer, layered over a woolen turtleneck sweater. For the bottoms, black tuxedo pants really helped elevate the style. The accessories were chosen in black color and it surely is one of the best colors for winter accessories, they include leather gloves and Chelsea boots.

↓ 30 – Flannel Shirt
Wearing a flannel is like the most casual approach to layering. Colors like red, blue, and green are a good option for flannel shirts and will look better if paired with denim or leather.
Wear it with a T-shirt and jeans.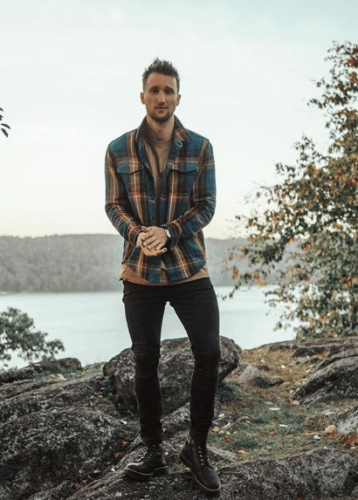 You can also rock it with a roll neck, chinos to spice up your look a little.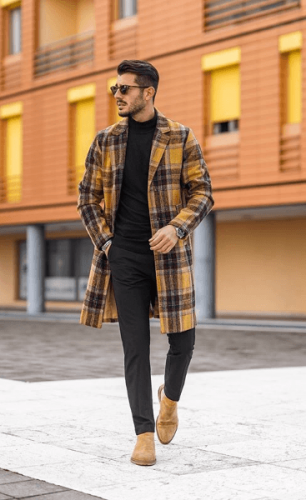 ↓ 29 – Leather Jacket
There are many ways to style this versatile jacket. A hoodie or a roll neck would make a good partner for it.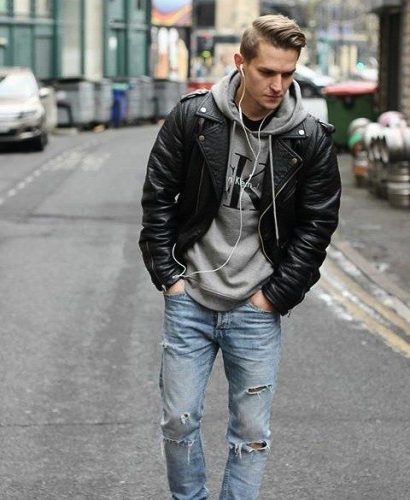 Keep it casual with a T-shirt underneath.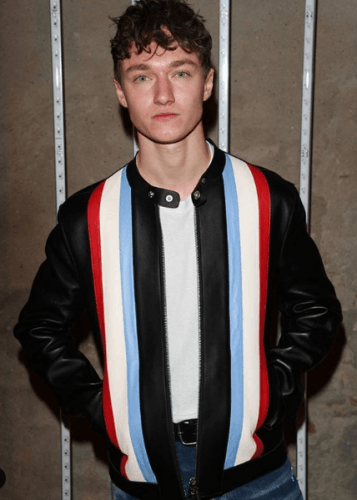 ↓ 28 – Black Pants
This is another one of the basics. Try the monochromatic style. Wear the trousers with a bold suit jacket, or with a blazer, and a slick pair of boots.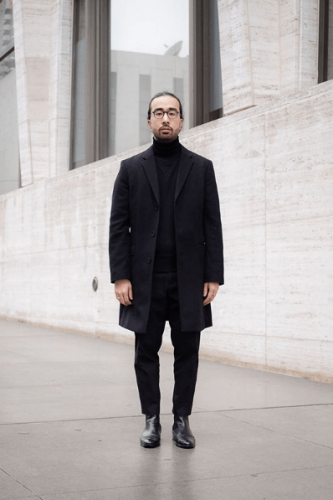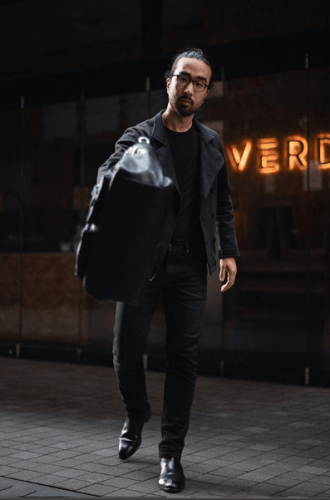 ↓ 27 – Denim Jacket
This is adaptable and timeless, and it makes a great layer to complete any outfit. Match it with a set of chinos or dark jeans for a smart-casual vibe.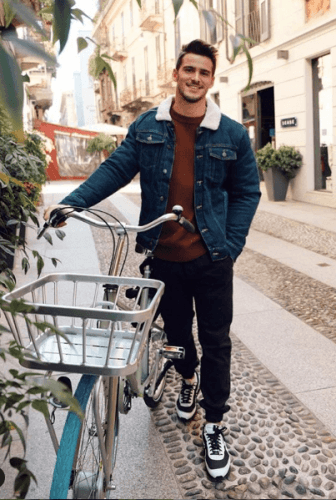 Pair it with a roll-neck or hoodie to make the look a bit different.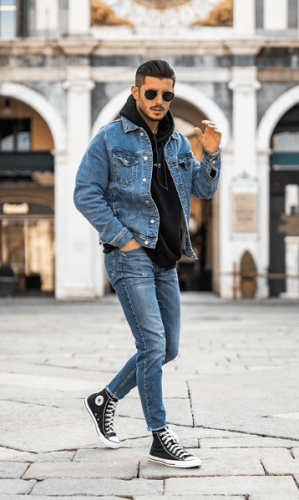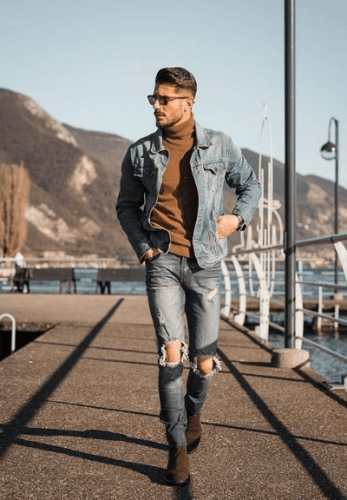 ↓ 26 – Trench Coat
This classic piece of garment will give you the ultimate tailored look. It can keep you warm and dry for the winter season.
The Burberry style outerwear is the most common design of trench coats. You can wear it with a T-shirt or a roll neck.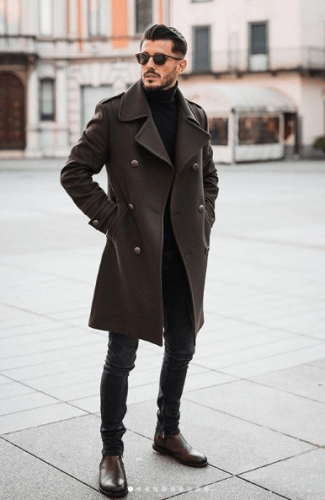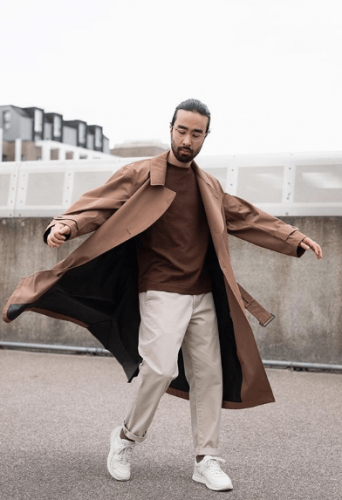 ↓ 25 – Fur coat
This suits a wide range of outfit options.
Layer it with an undershirt like a plain T-shirt. You can simply wear it with something navy or black, with jeans for a casual feel.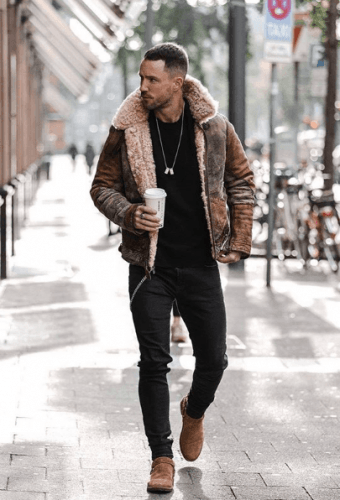 It also looks good with a button-down as an undershirt.
↓ 24 – Cardigan
For a casual look, pair it with a T-shirt as an undershirt.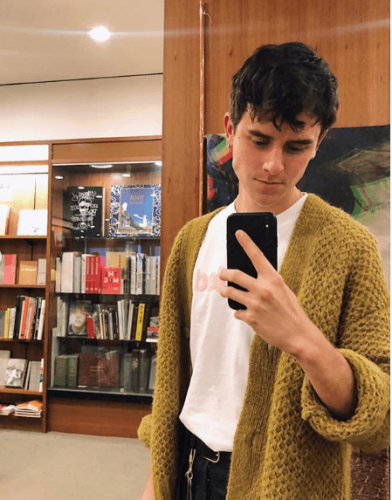 For a semi-formal look, go for a button-down shirt and a vest. Then put on a tie.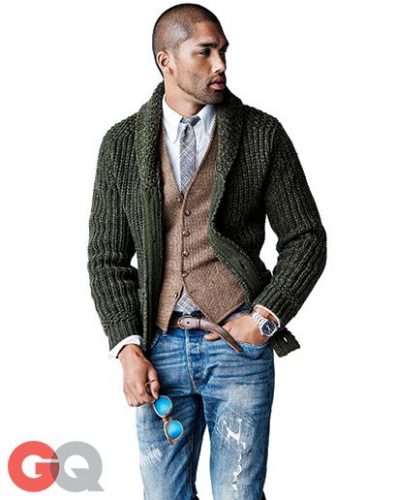 ↓ 23 – Dapper Outfit with White Pants
This dapper look consists of a blue blazer, a light blue casual shirt, white pants, and sneakers. It's a pretty simple look and yet looks amazingly stylish. In fact, it is the perfect balance of casual and dressed up which is what we need for dates.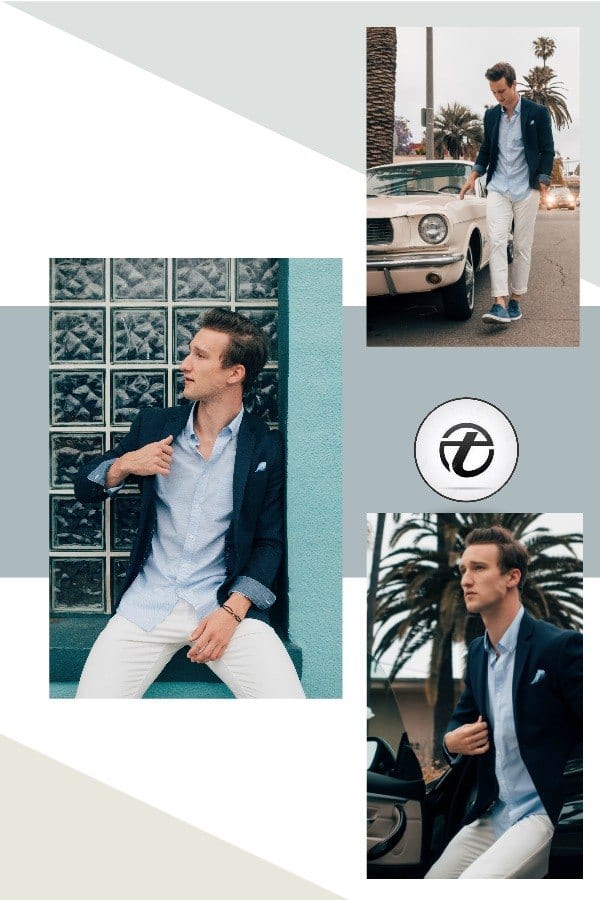 ↓ 22 – GO SOCKLESS – CASUAL LOOK
If you want to try the latest trend for your winter date, go sockless. This can work with both jeans and pants but for more tips, you should check out this highly recommended guide on 27 Ways for Men to Wear Shoes without Socks.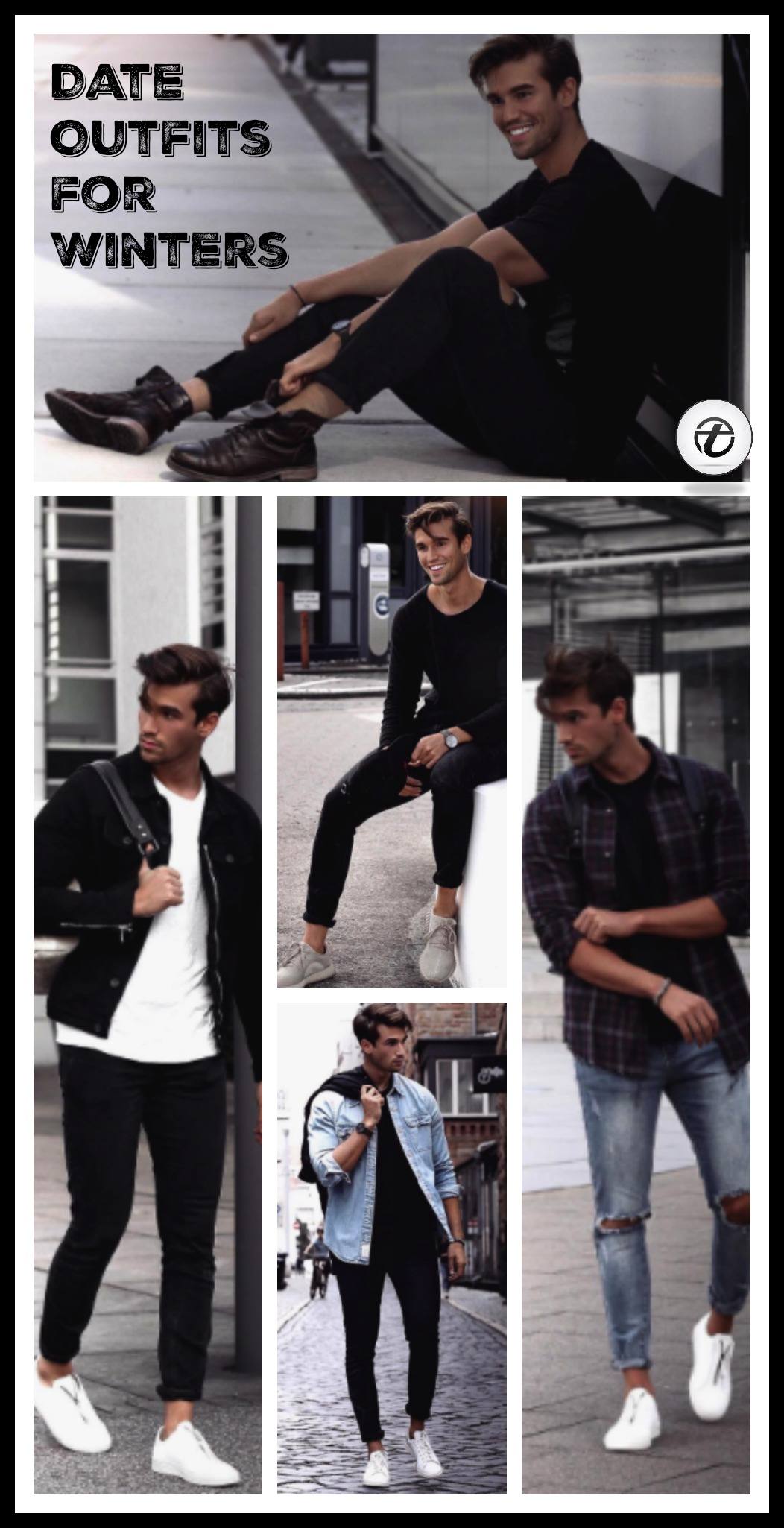 ↓ 21 – First Date Outfit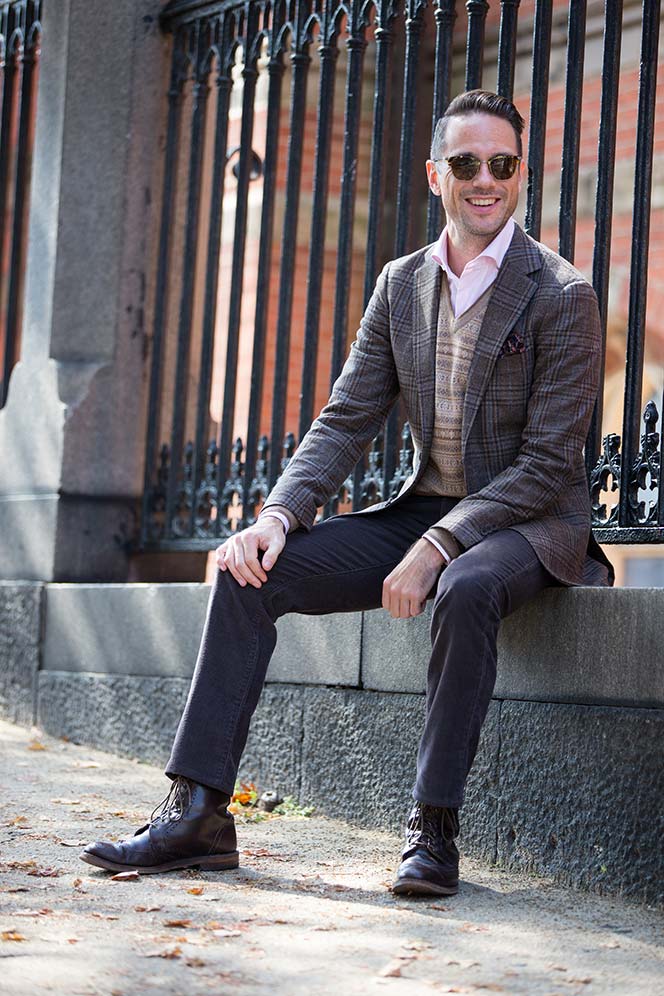 ↓ 20 – Casual Weekend Brunch Date Outfit
Weekends are all about being casual so for the weekend brunch, go for this effortlessly laid back and yet stylish look. This winter will be all about suede items so here's a classic suede jacket as they can work in all types of weather, no matter if it's raining or snowing.
And add some suede shoes to top it all off. Don't miss out on these 20 Best First Date Outfit Ideas for Boys to Impress Her.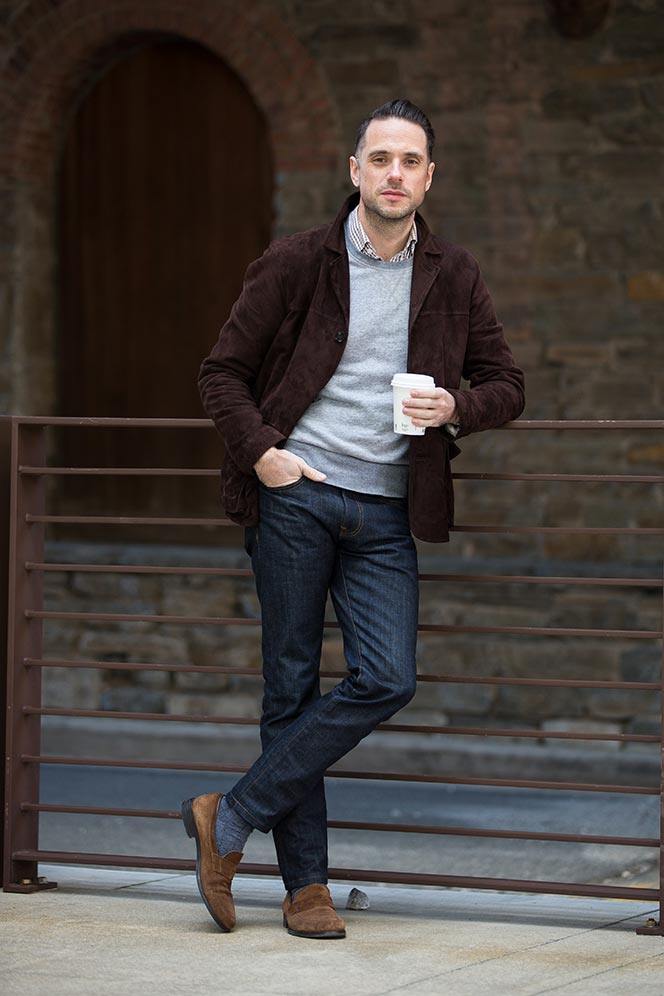 ↓ 19 – Post Work Date Look
Here's an outfit that you can wear to work and then go straight to a date after that and still look great. This outfit consists of charcoal grey pants, a classic blue blazer, a denim shirt, and a tie.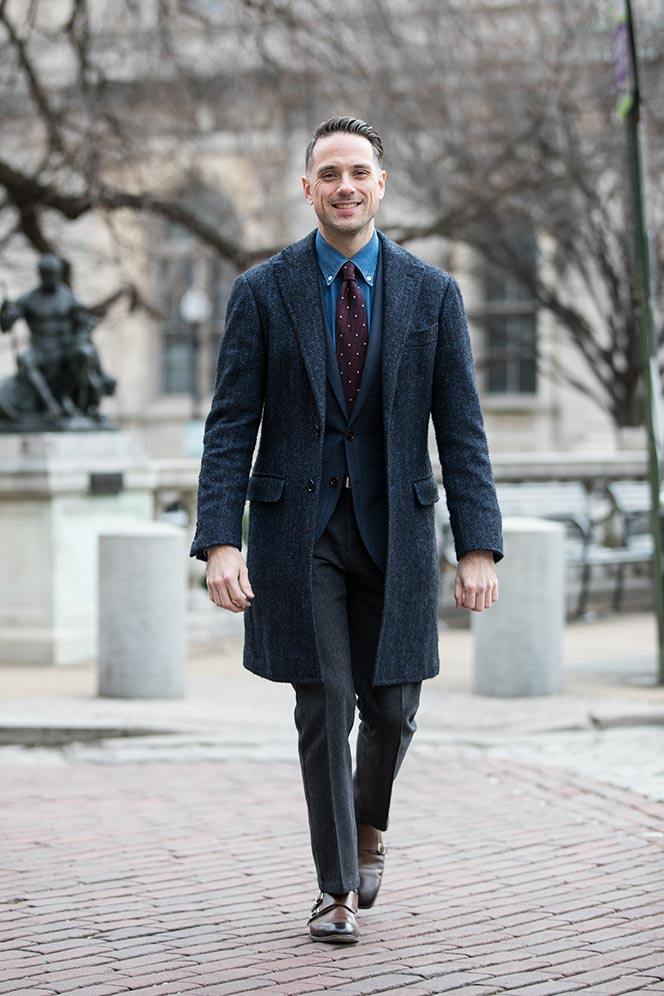 ↓ 18 – Simple Look
↓ 17 – Outdoors Date and Photoshoot Outfit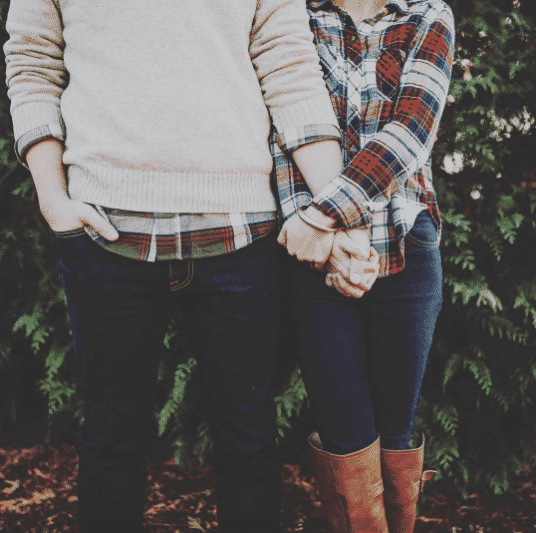 ↓ 16 – Lunch Date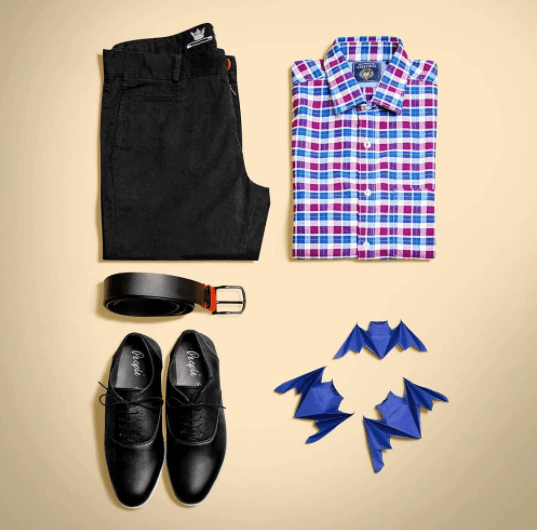 ↓ 15 – What to Wear for Coffee Date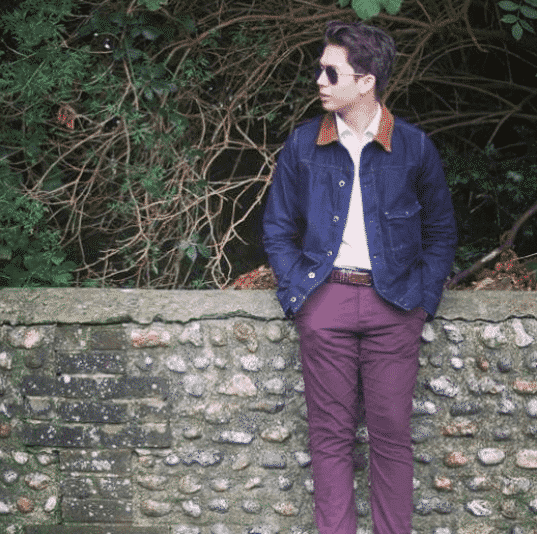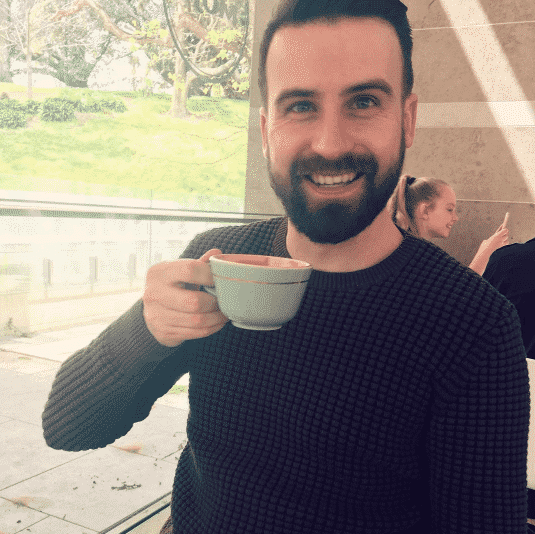 ↓ 14 – Formal Date Night Outfit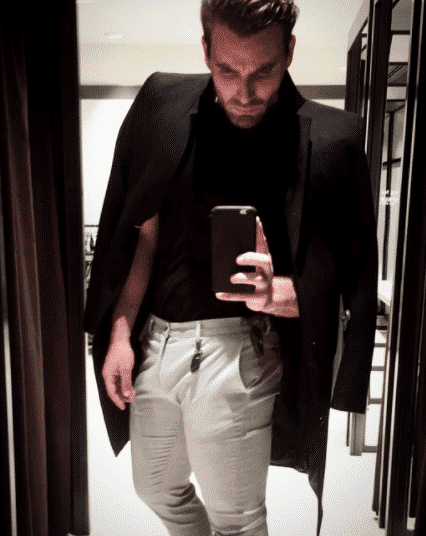 ↓ 13 – Casual Winter Date Style for the Mall
For a funky style look try to style it with Funky Jeans for Boys.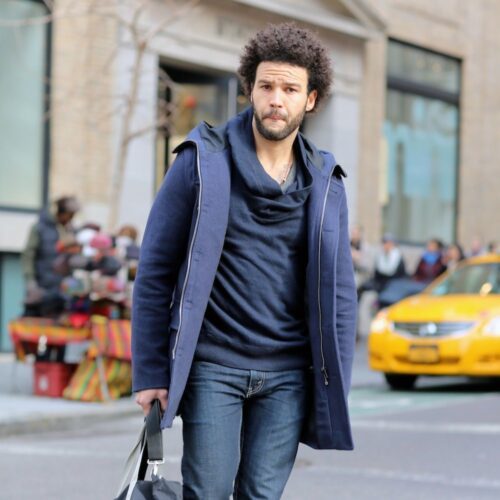 ↓ 12 – Step by Step Video Tutorial – How to Get Ready for First Date
↓ 11 – Useful Accessories to Have on a Date
During winter, scarves and gloves are not only practical but considered suitable accessories on a date. Choose colors which flatter your look and don't come over as too overbearing.
Darker shades for guys can include navy, burgundy, grey, or even black. Scarves are also great for adding extra layers and so will give more shape to an otherwise straight silhouette.
Although hats are an ideal accessory for winter, try to avoid them on a first date. If going to a restaurant you will definitely have to remove your hat and the last thing you want is to uncover messy hair.
If you choose to wear a hat it is recommended you take along a small comb. This Dressing style is definitely going to impress your girlfriend and make her fall for you more.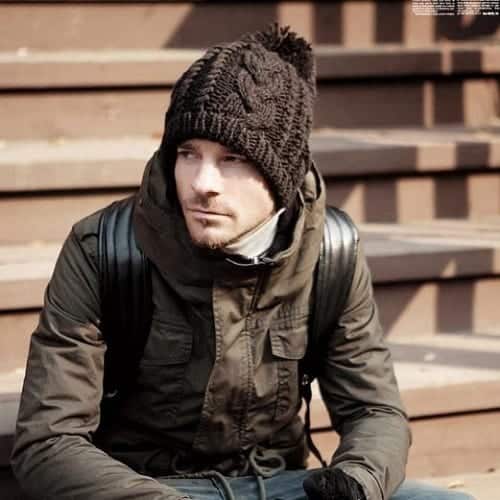 ↓ 10 – Perfect Shoes to Wear For Winter Date
Obviously out in snow, wind, and rain the choice of shoe is paramount. It is best to stick to waterproof shoes such as leather ankle boots. These look smart as well as being practical. Avoid fabric footwear such as sneakers and boat shoes these may look great with your outfit but the last thing you want is wet feet on a first date.
Here are 30 Best Men's Outfit Ideas to Wear with Monk Strap Shoes.
↓ 9 – Outfit with Jacket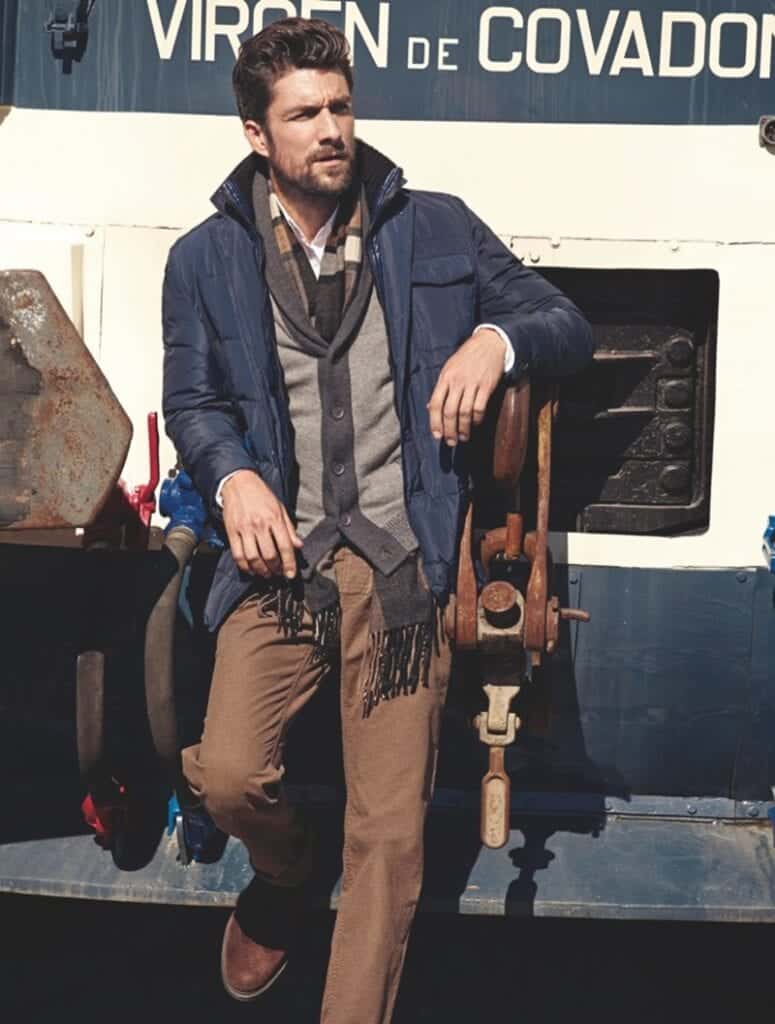 ↓ 8 – Military Style Long Coat
↓ 7 – Street Style
Also, see here 18 stylish black men's Fashion ideas these days.
Matching Beanie hat with Sweater and Bowtie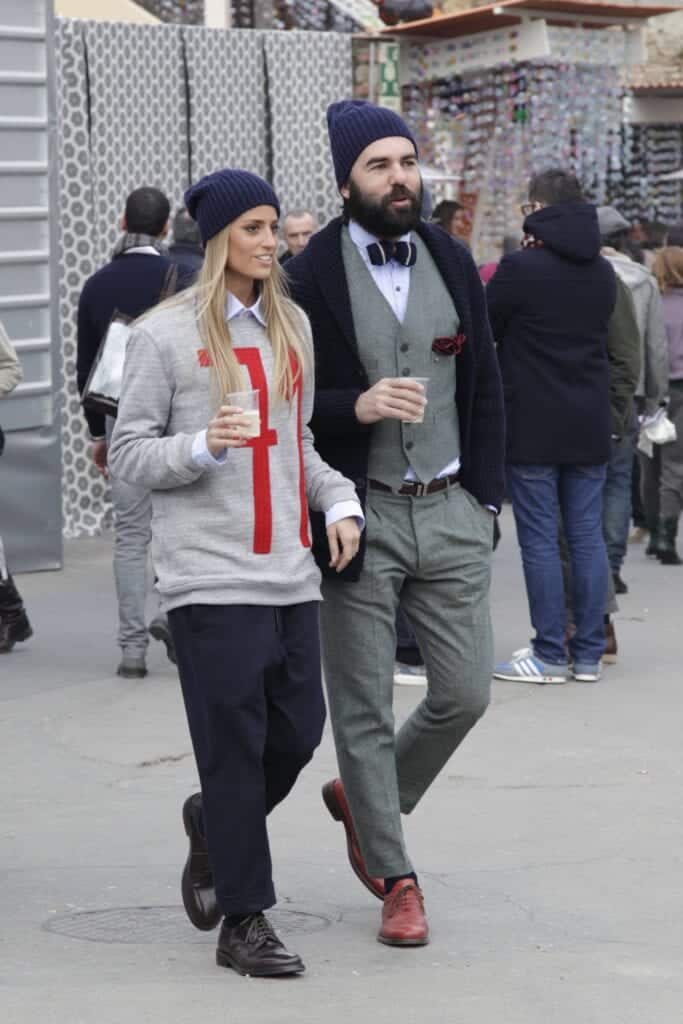 ↓ 6 – Outfits with Scarves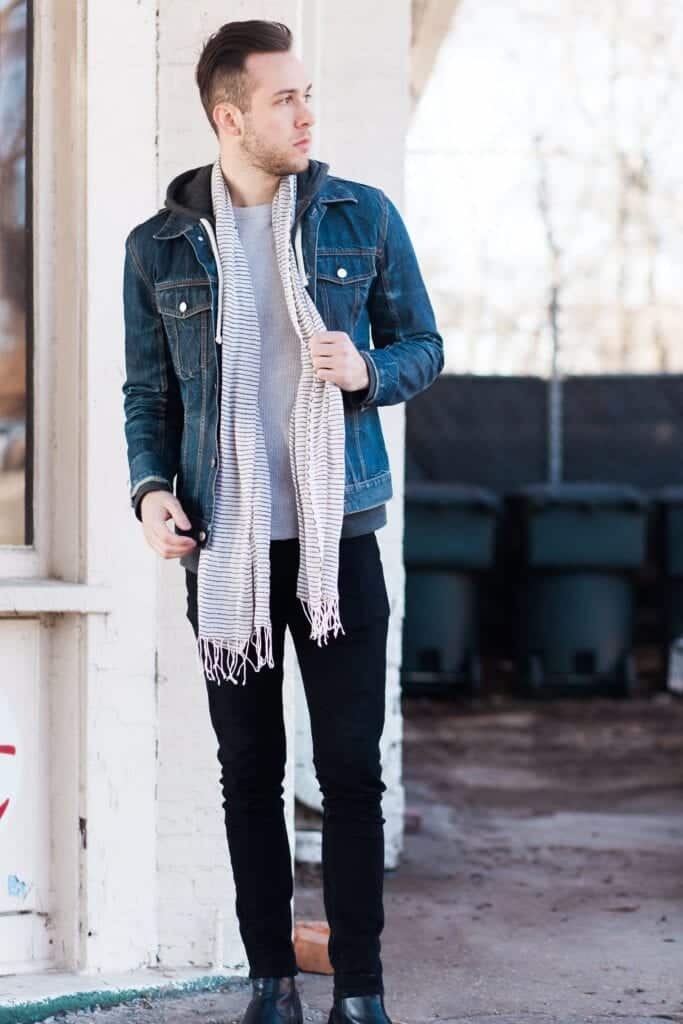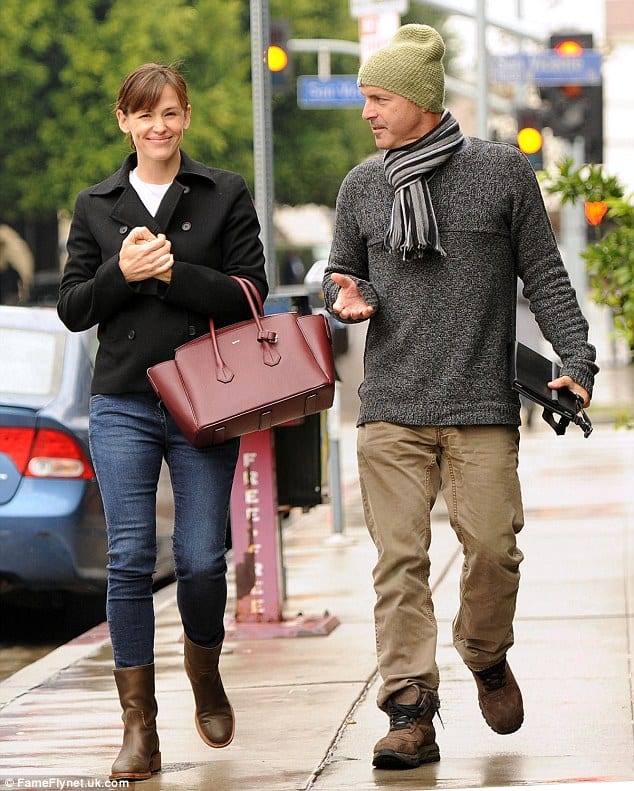 ↓ 5 – Hairstyle for Date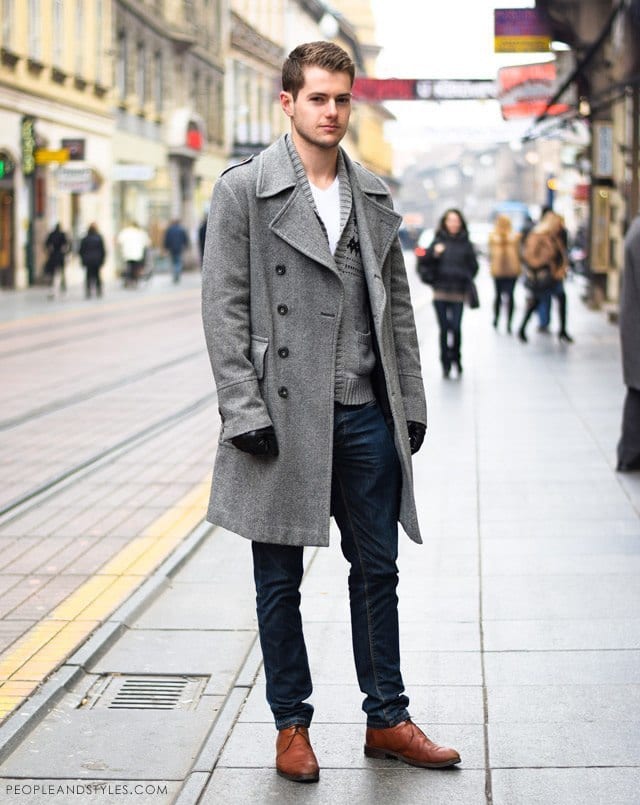 ↓ 4 – With Scarf & Beanie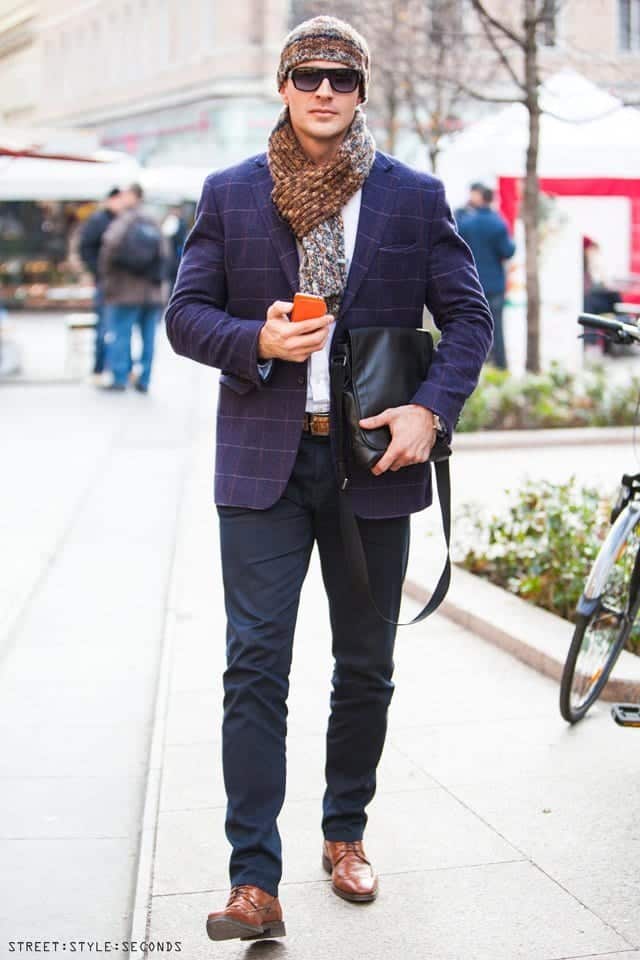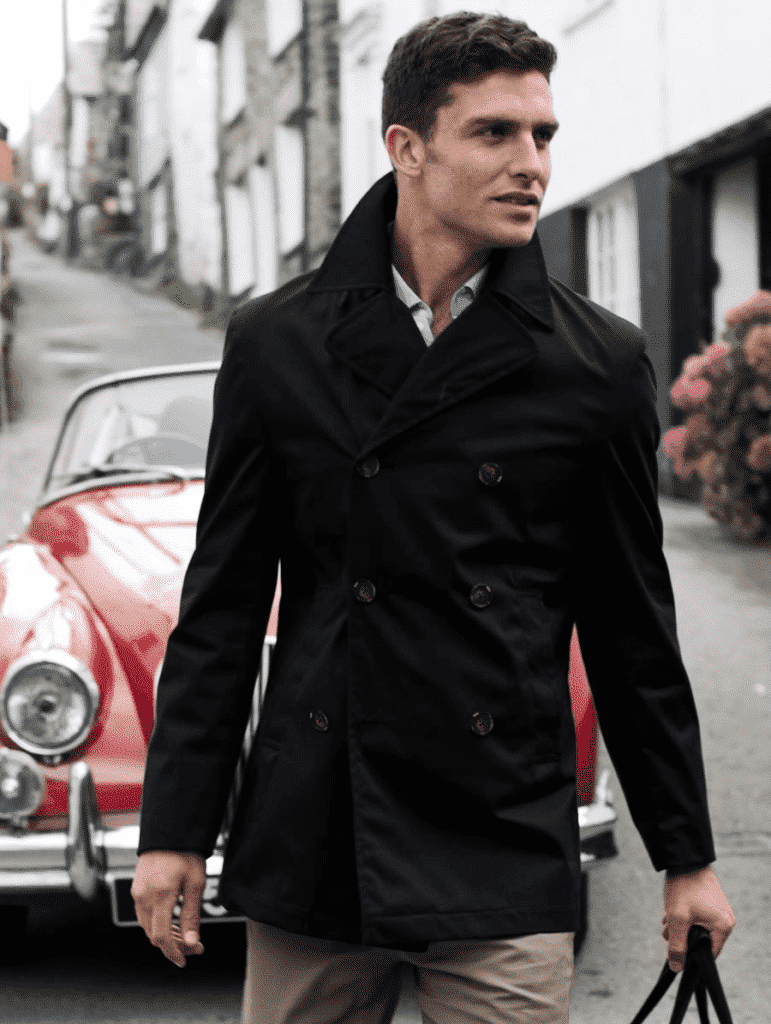 ↓ 3 – Best Second Date Dress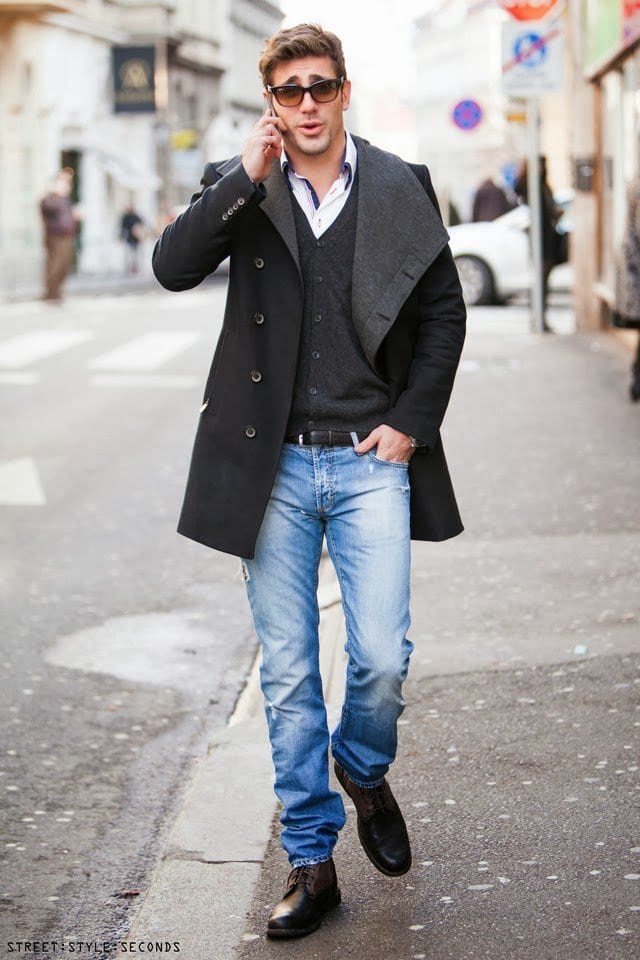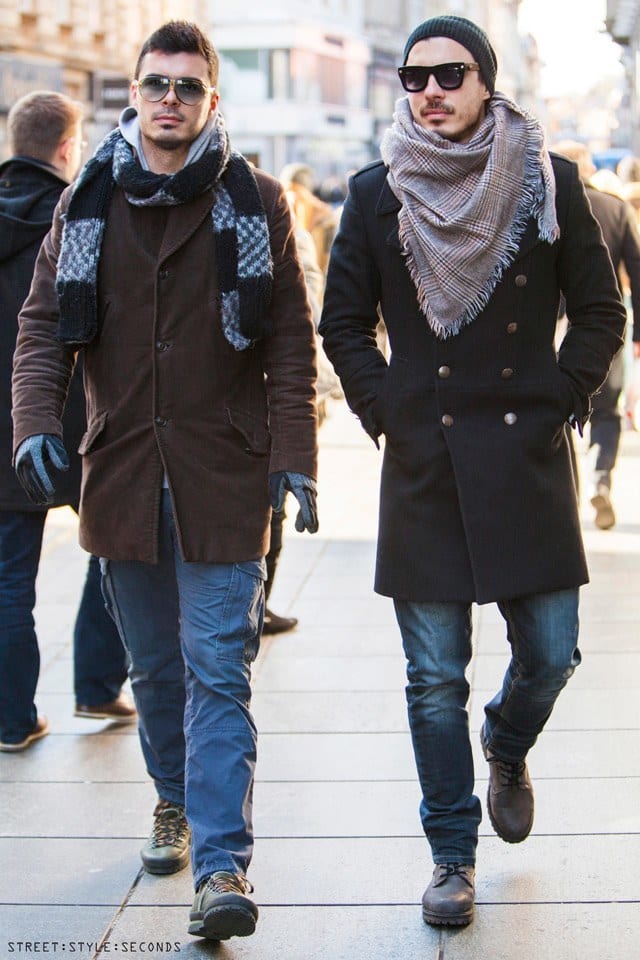 ↓ 2 – Nerdy Look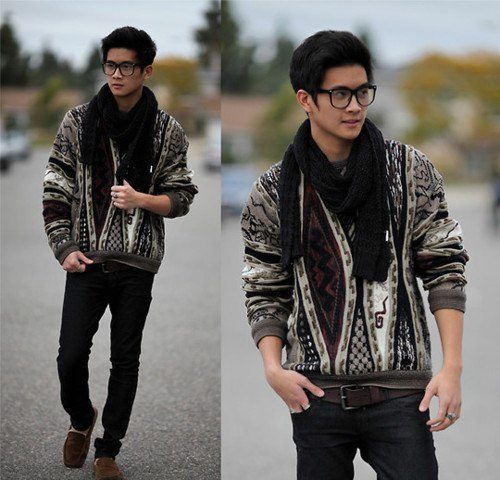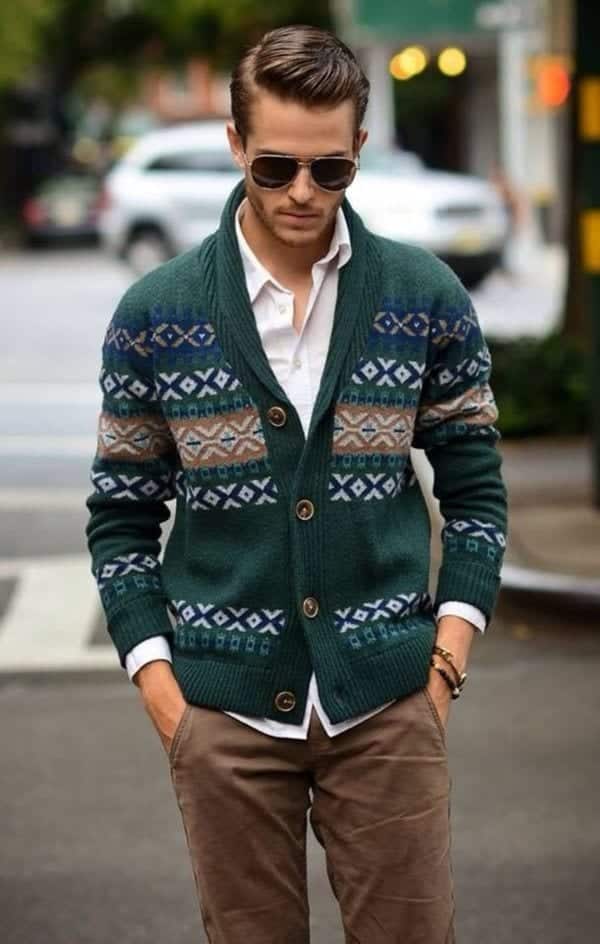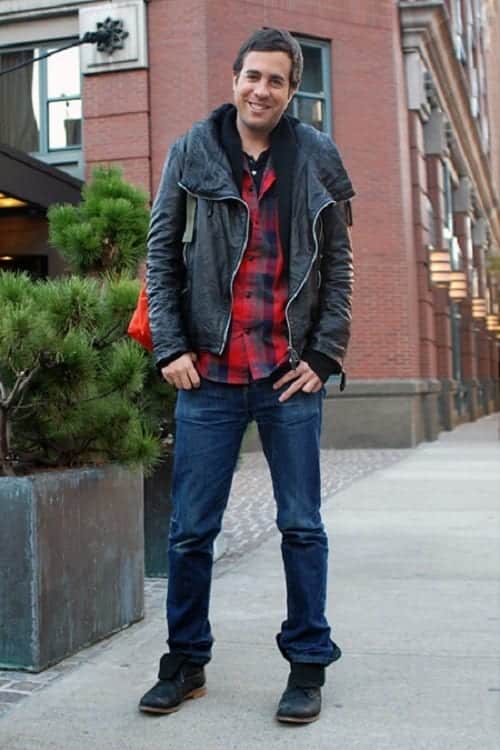 ↓ 1 – Celebrity Style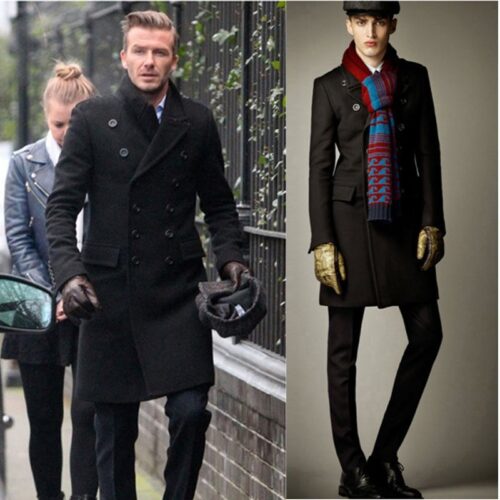 Frequently Asked Questions
Q.

What Shoes to Wear for a Date in Winters?

A. Boots are the ultimate winter staple when it comes to choosing the right shoes. They have a winning quality, so who wouldn't love this sturdy footwear? Be it Chelsea or desert boots; they provide the style and comfort you need.

In line with that, choose wool socks above any other. They will keep your feet warm throughout the season.
Q.

What Accessories can be Worn for a Winter Date?

A. These standard winter accessories go with all types of outfits:
It is a stylish move to layer your outfit with a scarf. You can either wrap it around your neck or just let it hang loose.
Leather gloves. Black and brown are the best option to blend with your outfits. Meanwhile, a bright pair of mitts is also a subtle but bold move you can make to level up your ensemble.
Beanie. This simple headwear will keep the heat from escaping your head, and it can elevate your entire look.