What to wear in the Maldives? The Maldives is a country consisting of 12,000 small Islands located in the south of Asia. The Maldives is heaven to visit in your holidays. The Maldives is the perfect destination for honeymooners, couples, and travelers that just want to rest and relax and do nothing else. Spending a vacation in the Maldives is a dream! Small islands with white sandy beaches, azure and turquoise blue waters, palm trees, and a beautiful underwater landscape. With all year round almost perfect weather, gorgeous clear blue seas, and sky along with golden sandy beaches awaiting your arrival it's going to be a holiday to remember.
With the sun shining year-round and high temperatures, you can pack your bag with your most beautiful swimsuits your favorite summer dresses, and clothes. Beachwear is among the essential things. As most of your time would be spent in water sports, a bathing suit or swimsuit is necessary. Leave winter clothes and worries at home! The Maldives is a Muslim country; while bathing suits and summer clothing are tolerated on the major resort islands, you need to cover up if you're staying at a local-owned guesthouse or resort. The Maldives also has its own limitations, which you should be aware of before traveling. Nudity (like topless sunbathing) is against the law.
How to Dress in the Maldives?
You may already know that the Maldives is one of the most photogenic destinations in the world. I advise you to think in advance about what you are going to wear for your special vacation in the Maldives! Here's a handy rundown of what are the best outfits to wear in the Maldives for different occasions and to respect the local customs.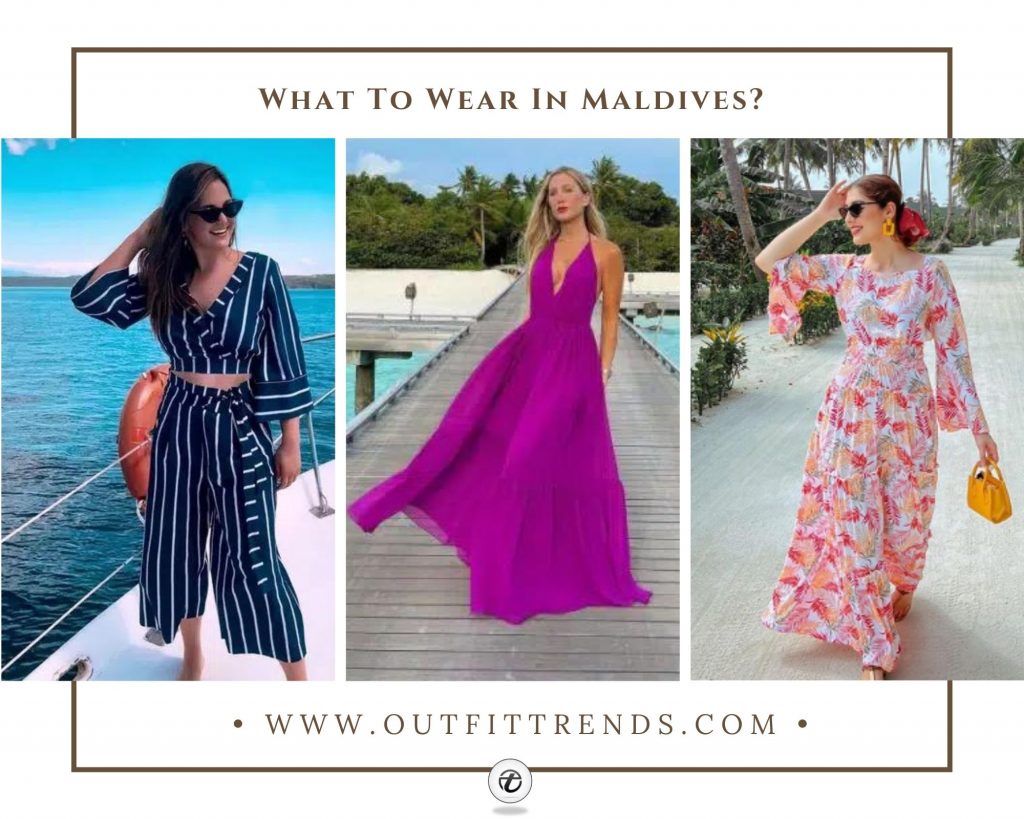 Packing List for the Maldives:
No matter how long your trip to the Maldives is, these things are a must to pack:
Swimwear and Beach cover ups
Sun Hat
Sunscreen
Flip fLops and Sandals
Summer Dresses
Beach Bag
T shirts and Shorts
Evening Wear
Now let's look at some outfits. Here at Outfit Trends, we have rounded up 20 gorgeous outfits, showing you how you can rock the vacation look. Keep reading for our breakdown of different styles that look best when traveling to resort locations. Be sure to let us know your favorite look in the comments below. Let's get started!
20 – Brunch Ready
Florals look stunning especially when you are on vacation on an island. This peach and pastel blue floral maxi dress is the perfect one for a nice semi-formal look. You can wear heels or sandals with this dress, whichever one you are more comfortable in. Don't forget to wear some jewelry with this look as it will add to the beauty of this dress. You can never go wrong with bright-colored accessories. Loving the pop of yellow in this whole look. Don't forget to put on your favorite shades for a cool look! Here are some more of my favorite brunch outfits that you can take inspiration from.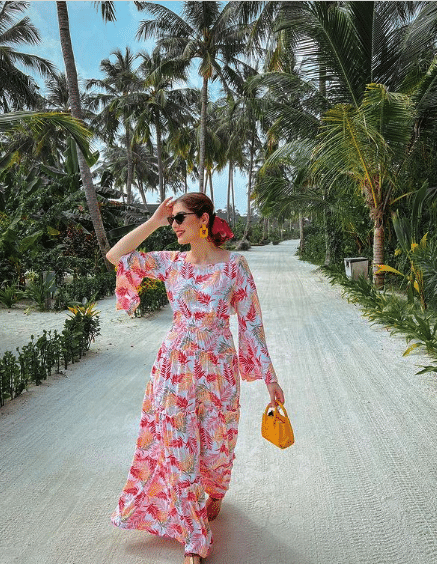 19 – Romantic Evenings
The Maldives is the perfect destination for honeymooners and couples in love. Surprise your loved one with a romantic date night on the beach when you stay in the Maldives. The whole view and their outfits look magical. The girl has opted for an off-shoulder maxi dress with open hair. The guy opted for a basic look with a white teen and faded shorts. How effortlessly beautiful do they look? Here are some more honeymoon outfits for her and honeymoon outfits for him.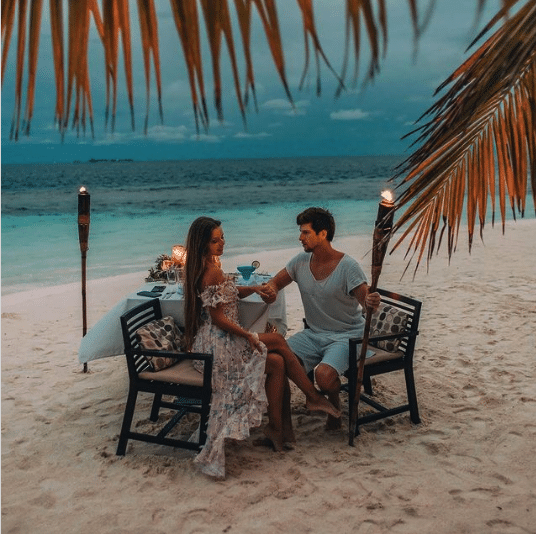 18 – Maldives Yacht Party Outfit
Yellow is the new black when it comes to beach outfits and yacht parties. This yellow beach mini dress look is a perfect look for you. A nice straw bag and classic pair of beach flip flops can enhance your look even more. Moreover, you can wear light accessories to glam this lookup.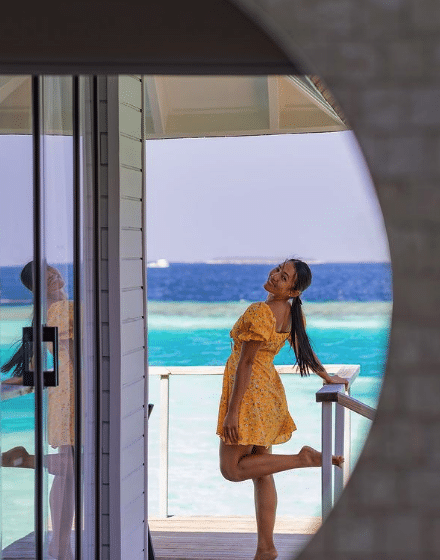 17 – Matching Set Goals
This floral skirt set is super cute. You will not regret wearing this outfit. It is summery and eye-catching. This outfit will keep you comfortable by the pool and the beach. You can wear sandals with this outfit to stay comfortable or pair them with heels if you want to spice up your outfit.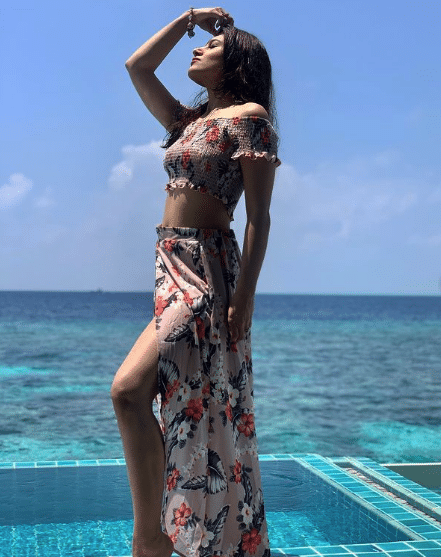 16 – Striped set
This blue and white stripe wide-leg palazzo pant is one piece of clothing you'll never regret buying. If you don't want to expose your body much, this is the right look for you. You can wear a pair of stylish sandals and sunglasses to make this look more fun and also carry a nice beach bag as a cherry on top. Can't get over how beautiful this outfit looks.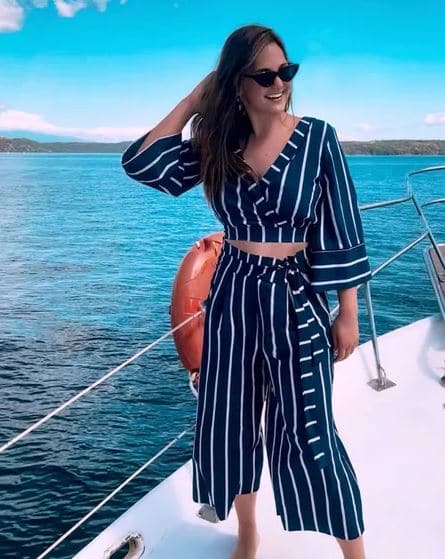 15 – Rocking Slit
Slit dresses are a sensation when it comes to beachwear. This tropical slit dress look is the minimalist option and is yet able to pull off an elegant style. You can style this white slit open skirt with an all-black swimsuit. You can wear heels with this outfit if you have to wear it to a beach party or birthday otherwise you can keep it casual with some slippers or sandals. Some tinted shades will make this outfit even cooler. Lastly, don't forget to rock some chunky chains because they will add some spice to your outfit.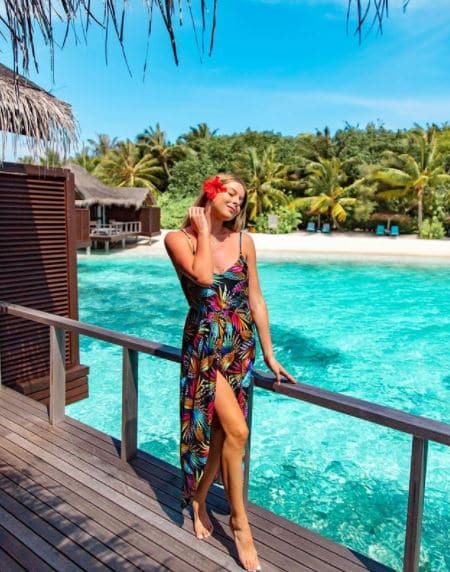 14 – Beach Party Look
This outfit seems ideal for any beach party. Flats are a great choice to wear with shorts and a classic crop tube top. You can tie your hair in a simple bun or leave them open. The look is neither too casual nor too formal, making it perfect. A necklace and sunglasses are all the accessories she needs to complete the sassy look.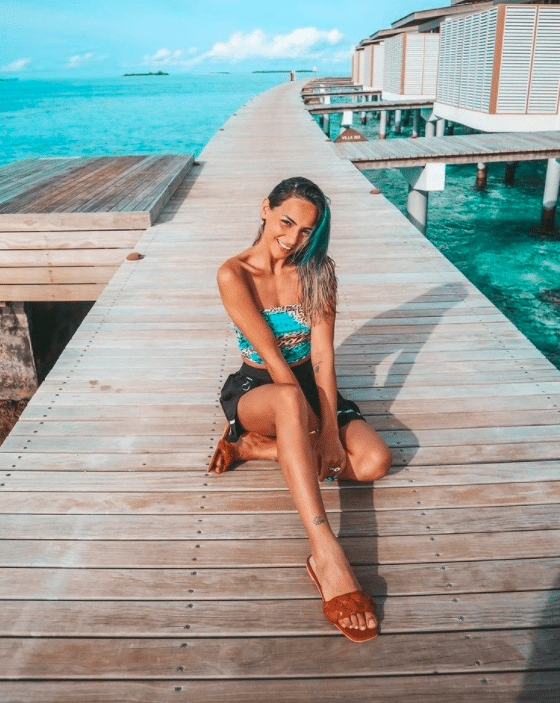 13 – Gorgeous Whites
Nothing beats a classic, a white swimsuit is just that. White is one of those colors that will look good no matter what. You do not want to miss this outfit! Grab and make it yours because it will look amazing. It is super sexy. You should try wearing gladiator sandals because they will really bring out the sexiness of this outfit. You can tie your hair up in a bun to show off the stunning print on the blouse also.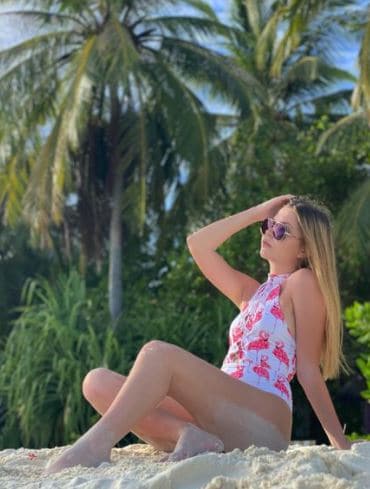 12 – Diva Look
This exquisite dress seems like the perfect outfit for a vacation at a place like the Maldives. This outfit is sexy and chic both at the same time. There is no way you could go wrong with this outfit. You can pair a straw hat with this dress to complete the look. White sandals would go perfectly well with this outfit. You can wear this outfit to a beach party or just to chill by the beach.
11 – Classy and Modest
Dressing to the beach as a hijabi can be kind of hard, especially when you like swimming in the ocean. Combine trends with modesty in a few simple ways to create some effortless and fun looks. How breezy and stylish is this wrap dress that has been paired with the trendy sandals? Beige is the perfect color to accessorize with. The chunky jewelry, Hijab, and heels all look super great together.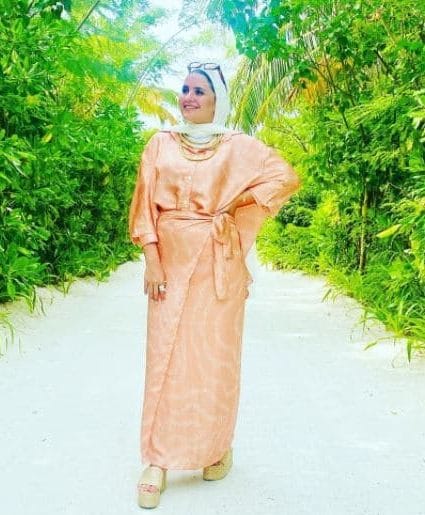 10 – Printed Shorts Look
A pair of cool shorts can completely change your outfit. This outfit seems super simple but the shorts have a floral print on them and are colorful so they have completely changed the look of this fit. The white top goes perfectly well with these shorts. This outfit won't take a lot of effort so if you are somebody that doesn't like putting a lot of effort into their outfits but still want to look good, then you should try this outfit. A sunhat and sunglasses are a must for a resort vacation!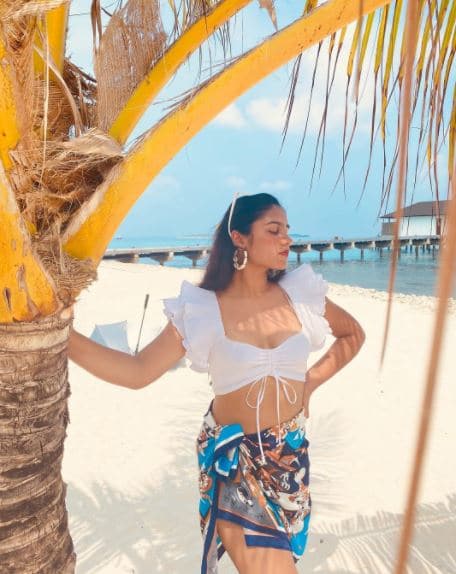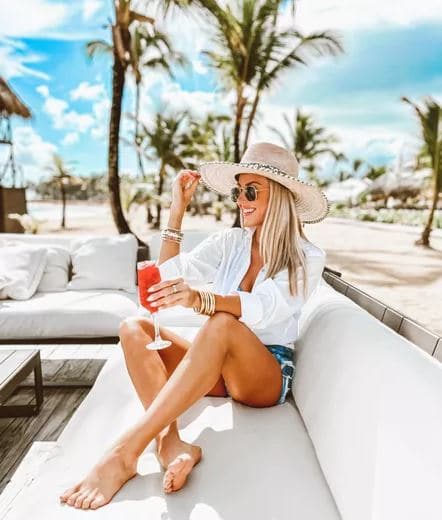 9 – Lavender Affair
The oh-so-famous floating breakfast check. One of the specialties of visiting the Maldives. It is a classic look you can carry every time at the beach or pool and slay the day. This printed floral swimsuit look is the sexiest look ever among all the options. You can choose from the variety of colors and patterns available in the market to suit your personal style. you can add that glam by wearing a delicate anklet and a matching headscarf.
8 – Fun Beach Look
Rompers are super cute and comfortable. Everyone needs to own a romper because they are one of the easiest and prettiest outfits. They require zero to no effort and you still look stunning. This tie and dye romper looks amazing and makes you look effortlessly cool. You should definitely pack such outfits if you are going on vacation to the Maldives.
7 – Crochet Coverups
Crochet coverups like this are ones we don't mind buying no matter the price. This nude one is gorgeous. The popping blue colored bikini makes it look even sexier. You are definitely going to get tons of compliments on this outfit if you decide to wear it. This simple beach look is gonna be your ultimate favorite during your vacations.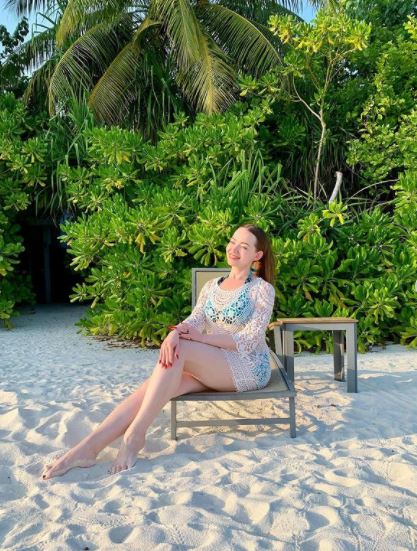 crochet beach coverup for $16.99
6 – Watermelon sugar
This look will surely be a head-turner for you, as this gorgeous dress gives you the liberty to move around freely with that unique sense of style. It is so fresh and vibrant that u look classy. Its fresh and cool color enhances your beauty and saves you from burning under the scorching sun. Style it, the way you want. For the pop of color wear statement heels and sunglasses or just play it simple with no accessories. So, what are you waiting for? give your wardrobe a treat by adding this dress to your collection.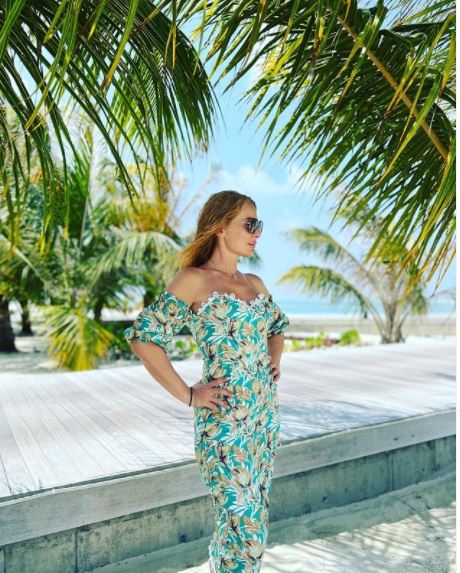 5 – Gorgeous Greens
Eat your greens but don't forget to wear them too! Just love everything about this look. This is the ultimate diva look you can pull off to your fancy beach party. The hair, the makeup, the jewelry, and the outfit everything are so on point. If you are a party girl and like to be upbeat in fashion also this is the right kind of dress for you.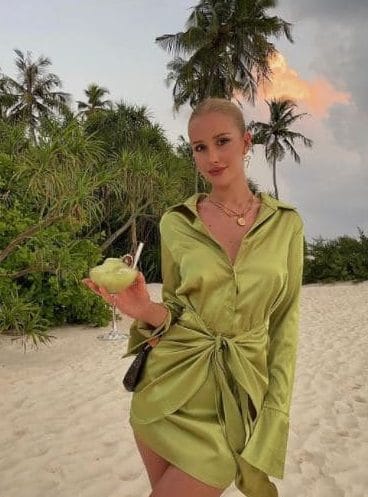 4 – Couple Goals
This tiger print outfit looks perfect on this couple. The striped print mini dress looks super hot at a beach. It's very comfortable to hang out in a mini skirt. You can complete your look with open hair and wear black glasses. The guy also looks hot in shorts. His matching top with his partner gives a sweet and lovely vibe as a couple of goals. Here are some of the trendiest animal prints that you need to try this year.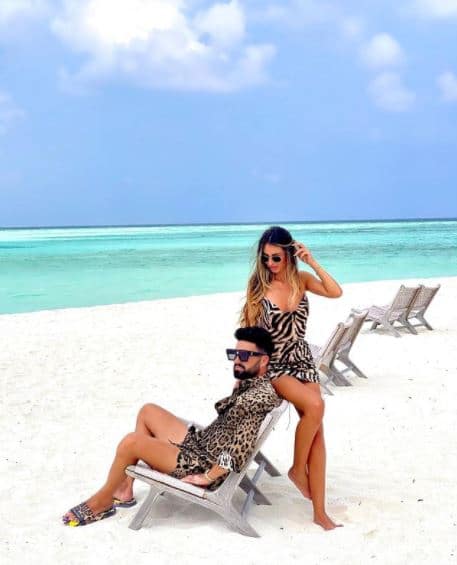 3 – Sunny Day
Soak in the beautiful view looking your best in this outfit. Pair your nude pants with this funky yellow top. This outfit is really cool and makes you comfortable to enjoy the day. You can accessorize yourself with matching earrings and bracelets to complete your look. You can style yourself with open hair and wear your favorite glasses.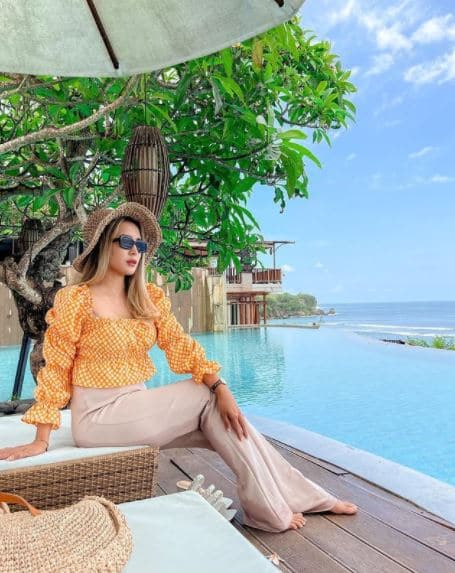 Yellow square neck top for $13.99
2 – Polka dots
Nothing beats cycling around Maldives islands with these beautiful palm trees and the clear blue sea on this sunny day. Minis are your best friends in summer. This mini polka dot dress is perfect for a hot day on the beach. You can always wear them on your vacations to Maldives beach and enjoy a long walk.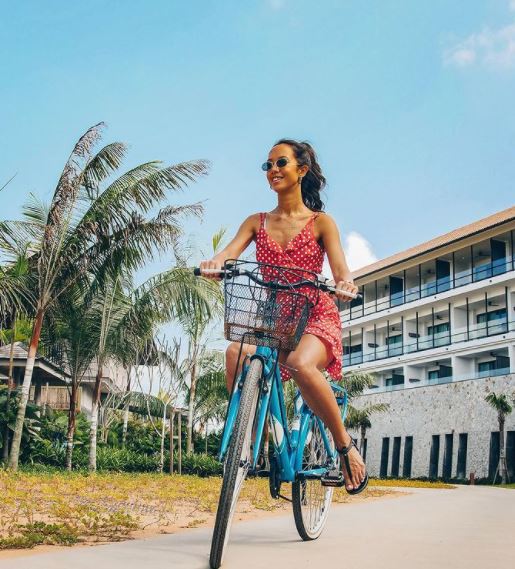 Polka Dot Floral Mini Dress for $22.99
1 – Pastel Pink
This Pink outfit look is a kind of special look for pink lovers. Wear this gorgeous and elegant outfit on a day at the beach and add a pair of sunglasses and statement jewelry pieces and you are ready to slay the day. Tie your hair up in a ponytail to show off the stunning neckline on the top.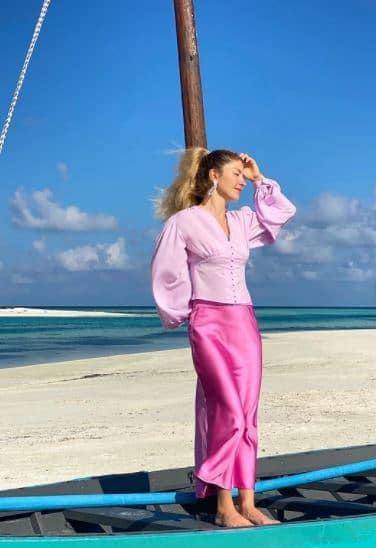 Frequently Asked Questions
Q. What clothes should I take to the Maldives?
The Maldives is a tropical country so you should pack some shorts. You really have to have them on hand or else, when the sun goes down and you're still in the middle of that tropical heat, it doesn't feel very pleasant. Have a bikini on hand if you don't wear one every day too. In terms of other clothes I would recommend some light clothing because for me even with sunscreen (and lotion) it can get pretty hot in this season down there – which is why shorts are handy!
Q. What all should be included in my list while I pack for the Maldives?
You don't need much! few shorts and T-shirts swimsuit, slippers, rash guard for snorkeling, snorkeling equipment, some books, a bit of music, sunblock, sunglasses ad that's it! If you to some luxury resort you can eventually pack some fancy clothes for diner time.
Q. What are the do's and dont's in the Maldives?
Don't. Be out late in Malé City.

Dont Touch pink corals. The local environment is very delicate in the Maldives, so do your part to help life thrive!

Do. Dress modestly on inhabited islands.

Check out reef locations in proximity to your resort.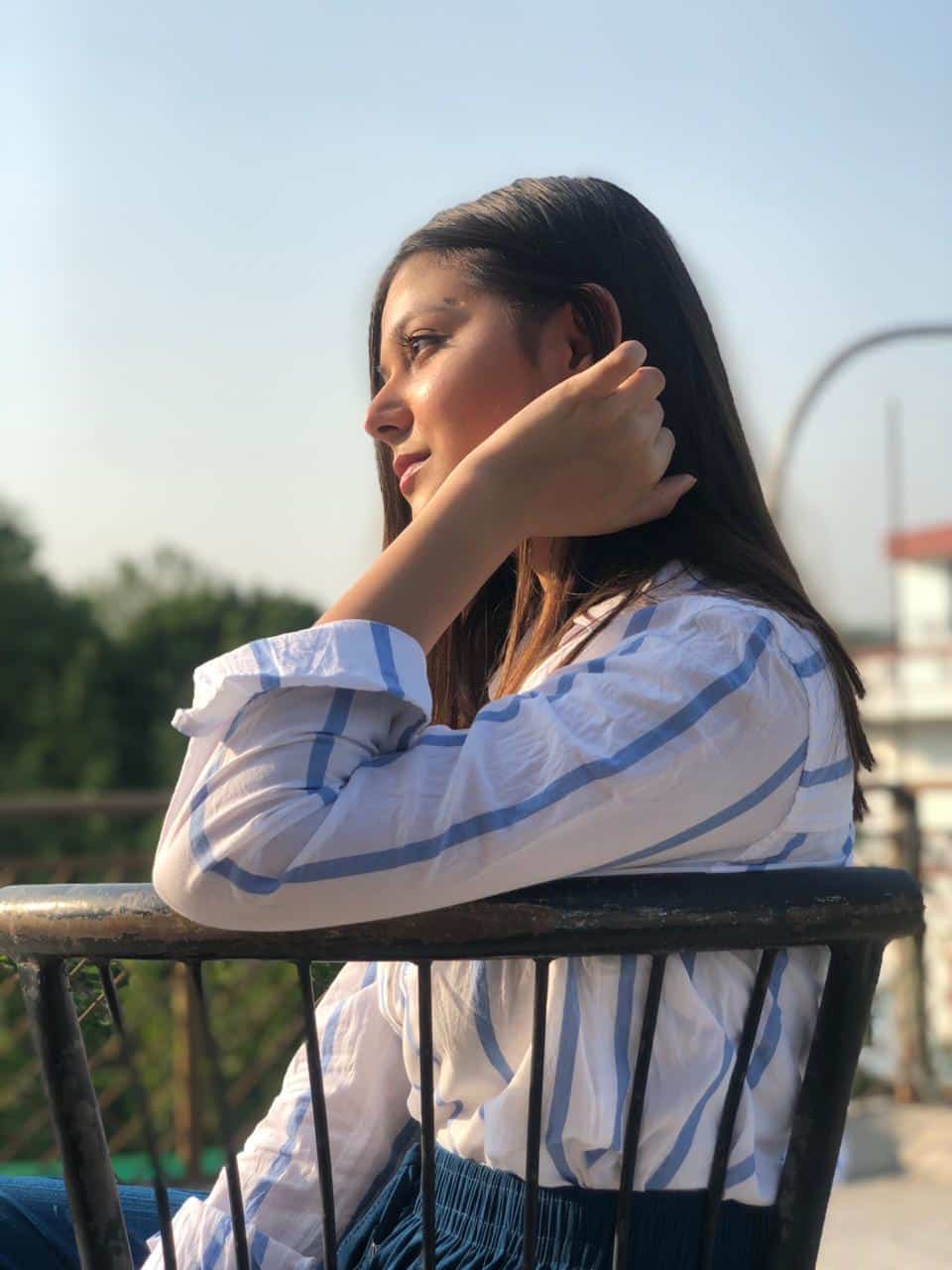 Maria is a 21 years old, skilled, and amazing writer. She loves to write and spread positivity through her eloquent writing. She believes that writing is an art through which one can narrate a complex idea, thinking, and project in an easy and simplified way. She is passionate about fashion, style, and beauty. She is here to write about styling tips, trends, and ways how to dress for various circumstances. Hope you gonna love her posts.