Back To School Outfits for teenage boys: Some things are inevitable, and school days are no exception. It's that time of the year again when students can expect (or not) pop quizzes and piles of homework and stuff.
And with menswear continuously evolving, there's an additional task for most boys and teens to choose their school outfits. But this doesn't have to be a full-time job, and I'm glad to help.
What To Wear Back to School?
As we slowly transition from quarantine to new-normal, you'd be like a phoenix rising from the ashes with new looks to rock in front of your classmates and teachers. Whether it's face-to-face setup or homeschooling, you might want to learn some fresh outfit ideas.
This is the most practical option you can think of, especially if you are in a hurry. You can't go wrong with the right shirts. Start with stocking your closet with tees in colors like white, grey, navy, and black. For most days, you can just wear it with jeans or chinos, and voila, you're ready for school. It's also a great layering piece.
And don't underestimate what jeans and shirt combo would do. Mind that fit is paramount, so opt for a well-fitting tee and pair it with relaxed or slim-cut jeans in either grey or blue.
But the million-dollar question is, how do you choose an outfit that is decent and fashionable at the same time? Read on to find out.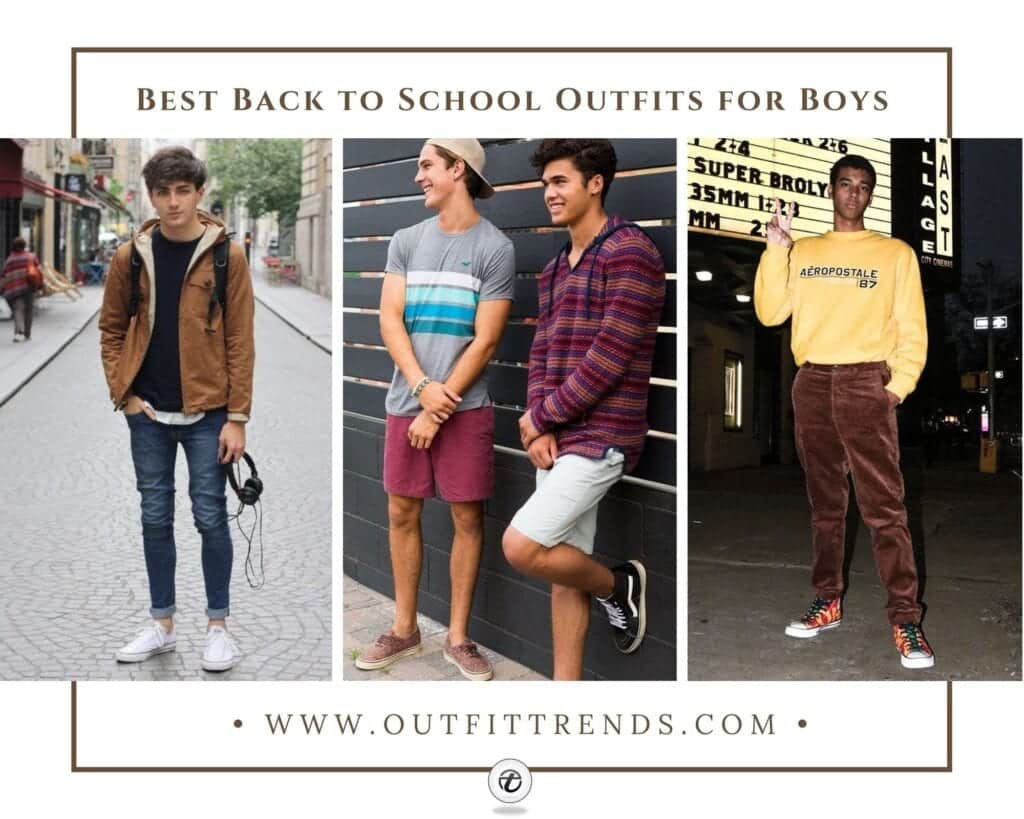 Do's
Comfort Before Style. Many men leave most of their clothes untouched in the closet because they fail to meet one crucial factor – COMFORT. So no matter how expensive and stylish your clothes are, they won't work on most occasions, especially school days.
Minimalism. "Classics" aren't called classics for no reason. It's better to own less and make the most out of it. And since you are dressing for school and not for a date or a runway, it's best to keep your outfits laidback and lowkey. Keep things simple – start with wearing clothes from your minimalist capsule wardrobe. Go for pieces that can have you covered all year round. Once you have put things in place, you're ready for the next step.
Mix and Match. The key to discovering what style you're comfortable in is to experiment with your clothes. From switching and swapping various looks to layering, you are in control. After all, dressing is a skill, so that means you can learn and master it with the right attitude and commitment.
Good Posture. Having a nice posture is a must, and your style would likely go downfall if you're slouching. And branded clothes, polished shoes, and well-done hair would mean nothing if you can't hold a good posture. However, claim that you can do something about it like doing regular exercises, eating a balanced diet, and practicing proper posture itself even when you're sitting.
Smarter and Formal Outfits. There's no doubt that suits and ties are much harder to pull off than casual outfits. I mean, Imagine wearing a suit in a room full of people in casual clothes – it makes you anxious as you're not sure if you're doing it right. My advice is to break it in! What do I mean? Well, just like what you do with your brand new sneakers, it's ideal to wear your outfit hours or the night before.
Don'ts
Streetwear. Steer clear of anything too casual. I mean, you don't want to look like you're going to a skatepark, right? Remember that you are here to study, and your interest will reflect on your outfits. Ripped jeans are also inappropriate unless your school said otherwise.
Flashy jewelry like rings, earrings, and chains are off the table. They're showy, and not to mention irrelevant for a school setting.
Oversized or Baggy Clothes. I'm talking about both top and bottom pieces here. And I know that oversized outfits are trendy, but do you think they're suitable for school? Nope, I didn't think so. It's best to find well-fitted clothes.
Where To Shop for Back-To-School Outfits?
You can go to Nordstrom and Amazon to get these outfits that are sold separately. Alternatively, go to physical stores like Uniqlo, H&M, and Top Man.
I know that school is stressful as it is, so the last thing you want is a wardrobe conundrum. And to save you time in the morning, I took the liberty to compile 25 back-to-school outfit ideas, along with how and when to wear them:
↓25 – Shorts
They don't really meet the school dress code. However, in some cases, they might. If it's allowed to wear shorts in your school, consider going with tailored designs like trimmed chinos or cropped jeans. Important tip: try not to look like you're headed for a beach party.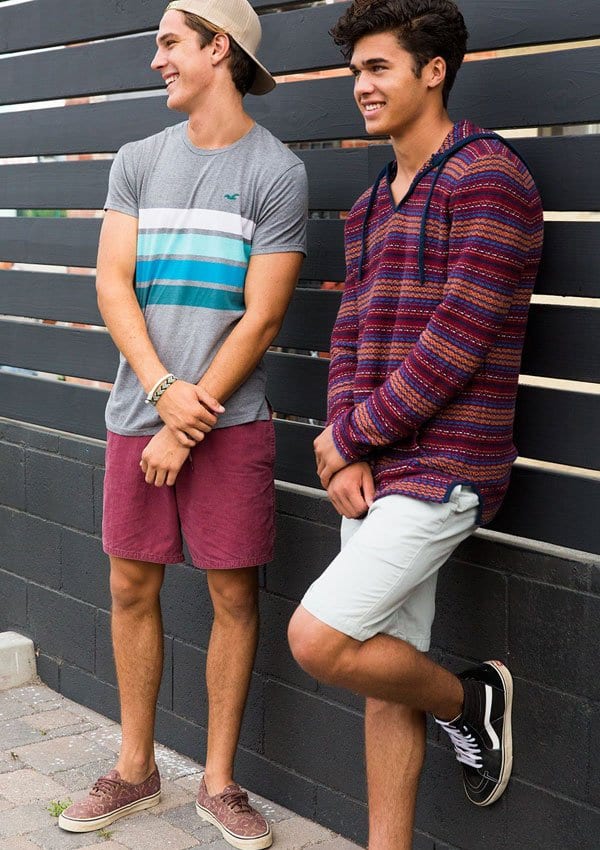 ↓24 – Espadrilles Outfit
These shoes are ideal for summer as they are usually paired with shorts. But it's better not to go overboard by teaming up espadrilles with formal pieces like suits and whatnot.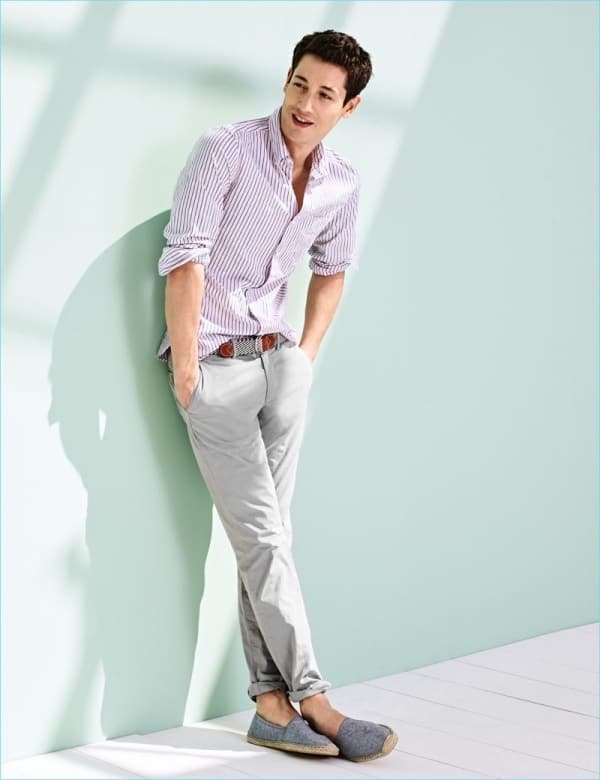 ↓23 – Winter At School
Teens and boys might want to invest in cozy and dark outfits for the winter season. Start with trench coats, wool vests, and corduroy pants.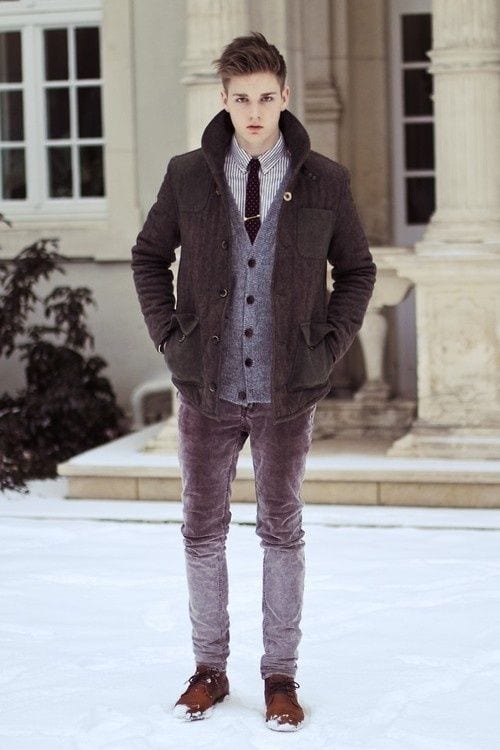 ↓22 – Summer School Day
It's that time of the year when you can don beach outfits without going near the shore. As a rule for warmer months, stick with lightweight fabric and brighter hues.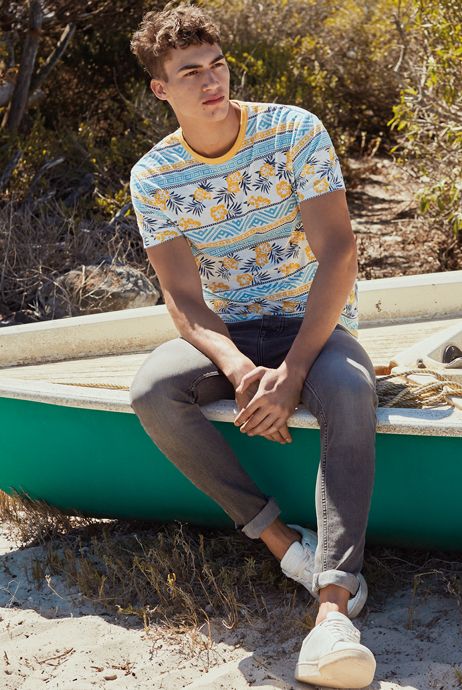 ↓21 – Preppy Style
Here's a complete collection of Preppy outfits for Guys.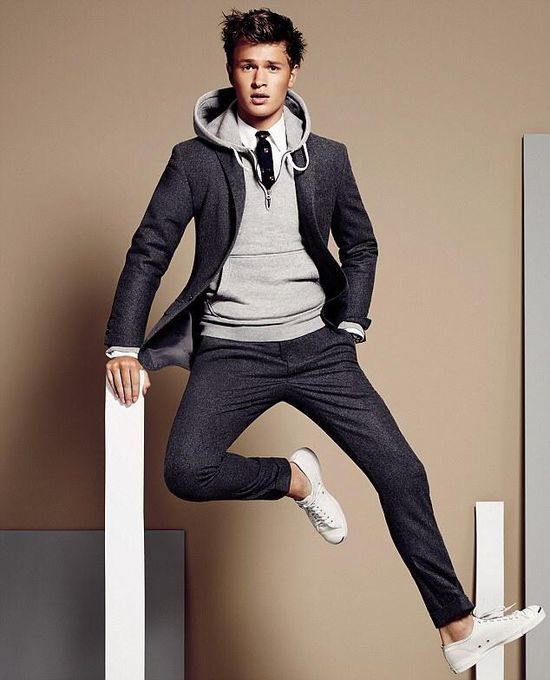 ↓20 – Casual Getup
As much as you want to look sharp most of the time, it's also not bad to opt for casual outfits once in a while. Plus, it would be cliche to be in a suit every day while your classmates and teachers are in more relaxed outfits. Stick with casual outfits that can make you look presentable without any hint of being overdressed.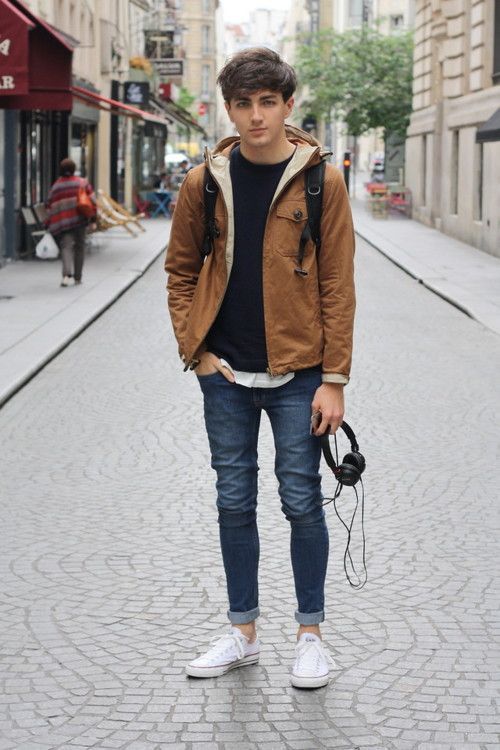 ↓19 – Bomber Jacket
A lot can happen in a year, and colder months are inevitable. That said, it's ideal to have several jackets in different styles like denim, puffer, etc. For one, bomber jackets are stylish and functional as they can protect you from cold weather. Your bomber is either made of nylon or cotton, but it doesn't matter. It's also not important whether you're buff or scrawny as this jacket suits all sizes of men. It is usually worn with a tee underneath. But here's the bonus: it's a great layering piece so that you can team it up with hoodies and button-downs alike.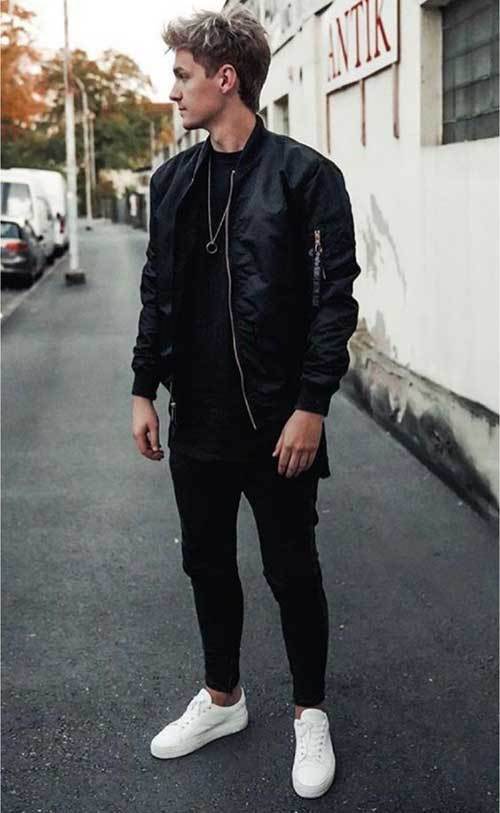 ↓18 – Denim Jacket
Denim is versatile as it suits young men as much as it does adults. Also, it's pretty convenient to pair or layer it with other garments like tees, shirts, etc.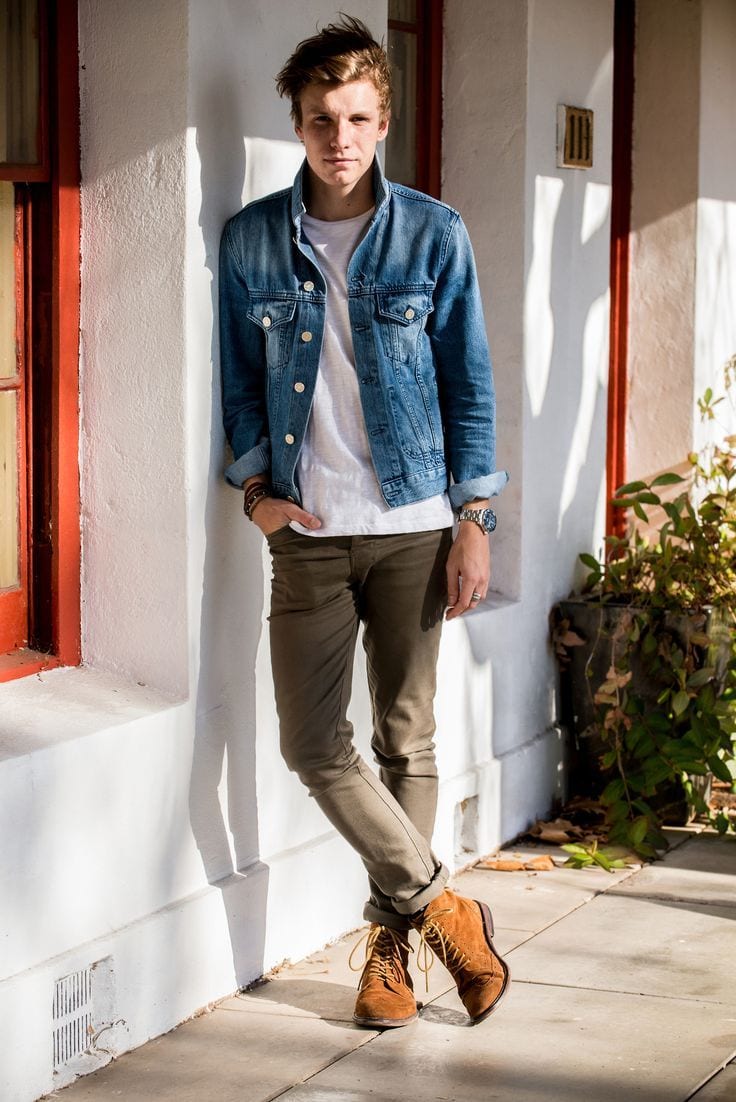 ↓17 – Leather Jacket
Black outfits can take your styling game to another level. For one, it can make any man look slimmer. Complexion won't also matter as black blends in well with all skin undertones. For one, a leather jacket is ideal outerwear that you can wear at school. Here's a list of the Types of Jackets that you must have in your wardrobe this year.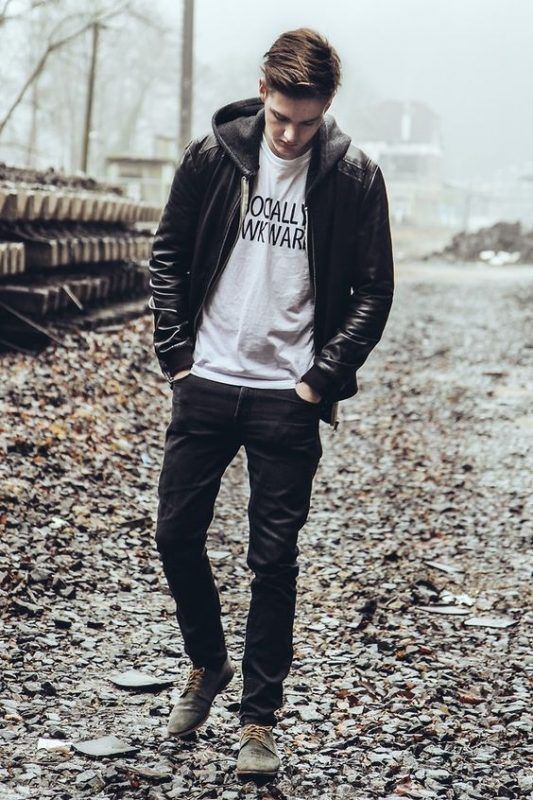 ↓16 – Puffer Jacket
↓15 – Suit For Boys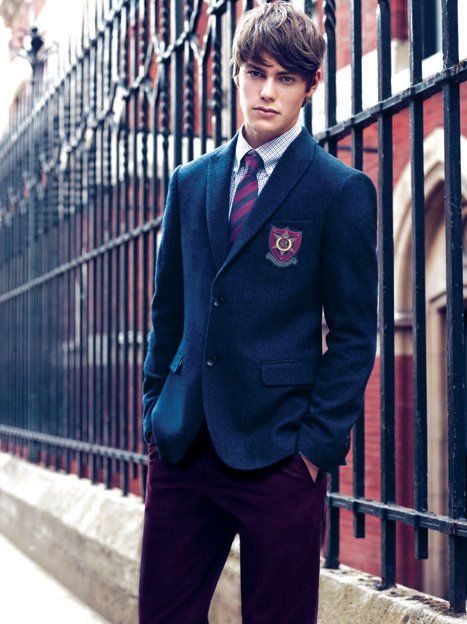 ↓14 – Flannel Shirt
They are a fall wardrobe essential and a great companion for casual outfits. It's your choice to tuck it in, but it's better not to. The bonus about flannel shirts is that they can adapt to the weather. For an outfit that's neither too cold nor warm for you, don't go anywhere else. Don't miss out on these Cute Hairstyles for Teen Boys to take your look to the next level.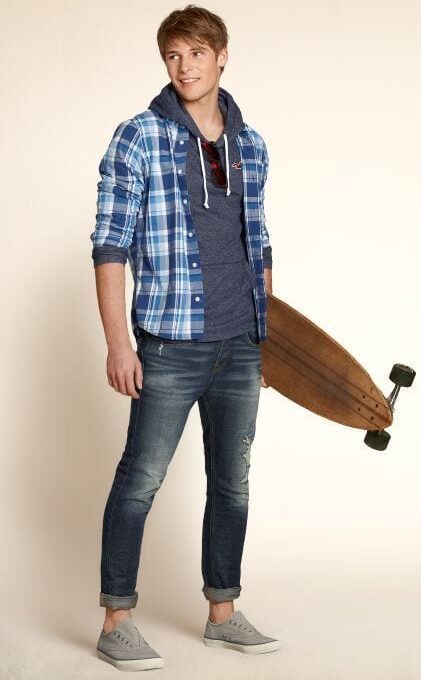 ↓13 – Button-Down
We know that button-down shirts are like the foundation of a business-casual dress code. And if it's suitable for the office, why would the school be spared? It's a crisp shirt that can make you look sharp in an instant. Just don't forget to tuck it in your pants. Wearing white is a great way to look dapper. But be careful as white is prone to dirt. For instance, if you spilled hotdog sauce on your white shirt while eating at the cafeteria, it would be awkward to say it's part of your style when it's actually a stain.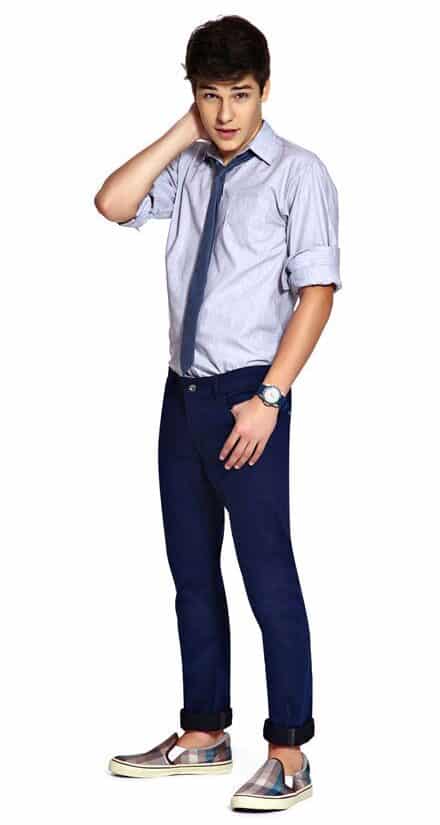 ↓12 – Knitwear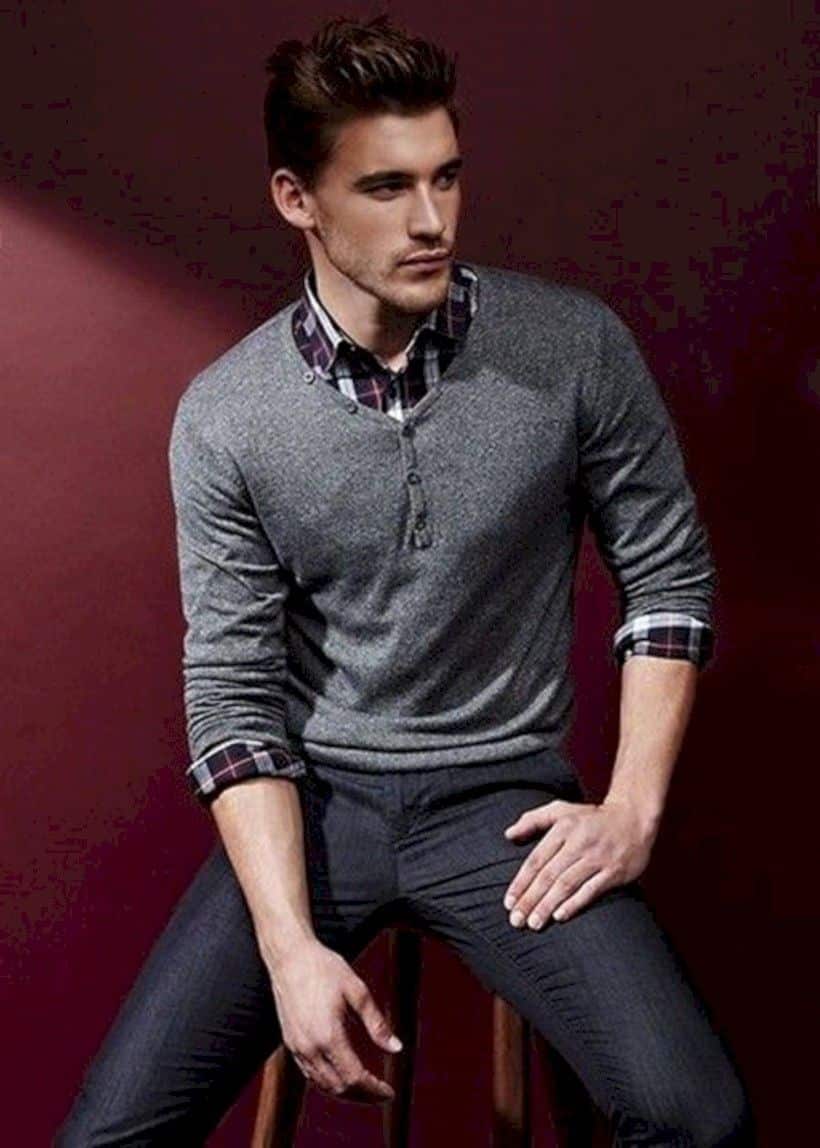 ↓11 – Hoodie
Hoodies have an urban athletic feel, no wonder why most guys love them. You can wear it on its own or layer it underneath a jacket or sports coat when it's too cold outside. Drop your liking for zip-up hoodies in the meantime, and opt for plain design instead. Also, logos won't help you look decent so save them for streetwear.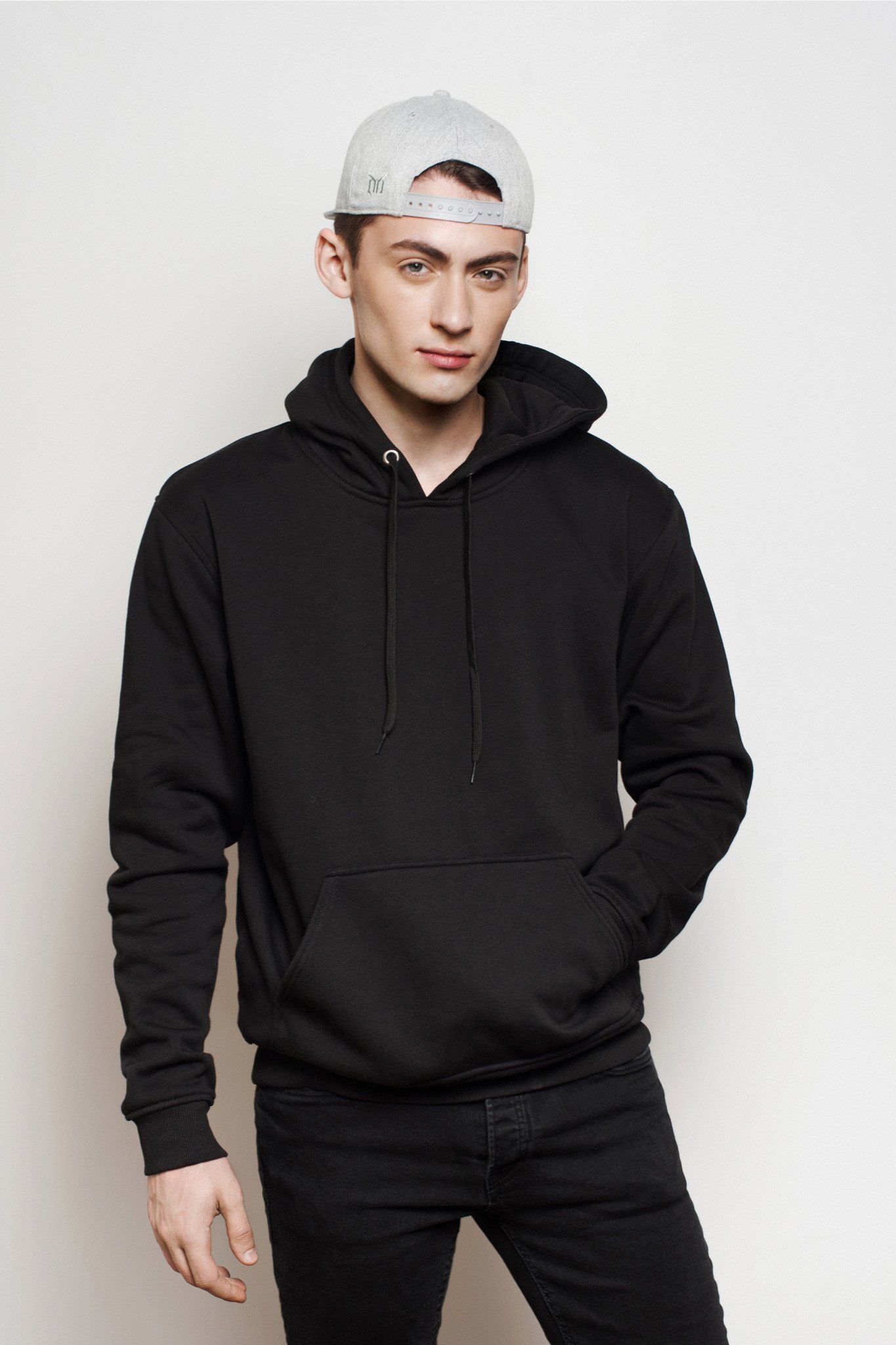 ↓10 – Chinos For School
Chinos are your first line of defense. Opt for simple designs that are suitable for almost every situation, including school days. And remember that you don't have to spend much on pants as no one can really tell the difference between $100 pants and $10 pants. However, people will notice the fit so pay attention to that detail instead. It's also ideal to get a second pair of pants (like jeans or joggers), so you have a backup.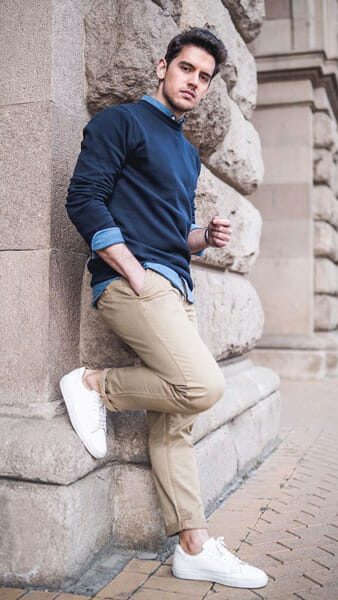 ↓9 – Pullover
Because of its simple build, you can do many things with a pullover. It's more casual than a sweater but has a sporty feel. Even teens can create a collegiate look with the right choice of sweatshirts. That said, pay attention to color, fit, and design. Crewneck is your best bet for a school outfit.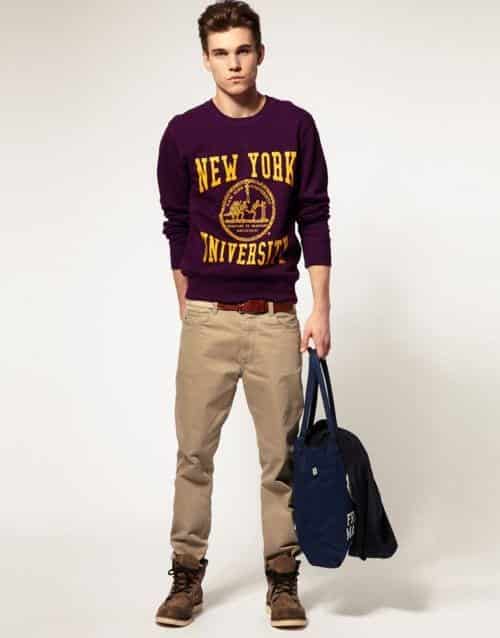 ↓8 – Spring Outfit
Summer and spring, one thing they have in common – they're both hot. And with hot, I mean, they can make a man break a sweat without even moving a pinky. That said, opt for lightweight garments like a cotton polo shirt and polyester shorts. Remember that this is the season when you can enjoy outdoor activities, so don't forget to have some fun.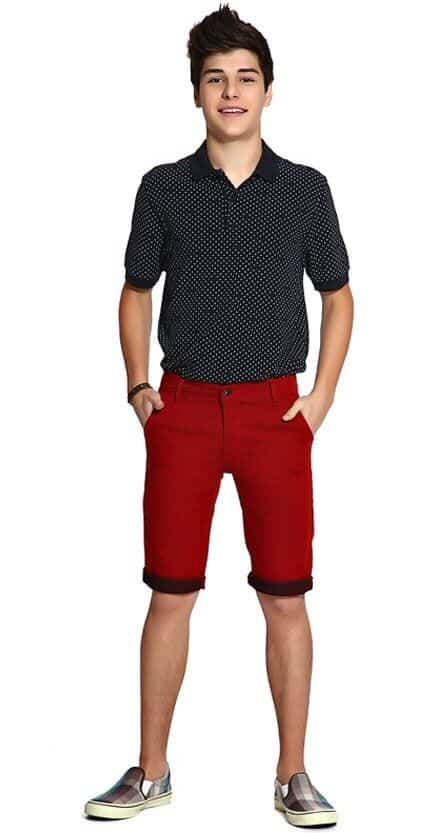 ↓7 – Varsity Outfit
Varsity jackets always look good when styled the right way, so here are some more tips on styling Varsity Jacket Outfits for Men.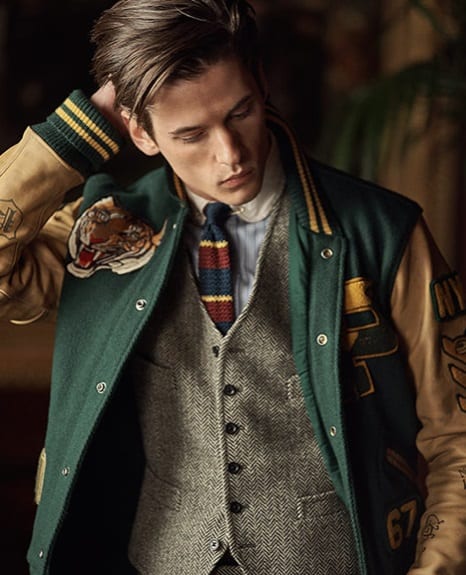 ↓6 – Rollneck Sweater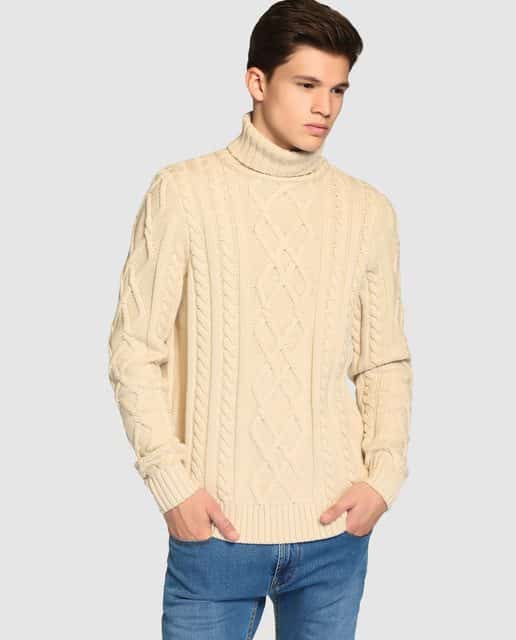 via
↓5 – Corduroy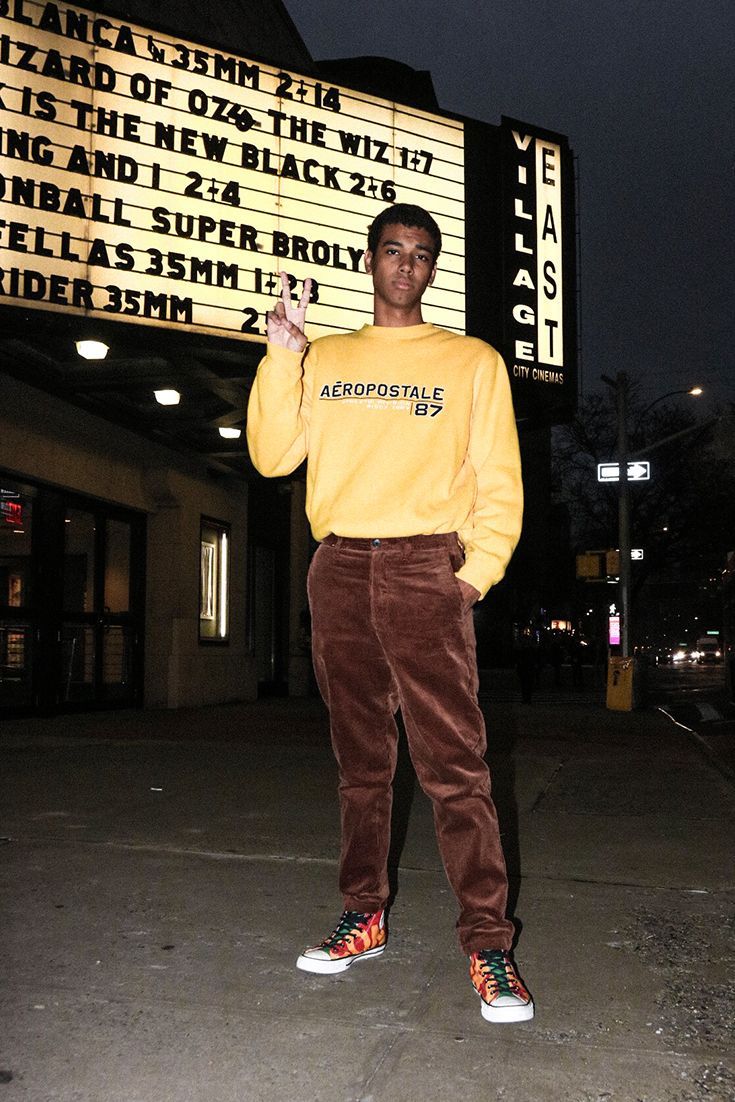 ↓4 – Layering
To wear, humane; to layer, divine. Not only does layering let you be creative, but it also prepares you for the unforeseeable weather. The magic is you can easily lose a layer if it ever gets warm, and just wear it again when it gets cold.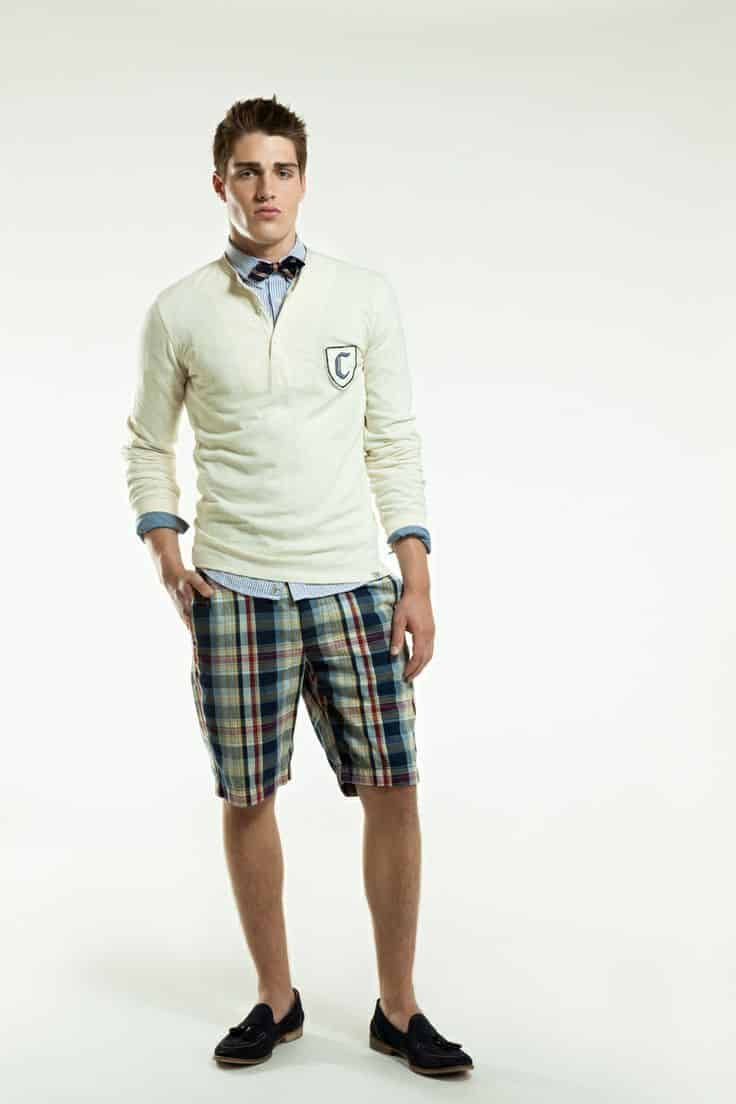 ↓3 – Jeans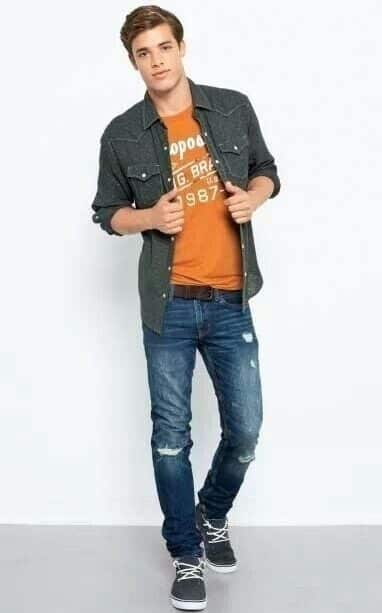 ↓2 – Best Shoes For School
Always choose versatile footwear for your school outfits. Chances are you would be walking around the campus for a long time. So you need something that will make you feel comfortable at all times. Sneakers are practical, and brands like Vans won't let you down, even the Old Skool designs. Also, boots can be stylish and functional, and they will help you stand out. But you don't want to wear them in summer, though.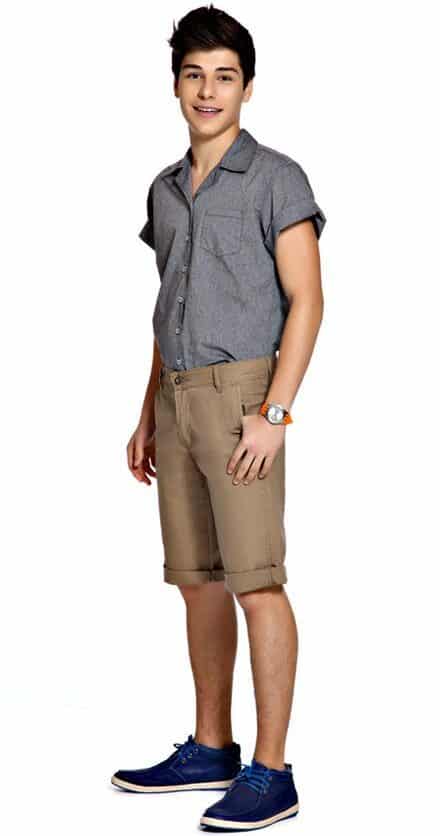 ↓1 – Letterman Jacket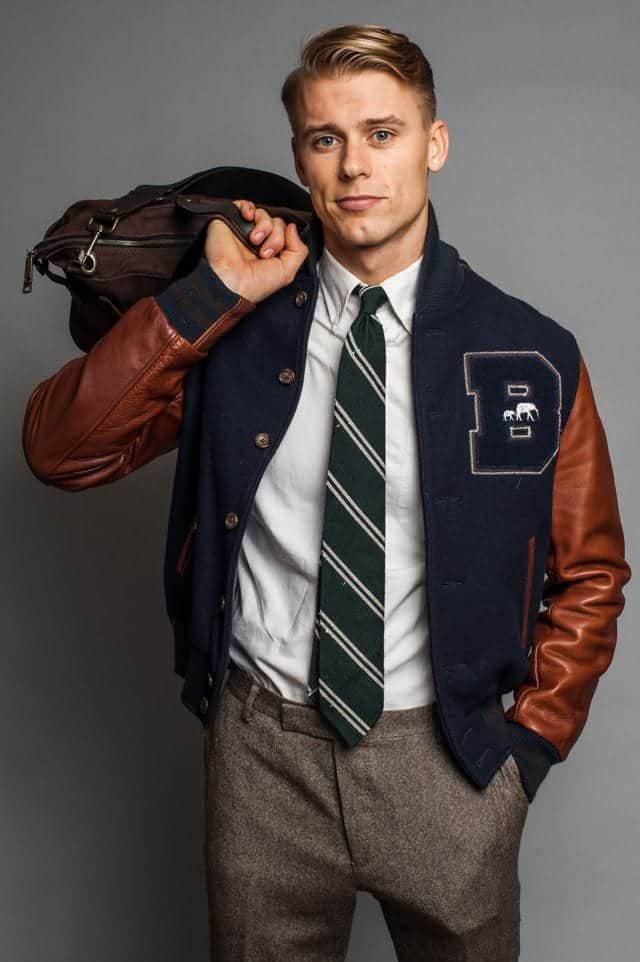 Frequently Asked Questions
Q. What are the back-to-school essentials?
A. For starters, get a bag you can use to carry your books, laptop, and extra outfits (you didn't see that coming) with you all the time. A backpack can help you stay organized and sharp throughout the school year.
Q. What hairstyle is best for students?
A. Don't get a hairstyle just because it's trendy today. Instead, choose a hairstyle that is business-appropriate. However, some schools are not very strict with this. So you are lucky if your haircut doesn't bother your teacher. That means you're free to decide and opt for something stylish. Try undercut, side-parted, and quiff. Also, you might want to consider opting for a haircut that suits your facial structure. For more info, check this out.
Q. What shoes look best for students?
A. Footwear choice is a crucial part of your outfits. They can up your overall look if done right but can also break your style in an instant. Always match your shoes with your outfits. For instance, minimalist sneakers (e.g., white) are your go-to for casual outfits and loafers and brogues for smarter ensembles. And it's not a bad idea to opt for boots in the colder months.
Q. Is it okay to wear boots at school?
A. Yes. It's a good idea to take a break from sneakers and dress shoes and opt for boots once in a while. But mind that they're not that easy to style. For one, you can't team up boots with some outfits (tailored shorts, to name a few), so you have to be very keen on what you're doing. And of course, NEVER wear boots in summer and spring. But I trust you are aware of that.
Q. What accessories should a student have?
A. Start with essentials like a wristwatch, belts, sunglasses, and baseball caps (or beanies for some guys). Having these weapons in your arsenal will help you fight the hardest battle of stylish guys – having nothing to wear. Why am I saying this? Well, imagine what simple accessories can do. For instance, wearing the same outfit combos in a loop can be really boring, and no one wants that. Luckily, accessories are here to help build your aesthetic.