Dog Walk Outfits For Men. One of the perks of having a dog – you have someone to warm the house and cheer you up during your lowest points in life. In fact, dogs are good for your mental health as they can help reduce stress, anxiety, and depression.
But things don't always come in handy. As for being a dog owner, some might say that you have to pay the cost of having a regular dog walk. But it's not actually something you have to stress over as it's quite enjoyable. Plus, it would be a great way to do cardio for you and your pup.
What To Wear for a Dog Walk?
Save your stress for finding the right outfits, especially if it's your first time. And of course, you just don't pick your clothes randomly. Just like when dressing for other occasions like weddings and first dates, you have to consider the climate. In any event, the thumb rule of "comfort before style" would matter most. So get a stylish outfit without compromising the functionality.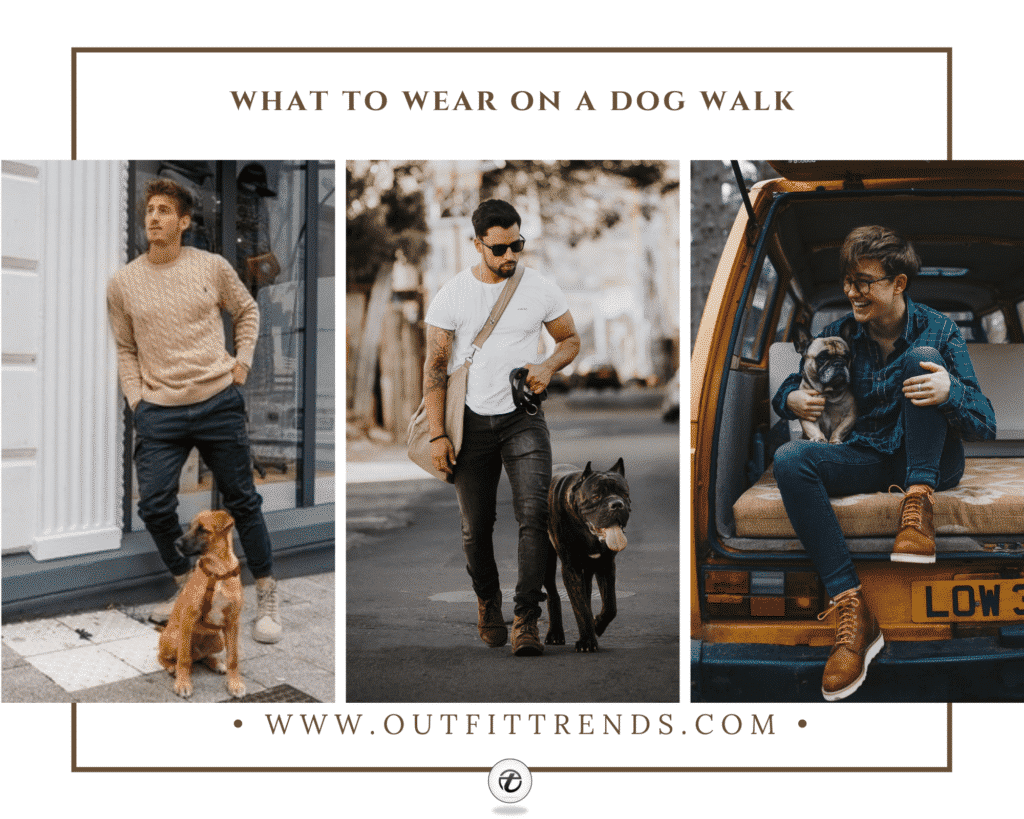 Tips On Dog Walk Outfits
Plan ahead.

You never know who you might bump into, so try not to wear anything you just picked out of the whim. Also, dog walks, sometimes, take place at the park.

Level up your fashion game

. Spice up your ensemble with some beanies and sunglasses. Sneakers are also a great way to finish off your overall look with a bang. Just make sure that you're doing it right: pay attention to color coordination, and try not to create an eyesore.

Always come prepared

. For instance, if you started your dog walk on a cold, damp morning, there's no guarantee that the sun won't shine later in the day. So it's paramount to wear layers that you can easily lose should this issue arises.

Comfort is humane; layering is divine

. Layers are an excellent means to keep yourself dry and cool when walking your dog. And wearing several lightweight garments will allow air to circulate, helping you stay warm. Small air pockets form in-between the layers of the garments.

Posture. Maintain proper body posture while walking with your dog, as it says a lot about your health. As you are already aware (or not), bad posture will ruin your overall ensemble. So no matter how pampered and well-dressed you are, it would be useless if you can't stand straight, with chest out and shoulders back.
What To Avoid
Cotton Fabric.

Try to steer clear of cotton garments as they can get really heavy when they got wet. Also, clothes made of heavy materials are

Formal Clothes.

It's a no-brainer to wear tuxes and suits on a dog walk. Like so, shoes like Oxfords, brogues, and loafers are off the table as well. Let's stick with casual outfits instead. Save those pieces for weddings and black-ties alike.

White Sneakers.

They are prone to dirt like dust and mud. They should be your last choice of footwear, especially if you decided to have your dog walk on a rainy day.
Where To Buy
Everyday outfits like hoodies, sweaters, and boots can be found in your closet. But if you don't have them, you can go to stores like Nordstrom And Amazon. And some sites like Regatta, Cherry Tree, and Mountain Warehouse sell clothes specially engineered for rainy days and dog walks alike.
Look for products that can manage moisture and temperature while allowing you to breathe and have a full range of motion. It's all about combining style and performance!
Enough said, I compiled some of the best outfits appropriate for your awaited dog walk. Let me know in the comments what your favorite is.
↓20 – Shorts
You would enjoy your dog walk more if you would not overdress. That said, get some shorts made from lightweight fabric and pair them with sneakers. This combo is a practical choice, and it lets you move freely as you stroll by the road. Here are some more Bermuda Shorts Outfits For Men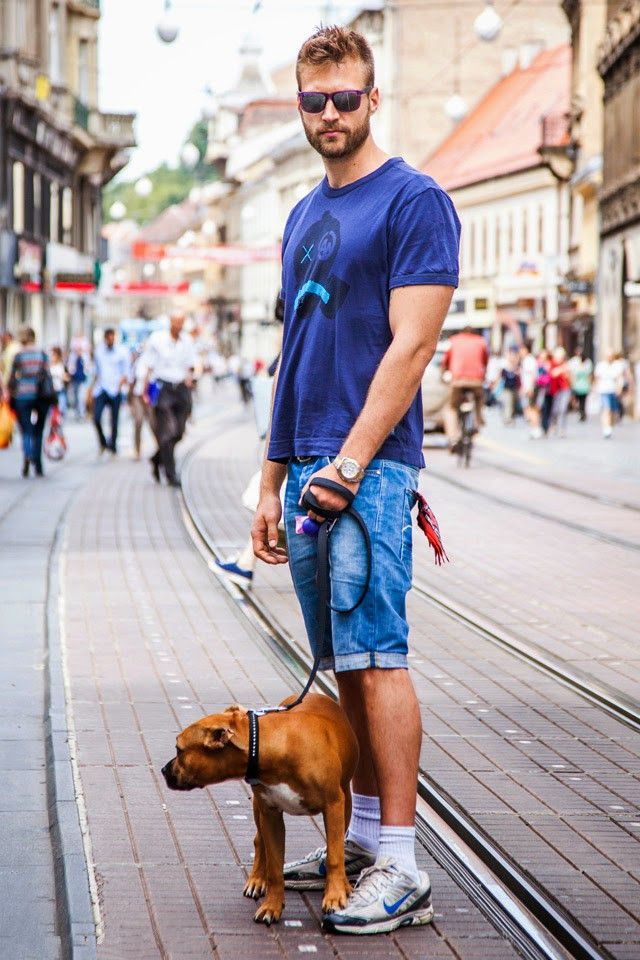 ↓19 – Jeans
As it's expected that you will do a lot of pulling and holding, it's best to grab comfortable tops like tees or basic shirts. It's essential to look for pieces that would neither hold you back nor slow you down while having your moment. A prop tip: tuck your jeans into your boots to show off those edges.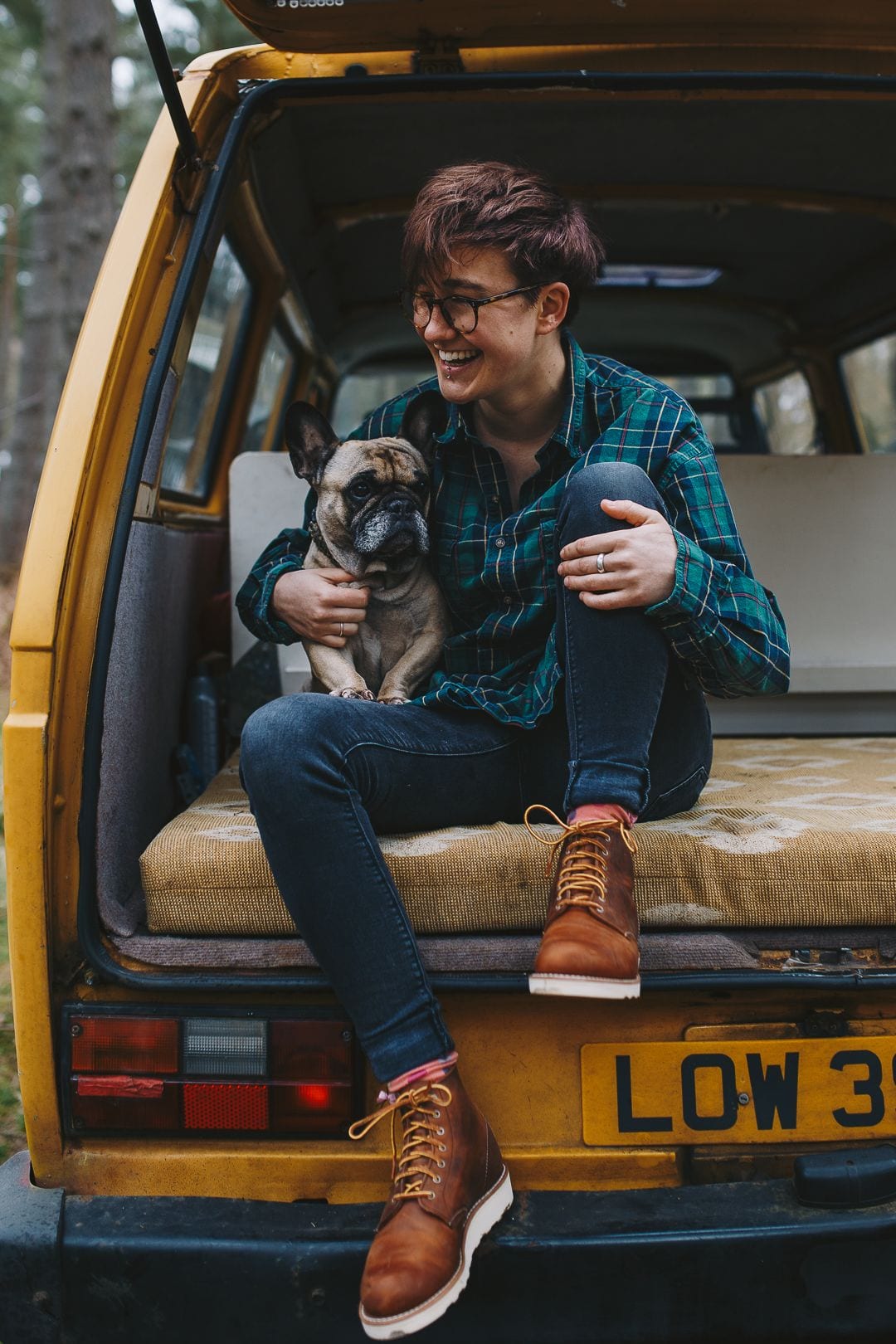 ↓18 – Dog Walking Jacket
When buying one, consider some key features such as hood, pockets, and length. The hood should be large enough to cover your head, especially in undesirable weather conditions. Pockets also play a major role as you might be using them for storing phones, dog treats, and toys (and poo bags). It's also a good idea to get a coat long enough to cover your legs.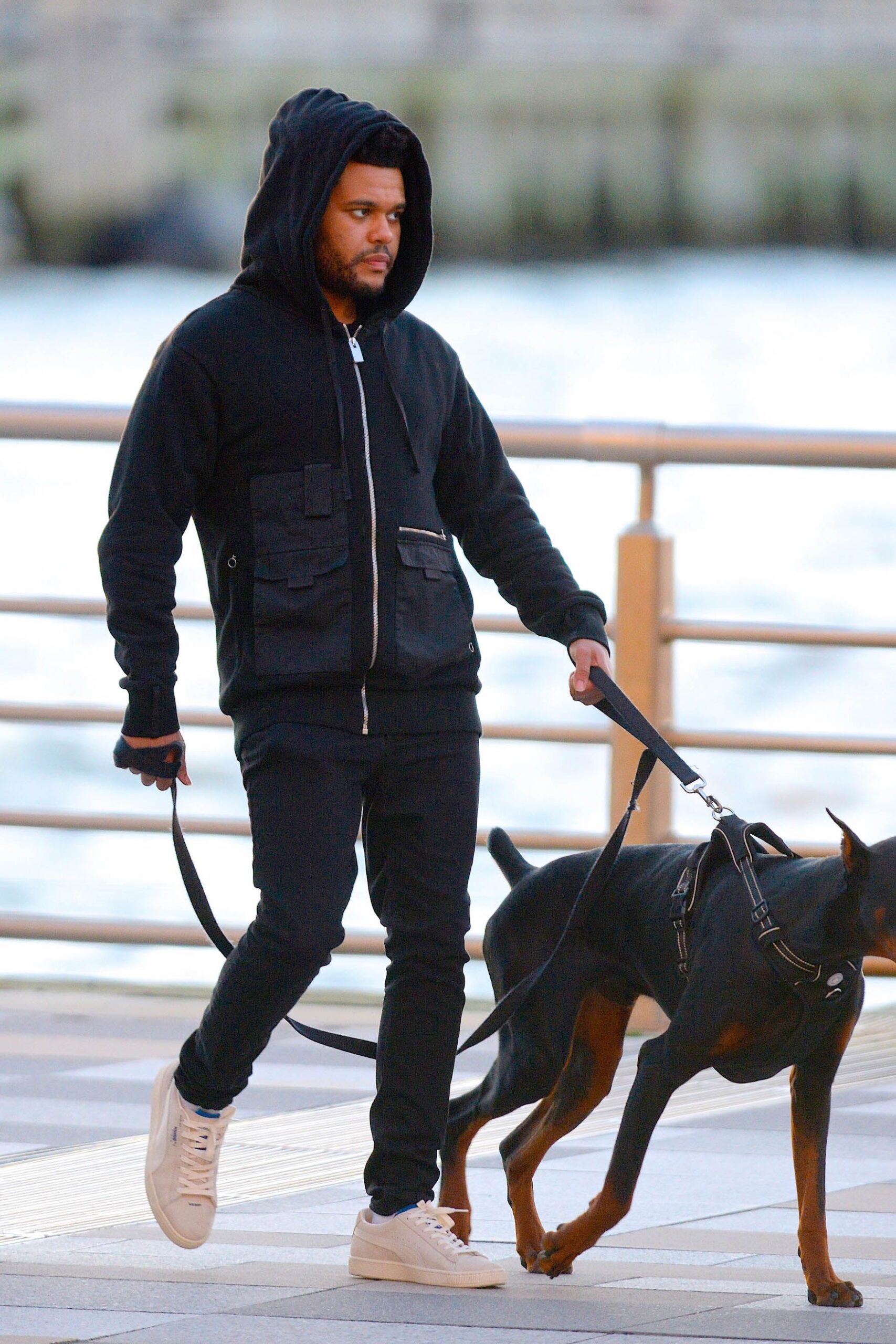 ↓17 – What To Wear With Trousers
Choose either a cardigan or a suede jacket. Make sure they are washable and waterproof that they can stand the rigors of rain. One with an elastic waist is a good option. Also, breathable fabrics will be worth your money. They will keep you from sweating, so you're dry inside and out. And that's what you should always aim for when going for a dog walk.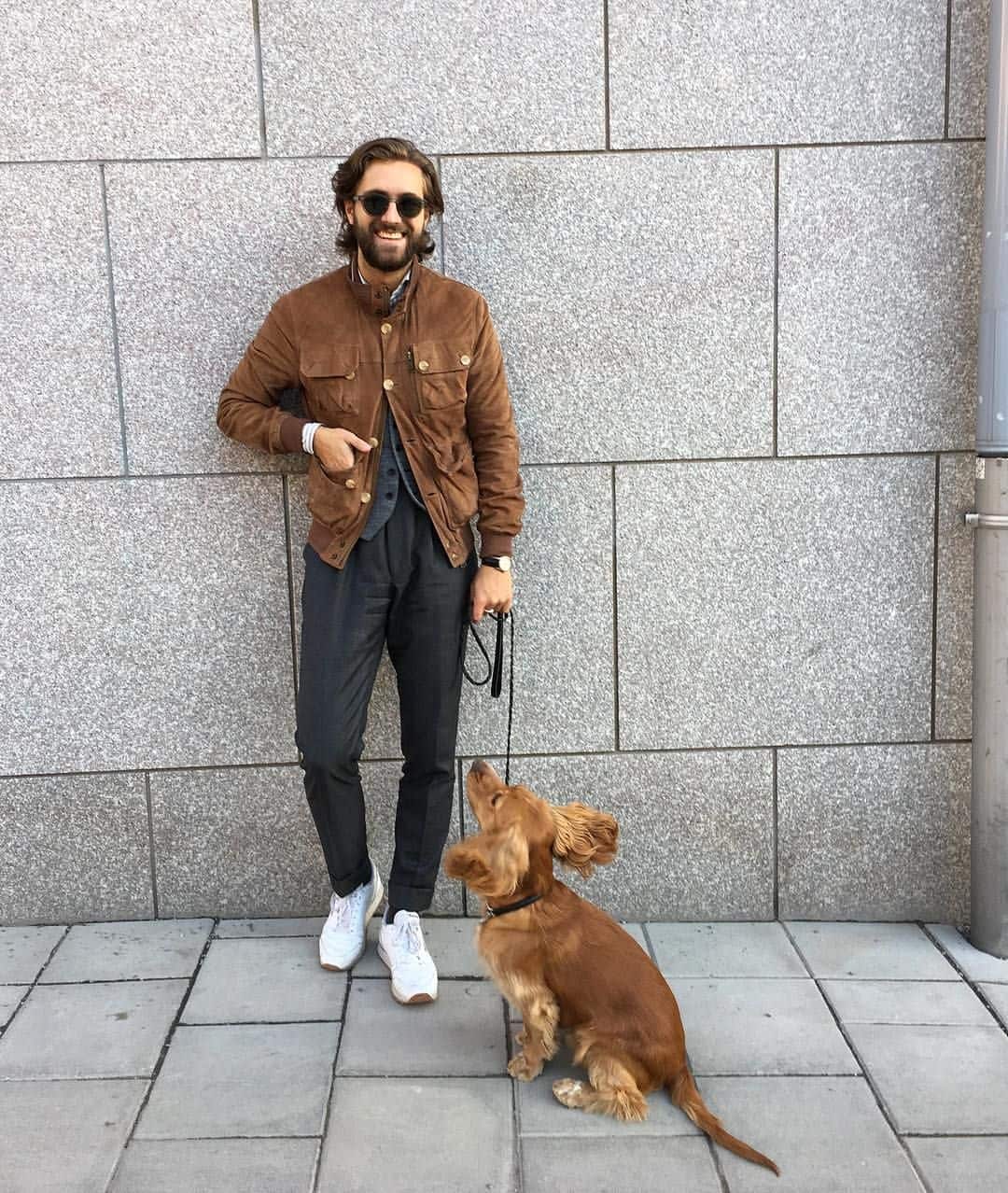 ↓16 – When To Wear A Gilet
A gilet makes an excellent piece, especially when layering your outfits. It can keep your body warm in times you need it most. What's special about gilets is that they don't restrict your arm mobility so that you can move around freely.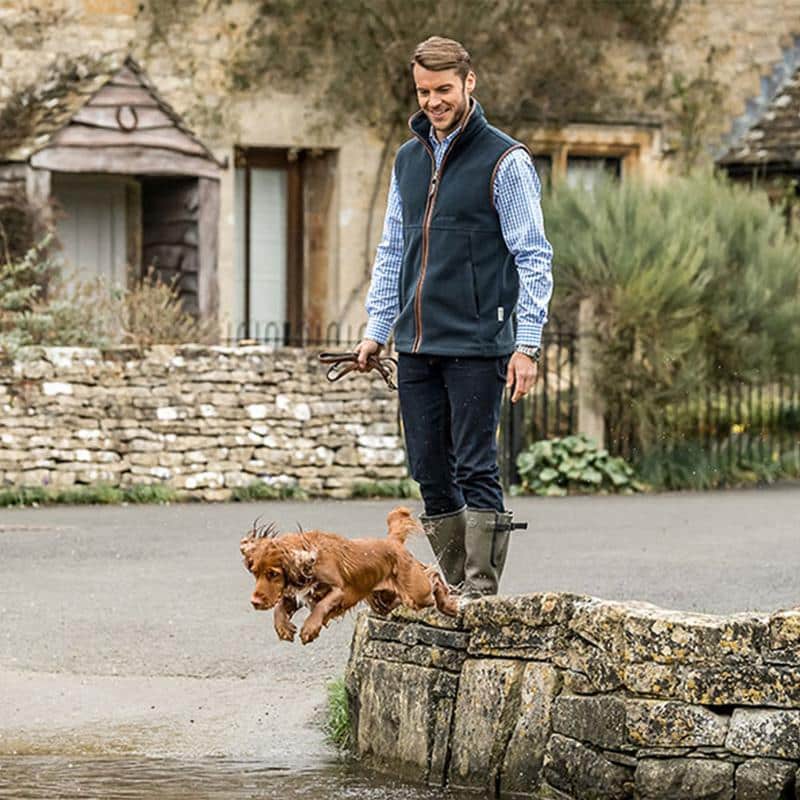 ↓15 – Headwear
They are the strongest weapons against rainwater. You don't want to get your head and neck wet while walking your dog, as it can be very uncomfortable. Wide brim hats are the best option, but beanies would do just fine.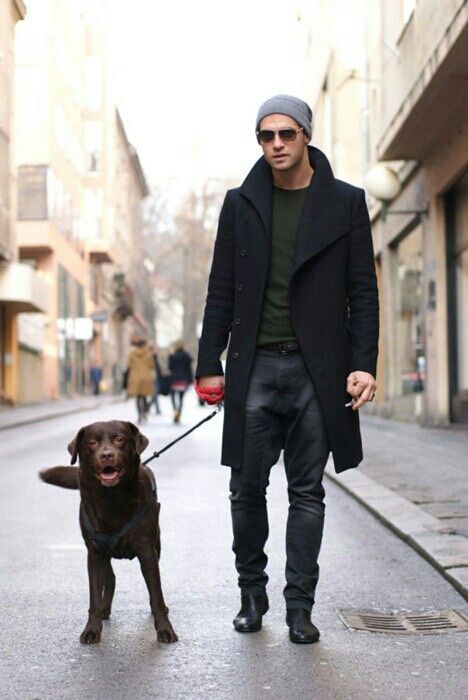 ↓14 – Puffer Jacket
This coat is not just for hiking and nature tripping in highlands. This is also ideal for your regular dog walks, and its insulation makes it an even better option. Some puffer jackets have hoods made to shield your head and face from the cold should it be a problem while strolling (or running) with your pup. This is also suitable for layering.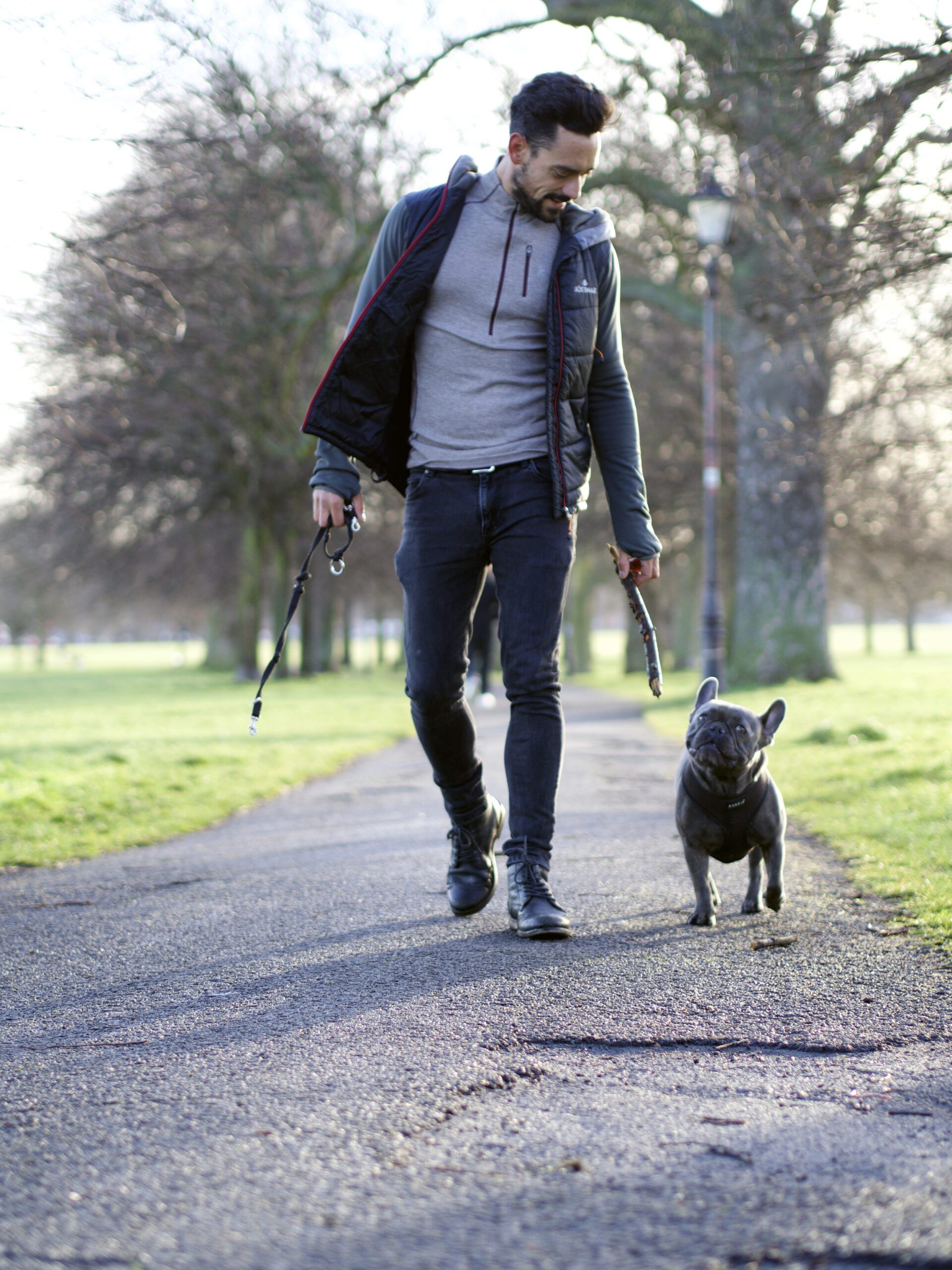 ↓13 – Monochrome
Wear black from head to toe. For instance, throw a dark overcoat over a black shirt. Team them up with black trousers or slacks, and finish off the look with black sneakers. Shades can help up your ante by ten points, so don't hesitate to rock them if you can. For more monochrome outfit ideas, go here.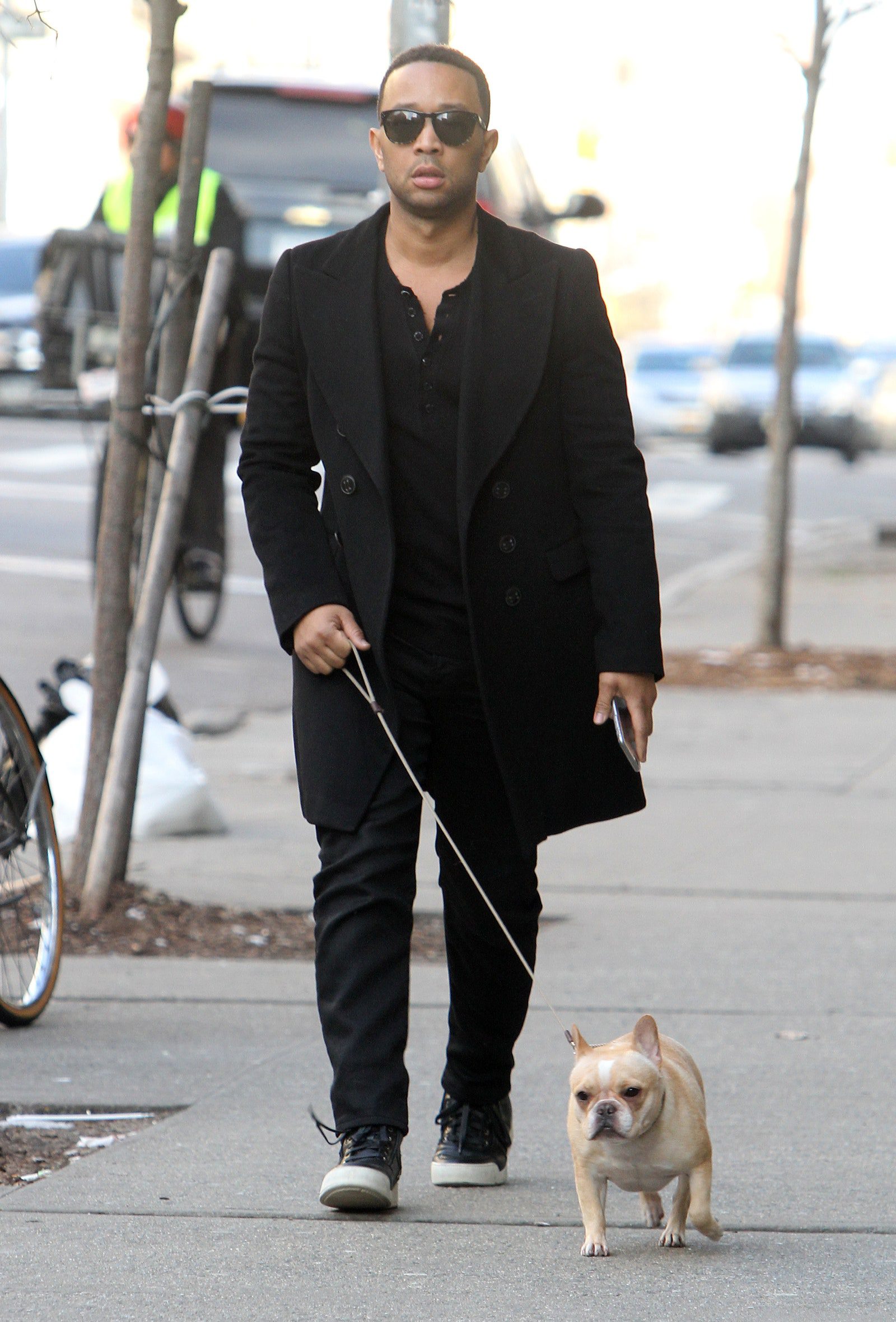 ↓12 – Outfit with Boots
Always consider if they are sturdy, comfortable, and of course, waterproof. And be aware that it's easier to clean leather than fabric boots. Use might have to use wax to reproof your leather boots, especially if you are likely to go through muddy areas. The wax is for keeping the leather away from cracks. Pro tip: Allow your leather boots to dry before carefully brushing off the mud.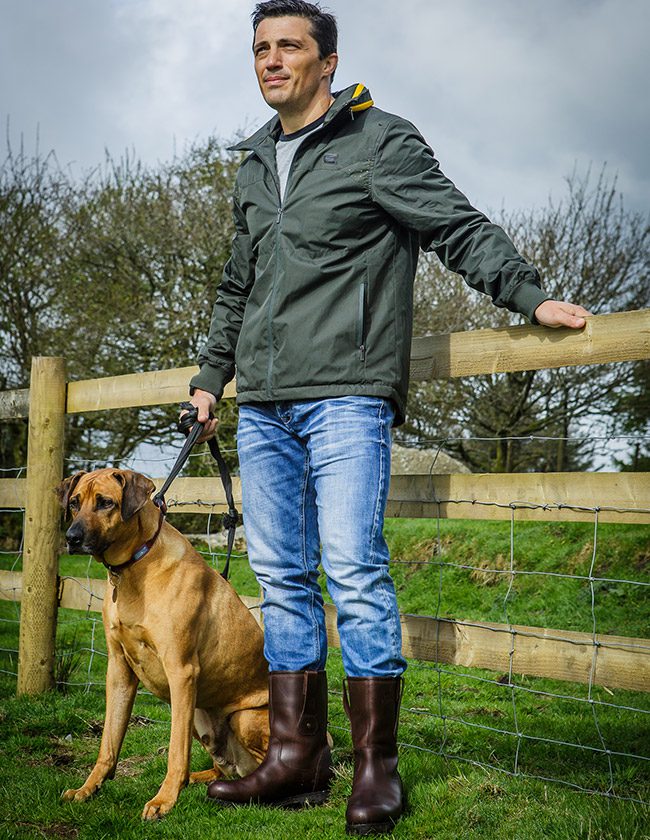 ↓11 – Wellies
Wellies are like the standard wet day footwear. They may not be that comfortable to wear compared to others, but they can protect your precious feet from dirty water and snow drifts alike. Before buying a new pair, please consider fit, comfort, and style.
↓10 – Sweater
The versatility of this garment can go from the loungewear scene to being a dog walk outfit. It's also comfy and cozy, so you can wear it if it's chilly outside. Unlike other jackets, you won't look overdressed nor out of place with a sweater because of its laidback appearance. Alternatively, opt for a hoodie so you can protect your head from the cold weather.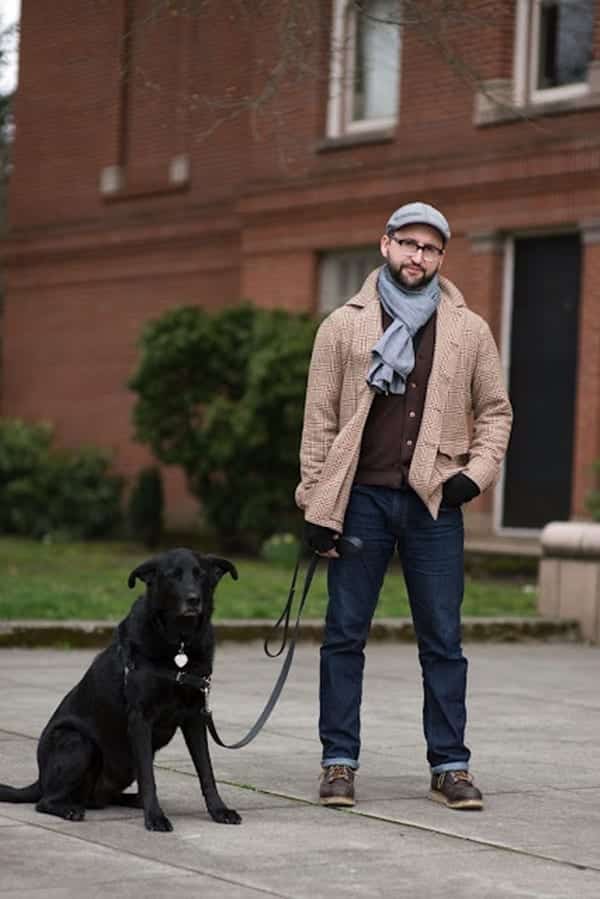 ↓9 – Casual Dog Walk Outfits
The most practical move is to opt for a basic tee and jeans combo, paired with the appropriate and durable footwear of your choice. Just make sure they're not in white. Other contrast colors like brown and black would be perfect as they are not prone to dust and mud.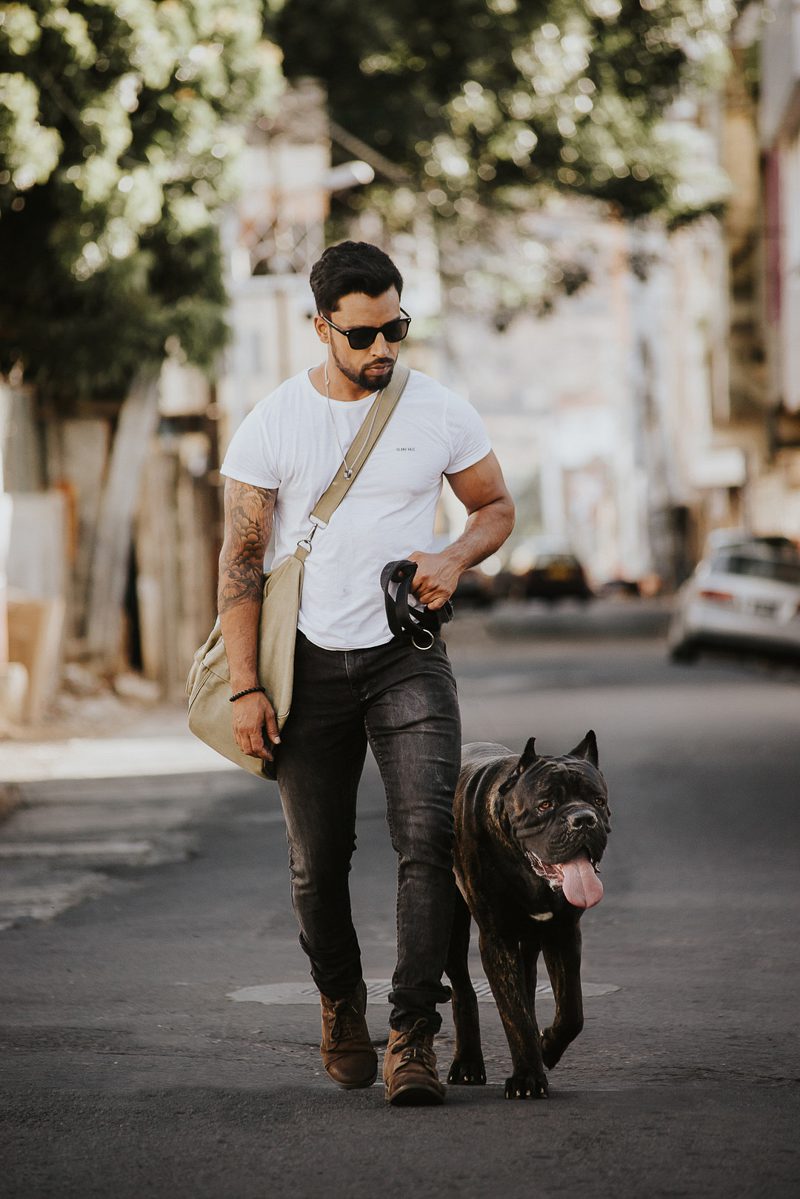 ↓8 – Trench Coat
The origin of this infamous coat dates back to the First World War. It is an essential piece for the fall and winter seasons, explaining why it's quite long. Most trench coats extend up to below knee level. A trench coat or "mac" is different from a peacoat as the latter is shorter as it has a trimmed appearance. When buying a new one, make sure it's authentic. For more info about trench coats, check this out.
↓7 – Flannel Shirt
This garment is originally worn by lumberjacks and has also made cameos in grunge fashion scenes. There are really no restrictions as to when and where you should wear a flannel shirt. In fact, this can both be a summer and winter staple for its versatility. You can wear it as it is, style it as an undershirt for a jacket, or pair it with a tee underneath.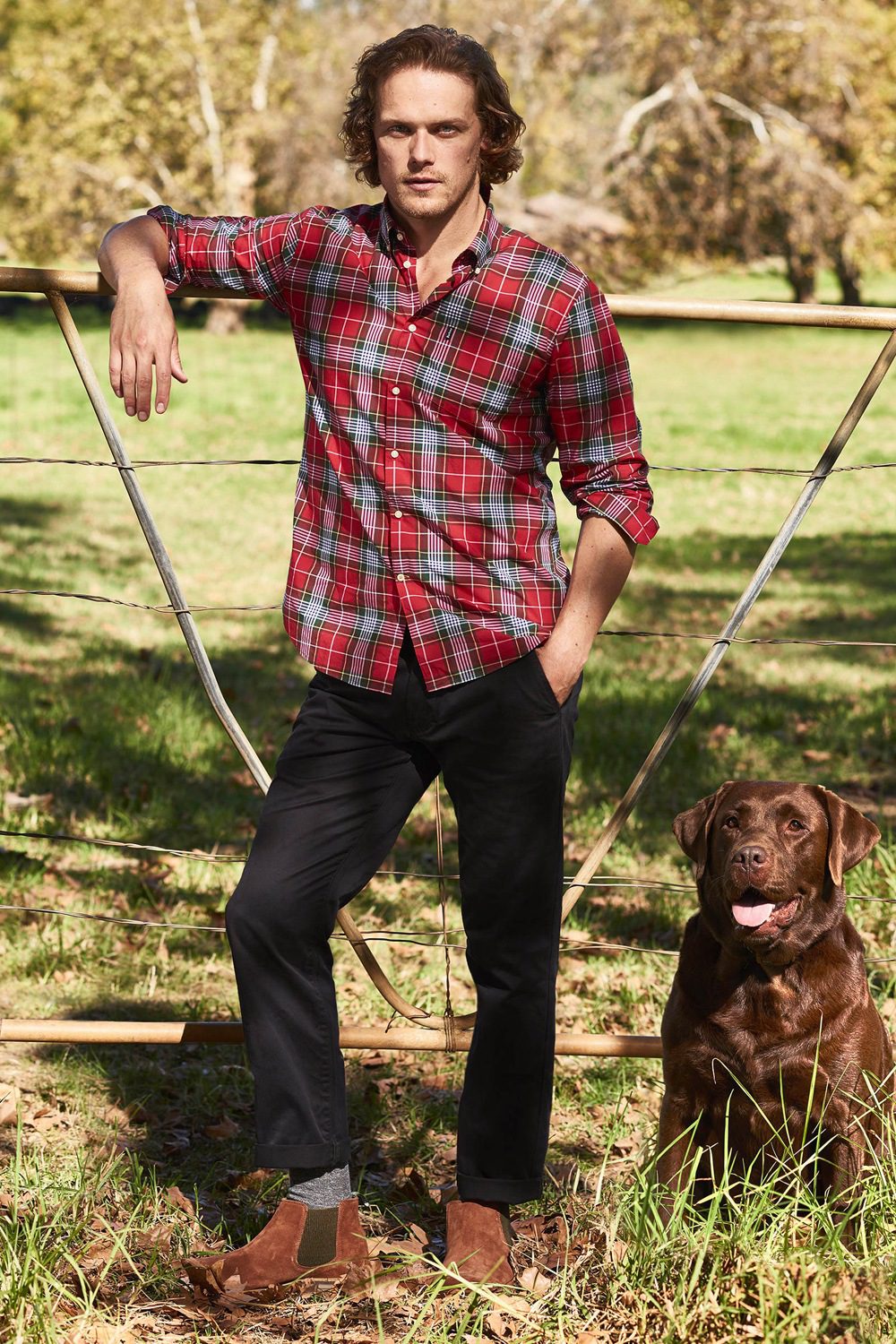 ↓6 – Athleisure
Perfect way to do cardio! You can hit two birds with one stone. Do your regular stroll or run while walking your dog down the streets of your strange neighbourhood. Wear a tracksuit with running shoes or trainers for your next scheduled bonding with your doggo. Not only does this outfit make you feel comfortable, it's stylish and functional as well.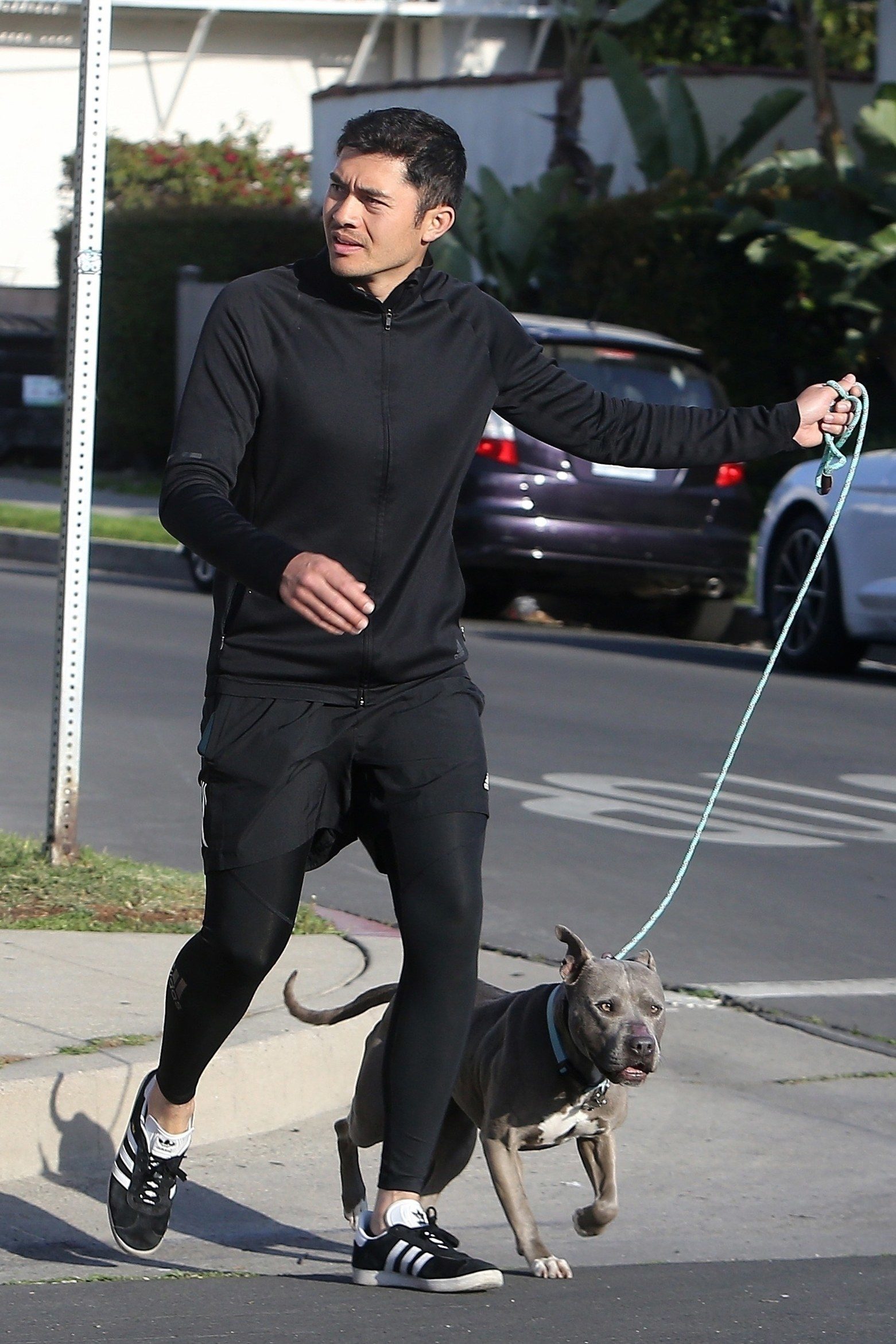 ↓5 – Sherpa Denim Jacket
Denim isn't just for pants; it can also be for jackets. A sherpa jacket can serve as a substitute for a leather jacket. Make sure it fits you well – it should be snug with a short finish on the hips. For your bottom half, ditch the jeans and opt for chinos, instead. The Canadian tuxedo is a fashion faux pas, especially for dog walks.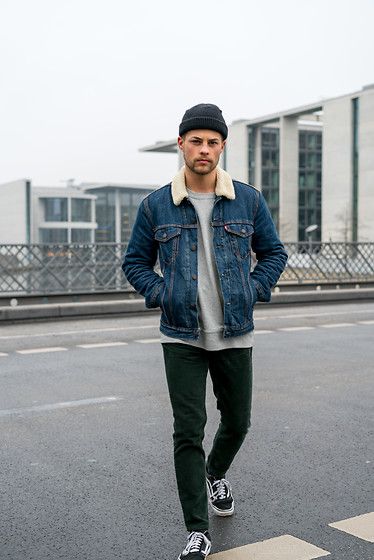 ↓4 – Tanktop For Summer
Tank tops or sleeveless tees are an excellent choice for the summer and spring seasons. You'll likely be sweating in boiling weather, in addition to the effort of chasing after your energetic pup. That said, steer clear of layered outfits and thick garments like puffer jackets, trench coats, and blazers.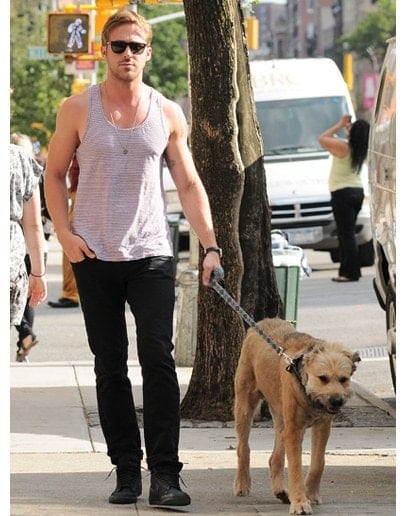 ↓3 – Activewear
Just like athleisure, activewear or gym clothes are appropriate for dog walks. When you are at the gym, you want something that would pump you up, and you can start with your clothes. Do the same for your planned dog walks. Bring your vibe and attitude in the weight room to dog walks as there's really not much of a difference there – both are great ways to be exhausted.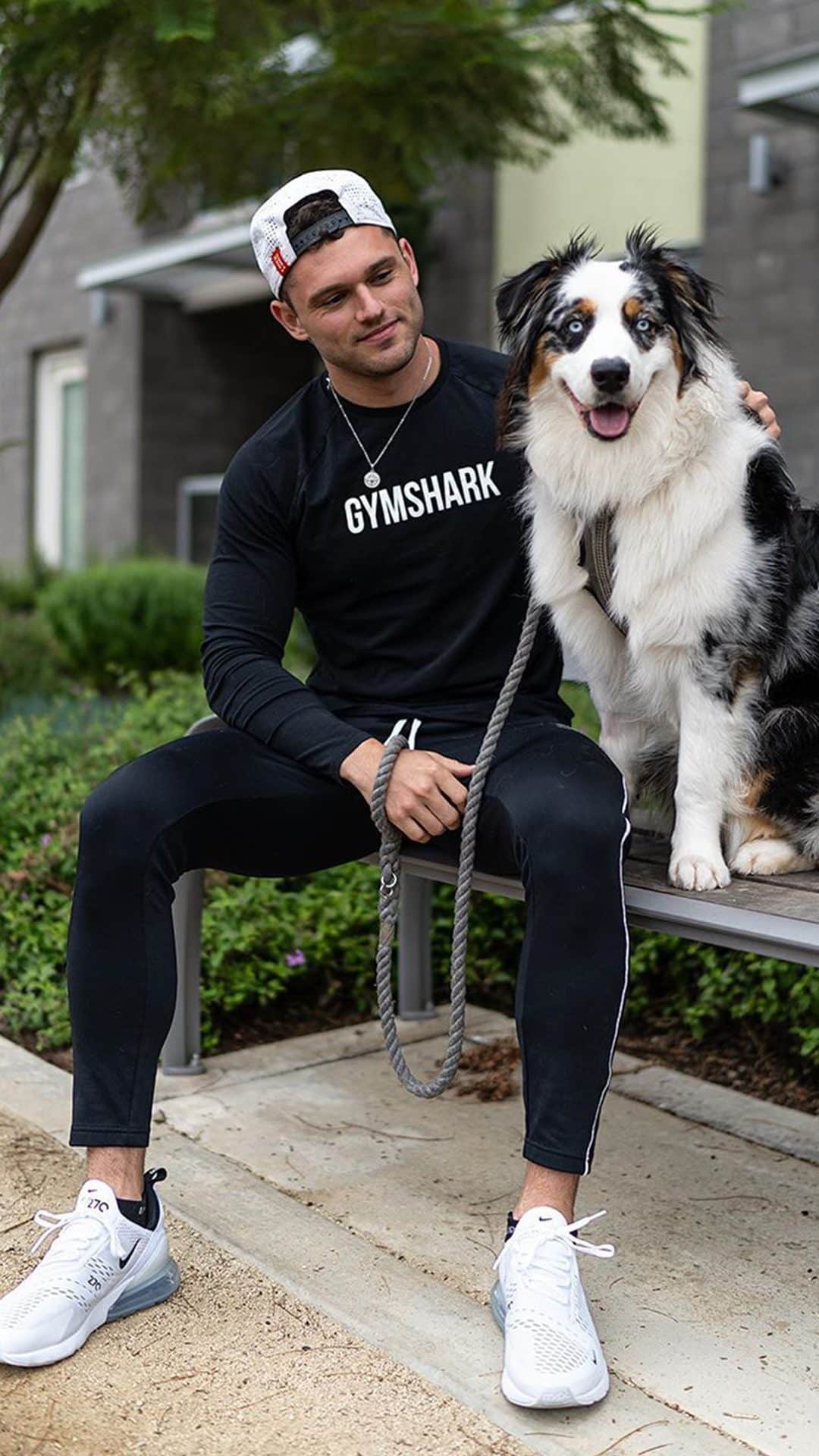 ↓2 – For Plus-Size Men
Having a boxy body is as beautiful as chiselled abs and broad shoulders. But if you want to appear a bit smaller, wear black as it has a slimming feature that can help you appear less boxy, even just for an illusion. Just avoid baggy and lousy garments as they will make you even bigger.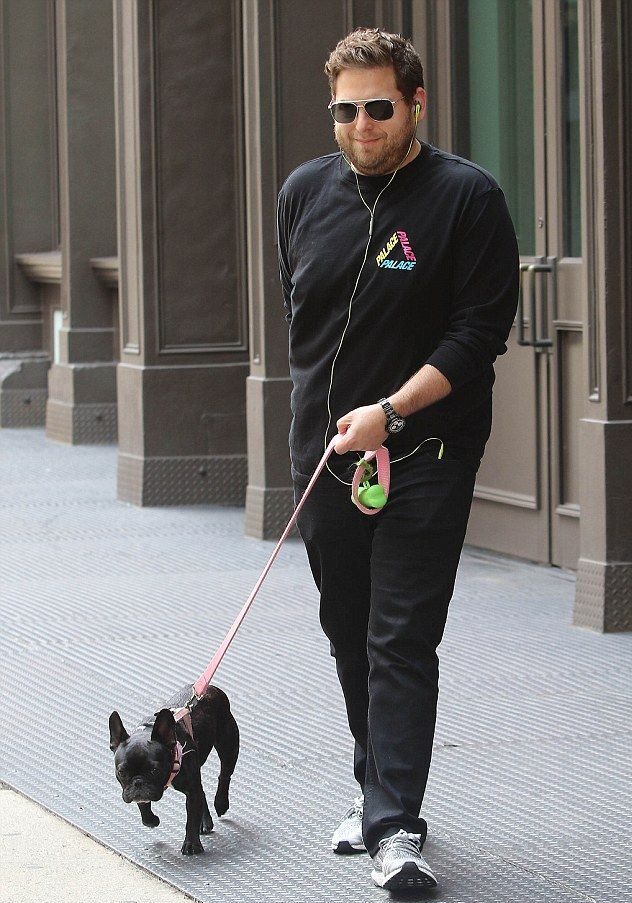 ↓1 – Dog Walk Outfits For Mature Men
Keep it simple, and opt for basic hues like black, grey or camel. Try to avoid acid and pastel colors as they don't look so great in older men. If you are a man in your 50s, stop trying to dress like a man in his 20s or 30s because it would be awkward for you. It's also ideal to have the tailor as your friend. It's a must to have your outfits tailored to your desired measurements. Wrong fitting clothes look awkward, especially to mature people.
These are just some of the dog walk outfits you can think of. And you don't have to spend much on new pieces. Like so, you can experiment by combining existing clothes in your wardrobe to come up with nice combos. Also, don't forget to always consider functionality and comfort before style. Lastly, don't beat yourself up if you can't find the perfect outfit. After all, you're supposed to have fun with your pup.
Frequently Asked Questions
Q. What are dog walk essentials?
A. For starters, look for gloves that can offer a nice grip, warmth, and waterproofness. A dotted palm design would be nice, and something that is made of Merino wool is a plus. And if it fits your budget, go for a product with a three-layer technology, with the perks of being waterproof, windproof, and breathable. Aside from gloves, invest in leashes, dog toys and treats. Don't worry; I'm not going to talk about Apple AirTag collars here.
Q. What shoes are good for dog walks?
A. Wellies and classic boots are recommended for dog walks. But whenever you choose your footwear for such gigs, make sure they can stand the challenges of undesirable weather conditions. For instance, if it's a rainy day, you might want to opt for something waterproof and comfy like these sneakers from Vessi, endorsed by the adorable Tucker Budzyn and his owner. These shoes are available for both men and women.
Q. Should I wear socks on a dog walk?
A. Regardless of your footwear choice, it's essential to pair them with the right socks. It's best to opt for thick and heavyweight variants, especially if you suffer from blisters. And experts recommend socks with Coolmax Technology if you have sweaty feet as they have a feature that draws away moisture from your skin.