Stylish Pakistani Mehndi Grooms- Looking for the latest styles in groom outfits? How should men dress up for Mehndi? Groom Mehndi Dressing ideas? Outfit Trends brings you some great ideas and trends for mehndi dresses this season. So stay with us.
The wedding day is not just an exceptional day for a bride but also for the groom too. It is an essential day of life so every groom wants to look good. Most grooms choose to wear a traditional wedding dress on his big day. In the past, men never used to show much interest in their looks and clothes, but with time and living in a modern era, they have started taking a keen interest in getting dressed for their big day.
What Should Pakistani Grooms Wear On Mehndi?
Wedding dresses (shalwar kameez or sherwani) are available in the market and can also be made on order. A variety of designs and colors are available in different fabrics. Different dress designers launch their collections every season. There are various suiting collections, such as pajamas that can be worn with pants, sherwanis with churidar pajamas, fancy kurta with a shalwar, etc. Mostly grooms prefer wearing sherwani or kurta kameez on their wedding day and mehndi event.
Embroidery work is typical these days on the dresses and even beautiful stonework is done on sherwani's, and they can be found on designer boutiques. You should have a look at Latest Style Wedding Sherwani For Men And Styling Ideas.
Sherwani is the most classic wedding outfit. Kurta shalwar and sherwani is also a favorite dressing for grooms and can be worn on mehndi functions. There are a variety of styles, including wedding, mehndi, and party wear. Boutiques also offer different accessories such as fancy clips, brooches, turban, and shoes are also available along with sherwani. These sherwanis are perfect for every man who wants to look handsome on this big day of his life. By wearing these outfits, every groom can make his personality look impressive.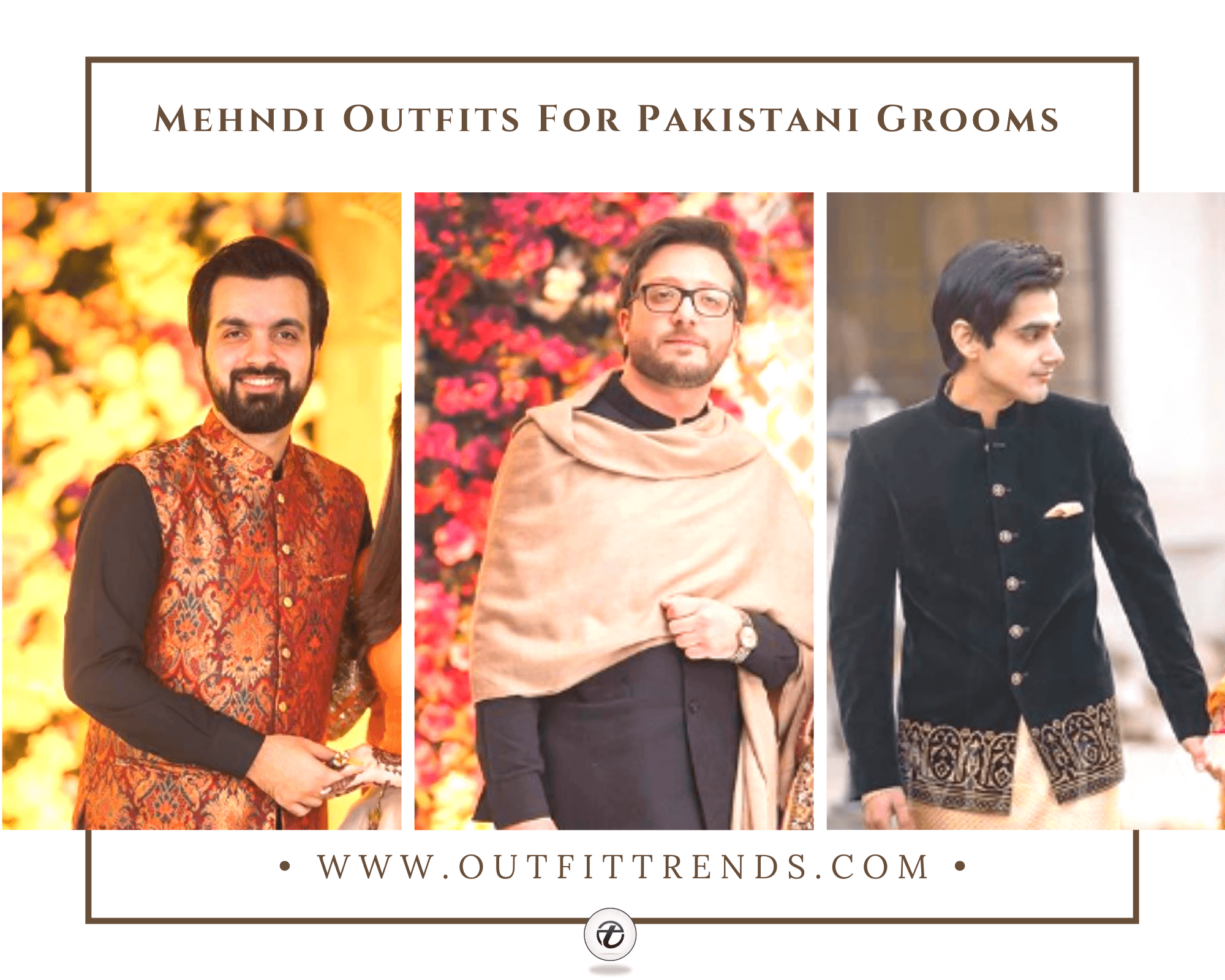 It's vital for grooms these days to look their best on the big day, which is why certain things must be taken care of. You should start planning the day and preparing for it at least two weeks ahead of the event. Here are some simple tips to help you look your best:
Do take proper sleep and rest. We all know how hectic the days before the wedding are, but despite all this, you must give priority to going to bed in time. As otherwise, you'll look tired and dull on the day of the event.
Try to exercise daily. If you don't have enough time for the gym, then even a 10 min workout session at home every day can make a huge difference.
Avoid the sun and if you do need to go out in the sun a lot then wear sunscreen or a hat.
At least one week before the event, take a cleansing or facial treatment from a good parlor as this will make your skin fresh and clean. However, don't opt for this treatment one or two days before the function as this could result in breakouts and pimples.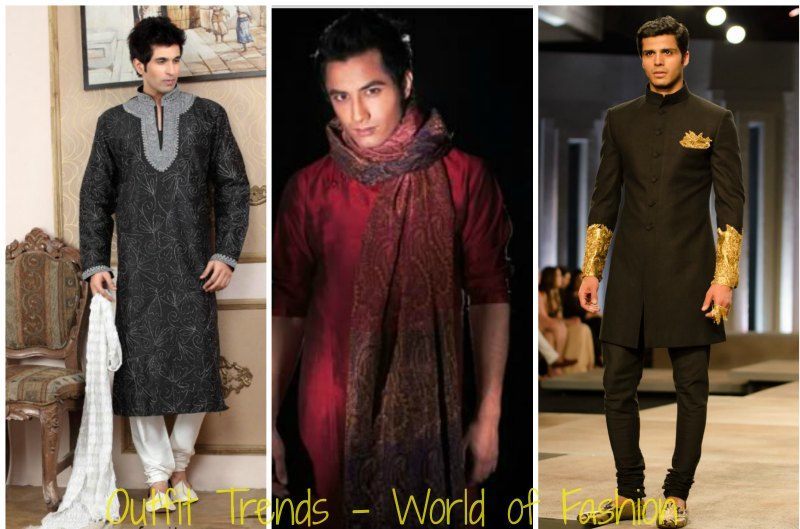 Here are some pictures of beautiful groom dresses which are mostly worn in our country. These groom dresses pictures are according to the most recent fashion trend of the year, and you will get enough idea about the mehndi dressing.
↓ 25 – What Accessories To Wear For Mehndi Functions?
You can use matching footwear with your selected dress such as Peshawari chappal, sandal, Khussa, sandal, Jooti, etc. These shoes help you to enhance your complete look. Groom can also wear a dupatta kind of shawl around the hands. There are different patterns and designs available. Custom made sherwanis are also available in the market. Since we are talking about mehndi, then make sure that the color of the shawl or dupatta is yellow or green. Yellow and green are the most common colors of the mehndi event. It is also great to wear a color that complements the bride's outfit, as shown here: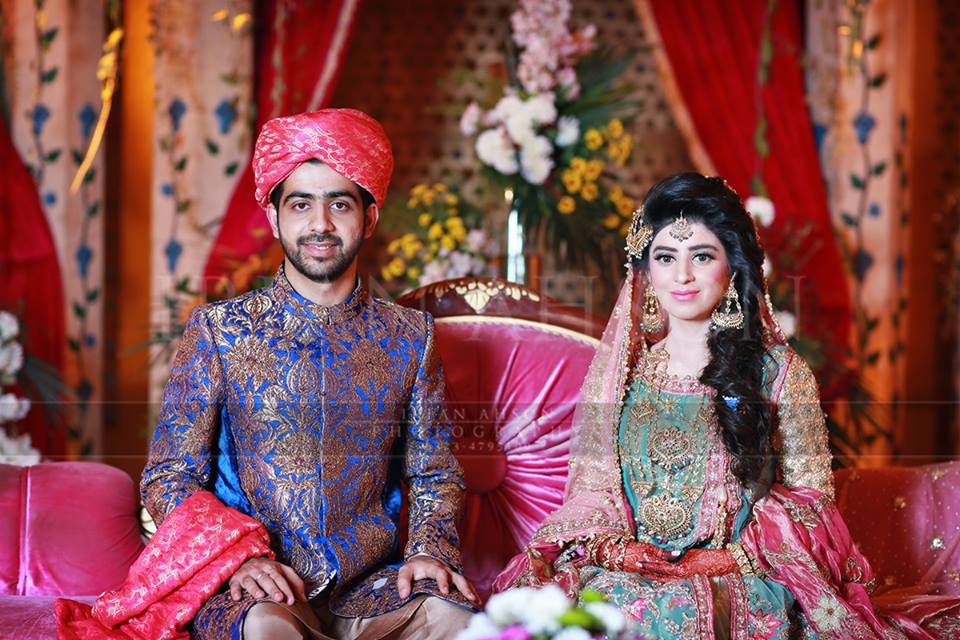 ↓ 24 – Hairstyles And Beard For Mehndi Grooms
These days, most grooms choose a bearded and rough look for mehndi and then clean up their look for the Barat and Walima function. This allows the groom to experiment with different looks for the different functions, and it is a great way to look fresh every day. Here's a collection of the best Beard Styles for Asian Men.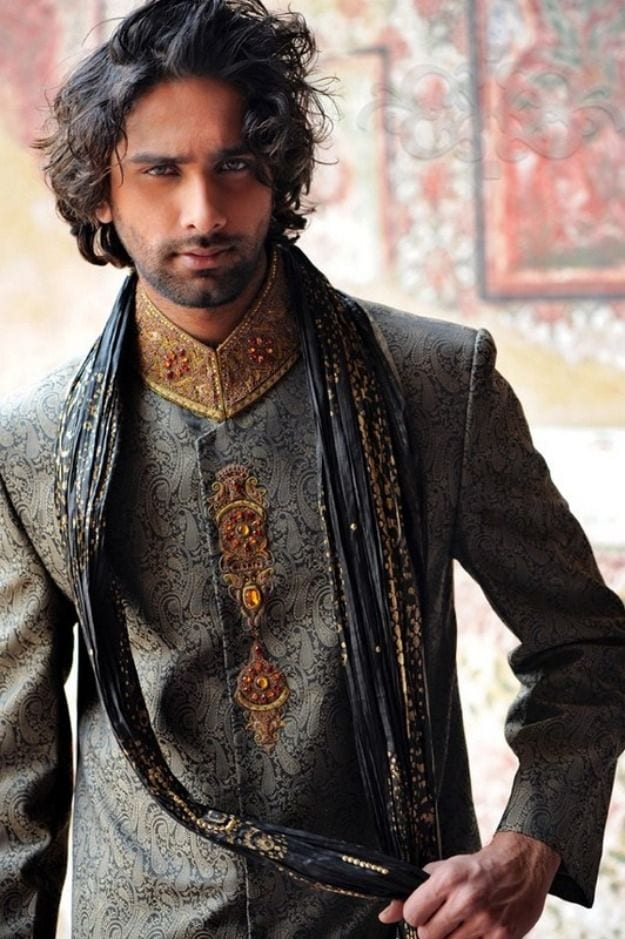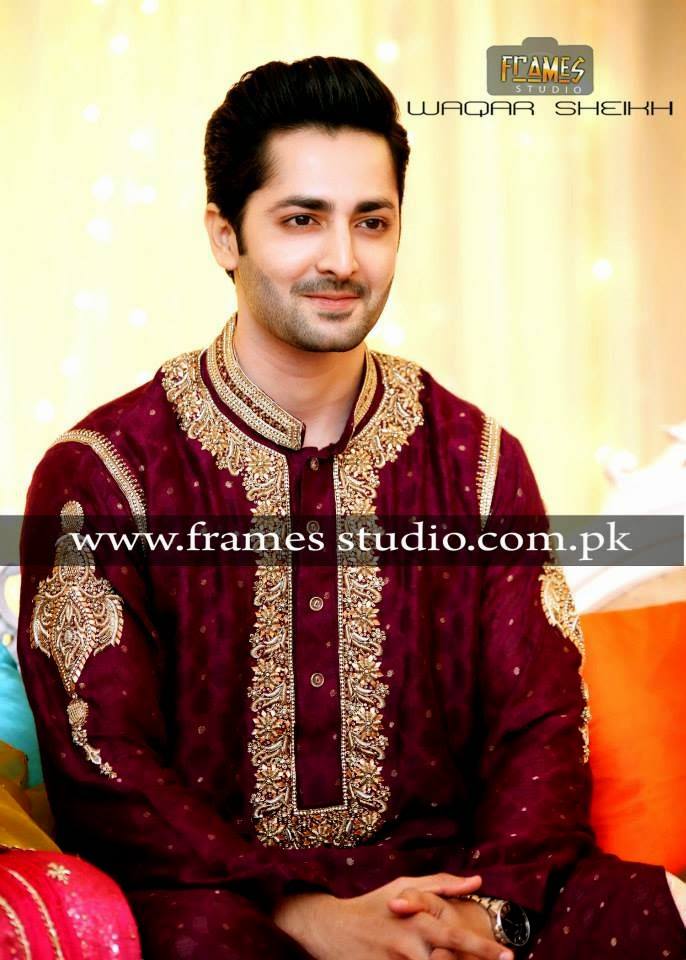 ↓ 23 – Designer Mehndi Sherwani
HSY is undoubtedly one of the best designers of Pakistan, for both brides and grooms. Outfits for grooms by HSY are available in a comparatively higher price range. His designs are great for mehndi since they are usually deeply rooted in cultural themes and vibrant colors.  Also, have a look here at The Latest Men's Eid Shalwar kameez Designs.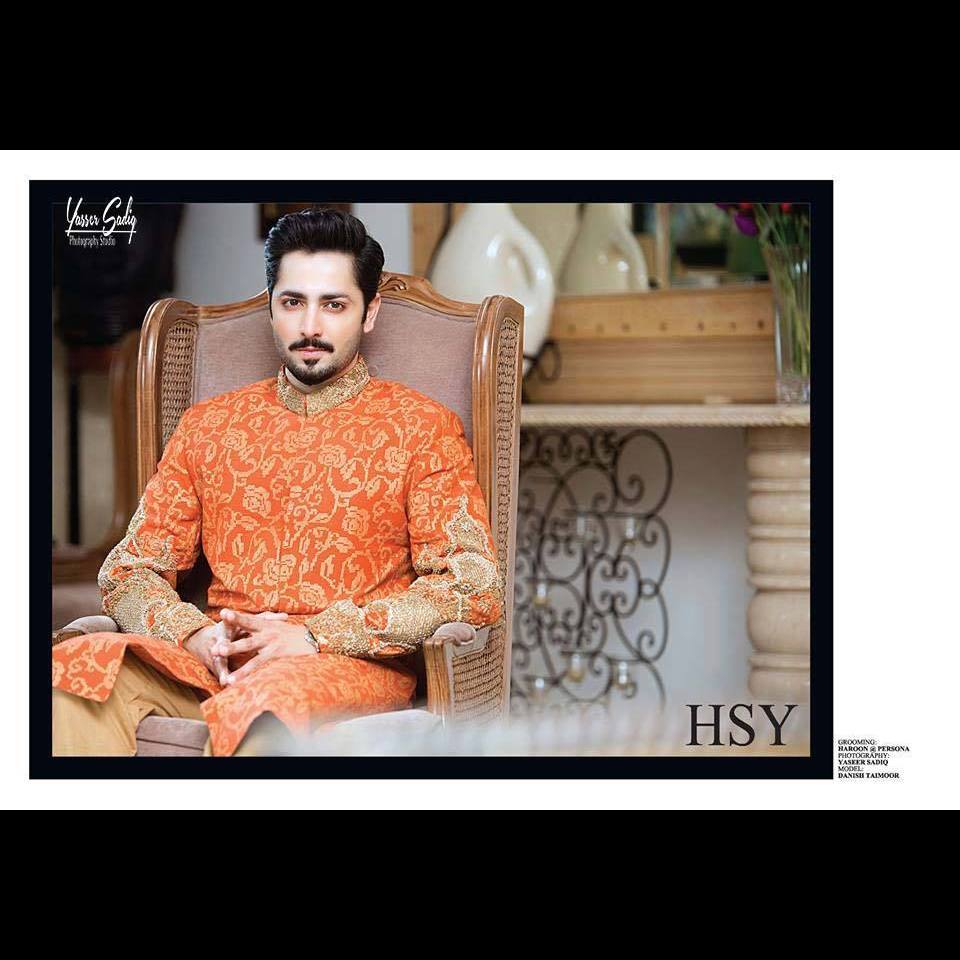 ↓ 22 – Latest Style Sherwanis
Gold is one of the most trending colors of the year; moreover, it is a timeless color and always looks great on both brides and grooms. Try pairing gold with a dark color such as black or grey, and you'll cherish that look forever.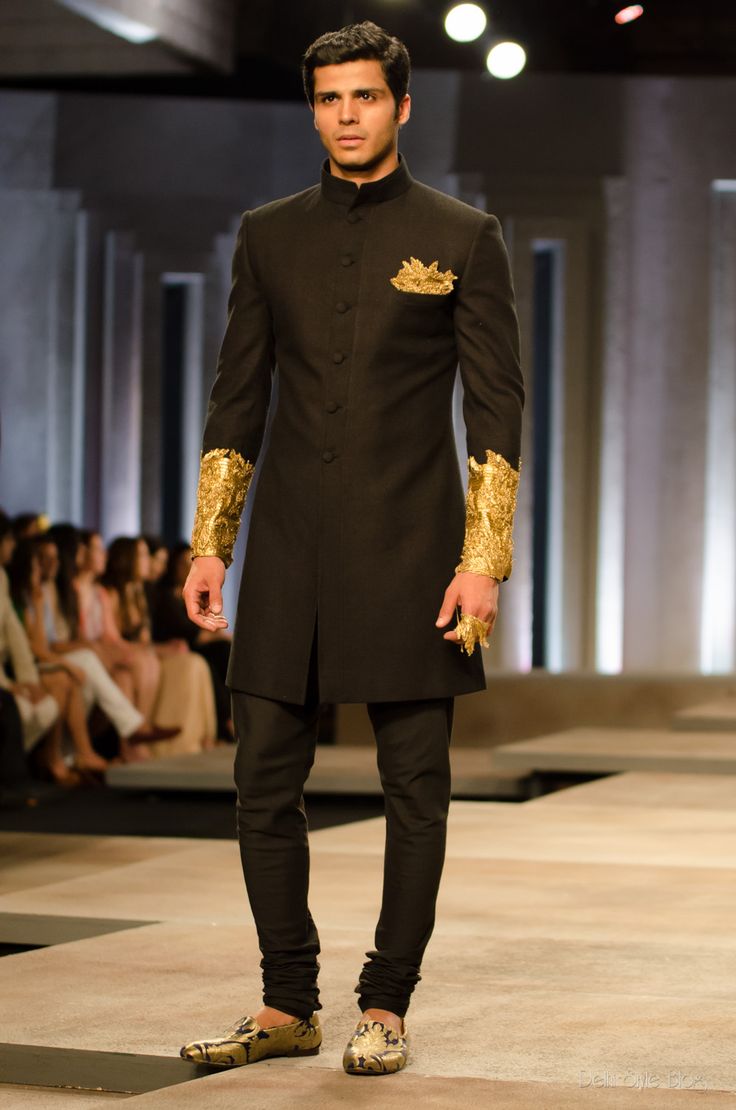 ↓ 21 – Striking Outfit
Fancy isn't just for girls. Wedding days are equally important to men, and we think they should dress up the best according to their ability. Guys, do check out this fantastic white kurta shalwar paired so wisely with the blue fancy coat. The gold embellishment on the blue base looks so beautiful. You can wear this type of outfit if your wedding is in a hall or even if it's in the open air.

↓ 20 – Stylish Golden Dress
On your Mehndi, try wearing a yellowish – gold kurta with maroon lining and churidar pajama. Put on gold Khussa, and you are good to go.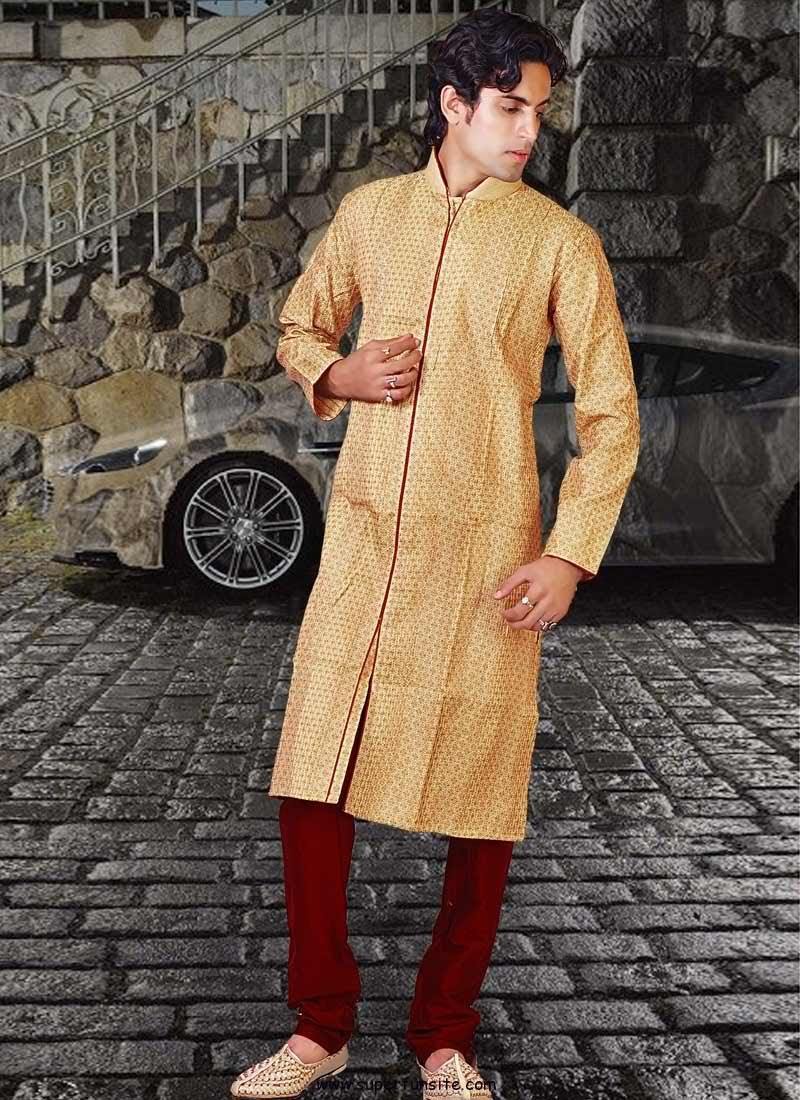 ↓ 19 – Matching With Your Bride
Here is a really cute tip for you all for your Mehndi. Instead of going with different colors on your Mehndi, coordinate with the girl, and choose one color that you both agree to wear.

↓ 18 – Brown & Gold Kurta
Don't forget you have an option of brownish-gold color for your Mehendi night as well.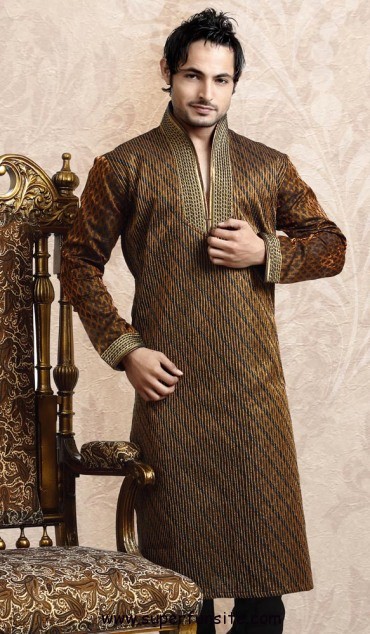 ↓ 17 – Turquoise Embroidered Kurta
Green & blue colors are seen everywhere on Mehndi. Why not incorporate them in your attire as well?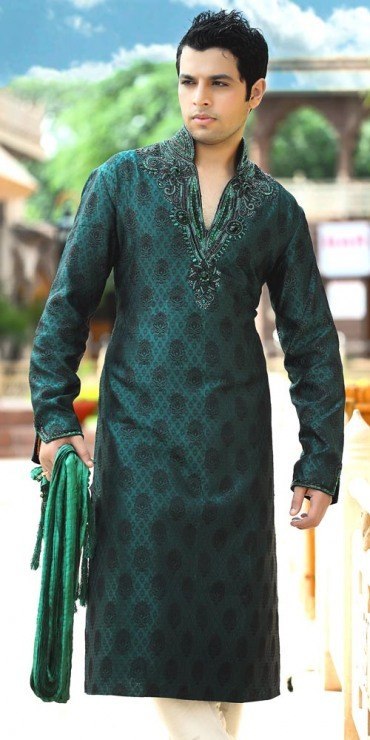 ↓ 16 – Pastels For Day Time Mehndis
Wedding days are extraordinary. Let your outfit add more happiness and color to your special day. Go with white shalwar kameez and pull over a pastel grey waistcoat. Put on Oxford shoes and set your hair and bread. We think you'll look super charming.

↓ 15 – Black & Grey
Black is not considered a good option for a wedding in Pakistan and India, but we think if you pair it with, silver or gold you can create a pretty decent outfit.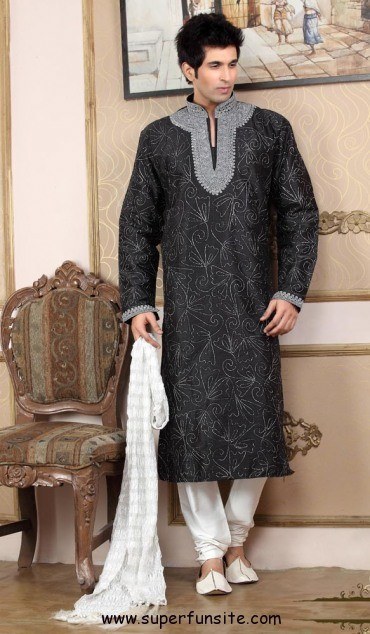 ↓ 14 – Orange Mehndi Kurta With Stylish Neckline
An orange sherwani with off white trouser is no doubt the right choice for Mehendi because of its colors.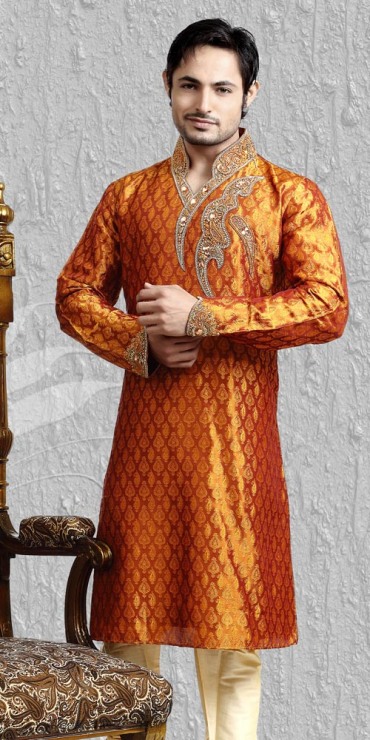 ↓ 13 – Black And White Sherwani
If your wedding isn't in the winter season, then you need to wear something light. We'd recommend you go with fabric like cotton to stay relaxed. A white kurta trouser is going to be a wise choice. Wear a black sherwani over it. To make your outfit a little fancy, ask your designer to customize gold buttons on your jacket for you. If you aren't in the mood of wearing Oxford shoes or sandals, then go for Peshawar chappal. They create a win-win situation with any outfit anytime. Do check out these Latest Style Wedding Sherwani For Men and Styling Ideas.

↓ 12 – Bright Red Mehndi Outfit For Men
You can try out something unique at your wedding, like going with red sherwani with gold embroidery.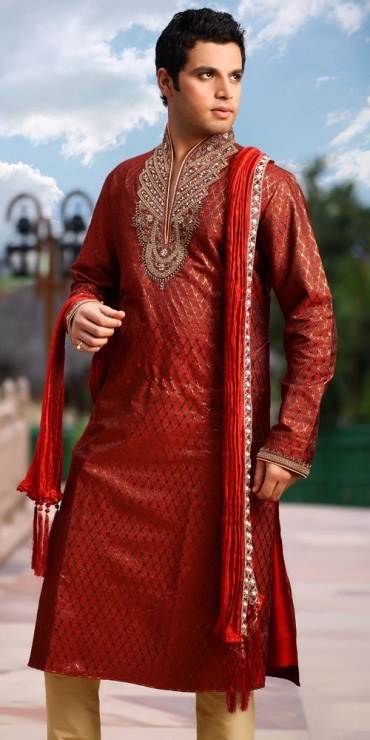 ↓ 11 – A Colorful Waistcoat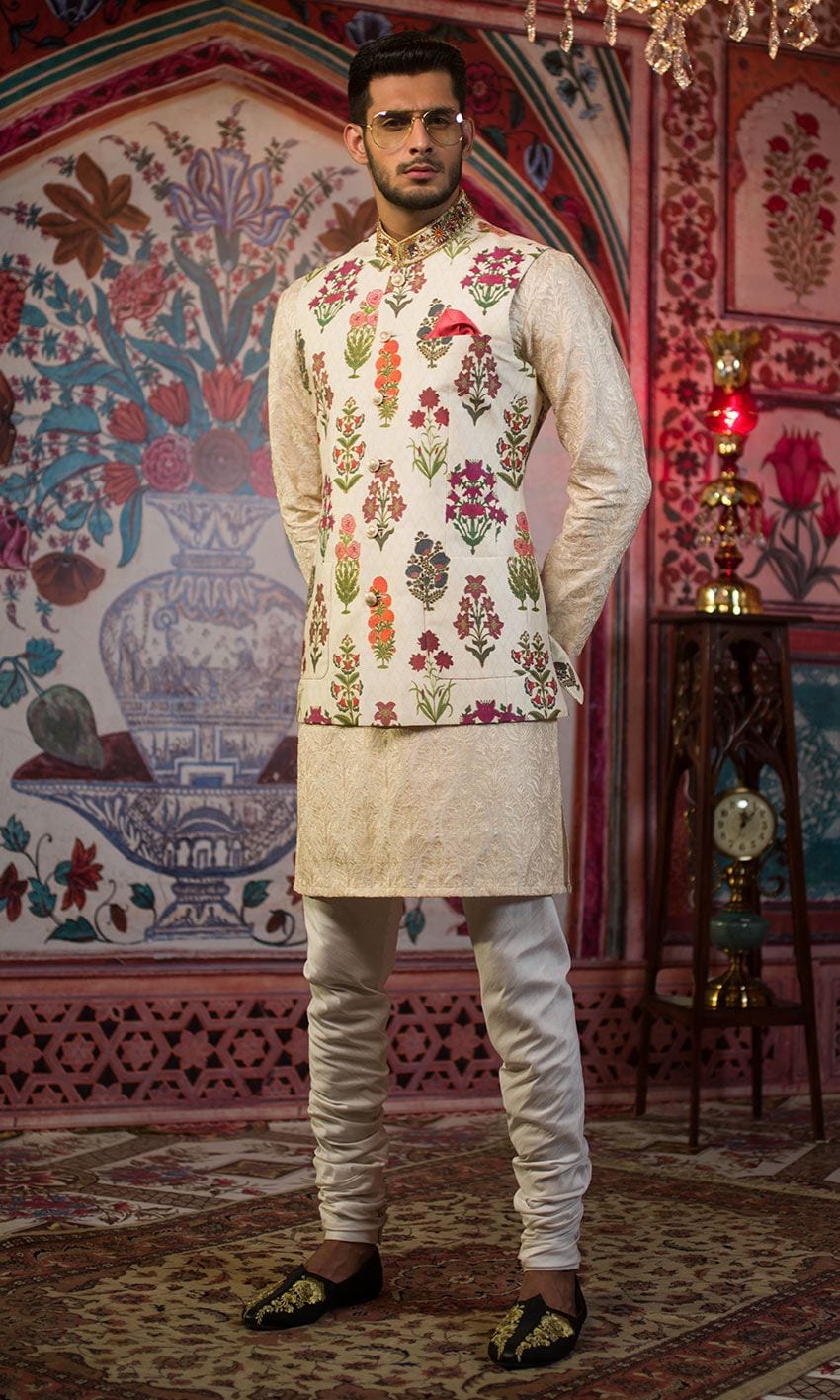 NA-15 SKU: NA-15-Custom Design Code: NA-15
↓ 10 – Simple And Sophisticated
Wear a different or unique color combination like purple and mustard on your Mehendi.

↓ 9 – Mehendi Duppata
Mehendi dupattas are considered as wedding essentials. If your dress is a little fancy, then opt for plain silk or "Chunri" dupatta. In case you are going with plain sherwani, a heavily embroidered dupatta will add beauty to your entire look.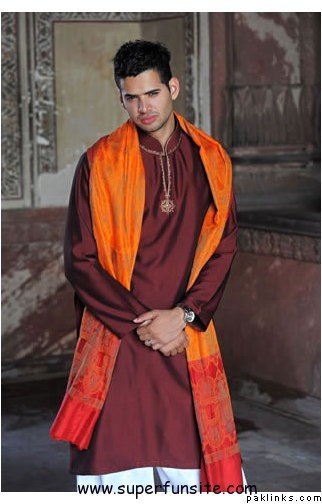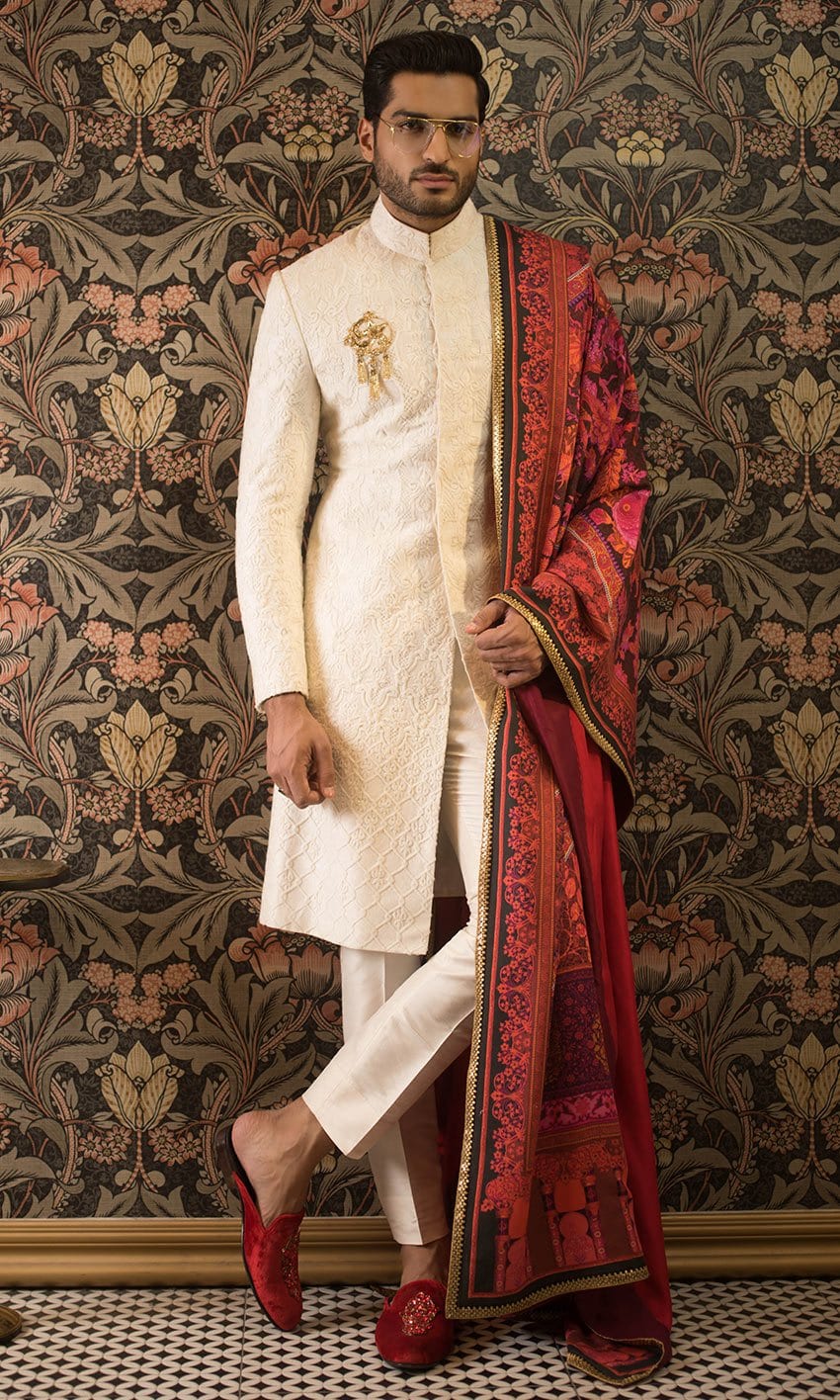 NA-12 SKU: NA-12-Custom Design Code: NA-12
↓ 8 – Modern Mehndi Look In A Kurta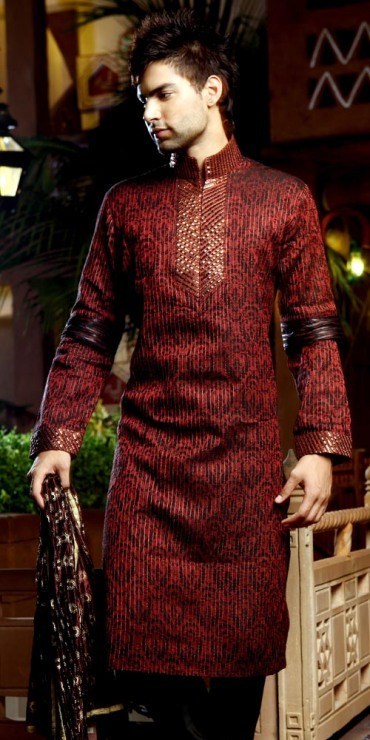 ↓ 7 – Ali Zafar Mehndi Dress
↓ 6 – Celebrity Style
Start studded wedding, especially those that trend a lot makes everyone wish to have a wedding like them. Aiman khan abs Muneeb But left everyone in awe on their wedding events. Look how charming Muneeb Butt looked in designer Nomi Ansari's outfit and Aiman in Erum Khan. You can take a hint from these colors and wear them on your Mehendi. Make your dream come true as you are the real star!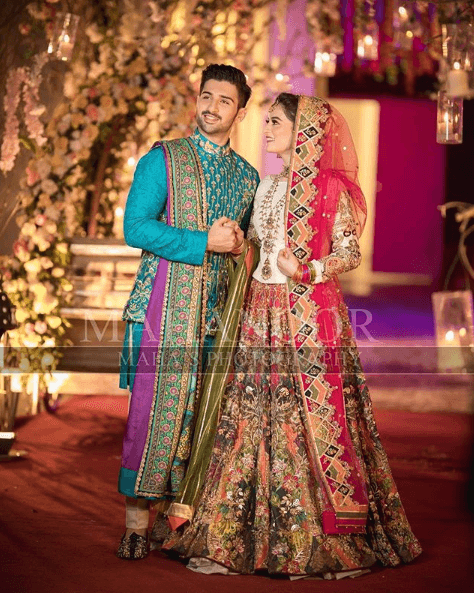 ↓ 5 – The Typical Mehendi Colors
What are the Mehendi colors? Aren't they yellow, golden, orange, green and purple?  They are the basics, yes! Hence wear them with confidence like Atif Aslam and Sarah did on their wedding.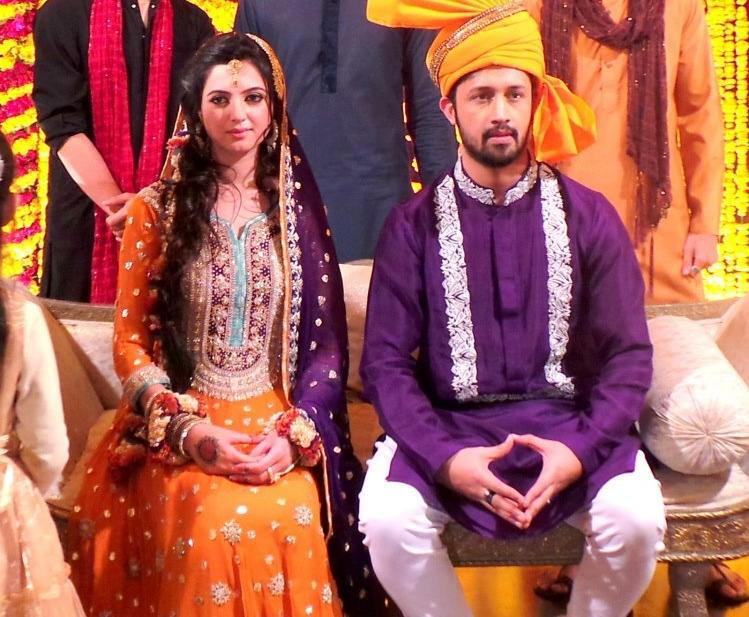 ↓ 4 – Neutral Colored Outfit
You can try out a neutral outfit probably in the skin or off white color. And throw over a white waistcoat with light brown or golden embroidery.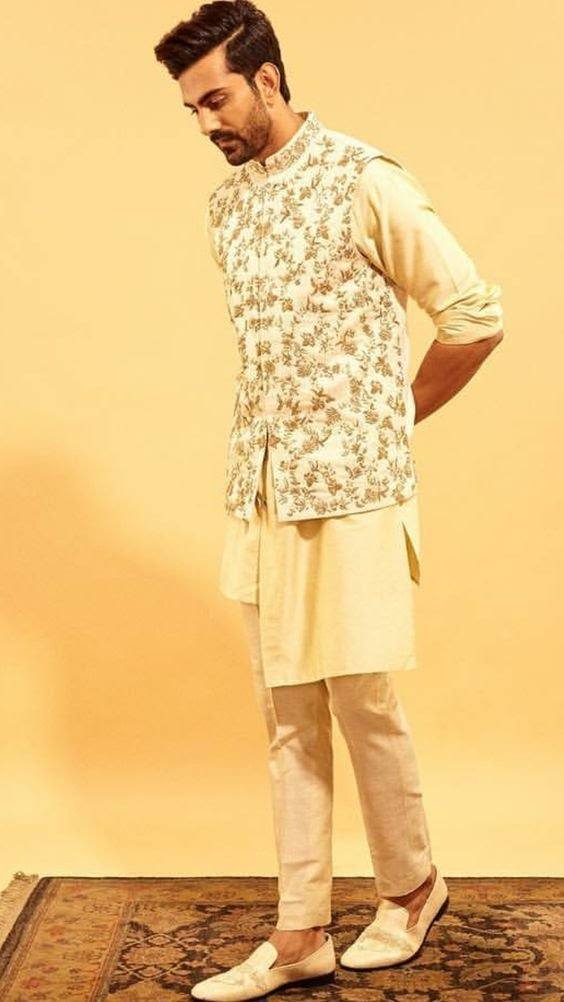 ↓ 3 – Waist Coats For Your Mehendi
Waistcoats are something that can help guys in every fashion emergency. So there's not even a single chance of ruling it out on occasions like wedding. Go with plain kurta trouser and kameez shalwar and put on a waistcoat. There's a wide variety of waistcoats in the market these days. You can go with plain, embroidered or even printed. We recommend you go with bold colors on Mehendi as it's a vibrant event.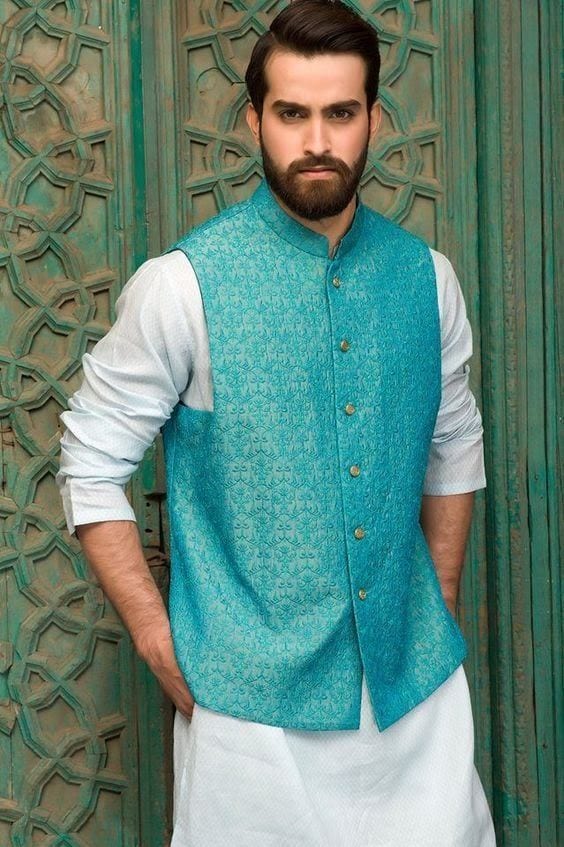 ↓ 2 – Go Bold And Vibrant
You can take some style inspiration from Danish Taimoor. He wore a red Kurta on his grand Mehendi. We love the gold buttons and embroidery on his sherwani. The embellishment on the ban added a lot of charm to the look.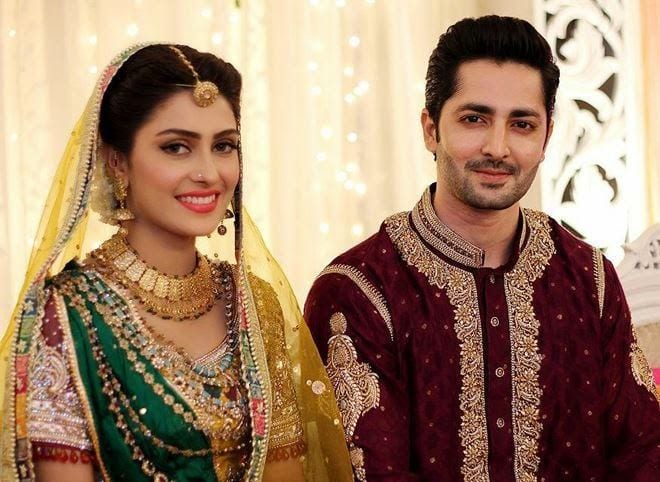 ↓ 1 – Shop For Your Mehendi
Nomi Ansari is our very favorite. We can not forget him when it comes to wedding wear or festive collection. Reach out to Nomi Ansari and order your Mehandi outfit before it is too late.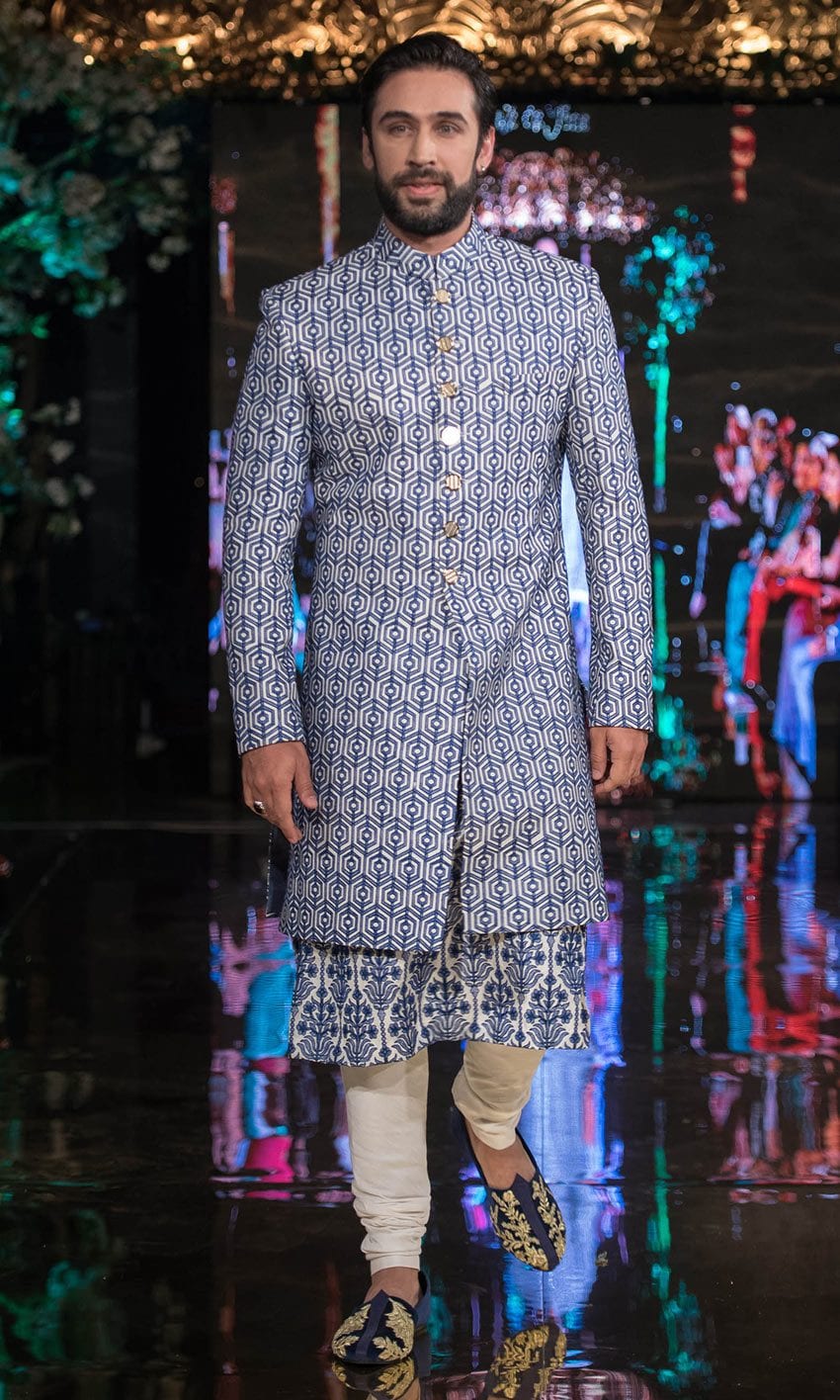 NA-01 SKU: NA-01-Custom Design Code: NA-01
You must have heard of Amir Adnan. Try out this very famous and renowned designer on your Mehendi night. Their price ranges from 8,000 for simple, basic kurtas.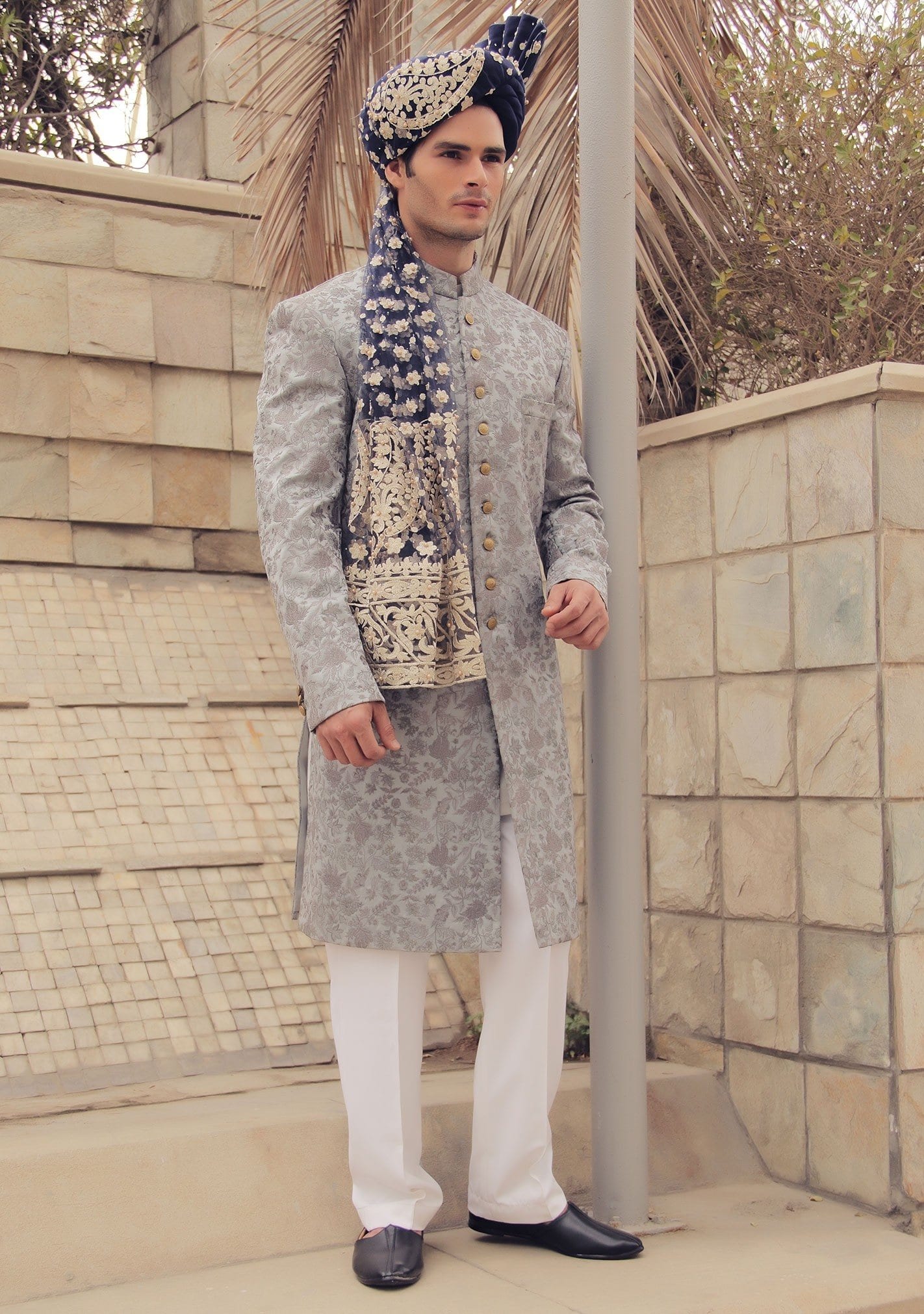 Premium Satin Grey Classic Fit Sherwani Availability: In Stock PKR 85,000.00
Visit the shop
Deepak Perwani is everyone's favorite and who won't want to wear it on his big day? If you are looking for designer wear, then this is surely the place. The price may be a little higher, like in the range between 50,000 to 100,000. If you want a little lighter dress, then it can be customized for you in the range of 25,000 to 30,000.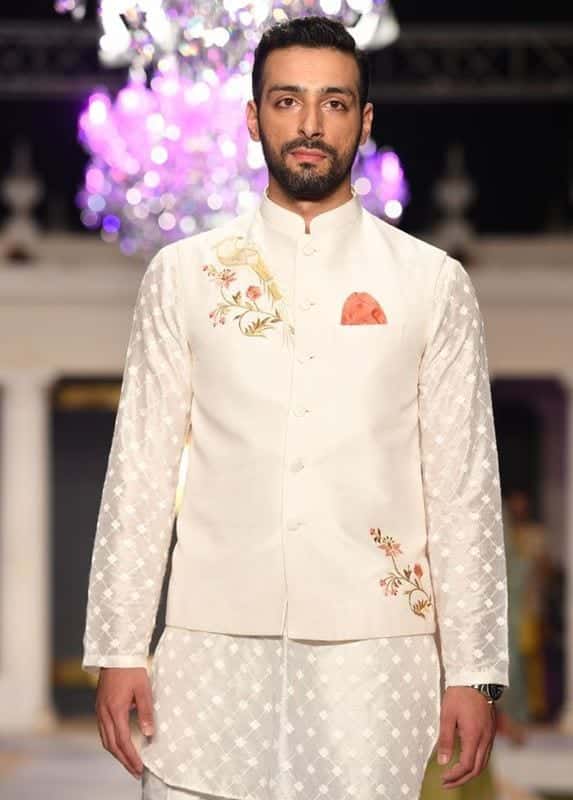 Munib Nawaz is an amazing designer who always comes up with an astounding collection of clothes. He does not only have a wedding line but a simple everyday line as well. His collection is ideal for any wedding day. Head over to his page and find yourself a Mehendi outfit. Moreover, his collection is very pocket-friendly; it starts from as low as 25,000 and goes up to 85,000.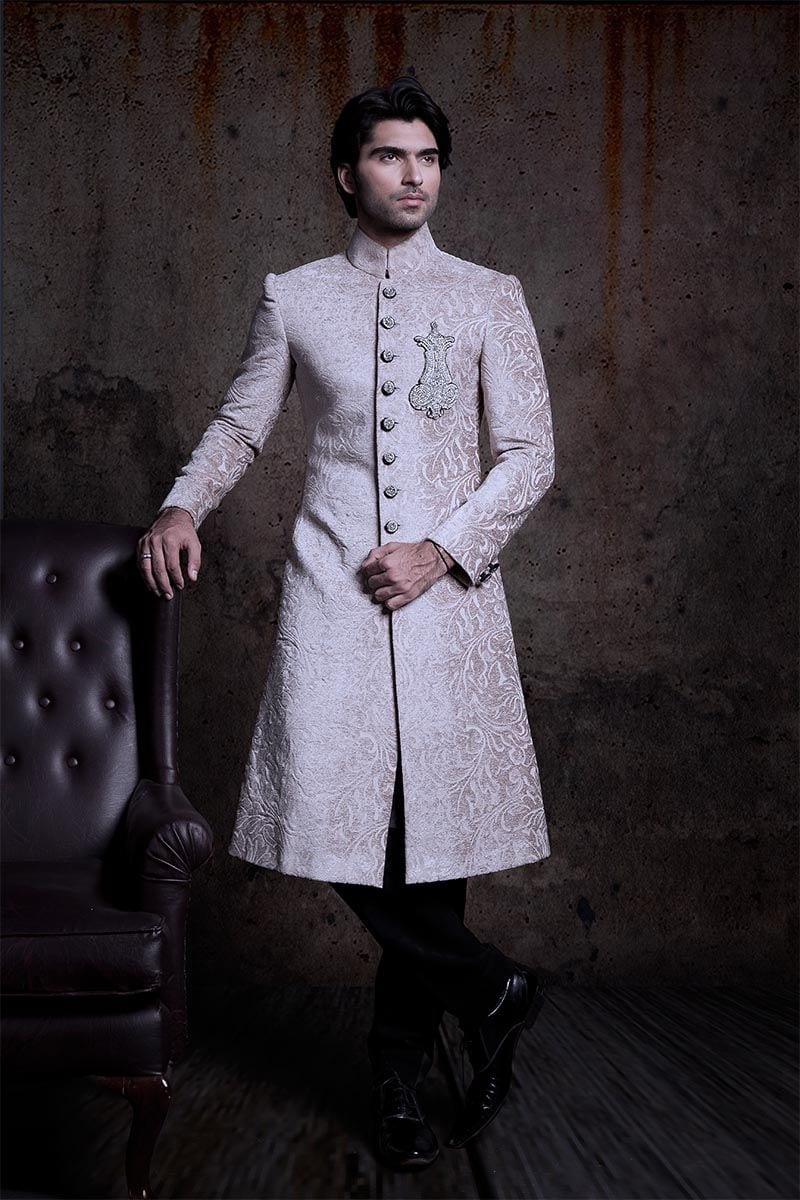 MNSH106
Q.

Who Are The Top Pakistani Designers For Grooms

A. Many Pakistani designers are making different clothes and other accessories for several years now. In this way, the grooms of our country are also becoming conscious about their dressing style. Some of the top designers for grooms are:
Nomi Ansari
Amir Adnan
HSY
Deepak Perwani
Ammar Bilal
Razwan Moazzam
Munib Nawaz
A great variety of Kurtas in different styles and colors are also available at J. (Junaid Jamshed) stores across Pakistan, and the best thing is that these kurtas are available at a very reasonable price as compared to other designers.